(Graphic Created/Adapted by VA)
2021: Another dumpster fire of a year.  For my 2020 recap, I optimistically quoted Pete Townshend/The Who's "1921" from Tommy: "Got a feeling '21 is going to be a good year /Especially if you and me see it in together." 
Well, so much for optimism.
While '21 did indeed have some welcome positives sorely missing from '20 (Vaccines! Socializing! Live music! Being able to go out for dinner!), much of this year sucked significantly harder for me than 2020.   It was a year of chaos, for me personally and in the larger world. 
One small but important aspect from 2020 is that it was possibly the best year for new albums since 1998 (and 2019 was pretty great too).  Sadly, 2021 was more like a year from the '10s: a small clutch of excellent albums and tracks along with a number of "pretty good" ones, some underperforming disappointments or duds, and a vast sea of personality-free, crappadoodles wallpaper (read: almost all widely popular music at this time).
While I have always been much more interested in the slipstream than the mainstream, I truly believe that now is the worst time ever for music in my lifetime.
Dear young'uns: I was actively part of the punk rock explosion in the '70s, which helped to shred a lot of bloat and dross, and create new musical ideas and opportunities.  Now it's your turn.
While a '77-era punk revival might be fun—especially as most modern punk/ish music take its cues from Green Day/pop-punk (which I loathe and where my interest in punk rock stops hard)—what I really want to see is something that is the aesthetic, creative equivalent to that time: something completely new and confrontational in all the right, open, mind-blowing and progressive ways.  I feel like we are on the precipice of that happening, however that will look and sound.
But it wasn't all bad news as my choices below for the many things that made me happy and engaged in the list below attests.
Meanwhile, while the brainwashed, selfish, entitled, anti-vax, anti-reality, anti-people, anti-empathy, authoritarian-friendly lemming population scarily grows around the world, there is also the bonus that it's also now easier than ever to identify malignant narcissists. And avoid them.
At least my 2022 is starting off rather well.
And now for the best bits of sewer dump of a year.
VA's TOP 10 LPs OF 2021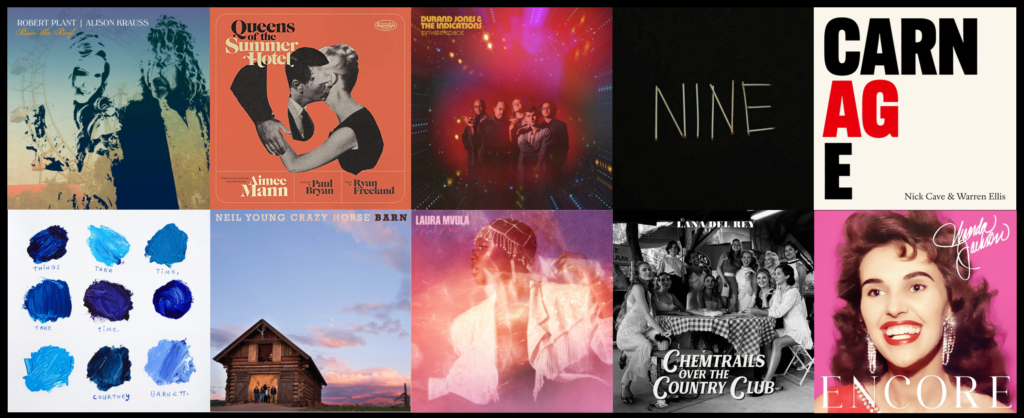 ROBERT PLANT & ALISON KRAUSS Raise the Roof More than worth the 14-year wait and, incredibly, an equal to its brilliant predecessor.  As for the cover, … (see Worst Covers of the Year, below).
AIMEE MANN Queens of the Summer Hotel One of my very favourite artists, this peerless songwriter gifts us with another collection to remind once again that she's just that good.
DURAND JONES & THE INDICATIONS Private Space Indiana's soul reflectors take a funkier and more disco turn on their 3rd album.  Why aren't these guys huge?
SAULT Nine The getting-less-anonymous-by-the-minute London collective follow up 2021's Black Is and Rise (my choices for two of the best albums of last year) with another home run. And then pull it.  Brilliant.  Just when you thought 2021 couldn't suck any harder …
NICK CAVE & WARREN ELLIS Carnage Strange, dark, elegant, and mesmerizing.  My favourite Cave since Push the Sky Away.
COURTNEY BARNETT Things Take Time, Take Time More great songs from Ms. Barnett, although a pretty sad breakup album, especially after seeing her and Jen Cloher at Massey Hall in Toronto with Kurt Vile in 2017.
NEIL YOUNG & CRAZY HORSE Barn The old/new Crazy Horse, now with added Nils Lofgren, made one of Neil's best and most accessible albums in years.
LAURA MVULA Pink Noise A bold 80's-influenced reinvention with great tunes and spirit. Her best yet.
LANA DEL REY Chemtrails Over the Country Club Another beautifully sustained sparse, muted mood piece, although you can feel the formula reaching its endpost (and Blue Banisters doesn't shake it up enough).
WANDA JACKSON Encore One of those better-than-I-was-even-expecting treats as Wanda rocks out with terrific tunes, hilarious lyrics, and a red-hot Joan Jett and The Blackhearts backing and producing. Rock on, Wanda!
VA's TOP 10 SINGLES OR TRACKS FROM 2021 
"I Wanna Be Your Slave" MÅNESKIN with IGGY POP Iggy teams up with Italian rock sensations Måneskin for a compulsively addictive track.  Iggy's been on a bit of a roll lately.
"London Gangs" SAULT Post-punky groovin' number.
"Can't Let Go" ROBERT PLANT & ALISON KRAUSS Spirited cover of the Randy Weeks-written song that I know from Lucinda Williams' Car Wheels on a Gravel Road.
"XII (Clock)" ENOHEM Sublime, hypnotic track that I've played non-stop since hearing in the summer.
"Witchoo" DURAND JONES & THE INDICATIONS A killer dancefloor single from Private Space.
"Two Shots" WANDA JACKSON Favourite lyric of the year: "If you're thinking about leaving, it should be understood / You'll be leaving from this city, in coffin made of wood."  Welcome back, Wanda.
"Garden" DINOSAUR JR. A rare Lou Barlow-penned Dino Jr. A-side. A great rock track and a bit different for the band.
"Save Yourself" LUCINDA WILLIAMS I love Lucinda's dark take on this Sharon Van Etten number.
"Solar Power" LORDE A great return to form after the seriously disappointing second album and the best re-write of Primal Scream's "Loaded"—ever!
"Run Run Run" KURT VILE The highlight of the Velvet Underground and Nico tribute album, I'll Be Your Mirror.  
BEST LIVE SHOW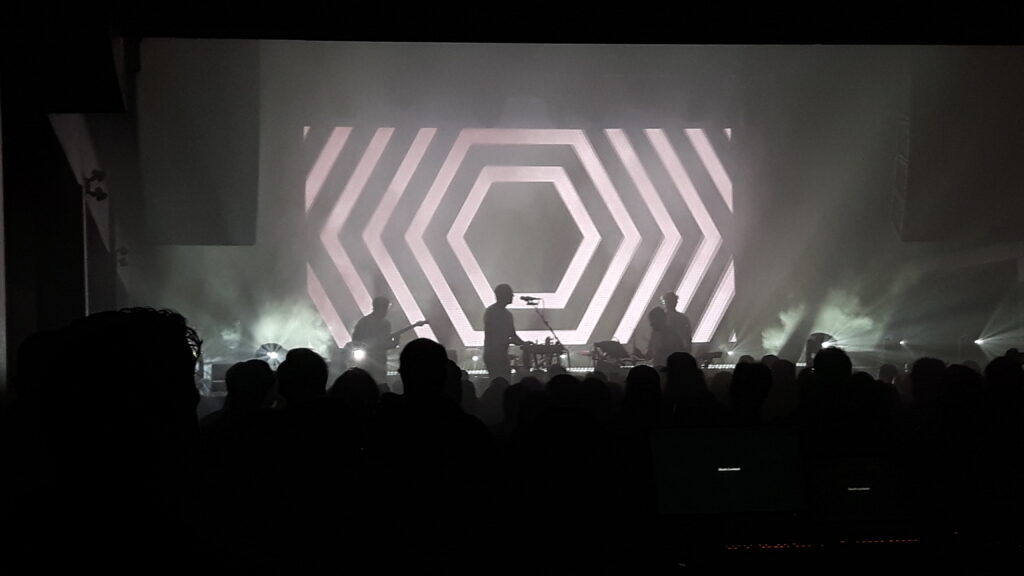 Caribou, London Music Hall, London, Ontario, Canada, Saturday November 20, 2021
Not just my Only live show of 2021, but also my first since 2019 and since the start of the pandemic.  2020 was the first year in my life since 1976 when I did not see a single live show.
Regardless, this would have been a highly-rated concert no matter what year I saw it in.  Still, I savoured the joy of returning to a live show, timed luckily just before the recent pandemic re-eruption.
I was also finally able to conclude the series of podcasts which started my series where I look at one show from each decade when I have been a concert-goer.  Tune in as my nephew Colin (aka Fast and Bulbous) drops by to recall our night out: an evening of last-minute decisions, sprightly social intercourse with the over-served and thoroughly-mushroomed, and suddenly … the return of live music.
Episode 16 (Concert no. 205) Suddenly: Caribou, London Music Hall, London, Ontario, Canada, Saturday November 20, 2021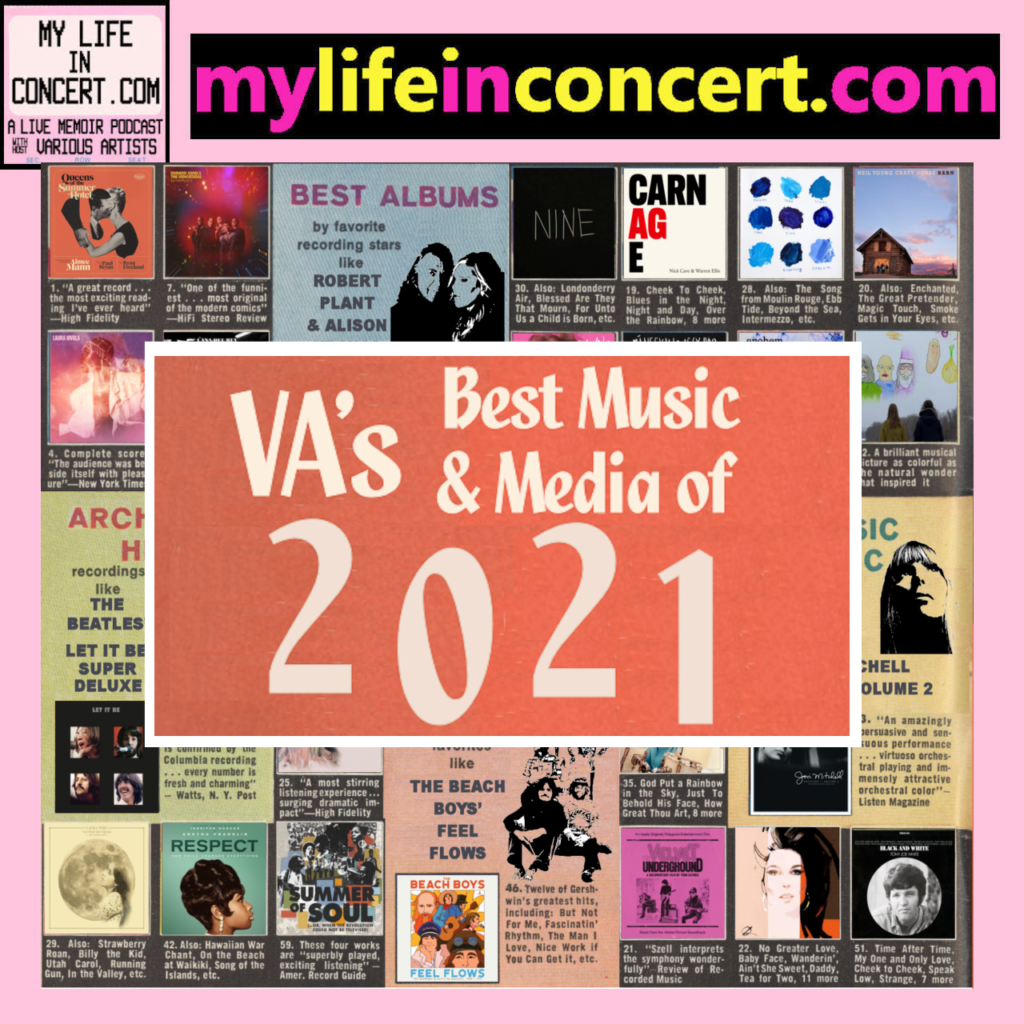 MLIC>2021:VA's Best Music & Media…My Fave LPs/45/Archival (Re)Issues. Here is a companion Spotify playlist of highlights from my favourite Albums, Singles, Archival Tracks/ Releases/Reissues/Compilations from the past year. 
BEST ARCHIVAL SETS/DELUXE REISSUES/COMPILATION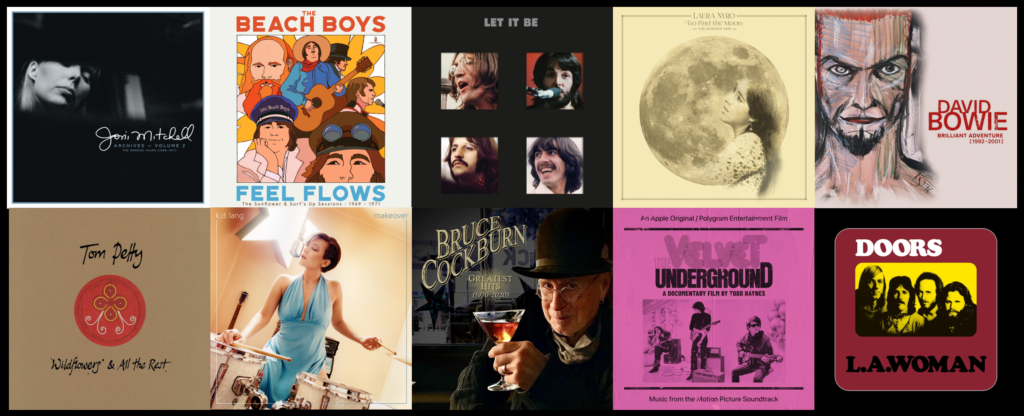 2021 was a truly outstanding year for music.  Old music, that is.  In the year that was the 50th Anniversary of what many consider to be the best year Ever for albums—1971, and an assertion I agree with—we were blessed with many top shelf box sets and deluxe re-issues.
There were so many strong archival releases that I was able to make a Top 10 for this year.  And it took some chopping to get it down to 10. 
JONI MITCHELL Archives, Vol. 2: The Reprise Years (1968-1971) The second jaw-dropping Christmas gift for her die-hard fans.  Finally getting to hear the show Jimi Hendrix recorded at Le Hibou in my old abode of Ottawa in 1968 was a dream come true.
THE BEACH BOYS Feel Flows: The Sunflower & Surf's Up Sessions 1969-1971 (Super Deluxe) Wonderfully forensic look at one of the Beach Boys' high water marks as artists.
THE BEATLES Let It Be (Super Deluxe) Another beautifully put together Beatles Box.  As the 50th Anniversary Pepper-to-Let-It-Be boxes have been so well done and with so much fascinating content plus mind-blowing 5.1 mixes (now my favourite way to listen to those albums), AND considering how well they've done commercially, I am keeping my fingers crossed for similar 60th Anniversary boxes for Please, Please Me through Revolver.  They'd have a particular treasure trove of bonus material from the first album through Help!.
LAURA NYRO Go Find the Moon: The Audition Tape Nyro's 1966 audition session for Columbia features some gorgeous, previously unreleased songs along with some fascinating early versions of her material, particularly "Luckie."  The studio chatter between Nyro and the producers are fun and revealing to hear.
DAVID BOWIE Toy / Brilliant Adventure Box Set (1992-2001) Toy finally sees the light of day.  Bowie recorded this album of revisited versions of some of his early, 60s songs as his first album for his new Columbia contract but they rejected it as they would not make any money on song publishing.  I've had a boot for years, but glad it's finally out there.  I'm enjoying it even more now.
TOM PETTY Wildflowers & All The Rest (Deluxe Edition) The one Petty album that I love above all the others is now beautifully expanded with top notch material from the sessions and era.
k.d. lang makeover While I'm despairing that possibly my favourite voice on earth today has retired (let's hope not forever), I can take solace in that I got to see her five times and in reliving my clubbing days in the 90s with her first ever re-mix collection and of all-original mixes.  The 90s were fucking great.
BRUCE COCKBURN Greatest Hits (1970-2020) I've been on an obsessive Brue roll over the last couple of years, and it's not abating.  While I've been going more deeply back into his catalogue, this 50th Anniversary double-disc comp of the hits (well, here in Canada anyway) hits all the right notes for me through repeat-playing recently.
THE VELVET UNDERGROUND: A Documentary Film by Todd Haynes (Music From the Motion Picture Soundtrack) Not a lot of revelations, but a double and well-selected VU comp is always welcome.  Nice additional and complementary material as well.
THE DOORS L.A. Woman (50th Anniversary Deluxe Edition) An extended revisiting for what is my co-favourite Doors album (along with Morrison Hotel) and one I never stop playing.  The blues numbers are particularly fun.
STUFF I MISSED FROM 2020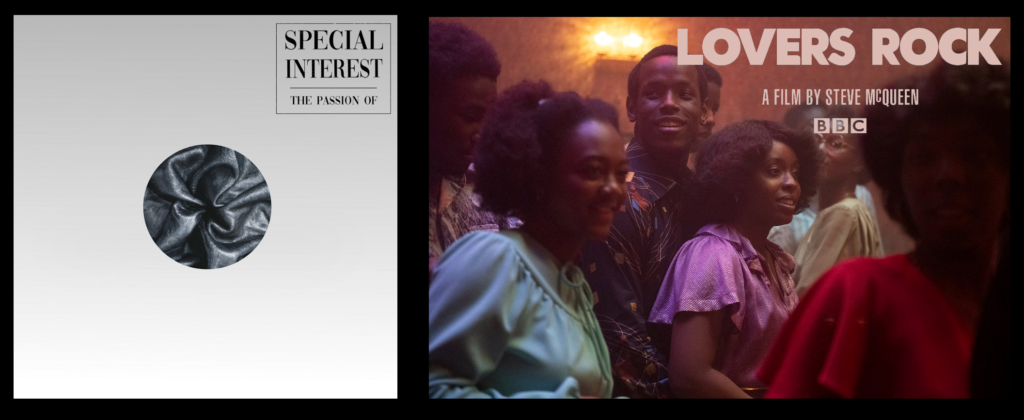 SPECIAL INTEREST The Passion of Just the kind of noisiness I love (a bit like a Sonic Youth/Ministry/3rd-LP-Soft Cell/LCD Soundsystem/hardcore mashup and reinvention) and that I haven't heard this done well in a while.  This might be the new-style punk I was thinking of at the start of the entry.
LOVERS ROCK My new vote for the best film of 2020, I didn't see this until just shortly after posting my Best of 2020 list.  I love these kinds of capturing-a-moment/time-and-place movies, this time being a blues being thrown in London in 1979.  I've watched it several times.  Also: absolutely Killer soundtrack (see JANET KAY in the next category).
OLDER ARTISTS, ALBUMS OR TRACKS FROM THE PAST THAT I DISCOVERED IN 2021

BOBBIE GENTRY The Girl From Chickasaw County: The Complete Capitol Masters While I've always liked Gentry, and "Ode to Billy Joe" is a life-long favourite, I only delved deep into her catalogue this past year and found this incredible bevy of music I have been missing.
JANET KAY "Silly Games" I knew of this track but never got to hear it until seeing the Lovers Rock movie. Played this repeatedly last year.
TONY JOE WHITE Black & White Another "how did I miss this?" album I played a lot in 2021.  Chomp, chomp, chomp.
Also:
COLIN BLUNSTONE One Year
JOE JACKSON Live at Rockpalast (1980 & 1983)
THE REPLACEMENTS Dead Man's Pop
BILL WITHERS Just As I Am
LPs FROM THE PAST THAT I REDISCOVERED IN 2021
THE BOOMTOWN RATS A Tonic for the Troops
ALICE COOPER Muscle of Love
GANG OF FOUR Songs of the Free
GRACE JONES Living My Life
MELANIE (Yes—Melanie!) Gather Me
PRETENDERS Get Close
THE ROCHES The Roches
BOZ SCAGGS Down Two, Then Left
CAT STEVENS Catch Bull at Four, Teaser and the Firecat
MY TOP PLAYED SONGS ON SPOTIFY FOR 2021
So here are my Top 10 most played songs of 2021 but admittedly features no song released in 2021 (Erin Costelo's "Topic of Notes" is the only track from this century).  I can recognize that the heavy play on a number of them is because they are on multiple playlists which I play a lot, and they are either one of the first tracks on a few of those playlists (such as The Cure's "A Reflection") or hit the jackpot coming up on shuffle frequently.
However, I rediscovered Bobby Gentry's "Mississippi Delta" and Tony Joe White's "Polk Salad Annie" (it's no. 12) in big ways in the last year and they were my two big go-to songs from the summer.
BOBBIE GENTRY Mississippi Delta
THE STONE ROSES Shoot You Down
ALLEN TOUSSAINT Soul Sister
THE BEACH BOYS Slip On Through
T. REX Cosmic Dancer
ERIN COSTELO Topic of Notes
THE POPPY FAMILY Where Evil Grows
THE CURE A Reflection
MANIC STREET PREACHERS Small Black Flowers That Grow in the Sky
ROXY MUSIC A Really Good Time
ARCHIVAL MUSICAL EVENT OF THE YEAR
THE BEATLES: Get Back
For Beatles obsessives like me, it's hard to believe that all of this was sitting locked away for 50 years. These remarkable 8 hours with the fabs seriously re-writes the story on these sessions, as the somewhat-fraught-at-the-beginnings at Twickenham eventually turn to band cohesion and, er, coming together once again (with crucial help and birthing by Billy Preston).
I've watched all 8 hours twice, and here are the highlights for me:
The Extraordinary, frank-but-compassionate secretly-taped conversation between John and Paul about the state of everything in the band after George walked out. And of their personal relationship at that moment in time.
The minute-by-minute split screen process that showed the entire rooftop set in sync with what was happening down on the street and with the police within Apple headquarters.
The snippet performances of early, unrecorded Lennon-McCartney compositions such as "Thinking of Linking," "Won't You Please Say Goodbye," "Because I Know You Love Me So," and "Just Fun."
Hearing embryonic versions of songs that would pepper their early solo albums: "All Things Must Pass," "Back Seat of My Car," "Gimme Some Truth," and more.
The band reviewing the latest Beatles Monthly along with mentions of them in the daily press.
Literally seeing why George Harrison walked out.
The punky, cathartic freak-out they engage in during the afternoon following George's exit, with things going full-on proto-Sonic Youth with Yoko.
The regular references to the Hamburg days, as if they were yesterday (… because they only were a few years previous).
Billy Preston's Importance and Contributions: Things start gelling from the moment he enters the picture, about half-way through. Immediately things are calmer, friendlier, and more productive.
Heather McCartney "doing a Yoko."
RUNNER UP DOCUMENTARIES/MUSIC MOVIES 
Summer of Soul (… Or, When the Revolution Could Not Be Televised)  Another "you mean to tell me this has been in the can since 1969??" music doc, this stunning film captures multiple weekends of the 1969 Harlem Cultural Festival, which attracted a massive audience but has remained largely unknown since.  Nina Simone, Steve Wonder, Sly & the Family Stone, B.B. King and more deliver passionate, scorching sets to an adoring crowd.
Respect I don't care if it was critically pooh-poohed, I loved it and though Jennifer Hudson was incredible as Aretha.  Mary J. Blige was also a standout in her turn as Dinah Washington.
The Velvet Underground: A Todd Haynes Documentary  I am mentioning this doc as I haven't been able to see it yet, I won't watch it on a small screen, and there is no physical media version at this time.  But given it's the Velvets + Todd Haynes + the feedback I've gotten from others, it sounds like I will love it.
MY FAVOURITE TV OF THE YEAR
The Great British Bake Off
The Great Canadian Baking Show
Ghosts
Queer Eye
We Are Lady Parts
Murdoch Mysteries
Grace & Frankie
And Just Like That (Yes, it was pretty horrible at the beginning but I'm liking it as it goes along.)
WORST ALBUM COVERS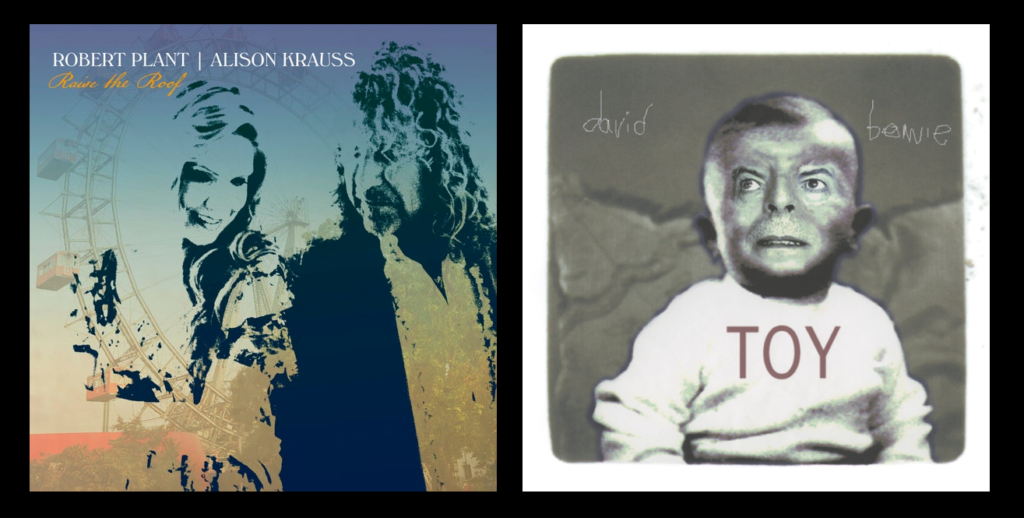 ROBERT PLANT & ALISON KRAUSS Raise the Roof It's my favourite album of the year!  It's an absolute cracker!  So who the fuck is responsible for this ugly, tacky, monstrosity of a cover??? 
DAVID BOWIE Toy While I am glad that this terrific later-period album has finally been released, it's accompanied by one of the worst covers I think I have ever seen in my life.
mylifeinconcert.com HIGHLIGHT OF THE YEAR FOR ME 
Getting to cyber-meet and interview the amazing, one-and-only electronic music pioneer/Stevie Wonder producer/Ciao! Manhattan film producer, ROBERT MARGOULEFF.
Robert Margouleff talks "Ciao! Manhattan" & Edie Sedgwick: My Life In Conversation EP001
IN MEMORIUM
Steve Bronski of Bronski Beat
Malcolm Cecil from Tonto's Expanding Headband
Chick Corea
Sarah Dash from Labelle
Les Emmerson from Five Man Electrical Band
Don Everly
Michael Fonfara who worked with Lou Reed and Rough Trade
Margo Guryan
Gerry Marsden of Gerry & The Pacemakers
Mike Nesmith of The Monkees
Lee "Scratch" Perry
Lloyd Price
Mick Rock, Photographer
Phil Spector (a pretty awful human being but produced some of the most enduringly influential early rock records)
Sylvain Sylvain from The New York Dolls
Hilton Valentine from The Animals
Bunny Wailer
Charlie Watts of The Rolling Stones
Mary Wilson of The Supremes
And on to 2022. And thank you for reading and listening!
ALL ANNUAL RECAPS:
Next on Stage –>Join me next time for another out-of-sequence show with one of two anniversary podcasts I'll be doing in 2022.
While I originally launched the written blog on OpenSalon.com on June 3, 2010, and celebrate every year on that date with my own mock-up of a favourite album cover—it was the Rolling Stones' Sticky Fingers for 2021— I didn't get around to marking the podcasts' first anniversary on Feb. 7, 2021.
So, to make up for that, I am going to do two anniversary episodes this year: one coinciding with the podcast launch, and one in June in tandem with the blog's 12th anniversary.  What I will be doing with these anniversary episodes is that I will be selecting gigs from throughout my concertgoing years that are personally significant for me or that I really want to highlight or talk about.
And my first anniversary podcast jumps into 1988 and a gig wherein I had some extraordinary revelations that I have never forgotten.
Join me next time for Episode 23, concert no. 51, and an unforgettable show by Keith Richards and the X-Pensive Winos at the then-recently—and beautifully—refurbished Fox Theatre in Detroit, on December 8, 1988.
Unexpectedly, and through a bizarre merging of synchronicity and happenstance, I find my self directly in front of Keith, about 10-or-so feet away, for his entire encore.  And it results in an epiphany.
I'll also be writing a full blog entry on the show as a companion piece to the podcast.
Tune in next time for avoiding a strip search at the border, being in agony and the healing power of music, and some realizations about rock stars.
The delayed Beat & REM show from 1983 will be episode 24.
51. (EP 23) Connection: Keith Richards and the X-Pensive Winos, Fox Theatre, Detroit, Michigan, USA, December 8, 1988
© 2022 Various Artists