It was Friday the 13th alright ….
Click here for Police Picnic 1981
Click here for Police Picnic 1983
ORIGINAL OPENSALON.COM BLOG ENTRY FROM 2010 FOLLOWS BELOW 
It was Friday the 13th in more ways than one.
Dear Listeners and Readers: Welcome to THE WORST CONCERT EXPERIENCE OF MY ENTIRE LIFE!
One poster for the show read "…make this your lucky night." Yeah, right. 
While Police Picnic '81 was a fairly sober and orderly experience for me and my compadres, the '82 edition felt like a sadistic joke that wouldn't stop.  It was a day of being trolled by the concert gods.
The Talking Heads

 

once again completely blew me away and The Police were radically improved from the '81 edition, but even those silver linings couldn't make the metaphoric dark clouds pass.  Even the day's one miraculous positive came with a big negative.
It was also my first of many visits to the now long gone CNE Stadium: the 60,000-capcity-for-concerts mega-venue in the heart of Toronto. (I made many visits there between 1982 and 1989, and shows by The Clash, David Bowie, Bob Dylan, and The Rolling Stones are all coming up in this series.)
Special Guests returns once again, sharing his more cheerful experiences from the day that include hotel stalking, Sting/Boris/pizza confusion, and sleeping in a Henry Moore sculpture.
Join me in this delightful descent into festival misery and stay tuned for bad drugs, bad sound, obnoxious neighbours, pointless preparations, naive assumptions, swollen bladders, and a nightmare bus ride.
And of course I meant to say "Orange Juice" at 18:00 ….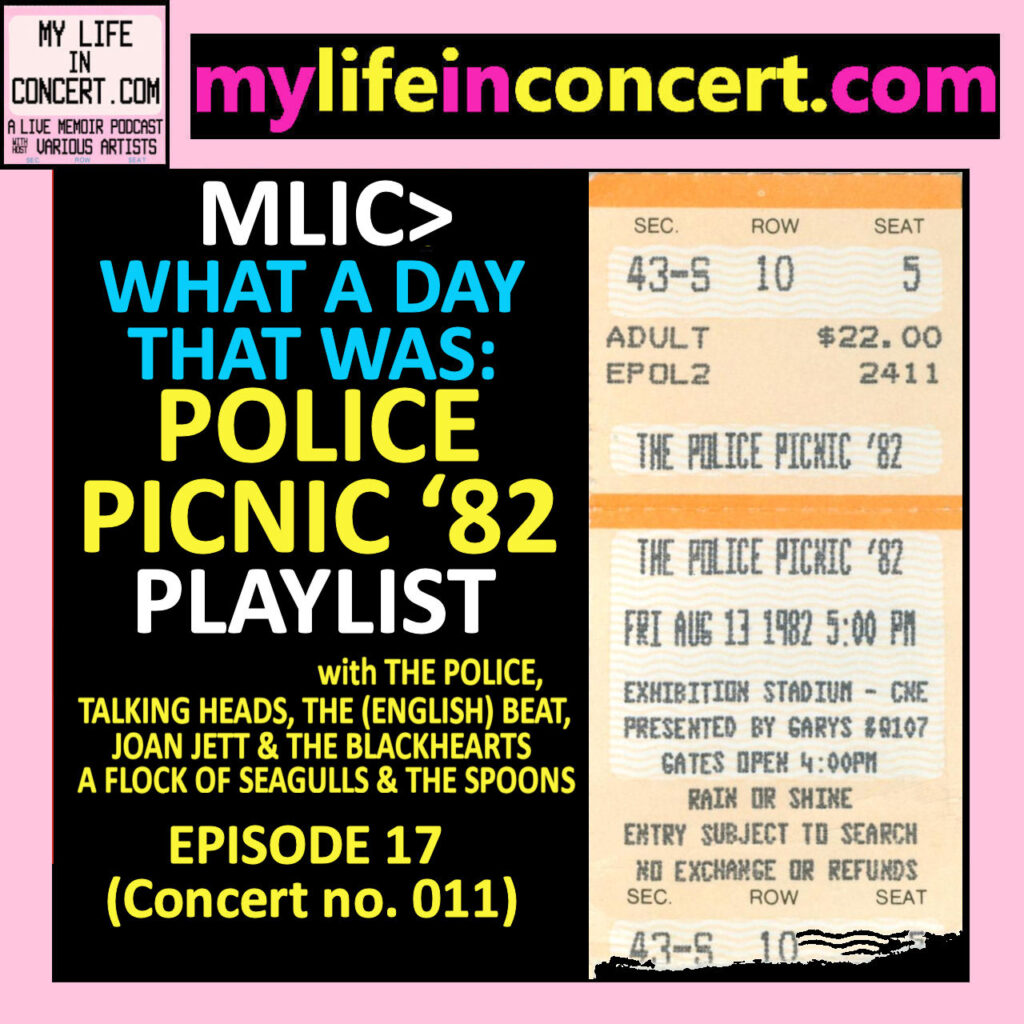 Check out the corresponding Spotify playlist I have put together for this episode MLIC>What A Day That Was: Police Picnic '82 Playlist mylifeinconcert.com EP 17, Concert no. 11
 NEXT PODCAST:  Come back next time for one of the best concerts I have ever seen.
After five years of obsessing over my favourite band in the world, I finally get to see The Clash as part of a huge, loving and excited audience at the CNE Grandstand.
Black Uhuru also delivered a stunning and memorable opening set.
One of the best double bills of my lifetime.
To say that this visit to CNE Stadium was a far better experience than the Police Picnic just three weeks earlier is an understatement.
Stay tuned for bouncing masses, getting "The Message," and The Story of Lady Bump.
ORIGINAL BLOG ENTRY FROM 2010
Ticket Price $22 = $57 in 2021 Canadian Dollars
Sometime during the early morning hours of Saturday August 14th, 1982, a Music Mann Tours bus pulled up to Victoria Park in downtown London, Ontario, Canada. Among those descending from the bus were myself, Lady Bump, and Le Château: the same trio that went to the OMD show in March. Although, with us, it was more like we were crawling out of it rather than walking off of it. I seem to recall kissing the pavement upon our return.
OK, that last touch may just be my imagination running away with me. But there is no doubting the memory of my/our utter relief and joy at being back in the hometown we so often derided.
It was supposed to have been such a fun day. Where did it all go wrong?
This gig marked the third of three consecutive summers wherein I attended an all-day festival and was the second of three consecutive Police Picnics, starring and curated by the trio of bottle blondes. Lady B and I had attended the inaugural Picnic in '81: a mixed bag that featured superb sets by The Specials, Iggy Pop, and Killing Joke, and one mofo disappointment from the day's headliners.
This 1982 edition was compacted down to just six acts with THE clincher for us being the Talking Heads. We were also big fans of The (English) Beat but, without a doubt, the Heads were the big draw for us. Remain In Light had made a big impact in our circle and I had spent that last few years raving about their transcendent set at Heatwave in August 1980. Now LB and LC could see what the fuss was about for themselves. We reckoned that those two acts alone were worth the price of admission.
In addition to Sting and Co, who we were pretty non-plussed about seeing since LB and I had walked out on them one year earlier, the bill sported emerging new wave pop band A Flock of Seagulls as well as local new wavers The Spoons.  We were very familiar with the latter as they were a college radio staple up here, and played in our area often.
There was Joan Jett too, but that's a whole other story which I will get to shortly.
Having secured tix, we then moved on to strategizing in regard to a decidedly pressing issue, namely: how were we going to smuggle booze into the show? Incredible as it may seem, yo tots, they did not serve a drop of alcohol at these big stadium shindigs back in the day. At least around here they didn't. Having felt frustrated with not being able to bring any libations into the previous Picnic, we devised an ingenious idea for this one.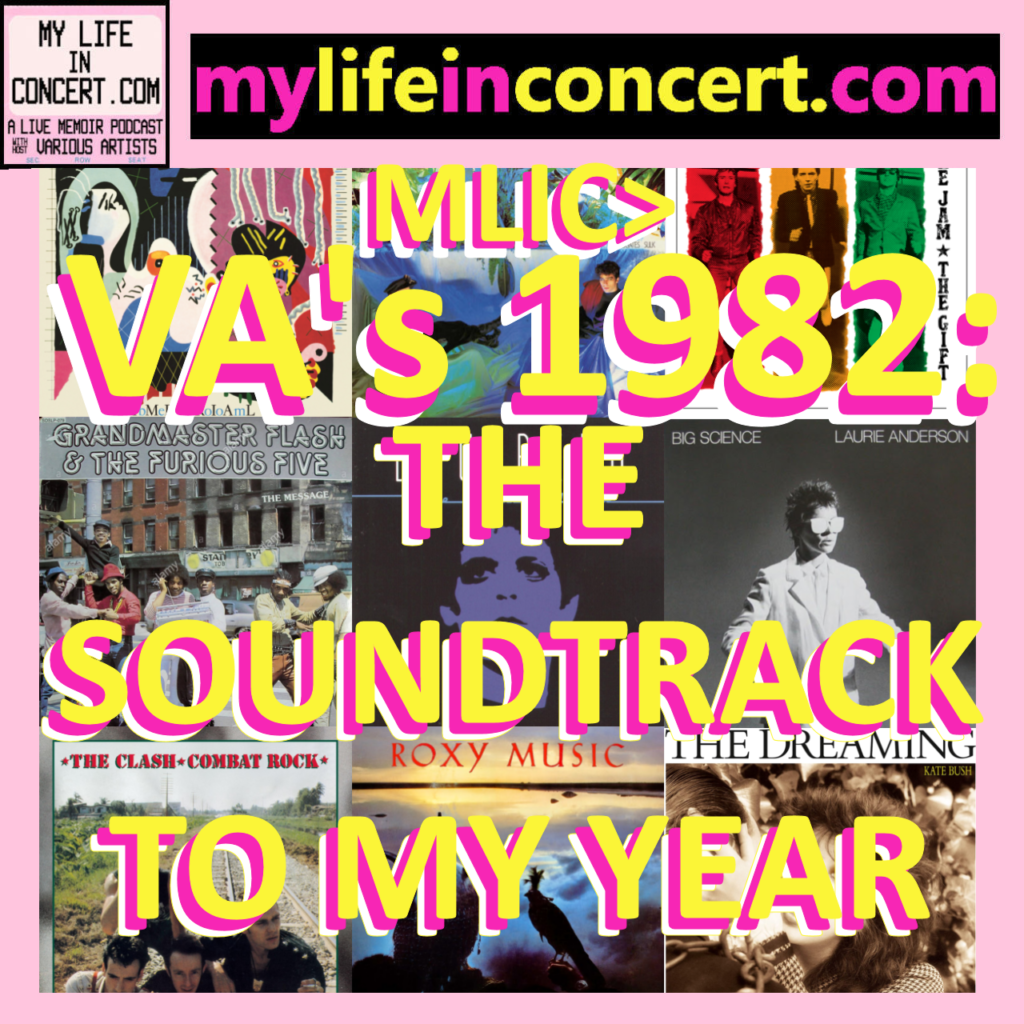 MLIC>VA's 1982: The Soundtrack to My Year is a chronological Spotify playlist of what was rocking my world during 1982, from both then-new releases as well as older music & artists I was re/discovering.
A few days prior to the show, we purchased two large cartons of orange juice and then, with surgical precision, delicately slit open the glued spouts with a razor blade, careful not to bend or crease the cardboard. We then made a second set of incisions into the small separation between the flaps of the interior folds, into which we gingerly inserted a straw.
After sucking out an amount of OJ from each container, we funnelled copious vodka back in, re-glued the spouts back together with contact cement, gently secured vice clamps on each, and let them sit in the refrigerator over night.
The next day, not so much as drop leaked out no matter how much we shook or tilted them upside down and there was absolutely no sign of folding or tampering. Voila: two large cartons of pre-mixed Screwdrivers to go. Weh heh!
We had decided to bring along LB's parents' cooler for the OJ, setting them in amid ice and some snacks of fruit and sandwiches. My, how wholesome.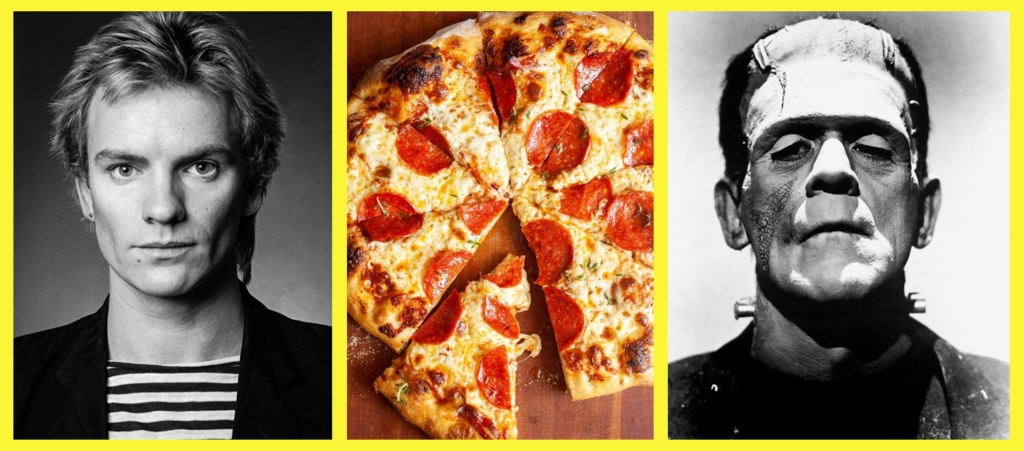 Listen to the podcast for Special Guests' hilarious tales from his day at the fest that include Sting/Boris/Pizza confusion and Henry Moore's sculptural sleeping accommodations.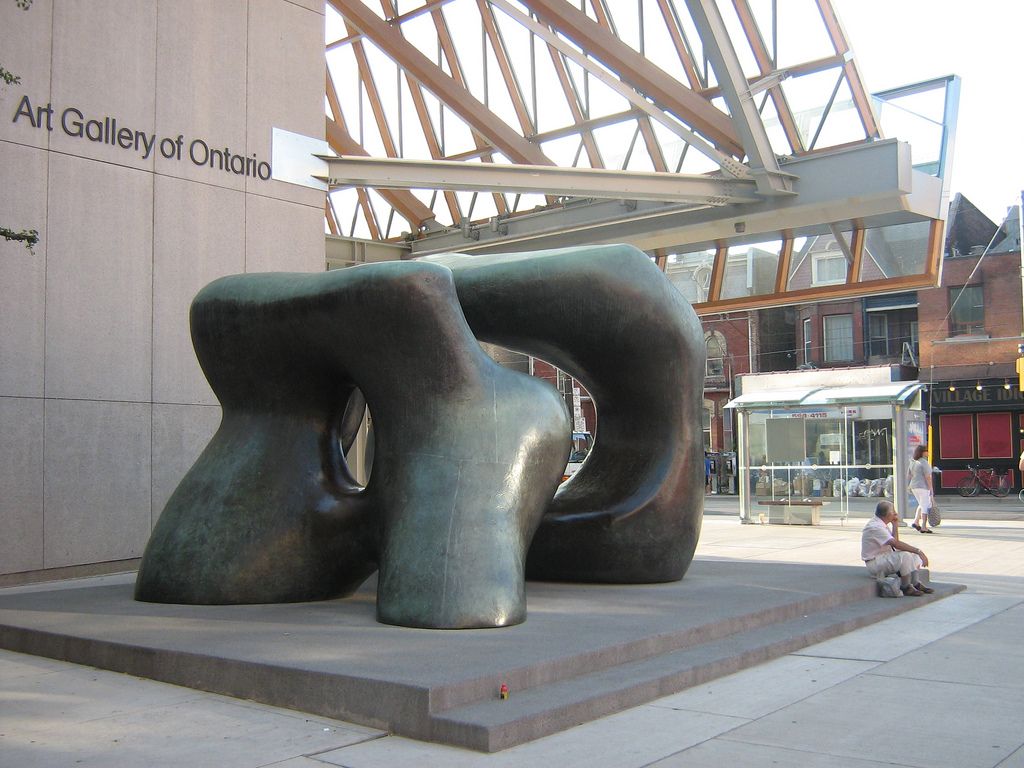 Unlike Heatwave and the First Police Picnic, which took place in large open venues far outside Toronto, this festival was being held on the grounds of the Canadian National Exhibition (CNE) at Exhibition Stadium, or CNE Stadium as it was more commonly referred to. The CNE has been Toronto's annual late summer fair since 1879, and its grounds contained the stadium that was used during the year for sporting events and live shows.
I hadn't realized until I began writing this piece but, this Picnic marked my first time at CNE Stadium. As you will see, I went on to attend a number of key gigs at this venue during the rest of the 1980s. As for audience capacity numbers, I have found differing estimates for when it was set up for a full-stadium concert, ranging from 45-60,000 people. Regardless, when the whole facility was utilized as it was on this day, the throngs in attendance were sizeable. And I recall it being packed on this day.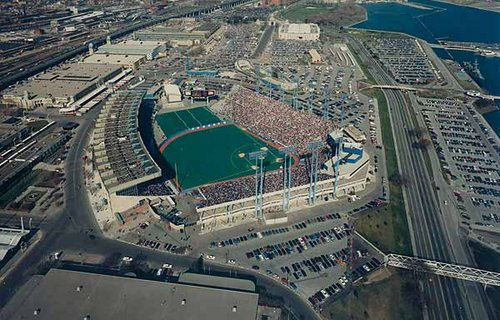 CNE Stadium (from Canoe)
We had also decided to go to the show and back via Music Mann tours. Music Mann was a successful local business who ran bus tours to key gigs outside the area, with Toronto, Detroit or Buffalo as common destinations. As it turned out, this was the first — and last — time that I would travel to a show via MM
One other unexpected dilemma reared its head in the preceding days: there was a sudden dearth of bennies in the area. I mean, how were we ever to last a whole day at a festival without speed? I mean, really! Pretty much everyone I knew at the time did them and they were generally about as easy to get as Smarties at the corner store. In all the years I took those damn things, I think this is the one time I can remember a scarcity. Perhaps some labs had been busted. I dunno.
After putting out notice to everyone we knew, I miraculously got a "Why don't you come over … " call the night before the gig. Victory is ours — or so we thought.
We arrived at the designated area downtown on the day of the gig — Friday the 13th — with the Screwdriver-friendly cooler in tow and a bag of shiny Black Beauties in my pocket. We had to show our tickets to the MM coordinator and stash our oversized goods in the underneath baggage compartment before boarding the bus. As we had never been to a stadium gig before (and most of the large scale rock gigs in those days were not reserved-seating affairs), we had the naïve notion that you could simply wander in and decide whether you wanted to sit in the open floor area or up in the rafters. We did not yet know that one had to have a general admission pass to get on the floor and that our tickets were in fact for specific, reserved seats up in the stands.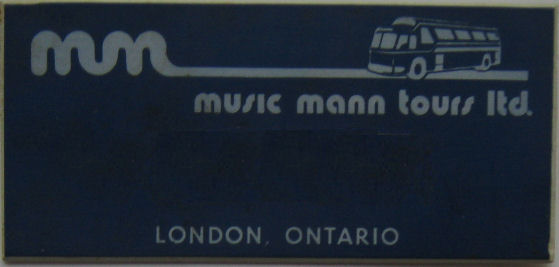 A Music Mann Tour employees badge (Courtesy of Ms. P).
The MM rep tried to explain this to us but, owing to a combo of not fully understanding the situation, not having the time to go dump everything back in LB's (or was it LC's?) car, and the standard invincible bravado of youth, we simply told him that all would work out fine and chucked the cooler into the compartment as he rolled his eyes.
Shortly after departure, we partook of my bounty from the night before — untouched and untested as the time hadn't been there to do so. In short order, all three of us felt as sick as dogs. For the first, and I believe only, time in my life, I took bad drugs. About the only thing each of us wanted to do was lay down on a comfy bed in a dark, quiet room, preferably with a bathroom right next door, and try to sleep after taking a Gravol for the nausea and 222s for our mounting headaches. Instead, we were going to spend many hours in the baking sun with tens of thousands of revellers at a noisy, congested rock concert. Bonus!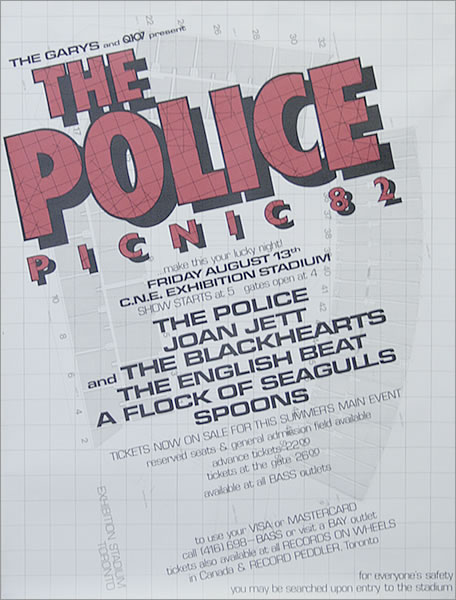 Above: A poster for the show, before the Talking Heads were added to the bill. "…make this your lucky night." Yeah, right.  Below: A commemorative poster for the fest (Photo by Jim Hood).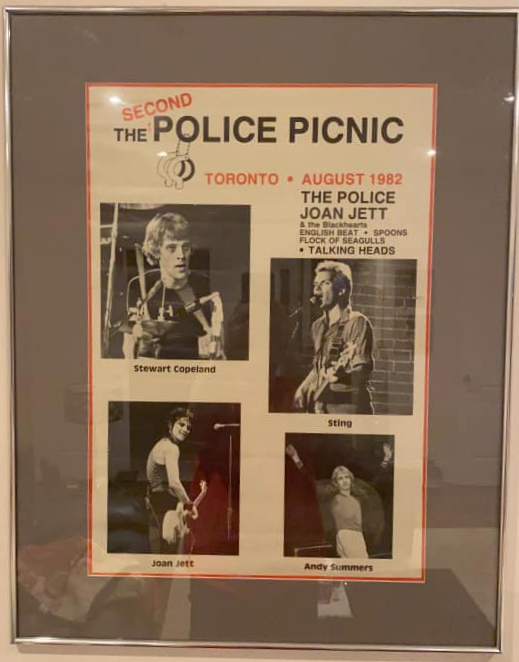 We shambled out of the bus upon arrival, feeling like crap-on-toast, grabbed our cooler, and got it through the gate thankfully without problem. We miserably made our way through the interior labyrinth until we found the field entrance. In what was a rare and remarkable stroke of luck for that day, nobody stopped us to look at our tickets and we simply walked right through into the general admission area. I can barely believe it in retrospect, now knowing all too well how stringent security tends to be at these things, but there you have it. If I ever needed that kind of luck, then this was truly the day for it.
However, that piece of luck came with a huge caveat. As we found a spot and got settled, we started talking to those around us and finally "got" the whole idea of how we weren't supposed to be on the floor. This also meant that if any of us left the field, chances are that lightening wouldn't strike twice and that the said person would end up having to go and sit alone in the assigned seat. Ergo, we couldn't use the bathroom until the day was over nor leave to buy a soft drink or get water. Luckily, we'd stopped to use the facilities on the way in. But, still.
I recall the death-warmed-over feeling — almost like an instant flu — waxing and waning throughout the day. Each of the three of us would have periods where we thought we were feeling a bit better only to feel like complete shit again a half hour later. As for the booze that took so much effort to prep and smuggle in, the mere scent of alcohol would have made me want to hurl at that moment, let alone drink any of it. Likewise, food of any kind was far from our mind. Water or flat ginger ale is about all I would have felt like ingesting. And they were currently unattainable. On the upside, at least two of us at a time could stand on the cooler for a superb view of the stage so it was useful on some level.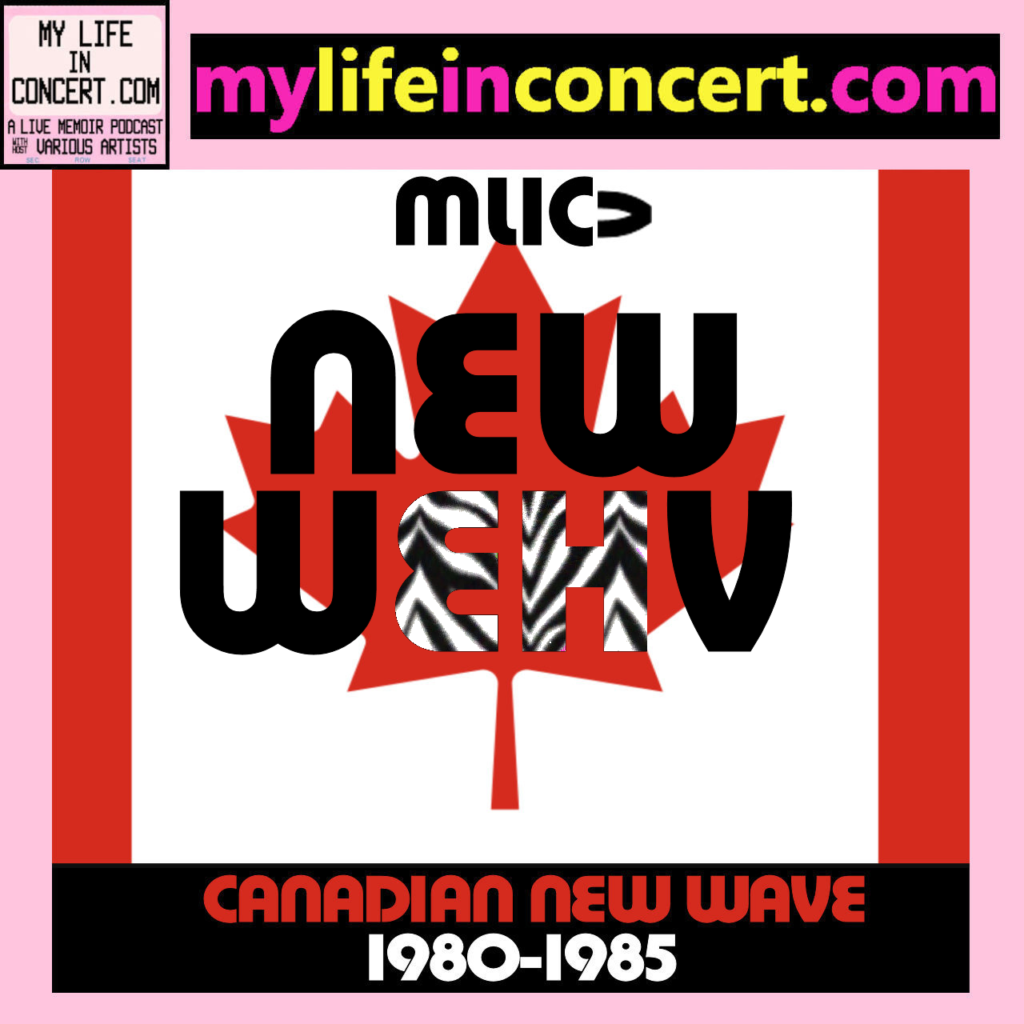 MLIC>NEW WEHV: Canadian New Wave Faves 1980-1985 In honour of The Spoons being part of Police Picnic '82.
Another big irritant was the group of people who were in front of us. While the stadium was filled to the brim with the various, fun lovin' new wavey types of the day, we somehow found ourselves directly behind a group of surly suburbanites whose sole reason to be there appeared to be Joan Jett — perhaps the only people in the stadium there for Joan. They were obnoxious and gave a lot of attitude in our direction with snarky looks and a pissy demeanour, being perfect trolls and making an already bad vibe just that extra bit poisonous.
Local outfit The Spoons kicked-off the proceedings (the ticket says the show was to start at 5pm but I recall things beginning more early-to-mid afternoon). The band themselves had started off as a kind of Talking Heads-ish college rock band but quickly morphed into more a New Romantic-style outfit, having a series of hits here. They were on an ascent at the time and I liked them as a pop group of the era but can't remember a thing about their set except this: the sound was fucked up. I don't know why the problem was happening but the system output alternated between sounding like there was no treble and would then phase into sounding like a transistor radio, with the well-mixed middle seemingly elusive. Very, very frustrating not to mention disappointing.
And this constant phasing continued throughout the sets by the first four acts of the day.
Above: The Spoons Surprise Shocked Student Supporters in 1983: A Spoons-obsessed group of local teenage fans were assembled in the studios of Toronto's brilliant music magazine program from the early 80s—CityTV's The NewMusic—where host Daniel Richler queries the teens about their devoted fandom for Hamilton, Ontario's new wave fave raves. And then, in the middle of genteel social intercourse with the young folk, The Spoons themselves unexpectedly arrive. Emotional pandemonium ensues.
Below:  The Spoons' "Nova Heart" video.
Next up were A Flock of Seagulls featuring Mike Score and his hairdo that has long been an '80s punch line. Also ascending with their big hit du jour, "I Ran," as with The Spoons I don't recall a ton about their set besides it being fun enough, the sound being horrible, and, of course, that hair.
 A Flock of Seagulls' "Wishing."  I'll bet Mike Score is wishing he didn't have that hairdo.
The Beat were the big deal for us out of the day's earlier acts. Called The English Beat for the North American market owing to the pre-existence of a similarly titled US band, they along with Madness became one of the key groups to emerge in the shadow of The Specials, with their debut 45 — a ska-style cover of Smokey Robinson & the Miracles "Tears of A Clown" — released on 2-Tone Records in the fall of 1979. As with The Specials, The Beat were a large, multi-racial ska-revival band. However, they included a direct link to the past in the form of Saxa, a 50-something sax player who had performed with such original ska stars as Prince Buster and Desmond Dekker in their 1960s glory days.
Moving quickly to Arista who gave them their own label, Go-Feet, they issued a series of UK hits in "Hands Off … She's Mine," "Mirror In the Bathroom," and "Too Nice To Talk To," along with their debut album, I Just Can't Stop It. LB and I had been huge fans of that first album, being a signature disc for us during the summer of 1980. In the interim they had issued the uneven follow up, Wha'ppen?, and at this point in time were about to put out their third and final LP, the more straight-up and pop-wise Special Beat Service.
However, as pumped as we were for their performance, it was hard to really enjoy the set owing to that awful, ongoing phasing problem, a resurged crappy feeling at that point in the day, and the bitching of our curmudgeon neighbours. I found this to be a hard-to-enjoy experience and wished that I could see them again under better circumstances. And I did, seven months later in a more intimate setting (and with R.E.M. opening—coming up as no.16).
 "Mirror In the Bathroom," The Beat, live from the Dance Craze film.
Next up was the day's most controversial set via Joan Jett & the Blackhearts. First, some context and explanation ….
I had liked The Runaways in the '70s and had loved some of the tracks from Joan's first LP, Bad Reputation. Later on in the '80s, I went on to enjoy some of her hits while also gaining a lot of respect for how she handled her career. At this particular moment in time, though, Joan was persona non grata for not only me but clearly also the vast majority in attendance.
At the time, there was a very strong "Us vs Them" headspace. "Us" were those who had kept pace with the dizzying changes, shifts, and innovations that had impacted the North American slipstream and were strongly influenced by what was coming out of the UK and NYC, with sometimes harsh, noisy stuff, sometimes incorporating many non-rock sources and influences, and where "pop" wasn't necessarily an evil term when done right. "Them" were the corporate American mainstream rock business acts , with everyone stuck a decade or so in the past with everything either overly refined to within an inch of its life as yuppie easy listening, or "rawness" transmitted as heavy metal or airbrushed meat'n'potatoes commercial radio RAWK. And I still hate most of that stuff.
I now realize that Joan is very much an "Us" but at that moment — with the slick, radio-friendly "I Love Rock & Roll" having been ubiquitous that year — she was very much seen as one of "Them," and was greeted accordingly. From the moment she hit the stage there were boos, the crowd pelting her with everything they could get their hands on. It was easily one of the most hostile reactions I have ever seen toward a performer. After just two or three numbers, she and the band fled the stage. An MC came back on to chide the audience, stating that Joan would not come back out unless the avalanche of debris stopped.
Eventually she returned and the crowd must have calmed somewhat as she did play the rest of her set. At least our troll-like nabes were momentarily satiated. I have a particularly funny memory of one of the females in their crew passed out on her side on their blanket. When Jett appeared, they tried to wake her up. "Come on, get up or you'll miss Joan!" The lass blearily lifted her head a few inches off the ground with her eyes rolling into the back of her head, leaned forward, puked, and then passed back out again.  Aw, bless.
While never a massive fan, I re-warmed to Joan later on although I just couldn't get into her at this time. Sorry Joan, apologies, apologies.
Joan Jett & the Blackhearts'  cover of Tommy James & the Shondells' "Crimson and Clover," live somewhere in 1982. Happier times for Joan.
I think that Jett had won over a few people by the time she was finished, and I do remember her playing her cover of "Crimson and Clover" — a version and arrangement that I liked even back in the day. With her departure, the vast crowd came back together as one in anticipation for the Talking Heads.
I had been jonesin' to see the band at least once more and, holy crap, they were freakin' brilliant all over again. This second time around didn't have the revelatory surprise of that 1980 set — and really, how could it? — but instead showed how the band had completely assimilated and mastered its intentions with the expanded line up. Remain In Light and its corresponding single "Once In A Lifetime" had both been big hits here in Canada and so there were high expecations for their appearance.
Aside from the memory of a very pregnant Tina Weymouth bouncing around on the stage, few specific details from this set spring to mind for me vs my intricate memories of the Heatwave gig (although the sound dudes finally recitifed the day's audio problem by the time they came on). Instead, I have an overall impression of just how mind-blowing they were. I think I forgot about feeling crappy the whole time they were on, they were just that good. It's incredible how music can do that.
The tune I most recall them playing is "What A Day That Was," originally from Byrne's solo project of music to accompany Twyla Tharp's dance piece The Catherine Wheel. It worked beautifully when delivered by this funky, large band framework and remained in their set for the next few years.
The Talking Heads, "What A Day That Was" from Jonathan Demme's Stop Making Sense (1984).
They were top notch, knew it, and had the whole stadium eating out of the their hands (except for the neighbouring trolls who moaned and bitched loudly through their set). The following year saw the Heads release their commercial colossus, the also-exceptional Speaking In Tongues, followed by the tour from this innovate stage in their career that would be commemorated forever via the Jonathan Demme-directed Stop Making Sense, one of a handful of truly great rock concert films.
Following their end-of-decade demise, the Heads reunited just once for their induction into the Rock and Roll Hall of Fame in 2002. It's a drag to think about how all core members (along with most of the satellites from this time), while still alive and well, won't be coming together again any time soon. From what I understand, the bad blood between Byrne and Weymouth is insurmountable. Byrne recently stated "I'm not keen and it's unlikely to happen. I don't need the money badly enough." Still, how I would love to see them get up there again and simply play, just as musicians, performing this great catalogue of music. Because when they were on form, there's no one who could to touch them and the spirit they created.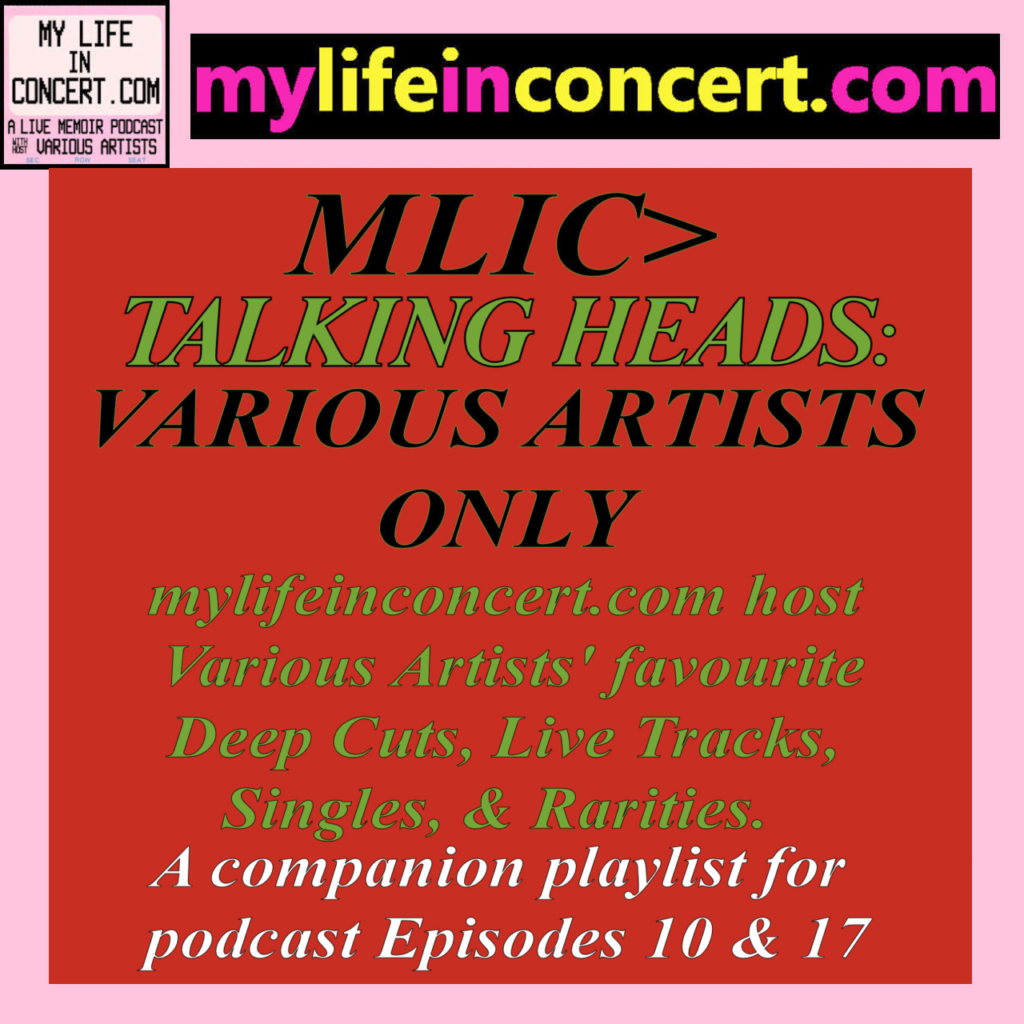 MLIC>Talking Heads: Various Artists Only My favourite Talking Heads Deep Cuts, Live Tracks, Singles, & Rarities. 
With the Heads' exit, we were ready to hoof it outta there. It was now dark, and once the adrenaline supplied by the Heads had vanished, we were left reminded of how lousy we still felt: nauseous, sickly, headachy, exhausted. On top of all that, we desperately needed to go to the bathroom by this point. But being reliant on Music Mann to get us back meant that we couldn't just up and leave when we wanted to.
With LB and I remembering how it took forever for The Police to show up last time around, and how lousy they were when they finally arrived, we considered simply heading out early, using the facilities and then hanging out in the parking lot until it was time to go. Luckily, The Police's relatively swift appearance after the Heads meant that we decided to stick around. And jeepers, were we ever glad we did.
Clearly, Sting, Stewart, and Summers must have been having an off night in '81 as they were terrific at this PP82. They had apparently learned their lesson as this set was sharp, focused, and punchy, with all of Exhibition Stadium engaged with an excitement that never flagged. This turned out to be one fine surprise. If we were going to have to stick around for another 90 minutes and try not to piss ourselves, at least we had the tunes to take our minds off of things.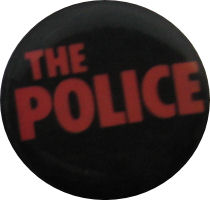 A Police tour badge (Courtesy of Ms. P)
As with the Heads' set at this Picnic, I don't have many specific memories of The Police's set — save for The Beat's Ranking Roger coming out to do some toasting on "One World" — instead recalling the overall mood.
The moment that that trio left the stage, this trio grabbed our stuff and were in the the stadium's bathrooms as fast as humanly possible. Relieved, we made our way back to the bus for what we hoped would be a quiet two hour ride back to London in the first real comfort and peace of the day.
Not a chance.
A large contingent of very drunk frat boy types took over the back quarter of the bus just behind where we were sitting, and started to chant/sing "Roxanne" over and over and OVER at the top of their lungs, much to the amusement of the Music Mann reps who encouraged them to keep going whenever they lagged. For them, it seemed to get funnier with each successive rendition. Meanwhile, we were now feeling worse than ever with this singing driving us out of our minds and being in a moving vehicle not helping our stomachs either. However, since there was a large contingent of them being egged on by both the MM staff and almost everyone else on the bus, we felt it prudent not to turn around and yell "shut the fuck up" as we would have been wholly outnumbered by a group of unreasonable drunks. The muffled headache that I'd all day had turned into a pounding cerebral hammer on the seemingly never-ending trip back home.
 "Roxanne" by The Police minus drunken, egged-on frat boys. (Live in Holland 1979)
We never took a Music Mann tour ever again (they eventually went bankrupt a few years later amid fraud and mismanagement charges). However, despite getting off on the wrong foot with CNE Stadium, we knew we would be returning to the scene of the crime in just a few weeks. To say that the second-time-around experience was a better one is an understatement.
As for the rest of the pills, they were instantly flushed the moment we got back to LB's where we were crashing, while we dosed ourselves with the legit ones for our heads and stomachs.
Oh, and remember those two cartons of meticulously devised Screwdrivers? They arrived back home untouched. All three of us felt too sick to go anywhere near them all day. The best laid plans etc.
Next On Stage –> Come back next time for one of the best concerts I have ever seen.
After five years of obsessing over my favourite band in the world, I finally get to see The Clash as part of a huge, loving and excited audience at the CNE Grandstand.
Black Uhuru also delivered a stunning and memorable opening set.
One of the best double bills of my lifetime.
To say that this visit to CNE Stadium was a far better experience than the Police Picnic just three weeks earlier is an understatement.
Stay tuned for bouncing masses, getting "The Message," and The Story of Lady Bump.
012. Clash City Rockers: The Clash with Black Uhuru, CNE Grandstand, Toronto, Ontario, Canada, Sunday September 5, 1982.
© 2010/2021 VariousArtists
Comments From The Original opensalon.com Posting