XTC at Centennial Hall, London, Ontario, Canada, Monday November 24, 1980. Too bad the show never happened. (Handbill: MZ. Filtering: VA)
Original Blog Entry Follows Below
Since The Covid Summer of 2020 is also The Summer Without Live Music, I am presenting two sets of podcast episodes devoted to performances that were missed rather than remembering those I attended. Join me in looking back on unseen shows by The Clash, Bob Marley, XTC, Sonic Youth, The Grateful Dead, U2, Simon & Garfunkel, and more as I reflect on a rich 40 years of Not-Attended gigs or sets. 
Hindsight is 20/20, or so the saying goes.  So, for my Concert no.020 entry in the original OpenSalon.com blog series (and now in the year 2020), I published this two-part tribute looking back at what DIDN'T happen: this piece remembering 20 specific performances/concerts I was slated to or wanted to see—but didn't or couldn't—from 1980 onward, and another listing the 20 Acts I Wish I'd Seen (and will never be able to) who were performing between the '20s and 1980.
This original list dates from 2012, and so I am updating it for 2020 with two covid-related cancellations for what were to have been my first set of live shows of the new decade.
In these two-part podcast installments, I reminisce fondly about venues surrounded by riot police, mystery no-shows + cancelled shows and tours, student penury, limited mobility options, inclement weather, instant sell-outs, undersold annulments, ticket-vacuuming bots, competing options and obligations, health-related complications, questionable artist sightings, a global pandemic, Mildred Pierce, and sometimes just being a lazy bugger.
I now have a Spotify account and am starting to create and post playlists to compliment the podcast episodes.  Here are appropriate tracks by the artists I discuss missing in Episodes 9 A&B, including Funkadelic's "Standing on the Verge of Getting It On," "A Day Without Me" by U2, "The Sound of Silence" by Simon & Garfunkel, Sonic Youth's "Disappearer," and of course, Bob Marley's "Waiting in Vain."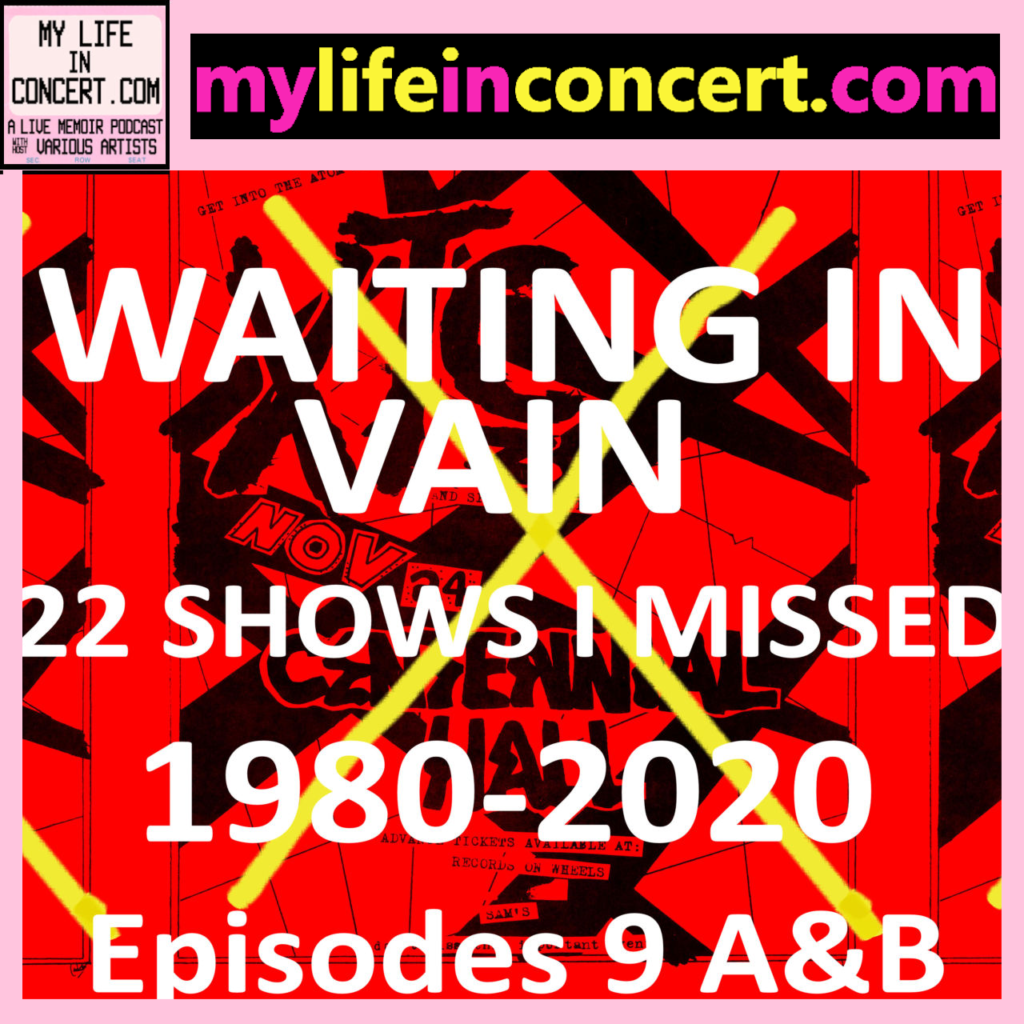 Upcoming Episode 11 (nos.008a,b,c,& d) will look back at the 40th Anniversary of the Heatwave Festival

outside of Bowmanville, Ontario (April 23, 1980)
I'll pick up where I left off in September, with this thrilling gig from UK Mod-Punks The Jam.  It also coincided with a fresh tray of live concert firsts (A gig outside of London!  In Toronto!  At a tiny theatre!  With an authentic ***punk*** audience!).
Between 1978-82, Weller & Co. shared the "My Favourite Band" mantle along with The Clash (Joy Division made it threesome by 1980), and so I was almost verklempt at getting to see my fave raves, who were so obscure over here while they were stars in the UK, in Toronto.
And boy did they deliver!
Tune in for winklepickers, opening act confusion, and … the magic returns.
Original Blog Entry
You've got the warm ticket in your hot little hands, anticipation is building, and you just know it's going to be a great experience and a fun night out.
But it doesn't always work that way.  Shows get cancelled or artists are pulled from advertised lineups owing to illness or personal emergencies.  Or ticket demand is too high — or too low.  Or shows go ahead but it is you that is ill or can't afford to get yourself there (as you'll see, that's a popular one for me during my university years). Or the weather turns crap. Or rides vanish. Or someone joins a cult. And on it goes.
I mentioned in Part One of this entry — 20 Acts I Wish I'd Seen (and will never be able to) — how part of the concert-going process is missing gigs. As with everything else in life, some things simply don't go as planned. While Part One focused on my picks for 20 acts I wish I'd been able to see, Part Two recaps 20 shows/performances that I was set to attend, but things did not work out as hoped for.
Each of these 20 (+2) entries represents a genuine intent to see a show/performance and in each case, I had a ticket, someone had obtained one for me, or there was a concerted effort to secure one — without success. If I simply couldn't be arsed to go out and buy tickets/attend, or heard about an incredible show and then retrospectively wished I'd attended, then they are ineligible for this list.
That I got to see several names on this list at other times is irrelevant.  This is all about thwarted efforts, what can go wrong, and what did/n't happen. Many of you out there will be able to relate to many of these scenarios in your own ways with your own stories, and I dedicate it to you and your energy.  Hail be to those of you who refuse to sit home seven nights a week glued to the TV (or computer), bitching endlessly about why you don't like people, crowds,  noise, etc. Consider yourself saluted. For the rest of you, put things in perspective: you'll eventually have all the time in the world to sit inside behind a closed door of sorts, as you'll be dead! (I should also warn readers in general that this entry turned out to be quite loooong … reading in chunks or pickin'n'choosin' may be the way to go.)
So, on with my ode to the frustrations, roadblocks, contextual circumstances, and general difficulties involved in being an "audience," starting with …
1. The Clash, Heatwave Festival, Mosport Park, Bowmanville, Ontario, Canada, Saturday 23, 1980
Reason: The band never showed up despite being the advertised headliner.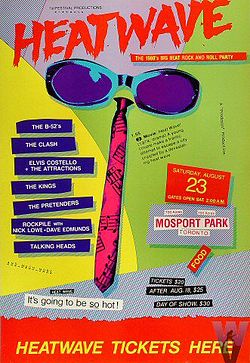 Promotional poster for the Heatwave festival, an hour outside of Toronto, 1980 (Wikipedia).  I used to have a copy of this very poster.
I've already written about this day, so to recap: Heatwave was the first ever large-scale new wave/punk/etc festival, drawing approximately 70,000-ish folks, to Mosport Park (now Mosport International Raceway), one hour outside of Toronto. The Clash were the designated headliners but, days before the festival, word circulated that they would not be appearing. And they didn't. I've never been able to find out exactly why they never showed, although I passed by a twosome in the crowd who I could have sworn was Mick Jones with then-girlfriend Ellen Foley.
While their absence was a huge disappointment, the day was anything but a write-off: The Pretenders, Elvis Costello and the Attractions, The B-52s, and Rockpile all performed at the top of their game, while the Talking Heads — debuting their new sound and lineup along with material from their upcoming masterpiece, Remain In Light — played possibly the best show I've ever witnessed.
I did eventually get to see The Clash, in one of the best-ever double bills with Black Uhuru, deliver a brilliant concert in 1982.
"London Calling"/"Train In Vain," on ABC's Fridays, April 1980.
.
2. XTC, Centennial Hall, London, Ontario, Canada, Monday November 24, 1980 (see flyer at the top of the entry)
Reason: The concert/tour was cancelled.
I was pretty damned pumped about this XTC concert. The few people I knew who had seen them raved about the UK quartet's live prowess. They were on a roll here in Canada, with "Making Plans for Nigel" and its parent album, the classic Drums and Wires, both having been big hits here earlier in the year — and were personal favourites of mine. At the time of this would-be show, XTC were back in the Canadian Top 20 with Black Sea.
I spent the late afternoon and early evening prior to this anticipated gig over at my sister and future brother-in-law's, having dinner and getting sufficiently herbalized with my BiL (I also clearly remember having my first listen to that aforementioned, newly released Talking Heads' album, which my BiL had just picked up).
Having "one more number for the road" before my designated-driver sister drove the three of us downtown, we arrived at Centennial Hall on a cold, rainy night only to find the doors shuttered and a shivering gent standing outside, informing everyone that the concert had been cancelled due to illness and that full refunds would be available the following day.
Not only was this a substantial bummer, but it now meant that I would be dropped back at home while still very, very stoned. I crossed my fingers that my folks would be downstairs watching TV so that my waaay-out-of-it teenage self would not have to face earnest questions from sober parents at a moment when I was finding complete sentences challenging and probably sporting luminous crimson eyes.
Most unfortunately, the parental units were still milling around in the kitchen, absorbed in Family Feud or something similar, when I reluctantly came floating in. Either I was able to come up with something approximating coherence or my folks simply pretended not to notice anything was up before I beat a hasty retreat, holing up in my room for the rest of the night.
Sadly, the illness marked the start of something far more serious: Andy Partridge's debilitating stage fright. It would officially end XTC as a touring entity after an abortive attempt in 1982. I never had another opportunity to see them again.

"Respectable Street" in Fréjus, France, 1980, from the film Urgh! A Music War.
.
3. Bob Marley and the Wailers, London Gardens, London, Ontario, Canada, December 1980
Reason: The concert/tour was cancelled.
If there is any gig on this list where I could undo circumstances and attend it, this is the one. I was almost speaking in tongues, so excited was I to be seeing Mr. Natty Dread. I had thee ticket in my hand and was all set to be right down front, skanking the night away.
Most unfortunately, it did not come to pass.
Word came a few weeks in advance of the concert that the entire final leg of the tour had been axed owing to illness. Disconsolate, I got my refund, looking forward to my next opportunity to see him. It never came.
As we all know, Marley had cancer which had advanced quickly in the latter months of 1980, eventually killing him in May 1981. I still remember turning on the TV and finding out about his death, stunned that this still young force of nature and artistic pioneer's voice had been silenced.
First Ian Curtis, then Lennon, then Marley, in tandem with the rise of Thatcher and Reagan: 1980-81 sucked in many ways.
"Exodus," live in 1980.
.
4. Joan Armatrading, Centennial Hall, London, Ontario, Canada, Early 1982
Reason: The concert was cancelled.
I'd been a fan of UK songstress Armatrading since the mid-70s, but was particularly enamoured with her then-contemporary LP, the new-wavey flavoured Walk Under Ladders. It was doing well here in Canada, and Armatrading booked a country-wide tour to help promote it. Every other gig on the tour sold-out quickly, and I had tickets to the advertised Centennial Hall performance. However, unlike everywhere else, the London date had to be cancelled owing to poor ticket sales. Way to go, London.
I did eventually get to see Armatrading many years later, with a memorable set at the 2005 Ottawa Folk Festival (coming up as no. 109).
"Drop the Pilot," at the Montreux Jazz Festival.
.
5. Simple Minds, Police Picnic '83, CNE Stadium, Toronto, Ontario, Canada, Friday August 5, 1983
Reason: The band cancelled on the festival.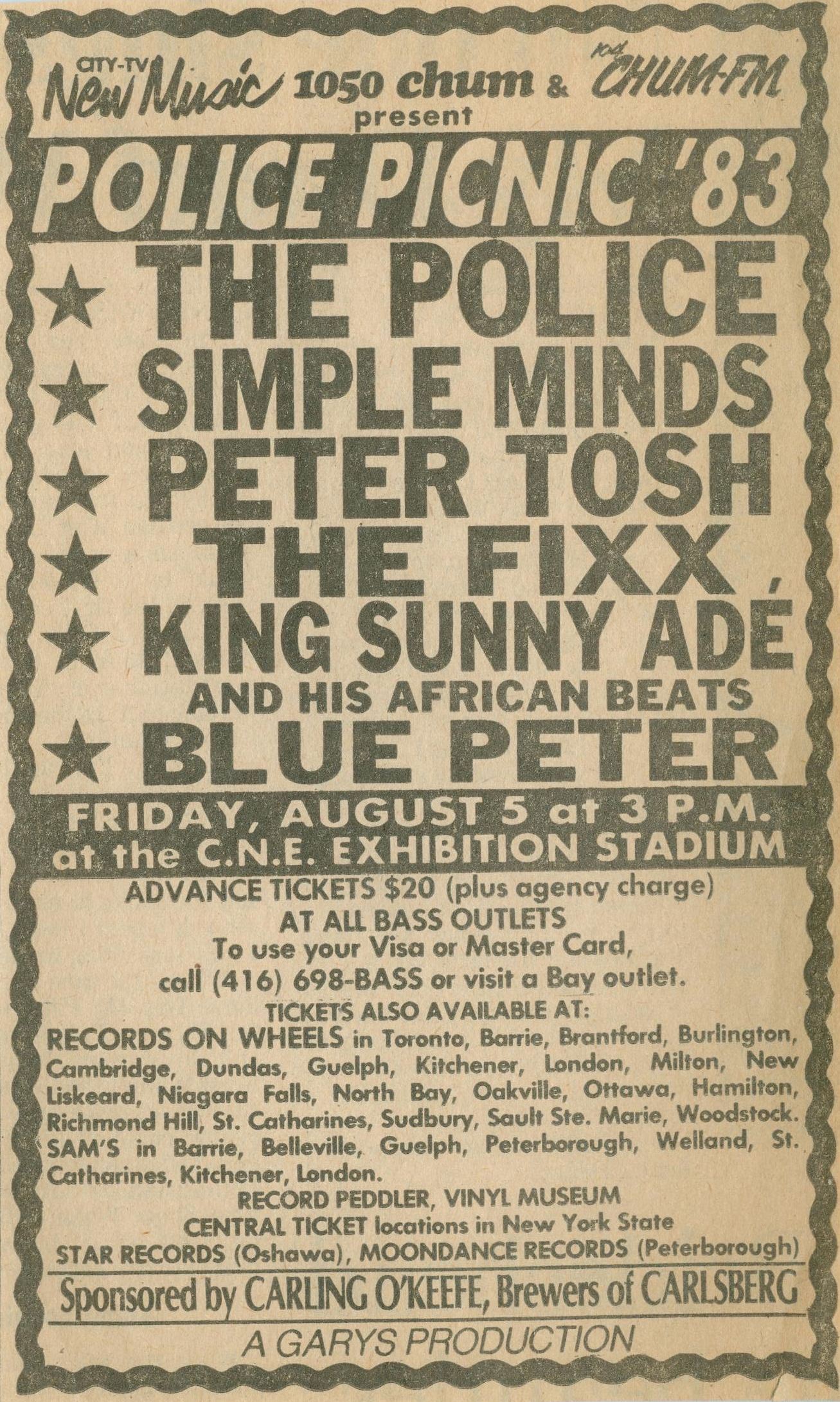 A newspaper ad that I've saved for the third and final Police Picnic.  Simple Minds were part of the originally announced lineup, but pulled out and were replaced by James Brown.
I have also written and podcasted about this day as well, one featuring a bevy of memorable sets from King Sunny Adé, Peter Tosh, and the headliners themselves, as well as a jammed revolving door, smashed ceramic smokers, and unexpected narcotics.
While I did attend the festival, I am including Simple Minds as part of this list as they were a key element of the original lineup and the No. 1 reason behind myself and my friend Le Chateau getting tickets. At the time, they were in the final stages of promoting what I still consider to be the finest moment of their career: 1982's New Gold Dream, which had been a big commercial success for them up here in Canada. I still don't know why they pulled out.
Shortly before the festival, I was thrilled to learn that James Brown had been added to the Fest as a replacement. I was/am a much bigger fan of James Brown than I'd ever be for Simple Minds, so this switcheroo was fine by me. Unfortunately, Brown was in a bad place in his life at that time and ended up being one of the all-time live disappointments for me.
I still have yet to see Simple Minds. (2020 Update: I finally got to see them in 2018).
"Promised You A Miracle" at Live Aid in Philadelphia, July 13, 1985.
.
6. Nick Cave and the Bad Seeds, RPM, Toronto, Ontario, Canada, Tuesday February 14, 1989
Reason: My ride to the gig vanished.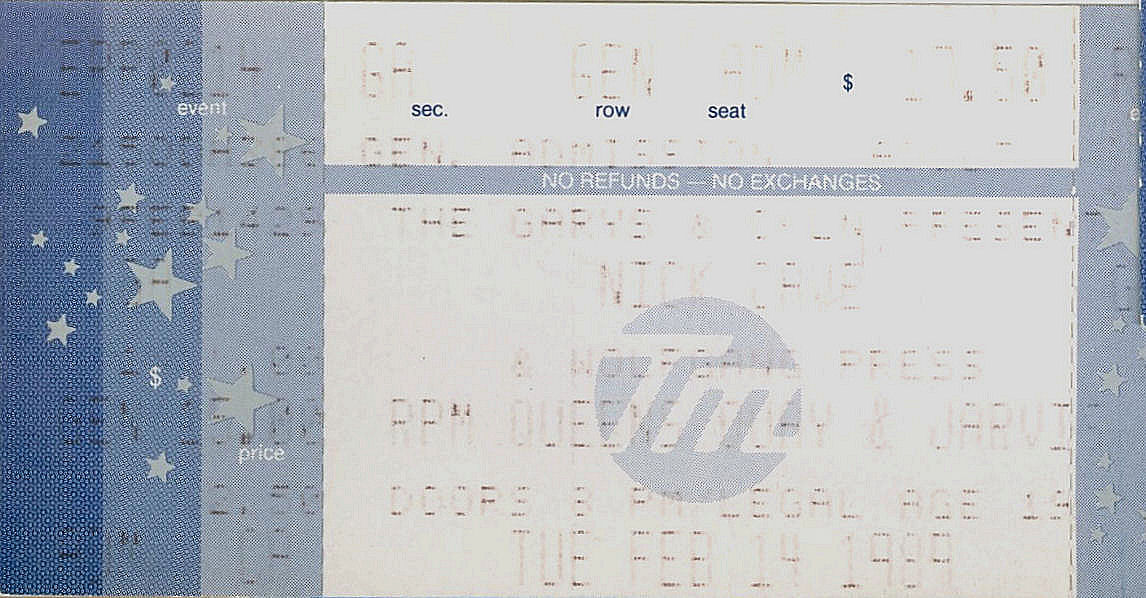 I still have the ticket for this one.
At this point, I was in my second year of university and had been a DJ since the spring of 1984 at the radio station that broadcast from there. A group of us from CHRW had banded together to rent a van and go see Sonic Youth in Toronto the previous November (that stunning gig is coming up as no. 050), and we decided to do so again for this Nick Cave show in 1989. Unfortunately, several people had to back out at the last minute, meaning no van got booked. As it turned out, there were a few others who drove down on their own, but I didn't really know them and word didn't get to me in time concerning the ride.
I was particularly broke at the time and didn't have the money to cover the gas, parking, and other inevitable expenses to get me to Toronto and back on that night all on my lonesome.  Ergo, I missed the gig.
I did end up seeing Nick Cave and the Bad Seeds give an intense, memorable performance during the Toronto Lollapalooza stop in 1994, appropriately set against a black, thundering sky (coming up as no. 081).

"From Her To Eternity," Werchter, Belgium, July 2, 1989.
.
7. Stéphane Grappelli, Roy Thomson Hall, Toronto, Ontario, Canada, Summer/Autumn 1990???
Reason: I didn't have the money to get myself to the gig.
In Part One, 20 Acts I Wish I'd Seen, Le Quintette du Hot Club de France were one of my choices. And while this gig happened several decades after the Quintette's 1930's supremacy and long after Django Reinhardt's death, it would still have been a treat to have been able to see violinist Grappelli in person, especially at the gorgeous Roy Thomson Hall.
In my piece on Laura Nyro, I introduced a friend of mine from the time who I've named Keith Garcia-Westerberg. I had played Keith my album of the Quintette, and he'd been similarly impressed. Finding himself in Toronto that weekend, he came into the possession of two tickets to a Grappelli performance at RTH on a Saturday night. I can't remember how he came upon the tickets, I simply recall that he got them at short notice and contacted me immediately, early on the Saturday. The other ticket was mine if I wanted it, knowing that I'd appreciate Grappelli most of all.
Sadly, I had to turn the offer down for a reason that was recurring during these often fairly-broke student years: as with the Nick Cave show, I simply didn't have the money to get me and my car there and back and in between.
The aging Grappelli sharply shaved down his performance schedule shortly after this time, dying in Paris in late 1997.

"How High the Moon," Warsaw, Poland, 1991, with McCoy Tyner on piano.
.
8. Sonic Youth with Redd Kross, Great Hall, Toronto, Ontario, Canada, Monday October 15, 1990
Reason: The gig was oversold and then shut down by police.
As you may know if you've been reading this series, yours truly is a MAJOR Sonic Youth fan. I'd fallen for the jolly noiseniks during the '80s, and my pal M. Zeppelin had joined me in SY patronage by the turn of the decade. At this time, the band were touring behind their major-label debut, Goo, with this bill being a terrific proposition as Redd Kross were opening.
MZ, then living back in London for a spell, and I drove to Toronto in the late afternoon for the show, with me sacrificing both the much needed money from my initially scheduled evening shift at Sam the Record Man as well as time needed for work on several due English Lit essays. After getting into town and grabbing a bite, I pulled into the parking lot of the Mildred Pierce Restaurant (a hilarious coincidence for us as Goo sports a brief, noisy track, similarly named after the 1941 Joan Crawford vehicle) as we wanted to have a pre-gig herbal aperitif in the car before parking on the street and wandering over to the venue.
A few days prior to the concert, we had found out that it had been inexplicably moved to a much smaller venue, the Great Hall. This made no sense as Sonic Youth had sold out the much larger Diamond (now the Phoenix) two years earlier, and their profile and audience had swelled considerably during the interim. We arrived at the Hall to find a huge crowd amassed outside, unable to gain entrance.
As it turned out, the gig had been substantially oversold and this new venue was woefully inadequate for the ticket-holding patrons. As Redd Kross played inside (RK's McDonald brothers later walked passed us on the way out), anger flared outside the Great Hall as a sea of us were not unreasonably enraged that we could not get into a concert we had paid for — and that no one was planning on leaving the premises anytime soon. Never mind that I had given up much-needed time and money to be there.
Online sources reveal an 11-song set list for the concert, but my memory is more of hearing Sonic Youth playing only a few songs to the lucky entrants before the plug on the gig was pulled. The large number of police had shown up and were nervous about the massed crowd who were fulminating with hostility, seemingly getting ready to start rioting or something to that effect. In the end, we didn't get to see any of the show, the cops pulled the plug, and that was that.

Excerpt from my journal, after returning from the Sonic Youth gig that we could not get into.
There was also another "obstacle" to deal with. Remember that Mildred Pierce moment, avant gig? Well, we hadn't anticipated on heading back to Londonia several hours earlier than expected, and I now needed some time to pass in order for me to be sober enough to drive us back home. We ended up killing a few hours in a local Tim Hortons, with me downing a succession of coffees and Boston Cream donuts while the two of us uproariously peeled through the latest copy of Dimensions (??? Not sure if that's the right name): a free, Toronto New Age magazine from the time that I regularly picked up whenever I was in the city.
It was a dependable font of comic relief. I have nostalgic memories of laughing myself into double vision as I made my way through its pages, which were always wallpapered with an endless parade of folks who seem to have indulged in that one hit of acid too many, with googly eyes and inscrutable smiles rubber-stamped on each of their reverential faces. Then there were the ludicrous articles, like the one with the Gnosto-ed-up mommy who felt a connection with the ages of eternity every time she put a cloth diaper on her baby's freshly wiped ass, or on how to sew crystals in the hem of your jeans for extra power.
I did go on to see Sonic Youth six more times, all eventually coming up in this series (and saw Thurston Moore play a solo show last August).
On YouTube, I found this compilation of interviews posted by oldTOtaper with the band backstage at the actual Toronto gig, including bits of the show and Moore announcing that the plug was being pulled as the venue was surrounded by cops.
.
9. The Grateful Dead, Pine Knob Theatre, Michigan, USA, June 20, 1991
Reason: I didn't have enough money to get to the gig.
At some point in the later-'80s, Keith Garcia-Westerberg was in my car, inspecting the cassette selections I had on hand. He pulled out two Grateful Dead tapes: a Maxell 90 where I'd put Workingman's Dead on one side and American Beauty on the other, and a commercial copy of Skeleton's From the Closet: the Best of the Grateful Dead.
I had started getting interested in the Dead during the latter '80s, gradually exploring their back catalogue. "This is a band I know almost nothing about," noted Keith as he examined the cassettes. "Their output is uneven, but they're great when they're on form," I explained. "You can borrow 'em if you like."
And with those words, I inadvertently created a monster. Just a few hours later, Keith was hollering down the line to me about how absolutely blown away he'd been by the albums, and could he borrow everything else I had by them, asap?
Keith became an instant Deadhead — just add Jerry.
The summer of 1991 was one of my brokest, as I had gotten less-than-usual school cash during the previous semester coupled with fewer hours than normal at my summer job, with a raging recession making other summer employment options non-existent. One mid-summer afternoon in the midst of this, I received a call from Keith G-W, who had been following the Dead around on their tour. They were playing at Pine Knob in Michigan, roughly two hours away, just on the other side of the US border.  Someone had just "miracled" him with two tickets in the parking lot for that night's show. All I had to do was drive down and the other ticket was mine.
Sigh.
I was seriously broke at that moment, barely able enough to buy groceries that week, let alone the gas and food needed to get me there and back. I simply couldn't justify trying to borrow the money from someone for such an indulgence, and had decline. Besides, the Dead played all the freakin' time. Surely another opportunity would arise.
It didn't. Jerry Garcia's death in 1995 marked the end of the band.
"Sugar Magnolia," Oakland Coliseum, New Year's Eve, 1991.
.
10. Blossom Dearie, Top O' The Senator, Toronto, Ontario, Canada, 1994
Reason: I didn't have the money to get me to Toronto for the gig.
I discovered Blossom Dearie at the start of the 1990s, thus instigating a love affair that's only grown for me over time. Rarely has a month gone by since wherein that knowing, schoolgirl trill, specializing in songs of sophisticated wit, has not been heard waffling from wherever I've lived.
In the fall of 1994, Blossom was in Toronto for appearances at the now defunct jazz club, Top O' The Senator. My pal, M. Zeppelin, wanted to go and knew it was a no-brainer that she could count me in. One problem: the shows occurred at yet another time when I had no cash to spare.
I was a grad student, had finished with my course work, and was spending copious amounts of time in my apartment in London, Ontario, working on my thesis. At that particular moment when we learned of her coming to the Senator, I had some money scheduled to be coming in, but until it did, I was borrowed right out from others. I simply couldn't hit anyone up for $$ for a live show and the accumulated costs involved in getting me to Toronto and back, plus drinks when there, food, etc. when more pressing day-to-day life bill demands were nipping at my heels.
MZ was similarly cash-poor at that moment.  I told her to wait on tickets until my cash flow re-started … but sadly, the anticipated funds never arrived in time.  I had to very frustratingly decline her offer.
She ended up attending with her pal, who I'll call Angel. Apparently, the show was great even if Blossom came off as rather testy, and the night ended with an inebriated MZ nicking an ice bucket from Top O' The Senator on her way out.
Sadly, it was to be my last opportunity to see Ms. Dearie. She died at her NYC apartment in 2009.

"I'm Hip," on Billy Taylor's TV show.
.
11. Beck, Elastica, and Moby, Lollapalooza, Molson Park, Barrie, Ontario, Canada, Sunday July 23, 1995
Reason: We didn't make it there in time to see Beck and Elastica. As for Moby, read on …
While it's rarely the case that one sees every name on the bill at a festival — particularly in these days where multiple stages are the norm — I'm including these names from that year's Lollapalooza because Beck was one of that day's "must-see" acts for me. Meanwhile, I had also wanted to check out Elastica, too. Unfortunately, we arrived at this fourth and final Lollapalooza that MZ and I attended much later in the day than we had at the previous three.
As I wrote in my piece on the Patti Smith gig in Toronto (which had taken place a couple of weeks previous), the summer of 1995 was a very dark one for both myself and my pal MZ. While basking in each other's misery, we also shared in the fun and joy of a series of incredible gigs spanning late spring through early autumn.
However, we almost didn't make it to this Lollapalooza. While we had tickets, along with then-MZ pal "Toaster," we were both in foul moods the night before. We just didn't feel up to the two-hour-plus drive of me getting into downtown Toronto to pick her and Toaster up; an additional hour's drive to Molson Park; the long walk from the lot to the site; an exhausting day out in the merciless sun amid huge crowds …. we just didn't know if he had it in us at that time.
Thankfully we relented, arriving just in time to see Pavement's brilliant set, but missing mainstagers Beck and Elastica in the process. Admittedly, while Elastica were more of a take-em-or-leave-em proposition to me, I was very curious about seeing Beck. He had issued the "where the hell did this come from?" Mellow Gold CD the previous year, but I had wondered if it was only a "one-off" moment of greatness. While 1996's Odelay, as well as finally hearing the experimental Stereopathetic Soul Manure, quickly allayed those "flash in the pan" thoughts, I wasn't yet there in the summer of '95, and figured that his set might drop clues as to whether this was simply a beginning or if he had already delivered everything from his bag of tricks.
I still have yet to see Beck live. While I've found his post-2002 output patchy, he's still on my "Must See" list.
And Moby? I'll throw his name in, even if I'm cheating a bit. See, I hadn't realized that Moby was even playing the second stage and, as we did a walkabout on the grounds during Cypress Hill's set, we passed by the Second Stage where I could have swore it was the bald up there over in the distance. "It's not Moby," stated MZ firmly as we made our way back to the Main Stage for Hole's upcoming appearance. "I think it is." "No, it's not."
Yes. It was. (Sticks out tongue.)

MuchMusic compilation piece on all the Lollapaloozas that came through the Toronto area, 1991-1996.
.
12. Lollapalooza 2004 with The Flaming Lips, Sonic Youth, Morrissey, PJ Harvey, Wilco, TV On the Radio, Polyphonic Spree, and more, Ontario Place's Molson Amphitheatre, Toronto, Ontario, Canada, July 2004
Reason: The tour was cancelled.
Nine years after our last Lolla, and seven years after it officially closed shop, the travelling alterna-festival was set to relaunch in 2004. It was now to be a two-day propostion with a lineup that pretty much left me drooling. MZ and I got tickets to the Toronto show, along with a friend of mine from Alabama who would be visiting up here at that time.
Bizarrely, it was a seated event at the Molson Amphitheatre (all previous Lollapalooza's I'd attended had been held at open-air, outside-the-city venues, as befitting a festival), although we did manage to get incredible seats when the tickets went on sale. It was all for nought, though, as word soon came through that the whole shebang had been cancelled due to low ticket sales.
A number of reasons were cited as to why this model failed, especially given how strong the roster of artists was. The most likely culprit was that many of the acts skewed towards a slighter older alterna-audience who may have had difficulty taking a couple of days off of work to attend. There was also the factor that a preponderance of dates were booked into seated venues — a festival buzzkill.
I've listed the acts I was most wanting to take in above, and have seen all of them at some other time. The exception would be Morrissey as a solo artist, although I did see The Smiths twice (coming up as nos. 032 and 036).
Fun and hijinks with The Flaming Lips at Coachella, California, 2004.
.
13. U2 with the Arcade Fire, Scotiabank Place, Ottawa, Ontario, Canada, November 25, 2005
Reason: Couldn't get tickets.
I'm including this excellent double bill simply because we had 110% focus in attending, but simply could not get tickets. Cublet and I were prepped the morning they went on sale, but despite several hours of my consistently refreshing a few Internet browsers to the site while repeat-dialing on our cell, and Cublet doing the same thing with our land line, we couldn't secure tickets to this high-demand show. I believe estimates were something in the range of ticket demand being 5x or more what was available. Damn.
I spoke to several who attended, each giving it a huge rave. Damn double damn!
I still have yet to see U2, a group I've been following since the release of Boy in 1980, although I did get to see the Arcade Fire two summers ago.
[youtube=http://www.youtube.com/watch?v=_R6YEF-jbk8&w=485&h=272]
Here is a collage that someone posted on YouTube featuring clips from the show and U2's time in Ottawa. (Posted by YouTuber the goalissoul4ever)
.
14. Bonnie Raitt, Feist, Ottawa Bluesfest, Ottawa, Ontario, Canada, Saturday July 8, 2006
Reason: Three acts were performing simultaneously — and a choice had to be made.
Saturday July 8, 2006 made for one frustrating evening. We had to make a choice to attend one of three shows happening simultaneously, each of which I was quite invested in seeing.
On that night at that year's Bluesfest, Bonnie Raitt was headlining the main stage. I'd long thought Bonnie would be perfect for the festival and was well chuffed to find her announced as one of 2006's marquee names. However, I was annoyed to learn that Feist was headlining one of the second stages while Bonnie was on. At this point, Feist's Let It Die had taken off in a big way up here in Canada, and it had been a favourite of ours at home. We'd missed out on tickets to some of her previous gigs here in Ottawa which had sold out quickly in tandem with her rapidly ascending career.  We vowed we'd see her next time around.
Alas, we decided to take in Bonnie, correctly assuming that the still-rising Feist would be back soon. Regardless, it was an irritating choice to have to make.
However … no sooner had that been laid on our doorstep when it was announced that Crosby, Stills, Nash and Young were going to be playing Ottawa's Corel Centre (formerly the Palladium, and now Scotiabank Place) on this same night. Grrrr!
Without question, this was the show that I most wanted to see of the three, given how rare it is that these foursome tour. But ticket prices were ridiculously exorbitant (about $400 a pop if I am remembering correctly). The price meant that the decision reverted back to Bonnie … until someone I knew who had some comps but wasn't interested in CSNY asked if I was — and, oh, and they were for box seats!  It was a no-brainer.
Despite being fairly far back, I wasn't about to complain. We had an evening of spacious comfort, not to mention personal bar service, throughout the 3.5 hour gig (a full review comes up down the line as no. 111). Meanwhile, our Bluesfest tickets for that night sat in the drawer at home.
Bonnie Raitt remains on my "must see" list, whereas I've had the Feist experience twice (so far … and coming up as nos. 117 and 128).
Bonnie Raitt on David Letterman with "I Will Not Be Broken," 2005.
.
15. George Clinton and the P-Funk All Stars, Ottawa Bluesfest, Ottawa, Ontario, Canada, Tuesday July 10, 2007; and Bluesfest in the Byward, Ottawa, Ontario, Canada, Thursday July 9, 2009
Reasons: Couldn't attend in 2007; had to make a choice among conflicting shows in 2009.

I saw George Clinton and the P-Funk All Stars play a mindblowing set at Lollapalooza '94. I'd loved Parliament/Funkadelic back in the '70s, and this blended 1990s lineup were excitement incarnate.
Well, I'm glad I got to see George and the gang back then as I've frustratingly had to miss them twice here in Ottawa. I had to pass on attending his 2007 Bluesfest show, which I'd specifically bought tickets for, owing to a family event that came up afterwards.
In 2009, I skipped Clinton's free gig in the Byward Market area downtown (far away from the main site, LeBreton Flats), as part of the Bluesfest in the Byward series. I'd already secured a festival pass when the Byward adjunct shows were announced several weeks later, greatly ikring me as I had to decide on whether to see the free show or go to Bluesfest proper for one of the very few acts I had any really investment in seeing that year: Iron and Wine.
I decided to get my "money's worth" with Iron and Wine (and Holy Fuck, preceding him), only to be treated to an exceedingly irritating and disappointing set (the problems weren't I&W/Sam Beam's fault … I'll whine more about all this in no. 139).
Meanwhile, Clinton's Market show was hailed as exceptional. Unsurprisingly.
"Flashlight," live in Japan, 2002.
.
16. Broken Social Scene, Ottawa Folk Festival, Britannia Park, Ottawa, Ontario, Canada, Friday August 15, 2008
Reason: Inclement weather.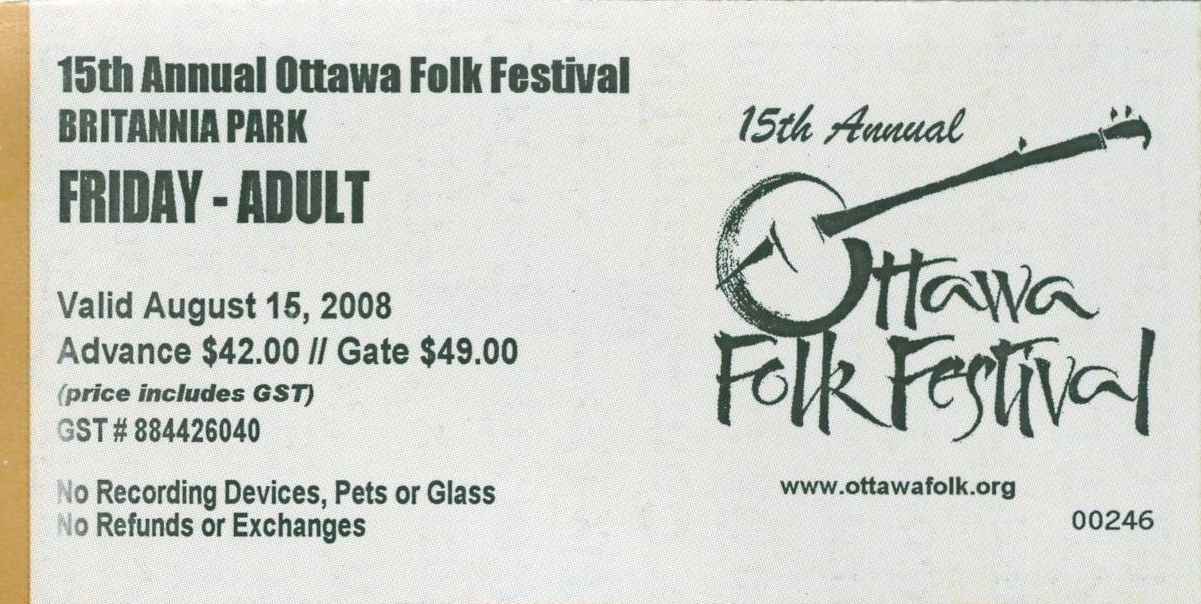 This unused ticket is still kicking around as well.
It's a natural occurrence that, when on the cusp of an approaching season, one will invariably get a taste of "coming attractions," weather-wise. That's a good — or bad — thing. For example, this past March in these regions sported a succession of July-like weeks, shattering a streak of long held temperature records. Conversely, one can usually depend on there being the odd, rogue day(s) in an otherwise sweltering August when the chill of the upcoming season will flout its inevitability.
That's precisely what happened here. On what should have been a hot August night, the temperature dipped freakishly and inexplicably, the chill exacerbated by relentless volumes of cold showers under slate-grey skies. Having seen BSS three times already (and twice more since), we decided to sit this one out and just eat it on the ticket cost. (In happier news, it was back to full-on August warmth for the Sunday night show with Rufus Wainwright and Odetta, just a few months before her death, coming up down the line as no. 134).
"7/4 (Shoreline)," live on KEXP, 2019.
.
17. Leonard Cohen, Southam Hall, National Arts Centre, Ottawa, Ontario, Canada, Monday May 25 and Tuesday May 26, 2009
Reason: Couldn't get tickets.
On this tour — his first in 15 years — Cohen was mostly playing the larger sheds. His Ottawa visit, by contrast, encompassed two nights at the comparatively smaller Southam Hall of the National Arts Centre (approx 2000-ish seating). Ticket demand for this tour was exceedingly heavy, and I was ready and logged in for them the moment they went on sale.
The result: within seconds, the Ticketmaster website informed me that there were no side-by-side pairs of seats available, but I did have the opportunity to purchase two of the most expensive seats in completely different areas of the hall. Huh??? When I rejected these and tried again, I was told that the shows were now sold out. This happened in what must have been less than two minutes.
I was, however, directed by Ticketmaster to another site where tickets for these shows were on sale at greatly inflated prices (it must be noted that the basic tickets themselves were pretty pricey to begin with).
There is no way I can believe that something foul, unethical and possibly illegal didn't go on here, especially considering the instant offer to buy tickets from a secondary source at a massively inflated price. As it turns out, I was far from the only one this happened to, as there was a public outcry over sales of these shows as well tickets for a Springsteen tour in and around this time. I have no doubt that what happened with these events probably didn't involve Cohen's or Springsteen's camps, with both artists publicly denouncing what had gone down.
Regardless, this was tremendously angering, not to mention that I missed the show.
Not only didn't I get to see Leonard on what many presumed would be his final full-scale tour, but a lucky someone I know who obtained tickets (he kicked it old school, lining up early in front of the physical box office) said it had to be among the ten best shows he'd ever seen. Grrrr.
In happier news, Cohen not only bounced back again this year with one of the finest and most successful albums of his long career (Old Ideas), he's decided to hit the road again — I just scored s-weeeeet tickets to his December show here in Ottawa. Fingers crossed that I won't be able to add that gig to this list …
"Tower of Song" in London, UK, 2013.
.
18. Neko Case, Ottawa Bluesfest, LeBreton Flats, Ottawa, Ontario, Canada, July 12, 2009
Reason: A conflict with another show that was announced several weeks after tickets had gone on sale.
A run of several years of diverse, tasty Ottawa Bluesfest rosters ended sharply with an incredibly weak 2009. Adding insult to injury, the Fest also programmed a series of competing free shows down in the (far from the LeBreton Flats) Market, with these show unethically announced weeks after tickets to the core festival had gone on sale.
Oh, the frustrating perversity of having many nights during this two-week period wherein there was barely anyone I wanted to see alternating with other nights of competing choices (see the George Clinton entry above). Neko Case was among those few acts I was truly looking forward to, particularly as I'd been obsessively listening to her Fox Confessor Brings the Flood album. However … a free, Broken Social Scene show was announced for the same concurrent time (rolls eyes)
My nephew was up visiting at the time, and BSS was the clear choice for both of us, and I frustratingly had to miss Ms. Case (frustrating, even if BSS played a particularly excellent set that night, premiering material that would turn up on the following year's Forgiveness Rock Record).

"Margaret vs Pauline" at Bumbershoot Festival, Seattle, 2008.
.
19. Simon and Garfunkel, Scotiabank Place, Ottawa, Ontario, Canada, Friday May 14, 2010
Reason: The tour was cancelled owing to Art Garfunkel's vocal cord surgery.

I've always been a fan of Simon and Garfunkel as well as Simon's solo work in the 1970s and '80s. I still have yet to see Paul Simon, but was even more excited about seeing him in a rare tour with his former collaborator and sparring partner, Artie G.
I was delighted to learn that S&G were planning a cross-Canada tour for 2010, and decided to splash out on this one, given that it was probably going to be my sole opportunity to get to see them.
I was even more delighted when I scored good seats for their Ottawa stop … and crestfallen upon learning that the tour had to be cancelled, owing to Garfunkel's emergency vocal chord surgery.
While completely understandable, it was a massive let down. The dates have never been rescheduled, and I don't anticipate that ever happening.
"The Sound of Silence," the Rock and Roll Hall of Fame Concert, Madison Square Garden, 2009.
.
20. Black Keys, Wanda Jackson, Ottawa Bluesfest, Ottawa, Ontario, Canada, Friday July 8, 2011
Reason: A flash rainstorm cancelled/delayed the sets.

Well, we at least got to see Wanda Jackson play one number (photos by Cublet) …
I've already written about this one too. To recap: In a brief time span preceding the Fujiyama Mama's set, the weather turned abruptly from "Beach Blanket Bingo" to "Secret Storm," as forceful winds and pummeling rain starting walloping the stage and its concernedly wobbling construction. Ms. Jackson played her opening number before she and her band sensibly decamped to dryer, safer quarters.
As the rain progressed from heavy to hammering, we along with throngs of moist others said bye-bye and split, figuring that the remaining night of music would be cancelled on the rain-saturated stages. Alas, both Jackson and mainstagers the Black Keys eventually appeared near the end of the night for some truncated, past-curfew sets.
And, damn, Wanda sounded good during the one and only number we got to see.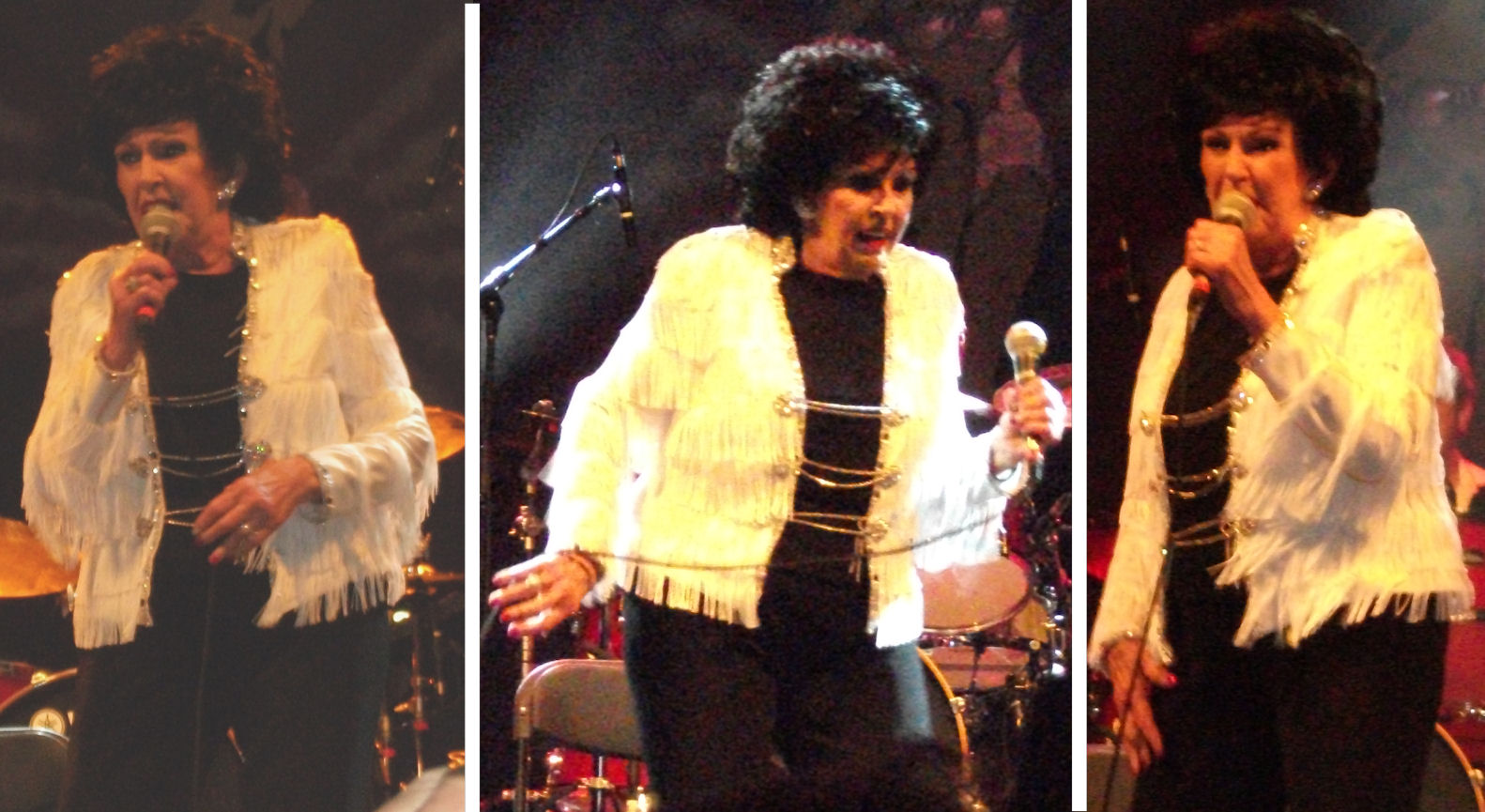 Wanda Jackson hits the stage … along with a mighty storm (Photos by VA).
While many were frustrated with the turn of events at the conclusion of what had been a gorgeous summer day, what went down on the following Sunday proved that this Friday night could have ended up with a far worse outcome.
The Black Keys, "Howlin' For You," Ottawa Bluesfest 2011.  From the set I missed. (Posted by YouTuber Cee Ess)
AND THERE'S MORE!: TWO NEW EXCITING ADDITIONS FOR 2020!
Since the podcast was based on this original blog entry from 2012, I am updating this entry for the Covid era with two shows I recently had to miss because of the pandemic, just as many others have had to do this year.
Damo Suzuki, Call the Office, London, Ontario, Canada, April 8, 2020
Sloan, "Navy Blues" Album Anniversary Tour, London Music Hall, London, Ontario, Canada, April 17, 2020
Reason: Both shows were cancelled because of the Covid pandemic
I was due to see the legendary Can frontman, Damo Suzuki, as my first performance of both the new year and new decade, as well as being the first ticketed gig that I'd be seeing at my former haunt—Call the Office—in 27 years.
Less than 10 days later, I was planning on taking in the year's second live gig with Sloan at the London Music Hall, playing their brilliant 1998 LP Navy Blues in its entirety.
I was looking forward to both shows but, as we all know, the planet had other ideas.
I've never seen Damo Suzuki before although I know he played here in the city at a private event about a decade ago.  Hopefully the tour will be rescheduled one day.
Ditto with Sloan.  I was supposed to see them here on the One Chord to Another tour a few years back but scheduling was problematic.  And now I've missed the Navy Blues tour.  Sigh.  Again, let's hope for a rescheduling in the future. (I did finally get to see Sloan on July 1, 2017, at their Canada 150 show.)
Let's hope 2021 brings an effective vaccine along with its distribution … and a return to live music.
Can with singer Damo Suzuki: "Paperhouse" on German TV, 1971
"Sinking Ships" from Sloan's Navy Blues (1998)
.
Bob Marley and the Wailers, "Waiting In Vain," from Exodus (1977).
.
Next On Stage –> Ten days after the final Police Picnic in Toronto at the massive CNE Stadium, I took in a more intimate, but hotly anticipated, show by Marianne Faithfull. The by-then gravel-voiced '60s pop icon and former Jagger paramour was in the final throes of a triumphant, early '80s comeback, conveniently beginning her tour at my local watering hole. Join me next time for thigh-slappin' rhythms, backstage gossip, contented smiles and … dangerous acquaintances.
021. Dangerous Acquaintances: Marianne Faithfull, Fryfogles, London, Ontario, Canada, Monday August 15, 1983.
© 2012 VariousArtists
Comments From Original OpenSalon.com Posting