Oooh looky, there's a curmudgeon onstage …
178b. Enjoy Yourself: Ottawa Bluesfest 2013 (Pt. 1) with The Specials, The Waterboys, Animal Collective, Solange, Balkan Beat Box, and more, July 8-12, LeBreton Flats, Ottawa, Ontario, Canada
The Specials
Monday, July 8, 2013
Sunday was Bluesfest-free owing to the small matter of my visiting nephew — known here as Fast & Bulbous — and I going to see the surprisingly still fab Paul McCartney (that entry is eventually coming too, even with my re-focus back on the past).  Had "The Cute Beatle"™  not come to town on said night, the plan was to have taken in the Sky Pilot Animal himself, Eric Burden.
Several nights on while waiting for a late bus home from the Fest, I struck up a conversation with a fellow who saw the Burden show.  And it must be said, Bus Stop Guy was well chuffed with the Geordie's performance.  Alas, it was Sunday with Stella McCartney's dad for us instead, but might I say it was not exactly a bad decision (I selected Herr Red Rose Speedway as my favourite gig of 2013).
So, from reliving my childhood with Paul, it was on to reliving my teenagehood and the late-70s/early-80s-cusp ska revival with its progenitors, The Specials.
But before we got to rocksteady, we arrived at the Flats to the steady rocking of Grace Potter and the Nocturnals.  If she/they reminded me of anyone I had seen before, it would unfortunately be the demonstratively non-interesting Carolyn Striho who I had to endure ahead of Patti Smith's historic career-re-kicking off gig in Toronto, 1995.  Visually, Grace looked more like 1970s supermodel Cheryl Tiegs, only here resplendent in a shiny white robe while strapping on a Flying V.  The climax of the set appeared to be when the whole band did a group drumming thing that had me grimacing with concern.
Grace and the Nocturnals' emission was thick with dedicated energy, but thoroughly perfunctory.  Not my thing.  And with the Nocturnals laid to rest, both band and enthusiasts ejected themselves as Bulbous and I headed straight to the barricade for a front-row view of the legendary, reformed ska legends.
While 2 Tone head and keyboardist Jerry Dammers continues to decline re-involvement — and with toaster Neville Staple bowing out in the months before this gig — the remaining five of seven are all here, including the key lynchpin of vocalist Terry Hall. Coming back together for acclaimed sets in 2008, the pride of Coventry have kept with it.  Their appearance tonight was keenly anticipated, unsurprisingly attracting a large, raucous crowd.
The Specials at Ottawa Bluesfest 2013.  Let's play spot the curmudgeon. (All photos and scans by VA)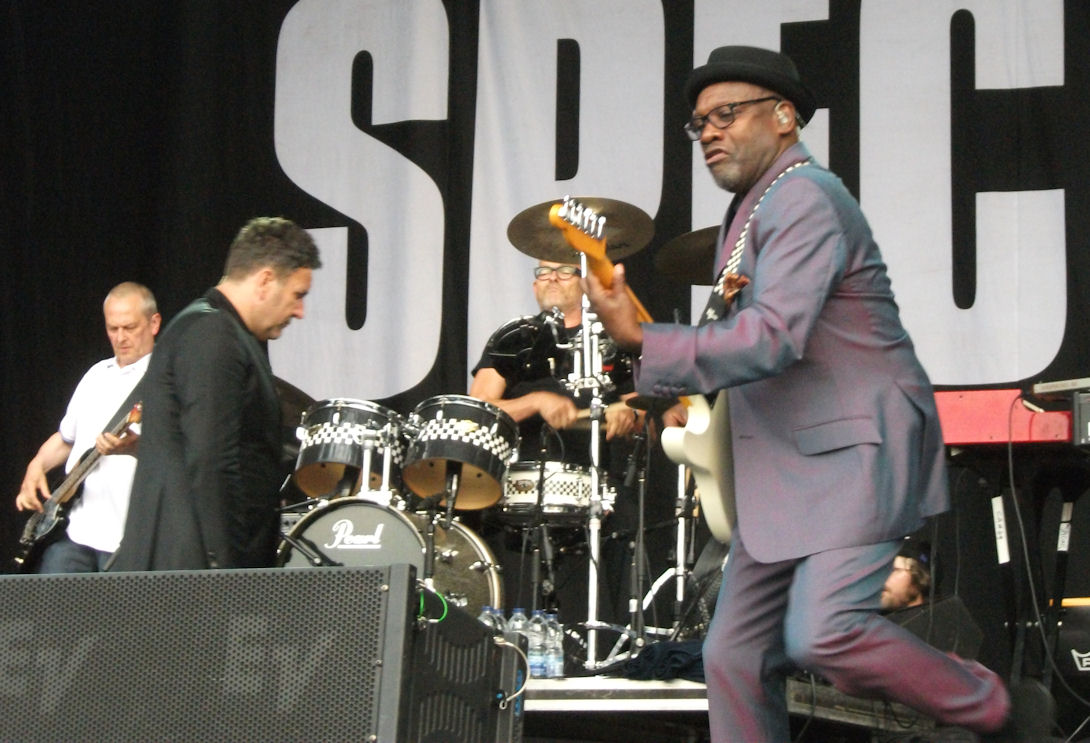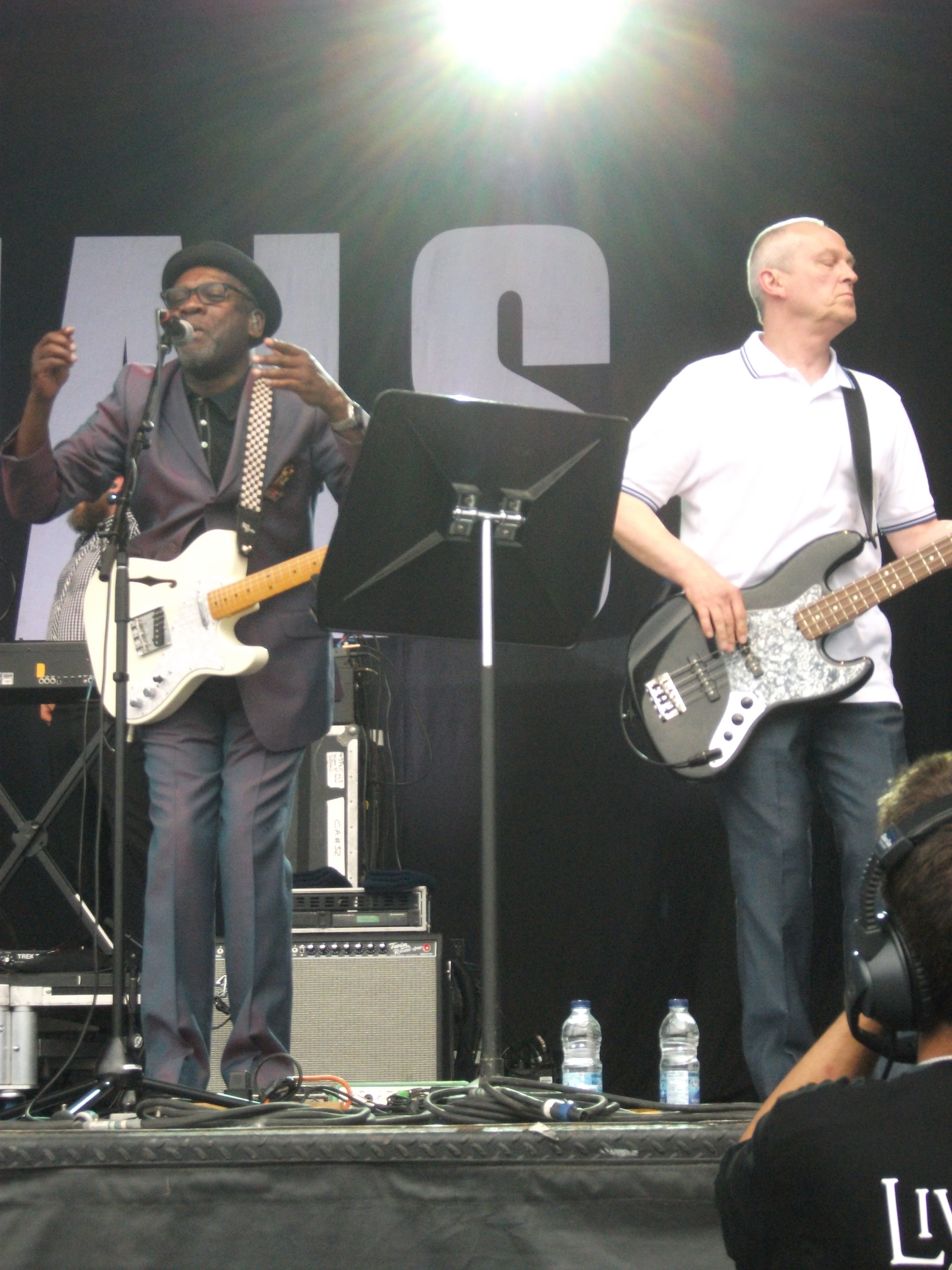 I have written about The Specials's legacy — kicking off the ska revival in the UK in 1979, launching both their career and iconic 2 Tone Records with their "Gangsters" 45 — and how they were one of my very favourite groups during my teen years, myself finally getting to see them when they played one of their final shows at the first Police Picnic in 1981. At that time, none of us knew they were about to to burn out and split, having just scored one of their biggest hits with the prescient "Ghost Town," a UK No. 1 that ended up as the unofficial soundtrack to that summer's spate of anti-Thatcher riots.
On this evening they received a hero's welcome, walking out onstage to their second, slower version of the standard "Enjoy Yourself," which closes More Specials. A retrieved set list indicated that the better-known upbeat arrangement was to be played for the encore, but that unfortunately did not come to pass.
When I saw them in 1981, selections from the previous year's More Specials formed the bulk of the set while they did two, maybe three songs from that classic, Elvis Costello-produced debut.  Tonight they performed that first album almost in its entirety.  The crew opened thunderously with "Do The Dog," triggering a wild response from several generations of 2 Toners, keeping that frenetic slam going through "(Dawning Of A) New Era" and the aforementioned "Gangsters."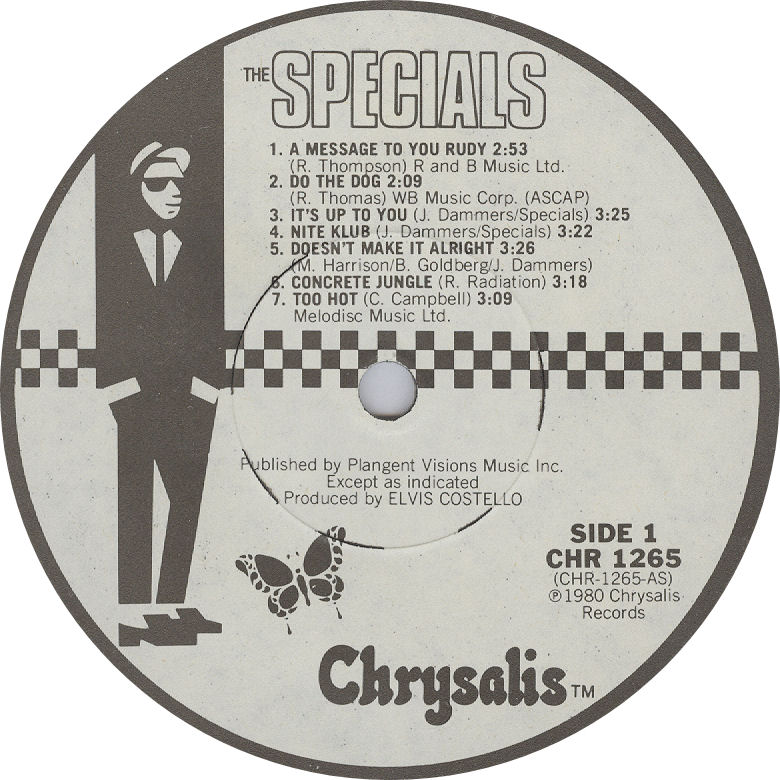 Labels for The Specials' only two albums with their complete crew: The Specials (1979) and More Specials (1980).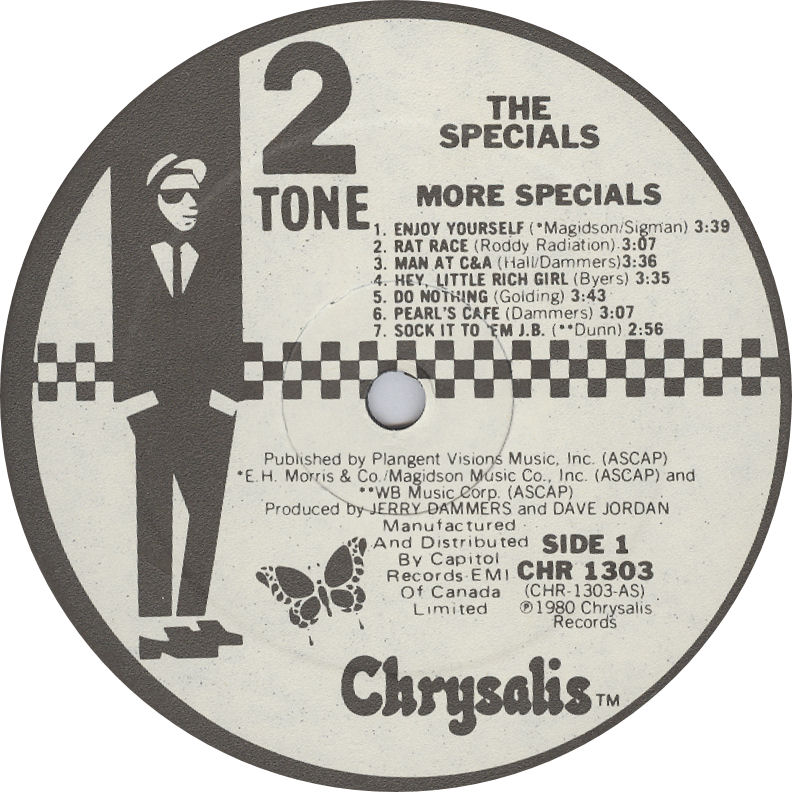 While ten songs from the debut got aired (eleven from the North American edition), from the reflective "Doesn't Make It Alright" to raucous "Concrete Jungle," their sophomore outing was represented by the likes of "Do Nothing," "Man at C&A," and, surprisingly, "Stereotype."  Just as surprising, there was no "Ghost Town."
While the band sounded brilliant and were clearly 110% into it, their raging spirit was somewhat undercut by frontman Terry Hall being a curmudgeon.  A scowling, proper ornery curmudgeon. "This is the cleanest city.  There is no litter anywhere.  Please drop some litter on the way out," he deadpanned, unimpressed, coming off less humoursly in person than it may cheekily read in print.  As a counterpoint, guitarist/vocalist Lynval Golding emphatically contested Sir Grumpydrawers on stage right: "It's lovely.  Don't litter!"
Hall's singular sullenness throughout was in complete contrast to the rest of The Specials' high spirits, especially Golding who seemed to be particularly having a blast.  And while that mixture was always central to their dynamic — the grey miserablism that was part of their late 70s UK social realism set against the spiky enthusiasm of the music — you'd kind of wish that Hall came off more as magnificently moody rather than as someone having a tooth pulled.  Or just a prick.
Case in point: near the end of the set, Hall started having mike problems and just about tore a roadie trying to fix things a new asshole.  He petulantly tossed a new mike aside, willfully singing the set's concluder — one of their the most-anticipated anthems, "Too Much, Too Young" — through a dead mike which he slammed on the stage before storming off.  A Veruca Salt-worthy tantrum.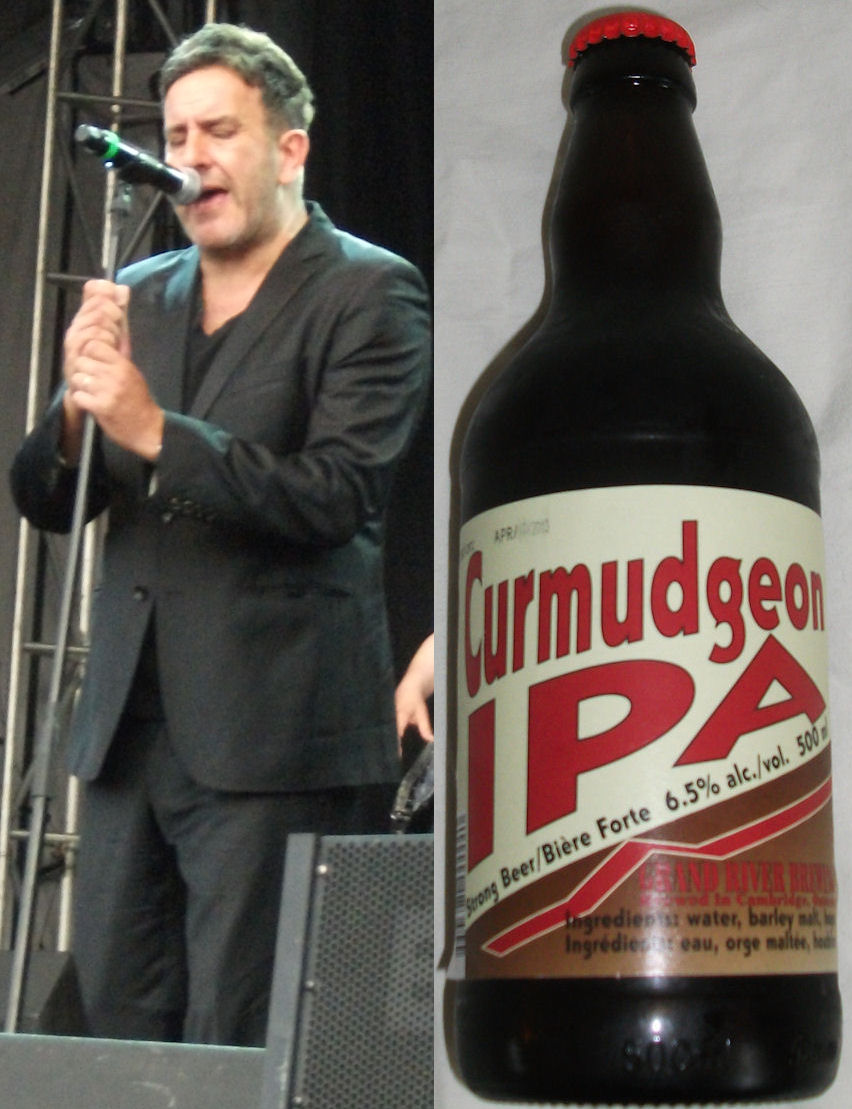 "Paging Mr. Hall: We have a beer for you …"
It was over and out, with the rest of the rude boys decamping forthwith.
Meanwhile, the wildly enthusiastic crowd were clamouring for an encore.  Instead, a different roadie was dispatched to confirm that none was forthcoming: an ignoble conclusion to what was largely a brilliant set, one that even Hall's sometimes downer moments couldn't torpedo.
In fairness, Hall has spoken in recent years of his bi-polar condition so perhaps it was an off/tough night for him.  Funnily enough, my longtime pal over in the UK, Special Guests, saw him sitting on a London café patio just prior to my seeing this gig.  Even better, The Specials were playing on his iPod when he looked up and noticed him.  Special G didn't approach Mr. Specials though, and gauging by tonight he probably made a wise choice.
  The Specials "A Message To You Rudy" at Ottawa Bluesfest.  PLEASE NOTE: I unfortunately forgot to bring our new stereo camera along on this night … AND that the sound drops out with our mono camera when zooming.  Consider yourself warned of impending audio frustration.
.
Up next was Rush over on the main stage.  Neither myself nor F&B have ever been fans, although I did wander over to catch a bit of their set when they were at Bluesfest in 2010, enjoying it more than I had expected to.  We had planned on at least seeing a bit of it since we were already here, but we were well and truly spent after three consecutive nights of gig-going, instead deciding to head home and have a quiet rest-of-night with Cublet and Thurston The Kitty before F&B's departure from Ottawa the next day.
.
Animal Collective, Solange
Wednesday, July 10, 2013
Following the mid-fest Tuesday break day, I headed back to the Flats for the somewhat disappointing Wednesday evening.  While I'd had a day to rest and unwind, I was still pretty beat truth be told, amid what was possibly the hottest, muggiest weather of the 10-day run.  Indeed, mild tinkling ensued prior to my arrival, but all was dry and sunny by the time of Animal Collective's 7pm arrival on stage.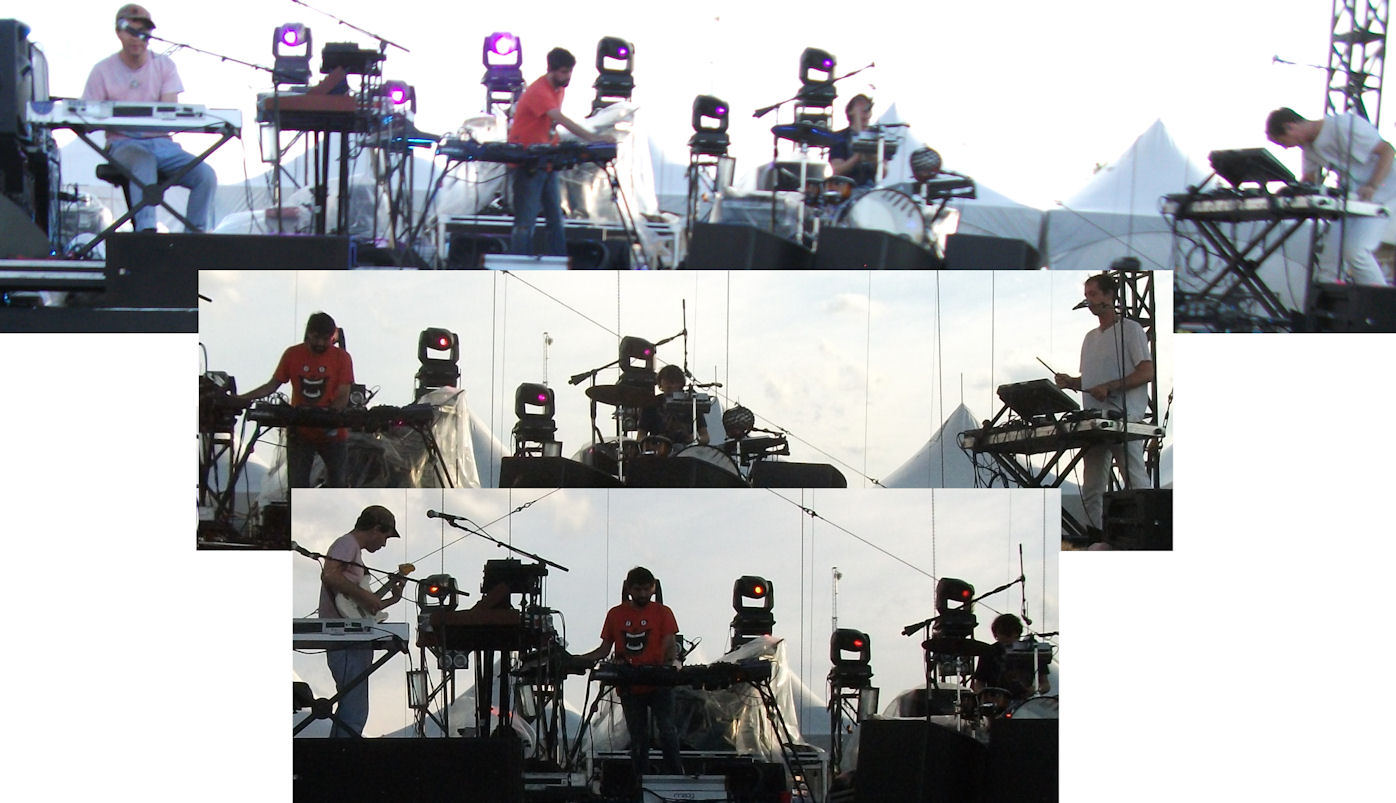 Animal Collective at BF.
Baltimore's AC were one of the "wow factor" acts for me in 2013, with their first-ever Ottawa appearance heavily anticipated by the local alterna-crowd.  With 9 albums in 13 years under their belts, the crew's output has swizzled around a variety of indie-based genres, although for me their 2009 "pop" album (well, pop for them anyway) Merriweather Post Pavillion is a breed apart from anything else in their catalogue.
This widely acclaimed and surprise chart hit married a left-field, electro-hippy vibe to a collection of uniformly catchy songs, luring in a lot of folks who would normally only be occasional fans (such as moi).  It's my favourite album from that year and one that still gets regular spins 'round my way.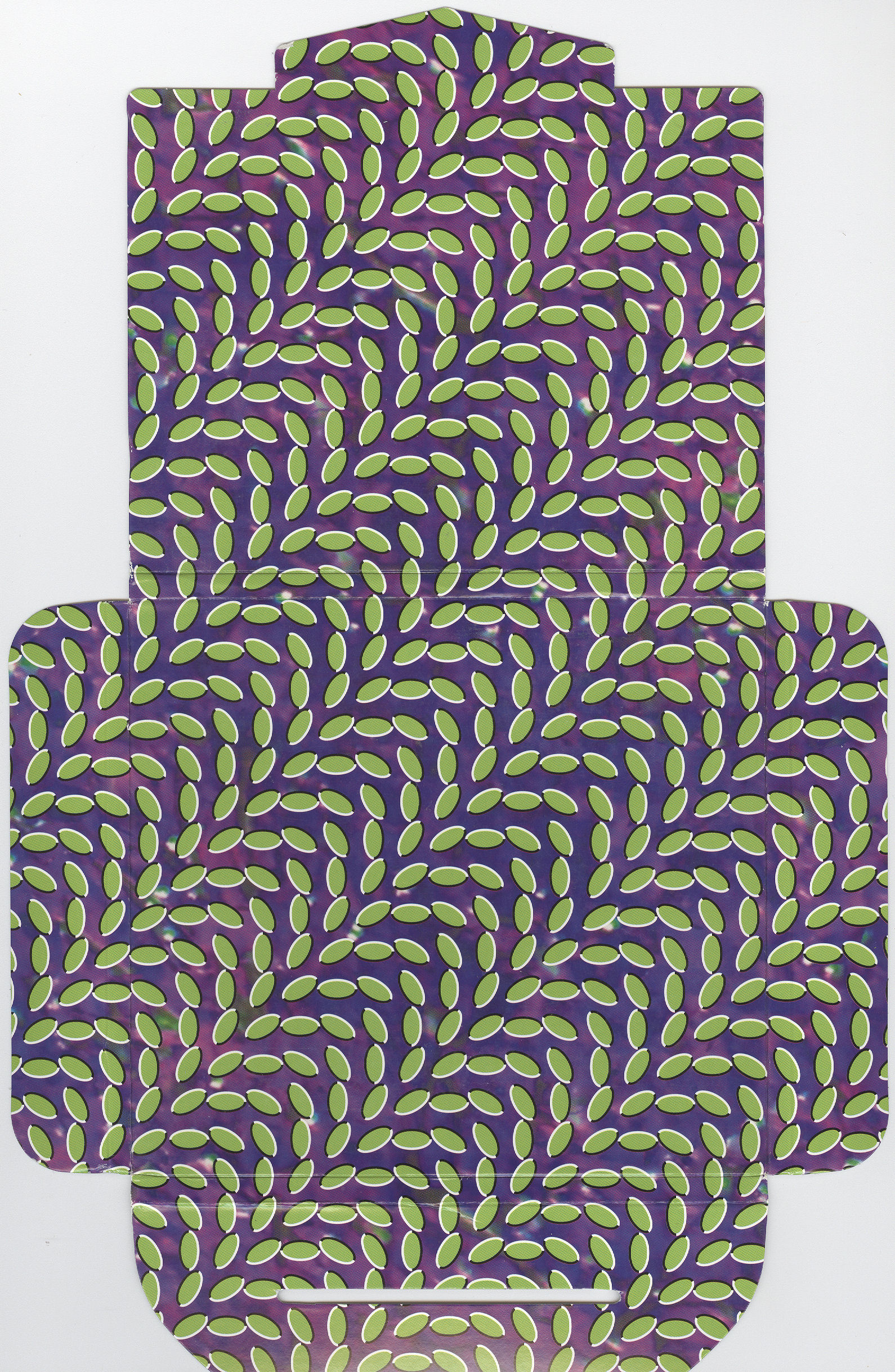 Fold-out CD sleeve for Animal Collective's Merriweather Post Pavilion (2009)
Knowing that the follow-up would be eagerly anticipated, they did what so many of their similar past peers have done before them: kibosh it all by putting out a willfully difficult follow-up — just cuz. Centipede Hz's arrival in the fall of 2012 was viewed by many critics and fans alike as overcooked and claustrophobic, a view I share.  Regardless, the Collective have a solid live rep and I was looking to be knocked out.  Unfortunately, that didn't really happen
While not a bad set per se, it was underwhelming.  Playing for a brief 50 minutes, their performance was much like a plane endlessly circling an airfield, threatening to take off but frustratingly delaying doing so.  The six-song set was rendered as a single suite, with between-song segues acting as bridges.  But rather than building ascending and descending dynamics, it was more like one long, slow almost-boil: a Teflon surface that was difficult to grab and dig into.  It wasn't until the 30-minute mark, when Merriweather's "My Girls" throbbing rhythm briefly kicked in, that the plane finally left the tarmac for a short flight, provoking a full-blooded audience response.  A few minutes later that intensity bump was all over.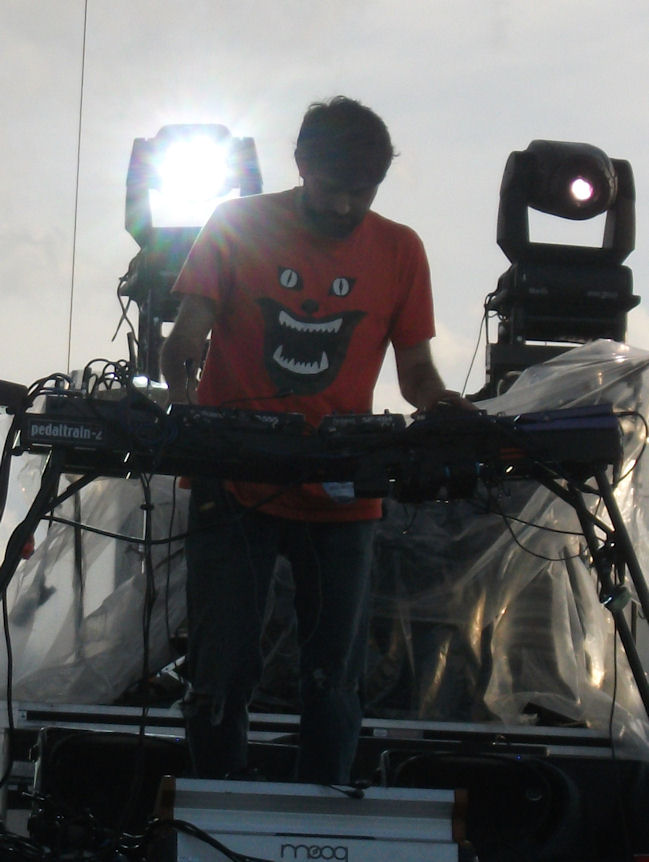 Perhaps this may have worked better in the right environment (read: a smaller enclosed space with lights), but in the party-hearty blue-sky afternoon, it made for a pear shaped experience.  One thing that was noteworthy was the gaggle of fans who showed up donning a variety of animal costumes, a particularly impressive feat given the strangling humidity.
Collective's fans' animal instincts.
Sadly, Solange's Ottawa debut — one stage over following AC — didn't fare much better, but for totally different reasons.  In fact, her and the band's performance over on the River stage was anything but lacklustre while they were at it, but problems limited her exposure.
Solange Knowles' new wave-ish approach to r&b is, IMO, far more interesting than that of her more famous sister — one, Beyoncé (Solange has been in the news in the interim on account of her having a videotaped barney with her brother-in-law Jay Z in a hotel elevator) — particularly as evidenced via her transitional 2012 EP, True.  Apparently a stage-setter for her in-the-works full-disc-to-come, it was the centrepiece material of her brief time on stage.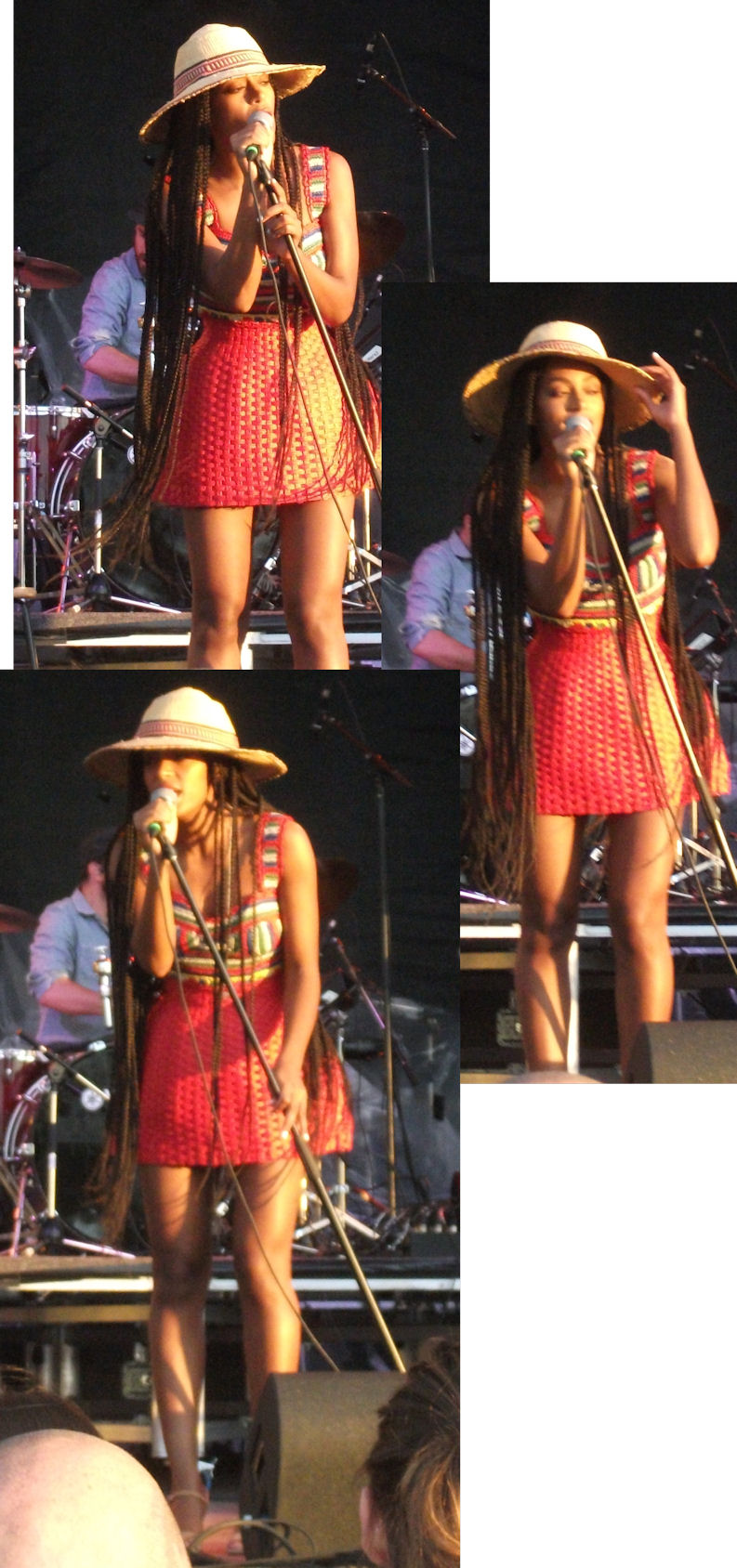 Owing to unknown technical problems, Solange was greatly delayed in her onstage arrival and seem perturbed by sound and equipment problems throughout.  She was decidedly unimpressed by what she described as the "worst ever sound," which struck me as odd as she and the band sounded superb from my vantage, although it was probably her own monitors she was referring to.  But if this is what she and her tasty backing band sound like on a bad night, I'd be pretty damn interested to hear what they sound like on a good one.
Numbers such as "Some Things Never Seem To Fucking Work" and "Don't Let Me Down" became prophetic but were also highlights.  In fact, I felt that every song from the EP was superior live to its sometimes overworked studio counterpart while earlier material such as "Sandcastle Disco" worked well too.  I wish she'd make an entire album that sounded exactly as she did during her set.
The delayed start meant that she was sadly on the stage for approximately a half hour: a real shame on a few fronts.  While dismayed by sound issues not apparent to me or seemingly many others, she made it clear how much she appreciated the enthusiastic support from the crowd who came out to see her.  Meanwhile, her guitarist shone as did the duo of backing singers — the whole shebang shone, really.
Oh well, the disconnect is a bit of a mystery.  I just know that I quite liked her set.

Solange at BF with the seemingly appropriate "Some Things Never Seem To Fucking Work" (courtesy of YouTuber Fanny Hagerimana).
I had initially planned on staying and checking out headliners, Weezer, but, as with Rush on Monday night, I was utterly bushed and not enough of a fan to will up the stamina to stick around.  And so, after sitting out and resting up during a none-too-interesting Thursday night, it was time for ….
The Waterboys, Balkan Beat Box
Friday, July 12, 2013
After a largely brilliant string of shows during the festival's first week, the final weekend beckoned, promising a number of potential crowning highlights.  My long-time pal WBN Rigs traveled in from Montreal to come out with me on the Friday night, this turning out to be the first live show we'd attended together since seeing k.d. lang and The Reclines in April 1989 (coming up down the line as no. 55).  Tonight was focused on one key performance by a band who I hadn't seen in 23 years, near the end of their true heyday: The Waterboys.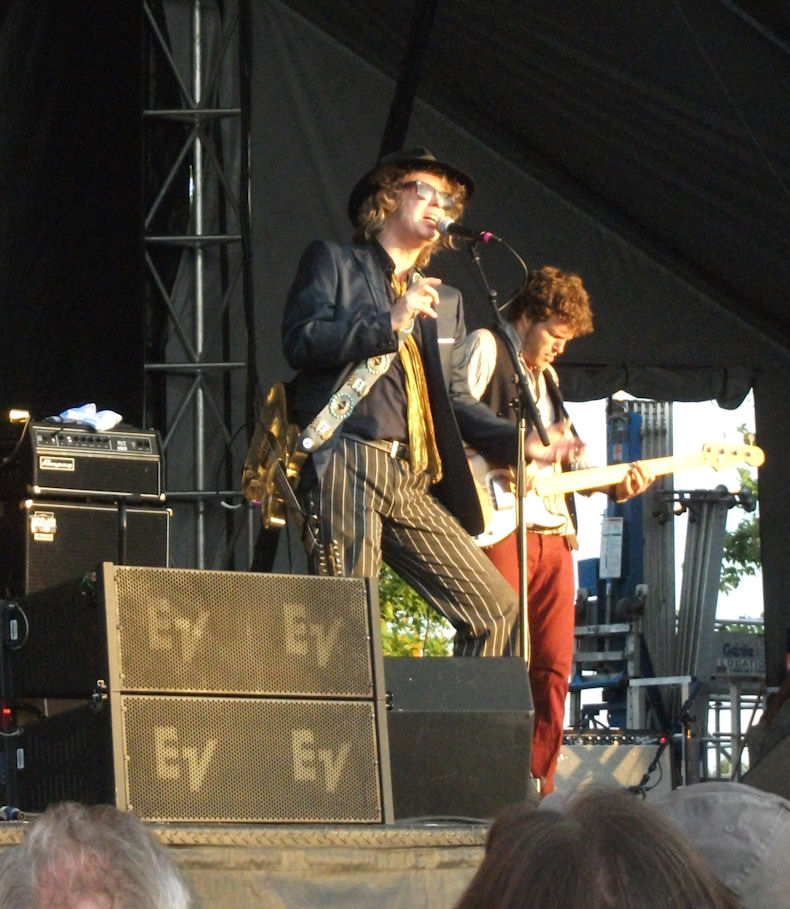 The Waterboys finally make it to the National Capital, welcomed by an adoring crowd.
Although they began the '80s as a fully fledged band from Edinburgh, Scotland, playing dramatic yet poetic U2-meets-Van Morrison-style anthemic rock — or "The Big Music" as it was explicitly named via a track on their excellent sophomore disc, A Pagan Place — the original line-up slowly disintegrated and morphed into lead-Waterboy Mike Scott's solo project in band name only.  Following their huge international hit, "The Whole of the Moon" from 1985's This Is The Sea, Scott decamped to Ireland, put together a new incarnation of The Waterboys and spent several years recording and rejecting a variety of material for its long-delayed follow-up.
I distinctly remember having a conversation with an Island Records rep circa late winter/early spring 1986, when "Moon" and Sea were both firmly ensconced in the upper regions of the Canadian charts, assuring me that The Waterboys were just finishing up their next album which would be out before year's end.
It didn't quite work out that way.
Sea's follow up, Fisherman's Blues, didn't end up surfacing until the autumn of 1988.  And to say it was worth the wait is an understatement.
Radically shifting their sound into a more-Celtic influenced proposition with stunning results, Fisherman's Blues remains for me (and many others) The Waterboys' finest hour and one of the very best albums of the 1980s.  If "The Whole of the Moon" is the one Waterboys song that almost everybody knows perhaps save the US, one of the few first world markets where it didn't become a major hit at some point, Fisherman's Blues is The Waterboys album that most tend to own or know.  It's one of those discs where pretty much all who I knew at the time owned it while it would sell religiously week-in-week-out for a protracted period from my record store days.

 The Waterboys' trilogy of classic '80s albums: A Pagan Place (1984), This Is The Sea (1985), and Fisherman's Blues (1988)
Fisherman's Blues is an album where I'll go for a while without hearing it in its entirety, and then when I do it knocks me out all over again.
I saw The Waterboys twice in the years after its release (coming up as nos. 062 and 069), and while Fisherman is their apex, it also marked the beginning of the end.  1990's Room to Roam had a few great moments but ultimately doesn't work overall, although that pales in comparison to 1993's truly atrocious Dream Harder (save its majestic "Preparing To Fly"), their attempted return to their older sound.  I had been following the band for a decade by that point and found Dream Harder so bad, so belaboured, that I pretty much lost interest overnight.
So, seemingly, did Mike Scott, who retired The Waterboys name and slunk out of the spotlight.  He's revived it in recent years, still working with Fisherman-era fiddler, Steve Wickham, but I hadn't yet picked up the thread. Until tonight.
WBN and I arrived for their 8 pm set and made our way up as a throng amassed for The Waterboys first appearance here in the capital, the love still being strong for those '80s releases.  What I was hoping to be a good show turned out to be far better than expected, and then some.  Scott, Wickham and the backing crew delivered a fiery, full-blooded performance of material old and new that reminded me of why I loved them so much the first time around.
"Let me get a good look at you," declared Scott as he moved to centre stage at the the gig's commencement, surveying the sea of love awaiting them. "It's a pleasure to finally get to play for you after all these years … Thanks for sticking with The Waterboys."

 Hey, I remembered the new stereo digital camera this time.  The Waterboys go all the way back to their first LP with "A Girl Called Johnny" (Video by VA.  More video from The Waterboys' set can be seen over on my VATV YouTube page https://www.youtube.com/mylifeinconcert.)
The set was unsurprisingly filled with highlights from that run of '80s albums, with the opening strum of "Fisherman's Blues" getting a particularly rousing round of cheers from the crowd.  There was also a thundering "Medicine Bow," an intense "We Will Not Be Lovers," a regal "Don't Bang the Drum" plus "A Girl Called Johnny," "Raggle Taggle Gypsy," "Strange Boat," "Girl In The Swing," and, of course, "The Whole of the Moon."
Meanwhile, many new numbers made me want to seek out more recent material, especially "I'm Still A Freak" (I believe I myself copped to this too in my piece on Bowie and the '70s) and "Mad As The Mist and Snow" from the An Appointment with Mr Yeats disc, incorporating "The Second Coming," wherein Wickham and guitarist Melvin Duffy donned magpie masks and began faux-dueling while Scott reappeared onstage in a bizarre three-faced mask.  Crivens.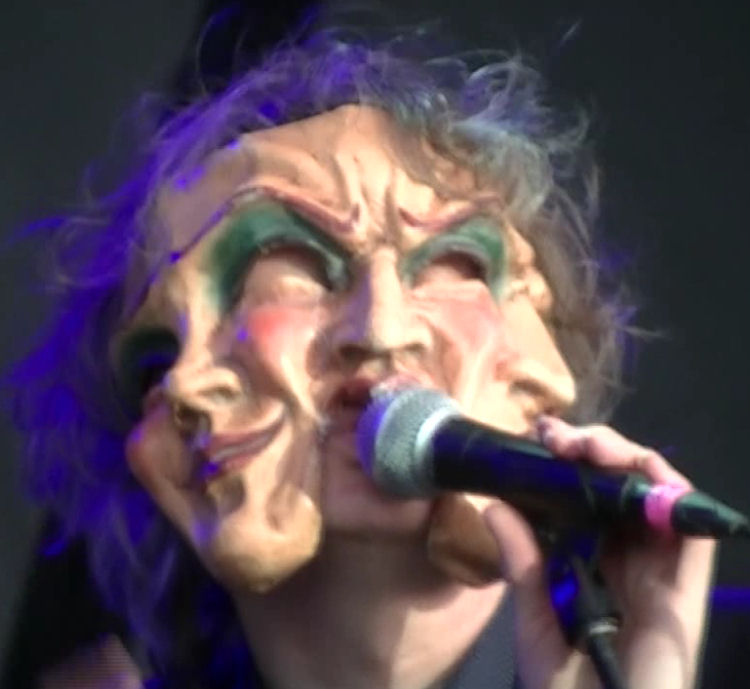 The many faces of Mike Scott (above) and the second half of "Mad As The Mist and Snow" (below … see more of the show over at the MyLifeInConcert YouTube Channel).  Peter Gabriel's legacy lives on!

The exhilarating set concluded with a run through of the classic "Will the Circle Be Unbroken" as the encore, delivered in a country rock vein with a dash of gospel.
One mofo disappointment: inexplicably, nothing was performed from A Pagan Place.
The Waterboys' performance ranks as one the most memorable sets I've taken in at BF through the years, and judging by the enthusiastic response they got, it appears many would agree.  Here's hoping it won't be the only time they come through town.
WBN and I ended up over at the River Stage, stumbling upon an Israeli outfit called Balkan Beat Box. Mixing traditional music with contemporary electronic flashes incorporating hip hop beats and jazz-funk, they were an infectious mélange of influences that were great for the feet with lyrics for the head.  They went over well and were fun to take in, although I'm not sure how well they would translate to the studio.
And with that, we made ourselves scarce with myself heading home to catch some zzzs for a busy Saturday.
Balkan Beat Box at BF.
The Specials "Enjoy Yourself"

 .
Next On Stage –> The third and final part of my look at Ottawa Bluesfest 2013 concludes with crowd surfing alligators, Mrs. Slocombe sightings, and legends getting their due  …
178c. Declare Independence: Ottawa Bluesfest 2013 (Pt. 3) with Björk, B.B. King, Phosphorescent, Austra, Stars, and more, July 13-14, LeBreton Flats, Ottawa, Ontario, Canada
.
© 2014 VariousArtists
Comments From The Original opensalon.com Posting