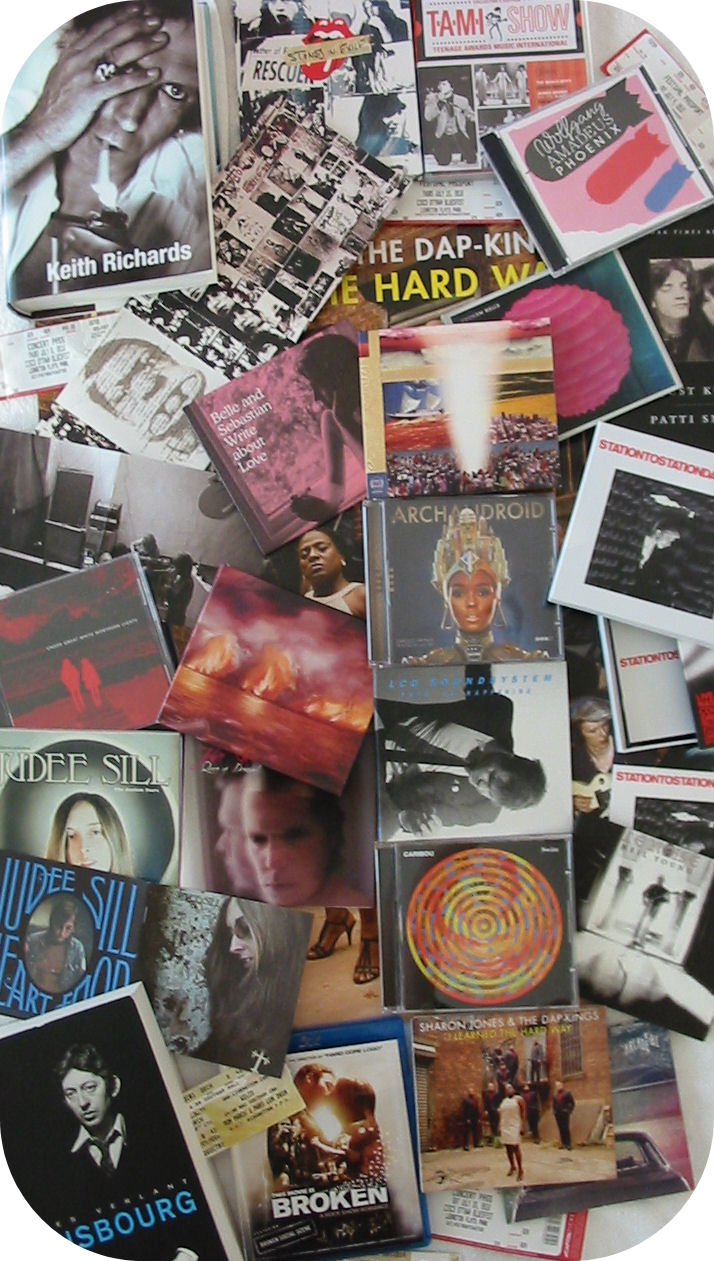 NOTE TO READERS: Compiling my series of Top 10 Lists for each year of this century's first two decades gave me an opportunity to re-consider what my favourite tracks and albums are from my previous posts.  It's always easier to assess in hindsight as I now have the luxury of knowing what recordings have lasted/improved/lessened for me over time.
Here is my revised Top 10 lists for 2010 (as of December 2019):
10 Best Albums of 2010
1. Janelle MonáeThe ArchAndroid (Suites II & III)
2. Broken Social SceneForgiveness Rock Record
3. John Grant Queen of Denmark
4. Caribou Swim
5. LCD Soundsystem This Is Happening
6. Sharon Jones & The Dap-KingsI Learned The Hard Way
7. Belle & SebastianWrite About Love
8. The Black KeysBrothers
9. The Besnard Lakes The Besnard Lakes Are the Roaring Night
10. Neil YoungLe Noise
10 Best Singles or Deep Cuts of 2010
1. Tightrope Janelle Monáe featuring Big Boi
2. Forced to Love Broken Social Scene
3. It's Easier John Grant
4. Faster Janelle Monáe
5. One Touch LCD Soundsytem
6. I Didn't See It Coming Belle & Sebastian
7. Plundered My Soul The Rolling Stones
8. Time of the Assassins Charlotte Gainsbourg
9. She's Long Gone The Black Keys
10. Drunk Girls LCD Soundsystem
And now onto the original entry …..
Since music is my key focus here on OS, I have put together a music-themed wrap up of 2010, looking back on some of my personal favourites from the year just passed.
I'm sure I will go on to discover stuff that I missed but, for now, this is my snapshot of 2010, with 5 lists of 5.
5 Favourite Albums of 2010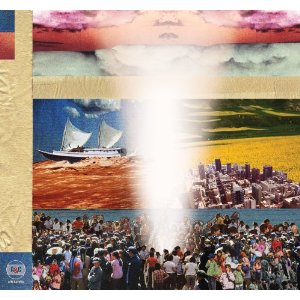 1. Forgiveness Rock Record Broken Social Scene
Several years on from both Broken Social Scene's self-titled, shambling mess of a disc in 2005 and some ho-hum solo outings, Messrs Drew & Canning re-focussed BSS for this release, pairing it down to a key seven-person team along with the expected cameos (Feist, Emily Haines, Amy Millan, etc.) and new satellites (Pavement's Spiral Stairs & Death from Above 1979's Sebastien Granger).
The Toronto collective came storming back in May with an album that caught me by surprise, being far better than I had been expecting (and giving them their first No. 1 album here in Canada). I've pretty much played it on repeat since. Recording for the first time in Chicago with producer John McEntire from Tortoise, FRR showcases a more expansive yet sharply honed sonic palette. I would say it was a return to form except that I think FRR is superior to their 2002 classic, You Forget It In People.
http://www.youtube.com/watch?v=9FgNCoC-rco
 "Water In Hell"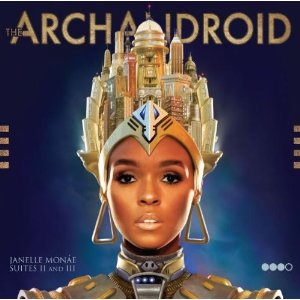 2. The ArchAndroid (Suites II & III) Janelle Monáe
That she loosely structured a narrative based on Fritz Lang's Metropolis for her first long player is a good start for brownie points from me, but the real reason to hail The ArchAndroid is its incredible music. Monáe delivers an astonishing, ambitious, multi-genre debut that seems to borrow from a diverse buffet of touchstones including James Brown, Carmina Burana, David Lynch-esque soundscapes, hip hop, Motown, jazz, rock, folk, film soundtracks, Tropicalia and more, seemlessly woven together into a singular proposition.
This is the sort of thing I might have expected Prince to be delivering at this point in time, had his muse not left the building about two decades ago. The word "audacious" was invented for albums like this.
http://www.youtube.com/watch?v=hiredB3UPtw
Spirited live version of "Faster." I might even prefer it to the one on the disc. By the way, that band she has is top shelf.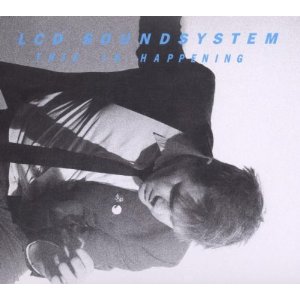 3. This Is Happening LCD Soundsystem
James Murphy rallies the troops once again, purportedly for the last time, coming up with his/their best effort yet. Alternating Bowie-esque indie rock with compulsively catchy takes on early '80s electrodance, Murphy and pals build on the strengths of 2007's Sounds of Silver.  Let's hope this isn't the end of the story.  He seems to  just be getting started.
"I Can Change" live on Later with Jools Holland.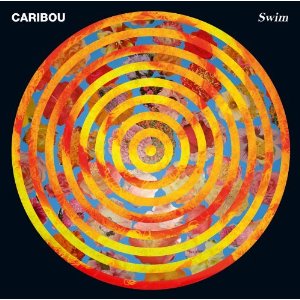 4. Swim Caribou
Caribou, aka UK-based-Canadian-mathematician Dan Snaith, followed up 2007's Polaris-winning Andorra with Swim, hitting another home run. Whereas Andorra often recalled Brian Wilson fronting The Who circa 1966/7, Snaith switched stylistic gears for Swim, exploring an electro landscape, or a more "liquid" sound as he describes it, with all of his sense of hooks and melody intact.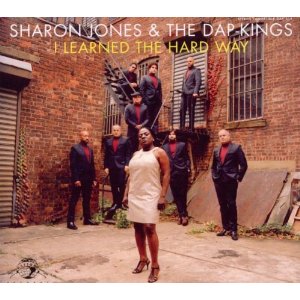 5. I Learned the Hard Way Sharon Jones & the Dap-Kings
Sharon Jones & the Dap-Kings are indisputably one of the finest acts currently roaming the planet, but with this fourth disc, it seems that Jones & Co wanted to go that extra mile and deliver a studio set that was on par with the quality of their live performances. Armed with a superior, more consistent set of songs, the crew mutes the live exuberence just a notch on I Learned the Hard Way, with the tunes cumulatively resulting in a richer, more satisfying overall listening experience.  It even hit the Top 20 in her native U.S.
And it bears repeating: this later-in-life success story and her smokin' band are not to be missed as a live entity.
5 Runners-Up (in alphabetical order)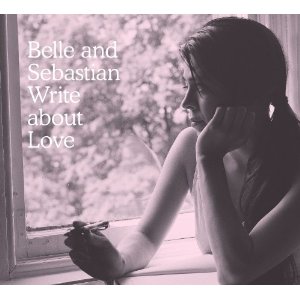 1. Write About Love Belle & Sebastian
Stuart Murdoch and his not-so-merry gang of Scots return with more skewed, literate indie-pop, often harkening back to their earlier sound. Break out the Oxfam cardigans and warm cider!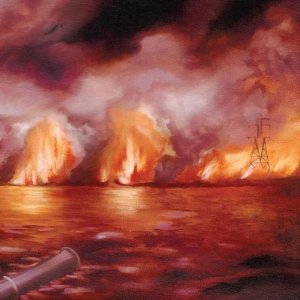 2. The Besnard Lakes Are the Roaring Night The Besnard Lakes
While not quite scaling the heights as their 2007 breakthrough, The Besnard Lakes Are the Dark Horse, my personal choice for the mantle of "Montreal's Finest" take a harder left turn into some  wall-of-guitar dreamscapes. Recorded through the same board used for Physical Graffiti to boot.
"Albatross"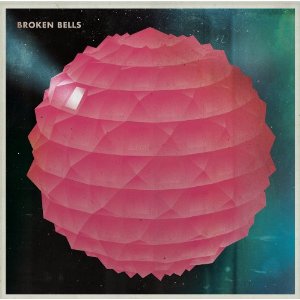 3. Broken Bells Broken Bells
Danger Mouse continues his winning streak with another side project, this time with The Shins' James Mercer, coming up with substantially better indie-pop than anything in The Shins' catalogue.
"The High Road" on Letterman.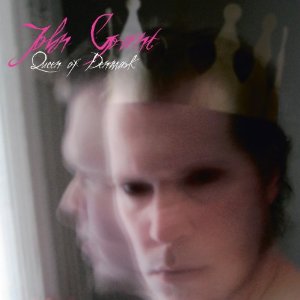 4. Queen of Denmark John Grant
Former Czars' frontman returns solo with the year's best singer-songwriter disc. Sympathetically backed by those mellow dudes from Midlake, this '70s soft rock-ish confection details Grant's journey from self-loathing to (somewhat) self-acceptance, with plenty of dark humour and melodicism. Favourite lyric: "I feel just like Sigourney Weaver / When she had to kill those aliens."
An affecting solo version of "It's Easier," my favourite track on the disc (the lyrics also kind of drive me nuts too, but that's a whole other story …).  Click through to YouTube via the image.
5. Le Noise Neil Young
Young's project with producer Daniel Lanois yielded impressive results, creating not only his best album in about 15 years but one of the most unique in his catalogue. Le Noise (a play on Lanois?) blends each's signature strengths into a cohesive whole.
5 Favourite Singles of 2010
1. "Tightrope" Janelle Monáe featuring Big Boi
Irresistible. Janelle summons up the spirit of James Brown and the JB Horns for one of The ArchAndroid's more groove-based moments. "The funkiest horn section in Metropolis" indeed.
As with the clip farther up the page for "Faster," I think I prefer this live version of "Tightrope," this time from Letterman, to the studio version.  Janelle moves to near the top of my list of new artists I must see live.
2. "Forced to Love" Broken Social Scene
I tried to have more variance between my albums and singles lists but, for me this year, there is a lot of crossover. I spent a chunk of 2010 obsessively overplaying this Dinosaur Jr-ish anti-technology pean, featuring Pavement's Spiral Stairs.
3. "One Touch" LCD Soundsystem
Perfect dancepop. If Lady Gaga made music that was as interesting as she looks rather than most of the anonymous pop she trundles out, she might come up with something like this. I kick-started a lot of summer morning commutes to work with this one.
4. "The Ghost Inside" or "The High Road" Broken Bells
I can't decide which of BB's two singles I like best, so I'll call it a toss.
5. "The Suburbs" Arcade Fire
I still can't completely embrace the AC as fully as others, but when they hit the nail on the head, they really hit it,  as they do with this languid, retrospectively themed title track that's a stand-out from its corresponding disc.
5 Favourite Shows of 2010
1. The Flaming Lips, July 10, Ottawa Bluesfest
No contest, this was my favourite gig of the year and, indeed, one of the best concerts I have ever seen. An audiovisual mindfuck, the Flaming Lips present more of a playful, lysergic happening than a straight up live performance. Must be experienced in person.  Wayne Coyne and the gang did a great job of whipping 30,000 people into a frenzy and holding them there.
2. Wilco, March 1, National Arts Centre, Ottawa
Tweedy & Co rolled out a perfect concert to a giddy crowd on the day after Canada's home turf Olympic hockey win. Stunning from start to finish: the best set I have seen them play. So far.
3. Broken Social Scene, December 16, Bronson Centre, Ottawa
One of my favourite live acts out there returned to the Bronson Centre, playing for nearly three hours with a set list that featured almost every tune I wanted to hear from all three of their core discs.
4. Crowded House, July 15, Ottawa Bluesfest
I went into this one expecting a good evening of music and was blindsided when they delivered a five-star set that far exceeded my expectations. And based on the reactions I witnessed around Me, I wasn't the only one. Crowded House aren't as good as they used to be back in the day—they are now better than they ever were. Do yourself a favour and pledge not to miss them if they are playing anywhere near you.
5. The B-52s / Hole (tie), July 8/9, Ottawa Bluesfest
I just can't decide on this one so I'm cheating and making it a tie. I hadn't seen the B-52s in almost 30 years and I came away thinking they were better than ever. This set provided me with one of the most fun nights out I had in 2010.
Hole (read: Courtney Love and backing musicians) were another big surprise at this year's Bluesfest. Whereas I went in expecting an amusing train-wreck of a performance, myself and the crowd were shocked to be greeted by a sober, focussed Courtney, full of passion, not to mention plenty of acerbic wit. What'll they think of next?! And it was her 46th birthday to boot.  Ah, bless. Note to Bluesfest's Mark Monahan: the Hole/Joan Jett double bill in the mainstage area was inspired programming.
5 Music Etc. of 2010
1. Best 2009 Disc that I Didn't Discover Until 2010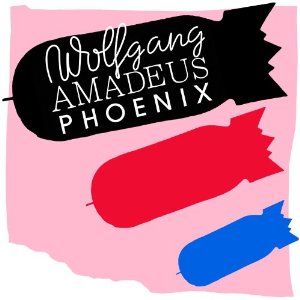 Wolfgang Amadeus Phoenix Phoenix
For whatever reason, this album by France's Pheonix just wasn't doing it for me upon its acclaimed release in 2009. Then, at some point last year, I heard a few tracks that caused a re-think, persuading me to pick it up—and I haven't stopped playing it since. 36 minutes of addictive pop.
Killer version of "1901" from Letterman. Just watch that drummer wail.
2. Best Artist From the Past Who I Just Discovered in 2010 
I had heard Sill's name bandied around in the past, primarily mentioned as being the first artist signed to David Geffen's Asylum Records in 1971. But it began and ended there. In recent years she has been re-discovered, lifting her from obscurity, with her catalogue now back in print along with a clutch of previously unreleased studio and live recordings. While I was familiar with and loved the Graham Nash-produced "Jesus Was a Crossmaker" (or as Cublet and I always called it, Jesus Was a Crossdresser), that was the sum total of my Sill knowledge.
I finally got around to picking up Abracadabra, a double disc featuring her two Asylum albums along with demos, outtakes, and a live set—and was stunned. Mixing all the gorgeous melodicism and countryisms of early '70s California music along with her classical interjections (she had been the church organist in reform school—as she says during the live set, that's where all her Pentecostal licks come from), with strong doses of Brian Wilson and East Coaster Laura Nyro thrown in, Judee emerged with a distinct sound and musical vision. In terms of the extra material, I particularly like the seven-song live solo set from 1971, opening for David Crosby & Graham Nash in Boston.
Alas, her difficult, troubled personality alienated her from many, burning a lot of bridges in the process. From various first person accounts I have read, she comes off as almost sociopathic which is really strange to think about given the depth and humanity in the music. She had spent time in jail for armed hold-ups and was a prostitute and junkie, with the latter doing her in, in 1979.  Just imagine Jerri Blank as a sensitive singer-songwriter!
When listening to the music on these discs, it's a sad loss as it seems she was just only beginning. Who knows where she could have gone next.
"Jesus Was A Crossmaker"
"The Lamb Ran Away With the Crown," played during a day concert at the USC campus in LA in 1973.
3. Reissue of the Year
CD: Station To Station David Bowie (Deluxe Editions)
Behind The Beatles and The Velvet Underground, Bowie is probably third on my list of "all time favourite artists," and while I see Low as his ultimate album, 1976's Station to Station dukes it out with Hunky Dory for the penultimate title.
Re-issued in deluxe and super-deluxe editions (the latter was a little out of my $$$ range, although I was damn tempted), the real treat of this reissue is the legendary bootleg from his March 1976 show at Nassau Coliseum, finally seeing an official release. While I still think that 1978's Stage, particularly in its expanded and properly sequenced CD edition, is David's very best live document, this widely bootlegged set joins Live Santa Monica '72 as Bowie's two other essential live sets for fans.
"Golden Years" on Soul Train, late 1975. I remember watching this at the time. This was a scary personal period for David and he's coming off as not all there.  He effectively parlayed  his cocaine-driven paranoia into Station To Station's bleak, brilliant Euro-art-funk.
I must also mention the re-issue of another all-time-favourite, The Rolling Stones' Exile On Main Street. As with Station to Station, it received both the regular deluxe and house-mortgaging deluxe treatments, with me once again pumping for the former. Not only is the sound gorgeous without sacrificing any of Exile's gritty appeal, a third disc of outtakes and newly amended tracks was added. Judging by reviews, I appear to be one of about six people who actually liked these new numbers, with a few absolute standouts, especially the slinky "Plundered My Soul." Keith also does a great turn on lead vocals for an alternate take on "Soul Survivor," featuring a different set of lyrics, ranting on about "my big blind eye / And my swollen nose." Go Keith, Go!
The video companion, Stones In Exile, is also a must-see for fans of the band of this album and period in particular.  Ah, '72.
DVD: The T.A.M.I. Show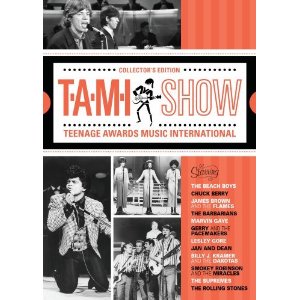 I had pretty much given up hope of this historic concert film ever seeing the light of day on video. I recall reading an interview as recently as two or so years ago with someone connected about if and when this would ever appear on DVD, with the response being something to the effect of "don't hold your breath," owing to the labyrinth of involved legalities and rights disputes along with the related costs. Needless to say, when I learned of its imminent DVD release early in 2010, I was as shocked as I was delighted. At Last.
Fortuitously, The T.A.M.I. Show briefly aired on Canadian cable television in 1983, shortly after my dad had bought the first family VCR, allowing me to tape it. I literally wore out the videocassette from overplay, and it was a fixture at a number of marathon video parties I hosted during the '80s.  It's a joy to be able to see it once again.
The T.A.M.I. (Teenge AwardsMusic International) Show took place at the Santa Monica Civic Auditorium in October 1964. Hosted by Jan & Dean, it's an indespensible snapshot of a moment in pop music when the British Invasion was still red-hot (The Stones, Gerry & the Pacemakers, Billy J. Kramer); R&B (James Brown) and Motown (Supremes, Marvin Gaye, The Miracles) were crossing over into a broad audience; Tin Pan Alley at its best was still at the table (Lesley Gore); Surf music was at its peak (The Beach Boys, Jan & Dean); garage rock was beginning its ascent (The Barbarians); and rock had now been around long enough to have a history (Chuck Berry).
It was meant to be an annual event but things didn't work out that way. So here it is for posterity, shot in crisp, glorious black and white. A few more extras might have been nice, but since this version restores the Beach Boys to the line-up—missing from the film since shortly after its initial theatrical run in late '64—I'm not going to complain. My deep gratitude to all those involved who finally made this video release see the light of day.
And it's just as invigorating now as it ever was.
Now, if only the rights to Let It Be could be sorted out …
Future stars Terri Garr and Toni Basil are among the frugging go-go dancers.
http://www.youtube.com/watch?v=09qbhwcpA6A
Click through for The T.A.M.I. Show's centrepiece: James Brown & the Famous Flames definitive performance.
4. Best Music-Related Film of the Year
Gainsbourg : vie héroique
As a Serge Gainsbourg obsessive, I had been keenly anticipating this expected biopic. And while flawed (a little too much time spent on Lucien/Serge's boyhood, not enough of the original Gainsbourg recordings, and the absence of some key points and periods), Gainsbourg : vie héroique (Gainsbourg: A Heroic Life) is an energetic delight.
Presented as a fantastical journey rather than a straight up retelling of Gainsbourg's life, this film reminded me a bit of the Patti Smith: Dream of Life documentary in its fever dream impressionism feel and approach, albeit here as drama and with a sequential narrative. Based largely on Gilles Verlant's definitive biography, Gainsbourg, vie héroique mixed the whimsical with the factual, is period-perfect, and visually stunning. Eric Elmosnino eerily captures Serge's looks and mannerisms, ditto the late Lucy Gorden as Jane Birkin, while Laetitia Casta nails late-'60s Brigid Bardot.
Here is the English Trailer …and, below, the better French trailer (click through on image to access).
Additional shout outs go to the junior Lennon biopic Nowhere Boy and The White Stripes' documentary Under Great White Northern Lights. As for Bruce McDonald and Don McKellar's This Movie Is Broken, the scenes from Broken Social Scene's 2009 Harbourfront gig sound great and are well-filmed; meanwhile, they could have really lost the "slacker kids in romance angst, 20s hipster-style" subplot. Except for the part when the two males leads suddenly start getting it on.
5. Music-Related Book of the Year
Life Keith Richards / Just Kids Patti Smith (tie)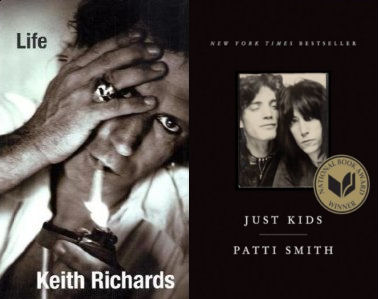 Read Patti Smith's Just Kids and find out how Keith Richards' haircut accidently changed the course of her life. No, really.
As a fan of music-based memoires, 2010 felt like a lottery win to me as two of the very best I've ever read were issued within the calendar year.
I'd been counting the minutes waiting for Richards' autobiography ever since it's announcement a few years back. When it finally arrived, it did not disappoint. Actually, that's an understatement. There's never a dull moment in this page-turner, filled with blunt observations and laugh-out-loud humour mixed with a surprising amount of tenderness and a candour that is truly rare in this pre-programmed-soundbite, P.R. Rep-driven days. I loved it so much, I've pulled out some of my favourite quotes (see below).
I don't know what astounds me more: that Keith is still alive or that Marlon appears to have turned out sane and stable.
It even has tips for frying sausages!
Patti Smith's Just Kids had already appeared at the start of the year. It's not a music bio per se as it focusses primarily on the journey she and fellow iconoclast/co-conspirator/lover/friend Robert Mapplethorpe took, transforming into their respective careers as musician and artist/photographer during 1967-75, spending little time covering any of their best-known successes. Exquisitely told, marked by Smith's poetically written prose and filled with candid details and a parade of fascinating cameos from a variety of late 60s/early 70s NYC demimonde characters, Just Kids is highly recommended even to those who may not be fans of Smith's music. It's a very compelling tale from an eyewitness and instigator during a culturally fertile time.
It recently won the U.S. National Book Award for nonfiction in 2010. Congratulations Patti!
While the tone of these two books could not be more different, they overlap somewhat time-frame wise, and feature a number of people and places (William S. Burroughs, Allen Ginsberg, and The Chelsea Hotel, for example) that show up in each, albeit under different circumstances. And, of course, there's that haircut.
A Few Favourite Quotes from Keith Richards' Life:
… On his childhood pets: "For companionship I kept pets. I had a cat and a mouse. It's hard to believe that's what I had—it may explain a little of what I am."
… On the myth that Marianne Faithfull was nude during the infamous bust on Keith Richards' home, Redlands, in early '67: "In fact, Marianne was quite chastely attired for once. Usually when first you said hi to Marianne you started talking to the clevage."
… On Brian Jones' abusive relationship with Anita Pallenberg, who went on to have a long relationship and children with Richards: "Christopher Gibbs …. had to take Brian to hospital with a broken wrist after a punch he'd thrown at Anita had hit the metal window frame in the El Minzah Hotel in Tangier. He was never good at connecting with Anita."
… On Mick Jagger arriving home early from the set of Performance just as Keith and Marianne were finishing up their one-time sexual encounter: "And we hear his car drive up, and there was a big flurry, and I did one out the window, got my shoes, out the window through the garden, and I realized I'd left my socks … Marianne and I still have this joke. She sends me messages: "I still can't find your socks." "
… On he and Bobby Keyes' visit to the Playboy Mansion, where they locked themselves in the bathroom and eventually set it on fire: "Bobby and I were just sitting in the john, comfortable, nice john, sitting on the floor, and we've got the (official Rolling Stones' Tour Doctor's) bag and we're just smorgasbording. "I wonder what these do?" Bong. And at a certain point … talk about hazy, or foggy, Bobby says, "It's smokey in here." And I'm looking at Bobby and I can't see him. …. They get the door open and we're sitting on the floor, our pupils very pinned. I said " … How dare you burst in on our private affair." Hugh decamped soon after that and moved to L.A."
… On Willie Nelson: "Willie's fantastic. He has a guy with a turned-over Frisbee, rolling, rolling, rolling. A beautiful weedhead, is Willie. I mean straight out of bed. At least I wait ten minutes in the morning."
And, to conclude, a tip of the hat to the inspiration for this post's title, The Rolling Stones' 1964 E.P., Five by Five.
"2120 South Michigan Avenue" / "Empty Heart" from Side 2.
. . . . .
ALL ANNUAL RECAPS:
                                                
Next On Stage –>   I'll be re-posting my 2011 recap followed by my look back at my tune faves from 2016 …
© 2011-2016 VariousArtists