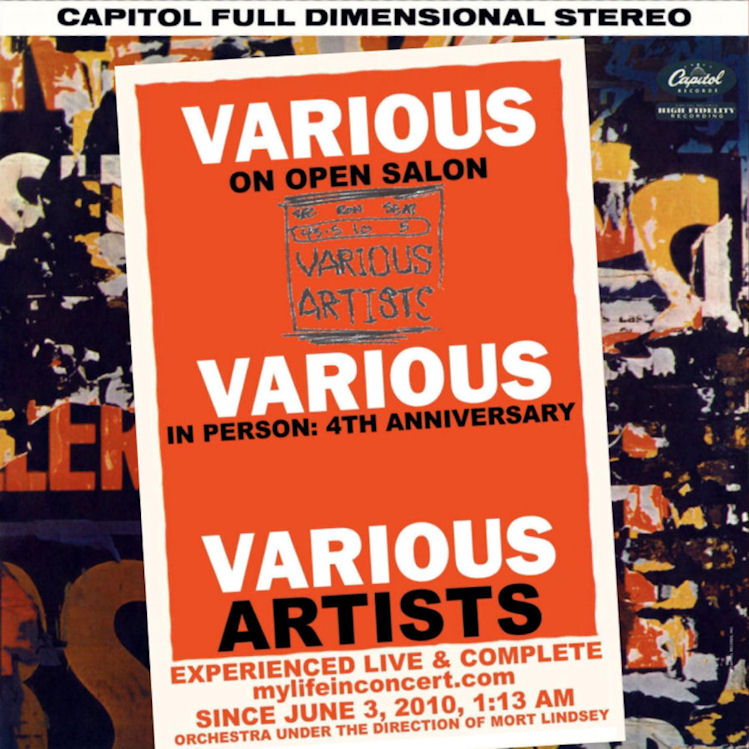 "I'm going to get a sip of water.  I'll be back … Talk to each other or something … Mill around for a second …" (Cover mock up by VA)
NOTE: This anniversary marked my starting the My Life — In Concert! blog over on Open Salon four years ago and much of the text below was written for the then-OS audience.   As I am publishing my previous anniversary posts for the first time over here on WordPress, I am republishing this 4th anniversary today.  My 5th anniversary blog will be up tomorrow.

Four years on from when I started this blog project (initially only on Open Salon), and OS and I are still chugging along. On my third anniversary, I lamented how the site was a shadow of its former self, but on this fourth benchmarker I actually feel more positive and upbeat. Yeah, yeah, yeah, OS is now seemingly a permanently closed entity, and in terms of community interaction it's a ghost of not only its former self but of its former promise. And, yes, that's a shame.
However, OS for me was more of a place to launch and house a writing project I wanted to undertake, to hopefully reach an audience interested in what I was writing about rather than writing just for OSers per se.  Viewed from that lens, I have no complaints. I crosspost here on my WordPress blog but still get more traffic, exposure, and viral surprises vis a vis my ability to publish over on Open Salon — so thanks OS for, at the very least, keeping the lights on as it's giving me readers and continued connections. Judging by the emails and private contact I'm getting, the majority of people reading now come from outside OS, which was part of the plan from the beginning.
Obviously Salon is keeping the bare-bones juices flowing into the site because they are getting the requisite hits to make it feasible, so I just hope that the numbers for all ongoing contributors keeps going along with the site.
Thanks muchly to the handful of terrific OS writers who continue to read and drop me a friendly Howdy Do either via comments or personal messages. I'm glad we're still here together and always enjoy reading what you have to say (you know who you are). It's great to still be interacting four years on.
Cheers also to former-OSers I still interact with outside of this site. And thanks also to the many new readers via WP or through social media who have commented via that route or contacted me. Many of you have had fun, interesting music or media anecdotes of your own to relate to me and I love the interaction of experiences. And as imperfect as the current OS is, I wouldn't have had this forum if OS had not existed in the first place. It's too bad it can't be what it used to be, and don't hold out much hope that it will return, but I'm glad to have it as a platform.
While a busy life necessitates publishing gaps, and I wish I had more time for more frequent pieces, I'm still every bit as enthused about writing and creating the accompanying graphics as I ever was.  I now expect to make the concert series memoir an continuing component in my ongoing life in one form or another. Thanks again for the support to those who have read, shared, liked, and linked to pieces new and old.
And, as festival season begins, remember to get out of the house and support live music and musicians!
Have a great summer, everyone.
"Four" by the Miles Davis Quintet from "Four" & More, recorded Live 1964
PREVIOUS ANNIVERSARY COVERS
© 2014 VariousArtists
Comments From The Original opensalon.com Posting