I admit it's getting better … (Mock-up by VA/Click on image to enlarge)

After publishing only 4 new pieces on my blog over the last 2.5 years (3 of those pieces from a couple of years ago) and missing my 6th anniversary altogether, time and circumstances have now allowed me to return to my blog.  Happy 7th to me here on June 3, 2017.
These last few years have not been easy ones, with some seismic changes going down.  However, Cublet and I are now settled back into my hometown of London, Ontario, and now that we are coming out the other side of it all I am now finding time once again to turn back to my passions (my blog among them) that had to take a back seat for a while.  Life just goes that way sometime.
While 2016 may have been the worst year ever I can remember, both personally and globally, the personal has substantively improved now that we are settle in here, even if the latter is even worse (although I have been heartened by global resistence, the results in France and the Netherlands elections, the B.C. Greens-NDP Coaliton taking down Clark, Theresa May's implosion that will undermine her even if she wins, etc.)
I have been working on some new pieces and wanted to wait until I had a bit of a backlog before cranking this all back up, so expect some long overdue new entries in the next few months (plus the MIA 6th Anniversary and 2016 recap soon to follow).  A podcast corresponding to this blog is in the works too.
As always, I mock up an album cover for this annual occasion.  With Sgt. Pepper's 50th Anniversary happening during the same week, this year's choice was a no-brainer.  I replaced the fabs' selected personalities with tickets from shows I have been and will be writing about.  A corresponding identification list for the tickets is below.
And Britain, show us you're Great by voting Corbyn/Labour on June 8.
List of My Tickets/Blog Entries Featured in the Sgt. Pepper Mock-Up (those not linked are pieces yet to come …)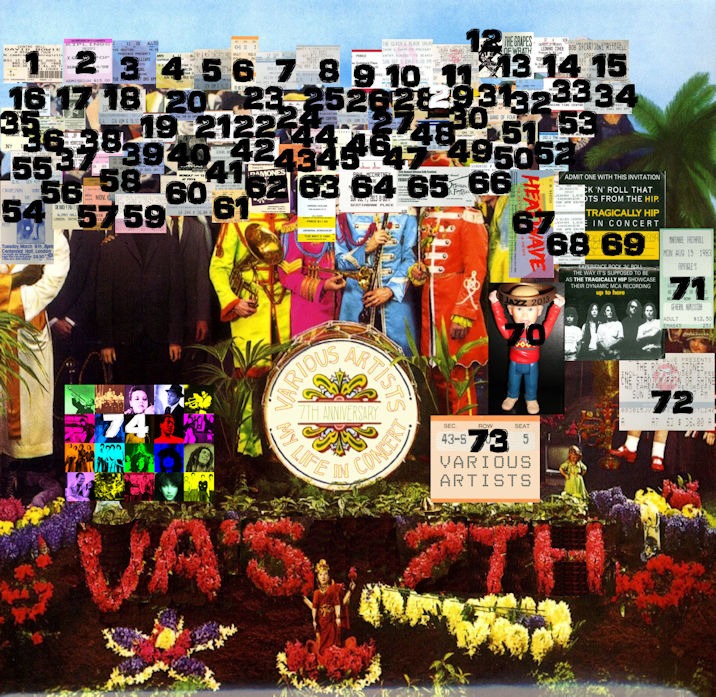 1. #103. Lazarus: David Bowie with Macy Gray, Bell Centre, Montreal, Quebec, Saturday December 13, 2003
2. #048. Wild One: Iggy Pop, Kiplings, London, Ontario, Sunday August 14, 1988
3. #118. West: Lucinda Williams, Malkin Bowl, Stanley Park, Vancouver, British Columbia, Tuesday June 12, 2007
4. #148. Dr. Feelgood: Aretha Franklin & Her Orchestra, Southam Hall, National Arts Centre, Ottawa, Ontario, Sunday May 30, 2010
5. #092. Sunday: Sonic Youth with Godspeed You Black Emperor, Metropolis, Montreal, Quebec, Sunday May 10, 1998
6. #011. What A Day That Was: The Police Picnic II/'82 with The Police, the Talking Heads, The (English) Beat, Joan Jett & The Blackhearts, A Flock of Seagulls, and The Spoons, CNE Stadium, Toronto, Ontario, August 13, 1982
7. #051. Connection: Keith Richards, The Fox Theatre, Detroit, Michigan, USA, December 8, 1988
8. #075. Magic & Loss: Lou Reed, Massey Hall, Toronto, Ontario, Thursday May 21, 1992
9. #169. Do U Lie?: Prince, Scotiabank Place, Ottawa, Ontario, Canada, December 3, 2011
10. #012. Clash City Rockers: The Clash with Black Uhuru, CNE Grandstand, Toronto Ontario, September 5, 1982
11. #056. Stoned Soul Picnic: Laura Nyro, Music Hall Theatre, Toronto, Ontario, Saturday July 15, 1989
12. #020b. Waiting In Vain: 20 Performances I Missed, 1980-2011 (Poster for cancelled XTC gig meant for Centennial Hall, London, Ontario, Monday November 24, 1980)
13. #058. The Grapes of Wrath, The Diamond, Toronto, Ontario, Wednesday August 9, 1989
14. #175. I'm Your Man: Leonard Cohen, Friday December 7, 2012, Scotiabank Place, Ottawa, Ontario, Canada
15. #095. Don Juan's Reckless Daughter: Joni Mitchell and Bob Dylan, Corel Centre, Ottawa, Ontario, Friday, October 30, 1998
16. #140. Ornette Coleman, Lebreton Gallery, Canadian War Museum, Bluesfest, Lebreton Flats, Ottawa, Ontario, Saturday July 11, 2009
17. #038. k.d. lang & the Reclines, Kiplings, London, Ontario, December 14, #1986,
18. #083. P.J. Harvey with Tricky, The Phoenix, Toronto, Ontario, Sunday May 28, 1995
19. #116. Captain Fantastic: Elton John, Scotiabank Place, Ottawa, Ontario, Friday November 10, 2006
20. #120. Bebel Gilberto, Ottawa Jazz Festival, Confederation Park, Ottawa, Ontario, Thursday June 28, 2007
21. #111. Carry On: Crosby, Stills, Nash & Young, Scotiabank Place, Ottawa, Ontario, Saturday July 8, 2006
22. #004. This Is the Modern World: The Jam, Rex Danforth Theatre, Toronto, Ontario, April 10, 1979
23. #182. Beck with Sean Lennon, Sony Centre, Toronto, Ontario, Friday June 27, 2014
24. #115. The Who, Scotiabank Place, Ottawa, Ontario, Friday September 15, 2006
25. #117. Feist, Bronson Centre, Ottawa, Ontario, Thursday May 31, 2007
26. #084. Till Victory: Patti Smith with Caroline Streeho & the Detroit Energy Asylum, The Phoenix, Toronto, Ontario, Wednesday July 5, 1995
27. #119. The Dave Brubeck Quartet, Ottawa Jazz Festival, Confederation Park, Ottawa, Ontario, Saturday June 23, 2007
28. #159. Wouldn't It Be Nice: Brian Wilson, Southam Hall, National Arts Centre, Ottawa, Ontario, Canada, Monday June 20, 2011
29. #005. What's In the City: N.F.G.'s Second Annual Halloween Bash with The Regulators and The Sinners, London, Ontario, November 2, 1979
30. #158. Better Things: Sharon Jones & the Dap-Kings with Black Joe Lewis & the Honeybears, Bronson Centre, Ottawa, Ontario, Canada, Wednesday May 11, 2011
31. #015. I Found That Essence Rare: The Gang of Four, Wonderland Gardens, London, Ontario, March 5, 1983
32. #107. R.E.M. with Jospeh Arthur, Ottawa Civic Centre, Ottawa, Ontario, Thursday November 11, 2004
33. #181. Cher with Cindy Lauper, Canadian Tire Centre, Ottawa, Ontario, Saturday April 26, 2014
34. #105. Rufus Wainwright with Teitur, Capital Music Hall, Ottawa, Ontario, Wednesday April 21, 2004
35. #001. The Thrill of It All: Roxy Music, London Arena, London, Ontario 1975
36. #146. Sludgefeast: Dinosaur Jr. with MV & EE and Lou Barlow, the Capital Music Hall, Ottawa, Ontario, Canada, Friday January 22, 2010
37. #121. Van Morrison, Bluesfest, Lebreton Flats, Ottawa, Ontario, Thursday July 4, 2007
38. #006. The Fine Art of Surfacing: The Boomtown Rats with B.B. Gabor, London Gardens, London, Ontario, March 19, 1980
39. #136. Meet Me In The Basement: Broken Social Scene, Bronson Centre, Ottawa, Ontario, Thursday October 30, 2008
40. #017. I Keep A Close Watch: John Cale, Fryfogle's, London, Ontario, June 1983
41. #036. I Know It's Over: The Smiths with Phranc, Centennial Hall, London, Ontario, July 30, 1986
42. #123. The White Stripes, Bluesfest, Lebreton Flats, Ottawa, Ontario, Sunday July 8, 2007
43. #086. The Modern Things: Bjork with Aphex Twin, The Warehouse, August 7, 1995
44. #138.  Here I Am: Al Green, Trombone Shorty, Ottawa Jazz Festival, Confederation Park, Ottawa, Ontario, Saturday June 27, 2009
45. #033. I Muse Aloud: Jane Siberry, Althouse College Auditorium, UWO, London, Ontario, October 29, 1985
46. #187. Fleetwood Mac, Canadian Tire Centre, Ottawa, Ontario, Sunday October 26, 2014
47. #147. Outtasite: Wilco with Bahamas, Southam Hall, National Arts Centre, Ottawa, Ontario, Monday March 1, 2010
48. #042. This Time: INXS, Alumni Hall, UWO, London, Ontario, Saturday November 21, 1987
49. #157. Monkey Gone To Heaven: The Pixies perform Doolittle with Imaginary Cities, Ottawa Civic Centre, Ottawa, Ontario, Canada, Saturday April 16, 2011
50. #080. Buzzcocks, Lee's Palace, Toronto, Ontario, Saturday November 13, 1993
51. #016. End of the Party: The (English) Beat with R.E.M., Alumni Hall, UWO, London, Ontario, April 12, 1983
52. #090. Exit Music: Radiohead with Teenage Fanclub, Centennial Hall, London, Ontario, Monday August 18, 1997
53. #173. Hold On Me: Esperanza Spalding with Gretchen Parlato, Toronto Jazz Festival, Nathan Phillips Square, Toronto, Ontario, Canada, Thursday June 28, 2012
54. #010. Electricity: Orchestral Manoeuvres in the Dark with Mettle, Centennial Hall, London, Ontario, March 9, 1982
55. #076. Flower: Lollapalooza '92 with The Red Hot Chili Peppers, Ministry, Soundgarden, Pearl Jam, and Lush, Molson Park, Barrie, Wednesday August 5, 1992
56. #027. Keep It Open: Bruce Cockburn, Alumni Hall, UWO, London, Ontario, March 9, 1986
57. #003. This Year's Model: Elvis Costello with The Battered Wives, Alumni Hall, UWO, London, Ontario, November 6 1978
58. #013. Night and Day: Joe Jackson, Alumni Hall, London, Ontario, October 4, 1982
59. #088. Live Forever: Neil Young & Crazy Horse with Oasis plus The Gin Blossoms and Jewel, Molson Park, Barrie, Ontario, Saturday August 31, 1996
60. #063. Paul McCartney, Skydome, Toronto, Ontario, Thursday December 7, 1989
61. #099. Birds of A Feather: Rough Trade, Barrymore's, Ottawa, Ontario, Saturday March 10, 2001
62. #007. Here Today, Gone Tomorrow: Ramones with The Demics, Centennial Hall, London, Ontario, May 20, 1980
63. #082. Mike Watt with Foo Fighters and Hovercraft, The Opera House, Toronto, Ontario, Tuesday May 2, 1995
64. #179. Paul McCartney, Scotiabank Place, Ottawa, Ontario, Sunday July 7, 2013
65. #134. I Know Where I'm Going: Odetta, Rufus Wainwright, Ottawa Folk Festival, Britannia Park, Sunday August 17, 2008
66. #026. Cities In Dust: Siouxsie & the Banshees with Images In Vogue, International Centre, Toronto, Ontario, July 10, 1984
67. #008. a) I Can't Stand Up For Falling Down; b) Dance This Mess Around; c) Once In A Lifetime; d) I'm Not Angry: The Heatwave Festival with the Talking Heads, Elvis Costello, the Pretenders, the B-52s, Rockpile, Teenage Head, Holly & the Italians. B.B. Gabor, The Kings, The Rumour (?), Mosport Park, Bowmanville, Ontario, August 23, 1980
68. #070. Round Up #5 featuring John Lee Hooker, Dr. Rockits, London, Ontario, Tuesday, April 24, 1990
69. #057. Tragically Hip, Dr. Rockits, London, Ontario, September 27, 1989
70. #176. Lightning: Ottawa Jazz Festival 2013 with David Byrne & St. Vincent, Sunday June 23 / Wynton Marsalis and Jazz at Lincoln Center Orchestra, Saturday June 29, Confederation Park, Ottawa, Ontario (with Macaulay Culkin doll holding up festival pass)
71. #021. Dangerous Acquaintances: Marianne Faithfull, Fryfogle's, London, Ontario, August 15, 1983
72. #061. The Rolling Stones with Living Color, CNE Stadium, Toronto, Ontario, Sunday September 3, 1989
73. VA Logo for the My Life In Concert! series (Ticket for Police Picnic 1982 used, see no. 6 above/entry #11)
74. #020a. You Won't See Me: 20 Acts I Wish I'd Seen (1920s-1980)
Next On Stage –> I had intended to publish my missing 6th Anniversary and 2016 recap posts before returning to concert posts during that year.  Then, Chris Cornell from Soundgarden died tragically and I additionally intended on jumping forward in time to 1992 when I saw he and the band give a hypnotic performance at my very first Lollapalooza.  The times they were a-changin' and I couldn't have been happier …
However, times for me weren't happier in 2016 and unfortunately I was not yet ready to re-boot things around here. So, several years later, this site is live and Here's The Podcast:
© 2017/2020 VariousArtists
PREVIOUS ANNIVERSARY COVERS