The first Police Picnic and the only one of the three not held at CNE Stadium.
Click here for Police Picnic 1982
Click here for Police Picnic 1983 
ORIGINAL OPENSALON.COM BLOG ENTRY FROM 2010 FOLLOWS BELOW 
This podcast jumps ahead 17 months from Episode 14 on The Boomtown Rats' show in March 1980 to August 1981 (as I have already covered The Ramones and the Heatwave festival) and the first of three consecutive, annual, Police-headlining festivals, hosted by the titular group.
It was also my sole live gig for that year.
This first Police Picnic is long on great music and at least 3 killer sets including one by the original Specials playing one of their last gigs and my finally getting to see Iggy Pop for the first time.
Special Guests also attended this festival and kindly stops by once again to share his memories of that day.
Tune in for pelting patrons, a crowd-shocking performance, and Catherine O'Hara sightings.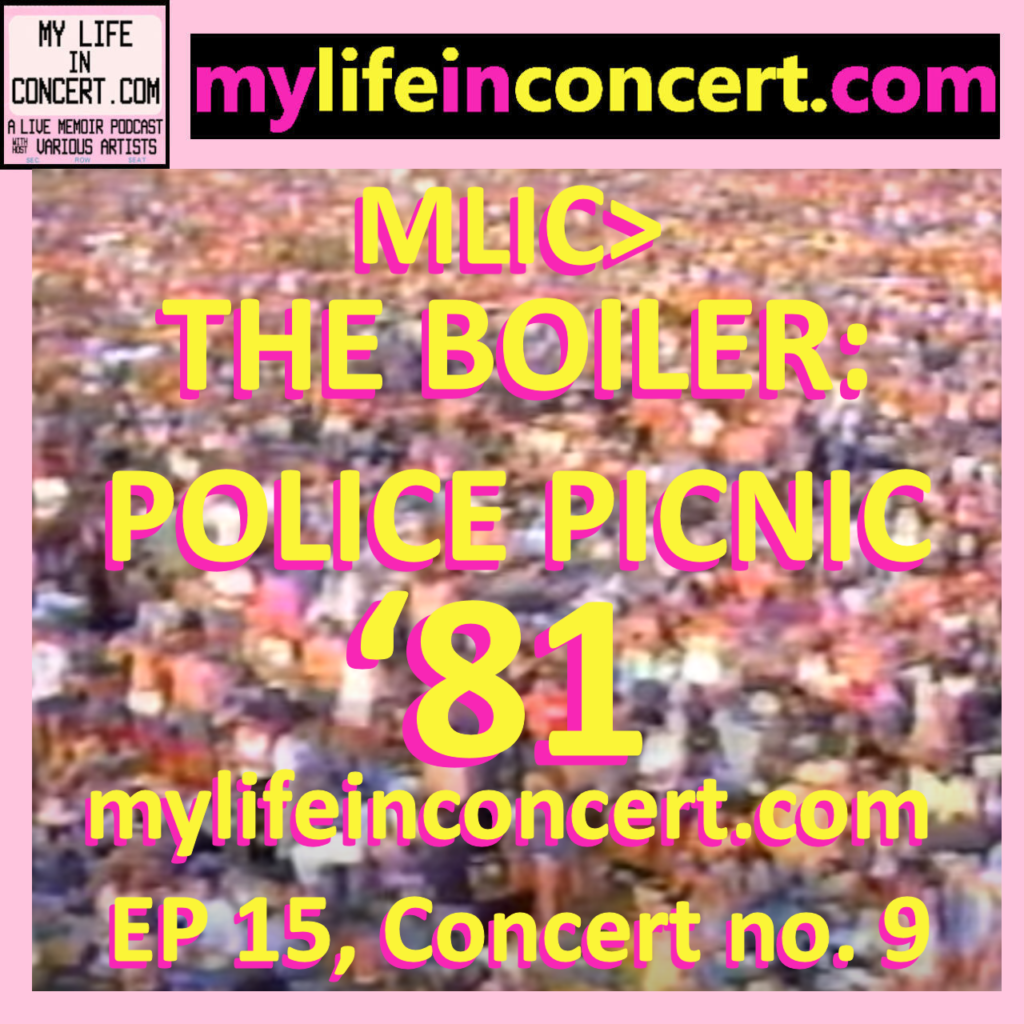 Check out the corresponding Spotify playlist I have put together for this episode MLIC>The Boiler: Police Picnic '81 Playlist mylifeinconcert.com EP 15, Concert no. 9
NEXT PODCAST: Electropop comes to London, Ontario on a freezing March evening with Liverpool's Orchestral Manoeuvres in the Dark, or as they are sometimes simply known, OMD. 
Their set may have been egregiously delayed as it took place in the middle of a brutal Southern Ontario late-winter blizzard, but OMD more than made up for it.  They played a blazing show to a small but dedicated audience who danced right through the whole thing.  London's own Mettle, featuring former Demics guitarist Rob Brent, also delivered a terrific opening performance.
Special Guests will return once again with his memories of the show.
Stay tuned for OMD restaurant waving, happy hoofers, and frozen winklepickers.
(EP16) Electricity: Orchestral Manoeuvres in the Dark with Mettle, Centennial Hall, London, Ontario, Canada, Tuesday March 9, 1982
ORIGINAL BLOG ENTRY FROM 2010
Ticket Price $20 = $59 in 2021 Canadian Dollars Adjusted for Inflation
It was exactly one year to the day from Heatwave and here I was once again sitting in a large field at an all day, open air festival under the baking sun.
This first Police Picnic (organized by the bleached blonde rock group, not the law enforcement organization) turned out to be a bit different than Heatwave.  Whereas that festival featured a parade of exceptional sets in tandem with my own charming experience of having to deal with buffoonish n'er-do-wells and being left stranded in the middle of nowhere, this musical outing found me getting there and back with ease and with good company, while the sets themselves featured a few solid standouts with others producing a range of results for me.
I was initially going to attend the PP solely with my friend from the period, Lady Bump.  In writing this series, it's been interesting to be able to note many first, lasts, and turning points for me and it's wild to realize that this was the first gig I attended with her (save briefly touching base during the Ramones show) considering the amount of time we spent together and how central music was to our friendship.
Shortly before the gig, LB had started dating a guy.  They went out for about 3-4 weeks, with this festival falling near the latter part of that mini-courtship.  He ended up tagging along with us and did a big chunk of the driving.  I remember little about him besides his being nice enough and thinking that they were an odd pair, with LB as a new wave princess and he being more of the meat'n'potatoes FM rock variety.  But, he was a good guy and a trooper, and the three of us set off early on the Sunday, arriving at the Oakville site during the later morning.
We pulled into the vast, free-of-charge parking lot and found a spot.  On the way in, we spied a smaller one on the other side of the road, charging people $10 to park there (more like $30-40 bucks today).  We laughed at the few suckers who were roped into paying, wondering who would be stupid enough to shell out good cash like that when there was parking on offer gratis.  More on that later.
Unlike the well-drugged and lubricated Heatwave, I don't really remember the first Police Picnic as being an out-of-gourd experience for me.  Considering that we took bennies/beans (speed) like candy, I am sure we were probably popping those energy boomers back with aplomb.  Otherwise, Lady Bump was more into booze and pills, but not so much weed, unlike moi.  I cannot recall if I brought any with me but I am pretty sure that we at least spent some time hanging around the car consuming a few pre-show beers.  My feeling is that this was a relatively dry and sober event for us.  I chuckle at the irony that I remember this day overall less clearly than the more party-time oriented Heatwave.
The late, great New Music's full original coverage of the first Police Picnic in 1981.  This is an incredible segment with lots of great interviews, extended performance bits, and crowd shots.  
Upon entering the concert area, we plopped ourselves down in a satisfactory spot and bided our time as there was a protracted wait involved before things got rolling.  This delayed start of over an hour had a trickle-down effect as the day went along, meaning that most of the acts had their sets cut short — some substantially.  Things finally got rolling with the disco/funk strains of David Bendeth's Band.  I remember thinking about what a change it was, both in terms of myself as well as with others, that people were opening up their headspaces to a greater variety of musical styles and genres.  Things were branching out and overlapping, and this was much more interesting to me following the more regimented and rock-based orthodoxies of the '70s.
That openness, however, didn't extend to John Otway and his confrontational goofiness.  On stage with his co-hort, Wild Willy Barrett (who, to be honest, I have no recollection of being up there on stage with him), Otway's minimalist, humour-based set polarized the crowd, mostly towards the negative, being booed and pelted with everything certain segments of the audience could get their hands on.  The three of us, however, loved him and his off-beat bizarreness, cheering Otway on.  I chuckled at the title "Cor Baby, That's Really Free" and I believe he did his "hit" "Headbutts," but otherwise he wasn't on the stage for too long, given the hostility coming his way.
In my piece on The Boomtown Rats show, I wrote about the imperfections of memory and, boy, is that pertinent regarding this day.  In doing some research about this Picnic, I discovered that I had completely forgotten about seeing three of the acts on the bill!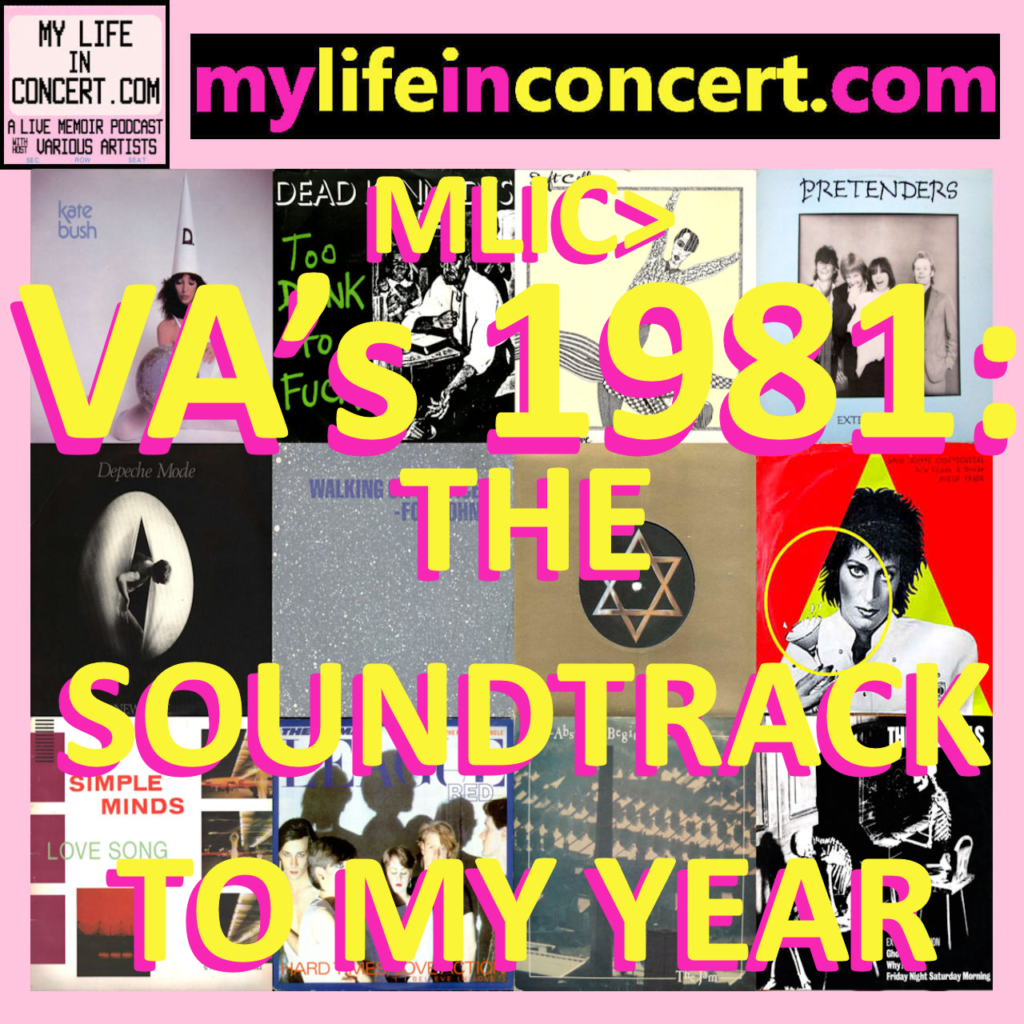 MLIC>VA's 1981: The Soundtrack to My Year is a chronological Spotify playlist of what was rocking my world during 1981, from both then-new releases as well as older music & artists I was re/discovering.
The first of those three came on between Bendeth and Otway, in the form of Vancouver's The Payola$.  I do now have vague recollection of them being up there but nothing of note.  They were a Canadian band who had a few hits here, two of which I think are terrific pop numbers: "Eyes of A Stranger" and "Never Said I Loved You" featuring Rough Trade's Carole Pope.  Depending on your point of view, co-founding member Bob Rock (a) went on to have a distinguished career as a top flight, hit making rock record producer or (b) has been responsible from some of the worst air-brushed, inoffensively offensive, big hair commercial rock pablum of the past few decades (I'll have the latter for $500, Alex).
The day's first real highlight was the performance by Killing Joke which, according to some online sources, was their first North American appearance.  I was familiar with the British group and liked their in-a-grumpykins-mood debut.  I wasn't as huge on it as some of my other post-punk favourites from the time (PiL, Joy Division, Gang of Four, Slits, Siouxsie, Cure, etc.) but I must say that they knocked me out live.  The band's proto-industrial pound of "Wardance" and "The Wait" set them apart from others on that day.  Frontman Jaz Coleman worked himself up into a right lather of pasty-mouthed fulmination, taunting the good-timey masses that had turned out to tap their toe to "Da Doo Doo Doo," with screeds of "do you want another poppy love song?"  It was just the right touch of darkness that was needed on the shiny afternoon, and despite their attempt to create hostility, the crowd actually loved them and returned their bile with enthusiasm and dancing.
"The Wait" from Killing Joke's 1980 debut disc.  Below is the audio from their actual Police Picnic '81 set.  And why does that ticket look so familiar … hmmmm?
Killing Joke were — following The Payola$' featuring Bob Rock — the second of three bands who played that day that featured a member who went on to fame and fortune in another capacity.  In the case of KJ, bass player Youth became an in-demand producer, working on some of my favourite records by Kate Bush and The Verve as well as collaborating with Paul McCartney under the moniker of The Fireman.
Local favourite Nash the Slash appeared next in his standard bandaged phantom garb and electric violin, getting a big response, particularly during his cover of Deep Purple's "Smoke on the Water," here humorously delivered as "Dopes on the Water," before inexplicably having the plug pulled early on his set, pissing off both audience and artist.
While I had forgotten that he was on the bill, the memory of having his set abruptly cut rushed back once I was reminded that he was there.
I'd also forgotten about next-up band, Oingo Boingo, and for good reason.  Anyone who knows me is fully aware that I can be a deeply silly person with a decidedly odd-sense of humour and a pre-disposition towards the perplexingly ridiculous and ludicrous, usually of a transgressive nature.  If John Otway represented one of my cups of tea during the Picnic, then Oingo Boingo didn't, being more of a distinctly L.A. brand of "hey, look at wacky ol'new wavey me" that I find totally grating (see also: The Dickies, The Dead Milkmen, and all those radio-friendly pop-punk groups like Green Day, Sum 41, etc).
They were over soon enough, allowing lynchpin Danny Elfman to get on with his far more fitting and successful career writing film scores, notably for Tim Burton.   And allowing us to finally get to see one of the two acts that truly brought us to Oakville that day: Iggy Pop.
I had been an Iggy fanatic for years and I was more than a little thrilled to finally be seeing him live.  And he did not let me down.
Clip of Iggy Pop debuting a new song, "Bang Bang," at Police Picnic '81. It's from his then-soon-to-be-released Party album.  The song went on to become an Iggy staple and fan favourite.
Below: A hilarious Jeanne Beker interview with a drunken Iggy Pop backstage at the event. Do Not Miss.  Highlights include Iggy discussing the great value of dining in Portugal.
He vaulted onstage, exactly as I had hoped, a whirling dervish of kicks, twirls, gyrations, attitude, and, er, raw power.  It is not for nought that Iggy has such a great reputation as a live performer and he gave his usual all, delivering a set filled with many of his best known numbers such as "Lust For Life," "Search and Destroy," "Funtime," and "I'm Bored."
"Here's the deal.  I'm Iggy Pop and I have a brand new album out tomorrow called Party," he announced (or something close to those words), going on to play that disc's "Bang Bang," "Rock&Roll Party," and "Pumpin' For Jill."  OK, Party wasn't one of Ig's best — in fact, as much as I love Monsieur Pop, his only truly great recordings are from the 1969-1977 period encompassing the first three Stooges albums and his first two Bowie-collaborated solo LPs, The Idiot and Lust For Life.  Still, he pulled out the best tracks from post-'77 along with the highlights from his golden era, delivering a set that had the throngs by the throat and on a high from start to finish.  The crowd lost it!
Iggy Pop from his classic appearance on The Dinah Shore Show, 1977, promoting The Idiot and performing "Sister Midnight" backed by a band including David Bowie and the Sales brothers.  Rosemary Clooney was also a guest on the show that day. Dinah, Rosemary, David, and Iggy: now there's a dinner party.
Throughout the first half of Iggy's set, a biker couple stood next to me.  At the end of every song they would launch into the same ritual of shouting:
She: Fuckin' A, Iggy.  Fuckin' AAAAAA!
He: Give 'er shit, Iggy.  Give 'er shit!
The routine repeated after every number.   As they did this, so many thoughts and questions swooshed in my skull: Did they do this at every gig?  Did they practice at home?  Did they ever switch catchphrases?  Did they have a repertoire of catchphrases that they would alternate for different gigs?  I guess these will forever remain mysteries of the universe for me.
I wish I could remember who constituted Iggy's band but unfortunately can't.  Research shows that Blondie's Clem Burke often played drums for him around this period as did the Bowie-affiliated Carlos Alomar on guitar (also the co-writer of The Idiot's "Sister Midnight," later reformatted as "Red Money" for Bowie's Lodger).  I would certainly have recognized them both but, alas, it's gone from the mental hard drive.
Following an encore, Ig came back on stage one more time, each arm draped around a groupie while he grinned and gave a thumbs up salute.
From The Dinah Shore Show, 1977, here's the whole darn thing, including performing "Funtime" followed by an interview with Iggy and Bowie.  And, yes, that's Rosemary Clooney!  A hilarious, must-see interview.
I've gone on to see Iggy twice more (and hope to one day see the reformed Stooges) and will talk more about his overall career with those entries.
Iggy's blinding set was followed by a tepid hour of The Go-Gos.  At this time, their debut album Beauty and the Beat was just starting its vault up the charts toward multi-platinum success.  It was a bit of a coup for the Picnic as the fivesome would have still been a relative obscurity at the time when the fest was booked.  I've always had a take-em-or-leave-em opinion of The GoGo's, mostly the latter, and their set was in keeping with this.  It was perfectly pleasant if unmemorable although I was probably being unreasonably hard on them at the time as it was a no-win place in the lineup for me.  I've been listening to some of their live stuff recently and have now taken more of a shine to them.
Actually, I do have one very clear memory regarding their time on stage, namely that we wanted it over as soon as possible simply because up next was the other key reason as to why we were there that day: The Specials.
For Lady Bump and I as well as legions of Brit-obsessed music fans of a certain vintage, not to mention droves of Britons themselves, The Specials were a lynchpin of the era.  They are celebrated as legends today in their native UK and to fans around the world.  Their first 45, "Gangsters," launched the 2-Tone-lead ska revival resulting in a flood of sales for pork pie hats, baggy suits, and checkered clothing — and great tunes.
The Coventry septet had a hard, instant impact on the UK in 1979, the ripples of which are felt to this day (must I bring up No Doubt?  How about Amy Winehouse instead?)  Meanwhile, 2-Tone and its attendant community of acts and audience participated in launching the careers of Madness and The (English) Beat as well as the lesser-known Selecter and Bodysnatchers.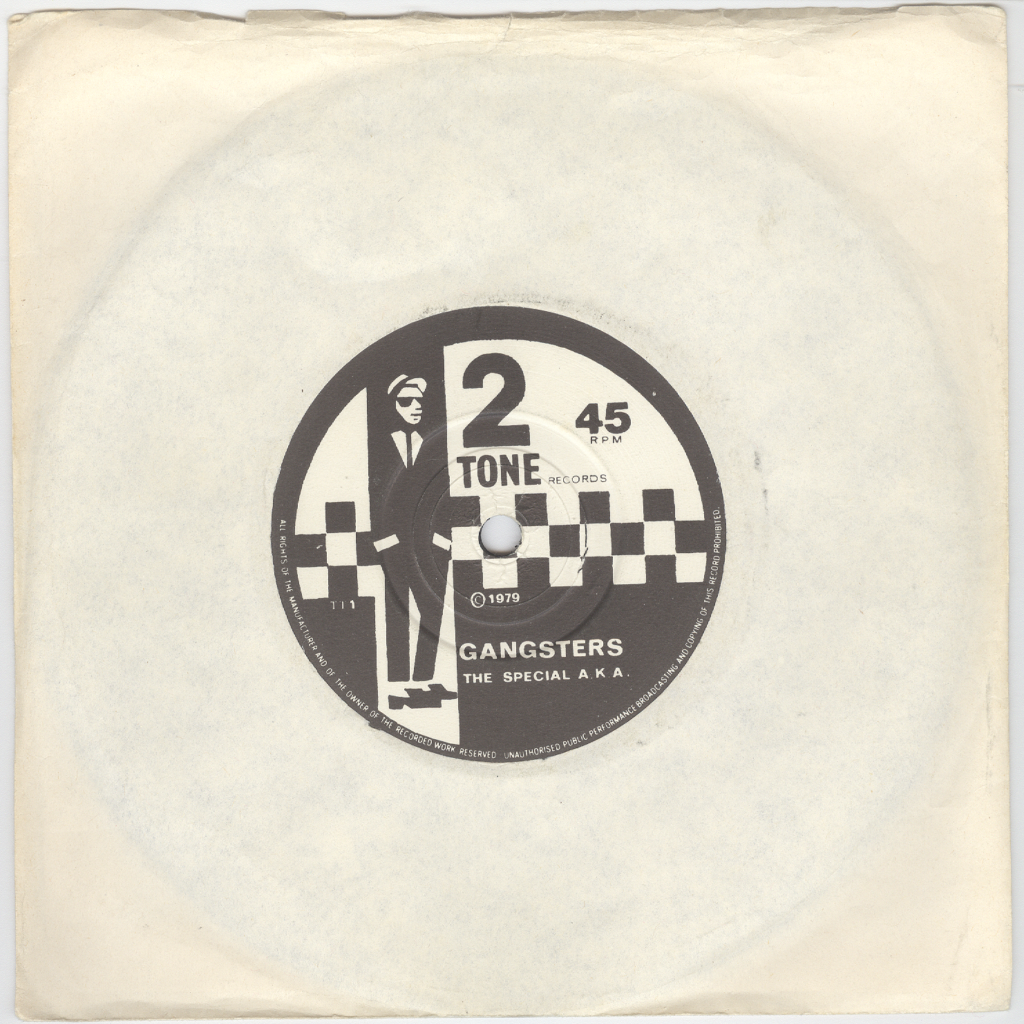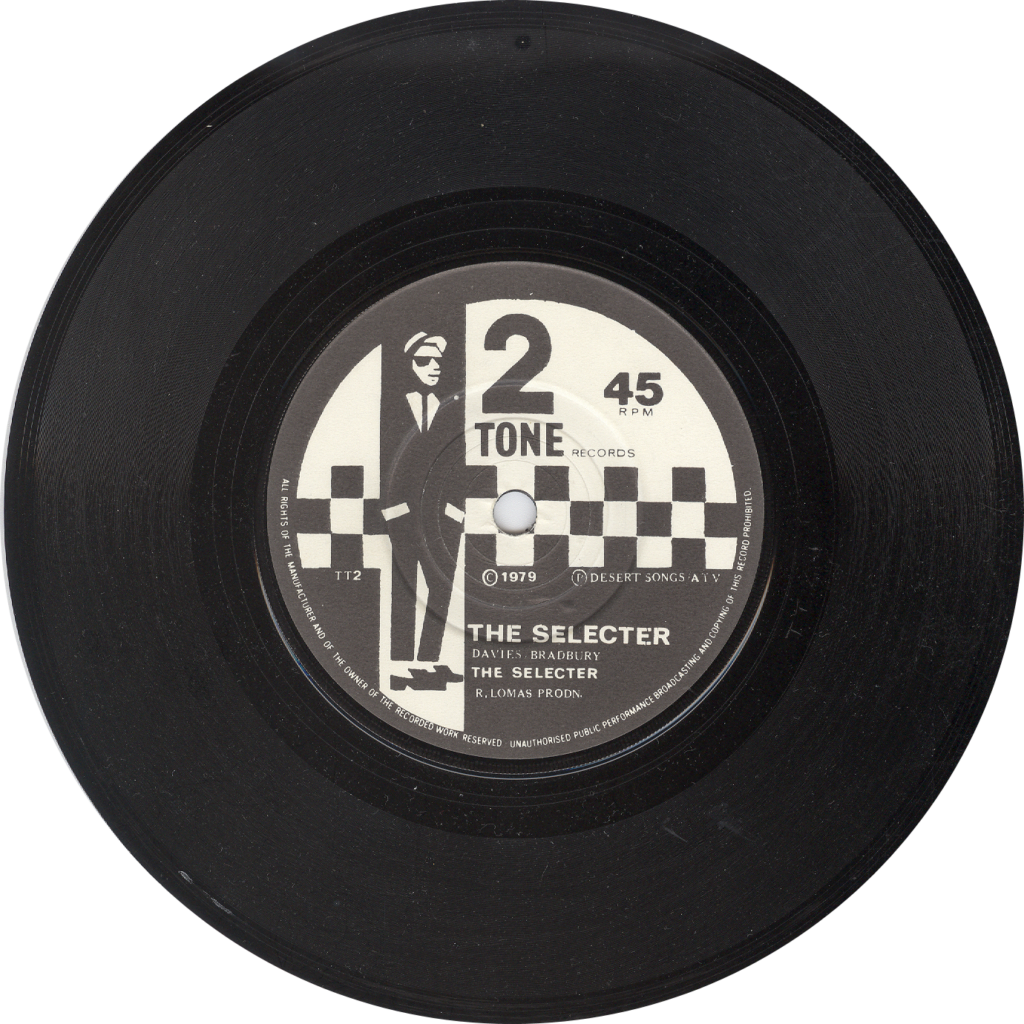 The labels from my copy of Gangsters, the opening shot by both The Specials and 2-Tone Records, and its knock-off B-Side which lead to the creation of a real Selecter.
Masterminded by keyboardist, songwriter, and label owner Jerry Dammers, 2-Tone's impact went beyond the series of classic 45s issued under its imprint by also re-introducing the previously dormant ska sound back into the musical conversation.  Suddenly, everyone had a ska track or a song sporting a ska beat.  The Clash were certainly listening to what one of their former opening bands was doing and responded with nods in "Rudie Can't Fail" and the New Orleans Rocksteady of "Wrong 'Em Boyo" on London Calling.
The Elvis Costello-produced Specials is another one of those time-and-place albums for me, soundtracking a certain period in my life.  Everyone I knew owned and loved it, and it even became a Top 30 chart LP here in Canada without any radio play that I can recall.  Every issue of the NME, Sounds, or Melody Maker featured The Specials in some capacity as one single after another zoomed up the UK charts by either the band themselves or one of their 2-Tone signings.  As Simon Reynolds writes in his highly recommended book Rip It Up and Start Again: Postpunk 1978-1984, "the 2-Tone adventure stands as one of the few examples in pop history of a revival that is not inferior to the music it's reviving.  It may actually be better than the original sixties ska — more musically expansive, more resonant, and ultimately more defining of its own epoch."
Sophomore release More Specials appeared one year later featuring a considerably less ska-focussed sound, dividing their audience.  The tone was darker and the palette more varied, with a split between the two sides that somewhat recalled Bowie's Low: Side One was more "up" with Side Two largely sombre and more experimental.  MS also strongly incorporated elements of retro-lounge music and unsettling muzak-like sonic flourishes (talk about being a solid decade ahead of the curve on that one).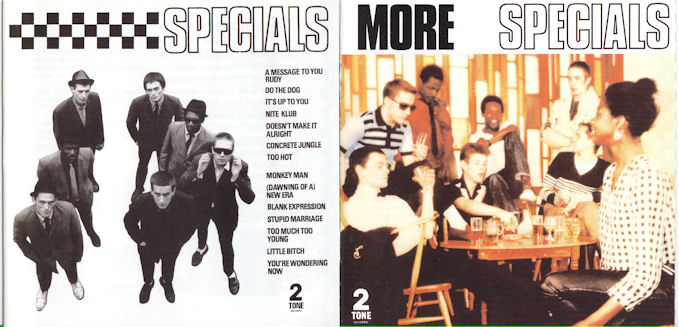 Specials (1979) and More Specials (1980)
I loved More Specials for its daring and left-field shift, not to mention it also possessing a host of great numbers, albeit in a vein that was quite different from its wildly popular predecessor.  I recently threw it on the turntable after having not heard it in its entirety since I can't remember when.  Damn, it's good.
When we saw The Specials on this hot summer evening, they were at a career peak.  Over in the UK, they had spent a chunk of the summer ensconced at No. 1 with the slow, menacing "Ghost Town" which inadvertently became the theme song for that summer's burst of race riots and anti-Thatcherite unrest in England.  Lady Bump and I had played the three-track single — backed by the plaintive "Why?" and my personal favourite of the bunch, "Friday Night, Saturday Morning," later sampled by Lily Allen — continually through the summer, building our hunger for finally getting to see them perform.
The Specials (badly) miming "Ghost Town" on Top of the Pops, 1981.
They came bounding onto the stage, straight into Concrete Jungle, and never let up from there.  Memorable performances for me include the aforementioned "Friday Night," "Man at C&A," "Nite Klub," and "Enjoy Yourself," the 1940s standard that bracketed More Specials, appearing as a giddy and upbeat album opener, and then slow, muted, and cautionary as a closing reprise.  Live, they started with the latter approach before exploding into the former.
A snippet of the Specials performing "Enjoy Yourself" during the August 23, 1981, Police Picnic in the Oakville, Ontario area.  This was aired as the closing sequence to a New Music episode.
Onstage, The Specials were like jumping beans that never settled.  I have absolutely no idea as to whether or not any substances had been sampled prior to their set, but I remember watching them and thinking about the volume of speed or coke that perchance may have been on the premises.  As with the Ramones, it was exhausting watching them, albeit with a very different vibe.
However, the most memorable moment of their set — and of the entire day — came mid-way through their performance when they announced that guest Rhoda Dakar (from The Bodysnatchers) was going to perform a new song with the band.  Stepping up to the mic, she explained that the song was about sexual assault and how it transcends all races and cultures and that this was what she had to say about it.
The tune, which I later discovered was called "The Boiler," commenced with Dammers' dark, menacing organ, shortly joined by the percolating beat a la More Specials over which Dakar talked/sang the lyrics.  People in the audience danced as Dakar began relating a tale of woman who had always seen herself as unattractive ("In my mind I knew I was still an old boiler"), not believing her luck at gaining the attention of a hunky guy who takes her shopping and then on a date to a disco.
The skanking in the crowd slowly came to a halt as the story shifted into Dakar documenting a late-night, post-disco argument that leads to the female narrator being beaten and raped, with Dakar's gut-wrenching screams and sobbing acting out a horrifying scene, piercing the hot summer night air.  All around me, everyone stood, shocked and stunned, with people in the audience likewise screaming and crying.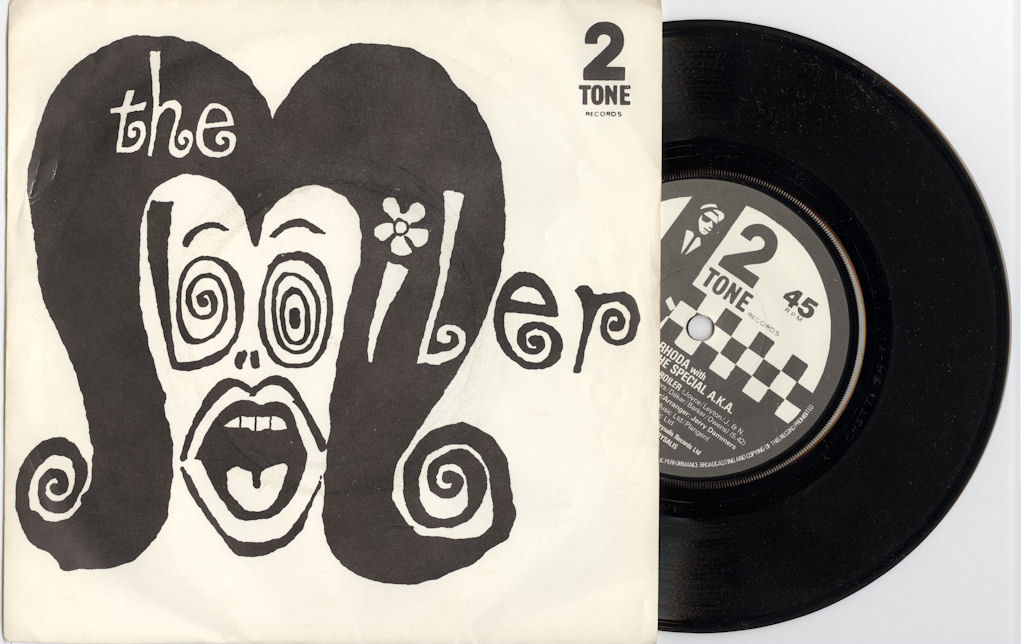 "The Boiler" by Rhoda and the Special AKA, released on 2-Tone in January 1982.
Had this been during the daylight, you would have seen the blood draining out of people's faces.  This was easily six of the most intense minutes of any stage performance I've ever seen.  In line with The Specials' social realism lyrics, "The Boiler" contains an important message and is effective to say the least.  However, it's so disturbing that one can't repeat-play it.  I picked up an import copy upon its eventual release in January of 1982, only ever actually playing it a handful of times.  It never really gets any easier to hear.
 Here is the audio of "The Boiler," Rhoda Dakar's song about sexual assault that was performed to a shocked audience during this first Police Picnic.  Be forewarned: it's a very effective record and, hence, a deeply unpleasant listen.
In my mind's eye, the tune's end was followed by a second or so of startled silence, followed by applause: an audience blindsided by the moment.  I think "Why?" came next, which would make thematic sense, but it took a few more numbers for them to work the UP vibe back into place.  But they did it.
Their set closed with the other big highlight for me: their riveting delivery of "Ghost Town."  Just thinking about its performance gives me the shivers.  It was doubly intense to be hearing it played live at a time when it seemed to be telegraphing situations that we were reading about in the papers and seeing on the news every day.
And then they were gone.  In every sense of the word.  Little did we know that band members were barely speaking to each other at this point.  From what I have been able to discern, this was the last gig The Specials ever played [2022 Update: This wasn't their last gig but it was one of the last.  A few weeks later, they were done.]  Shortly thereafter, Terry, Neville, and Lynval formed Fun Boy Three, releasing a series of UK hits over the next few years.   Jerry Dammers returned to the original name of The Special AKA, delivering the more collaborative In the Studio in 1984 featuring the anthemic and politically important "Free Nelson Mandela."  A big UK hit that year, it was Dammers' last moment of greatness.  The single also set in motion some wheels that eventually aided in making the song's refrain a reality.
The Special AKA performing/miming "Free Nelson Mandela" on the BBC's Top of the Pops, 1984.  Another time capsule piece for me that immediately triggers memories of that summer.
The original Specials reformed — controversially, minus Dammers — in 2008 and have spent the past couple of years playing a number of ecstatically received, high profile gigs throughout the world.   There is also talk of new material, although I wish Jerry would be part of it if they go there.
The re-formed Specials live in 2009 at the V Festival, performing "You're Wondering Now" with fan Amy Winehouse.
This powerful appearance by The Specials was followed by what seemed like an interminable wait for the planet's then-most popular three bottle blondes.
While Lady Bump had been a big fan of the band, I had instead rather liked The Police in the past.  I'd thought that Outlandos d'Amour was a tight, inventive new wave pop album that I played regularly throughout early '79.  Follow-up Regatta de Blanc was an even better, more adventurous piece of work, appearing that fall, and containing what remains as my favourite Police song, Walking On the Moon.  I felt that these two starter-discs were great launching pads for something even better to come.
So, imagine my surprise on picking up Zenyattà Mondatta when released in fall 1980 and getting it home only to exclaim, "Hey, this is one of the most wan pieces of shit I've ever wasted my precious cash on."  Successive plays didn't change my mind.  I recently replayed the first two and boy do they sound good (especially Regatta, which I've fallen back in love with) …. but …. whenever The Police get bandied around as one of The Great Groups ™, I simply Do Not Get It.
They finally hit the stage at around 11 pm, following a 90 minute pause.  The stage looked set up and ready to go a good half-way during that break time.  Having spent a long day standing in the boiling heat, people were really starting to wear down and get fed up.  Once the stage was sitting still and lit, the crowd would start cheering with the fade of each between-set tune broadcasting over the PA, only to be followed by groans of disappointment when the next song started.
What were they doing?  Playing Boggle while waiting for the Geritol to kick in?  Or, as is my guess, they just wanted to let a chunk of time pass following The Specials high-impact set.
Their eventual arrival gave me more of a feeling of relief than ebullition.  Amid the orgasmic squeals of zoodles of sun-stroked teenage girls and earnest clapping from college musos, the moderately fab three raced on, launching the proceedings with "Voices in My Head."
Within a few numbers, there were indeed voices in my head too.  And what were they saying?
"Boring!  Booooooooooring!  Borrrrrrrrrrrrrrrrrrrrrrrring!!!!"
Sting bippity-bopped and Steward Copeland whacked …
 p   e   r   c   u   s   s   i   o   n
… while Andy Summers pulled off the not-insubstantial achievement of having even less stage presence than Bill Wyman.  If I had thought that Zenyattà Mondatta was a disappointment, then I had a real benchmark-lowering treat in store with this set.  I mean, did some having-a-larf roadie switch the nose candy with ground Sominex?
Many of the tunes were delivered as extended, lifeless, plodding grooves.  This could be overdrawn in my memory, but I have this visceral recollection of Sting bouncing around to these never-ending versions of their catalogue while delivering endless "Eey yo yo yo"-style sing-a-longs, enticing the crowd to join in.  It was all moaning, droning, and monotoning.  As exciting as a taupe pantsuit.   I wanted to go up on stage and ram Sting's bass up his Eey yo yo yo arsehole.
It didn't help matters that much of the material was drawn from Zenyattà and its similarly stale bread of a successor, Ghost in the Machine, which would appear a month or so later.  It was hard not to contrast The Specials' dark, affecting Ghost Town with the pious yuppie fern bar blandness of new single Invisible Sun, about warring factions in Northern Ireland.
The Police jump into the ska ring with "Man In A Suitcase."  Not one of their finer moments.
About two-thirds of the way through the set, Lady Bump and I looked at each other and concluded that we just weren't getting into this, were exhausted, and had had quite enough, fuck you very much.  Ladies and Gentleman, I present to you: the very first (and one of the very few) gigs I have ever walked out of.
Unfortunately, many had already arrived at the "Ciao!" option before we did, meaning that the exit arteries were clogged, making for a slow progression back to the parking lot.  We were able to hear the increasingly faint big show finales, including Message In A Bottle and Roxanne, but any sense of enthusiasm or caring had left the building.
This show quashed my already vanishing interest in the band.  I borrowed and taped Ghost in the Machine from L. Bump after she'd picked it up, but I rarely played it.  Ironically, I would go on to see The Police twice more owing to successive Picnics featuring great guests.  And the future performances were major improvements over this one.  I'll be writing about them in the months to come.
As for our escape from planet Sting, the exodus of punters meant that the one and only exit for the parking lot left us in a 90 minute traffic bottleneck.  Meanwhile, remember those "suckers" who paid $10 to park at that little lot on the other side of the street?  They all up and went expediently while we sat inching up every five minutes.  Who's laughing now?
The Specials performing "Gangsters" on SNL, Spring 1980.  Holy crap, do I ever remember watching this the night it aired.  Lady Bump and I been salivating all week in anticipation of this performance.
I got to see the re-formed Specials deliver another blazing set 32 years later, in 2013.
Next On Stage –> Electropop comes to London, Ontario on a freezing March evening with Liverpool's Orchestral Manoeuvres in the Dark, or as they are sometimes simply known, OMD.
Their 1980 debut album was the second LP from the emerging UK electronic scene after Gary Numan's Replicas that I really got into, although I loved that first OMD album far more and it's still a favourite I listen to.  I remember repeat-playing it throughout the fall of 1980.
The set may have been egregiously delayed but OMD more than made up for it, playing a blazing set to a small but dedicated audience who danced right through the whole thing.  London's own Mettle, featuring former Demics guitarist Rob Brent, also delivered a terrific opening performance.
Stay tuned for waving OMD members in a restaurant, happy hoofers, and frozen winklepickers.
010. Electricity: Orchestral Manoeuvres in the Dark with Mettle, Centennial Hall, London, Ontario, Canada, Tuesday March 9, 1982.
 © 2010 VariousArtists
Comments From Original OpenSalon.com Posting