It's taken over a decade but here it is: Ka-Ching-A-Ling II (as in Led Zeppelin II), another instalment of Christmas-themed ads from throughout the decades, with this new edition spanning 1936-2003. (Also see: Christmas Advertising: LIFE Magazine, Nov. 30, 1959).
As I wrote in the first KA-CHING-A-LING, originally published on OpenSalon.com in December 2011:
Christmas is the season of peace, good cheer, and jollity … and maxing out your credit card; stressing over what to buy everyone in between bouts of insomnia as you try to recall if you bought Uncle Walt a similar pair of McGregor socks last year; rock'em sock'em parents giving each other a sharp right hook as they fight over the last (insert latest toy fad here) on the shelves while dodging pepper spray; abused, overworked sales staff squaring off against exhausted, overheated shoppers to discern who's more fed up; mall patrons launching law suits following multi-car fender benders after a downpour of freezing rain has turned the parking lot into a fiesta of black ice …
Yes, there is no doubt about it, Clausfest is truly a special time of year.  And it's also the time of year when advertisers have traditionally hammered their messages home harder than ever in a fight for those fe$tive buck$.
What follows are Christmas-related ads gleaned and scanned from my magazine collection, spanning a copy of LIFE from 1936 (a big chunk of that ads below come from LIFE) to a 2003 edition of Macleans, with contributions also coming from past issues of Esquire, The Advocate, Playboy, People, NME, New York Rocker, Canadian Magazine, and Sam the Record Man's in-house publication, Network.
Adverts often say much about a particular culture at a given point in time. So, pull out the sleigh, shake the cocktails, ply the reindeer with high-carb energy drinks, and away we go …
SANTA CLAUS:

SUPERSHILL
How der Redstuff has been used to push consumer goods in the last century.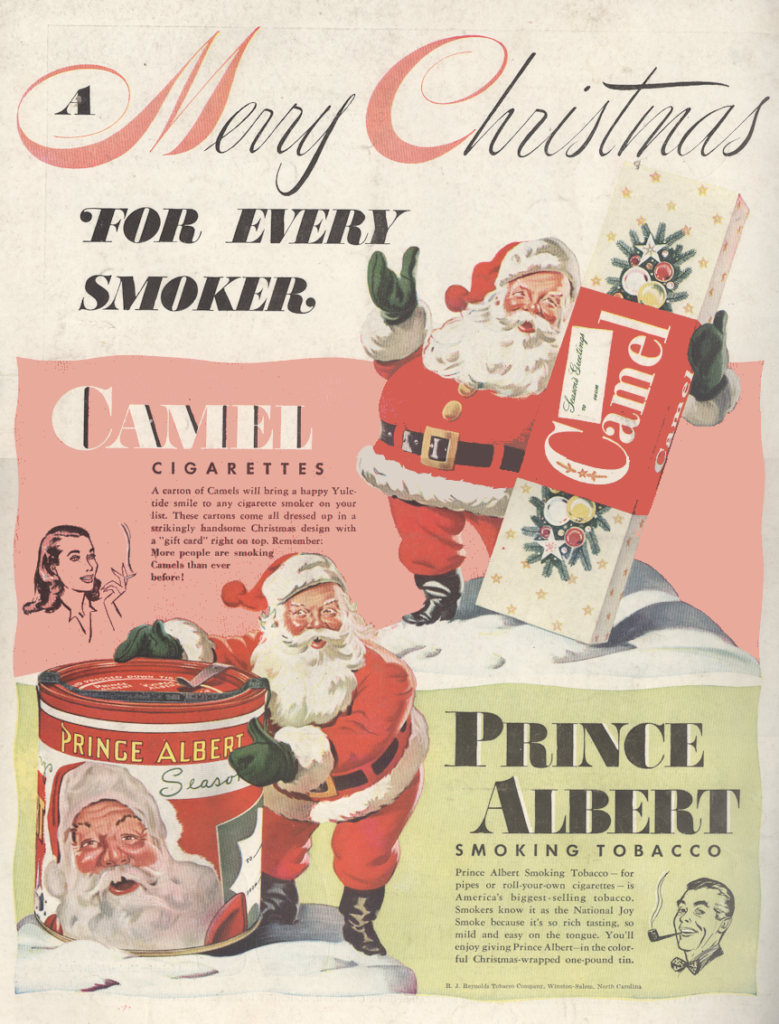 Smokin' Santa!  See more Smokin' Santas in the HAVE A SMOKIN' CHRISTMAS section further down the page.  And it looks like Meghan Markle posed for cigarette ads back in the day (below). (LIFE December 22, 1947)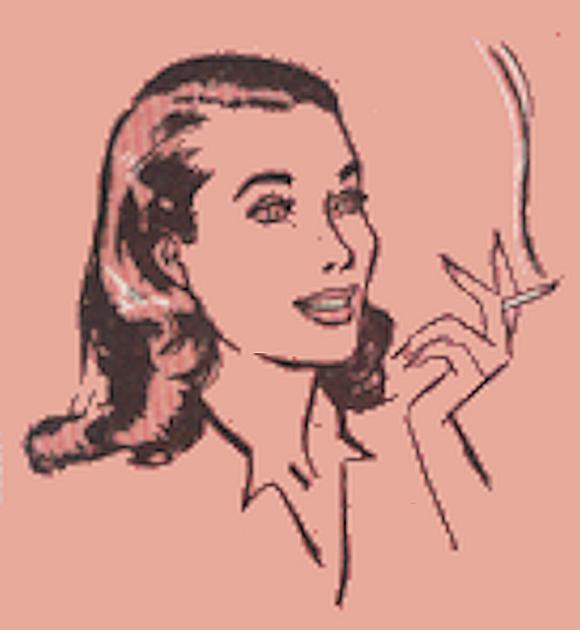 Upset Stomach Santa. And it's incredible to learn that Santa uses words like "overalkalizing."  Fascinating. (LIFE December 20, 1948)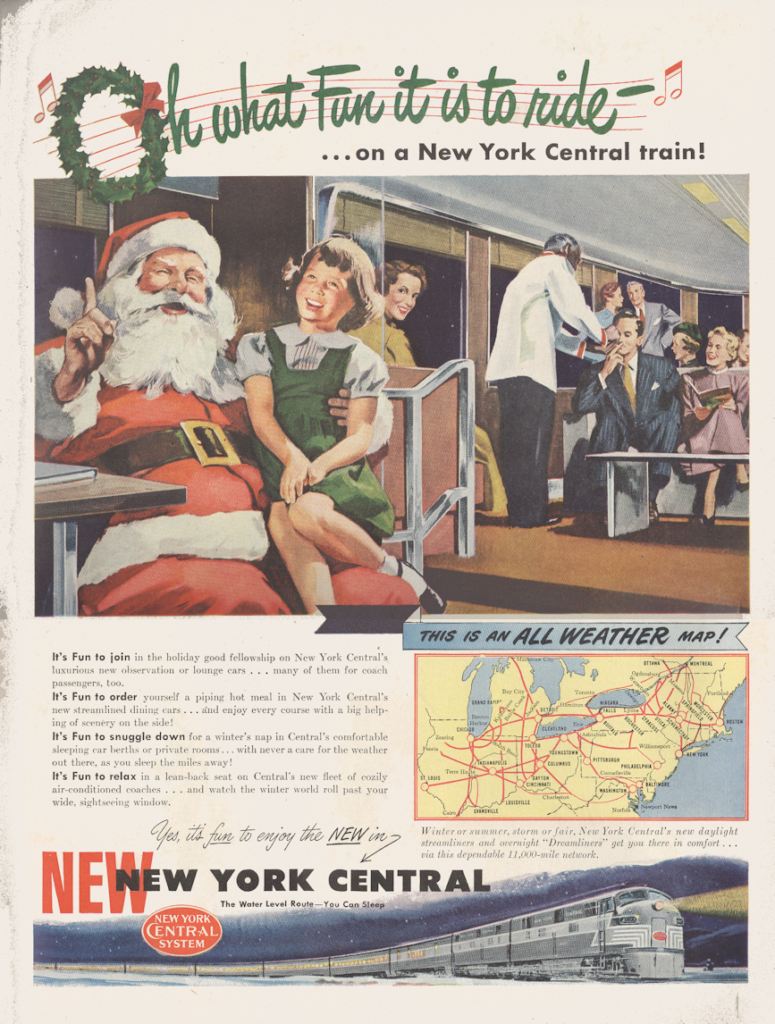 Rail-Ridin' Santa: "Ok, let's all sing along, "99 Bottles of Beer on the wall / 99 Bottle of Beer / If one of those bottles should happen to fall …."" (LIFE December 20, 1948)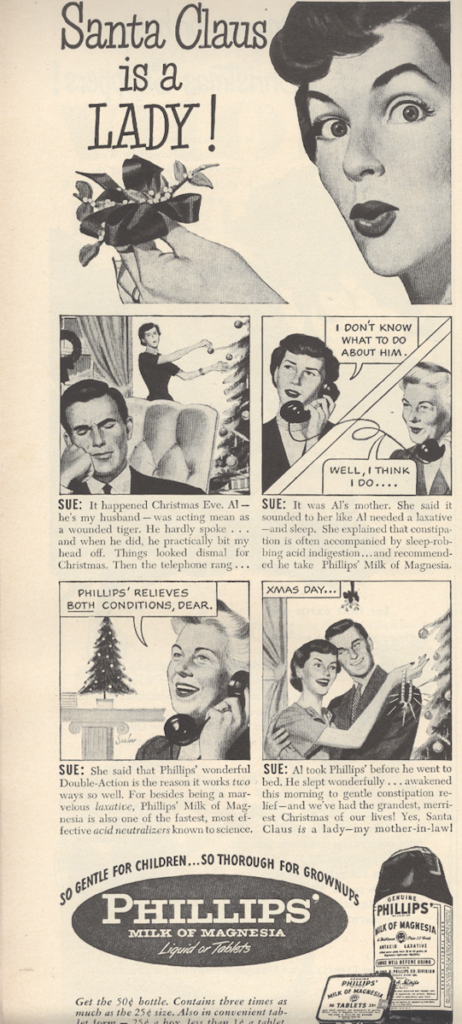 Holy poop, it's a Lady Santa.  Not to be confused with Lady Bump. (LIFE December 20, 1948)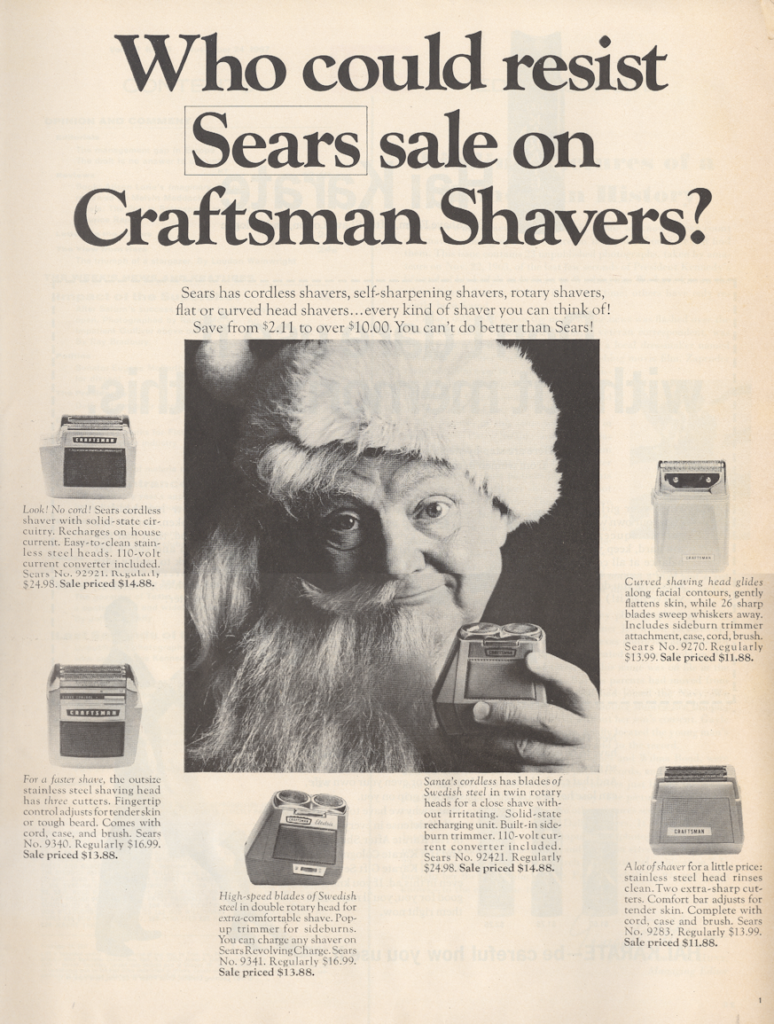 Uncoordinated Pseudo-Proto-Hipster Shaving Santa. (LIFE November 24, 1967)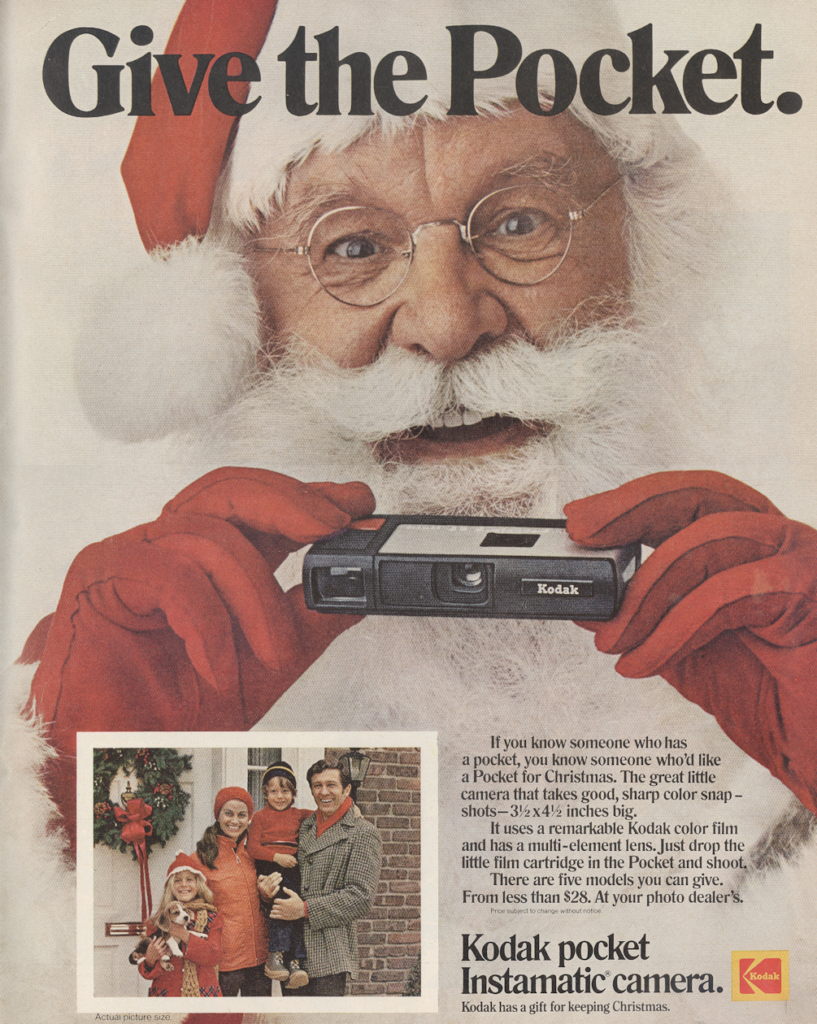 Paparazzi Santa. (LIFE December 5, 1972)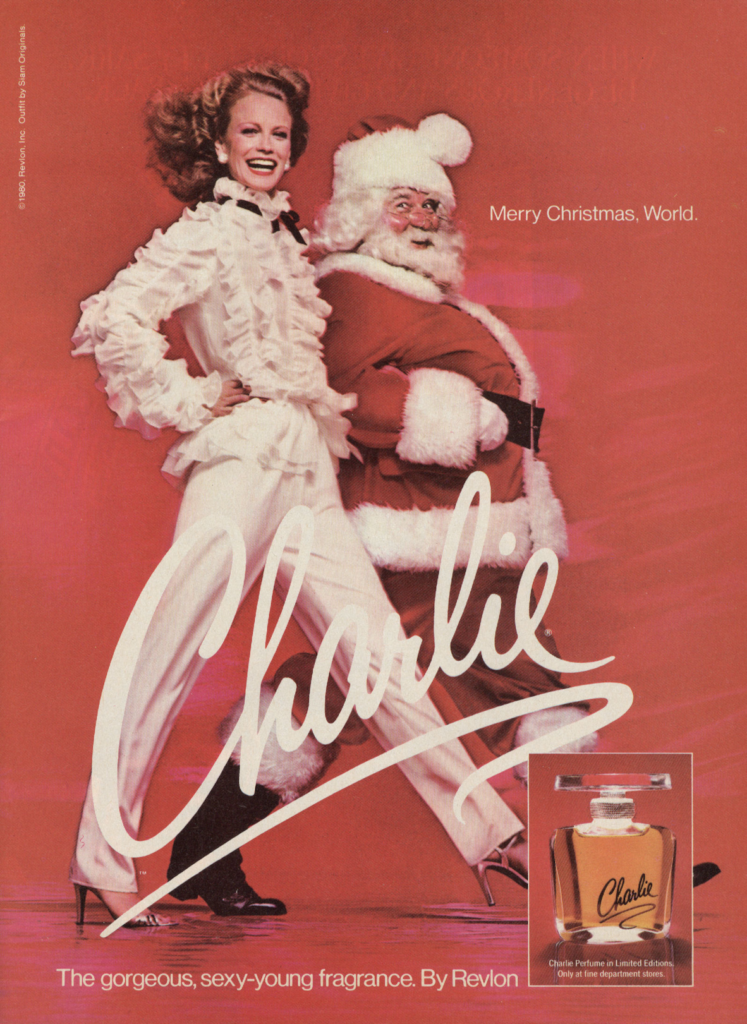 Lascivious Santa.  And look at that sunburnt gin blossom.  (And is that Chicken Lady in her younger years?). (People December 1980)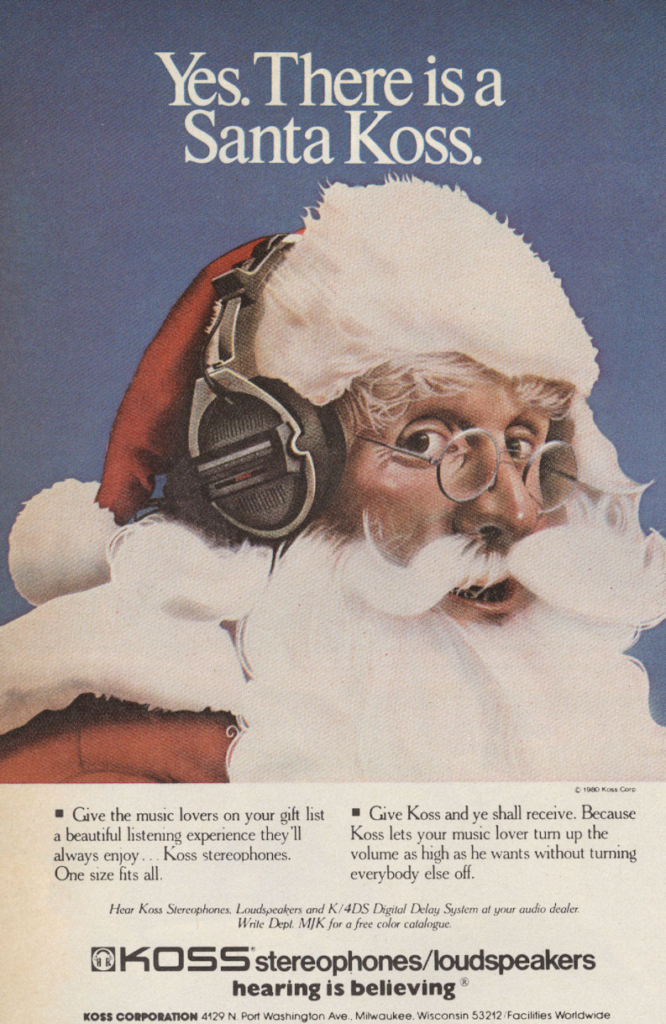 Groovin' Santa (giant doobie not pictured). (People December 1980)
Alterna-Fashion Santa. (The Face December 1983)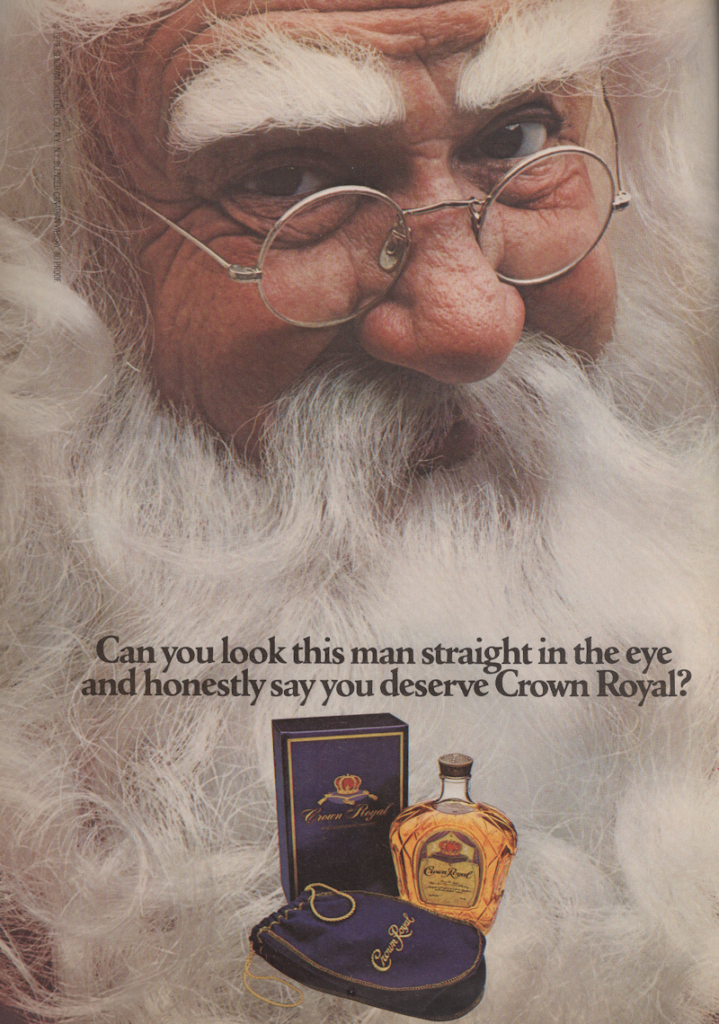 Manipulative Santa. (Esquire December 1983)
NANA RETAIL:

GRANDMAS THROUGH THE AGES
Smiling grannies out for the hard sell via turkeys and travel.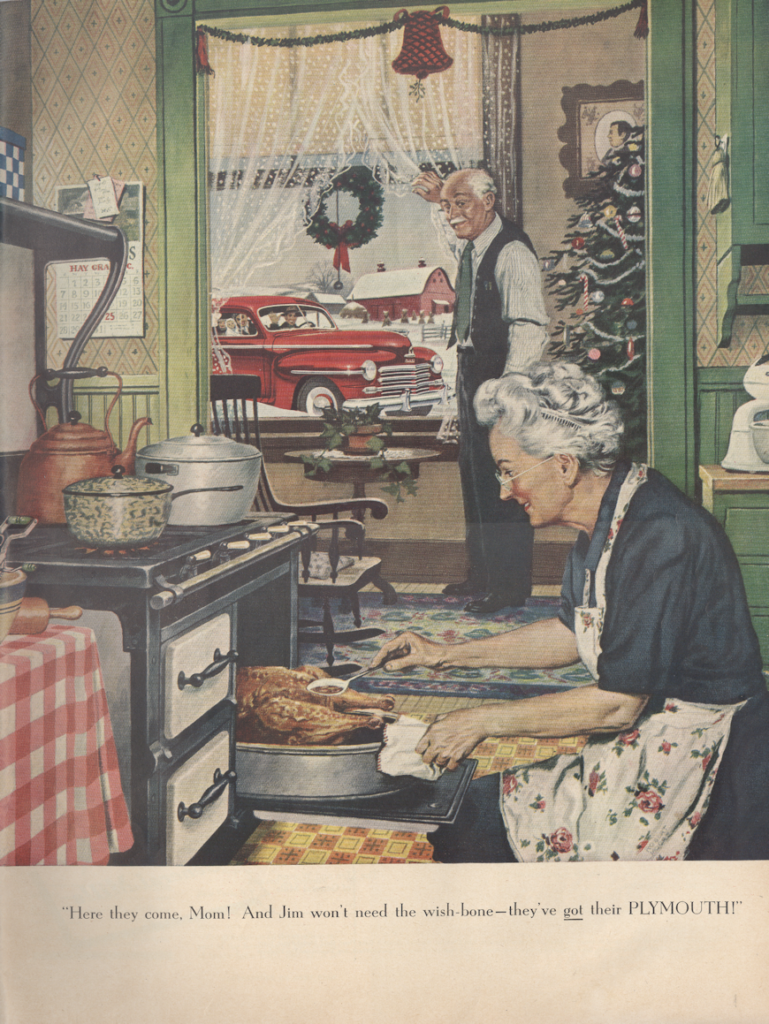 Here's granny tending to the turkey with little time to covet her kids' new Plymouth. (LIFE December 22, 1947)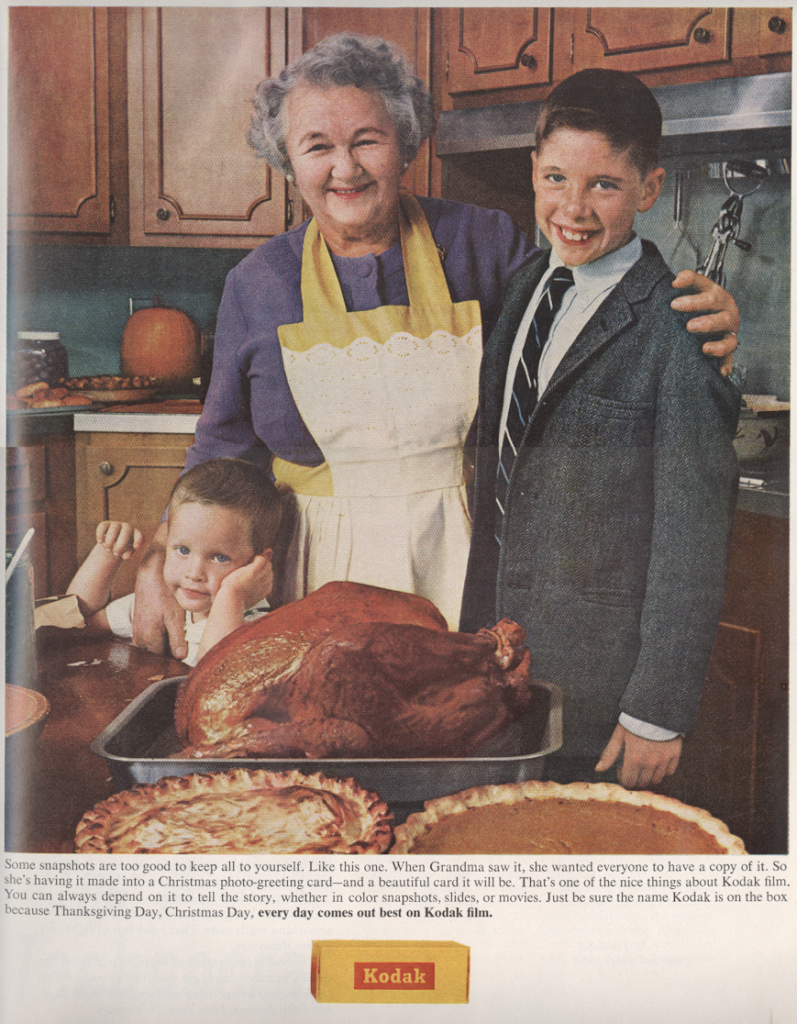 20 Years Later … Gran is still tied to the kitchen but in a substantially updated one, proudly posing with a particularly toothsome grandkid while Junior 2 is about to give a fist bump. (LIFE November 17, 1967)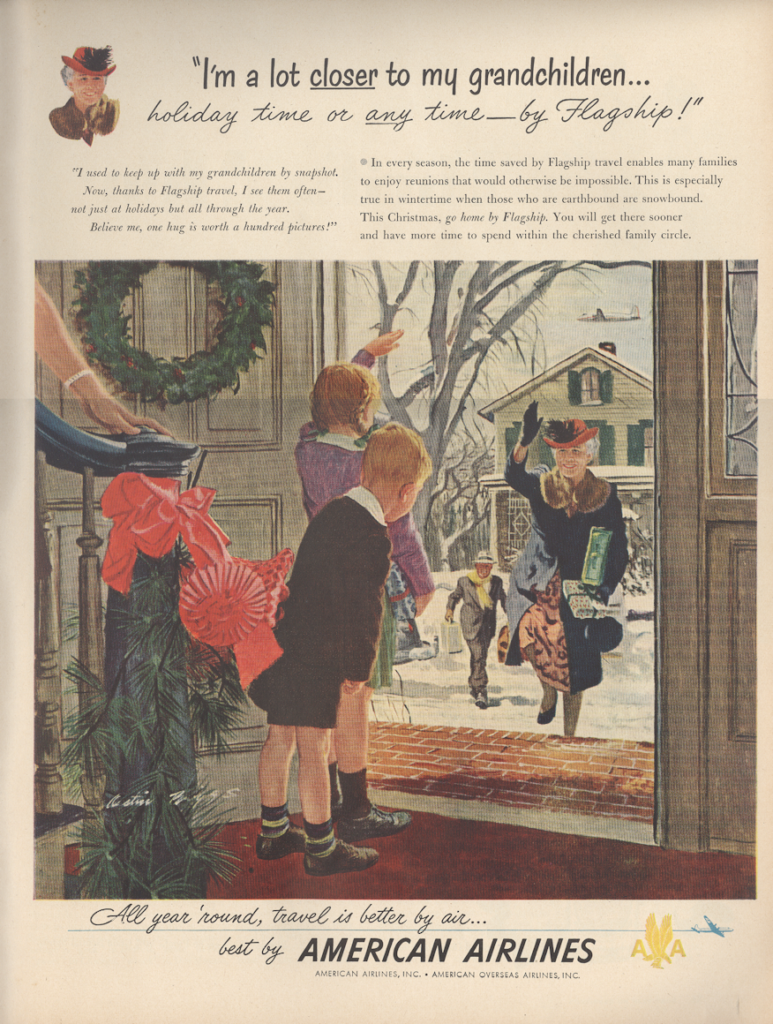 Here's flying granny, touching down for Christmas in 1948 to spend warm seasonal moments with her beloved grandchildren … (LIFE December 20, 1948)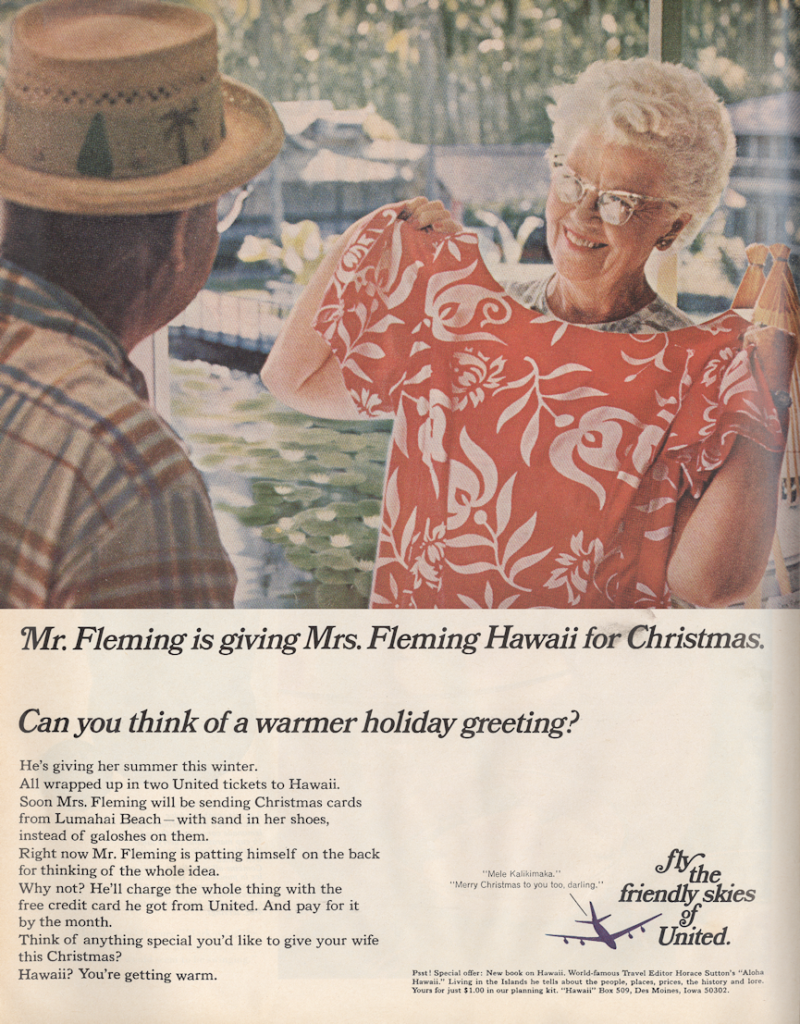 …. but 20 years later, granny has had more than enough of that and is ditching the grandkids for warmer weather and a groovy new top. (LIFE November 24, 1967)
THE GREAT WHITE NORTH:

CANADIAN BOOZE, POP, & SNOW
According to these ads, Canada is all about liquids and snow. (There's also a whole section on booze ads further down the page.)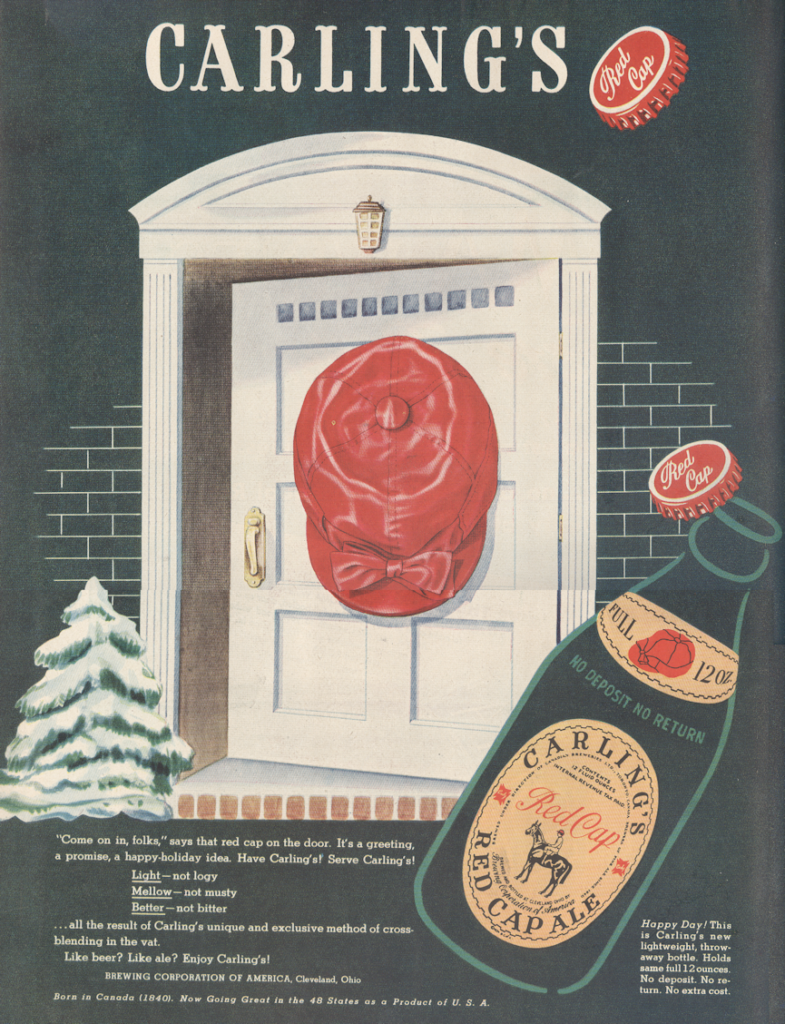 "Born in Canada (1840).  Now Going Great in the 48 States …"  This ad would soon become redundant.  Also: Stubbies!!  (LIFE December 22, 1947)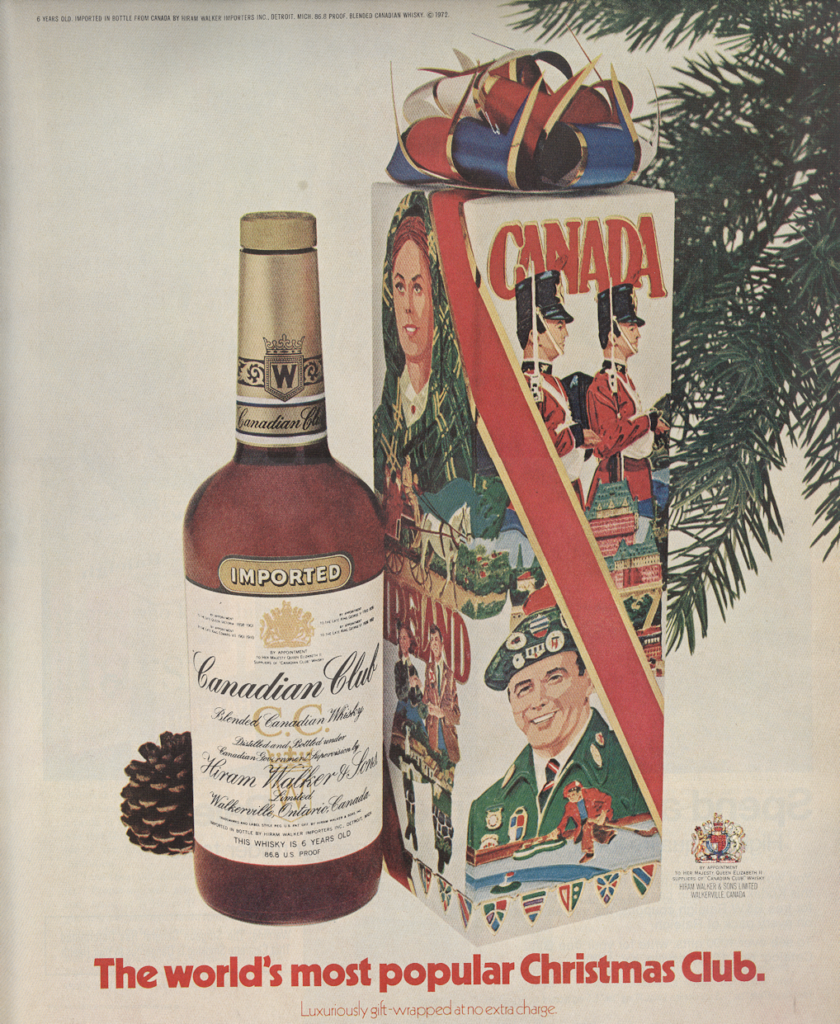 "Luxuriously gift-wrapped at no extra charge." Well, isn't it my lucky day. That's certainly stretching "Luxuriously gift-wrapped." It's a BOX! Geesh, do you want me to get you a coffee as well? (LIFE December 5, 1972)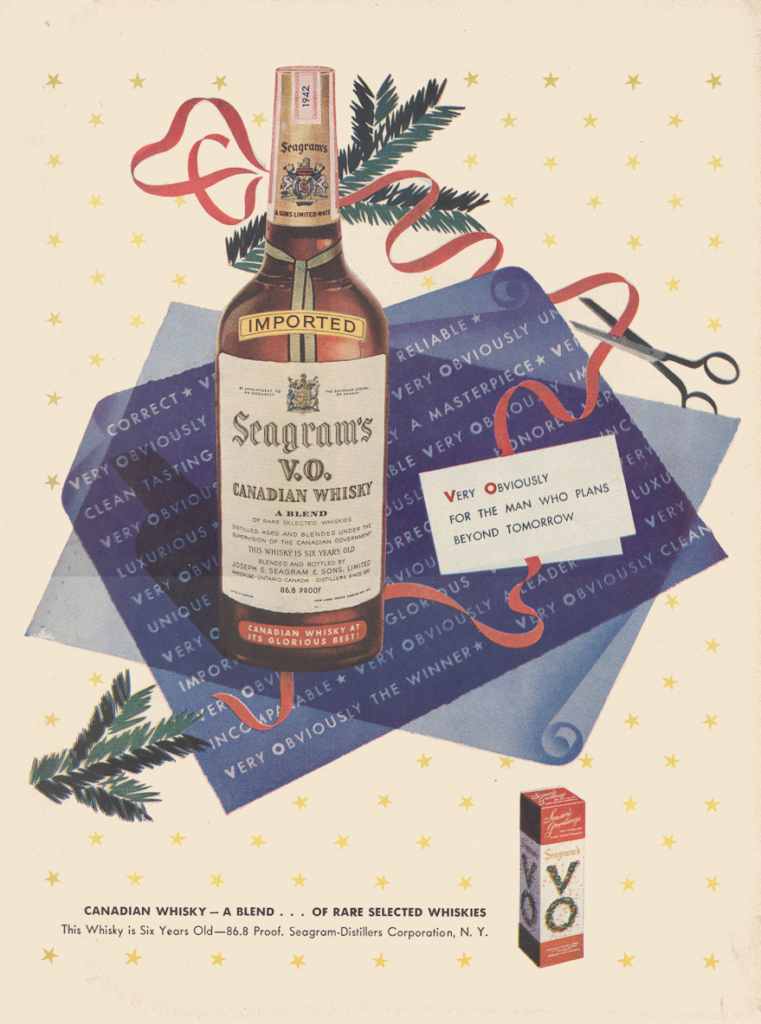 I love the colours, graphics, and layout of this ad. (LIFE December 20, 1948)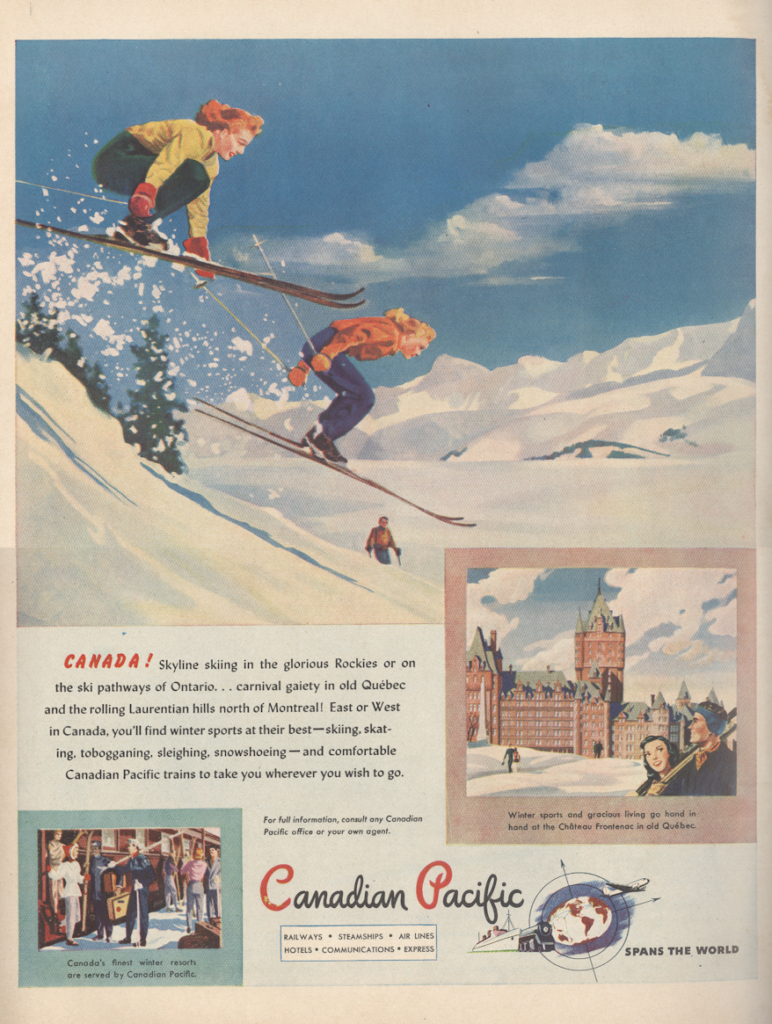 Holy jumpin' maple leafs: look at 'em tear down the slopes. Also: Nice rendering of the Château Frontenac!  CP built that hotel. (LIFE December 22, 1947)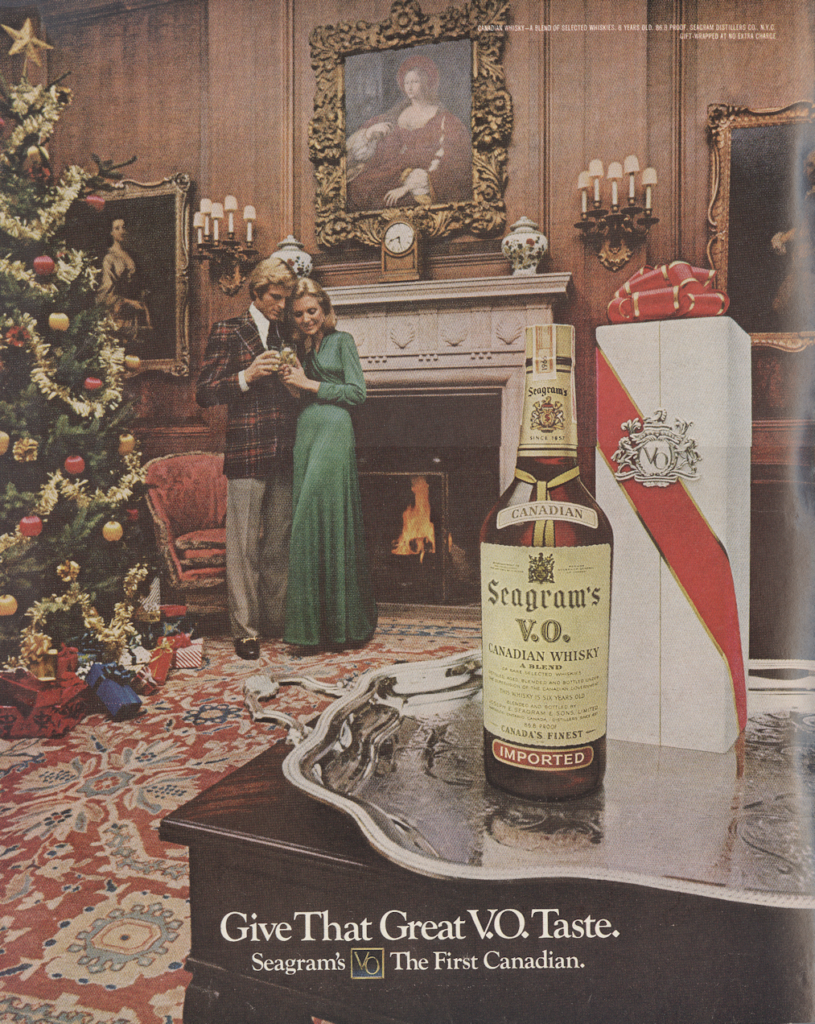 He might be the First Canadian but that is the last blazer he should have worn.  Good grief.  It's 1972 alright. And these two are bloody well up to all sorts! (LIFE December 5, 1972)
OPEN-WALLET SEASON:

CHRISTMAS ACCESSORIES & GIFT SUGGESTIONS
A winter wonderland of gift suggestions through the eras.
"Remember, it's 'Mele Kalikimaka is the thing to say…'"  Hey: It's Bing!  (and not for the last time in this blog post…) (LIFE December 20, 1948)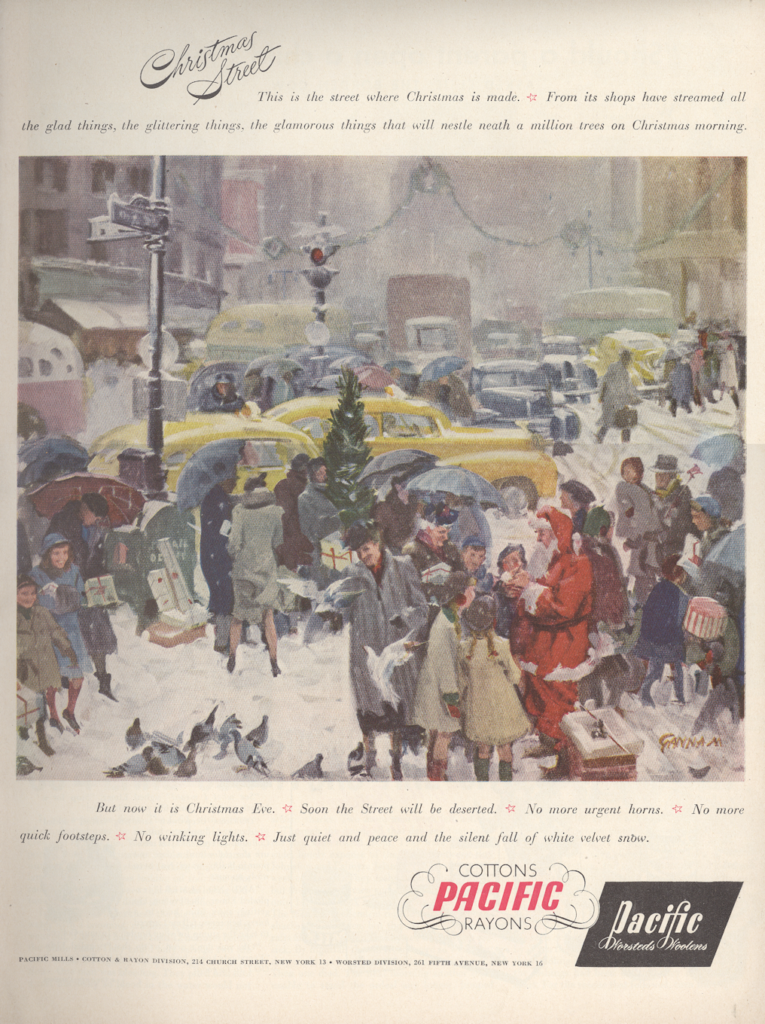 This is one of my favourite ad illustrations in this blog entry.  Love it. (LIFE December 20, 1948)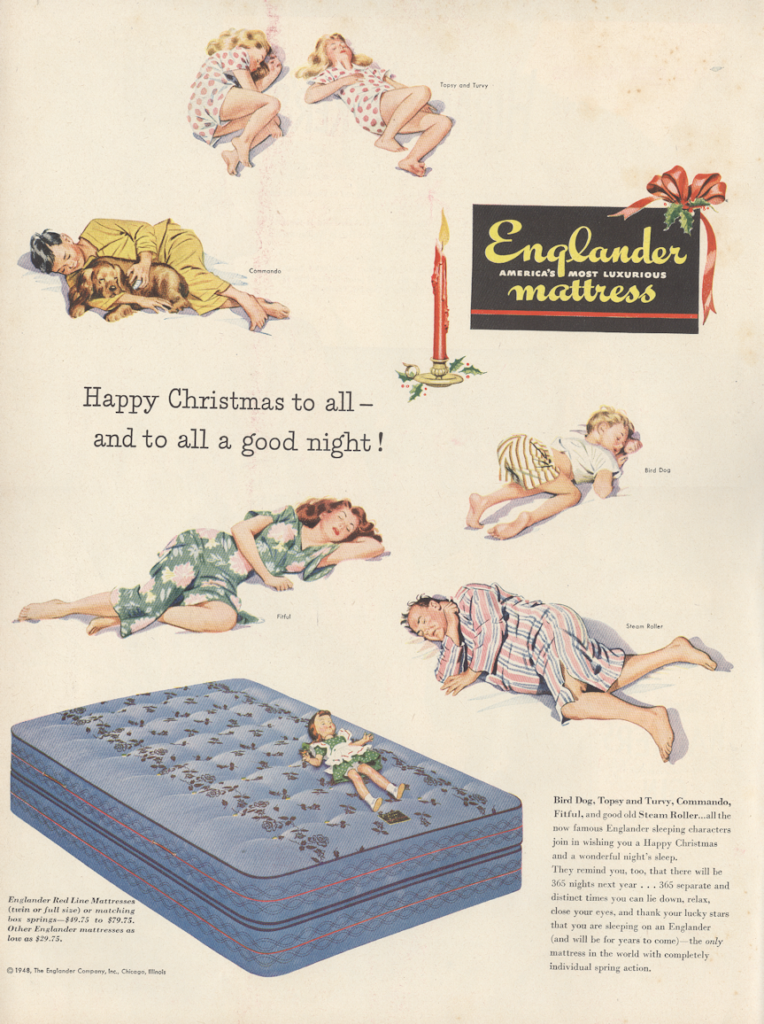 What a most curious sleeping position is the Bird Dog.  It's more like the Thermometer position.  And it's this kid's first stop on the way to lower back problems. (LIFE December 20, 1948)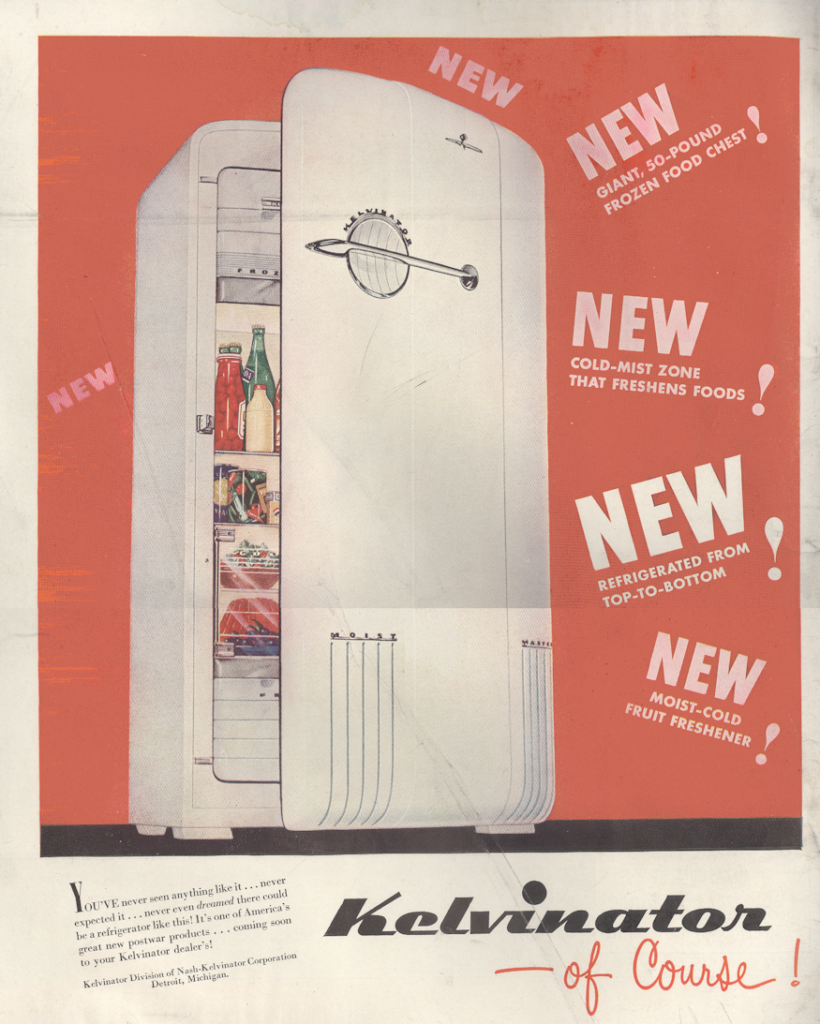 It's a fridge you'd see in a David Lynch movie. (LIFE December 22, 1947)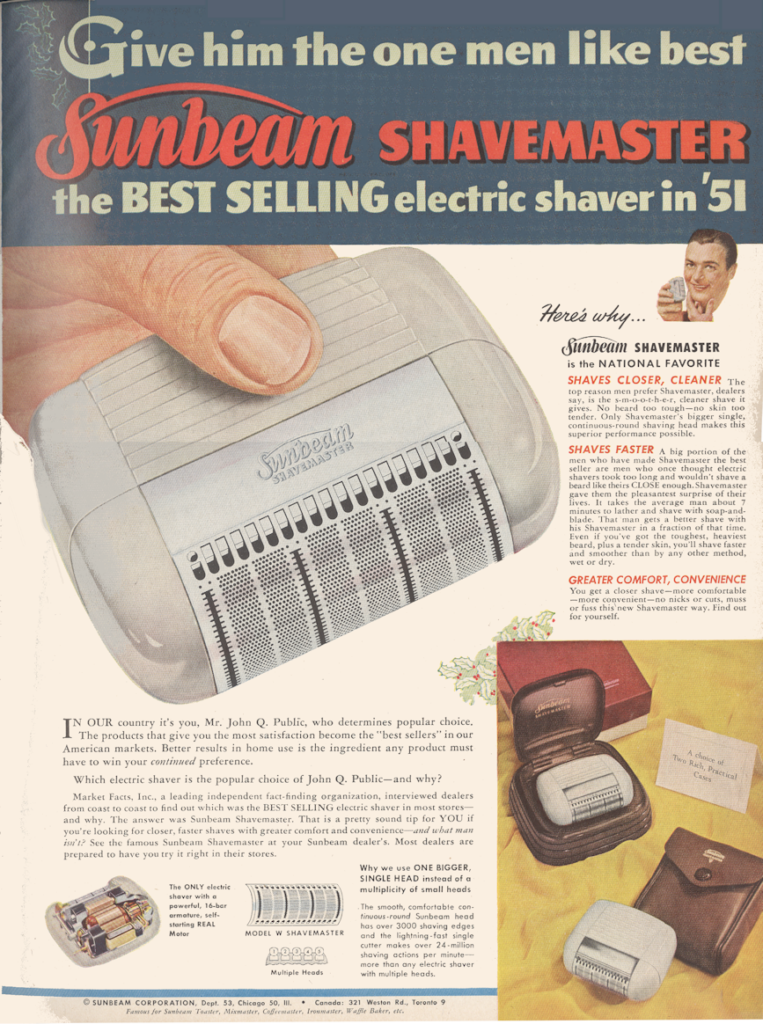 I gotta admit, I am a sucker for mid-century design.  But as I shave my head, it's razors all the way for me. (LIFE November 6, 1951)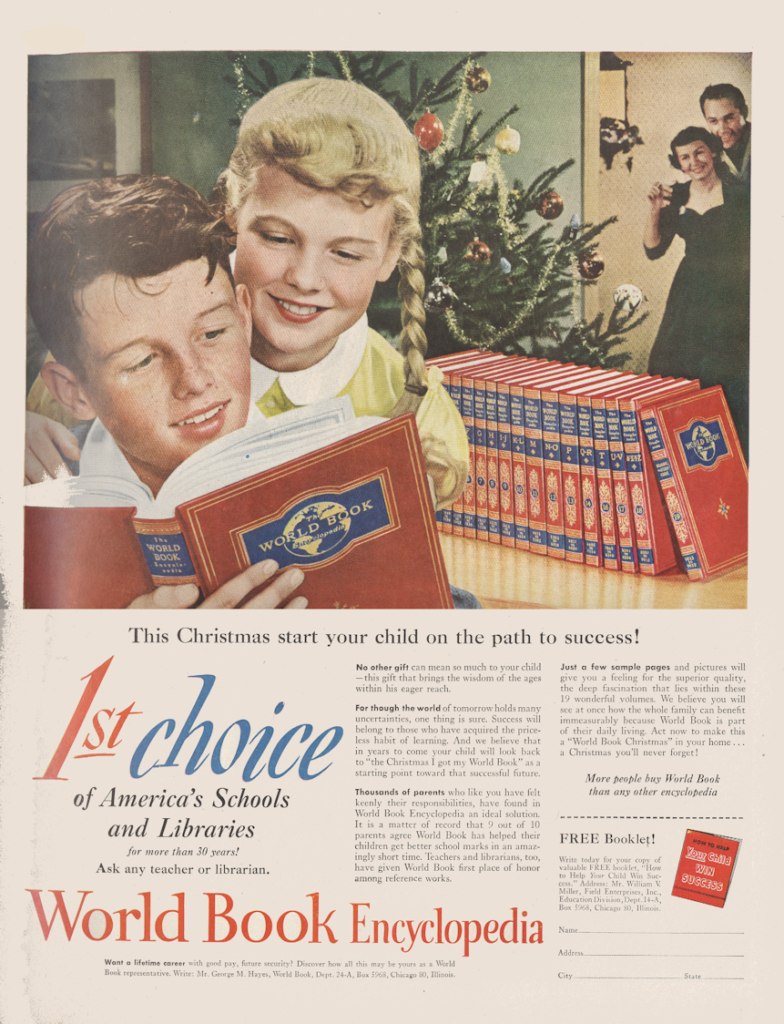 You can tell the 1950s have arrived. This looks like Beaver Cleaver and Patty McCormack as Rhoda in The Bad Seed deeply engaged in learning about the world of sedimentary rocks. (LIFE November 6, 1951)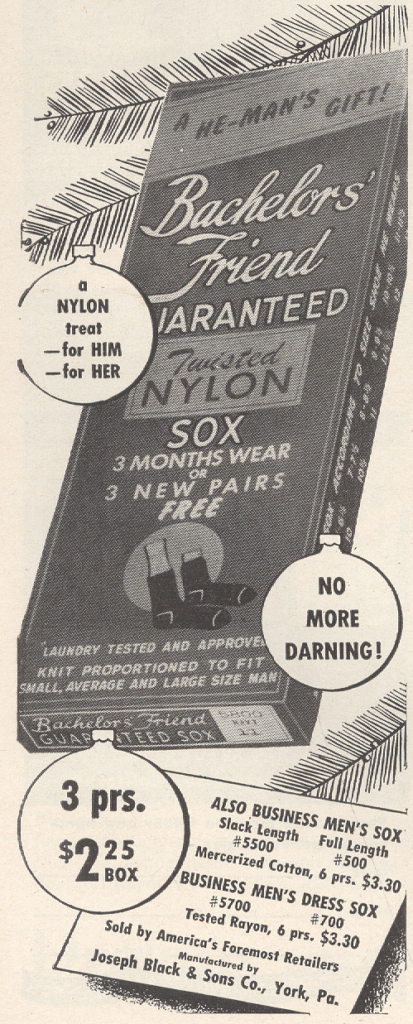 Somehow, socks weren't what I envisioned when I read the name Bachelor's Friend.  Also: when did nylon sox (<– their phonetic word, not mine) rank as a "He-Man Gift"?  Also note the poor quality of the illustration on the sox box.  They're like Charlie Brown feet. (LIFE November 6, 1951)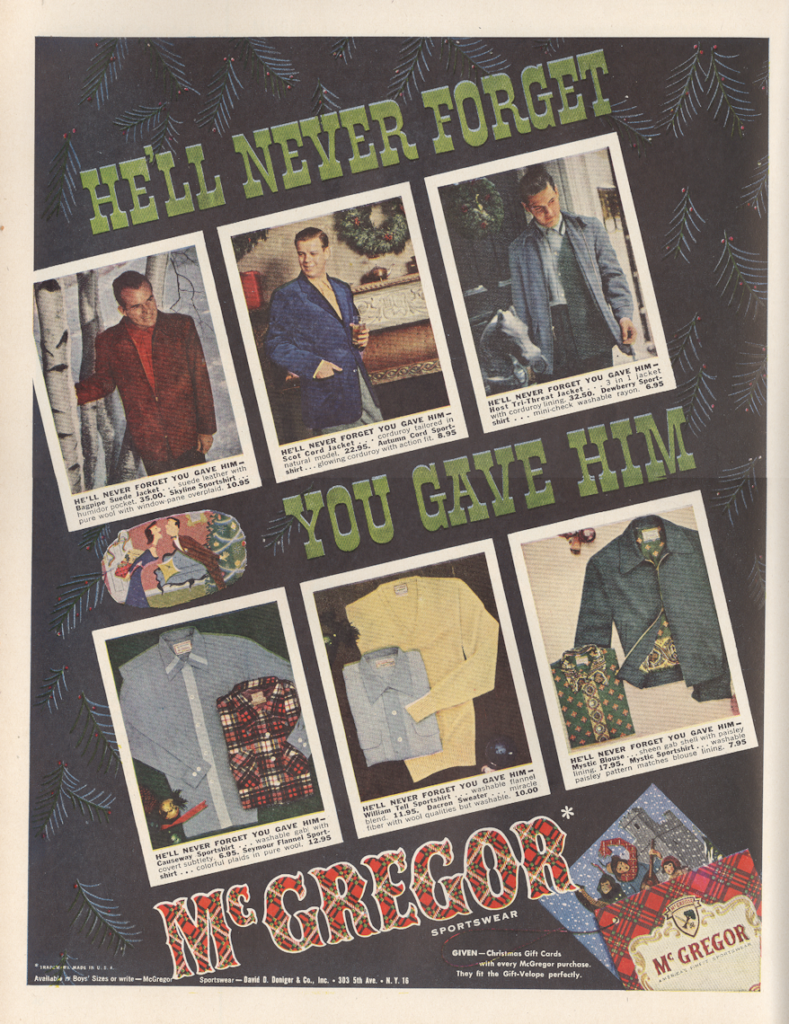 "He'll never forget you gave him a Mystic Blouse …"  especially if they came with cosmic "sox." (LIFE November 6, 1951)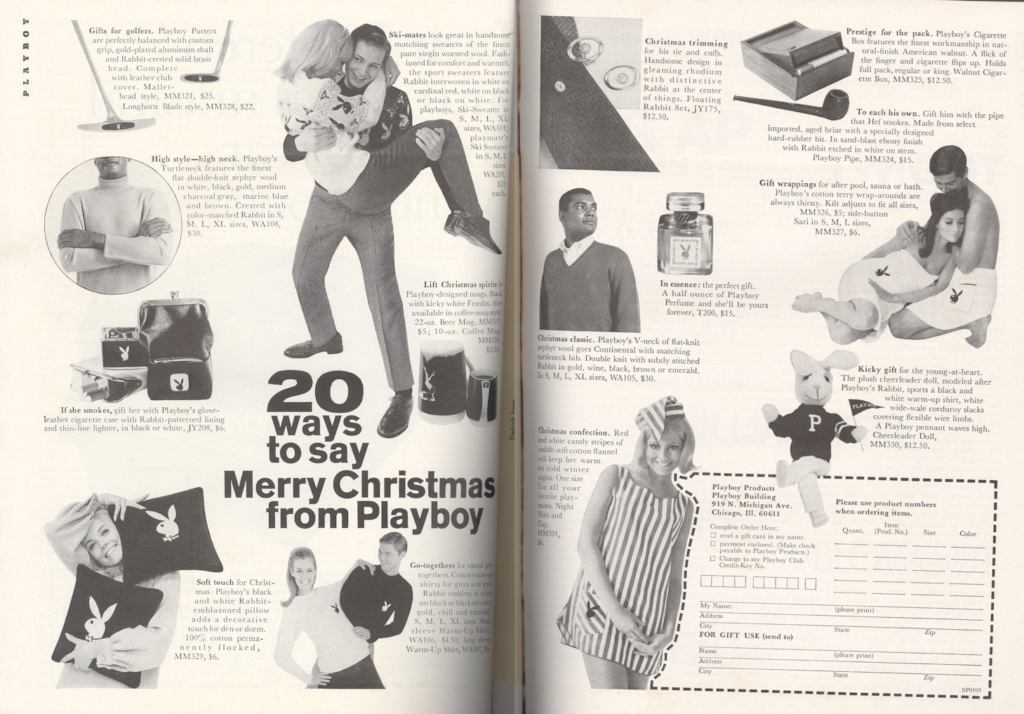 Actually, I'd like the stuffed Playboy collegiate football fan bunny with flag and leg kick. (PLAYBOY December 1968)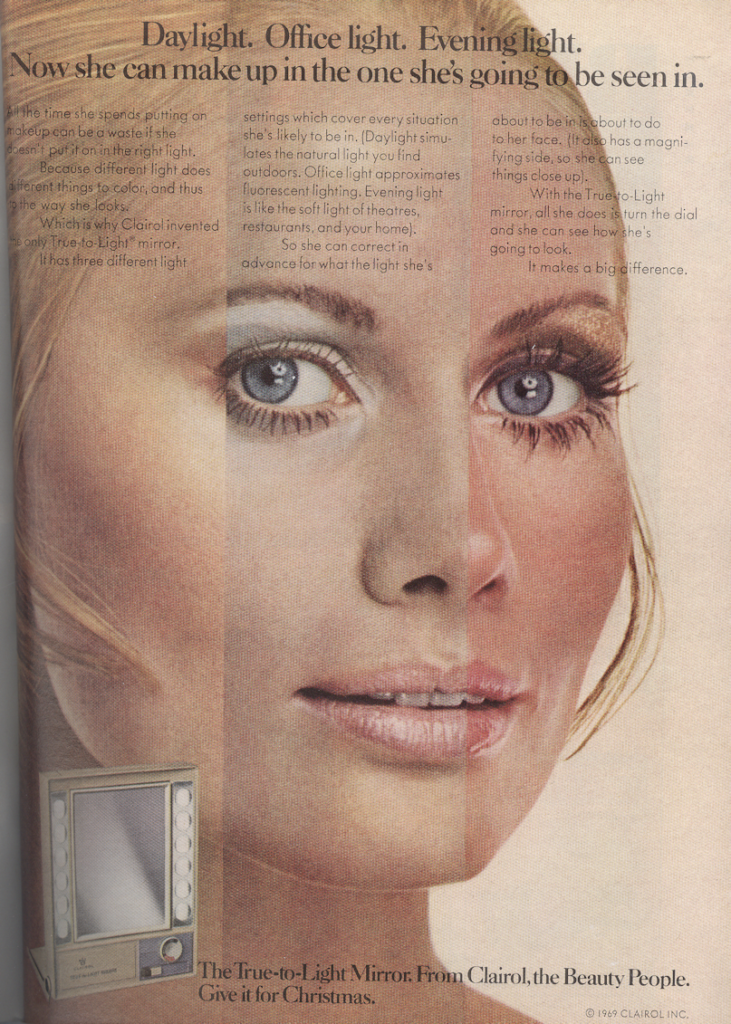 An ad in Playboy for a gift for men to give to women that benefits men.  And did Don Draper think up "Give it for Christmas"? The model is very Liv Ullmann. (PLAYBOY December 1969)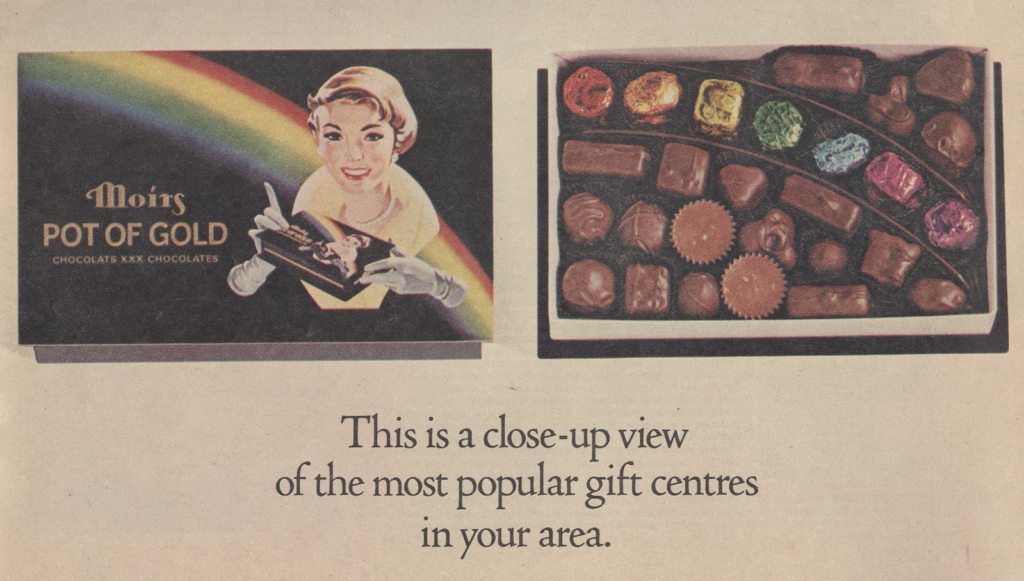 Hey, that lady doesn't have a body. (Canadian Magazine December 13, 1969)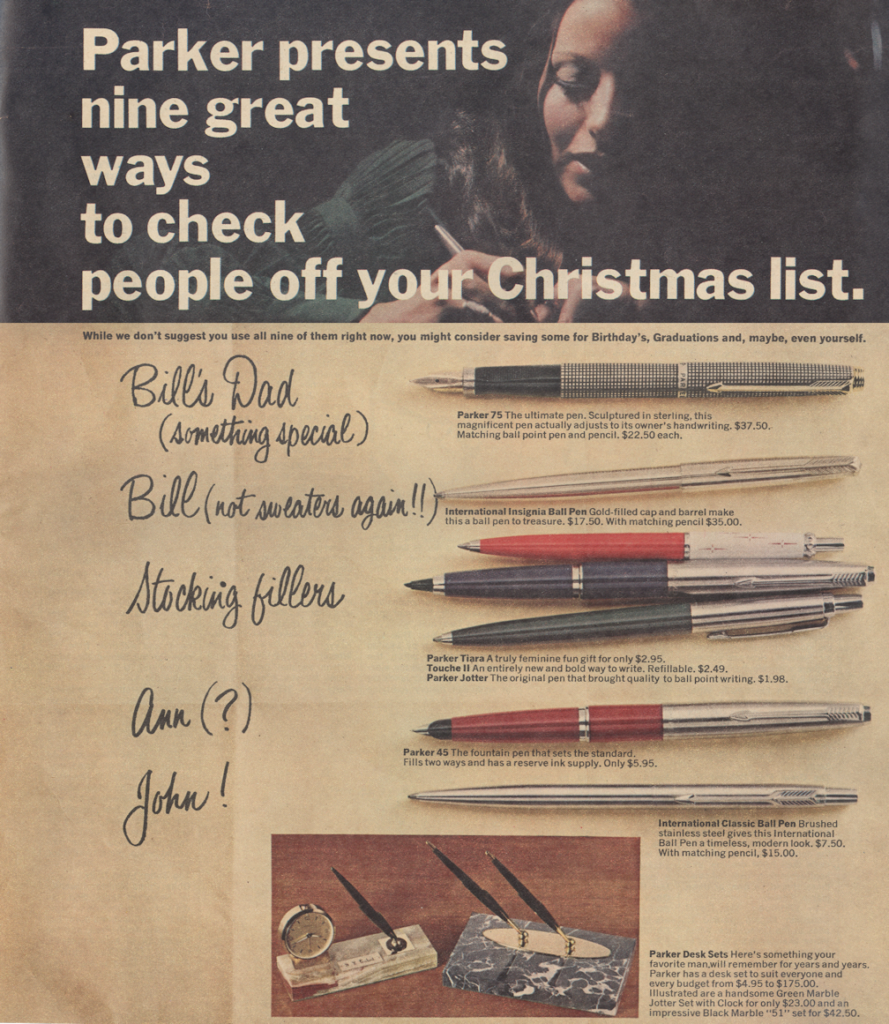 I think it's a given that everyone has an "Ann" on their Christmas list. Bloody nuisance. (Canadian Magazine December 13, 1969)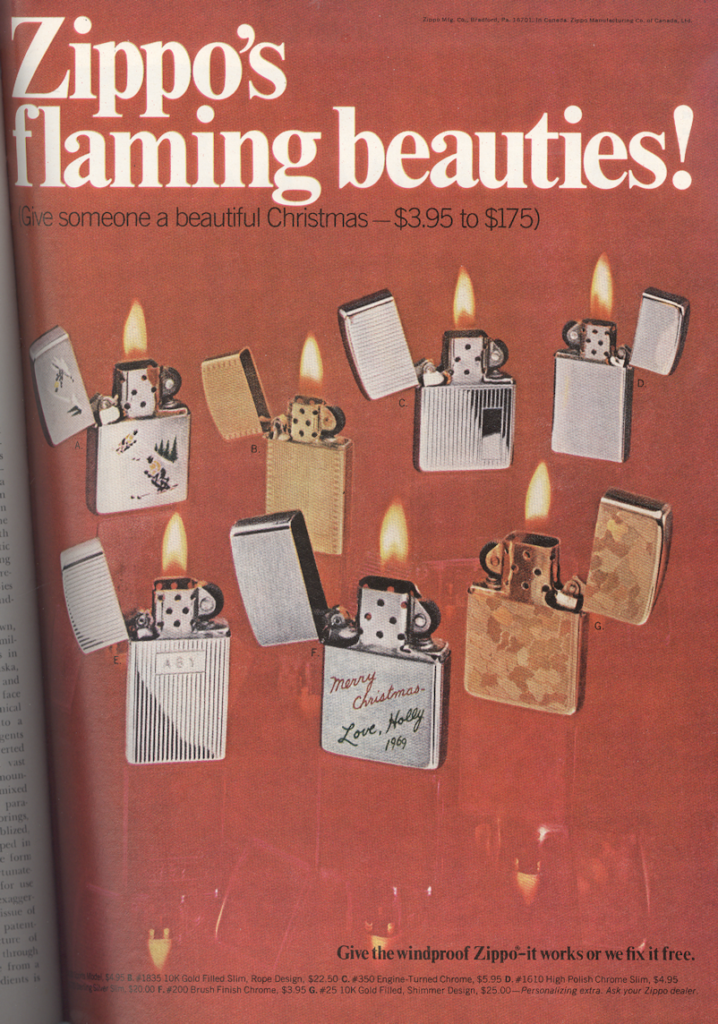 Not to be confused with Jack Smith's Flaming Creatures. (PLAYBOY December 1969)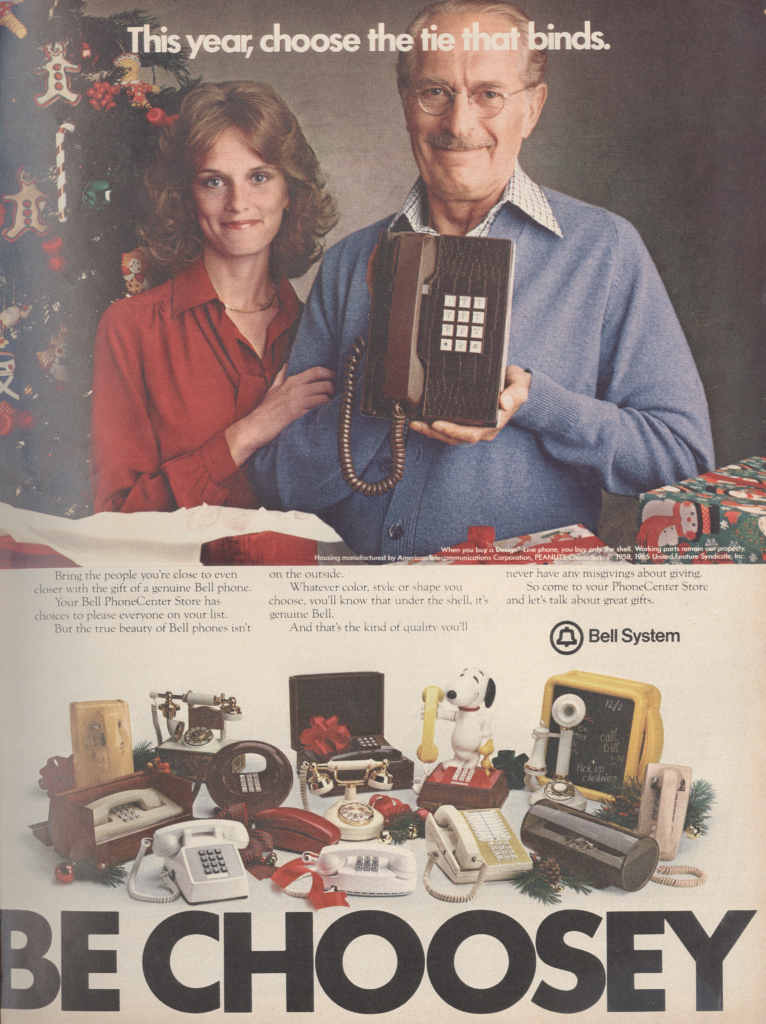 I want the Snoopy phone.  The circular one would be cool too if it wasn't in brown. (LIFE December 1979)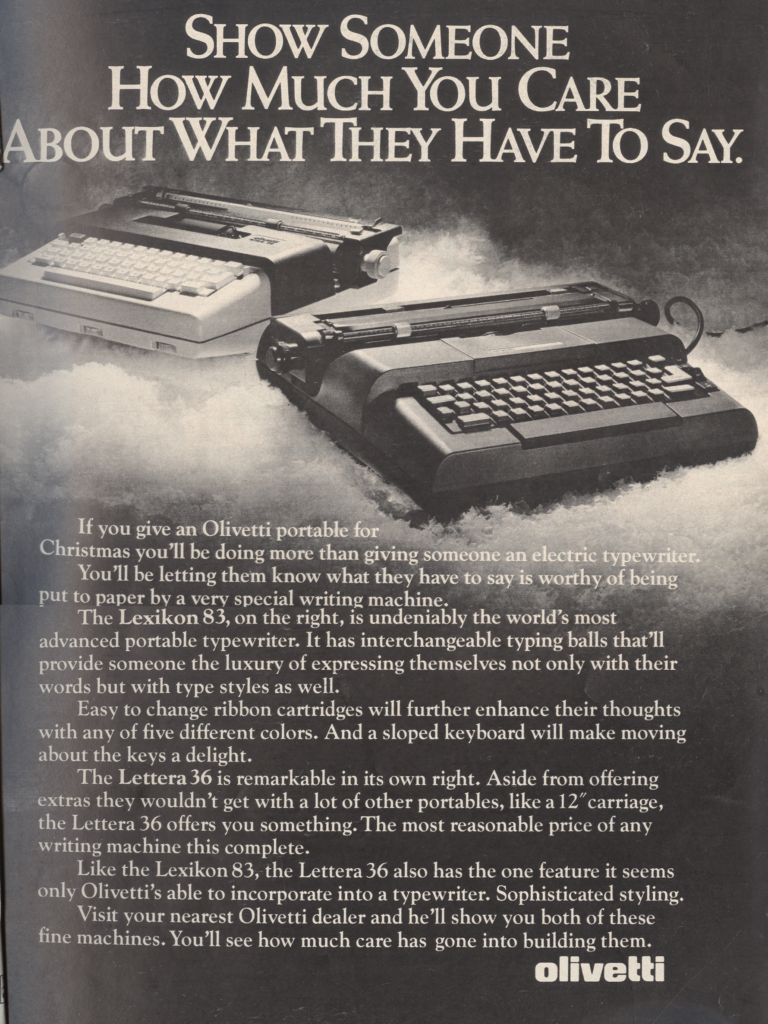 Hands up who's getting a typewriter this year!  (I didn't think so.) (LIFE December 1979)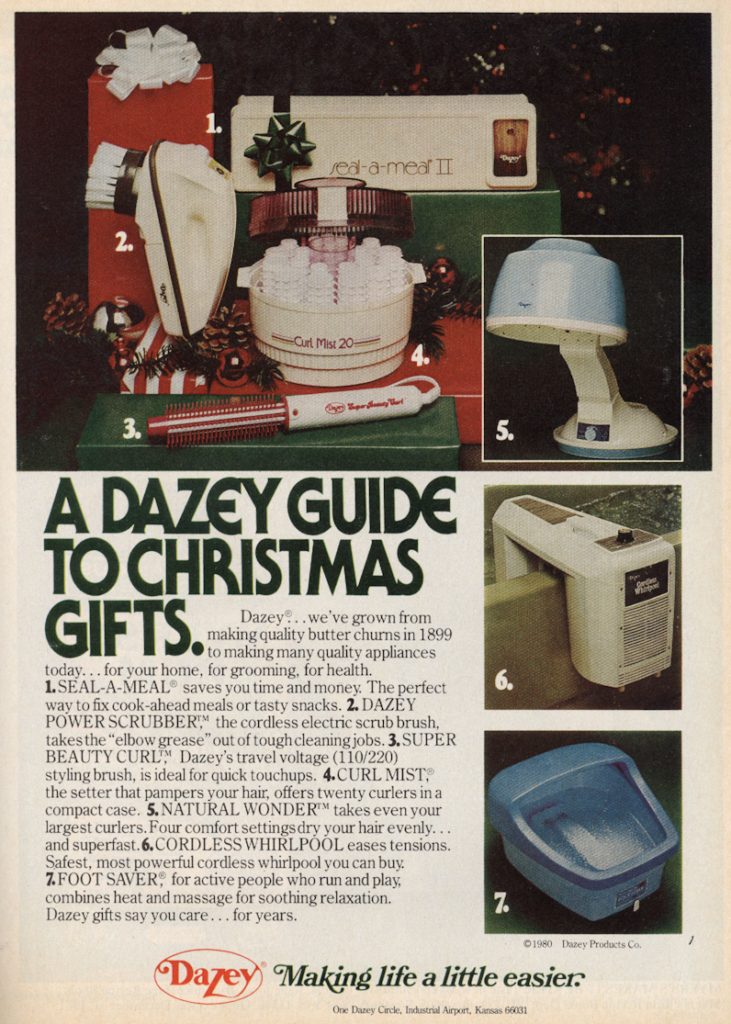 Can I have one of the butter churns from 1899 instead?! (People December 1980)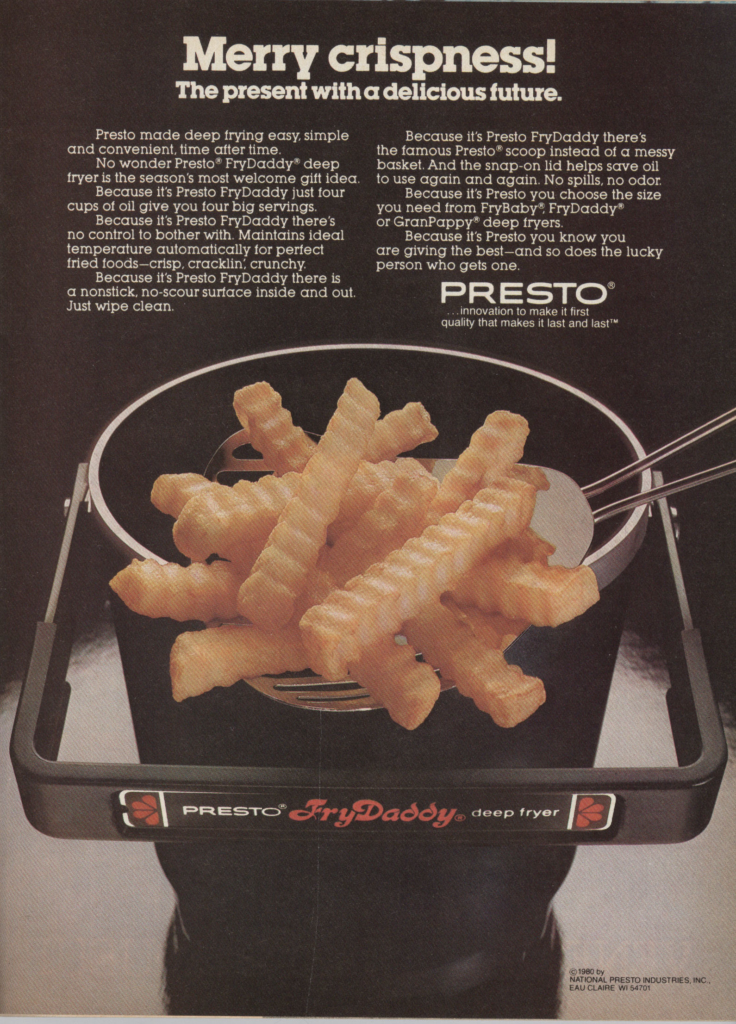 "Merry Crispness."  Ok, I'm giving points to whoever came up with this ad line. And I do want to reach in and snack on those fries. (People December 1980)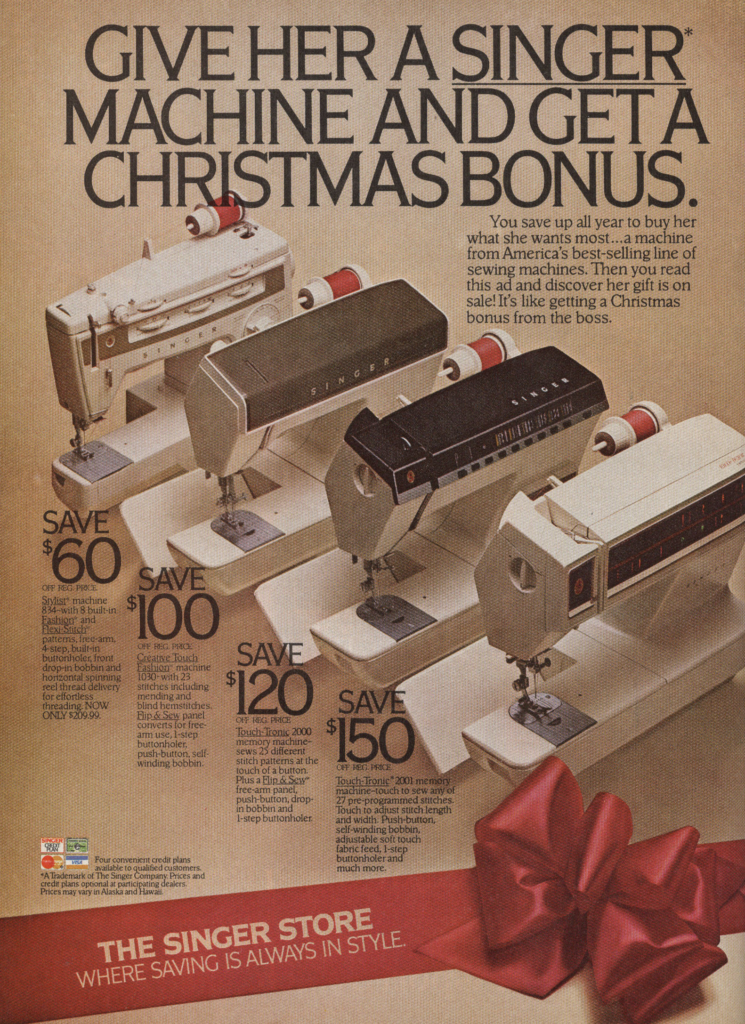 Another ad for men buying gifts for women but framed as being a win for men. (People December 1980)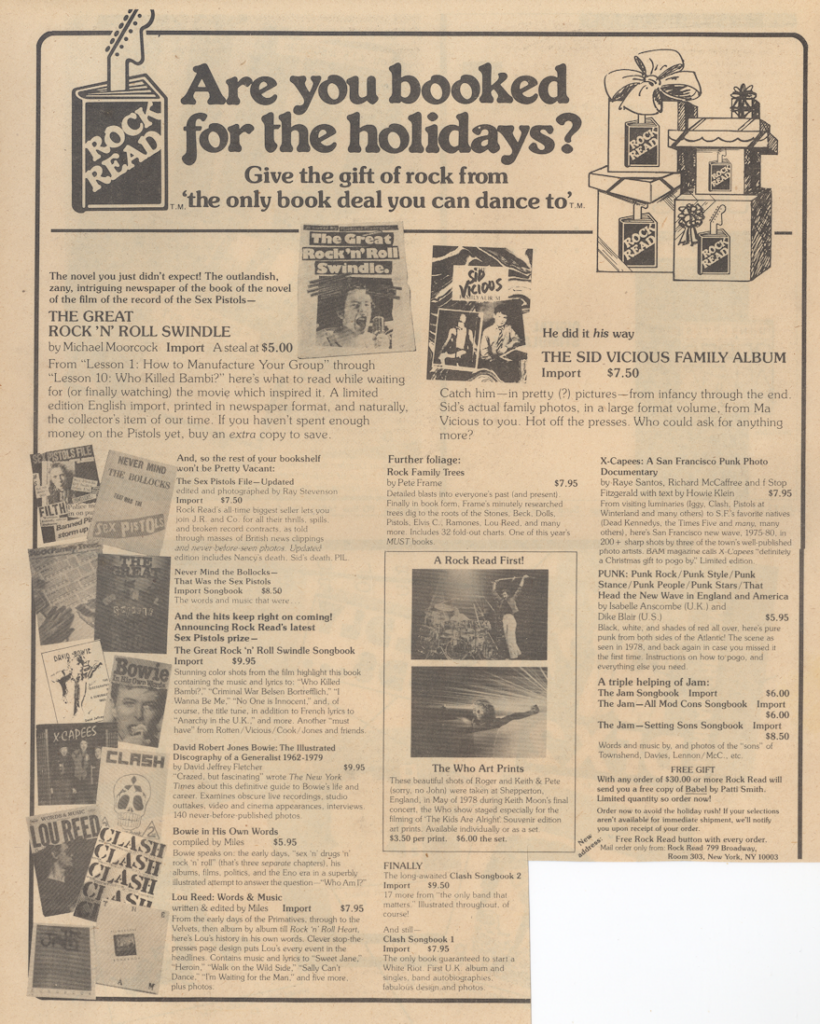 The Sid Vicious Family Album!!  "Catch him—in pretty (?) pictures—from infancy through the end.  Sid's actual family photos, in a large format volume, from Ma Vicious to you.  Hot off the presses.  Who could ask for anything more?"  You can't make this shit up.  Does it feature pics of Sid, aged 4, buying ha'penny candy? Holy doodles, I want one.  Actually, I will take pretty much every book here.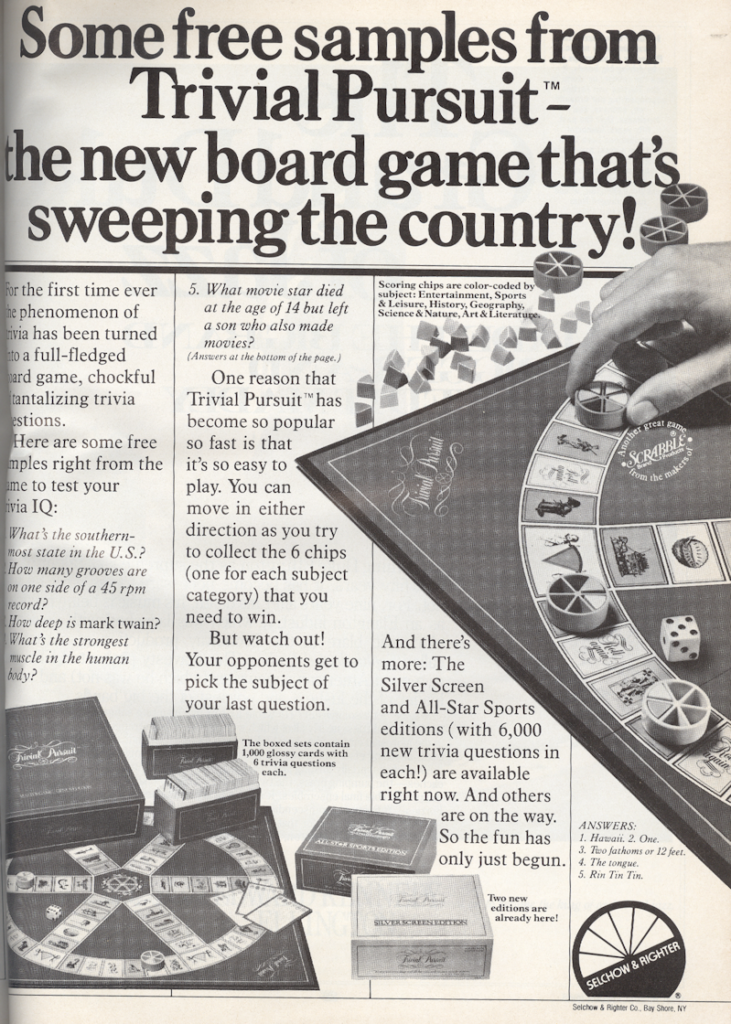 Created right here in SW Ontario.  I still have my parents' original game.  A couple of years back, a few of us played it and it's hilarious as there are questions about countries and governmental systems that no longer exist. (People December 1980)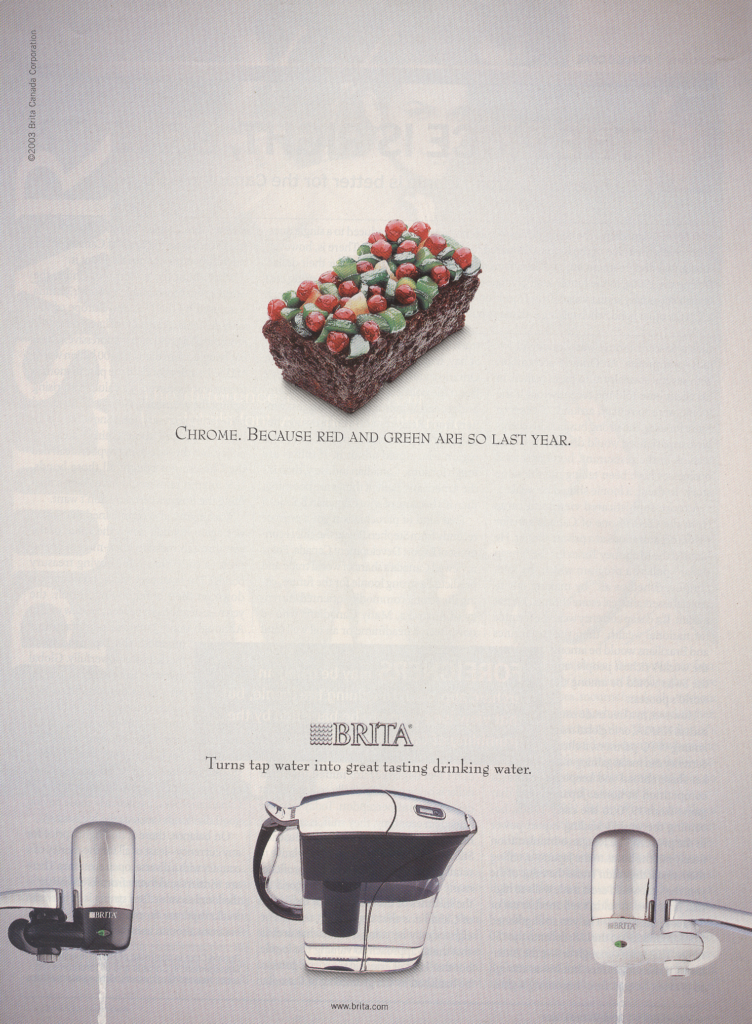 This is definitely a step up from Bachelor's Friend "sox." (Macleans November 24, 2003)
KIDDY CORNER:

TOYS THROUGH THE DECADES
What bratty rapscallions have been demanding and receiving through the years.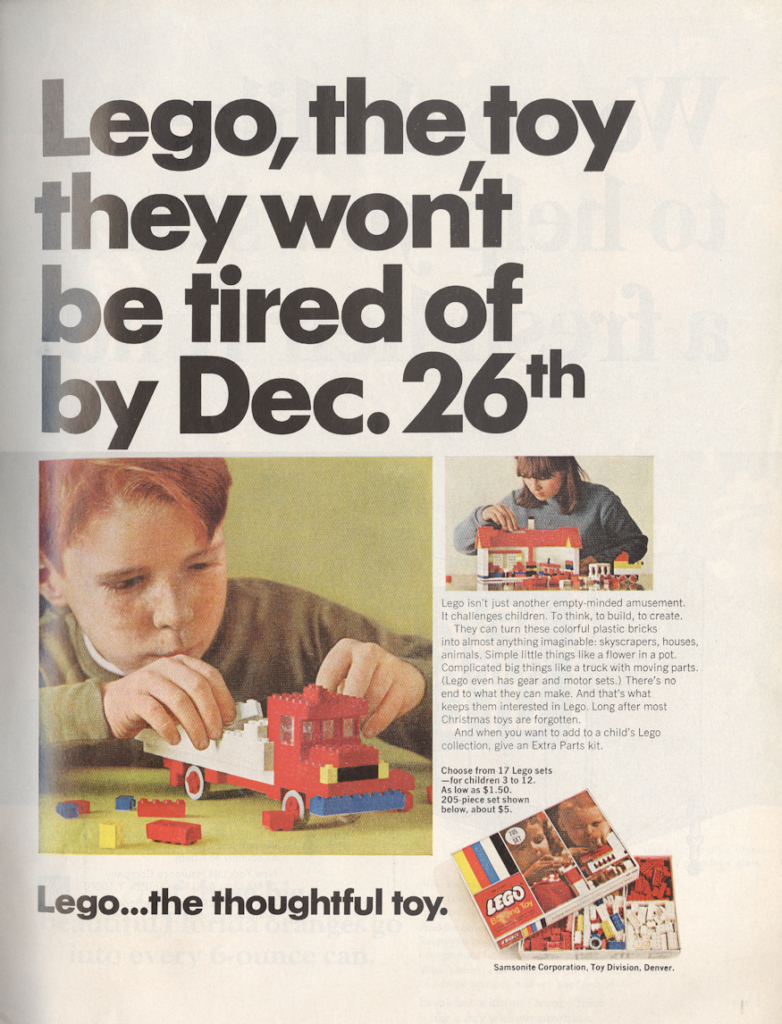 I was surprised to realize that most of the older magazines had few advertisements for children's toys. That really seemed to start in the '60s.  I have many more toy ads over on the first KA-CHING-A-LING post. (LIFE November 17, 1967)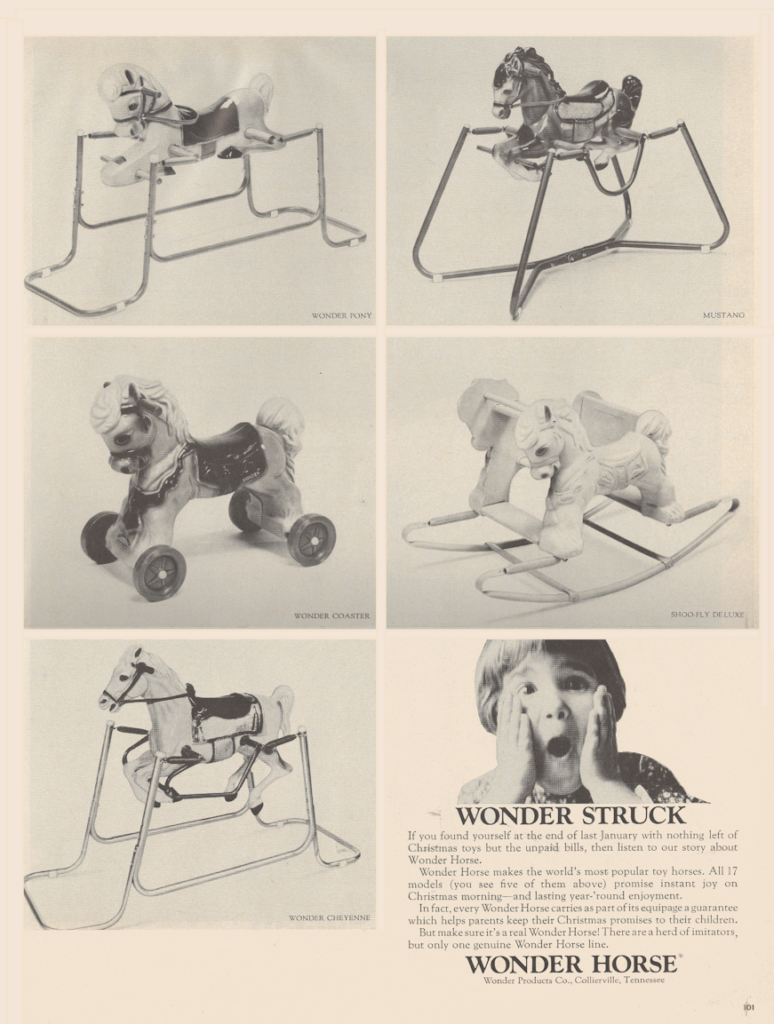 Oh, how I loved my rocking horse when I was a child.  I had one similar to the Mustang model.  Just look at how astonished that kid is to get one.  Either that, or he just took a dump in his pants. (LIFE November 17, 1967)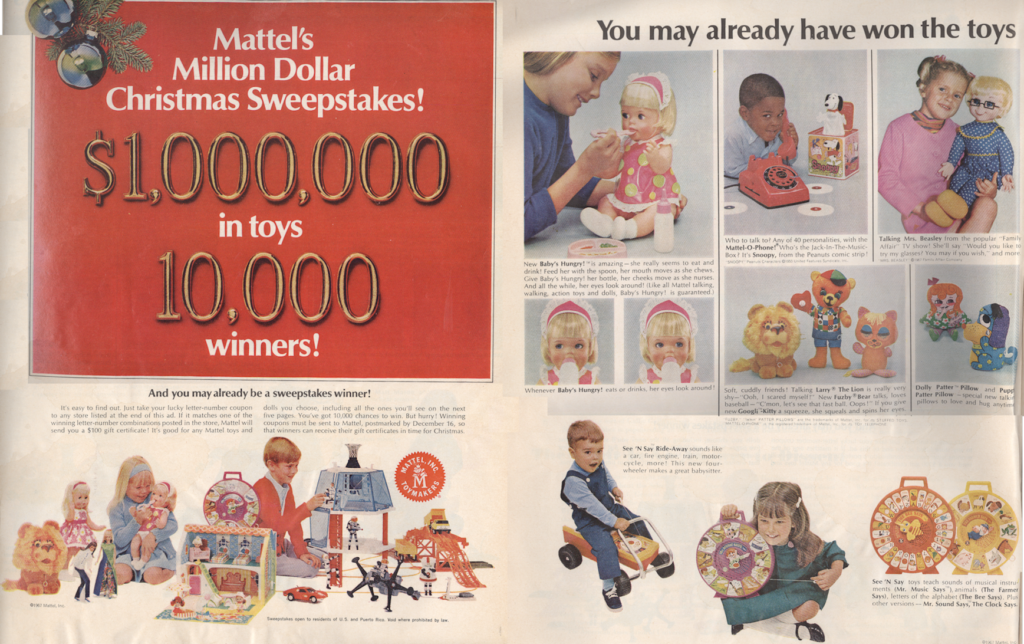 Hey, it's a Mrs. Beasly doll along with the tragic Anissa Jones who played Buffy on Family Affair.  I loved the show at the time, but looking back it was pretty dark. (LIFE November 24, 1967)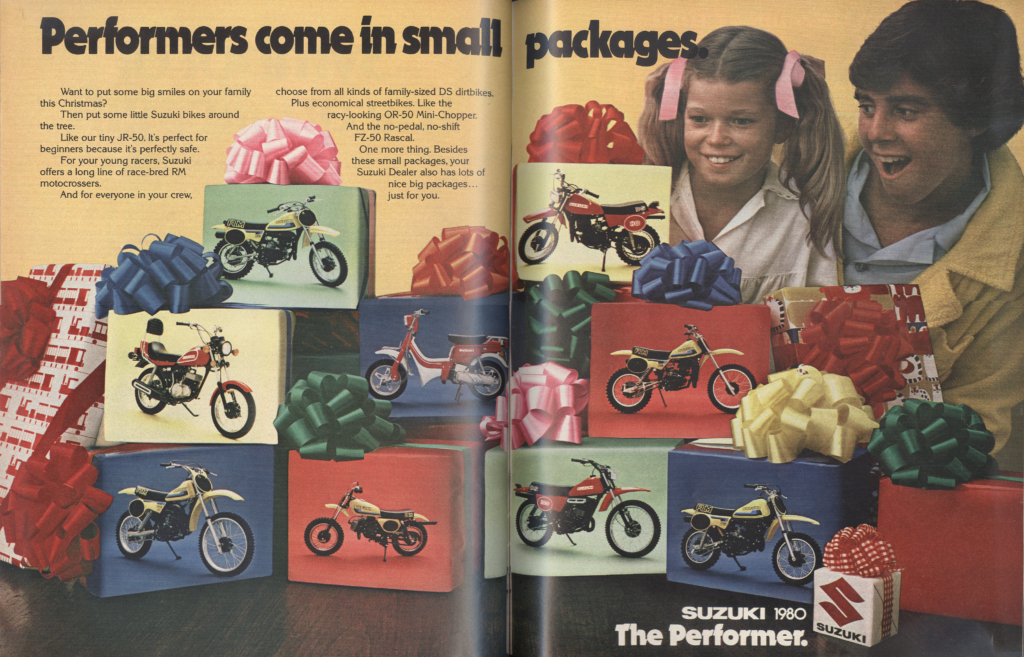 These kids look so wholesome, it's barfable. (LIFE December 1979)
SEASONAL SPIRITS:

BOOZE & MIX
Tis the season to get blotto.  And there are so many booze ads I could do an entire entry just on them alone.  Here's a selection.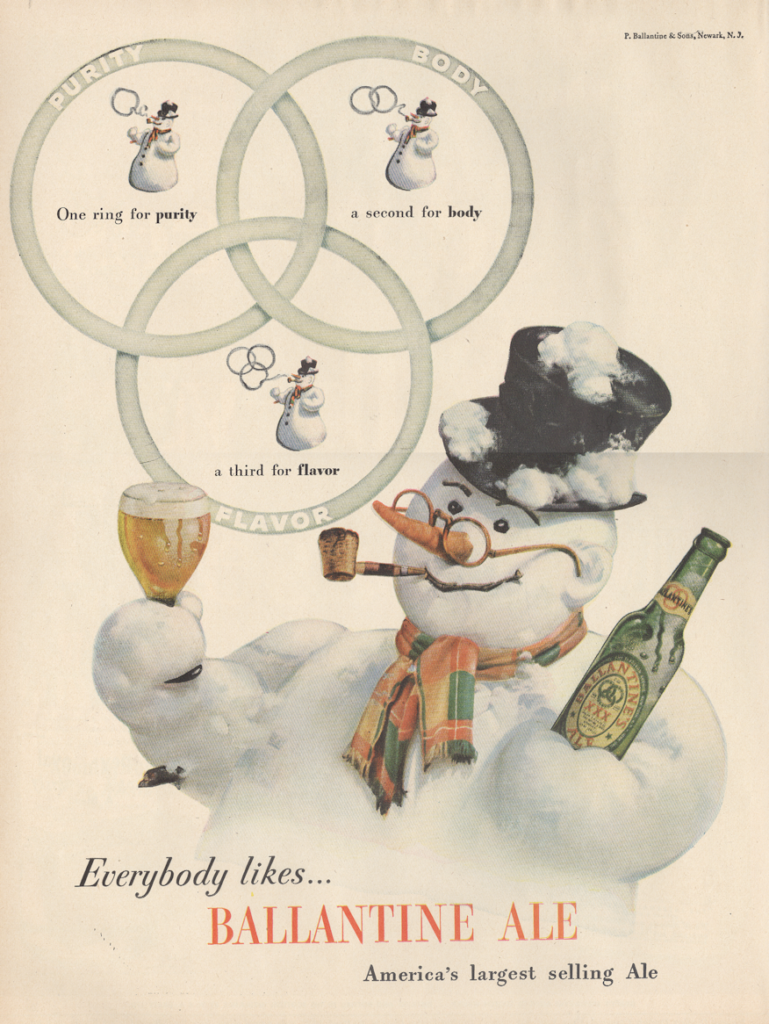 … and a fourth ring from where he pissed his pants after passing out. (LIFE December 22, 1947)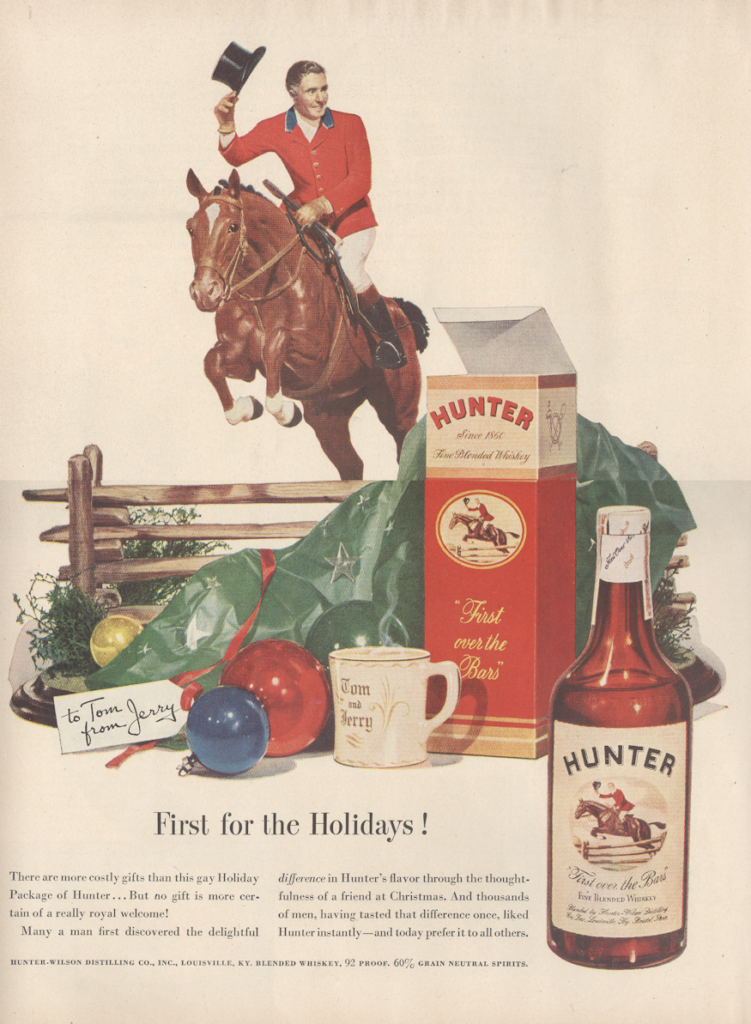 So, this "gay Holiday Package," of which "many a man first discovered the delightful difference … having tasted that difference" which is the "first over the bars," is being given, via "the thoughtfulness of a friend" from Jerry to Tom.  And here I was thinking that gay-targeted advertising began much later on. (LIFE December 22, 1947)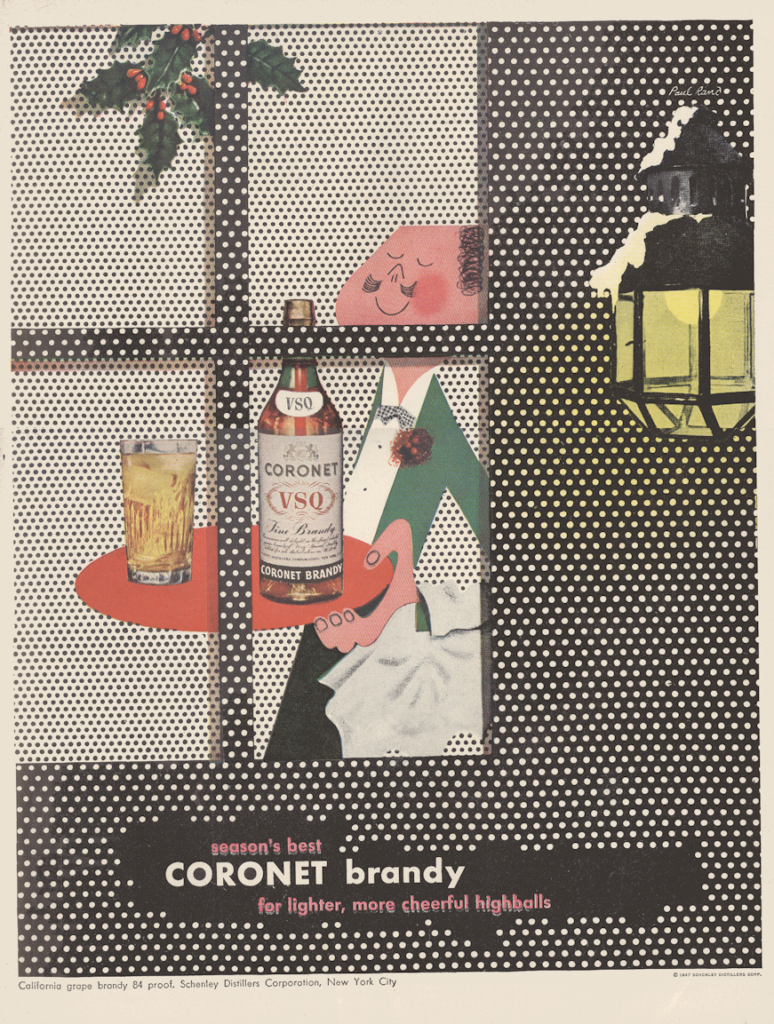 Absolutely LOVE this ad graphic.  Seems modern for its time. (LIFE December 22, 1947)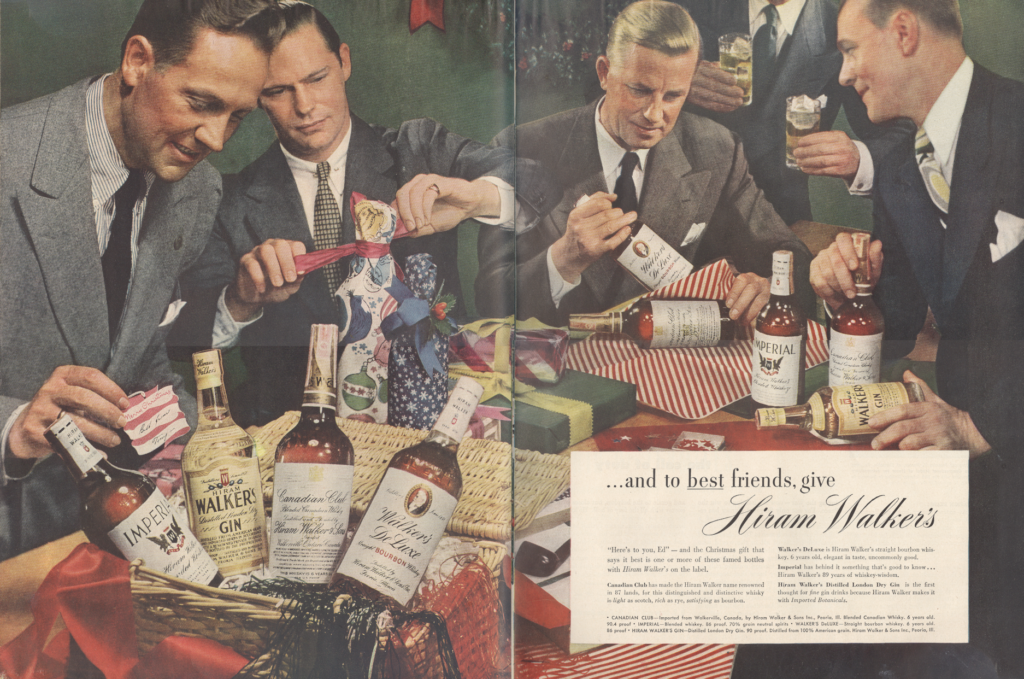 I love the colours and graphics in these two Hiram Walker ads, from 1947 (above: LIFE December 22, 1947) and 1948 (below:(LIFE December 20, 1948).  There is a surreal, almost 3D quality about them, especially when you see them at full size.  You can definitely see the first flavours of the '50s starting to creep in.  Or are these continuing on from the theme in the Hunter ad?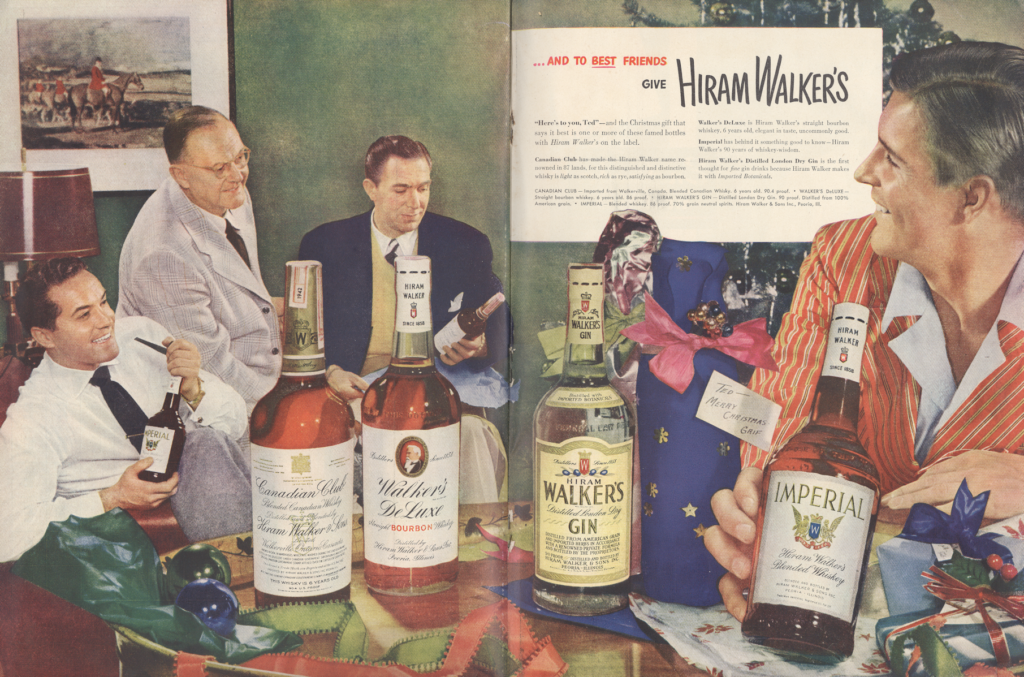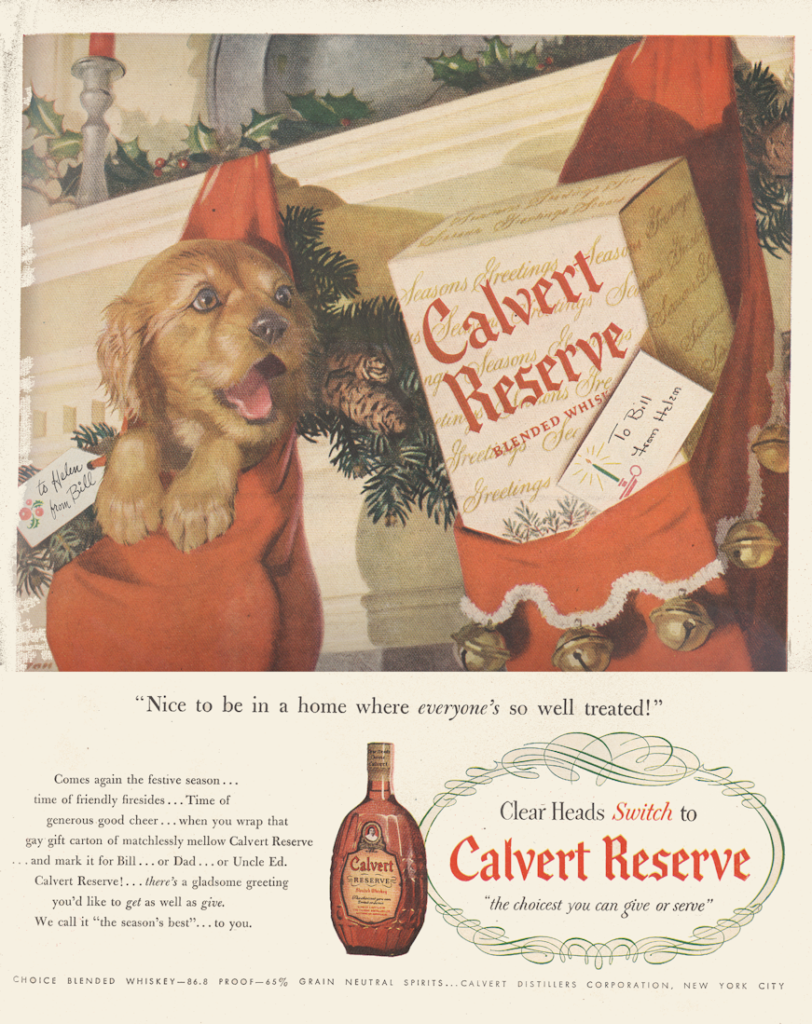 Calvert Reserve: for whiskey-lovin' puppies everywhere! (LIFE December 20, 1948)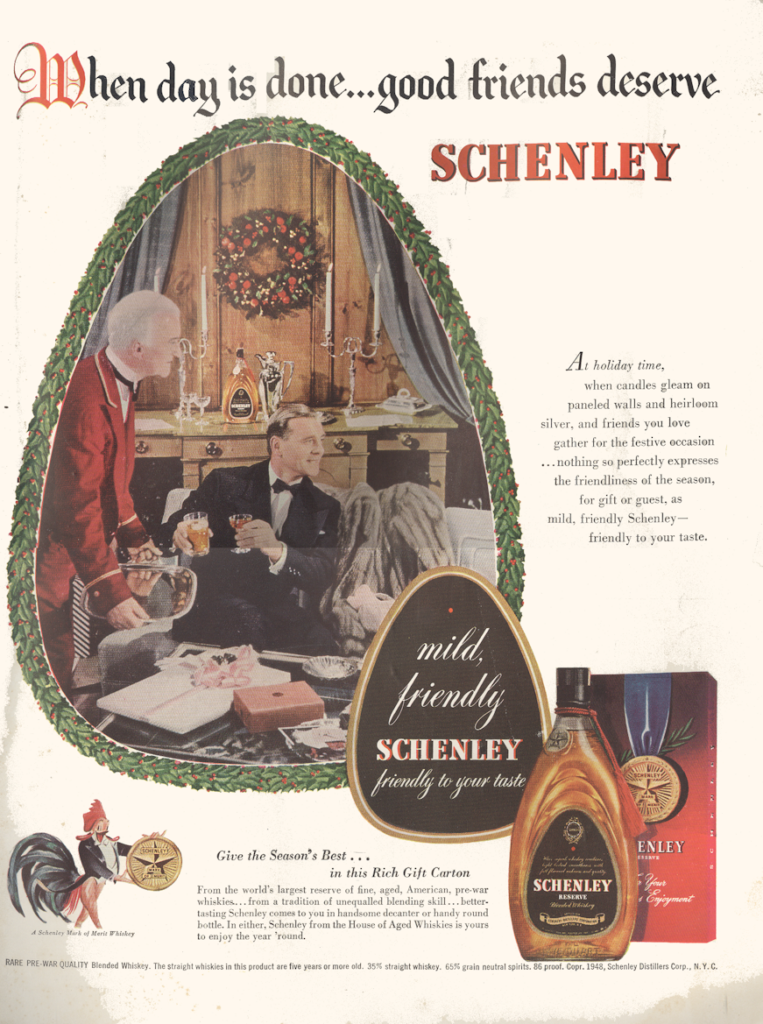 I'm going to have nightmares about that thing in the bottom left biting my head off while I sleep and then feeding it to the squirrels outside. (LIFE December 20, 1948)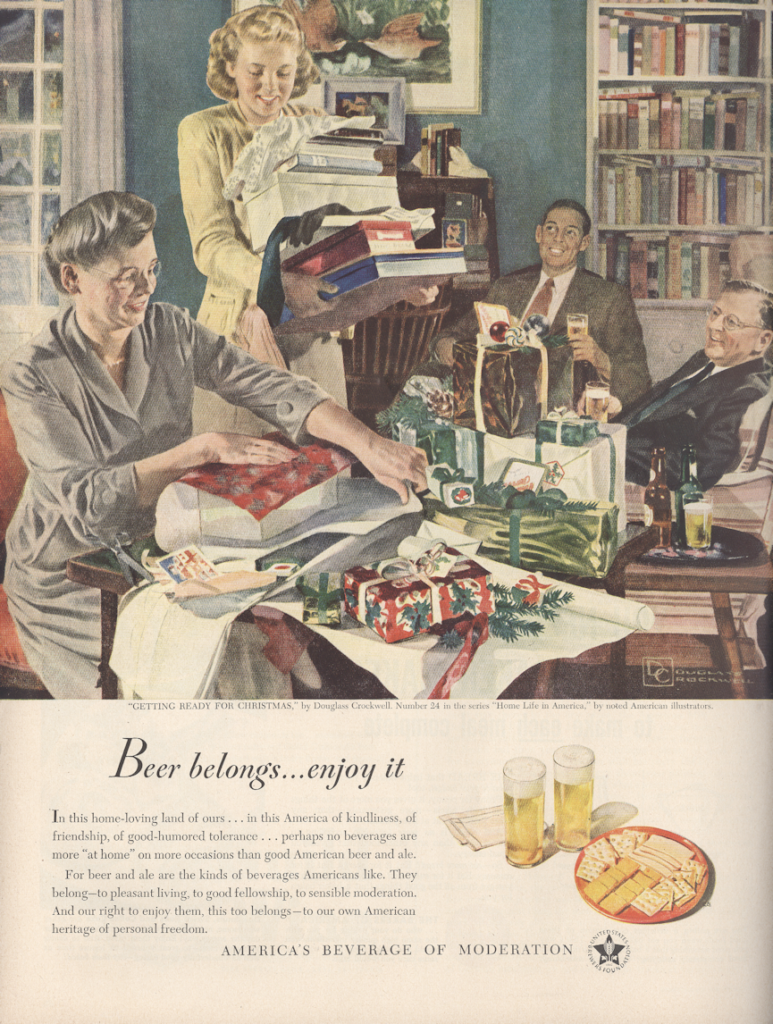 Beer as a "Beverage of Moderation"?  Boy, I sure missed that memo when I was younger. (LIFE December 20, 1948)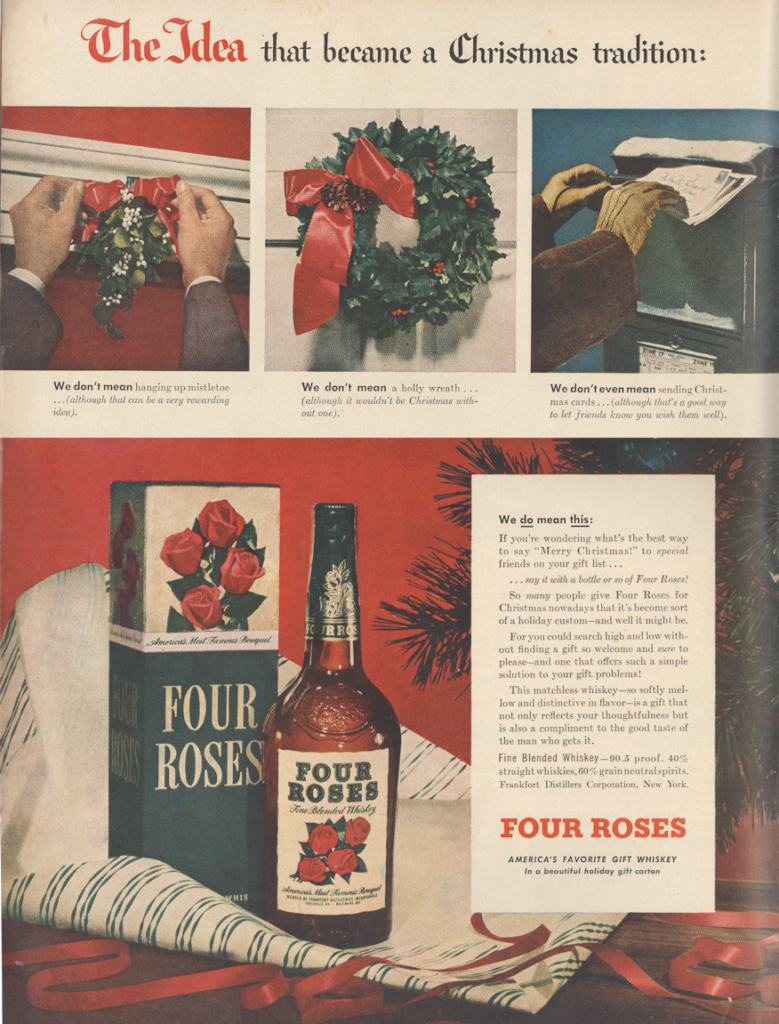 And here I thought this was going to be about the annual seasonal spectacle of Aunt Myrtle downing too many whiskey shots and upchucking under the Christmas Tree. (LIFE December 20, 1948)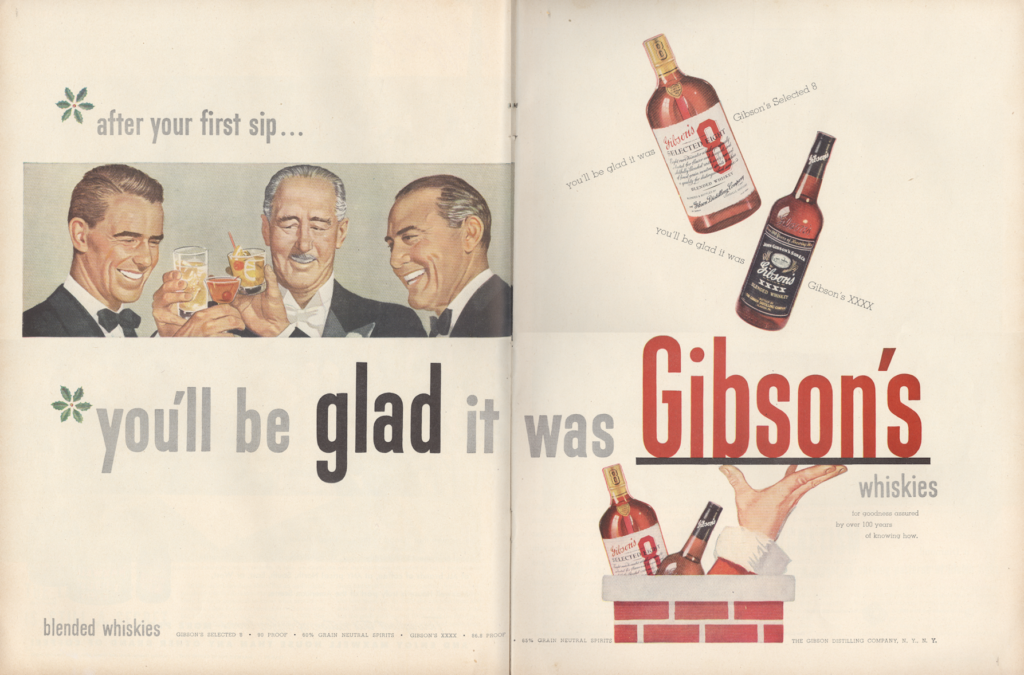 Clink! Very Mr. Drysdale. (LIFE December 20, 1948)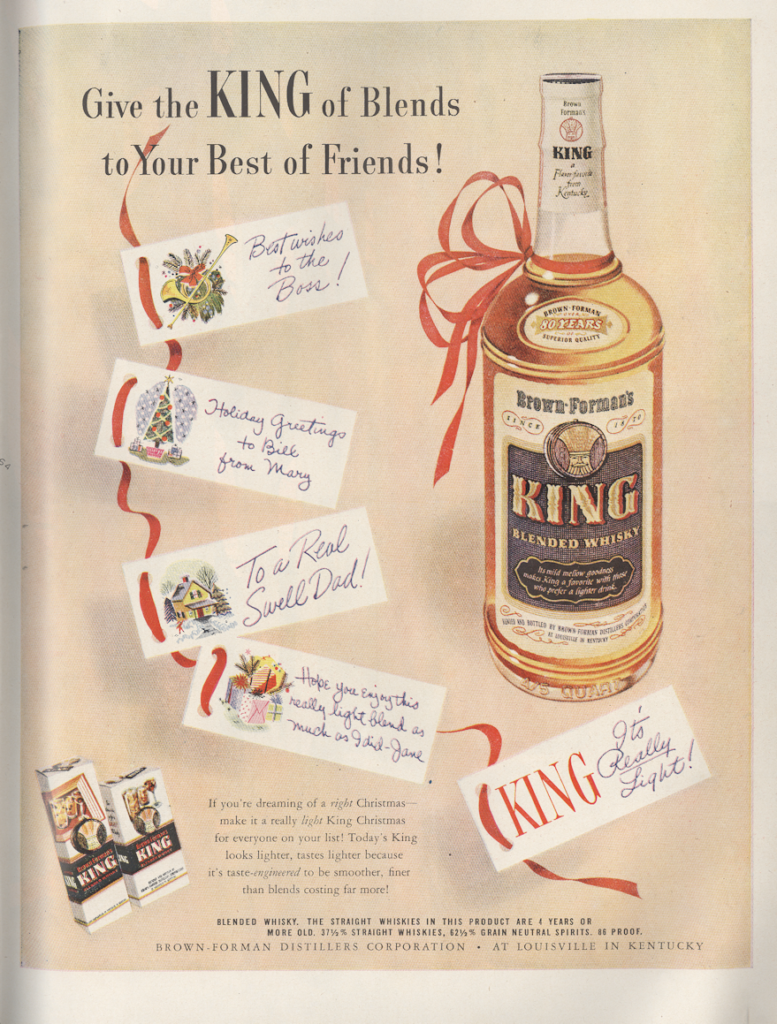 Note how Jane is significantly more verbose than the others. Nice rhyme in the ad copy. (LIFE November 6, 1951)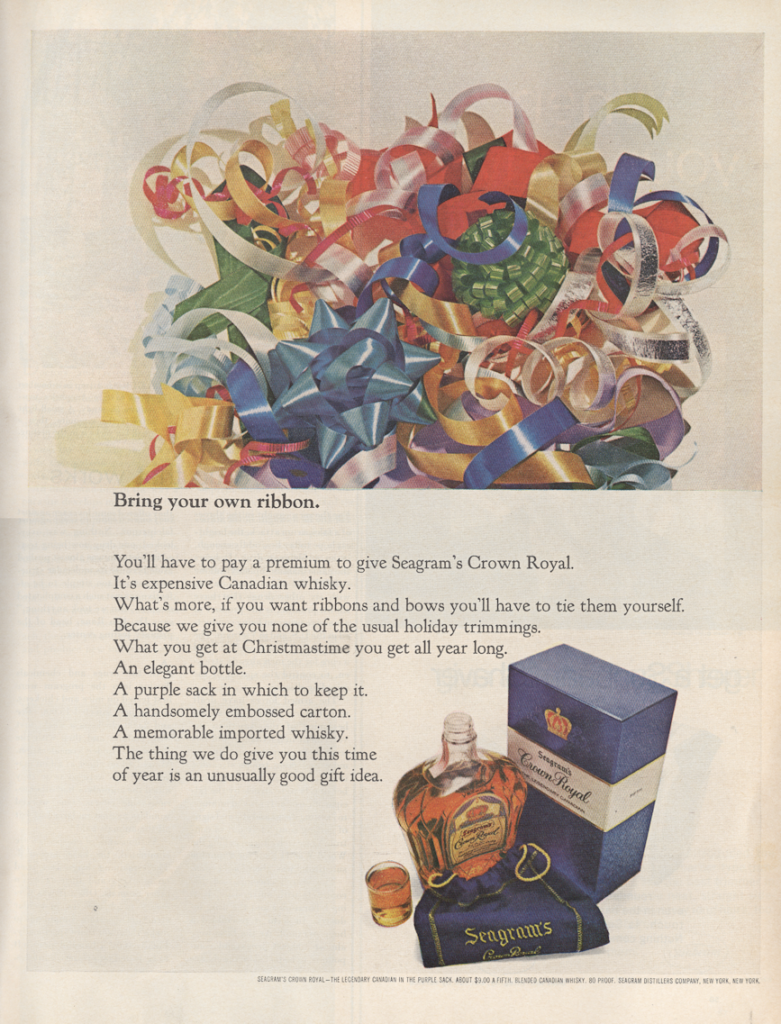 I love the bow photo at the top in this one and the ad copy stressing its expense! (LIFE November 24, 1967)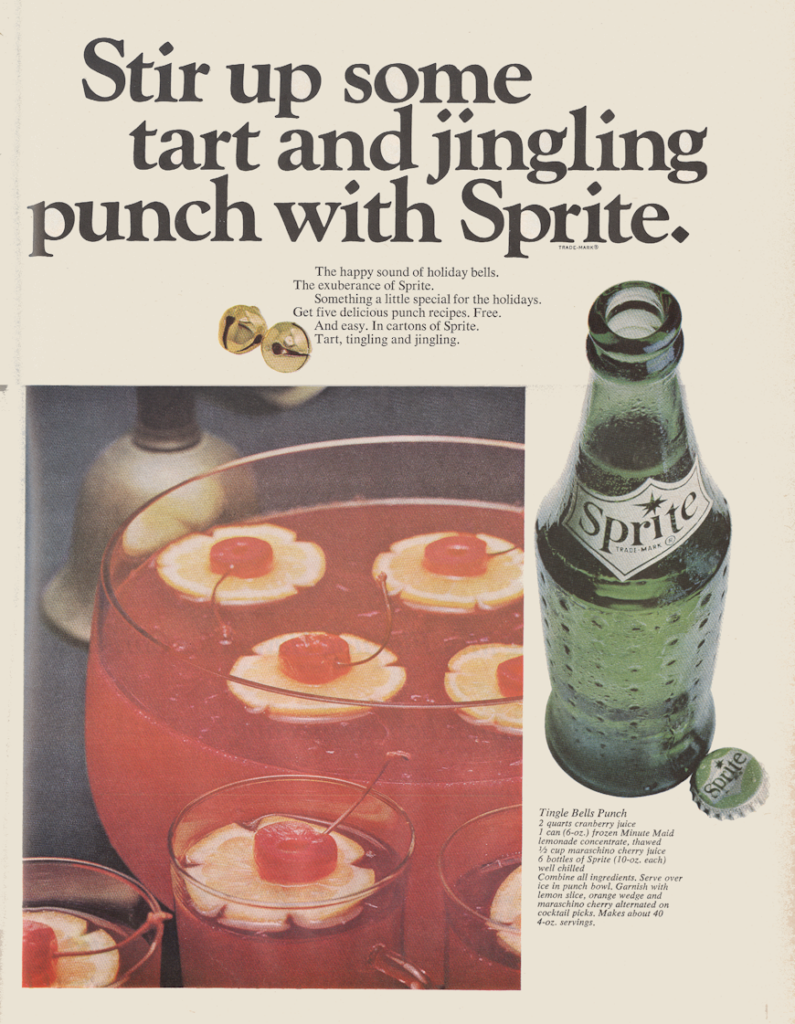 Tingle Bells? (Cringes at name) It does look good, though. (LIFE November 24, 1967)
I'm not even touching this one … (LIFE November 24, 1967)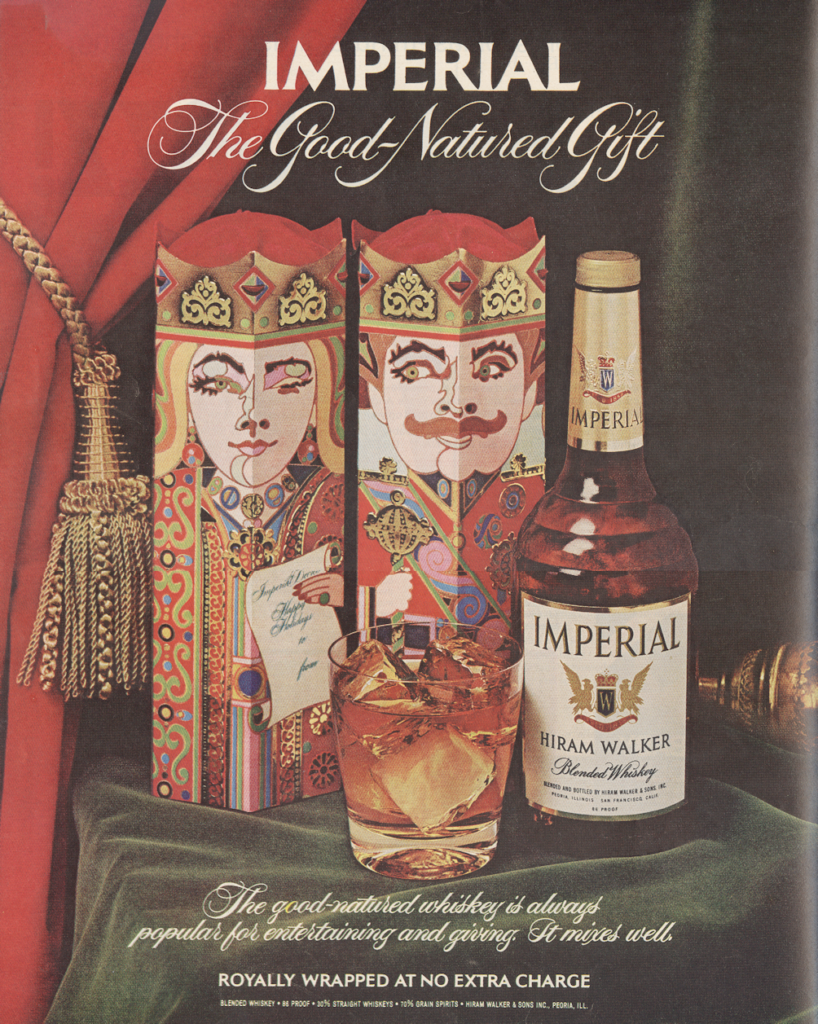 This graphic screams early '70s. His nostrils are huge. (LIFE December 5, 1972)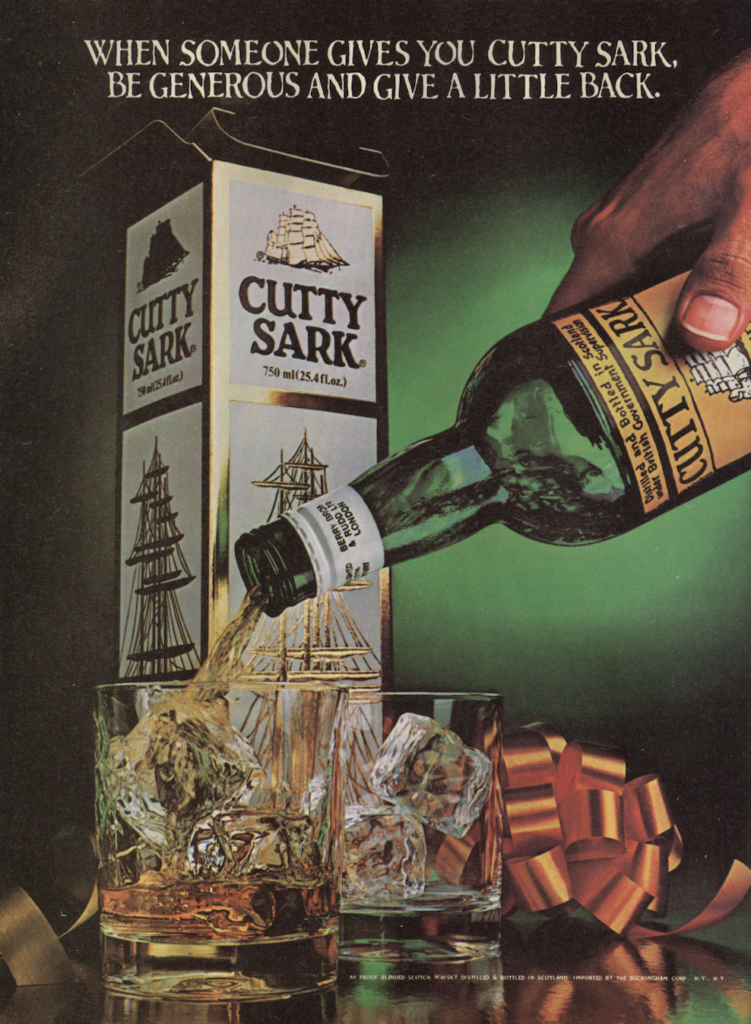 A double-edge motivation for gift-giving. (People December 1980)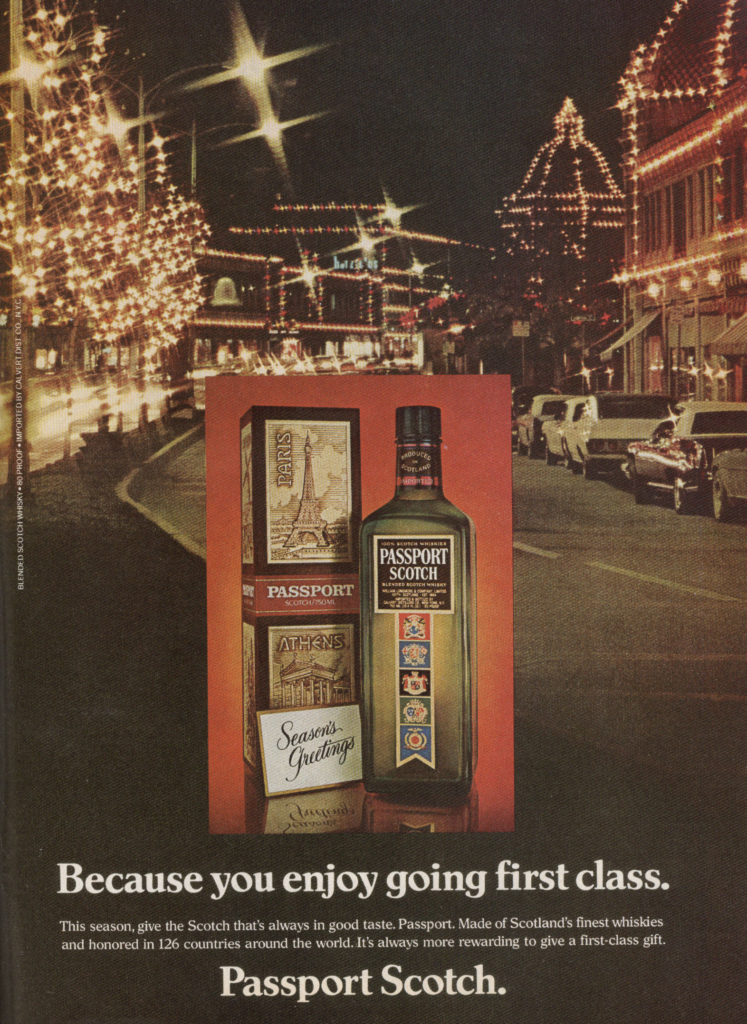 I like the vintage cars parked to the right. (People December 1980)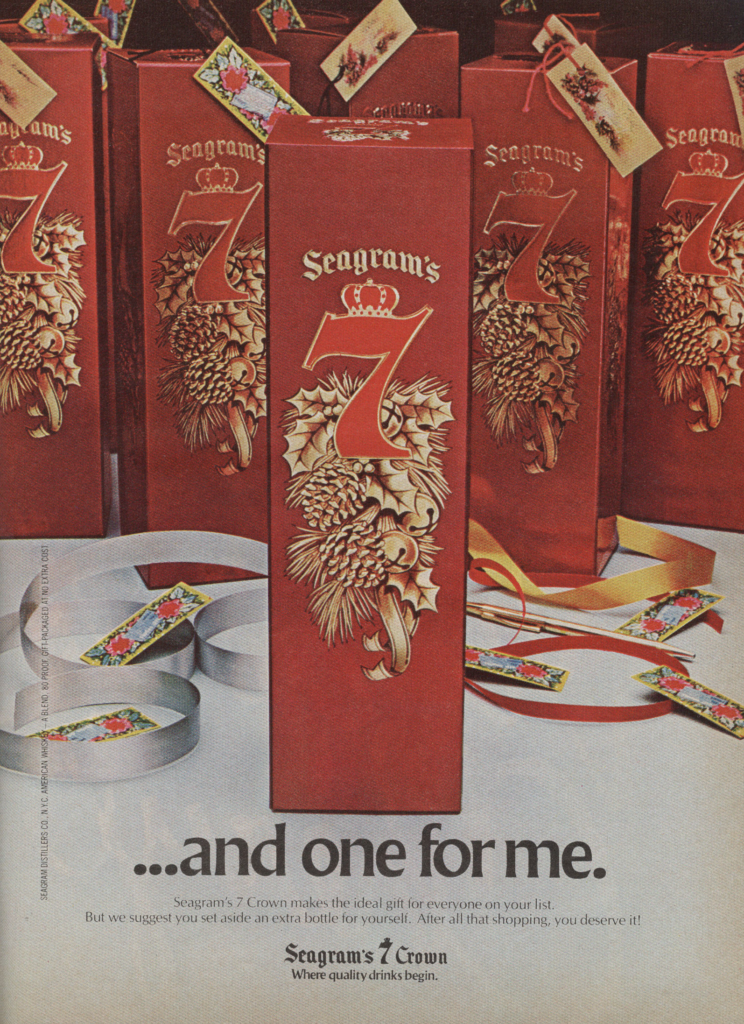 Another "Here you go, now give me some!" booze ad. (People December 1980)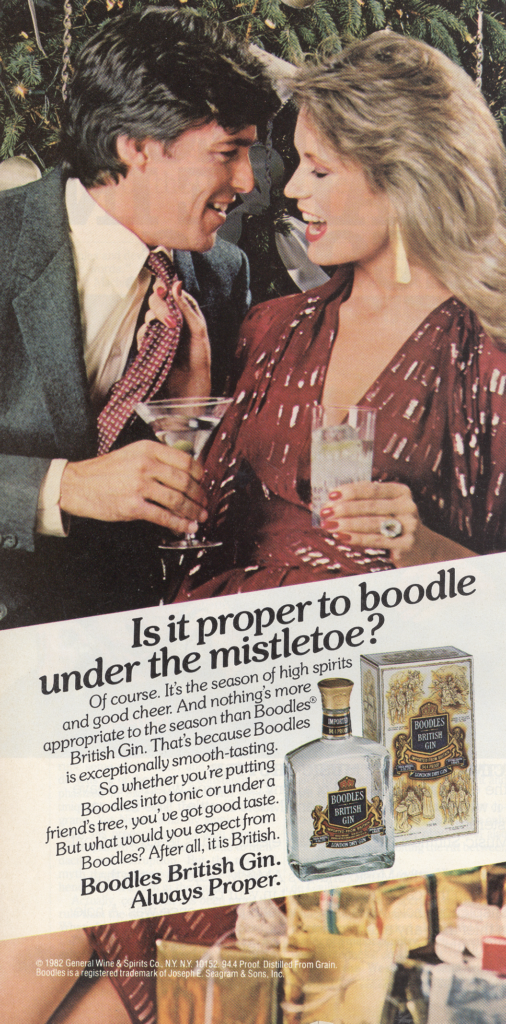 What if I Boodle when home alone? (Esquire December 1983)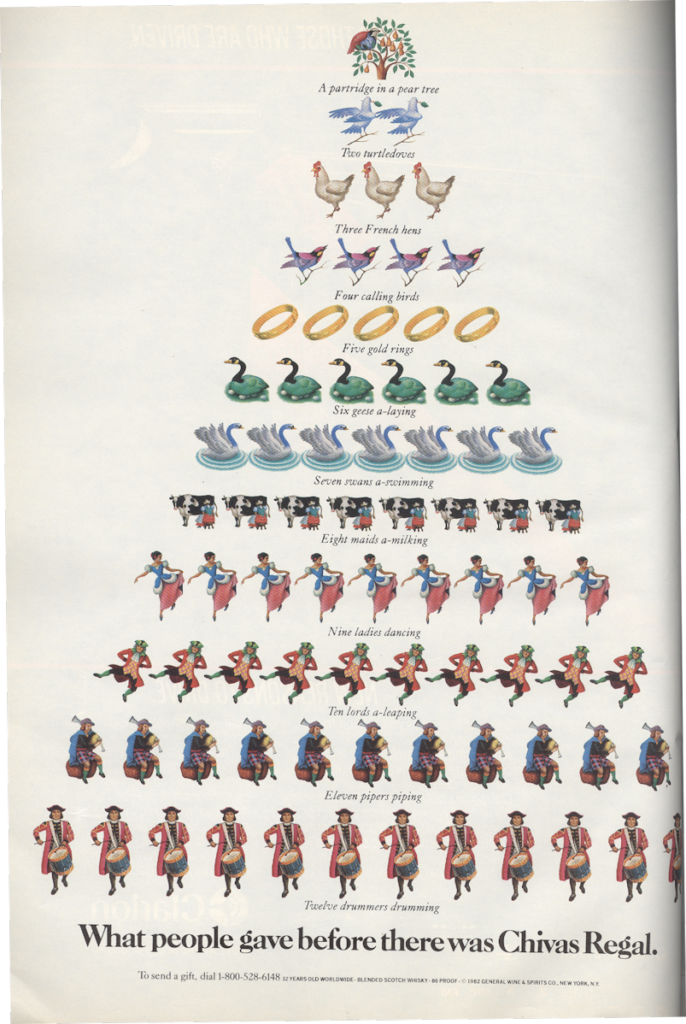 Let's get serious: it would be hard to keep twelve drummers drumming under wraps under the tree for any real length of time. (Esquire December 1983)
Yuppie booze ads have finally arrived. (Esquire December 1983)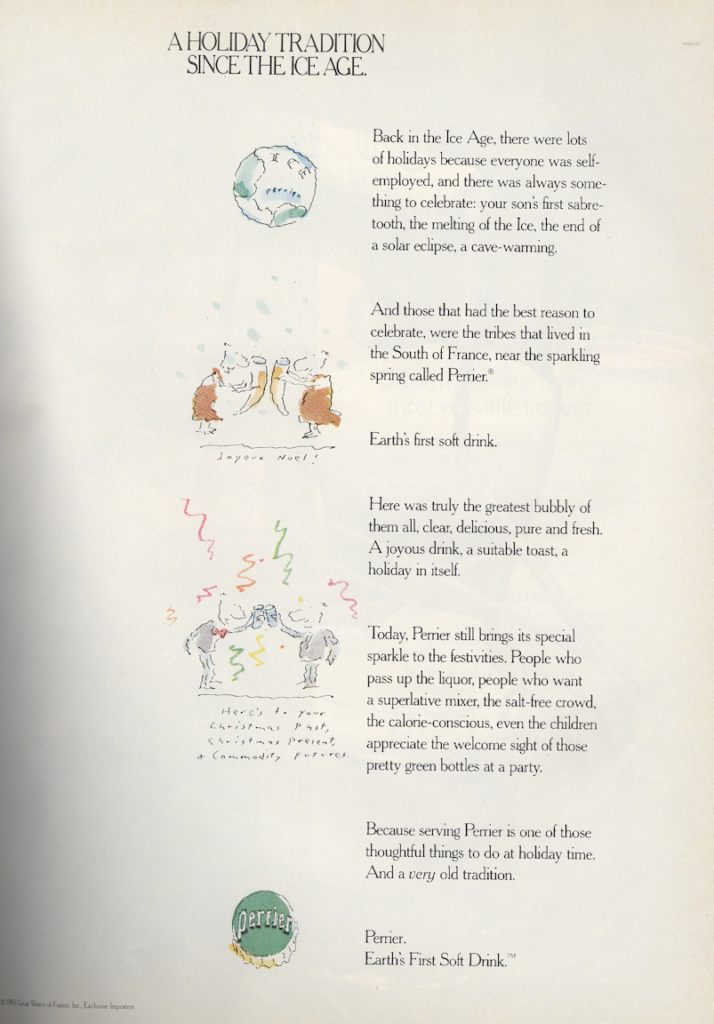 And now Perrier enters the advertising fray of seasonally consumed liquids. (Esquire December 1983)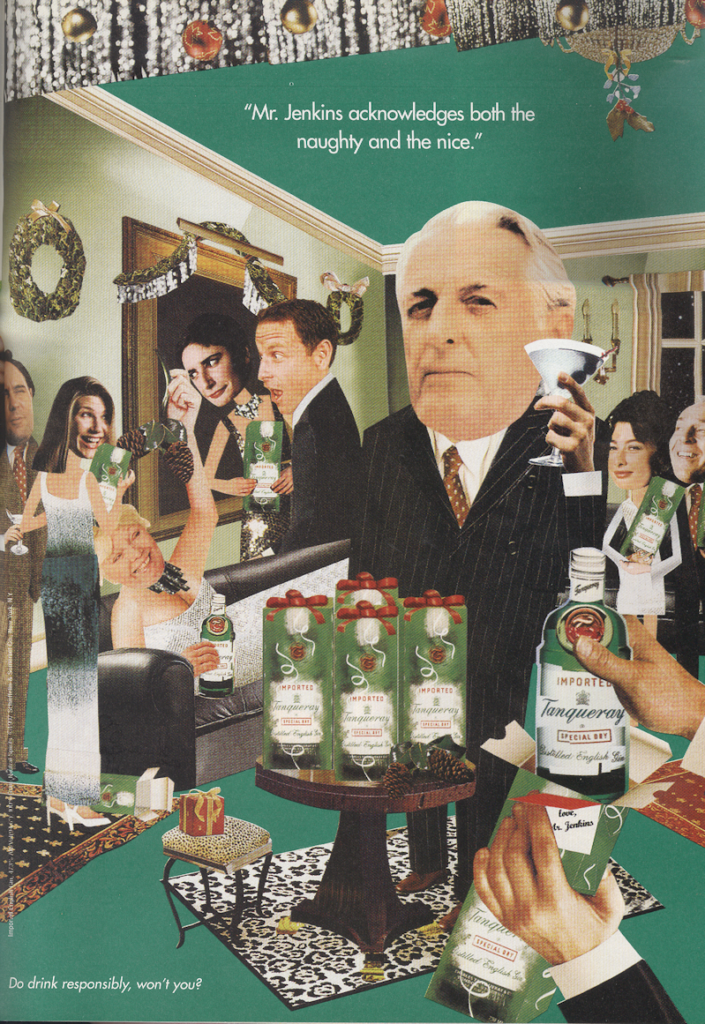 Jenkins didn't get the memo that one can be both naughty and nice.  He was always a bit of a tool. (Advocate December 5, 1997)
HAVE A SMOKIN' XMAS:

SMOKEABLES
Light up the season!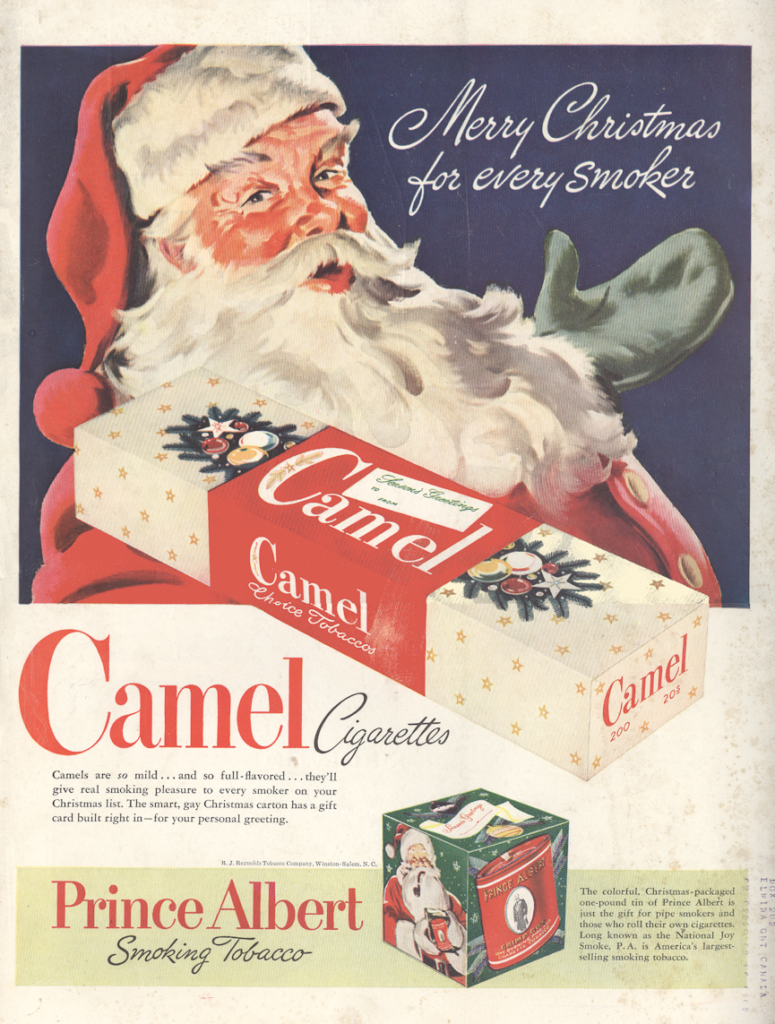 "Do you have Prince Albert in a can?  Well, you better let him out." (LIFE December 20, 1948)

More smokin' Santas.  One ponders: how did he keep them lit at such a high speed and altitude? (LIFE December 20, 1948)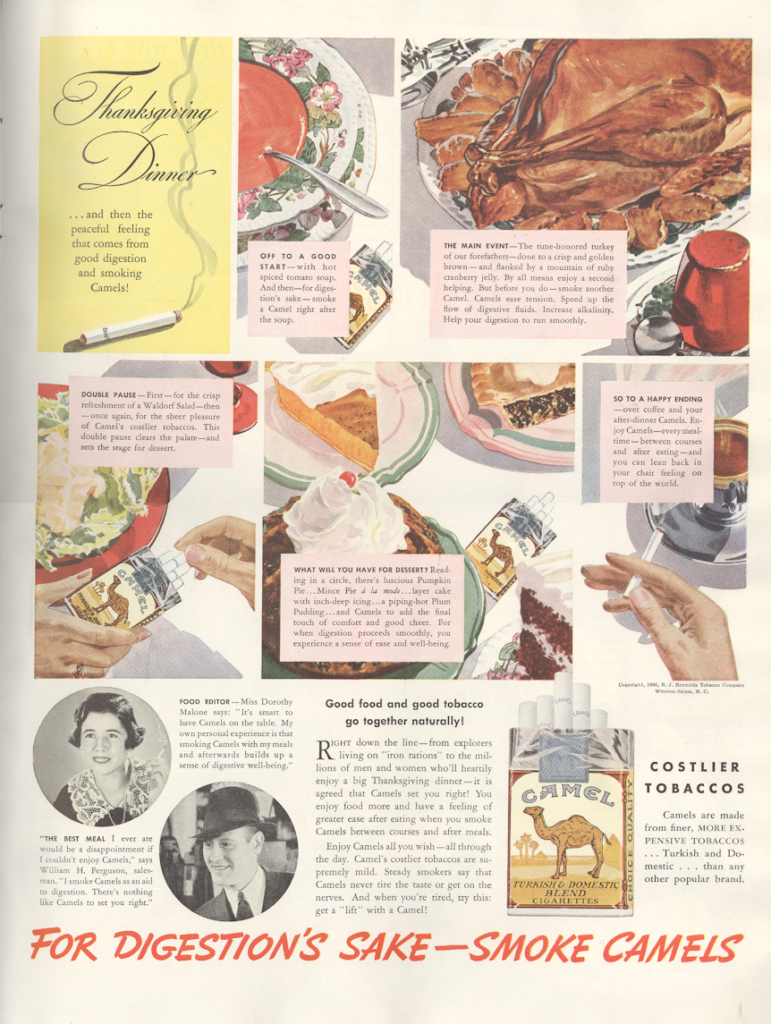 Okay, this one is for Thanksgiving but could apply to Christmas.  "It's smart to have Camels on the table.  My own personal experience is that smoking Camels with my meals and afterwards builds up a sense of digestive well-being."  If you say so, foody lady Dorothy Malone. Also: so that's what a "Happy Ending" meant in 1936. (LIFE November 23, 1936)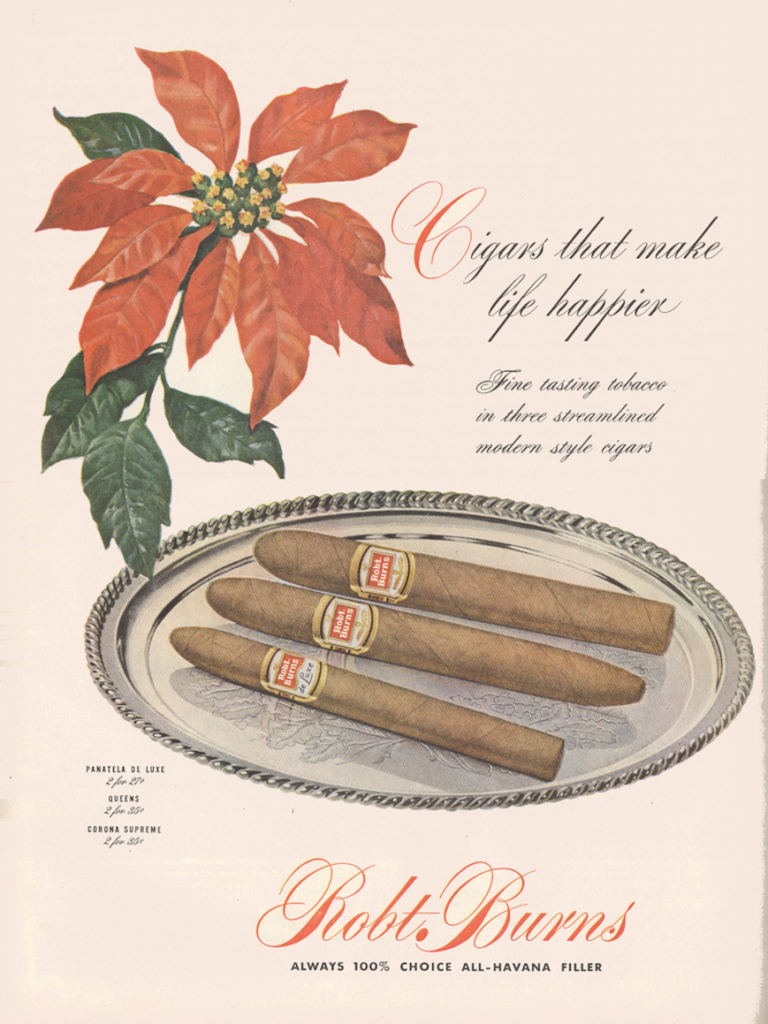 Dig that floating Poinsettia that looks like it is about to grab the cigars. (LIFE December 20, 1948)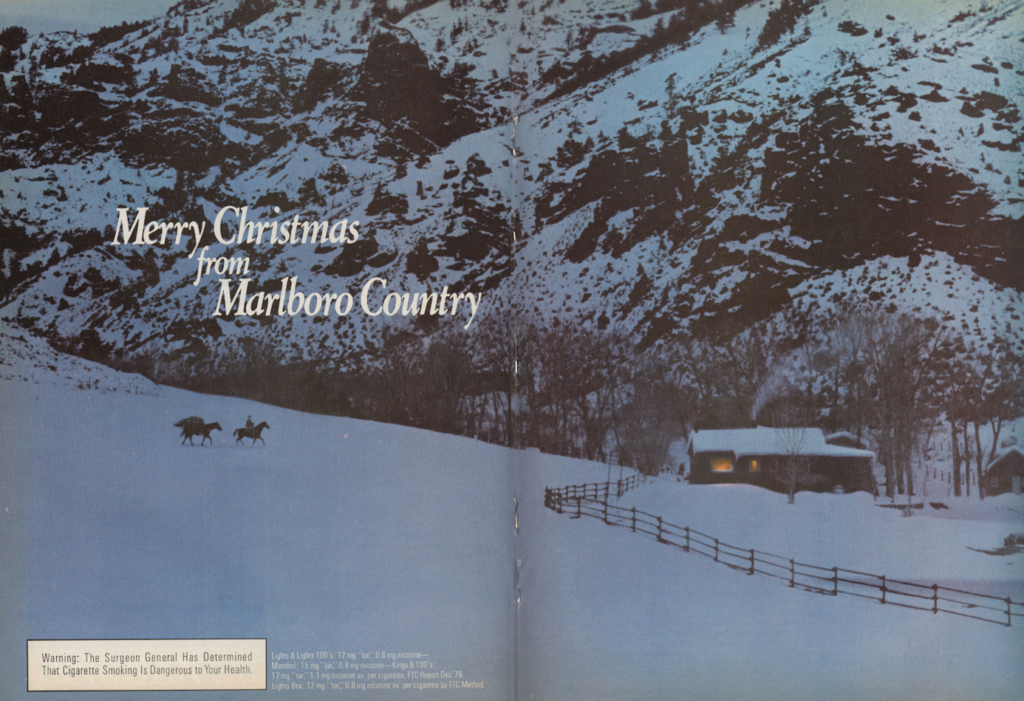 The Surgeon General's warning starts to appear. (People December 1980)
THE SIGHTS & SOUNDS OF THE SEASON:

AUDIO-VISUAL
I'm dreaming of a tech Christmas with gadgets, cameras, videos, and music as gifts.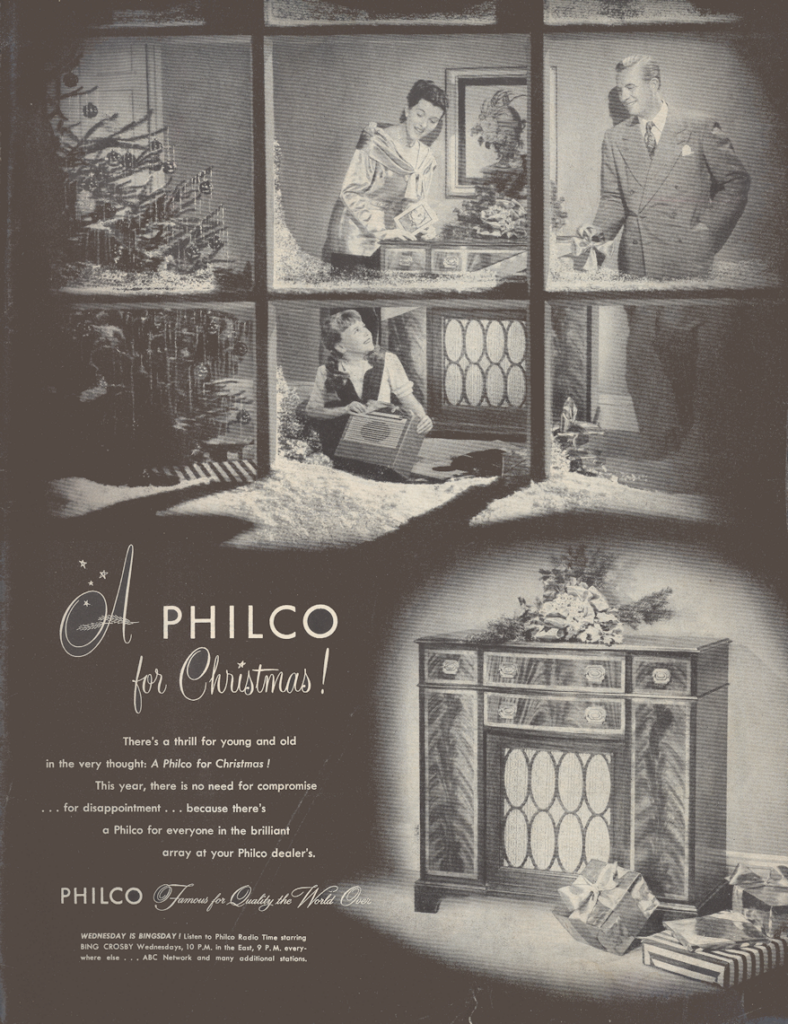 In 1947, home media was an elaborate radio-as-living-room-furniture. (LIFE December 22, 1947)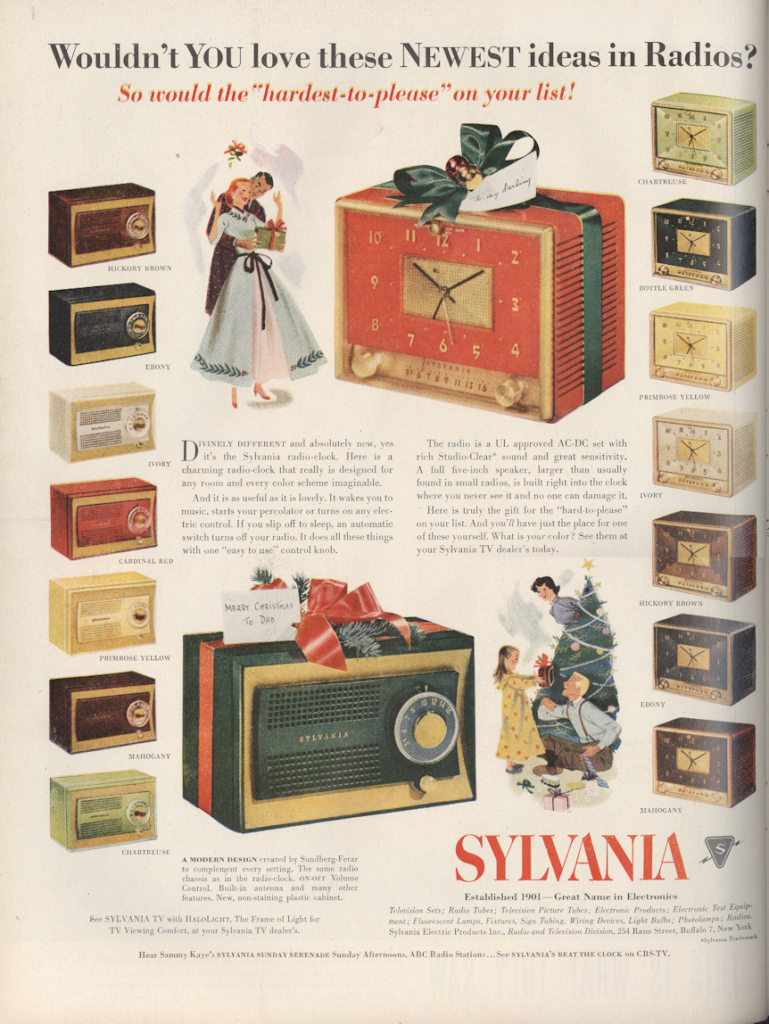 Clocks collapse into radios in a technological sensation and leap forward.  And notice the mention of the TV.  Also, I think I want that Chartreuse radio. Sigh. (LIFE November 6, 1951)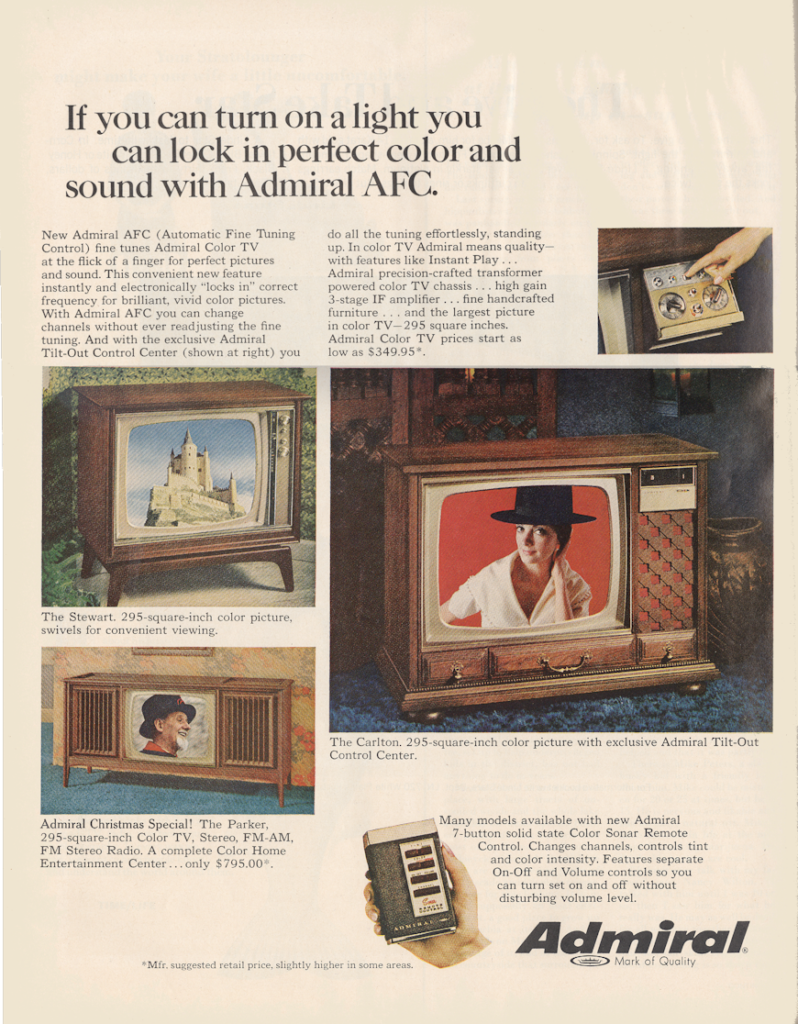 And now we have Very Expensive colour TVs which start at $349.95: that's $2,900 in today's money. Ouch. (LIFE November 17, 1967)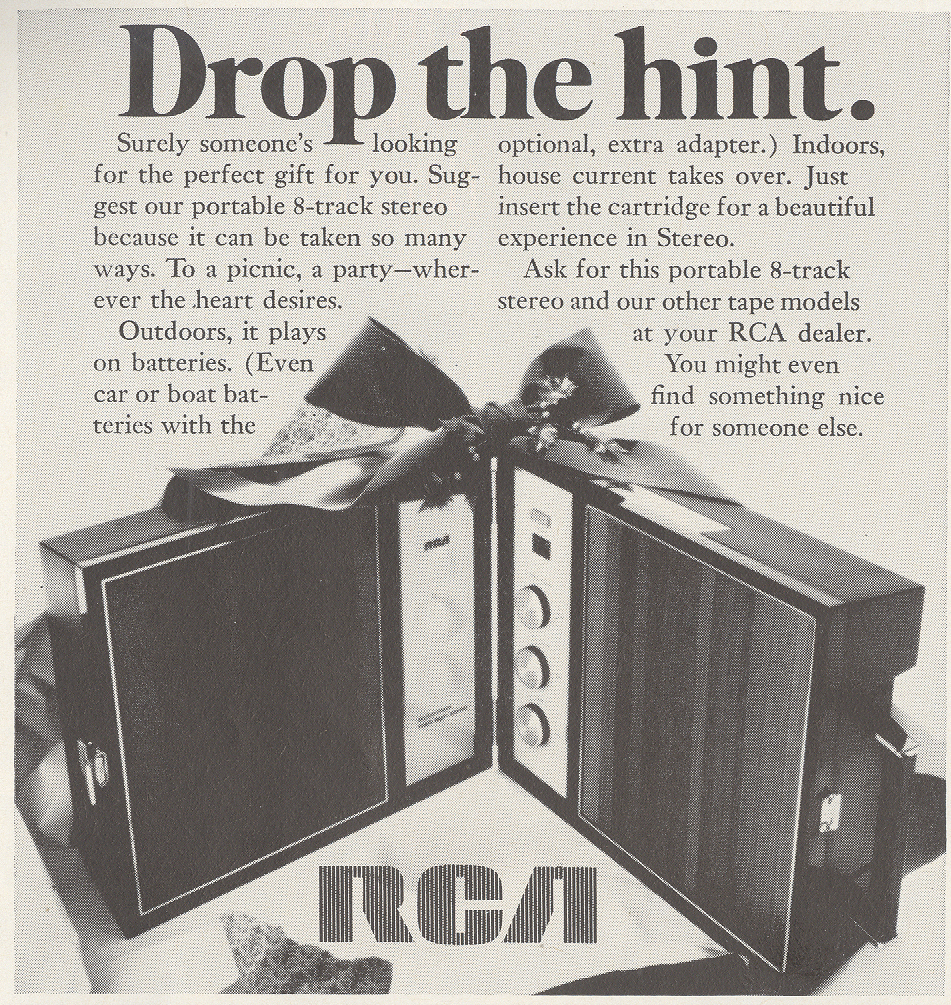 Next up on this seasonal technology journey: 8-Tracks!  The first thing I always remember about 8-Tracks is how songs that were split over two programs would fade out, and then back in, with that blunt, discourteous KA-CHUNNNNK crudely signalling the track change. (PLAYBOY December 1969)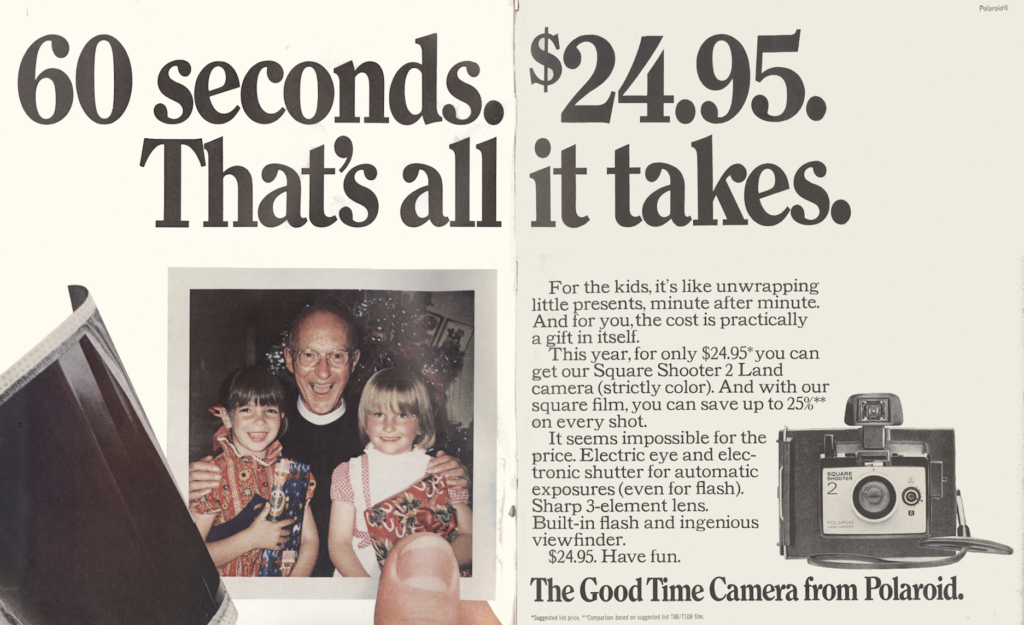 Next Up: Polaroids.  Instant photos debut.  They were a big and exciting deal at the time. (LIFE December 5, 1972)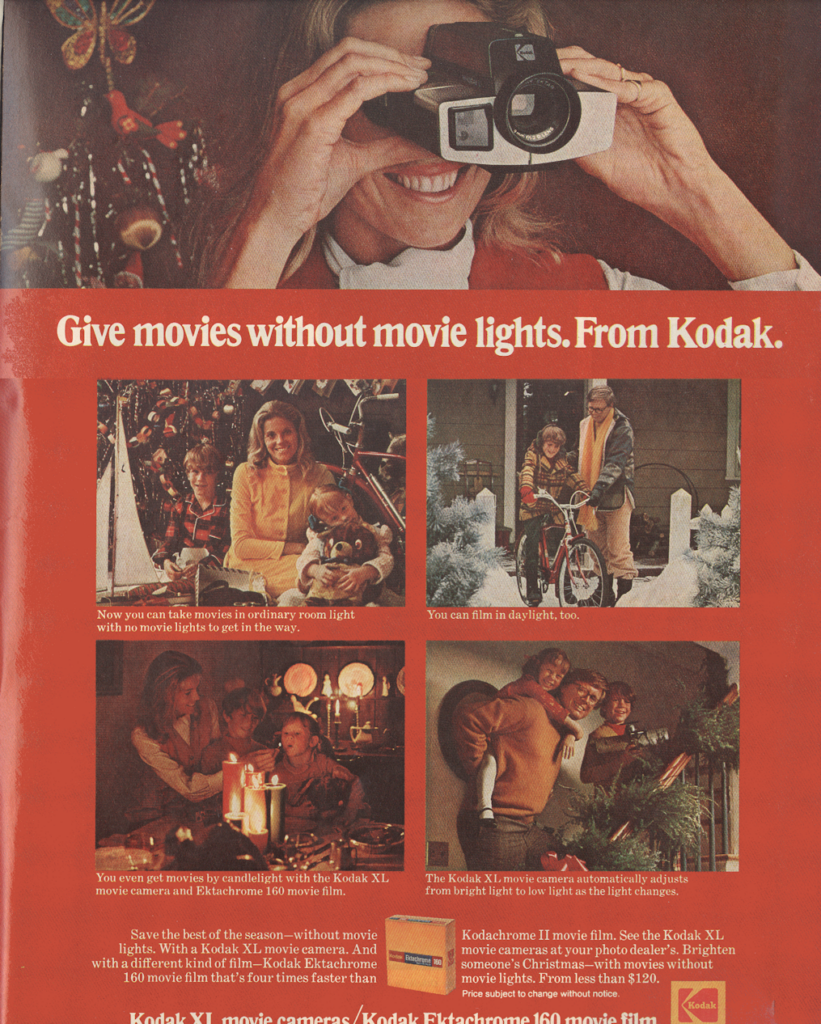 The colour home movie revolution begins. (LIFE December 5, 1972)

One's head swims at the rate of technological advances.  Clever ad copy, too. (LIFE December 5, 1972)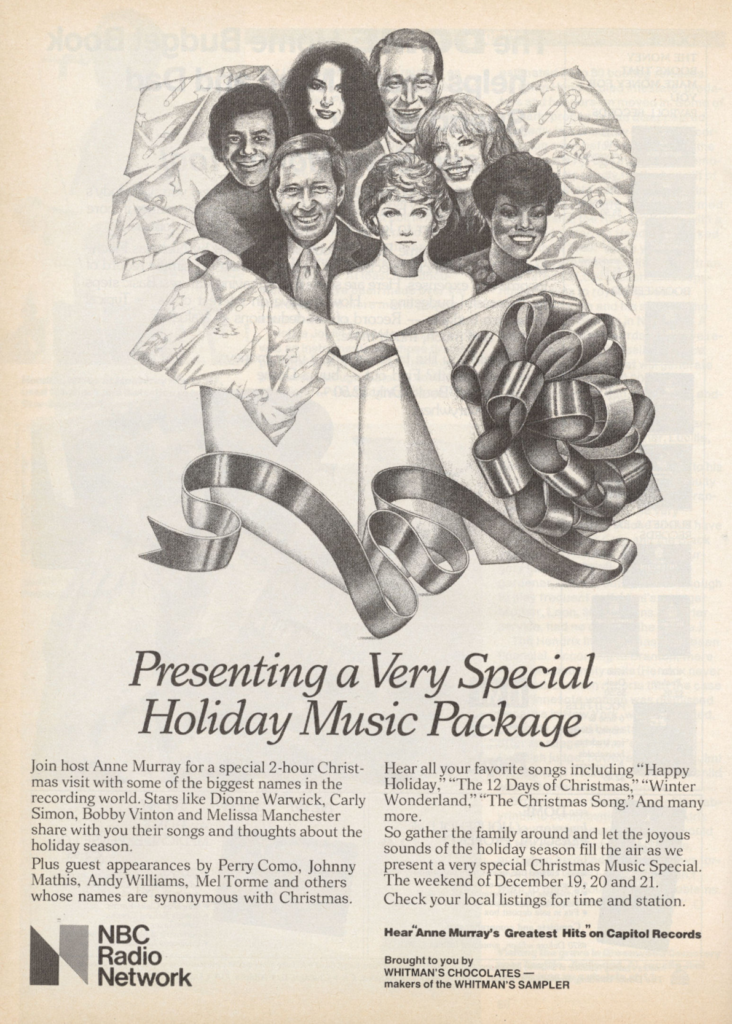 A radio-only Christmas special: the last vestiges of the golden age of radio. And mid-century easy listening. At the back, it looks more like a Perry Como ventriloquist doll than Perry Como. And, gee wilickers, Anne is looking mighty stern and steely for a Christmas special. (People December 1980)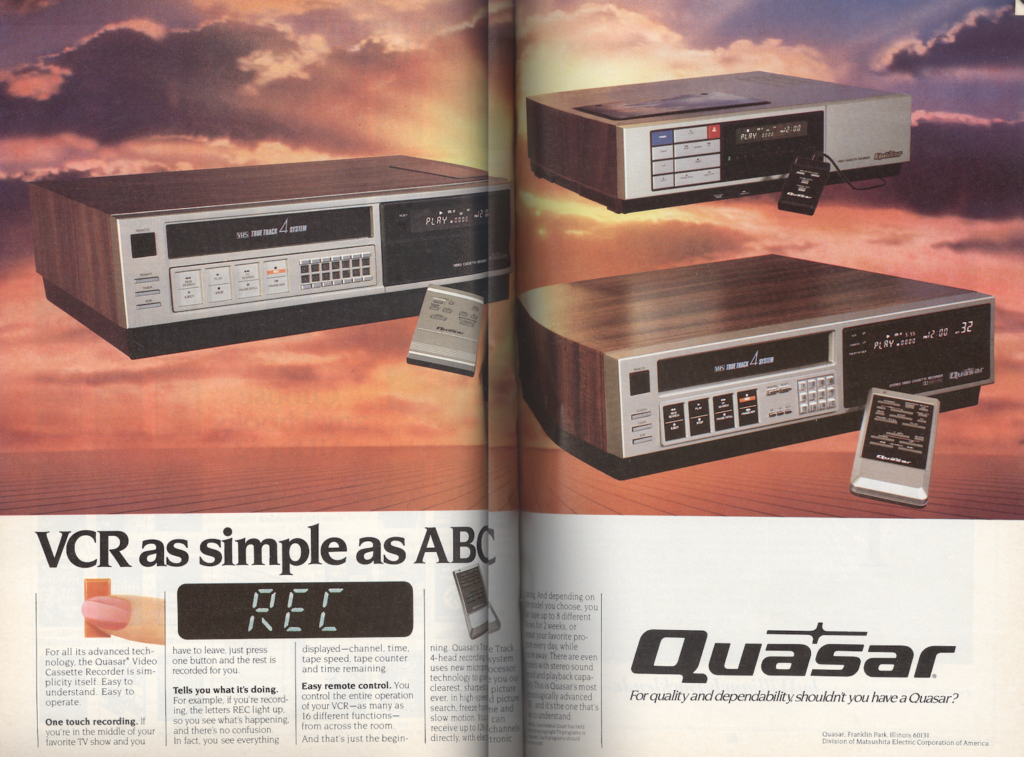 Home video arrives and changes the world. And they cost a bloody fortune at that time. (Esquire December 1983)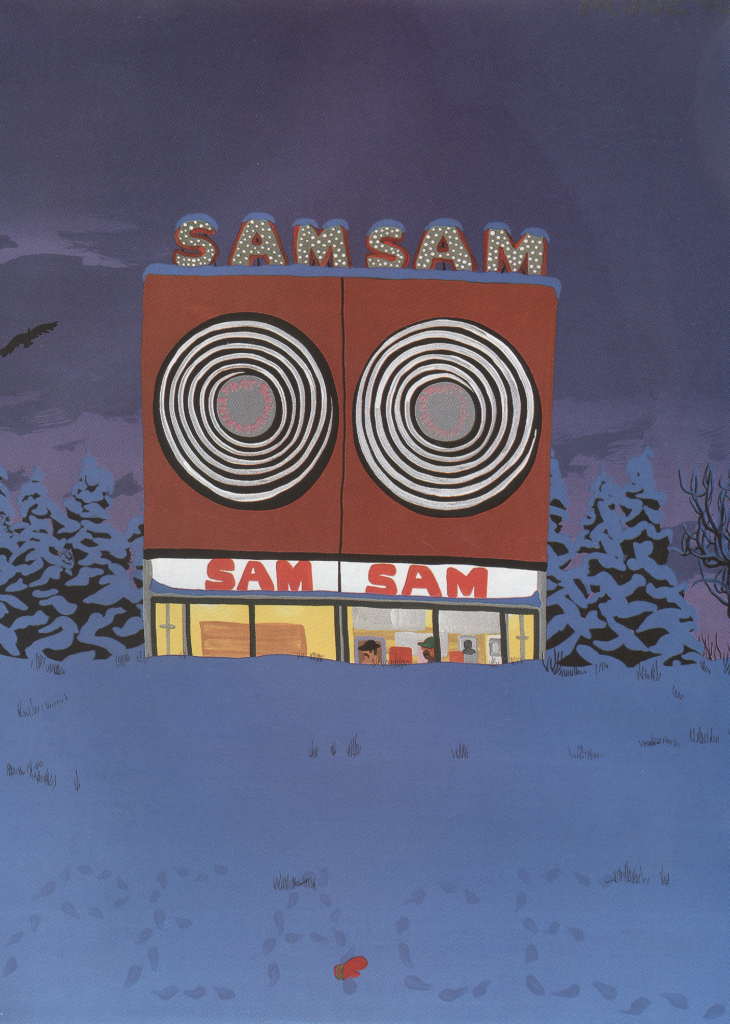 I worked in record retail for 8 years, 6 of which was part-time at the much-missed, former Canadian powerhouse music chain, Sam the Record Man, while I was in university.  While I Do Not miss retail, the craziness at Christmas could sometimes be fun.  I also worked somewhere else as a store manager, enduring one Christmas working for them that encompassed an armed hold-up outside the store, large-scale theft days before the 25th, and flouncing, hypocritical religioso employees.  That was NOT a fun season, nor was working for that far less ethical and clued-in company which I eventually quit in a blaze of glory. (NETWORK December 1990)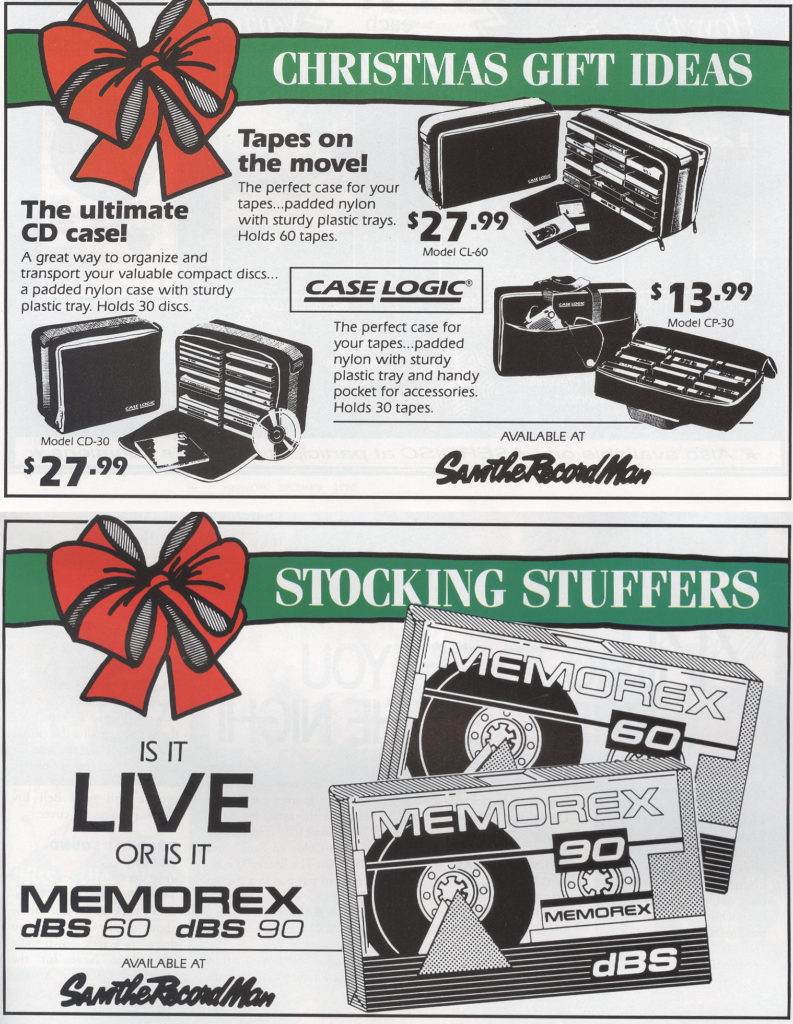 Media consumer items from Christmas and technology past. I still have one sealed Memorex tape. (NETWORK December 1990)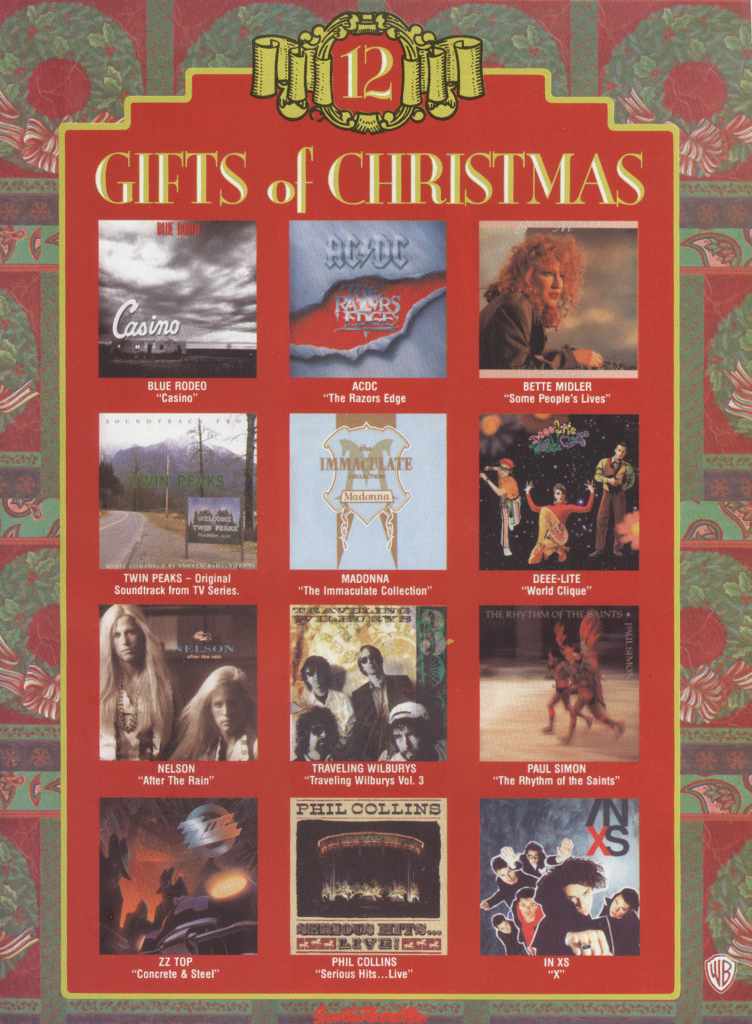 CDs arrive and are on sale, Christmas 1990, via this Warner Music ad.  Good heavens: Nelson!! (Let's see, I have that whole second row on CD: the Twin Peaks soundtrack, Madonna, and Dee-Lite.  I also have that Blue Rodeo on cassette somewhere.) (NETWORK December 1990)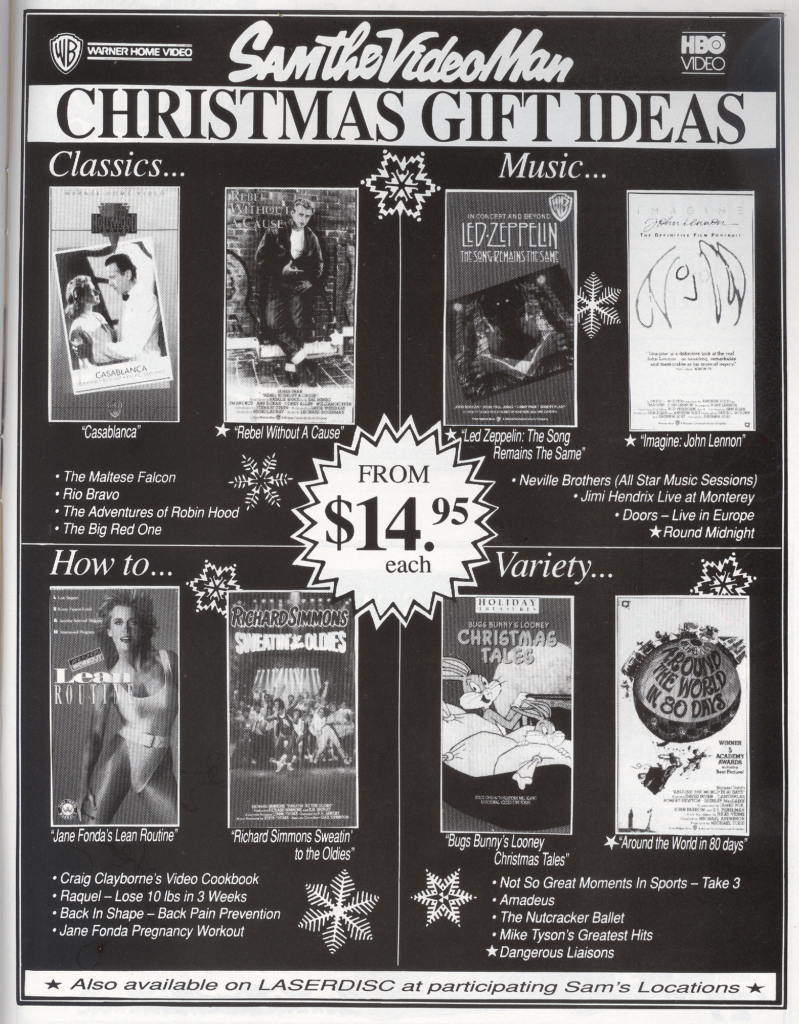 And now, Warner Video.  Jane Fonda's Lean Routine and Richard Simmons Sweatin' to the Oldies vids remind me of one of our old nabes back in Ottawa who had a garage sale where she was offering up the entire Buns of Steel VHS collection in among her child's rusted and jaggedly-broken toys that were probably riddled with tetanus. (NETWORK December 1990)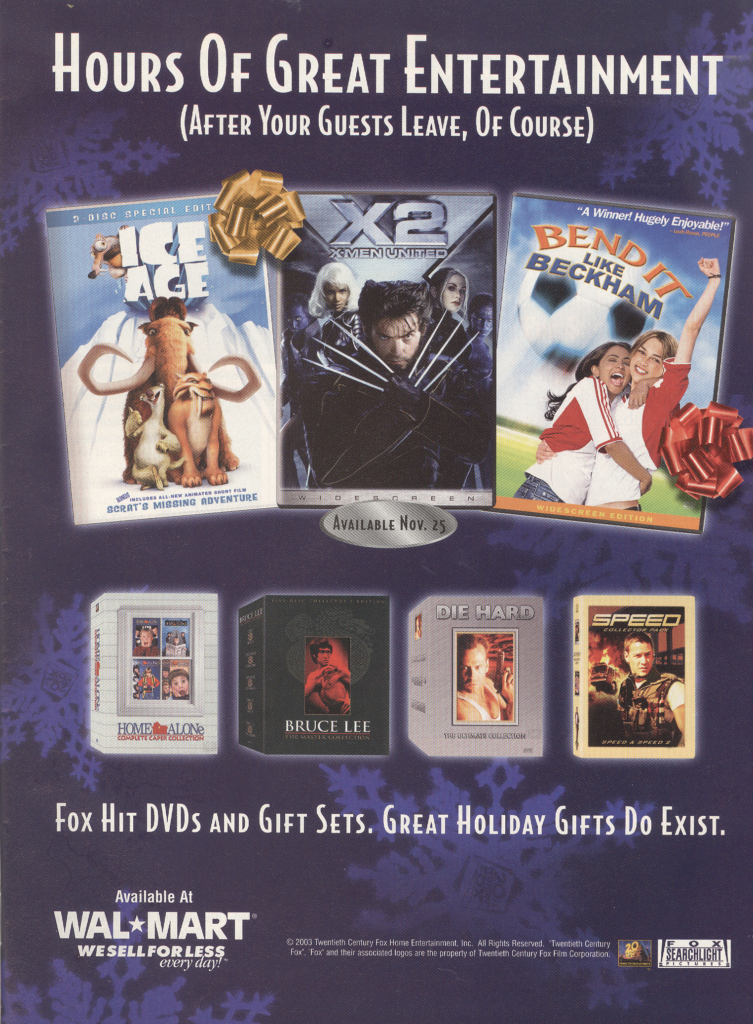 And digital video for Christmas, at last. (Macleans November 24, 2003)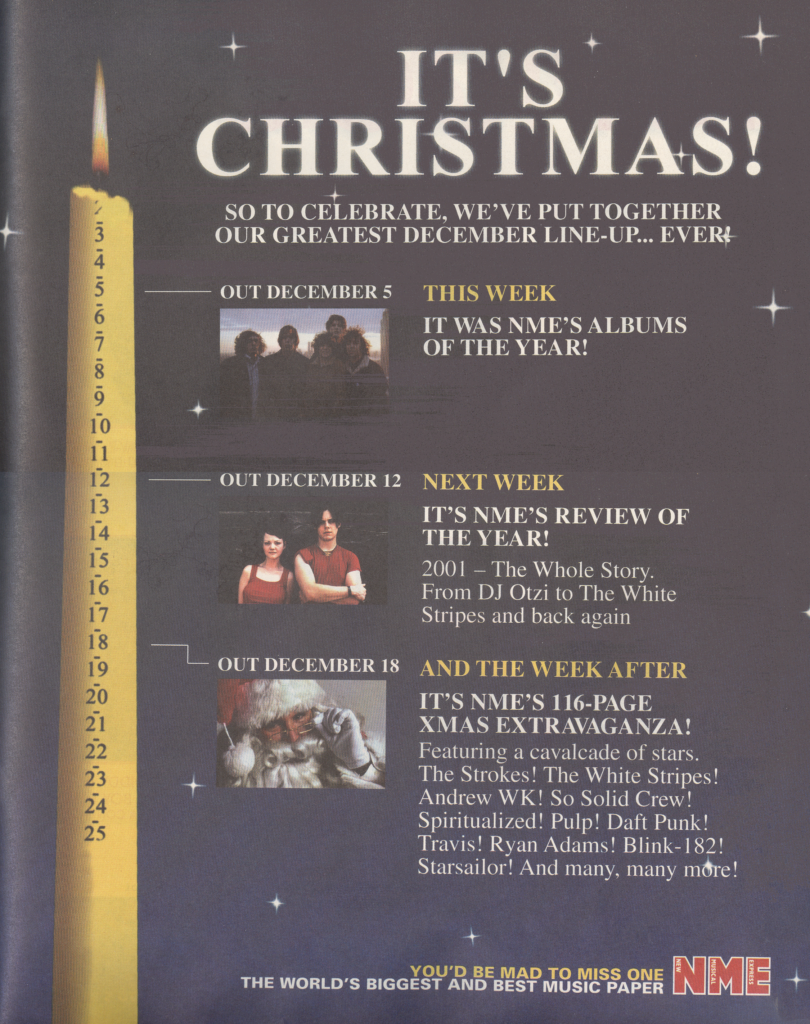 The NME gets ready to recap its year. When I think of Christmastime 2001, I think of playing The Strokes' debut and The White Stripes' White Blood Cells repeatedly. (NME December 2001)
DOES THE TREE TRIM MATCH THE DRAPES?:

CHRISTMAS ACCESSORIES, FOOD & NIBBLIES
Season-specific commercial wares, necessities, and yummy stuff.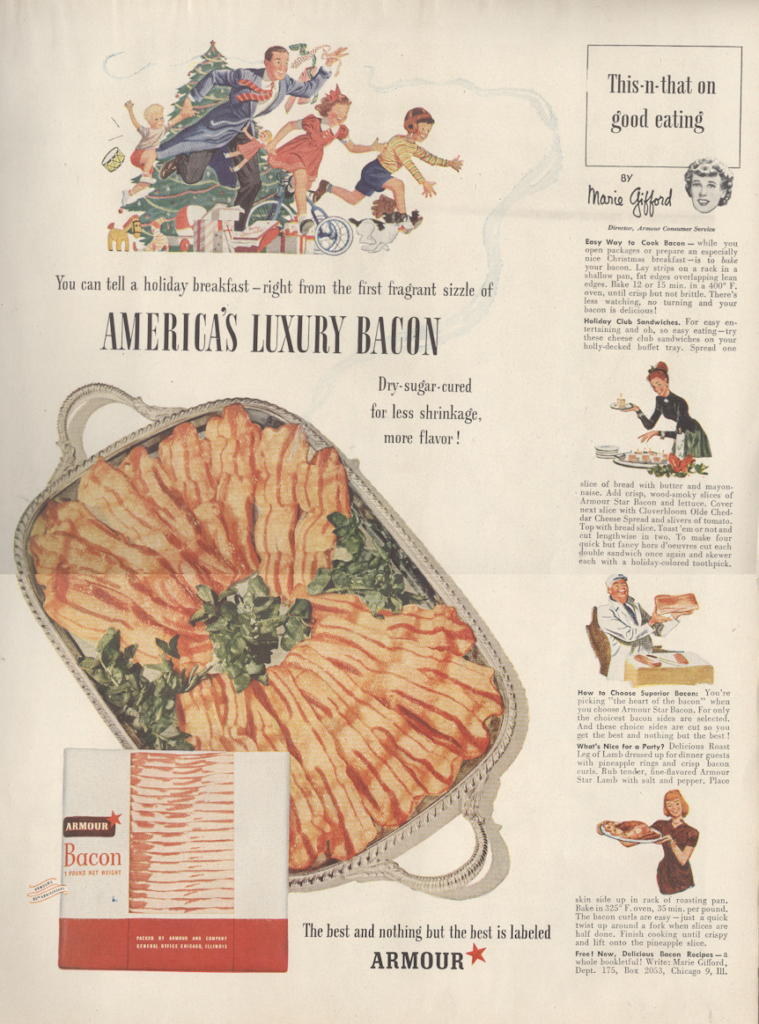 The smallest, gravity-defying child at the back can really hoof it off the ground. (LIFE December 22, 1947)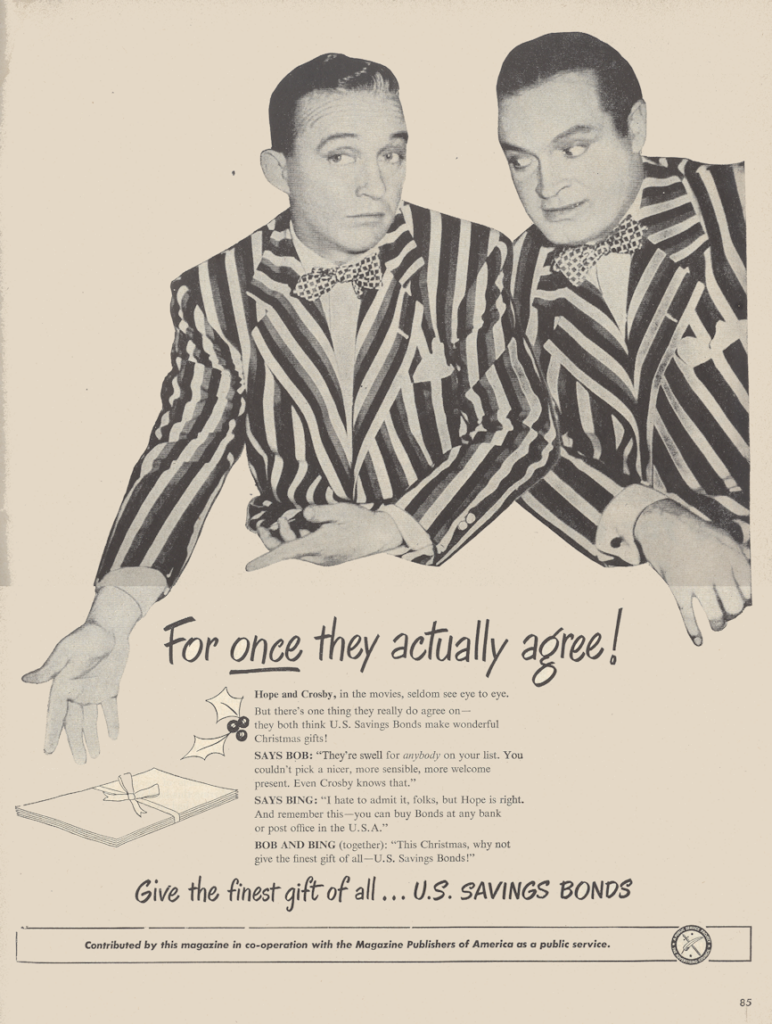 It's Bing again.  Bob Hope looks demonic. As for their frequently disagreeing … handbags at 50 paces gentlemen, please. (LIFE December 22, 1947)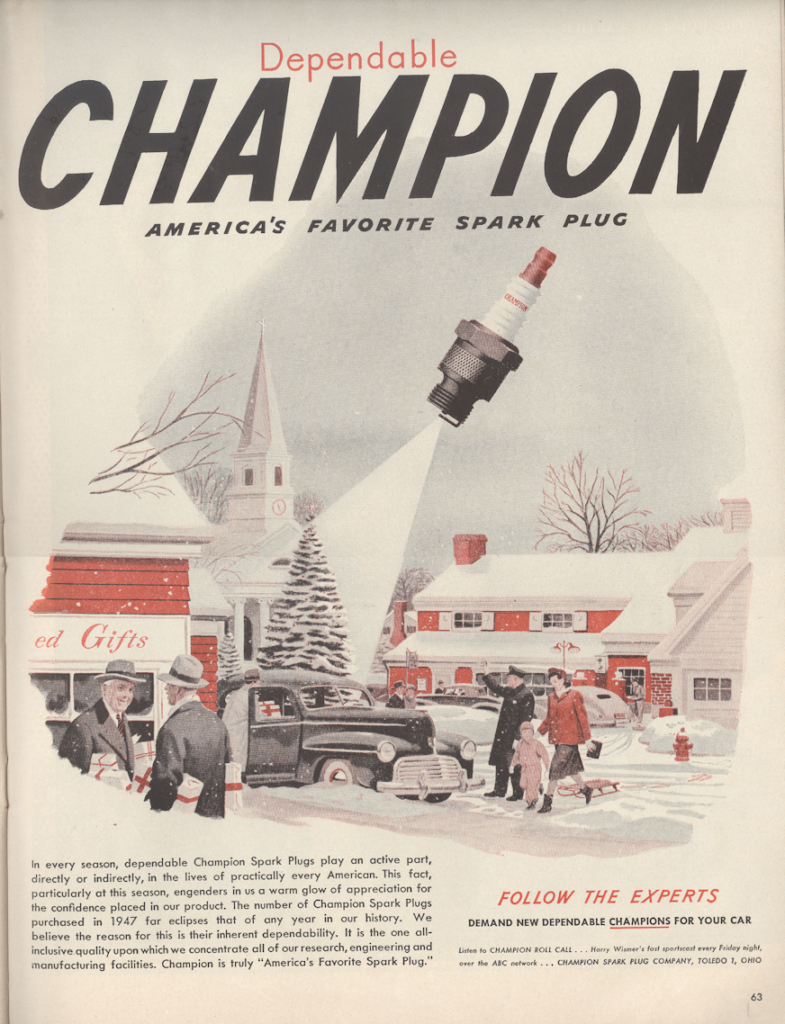 Was there a poll to confirm "America's Favorite Spark Plug"?  The mind ponders. (LIFE December 22, 1947)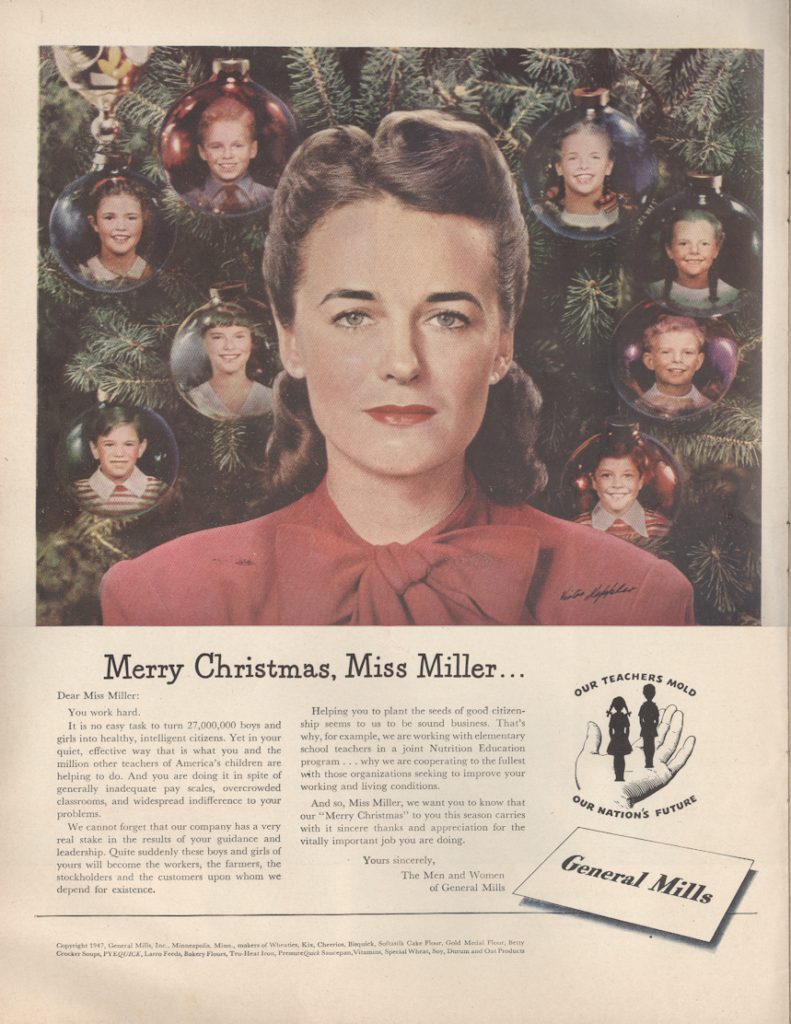 Nothing says stolid, prudish, authoritarian, sadistic, 1950s teacher quite like a pussy bow and a non-existent smile of ice.  Miss Miller is also rocking a decidedly Joan-Crawford-in-Mildred-Pierce-style look. (LIFE December 22, 1947)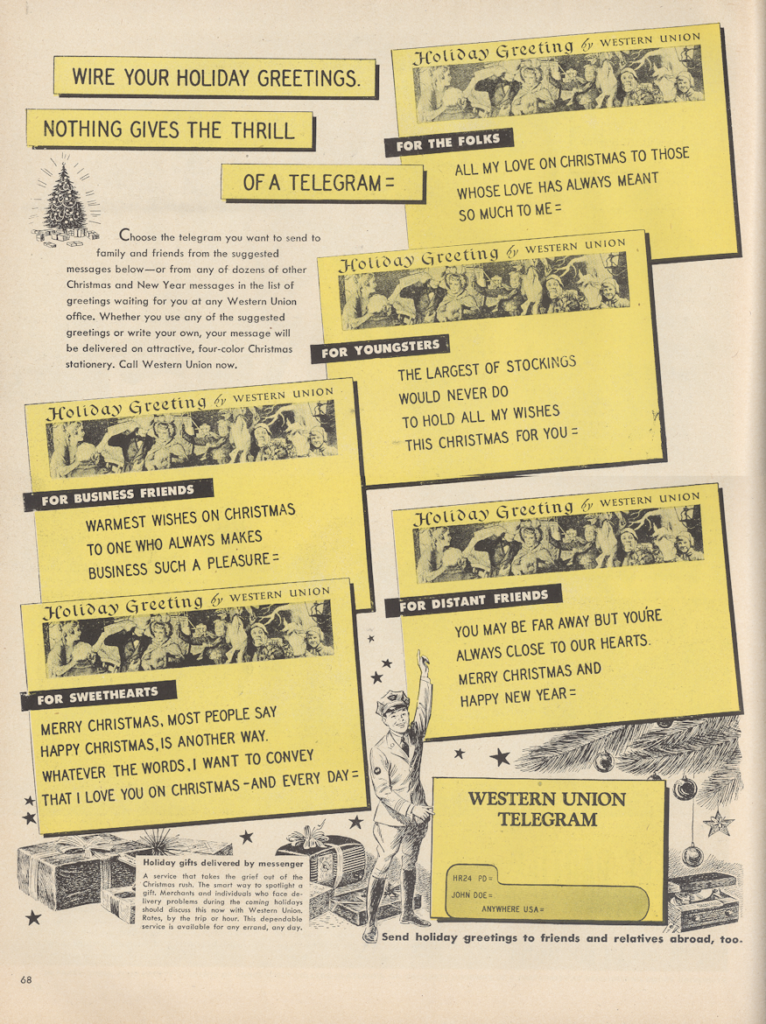 Don't they know that it's easier to text?  (And I love the yellow and black colour palette on this one.) (LIFE December 22, 1947)
It looks more like rancid lard than ice cream on the label. (LIFE December 22, 1947)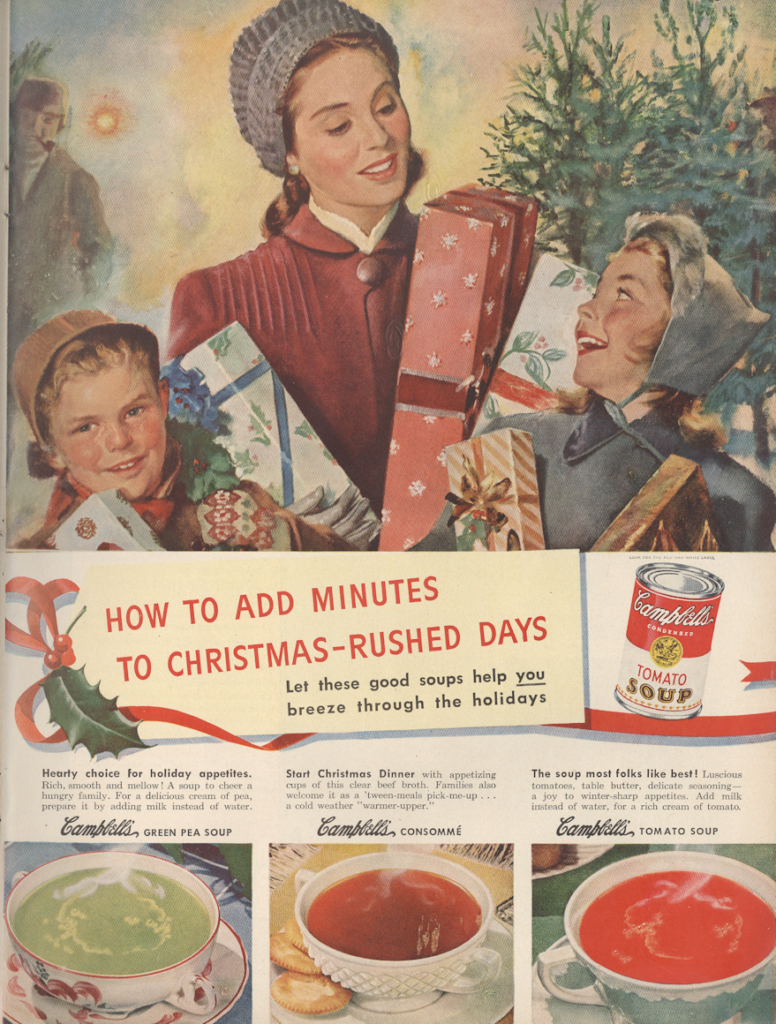 Even all these years later, I can never, ever think of Green Pea Soup without thinking of Linda Blair in The Exorcist. And is that London, Ontario's own Kate Nelligan?  Also: that boy looks like a right brat. (LIFE December 20, 1948)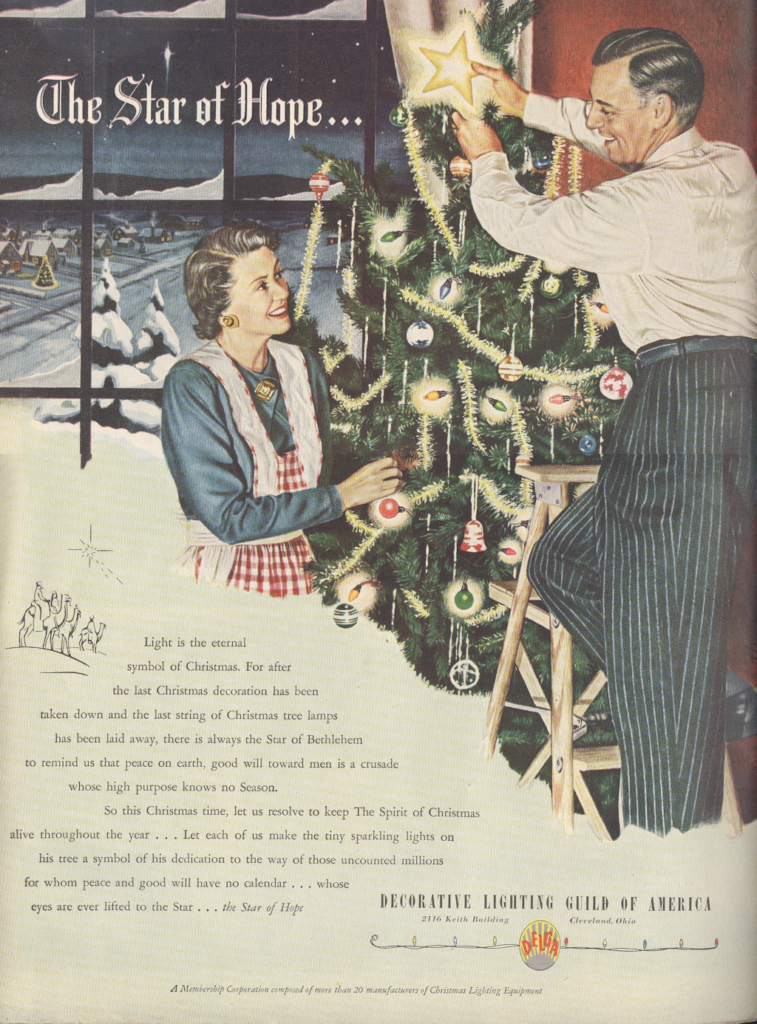 I was just saying to Cublet the other day that we just don't seem to see any good Decorative Lighting Guild of America ads these days. And we're all the lesser for it.  (LIFE December 20, 1948)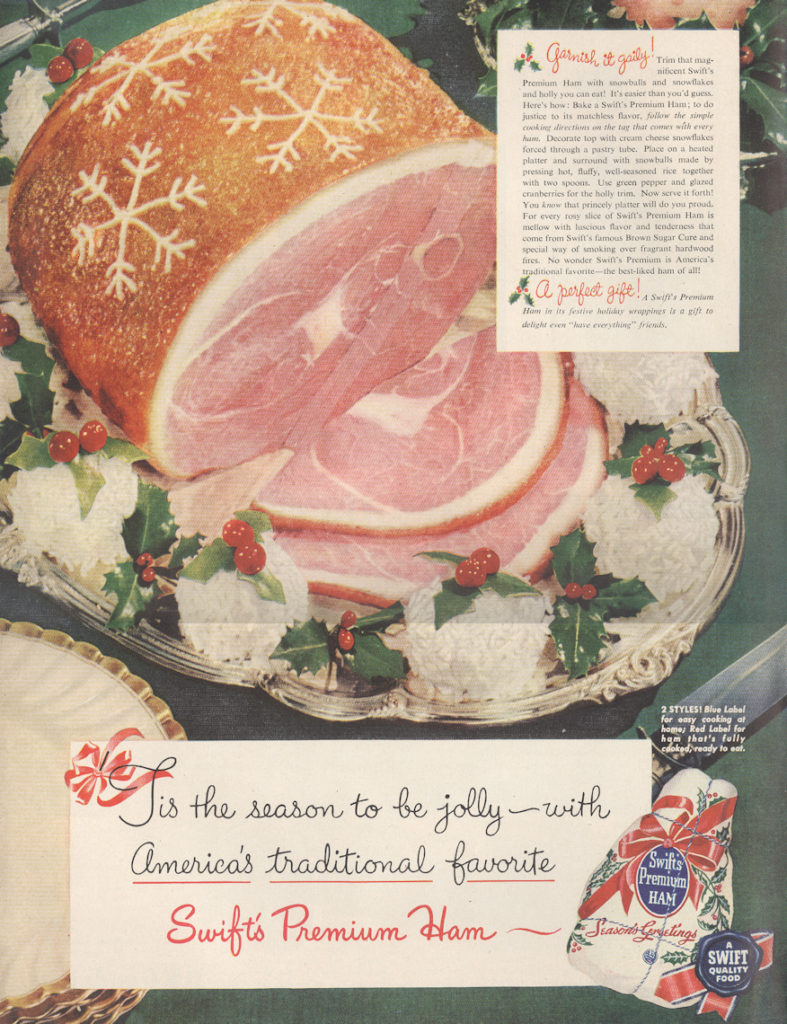 "Garnish it gaily!"  Done. (LIFE December 20, 1948)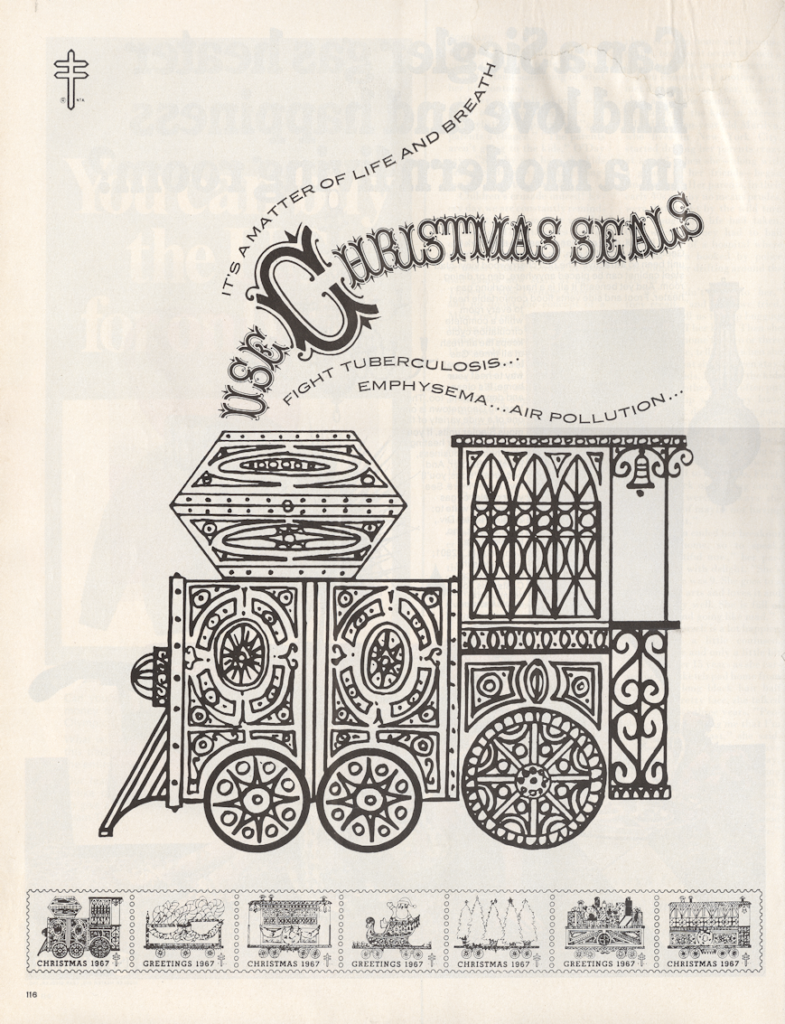 I love the illustration and text layout for this PSA. (LIFE November 17, 1967)
CHRISTMAS STINKS!:

SCENTS & PERFUMES
It's the innuendo category.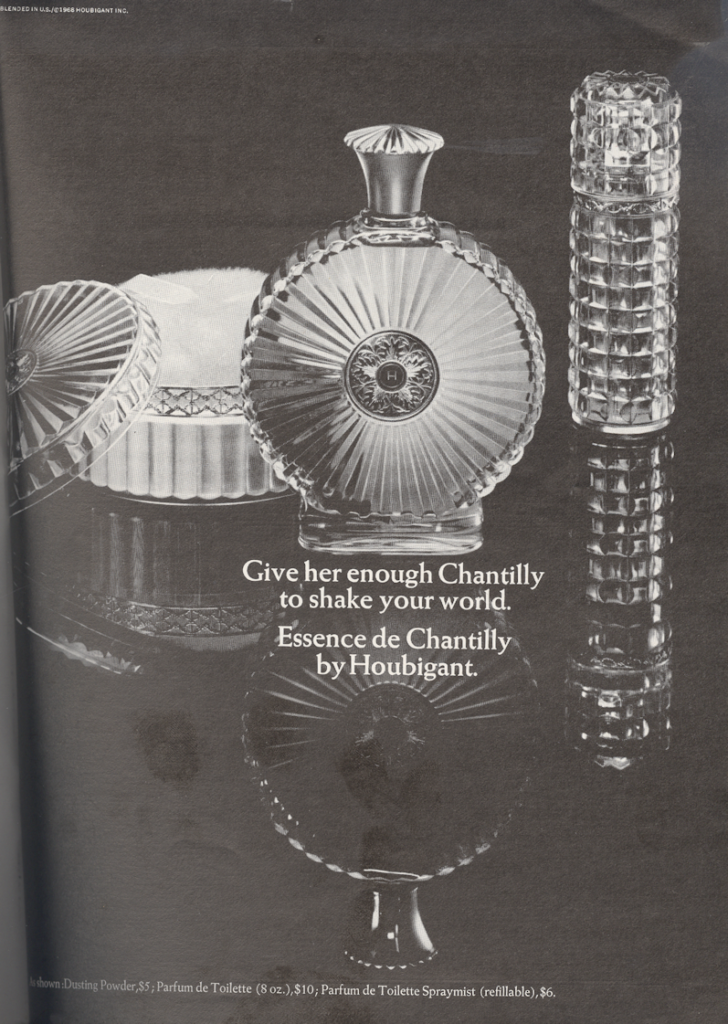 Well, I did say it was the innuendo category. (PLAYBOY December 1968)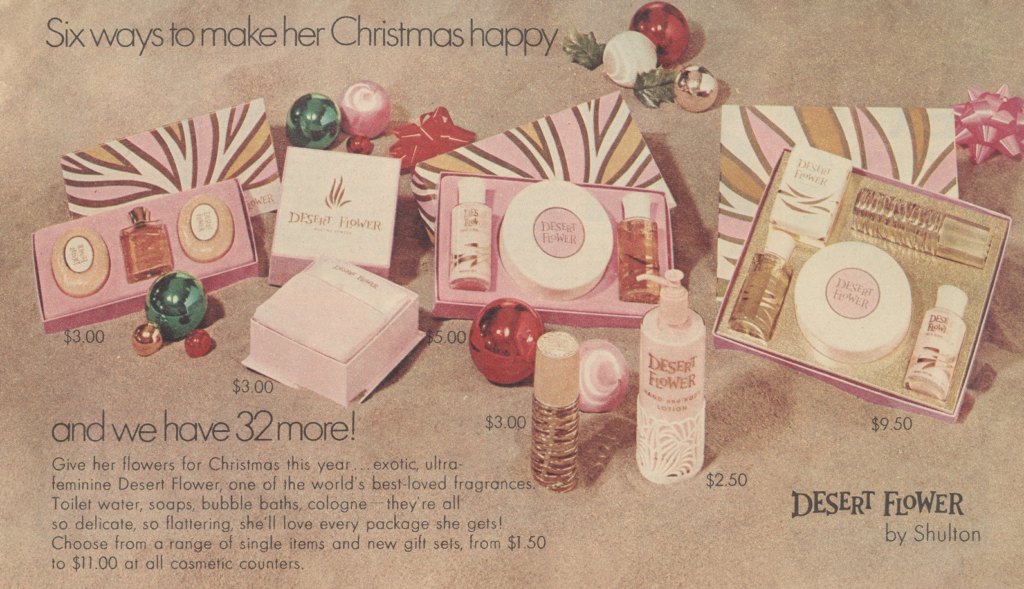 "… So flattering, she'll love every package she gets!"  Now I have to wonder if that was intentional or unintentional innuendo. (Canadian Magazine December 13, 1969)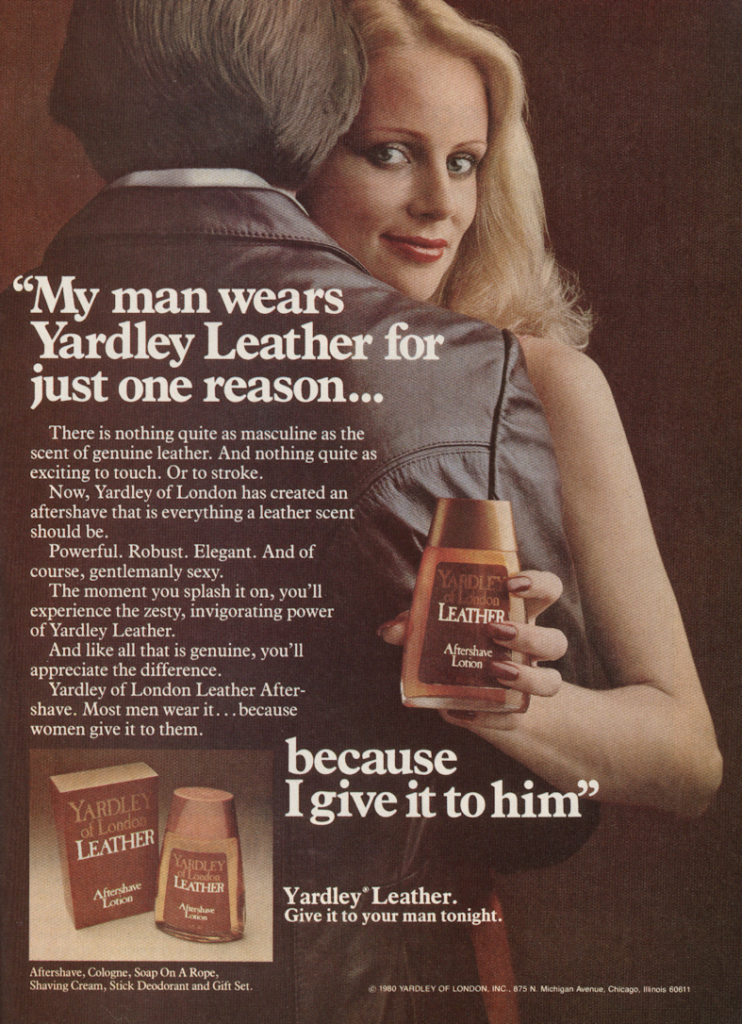 "And nothing quite as exciting to touch. Or to stroke." I actually laughed out loud when I came across the tagline and then the ad copy. (People December 1980)
THE GIFTS THAT KEEP ON GIVING:

MAGAZINE SUBSCRIPTIONS
Remember them?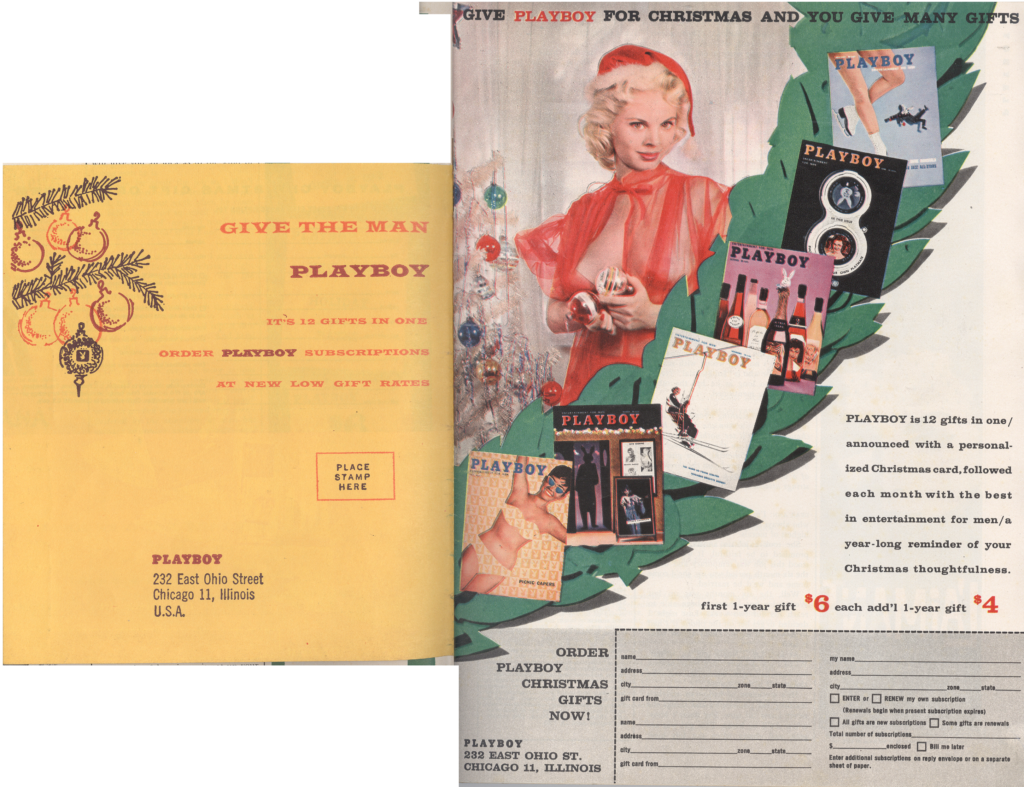 (Insert joke about fondling the balls here.) (PLAYBOY December 1958)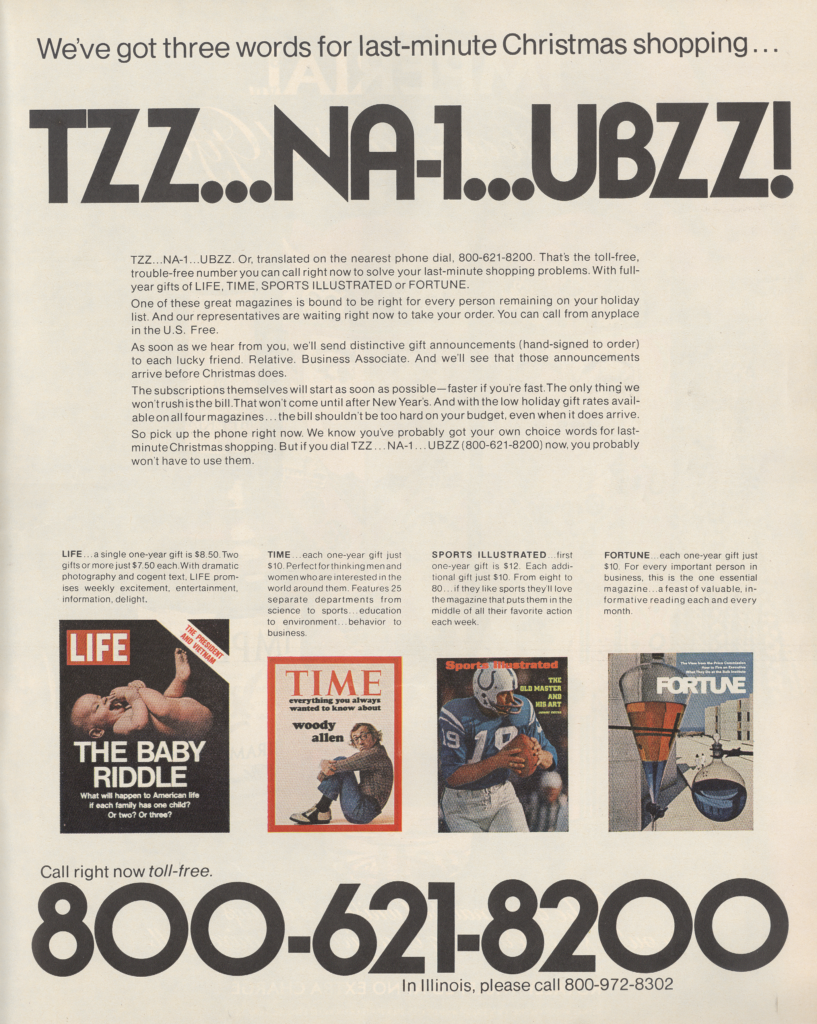 Unfortunately, this 1972 gift subscription would have been a bust: the magazine went out of print shortly thereafter. (LIFE December 5, 1972)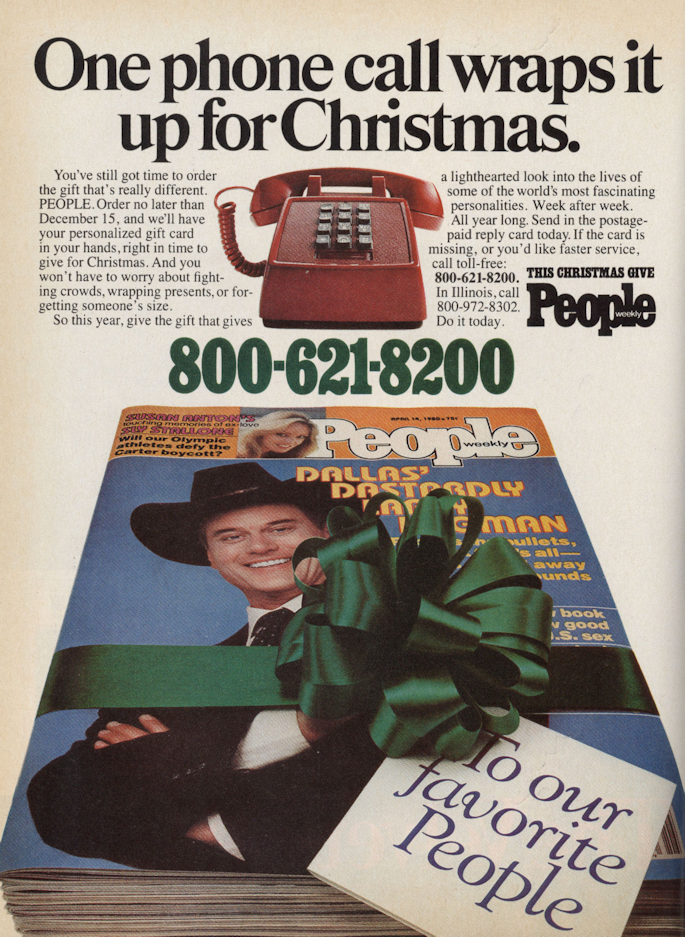 I love the phone in the ad.  Below: Santa shills again! (People December 1980)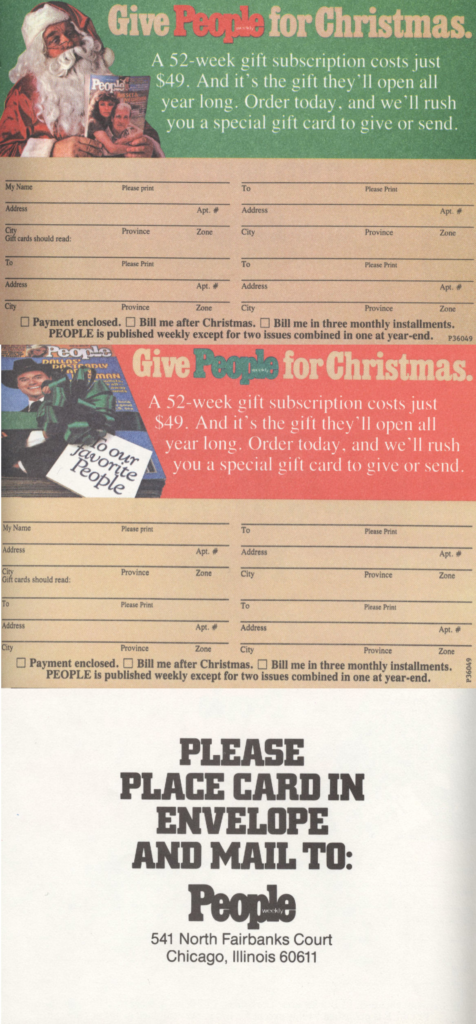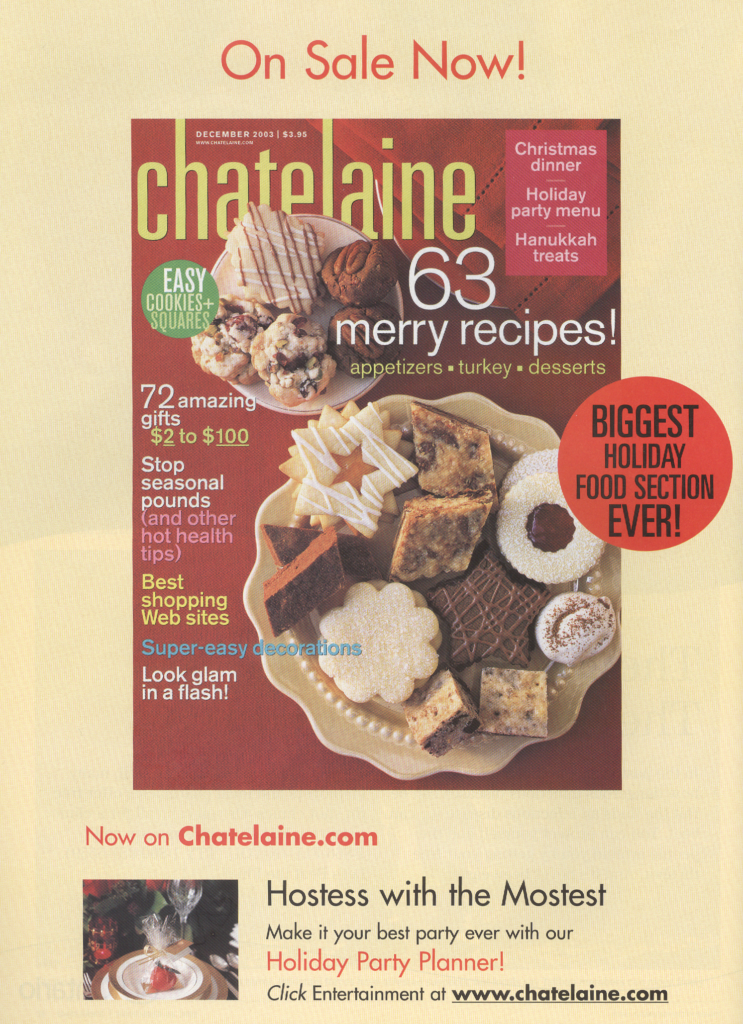 I'm still waiting for k.d. lang to explain how she became Miss Chatelaine … (Macleans November 24, 2003)
CLAUS-ADJACENT:

NON-CHRISTMAS ADS IN SEASONAL ISSUES
Some non-Christmas-specific ads in these seasonal issues that are too good to ignore.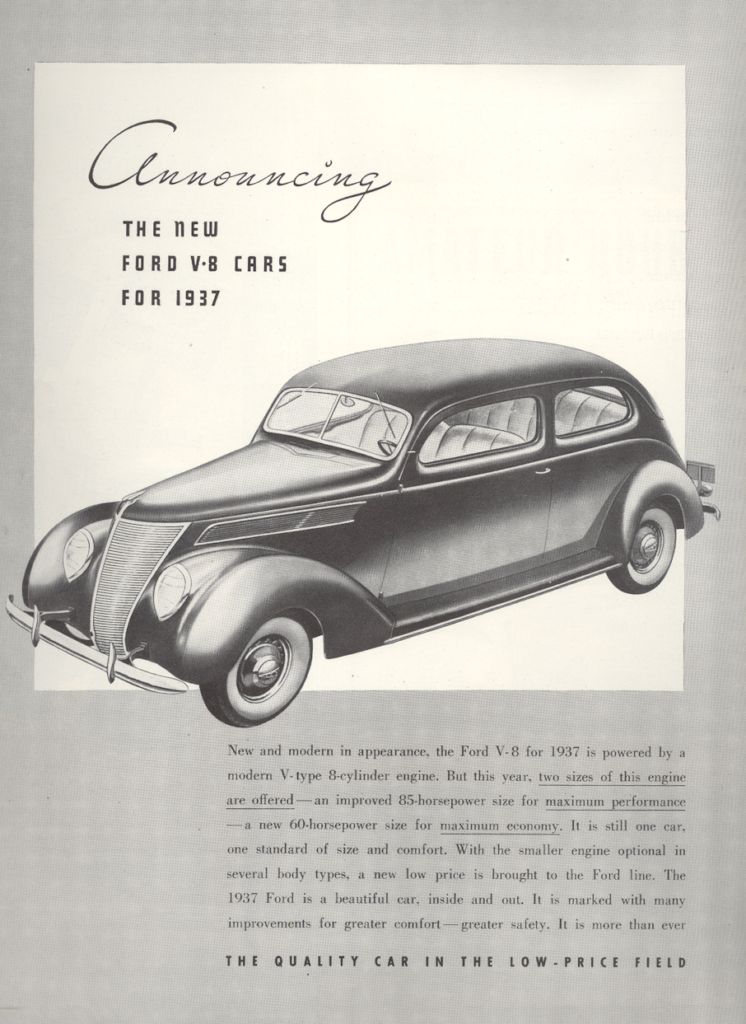 Does it have Bluetooth? (LIFE November 23, 1936)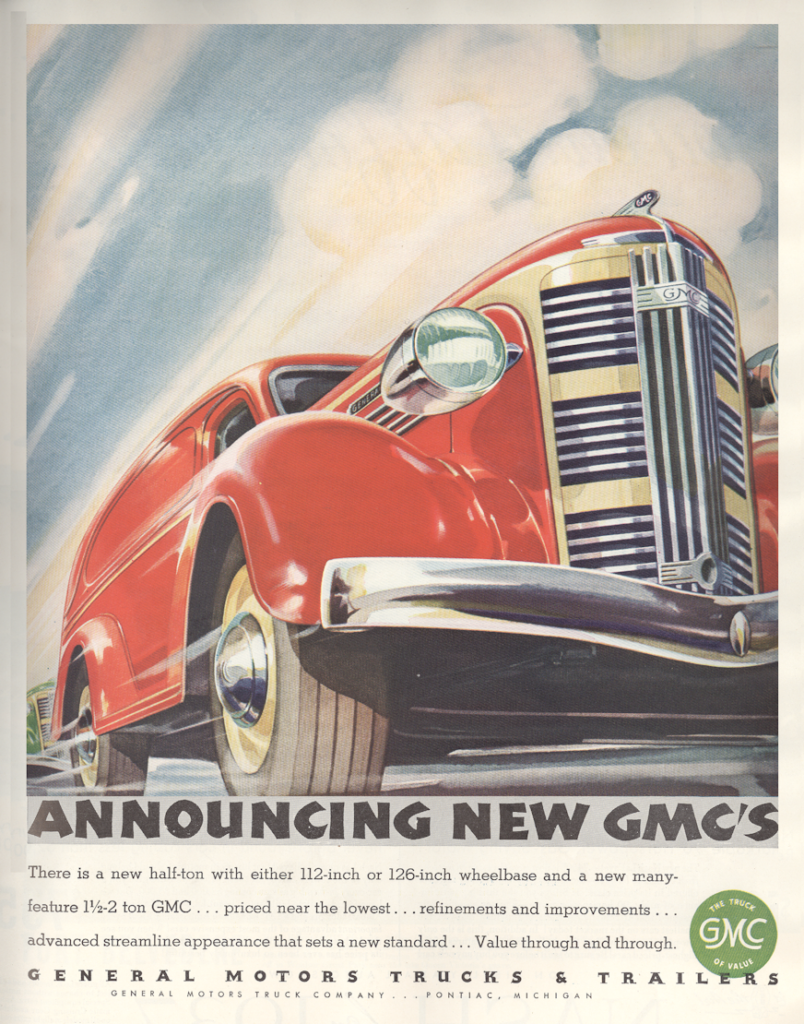 I want this mounted as a huge poster. (LIFE November 23, 1936)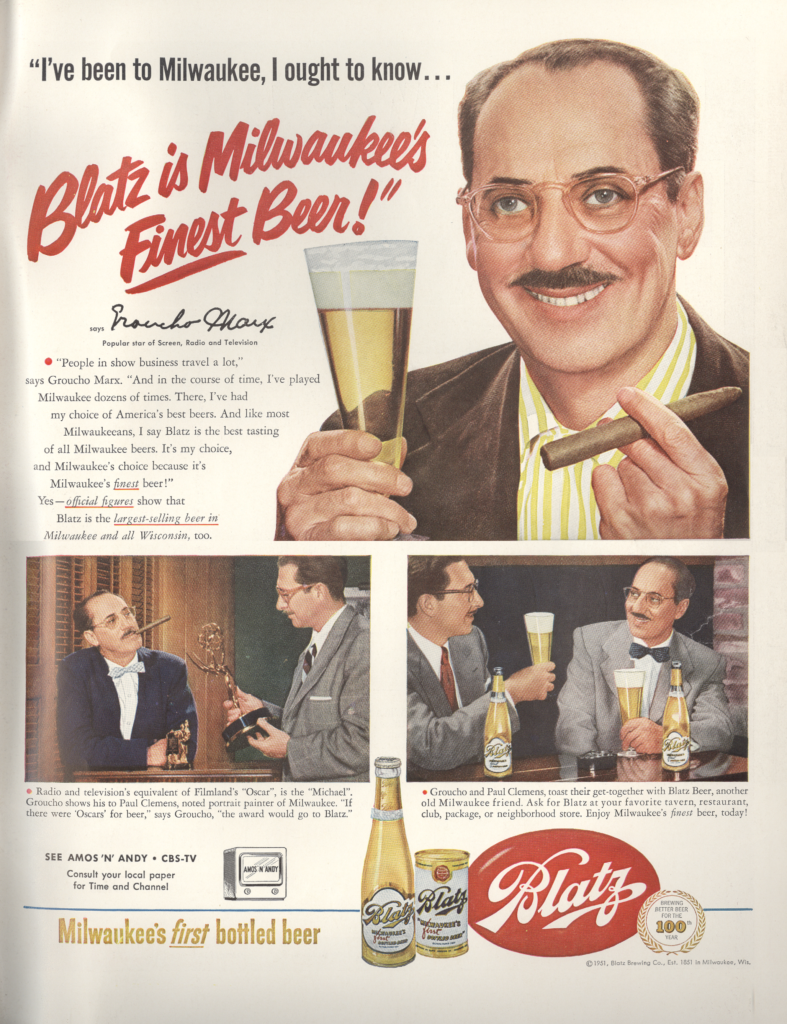 So when did The Michaels morph into the Emmys? (LIFE November 6, 1951)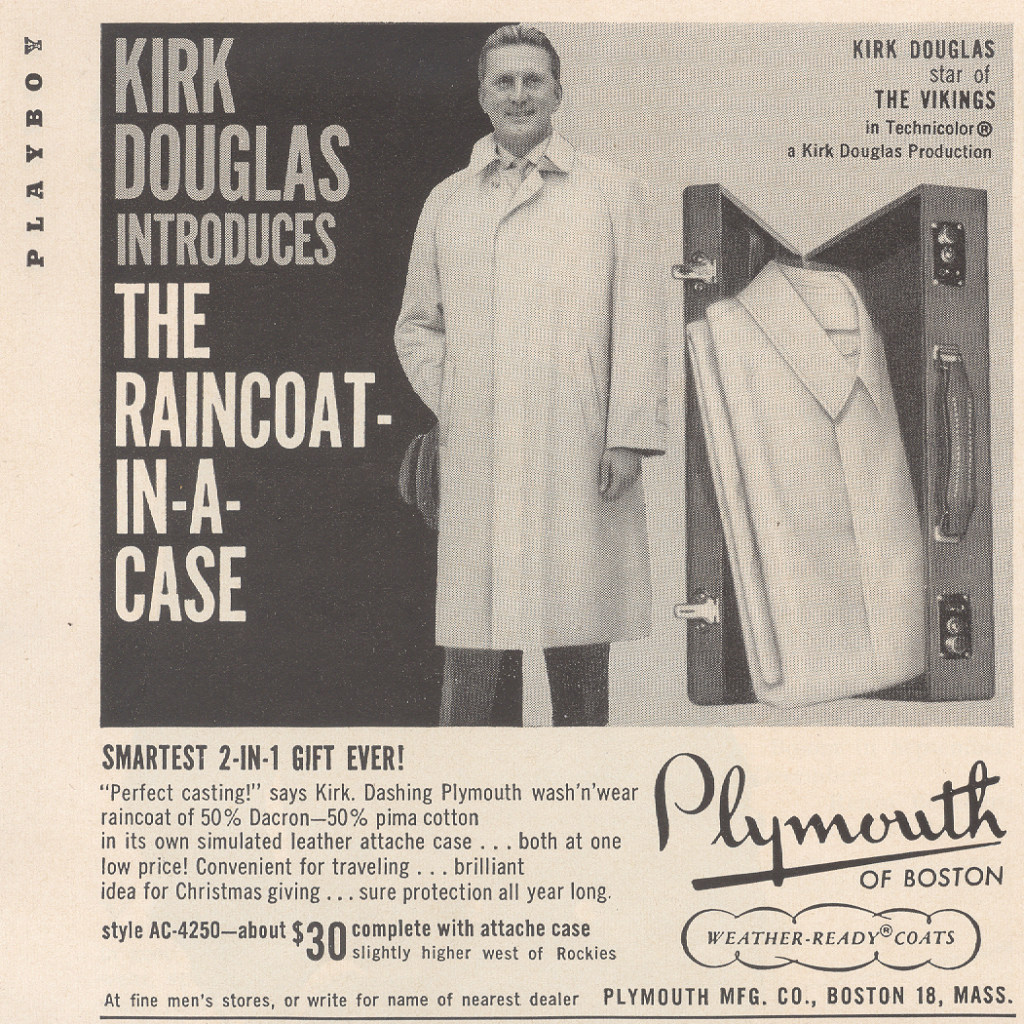 Too funny: Kirk Douglas modelling raincoats in Playboy. (PLAYBOY December 1958)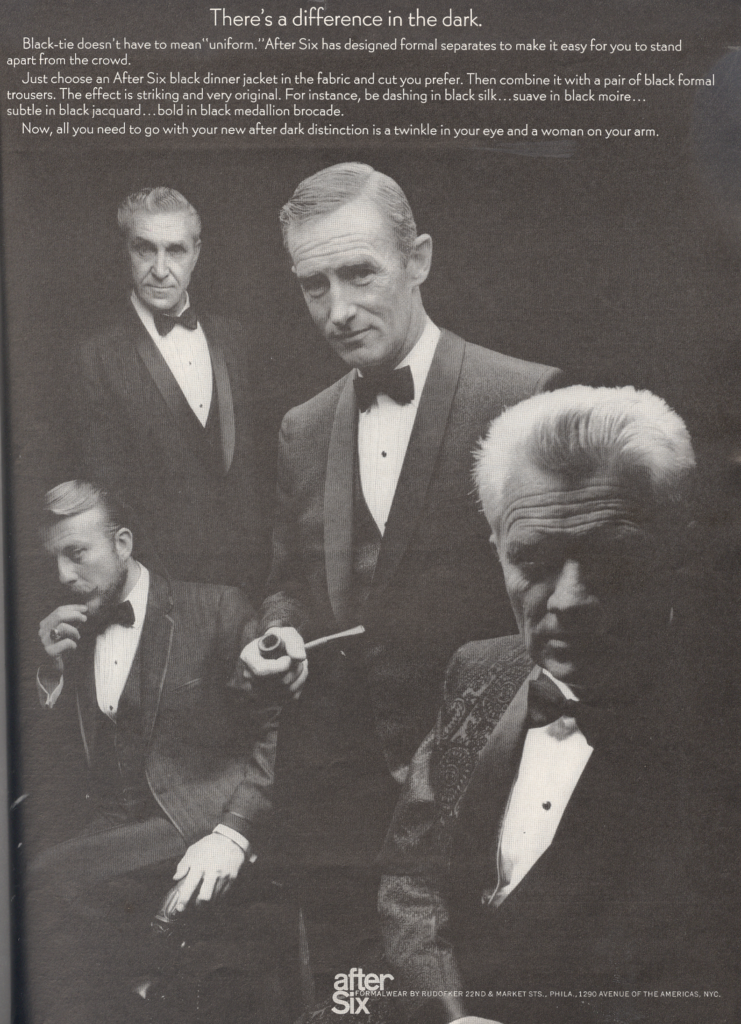 Roger Sterling: Is that you? (PLAYBOY October 1964)
Happy Holidays Everyone, 2022, However and Whatever You Celebrate, from Various Artists.
Other Christmas-Themed Entries:
Xmas #1: December 1986: My 3 Xmas Weekends From Hell Snuggle in for a heartwarming seasonal tale of being a store manager and having to endure armed robberies, flouncing Christian employees, slap-happy Santa helpers, and looting mall rats. Merry Christmas to one and all!
Xmas #2: Twisted Seasonal Sounds: A John Waters Christmas The Pope of Filth curates what is probably the most "unique" collection of seasonal tunes on the market, filled with redneck children singing Happy Birthday to Jesus, ornery'n'tourette-inflected C&W, Theremin-driven toe tappers, and other joyfully questionable sonic Christmas delights.
Xmas #3: Ludicrous Seasonal TV: Star Wars Holiday Special George Lucas once said of this special "If I had the time and a sledgehammer, I would track down every copy of that show and smash it." Read here and find out why.
Xmas #4: KA-CHING-A-LING: Xmas Advertising Highlights 1949-2011 A collection of seasonal ads from my magazine archives, taken from a variety of international publications spanning 60 years. Which items were singled out as worthy Christmas lucre from then until now, and how were these retail treasures flogged and positioned? And what do you need and need to know about seasonal entertaining: the booze, the turkey and fixins, the cards, the decorations, and so on, as well as how to capture it all for posterity.
Xmas #5: Christmas Advertising: LIFE Magazine, November 30, 1959 This entry zeros in on the Christmas-related ads featured in a single issue of LIFE from November 30, 1959. What was being proffered up as gifts and seasonal accoutrements during those final weeks of the 1950s, and how were they being depicted and sold? These specimens bark out the rigidity and restrictions of the day as the epoch of the 1960s was about to commence.
Xmas #6: I Believe In Father Christmas, or: Brown Shoes Don't Make It We all find out the truth about Santa Claus at some point.  Here is my story of crestfallen discovery and it involves … my dad's shoes.
Xmas #7:  VariousArtists' 12 Days of Christmas Viewing A dozen alternative xmas-y eyeball suggestions that you may wish to consider, even if a few of them take liberties with the concept of being Christmas-related (and two look forward to New Year's Eve).
Xmas #8:  VA-Tel presents 20 OUTTASIGHT XMAS SENSATIONS! Here's some fun'n'hip shakin' musical accompaniment for the annual Santafest.  This splendiferous list mostly avoids the obvious or overly solemn, and should get the gang groovin' at your seasonal shindig while helping to mask the sound of partygoers vomiting in the bathroom after too many Baileys … or drive everyone swiftly out the door, depending on the circles you run in.  (A playlist of this terrific 20 can be found over on my YouTube channel, VATV).  Featuring the Ramones, Jingle Cats, Judy Garland, Wild Man Fischer, Sharon Jones, RuPaul and many more.
Xmas #9: KA-CHING-A-LING II: Christmas Advertising Highlights 1936-2003 A second collection of seasonal ads from my magazine archives. Which items were singled out and coveted as worthy Christmas-worthy in the 20 Century.
Next On Stage –> This is the big one! THE ultimate! The single most anticipated show I ever attended, when I—along with my co-hort Miss Bennies—and 60,000 other fans, all of whom who were going Absolutely Freakin' Bananas, moseyed on down to a packed CNE Exhibition Stadium on the Sunday night of a swelting Labour Day weekend in 1983, for DAVID BOWIE, on his Serious Moonlight tour for his worldwide smash hit album, Let's Dance, with the great ROUGH TRADE opening the show and warming up the troops.
On the exact same weekend a year earlier, I had seen The Clash, and in the podcast for the show, Episode 18 and the blog entry as concert no. 12, I discuss how seeing them made for the most-anticipated gig I had attended up until that time.
Well, this David Bowie concert one year later—at the same venue but utilizing the full stadium—left that prior show's sense of anticipation in the dust as I finally got to see the performer who had long occupied the No. 1 spot on my "Must See" list.
Bowie and his seventies output made a seismic and enduring impact on my life, and in this next episode I will discuss this along with looking at the actual show, on that gorgeous Labour Day weekend in 1983, ending one of the most memorable summers of my young life with an unforgettable climax.
Also, the great Rough Trade, another act I love and who also made an impact on me in the 70s and 80s, was the opening act, and I will be talking about them as well.
Tune in next time for life-changing radio oddities, bamboo steamers among the Bowie masses, and the most exciting show of my life with …
© 2022 Various Artists