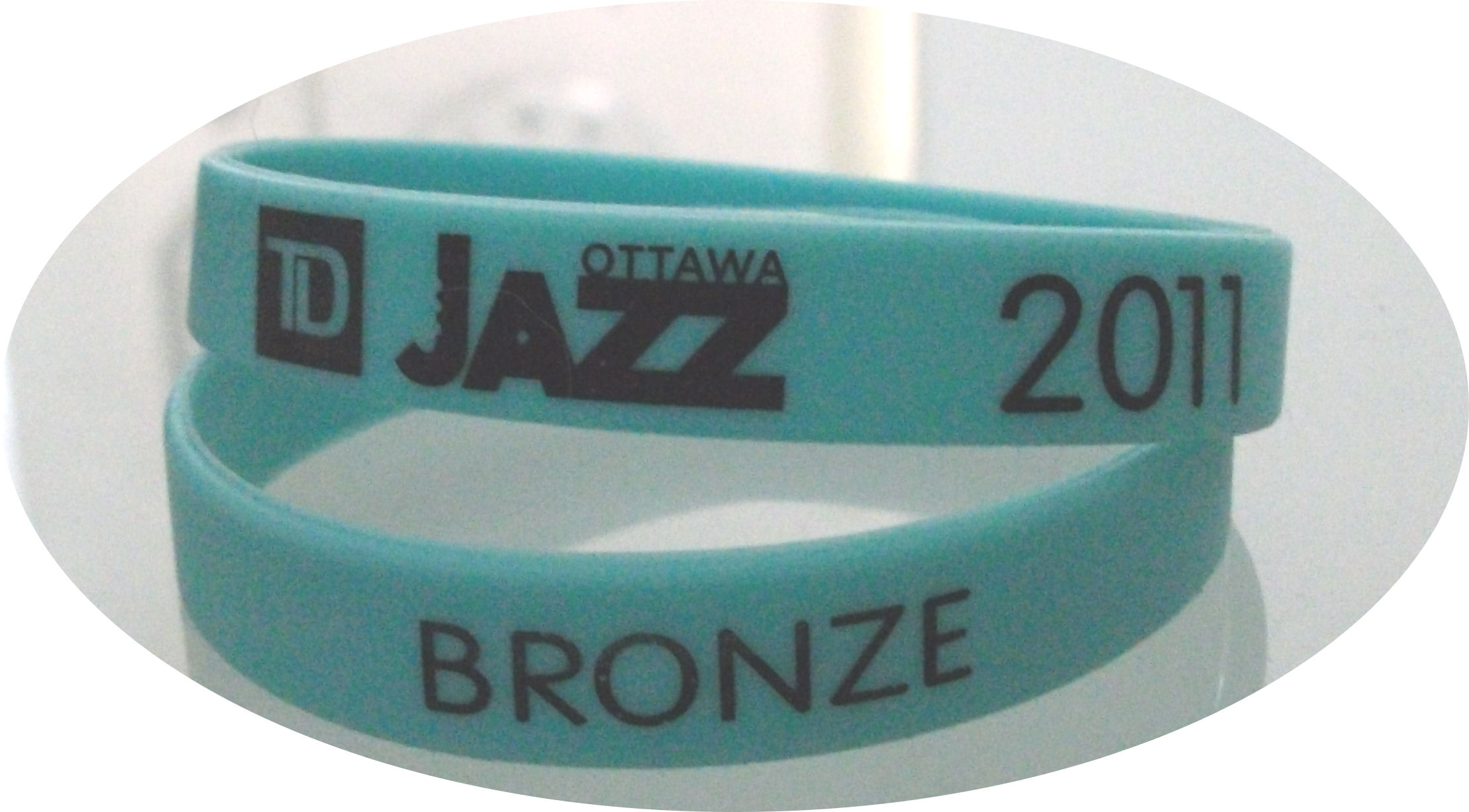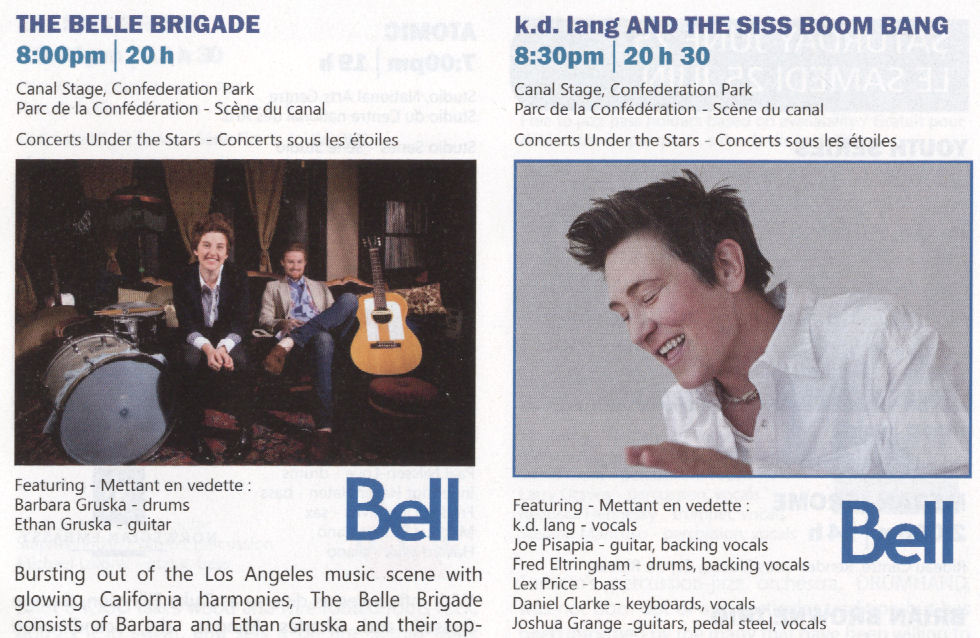 Several days of rain finally come to a full stop for k.d. lang and the Siss Boom Bang at the 2011 Ottawa Jazz Festival (Photo of the wristband passes by VA; the image is from the festival program booklet).
It's Day Three of the 2011 Ottawa Jazz Festival, with Day One's headlining set by Robert Plant ending in a downpour and Elvis Costello's miraculously dry outing on Day Two bracketed by relentless rain. Throughout the Saturday prior to k.d. lang and the Siss Boom Bang's arrival on stage, we anxiously monitored a revolving Lazy Susan of meteorological possibilities: sunshine, uneasy darkness, dry warmth, moments of rain, clearing, and cloudiness. Conditions were going to be a crap shoot.
Not that we were going to miss k.d. Not a chance.
k.d. will be coming up several times in this series as I have been following her career and seeing her live since the mid-'80s. While I have preferred some albums to others, she has never been anything less than staggering as a live performer. Each performance has been a Master Class in leveraging technical vocal gifts that are steered by aesthetics, mood, emotion, and nuance. The vocal gymnastics hit the workout mat only when needed, as opposed to the overwrought "Look at me! Look at my range! Look at my tits!" washcloth-wringing faux over-emoting ("singing by the yard" I call it) of the utterly artless Mariahs, Whitneys, Celines, and Boyles taking up carbon. Okay, fair enough: with Susan Boyle it's "Look at my Noel Gallagher eyebrows!"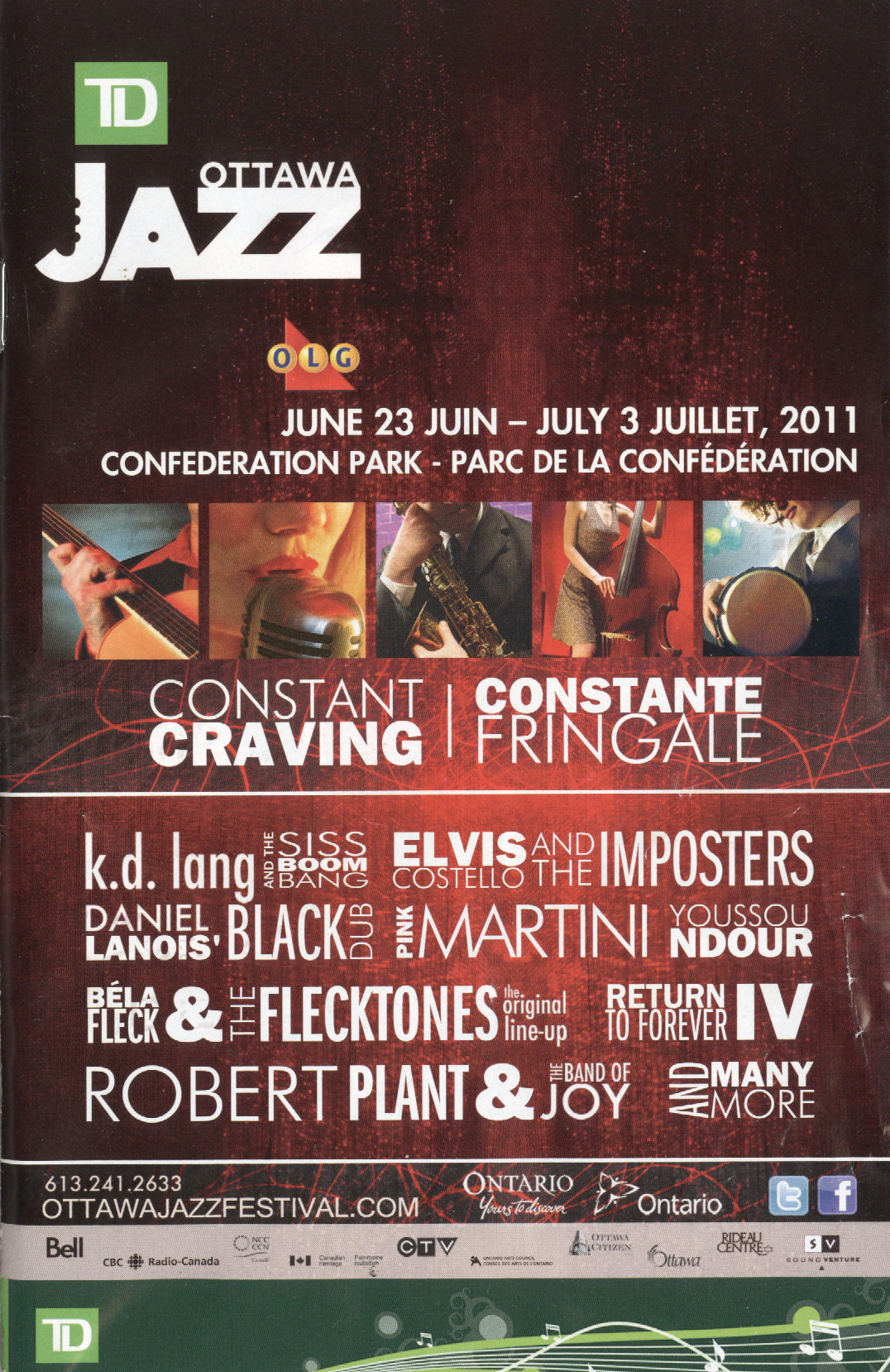 This year's Ottawa Jazz Festival was named after lang's 1992 signature hit, "Constant Craving."
Personally, I think that fetishising note-perfection can be vastly overrated. I've never much cared if singers can hit all their scales while screeching crocodile tears at the top of their treacly warble, with all those bloody awful "Idol" shows — the worst thing to happen to music in the entirety of the post-war era, hair metal and power ballads included — as the most guilty enablers. For me, a voice with character, personality, and expression, such as Blossom Dearie's schoolgirl trill or Tom Waits' whiskey-soaked burr, trumps vocal bean counting any day.
Few vocalists have that balanced combo of possessing quantifiably perfect singing skills, yet instead rely on phrasing, colour, and tasteful instinct to know what to put it but, just as importantly, what to leave out. In that respect, among the ladies past and present, take a bow Dusty Springfield, Dionne Warwick, Laura Nyro, Aretha Franklin, Peggy Lee, Jo Stafford, Nina Simone, Karen Carpenter, Joni Mitchell, Patsy Cline, Judy Garland, and the recently deceased Amy Winehouse. And k.d. lang. Especially k.d. lang. Tony Bennett, her sometimes singing partner, proclaimed her "the best voice of her generation." And Tony knows a thing or seven about great voices.
If I have one consistent experience that runs through all of the k.d. lang gigs I have attended through the years, it is transcendence. Shivers. Out of body experiences. The rest of the world ceasing to exist while she is on the stage. Tonight was no different, as she mesmerized a packed Confederation Park of 11,000.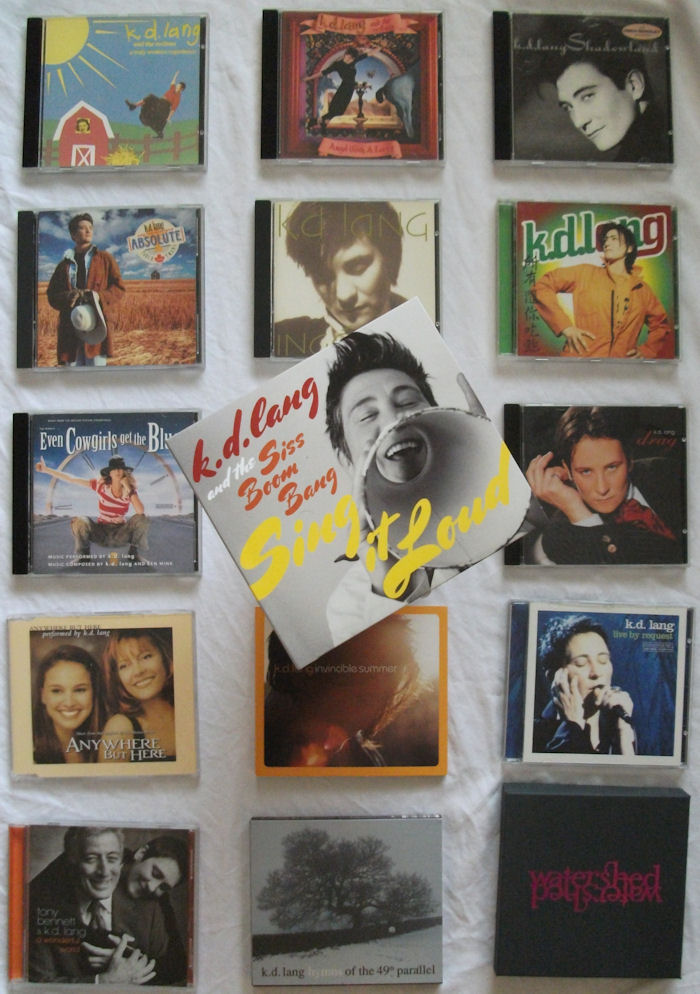 k.d. lang's evolving catalogue 1984-2011, with her brand new disc, Sing It Loud, front and centre.  Possibly her finest album yet. (Photo by VA)
But before we could all bask in the k.d.-ness of it all, we first had to navigate further potential rain threats and the Belle Brigade. Hand picked by Ms. Lang herself, opening act The Belle Brigade are a much buzzed about L.A. bro'n'sis act, sprung from a musical lineage with film score dude John Williams as grandpappy. k.d. heralded the vocal harmony'n' mellow pop tuneage of the trilling sibs later in the evening as her favourite new band. This is where Kathryn Dawn and I see things decidedly differently.
Comparing k.d. and the Belles is an interesting contrast in subtle vs. bland, art vs. craft. Irksomely earnest and indictably "professional," they struck me as mining Fleetwood Mac's most cloying impulses minus the personality and memorable tunes. In other words, this one has "Industry Approved" all over it and, with the right backing, they could be huge. If this was 25 years ago, they'd be instant superstars. They got a good response from the crowd but just gave me a bad flashback to late '80s yuppie elevator music.
[youtube http://www.youtube.com/watch?v=J0-HLG7Dxec&version=3]
The Belle Brigade: golden songsmiths or irksomely bland? Decide for yourself with "Losers."
Meanwhile, the Festival's Battle of the Crap Weather headed into another unforeseen skirmish post-Belle and pre-k.d., the skies turning momentarily grim and wet over a topography of aloft umbrellas and hastily applied plastic macs. But after a lone five pissy minutes, the leakage was over — for the rest of the weekend as it happened. Later on during her performance, k.d. addressed the preceding days of soppiness, tempting fate by remarking about the rain possibly staying at bay for the duration of the concert. "Hey, I think we're going to … no, I don't think I'll say it."
Once the little white cloud finally stopped its crying, we could all re-focus on enjoying the … er, marching band music playing in advance of her set??? Hmmm. Does this portend a John Philip Sousa-influenced project upcoming from k.d.?
Consort's finest emerged at the stroke of nine, sauntering onstage with her new backing band, the Siss Boom Bang, to the opening piano notes of "I Confess," her Roy Orbison-esque new single. The assembled throng went instantly batshit nuts at her presence. Decked out in black with a guitar strapped across her back, she not only recalled Orbison musically but in visual presence also. And — get this — she was decked out in footwear and all! Well, I never. Does this mean her Sandie Shaw days are now behind her?
While "I Confess" conjures up the Orbison sound, lyrics such as "Love me madly" and "I'll be your Daddy" also make me wonder if this L.A. woman has been spinning The Doors as of late (I also have to throw in the observation from my Open Salon pal, lschmoopie, that those opening notes are not unlike "The Fool on the Hill" — and I'd have to agree).
While k.d. has long been an international entity, and these days predominantly rooted in Southern California, I would have to say that she is probably beloved here in her native country in a singular, more intense way than anywhere else in the world. Australia could give certainly give us a run for our money but I still say we Canucks luvs her most of all. She's been famous and instantly recognizable here for well over a quarter century, coming into the national consciouness circa 1985, around the time she accepted her Most Promising Female Vocalist Juno in a wedding dress.  In short order she became, and remains, a true Canadian icon.
She's always talked about and involved Canada into her songs and stage patter, tonight changing "Kennedy flair" to "Pierre Trudeau flair" when performing "Summerfling," an appropriate substitution in the national capital (heaven knows, we could use oodles of that Trudeau flair here these days).
This tour is in support of her latest disc, Sing It Loud: one of the very best albums of her still-evolving recording career. As someone who owns basically everything she's released, I will admit that some discs are more consistent than others although each has something to recommend. Pour moi, she has truly hit it out of the album ballpark on four previous occasions, with Shadowland (1988), Ingénue (1992), All You Can Eat (1995) and Invincible Summer (2000) (I'm in a bit of a minority on that last two but I'm sticking to my guns that they are utterly brilliant). With Sing It Loud, she makes it home run #5 and possibly her finest ever. Time will tell.
While I genuinely enjoyed its predecessors, 2004's Canadian covers disc Hymns of the 49th Parallel and 2008's Watershed, each came off to me as a little too uniform in mood and tempo, needing a couple of divergent tracks to give each a dynamic arc. Meanwhile, some of her other outings have fallen victim to overly polite productions. With Sing It Loud, recorded in Nashville with her recently assembled backing crew the Siss Boom Bang and firmly aimed at being ready-made for the Canadian summer festival circuit (or so she says), she's made the kind of album I've been anticipating for some time. Okay, so it's not Teenage Jesus and the Jerks nor would I want it to be, but it has a warm-blooded, organic richness and appeal, not to mention stacked with killer tunes. And while stylistically consistent, there's a greater variance of tones and accents that I found missing on the previous albums.
Sing's songs were written with new collaborator and head Bang-er, Joe Pisapia, and that tentative feeling that has seeped into some of her discs seems vanquished on this one. Cublet and I saw her on the Watershed tour, sitting in the one of the first rows of the National Arts Centre, watching her give yet another jaw-dropping performance with a then-new band of young'uns. Without exception, every Watershed track came off as miles superior to its recorded counterpart: a somewhat frustrating experience as one could now hear what that album could have sounded like.
Clearly, so could k.d. She seems to have taken notes and learned from the experience of that last tour, putting together the Siss Boom Bang, better capturing in the studio her je ne sais quoi which hasn't always made the live-to-studio transition (in particular, I don't think any of her albums with The Reclines truly captured the magic they had onstage with her).
There's been a lot of talk of how Sing It Loud is a return to her old country sound. Well, those expecting the cowpunk k.d. of yore will be decidedly disappointed, with Sing slouching towards more of an alt-country vein, with some tracks sounding not unlike k.d. fronting Wilco in one of their rootsier, Sky Blue Sky-esque moments.
[youtube http://www.youtube.com/watch?v=ZnwGgoNGVes&version=3]
k.d. lang and Joe Pisapia performing Sing It Loud's "Inglewood" live, outdoors, in Australia earlier this year.
lang talked about meeting Pisapia "backstage at the Ryman in Cashville/Nash Vegas," clicking with him immediately. They wrote Sing's "The Perfect Word" on their first day together, that opening kernel eventually leading to the formation of this new group that k.d. co-credited, owing to their significant import on the material. Still, superb as Sing It Loud is, I felt that every live rendition bettered its studio counterpart.
Her interaction with the band made it appear as if all were having a fun time out, with lang playfully joking with and teasing various the SBB-folk. She got guitarist Joshua Grange to show off his bottle opener belt buckle. "It opens hearts, minds, and pants," she chuckled. While lang always appears at home on the stage, it seemed to me that she particularly enjoyed being a part of this cohesive ensemble, meshing with the band rather than simply fronting them, and playing guitar more frequently than usual.
At one point she adopted a serious tone, with many dramatic pauses, alerting the crowd that "I must warn you … there may be a pulling sensation towards the stage …especially among the females in the crowd … as I am about to don my chick magnet," at which point lang strapped on a banjo, with the band launching into one of the highlights of the night, a robust take on Sing's closer, "Sorrow Nevermore."
[youtube http://www.youtube.com/watch?v=J4rueWsXtfY&version=3]
k.d. and "chick magnet" in North Carolina, with "Sorrow Nevermore."
Later, she solemnly told the audience that "it would be remiss of me not to play and old time country song from one of the old time country bands: the Talking Heads" before delivering her shimmering interpretation of Fear of Music's "Heaven," another highlight of the new disc.
While the Sing It Loud material was a consistent highlight through the night (although, bizarrely and disappointingly, the winsome title track was the only song from the album not performed), k.d. & the SBB delivered terrific renditions of material from various points in her career. Shadowland's "Western Stars" shone bright and, yes, she can still hit that high note. "Constant Craving" received an inspired rocked-up treatment while an unfamiliar-at-first funky country treat turned out to be an irresistible cover of — wait for it — the Little River Band's "Reminiscing." It got a sort of a Dusty in Memphis-via-Nashville treatment. Geez, if she can transform that one …
The 49th Parallel disc introduced two songs that are now performance staples of her repertoire in the form of Neil Young's "Helpless" and Leonard Cohen's "Hallelujah." The former was introduced as "a trip farther north, thinking of our good friend Neil," while the latter has seemingly replaced "Crying" as the big standard that a chunk of her audience comes to hear.
[youtube http://www.youtube.com/watch?v=ZLqwmOgG5c8&version=3]
Speaking of covers … I came upon this while researching the piece and had to throw it in. Here is k.d. and the SBB in the UK earlier this year, performing for the BBC, delivering a gorgeous version of a big personal fave of mine, King Crimson's "Matte Kudasai."
I'm an Orbison fan too but never really rated their 1987 duet on "Crying" as a high point in either of their careers and have never really gotten why it was a big deal. Each has done far, far better but I guess I can appreciate how "Crying" introduced her to many outside of Canada. Her take on "Hallelujah," however, is a different story, with L'il Lenny Cohen himself coronating her as Queen Interpreter, with her performance of the song at the 2010 Olympics globally re-kickstarting her career to those who hadn't been paying attention.
Based on conversations I heard around me before the show, it's clearly a song many were most eager to hear. Without surprise, "Hallelujah" received a rapturous response from a mesmerized crowd, minus the guy who amusingly blurted out a repeatedly flat, toneless response to k.d.'s call.
Still, it seems to me that, as with "Crying" before it, "Hallelujah" is now getting disproportionate visibility vis-à-vis the rest of her output.
Consider the following interchange:
k.d. lang, from the stage at the end of the show: I am going to do one more song.
Guy in the audience, yelling from a few yards behind me: Do "Crying"!
Me, yelling: DON'T do "Crying"!
Woman next to me, chuckling: I guess you don't like "Crying."
Me: No, I like it alright but it's not a major favourite and think it's been overdone.
Woman: Well, I got to hear the song I came out for.
Me: Me too. What was the song?
Woman: "Hallelujah."
Really, I should have seen that coming. Meanwhile, the tune I had most been waiting for finally showed up during the first encore: "Sugar Buzz." It's Sing's highlight and one of the finest tracks she has ever cut: an alt-country confection with a strong dash of alt-rock and the kind of tune I wish she'd do more of. Judging by the intense version delivered and the extended standing ovation it received, it too will hopefully become a live staple in the years to come.  
The song's title itself encapsulates a k.d. lang performance: a sweet yet non-saccharine stimulating rush, both organic and orgasmic: a sublime, tasty pleasure. It's one addiction I don't want to kick.
[youtube=http://www.youtube.com/watch?v=rhR_YolcV-I&w=485&h=295]
Sing's highlight, "Sugar Buzz," live at the Troubadour in L.A., April 11, 2011.
She reappeared for a second set of encore numbers, first with another Sing selection I had been waiting for in the reflective "Inglewood," about journeying somewhere to start over to get it right but ultimately having to face what's still inside, before capping the night off with some "old time k.d. lang," reaching all the way back to 1987's Angel With A Lariat's fun, goofy "Pay Dirt." lang and the musicians circled around a single mike, pounding out the tune while the entire audience kept time clapping throughout. Maybe those wanting the old cowpunk k.d. back weren't totally disappointed after all.
This concert merely reconfirmed what I already knew: after 36 years of gig-going, k.d. lang remains one of my very favourite artists on the planet to see live, easily in my Top 10. You haven't really heard her until you have seen her live, with that undeniable x factor charisma so strong, and that has never truly, completely been captured in the studio. I'm getting chills simply recalling this evening.
She and the band are still out there for the rest of summer. If she's playing close by, DO NOT MISS.
I still have a bounty of shows to write about from this summer, but, as of this point in mid-August, I am crowning this show my Concert of the Year … so far.
'Til the next time, k.d. ….
Next On Stage –> PLEASE NOTE: I have a deeper backlog of posts over on my Open Salon blog.  I am now simultaneously cross-posting here on WordPress in tandem with my OS blog, beginning with this series on the 2011 Ottawa Jazz Festival.  Meanwhile, I am continuing the process of republishing my previous OS pieces here as well, alternating between the past and the present.  Up next is …
Next On Stage –>163. Splendor In the Grass: Pink Martini with Mike Essoudry's Mash Potato Mashers Parade, Confederation Park, Ottawa Jazz Festival, Ottawa, Ontario, Canada, Sunday June 26, 2011.
… and I will soon be going back in time with …
014. Gimme Danger: Iggy Pop with Nash the Slash, Wonderland Gardens, London, Ontario, Canada, Wednesday, October 27, 1982 
© 2011 VariousArtists
Comments From Original OpenSalon.com Posting