A night of magic—with some asterisks and apprehensions—as I go to see my first live gig since the start of the covid pandemic in March of 2020.  It was also my first live show since 2019.
Ticket Price = $40.48
THE FULL RECAP OF THE SHOW FOLLOWS BELOW
When I re-launched the mylifeinconcert.com blog in early 2020, it was as a podcast-focused initiative.  I wanted to start the podcast series by highlighting one gig from each of my five concertgoing decades.  I figured that by the time I got to what would have been Episode 7 and the start of decade number six, the 2020s, I would have a show to write about.
I was indeed slated to see ex-Can frontman Damo Suzuki at (the now closed) Call the Office on April 8 and then Sloan nine days later on their Navy Blues anniversary tour at the London Music Hall.
In the meantime, I got the series underway with podcasts on my first show—and selected gig—of the '70s: Roxy Music at the London Arena, February 8, 1975 (EP 002).  I followed that up with a Ramones/Demics gig here in 1980 (EP 003); Lollapalooza '92 with Ministry, Soundgarden, Pearl Jam, Red Hot Chili Peppers, and more (EP 004); David Bowie in 2004 (EP 005); and Leonard Cohen in 2012 (EP 006).
Of course, by the time it came to record that 7th episode highlighting my first show(s) of the 2020s, the world had completely shut down from the Covid virus and all live music was gone.
2020 ended up being the first year since 1976 when I did not see at least one live music performance.
And that left my introductory series incomplete.
Well with vaccinations and lifted restrictions came the possibility once again for tours and live music. And with this Caribou gig in November—my first live show since 2019—I am now finally able to complete my initial goal.
Welcome, dear listeners, to my first show of the 2020s.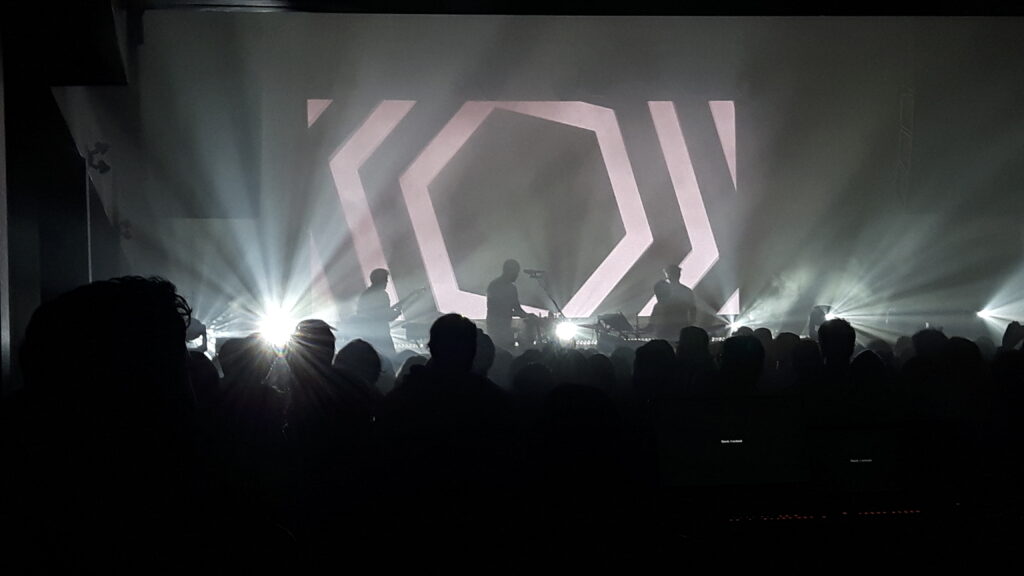 Caribou and band, London Music Hall, November 20, 2021. I had planned to put up some video from the show but the sound is too distorted. (All concert shots by Various Artists)
Below: MLIC>CARIBOU-DAPHNI: SUDDENLY HOME—VA's Fave Tracks 2005-21 A Playlist for this podcast/blog entry.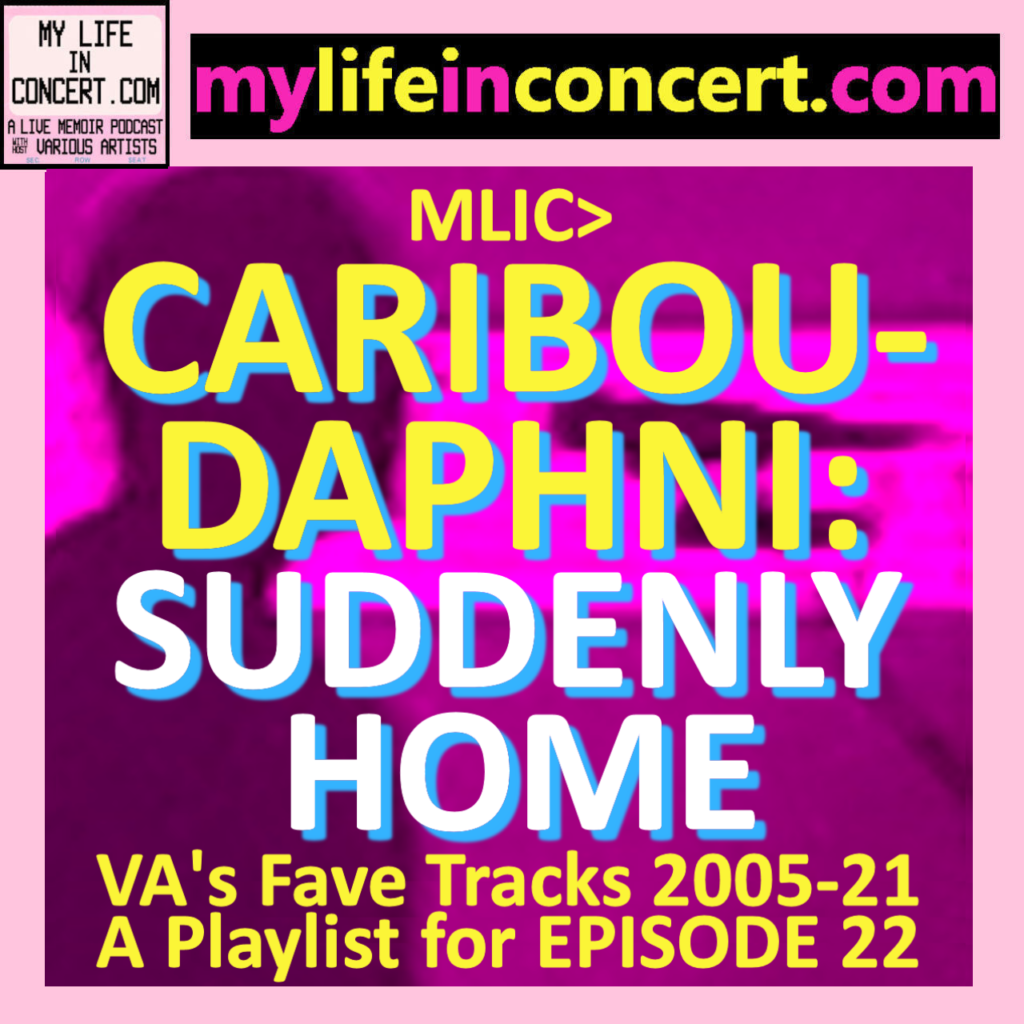 As for readers, welcome to my first full blog concert entry since 2015.  While I created new entries for the 1992 Lollapalooza festival and the 2004 Bowie gig to accompany the podcast, these entries are more visuals with commentary than a fully in-depth written piece about the shows.
I also want to write this as a memento chronicling some of my own experiences from this time of the historic covid global pandemic.
As for the podcast, featuring my co-gig-goer-nephew Colin, tune in for last-minute decisions, sprightly social intercourse with the over-served and thoroughly-mushroomed, and suddenly … the return of live music.
Next on Stage –>Join me next time for another out-of-sequence show with one of two anniversary podcasts I'll be doing in 2022.
While I originally launched the written blog on OpenSalon.com on June 3, 2010, and celebrate every year on that date with my own mock-up of a favourite album cover—it was the Rolling Stones' Sticky Fingers for 2021— I didn't get around to marking the podcasts' first anniversary on Feb. 7, 2021.
So, to make up for that, I am going to do two anniversary episodes this year: one coinciding with the podcast launch, and one in June in tandem with the blog's 12th anniversary.
What I will be doing with these anniversary episodes is that I will be selecting gigs from throughout my concertgoing years that are personally significant for me or that I really want to highlight or talk about.
And my first anniversary podcast jumps into 1988 and a gig wherein I had some extraordinary revelations that I have never forgotten.
Join me next time for Episode 23, concert no. 51, and an unforgettable show by Keith Richards and the X-Pensive Winos at the then-recently—and beautifully—refurbished Fox Theatre in Detroit, on December 8, 1988.
Unexpectedly, and through a bizarre merging of synchronicity and happenstance, I find my self directly in front of Keith, about 10-or-so feet away, for his entire encore.  And it results in an epiphany.
I'll also be writing a full blog entry on the show as a companion piece to the podcast.
Tune in next time for avoiding a strip search at the border, being in agony and the healing power of music, and some realizations about rock stars.
The delayed Beat & REM show from 1983 will be episode 24.
51. (EP 23) Connection: Keith Richards and the X-Pensive Winos, Fox Theatre, Detroit, Michigan, USA, December 8, 1988
FULL SHOW RECAP
Suddenly is the title of Caribou's latest album from 2020.  The title proved more prophetic than its author could have ever imagined.  And it's a word that can be used to preface describing so many things about this return-to-live-gigs for me. And so much about the last two years in general.
Caribou is the best-known moniker for Dan Snaith, born in Dundas, Ontario, Canada, just a couple of hours from here in London (he also lived in London for a number of years when his father was a mathematics professor at Western University).  As a daytime mathematician and nighttime drummer and electro-guru, he first started performing as Manitoba until threatened with a curmudgeonly lawsuit from The Dictators' Handsome Dick Manitoba.
I first heard Caribou in the mid-noughties when my nephew Colin—who appears in this podcast episode—included some The Milk of Human Kindness tracks onto a CD compilation he made for me (whereas I had introduced him to a lot of music in the past, he was now introducing me to new artists I had missed.)
But it was when he burned me a copy of Caribou's next album, 2007's Andorra, that I truly became a fan.  The album's Brian-Wilson-fronting-The-Who circa-1966-7-with-ascending-electronics sound hooked me, not to mention that the album itself is filled with hooks.
I loved it so much I went out and bought my own copy and have picked up all the Caribou discs since.
His next was even better.  Swim went largely full-on electronic and rhythmic, and was a success both artistically and commercially.  It established him around the world.
I played both of those albums copiously around that time and plenty since. (When I kicked off the re-launch of this blog and podcast at the start of 2020 with a Top 10 Favourites albums and singles for each year of this century, Andorra was my no. 6 LP for 2007 and Swim my no. 4 pick for 2010.)
Above: "Melody Day" from Andorra (2007). Below: "Odessa" from Swim (2010).
Snaith then launched another alter ego in 2012 in the form of Daphni, a more straight-up dance proposition.
In 2014, Caribou returned with Our Love.  The sound this time around was more like a mash-up of his Caribou and Daphni styles, and with less distinctive tunes than its predecessors.
After that, things went quiet on the Caribou front.  As the latter half of the '10s lurched on, I figured that perhaps Caribou had peaked and had its day.
And then, suddenly … came the welcome announcement of a new album as the new decade kicked off.
Suddenly, released in February 2020, was his first album in six years and received another rapturous global reception, both critically and commercially.  For me it's his best, surpassing even Swim.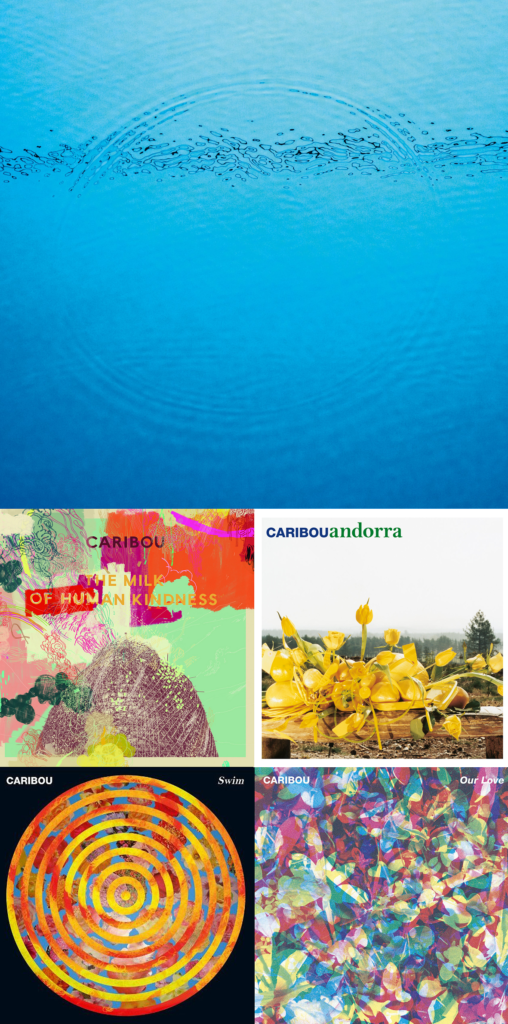 Caribou Catalogue: Suddenly (2020); The Milk of Human Kindness (2005); Andorra (2007); Swim (2010); Our Love (2014)
He and his live backing band of over a dozen years launched the Suddenly world tour in high spirits until suddenly …. the world and all tours were shut down by the covid pandemic.
As I in particular had some bronchial-related past health issues, I was a primo candidate for being killed by the bug, something reiterated by a close friend who works in a covid ward, where I was/am given daily depressing updates on the horrorshow reality, destruction, and death the virus wreaks.  Therefore, Cublet and I began hyper-isolating.
I did not go inside a public building for 15 months.  Never thought I'd type a sentence like that in my lifetime.
In what was a depressing and isolated time, many turned to music as a cheer-up.  I certainly did, and Suddenly was an album I played repeatedly through the year (I chose it as my no. 3 pick of 2020 along with the two Sault albums plus "Home" as one of my two favourite singles.)
"Home" from Suddenly (2020)
This was a more varied, an alternately stranger and more immediate disc than Our Love, with more meditative and song-based numbers than before.  A superb and unified listen from start to finish, it's excellence and invention always lifted my spirits.
Skip ahead a year, and with second-dose vaccinations finally happening, there was a period from mid-to-later 2021 when live music events tentatively started happening in significant ways.
Suddenly, long-delayed tours were now on again, including this one.
When Cublet and I heard the mid-summer announcement about Caribou coming to London's Music Hall in the late fall, I immediately knew I wanted to go, but … would the show even happen?  Where would the pandemic be in mid-November, with things turning colder here and people moving inside?  Would we end up biting on the tickets or feeling unsafe about going?
As live gigs and live music are part of the oxygen I exist on, having that cut off as an option is deeply depressing for me.
We decided to take a gamble, get the tickets, and then play it by ear to see what was what when the time came.
This past late summer/early fall was an incredible time of things opening up: being able to socialize again, do your shopping, go out to eat, etc.  Things were particularly good around these parts because so many were adult and reasonable. Case numbers were low.
However, as autumn rolled along, numbers started an ascent and Cublet and I started scaling back.
By the time of this gig, on a cold November 20th night, I really wasn't sure if I felt comfortable going.
My nephew Colin had a ticket to the event and we had already decided to all go together, but on the day when the show rolled around, Cublet decided he just didn't feel comfortable and pulled out of going.
Colin—who has been referenced in this blog before with the handle Fast and Bulbous—came by our place not too far from the venue in advance of the show as planned.  I remained undecided until the last minute when I made the decision to give it a go.  The LMH seemed serious about checking vaccine IDs and we reckoned that we could take the pulse of things once we got there and could leave at any time.
How crap to have to navigate all this stuff just to go out and enjoy some live music but that's just how it had to be.

I admit that I felt very apprehensive as I arrived, but the vax check at the front door went as I had hoped.
The woman doing the check started by apologizing for having to bug us for all this info and personal confirmation, undoubtedly as she'd had to deal with a few childish, entitled assholes.  I told her it was no problem at all and in fact going through the process properly made me feel a whole lot better about being there.
Once checked in, we entered the performance space to find the front 2/3 of the venue packed back to the soundboard, with the upstairs area completely blocked off (the venue was purportedly set at 75% of their usual 1,600 audience capacity).
A number of the up-front audience were masked but many weren't.  Behind the soundboard was a much sparser and generally older crowd, all masked and distancing.  That's where we staked out our place and stayed.
Normally, I want to be right up front for a live show, but not this time.  I felt comfortable back there and we had a great vantage point of the stage not to mention being in the best place sound-wise.
Colin had recently attended some smaller, private shows but this was his first large-scale show at a proper venue by a touring act with this many people since the pandemic's start.
Going to this gig meant not only returning to live music, but also returning to the wonderful London Music Hall.  I have a lot of issues with things in this city, but the Music Hall isn't one of them.  This terrific, large-but-scalable performance venue, with other smaller performance spaces in the complex, is one of the best things to have happened to London in the last 20 years.
My final pre-Covid show was here: a truly fucking great set from The Psychedelic Furs with James opening in July 2019 (coming up waaaaay down the line as concert no. 204).  So it was kind of poetic to pick up at the venue where I left off, especially one as good as the LMH.
It's also fantastic that Caribou has turned to be return flight back to the land of live music.  He played at Zaphod's in Ottawa during the Swim tour in 2010 or '11, and because it was a work night during a snow-filled winter and no one else wanted to go, I decided to skip that gig and vowed to see him next time.  Surely he would eventually show up on an Ottawa Bluesfest line-up.
'Er, he never did.  Or ever returned to Ottawa during my time living there.
I had kicked myself for over a decade for having missed that show, so Caribou has been an act that has been near the top of my "Must See" list for years.  So, this aspect made the gig poetic for me also.
When I told Colin I had decided to go, I also mentioned that I wanted to spend as little time as possible in there, so we tried to guestimate a time when Caribou may come in.
And suddenly, there he and the band were.
Our years of gig-going informed our guestimate well, as Snaith and the musicians walked out on to the stage to the strains of Suddenly's "Sunny's Tune" within minutes of our arrival at about 9:20-ish.
Launching into "New Jade" to a wildly enthusiastic audience, it kicked off an exemplary set.  All four musicians were dressed in white, and the evening featuring a pulsing, hypnotic, colourful, geometric light show that was projected over the band and across the back of the stage and fused perfectly with the music.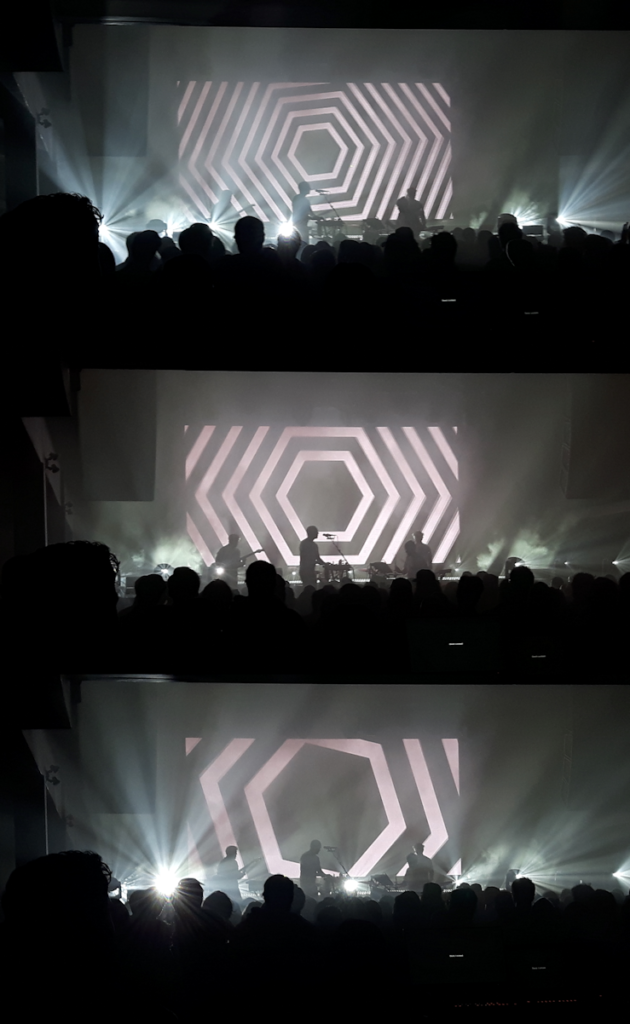 The band themselves were superb from start to finish.  All of them had their more standard instruments but were each augmented by their own electronics banks.
Brad Weber is the band's full-time drummer, and some of the best and most intense moments of the night happened when both Weber and Snaith sat down at drums kits, kicking out hypnotic polyrhythms.
While Caribou's last few albums have been decidedly electronic and sample-heavy affairs, his live take many of these tracks and turn them into extended, mesmerizing jams, particularly with a 10+ minute "Sun" from Swim which was the highlight of the night for both of us.
Given how different and engaging many of the live versions are, I think Caribou should release a live album.
The set's material pulled mostly from Suddenly and Swim which I won't complain about although I wish he had done something from Andorra. I'm admittedly not keen on Caribou's 2021 single, "You Can Do It," but certainly enjoyed it much more during the live show than on the studio recording.
Then there was Snaith himself.  He's got a warm, beaming enthusiasm, with a wee nip of the Ritchie Cunningham about him.  After a year where there was seemingly a global competition to be The World's Biggest Asshole, his natural positivity and friendly ambiance was very welcome and appreciated.
After a set that seemed to fly by, the band left and then returned for an encore of Our Love's "Can't Do Without You" for the rapacious crowd.  Snaith thanked the audience profusely for coming.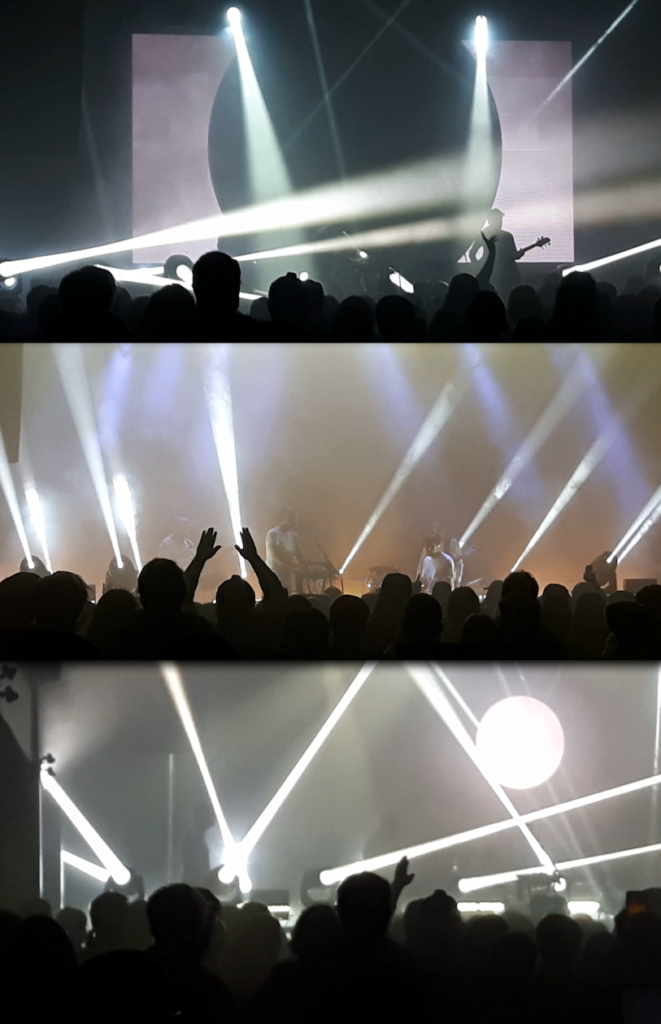 The moment things ended, we exited quickly out of the nearby west door and on to Richmond Street.
There was a really feeling of elation for me upon leaving the show that I could feel was shared by those around me.
Certainly, it's one concert I'll remember forever as there is a personal and historical significance to it.  While I was unsure going in, I ended up having a brilliant time.   And while a strange feeling lingered over the evening, it still felt great to be around fellow tuneheads again, with a sense of deep joy and gratitude among both the audience and band.  I truly got the sense the Snaith and co. were having the time of their lives up on that stage.
I chose this as my favourite live show of 2021.  And, of course, it was my Only live show of 2021.  But truth be told, this would be a top-rated show in any year.
Within two weeks after this gig, the Omicron variant rapidly exploded, meaning that this live experience happened at one of the last possible moments before another shut down.  Even more reason to be grateful for having been there.
Because suddenly, we're locked down again.
Here's hoping for more live music, health, and a peaceful world in 2022.
And thank you Caribou, for such an amazing night and memory.
Next on Stage –-> My first anniversary podcast jumps into 1988 and revisits a gig wherein I had some extraordinary revelations that I have never forgotten.
Unexpectedly, and through a bizarre merging of synchronicity and happenstance, I find my self directly in front of Keith Richards, about 10-or-so feet away, for his entire encore.  And it results in an epiphany.
I'll also be writing a full blog entry on the show as a companion piece to the podcast.
Tune in next time for avoiding a strip search at the border, being in agony and the healing power of music, and some realizations about rock stars.
51. (EP 23) Connection: Keith Richards and the X-Pensive Winos, Fox Theatre, Detroit, Michigan, USA, December 8, 1988
© 2022 Various Artists