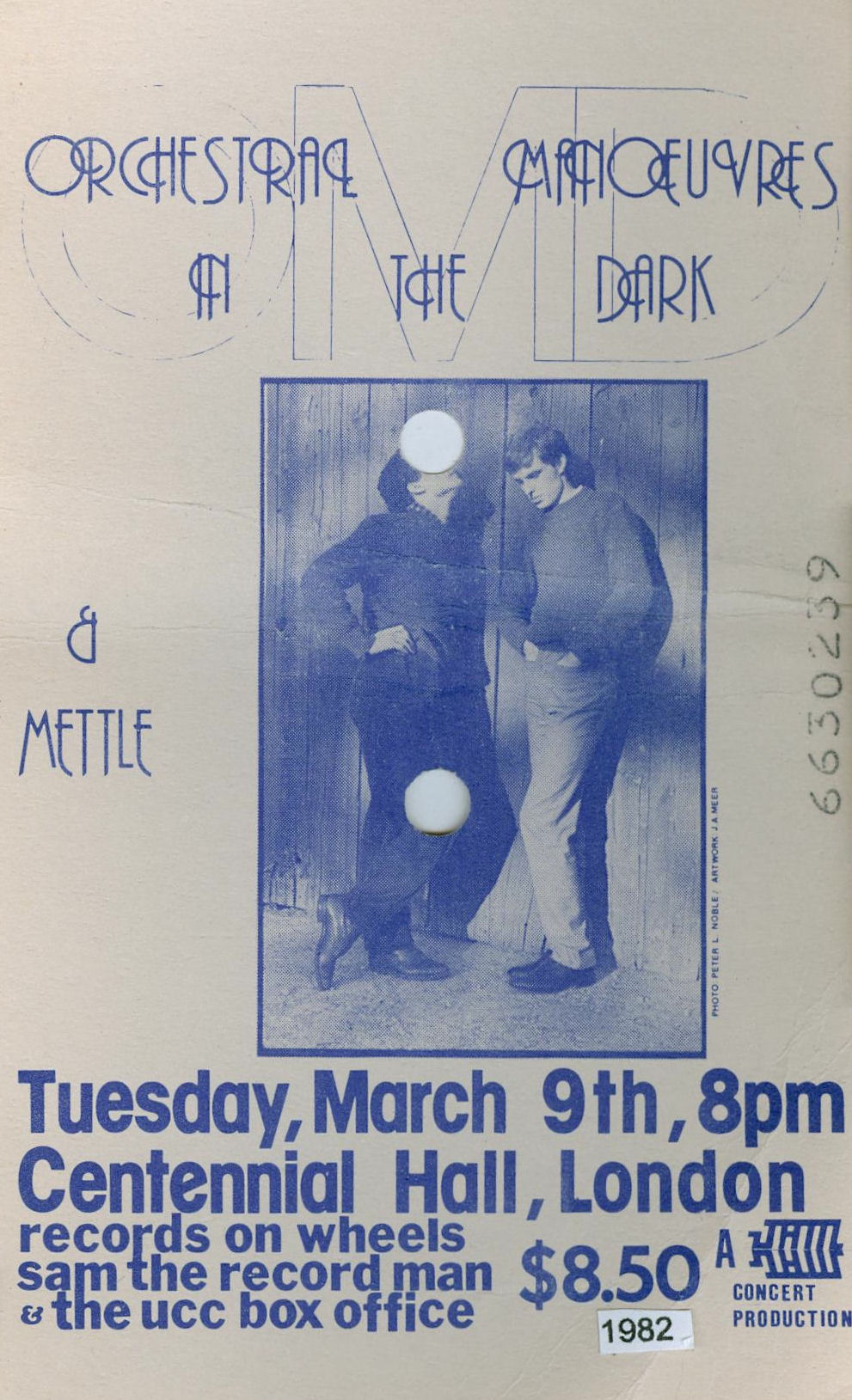 It's appropriate that an electronic act be represented by the binary entry number 010. This oversized ticket is also one of the few that I have that features a picture of the artist.
010. Electricity: Orchestral Manoeuvres in the Dark with Mettle, Centennial Hall, London, Ontario, Tuesday March 9, 1982, $8.50.
It was one of those nights: I thought it would be good but got more than that while two others made a discovery. I have a lot of fond memories of this evening.
Say "Early '80s" to me and electropop is one of the first things that comes to mind. Then as now, I like various forms of pop, dance, and electronic music and so, along with being an anglophile, I took to much of the early synthpop and what came to be classified under the umbrella of "New Pop" at that time. It truly was new in its time, and one of the big musical food groups of that era for me. Although maligned in some corners, I still love a lot of it, particularly as a singles medium.
I initially heard about OMD as part of the late '70s Liverpool scene. For the first time since the early 1960s, Merseyside was again a vibrant music centre, this time in the post-punk era. The trio of significant acts to emerge were Echo & the Bunnymen, The Teardrop Explodes, and OMD. I loved all three. However, whereas the two former bands took their cues from the '60s—the Bunnymen via Doors-y psychedelia and The Teardrop Explodes via Julian Cope's Scott Walker fixation—OMD were interested in modernity and electronics. Strongly influenced by Kraftwerk and Eno, the duo of Andy McCluskey and Paul Humphreys released their debut 45, "Electricity," on Factory Records (home of Joy Division) in 1979.
The video for "Electricity" from Orchestral Manoeuvres in the Dark's self-titled debut, 1980.
They signed to Virgin/DinDisc shortly thereafter, releasing their self-titled debut in 1980. I hadn't realized it until now but, Gary Numan's Replicas aside, that OMD LP was the first electropop album that I got into. It became one of my listening staples during the fall of that year, sharing company with a number of titles that immediately conjure up the era for me: Joy Division's Closer, David Bowie's Scary Monsters (and Super Creeps), the Talking Heads' Remain In Light, More Specials, Jah Wobble's Betrayal, Kate Bush's Never For Ever, Peter Gabriel's classic third album, and the first Psychedelic Furs LP. (Also of great significance during this time is my discovery of the local university station, CHRW. It would have immeasurable impact on my listening tastes—and more—in the years to com. Finally a radio station that played what I listened to and enjoyed. An absolute utter revelation.)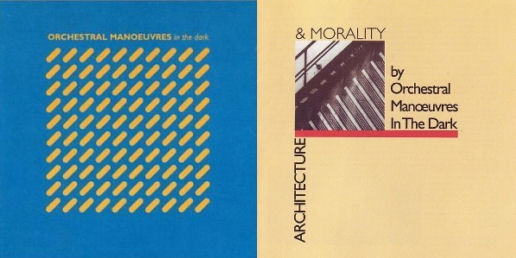 Orchestral Manouevres in the Dark, 1980, and Architecture and Morality, 1981.
Around this time, my tastes started re-incorporating groove and dance music as well as electronics, and that first OMD album—quite poppy but with a post-punk feel—I now see as making sense as my entré.
I always think of 1981 as the year when those early '80s electropop/dance styles exploded, with my favourite albums (Grace Jones' Nightclubbing and The Human League's Dare) and singles (The Tom Tom Club's "Genius of Love," The Human League's "Love Action"/"Hard Times" 12", Grace Jones' "Pull Up To the Bumper," and Soft Cell's "Tainted Love") from that year being in this vein.
During that fall of '81, OMD released their breakout, third disc, Architecture and Morality. It became a three-million selling hit via the UK, Europe, and Canada, with a trio of hit singles ("Souvenir," "Joan of Arc," and "Maid of Orleans"). At the time of this March 1982 show, A&M was just starting to work its way up the Canadian charts, with the bigger visibility coming at little bit later on in the spring and summer. Ergo, there were only about 800 people in attendance for this Centennial Hall gig (the same place where I had previously seen a very different show in the Ramones), but those who were there were big fans and very enthusiastic. There was a great vibe.
Electric, acoustic, electronic: I love them all and feel that each can be done well or badly, each offering a unique patina and possibility. In terms of the Electonics Used Badly Camp, my votes go to stuff like '70s prog; '80s yuppie Fern bar rock; '90s and onwards commercial radio pop, etc. Part of the appeal for me in those early synthpop records and bands was the simple, DIY aspect that, while sounding totally different from punk, gleaned its spirit and simplicity. As for how well it works outside the natural settings of the studio or a danceclub, electronic bands theoretically shouldn't work live but that hasn't been my experience in practice. Recent great sets by Ladytron and M83 come to mind. As for this gig, OMD themselves weren't staid or static as a live unit either. They were a lot of fun, particularly bass player Andy McCluskey out in front amid much frentic jumping about.
"Enola Gay" from Organisation (1980), here taken from the live, multi-artist compilation film Urgh! A Music War. I had a number of all night video parties in the early '80s when VCRs were a new and big deal, and had a videotape of The T.A.M.I. Show followed by Urgh!. My friends and I watched that tape countless times at those shindigs alongside some of our other regular favourites such as John Waters' Female Trouble, Liquid Sky, and a tape of Pee Wee Herman's early night club act.
Fun, however, initially had to wait for a while. We arrived on a bitterly cold March night, dressed for fashion rather than the weather as we were wont to do in those days, figuring that we'd simply be dashing from the car straight into the hall. Instead, we were greeted by Centennial's shuttered front doors. As it happened, there was some sort of problem with OMD's equipment going en route from Kitchener, one hour away, to London. Everything was now massively delayed. We were told that, yes, the concert was going to go ahead but that roadies were only now setting up and that we would be let in shortly, following a sound check. "Shortly" turned out to be almost two bloody hours in freezing temperatures.
Too bad we didn't know that things were going to take that long. We kept thinking "just five more minutes, and …" On the plus side, we were one of the first ones there, so we ended up somewhat insulated owing to the crowd surrounding us, with everyone trying to press up against the building for warmth.
I should also explain that "we" here refers to myself, Lady Bump, and someone new who had come into our orbit shortly after The Police Picnic who I will refer to as Le Château. We had met Château and his friend, who I'll call B-Face, when Bump and I were out with my cousin one night. Oddly, both Château and B-Face had gone to our high school although our two camps didn't mingle at that time. We vaguely knew of each other but didn't actually start hanging out until after we'd all completed secondary school, meeting in September 1981.
Le Château was very into fashion and B-Face was … well, I always thought he was pretty bland. Corporate wannabe. All of us spent the next few months hanging out a lot in tandem with a group of my cousin's friends until I finally decided that this really wasn't my scene and started to pull away, with Bump and Château eventually backing off with me also.
Neither LB nor LC was overly familiar with OMD. She had a passing familiarity with the band via moi. As for Château, while OMD would soon be a perfect music fit for him, at the time he looked the new-waver part more than he actually was in reality, musically speaking anyway. Suffice it to say, both were less than impressed at having to wait for nearly two hours in the cold for an act they didn't know all that well and I had to talk them into sticking around. Finally, somewhere around 9:30, they let everyone in. Ah, to feel one's extremities again.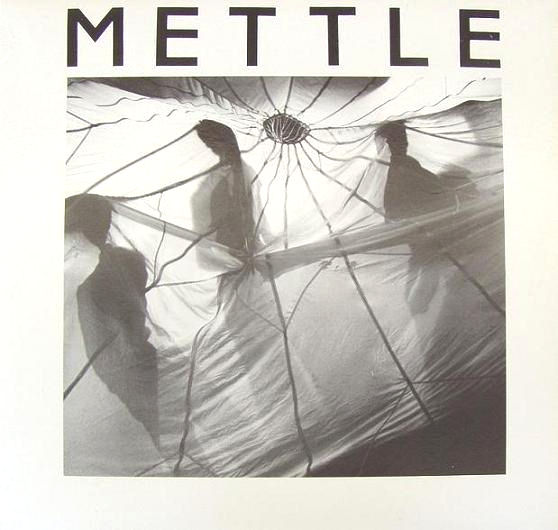 Mettle's self-title EP, 1982.
Local band Mettle, one of the first in the electro/dance vein in the city and featuring Rob Brent formerly of the Demics, did a great job of opening the show. Their 6-track EP, released around this time, got heavy play on CHRW in and around that era and they were London's perfect opening choice.
[youtube=http://www.youtube.com/watch?v=lJw_caEu3Sc&feature=player_embedded]
An early iteration of London, Ontario band Mettle performing at Fryfogle's in 1981. At the time, Roze White was the lead singer before going on to front Ukaze for several years.
Owing to the delay, OMD came on pretty soon after Mettle had completed their set. They started with a long, slow "Sealand" from A&M, performed under dark moody lighting. At its conclusion, the stage was flooded with bright lights, signalling a gear shift that was sustained throughout the reast of the set. The energized show played off the adrenaline of a group who knew they were in the midst of a big career jump, with the small but dedicated crowd all dancing their asses off. The set pulled largely from A&M as well earlier tunes such as "Enola Gay," "Messages," and "Electricity."
Architecture and Morality played out as an increasingly popular album here in Canada as 1982 unfolded, hitting the Top 20 and leaving the three of us feeling extra pleased that we had gotten to see them early on in the first leg of the North American tour.
[youtube=http://www.youtube.com/watch?v=vmwMhjbThKg&feature=player_embedded]
The video for "Maid Of Orleans" from Architecture and Morality, 1981.
Lady Bump and Le Château became instant converts, rushing out to buy current and past OMD LPs and 12"s. I remained a fan over the next few years but never really liked anything as much as that very first album. Recently on my homefront, Cublet picked up that debut on CD and I was surprised at how much I enjoyed it, sounding better than I thought it would (Cublet is very much an '80s guy and so he particularly wishes he could have seen this show). Post-mid '80s, however, I lost interest in what they were doing, as their sound got slicker and I became more interested in the underground on this side of the pond.
Co-incidently, the four person OMD line-up that recorded and toured behind A&M has reformed and released a new CD, History of Modern, a Top 30 disc in their UK home and another new acquisition of Cublet's in our home. It's not bad, having both its old-school and new tangent moments.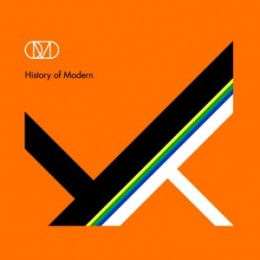 OMD's 2010 comeback disc, History of Modern.
For obvious reasons, the gig ended late. Bump and Le C had to be at work the next morning, and me, at college. But we were so pumped up after 90 minutes of dancing that we had to go somewhere to decompress. Alas, we all came to finish the night out with pizza and beer at Mother's. Who remembers Mother's Pizza?!
Next On Stage –> 011. What A Day That Was: The Police Picnic II with The Police, The Talking Heads, The (English) Beat, Joan Jett & the Blackhearts, A Flock of Seagulls, and The Spoons, CNE Stadium, Toronto, Ontario, Friday August 13, 1982.
© 2010 VariousArtists
Comments From Original OpenSalon.com Posting