Ottawa Bluesfest begins for me for yet another year!
149. Keep This Party Going: The B-52s, Renaissance, Ottawa Bluesfest, Lebreton Flats, Ottawa, Ontario, Canada, Thursday July 8, 2010, $40.
The B-52s and Renaissance. Now wouldn't that have made for a truly bizarre double bill.
As it happens, these two bands played on completely different stages at different parts of the Bluesfest site (with The Moody Blues sandwiched in between them, both physically and set-time-wise). It would have been fun, though, seeing one literally follow the other: I sometimes love perverse juxtapositions. And while these two make for an odd duo, nothing will ever quite beat the strangeness that was the film double feature that I saw at the Cinecity in London, Ontario circa 1973 of Hello, Dolly! and Beneath the Planet of the Apes. No, really.
This evening, the first night of the 2010 Bluesfest pour moi, was a study in contrasts, each done well.
In this corner on the Subway stage: Renaissance … note-noodling, hippy-folk-prog stalwarts from the early '70s, serious and cosmic, still sporting key members Michael Dunford and the multi-octave Annie Haslam.
In that corner, on the mbna main stage: The B-52s … fun, new-wavey dance pop from the late '70s, minimalist and campy, still sporting all four key originating members save for the late and much-missed Ricky Wilson.
Let's see what they share … they each have a somewhat new-agey outlook … I'm sure they could both spot a well-rolled joint if they saw one … both seem rather good natured on stage … hmmm … that might be it.
Let's start with the Renns. To say that I'm not much of a prog-rock guy is an understatement. In fact, I'd say I'm hostile towards a good chunk of it (props to the mighty King Crimson, however). But I've always had a soft spot for Renaissance. They do have many things on The Official Prog Checklist: 10 minute, multi-section suite-songs; tricky time changes; a five-string bass player; jazz and classical inflections; and song titles such as "Carpet of the Sun." But they also have a strong acoustic/folk element, something I do love.
That element is key because while I'm gosh darn keen on harsh noisy stuff sometimes, I also equally love acoustic-based music. Whenever I think of the divide between the US & UK hippy tunes of the late '60s/early '70s, what comes to mind for me regarding the former is something like The Grateful Dead at Golden Gate Park on the cusp of the Haight, playing to face-painted throngs in an urban setting, whereas I always think of the UK equivalent as being more along the lines of gothic rural locales and Olde Music influences, with the great Fairport Convention at their peak as the most emblematic. And while I love the Dead and many of the American groups of the era, I think I've always had more of a fondness for their pastoral British cousins.
That's even stranger considering that I'm about as urban-oriented a guy as you're going to get. But life's funny that way.
If it's a scenario where some raven-haired hippychick in a hunter green velvet peasant dress sits barefoot in a derelict Scottish castle accompanied by a Pre-Raphaelite urchin playing the lute while tripping on five hits of windowpane and hallucinating that glass, translucent gnomes are riding unicorns made of colour-shifting marmite, while longingly singing an ode to an ethereal maiden who was a melancholy consort to one of the knights of the round table, then I am so there.
Okay, so maybe that wasn't quite the case with Renaissance, but they are carrying on the embers of that kind of scene with appropriate muso seriousness and rustic jollity. Annie Haslam seemed full of good mirth in between numbers, mentioning something to the effect that she would try hard to please but that "I'm not taking my clothes off," said with a giggle.
The brutal weather conditions that preceded this set cannot be overemphasized. For the previous four days, this entire region of the continent had been undergoing a grueling heat wave with, most importantly, intense humidity. When we left the house to head down to Bluesfest, Cublet and I couldn't believe how bad it still was outside as we'd been holed up indoors. With a high humidex, temperatures felt as if it was 43C. It was difficult to breathe, and that's coming from someone who will pop on his iPod and go for a pleasure walk on a hot day.
This was Saharan. It was like walking through cheese. When a wind came up, all it meant was that brutally hot air was blowing in one's face. Both Cublet and I surmised that this could have been the hottest, stickiest humid weather we'd ever encountered.  Champion!
Just prior to Renaissance taking the stage, a welcome (relatively) cool wind began blowing. However, as Annie Haslam negotiated her tricky vocalese during the opener "Prologue," the wind turned to gusts followed by increasingly heavy rains. It was teaming down by the tune's conclusion and Haslam called the show to a halt, sensibly reasoning that someone was going to get electrocuted.
Normally, I don't like getting all soggy after being rained on, but the heat had been so intense that I didn't care — the cool rain just felt beautiful and refreshing.
As the Fest came to a halt, we spent a half hour doing all the things one should do during downtime like this: try to find a somewhat dry place to stand under, drink more beer, find good spots for herbal enhancements, etc.
The rain stopped, speakers were wrung dry, and before we knew it, the Renns were back onstage and all was well with the world. They performed several more lengthy numbers including a new one entitled "The Mystic and the Muse" (I couldn't make that title up if I tried) as well as their FM radio nugget from 1974's Turn of the Cards, "Mother Russia" (sadly, they didn't play my personal favourite, "A Trip to the Fair").
My favourite Renaissance track, "A Trip to the Fair" (1975)
A humorous moment came shortly before Annie was to announce "The Mystic …" As she approached the mike, what was beaming in from one stage over caught her attention. After realizing it was The Moody Blues, she stopped to listen, do a little dance, and proclaim "I love you Justin!" (as in Hayward). She then pointed towards their direction before cheekily continuing on with "… and now we're going to do a song that's better than that one."
I enjoyed Renaissance even if there were some Spinal Tap moments (note: opening music) and that, at times, things would sometimes careen dangerously close to Phantom of the Opera territory, music-wise. Haslam still has that incredible voice, the band's tricky harmonies were effortlessly delivered, and the current crop of musicians who make up Renaissance are nimble-fingered to say the least.
And from nimble fingers to nimble toes, off we trekked over to the main stage for The B-52s, one of the acts I was most wanting to see this year.
This was the second time I have seen them live, the first time being almost 30 years ago to the month (August 1980, as part of Heatwave).
While I enjoy Renaissance, I love The B-52s and am always irked that they don't seem to get their due as a great pop band. They do kitsch, camp, and playfulness just right. Of course, none of the po-mo references and alternately sweet or slyly subversive chuckles would mean anything without the tunes, and in that regard The B-52s have never disappointed. They've written a slew of catchy, fun, funny, and sometimes wistful odd pop confections. In 33 years, they have only released seven original full length albums and while I like some more than others, I don't think there's a full-on clunker in the bunch, with 2008's long-delayed Funplex as one of their very best.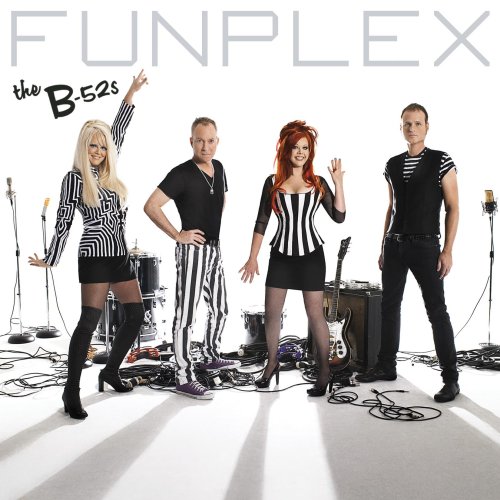 The B-52s Funplex (2008).
It's probably because they not only emphasize the "fun" aspect (a big no-no to some grumpydoodles) but do it with a particular, off-beat brand of humour that they get written off in some corners. Oh, the horror!
In song and performance, they've perfected their brand of goofy, dance-y pop that has always spoken to me and continues to do so. And, they're still here, remarkably outlasting many of their peers.
Both band and audience of 25,000 were in a joyful mood on what was initially a punishing evening to be leaving any air-conditioned confines. We managed to get near to stage right — maybe 20 feet away — and so we got to see the performance up close and personal, but it was still pretty sticky. Thanks to all of those around me on that night for bathing regularly and exercising the best personal hygiene possible given the circumstances!
Things got off to a great start with "Wig" from Bouncing Off the Satellites, both song and album being personal favourites. Moving on to "My Own Private Idaho" and "Mesopotamia" ("this song is very historically inaccurate" noted Fred Schneider), Athens grooviest played a terrific set with just the right mix of the expected biggies along with some great surprises, like "Cosmic Thing," "Party Out of Bounds," and "Give Me Back My Man" (yes, three tunes off of Wild Planet ).
Vocalists Schneider, Kate Pierson, and Cindy Wilson camped'n'vamped it up for the crowd and cameras at the front of the stage, with Keith Strickland on guitar on their left throughout, backed by a great three piece group. The core members are all in and around 60 but, wow, you'd never know it. They were effervescent from start to finish, energizer bunnies of Frug-ing good will, and terrific entertainers too.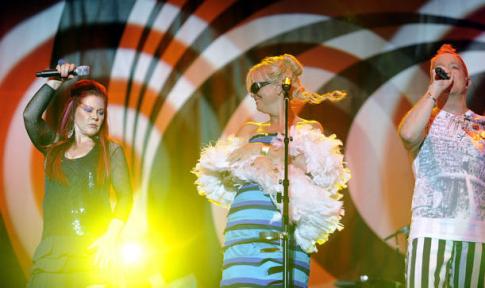 The B-52s's at Ottawa Bluesfest, July 8, 2010 (Ottawa Citizen)
They're also a lot more rockin' than I would have expected. While they have the sheen going on some of the poppier numbers, they sound closer to a garage band when playing the more straight ahead rock tunes. As Martha Stewart would say, it's a good thing.
Three decades on and Fred is still the compere with mostest while and Kate and Cindy's harmonies soared their way through "Dancing Now," "Deadbeat Club," "Funplex," "Roam," "Love In the Year 3000," and "Hot Corner."
They unsurprisingly finished the main set with "Love Shack" (admittedly not one of my big fave B tunes) to substantial in-crowd shimmying. But the best part of all was the killer two-song encore of "Planet Claire" and "Rock Lobster," with people going full-on nuts to "Lobster" and a mosh pit breaking out in front of the stage. It's nice to see that they can still rally the troops after all these years. Aw, bless.
Fred Schneider commented that "the best thing about these big festivals besides all the fried food and the porta-potties is that you get to meet nice new people — like us!"
Fred, I couldn't agree more. May you and the gang keep this party going, doing The Swim and The Mashed Potato for many years to come.
Below, The B-52's perform "Rock Lobster" at the conclusion of their July 8, 2010 show.
"Keep This Party Going," from Funplex.
Next On Stage–> The following night of Bluesfest saw a dream combo of iconic female rockers Courtney Love and Joan Jett, giving me an opportunity to ponder artist vs art …
150. Good Sister/Bad Sister: Hole, Joan Jett and the Blackhearts, Ottawa Bluesfest, Lebreton Flats, Ottawa, Ontario, Friday July 9, 2010.
NOTE: I simultaneously cross-post over on my Open Salon blog, where I also have a deeper backlog of entries. 
© 2011 VariousArtists