One for the ages.
… and a Bonus Featurette: Etymology of the Nickname "Lady Bump."
ORIGINAL BLOG ENTRY FROM 2011 FOLLOWS BELOW
It was one of the best and most exciting concerts I have ever seen.
After five years of obsessing over my favourite band in the world, I finally get to see The Clash as part of a huge, passionate, and excited audience at the CNE Grandstand.
Black Uhuru also delivered a stunning and memorable opening set.  It was also one of the best double bills of my lifetime.
To say that this visit to CNE Stadium was a far better experience than the
1982 Police Picnic just three weeks earlier
is an understatement.
Special Guests not only drops by once again with his memories of the band and the show, but also reveals his real name!
Stay tuned for a spirited performance, stage invasions, getting "The Message," and The Story of Lady Bump.
Note: Apologies for occasional distortion during the Skype interview portion of the podcast.
NEXT PODCAST: One month after The Clash—and from one Joe to another—I take in a second, very different five-star (and three-hour) show from Joe Jackson.
Once again, the effervescent triumvirate of Lady B, Le Chateau et moi take in another concert together: one that far surpassed all our expectations.  The music was ebullient, spirited and unforgettable, even if a certain someone was intermittently beset by curmudgeonness.
This concert also marks my return to Alumni Hall on the campus of Western University for the first time since seeing

Elvis Costello and the Attractions there in November 1978 (Episode 8, Concert no. 3). 

Luckily, the student rent-a-cops had officially chilled since then.
Stay tuned for on-stage elbows, the bitter toll of insincere clapping, and going into Another World.
ORIGINAL BLOG ENTRY FROM 2011
Ticket Price $11 = $28.50 in 2021 Canadian Dollars
It would be difficult to overstate just how obsessed I was with The Clash during their late '70s/early '80s lifespan. Along with The Jam, and then a bit later, Joy Division, they were my favourite band of the era. This 1982 concert was the one time I got to see them live and was easily the most anticipated show I had attended up until that point.
Out of all the key groups from that first wave of punk rock from Britain and NYC, I came to The Clash comparatively late. It wasn't until the latter part of the summer of 1978 that I finally got around to picking up their eponymously titled first album. I was certainly aware of them and, unlike in the US, The Clash had been available here in Canada in its original form since shortly after its Spring 1977 UK release. But, for whatever reason, it was one of the very last of the debuts from the class of '76/'77 that I bought.  Perhaps I was saving the best for last.
Have you ever had that feeling upon hearing something for the first time where it felt both completely new yet inexplicably familiar?  In a metaphysical rather than stylistic sense: an elemental sense of déjà vu? That was my reaction upon hearing this record. Its/their impact was immediate. I can clearly recall sitting on the floor in front of the family HiFi, headphones firmly in place, dazed for several moments following that last note of "Garageland." Even though I was coming from a very different place, geographically and culturally, the words and music on this LP tapped into something deep within me. It was articulating thoughts and feelings, viscerally and verbally, that I was just starting to grasp.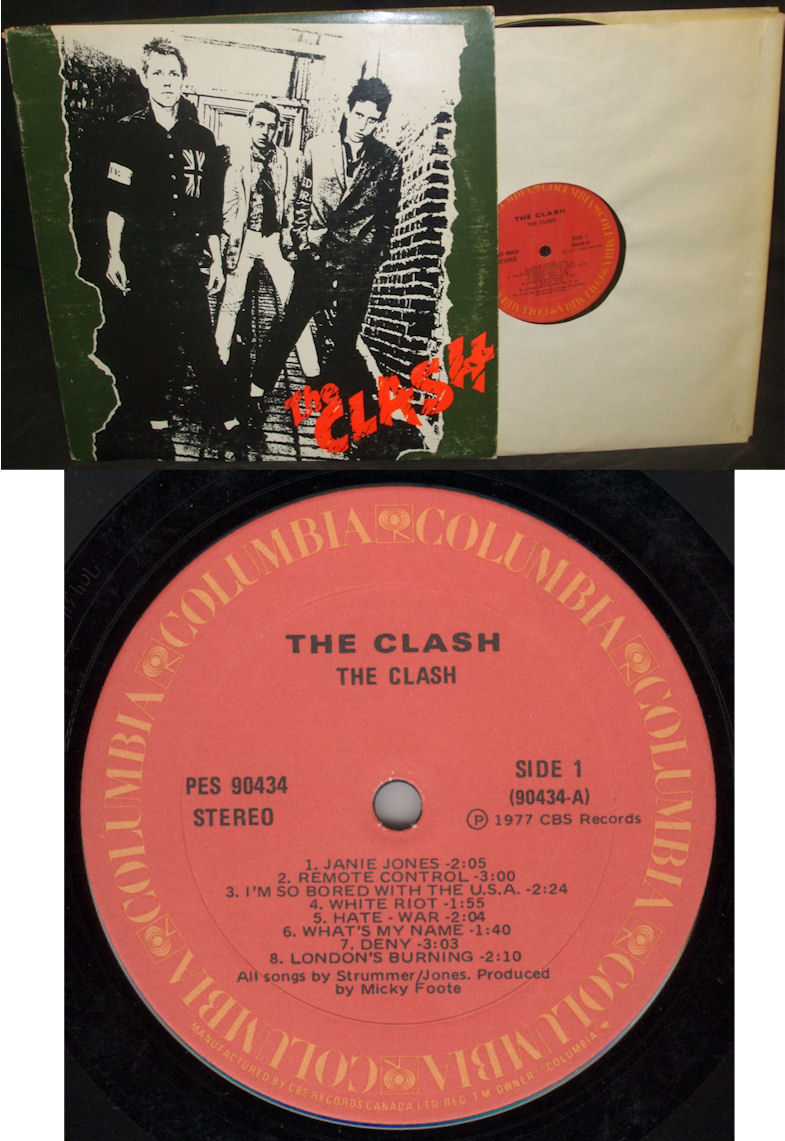 A Canadian pressing of The Clash's self-titled debut album, 1977 (Photos and scans by VA).
The Clash featured a rapid succession of 13 tight, focused original tunes broken by an extended re-imagining of Junior Murvin's 1976 reggae hit "Police & Thieves." Right from the get-go, they were colouring outside of the lines. I loved the mix of the aggressive musical urgency with smart, sharp lyrics, often seamlessly blending the political, personal, and topical, sometimes with menace, sometimes with humor, always with hooks.
I thought it was THE best rock album I had ever heard. While I may no longer feel it's the absolute best, I still rate it as one of the very finest to this day, selecting it as part of my shortlist my Top 15 Albums List.
By the time I finally heard The Clash, the band had since followed it with an exceptional sprint of three classic singles, refining and expanding what they had begun on their debut, and were about to issue their sophomore album, Give 'Em Enough Rope, in the fall of '78.
Of the singles, "Complete Control" from September '77 remains for me the band's finest three minutes and thirteen seconds, and one of the most glorious raspberries ever hurled by a band at their record company. "White Man In Hammersmith Palais" from the summer of '78, and their first original number to incorporate elements of reggae, is way up there for me as well. In between, the anthemic "Clash City Rockers" was their first re-working of The Who's "I Can't Explain" or The Kinks "The Hard Way" (the second was Rope's "Drugs on the Roof").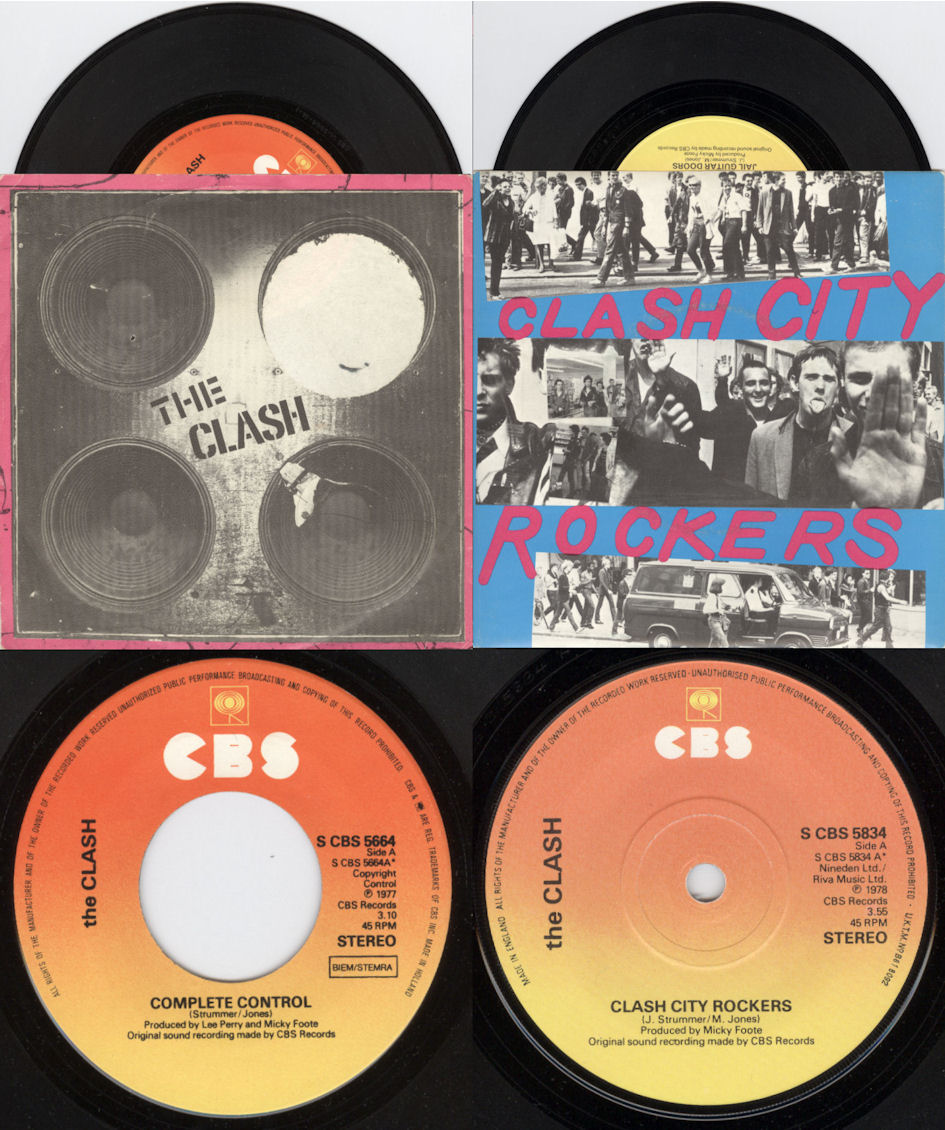 "Complete Control" from September 1977 and "Clash City Rockers" from February 1978. Videos below.
For the next few years they soundtracked the evolution of my young life as I picked up practically everything they put out, memorizing each groove with reverence.
By the time of this gig, they had released their second classic, the double LP London Calling, in December 1979; the controversial triple album, Sandinista!, a year later (my take on it: there's some filler, but I love it—much is often underrated and sometimes years ahead of its time); and 1982's Combat Rock, which they were touring behind when I saw them.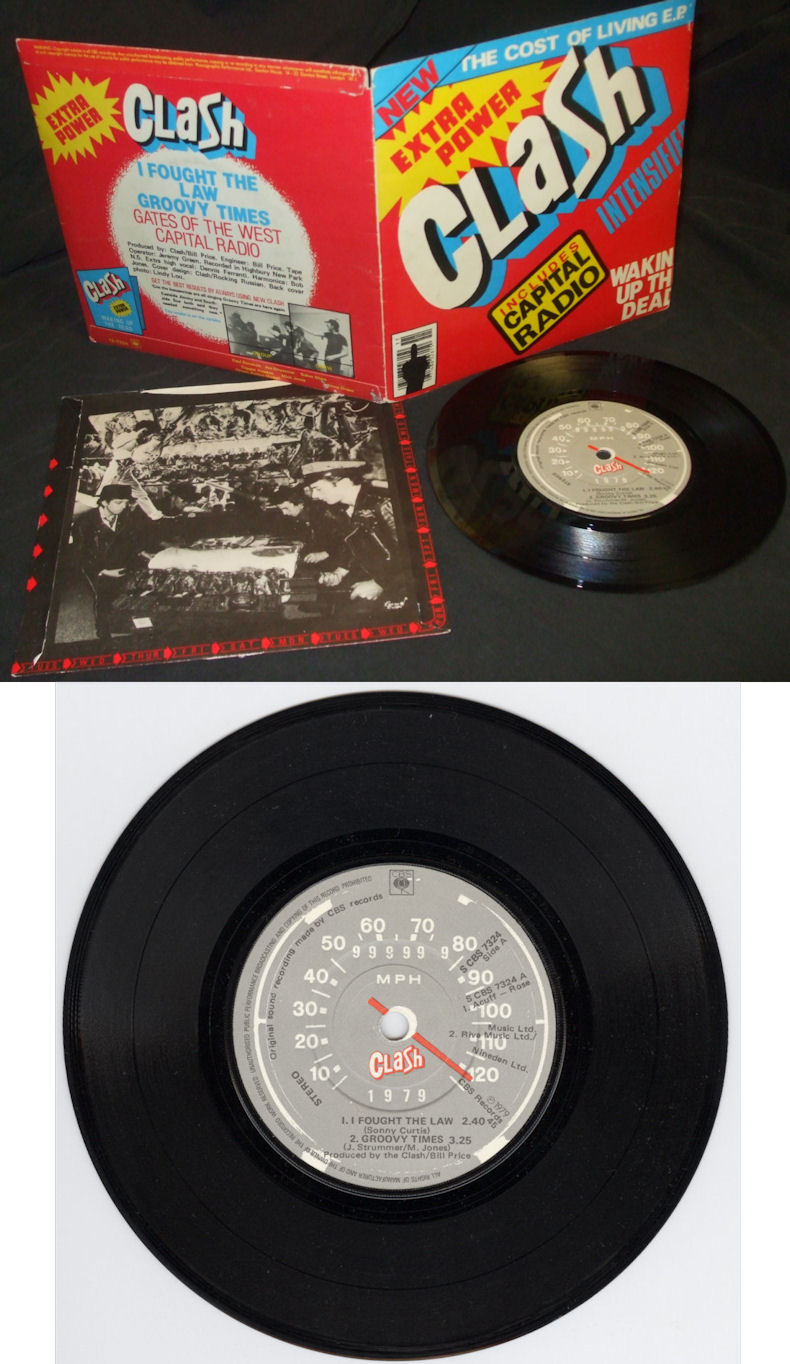 The Cost of Living E.P.from May 1979. It introduced a new, less strident sound for The Clash, particularly on "Groovy Times" and "Gates of the West."  This more expansive approach would reach its apex several months later with London Calling.  Listen to the EP below.
Combat Rock was initially meant to be another double, entitled Rat Patrol From Fort Bragg, but they made the probably wise decision to streamline it down to a single disc. While it was more accessible than its predecessor, featuring the big hits "Rock the Casbah" and "Should I Stay or Should I Go?," it still has some of Sandinista!'s wonderfully bizarre touches: songs about seeing Lauren Bacall in a traffic jam and Errol Flynn's lost-in-Vietnam son; Allen Ginsberg dropping by for some beat poetry and Buddhist mantras; the T. Rex-ish "Atom Tan"; and just what the fuck is "Death Is A Star"?
(Note to Sony, updated for 2021: Next year marks the 40th anniversary of Combat Rock's release. How about a deluxe edition of the originally intended Rat Patrol? Pretty please?)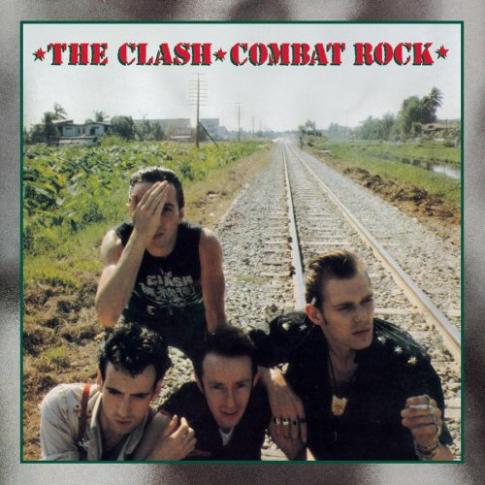 Combat Rock, The Clash, 1982
Combat Rock is one of the sounds that defined 1982 for me and I was bound and determined to see them this time around. When an extensive world tour was announced with a September date in Toronto, I talked both Lady Bump and Le Château into going. Both were fans of the group as well, particularly LB, but for me The Clash were a religion.
We were still getting versed on the rules of gig-going and unfortunately didn't buy tickets fast enough to get floor passes. Regardless, I was elated when I found myself clutching three tix in my hand for the show.
I was supposed to have seen The Clash in 1980 as they had been scheduled to headline the Heatwave festival just outside of Toronto — I could have swore I saw Mick Jones and Ellen Foley wandering through the crowd that day — but pulled out for reasons that have never been clear. In terms of where the group was in 1982, I was bummed to learn that drummer Topper Headon had been fired just prior to the tour, temporarily replaced by original skinsman Terry Chimes.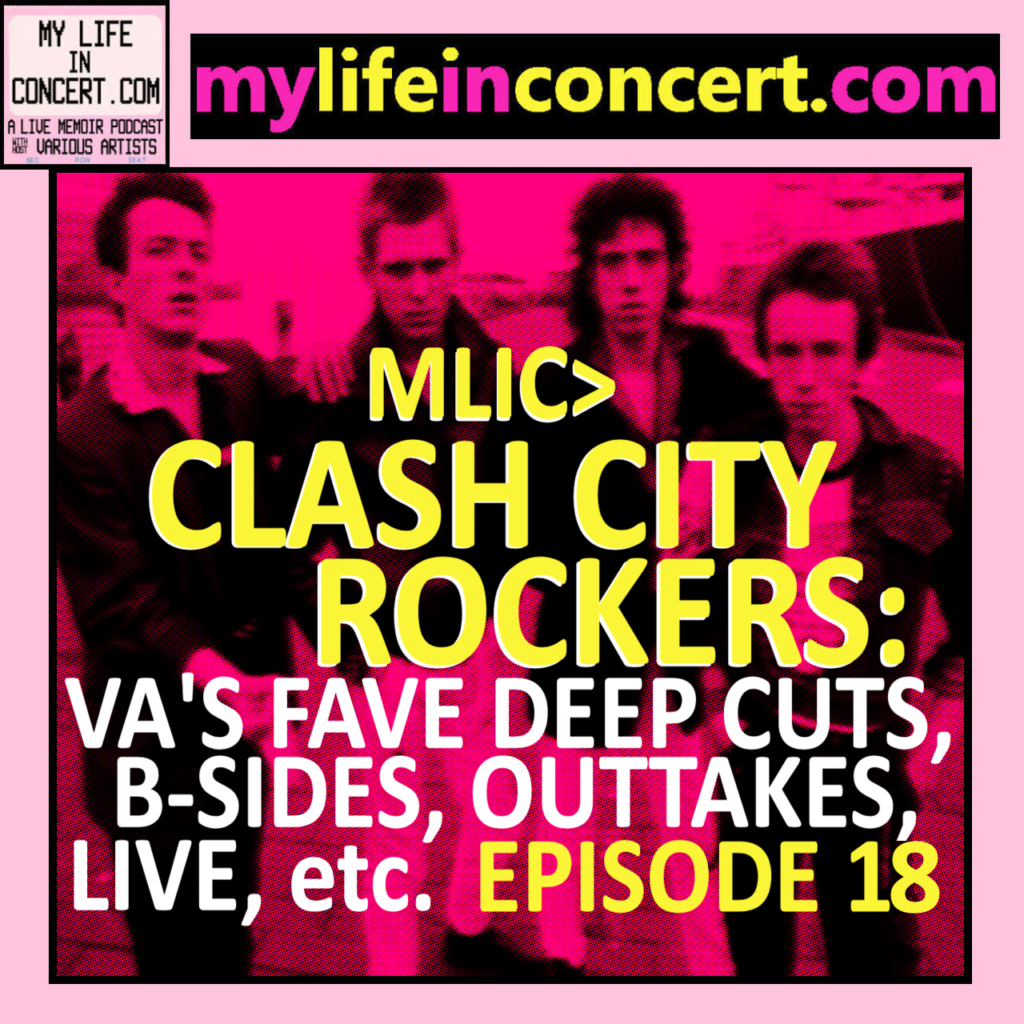 MLIC>CLASH CITY ROCKERS: VA'S FAVE DEEP CUTS, B-SIDES, OUTTAKES, LIVE, etc. is my Spotify playlist featuring my favourite Clash deep cuts, b-sides, outtakes, and live tracks.
We had been here at the CNE (Canadian National Exhibition) Stadium only three weeks earlier for the disaster that was the second annual Police Picnic, a day of lousy sound, bad vibes, worse drugs and assorted other problems, being worthy due to one of my other big obsessions of the era, the great Talking Heads. For this Clash concert, it was configured for the Grandstand, utilizing only a third of the full stadium. That was the norm except when hosting a huge act or festival. I found out from research that this gig was in fact the largest non-festival headlining show The Clash played in North America, with a capacity audience of 19,000.
While we had tickets for seats up in the rafters, the CNE was letting people stand in the aisles which is what we did, wandering down as close as we could get. We spent the evening approximately dead centre within the entire audience.
While I was ostensibly thrilled to finally be seeing The Clash live, it wasn't all about them. With Black Uhuru opening the show, this was one of the very best and most complimentary double bills I have ever seen. As Toronto has long been a stronghold for both British music and reggae, this double bill came with a strong buzz of expectation.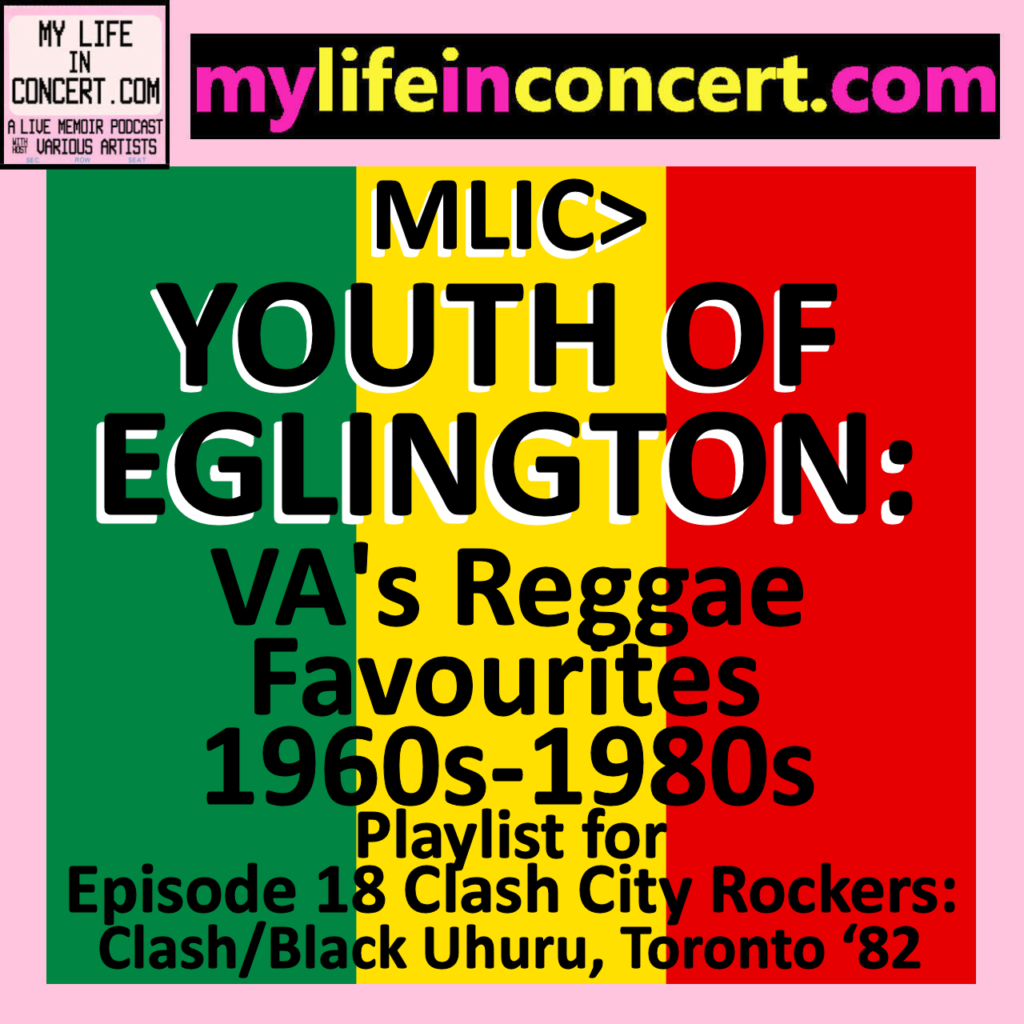 MLIC>YOUTH OF EGLINGTON: VA's Reggae Favourites 1960s-1980s is my Spotify playlist of my fave rave reggae and ska tracks from the '60s through the '80s. 
While there were the obvious sonic and lifestyle divergences between punk and reggae, they were sister genres in terms of attitude and many philosophies: the musical voice of rebellion and rule-breaking in each respective culture. The punk-reggae cross pollination officially began on record with that cover of "Police & Thieves" and Bob Marley releasing the "Punky Reggae Party" 45 later in 1977 (there had also been Patti Smith's "Redondo Beach," too). Certainly almost everyone I knew who was into punk was a reggae fan as well, although my interest in it pre-dated punk, first being peaked upon hearing Bob Marley's Natty Dread in 1975. I didn't quite know what it was but, as with The Clash three years later, I responded to it instantly and intuitively.
Out of all the first wave of punk groups, The Clash most closely aligned themselves with reggae, so having Black Uhuru open the show made perfect sense. From the perspective of impact, Black Uhuru were in many ways the equivalent within their community. They were on a roll at the time, having released the widely acclaimed Red in 1981, one of that year's best albums and their finest moment.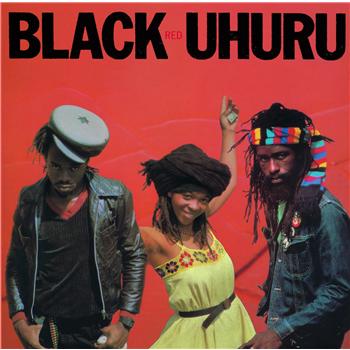 Red, Black Uhuru, 1981.  A landmark reggae album.
So while this gig was partly about the Clash City Rock-ers, it was also about Rockers as well, as in that particular type of reggae. Black Uhuru had benefitted considerably from the musical muscle and production smarts of rhythm section powerhouse Sly Dunbar (drums) and Robbie Shakespeare (bass), originators of the Rockers style and one of the best rhythm sections — ever. Regardless of genre. While I knew that Sly & Robbie played on and produced the BU albums, I didn't think they would be part of the touring band. I just about shit myself when they sauntered onstage alongside Michael Rose, Puma Jones, & Duckie Simpson.
And what a set it was. Black Uhuru received one of the most enthusiastic receptions for an opening act I've ever seen, and the band responded with a mesmerizing performance (name-checking a Toronto street in one of your best and best-known numbers, "Youth of Eglington," didn't hurt with this crowd either). With Sly & Robbie driving the musical engine, the three vocalists gave their all, running through much of their best material such as "Eglington," "Sinsemilla," and "Sponji Reggae." I have a memory of the late Puma Jones particularly having the time of her life up there, dancing non-stop and being somewhat of a band cheerleader. The crowd loudly demanded an encore for which Black Uhuru did return, greeted by another ovation.
"Youth of Eglington," name-checking Toronto's Eglington Avenue in its title, from their classic1981 album, Red.
With Black Uhuru's exit, the countdown to The Clash was on. Between sets, the PA pumped out a great mix of groove-based music — funk, rap, reggae, dance, r&b — that I figured was chosen by Strummer, Jones, & Simonon. Funnily enough, one of the most memorable musical moments that I have from this day does not stem from either performance but instead from the time in between, when this one particular rap song came on that had me immediately intrigued.
The tune was comprised of a long, episodic series of vignettes and scenarios detailing the struggles and pitfalls of modern ghetto life, and the more I listened, the more hooked I became. Le Château and Lady Bump and I were big fans of a lot of the early rap records but most of them were essentially fun, party music like "The Breaks" by Kurtis Blow or "Rapper's Delight" by The Sugarhill Gang; dance numbers like "Planet Rock" by Afrika Bambaataa & Soulsonic Force; or sonic montages like "The Adventures of Grandmaster Flash on the Wheels of Steel."
This was unlike anything I had heard before. Sure, the track picked up on the vein of social commentary that Curtis Mayfield, Sly Stone, Marvin Gaye, and Stevie Wonder had explored in the early '70s. It sort of reminded me of a rap equivalent of Wonder's "Livin' For the City." But it was modern, contemporary, done as a rap, and almost filmic in the delivery of its imagery. It was something completely new. At least it was for me.
All three of us were soon focused on listening to this number, following the song to its conclusion. An immediate "What was that?"
I assumed that it was called "Don't Push Me" owing to the repeating refrain of "Don't Push Me / Cause I'm close to the / Edge / I'm trying / Not to lose my head," and vowed I would try to find out who did it and track a copy down.
Hearing a new song like, making such a strong impact, proved to be exactly the type of distraction that I needed. The wait between acts probably wasn't long but it seemed interminable. …
And when the lights when down and it was clear they were finally coming on, the audience lost it.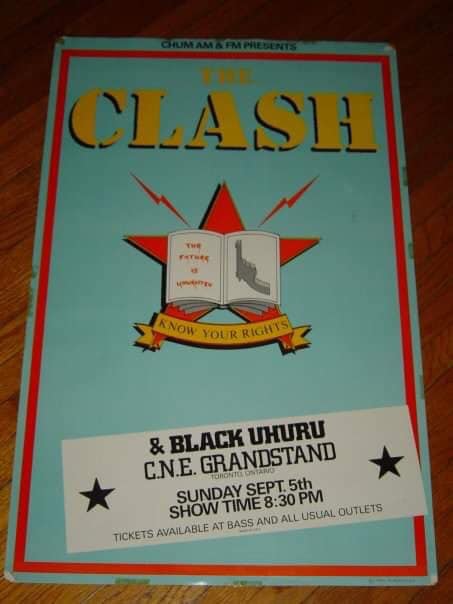 A photo from the Net of the poster for the show.
After years of my obsessive fandom, here they finally were, a camouflage backdrop behind them and a salty sea of love in front of them. You could feel a massed, quickening pulse as they pile-drove into the opening number, "London Calling," to everyone's delight.
If one could have harnessed the energy and excitement saturating that huge crowd, I dare say it could have powered the entire North American Eastern Seaboard for the duration of the concert.
A Clash show was never supposed to be about note-perfect renditions but instead about an engaged visceral experience: passion and spirit over technical perfection. Phoned in this performance was not. I got the genuine sense that they truly loved their audience and were out to give everyone a memorable evening. And they succeeded in spades.
The 24-song set list was not only surprisingly democratic in representing their five albums but also surprising in that so little from Combat Rock was played: "Should I Stay or Should I Go?," "Rock the Casbah," "Straight To Hell," and "Know Your Rights," which followed "London Calling" as the second song of the evening. The one year and period that was conspicuously absent was 1978, with none of the interim singles and only one track from Give 'Em Enough Rope ("English Civil War") included.
"Should I Stay or Should I Go?," live at Shea Stadium, 1982, shortly after I saw them live. Here they were opening for The Who. Click here to see a photo that I found on the net that someone took at the Toronto gig.
I was well chuffed when "Janie Jones," "Train In Vain," "The Call Up," and "Clampdown" were all rolled out, but the song from the main set that always stands out most for me is when Paul Simonon stepped up to the plate for "The Guns of Brixton," a particular favourite and an intense reading.  If memory serves correct, Strummer was on bass on that one, allowing Simonon to simply sing. In keeping with the reggae theme of the night, several other numbers in this vein were played, including "Bankrobber" along with their covers of "Armagideon Time" and "Police and Thieves," but not, alas, "White Man In Hammersmith Palais." If I have any complaints, it's that neither "Palais" nor "Complete Control" appeared that night.
Some less-expected numbers appeared too, such as Sandinista!'s "The Leader" and "Spanish Bombs" from London Calling, another long-time personal favourite. They got funky with "This Is Radio Clash" and "The Magnificent Seven," and added their fine covers of "I Fought The Law" and "Police On My Back."
From start to finish, the assembled throngs bounced along as a singular unit of congealed fervor. While the demonstrative audience cheered loudly at every turn from front to back, I did feel envious of those who were down on the floor. I think that the vibe of being part of that not-stop-boppin' mass would have really been something. However, since we had a good vantage point, not too far away, and this being one of the best shows I've ever seen, I can't complain too much.
A mohicaned Strummer asked that the lights be brought up at one point so that he could survey the vast crowd, enquiring if everyone was alright and enjoying themselves. Affirmative on that one, Joe.
It was a long way from The 100 Club in 1976, yet the band seemed anything but jaded and seemed to truly be recycling, and invigorated by, the adoration. One has to also appreciate the delicious irony of The Clash singing "Career Opportunities" to 19,000 people.
Following the main set, concluding with a powerful "Straight To Hell," they re-appeared for a richly deserved — and emphatically demanded — encore, returning to their first LP and unleashing the other two songs that I most remember from the evening: speeding, chaotic versions of "I'm So Bored With the U.S.A" and "White Riot." The frenzy that had been building all night boiled over during this conclusion with the stage finally being stormed in a joyous tumult. I'm getting goosebumps just recalling it.
  And here is The Clash's full set at the US Festival, May 1983. This was the band's final performance with Mick Jones, who was fired in September.
And that was it, literally and otherwise. The Clash stayed on the road while Combat Rock continued its ascent as a multi-platinum juggernaut. They headlined one of the three nights of the US Festival in California in 1983 — and then it all fell apart.
Mick Jones was fired shortly thereafter. Strummer said that it wasn't until about six months later that he realized he'd "dropped the ball." The Jones-less Clash returned in early 1986 with Cut the Crap, a dismal disaster and one of the most sadly ironic album titles ever. This faux-Clash toured but few were buying it. Cut the Crap has been appropriately forgotten and is usually edited out of history in Clash bios and compilations. Without Jones, it simply wasn't The Clash.
Jones formed Big Audio Dynamite with former London scenester Don Letts, and while B.A.D. certainly had their moments, it was clear that Jones needed a proper foil. More specifically, Strummer and Jones needed each other.
Sadly, they never properly reformed, with Strummer's sudden death on December 22, 2002, sealing it. I still remember that night. Cublet and I had just arrived at my parent's place for Xmas, and I went downstairs in the later evening to find my father watching CBC's The National. There was a clip of The Clash playing "London Calling" onscreen. My one minute of "Oh cool, The Clash" was quickly trounced when it dawned on me that someone in the band must have died. Peter Mansbridge shortly thereafter announced that Strummer had passed away of heart failure earlier that day. Shit shit shit. Merry Christmas indeed.
It was also kind of strange to hear the news for the first time in the same household where I had played The Clash endlessly so many years ago.
In the intervening years following the band's dissolution and Strummer's death, a steady stream of compilations, films, books, reissues and name-dropping and sampling by artists of successive generations have only swelled The Clash's legacy. They may be better known today than they were during their lifetime. Gone, but not forgotten and, indeed, enduring — something I am so pleased to see. I feel lucky to have been there — not just at this gig, but to have experienced punk's embryonic days as they happened.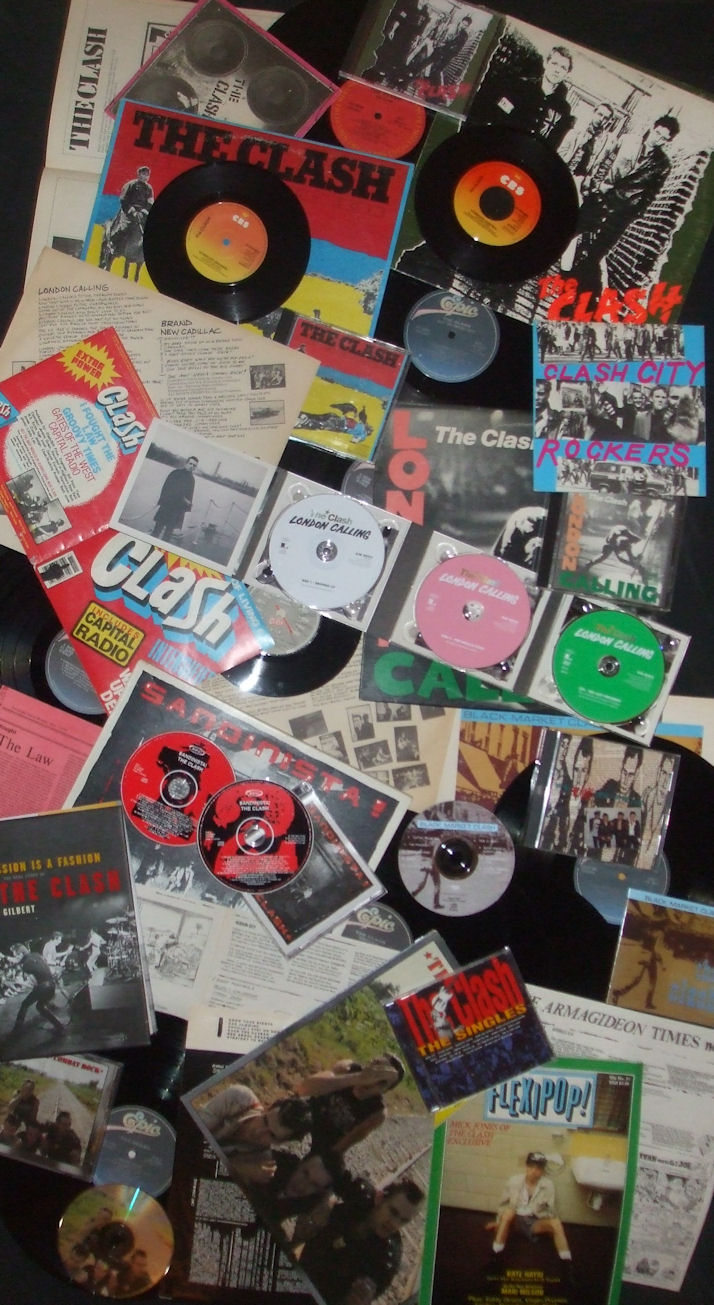 (Collage and photo by VA)
If you have been reading and enjoying my series/memoir so far, well then, stick around. It is with this show, and the next few that follow, that the story really gets going. In many ways, what I have written about so far has been a prologue. This Clash concert kicks off not only a particularly busy and/or "interesting" 15-month period of gigs, but occurred on the cusp of some big, positive personal and social changes in my life that continue to reverberate until this day as well as marking a point where the frequency of my gigging and clubbing turns from a trickle into more of a flood.
Oh, and about that song that I heard between sets …
A few weeks after the show, I was doing the washing up on a warm, late-summer evening with the radio tuned, as usual, to the local campus station, CHRW. The rap track I had heard at the Clash/Black Uhuru show came wafting over the airwaves. I ran over to the radio to turn it up.
It floored me all over again. About two-thirds of the way through, I could no longer wait and dialed through to the DJ to find out who and what this was. As it turned out, it was called "The Message" and was by Grandmaster Flash — he of "The Adventures of …" — and the Furious Five. Le Château quickly tracked down a 12″ and it became the song of that fall. To this day, even with the some of the irksome homophobic language, I still think it's one of the greatest singles ever released and certainly a landmark of 1980s music.
"The Message" by Grandmaster Flash & the Furious Five, 1982.
Bonus Featurette: The Etymology of the Nickname "Lady Bump"
In this series, I am using pseudonyms not only for myself but also for those I am writing about as well, as matter of respecting others' privacy. In some cases I am employing an actual, still-in-use nickname. In others, I am either creating a brand new one or varying someone's adopted moniker. When doing either of the latter, I am inventing names that have an association for me with the person so that I can instantly recall who is who.
And it was on the evening of The Clash concert when the link between the person and faux name Lady Bump was made.
Après le concert, LC, LB & I wandered through the midway during what was the final night of that year's Canadian National Exhibition. We spotted a booth for either Sam the Record Man or Records on Wheels — I can't remember which — that was offering a "Buy 1 Album, Get 1 Free!" deal.
We knew that this had to be a scam of some sort but were intrigued. Since there were only two staff left working, both of whom were ringing through lines of customers, we couldn't enquire as to the specifics of the deal. Ergo, LB hatched a plan: she decided to go and purchase an OMD 12″ for a measly $2 or so and then select The Clash's triple-album Sandinista! as her free record.
Each of us knew it wasn't going to work and that at the very least they would want her to pay for the more expensive record, but she decided to give it a go.
We waited outside the booth but, owing to human traffic, couldn't quite see what was going on. Eventually, she emerged carrying something album-shaped in a plain brown bag.
LC & Me: Did you get the Clash album?
LB: No.
LC & Me: Well then, what happened?
LB: I went up to the cash, put down the OMD 12″ and said that I wanted to get Sandinista! for my free album. The cashier just smiled and said "Your free album is already in the bag for you!" and then rang through the single.
LC & Me: So, what did you get?
LB: I don't know. I didn't get to see inside and I haven't opened the bag yet.
Le Château and I did the honours, only to find that LB was now the proud owner of …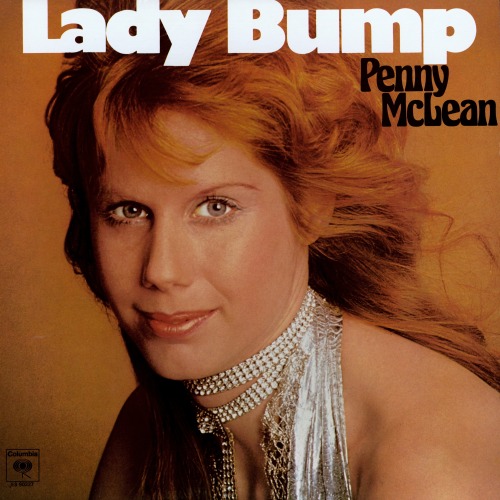 … the Lady Bump album by 1975's German disco sensation, Penny McLean, also of Silver Convention. "Lady Bump" was one of the earliest disco hits, and also one of the silliest and cheesiest — meaning it was also one of the most fun.
Château and I both started laughing so hard that we were doubled over. LB couldn't remember the song, while LC & I did our best on-the-spot impersonations of the repeating maniacal shriek that is its signature moment.
When we got back to London, still full of speed and adrenaline, both synthetic and natural, we headed to LB's place, and threw the record on. The three of us endured an uninterrupted 40 minute laughing fit while we played the album in its entirety. The association between the song and the person stuck.
Lady Bump and I lost track many years ago, but the song has continued to be an in-joke in my life and circle. It even got played at my wedding in 2009. And, yes, there was bumping.
"They call me Lady Bump, Lady Bump / It's No Lie / AAAAAAAA!!! …" Penny MacLean on German TV in 1976. As Cublet noted to me, there's probably not a single natural fabric in that room besides the denim.
Next On Stage –> One month after The Clash, and from one Joe to another, I take in a second, very different five-star (and three-hour) show from Joe Jackson. 
Once again, the effervescent triumvirate of Lady B, Le Chateau et moi take in another concert together, and one that far surpassed all our expectations.  The music was ebullient, spirited and unforgettable, even if a certain someone was intermittently beset by curmudgeonness. 
This concert also marks my return to Alumni Hall on the campus of Western University for the first time since seeing Elvis Costello and the Attractions there in November 1978 (Episode 8, Concert no. 3).  Lucky, the student rent-a-cops had officially chilled since then. 
Stay tuned for on-stage elbows, the bitter toll of insincere clapping, and going into Another World.
013. Night & Day: Joe Jackson, Alumni Hall, UWO, London, Ontario, Canada, Monday October 4, 1982.
© 2011 VariousArtists
Comments From Each of The Original Two-Part opensalon.com Posting