Unfortunately, I have lost my ticket to this show.  Instead, here is a picture of our turntable.  Note the absence of Bob Seger upon it.
ORIGINAL BLOG ENTRY FROM 2010 FOLLOWS BELOW
Three years after Roxy Music, I finally make it to a second, proper live show.  While the Roxy show kicked off a new era in my life—concertgoing—this gig instead closed an era.  This episode is less about Bob Seger and more about discovering punk rock and new wave as the old wave left the building for me.  I no longer wanted still the same.
Tune in for imbibing masses, gesticulating specks, and wanting "completely different."
NEXT PODCAST: If the Seger show was a snapshot of what I was leaving, this second show of 1978 finally reflected where I was musically at the time and where everything was going.  My old pal Autobahn who was with me at the show drops by to share his memories.
Tune in for anticipated bedlam, herbal dental remedies, & Biff'n'Buffy rent-a-cops.
ORIGINAL BLOG ENTRY FROM 2010
Approximate Ticket Price $7-8 = $30 in 2020 Canadian Dollars
Throughout the years, my music tastes have not only expanded but vacillated as well.  I have been through many a time frame when a certain type of music, period exploration or genre hogged my musical centre stage.  Invariably, the moment passes and morphs into something else or is abruptly jolted off course by the unexpected.
Punk, post-punk, pre-rock pop, avant-funk, various periods and styles of r&b, folky/rootsy, electropop, grunge, glam, noisy experimentalism, singer/songwriters, roots reggae, jangly indie-pop, ambient, trip hop—I've had passionate affairs with all of them and more.  And after awhile, the affair cools, and we don't see each other very often or even at all.
Oh, those uncomfortable moments of rooting through the CDs when—suddenly—you are face to face with that former loved one.  They sit there, needy, on the shelf as you find that you've lost that lovin' feeling (sniff).
Such guilt and heartache, as I try to avert their sad gaze, hopeful that I might just remove them from the shelf for a listen.  Instead, I move on down the row as they sit, abandoned.
And then, one day, you bump into them again when the time is right and before you know it, you're talking old times, having a drink and shagging, at least for a while.
Yes, it seems that all of these periods and their associated output seem to come and go but, just like real estate, they tend to come back round again.  There is very little that I have listened to at any point in my life that I full-out dislike now, even though my foci may still pendulum-swing from time to time.  My life in music has been a series of discoveries—and rediscoveries.
With one big exception: the mid-'70s.  That period after glam had faded and before punk had yet to really happen.
I have sat here and tried to think of artists that I started listening to during, say, spring 1974 through early '77, that I have any real affinity for these days and there aren't that many.  There are still-much-loved entities that were very forward-looking at that time such as Bob Marley, Kraftwerk, Patti Smith, and Rough Trade, but they are the odd kids out; a cultural foreshadowing, and not something most of my then-peers liked or knew about.
In terms of acts more in tune with the clogs'n'ludes'n'fondue culture of the day that I liked both then and now, there is Boz Scaggs, Kate & Anna McGarrigle, and the Buckingham/Nicks-led version of Fleetwood Mac (I was well acquainted with the work of earlier iterations of F.Mac during the late '60s and early '70s, but I tend to see the 1975 model as a different band).
And even putting in Boz Scaggs is slightly misleading because what that essentially means is, while I do like a number of his other tunes, I still love Silk Degrees, especially "Lowdown," one of my favourite songs of all time.
There's Bruce Springsteen too, but the only albums of his that I was truly big on were Born To Run and Darkness on the Edge of Town.  And I haven't played either in eons and own neither on CD (although "Meeting Across the River" is on my iPod) (2021 Note: I now own both on CD).
From the perspective of now, there's a pile of great stuff from that era, including the disco that I stupidly and ignorantly sniffed at during the time, as well as acts of that vintage that I did not hear or know about until later (Big Star, Simply Saucer, etc) plus plenty of great albums from the artists pre-dating that time who continued being productive and interesting (Joni Mitchell, Paul Simon, Steely Dan, etc.).
There are a few acts that I started to get into during that '74-'76 period who I still think are ok.  I don't mind hearing the odd Aerosmith or Steve Miller song from time to time, and I do have Toys In the Attic on CD (hmmm … when did I last hear Get Your Wings?).  There are also a lot of rootsy pop hits from that era that I love, such as the haunting "Jackie Blue" by the Ozark Mountain Daredevils or "Third Rate Romance" by the Amazing Rhythm Aces (all those tasty guitar licks!).  I begrudgingly admit to liking Hotel California, particularly as a conceptual rumination on then-contemporary LA culture, but otherwise The Eagles irritate me no end.
For the most part, a sizable chunk of what I began listening to and enjoying during '74-'76 is stuff that I have long since dropped like cancer and that never got the "rediscovery" treatment from me aside from many the odd song or two.  I am talking to you, Kiss, ELO, Peter Frampton, Queen, Genesis, Foghat, etc.   What the fuck was I thinking?
So, what happened?  Two words: Punk Rock.  Two more words: thank goodness!
I had been reading about what was happening in New York for many years (hands up those who remember Rock Scene magazine!).  I knew of the Ramones and Television and Patti, and it looked decidedly interesting but, of them, I had only heard Patti.  I didn't really start hearing the NYC groups until 1977.
Then came the stories from the English press about The Sex Pistols and the scene that was happening in London.  It all had an instant pull for me, before I even heard any of the music.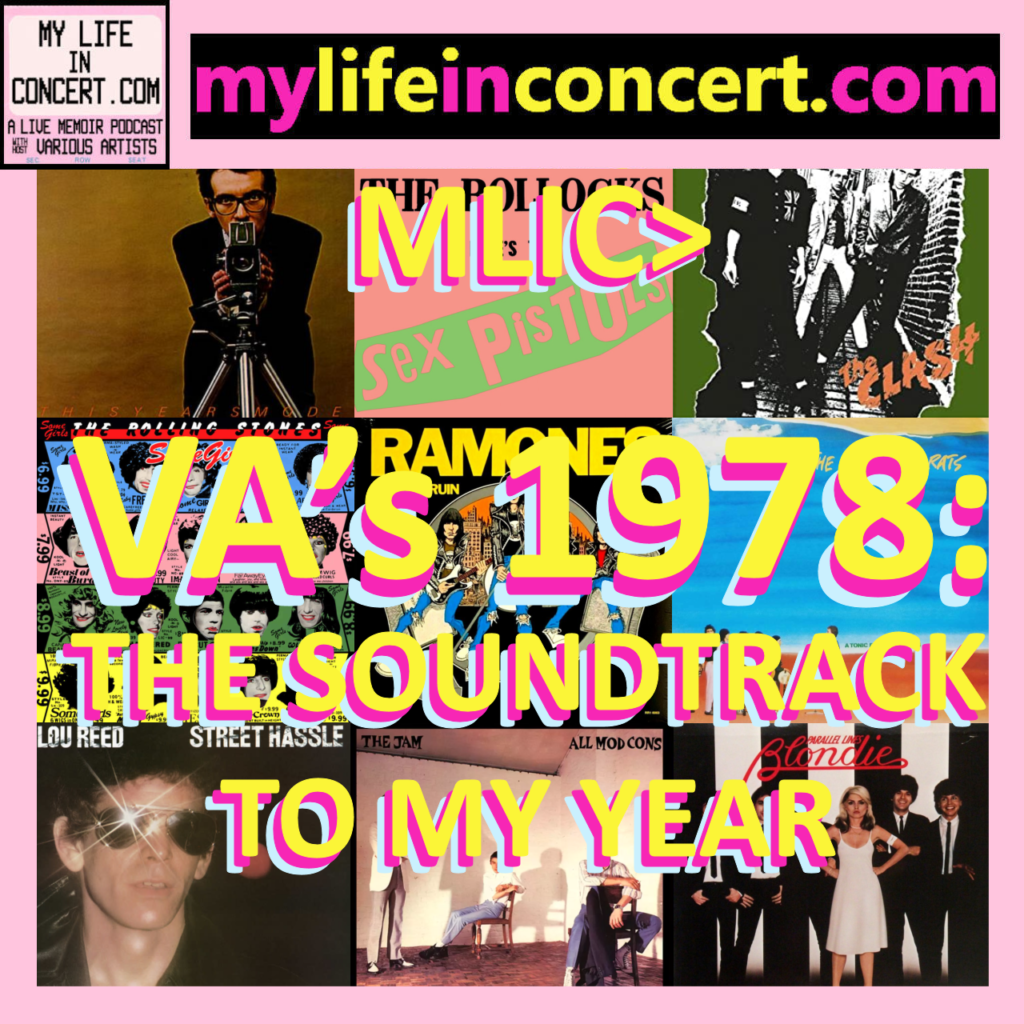 is a chronological Spotify playlist of what was rocking my world during 1978, from both then-new releases as well as older music & artists I was re/discovering.
I bought my first punk album (The Jam's In The City) and a clutch of singles while on a family trip to the UK, fortuitously in late summer of 1977, as punk was exploding through Britain.  It was a big deal, often in the news there, and very exciting.  During the trip, I also got to hear loads of stuff from the new bands via both the radio and also what was playing in the various record stores that I went into.  It was like the future had suddenly arrived and Kansas had given way to Oz.
The Sex Pistols were on a secret tour of England at that time and I was reading the weekly updates in the UK music press.  I would love to have seen them, but fat chance (a) I would have known about any of these gigs in advance nor been able to get to one, and (b) that my parents were going to let my 14-year-old self just pop down the road to see a banned Sex Pistols gig.
Between mid-1977 and '78, the new and old guards battled it out in my record collection, with the old guard gradually losing, conceding defeat during some point that summer, with only a handful of refugees making the cut of pre-punk artists where I still liked what they were doing, such as David Bowie, Lou Reed, Iggy Pop, the Rolling Stones, and a few others.
Within short order, punk and its various siblings and pals—new wave and reggae, then post-punk—pretty much wholly dominated my listening and focus for the next few thrilling, musically transformative, incendiary, and sometimes fearlessly experimental years.
What it also essentially did was act as a kind of filter for everything that had come before it.  Starting in the early 80s, I started pulling the pre-punk era music back into the picture, bit by bit, but usually seeing things from a different perspective.  I also started to go back and discover artists I had only liked to a limited degree in the past but now became obsessive about (Bob Dylan and Neil Young, for instance) or discovered artists and music I had never listened to or heard of before (too many to mention).
Eventually, just about everything found its way back in, along with stuff from previous eras that I couldn't stand at the time but like now, such as The Carpenters for example.
Everything—that is—except a lot of the '74-'76 New Additions to the personal canon.  And Bob Seger is one of those never-to-be-retrieved artists from that cluster.
Bob Seger Stranger In Town (1978)
I saw him live at what was essentially the 11th hour of the time frame within which I would have entertained doing so.  I'd heard and liked Live Bullet at some point in the mid-'70s.  And then came Night Moves, the one that really put him on the commercial map, which I thought at the time was even better, particularly the single "Main Street" (maybe I should go back and listen to that one …).
But by '77-'78, I was getting hastily bored with bland, bloated, mid-'70s MOR FM Radio Rock and its more sensitive feather-haired cousins.  And this gig accelerated that divide for me.
It was held at the London Gardens, yet another cavernous sports centre/concert venue like the London Arena, except a whole lot bigger.  The building is located at what was then the southern tip of the city, now just part of the south end, padded by sprawl.   It is famously the place where Johnny Cash proposed to June Carter on stage in 1968, and looks absolutely nothing like the beautiful Massey Hall that was used as a stand in for the Walk The Line biopic.
The London Gardens was basically a big shed for the local junior league hockey team that sometimes hosted gigs.  The echo-ey acoustics sucked big time.
I recall the capacity as being about 6,000, and on that night it was packed to the rafters.  It was also stinking hot.  Most of those places weren't air conditioned back then and it was a particularly warm May evening.
It occurred on the Friday night of that year's Victoria Day weekend, which added to the celebratory expectations.  We once again sat up in the bleachers though this time much further back than we had at the Arena for the Roxy Music gig.  There were no Jumbotrons in those days at these venues, kiddywinks.  You simply saw the performer as the gesticulating speck they were and lumped it.
Seger was huge by that point and still on the upswing of his fame.  Hailing from Detroit, only two hours away, Seger had long had a strong following here in London, so this was a hotly anticipated show in the city and was part of a North American tour promoting the just-released Stranger In Town.  It features the hit du jour ("Still the Same") as well as that enduring warhorse wedding staple and grumpy pean to conservatively clinging desperately to the past for all the wrong reasons, "Old Time Rock & Roll."  In short order, I grew to loathe that song.  And still do.
I bought the album but didn't play it much.  I found that, as with many of the old school records coming out (the Stones' Some Girls being a big exception), it just wasn't doing it for me in the face of all this mind-blowing new, New, NEW time rock & roll that was consuming me and vice versa.  But I hadn't fully figured this all that out yet, and so happily on to see Mr. Seger I went.
I was glad to finally be attending another live show and again tagged along with my older siblings, not connecting with concert-friendly pals until later the following year.  I had also recently discovered pleasures of a herbal nature, something I have continued to enjoy through the years until this day.  From this point onwards, it became part and parcel of a lot of the gigs I attended.  Ergo, along with pretty much everyone there, I was blissfully buzzing and awaiting a fun rawk show, while "enjoying" the oppressive temperatures.
Up first was the opening band, Toby Beau.  Now there's a name.  I can't even type it without wincing.  They were an emerging country rock ensemble who had a minor hit at that time with the mellow pop-rock saccharinalia of "My Angel Baby."  Everyone revved-up their partying as the Beau played, giving the Tobester particularly heartfelt "woo-hoos" of the "hey, I'm recognizing this tune through my Southern Comfort and angel dust fog!" variety when they played their hit tune.
They twirled in their flared denims, shook their poodle cuts, and off they went.  Everyone seemed to agree during and after the show that "Toby Beau were pretty good" before promptly forgetting them.
Toby Beau's "My Angel Baby" …. actually, I'm kinda not minding this now …
The crowd continued with vigorous imbibing in between sets amidst the "Equator at Noon"-style sauna that was the Gardens.  Seger eventually emerged to uproarious applause and probably more than a little vomiting for the overdoers.
I felt like I spent the show wanting and trying to like it.  Afterwards, I toed the social party line and said to a few people that it was good.  But, really, I felt bored and it was dawning on me that I really wasn't into this stuff.  Also—and I don't think I could have articulated it at the time—the strong reactionary streak in the audience, cheering on the xenophobic sentiments in a song like "Old Time Rock & Roll" … I think that was fundamentally disquieting to me on an elemental level, aesthetically and socially.
I'll say this about Seger: I may not like his stuff but he's done his thing, working hard in the process, seems to genuinely value his audience and wants to give them his best performance-wise, and doesn't seem to be some asshole like Michigan peer Ted Nugent.  But this thread of galumphing FM rock pretty much was lost to by me by this point in time—and has remained largely lost in all the years since.  It's never fully re-emerged for that chance encounter with a quickie thrown in.  So I can respect him as a hard working artist, but I can't get into the tunes.
A Bob Seger song I like: "Get Out of Denver" (1974)
What were the musical highlights?  I really don't remember there being any.  It just kind of congeals in my memory like a large road apple.  The one thing that does register is this: it had become a pie-headed concert ritual of the time to light those sparklers that one gets with cheapie fireworks, and throw them around into the audience.  And they were a-flyin' hither and dither that night.  So Bob responsibly chimed in with "…hey, if you're gonna throw those things, then be cool when you throw them," whatever the fuck that means (cut to further crowd "woo hoos" and probably a little more barfing in select audience segments).
This second gig was no Roxy Music but, at least my concert-going life was now officially off to a proper, ongoing second start that continues until this day.
And it was not to be my only show of 1978 either, as that November I got to see one of the artists that I was listening heavily to around the same time I was getting bored at the Seger concert: Elvis Costello.
Bob Seger: "Still the Same" (1978)
Next On Stage –> 003.This Year's Model: Elvis Costello & the Attractions with the Battered Wives, Alumni Hall, University of Western Ontario, London, Ontario, Canada,  Monday November 6, 1978
© 2010-2011-2020 VariousArtists
Comments From Original OpenSalon.com Posting