Blondie's 40th and Ottawa Bluesfest's 20th
Ticket Price: Approx. $50
I first encountered Blondie in the pages of NYC-based Rock Scene magazine in the summer of 1975.  It was a single page feature, appearing less than a year after the group's formation and first shows at CBGBs.  Blondie had begun by opening for the also-nascent Ramones who had similarly been popping up in recent Rock Scene issues.  Indeed, most of the mid-70s NYC underground first came to my attention via RS.
Retrospectively, I now see what an odd, prescient publication Rock Scene was on a few fronts.
This low budget rock magazine — light on editorial content and with colour only on the cover, its contents printed on coarse newsprint-style paper sporting often grainy b&w shots — stood out among the other music rags I was reading at the time, even beyond its glosslessness.  It didn't have the talismanic properties afforded those expensive copies of UK weeklies New Musical Express or Melody Maker that I would devour whenever I intermittently got my hands on them.  It didn't have CREEM's barbed wit, Rolling Stone's authority, or Circus' po-facedness.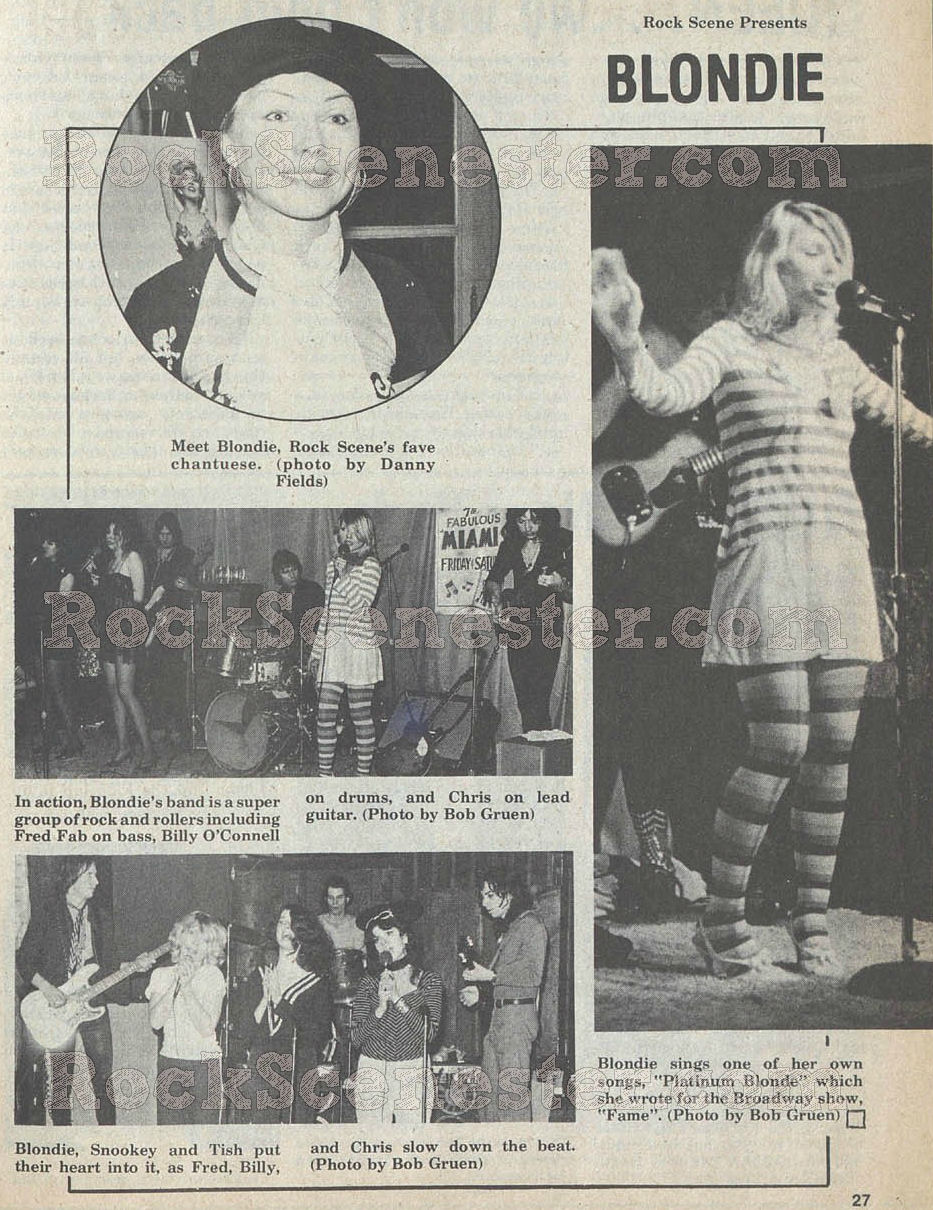 Rock Scene Presents … Blondie: my introduction to Blondie in the July 1975 issue of the magazine. "Fab" Fred Smith would soon jump ship for Television. (Images from the rockscenester.com website)
What it did have was vision.  And taste.  Whereas Rock Scene did include features on some of the standard-issue rock acts who were big in the US at the time and who I also liked (Led Zeppelin, Rolling Stones, etc.), the true "stars" of RS that tended to get maximum page space came from two camps.  First there were the glitter rock acts du jour —  the initial reason the magazine pulled me in — such as David Bowie, Roxy Music, and the New York Dolls among others.  Bowie and Roxy were true superstars in their native UK and throughout Europe, but down in the States they were smaller cult acts while the Dolls never made it big in any country.  But in Rock Scene's regional home turf territory of NYC, the Dolls were a sensation of the underground scene that many RS writers — such as Lillian Roxon or Lisa and Richard Robinson — were habitués of and advocates for.
The New York Dolls' emergence via the Village's Mercer Arts Center circa 1972 launched a previously dormant local live scene, inspiring droves of outsiders attracted by the experimental milieu.  For this fan, the Dolls were and remain about as perfect a rock and roll group as there ever was.  A RS cover feature on them for its March 1974 issue by Richard Robinson states "They're a New York City band … the first New York City band since the days of the Velvets, Spoonful, Rascals, and Magicians.  They're the promise that New York is a rock and roll city once again, producing its own music."
The Dolls soon signed with Mercury, a major label contract then still the aspirational holy grail for rock bands at that time.  But with the literal collapse of the Mercer Arts Center in August 1973, the scene that the Dolls (and confrontational early synth duo Suicide) inspired headed to the East Village, creating a whole new, private world that could work out its own voices and aesthetics in the downtown heart of the teetering-on-bankruptcy Manhattan.
Cheap rents, freedom of expression, and a symbiotic volleying of ideas, energies and support enabled the participants of this new bohemian community to sprout like magic mushrooms in the dark, away from the glare of the enfranchised world — unknown not only outside of the city but to probably most NYC inhabitants — playing to a small in-the-know crowd.
This embryonic scene became Rock Scene's other camp to receive the spotlight treatment throughout its similarly rough-hewn pages.
"A Girl Should Know Better": early Blondie in 1975 at CBGBs (other songs from this same show can be found on YouTube)
The mag's tireless promotion of the local scene made them ambassadors for what turned out to be some of rock's most influential acts of the second half of the '70s, especially to peeps like myself picking the mag up from far away.  The aforementioned Ramones, Patti Smith, Television, Wayne County, Richard Hell & The Void-Oids … I came to know all of them for the first time via Rock Scene.  (In fact, my favourite monthly feature was Wayne — now Jayne — County's "Dear Wayne" advice column, although I was briefly confused as to why this outrageous looking woman had a man's name.) .
And in the July 1975 issue I first came upon Blondie.  In the piece, Debbie Harry was touted as being "Blondie," with the band featured as her backing musicians rather than all of them as a group under the Blondie moniker.  (In revisiting this particular issue of the mag — courtesy of the appreciated efforts of rockscenester.com's Ryan Richardson — I realized that this one was a bit of a watershed for me. Not only did it include my introduction to the group but to John Waters and Rough Trade as well.  It also contains my all time favourite "Dear Wayne" letter and response that, almost 40 years later, I was proud to remember chunks of verbatim.  Here is a sample of it from Debbie Pickup, a Bridgeport, Connecticut RS reader distressed about the hassles and assumptions she gets about her name: "People say 'Oh Pickup, is that your name or reputation?'" Sample of  Wayne's response: "I think your name is simply FANTASIA!!!")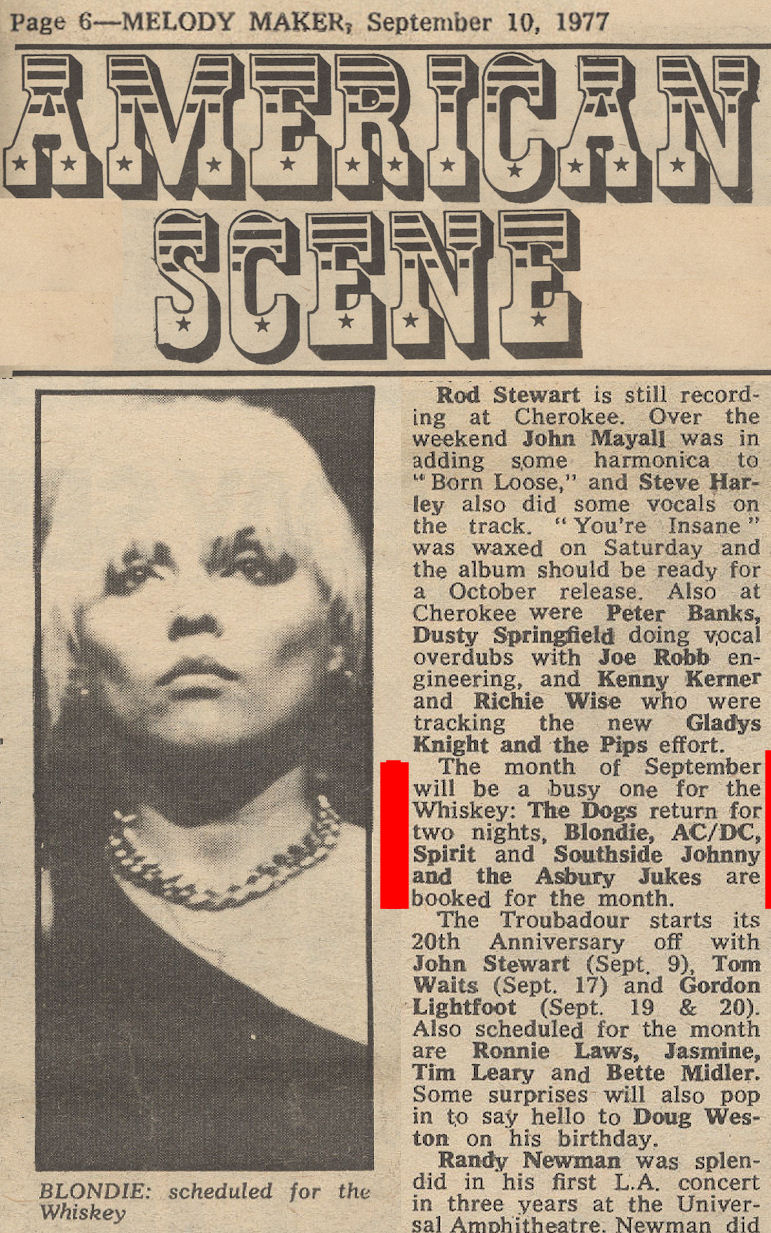 Fan Mail: The September 10, 1977 issue of Melody Maker notes Blondie playing the Whisky A Go Go in L.A. that month. (Scanned and reassembled by VA)
I distinctly remember taking note of Blondie because she jumped off the page as being so out of time.  She didn't look glitter rock or like any other archetype of the day for a female singer, different from even Patti Smith.  The visual impact of Blondie seemed singular in 1975, being both retro and forward.  This was a new artist I wanted to know more about.
And while her/their take on the past and future was idiosyncratic, Blondie was also emblematic of two key strains that had been threading through recent pop culture consciousness.
First, an interest in Hollywood's Golden Age(s) seemed to be in the air in the '70s, blowing in from a variety of fronts.  Many of that decade's New Hollywood directors such as Scorsese, Altman, and Coppola were openly proclaiming their fanhood of and indebtedness to not only European art film directors such as Antonioni, Fellini, and Godard but also to their studio system auteur predecessors such as Hitchcock, Huston, and Hawks.
This shone a light on the works from Tinseltown's gilded years, aiding in bringing them back into filmgoing consciousness.  For instance, I first saw Charlie Chaplin's City Lights and Modern Times with my father during their mid-70s reissued theatrical runs.
Concurrently, a belated English language translation of Kenneth Anger's Hollywood Babylon finally appeared in North American book stores during the summer of '75, while those of us living in Ontario were able to tune into film buff Elwy Yost's Saturday Night at the Movies on TVO (it introduced me to countless landmark films from the past such as Bus Stop, The Maltese Falcon, and The Petrified Forest among others … I always think of it as my first film class.)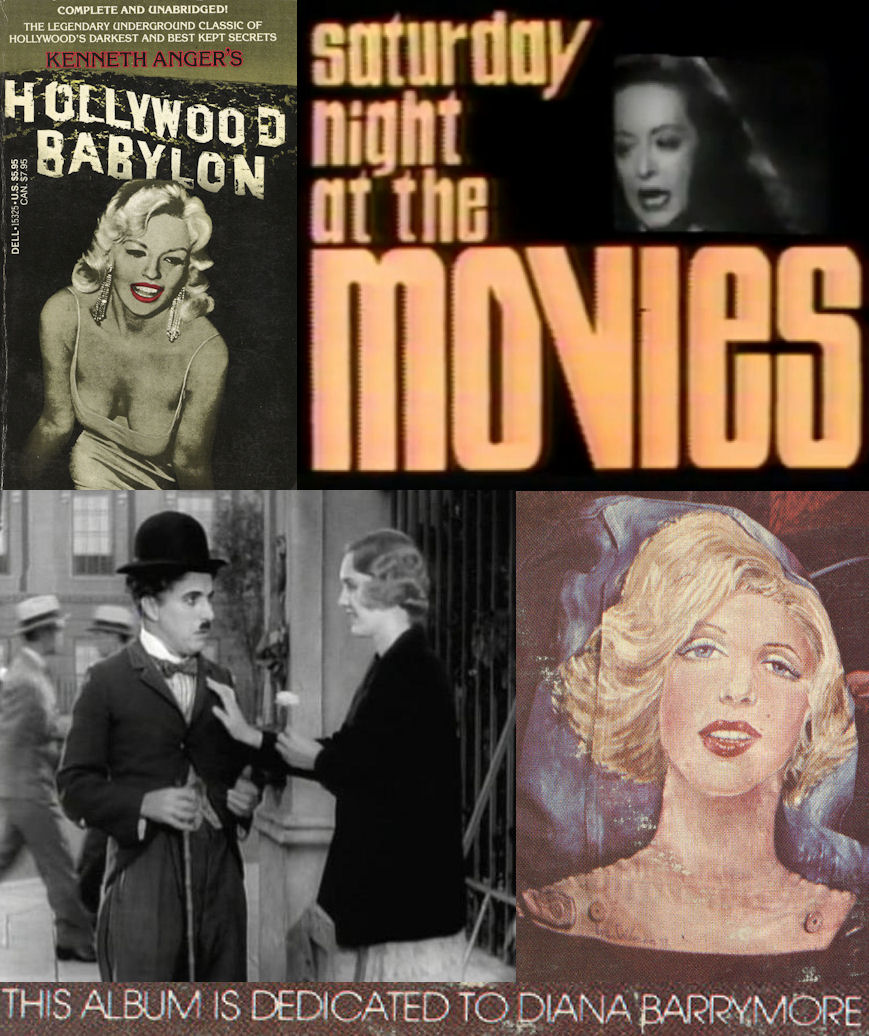 Hollywood Refugees (clockwise): Kenneth Anger's Hollywood Babylon; TVO's Saturday Night at the Movies; Marilyn Monroe jacket and Diana Barrymore dedication on the back cover of the New York Dolls' Too Much, Too Soon (1974); Charlie Chaplin's City Lights (1931).
Downtown in Manhattan, the Dolls' image was that of trashy glamour a la film stars of yore.  Certainly the old school glamour component was prominent in both form and content on their second and final proto-punk rock classic, 1974's New York Dolls in Too Much, Too Soon: the title was prefaced with "in" suggesting a starring film vehicle; it was dedicated to the tragic Diana Barrymore; the album was named after her scandalous autobiography; and the back cover featured a shot of the band posing along with a hand-painted jean jacket sporting Marilyn Monroe's face, displayed almost as if a sixth member of the group.
Vintage silver screen iconography informed some of the album's lyrics too, with Charlie Chan and Diana Dors referenced in "Bad Detective" and "It's Too Late" respectively, while the promo film for "Showdown" had them cavorting around in 1930s Cagneyesque gangster garb.
But it's on the album's closing number, "Human Being," that David Johansen makes his glamour jones explicit, spitting out "I'm blowin' my change on a fan magazine with all the Hollywood refugees."  And, like the Dolls, Rock Scene was looking to the past's resplendent, degenerate tinsel to launch a new future to ward-off the beige, MOR post-hippie suburbanization of "rock music" that was suffocating much of what could pass under that rubric in the commercial marketplace by mid-decade.  RS's simplistic, largely visual, star-stuck'n'hepped-up feeling harked back to Hollywood worship tomes from long ago yet was in many ways a prototype for a breed of publication that would be organically birthed along with the rise of punk: the fanzine.
Blondie in particular among the noisy rock children spawned by the New York Dolls' Bronx cheer crossdressing were also clearly drawing inspiration from those same celluloid sources.  Johansen was probably shelling out his quarters for the new Rock Scene alongside yellowing collectible issues of Photoplay.
In fact, Blondie's first original song — "Platinum Blonde," penned by Ms. Harry at least as early as 1973 —  made that homage clear: "I wanna be a platinum blonde / Just like all the sexy stars / Marilyn and Jean, Jayne, Mae and Marlene / Yeah, they really had fun."  And these sexy stars provided Harry with inspirations that she could shake up into a modern visual cocktail, delivered cooly on ice with a twist of irony.

 "Platinum Blonde": a 1975 Blondie demo and the first song Debbie Harry wrote.
While the lyrics of "Platinum Blonde" were a call out to screen sirens, Blondie's early music bespoke a second nostalgic flash point that also seemed to be to be gathering atoms during this time: early rock from the mid 50s through mid 60s.
Indeed, the same year that Debs penned the peroxide-positive retro-rocker was also the year of George Lucas' nostalgic American Graffiti and its hit, double LP soundtrack of chartbusters from the era. In short succession, Happy Days and then Laverne & Shirley became pop culture phenomenons and Cooley High looked at the times through the perspective of the black experience.  In the record stores, the Cruisin' series — commencing in the early 70s — approximated the hits, DJs and commercials for each of the early rock years, one volume per year.
50s/60s 70s Retro (clockwise): American Grafitti soundtrack (1973); Happy Days intro (1974); K-Tel's Juke Box Jive compilation (1975); Cooley High intro (1975).
The legacy of rock's early era was also certainly a key ingredient of the Dolls' sound, made explicit via Too Much, Too Soon's covers of The Cadets' "Stranded in the Jungle" and Archie Bell & The Drells' "There's Gonna Be A Showdown" (ok, so that number is from the latter 60s, but is in an R&B style extant from several years earlier). Meanwhile, Wayne County was regularly photographed wearing Beatles and Dave Clark Five ephemera and extolling the thrills of classic mod fashion and Max Factor make-up in his "Dear Wayne" column (there was also that other contemporaneous NYC drag queen, Bette Midler, thrilling the toweled troops during blow job breaks at the Continental Baths with "Chapel of Love," "Leader of the Pack," and the WWII-era "Boogie Woogie Bugle Boy.")
This mix of Hollywood Glam image and 50s/60s music was popping up elsewhere in glittering circles, most explicitly via two terrific covers albums from the glam kings du jour: Bowie's PinUps and the first solo album from Roxy Music's Bryan Ferry, These Foolish Things.  Bowie's album focused exclusively on delivering scrappy, campy, almost proto-punk versions of mid-60s nuggets, and sports 1960s mod icon Twiggy with David on its front  cover — although Bowie also stunned his audience at the time by appearing in the retro-suit on the back and on the inside sleeve.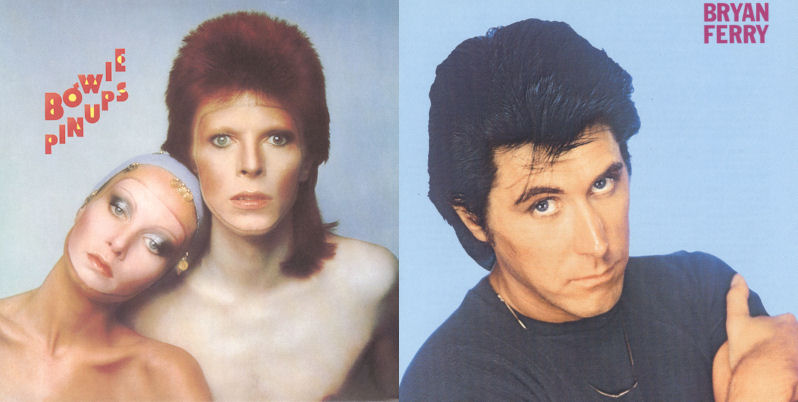 Through A Glass … Sharply — The Glam Gods Look Back: David Bowie's
PinUps
(with '60s icon Twiggy on the cover) and Bryan Ferry's
These Foolish Things
(both 1973)
Ferry's collection featured a cover paying fealty to his lounge lizard, olde-tyme-movie-star looks while the selections themselves were drawn from a wider swath of past musical touchstones stretching back to the 1930s.  On These Foolish Things, Ferry perfected a balance between genuine reverence and winking irony, an approach that Blondie nailed in its early days incarnations.  When the group's superb eponymous debut album appeared in late '76, it contained a wealth of references to mid-50s to mid-60s rock era  — the surf rock of "In The Sun," the girl group bounce of "Little Girl Lies" — but with a knowingness which updated not only the sound but the sensibility for a more liberated and cynical era and its people.
Indeed, Blondie's first hits relied on overt links to the past: the doo wop of "In The Flesh" (Top 20 in Australia in 1977) and a cover of Randy and the Rainbows' "Denise" from 1963, re-genderized as "Denis" (a pan-European smash in the spring of '78).
 Blondie's American TV debut on the Mike Douglas Show, 1978, playing their Euro hit cover of Randy and the Rainbows' retitled "Denis."
But the broader culture's interest in music from days not-so-far-away past was a fairly tidy white wash (see:  Happy Days, etc.).  And whereas Blondie may have been harvesting roots from some of the same nostalgia fields popular at that time, they were coming at it from their own askew and streetwise stance.  Not surprisingly, this saccharine-free approach didn't necessarily endear them to oft-sugary shout-outs that the more conservative, rose-coloured nostalgia merchants were flogging.  Blondie's tough and unsentimental vision, emphasizing pop both in terms of musical style as well as "pop" in the Warhol sense, initially gained little traction in the North American retro then playing out.
What Blondie (and the Dolls, and then later a chunk of the early punk, especially the Ramones) were doing was not so much an idealized recreation of an innocent past but instead using the tropes from that time to look towards and anticipate the future, just as Rock Scene had been doing with the fanzine culture of the past and what was to come.  And while Blondie briskly progressed beyond these early 60s touchstones from album to album, one could substitute disco, funk, rap, jazz, and post-punk for "retro rock" into the sonic equation.  And therein lies their modus operandi that continues until this day: having their ears to the ground, shape-shifting their sound to incorporate and celebrate these elements entering their radar.  Their touchstones swelled along with their audience.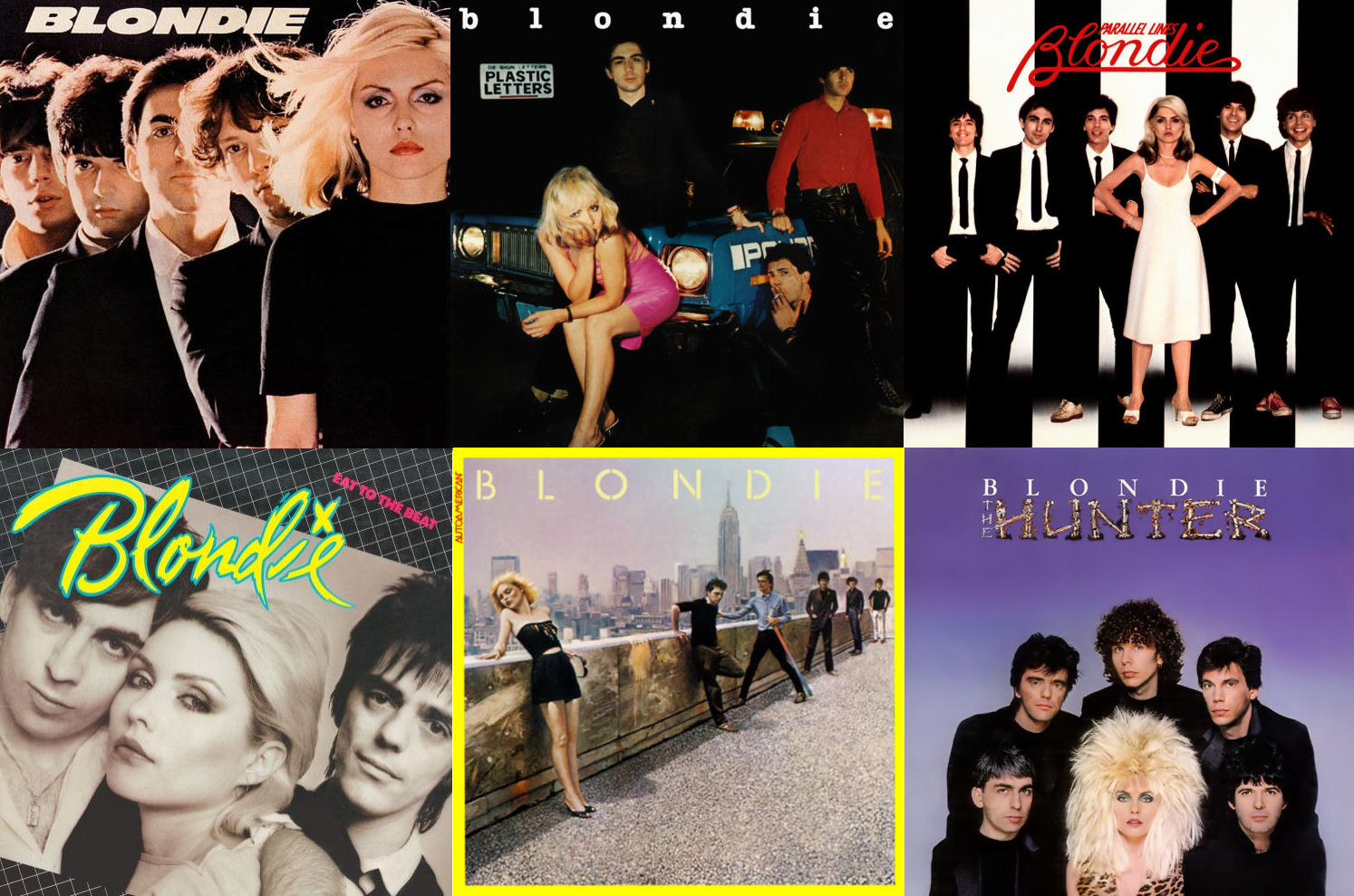 The Original Six LPs:
Blondie
(1976);
Plastic Letters
(1978);
Parallel Lines
(1978);
Eat To The Beat
(1979);
Autoamerican
(1980); and
The Hunter
(1982).
And swell that audience did.  While Plastic Letters and Parallel Lines established them throughout Europe in 1978, it was the latter's belated take off the following year via Blondie's disco classic "Heart of Glass" that handed them a fully global audience.  Parallel Lines remains about as perfect a pop artefact ever released, selling in droves, and setting a full-album artistic peak they never fully hit again.
That's not to say the immediate followups weren't worthy.  While 1979's Eat To The Beat may not be its predecessor's equal, it's still one damn fine album and further broadened their genre palette.  That was even more so the case with 1980's Autoamerican, an album I disliked for the most part at the time, with a recent relistening rather shocking me by just how good, how adventurous it is.  By this point, Blondie's stylistic base had exploded, with the retro influences not so much the vintage pop of yore but instead reaching back to pre-rock jazz and blues styles on "Faces," while the album closes with "Follow Me" from Lerner and Loewe's Camelot.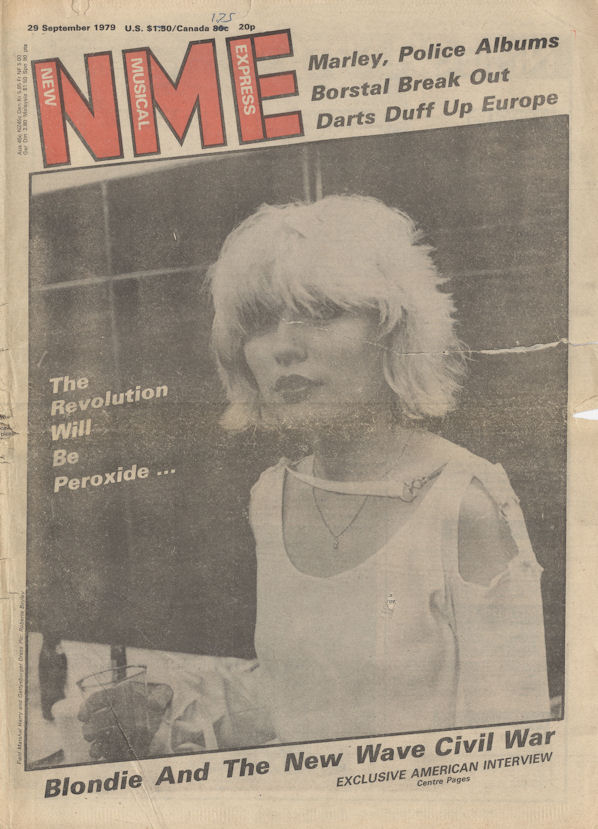 NME Cover Feature, September 29 1979, with detail below.  (Scans by VA)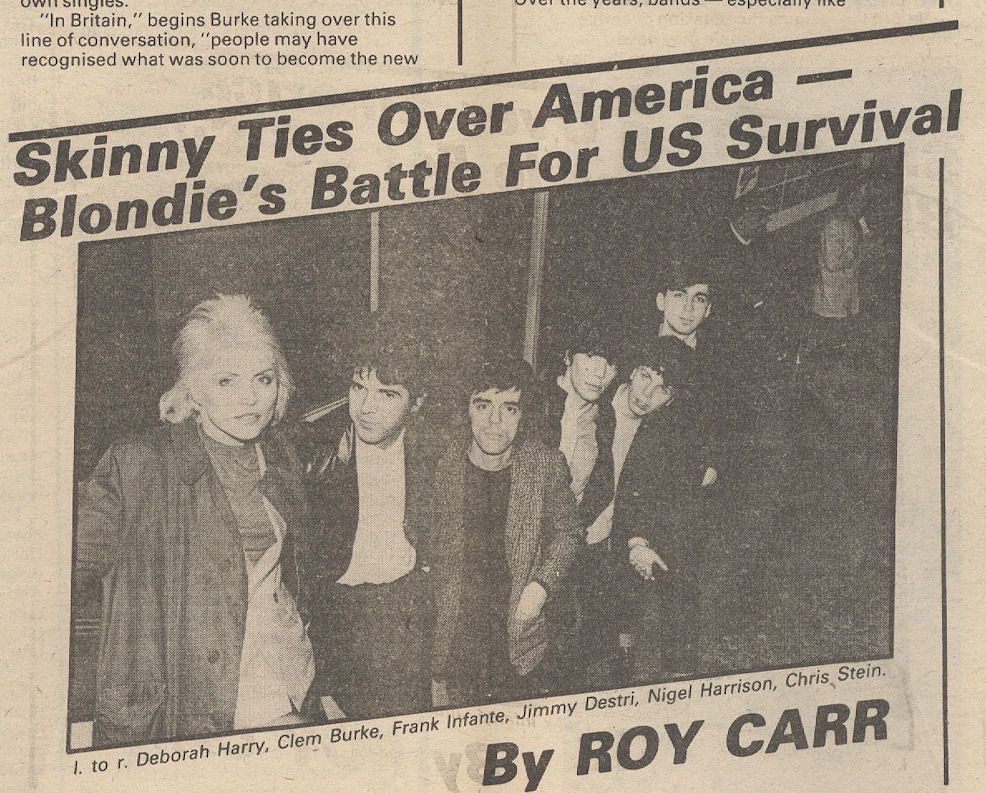 Blondie featured in an ad from the same issue as well as a close up look at Our Price's Top 60 London LPs that week.
While I've always been so-so on Autoamerican's smash cover of "The Tide Is High," the album's highlight for me has always been its other blockbuster, "Rapture."  It's a continuation of their transposition impulses, this time taking inspiration from the NYC rap music that I was just starting to explore, just as they had one time tapped into The Shangri-Las through their own lens to create something original.  "Rapture" is a milestone single of the 1980s.
It was also the original band's last hurrah, critically and commercially.  After such a fresh, interesting run of releases, 1982's The Hunter found them sounding exhausted and bereft of memorable tunes.  You could literally feel the effort.  The album flopped. With its failure amid a changing musical landscape, a dwindling audience, and Chris Stein falling prey to a near-fatal illness, the acrimony that had simmered within the band for years finally tore them apart.  Blondie officially threw in the towel at the end of 1982, a sad conclusion for a game-changing career.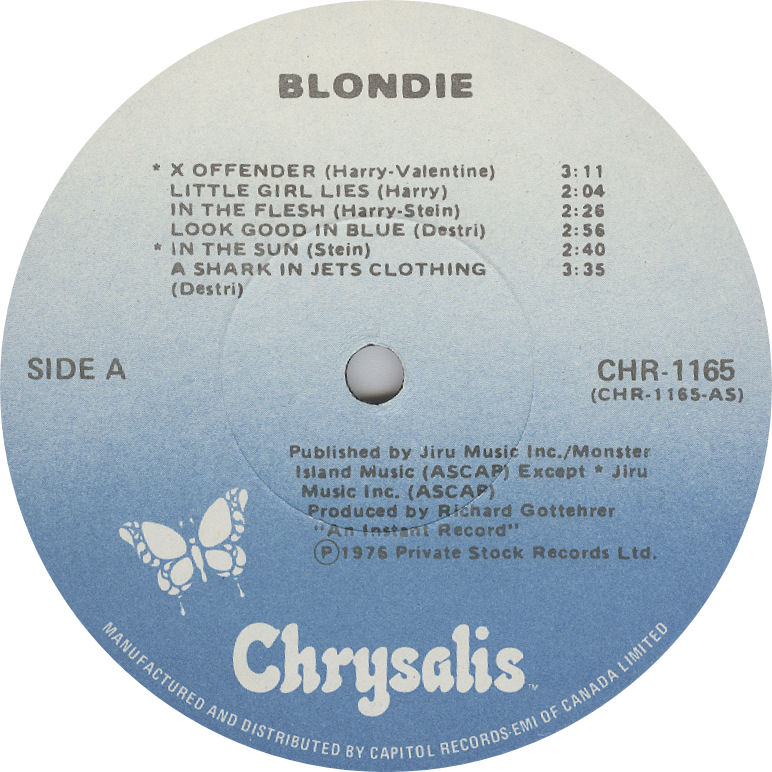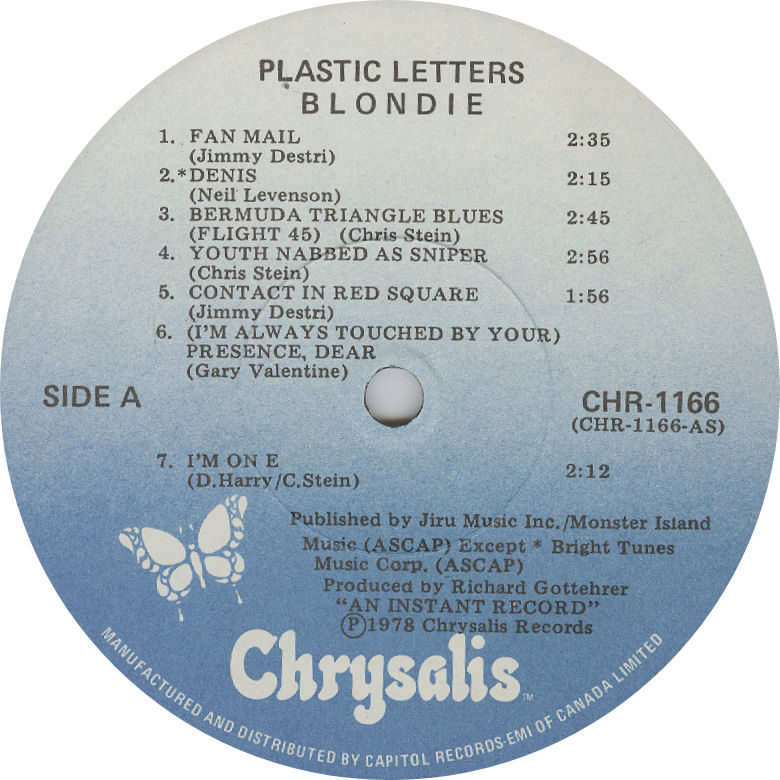 (Label scans by VA)
Stein and Harry separated as a couple while Harry soldiered on as a solo artist, something she had begun during the band's tenure in 1981 with KooKoo.  A number of her tunes continued to resonate with European audiences as she intermittently cut some terrific sides during the era, such as "Rush Rush," her song from Scarface and a big club hit in the '80s, and "French Kissing In the USA."  Moving into the '90s, she turned in some fine vocal work with The Jazz Passengers while expanding her acting CV throughout both decades, most notably as Velma Von Tussle in John Waters' Hairspray.
Meanwhile, Blondie's legacy began to snowball in their absence, with a series of compilations, songs featured in films and commercials, and the patronage of later artists — from Blur to Garbage — proclaiming their debt to and love of Blondie, aiding in introducing the group to new generations of younger fans.  Eventually, the original five-person lineup of the debut disc reunited for the group's seventh album, No Exit, and its excellent world-wide hit "Maria."
While the album picked up on the group's mix'n'match/ear-to-the-ground stylistic equation they'd employed from the start, it didn't quite work its same magic this time around across the disc's entirety. In short order, inter-band dissonance again reared its head as bassist Gary Valentine fled or was pushed, Destri was soon gone to deal with personal issues, and Infante and Harrison from the group's regency period were shut out, leaving the core original trio of Harry, Stein and Burke as the band's nucleus.
Sadly, the "Maria" 45 proved to be a fluke.  Follow-up albums The Curse of Blondie (2003) and Panic of Girls (2011) relied more heavily on electronics and, particularly without Destri as part of the mix, the band failed to explore this avenue in a way on par with their earlier genre forays, with this year's disappointing Ghosts of Download continuing the trend (the less said about its accompanying disc of re-recorded versions of classic tracks, the better).  No matter what genre the first round of Blondie set out to explore, the group always had a distinctive overarching sound and identity which is the key lacking ingredient in their output so far this decade. Download's single — "A Rose By Any Name," a duet with Beth Ditto — has become a fave rave of mine over the last few months, and while I love the track, it could be anyone, really (mostly the Deb-descended Lady Gaga, who I had just seen perform five nights earlier).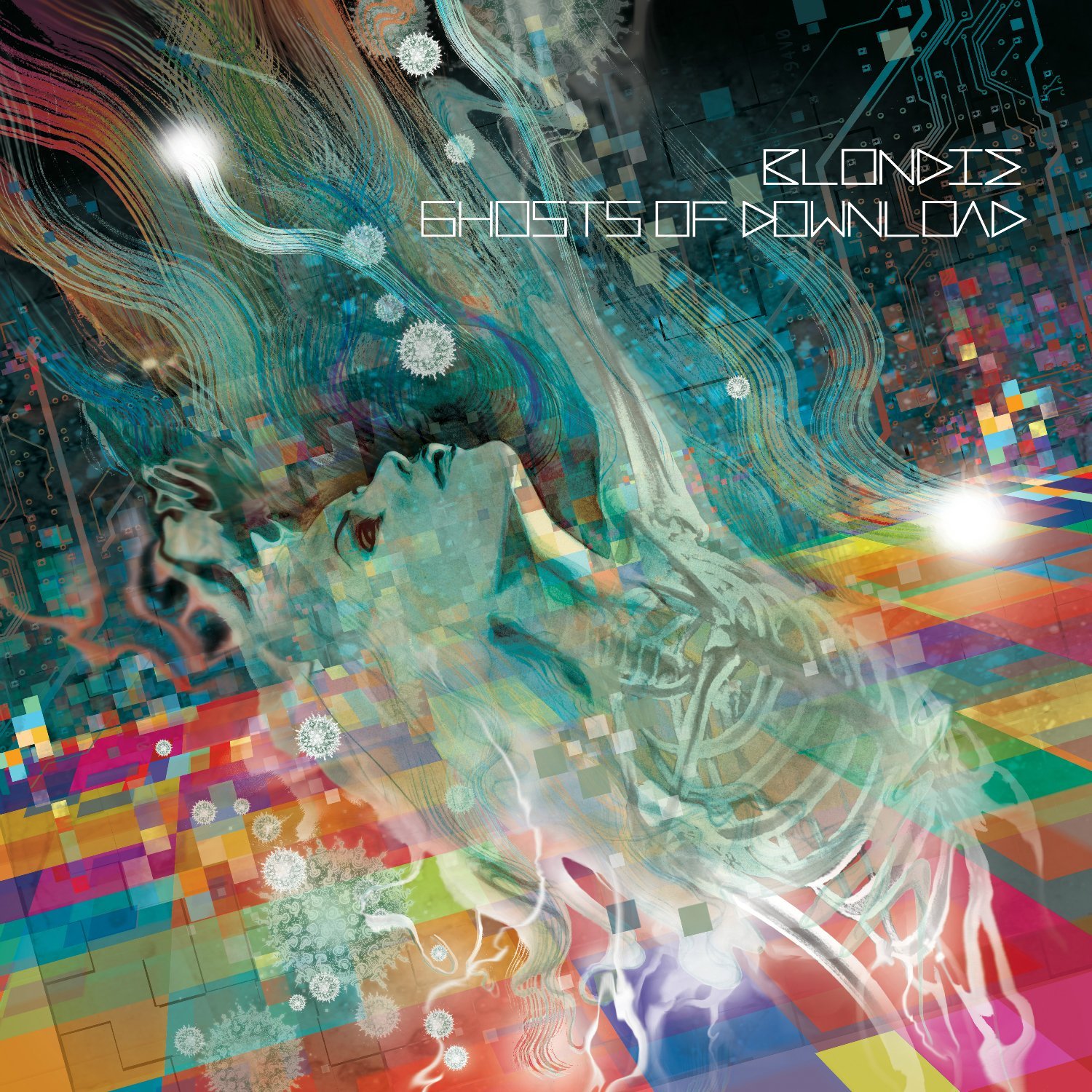 Ghosts of Download (2014) and its single,"A Rose By Any Name" featuring Beth Ditto.

Still, Blondie has continued as an acclaimed live touring entity and I was mega-chuffed to discover that their 40th Anniversary tour would be bringing the crew here to Ottawa as part of Bluesfest's 20h Anniversary.  And here's a kicker: this was actually the very first time I would be seeing them.  It only took 39 years from first spotting them in Rock Scene in that long ago summer.
Okay, so Blondie in whatever incarnation weren't even a performing group for just over a third of that timespan, but I had unfortunately missed out on seeing them during any previous boards-treading era.  I had certainly never avoided them and had wanted to see them perform since the 1970s — but the right opportunity never came along.  I have seen most of their significant NYC '70s peers (Ramones, Talking Heads, Patti Smith, even the similarly restructured New York Dolls) and British contemporaries (The Clash, The Jam, Buzzcocks, The Stranglers, Pretenders, Ari Up of The Slits, and Siouxsie and the Banshees), but never Debs and the crew.
What would the Blondie experience be like in 2014?  Would it sublime or embarrassing?  Would Debbie Harry — who was well into her mid-30s when the band reached their late '70s/early '80s commercial peak — still have energy and a good voice? I sure as hell wanted to find out myself, and apparently so did plenty of others as a large crowd assembled to take in what was remarkably the gang's first ever visit to the capital, on a gorgeous summer evening to boot.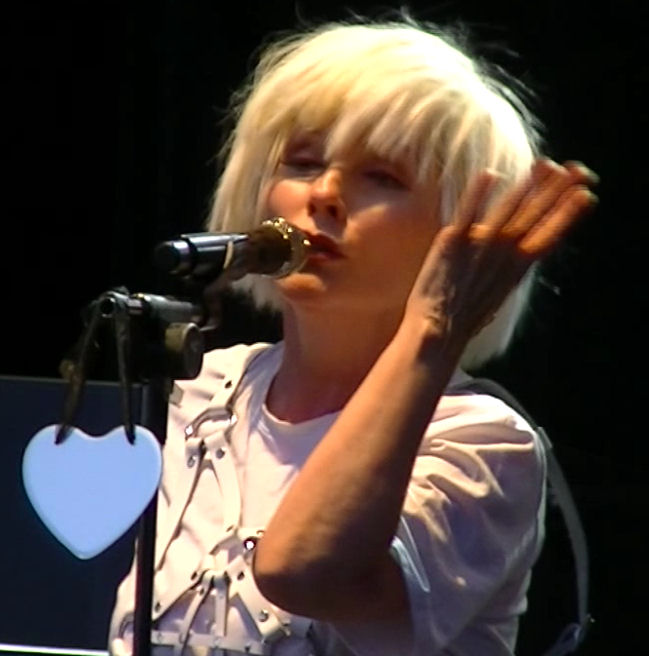 Debbie Harry and Blondie onstage at Ottawa Bluesfest, July 10 2014 (Thanks Cublet for video shots).

While Blondie were celebrating 40 years, Bluesfest was celebrating its 20th.  Like Blondie, its mix'n'match impulses across multiple stages for 11 days are a brief, welcome respite from the stultifying exurb golf culture which snoozily tends to suffocate many of Ottawa's better impulses.  And while I thought that this year's overall lineup fell into the "they've done better/they've done worse" grey area, Blondie's appearance was one of thee highlights for yours Various. (Note:  Owing to my decision to focus more on the past, I hope to be writing about the rest of this year's Bluefest in about, oh, two decades or so).  We settled in early, about 20 feet from centre stage before the crowd deluge flooded in during the beginning of a brilliant slow evening sunset.
We had been doing some wandering around previously, seeing bits of Gogol Bordello (a high energy performance, but while I can appreciate what it is they are doing, it's just not involving for me) and Procol Harum, live on stage with the NAC Orchestra and a choir, putting the "pomp" in pomposity.
As we listened amid the thickening crowd to "A Whiter Shade of Pale" and "Conquistitor" washing in from yonder stage, with Gary Brooker's organ sounding delicious, a 20-ish high-as-a-kite girlie behind me began relentlessly trying to grind/twerk into my ass and that of the woman next to me.  I stared increasingly pointed daggers at Miley Cyrus as she intensified the butt-to-butt slamming until I eventually turned around and aggressively shoved her back several feet into her pals while simultaneously issuing a faux-effervescent "Hey!  Fuck off!"
Instead, she shifted her focus to my similarly-unimpressed nabe-lady who also quickly did the shovies with bumpin' Miley, barely containing herself from giving the Twerk Princess a knuckles sandwich before bluntly telling her "That's not very nice!  Do it somewhere else."
Our Zoned-Out Lass exnayed the slam-twerking and instead switched to clapping relentlessly for what was probably two minutes but felt like sixteen hours, eventually splitting the scene to most likely commune with grasshoppers over by the river.  The crowd around us broke into spontaneous applause at her self-removal.
And mere moments after the passing of Twerk Nation, the giddy throngs found ourselves cheering loudly as Blondies old and new assembled on the stage and in the flesh, delighting your humble narrator to no freakin' end by hitting blast off via Parallel Lines' "One Way or Another."  It was instant flashback time for moi, namely that fall of 1978 when I played the album daily. Looking like a pretty Andy Warhol with clipped hair and shades and what looked like a bondage version of a nurses outfit, Debbie Harry oozed pure star charisma, undiminished.  Marilyn and Jean, Jayne, Mae and Marlene — and Debbie.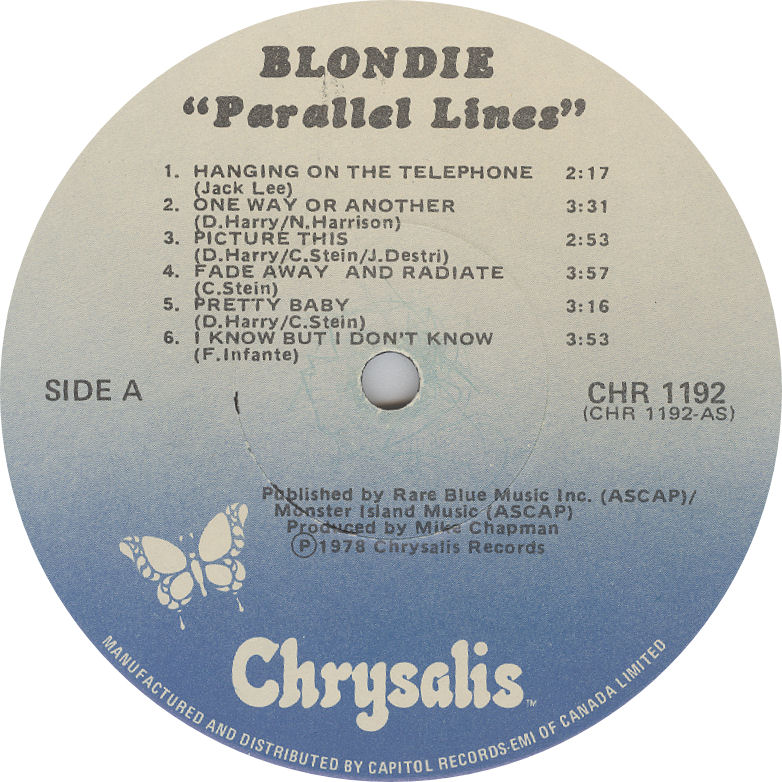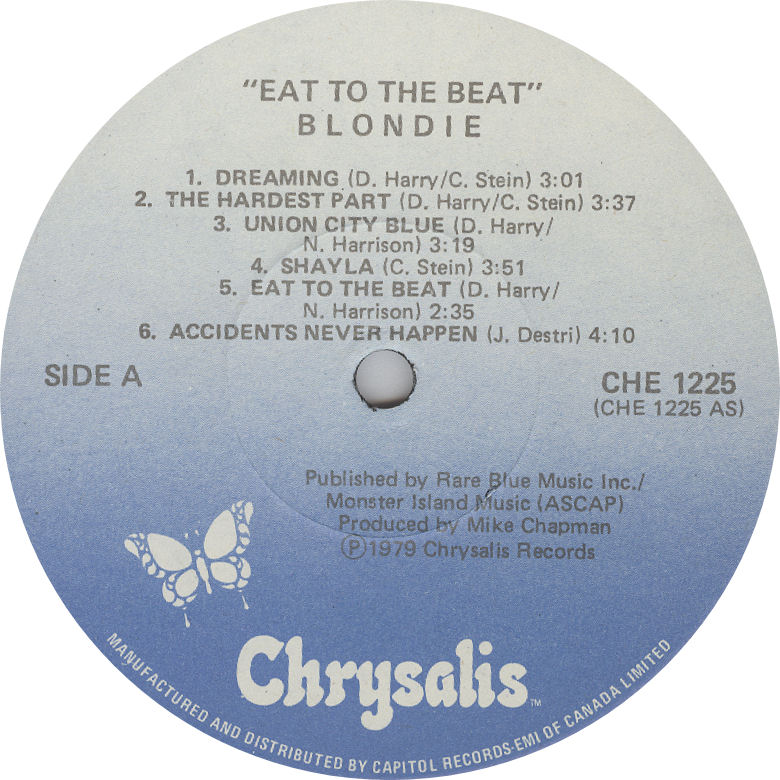 Energy from both band and audience failed to flag throughout, with everyone on both sides of the stage having a ball.  Core originating trio of Harry, Stein & Burke were augmented with current members Leigh Foxx on bass, guitarist Tommy Kessler and keyboardist Matt Katz-Bohen.  Burke has always been one of my favourite drummers, and he was in top form tonight (While this may have been the first time Blondie had been in Ottawa, Clem Burke manned the skins behind The Stranglers' Hugh Cornwell at a sweet Zaphods' gig back in 2010.)  The Beatle-cropped Paradiddle Prince particularly wailed on "Call Me," one of the many big hits delivered to gleeful devotees spanning a wide swath of ages.  "One Way or Another," "Maria," "Atomic," encore "Dreaming" and, of course, "Heart of Glass" made the scene, while "Rapture" segued into a cover of the Beastie Boys' "Fight For Your Right To Party."
Meanwhile, key tracks from Ghosts of Download, such as "A Rose By Any Name" and "Sugar on the Side" were given full bodied deliveries that knocked most of the studio versions on their asses.  Why not just record the tracks live in the studio when they sound appreciably better than the flat, often over-tinkered studio equivalents?  Hmm.
Blondie arrive onstage with "One Way or Another." (Thanks to Cublet for the camerawork.  More videos from this show are available on my YouTube channel,
VATV
youtube.com/mylifeinconcert)
Deb did dancin' during "Mile High Club" and I levitated when I found myself making eye contact with the Peroxide Oracle herself during "Euphoria."  She was in positively chipper spirits, conversing with the crowd a number of times, remarking that they were nearing the end of the tour and confirming that they had never been to Ottawa before.  Better late than never, especially for such fun night out as this.
On one hand, I was disappointed than none of my three all time fave Blondie numbers were performed ("Picture This," "(I'm Always Touched By Your) Presence, Dear," and "Sunday Girl" nor anything from that beloved first LP) and I do wish it was the six of them up there from the classic lineup, but I'm glad that the three originators are those present.  And I can't complain much after having such an exhilarating kick of a fabaroony time as I did on this night.
Forty years on and I'm still just wild about Harry.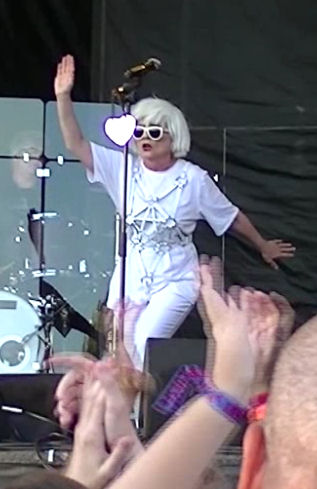 "In The Flesh" from Blondie (1976)
Next On Stage –> I will finish my delayed 2013 Bluesfest recaps but will then return to the past where the concert aspect of my blog will strongly focus on.   Shows from yesteryear — and my related experiences and impressions on the gig, artist or era —  were supposed to be the backbone of my blog. The reality is that I still go and see so much live music that it is predominating the concert writing. I can't even catch up to pieces on the present, let alone the past.  So, while I will still be writing about some contemporary shows, they too will largely be covered off some time down the road.
But first, some Halloween-themed entries …
….
178c. Declare Independence: Ottawa Bluesfest 2013 (Pt. 2) with Björk, B.B. King, Phosphorescent, Austra, Stars, and more, July 13-14, LeBreton Flats, Ottawa, Ontario, Canada…
and then back to …
026. Cities In Dust: Siouxsie & the Banshees with Images In Vogue, International Centre, Toronto, Ontario, July 10, 1984