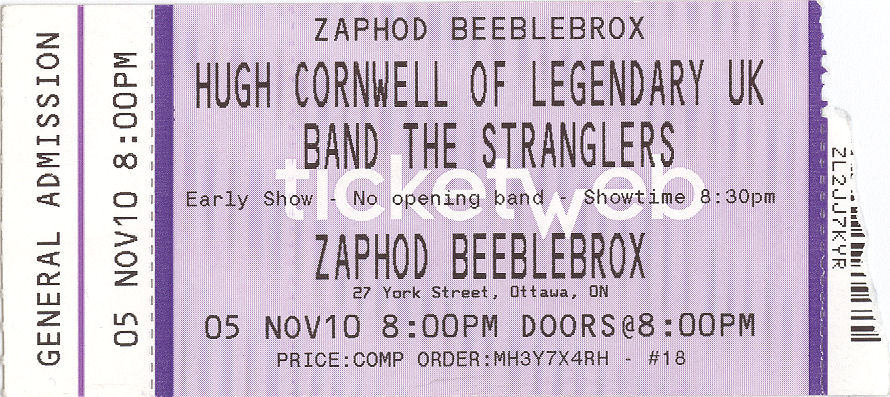 The line up in the freezing cold not pictured.
155. Hanging Around: Hugh Cornwell from The Stranglers featuring Blondie's Clem Burke, Zaphod Beeblebrox, Ottawa, Ontario, Friday November 5, 2010, $18.
I have three primary associations regarding The Stranglers.  The first dates back to that trip to England in 1977 that I have written about.  Their debut album, Rattus Norvegicus, was a major hit over there that year, and the band's menacing glares peered out from record store windows throughout the UK.  I first actually heard them in a record bar up north where a teenage store clerk was spinning the latest 45s.  My attention was caught by an insistent strum that twinned with an ascending organ run, turning into a real toe-tapper.  I listened closely, trying to discern who this was as it had one foot in the punk camp while also prominently sporting Doors-esque keyboards.  When it hit the repeating refrain of "Something Better Change," I immediately realized that this was The Stranglers as I recognized the name of this then-current chart hit.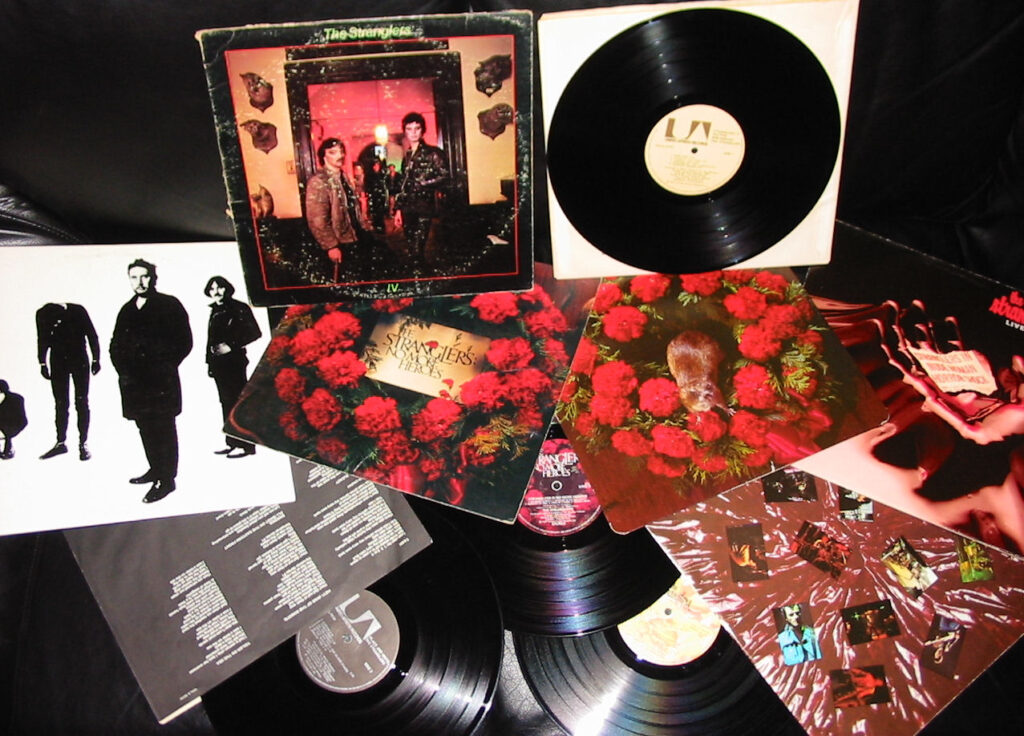 The Stranglers' debut LP, Rattus Norvegicus, one of the UK's biggest sellers of 1977, surrounded by No More Heroes (1977), Black and White (1978), and Live (X-Cert) (1979). (Photo by VA)
Sufficiently impressed, I picked up Rattus Norvegicus shortly after my return to Canada and played it heavily all throughout the fall of '77.
The second association is intertwined with meeting my friend, who I shall call M. Zeppelin or MZ, at the very end of 1982 (and who remains one of my bestus friends until this day and has already contributed  to this series on a few occasions).  At some point just prior to my meeting her, MZ had discovered The Stranglers and become a HUGE fan(atic) in the process.  I myself had sort of lost interest in them during the later  '70s/early  '80s, finding that I liked each album less than its predecessor and also becoming increasingly turned off by the OTT misogyny of many of the early lyrics.  I hadn't tuned them out completely, however, enjoying some of their more pop-wise UK hits such as "Duchess" and "Golden Brown" in the intervening years.
Meeting and hanging around with MZ meant a complete re-submerging in the band, playing catch-up with albums such as La Folie and Feline.  MZ also rented out a studio space ("The Executive Suite" as it came to be known) above the Clifton Arms in downtown London, Ontario during the summer of '83.  The Ex Suite became a drop in centre for MZ and her friends: a space to help get the party spirit started before — and keep it going after — nights out downtown at the bars and clubs.  She found an 8-track player and installed it in the studio, and I have memories of many nights spent up there with the only two decent 8-tracks she could get her hands on — Rattus Norvegicus and Chic's C'est Chic — playing endlessly while we all got sufficiently "prepared" for the night's shenanigans.
The third touchstone is a Stranglers gig that I attended with MZ on the second of two sold out nights at Massey Hall in Toronto during April 1987.  By that point, the band had cultivated a strong international following and were regular visitors to the LP charts here in Canada.  That gig was just one ingredient of a larger weekend of high jinks that included a two-day acid trip; a champagne party where MZ and I innocently and inadvertently quaffed substantial quantities of other peoples' bubbly; a couple of limo rides; the very first 1970s Retro Party that I ever attended (thrown by MZ, who gave many well-attended, boffo theme parties back in the day); and the creation of a series of cut-out shapes that would figure into the party's décor (most notably, The Degenerate in the Moon).  All will be explained when I hit entry no.039 in this series, so stay tuned.
And now I have a fourth association via this appearance in 2010 by head Strangler Hugh Cornwell as part of trio that included one of my all-time favourite drummers, the great Clem Burke from Blondie.
The Stranglers underwent an acrimonious split in 1990 with Cornwell embarking on a solo career and the rest of group continuing on with new lead vocalists.  While the latter have had a degree of ongoing success in their native UK, neither camp has scaled the heights anywhere near the band's '77-'90 commercial heyday.
While I know little about Cornwell's intervening solo work, it was a given that I'd be heading down to Ottawa's Zaphod Beeblebrox if only out of curiosity.  It wasn't until the day of the show that I found out about Blondie drummer extraordinaire Clem Burke being part of the line-up and that they'd be playing that first Stranglers album in its entirety.  Sweetness!!
"Something Better Change," from 1977 and the first Stranglers song I ever heard, at a Boots or Woollies record bar in Cumbria, in Northern England.  This was the big hit the band had out while I was visiting the UK in 1977.  I have written and podcasted about hearing this and other punk records during that visit in my episodes on Elvis Costello and Bob Seger concerts from 1978.
Following some quality time devoted to pre-gig merriment, I met Cublet downtown for the early evening show at Zaphod's only to discover that admittance would be delayed owing to the trio's soundcheck.  Getting there early wasn't for nought, though, as it meant we were one of the first in what turned into a long line-up to get in.
I passed the time on this atypically freezing early November night eavesdropping on the conversations around us.  My favourite overheard comments were "Huge Cornhole" and "he's the punk David Lee Roth" (WTF!?!?!? … on what planet, buddy?).  That and a large contingent of English accents complaining "Damn it's cold – How do they live here?"  Hey, try coming back in mid-January for the full meal deal.  And then return for the 72% humidity of tropical Julys.  We have seasons here, pal.
Being some of the first persons through the door meant that we were able to scam a table against the wall of the dancefloor, directly in front of stage left.  Exactly where Hugh would be standing as it turned out.  The "merriment" continued pre-show as we hung out while an A1 Ramones compilation blasted through the system followed by some great jazz.
Cornwell, Burke, and bass player Fish cut through the packed house en route to the stage — all three in black, appropriately — and plugged in.  I couldn't have been better positioned, simply popping out of my seat for the sets, hanging around a few feet in front of Cornwell.  Both Hugh and Clem looked fit and well but there was something about Cornwell's appearance and demeanour, complete with a bandage over his right ear, that made me want to start singing "My old man's a dustman / He wears a dustman's hat / He wears cor blimey trousers …"
The first of the two sets alternated Stranglers hits with highlights from Cornwell's solo career.  Following an "It's great to be back in Ottawa" shout out, Hugh opened the night with "Nice'n'Sleazy" from 1978's Black and White, with the trio going on to perform other Stranglers favourites such as "Duchess," "No Mercy," "Always the Sun," and "Golden Brown" (one of the loveliest odes to heroin ever written this side of Lou Reed's "Perfect Day," played here in a jazzy style on this evening, featuring some great drumming from Burke and a David Gilmour-esque guitar segment from Cornwell) before concluding with a thundering "No More Heroes."
Hugh's solo stuff impressed me too, with songs such as "Going to the City," "Rain on the River," and "Beat of My Heart" coming off strong and embraced by the audience.
The packed house o'folks, 90% of whom were unsurprisingly in their 40s and up, were having a ball, jamming the dancefloor with bouncing revellers.  I was particularly fascinated with this one guy who was right up front next to me.  He looked like a slightly younger, more yoga-focussed version of Mr. Hooper from Sesame Street only with a thick head of grey hair, a big puffy scarf, and a black hat.  He danced about, grinning like a Cheshire cat and regularly throwing his arms up and out at Hugh in a display of near religious ecstasy.  Damn, what's his story?  I want some of whatever it was he was on.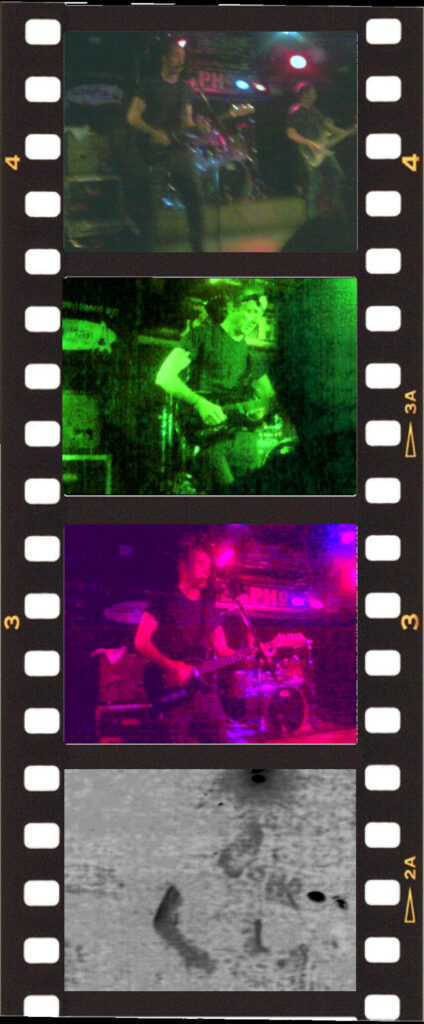 "My old man's a dustman / He wears a dustman's hat / He wears cor blimey trousers …" Hugh Cornwell at Zaphod Beeblebrox, Friday November 5, 2010 (Cell phone photos by Cublet; manipulations by VA)
Following a brief intermission during which Cublet and I talked with a Scots fellow who had not only seen The Stranglers at the Glasgow Apollo in 1978 but also attended both nights of the aforementioned 1987 Massey Hall shows, Hugh and Co. returned to play Rattus Norvegicus in its entirety.  I love this trend from recent years of artists performing entire albums in sequence, keeping the spirit and concept of the album format alive as it declines in some quarters.  There's a different kind of vibe when the punters know what's coming next, as when there was palpable buzz preceding "London Lady," with everyone waiting for Cornwall to get things started with those familiar opening chords.
Highlights included hard-charging versions of "Goodbye Toulouse" and "Hanging Around"; "Princess of the Streets" delivered in a psychedelic blues style; "Peaches," one of The Stranglers signature numbers, given a particularly excellent rendering that played up the reggae and dub aspects; and, best of all, a rendition of the LP's epic, lengthy closer, "Down in the Sewer," that summoned up the late '60s Who with Burke wailing like Keith Moon.
My favourite track off of Rattus Norvegicus, "Goodbye Toulouse" (1977).
The elephant in the room, however, is this: when one thinks of The Stranglers' sonic trademarks, the two most distinctive elements that leap to mind are Dave Greenfield's keyboards and JJ Burnel's taut, muscular bass, not Cornwell's guitar.  Their more band-oriented approach — strongly incorporating elements of psychedelia — was one of the things that really set them apart from many of the first wave of UK punk acts.  Hugh sang most of the original biggies, and that voice-of-the-lead-singer is always an essential ingredient for me in terms of having a contemporary performance of old material work.  And bass player Fish did a great job of replicating Burnel's bass sound (replicating JJ's stage presence is another matter).
That being said, the truth is that these songs need keyboards in order to fully work.  The trio employed many sonic tricks and effects to try and compensate for the absence, such as plenty of flange on Cornwell's guitar, but it didn't truly fill the gap.  It's not that they sounded bad, just incomplete.  I kept anticipating the arrival of an organ that never came.
As much as I enjoyed this gig, I would love to see it again avec keyboards.  Hell, I'll just cut to the chase and say that I'd simply like to see the original re-formed Stranglers.  Both camps are out there performing but neither is ever going to be able to deliver on what they had as a unit.  But from what I have heard, there is much bad blood and the possibility of a proper Stranglers reunion is most unlikely.  What a shame.
Following "Sewer," Cornwell announced "Bring on the merchandise!" and was promptly cleared out of all copies he had of his vinyl albums and CDs, custom signed for the fans.  He even gave change, the thoughtful bugger.  Unfortunately, everyone jumped in just as I was downing the last of my Guinness.  Alas, I wasn't able to grab anything.  Not hanging around at the right moment, I guess.
A great New Music segment from their Toronto visit in 1980.
Next On Stage –>  I'll be alternating between posting the last of my "catch-up" entries (originally published on my corresponding Open Salon blog) covering the end of 2010 and the first half of 2011, continuing with Broken Social Scene's swing through town, in what may turn out to be their final tour.  I'll also be returning to the present for some earlier-summer shows by two of my favourite new acts, Janelle Monáe and Esperanza Spalding, before dipping back into the distant past for one of my most memorable concerts ever: David Bowie in 1983.
022a. Changes: David Bowie (or: "Bowie, The 70s, & Me")
022b. Let's Dance: David Bowie with Rough Trade, CNE Stadium Toronto, Ontario, Canada, Saturday September 3, 1983.
156. It's the Year Two Thousand & Ten: Broken Social Scene with Here We Go Magic, Bronson Centre, Ottawa, Ontario, Canada, Thursday December 16, 2010
172. Locked Inside: Janelle Monáe with Roman GianArthur and the David Mott Quintet, Ottawa Jazz Festival, Confederation Park, Ottawa Jazz Festival, Ottawa, Ontario, Canada, Saturday June 23, 2012
173. Esperanza Spalding with Gretchen Parlato, Toronto Jazz Festival, Nathan Philips Square, Toronto, Ontario, Canada, Thursday June 28, 2012
© 2010 VariousArtists