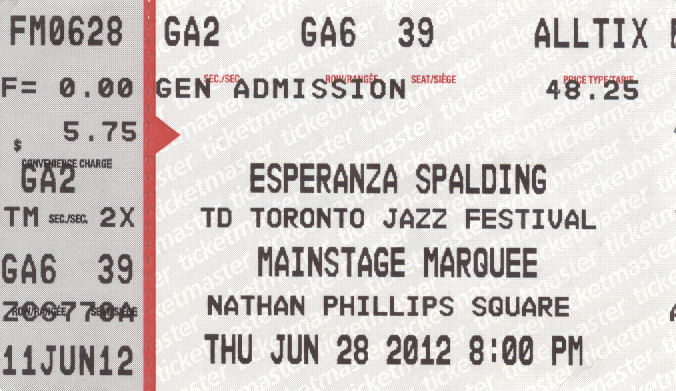 This was one hot show, in both good and bad senses.
173. Hold On Me: Esperanza Spalding with Gretchen Parlato, Toronto Jazz Festival, Nathan Phillips Square, Toronto, Ontario, Canada, Thursday June 28, 2012, $48.25.
It was less than one week after experiencing the brilliant Janelle Monáe under unnecessarily difficult circumstances thanks to the intuition-challenged burghers of the Ottawa Jazz Festival, and here we are five hours south at the Toronto equivalent. Staged right downtown at the feet of City Hall, Cublet and I were here to hear the similarly-brilliant Esperanza Spalding and her big band wail away, showcasing her new release (and one of 2012's very best), Radio Music Society.
A different new(ish) fave rave! A different city! A different festival! A different … set of enraging circumstances wherein we again witness one sweet night of music despite egregiously unpleasant conditions.
Wasn't going out to see live music supposed to be fun? Have any Federal Performance Acts been passed up here lately to legally ensure that joy must be challenged, on principal, when trying to enjoy a night out, particularly after shelling out plenty o'scratch to be here?
Despite it all, music's pulling powers once again triumphed over adversity for this jaunt … but it would have been a whole lot more ticketyboo to simply enjoy it without having to endure the third degree. Still, Esperanza proved to be worth it.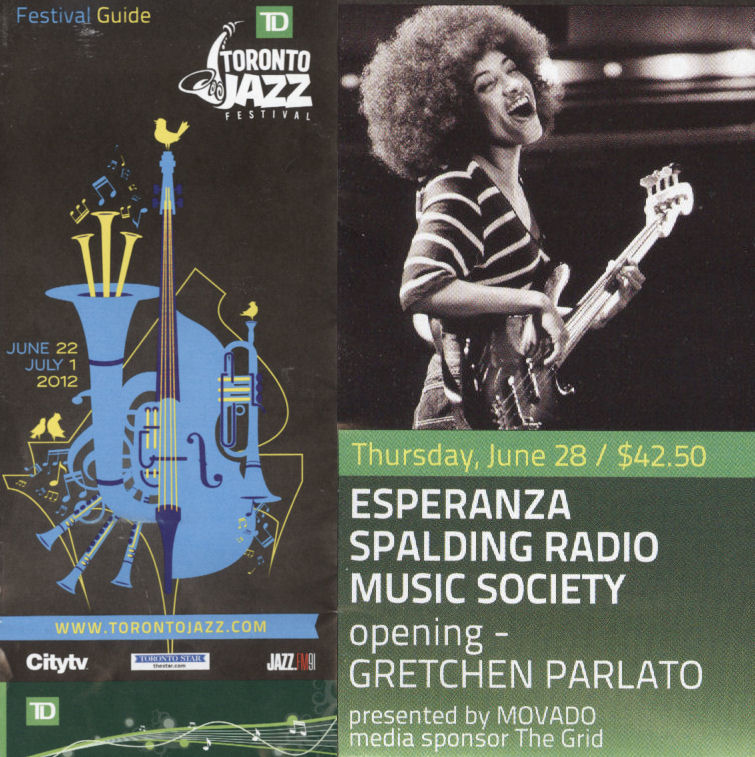 Toronto Jazz Festival 2012 Pamphlet (Scan by VA)
I first heard of Ms. Spalding via her nomination and surprise Grammy win early last year, when she famously beat out that unlovable l'il urchin from Stratford, the mighty Biebs. Not that her win in and of itself made me want to check her out. As someone whose lifelong equation with most things "Grammy" goes thusly …
Grammy Award Winner = Saccharine, Industry-Manufactured Fluff
… that someone has been awarded one normally means that they are glossy audio poison to me, especially when it comes to the Best New Artist category which has a famously hilarious — or painful — history of cluelessly celebrating one inoffensive dud after another (minus a select few happenstance exceptions, mostly in recent years). However, even a stopped clock is right twice a day, and it's churlish to stick rigorously to an ideology of negation simply because you and your enemy shockingly stumble onto some common ground.
I thought it was interesting that she won in the same year of the Arcade Fire's haul and upset — one of the very, very few times I've ever thought any of the big G-word awards was actually merited, even if I have somewhat mixed feelings overall about the Arcade Fire and The Suburbs.
Still, I was watching on that night, primarily for the performances by the AC and Janelle Monáe, and besides being in schadenfreude heaven to see our mop-topped Donny Osmond update denied the booty, I was admittedly intrigued by the young woman who ascended to the podium to collect the goods. I knew virtually nothing about her other than I loved how she was rocking Angela Davis' hair circa 1972.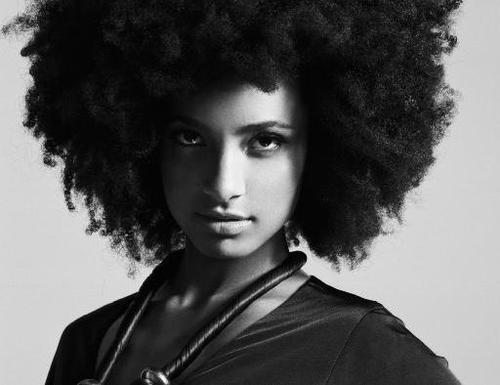 Esperanza Spalding: Rocking the Angela Davis '72 'do (Source Unknown).
In short order I was reading about how her recent LP, Chamber Music Society, blended jazz with her interest in classical string music, something I found intriguing. Soon enough I was checking her out on YouTube and, voila! — I did like was she was doing. As it turns out, the Chamber release had initially been envisioned as one half of a Music Society double disc project, with the limited resources at hand at the time forcing Spalding to chunk it down into two separate discs rather than the intended twin set (sweater and pearls optional).
As with another terrific project that was divvyed up owing to circumstance, namely Rufus Wainwright's Want One and Want Two, part of me is glad that Spalding's project was sliced into separate meals rather than what may have been an overly abundant banquet. Chamber Music Society is a wonderful showcase for one area of her talents, and its becoming a post-Grammy hit multiplied the population of peepers pointing their gaze at the now-high-profile successor release, which dropped this past March. And crikey, did she deliver.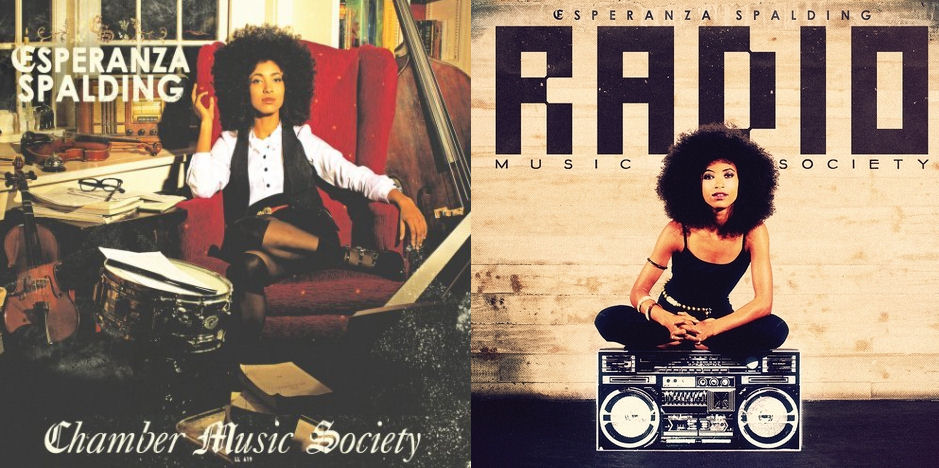 Above: Chamber Music Society (2010); Radio Music Society (2012).  Below: Video for "Little Fly," Spalding's take on the William Blake poem, from the Chamber Music album.
[youtube=http://www.youtube.com/watch?v=w2JRGv91urY&w=420&h=315]
Instead of Chamber's classical bent, Radio Music Society blends jazz with funk and pop touches, resulting in an inspired, seamless vehicle for Esperanza, sometimes arriving in neighbourhoods similar to those that Stevie Wonder, Steely Dan and Joni Mitchell were cruising around in during the mid-to-late '70s, albeit driving in from the reverse direction. And while her journey may occasionally threaten to veer into one of my dreaded cul-de-sacs — fuzakfusion — it never fully turns that corner, instead only occasionally backing up into it, knowingly loading up with only the more interesting shrubberies on display from its overly manicured lawns.
RMS was greeted with a hail of rave reviews, landed in the Top 10 in her native USA, and took her to a whole new level of international visibility and success. It's a disc both Cublet and I took to immediately, being a bit of a recurring sonic balm in what's been a pretty rough year for us. While I've had to curtail my live mu$ic layout for '12, Spalding was one act I had my eye on seeing before the Boxing Day rush. While booked into this year's Ottawa Jazz Festival, it turned out she was also playing the Toronto Fest during our stay in the city for extended Pride pre/weekend visit. Toronto it was.
[youtube=http://www.youtube.com/watch?v=Nppb01xhfe0&w=420&h=315]
Video for "Black Gold," a duet with Algebra Blessett, from Radio Music Society.
Besides, after the eye-gouging episode of having to enjoy Monáe's thrilling set amid the buzzkill of festival wet blankets (thanks for that one, catch-22!) via blasé core attendees and volunteerniks, I was more than happy to be seeing Esperanza in a real city (and one that's always felt like a second home).
Sigh. In a theme that seems to be predominating my year, things didn't go quite as hoped for. And it started upon arrival.
The Toronto Jazz Festival is held in Nathan Phillips Square, in the shadow of the still-impressive curved twin City Hall buildings. I remember coming to Toronto as a kid, just a few years after their being completed in 1965, and thinking they looked so futuristic. I still think they look futuristic. I was curious as to how the layout was going to work down in the Square, arriving to find a large tented area erected in front of phallic structures.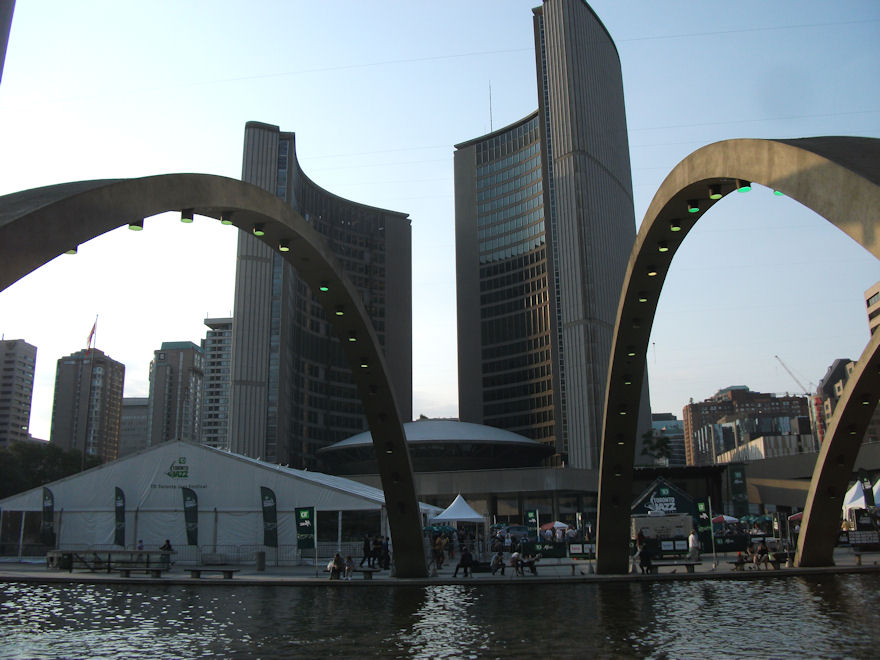 Toronto City Hall and Nathan Phillips Square, upon our arrival at the 2012 Toronto Jazz Festival. The dreaded performance tent can be seen, bottom left.  (Pics from the night of the show by VA and Cublet)
A tent! How lovely! Oh, let us rejoice o'er the joy of canvas! How convenient, should moist droplets of precipitation deign to fall upon our shaven heads! How wonderful to be safe from the possibly weeping skies yet still be at one with the out-of-doors and its fresh air! By jove, golly gee willickers, and all that jazz.
Well, not really, actually.
It was a case of concept = 10, reality = 0, as we made our way in about an hour before showtime, only to discover a claustrophobically humid human wedge-in on this insanely hot'n'sticky late June night. Spalding's new commercial prominence meant that this show was a sell out, with the Fest folks trying to squeeze in as many as possible into chairs that would have fit just right for any lost supermodels who may have stumbled in, needing a place to rest their angular, bony tushes for a moment.
On a evening when the humidex must have been in the 40Cs, the combo platter of the human smorgasbord + the canvas cover + the thick humidity + searing performance lights meant that this had to be one of the hottest shows I've ever attended. And not in the good sense (although Spalding and her band were undeniably hot in that sense too … but I'm getting to that). I recently wrote about seeing Marianne Faithfull in a sweatbox of a nightclub on an oven of an August night in 1983. In that scenario, I didn't much mind: I was younger, less bothered, extensively inebriated, and was able to move around a bit. Well, it's not 1983, it's 2012. I'm older, more bothered, basically sober on this night out, and stuck in an uncomfy lawn chair that, like the Grinch's heart, was many sizes too small — so, yes, now I mind. A lot. As did Cublet.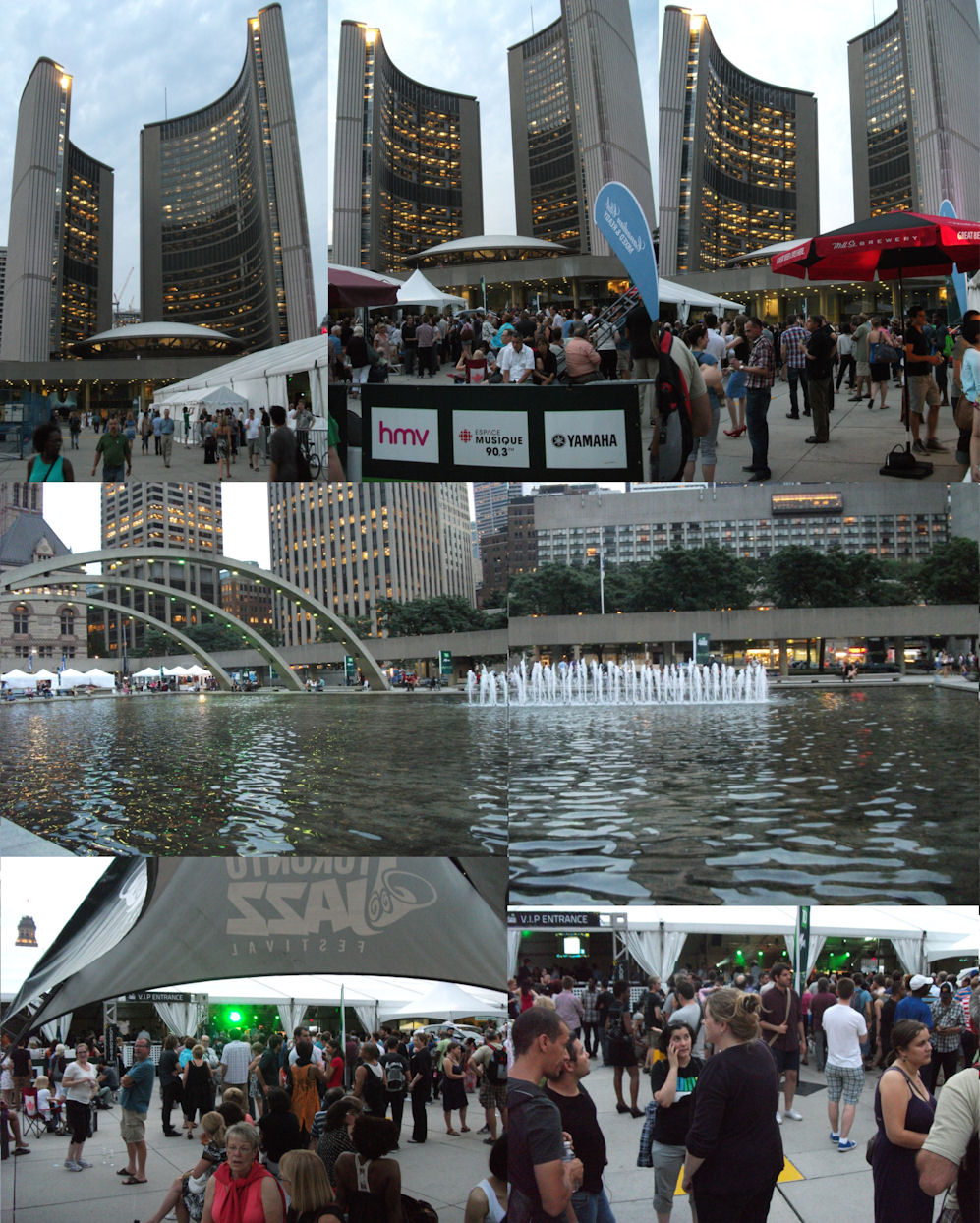 Pictures I took in and around the squa re during a much needed oxygen break between sets.
Not enough to bolt on costly tickets or to turn down the opportunity to see Ms. Spalding. But it was tempting. It reminded me a lot of being in the sauna at my Y, except that when I am there, I am appropriately undressed for it and don't spend almost four hours in residence.
Things mercifully got rolling when hotly tipped opener Gretchen Parlato took to the stage with her trio. I'd kept bumping into her name over the last year or so but hadn't yet heard her. I knew she was an LA-born, NYC-based vocalist who was strongly influenced by Brazilian music and musicians. As a fan of Brazilian music, that sounded like a fine proposition to me. Parlato's sultry jazz with a bossa nova touch certainly fit the Equator-style heat, opening her set with a sensual, restrained yet rhythmic take on Simply Red's "Holding Back the Years." Her whispery voice sounded fine, and her drummer was particularly impressive, but I still found myself slightly underwhelmed. I enjoyed Parlato's performance, it just wasn't quite the K.O. I was expecting.
Perhaps it was an over-build-up from repeatedly hearing her praises sung, or perhaps I was too uncomfortable in these surroundings to fully appreciate her nuances. I've since checked out and enjoyed a few of her vids on YouTube. She certainly proved a big crowd pleaser, and was called back for an enthusiastic encore.

Once, Twice, Three Times Parlato (and band). Below, a live version of her cover of Simply Red's "Holding Back the Years."
[youtube=http://www.youtube.com/watch?v=iFOwC_SDpBg&w=420&h=315]
The countdown was then on for Spalding's eventual arrival. I simply had to get out from under this tarp trap and walk around for a while, inhaling actual oxygen, which made returning to it all the more difficult. By the time the MC stepped back up to the mike to announce the headliner's imminent appearance, I just wanted it all over. There's nothing quite like shelling out wads of coloured paper and then waiting several months to see someone, only to want it to finish as quickly as possible by the time it begins.
However, when music truly grabs you, it can make many frustrations vanish, or tame them into temporary manageability as you lose yourself in it — and this is what happened to me during Spalding's set. Well, mostly anyway.
I also couldn't help but get a big chuckle out of the MC smartly encouraging the audience to get out their cell phones to take photos and videos, and to start tweeting about the show to friends, engendering a sense of excitement and momentum — the polar opposite attitude of the Ottawa Jazz Festival's moribund mandarins who, robot-like, dish out the hardline technological "buckle under"s.
The sweltering throngs weren't unbowed, greeting Esperanza and her exceptional 11-piece backing crew with a heart-felt, earnest welcome as she kicked off the set with alternating band solos and introductions. "I'm looking forward to spending this evening with you," she purred with cheerful countenance, flashing a big smile as her fingers skipped nimbly along the fretboard of her bass.
I'm glad she was looking forward to the set because I don't know how else she and her band would have pulled it off. If we in the audience were just about dying in the oppressive darkness, I can't even imagine just how brutal it must have felt to be up on that stage under those relentlessly sizzling lights.
For the assembled patient, we were rewarded with the perks of an undeniably wonderful show, with material drawn largely from Radio Music Society.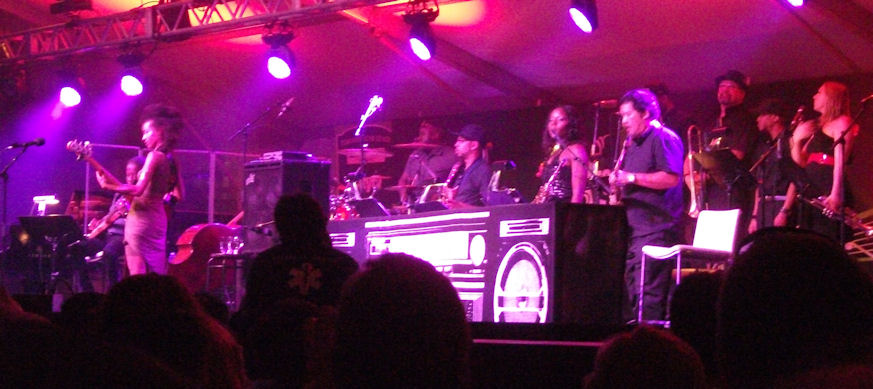 Esperanza Spalding and the Radio Music Society at the 2012 Toronto Jazz Festival.
There was a recurring approach to the delivery of each song, as she and the band would start by working into a quiet groove based around a musical motif from the given selection.  Then, Esperanza would begin to speak, warmly and easily, about fictions — or non-fictions — explicating existential, philosophical or personal thoughts, quandaries, questions or scenarios, sometimes specific and concrete and at other times elliptical, poetic stream-of-consciousness ponderances, each time creating a context or narrative for the subsequent song to inhabit. It was musical mind theatre.
These conversational introductions added a genuine sense of intimacy to the evening, acting as a further example of Spalding's interest in merging her music into larger interpretive frameworks, similarly evident via the deluxe edition of RMS which includes a DVD featuring videos she created for each track on the album.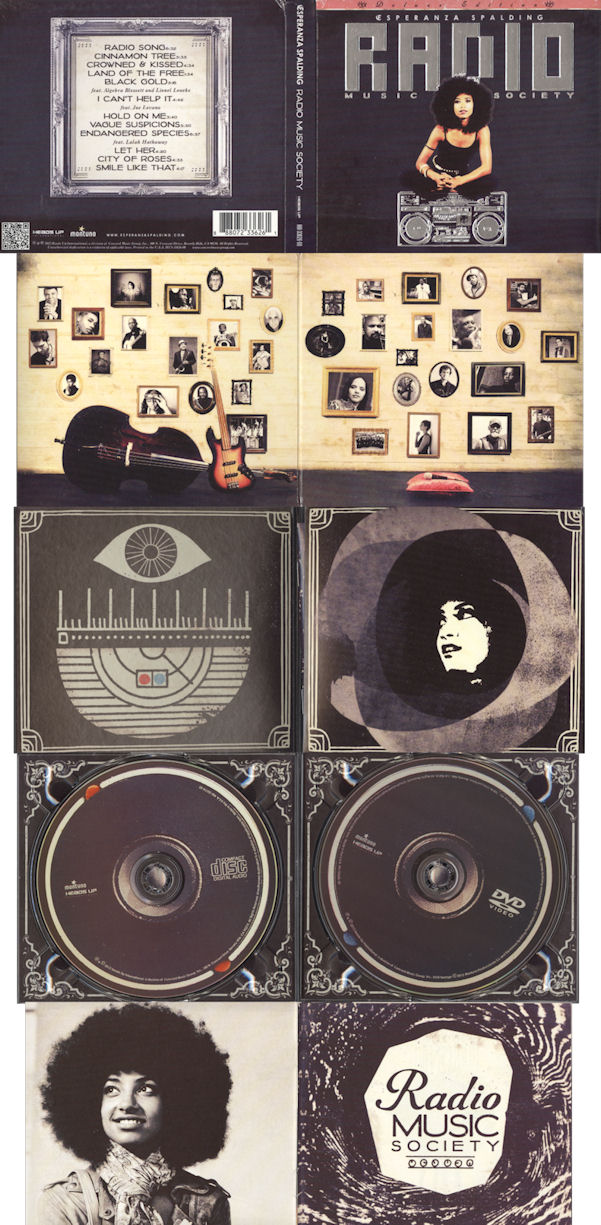 The deluxe version of Radio Music Society.
Spalding spent the night vacillating between electric and acoustic bass, and while much has been rightly made of her interpretive mastery of both instruments, this emphasis can sometimes result in her elastic, bell-like voice being overlooked. It was a gorgeous instrument in and of itself to behold. An especially memorable example came at the end of the big band-ish "Hold On Me," as she hit a long-held high note that gave me goosebumps.
While the night's star, Spalding regularly turned the spotlight, musically and verbally, on the members of her backing band, regularly championing them throughout. As someone who worked her way up through the ranks as a touring musician for Patti Austin and Joe Lovano, she's well poised to appreciate that an interweaving among the larger whole is what creates something musically special on nights like these. Her praise sometimes went beyond the music, such as when she sent a shout-out to one of her trombone players who is "raising six kids, and raising them well, on a trombonists salary."
As superb as all her band was, special mention must go to saxophonist Tia Fuller, hauling out killer playing throughout the night, so much so that one momentarily forgot the night's central performer on more than occasion when she was in the spotlight. She particularly shone during the cover of "I Can't Help It," easily one of my least favourite tracks from Michael Jackson's Off the Wall, both tonight and on RMS given a superior, uptempo arrangement that leaves the original in the dust.
After ending the set proper by leading the crowd through a singalong to the tricky chorus of RMS's lead track, "Radio Song," Spalding returned with Parlato for an encore of the Antonio Carlos Jobim compostion, "Inútil Paisagem," which she and Parlato recorded together for Chamber Music Society. Spalding shares her duet partner's love of Brazilian music, regularly extolling her passion for the country's music and language, publicly noting the legendary Milton Nascimento as one of her prime inspirations (he also guested on the Chamber disc), and has recorded a number of Brazilian songs across her catalogue.
It was interesting for me to hear this cover at this time as it's been part of my soundtrack over the past year via a version by the late Elis Regina (I've previously thanked OS's Abrawang for turning me on to this Brazilian treasure who I'd erstwhile been unfamiliar with). With just the two of them on the stage — Spalding on bass and Parlato supplying the handclaps — the twosome came off more as a mutual admiration society than simply touring partners. There's clearly a complementary link between them, as people and artists, which made me want to hear an entire collaborative album from them.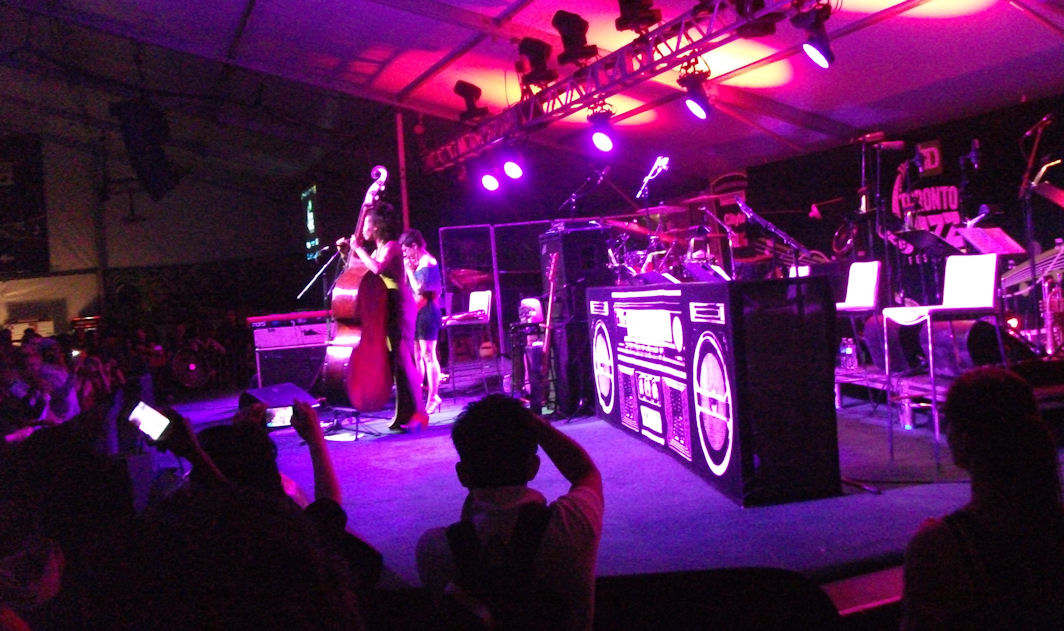 Spalding and Parlato prepare to sing the encore, a duet on Antonio Carlos Jobim's, "Inútil Paisagem." Below: A video for the version that appeared on Chamber Music Society.
[youtube=http://www.youtube.com/watch?v=zGFx-wBUogo&w=420&h=315]
As satisfying as the show was, I was mightily relieved by its conclusion. Throughout the set, many exited and entered the tent, not out of boredom but out of not wanting to pass out. We sat tight throughout the performance — the music was just too delicious to tear ourselves away — but once Spalding and Parlato exited the stage, we were out of there like ferrets on Benzedrine.
Ultimately, I wished I'd seen Spalding at the Ottawa Jazz Fest and Monáe in Toronto but, hey — that just seems to be the way that things are working out for us this year. Regardless, Esperanza and her crew had the goods and the magic to keep a hold on me through this oppressively unpleasant night of smothering canvas hell.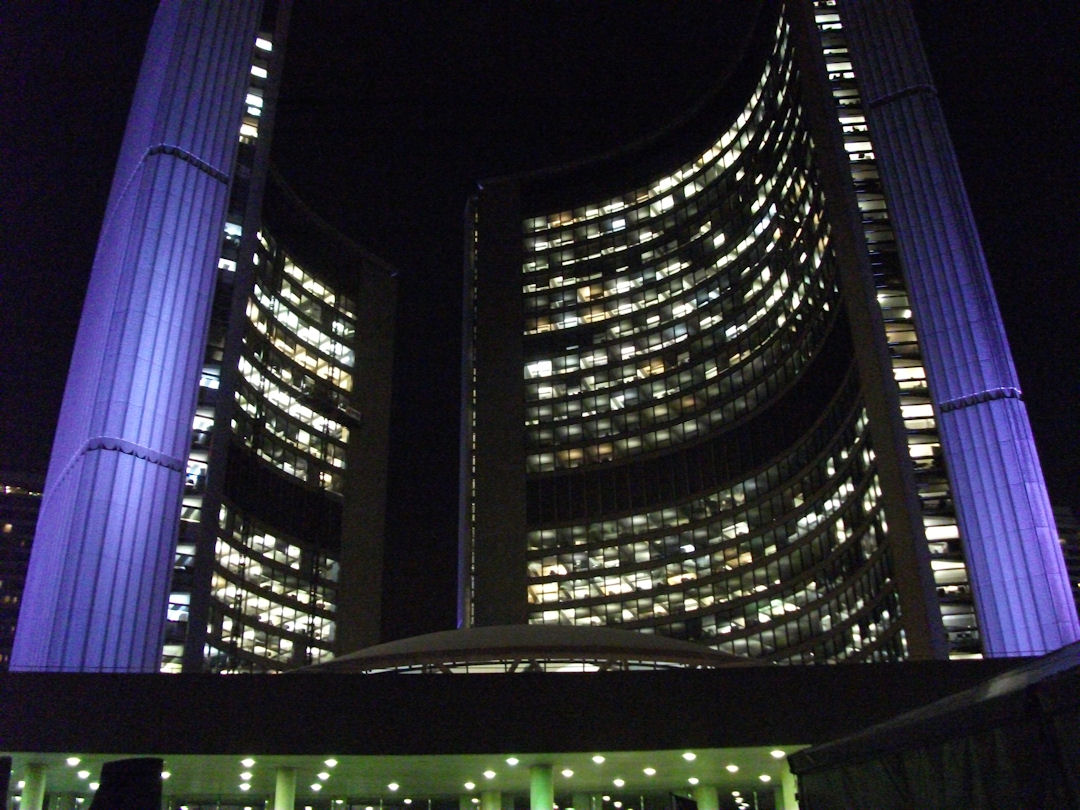 Like ferrets on Benzedrine, we flee quickly at concert's end into fresh air, waving goodbye to City Hall both front (above) and back (below).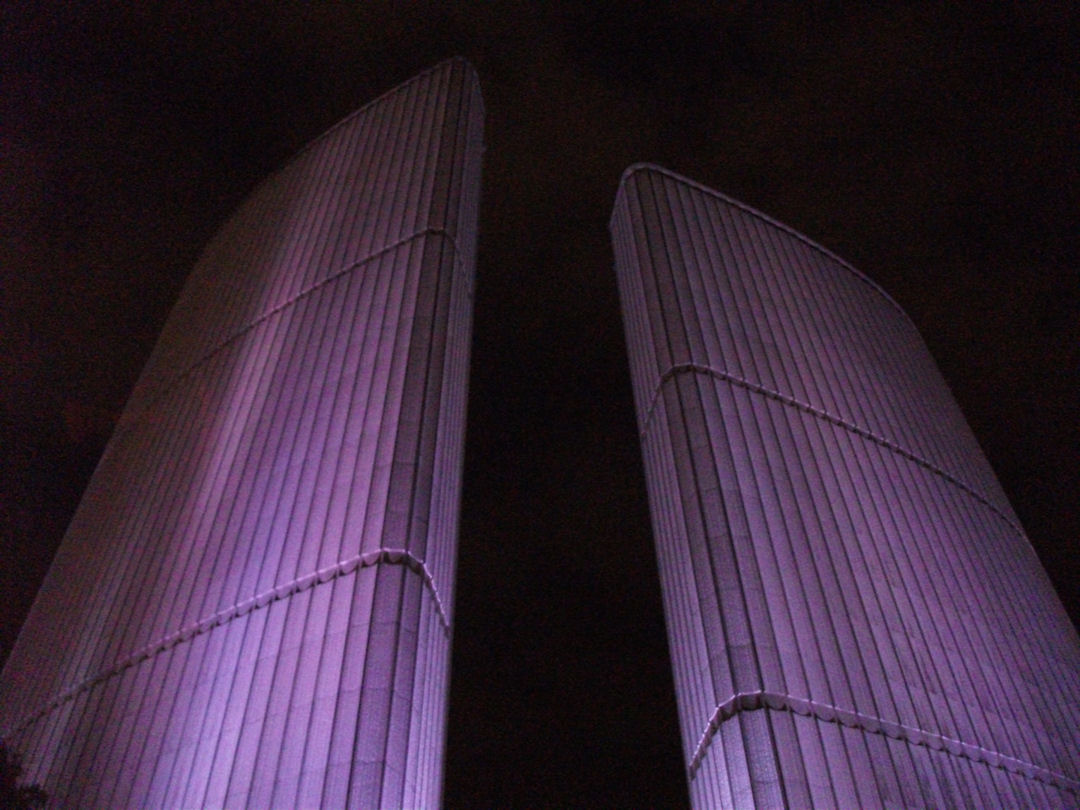 [youtube=http://www.youtube.com/watch?v=GnOKBoGPSdI&w=420&h=315]
Live version of "Hold On Me," from Radio Music Society.
Next On Stage –> In my piece on The Clash, I wrote that seeing them made for the most-anticipated gig I had attended up until that time. Well, this David Bowie concert one year later — at the same venue but utilizing the full stadium — left that prior show's sense of anticipation in the dust as I finally got to see the performer who had long occupied the No. 1 spot on my "Must See" list.
Bowie and his seventies output made such a seismic, and enduring, impact on my life that I am setting aside a whole first part simply to extrapolate on how formidable it was, as well as to put it in context with the 1970s, at least how I experienced that time. Part Two will look at the actual show, featuring the great Rough Trade as opening act, on that gorgeous Labour Day weekend in 1983, ending one of the most memorable summers of my young life with an unforgettable climax.
022a. Changes: David Bowie (or: "Bowie, The 70s, & Me");
022b. Let's Dance: David Bowie with Rough Trade, CNE Stadium Toronto, Ontario, Canada, Saturday September 3, 1983
Comments From Original OpenSalon.com Posting