Ethel & Fred Mertz (Vivian Vance & William Frawley) in a still from an I Love Lucy postcard that I bought while in NYC.  The physical exuberance depicted in this photo represents but 1/20th of that which was present in the mosh pit during the Circle Jerks' show. 
Ticket Price = n/a
ORIGINAL 2014 BLOG ENTRY FROM OPENSALON.COM FOLLOWS BELOW
My final 1983 gig-going-entry recaps a couple of shows I took in during a crazy/nuts four-day trip to NYC. 
While I will be discussing the performances by hardcore titans The Circle Jerks and post-Throbbing Gristle offshoot Psychic TV, I'll also be looking at the madcap trip to Manhattan as a whole, recounting the hijinks that myself and others got up to. 
If you've heard or read EP 25 on the Flipper show at Fryfogle's, then you'll have somewhat of an idea of what to expect.
The accompanying podcast looks at both NYC shows.
Tune in for destroyed hotel rooms; terrified cousins; "Peace, Love and Groove!"; Danceteria bathroom hallucinations; Brooke Shields' husband, Broadway Bob; and pterodactyls and manifestations.
I saw the cabaret in Portsmouth, England, in August 1977, and it featured early-60s popster Susan Maughan, she of the 1962 hit, "Bobby's Girl," and possibly the legendary Tessie O'Shea.
Because the show has live music elements, I am going to revisit it for the mylifeinconcert.com podcast.  However, I had initially planned to discuss it as part of upcoming compilation episode but have instead decided to make it a stand-alone episode.
The EP's Special Guest is my 96-year-old mother—we'll call her Vera Various Artists—who attended the cabaret along with me and my late father. 
My mum shares her vague memories of the evening, including that she feels the legendary Tessie O'Shea was on the bill.  If my mother is right, then boy do I wish I could remember that.  I wouldn't have known who she was then but I sure do now.
We do both remember humourist Pam Ayers and the Famous People Players being part of the show.
My mother also recalls the venue itself, the Portsmouth The Hippodrome but also The King's Theatre in Southsea, as she grew up in Petersfield, but later moved to Portsmouth after marrying my dad, and both my elder siblings were born there. 
In the interview, she discusses listening to the radio as well as records in the UK as a girl in the '30s, and also music and live shows she enjoyed after to moving to Canada in the mid-50s and onwards.
I also talk about my experiences on this trip in the ultimate UK punk year—1977—amid the Queen's Silver Jubilee.
Tune in for dangerous radio batteries, hanging out in British record stores to hear the latest releases, what double album of my mum's drove me nuts in the '70s, punk rock mania, not seeing The Sex Pistols, and what Ethel Merman was really like live.
That's all coming up in Episode 31, Concert no. 001.5, entitled UK 1977: VA's Mum on Ethel Merman and Susan Maughan at the Portsmouth Hippodrome and the Music of Her Life + My UK Trip Amid the Year of the Punk Rock Explosion and Silver Jubilee.
ORIGINAL 2014 BLOG ENTRY FROM OPENSALON.COM
023. Back Against the Wall: Circle Jerks, Reggae Lounge, New York City, New York, November 16, 1983, $ n/a
NOTE: While this first part of a two-part entry will touch on the Circle Jerks' show — and 024 will cover Psychic TV at the Danceteria — these two entries are more about the hijinks, buffoonery and events experienced among my friends and I over several days in NYC in late '83.
Start spreading the news: at last I was on my way to New York, leaving on this day to be part of it.  NYC had been my No.1 destination to visit for years owing to my long-time fascination with the city and its history, especially as a flash point for transgression and cultural innovations.  Warhol.  Lou & the Velvets. The Galleries.  The Chelsea.  Greenwich Village.  These vagabond shoes were longing to stray.
The trip was put together by the University of Western Ontario art department where my pal M. Zeppelin was a student.  Myself, our pal Miss Beach, M. Zeppelin and then-S.O. MP congregated on campus late that evening alongside a couple of dozen others for the NYC-bound bus.  We'd be driving through the dark of this cool, late fall night, the 8-9 hour trip plopping us down in Manhattan in the early morning.
Ahead lay almost four days of Gotham adventures before heading back around dinner hour on Saturday.  Plenty of time to feast on the city with a side order of mischief.
Upon boarding the bus, we gang of four staked out a cluster of seats, discreetly tucking stashes of pills and shrubbery into nooks and crannies so as not to have them on-person should anything come to light when it came time to cross the border.  And before you could say "Needle Park Junkie," the Greyhound strode out from campus — we left the driving to them (and Fred MacMurray was nowhere to be seen).
We left the driving to them: a Greyhound commercial from the 70s featuring spokesperson Fred MacMurray.
The border crossing was thankfully uneventful, after which we all tried our best the catch some zzzs which was a patchy proposition given the cocktail of the oft-difficulty of sleeping well on a moving vehicle mixed with our excitement of waking up in the city that doesn't sleep in a mere few hours.
We groggily rose with the sun, squinting wearily at the dawn assaulting the window panes, lifting baggy eyes slits-wide to gaze at the grim eyesore that was urban Jersey City.  I was car-accident-like fixated upon this seemingly post-apocalyptic mise en scène, morta-marveling at the unstunning decay.  I thought this was the ugliest city I had ever seen, and that's coming from someone who had visited or passed through Detroit regularly since my salad days.
Eventually, Jerseyian gloom gave way to Manhattan splendor as we emerged from the tunnel.  Finally I was here.  Taking it all in for the first time, I felt a bit like Jon Voight's Joe Buck in Midnight Cowboy — minus the tricking and a tubercular Dustin Hoffman — in that scene where his transistor's signal returns as his bus merges up to the onramp with the panorama of the city before him in the distance.
The bus slunk through the bustling streets during mid-week morning rush hour, eventually arriving in front what was to be our Home Sweet Fleabag for the next few days: The Executive Hotel at 237 Madison Avenue.  It was around 8 or 9 am and rooms wouldn't be ready until later on, so for now we were to drop off our luggage at the hotel for safekeeping while we spent the day exploring.
.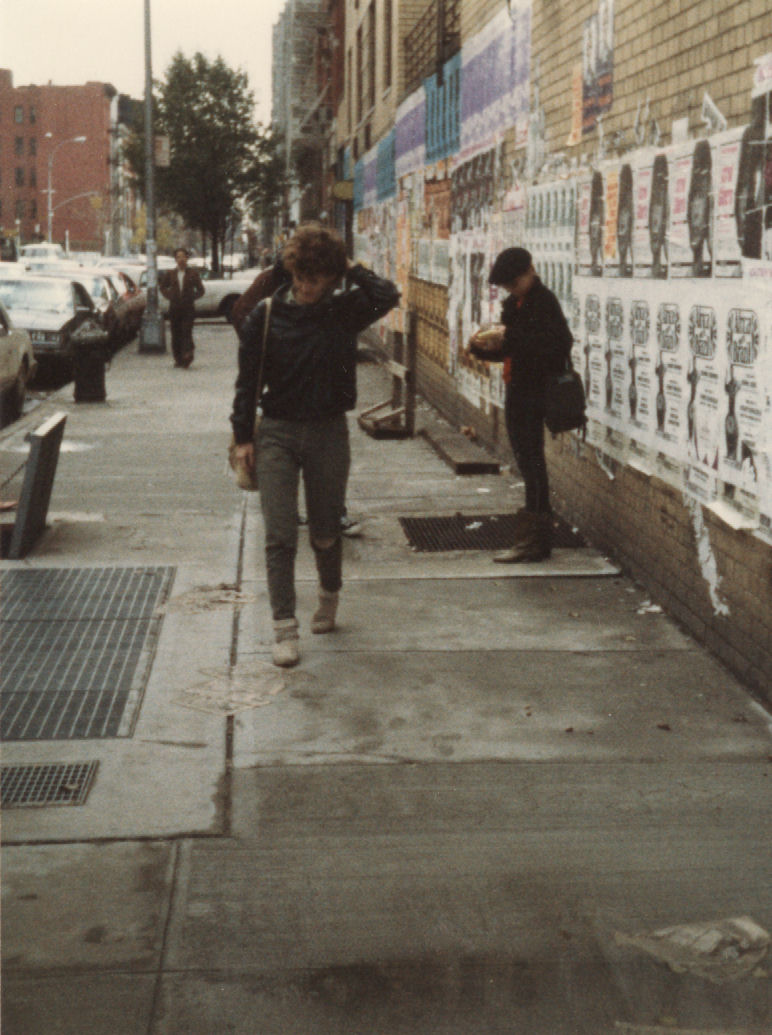 MZ and Miss B on a NYC street shortly after our arrival (Photo by VA).

Off we went, eyes bleary but agape, energized to simply be here (ok, and maybe some of those black pills got our empty gas tanks non-organically refilled).  I instantly loved the city's hum, strum, and energy.  I can't recall many specifics of that first day but do distinctly remember being struck by two things in particular.
First, I was finally in a city where everyone paced at my speed.  As someone who has always walked with a brisk gait, it was sympatico love at first stride.
The second thing was how friendly I found everyone. While those threading around us went about their business at a determined clip, we found that if we approached someone to ask for directions or information, they would routinely stop and generously give us a few moments of their time.  To us, everyone seemed more than willing to be helpful New Yorkers, seeming to relish acting as city hosts when proffered to do so in sharp contrast to their reputation as cold and indifferent.  It really shouldn't have surprised me for, as a terminal outsider, I've always found the social mix of cities as welcoming places vs the received notions of small homey towns as the be-all end-all of welcoming friendliness.  That's of course as long as you fit neatly within certain limited parameters, something that often gets left out (those "others" don't really count, do they?)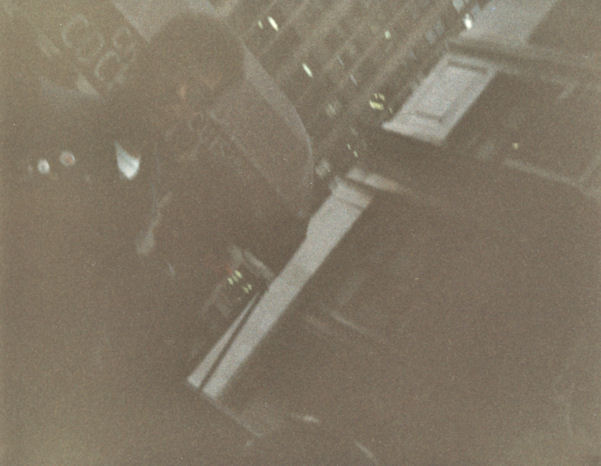 Yours Various in NYC.  It's a dark photo I've tried to lighten.

Day One was spent taking it all in, stitching through a constant human patchwork on the move.  Why, for all we know, we could have been walking right past an aged Don Draper and Roger Sterling on their way to a morning AA meeting. Or Peggy Olson high-stepping it towards another day at her own agency in her power pantsuit.
Late afternoon beckoned, as did putting our feet up, and back to the hotel we headed to retrieve our luggage and then take five in our designated rooms.  We were chuffed to discover a mini-mart of sorts across the street with basic food and — even more importantly for us at that time — alcohol.  I was particularly pleased that the store sold Guinness, of which I grabbed a few before heading over to the hotel.
Assuming that we'd be roomed up with people grouped via personal familiarity, the gang of four were peeved to learn that we'd been split up into quarters with other folks unknown.  I checked into my room to discover that I'd been put in a multi-bed space with a couple of doofi who were inexplicably irked that I was drinking Guinness.
"You're drinking Stout?  You're drinking STOUT! YOU'RE DRINKING STOUT?!"
Meanwhile, down in her cell, Miss B immediately began working on teasing out her bleach blonde hair, mortifying the slip of a lass she'd been saddled with, describing her to me as waiting horrified and doe-eyed just outside the door until she could get in to plug in her sacred curling iron. Clearly, there was no way the temporary-abode arrangements were going to fly.
I can't remember how the next set of machinations came to play out but do know that in short order, all four of us were sitting in the living room of a top floor suite that two other guys on the trip had lucked into.  One was a fellow student of MZ's who she kinda, sorta knew a wee bit (henceforth known as The Artist) and a non-student good buddy of his who had tagged along (henceforth known as Sky — a nickname later of his own choosing).
Unlike the troglodytes in the Guinness-averse room of yore, Artist and Sky were both great folks who were up for fun company on the trip.  They offered us to help ourselves to the fold-out couches and chairs if we wanted to crash in the living room, provided they each got to keep their beds in the other room.  It was a deal.  So, for the next few days, myself and MB camped out in their living room while M&M alternated between spending their hotel time hanging out in the suite, but alternating between crashing in the communal pad or in MZ's original designation.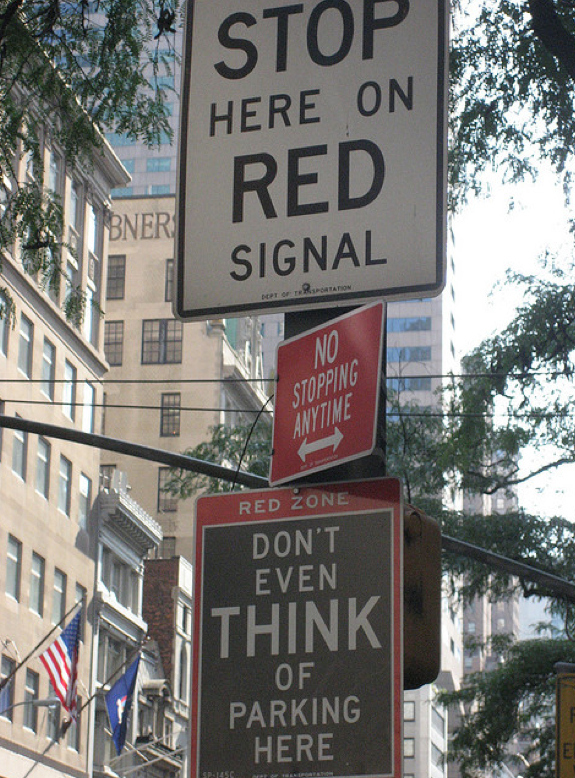 The NYC sign that filled me with considerable mirth while there. (I grabbed this from the net some time ago and can't recall the source.  Apologies.)
Now that we had an established base, beer in the fridge, and sustenance from across the street (Sky bought a whole side of ham that he intended to spend the next few days economically tucking into), the focus turned to what to do on this first night in town.  And so, after pouring through the Village Voice, it was agreed by committee that we'd be heading to SoHo to see L.A. hardcore titans the Circle Jerks at The Reggae Lounge.
Hardcore was never a big thing for me but it was one of the key underground musics du jour and was always part of the mix.  Miss B was particularly mad for it, while it was a fairly routine ingredient in MZ's weekly radio show.  (I have this distinct memory of having to get up early one morning back in London, waking up to MZ on the radio subbing for someone's overnight shift, her show harshly rise'n'shining me in the pre-daylight hours with the Circle Jerks' "I've Got The World Up My Ass.")
Still, then as now, I don't mind a wee morsel of hardcore in measured doses (Minor Threat's eponymous 45 and The Dead Kennedy's "Nazi Punks, Fuck Off" remain on my iPod as great workout tunes for the gym).  Plus, I was curious to take in an actual gig with a mosh pit, then still something new, so I was game, as were we all.
Following some pre-gig prepping, where there was much communal delight when I pulled out the aforementioned shrubbery, we skinned up and got dolled down in our ragged non-finest — and off we went.
Once down in the hotel lobby on our way out for the evening, Miss B chanced to run into a cousin of hers.  Turns out she was on this same trip yet each had somehow missed the other until now.  They weren't overly close and hadn't seen each other in some time, but it was a warm greeting nonetheless.  "Where are you heading?" she asked, seeing our entourage shuffling towards the front doors.  As it happened, she had decided to come on this trip alone, was wanting to go out and do something, but wasn't sure of what and was reasonably a bit nervous about heading out into nighttime Manhattan on her own.
Miss B explained that we were going to see a band.  "Can I come along?" said Cuz, delivering her enquiry with a Sandy Duncan-level of perkiness.  Miss B hummed and hawed, diplomatically telling la cousine that the show might be a little wild.  But Sandy Duncan could not be persuaded to stay home and cross-stitch, and so it was that six became seven for the evening, with Perky Cousin tagging along, all wide-eyed and jazz-handed.
"This is really bad idea" confided Missy B in an apprehensive tone, quietly explaining to MZ and myself that while she liked her cousin and that she was a very nice person, she was also very naive and didn't have a clue what she was walking into.  Ergo, we all had to keep an eye on her.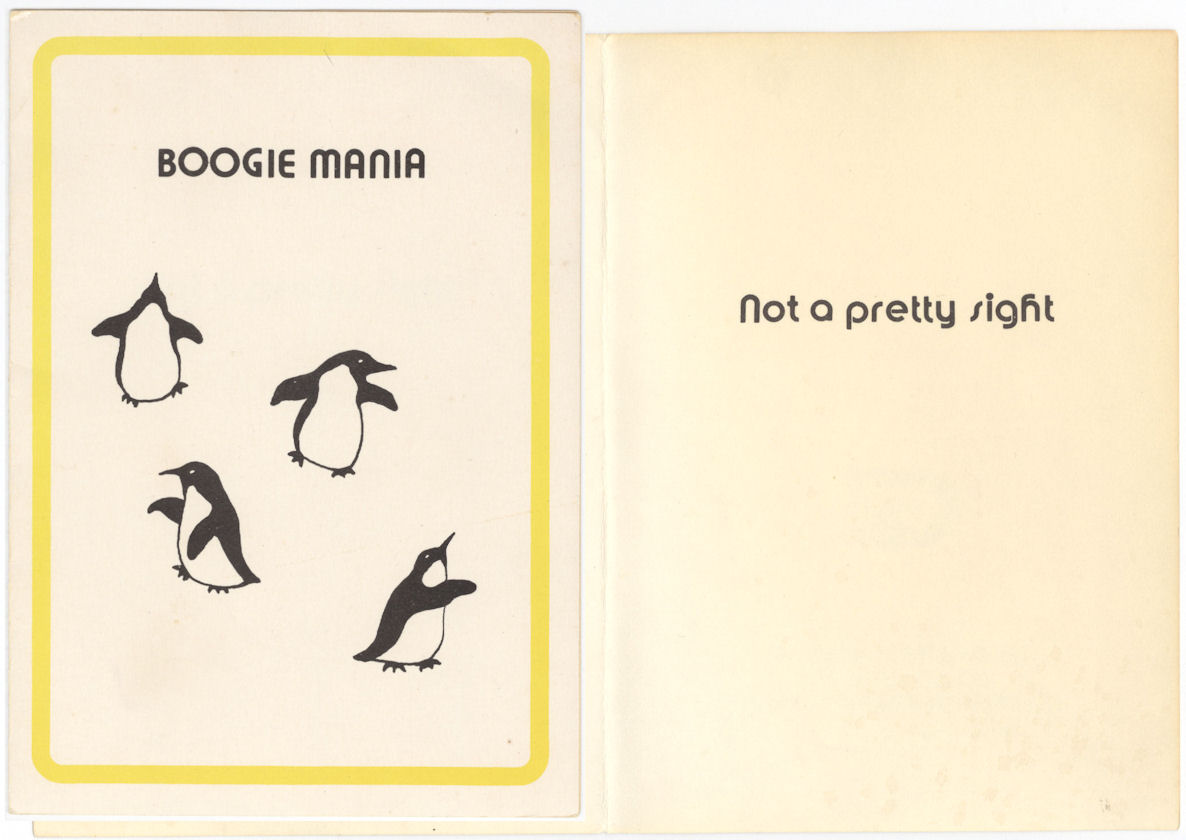 A bizarre card I picked up in NYC.  Everyone who knows me knows that I've had a life-long penguin obsession …
Stepping out into the chilly November air, we decided that a single cab wouldn't willingly pick up this whole crew of people, and so Sky did the honours by flagging one down while we stood out of view.  When one appeared, we all crammed in: five of us in the back, Sky and Artist up front with the driver.
Mr. Cab Driver was instantly — and understandably — pissed at the situation, bitching loudly on the trip over about how he could be busted for having so many people in the car.  Sky sat next to Cabby, turning on the smarm'n'charm for the duration of the brief trip, with poor results.
Not having a clear idea of the distance we'd be traveling in the cab nor how much the ride would cost, each of us had a dollar in hand to contribute.  When the moving auto-jar of sardines pulled up at the club, we gave the driver each of our seven-dollars-at-the-ready for what turned out to be a three-dollar charge.  In current money, that meant we gave him a $9 tip on a $7 fare.  Incredibly, his entire countenance turned on a dime.  "If you want to be driven anywhere while you're here, get a hold of me and I'll take you there no problem, you can all climb in.  Here's my card, just contact me and …."
I recall the Reggae Lounge as being like an old dance hall, holding perhaps 1,000, with a stage at the far end of a big open space, a balcony up top, with seats or ledges where people were sitting lining the walls of the club.  There were two distinct, but easily co-existing groups present: rastas here to dance to the reggae pumped out by the speakers and punks and skinheads making the scene for the live show.  We entered to a crew of dreadlocked males skanking to a bottom-heavy soundsystem while a endless ribbon of punks and skins sat chilling on the outer perimeter, awaiting the carnage.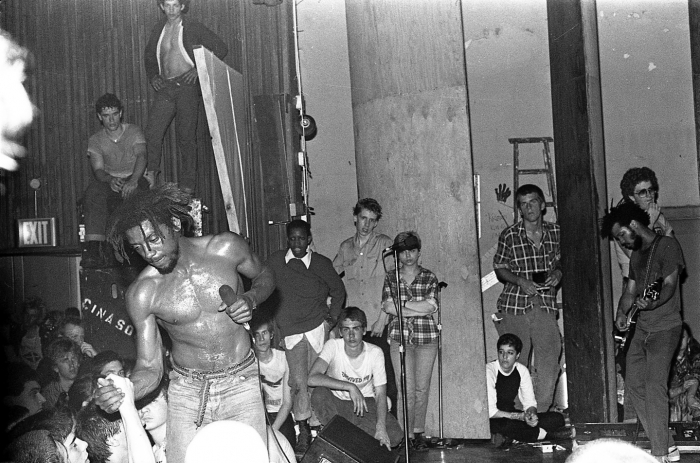 Fellow hardcore titans Bad Brains at the Reggae Lounge in 1982. (Photo: Karen O'Sullivan)
While the rest of the magnanimous seven decided to grab a brew and snake off to the sidelines, The Artist and I each decided to hit the dance floor.  It turned out that TA was, in addition to being a big jazz head, very into a lot of groove-based music as was I, including reggae, and we we wanted to jump in and join the gang.  Amid a sea of bouncing dreads — and straight from central casting — one of them was passing around a joint not bigger than a shoe, eventually making its way over to us as a friendly offering to the only pasty white dudes in the moving crowd.
The one tune I distinctly remember coming on was Gregory Isaccs' "Night Nurse." It had been one my favourite reggae tracks of that, or any, year (and remains so) and I was verkplempt in my deep weed-state when the opening notes flooded the air.  (I always associate "Night Nurse" with this trip as I ended up hearing it a few times throughout the weekend.  Reggae isn't a style I wouldn't have overly associated with NYC, but here was Gregory Isaacs sexy, plaintive number repeatedly punctuating my few days there.)
So, here I was in my first night in NYC, movin' like liquid with a superbuzz on the dancefloor to Gregory Isaacs at a reggae club in SoHo.  Not bad.  Not bad at all.
The song I always associate with this trip: Gregory Isaacs' "Night Nurse" (above); meanwhile, MZ always associates it with The Fems "Go To A Party" (below) which she'd brought along on cassette, playing repeatedly in the hotel room, much to my vexation.
A few more numbers on, and the soundsystm faded sharply as the rasta/skinhead rotation do-si-doh-ed at this punky reggae party, with the dreads now taking over the wall seats and the leathered'n'studded mohicaned punques now swarming the floor as the Circle Jerks began making their way to the stage.
The Circle Jerks had risen from the same L.A. scene that produced Black Flag (vocalist Keith Morris had previously fronted BF, pre-Rollins), where a two-and-a-half minute song was seen as being pretentious on a Rick Wakeman's Six Wives of Henry VIII-level.  Indeed, the Circle Jerks' debut album, Group Sex, sported 14 songs in 15 minutes.  The shows were notoriously coupled with some of the roughest and most aggressive mosh pit action of the day.  Correctly surmising things were going to be intense and with nowhere left to sit in the otherwise packed main floor, we decided to candyass it upstairs and watch it all from the balcony.
This was the first genuine mosh pit any of us had ever seen.  Since most of us had come out of the punk community, we'd had plenty of experience being knee deep in rough and energized (but not violent) front-of-stage pogoing and flailing minions, but this was something else altogether.  While stage diving, crowd surfing and body slamming are about as radical as a cup of earl grey and a shortbread these days, this was pretty out there 30 or so years ago.  And even having witnessed and sometimes been part of some wild mosh pit shows through the years, this by comparison is still more like a soccer brawl in my mind.
From the moment the Jerks took the stage, it was instant human smash'n'mash, with a "Holy Doodles!" look from our Provincial eyes.  I couldn't tell you anything about what the CJ's played because most hardcore sounds the same to me, so I'll just guestimate that they played 100 tunes in 25 minutes, or something like that.  By comparison to this, the audience moves from the Iggy Pop crowd from a year ago seemed more like hepped up quadrilles and the Flipper gig from a few months' previous seemed more like a pinochle tournament.
After a period of taking in the young hormonal morass of slam dancers, with red red robin mohawks bob-bob-bobbin' along above the heads of the flailing-limb crowd like a percolating pit of pass the potato-punk-piñatas, something suddenly occurred to one of us: where was Cousin B?
She had been with us downstairs and the crew assumed we'd all stayed together and migrated up to the balcony.  But she was nowhere to be seen.  We certainly hadn't purposely tried to ditch her or anything, but clearly she somehow missed the memo that was were going up to the second level.
Which meant that … l'il Sandy Duncan was down there somewhere, among the warring gladiators.
Whoopsy-daisy.
It's funny to write about the episode now but we were anything but laughing at the time.  While we had twisted senses of humour and sometimes played tricks on each other, we weren't inherently mean.  We felt like we'd been entrusted to look after our kid sister only to find that we'd neglectfully let her slip into the hands of Karla Homolka.
The moment the Circle Jerks fled the stage, we headed back down and found the poor thing terrified out of her wits.  She'd somehow lost sight of us and there were no breadcrumbs to follow.  Finding herself wandering the battlefield in search of us just as the CJ's and their audience hit Lift Off, she hastily scampered to the rear of the crowd, pinning her back against the wall so thoroughly she probably almost merged with it.
"Back Against the Wall" by the Circle Jerks.  We unintentionally lost Miss B's terrified cousin during the mosh pit melee of the show.  I guess this number wasn't totally inappropriate for The Reggae Lounge after all.
We split a couple of cabs back to the Executive post-show, with Cousin B quickly severing herself from us group of no-goodniks.  Sandy Duncan spent the rest of the week exiting speedily if she so much as saw any of us coming as one might avoid a vindictive Cyclops with Legionnaires Disease.
Back in the suite, after a long day with little sleep, we were all exhausted yet far too wired on circumstances, substances, and each others' company for a "Goodnight John Boy" moment any time soon.  Instead, we threw on some music, spending hours into dawn talking, joking, drinking, and toking until we all noticed the sun was rising.  Each camp spent those hours getting to better know the other, all of us hitting it off like a house on fire before all six found somewhere to pass out and venture deep into the land of nod, dreaming wistfully of degenerate behaviour ahead.
Day One: Mission Accomplished — A Success!!
Day Two in NYC extended our vampiric existence as none of us awoke until just before the late afternoon sun was heading down.  At some point, M&M decamped down to the temporary House of Zeppelin with the intent that they'd be joining us later in the evening for tonight's event which I was particularly excited about: post-Throbbing Gristle-offshoot Psychic TV performing at the hottest nightclub in the city at that time, Danceteria.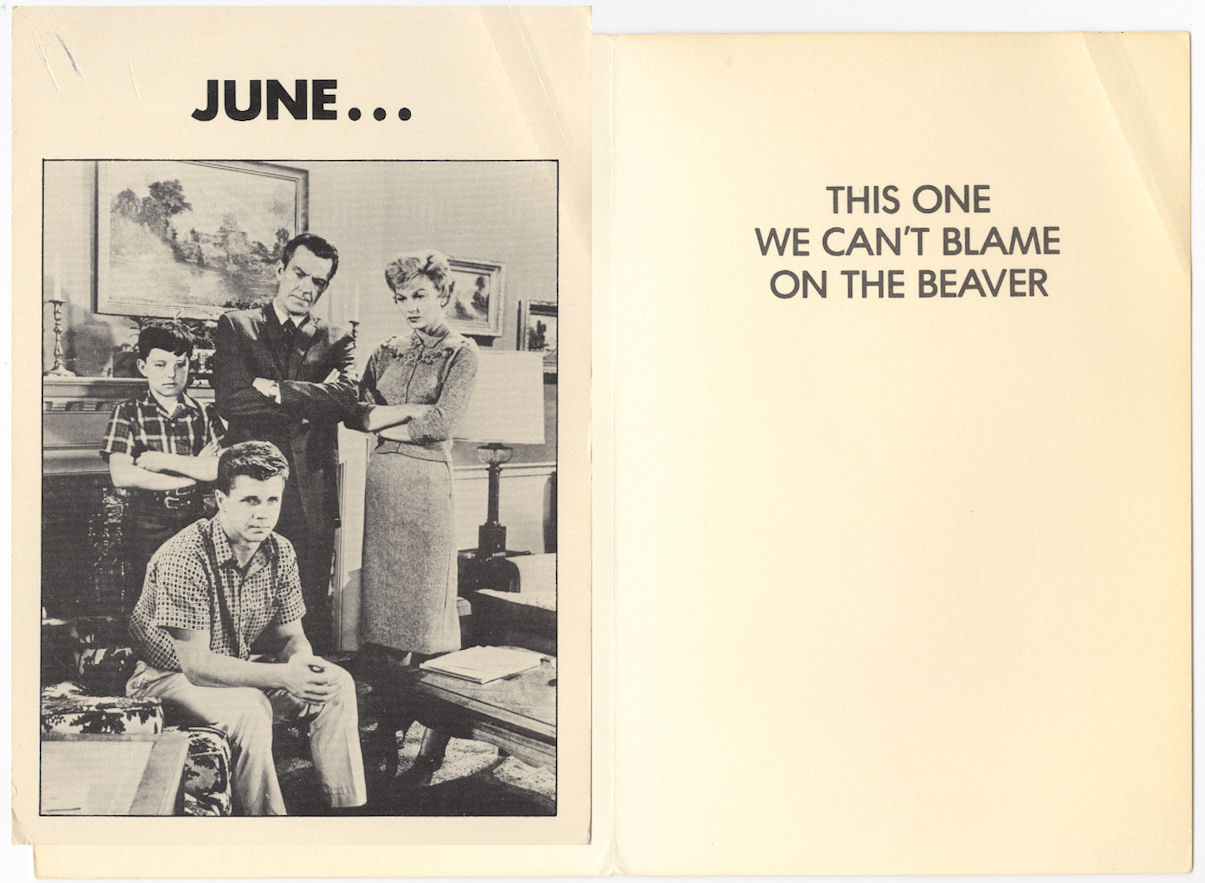 Other cards I picked up while in NYC to adorn walls in the years ahead.  All subjects are still favourites of mine: above, Leave It To Beaver, and below, David Bowie, Marilyn Monroe, and Lucy and Ethel.
Eventually the party re-started among this new gang of four, not-so-solemnly setting to work on getting our shine on and glowing brightly before heading out for night #2.  A spliff did the rounds to shake out the cobwebs as cold ones were cracked and imbibed — except in Sky's case.  As I had learned during the previous night, he was an avowed alcohol abstainer but loved the green stuff and other select stimulants mightily.  And while he had (wisely) left maryjane back at home to curl up and have a rest in a drawer, he did bring along a bag of homemade cookies as a treat.
Except that these cookies were more like chocolate hockey pucks rather than anything the Keebler elves may have whipped up.  And instead of these luvin-from-the-oven nibbly baked goods being enriched with thiamin, niacin or riboflavin, they instead had a different kind of "secret ingredient": psilocybin.
Yep, Sky had come down with about a half dozen chocolatey flavoured magic mushroom cookies.
And there was much rejoicing.
Sky kindly and thoughtfully shared his homemade bounty, with each of us diving into Sky's biscuits of enchantment which certainly would have won Best In Show at a Crystal Magic Bake Sale.  With the filling being mushroom-heavy, they tasted awful although the chocolate went a long way towards making them palatable, proving Mary Poppins' assertion that a spoonful of sugar helps the medicine go down as correct.  Of course, only our own little Betty Crocker knew how much of the Vitamin P resided in each nougatey product, but within about an hour it became clear to each of us that he'd packed plenty into the rich snack.  Those familiar everything-is-somewhat-surreal and my-the-colours-are-intense-and-electric feelings that came with psychedelics gradually engulfed us … and the journey began.
The quartet spent a couple of hours chatting, laughing, and otherwise boarding the train's ride prior to heading out, but before we did, there came a knock on the door.  We all assumed that it was someone from the hotel telling us to keep the noise down but were surprised to instead discover someone we all vaguely recognized from the bus trip down.
"I heard someone yelling in here and thought it was a friend of mine" said Mr. Door Knocker.  Alas, 'twas not the yelling friend he was to find behind closed doors, but instead all four of us in the throes of some serious tripping.  We asked Door Guy in to join us just the same.  He entered, took a seat, introduced himself as Marcel (his real name, which I will have to use because … well, keep reading) and confirmed that he was part of the journey down from Londonia.
On one hand, it must have been trés weird for Marcel to wander in and join this lot as we were all seriously silly and flying the friendly skies at this point.  On the other hand … what the hell was someone doing knocking on a hotel room door and then just wandering in to break bread with a group of massively stoned strangers (we were too out there to fully compute this stream of logic in the moment)?  Would you do that in a state of pure sobriety?
In short order we told him about our plans to head out to see Psychic TV at the Danceteria and let him know that four could become five, but he declined joining the gang and departed.  For tonight, anyway.
We eventually found it within ourselves to amble down to Madison Avenue, pile into the newspaper taxi that appeared on the shore — climbing in the back with our heads in the clouds —  waiting to take us away for a delightfully funzy time with PTV's Genesis P. and the crew at Danceteria.
Next On Stage —> The NYC adventure continues with a trippy show by Throbbing Gristle off-shoot Psychic TV.  Stayed tuned for flashing orange dots, (almost) flying hams on Madison Avenue, Mr. Brooke Shields, Pterodactyls and Manifestations.
024. Discopravity: Psychic TV, Danceteria, New York City, New York, November 17, 1983
© 2014 VariousArtists