Talk about two great, complimentary, back-to-back sets …
Ticket Price: $40 (Note: It says $19.17 but that was because I got an Early Bird Full Festival pass.   Either way, this was a bargain.)
Back in the late '80s, I had a conversation about Tom Waits with a rep from Island Records, his label at that time.  I was/am a big fan of Mr. Tom and, as it turned out, this woman had functioned as the record company assistant to him and his wife/collaborator, Kathleen Brennan, during their stay in Toronto for Waits' Massey Hall show in 1987.
The rep had barely heard of Waits prior to being assigned to work with him but came out of the whole experience a true devotee.  She claimed that, hands down, he and Brennan were two of the nicest people she ever dealt with in the business, and that they were so warm, quirky, and wonderful to be around that she started falling in love with his whole oeuvre, finally being awestruck by Waits' live performance.
In this instance, her appreciation for his artistry was almost wholly intertwined with her positive feelings about the person.
Skip ahead two decades and I am having lunch with a friend of mine who told me that she couldn't really be a fan of musician or actor unless she felt that it was someone she might like personally as well.
This was such a foreign concept for me.  If that was one of my pre-requisites, a substantial chunk of my rather large collection of music would probably vanish.  While it would be ridiculous to say that musicians, singers, or various creative types are always petulant monsters, to expect them to be nice people that you might want to have a relaxed hand of Canasta with as opposed to simply talented or creative is a pretty tall order. Yet, I think that for many of us who are fans of anyone else's work, we all secretly harbor wishes that a said figure is someone we could and would like and know on a personal level as well, or at least go out for a beer and shoot the shit with.
The reality is that, for numerous performers and creators, many of the triggers and inspirations driving them to create and perform often spring from the darker compartments of their psyche or from a difficult past.  Simply put, the stereotype of the difficult, temperamental artist didn't spring from whimsy.
This chasm between reactions toward the person and the work was on my mind on the evening of Friday July 9th when I went to see these two iconic and influential female rock stars – Joan Jett and Courtney Love touring with a re-jigged Hole – back-to-back on opposing stages at either end of the main Ottawa Bluesfest performance space.
In terms of Courtney Love, er, Hole, first off, let's be clear that this isn't Hole.  Okay, while that trademark would be unthinkable without The Big C, it must be noted that Eric Erlandson, the late Kristin Pfaff, Patty Schemel, and Canada's own Melissa Auf Der Maur all brought their talents, energy, and personality into the band.  In fact, when I saw the real Hole back in the day (upcoming entry number 085), it was the rhythm section of Auf Der Maur and Schemel that gave the band a live punch.
I'd preferred to have seen the Hole gang up there, but such was not to be, as per m'lady's fancy.  Therefore, I will simply refer to this entity as "Hole" for shorthand purposes, rather than the more accurate designation of Courtney + Pick-Up Musicians.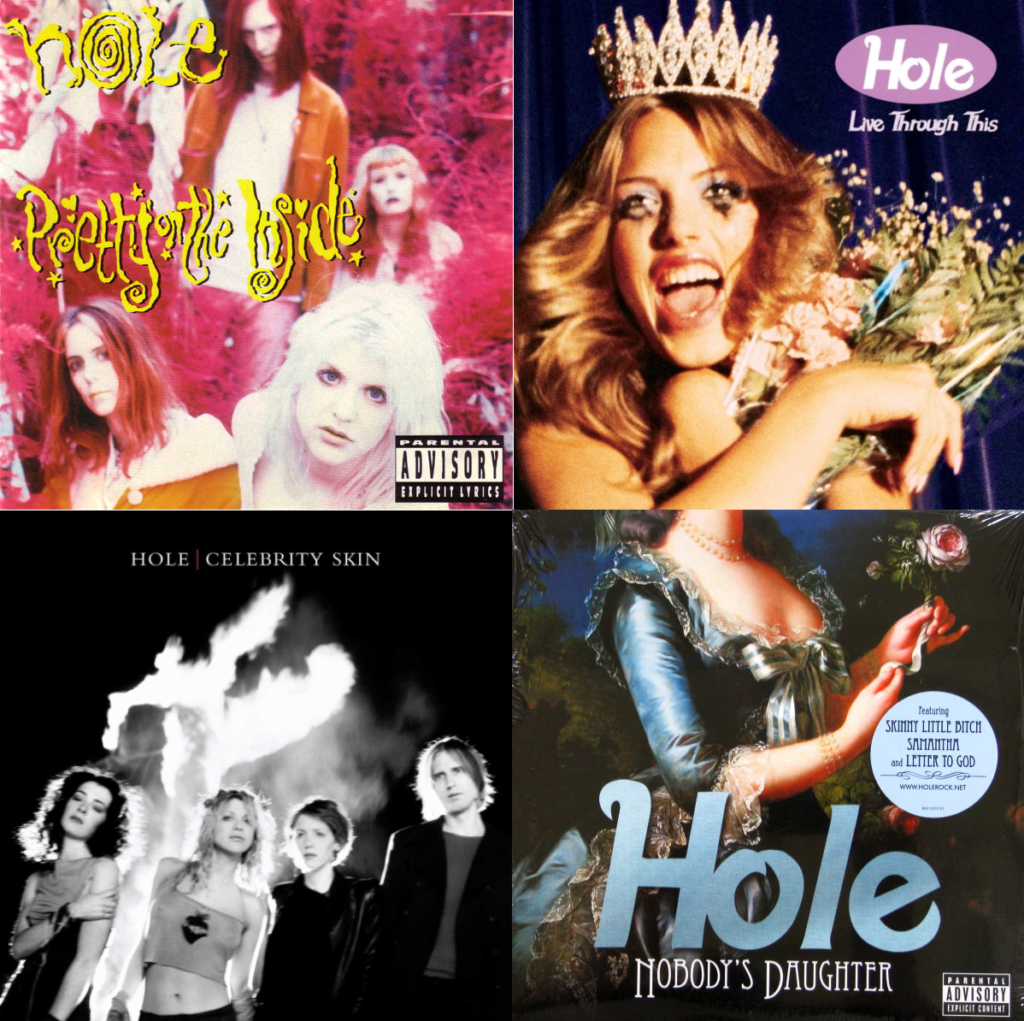 The Hole Catalogue: Pretty on the Inside (1991); Live Through This (1994); Celebrity Skin (1998); and Nobody's Daughter (2010)
Based on some press volleys I've read, it's clear that Erlandson and Auf Der Maur would, at the very least, like to have been asked to participate in the reunion, and the sour grapes of their being excluded along with associated control-freakism is a buzzkill – Love's labours lost.
As with Madonna, I have a love/hate relationship with Courtney (ok, with Madge it's more like/hate), sometimes amused by her train-wreck bad behaviour and ADHD-esque flip-outs on Letterman; her outrageous public statements (anyone catch those Twitter feeds a few years back?); and the surreal situations of her life (particularly Prince Andrew showing up at her house, allegedly looking to party), while acknowledging that there's also a lot that I'm not keen on; that quality time with Courtney might just be less than pleasant; and she's probably not someone I would want anywhere near the vicinity of my day-to-day life.
Then there's Joan Jett.  There's little ambiguity regarding how I feel about Ms. Jett from a personal standpoint (aside from the fact that she's still not officially out).  A few accounts of first and second-hand interactions with Joan have been detailed to me throughout the decades, and the stories cumulatively paint a consistent picture of her: namely, that she's an absolutely lovely person.  And ethical and hard working and together.
Joan may have released Bad Reputation and Courtney, America's Sweetheart.  But people know better.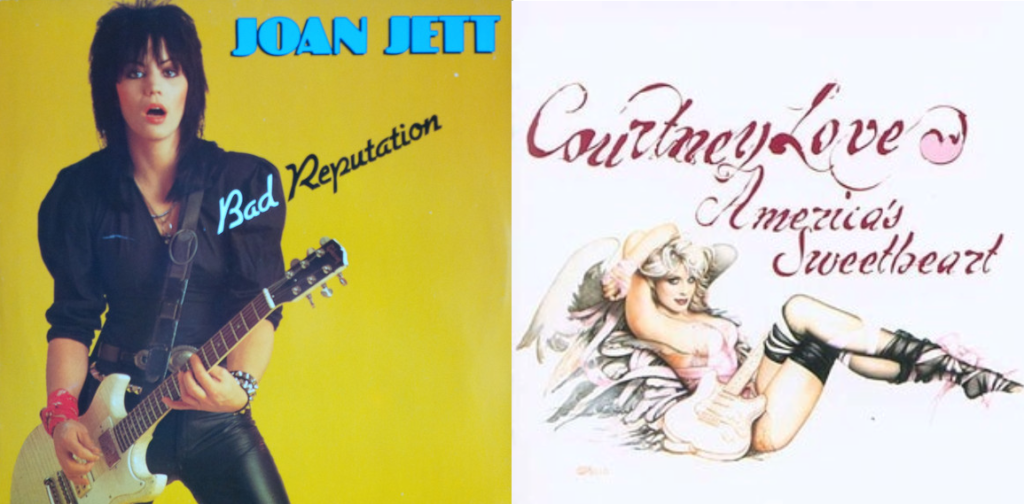 Joan Jett's Bad Reputation (1980) and Courtney Love's one solo album, America's Sweetheart (2004)
In a perfect world, all would be right, with the virtuous getting all the huzzahs.  And if our feelings about the creative and personal could be harmonized, I'd be lauding Joan's catalogue and disdaining Courtney's.  But things don't necessarily work in such a democratic, tidy fashion.  For, while I have liked some of Joan's music, I have never loved it much.  Meanwhile, I LOVE Hole's Live Through This – one of my favourite albums of the '90s – and have an ongoing fondness for their debut: the gleefully harsh and confrontational Pretty on the Inside.
I was looking forward to seeing Joan, but it was Courtney who was the must-not-miss of the two for me.   And she did not disappoint – but not at all as I had expected.  The "unmissable" aspect for me had more to do with watching a fascinating disaster, a bit like when I went to see Johnny Thunders (upcoming entry number 035).  I had even said privately to another OSer that I was hoping there was going to be a big dramatic meltdown.  I was there for the out-of-hand spectacle.
I didn't get my wish.  Instead I got something better.
I shit you not, "Hole" put on a killer show.  This was most definitely an on-her-meds Courtney: sharp, seemingly together, tearing into the songs like she genuinely cared while filling the between-tune moments with lots of tart wit and the right kind of smartassisms that I like from her, and less of the full-on shrill, cold nastiness that I don't.
Back in 1995, I saw the best-known incarnation of Hole, and while that show was high on drama (Courtney was throwing verbal tantrums because she couldn't play guitar as her arm was in a cast after slugging Kathleen Hanna of Bikini Kill) it was also quite uneven.  At the time, Hole were at their commercial peak.  Now, in the vastly different world of 2010, she has to fight for her/the group's relevancy.  And while the comeback disc, Nobody's Daughter, jumped right into the Top 20 in most key markets, trying to re-establish credibility while selling this as a legit Hole is very much an uphill battle.  Probably because of that, this time around it really felt like she was out to prove herself by putting on a smackdown show.  And, cor blimey, she and the band pulled it off!  I was blindsided.
It had been an utterly miserable day – dark, overcast, muggy, wet – but, miraculously, the rain stopped the moment that Ravel's Bolero began playing over the loudspeakers.  By the first number, the setting sun was shining.  Ah – the power of Love!
Arriving first in a trench coat, then briefly in a white shirt, she played most of the show in a lacy dress with thigh high black leather boots, chain smoking with a red Rickenbacker strung around her neck.
I was instantly pleased to hear Courtney opening the show by screeching "Is she pretty on the inside? / Is she pretty from the back?"  Instead of the normal segue into Joni Mitchell's "Both Sides Now," they switched to a cover of "Sympathy For the Devil" (further delighting me as I'd been on a bit of a Stones binge over the previous year).
Courtney's Courtly Arrival: She appears after a few minutes of Ravel (so you may want to skip ahead to 2:35), launching into "Pretty On the Inside/Sympathy for the Devil" and "Skinny Little Bitches." (All videos on this page via various YouTube accounts)
While I didn't get the large helping of Pretty On the Inside that I had hoped for (and no "Beautiful Son" either), I did get five energetic renditions of Live Through This' "Miss World," "Violet," "Asking For It," "Plump," and "Doll Parts."  Nobody's Daughter and Celebrity Skin were both well represented and – this being, er, Bluesfest – Hole did a blues number, namely a spirited take on Buffy Sainte-Marie's "Cod'ine."
Memo to Courtney: It ceased being a "blues" festival almost a decade ago, but thanks for the BSM cover anyway!
As it turns out, this was not only their biggest show yet on the tour (20,000+ people turned out for she and Joan Jett), but it was also Courtney's 46th birthday.  Despite her earlier protestations that " I am NOT ready to be that age," this announcement regarding her bonne fête of course meant that I got to sing Happy Birthday as part of the audience chorus, with Love initiating the birthday standard, even though she admitted it was bad manners for her to start the song (I wouldn't be telling Emily Post, now, Courtney).
So, I had the unusual pleasure of getting to stand in a field singing "Happy Birthday, Dear Courtney …" along with the rest of the punters, one of those bizarre pop culture moments that I get a winking kick out of and can tell the grandkids about one day amidst drowning some Geritol.
"Happy Birthday, Dear Courtney …"
She introduced guitarist Micko by noting that he's been with her for five years and has "put up with my shit."  When the crowd acknowledged this with polite applause, Courtney emphasized that "you don't know what it's like to live with me.  Please, make it louder!"  I'm sure.
She thanked Ottawa, the national capital, as representing Canada as a whole for producing Leonard Cohen (shouldn't that honour go to mama and papa Cohen?), proclaiming that "he's a God!" and that she's never met him because she's too intimidated.  She ran through a ragged but sincere cover of "Take This Longing," noting that it was a favourite from her youth and, hence, was a good choice as she had wanted the band to do a Canadian song – she had joked about covering "Summer of '69″ or "Black Velvet," har har (doesn't "Cod'ine" count?).
Courtney returned for two sets of encores, starting with a truly bizarre fourth cover of the evening, namely Big Star's bittersweet ode to adolescence (and a massive personal favourite of mine), "Thirteen."  It's hard to think of anyone probably less suited to singing this number, save perhaps the late G.G. Allin, and I was rather fascinated with the steep disconnect between song and delivery vessel – now there's a semiotic analysis for you to undertake!  I mean, just imagine Courtney at 13.
Hole completed the set with the second encore — Celebrity Skin's "Northern Star" – preceded by the faux woeful patter of "We're gonna do one more … you're my only friends – what else am I going to do?  This is my job, and I love it" (she'd also earlier ensured that she didn't owe anyone in the crowd money).
Considering I was expecting this to be a sloppy, disjointed mess enlivened by incoherent rants, the kick-ass, rockin' show she and the band delivered came as a nifty shock.  I loved Hole's set and truly had not thought I would.  And, gee willikers, that woman still has lungs of platinum.
Again!  Again! 

"Every year it happens – I turn 29 one more time!"  Hole attack "Violet" with Courtney "Lungs" Love.  I believe the entire Ottawa Bluesfest concert is posted song by song on YouTube.
Following Hole's closure, it was time to join the mass exodus on down to the other end of the main performing area for the evening's headliner, Joan Jett & The Blackhearts.  This is one double bill during the festival where the crowd seemed to be there for both early and later acts, with party-goers relishing have Joan and Courtney programmed back-to-back.
Joan and the gang are veterans and they played a tight, energetic show to an adoring audience who wanted to keep the party spirit happening.  Joan began with what are, for me, her two best songs in her canon: "Bad Reputation" and "Cherry Bomb," thus making things slightly anti-climactic for me.  Still, it was hardly a snooze, with band and fans fully engaged on what had now turned into a beautifully clear, hot summer evening.
Question: How do you know that it's 2010 when attending a Joan Jett concert?  Answer: When Joan mentions "my first band … The Runaways," 80% of the crowd goes apeshit with recognition.  Yes, that biopic has rightfully introduced the pride of the mid-70s Sunset Strip to a whole new audience, sending Jett's stock sailing, as it were.  She is wisely capitalizing on their resurgence, covering "You Drive Me Wild" and "I Love Playing With Fire" as part of her set – although, without Cherrie Currie's vocals, it's not quite the same.
She certainly knows how to work a crowd, pulling out all the engagement tricks and seemingly without cynicism.  While you know they've done these routines oodles of times, you never get the feeling they're sleepwalking their way through it.  It's obvious that Joan is a true believer, and that unfettered boosterism is appealing.  However, the mid-part of the set – including "Fetish," "Love Is Pain," and "I Am Naked Now" – demonstrated the limits of Joan's brand of true-belief rock'n'roll, with a sound and approach that is sometimes too firmly templated for its own good, hindering the taking of it all to that level.
Joan saved a series of early-'80s biggies for set's end, hauling out her covers of "Everyday People," "Crimson & Clover" (a version I've always been fond of, even if I wasn't much into Joan during the time of her heyday) and, of course, "I Love Rock & Roll," which she long ago re-made as her own definitive version..
Returning for a few encores, it was clear that Jett was touched by the large crowd who came out to see her and also by the mucho love generated by the audience.  She may have the tough cookie persona, but clearly there's a big heart in there rather than a black one.
No doubt about it, this was a great night out, with an interesting, complementary bill.  But whereas Jett turned in the more polished show, it was the Hole's surprising, varied set, punctuated by loads of great stage quips, that is going to linger long in my mind's eye.
Joan was sweat, but Courtney was blood and (crocodile) tears.
And with that, I strolled out with the throngs from the Lebreton Flats in high anticipation of the set I was decidedly most stoked about seeing: Saturday night's headlining performance by The Flaming Lips.
P.S. to whoever programs the loudspeaker tunes at Bluesfest every night following the main performance: thanks for a great exit choice in Lou Reed's "Goodnight Ladies."  It had me singing along as I shuffled off back home.

Joan Jett and The Blackhearts headline the night, ending with Sly Stone's "Everyday People" + the end of the night.  Full points to whomever decided on Lou Reed's "Goodnight Ladies" to usher everyone out.
"Good Sister/Bad Sister," Hole from Pretty on the Inside (1991)
Next On Stage –> 151. All We Have Is Now: The Flaming Lips, Ottawa Bluesfest, Lebreton Flats, Ottawa, Ontario, Saturday July 10, 2010.
© 2010-12 VariousArtists
Comments From Original OpenSalon.com Posting