My first concert of the 1980s, presented by local AM station CJBK and BASS (Best Available Seating Service) who handled lots of tix back in the 70s.  Whatever happened to BASS?
And why does this ticket look so familiar? ……..
ORIGINAL BLOG ENTRY FROM 2010 FOLLOWS BELOW
Dublin's Boomtown Rats surfaced at the London Gardens in March of 1980: my first live show of the new decade.
They had been an obsession of mine over the previous 2.5 years since I had picked up their debut 45, the charging and furious "Lookin' After No. 1," on a trip to the UK in '77. 
At this point, they were three albums in, superstars in the UK, and just coming off an international smash, "I Don't Like Mondays," which hit No. 4 here in Canada.
I kicked off a boatload of '80s gig-going in this freezing arena on a bitterly cold night (the bolt opposite of the Bob Seger steambath at this venue in 1978 … so much for insulation), warmed up by an engaging and energetic Rats fronted by an animated Bob Geldof ("Sir" and Live Aid were years in the future).
My pal "Special Guests"—then of London, Ontario, now of Leeds, UK—who you first met in Episode 3 on The Ramones, returns with his recollections and reflections on the evening.
Stay tuned for onstage pyjamas, photo awkwardness, and how our present shapes the memories of our past.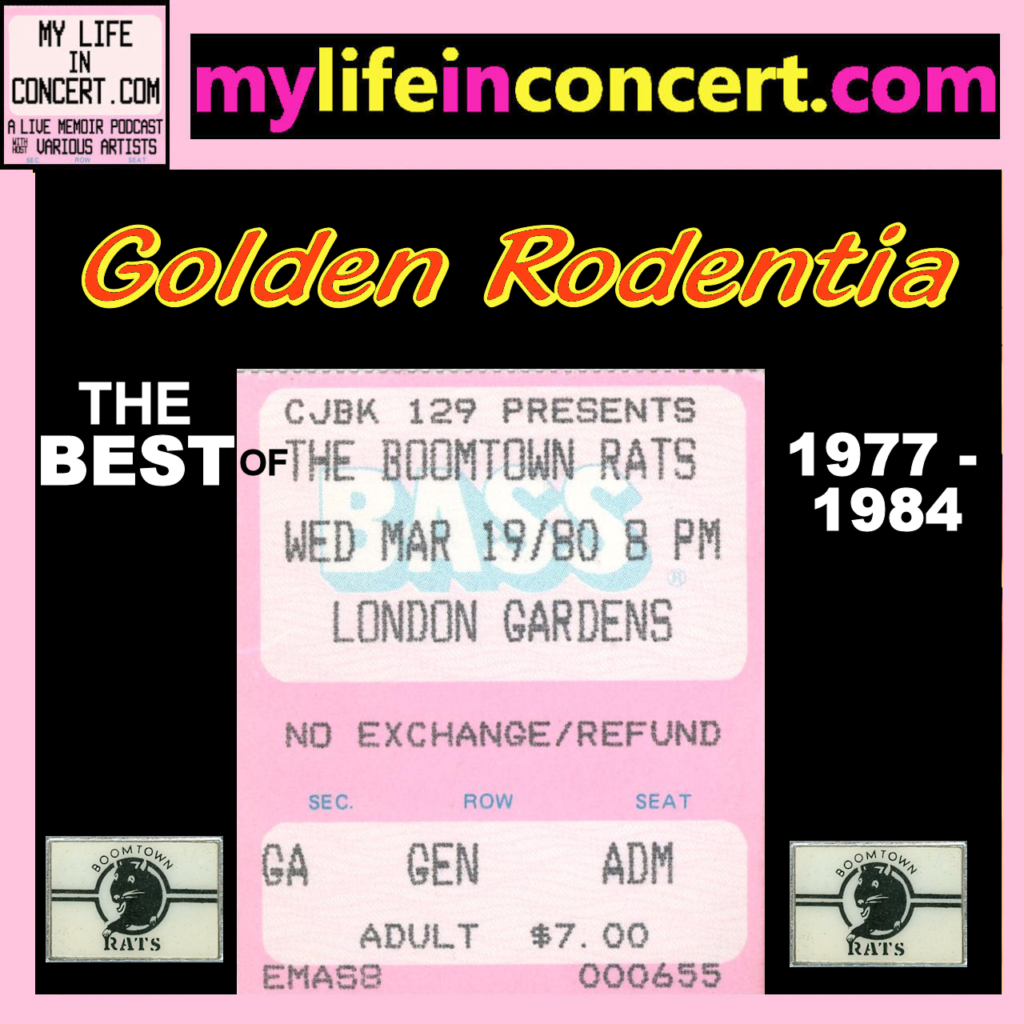 Check out the corresponding Spotify playlist I have put together for this episode MLIC> Golden Rodentia: The Best of The Boomtown Rats 1977-1984
NEXT PODCAST: I have already recorded episodes covering the next two live shows I saw post-Rats (EP 3, no.7—Here Today, Gone Tomorrow: Ramones with The Demics, Centennial Hall, London, Ontario, Canada, May 20, 1980 and EP 10, no.8—Once In A Lifetime: The Heatwave Festival with Talking Heads, Elvis Costello, Pretenders, The B-52's, Rockpile, Teenage Head and more, August 23, 1980).
I've also done a podcast discussing the two shows I was slated to see that fall but were sadly cancelled (XTC in November and Bob Marley in December, as featured in EPs 9A & 9B, no. 20b—Waiting In Vain: 22 Performances I Missed, 1980-2020).
So, my next podcast jumps into 1981 and the sole live gig I saw that year: the first of three Police Picnics, hosted by the titular group.
It was the second of four consecutive summers where I went to a big open air festival following Heatwave in 1980, and then followed by Police Picnic '82 (concert no. 11) and Police Picnic '83 (concert no.19).
While those other fests were more degenerate and adventuresome affairs, this was a more pop-and-pizza/June-Cleaver-style experience for us.
And while free of mind-altered shenanigans, this first Police Picnic is long on great music, with at least 3 killer sets including one by the original Specials playing one of their last gigs and my finally getting to see Iggy Pop for the first time.
Special Guests also attended this festival and kindly stops by once again to share his memories of that day.
Come back next time for sleeping legs, pelting patrons, a crowd-shocking performance, and Catherine O'Hara sightings.
009. (EP15) The Boiler: Police Picnic '81 with The Police, The Specials, Iggy Pop, Killing Joke, The Go-Go's, Nash the Slash, John Otway & Wild Willy Barrett, The Payola$, Oingo Boingo, and the David Bendeth Band, The Grove, Oakville, Ontario, Canada, August 23, 1981
ORIGINAL BLOG ENTRY FROM 2010
006. The Fine Art of Surfacing: The Boomtown Rats with B.B. Gabor … and a meditation on the amorphous nature of memory, London Gardens, London, Ontario, Canada, Wednesday March 19, 1980
[and an update from 2020 in blue]
Ticket Price: $7 ($21 in 2021 Canadian money adjusted for inflation)
I came up with the idea for My Life – In Concert! during the late winter of 2010 and then spent the early spring drafting my first few pieces to see if I liked the results.  Once sufficiently satisfied, I typed away so as to create a backlog of material and, in doing so, decided that I wanted to define a scope for the series (can you tell I've been a project manager?).  Among the decisions I made was that each show I was going to write about either had to have a strong review component, a story to tell or a situation or element that would allow me to riff on an idea or theme (the remaining shows I will cover off in a series of omnibus entries featuring brief overviews).  I also decided to name each of the pieces using either a song or album title from the featured artist that in some way reflected what I wanted to say.
Since I know which shows I'll be writing about next, I've found myself thinking ahead not only about details and memories but titles as well.  For this one on The Boomtown Rats' concert— my first live gig of the 1980s — I immediately knew what the title would be and why.  The Fine Art of Surfacing is the name of their third LP, their first and only international blockbuster, and the album behind which they were touring when I took in this show on a chilly March evening, on the last calendar day of winter.
It also perfectly encapsulates what I wanted to write about.  Namely, the title contains the word "surfacing" which for my purposes here refers to the notion of becoming visible via commercial success, something that was clearly a goal for the Irish sextet (featuring frontman and future God of Live Aid, Sir Bob Geldof) when it came time to write and record this album.  They had broken big in the UK in 1978 with their second long player, A Tonic For the Troops.  That LP contained three chart hits, the most notable being their first British No. 1, the Springsteen-ish "Rat Trap."  Surfacing in a larger commercial sense must have been on their minds when creating Tonic's successor.  And it worked, with TFAOS and its accompanying first 45, "I Don't Like Mondays," becoming a major hit in almost every key international market, save the U.S.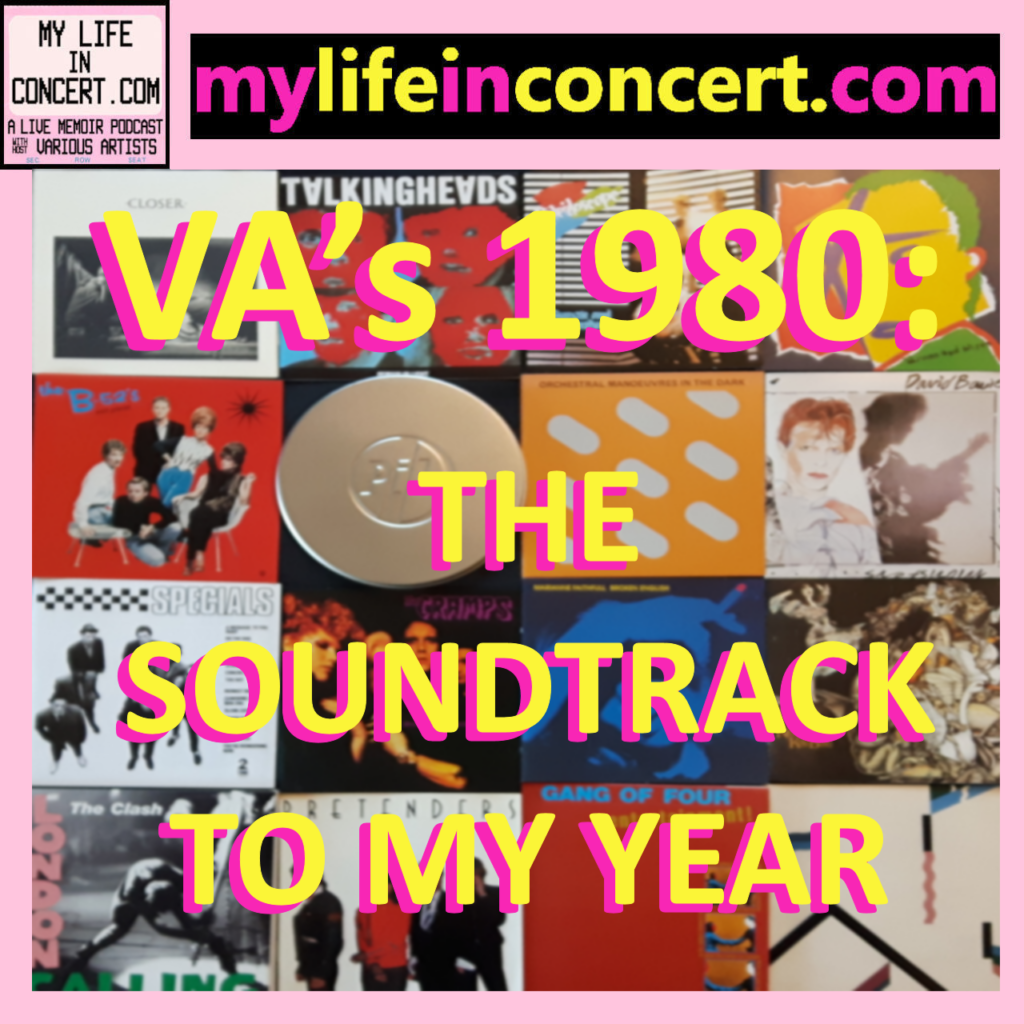 MLIC>VA's 1980: The Soundtrack to My Year is a chronological Spotify playlist of what was rocking my world during 1980, from both then-new releases as well as older music & artists I was re/discovering.
But the title also refers to the "fine art" of surfacing, which for me conjures up the eternal struggle of any artist who starts out as acclaimed and on the fringes but who ultimately wants a larger, mainstream audience: how and where to draw the line that will equitably balance artistic integrity vs tempering the rough edges enough to attract attention in the wider marketplace.  It's a battle that few rectify in a satisfactory fashion for either artist or audience.
"Mondays," about Brenda Ann Spencer's senseless January 29, 1979 schoolyard shooting spree in San Diego and her quote that she did it because "I don't like Mondays," gave the Rats their second UK No. 1 before taking off worldwide, preceding Surfacing's 1979 fall release.  Both album and single became huge hits here in Canada but I, a fan since buying their debut single while in the UK in '77, wasn't too impressed.  Following what I perceived to be an excellent new wave pop album in the form of Troops found Surfacing overly glitzy and streamlined, bland, and nakedly aspirational in the quick-buck rather than artistic sense.  In an era with an embarrassment of slipstream riches, I found it frustrating that this band I loved had hit the big time with such compromised music.  I was actually pleased that they were reaching a large audience, but just wished that they had been able to do so with markedly better tunes.
"Someone's Looking At You,"and "I Don't Like Mondays" performed on ABC's Fridays in April 1980, a month after I saw them live.  I remember watching this performance at the time when it aired.  Who the hell is introducing them?
I was going to write about how "Mondays" emanated from radios everywhere, irking me that this Elton John-ish piano ballad was being seen as representational of this band I'd adored (not to mention that John and Bernie Taupin had already created a good song mining somewhat similar territory with "Ticking" from 1974's Caribou).  As for the rest of Surfacing, I didn't hate it and indeed loved the opening track and second single, "Someone's Looking At You."  I just thought that, overall, it was a real come down after that superb second disc and their eponymous very good first one.
Regardless, when a London, Ontario stop appeared as a tour date, I was pretty excited to be seeing a group whose overall output I'd loved, even if their new album was somewhat wanting.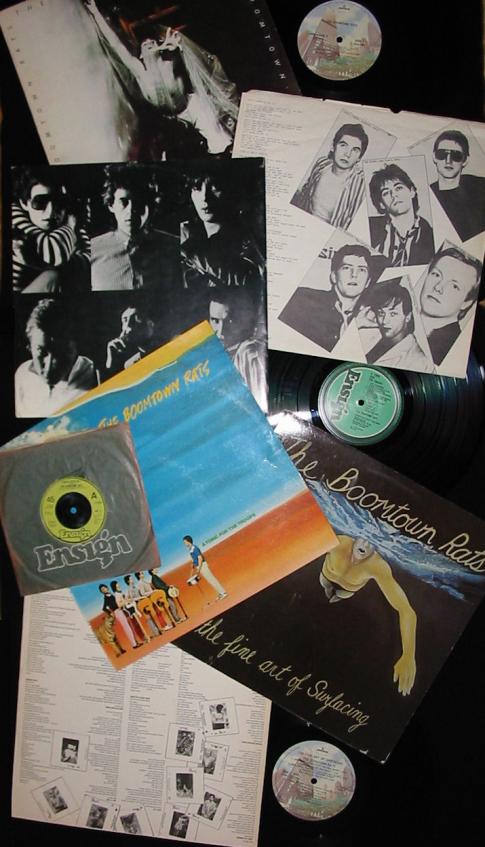 (Photo by VariousArtists)
 I was going to write that everything I remember about this gig could be distilled down to:
Bob Geldof trying hard to be the new wave Mick Jagger with his stage moves and presence;

Keyboardist Johnny Fingers onstage in his trademark pyjamas;

The Boomtown Rats bringing a large group of camera-bearing fans onstage during "Having My Picture Taken," as the fans, er, took pictures of the band playing, with both band and deer-in-the-headlights teenagers looking equally awkward during the staged ritual, pissing off po-faced security in the process;
The big crowd sing-a-long with "I Don't Like Mondays," which had recently dropped out of the Top 10 singles after a long run;
"Someone's Looking At You," which I think they may have opened the show with.  Whatever its place in the setlist, it jumps out in my mind along with the "Mondays" sing-along as a highlight;
Going to see this gig with my sister and her new boyfriend who she would later go on to marry.  As for my newly met music-obsessed pals, Lady Bump and Count Mara, I had recently broken up with the former and I believe we were going through a short period of souring on each other before settling in as friends for many years while the latter was not a fan of The Boomtown Rats or arena gigs;
The large canvas at the back of the stage featuring The Fine Art of Surfacing cover artwork;
A large grid-like structure on the stage that looked a bit like an abandoned Hollywood Squares set with lights blinking off and on, and my sister, the least punk purist of all of us, complaining that "this isn't what it was supposed to be about — big sets and light shows";
Toronto's ill-fated B.B. Gabor opening the concert, playing in a ludicrous get-up of gym shorts over tights.  At the time he was emerging, with significant Canadian college radio play for his numbers "Nyet Nyet Soviet" and "Moscow Drug Club."  Unfortunately, his career never launched after his minor initial success and he killed himself in state of depression in 1990;
A freezing London Gardens, the same place where I became disillusioned with Bob Seger and then-mainstream North American rock in general during a packed, sweltering night in May 1978.  Owing to the Rats being on a recent ascent, the place was only about half full (approx 3000 people).  I guess the Gardens simply didn't bode well for me as a venue;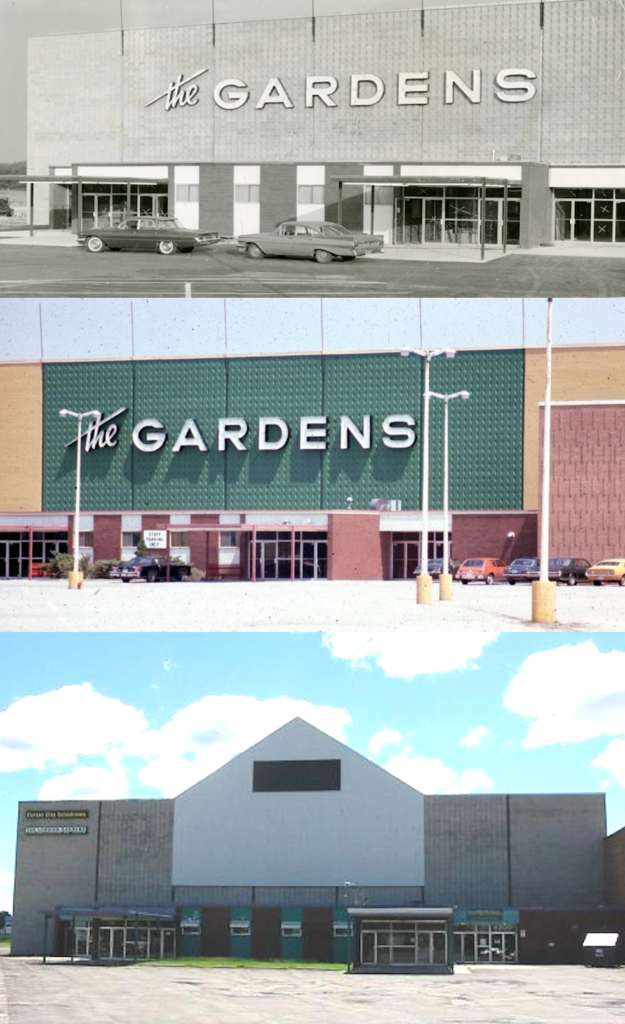 The London Gardens (initially Treasure Island Gardens) through the years: The Gardens prepares to open in 1963 (Top, London Free Press Archives); in the 1970s (Middle, from the Internet); and in its current incarnation as the London Velodrome (Bottom, photo by VA, 2010)
A decided sea change in the age of the crowd.  I wrote in my piece regarding the London, Ontario punk scene about how the audience for most of these new groups was predominantly composed of twentysomethings during the later 70s.  That shifted when mainstream Canadian radio seemed to suddenly become more open to at least some of the more palatable new wave/punk artists at the start of the 1980s.  This Boomtown Rats gig clearly illustrated how a new era was beginning as the crowd for this unlicensed concert featured droves of young'uns who were my age — a first!;
Saying a quick "Hi" to this one rather curious girl who briefly attended my high school.  She looked like she was trying to be the New Wave Chesty Morgan, appeared to be able to party like Fassbinder, was as delicate as an anvil, and routinely offered up incisive pan-global political observations and commentary during my Current Affairs class.  We ran in different circles, but with her unabashed love of sex, songs, substances, and socio-political analysis, I've often thought back and felt she was my kind of person.  Unlike the alternately beige or redneck types who littered the halls of my much-hated secondary school, she always stood out as being as intelligent as she was un-prudish.  We compared notes the day after the show.  I've sometimes wondered what became of her.
But that's not what I'm going to write about.
Instead, I'm going to write about this: The Fine Art of Resurfacing.  As in memory.
Two things recently got me to thinking about the amorphous nature of memory while working on this series.  The first is a case of kismet, namely that we purchased a turntable last fall after I had gone without a working platter for almost a decade and a half.  I've still got a sizeable chunk of my old, large vinyl collection, containing all sorts of titles I either don't have or have only in part in a digital form.  It's fun ploughing through albums and singles that I hadn't heard in decades, in some cases the result being that I've made a whomp of recent replacement purchases for my iPod and CD player.
The turntable turned out to be a godsend as I started to work on My Life – In Concert!, as I was now able to re-listen to and re-asses all sort of LPs and 45s pertinent to past gigs I've been writing about and researching.  Not only have most titles ended up sounding just as good as I'd remembered, some — such as Dave Edmunds' Repeat When Necessary, The Jam's Setting Sons, and Elvis Costello's Trust — jumped out as sounding even better than recalled.
[And now an interruption and update from 2020: When I initially wrote this in 2010, I had re-listened to Troops and found it grating, writing it was an "overly effervescent mishmash of competing styles and goals."  Yikes.  Take a chill pill, Various.
I haven't got the foggiest idea what I was banging on about back then because it once again sounds splendiferous to my current ears and the best album in their catalogue, which is what I thought and how it sounded to me in the late 70s.  It's a top-notch LP from start to finish, but for some reason, my 2010 ears heard it completely differently.
Meanwhile the much rockier debut album from '77, which I thought sounded the best in 2010, now sounds like the weakest of the three, especially its second side.  The Fine Art of Surfacing continues to sound sharp and engaging.
So I would like to rectify and replace my previously churlish opinion and apologize to O Rats of Boomtown.
But that's how it is: the same record may sound differently to you at different points in your life.  Now back to 2010 …]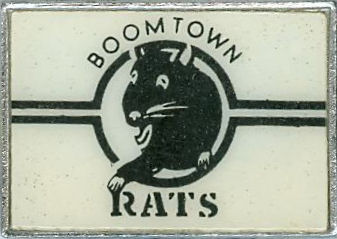 The Boomtown Rats badge that I sometimes wore on my leather jacket during the late '70s/early '80s. 
The Fine Art of Surfacing now sounds markedly superior in my mind, with some of the aspects that initially bothered me — its more streamlined nature, for instance — now acting as definite pluses.  It seems like they chucked the moral dilemma regarding commerciality that ultimately marred its predecessor, resulting in an improved, more consistent pop album.  And "Mondays," now stripped of its renegade-band-sells-out context, sounds like a good pop song to me and one of the highpoints, rather than an overplayed embarrassment.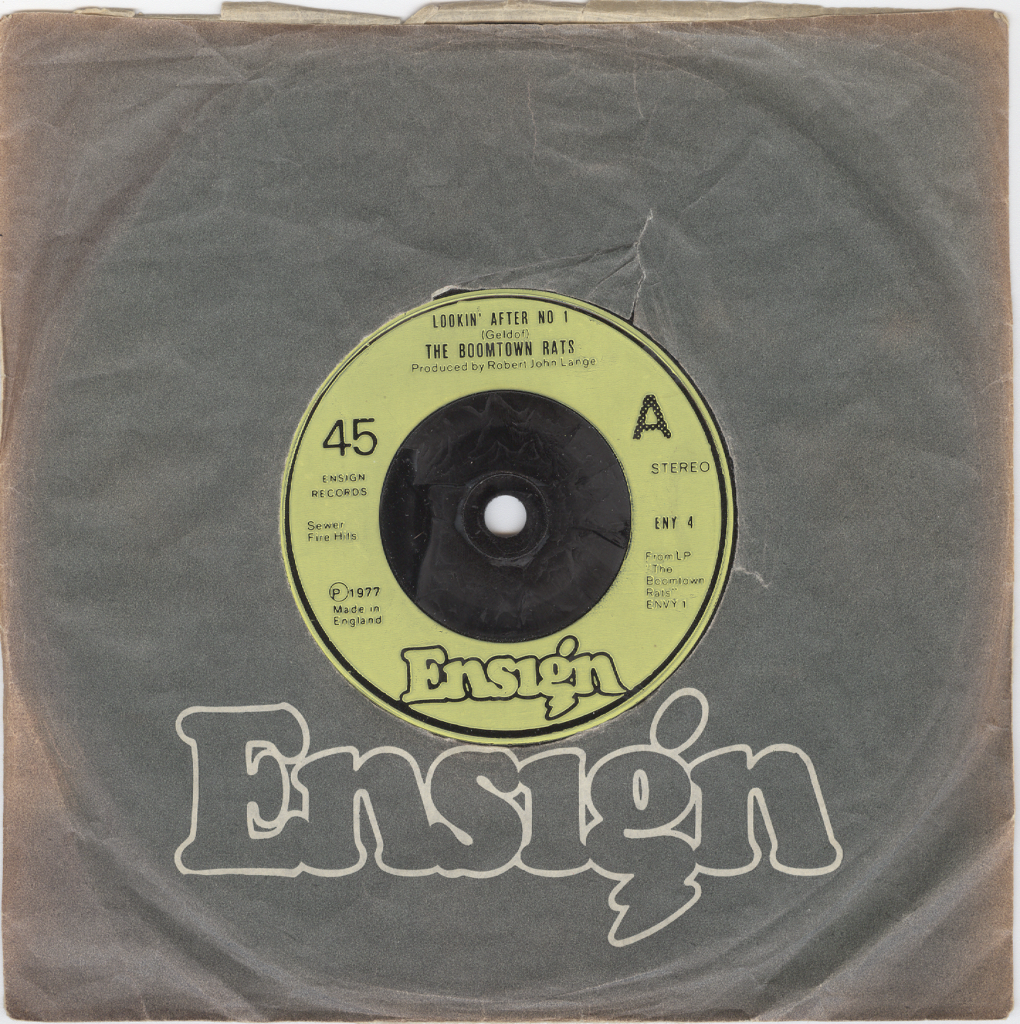 Their three-song first 45 featuring punky A-side "Looking After No. 1" and the B-side combo of "Born To Burn," which sounds like the New York Dolls on 78 rpm, and a spirited live take on Robert Parker's 1966 R&B chestnut "Barefootin'."  This effective trio of numbers display stylistic avenues that the band never fully explored.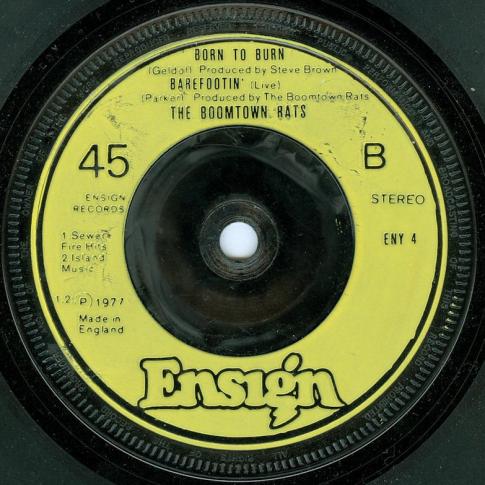 The point of all this is that if I'd never gotten that new turntable and not had the opportunity to go back and hear those three albums, my memory would have forever processed them in my mind in a way that's no longer applicable to me now.  Who's not to say that I if I could re-attend some of these early gigs that I went to, and am raving about in this series, that I'd find them lacking?  It is something one can never really know but must be factored into the equation.  I am writing about these long-ago experiences from my past with the recollections of a late-40s man, but working from the mental notes jotted down by a 17-year-old boy.  And therein lies a breach that can never fully be accurately assessed.  I mean, just how irritating would Geldof's faux-Jaggerisms seem to me now? [Speaking 10 years later amid the death of rock, I would welcome them greatly.]
Furthermore, re-hearing all this past music in the present creates a new memory and revised marker.  I could very well re-listen to them in 10 years time and have a different take yet again [see above!!!], negating the value judgement drawn from this 2010 benchmark, and re-aligning with my earlier impressions.
In terms of the more review-centric pieces I am writing on contemporary shows, what am I leaving out now that I'd highlight later?  What context and foreshadowing — invisible to me now — will become essential and evident as time passes?
The Boomtown Rats get blown up after performing "Never in a Million Years" on SCTV's Farm Film Report.  Catherine O'Hara, as Brooke Shields, also gets blown up on the episode.  Be sure to listen to the podcast for this episode and hear about Special Guests and Catherine O'Hara waving to each other.
This segues into my second, more significant touchstone, namely the recovery of my old journals.  Between mid-1986 and mid-1995, I intermittently wrote several volumes of them, with the period from the fall of 1988 through the summer of 1992 as particularly rich, detailed, and consistent.  I had almost forgotten about them and had a Eureka! memory moment when pulling together personal archival material for this series.  After digging through the household, I eventually found and began pouring through them.
What an experience!  That period was a tumultuous time in my life as is often the case with people who start do that kind of personal, private writing.  So much came rushing back: painful, awful things, with the words on the pages providing me with a direct IV back into why I was so unhappy at that time, and why I had damn good reason to be.  But then there's also so much good stuff too: great nights out at bars and shows; killer parties or nights spent sitting in with friends; people, events and minor occurrences from daily life that I had completely forgotten about.
In zooming in on key things that I have clear memories of and then comparing them to what I had written from the actual time, I was pleasantly surprised that I frequently, overall, got it right.  But even then, it turns out I had often forgotten about all sorts of small details, side dramas, and involved persons (not to mention that the thoughts and words on the pages reflect a person that appears to me as an embryonic specimen of who I am now — was I really that naïve?).  Even when I got it right, I got it a little bit wrong or at least incomplete.  So, while it turns out that I have a pretty strong accuracy batting average regarding the basics from the past, the fine points had often vanished.
Rediscovering various intricacies via the journals has proved transformative, taking an experience somewhat akin to a mental black-and-white still photo and morphing it into a Technicolor movie.  (As a side note, dear readers, when this series catches up with that time frame, I am going to be able to give you some real treats of recollection as I recorded some intricately detailed accounts of many key shows from the era, including gigs by The Smiths, Paul McCartney, Lou Reed, Neil Young, Sonic Youth, Keith Richards, The Rolling Stones, Laura Nyro, The Waterboys, several Lollapaloozas, and more).
Memories.  They are tricky, sometimes selective, shifting and changing with our life and experiences, and how we view them is often coloured by present circumstances.  What we choose to reveal when expounding about them, what we desire to bury, what is shaded, upgraded or eliminated by our changing feelings, alliances, tastes, priorities and perspectives — writing about the past often relies so much on how we feel in the present, the two becoming interdependent.  Ostensibly I'm writing about "then," but in some ways I'm also writing about "now."
However, as unreliable and as patchwork as they sometimes are, memories house some of the keys to whatever we've become and how we see ourselves and our personal histories.
Flawed as the process is, and for what it's worth, I shall continue trying to perfect the fine art of resurfacing.
The Boomtown Rats performing their soon-to-be first UK No. 1, "Rat Trap," on Top of the Pops (Nov. 1978)
Next On Stage–> 007. Here Today, Gone Tomorrow: Ramones with the Demics, Centennial Hall, London, Ontario, Canada, May 20, 1980. 
© 2010-2011 VariousArtists
Comments From The Original opensalon.com Posting