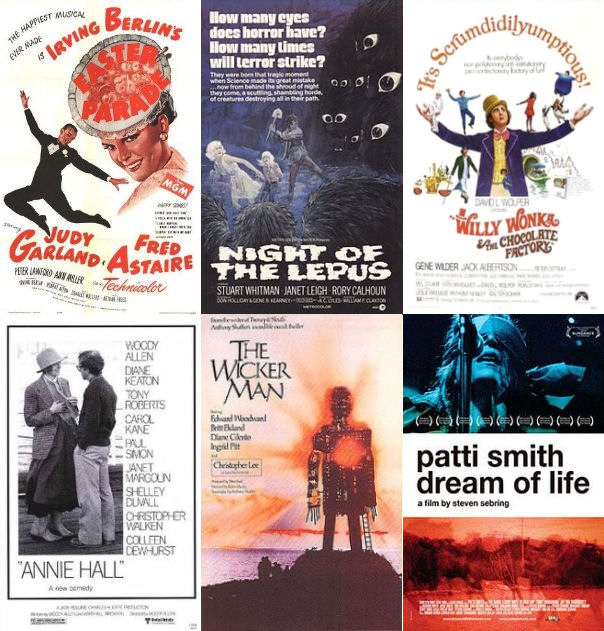 Originally published on Open Salon April 21, 2011.
A high holy holiday for the religious and a sweets-filled, extra-long weekend off of work for us atheists, agnostics and those of other faiths, Easter is ultimately a celebratory occasion for all. It's a time for the ritualistic anthropomorphism of bunnies (please, no Shannon Tweed jokes) and to stuff your face with oft-waxy chocolate. And once the sugar rush turns into a sugar crash, you will probably be taking some downtime on the sofa in front of the telly.
But what if the obligatory re-airings of The Ten Commandments, The Robe or Jesus of Nazareth are not your cup of tea? Prithee, what shall thou watch?
For those applicable souls, I have selected six alternative, possibly Easter-related recommended viewing suggestions.
Easter Parade (1948): Okay, so this too gets hauled out and flayed against TV screens every year at this time, but I'm a sucker for an old school Hollywood musical. I am perpetually delighted by this period romp featuring Judy Garland as a trying-to-catch-a-break performer in 1912 NYC.
Fred Astaire co-stars as a Broadway deity on a vengeance trip after being dumped, personally and professionally, by his careerist partner and former love interest played by snappy tapper Ann Miller in her star turn as manipulative minx. Fred tries to use and mould our Judy to his own selfish ends but, alas, cooler heads and warmer hearts prevail. Aw, bless.
Easter Parade features maximum hoofing and trilling as well as a great faux-period look and a bevy of classic Irving Berlin songs. Be warned: you may find yourself compulsively singing "Snooky Ookums" for the rest of the weekend.
Gee, I wish that I'd find myself in the rotogravure.
Night of the Lepus (1972): Easter is the Festival of Bunnies and Chocolate as a friend of mine who is partial to both likes to say. And for those who want to sharply focus on the former of the two, why not take in a viewing of the Z-grade 1972 horror flick Night of the Lepus.
What could better bring home the spirit of the season than a film about marauding gangs of giant killer buns, violently destroying everything in their path and gnawing on the unfortunate humans that cross them like candied carrots, leaving shredded lettuce-like remains in their fluffy wake.
Never mind that rabbits aren't carnivores. These big-assed mofo Peter Cottontails are clustered, terrifying hoodlums, all sharp gleaming teeth and galumphing menace—although it could be reasonably argued that the killer rabbit in Monty Python and the Holy Grail is more expeditious in its single-handed carnage.
Along with the blood-thirsty leporidaes you also get a slumming Janet Leigh in a truly unfortunate wavy rainbow top and 70s sex hair as well as DeForest "Plaid Flares and Sideburns" Kelley (Dr. McCoy from Star Trek) clearly in need of work at this time, along with two dumb-as-bricks kids who probably couldn't tell their asses from their elbows. What's not to like?
The trailer is a hoot …
… but the subsequent collection of "best" clips show the actual enormo-sized bunnies.
Willie Wonka & the Chocolate Factory (1971): We've covered the buns with Night of the Lepus—now it's time for the chocolate.I've loved this film ever since seeing it as a kid with my cousin at a nearly deserted theatre in 1971. Willie Wonka will give you a sugar rush yet it is amazingly treacle-free and rather dark for a film aimed at kids (one of the presumed key factors for its initial box office failure). Willie has all the right mindset ingredients that would make him a perfect sadistic Leather Daddy, delighting in dishing out the hard line to a gaggle of obnoxious brats, while the glowing herds of malevolent Oompa-Loompas and dayglo WTF?? sets help make for the best substitute bad acid trip you'll never have.
There is also the Tim Burton remake, Charlie and the Chocolate Factory, trading in Gene Wilder rocking the Pierre Trudeau-as-Edwardian-hippie look for Johnny Depp's sinister Brian Jones. It seems like almost everyone but Cublet and I hated it but, fie, we both rather enjoy it.
I'm now off to look for a Golden Ticket.
Annie Hall (1977): One of Woody Allen's masterworks and a landmark of '70s cinema, Annie Hall's features a hilarious Easter connection in the form of Diane Keaton's Annie taking Woody's Alvy Singer back home for the holiday weekend amidst her über-WASP family and Jew-hating grandmother. Ok, so the Easter content ends there, but it's always a great film to watch.
And here is the scene …
The Wicker Man (1973): It's the Christians vs the Pagans in this classic British suspense yarn, written by Anthony Shaffer. The Wicker Man is a fascinating, singular look at the disastrous results of unquestioned dogma of any stripe in the context of a Hitchcockian nail-biter.
In terms of an Easter connection, sacrifice and crucifixions are key to the theme of the film, but not in the ways you might expect. There's also Rowan, "a lovely March Hare," for those who didn't get enough bun-stuff with Night of the Lepus.
The Wicker Man sports gorgeous Scottish locales and a stunning soundtrack of original and traditional gothic folk. Cast-wise it features Christopher Lee in his definitive role as the ruthless, pragmatic Lord Summerisle; Edward Woodward as the virginal and deeply religious Sgt. Howie; and Britt Ekland as the nude-dancing barmaid, landlord's daughter and all round town de-flowering entity.
And it's a musical to boot, although probably the most atypical, erotic, and chilling one you'll ever see.
In addition, when May Day rolls around this year, The Wicker Man may inspire you to have your own salacious community maypole sing-a-long romp. You'll have to see the film to understand.
I have watched this movie far too many times to count. It would rank in my Top 5 Favourite Films of All Time. I guess I should also note that there was a widely panned sequel a few years back, which I steadfastly refused to see. From what I understand, I made the right choice in avoiding.
Okay, let's go: "In the woods there grew a tree …"
Patti Smith: Dream of Life (2008): This largely black and white Patti Smith "documentary" begins with a brief life and career recap before eschewing sequential narrative completely.
It could also not be better named. Taken from her 1988 song/album title, it's just as it says on the tin: a wash of filmed fragments from Smith's life between the mid-90s to mid-00s, with a non-linear chronology worthy of David Lynch's Mulholland Dr. It really is like watching Smith's life refracted through a dream.
It's hypnotic, haunting, visually mesmerizing—and we get to see Patti meeting Michael Stipe's mother, too.
Its connection to the holidays? Well, Smith issued an album and song called "Easter" in 1978. And, um … that's it. But it's Patti—isn't that reason enough?
Happy Easter, one and all!
© 2011-2016 VariousArtists
Comments From Original OpenSalon.com Posting