A $7 concert.  That amount doesn't even usually cover service fees these days.  According to my collection, tickets then were overall smaller than they are now and were vertical as often as they were horizontal.  Vertical tickets like this one seemed to have died out at some point in the '90s, at least around these parts. 
The original blog entry from OpenSalon.com in 2010 follows below, after podcast info.
It's six months on from the Bob Seger concert in Episode 7, and my world had fully transformed.  The old wave was (mostly) banished from my turntable by this point as I completely surrendered to the electrifying bang of punk which was delivering an exciting and ear/eye/mind-opening flood of completely new sounds, triggering several unprecedented years of relentlessly morphing sonic hand grenades and innovations.
While I had followed the development of the US, and then UK, punk/new wave scenes through the press, starting in the mid-70s with Patti Smith and the Ramones, it wasn't until 1977 that I finally really got to hear a substantial amount of this music.
This Elvis Costello show from 1978—my third live rock concert—was my first direct interface with any of the new artists, and I was eager to jump into the fray.  And while this show's energy was high, and I was thrilled to have finally seen one of the new breed of acts I was playing relentlessly at home, there was something about this show that left me unsatisfied.
My old pal from the 70s—who I will call "Autobahn"—attended this gig with me along with my siblings, and he drops by the podcast to share his thoughts and memories about the concert.  This was his very first show and he has some interesting and different perspectives on the gig than moi.
Tune in for anticipated bedlam, herbal dental remedies, & Biff'n'Buffy rent-a-cops.
Also tune in to hear me get the title of Costello's 1983 album (Punch the Clock) wrong.
Read the original 2010 blog post below.
NEXT PODCAST: Since the Covid Summer of 2020 is also The Summer Without Live Music, I am going to pause my story and instead present two episodes devoted to performances that were missed rather than remembering those I attended.
Hindsight is 20/20, or so the saying goes.  So, for my Concert no.020 entry in the original blog series, I published a two-part tribute looking back at what DIDN'T happen: one remembering 20 specific performances/concerts I was slated to or wanted to see—but didn't or couldn't—from 1980 onward, and another listing the 20 Acts I Wish I'd Seen (and will never be able to) who were performing between the '20s and 1980.
The original list dates from 2012, and so I am updating it for 20/20 with two covid-related cancellations for what were to have been my first set of live shows of the new decade.
In Episode 9 (no.020b) Waiting in Vain: 20 + 2 Performances I Missed (1980-2020), I reflect on a rich 40 years of Not attending gigs or sets.  Join me in a heartwarming look back at venues surrounded by riot police, cancelled shows and tours, student penury, inclement weather, mystery no-shows, limited mobility options, instant sell-outs, undersold annulments, competing options and obligations, and sometimes just being a lazy bugger.
Episode 10 will look back at the 20 Acts from the Past I Wish I'd Seen, while Episode 11 will look back at the 40th Anniversary of the Heatwave Festival outside of Barrie, Ontario (April 23, 2020).
I'll pick up where I left off in September, with this thrilling gig from UK Mod-Punks The Jam.  It also coincided with a fresh tray of live concert firsts (A gig outside of London!  In Toronto!  At a tiny theatre!  With an authentic ***punk*** audience!).
Between 1978-82, Weller & Co. shared the "My Favourite Band" mantle along with The Clash (Joy Division made it threesome by 1980), and so I was almost verklempt at getting to see my fave raves, who were so obscure over here while they were stars in the UK, in Toronto.
And boy did they deliver!
Tune in for winklepickers, opening act confusion, and … the magic returns.
Original Blog Entry from 2010
003. This Year's Model: Elvis Costello and the Attractions with The Battered Wives, Alumni Hall, University of Western Ontario (UWO), London, Ontario, Canada, Monday November 6, 1978, $7.
This show took place just six months after the Bob Seger gig and, at this point, the idea of going to see Seger would have been unthinkable for me.   Ah, the difference a few months can make when you're young.
It's the fall of 1978 and I had banished the old wave almost completely from my then-current playlist.  It was the time of Blondie's Parallel Lines, the Ramones' Road To Ruin, Devo's Q: Are We Not Men? A: We Are Devo!, and The Jam's All Mod Cons (and, btw, they're up next in this blog) as well as debut import 45s such as the eponymous release by John Lydon/Rotten's new band, Public Image Ltd., along with pals Siouxsie & the Banshees' classic opening shot, "Hong Kong Garden."  It is also when I play catch up with The Clash's debut album, Wire's Pink Flag, and the ragged but fun live compilation, The Roxy London WC2.  An incredible time.
I didn't start going to see bands in bars until 1979, so this gig was my first direct interface with the new music I had been voraciously, gleefully devouring.  I know that for a number of people, punk and punk-ish stuff is an insufferable racket, and the scene around it was also often inaccurately portrayed in much mass media, usually missing a lot of the humour while playing up extremities or pure lies and fabrications.  But for most of us who were involved, it was indescribably liberating.
It certainly changed how I looked at a lot of things and not just in terms of ideas about what music could be, as I became much more open to unorthodox approaches and ways of thinking in general.  It gave me new questions to ask and new perspectives to ponder.  I feel that, while living a fundamentally different life today, that time and many of the related experiences I had during the next few years continue to partially inform who I am now.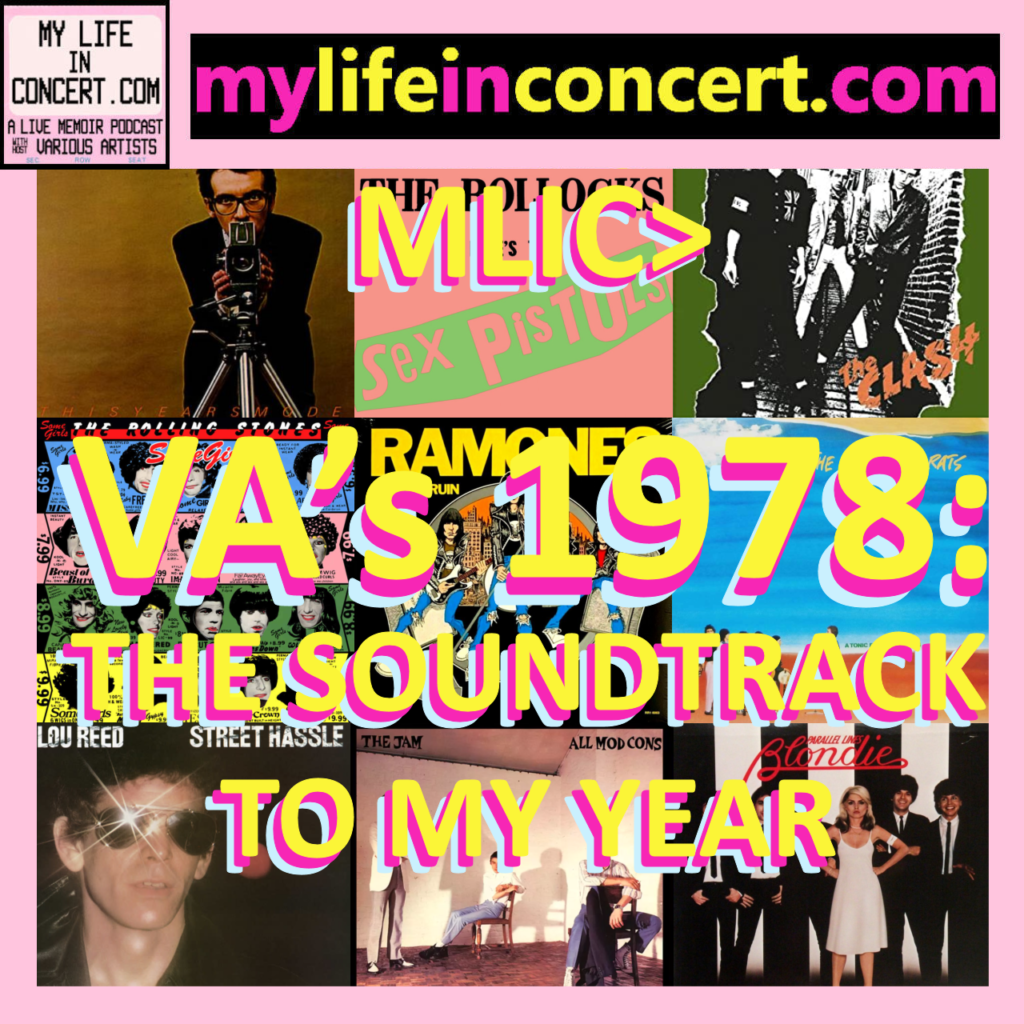 MLIC>VA's 1978: The Soundtrack to My Year is a chronological Spotify playlist of what was rocking my world during 1978, from both then-new releases as well as older music & artists I was re/discovering.
Certainly, you had to have balls to be openly into punk rock (or the then-emerging term "new wave") at that time in North America.  It's now just part of the culture over here but so many forget that people simply did not accept it and some reacted violently to it.  Myself, I used to receive death threats in high school but, instead of backing down or tempering things as I might have done in the past, I now stood my ground and learned of my own power in the process.  In doing so, I made a big discovery: that most of the loudmouths were all talk.  And I was bigger than most of them anyway.
At this point, I had gotten rid of the mid-'70s 'fro (hallelujah!—no more having to carry a collapsible afro pic in my back pocket), getting my hair cut short(er).  It now looks long to me when I see photos, but at the time, in suburban London, a short, buzzed haircut was daring.  It may have been 1978, but shags still ruled supreme.
The show was staged at Alumni Hall, a 2,300-seater hall with good acoustics on the campus of the University of Western Ontario.  I would later graduate in Alumni but that was many years away and, for now, this was my first time in the building.  As you'll see in the progression of my series, I ended up back there on a number of occasions for concerts over the following two decades.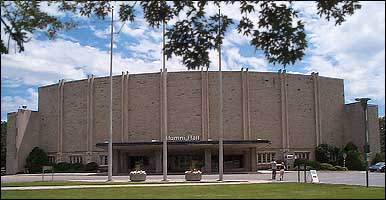 Alumni Hall (from UWO website)
I also realized that this wasn't going to be a "Punk Rock Concert™."  Costello was more of a great tunesmith who was edgy, not Sham 69.  Still, I remember there being hysteria among the ass-clamped citizenry of olde Londonia that a riot was going to happen or something to that effect.  Because of this alarmist nonsense, there was a whack of security.
The concerned university stepped up the number of Biff & Buffy student rent-a-cops for the evening, to keep things in order should some weird-ass dancing shit, you know, happen.  A bunch of fans did rush the stage when Costello came on.  Security initially tried preventing it but they eventually relented, realizing it was futile.  They stopped being a buzzkill and let a crowd build in front of the stage.  Everything was fine.
I was very geared up about seeing Costello.  I had first heard him 14 months earlier while on that trip to the UK that I discussed in the Seger entry.  His just-released debut album, My Aim Is True, had been given a rapturous response in the press, was in the British charts, and became part of my "Want To Hear" list before I left the country.  When I wandered into a particular Southampton record store and realized it was on, I hung out to listen to it in its entirety and was knocked out.  The following week I heard the exceptional stand-alone single, "Watching the Detectives," in a Boots record bar up north.
I came back to Canada singing the praises of this Elvis Costello guy, among others.  At some point that fall, I noticed that it had been released over here on Columbia and I picked it up asap.  While lumped in with the punk crowd, his more palatable style of music made North American chart inroads that the Sex Pistols couldn't as Never Mind the Bollocks barely dented the Top 100 on this side of the pond (Bollocks later went platinum here as well as in many countries around the world, including the US, as an ongoing steady seller).  After seeing what was happening in England, I really thought that punk was going to explode here too.  Whoopsy daisy on that prediction.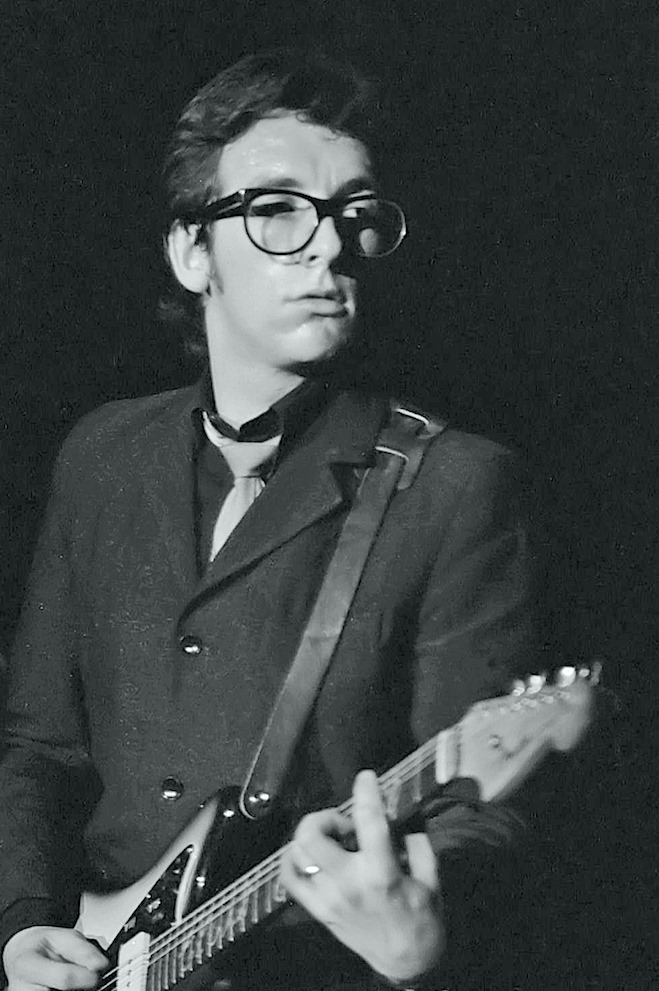 Elvis Costello onstage at Alumni Hall, November 6, 1978 (Photo by Rob Gliddon)
And then there was the infamous SNL performance from December 1977, when he stood in for the Sex Pistols who couldn't get work visas in time for the show.  Elvis famously cut short "Less Than Zero," charging into the anti-commercial radio diatribe, "Radio Radio," that he had explicitly been told not to play.  Lorne Michaels vowed never to have him back but years later they kissed and made up and Elvis has returned to SNL many times.
During a wonderfully hot, sunny May of 1978—the same month of the Seger steambath—Costello's second album and his first with backing band the Attractions, This Year's Model, was released in North America to an even more enthusiastic reception than its predecessor.  I bought it the week of its release and it immediately took up semi-residence on my turntable.  Ironically, it got into an elbowing contest on my home platter with the North American debut album by This Year's Model's producer Nick Lowe and his Pure Pop For Now People (Jesus of Cool in the UK, with a different songlist).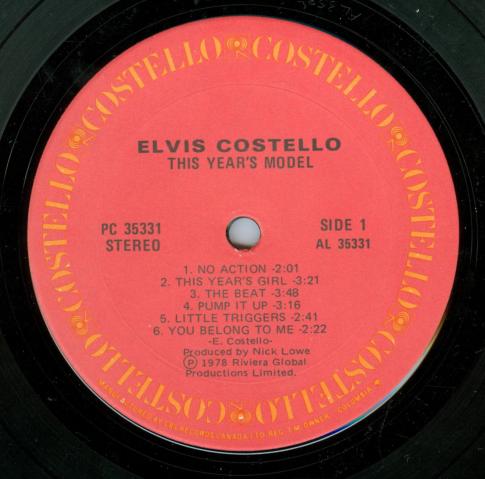 It wasn't until I was at a record show many years later that I found out my early issue copy of This Year's Model was a collector's item, owing to this clever limited edition labeling, replacing Columbia with Costello. (Scans and photos by VA)
TYM was a commercial success, and by the time of this late fall gig I could sense there was a bit of a backlash/fatigue from the core group of people who had initially discovered and supported him.  This was my first introduction to a concept that I've run into repeatedly in hipster-land through the years: the instant resentment of an artist once said artist achieves some level of success and they cease being merely someone's private pet and instead have to be shared with the grubby lumpenproletariat.  I've never gotten that way of thinking.  I enjoy it when acts I like get popular.  I'd rather see and hear stuff I like than stuff I don't—and why should only the most obvious stuff be popular?  Artists need to have a life and income too, and I like progressive and radical ideas becoming part of the public conversation.  Why be selfish?
Ergo, the overall mood of the audience was one of a sense of energy and excitement that was cut decisively by an ennui and detachment.  Funnily enough, that is precisely how I would characterize Costello's performance that night.
MLIC>Elvis Costello: Those Years' Models Live 1977-78 (re: EP 8, Concert no.3) is my Spotify compilation of live Elvis Costello & The Attractions' tracks, 1977-78.
But before Costello made his appearance, first came the controversial opening band from Toronto, The Battered Wives.  (And to think I winced when typing Toby Beau!)
Bands with button-pushing, black humour monikers were standard for the day.  However there is just nothing funny about wife battery (even if they did try to role-reverse on the first album's sleeve, foreshadowing a famous Spinal Tap moment) and it reasonably sunk them.  It was a bad choice on many fronts, not the least of which was that they weren't bad.
They had just released a promising debut album and were a terrific live band.  They were more in the power pop vein of Costello than punk per se, had a few songwriters in the group, and crafted spiky, hooky guitar pop.  They changed their name simply to the Wives by album #2 but it was too late—plus, the follow up wasn't very good either.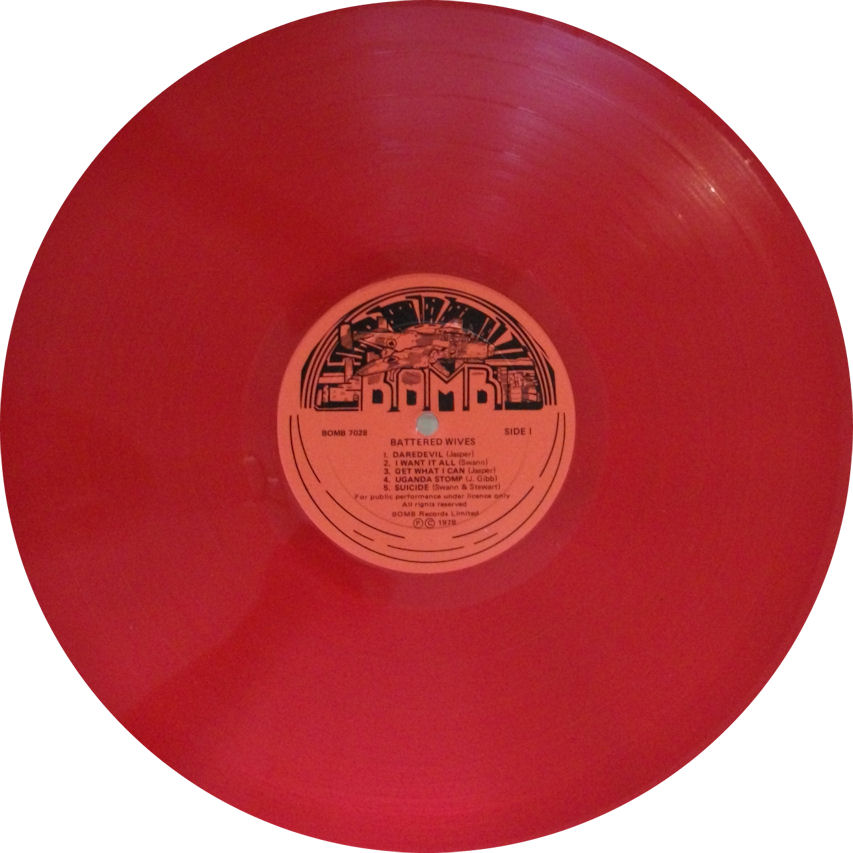 The Battered Wives' debut album on red translucent vinyl.  Neat vinyl, not-bad LP, and deeply uncool and unfunny choice for a band name.
There had been talk that pandemonium would reign supreme during their time onstage—or something like that.  As it turns out, they turned in a tight set, got a good reaction, and then it was on to Costello as the rent-a-cops continued to grimace.
As for the between-set period, I don't recall if there was a long wait before Costello came on but I do remember the freezing from my earlier-in-the-day filling starting to ebb back into feisty-nerved consciousness.  Joints were being passed, and in the process I learned that marijuana really did have medicinal properties after all as the ringing pain in my mouth subsided prior to Elvis coming on stage.  One of my best boyhood buddies, who I'll call Autobahn, was with me and my siblings that night, and I think this may not only have been his first show, but his first encounter with maryjane as well.
Costello came on, greeted by that aforementioned stage rush.  I can't remember the first number or the exact setlist, but I do remember that he played for just over an hour or so—much shorter than the two previous gigs I had seen.  The tune that I definitely remember being impressed with was "(I Don't Want to Go to) Chelsea."  It appeared on the UK edition of This Year's Model and had recently been released as a single in Canada.  I hadn't heard it yet but it kept getting mentioned in reviews as a key track in his new batch of songs.  I remember liking "Chelsea's" odd, insistent rhythm, and going out and picking up the single shortly thereafter.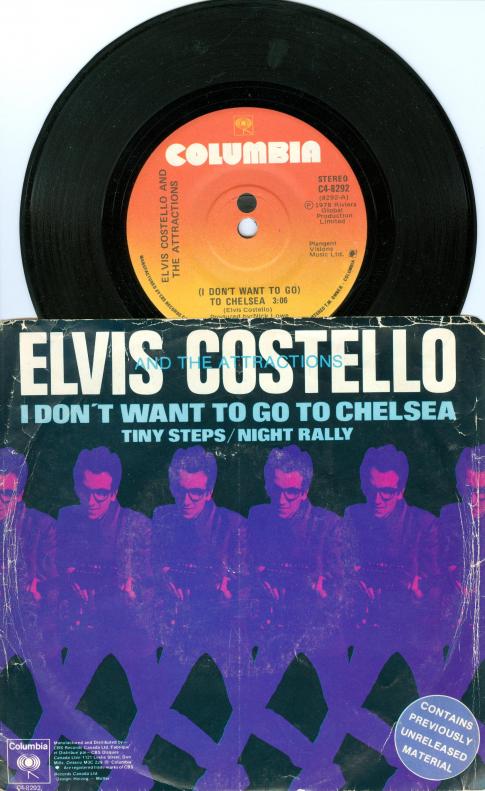 As with the Seger gig, it was anticlimactic although for different reasons.  Whereas with Seger, I just wasn't feeling it and uninterested in what he was doing.  This time around, it seemed as if the situations were reversed.  I was really up for a great show but Costello seemed to be going through the motions.  He and the Attractions steamrolled through many of the expected numbers such as "Pump It Up," "Watching the Detectives," "(The Angels Wanna Wear My) Red Shoes," etc., but the set kind of came off as punching the clock.
The high energy was there, but it seemed forced.  The frenetic pace of most of the tunes didn't suggest inspiration so much as that they all wanted to get through the night asap.  It sort of reminds me of the Beatles talking about how, if they played the numbers faster, it would get them off the stage all the sooner.
However, I then consider the following: I did some online peeking around into his schedule at that time and now I'm hardly surprised that the show was lacklustre.  It looks like he was pretty much on the road continually throughout the year.  I'm sure that at this stage in the game, some auto-piloting was involved simply to get through the endless sea of gigs.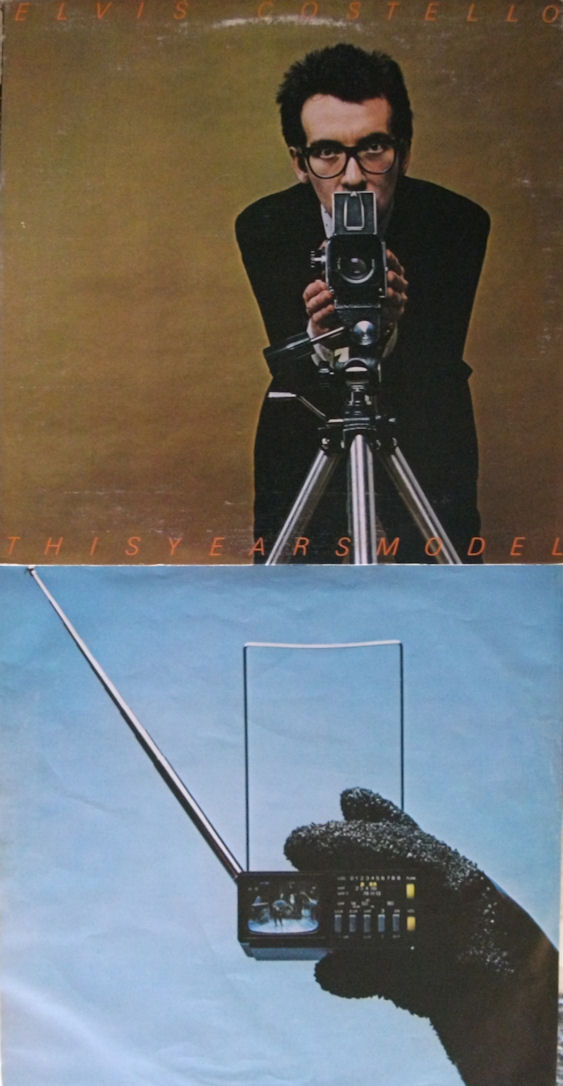 The cover and inner sleeve of my copy of This Year's Model.  The North American cover featured a slightly different shot than it's UK counterpart. The image on the miniature TV is from Costello's controversial December 1977 appearance on Saturday Night Live, when he stepped in for The Sex Pistols who were held up by visa problems.
The set concluded following an encore and the lights came on.  I was pleased that I had gotten to see him, yet the night felt a little … lacking.
I hadn't really found the feeling I had been looking for in either show of 1978.  I would have to wait until early next year to find it again.
It must also be noted that this show inaugurated an unintentional tradition wherein I see Elvis Costello precisely once per decade.  And, without a doubt, this turned out to be the weakest show I have ever seen him play.
After this night, I started to sour somewhat on Costello for a while, and I think this concert had a lot to do with it.  However, I came back around in short order, with an upcoming, killer performance in 1980 doing much to reverse that trend and, by comparison, leaving this half-assed show in the dust.
Here is Elvis Costello at the Capitol Theater in Passaic, New Jersey, six months before I saw him live.  This performance of "Radio Radio" seems passionate in a way that I had expected for the London show, but that he didn't fully deliver on.
"This Year's Girl" from This Year's Model (1978)
Next On Stage –>004. This Is the Modern World: The Jam with The Mods, The Rex Danforth Theatre, Toronto, Ontario, Canada, Tuesday April 10, 1979.
© 2010-2011 VariousArtists
Comments From Original OpenSalon.com Posting