My original copy from 1968.  I've never known why this was unnumbered as I am pretty positive it is from the first run.  Either I am mistaken or the individual numbering was solely in the UK & US. (All scans and photos on this page by VA.) 
While November 22 is a date rightly associated with an enduringly significant historical moment (the tragic assassination of John F. Kennedy), it also marks the anniversary for an enduringly significant musical and artistic moment too: it was 45 years ago today that The Beatles released their eponymously titled double disc, colloquially referred to as The White Album.
It's been there with me my whole life, or at least since my brother opened it up from under the Christmas tree in December 1968, and all these years later I'm still fascinated with the band's one and only two-fer. I chose The Beatles' ninth long player as one of my 15 Favourite Albums over on Open Salon back in 2010, and one of the key reasons behind why I love it has also been what has turned others off: the perversely eclectic nature of the material. Indeed, invoking "The White Album" as a descriptor has become shorthand through the years for when a musical act releases an ambitious-but-diverse collection.
The disc stitches together a broad range of competing styles into a panoply patchwork that's more than the sum of its parts. In spite — or perhaps because — of its varied nature, it truly feels to me like a unified piece. Listening to it from start to finish — something I've done probably a few hundred times in my life — is like going on a journey or an adventure, in some ways almost literally: it lifts off with an airplane in flight and closes with a bedtime lullaby.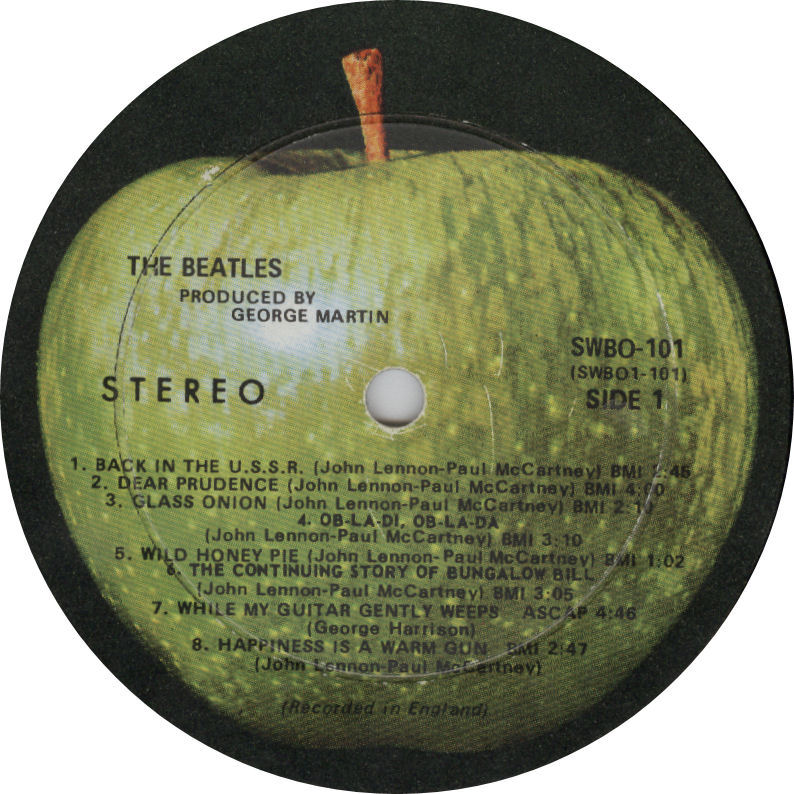 Above and below on the page: Labels for all four sides of my original copy of The Beatles aka The White Album.
In between, there are subdued acoustic numbers ("Blackbird," "Julia"), spiky rock ("Everybody's Got Something To Hide Except Me and My Monkey"), music hall ("Honey Pie"), musique concrète ("Revolution 9"), sprightly Brian Wilson-style pop ("Martha My Dear"), tongue-in-cheek excursions into country & western ("Don't Pass Me By," "Rocky Raccoon"), a satiric response to the British blues boom ("Yer Blues"), psychedelic dénouements ("Glass Onion"), previews of '70s rock ("While My Guitar Gently Sleeps"), proto-heavy metal ("Helter Skelter"), retro-rock ("Back In the U.S.S.R.," "Birthday"), some numbers that seem to be beyond genre ("Happiness Is A Warm Gun," "Wild Honey Pie"), and more.
Then there is its foreboding undercurrent. There's a sublimated sense of darkness and tension that permeates it, synergistically ricocheting off its lighter moments, creating something highly distinctive. It's an album that can be alternately warm and unsettling — sometimes simultaneously, such as with "Long, Long, Long" or "I'm So Tired."
I feel that its underlying noir vibe is another key part of its aesthetic unity. The White Album was famously recorded as the band started to fall apart, which is partially responsible for its stylistically schizophrenic nature. But that implosion also results in blood on the tracks, creating a vague underpinning of dread. I don't think it's an accident that a high number of punk/indie/alt-rock artists from across the years have covered or performed songs from this album (see: Siouxsie & the Banshees, the Pixies, The Breeders, Hüsker Dü, Elliot Smith, Sonic Youth, U2, Oasis, among others).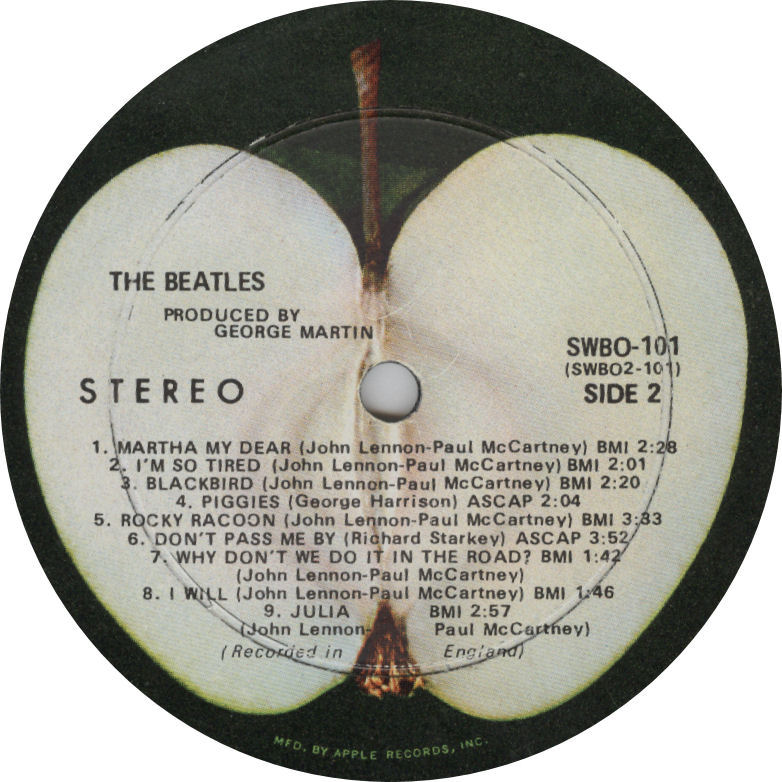 There must also be a mention of its unintended, horrific post-release legacy. Namely, how sociopathic Charles Manson used it as tool to achieve his paranoid ends via his brainwashed gang of homicidal goons. I still can't wrap my head around the fact that Manson used McCartney's fluffy 1920s pastiche, "Honey Pie" (and seven other of the album's thirty numbers), as a call to arms to slaughter a group of innocent people with unfathomable brutality. And while Paul intended "Helter Skelter" as a sexy rocker, with the title referencing a playground slide, it's now forever twinned with probably the most infamous murders of the twentieth century.
While I'm endlessly drawn to the music on the album, its cover and packaging have also fascinated me since its release. As someone with a propensity towards minimalism in many senses (I tend to like painting my living spaces all white, save one dramatic highlight wall, with a high percentage of my wardrobe as either black or white), I've long thought it was a perfect merging of form and content. While it's title may refer to a unity that crumbled to pieces during its gestation, the tabula rasa of a sleeve for me represents the blank slate that was their solo careers and post-Beatle lives that have their roots in this album.
And once inside that blank sleeve, there are the iconic portraits and collage poster, visually suggesting both the fragmentation and possibilities of everything contained within. (Regarding that poster, I have a humorous memory of walking to elementary school at the time of its release with my older sister and one of her friends who was breathlessly reporting that she had just bought the brand new Beatles album, and that it featured a shot of "John Lennon naked in bed with Yoko, but you can't see anything!")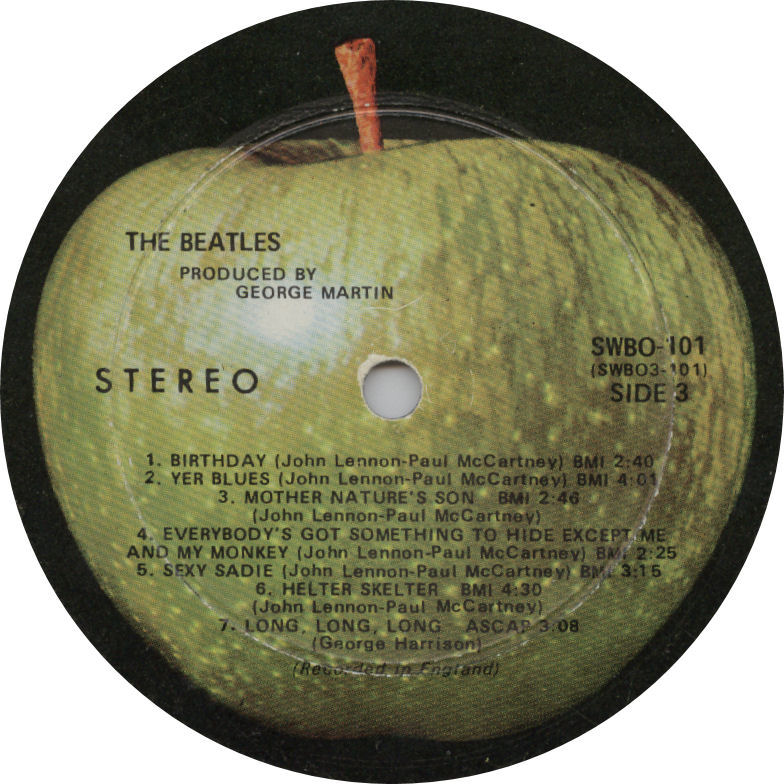 Earlier this year, Salon ran a piece covering an event that touched on two of my favourite things: The Beatles' White Album and conceptual art. Namely, artist Rutherford Chang's We Buy White Albums exhibit at the Recess gallery in NYC this past spring. The exhibit was a collection of early editions of The Beatles, with each original album from the initial run sporting its own unique number on the cover, part of pop artist and White Album sleeve designer Richard Hamilton's intended irony of contrasting the notion of an exclusive, limited run, but one of many millions.
Yet, each copy of The White Album in the show was unique beyond its original identification number.  Each displayed not only the specific wear and tear of its existence, everything from scratches on its exterior (and on the actual vinyl discs) to coffee stains, but also how many consumers of those albums had personalized their copies, using that broad white canvas for random doodles and visual expressions. (Me, I always thought it was the perfect surface to roll joints on.)
It's a landmark sleeve.  Both its design and given title have been referenced often through the years.  For example, Joan Didion's classic reflection of the 60s, The White Album, Metallica's "Black Album," and Danger Mouse's Grey Album mashup of Jay-Z's Black Album and The Beatles immediately all come to mind.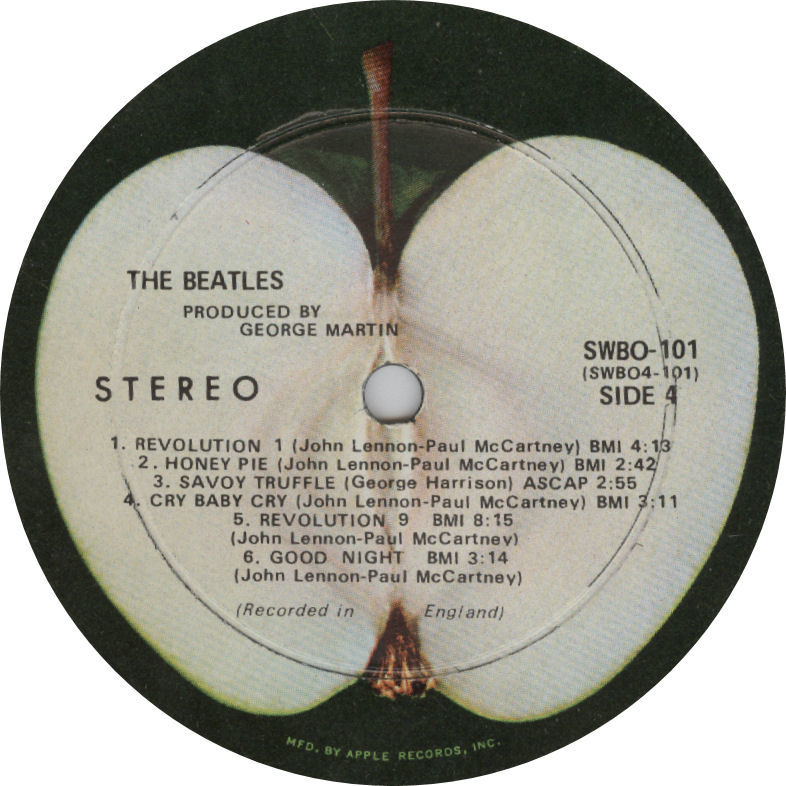 This We Buy White Albums show got me to thinking about the various iterations of the The White Album that are in my own collection. I inherited my brother's original vinyl copy from 1968 at some point, have purchased the CD four times in various capacities (five if one includes Disc One of Anthology 3, which could almost be titled "White Album Unplugged"), as well as created my own triple-CD alternative version as part of a handmade box set I created for myself and as a gift to my nephew some years ago. So, here is my own I Buy White Albums exhibition (following on from my original copy above):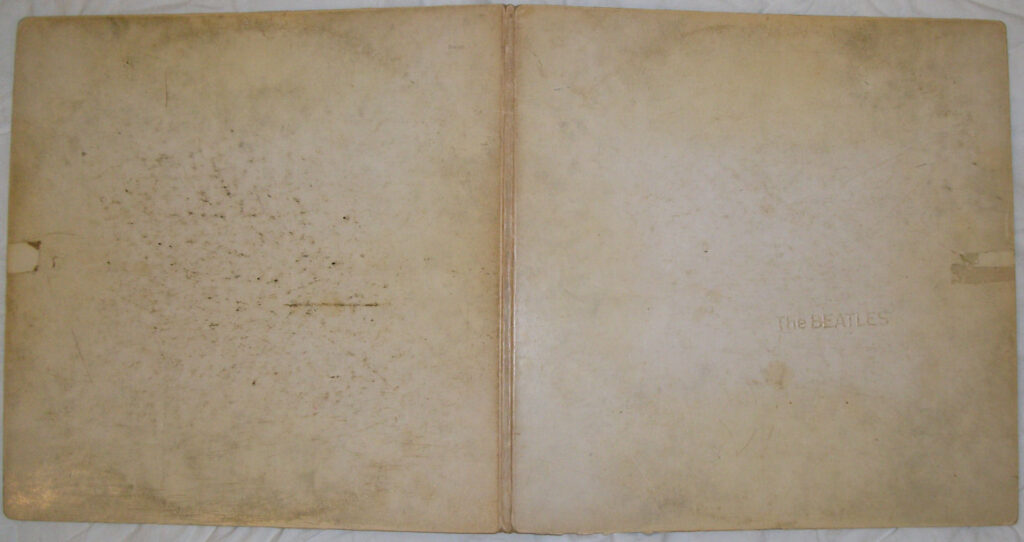 Outside and inside gatefold of original 1968 album.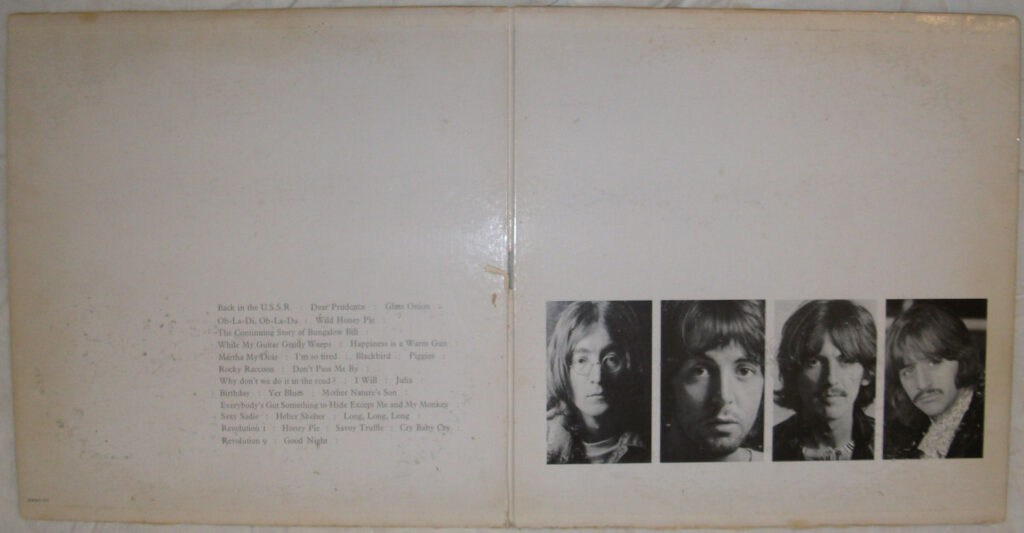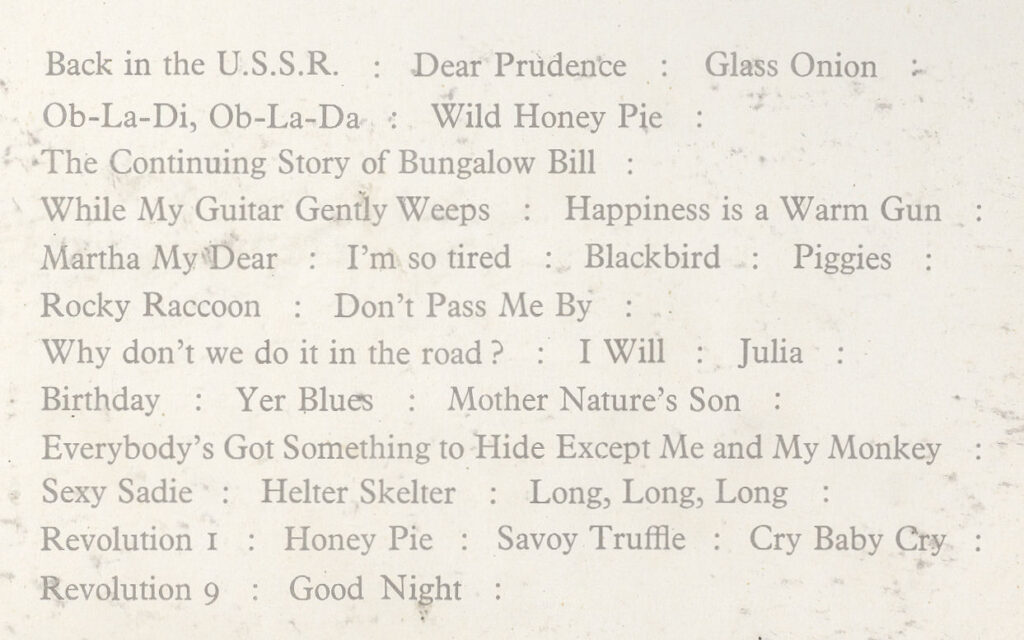 Detail of track listing (above) and panel of b&w photos (below) from inside cover, followed by the single colour shots and poster.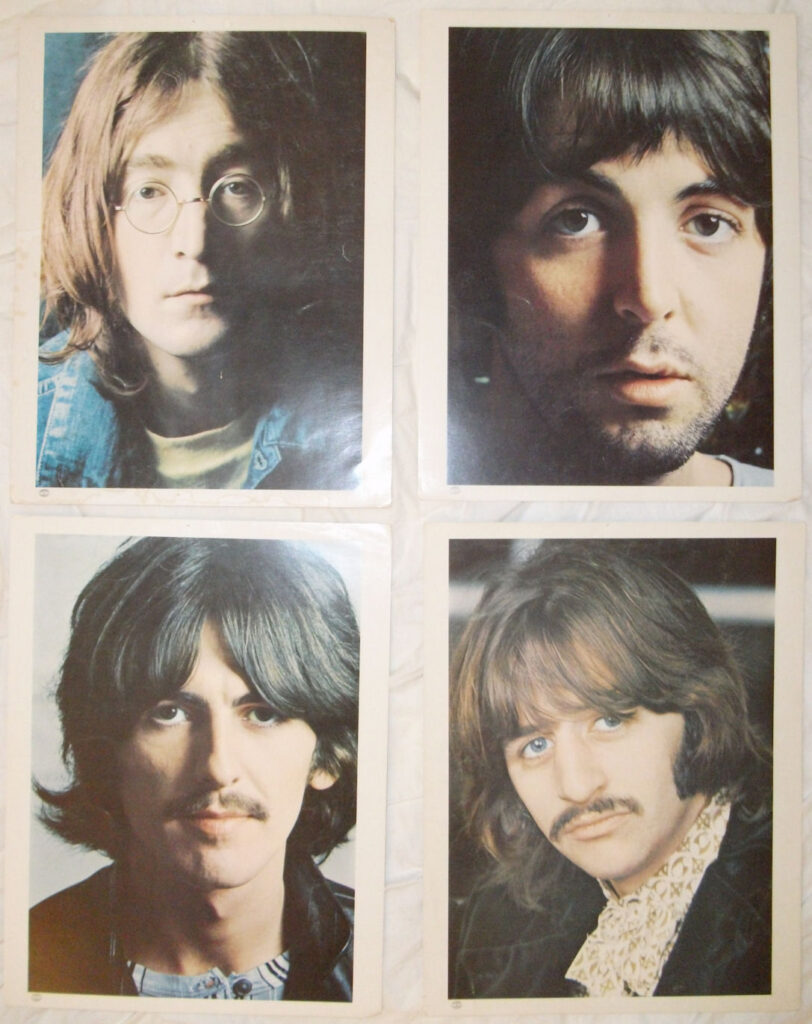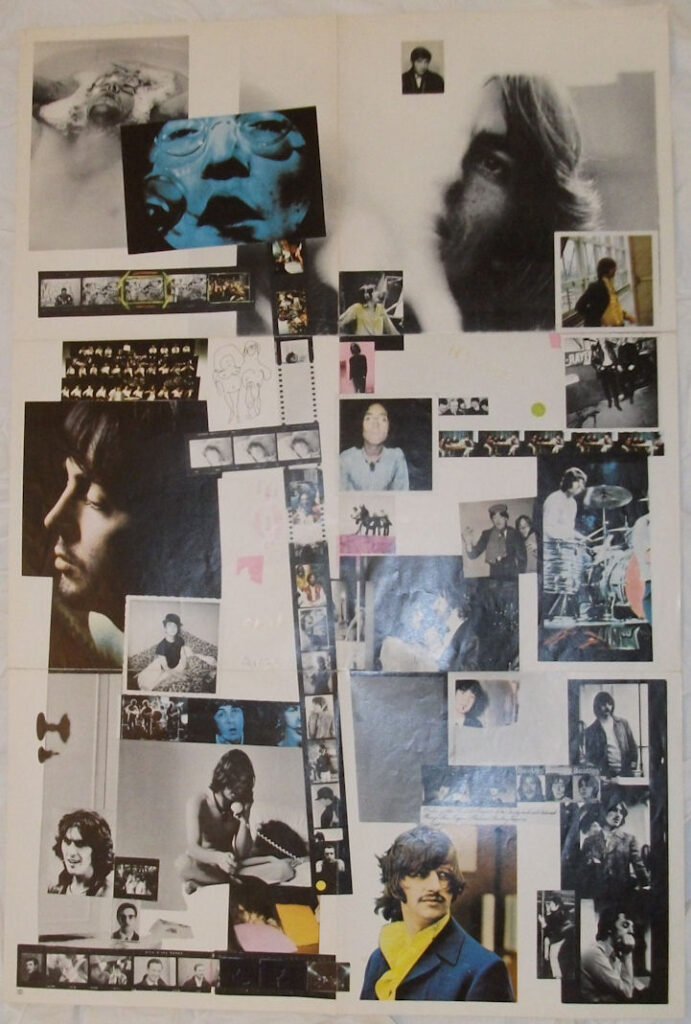 The orignal 1987 CD issue booklet (above) with cover detail and CDs (below).
Anthology 3 cover (above) and Disc 1 (below, 1996).  This first disc is a compilation of White Album outtakes.  The best disc in the series, IMO.
CD and slip case for the 30th Anniversary mini-replica reissue in 1998 (above) with detail and inner-sleeves (below).
  Spines from the Beatles box set of outtakes, alternative versions etc. that I put together a decade ago (above), with the cover of the "Off-White Album" and the track listings (below).  Hey, Beatles Brain Trust: would it be asking too much to eventually see the release of high quality versions of the complete Esher demos?
Slip cover and sleeve for the 2009 stereo CD reissue (above) and the back of the slip cover (below).
Cover for the 2009 mono CD reissue (above) and its CDs and inner sleeves (below).
[youtube=http://www.youtube.com/watch?v=AZDw0uu6UO0&w=420&h=315]
My two favourite tracks from The Beatles: "Dear Prudence" (above) and "Happiness Is A Warm Gun" (below).
[youtube=http://www.youtube.com/watch?v=PUhIEEwSSSo&w=420&h=315]