Visually, this is one of the most interesting tickets I own as well as one of the largest, measuring 6″x3″ (and you can add in another inch for the missing end stub). The design encapsulates the contrasting, cut and paste punk/new wave visuals of the time. $20 may seem like a huge bargain to 2010 eyes but it was a pricey gig back then.
Links to All 4 Parts:
Ticket Price: $20
The original blog entry posted in August 2010 follows below.
The legendary Heatwave Festival happened 40 years ago this weekend on August 23 1980. 100,000 people turned up for the Talking Heads, Elvis Costello, The Pretenders, The B-52s, Rockpile, Teenage Head & more (but not the no-show headliners, The Clash).
It was not only my first fest and one of the best single-day bills I would ever see, it was the centerpiece of an insane long weekend adventure that saw me stranded and broke in the middle of nowhere on Sunday morning after two days of partying and mass-imbibing.
For Podcast Episode 10 and on the occasion of the festival's 40th anniversary, I not only discuss the series of brilliant, energetic, & breathtaking sets performed by some of the key artists of the day at their peak, including the Talking Heads' first-ever performance as an expanded unit and the public debut of the material released two months later as "Remain In Light," but also relate how I eventually made it back to my home three hours away.  There is also the ramp-up parking lot party the night before and the morning's beer-for-breakfast cotillion of debauchery before noon even hits or the music starts.
Sit back, listen, and join me on one of the best and wildest concert/festival weekends I ever had.
And when are we ever going to get to hear the original master tapes?  A Heatwave box set, please.
NEXT PODCASTS (Coming in September):
Episodes 11 A&B will look back at the 20 Acts from the Past I Wish I'd Seen 
Episode 12 (no.004) This Is the Modern World: The Jam with The Dwight Twilley Band, Rex Danforth Theatre, Toronto, Ontario, Canada, Tuesday April 10, 1979.
Original blog entry posted in August 2010
NOTE: Today's entry is the first in a series of four that I will be posting over the next few days. Part One deals with all of the obstacles involved in my actually getting to the festival  — both strategically and literally — as well as contexutalizing the gig in terms of both my life as well as the times in which the festival took place. Part Two covers the daytime sets by the Pretenders, The B-52s, Rockpile, Teenage Head, The Rumour, and Holly and the Italians.
An all day festival! And just a few hours away! Featuring many of the best bands of the day! The first major outdoor punk and new wave festival, anywhere! And for only $20!
Everyone's going to want to go, right?!
Er, not so fast there, Various.
When the Heatwave festival was announced, it was a no-brainer for me that I would want to go, and I thought it would be the same for everyone applicable that I knew. I could already envision the fleet of vehicles making the trip up. After all, it was being held at the Mosport Park Speedway (now the Mosport International Raceway) in Bowmanville, Ontario, just an hour northeast of Toronto (and three hours from London). It would feature many of my favourite then-contemporary artists including the Talking Heads, The B-52s, the Pretenders, Elvis Costello, Rockpile and, best of all, The Clash. And all for $20 in advance — a cheap deal, n'est-ce pas?
Not exactly. That $20 ticket might seem like a puny amount and quite the bargain to 2010 eyes but, back then, it was a pricey gig, even if it was an all day festival. Most of the tickets I have for shows in and around that time have prices in the $7-8 range, and so Heatwave was almost three times the price of most standard gigs. Given that rough 3-1 ratio, and based on a lot of recent prices featuring newly minted hot up-and-coming bands (let's say a $30-40 range), I would estimate that the current equivalent would be something like $100ish today, even if inflation calculators list closer to $52.
Some of punk rock's key philosophies were that the shows took place in (often very cliquey) small clubs and halls with an emphasis on trying to keep ticket prices affordable. An expensive, all day, outdoor festival was seen as squarely emulating the corporatized-hippy modus operandi of large scale commercial touring. And while "small and affordable" are things I like too, I've always placed art-for-art's sake before dogma, mixing strong portions of pragmatism and realism with my idealism. Or, for the short version, the music comes first when it comes to these types of events. So, if others saw the festival as a sell out, I wasn't one of them. In fact, I viewed it more as a victory that some of the new groups were now making commercial headway, at least in Canada.
I remember watching the original long-form report about Heatwave on seminal Canadian CityTV programme, The NewMusic. This clip is a retrospective recap for MuchMusic's '90s entertainment news show, Fax. I'd kill to see that originally aired report. American readers will recognize the voice of CNN/former CBS anchor John Roberts who, to Canadian viewers of a certain vintage, will always be NewMusic co-host JD Roberts, along with Jeanne Beker, long with FashionTelevision. Boy, the world was a much grubbier place back then, wasn't it?
Following several years during which time few punk/new wave bands made any commercial impact over here aside from a handful of exceptions, there was a sudden sea change during the first half of 1980 prior to the festival. Newcomers to the charts during those eight months include the Pretenders and The Boomtown Rats, both with Top 10 albums and singles, along with additional Top 10 hits by The B-52s, Martha & the Muffins, The Flying Lizards, and Gary Numan (with the The Clash, XTC, and The B-52s coming thisclose to hitting the Top 10 in the LP lists). The Specials, Squeeze, Graham Parker, Teenage Head, and Marianne Faithfull's new wave-esque comeback with Broken English also spent time in the Canadian Top 30 albums or singles lists, making this period the first time in almost half a decade wherein I actually liked a number of things that were on the charts or played on the radio.
This made the festival a potentially big proposition, given the recent commercial status of many participants. But the heightened profile of these acts was somewhat neutralized by their original champions starting to turn their backs. These breakthroughs weren't necessarily good news to everyone.
As it turned out, just about everyone around me who I would have expected to want to go either didn't or couldn't. This was the case with my two new friends, Count Mara and Lady Bump.
I believe that Lady B did in fact want to go to Heatwave but had to work on that Saturday. As for Count Mara, he didn't want to go for two reasons. The official version was something like this: despite his almost anachronistic love of Elvis Costello, he was only into the most underground, harshest bands at this time. Heatwave featured a number of acts that he loathed — The B-52s and the Pretenders in particular, with even The Clash as far too commercial a proposition for him.
Then there was the unofficial, second reason, namely that his mother probably wouldn't have allowed his 15-year-old self to go (he was two years younger than me, a significant difference when one is 17)  and he didn't have the money anyway.
As for my other friends from high school at that time, while many had strong creative interests, they were more in the realm of film, theatre, and fine art. While some of that crew were also into bits of the new music and bands, they had more of a casual interest and weren't enthusiastic enough to spend a whopping $20 on a music festival, several hours away.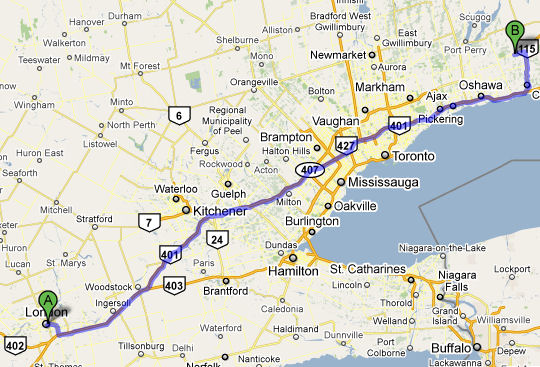 The route from London to Mosport Speedway (Google Maps).
As you will have read in this series, I initially went to see all of my earlier shows via tagging along with my older siblings and their respective significant others. By the summer of 1980, many things had changed on the family front. In terms of my sister, at the very end of 1979 she met the man she'd go on to marry and was now living with him. I had known him slightly in advance of their meeting, and we were more friends than in-laws during the earlier '80s. They had settled into a somewhat low-key, domestic life by that summer, going out to shows of any kind with less frequency. Additionally, she too had to work on the Saturday and that, combined with a decided pulling away from the Cedar Lounge crowd, meant that they wouldn't be going.
As for my brother and his wife, they had split the previous summer, although I remained close to my sister-in-law (as I always had been) as did my sister, who worked with her. I also used to babysit my nephew often at this point, so I was still very much in her orbit. Which lead to an unusual living circumstance for me.
I had been arguing with my parents, in particular my father, with increased frequency and intensity, and things were reaching a head. You know, that standard issue generation gap parent/offspring stuff. My sister-in-law offered me a place to stay along with some cash to be a live-in-nanny of sorts for the summer months. It was a win-win situation for the both of us, as she had someone to stay at home with my nephew while she went to work.  In return, I got a much needed break from my warring home front along with a paid summer position. I think that that time away from my family home did us all a world of good.
Whereas the rest of the sibling gang were moving back from the downtown scene — with my sister-in-law, in retrospect, in a complete life transition (I was deeply disappointed that the Party Central atmosphere that had permeated her place for the previous few years largely stopped shortly before my moving in) — my brother became even more entrenched in it, meaning that he really stopped going to gigs in halls or large venues for a long time, instead focusing pretty much exclusively on the small club scene and, most of all, its attendant socializing. Needless to say, Heatwave was not his thing at all, even if he enjoyed several of the featured performers.
There were also a number of twenty-something punk scenesters who I had known during the past year or so, but as I wrote about in my piece on the London, Ontario scene, 1980 was a transitional time for the local crowd. Within the previous several months, a number of this group of people too fell away and we lost touch.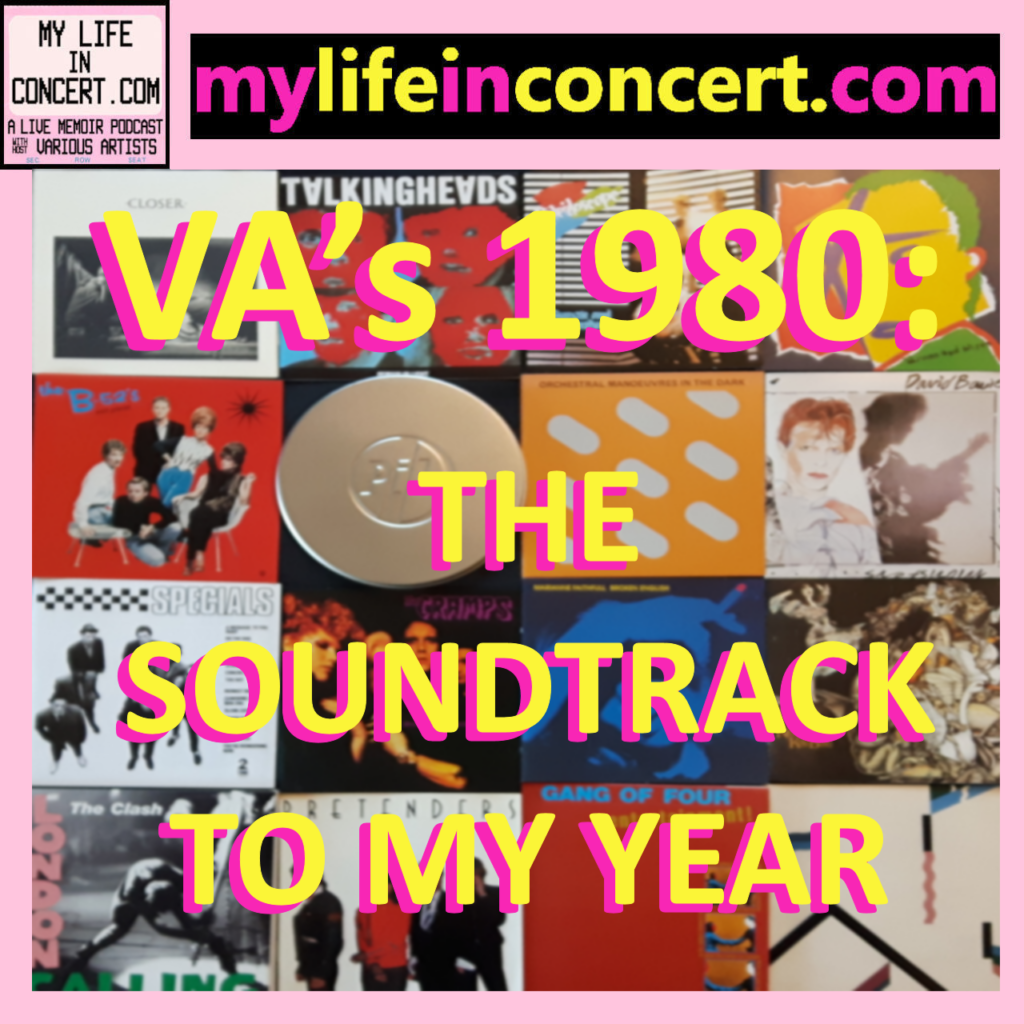 MLIC>VA's 1980: The Soundtrack to My Year is a chronological Spotify playlist of what was rocking my world during 1980, from both then-new releases as well as older music & artists I was re/discovering.
Had this festival occurred the previous summer or (impossibly, owing to winter) on the cusp of the decade,  things would have been different and I would have had lots of choices of who to go and see the festival with. But this wasn't several months earlier or the previous summer — it was 1980, and all sorts of markers had recently moved or disappeared. The bottom line in all this is that absolutely no one I knew at that time wanted to or was able to go.
With one exception: my sister-in-law's boyfriend.
I'll just cut to the chase and say that the guy was a tool. That description has nothing to do with the break-up situation per se, it was simply his innate "personality." While, as this blog continues, you will sometimes be reading about drug and alcohol excess by both myself and a number of friends through the years, I'd like to highlight that it was never an all consuming passion. I always differentiated between those who enjoyed letting loose and having adventures, perhaps sometimes overdoing it, yet were also intelligent, productive, and non-self-destructive in the big picture vs those who were nothing more than stooooopid drunks and IQ-challenged drug casualties with a redneck streak and the perpetual maturity of a 14 year old — and a very immature 14 year old at that. He was in the latter of the two categories, perhaps personifying it.
I also realize from my mature perspective now that he clearly had mental or emotional health issues.
He ended up moving in around the same point I did during that summer, which meant that we were now living under the same roof. While I would not describe our interactions as at all adversarial, we weren't exactly buds either. It's more like we co-existed. We couldn't have been more opposite.
And there we found ourselves, both wanting to go to Heatwave but with seemingly no one else interested when my sis-in-law made the suggestion that we go together. Spending a weekend with a party-fool doofus who by an inexplicable dint of circumstance favoured The Clash as opposed to the more obvious choice of, say, Molly Hatchet, was near the bottom of my "To Do" list, and I'm sure the feeling was mutual. But it soon became apparent that this was my one and only opportunity of getting there.  I did not yet drive and wouldn't have had access to a car anyway, so simply trekking up there on my own was not an option. My pragmatic self kicked in and I agreed.
And so it was: I was going to Heatwave with Doofus.  Quite the odd couple, to put it mildly. Oh well, this would get me there and the drugs and alcohol would be plentiful, I reasoned.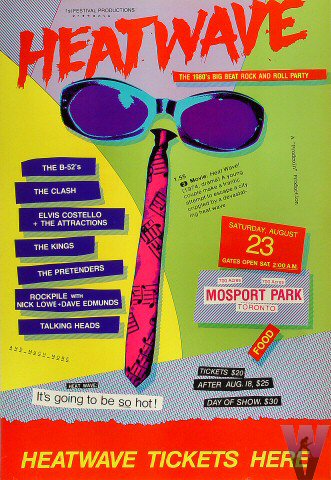 The poster for Heatwave, uploaded from Wikipedia. I had a copy of this poster that hung on a variety of walls for many years, before being lost in a move.
In the days before the fest, all sorts of rumours began floating around about problems with the event. The biggest and most frustrating one was that The Clash had pulled out. This being the days long before the Net or even a 24/7 news cycle, it was hard to confirm whether this was true or not (sadly, it was). There were many others as well  to the effect that it was going to be grossly disorganized, none of the bands were going to show, etc. More than a few people said to me "boy, I am ever glad I'm not going," which, then as now, I interpreted as "boy, I really wish I was going but because I either have a high maintenance 'cool quotient' to keep up, can't be bothered to make the effort, or simply can't attend, I will instead just put the whole thing down."
Oh, and there are a lot of people who almost shit themselves if they have to leave their comfort zone and interact with "other" and "unknown" people.
I am pretty social and am eternally grateful that I am not an anti-social shut-in.
There was one big change of plans that happened on the day or two before, but this was a good one. Doofus announced at the last minute that a third party would be coming along, namely this friend of his who was sometimes part of the downtown scene but whom I had never met. As it turned out, he was a great guy and a good foil for the both of us: enough of a party animal to keep within Doofus' realm, yet down-to-earth and intelligent enough to carry on a conversation, with a more even temperament. I have long forgotten his name. I do know that, for several years afterwards, about once or twice a year I would be walking around downtown London and would run into him, with That Guy, as he shall be known, catching my attention by yelling "Heatwave! Heatwave!"
We hit the road late Friday afternoon in Doofus' Datsun that he'd had outfitted with a new sound system and near concert-level-volume speakers, specifically for the drive to Mosport and the night time parties in the parking lot.
Nothing really jumps out at me about the trip there, but I do recall us arriving at the parking site shortly after sunset. The expansive field of autos was one large bacchanalian shindig and the three of us jumped right in, hanging out with some of the revellers around us.
Unsurprisingly, given the Olympic level of drinking and drug consumption that Doofus and That Guy had spent years mastering, my 17-year-old-self could only keep up for so long before I was passed out in the back seat. I woke up somewhere around dawn with a pounding hangover while the other two snored in front. My stirring woke That Guy and, upon hearing about my state, he quickly presented me with a hot, steaming bowl of hashish along with two blinding white aspirin and a beer to wash them down with. That was a struggle to keep down, but there was nothing else to take it with.
Shortly thereafter, I fell back asleep, waking up a few hours later feeling back to normal and ready to start the big day. Doofus and Guy had already commenced perfecting their shine on for the day, while I was determined that I wanted to simply get into a manageable party mode as opposed to a state of complete obliteration, which was clearly the paramount goal of the other two.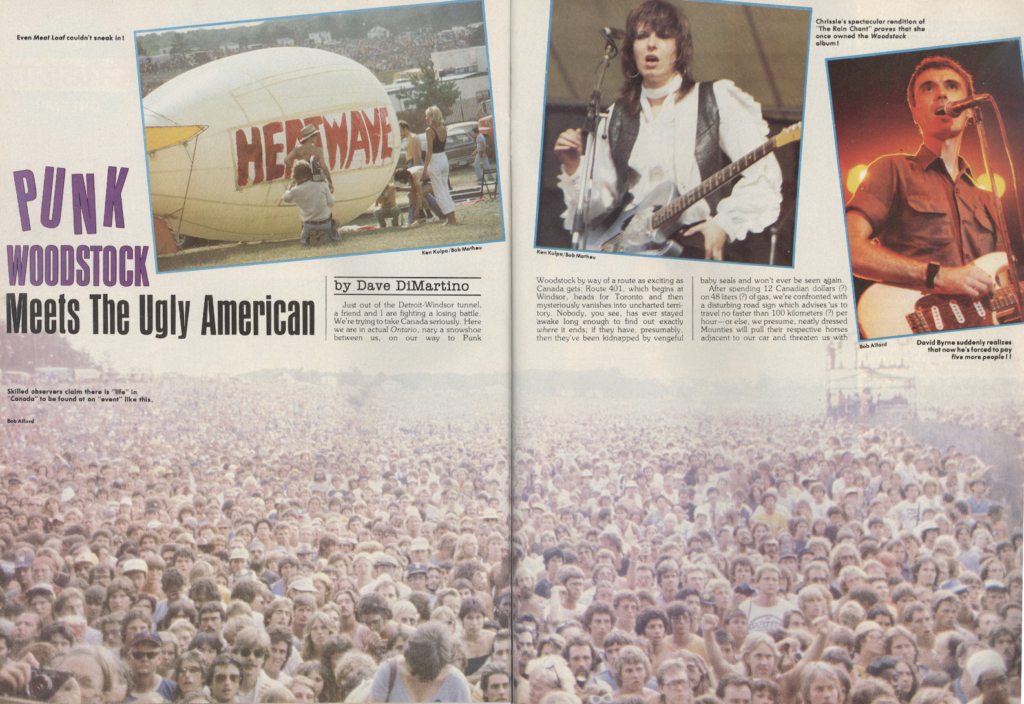 The November 1980 issue of Creem did an entire feature on the fest. (Scans from the issue above and below via VA)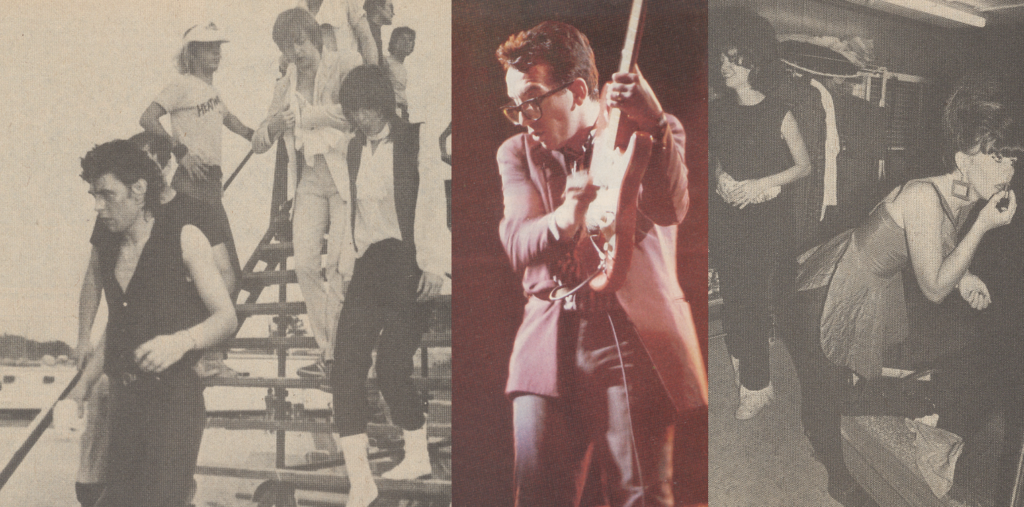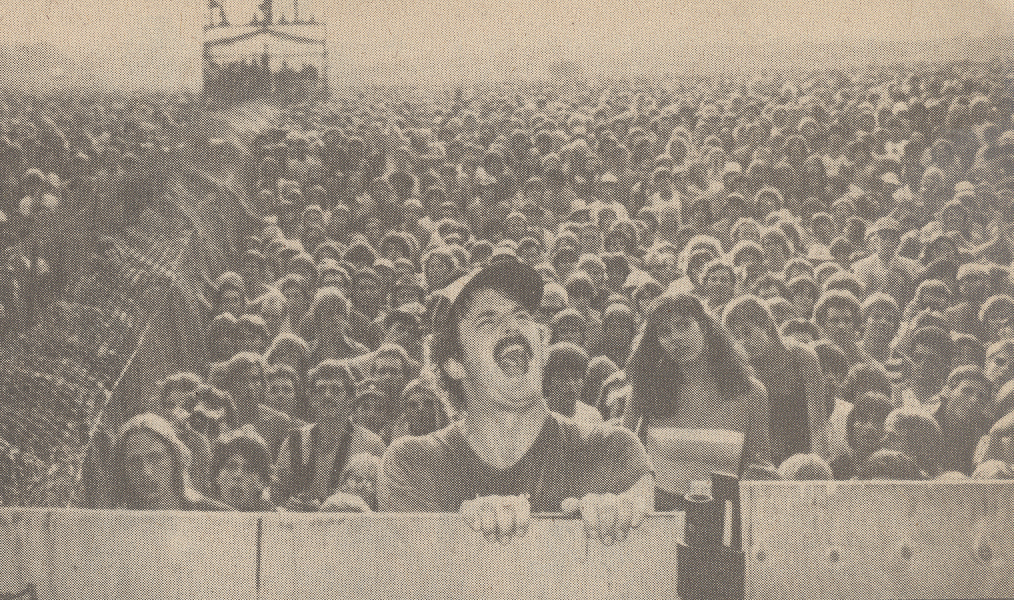 It was a sunny, blue-skied, red hot August Saturday: perfect festival weather. At around 10 am or so, we instigated the long walk from the parking area to the concert site, arriving there during later morning. Since many had shown up on the Friday night for the parking lot party, many were stumbling their way to the stage on this fine morn, already a little worse for wear before things had even gotten going. Also, word came back that they were being Draconian at the front gate when it came to alcohol, and that it would be tough to get anything inside. Therefore, mass consumption before arrival was the overall plan of action. As Jerri Blank would say, "Good Times! Good Times!"
Clusters of Heatwavers would hook and un-hook-up on the pilgrimage, talking while sharing booze and substances. During this journey, I fully realized that two distinct camps were attending. The first was there for the music — and, also, to party along with the tunes. The second showed up for the reverse: it was a big festival, which happened with considerably less frequency back then, with partying as the undisputed goal. If some of the bands were ok, well — fuckin' A, buddy! Cool bonus, huh? As a result, I remember there being as many lumpen-pieheads in attendance as there were tuneheads.
I have a very clear memory of us spending a chunk of the walk down with this mondo intoxicated group of guys plus one woman who looked like a really haggard Julia Phillips. They seemed to be playing some variation on You Touch It, You Drink It, and I distinctly recall her complaining loudly about having just downed what amounted to several shots of bourbon followed by everyone withholding their beer as a promised chaser, with her screeching at all of them in a hectoring growl.
As for my immediate fraternity, I was already fed up by the time Doofus took a stumble, landing in a ditch by the road, rolling around in the mud, hee-hawing amid the hilarity. Julia Phillips stood by, pointing and cackling with laughter.
It was at this point that I was wondering how in the hell I was going to put up with this level of rapidly-boring tomfoolery all day long. It was barely 11 am and the bullshit was already wearing out its welcome.
The Pretenders, "Mystery Achievement," Live at the Heatwave Festival, 1980.
Next On Stage–> 008b. Dance This Mess Around: The Heatwave Festival (Pt. 2) with the Talking Heads, Elvis Costello & the Attractions, the Pretenders, The B-52s, Rockpile featuring Nick Lowe and Dave Edmunds, Teenage Head, and more, Mosport Park, Bowmanville, Ontario, Canada, Saturday August 23, 1980.
Part Two covers the daytime sets by the Pretenders, The B-52s, Rockpile featuring Nick Lowe and Dave Edmunds, Teenage Head, The Rumour, and Holly and the Italians as well as what happened shortly after arriving inside the front gate. It will be published on Monday.
© 2010/2020VariousArtists