Ticket Price: $20
The original blog entry posted in August 2010 follows below.
The legendary Heatwave Festival happened 40 years ago this weekend: August 23 1980. 100,000 people turned up for the Talking Heads, Elvis Costello, The Pretenders, The B-52s, Rockpile, Teenage Head & more (but not the no-show headliners, The Clash).
It was not only my first fest and one of the best single-day bills I would ever see, it was the centerpiece of an insane long weekend adventure that saw me stranded and broke in the middle of nowhere on Sunday morning after two days of partying and mass-imbibing.
For Podcast Episode 10 and on the occasion of the festival's 40th anniversary, I not only discuss the series of brilliant, energetic, & breathtaking sets performed by some of the key artists of the day at their peak, including the Talking Heads' first-ever performance as an expanded unit and the public debut of the material released two months later as "Remain In Light," but also relate how I eventually made it back to my home three hours away.  There is also the ramp-up parking lot party the night before and the morning's beer-for-breakfast cotillion of debauchery before noon even hits or the music starts.
Sit back, listen, and join me on one of the best and wildest concert/festival weekends I ever had.
And when are we ever going to get to hear the original master tapes?  A Heatwave box set, please.
NEXT PODCASTS (Coming in September):
Episodes 11 A&B will look back at the 20 Acts from the Past I Wish I'd Seen 
Episode 12 (no.004) This Is the Modern World: The Jam with The Dwight Twilley Band, Rex Danforth Theatre, Toronto, Ontario, Canada, Tuesday April 10, 1979 (Get a sneak preview by reading the original 2011 blog entry here.)
The original blog entry:
In Part One, I discussed the hurdles I faced in getting to the festival, on a variety of levels. Part Two covers the daytime sets by the Pretenders, The B-52s, Rockpile featuring Nick Lowe and Dave Edmunds, Teenage Head, The Rumour, and Holly and the Italians, as well as what happened once I made it through the main gate with Doofus and That Guy. Part Three covers the evening sets by the Talking Heads and Elvis Costello and the Attractions.
Myself and my compadres — Doofus and That Guy — entered the performing area through the main gates after being frisked by cops.  We came in with a big group of people who we had been hanging with — you know, the You Touch It, You Drink It crew featuring The Haggard Julia Phillips. Shortly thereafter I got separated from the other two. While I was already fed up and had been wandering away from them at times during the increasingly annoying walk to the site, I did not lose them intentionally nor do I think they took off on purpose as they were far too blotto to even hit that level of strategic thinking.
I remember being relieved upon realizing that I had lost them. I figured that I would either run into Doofus and That Guy later in the day or, if not, would simply meet up with them back at the car. I was more than glad to be rid of them and had a chunk of the hash stash on my person, so all was right with the world as far as I was concerned.
I did actually see them wandering through the crowd at two separate points during the day but consciously chose not to approach them.  Why bother, I reasoned, as I was having a much better time without them, moving around the festival site, sometimes on my own, sometimes hanging and chatting with various folks I would meet.
The audience had swelled to a sizeable crowd by the time Teenage Head took the stage at 11am. Originating from Hamilton in the mid-'70s, they quickly became forerunners in the burgeoning Toronto punk rock scene in its early stages.  They took their name from a Flamin' Groovies song, were strongly influenced by the New York Dolls, and issued their superb, punchy debut single in 1978: "Picture My Face" b/w "Tearin' Me Apart."
I still love this 45 and have it on my iPod, self-digitized from the original vinyl. For me, that first single is their one truly great moment. In Bob Mersereau's 2010 book The Top 100 Canadian Singles, which surveyed a large cross section of Canadian musicians and industry folk, "Picture My Face" came in at No. 36.
Unfortunately, Teenage Head's eponymous debut album from 1979 featured rote songwriting and sported a tissue-thin production (apparently not everyone agrees as it came in at No. 50 in Mersereau's 2007 companion book, The Top 100 Canadian Albums).  It included an anaemic re-recording of their first A & B side. I have never been able to figure out why they did so rather than simply including the powerful original single.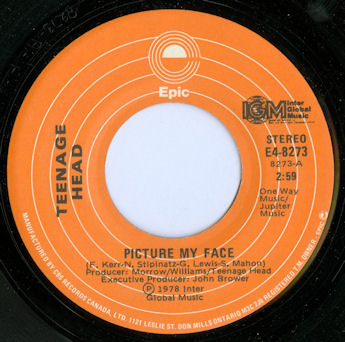 Teenage Head's excellent debut 45 from 1978, "Picture My Face," their one great moment.  It came in at No. 36 in Bob Mersereau's 2010 book The Top 100 Canadian Singles, which surveyed a large cross section of Canadian musicians and industry folk.
At this time, Teenage Head were at a career peak, having just been in the national news following a riot at an Ontario Place gig.  Their more rockabilly-flavoured follow-up, Frantic City (No. 58 in the 100 Albums list), certainly bettered the weak debut and was in the charts, even sporting a bona fide radio hit with the poppy "Something on My Mind" (No. 80 on the Singles list but a much bigger hit in SW Ontario). In many ways, the Stripped-Down Party Tunes Über Alles of the band was a great fit for getting the festivities rolling, and the band were warmly received, particularly by the Party First division in attendance. I just knew that The Haggard Julia Phillips was somewhere out there, tapping her toes amid her noontime bourbon barfing.
Teenage Head's set from Heatwave (Posted on YT by UntergrundTube The Fourth Crusade)
In doing some memory-jogging research on the web for this piece, I discovered that Graham Parker's backing band, and an entity in their own right, The Rumour, played in the early afternoon — and I can barely recall them being on the stage. Wow. Considering that I was a fan of Parker & the Rumour back in the day, it's pretty incredible that I have pretty much completely blanked on their set even existing. I can recall other parts of this weekend with eerie clarity, and yet here is an entire set that I had completely forgotten. Whoopsy-daisy.
I remember watching the original long-form report about Heatwave on seminal Canadian CityTV programme, The NewMusic. This clip is a retrospective recap for MuchMusic's '90s entertainment news show, Fax. I'd kill to see that originally aired report. American readers will recognize the voice of CNN/former CBS anchor John Roberts who, to Canadian viewers of a certain vintage, will always be NewMusic co-host JD Roberts, along with Jeanne Beker, long with FashionTelevision. Boy, the world was a much grubbier place back then, wasn't it?
Ironically, I do remember the utterly forgettable Holly and the Italians, finding this identikit punque rocque groop as seemingly cloying and by-the-numbers. Their performance of "Tell That Girl To Shut Up" sticks in my mind because of its high irritation factor.
Between Holly and, apparently and appropriately, The Rumour came the first real highlight of the day: Rockpile. While they had existed as a live entity for many years, they had only appeared on record as the backing band behind its two frontmen, Nick Lowe & Dave Edmunds, but not as Rockpile proper, owing to a management dispute and each being locked into contracts with other labels.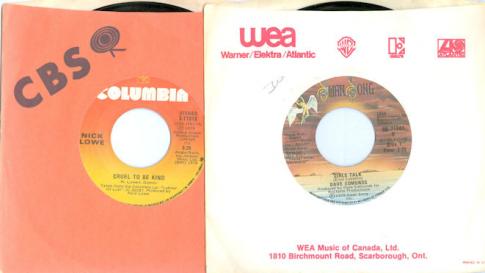 Rockpile's two big hits from 1979: "Cruel To Be Kind," issued under Nick Lowe's name, and "Girls Talk," an Elvis Costello-penned number issued under Dave Edmunds'.
Their robust, good time rock and roll was exactly what the doctor ordered in the scorching mid-afternoon sun. They rolled out an irresistible set, showcasing the hits and favourites from Mssrs Lowe and Edmunds' back catalogue as well as premiering material that would appear several months later on Rockpile's one and only release issued under the band name, Seconds of Pleasure. In terms of a key moment while they were onstage, a blistering take on Edmunds "I Hear You Knockin" registers as a highlight for me.
Rockpile's overall pace and tone was comparatively relaxed than most of that day's acts, which was perfect for a crowd wilting in the intense heat. I remember thinking that this was one band I'd really prefer to see in a smaller venue and vowed I'd do so. Alas, it was not to be, with Rockpile splitting within the next 12 months.

Rockpile perform "Teacher Teacher" on ABC's Fridays, late 1980.
Rockpile/Dave Edmunds and the 1979 video for "Girls Talk."
Since I was now there alone, I spent the day moving from spot to spot or simply wandering around the grounds, taking it all in. Even at this point, it was not clear as to whether The Clash would be performing that evening. Alas, they never appeared for reasons that have never been fully clarified. Theories range from their not wanting to disengage from the New York City sessions for Sandinista! which were underway at that point; buckling under accusations of "sell out" in headling a large festival; or that they simply had border crossing problems.
I did have one moment of wondering about their appearing when, mid-way through the day, I noticed a leather-jacketed fellow walking through the crowd who was a dead ringer for Mick Jones. He had an attractive female on his arm, sporting long blonde hair. I did not feel I recognized her but did a double take several months later upon seeing pictures of Jones with Ellen Foley, who as it turns out he was dating at this time. Hmmm. I could have sworn it was him (and her) but have never known for sure. It's certainly plausible that Jones and Foley could have simply flown over for the day, even if just to take in the set of pal Chrissie Hynde. Mick: was that you?
Speaking of Ms. Hynde, the late afternoon appearance of the Pretenders marked the beginning of four consecutive, stellar sets that were the true meat of the day. I had immediately fallen for the Pretenders upon hearing their Nick Lowe-produced, debut 45 cover of The Kinks' "Stop Your Sobbing" b/w "The Wait" during the late winter of '79, when my brother brought it back from a trip to the UK. Chrissie Hynde's Sandie Shaw-cum-Dusty Springfield voice was a revelation while the single alternated chiming '60s guitar on the A side with a harder, grittier sound on the flip ("The Wait").
I picked up the similarly coupled follow-up, "Kid" b/w "Tattooed Love Boys," a few months later. It became one of the signature singles for me during the latter part of that summer. When their self-titled debut appeared during mid-January 1980 as part of a flood of incredible releases spanning late '79/early '80, it became an instant classic among my community. To this day, I would rank
Pretenders
as one of my favourite albums of all time, easily in my own personal Top 25, and one of the very best debuts ever committed to tape (I shortlisted it as part of my
Top 15 Albums Open Call
entry over on my Open Salon blog).
Since its release, the album had taken off internationally as had their third 45, "Brass In Pocket," both of which took up an extended residency in the Canadian Top 10, making this one of the most anticipated sets of the day. And they delivered. It was a magnificent, joyful set, rocking hard on opener "Precious," closer "Mystery Achievement," instrumental "Space Invaders," and the then-new number "The Adultress" (appearing one year later on Pretenders II ). Alternately, the foursome hit with just the right combo of introspection and toughness on numbers like "Private Life" and "Up The Neck."
The Pretenders performing "Up The Neck" from their debut album, in Paris, 1980.
They played Pretenders in its entirety save for "The Phone Call" and, disappointingly, the track that has always been my favourite on the album, "Lovers of Today," but, oh well. One can't have it all, and I truly remember this set as outstanding.
What I recall most about the performance was their presence and intensity, having the audience in the palm of their hand from start to finish. They were out to wipe the floor and prove themselves. And they did.
The Pretenders open their set at Heatwave with "Precious" (YT post by Laurence Bootlegs)
As we all know, guitarist extraordinaire James Honeyman-Scott and marauding bassist Pete Farndon would both be dead within the next two years, and I feel grateful to have been able to see this remarkable band in their fully alive prime. I've followed Chrissie and the various iterations of the Pretenders ever since.  There was one more Great Album (Learning To Crawl) and a number of others of varying quality, although even the weaker albums have had some choice cuts.  But she's never been able to top the perfection that was nailed the first time out on that exceptional debut.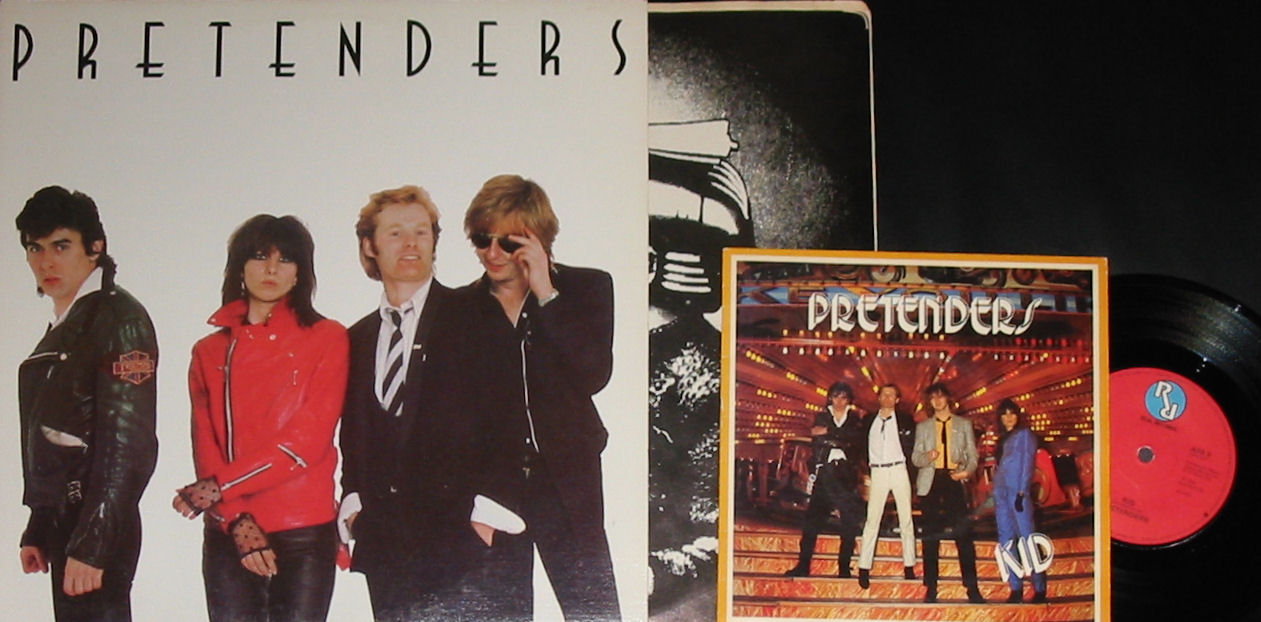 Summer of '79 soundtrack No. 1: "Kid" by the Pretenders which later showed up on their stunning, eponymously named debut, at the start of the next year.
If "Kid" was the stand-out single release for me in the summer of '79, then The B-52s debut album was the undisputed kingpin soundtrack of that time for moi.  Many of us had been anticipating the first album after copies of their independent debut single, "Rock Lobster" b/w "52 Girls," had made the rounds/been taped by the local scenesters earlier that year. Upon the LP's release, it seemed like everyone I knew was playing it to death that final summer of the '70s.
A cult item in 1979, The B-52's (they had an incorrect apostrophe back in the day) slowly picked up steam here in Canada, becoming a bona fide platinum hit in early 1980, with an edited version of the "Rock Lobster" single becoming a Top 5 smash during the spring. The excitement generated by the Pretenders carried right on through to a similarly anticipated set by The B's that proved a big crowd pleaser.
Arriving on stage to the Morse code opening of "Planet Claire," with Kate and Cindy sporting massively oversized bouffants, The B-52s alternated between favourites from their debut and previews from their sophomore release, Wild Planet, released just a few days afterward.

The B-52s' video for "Private Idaho" from 1980's Wild Planet. Nice Mondrian backing, kidlets.
I found their live sound somewhat thin at times (although I don't feel that way when listening to the set now), but otherwise I had a ball watching and listening to them play. Oddly, the songs I remember most from this performance are the Planet numbers, in particular "Quiche Lorraine," the hilarious ode to a two inch poodle died dark green, sporting a strawberry blonde fall and wearing designer jeans with appliqués on them, and the interjection-laced "Strobe Light." I recall the audience's increasing involvement in cheering on each of the song's stop-start segments, finally boiling over into faux bonkers-dom with the "Then I'm going to kiss your pineapple" line.
In terms of the numbers from the debut, "Dance This Mess Around" jumps out, in particular Fred Schneider's dramatic hand gestures at the beginning.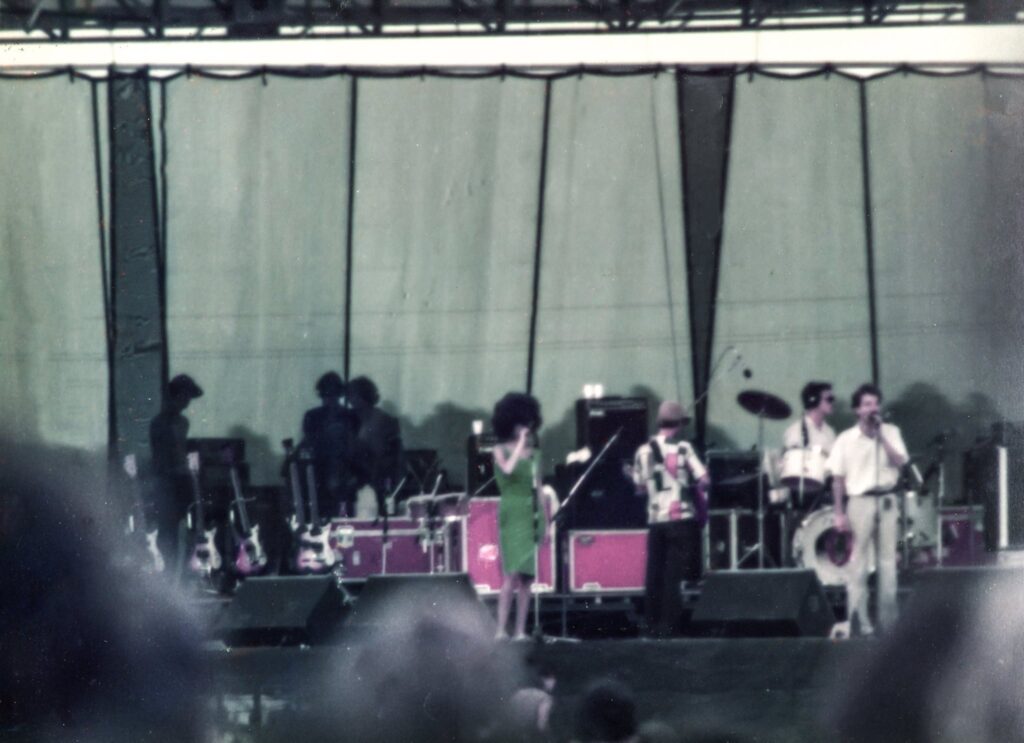 Above: The B-52s onstage at Heatwave (photo by Mark Work).
Below: Summer of '79 soundtrack No. 2: The self-titled debut LP from The B-52s, which I recall playing almost daily at the time. It went on to become a major hit the following year in Canada, along with the single "Rock Lobster." At Heatwave, The B's previewed big chunks of their second disc, Wild Planet, released just a few days later (photo by VA).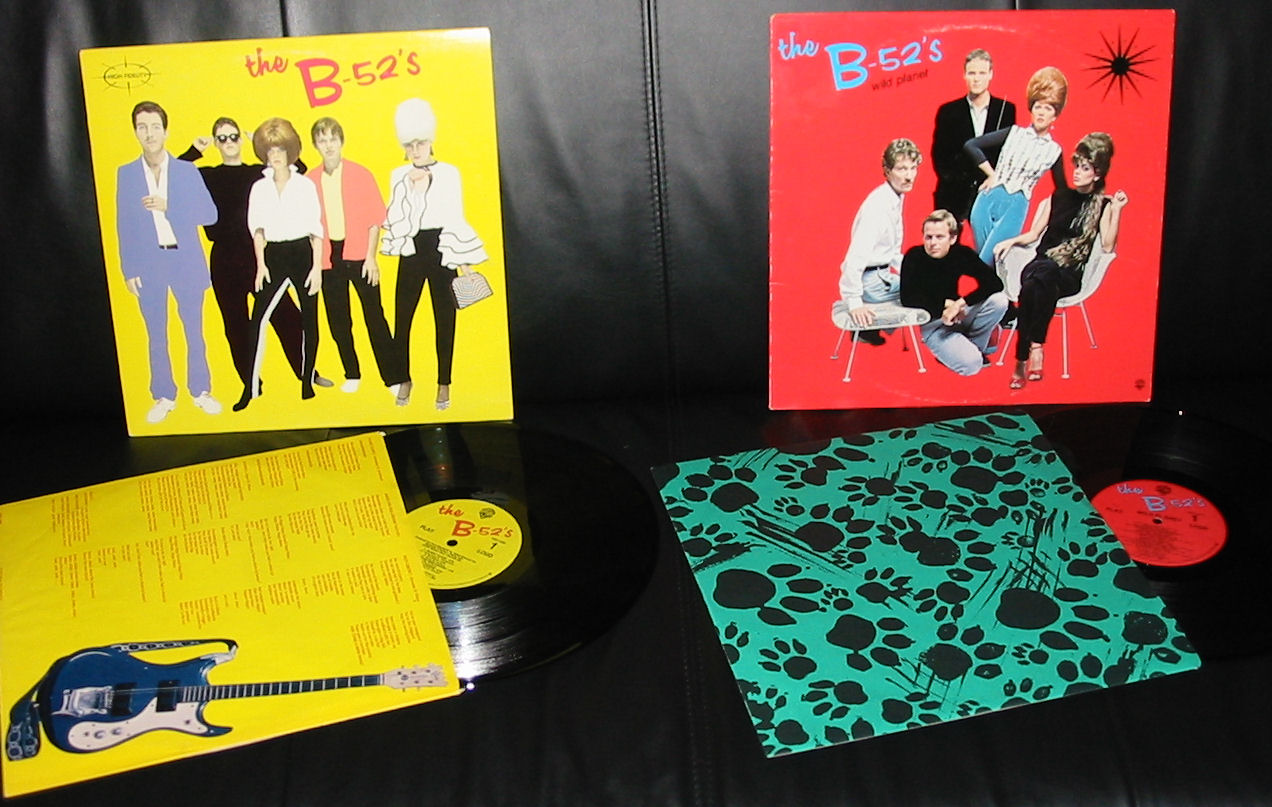 As with the Pretenders, The B-52s would go on to lose a key member as guitarist and songwriter Ricky Wilson tragically succumbed to AIDS in 1985, making the memory of having seen the original line-up all the more special. It's wild to consider, however, that the Pretenders and The B-52s are the only bands from Heatwave who are still going. I recently saw the B's for the first time since, and they're even better now as a live entity than they were then.
With these two sets, as well as with Rockpile's appearance earlier, I would have felt I'd gotten my money's worth.
Little did I know that the best was yet to come, including what was quite possibly the set of a lifetime.
"Dance This Mess Around," The B-52s (1979)
Next On Stage –> 008c. Once In A Lifetime: The Heatwave Festival (Pt. 3) with the Talking Heads, Elvis Costello & the Attractions, and The Kings, Mosport Park, Bowmanville, Ontario, Canada, Saturday August 23, 1980.
Part Three covers the evening sets. It will be published on Wednesday.
© 2010/2020 VariousArtists