(Photo and billboard by VA)
Well, wasn't that another fun one.  I don't think I can remember a year, except for the last two, where almost everyone I know is in or went through one hell of a battle in their lives on one or more of many fronts.  Here's to a better 2023 for all.
Meanwhile, music did its thing as being one of the positives of the year.  I've written about how a lot of my fave types of music have been in decline over the course of this century, especially during the '10s.  However, 2022 continued the streak of the return of interesting and excellent tunes that started in 2020 (after an iffy-ier 2021).
Wilco released with their best album in 11 years and Elvis Costello put out his best in almost 30.  Sault continued their brilliant run, following up their series of albums that have encapsulated the history of R&B and beyond married to socio-politically-charged lyrics with a wordless modern classical album that sounds like a cross between Carl Orff, Philip Glass and Brian Eno married to a massed choir singing in tones.  Of course! Now that's badass and being fearless artists.  And it seriously chilled and spaced me out during a year when that was needed.
The beyond-genre Gabriels gave me my biggest thrill and new discovery of the year while a reformed Pavement gave me my favourite live moment.
Also, while my tune tastes are extremely wide and varied, it's nice to have more rock back on the lists from this past year after there being little that was any good over the past several years.
Punk also returned not only with the flawed-but-compelling Pistol series, but also by fulfilling my wish from last year's recap.  In that entry, I hoped for, on one hand, someone to revive '77-era, non-pop-punk punk but done well and with great tunes, but, on the other, have someone update punk, capturing elements and the spirit of the late 70s/early 80s but refracted through a contemporary sound and sensibility.
Who'da thunk that I would get both wishes granted via London's own Wabi Sabis for the former and all-queer New Orleans upstarts Special Interest with the latter (ok, so it's more of a post-punk update, but Endure is absolutely fab nonetheless).
On the small screen, there was an ongoing bevy of riches topped off by the return of Kids in the Hall, inexplicably picking right up from where they left off with one of their best-ever seasons.
So here is my Best In Show role call that brought joy to another dumpster fire year ….
BEST LPs OF 2022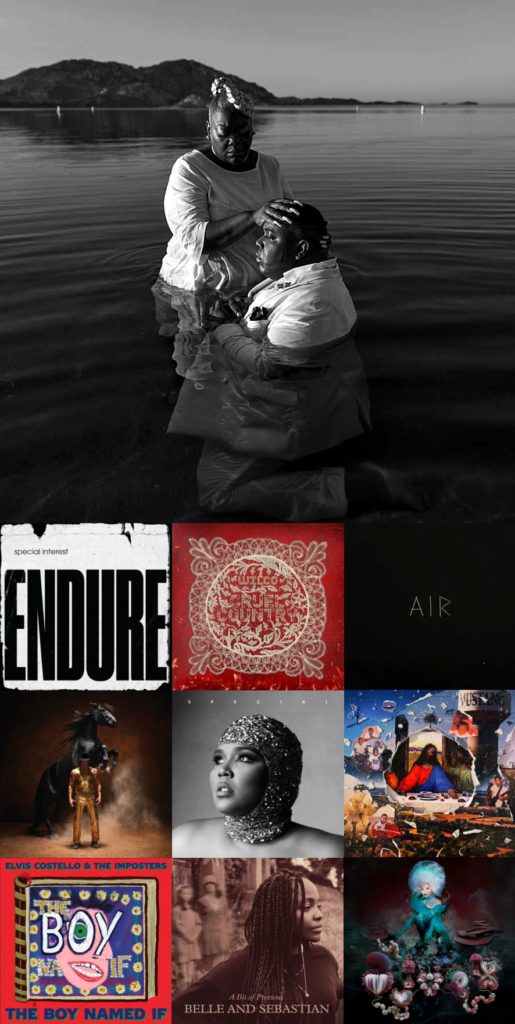 1. GABRIELS Angels & Queens (Pt. 1)
Angels & Queens (Pt. 1) is my choice for Album of the Year, even if it's only the first half of the album (can't wait for Pt. 2 in 2023).  This debut from the LA-based, UK-USA trio, taken along with their 2021 EPs, results in a clutch of music that for me is the best debut material I've heard since Margo Price's Midwest Farmer's Daughter in 2016.
The various components at work in Gabriels' music is easy to identify but result in a clear and unique identity.  The band mixes elements of '40s film scores, '50s jazz, and '60s-'70s R&B along with bursts of gospel, filtered through arty, inventive arrangements and production that recall Portishead, Massive Attack, and at times Tom Waits, and fronted by a singer who sounds like the love child of Nina Simone and Curtis Mayfield with a bit of Nat King Cole thrown in.
I have never heard these disparate elements put together quite like Gabriels do, and in such a startling, dramatic way.  A bevy of killer tunes, creatively rendered, doesn't hurt either.
And as a vocalist and performer, lead singer Jacob Lusk has personality to spare.
In what could have been a lazy nostalgia exercise, Gabriels are instead completely modern, sharp, and singular.  I'm wondering if they've invented a new sub-genre here.  R&B Art Songs, perhaps?
I also mentioned above about their two EPs from 2021 (see the "STUFF I MISSED FROM 2021" category below) which I went back to after discovering the album.  Actually, the playlist I put together below of the Angels & Queens album along with my favourite versions of songs from their previous EPs is my true favourite album of the year.  I keep playing this hour long list over and over.  A link to the Spotify playlist is posted below. 
2. SPECIAL INTEREST Endure
3. WILCO Cruel Country
4. SAULT Air
5. ORVILLE PECK Bronco
6. LIZZO Special
7. BARTEES STRANGE Farm to Table
10. BJORK Fossora
Check out tunes from these albums and my other favourites of 2022—both past and present—in this Spotify playlist below,

MLIC>2022:VA's Best Music & Media…My Fave LPs/EPs/45/Archival (Re)Issues
SINGLES/EPs/TRACKS OF 2022
1. THE WABI SABIS Songs for Brokenhearted Bastards Sinking in a Sea of Suffering and Existential Dread Vol. 1 EP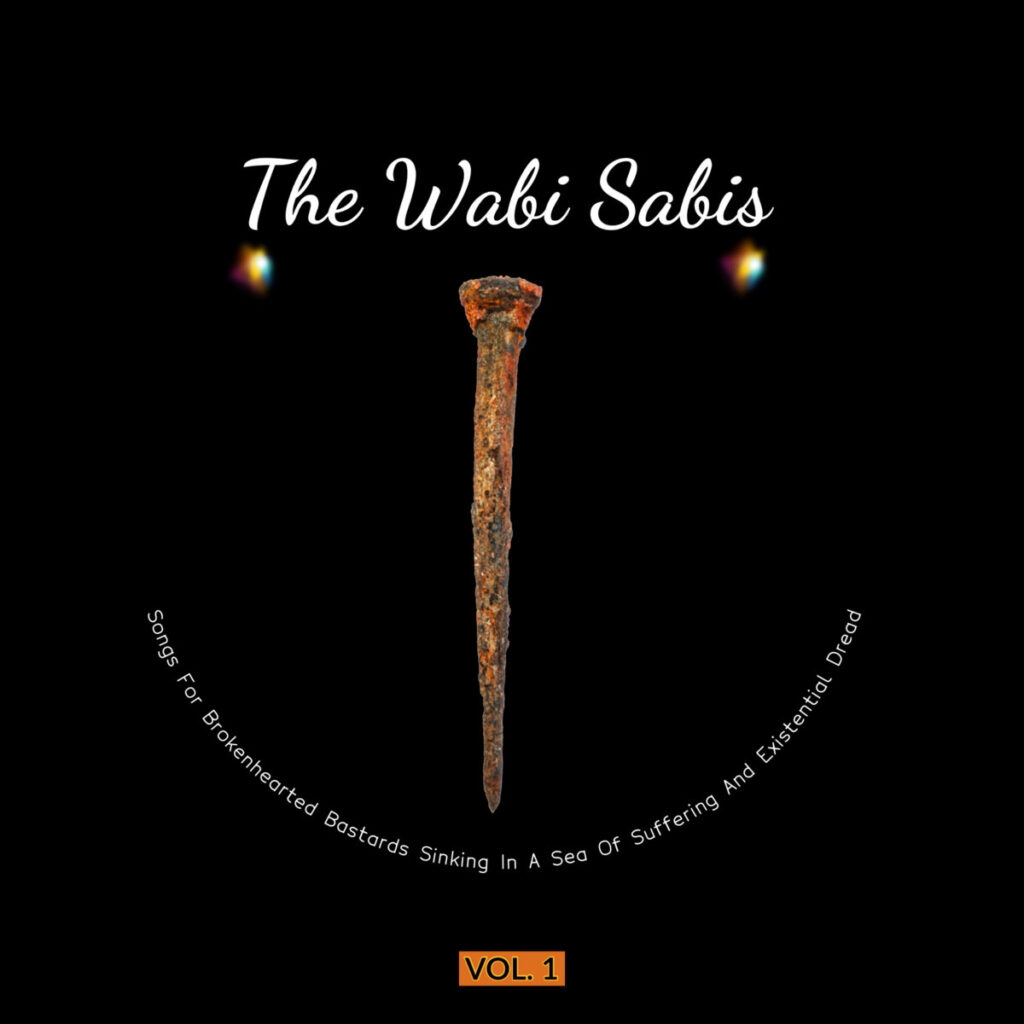 The Wabi Sabis are a 10-Legged Hook Machine.  There are lots of songs out there that sound catchy, but the Sabis create and produce songs that genuinely are catchy (read: these songs have been stuck in my head all year as they've been posted on YouTube, with this first EP finally arriving in November.) Peter Tangredi is writing and delivering them in his raspy Wayne Coyne-meets-Tom Waits voice while the tight, killer band of Forest City punk rock all stars knock these Stonesy-Ramones-type tunes into fighting shape.
This EP is not only the best recording to come out of London, Ontario since the Demics' Talk's Cheap EP in 1979, but The Wabi Sabis themselves are the best new rock band I've seen or heard in years.  Check out more of their songs on their YouTube channel.  And Do Not Miss them live.
2. GABRIELS "If You Only Knew"
3. SPECIAL INTEREST "Herman's House"
5. LYDIA PERSAUD Moody 31 EP
6. WILCO "Bird Without A Tail/Base of My Skull"
7. ORVILLE PECK "Out of Time"
8. MARGO PRICE "Change of Heart"
9. BARTEES STRANGE "Heavy Heart"
10. JOHN CALE "Nightcrawling"
BEST LIVE SHOW 
PAVEMENT with CIRCUIT DES YEUX at Massey Hall, Toronto, Ontario, Canada, Monday September 26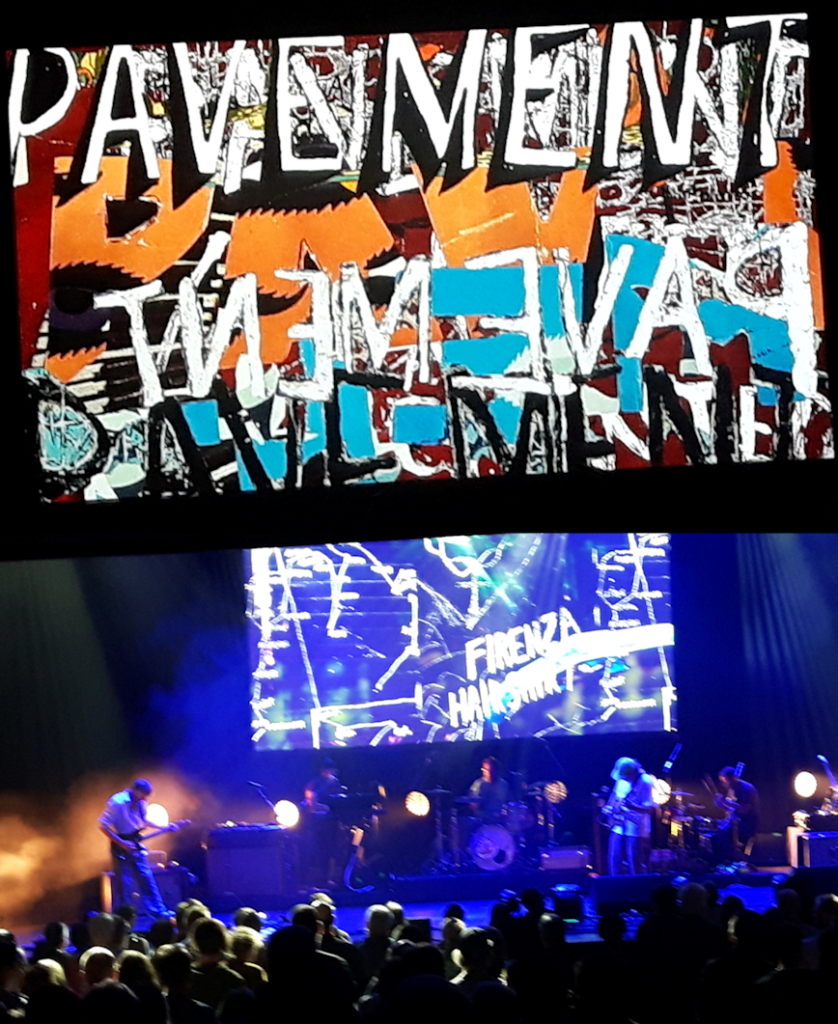 Not only was this a brilliant show, with both the band and the passionate audience in seemingly ebullient spirits, this was one of my overall highlights of the mostly crappadoodles 2022.  It was so great to see Pavement—my fave rave band of the 90s who I've never stopped listening to—together and performing again.  This set, the first of two sold out nights at Massey Hall, was even better than when I saw them in the 90s.
It was also wonderful to be back at the beautifully restored Massey.
Also: Chicago's Circuit Des Yeux presented a stunning and sometimes confrontational opening set.  Very different from Pavement but the combo worked.  And thank you Fast and Bulbous for the ticket!
This will be coming up way down the line as Concert no. 207.
I also enjoyed:
GARBAGE and ALANIS MORISSETTE, Rock the Park, Harris Park, London, Ontario, Canada, Wednesday, July 13, 2022 
Plus: I found myself back in the bars post-Covid to take in live music along with many other peers.  I particularly enjoyed seeing:
THE WABI SABIS on several occasions, starting with their debut show at the Richmond on February 19 and later at the Palasad plus a seasonal Richmond return.
THE LOWDOWN DIRTY MOJOS 2022 Maple Blues Award winners for Group of the year, played a fun, outdoor summer set at the Victoria Park bandshell in June (and returning to the Richmond in February of '23)
London's RIZDALES, with me finally making it to one of their annual Christmas Richmond matinees.  One of the many great highlights of this past Xmas season.
THE SUSANS along with SUPER KILL ME NOW and ONLY GOD FORGIVES for a fun night at the Palasad on November 19. 
BEST ARCHIVAL SETS/DELUXE REISSUES/COMPILATION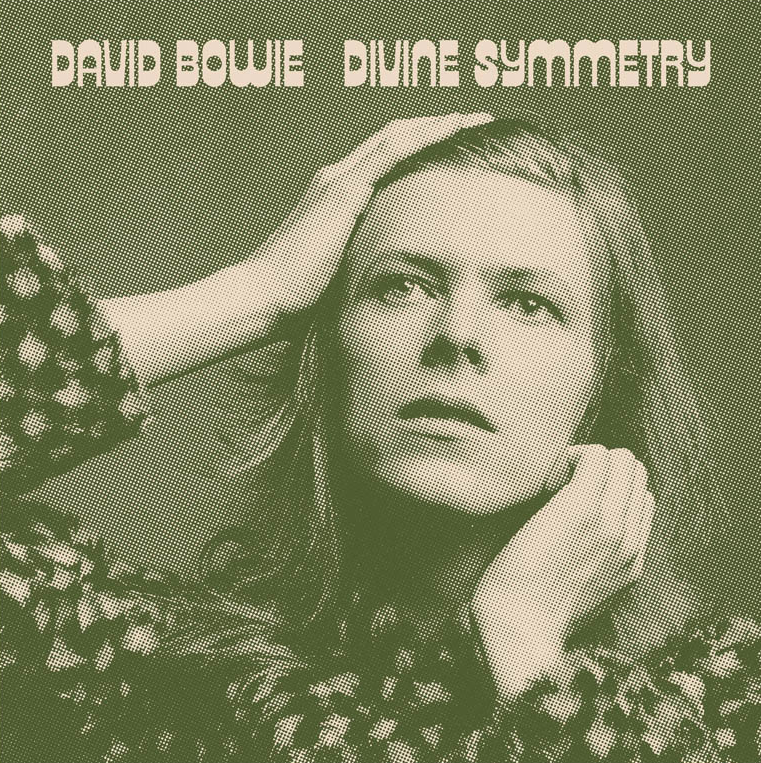 Out of all the series of Bowie Box Sets in recent years, this one documenting the road to Hunky Dory is absolutely the best.  Disc One is a treasure trove of demos, some of which I already had as bootlegs but I am pleased to see them finally available and with best-possible audio quality.  There's even a wonderful, newly discovered tune, "King of the City," an early version of what became "Ashes to Ashes" a decade later, which I don't believe has been bootlegged before.
Furthermore, there are some key live shows that marked Bowie's return to live performances after stepping away from the stage for a while.  These were the first shows with the fully-assembled Spiders from Mars, chronicling his first steps toward Ziggy Stardust, to be recorded later in the year.
Hunky Dory is the album I associate with kickstarting Bowie's classic 1971-'80 period.  Now, one of his very finest LPs has this incredible audio history to go with it.  Very well done. 
THE BEATLES Get Back: The Rooftop Performance Expanded Edition
THE BEATLES Revolver Super Deluxe Box Set
BLONDIE Against the Odds: 1974-1982
LOU REED Words & Music, May 1965
I have to note this here: presenting the best live Stones album of all time!  After oodles of live Stones releases through the years, many of them so-so, one wonders why it took them so long to release this superb show in its entirety. They are on fire at these gigs and the crowd's manic enthusiasm comes through, creating a synergistic excitement for artist and audience.
Also, in my Music Book of the year—Bob Klanac's biography of London, Ontario promoter extraordinaire Nick Panaseiko, Promo Man: Backstage Tales from the Vinyl Jungle (see below)—Klanac relates Panaseiko's memories of being closely involved in the El Mo shows (duties included babysitting Marlon Richards when Keith and Anita were too strung out) as well as with the Oshawa show for the blind.
SONIC YOUTH In/Out/In
MUSIC I MISSED FROM 2021
GABRIELS Love and Hate in a Different Time and Bloodline EPs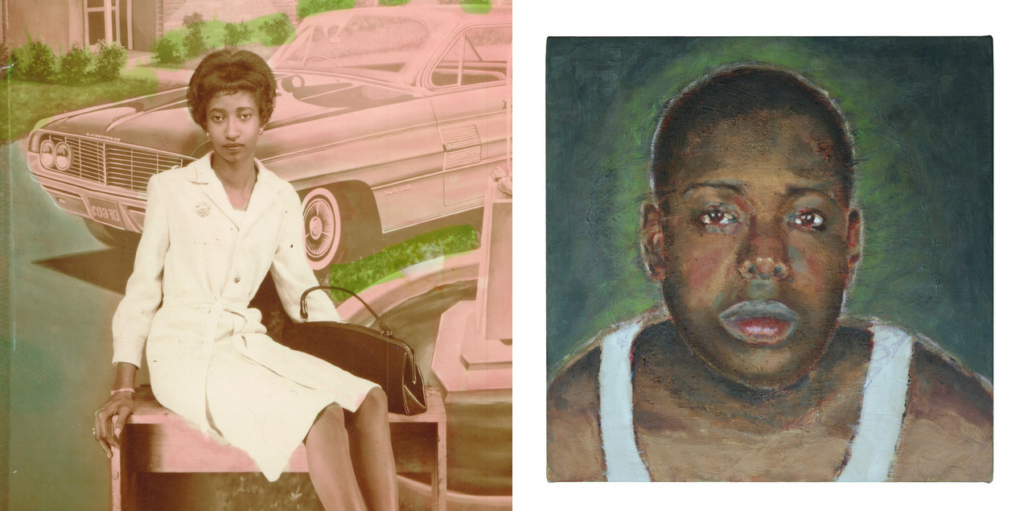 After going positively verklempt over their (half) debut album, I delved back into their two previous EPs from 2021.  If anything, I may like these even-more-experimental EPs over the album.  There is so much to love on them, from the retro soul of Love and Hate's title track; the use of ambient airplane hum on "Professional" and a-train-in-the-distance for musical bridges on "Loyalty"; the goosebumpy melding of the arch, distracted doo-wop merged with a plaintive opera voice and eerie strings on "In Loving Memory"; the crooning, 1920s-style tango of "Bloodline"; and more.
Highly inventive studio work.  Can't wait to see where they'll go next.
OLDER ALBUMS  FROM THE PAST THAT I DISCOVERED IN 2021
JAPAN Gentlemen Take Polaroids (1980)
MARIA MULDAUR Sweet Harmony (1976)
SCREAMING TREES Sweet Oblivion (1992)
LINK WRAY Link Wray (1971)
LPs or SONGS FROM THE PAST THAT I REDISCOVERED THIS YEAR 
PAUL McCARTNEY McCartney II (1980)
(which I belatedly fell in love with) + "Sally G" (1974) and "Girls' School" (1977) + truth be told, I had a Macca-fest in this past year
THE PALE FOUNTIANS Pacific Street (1984)
PAVEMENT Wowie Zowie (1995)
MY TOP 10 PLAYED SPOTIFY SONGS OF 2022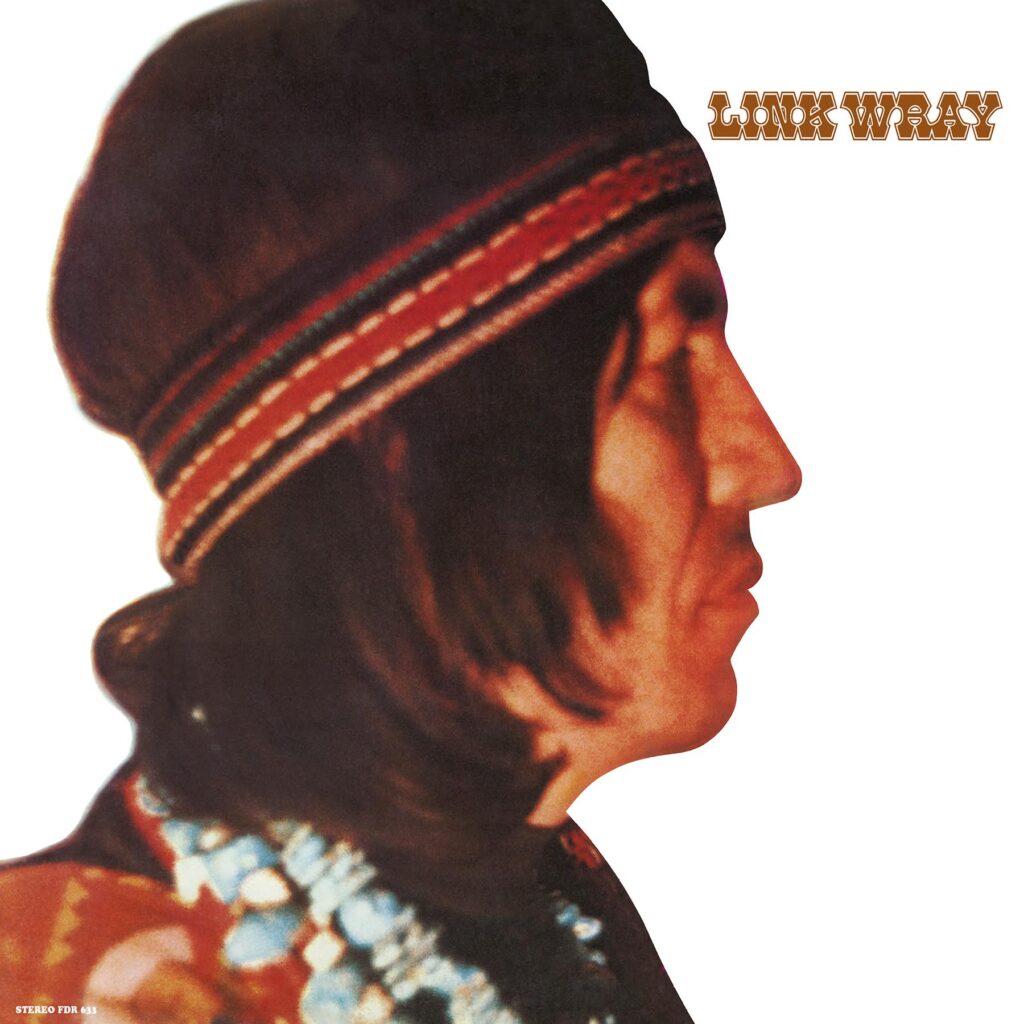 "Fire and Brimstone" LINK WRAY (1971)
"If You Only Knew" GABRIELS (2022)
"Bird Without A Tail / Base of My Skull" WILCO (2022)
"Father to a Sister of Thought" PAVEMENT (1995)
"Girl's School" PAUL McCARTNEY & WINGS (1977)
"Remember Me" GABRIELS (2022)
"Mississippi Delta" BOBBIE GENTRY (1967)
"She" GRAM PARSONS (1973)
"Andalucia" JOHN CALE (1973)
"The Word" THE BEATLES (1965) 
MUSIC MOVIE/TV OF THE YEAR
BIG SCREEN: Moonage Daydream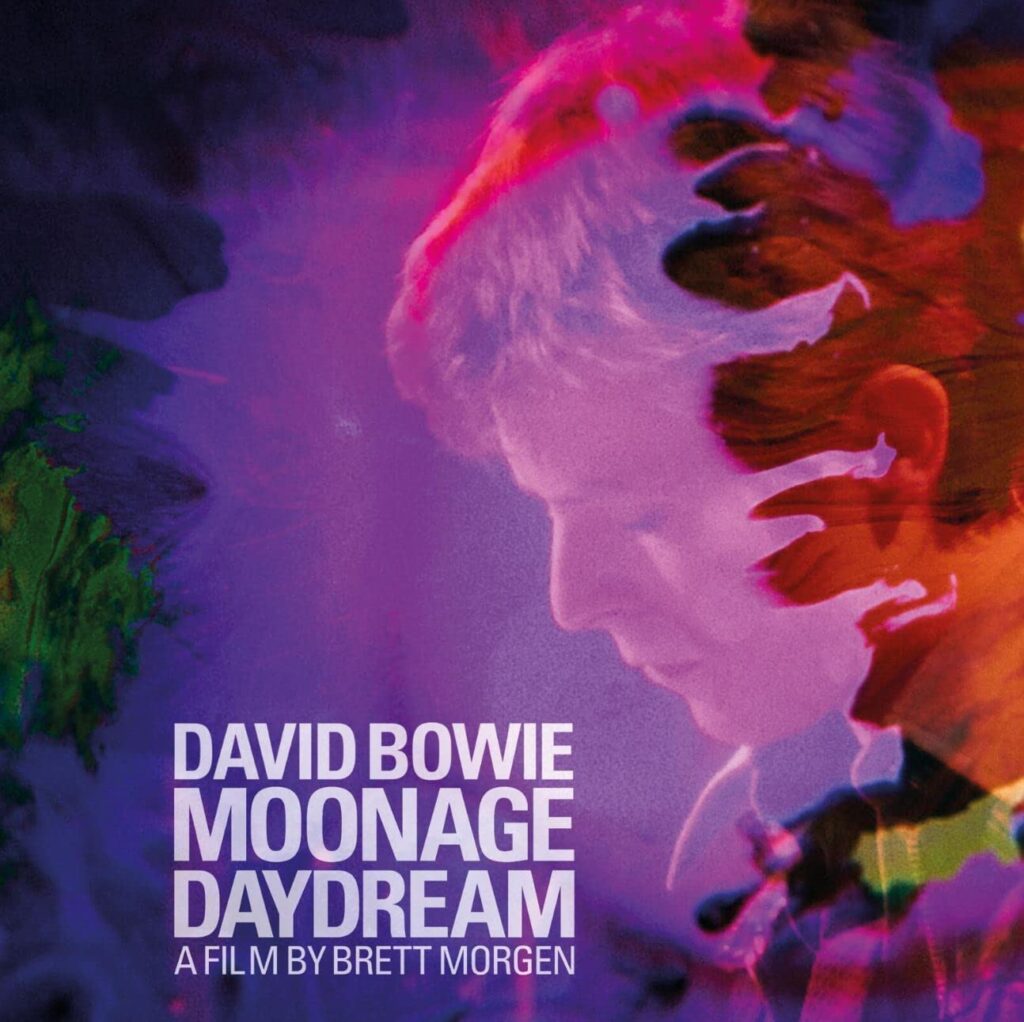 Brett Morgan's film is certainly not a David Bowie documentary in any conventional sense.  In fact, it assumes that the viewer already knows the key points of Bowie's history and not one album cover is shown.
Seeing this visually stunning film is more like an "experience": a contemplative audio-video onslaught rather than a fact-heavy sequential narrative tale.  It's a Must See for any Bowie fanatic.  And do see it at a theatre on the big screen with a killer sound system.  Even though only parts of the film uses live footage, I have never seen another music film that better approximates the feeling and sense of being at a live show.
SMALL SCREEN: Pistol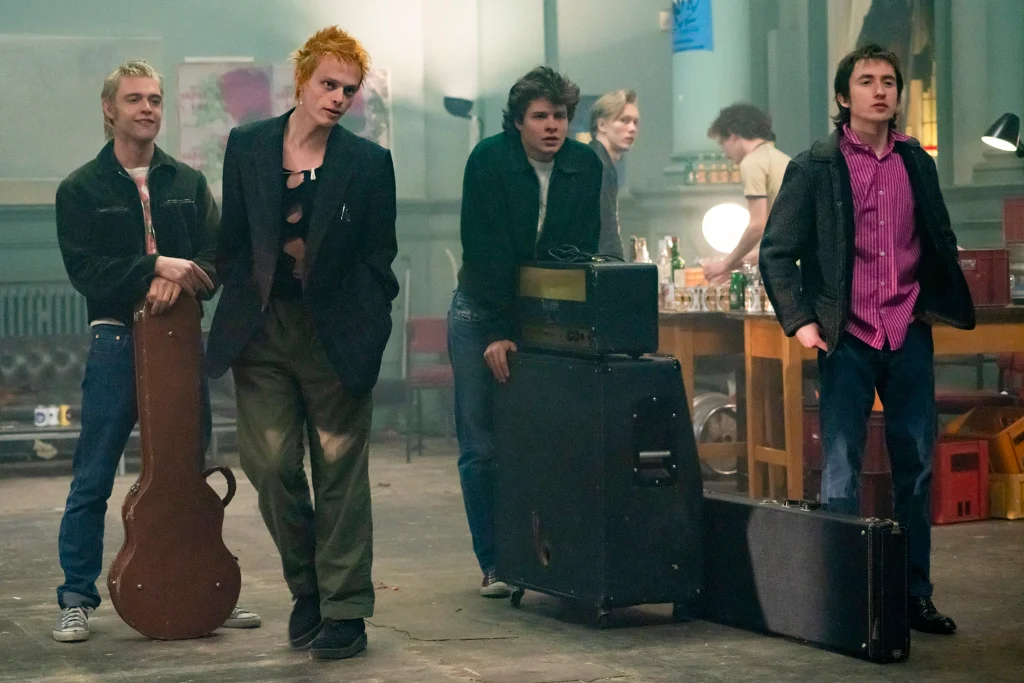 Despite its flaws (too much exposition in the writing; a lack of context and recognition of their impact once 1977 rolls around; the first four EPs are perfectly paced while the last two episodes needed to be fleshed out to four as whole and important chunks of 1977 are missing), I still loved Danny Boyle's engaging romp through the Pistols career, from Steve Jones' starting the group in 1975 through Sid's OD in 1979.  I also enjoyed the use and inclusion of period footage from the UK.
I also finally got around to viewing 2003's Festival Express documentary about the train-fuelled tour across Canada in 1970 by The Band, Janis Joplin, The Grateful Dead, Ian and Sylvia's The Great Speckled Bird, and more.  There's so much great intimate footage on the train as well as on the stage but, at 90 minutes, there needed to be more music.  Regardless, an incredible flick.  Janis Joplin's performance, filmed just months before her death, is a particular highlight.
MUSIC BOOK OF 2022
Promo Man: Backstage Tales from the Vinyl Jungle by BOB KLANAC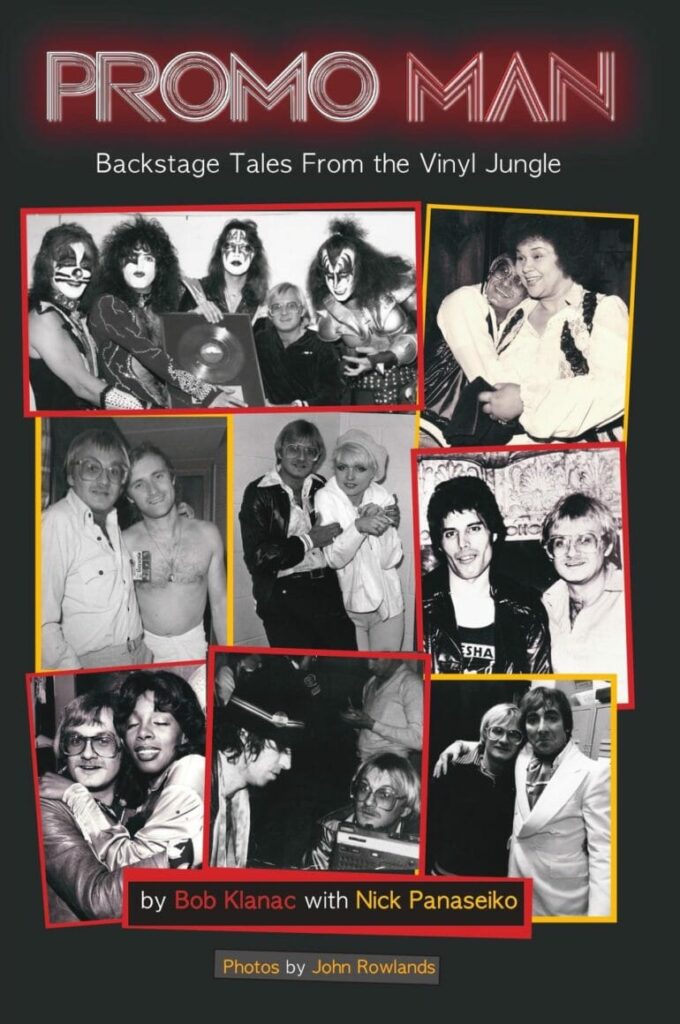 Bob Klanac's book is a fun, informative, and nostalgic romp through the incredible career of London/SW Ontario music promoter, the one-of-a-kind Nick Panaseiko. The book is stuffed with Panaseiko's memorable personal anecdotes involving Keith Richards, Keith Moon, The Cars, Blondie, KISS, and more.  He seemed to have a Zelig-like ability to be at the right place at the right time.
It also tells the story of the London/Ontario music explosion of the 60s and 70s: an extraordinary and necessary document of The Forest City's storied musical past.
ASLO: I was engrossed reading Sheila Weller's 2008 triple biography, Girls Like Us: Carole King, Joni Mitchell, Carly Simon—and the Journey of a Generation.
Especially as a Joni nut, I found out a lot of details about different periods In her life and who/what a number of her songs are about.  However, the book does a great overall job of capturing times and places.  Speaking of Joan …
MUSICAL EVENT HIGHLIGHT OF THE YEAR FOR ME
JONI MITCHELL performing live at the Newport Folk Festival with Brandi Carlisle and Friends, Sunday July 24
Nothing made my heart sing louder than Joni Mitchell's wholly unexpected return to the stage.  Following a 2015 brain aneurysm that should have killed her and initially left her unable to walk or talk, she slowly recovered and started hosting monthly "Joni Jams" at her home a few years ago.  Brandi Carlisle brought a Joni Jam to a stunned Newport Folk Festival audience for the surprise gig of a lifetime.  She was initially singing as part of an onstage chorus but eventually sang solo, including on a poignant take of "Both Sides Now."  Even more incredibly, she has re-taught herself to play the guitar and did so on an instrumental version of "Just Like This Train."
Joni plays her first official live show since 2002 in June at Washington's Gorge Ampitheatre.  Welcome back, Joni.
RUNNER UP: THE RESURGENCE OF KATE BUSH
KATE BUSH unfortunately released nothing new in 2022 but blew up all over again, making a big international splash and having a global re-hit with her classic 1985' single, "Running Up That Hill" after it featured prominently in the fourth—and best—season of Stranger Things. I was well chuffed to see Kate being discovered by a new generation of listeners.
MY FAVOURITE TV OF THE YEAR
While so much in the world is el-sucko right now, that certainly can't be said for (non-network) TV options.  And right at the time when we most need some great diversion from the world's daily dumpster fire.
Kids in the Hall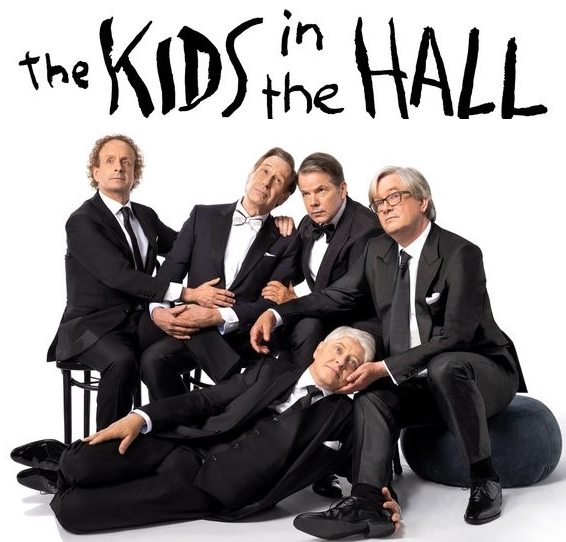 The Kids' exceptional comeback was one of their best ever seasons.
Ambumblance, the spurting bust of Shakespeare, a return to Hotel La Rut, but most of all, Dave Foley as a post-apocalyptic shell-shocked DJ playing his only remaining record—Melanie's "Brand New Key"—on permanent repeat.  Bizarrely, I had just gotten back into the Melanie album last year and put it on my 2022 LPs FROM THE PAST THAT I REDISCOVERED IN 2021 list.  Eagerly awaiting another season.
Also do not miss the documentary The Kids in the Hall: Comedy Punks.  This excellent doc features fascinating early-days video footage of the Kids onstage at Toronto's Rivoli and explains much about their background.
In another year, I could have picked any of the following as my show of the year:
Only Murders in the Building
Andy Warhol Diaries
Stranger Things Season 4
The Crown Season 5
Those I also loved:
Murdoch Mysteries
Grace & Frankie
Marvelous Mrs. Maisel
Obi-Wan Kenobi
Ghosts Series 4 (It was iffy and just barely giving it a pass.  They need to come up with something better for Series 5.)
And while I am no fan of "reality" TV, I do love these unscripted shows:
The Great British Bake Off and The Great Canadian Baking Show: Both contestants I was rooting for this year won!
Paul Hollywood Eats Mexico
How to Build a Sex Room Melanie Rose is the best!
Queer Eye: American, Brazilian and German versions
The Big Brunch
From the past:
Kath and Kim: I finally got around to watching this hilarious Australian series and it was every bit as good as I had heard.  Wow, 20 years flies fast.
Green Acres: Cublet hadn't experienced GA's word soup surreality and we are hooked rewatching it. Arnold Ziffle rules!
Just starting to watch The Bear and The White Lotus. 
IN MEMORIUM
Depressingly, the list of musical creatives who meant something to me grows longer with each year.
Angelo Badalamenti, David Lynch's soundtrack partner
Chris Bailey from The Saints
Thom Bell, Philly soul producer and innovator
Jet Black from The Stranglers
Gary Brooker from Procol Harum
Julee Cruise, David Lynch's diva
Betty Davis
Norman Dolph who helped birth The Velvet Underground & Nico album
Lamont Dozier, Motown songwriter and beyond
Martin Duffy from Primal Scream
Andrew Fletcher of Depeche Mode
Terry Hall from The Specials/Fun Boy Three
Ronnie Hawkins
Susan Jacks from The Poppy Family
Wilco Johnson from Dr. Feelgood
Keith Levene from PiL
Jerry Lee Lewis
Ian McDonald from King Crimson
Christine McVie from Fleetwood Mac
Bob Neuwirth
Mark Lanegan from Screaming Trees
Jerry Lee Lewis
Director Bob Rafelson (The Monkees' Head and Five Easy Pieces)
Paul Ryder from Happy Mondays
Calvin Simon from Parliament-Funkadelic
Ronnie Spector
Jim Stewart, Founder of Stax Records
R. Dean Taylor
Timmy Thomas
Nik Turner from Hawkwind
Ian Tyson
Vivienne Westwood, owner of SEX and Seditionaries along with Malcolm McLaren and one of the architects of punk and its look
As for 2023, this year has started off with a bang via Iggy Pop's fabaroony Every Loser, and I'm looking forward to anticipated new albums from The Cure, Margo Price, and John Cale, Pt. 2 of the Gabriels album, the return of Peter Gabriel and Everything But the Girl, and Joni Mitchell's third Archives release covering the 1972-75 period.
In sadder news, the death march is already on, with the passing of Alan Rankine of Scotland's The Associates, one of my fave bands of the early 80s who I've been heavily listening to again in the last few years.
The tsunami of meaningful creatives dying is the part of the new year I now dread.
Let's all try to have the best 2023 we can.
Cheerio, ducks!
ALL ANNUAL RECAPS:
Next On Stage –> This is the big one! THE ultimate! The single most anticipated show I ever attended, when I—along with my co-hort Miss Beach—and 60,000 other fans, all of whom who were going Absolutely Freakin' Bananas, moseyed on down to a packed CNE Exhibition Stadium on the Sunday night of a swelting Labour Day weekend in 1983, for DAVID BOWIE, on his Serious Moonlight tour for his worldwide smash hit album, Let's Dance, with the great ROUGH TRADE opening the show and warming up the troops.
On the exact same weekend a year earlier, I had seen The Clash, and in the podcast for the show, Episode 18 and the blog entry as concert no. 12, I discuss how seeing them made for the most-anticipated gig I had attended up until that time.
Well, this David Bowie concert one year later—at the same venue but utilizing the full stadium—left that prior show's sense of anticipation in the dust as I finally got to see the performer who had long occupied the No. 1 spot on my "Must See" list.
Bowie and his seventies output made a seismic and enduring impact on my life, and in this next episode I will discuss this along with looking at the actual show, on that gorgeous Labour Day weekend in 1983, ending one of the most memorable summers of my young life with an unforgettable climax.
Also, the great Rough Trade, another act I love and who also made an impact on me in the 70s and 80s, was the opening act, and I will be talking about them as well.
Tune in next time for life-changing radio oddities, bamboo steamers among the Bowie masses, and the most exciting show of my life with …
© 2022 Various Artists