Bootsy Collins headbutted me! Relive the magic in this exciting video.
Ticket Price: $19.17 (A festival-pass, early-bird special discount)
On the heels of returning from several days spent soaking up the joyous lunacy that is always the Toronto Pride weekend, barely 24 hours of downtime passed before heading back out into another set of throngs for the start of the 2011 Ottawa Bluesfest. As with 2009, I booked off two weeks off from work to better take in and enjoy the 12-day festival … and, as was the case with 2009, this year's lineup ended up as an atypical let down, a few sparkling highlights aside. More on those disappointments later.
Bluesfest kicked off under gleaming skies and gorgeous summer warmth, as Cublet and I made our way to the LeBreton Flats in the North East core for the 8pm performance by The Flaming Lips. After wanting desperately to see the Lips for many years, I finally got the opportunity when they played an astonishing set at last year's Fest: a performance that I crowned as my Concert of the Year and was the talk of last year's event. Well, lo and behold, the Lips returned for their second consecutive visit, greeted by an enormous group of merrymakers primed for the Oklahoma natives' singular brand of trixter-delia.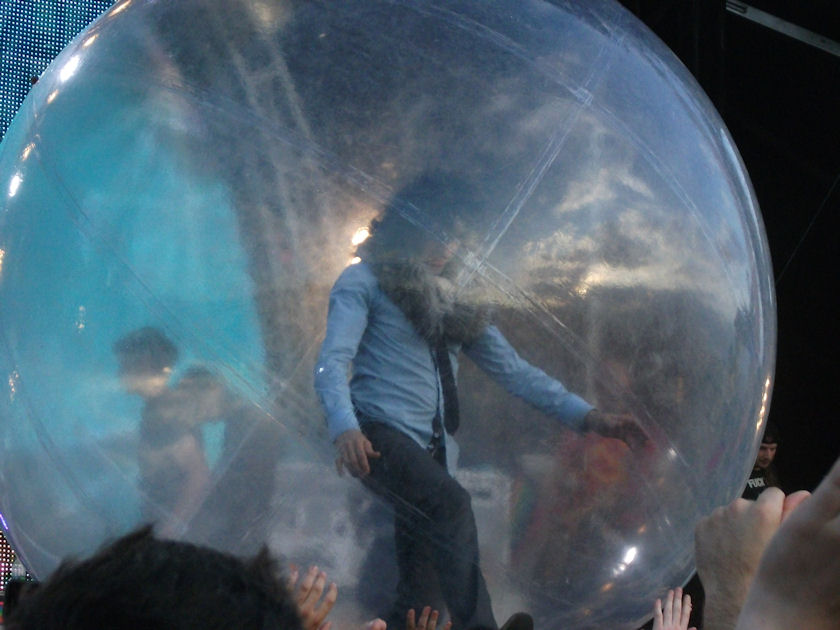 Wayne Coyne rides into the sunset as The Flaming Lips launch into their set during the opening night of the 2011 Ottawa Bluefest (all photos by Cublet and VariousArtists).
The inaugural night mood was festive to put it mildly, with the assembled cheering on various Lips as they walked on and off the stage during the setup in advance of their appearance, most notably Wayne Coyne sporting a faux fox stole wrap during set-up that had him looking like a grizzled Marc Bolan. Cublet and I got up pretty close to the stage and were amused to spot Coyne hanging out backstage with a posse of Dorothys, a couple of Tin Men, and a Cowardly Lion. Yep, a Wizard of Oz theme was imminent.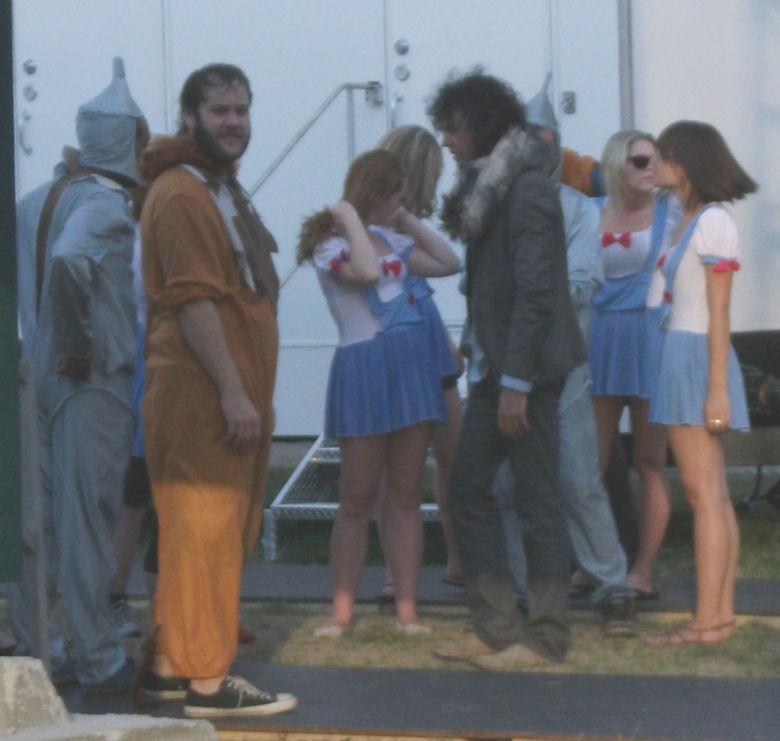 Wayne backstage with some denizens of Oz.
As air raid sirens blasted from behind us courtesy of the Lips' quadrophonic sound system, the band strode on stage — and Wayne straight into his space ball — amid an avalanche of streamers and balloons raining down on a chanting crowd while a bevy of Dorothy's frugged to Embryonic's "Worm Mountain." However, when they segued into the Beavis & Butthead-era signpost "She Don't Use Jelly," it became apparent to me that the band wouldn't be performing their 1999 classic, The Soft Bulletin, as I had thought would be the case (they are performing it at many stops on this tour). Damn. Instead, the boys simply delivered a slightly scaled-down version of their standard show.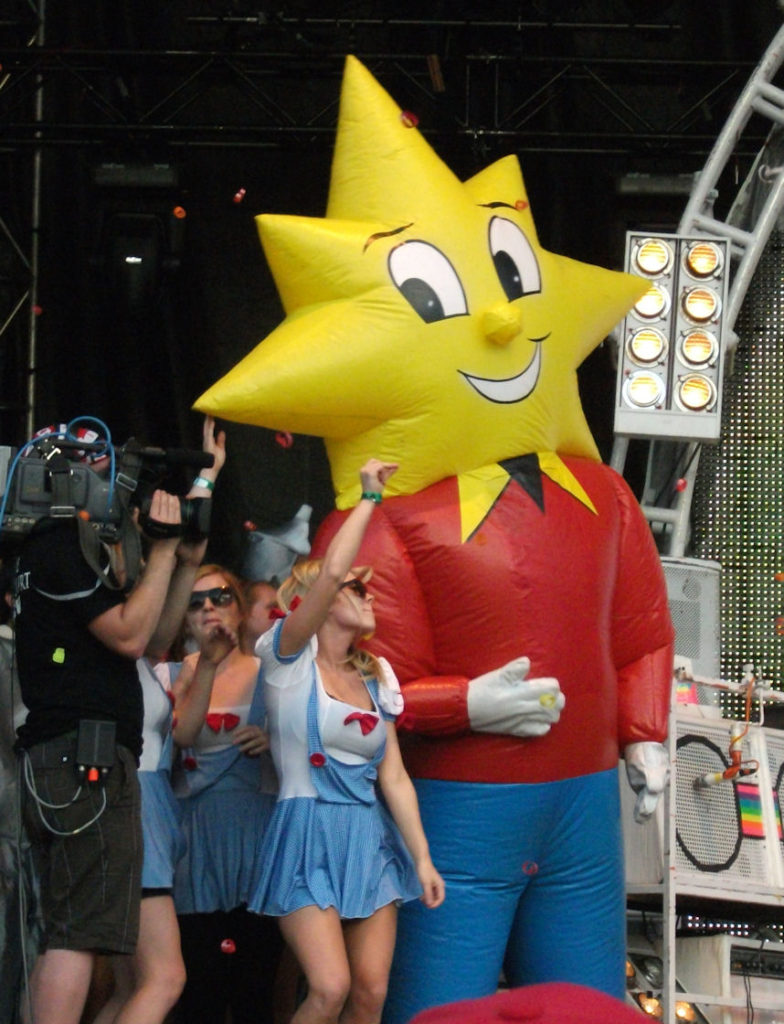 "There's a Starman waiting in the sky …"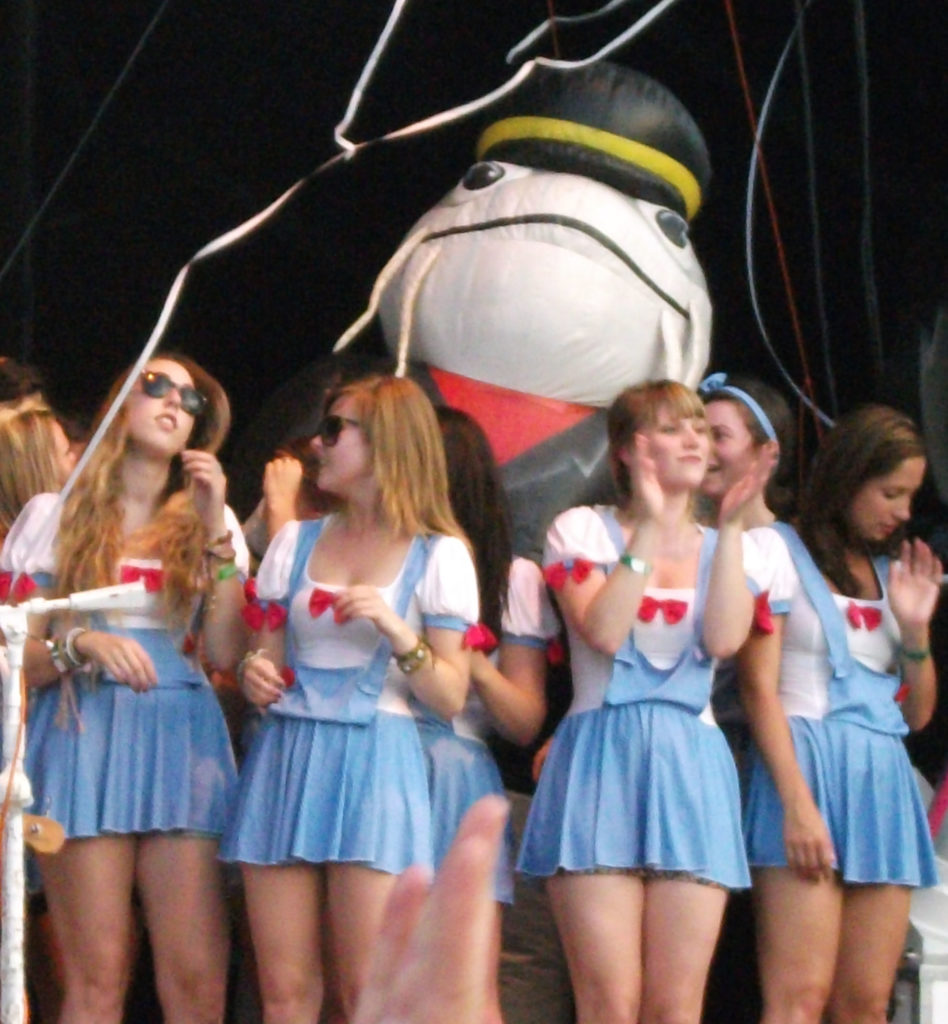 If that's The Captain, then which one is Tennille?
Well, "simply" and "standard" may not be the most suitable terms to describe the Lips' wonderfully addictive, psychotic maelstrom of a performance. Since I think that their staged be-in is one of the greatest things currently making the rounds out there today, I can only say that I wish that "disappointment" was always this satisfying. 

The Flaming Lips with Wayne in his spaceball. (YouTuber Ranoake)
"The Yeah, Yeah, Yeah Song,""Do You Realize?," and "Yoshimi Battles the Pink Robots (Part One)," all got hauled out again amid crowd-wide singalongs, with a garrulous Coyne waxing rhapsodic about the evening's natural allure during the closing moments of the latter. "Look at that fuckin' beautiful, perfect, purple summer sunset," enthused Coyne "We don't get to play much during a sunset so this is an added, great, beautiful light show."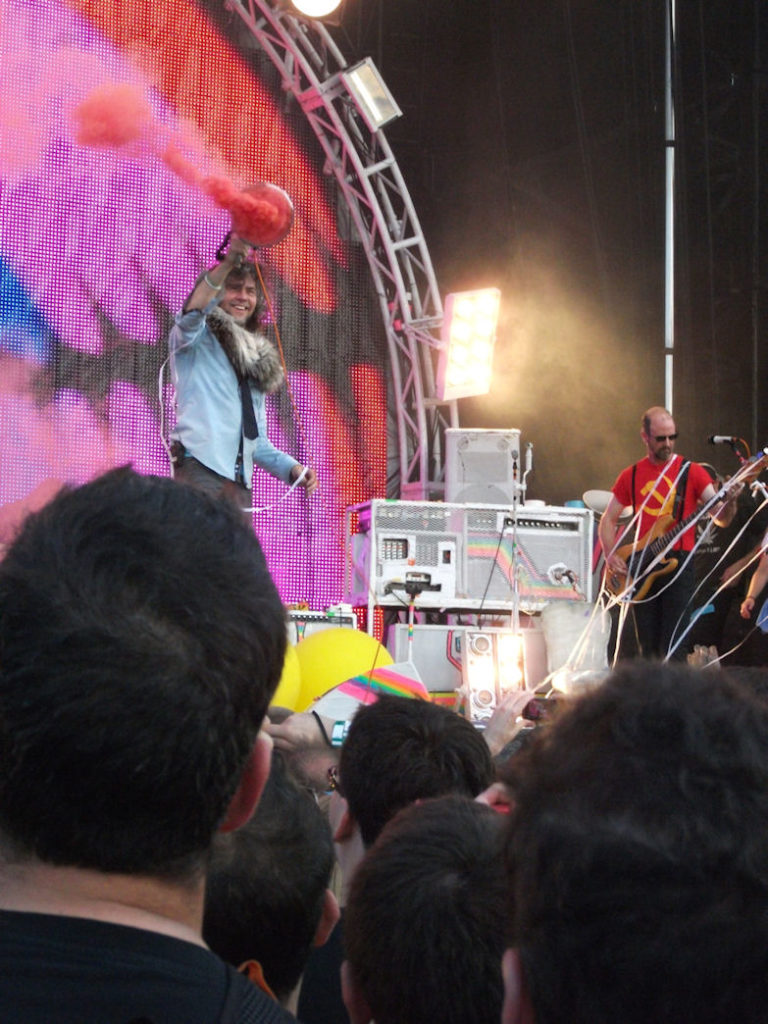 Amyl nitrate in red gas form, perhaps?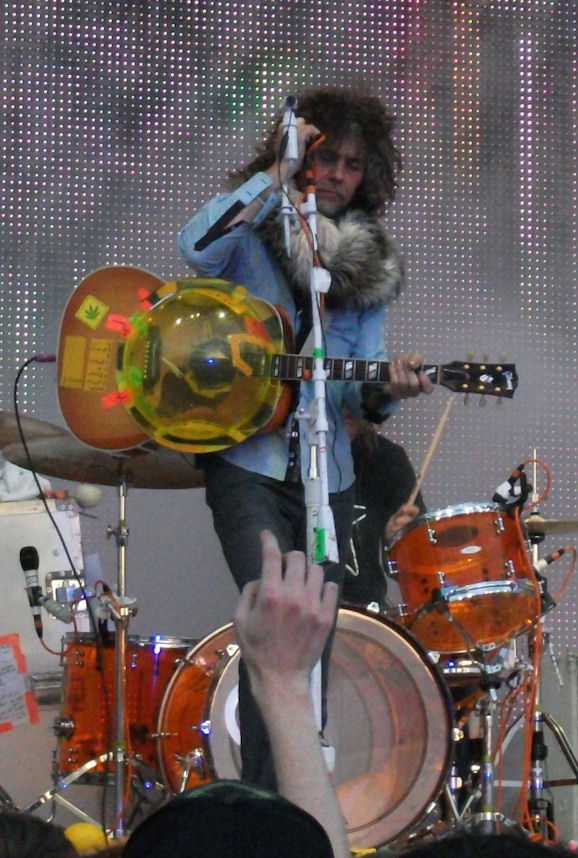 If you ask me, that bubble thing on Wayne's guitar looks like the Pop-O-Matic die container from the board game, Trouble.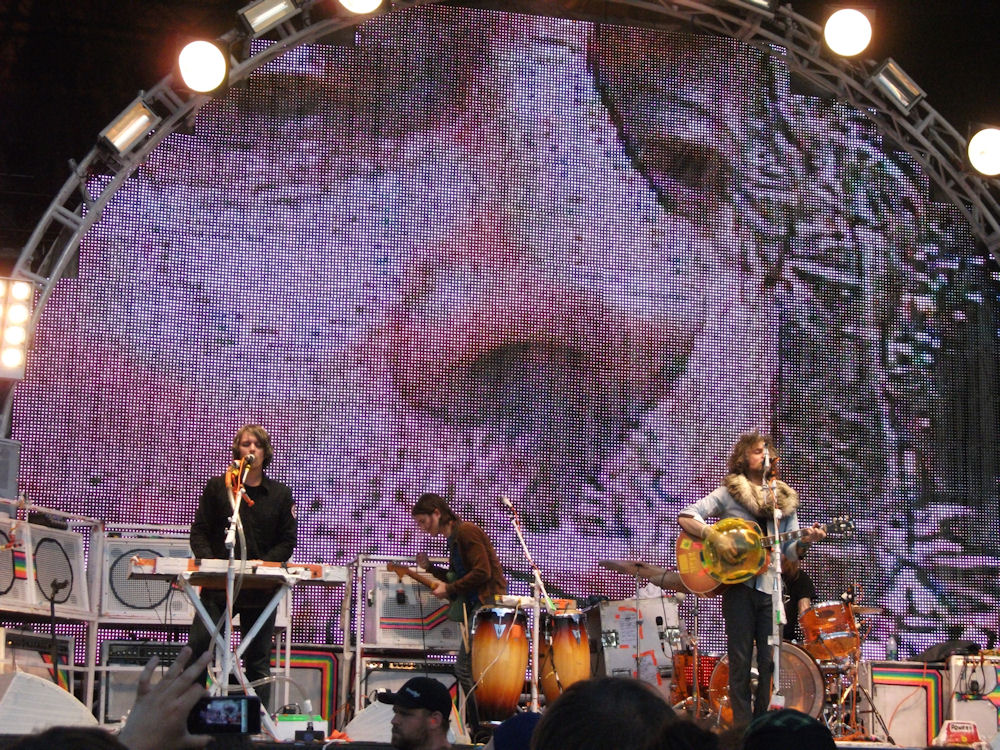 Despite that weensy crestfallen feeling about their not doing Bulletin — not even one moment from thee hallowed LP — I just can't bring myself to criticize. The Lips were/are just too much bloody fun, even when it was almost the same show all over again. I could do with taking this in every few months if only just to reset my exo-karma.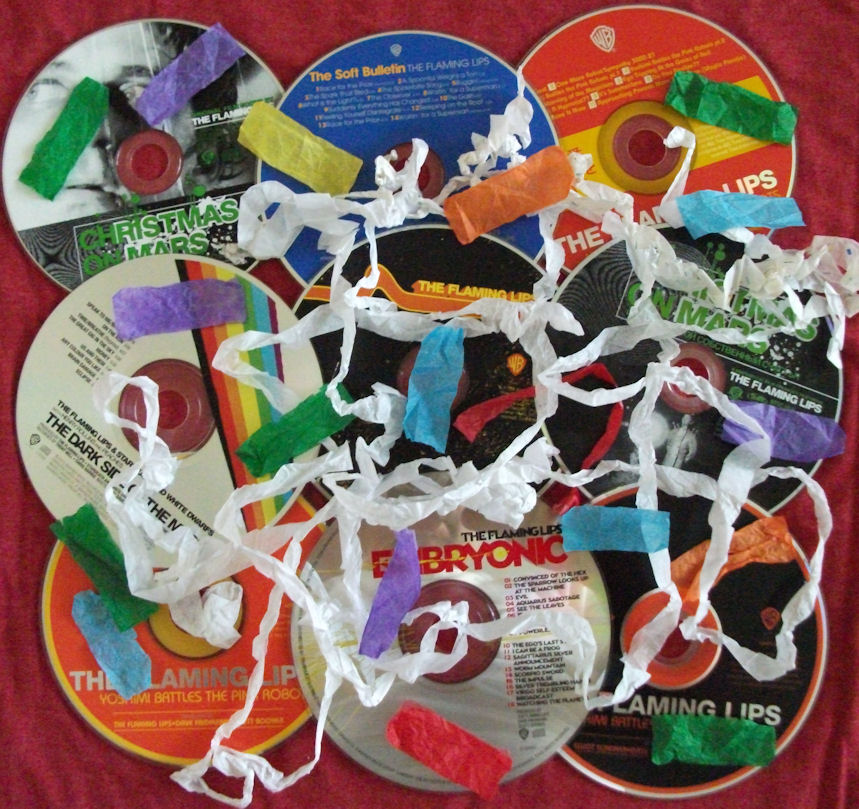 Some of the streamers I grabbed during the show.
Following their usual epic climax of "Realize?," we traipsed over to the main stage where the reformed Soundgarden had already begun playing one of the first shows of their reunion tour. I became a fan of the Seattle dudes upon discovering Ultramega OK in 1988, later being fully steamrolled over by Louder Than Love the following year and Badmotorfinger in '91. I liked Superunknown, the multi-hit blockbuster, too but after that, my passion for the band largely cooled.  Thinking back, I haven't really played them a whole lot since.
Still, they had knocked me sideways when I saw them live at Lollapalooza in 1992 and so I had been pumped about seeing them again. But, as we wandered over and partook of a few tunes, I changed my mind.
Perhaps it was that they sounded rather flat, particularly vocalist Chris Cornell. Or that Cublet isn't much of a fan. Or that they haven't been massively resonating with me as of late (I've already written about how certain genres and artists tend to ebb and flow in my musical consciousness as the years ripple by). Or maybe it was because while I was at home that afternoon, "preparing" for the evening out, I was laying back blaring Fela Kuti, Bob Marley, and James Brown, putting me in more of a hip-shaking mood. Whatever the reason, I made the last minute impulse decision for us to decamp from the main stage area and instead head over to the Subway stage for Bootsy Collins and his band.
If only all of my instinctual decisions turned out as well as that one.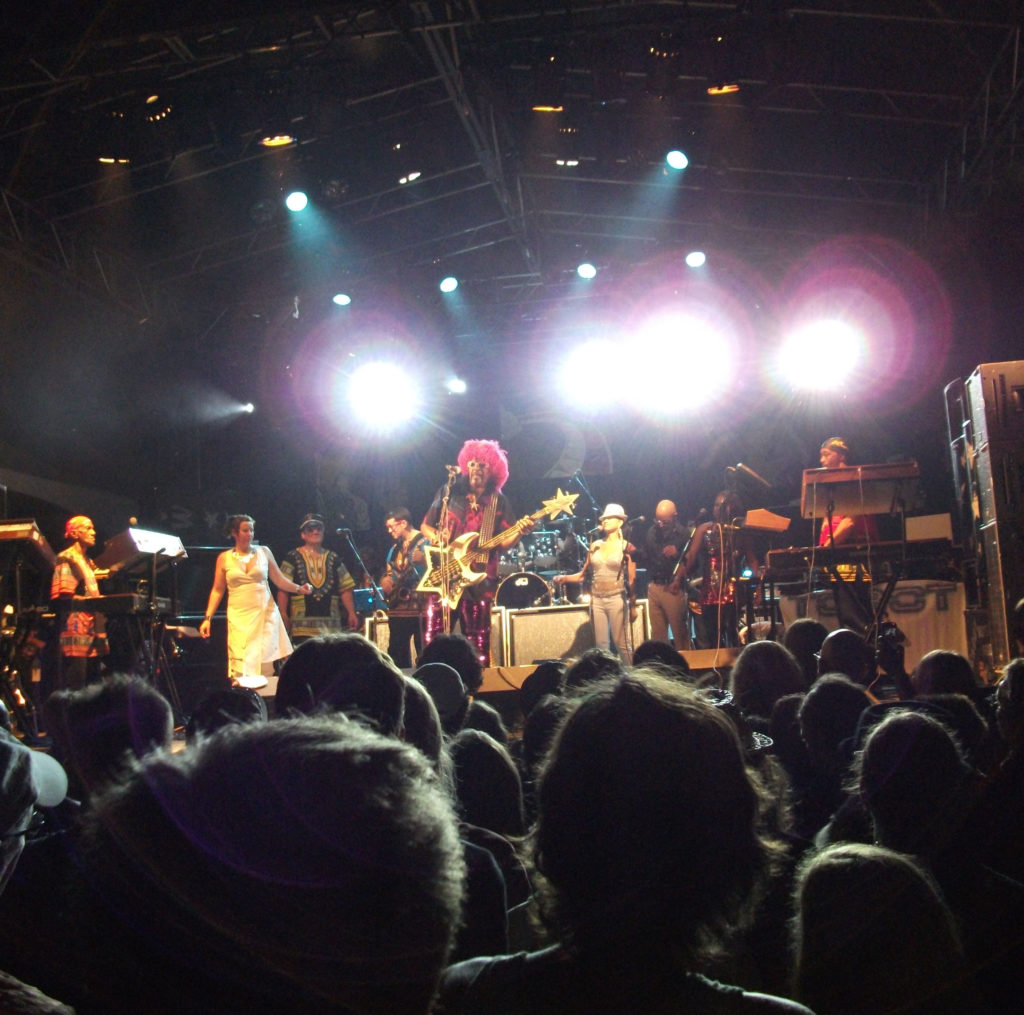 Bootsy's mothership touches down at the 2011 Ottawa Bluesfest, with a funkin' killer show.
I'll admit to knowing about Bootsy primarily as a sideman, first with James Brown as one of the J.B.s, playing on a brilliant run of singles at the start of the 1970s such as "Sex Machine" and "Talkin' Loud and Sayin' Nothin'," and then — of course — as one of the central members of George Clinton's Parliament/Funkadelic musical collectives as well as Collins' early-'90s collaboration with Deee-Lite.
As for Bootsy's own project, Bootsy's Rubber Band, I was certainly long aware of it but was never super familiar with his output under that monker at that time. I may not be an expert on the deep cuts of his solo catalogue, but I cumulatively love all the work he is on or has been part of …. and DO know this: he and his band are mind-blowing, electrifying performers of the first order. Absolutely, utterly, resolutely, indisputably freakin' jaw dropping. And, with Bootsy following the Lips, this night was truly an audio-visual sensory freak out of the highest order.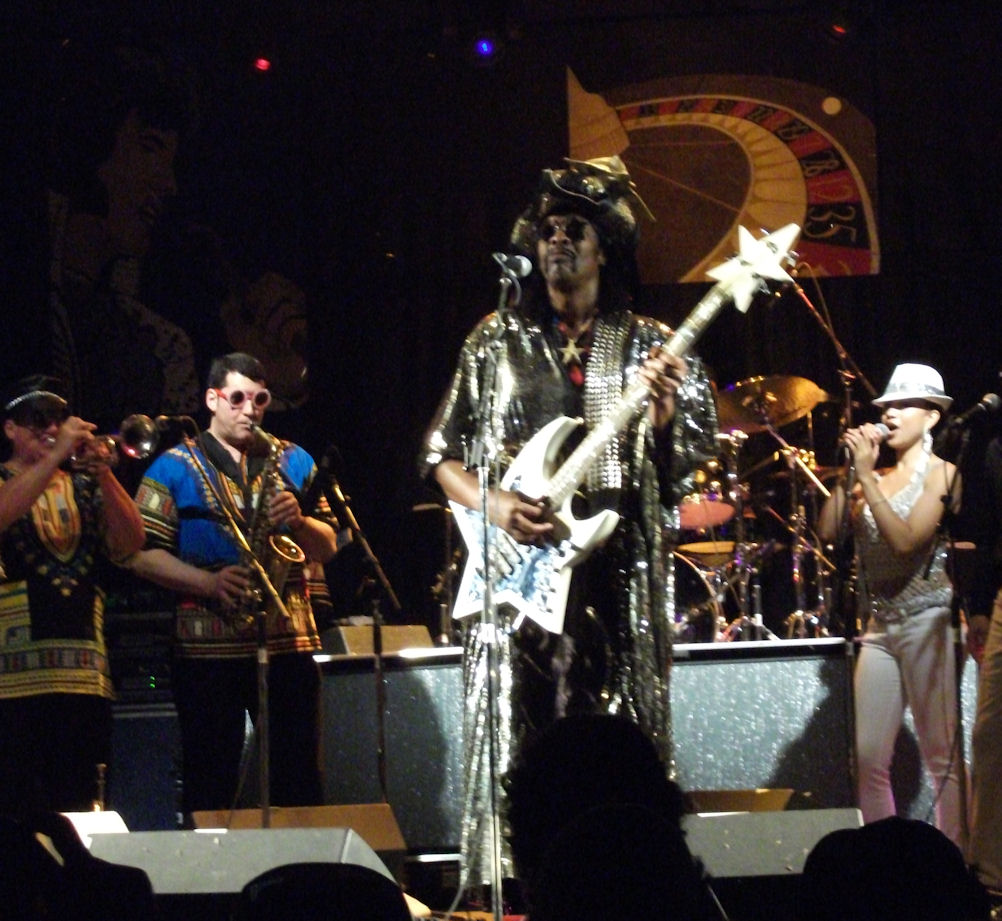 "Clinton's musicians such as Bootsy Collins raise expectation to a new intention," from "Genius of Love" by The Tom Tom Club (1981).
Arriving enough in advance for us to get fairly close, he and his crew were a bit late coming on but, given what he gave upon arrival, no one cared. His 15-piece band were a tight, funky energized ensemble who muscled out serious grooves that could turn on a dime or delve into rivetting jams and solos. Bootsy was resplendent in his trademark star glasses and guitar along with spacey stage attire and coloured wigs: a showman, outstanding musician, and satyr transporting the agog throngs deeper into Dionysian ecstasy.
Big on engaging his audience, Collins, his M.C., and other band members lead the crowd through a series of chants and had everyone holding up their cell phones during a run through of Parliament's "Flash Light." "Wind Me Up" did just that to the fans, in a fine, fine way.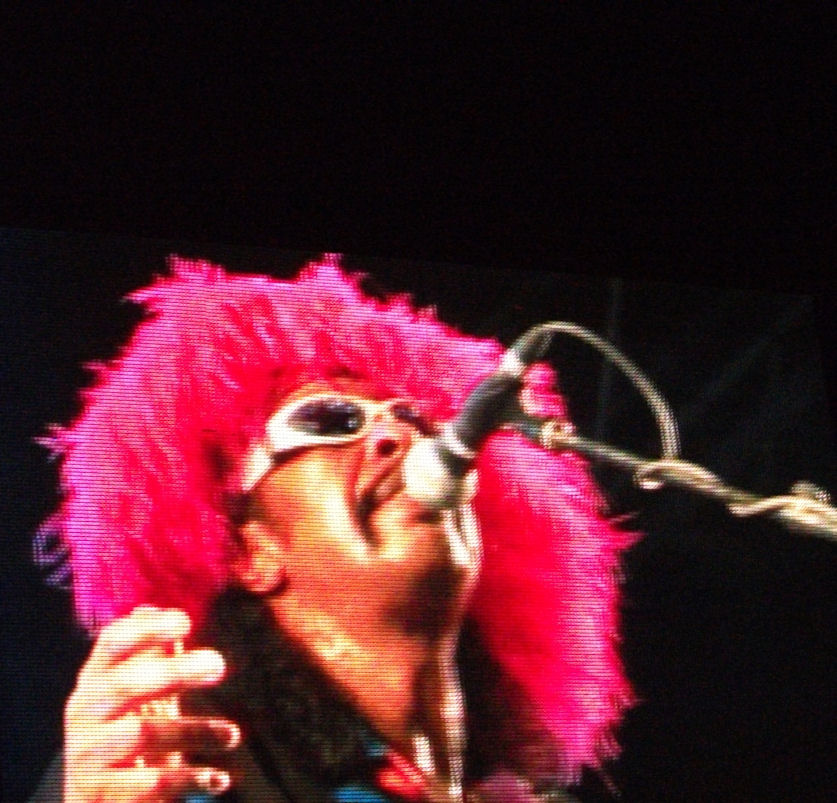 Pixel Board Bootsy.
At the show drew to a close, Bootsy announced that he wanted to get closer to everyone before descending into the crowd, walking down a low-fenced catwalk at audience-level, high-fiving and shaking hands with the frenzied funkateers and even playfully headbutting a few — yours truly included!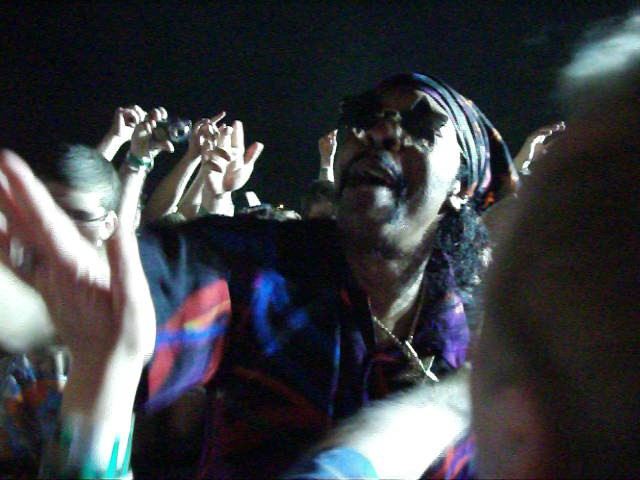 Bootsy, among his people, pre-headbutt.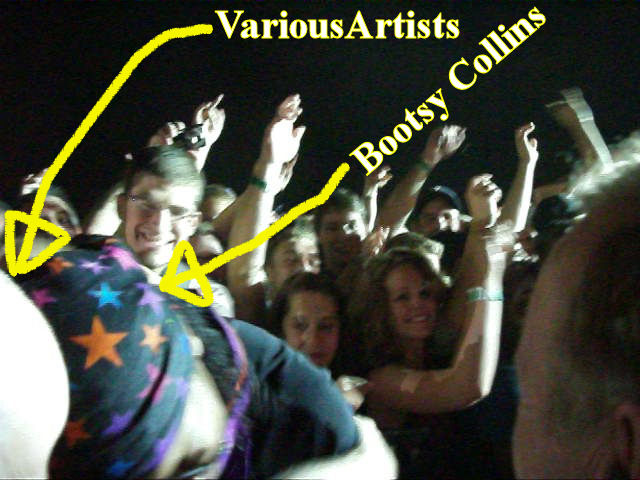 The moment of impact: Bootsy Collins headbutting the author …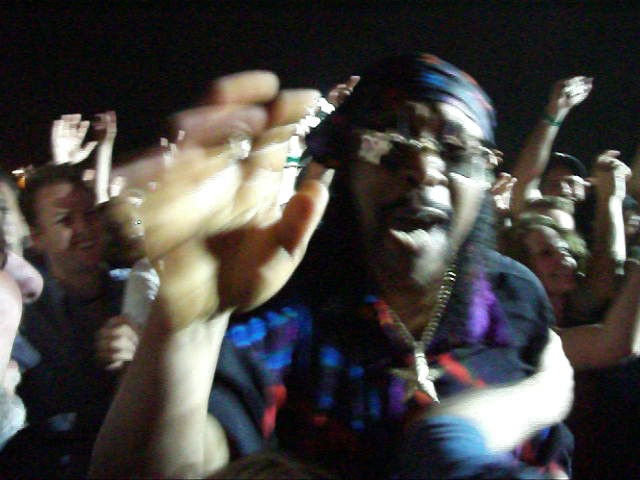 … and a triumphant Bootsy, post-headbutt!   See the video replay at the top of the post.
Ok, so this year I've been kissed by Sharon Jones and headbutted by Bootsy Collins. At this pace, I should be sleeping with a musician by the end of the year.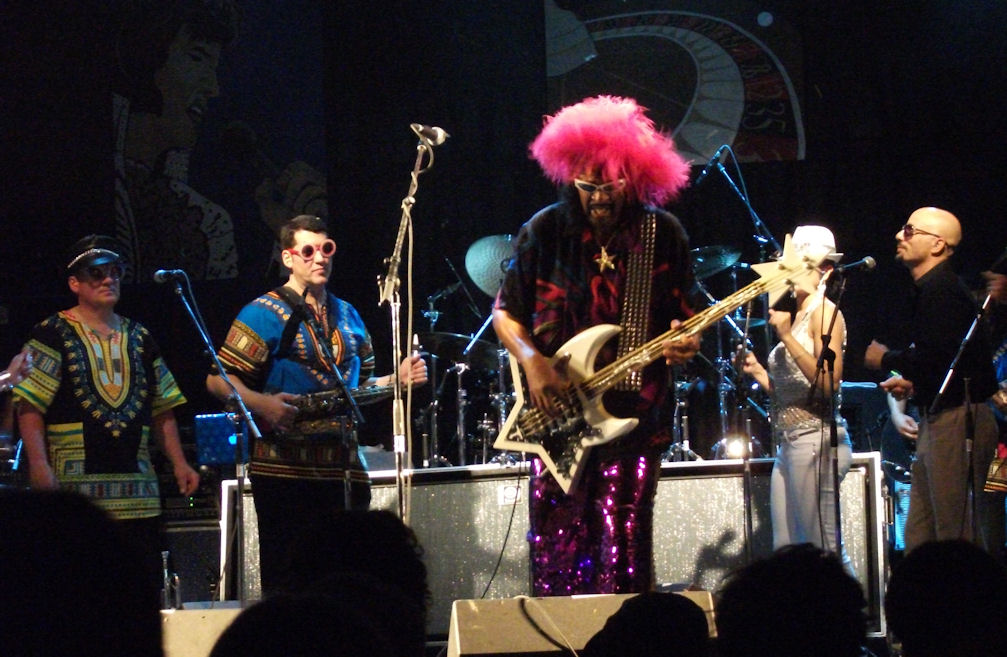 Before Collins left the stage, he reasonably groused about wanting a bigger stage to play on next time, things being a bit of a tight fit for the massed groups of musicians. Yes, will do, Bootsy. Please come back. Pretty please?
On a number of occasions throughout the remainder of the festival, I ran into people similarly raving about Bootsy's performance, it clearly being one of this year's highlights for many.
During the Lips's set, Wayne had remarked "Even though it's the first night of the festival, everybody will say 'That was the best fucking night to be there, for sure.'"
No shit, Wayne. Prophesy fulfilled.

Owing to me wanting to see so little that was on offer at this year's Bluesfest, we didn't end up returning to the Flats until the Friday evening. On that night of July 8, we had to make the frustrating strategic decision to start with the first hour of '50s rocker and comeback queen Wanda Jackson's set on the Subway stage at 9 pm, and then jump over to the main stage to see the second half of indie roots duo The Black Keys' performance, which was due to start at 9:30. Dang. Lots of days of not much and then on one night two great acts are programmed against each other. Grrrrr.
I was particularly excited about The Black Keys. Their 2010 disc, Brothers, was a sleeper for me, making its impact in the months previous to this scheduled performance. I picked it up on a whim earlier this year, with my first reaction being along the lines of " …. not bad." By about, say, the 12th or so airing, I'd fallen in love with it.
But before either the Keys or Wanda, we spent an hour or two wandering around the grounds and grabbing a bite to eat. Cublet and I chowed down on some curry while eavesdropping on two fellas on the other side of the picnic table who were discussing the one guy's bizarre, humorous career as a morgue worker. "It's a strange business," he noted.
Our own Herman Munster seemed to overly relish his most grotesque, morbid stories about the wacky hijinks that were simply a day at the office for him, his tales embalmed with questionable dollops of black humour — and that's an observation coming from someone who often has a pitch-black sense of humour. He launched into one particularly detailed account, highlighting the difficulties involved in having to pick up several bodies in one go from a multi-homicide crime scene, his buddy commenting afterwards, "That's heavy — literally and figuratively."
Following that delightful, repast-unfriendly bloviation, we skedaddled on to better company with Ms. Jackson, landing right at the very front of the Subway stage, all up close'n'personal-like. For those unawares, Wanda Jackson is a rockabilly legend: the real "Lady Elvis" who in fact dated him for a while in the 1950s, with her inexplicable helium whiskey hellcat growl gracing a series of classic sides such as "Fujiyama Mama" and "Hard Headed Woman" (when I first played Wanda to a mighty confused Cublet many years ago, he scratched his head and asked "is she supposed to sound like that?").
During this past year, she's gotten the raw roots-style Jack White treatment a la Loretta Lynn's fantabulous Van Lear Rose with her own The Party Ain't Over, including covers ranging from Bob Dylan's "Thunder on the Mountain" to Amy Winehouse's "You Know I'm No Good" to classics like Johnny Kidd's "Shakin' All Over." Now 73, Wanda's back with a white hot band and was greeted by a packed house at Bluesfest.
And rain. And high winds. In large and sudden portions.
While inclement weather had been predicted, the evening had seemed just fine until about 15 minutes or so before Jackson took the stage. At that point, the sky quickly turned dark and Cublet showed me the approaching storm on his iTouch. "It's coming straight for us." And indeed, it did, with the gusts and wetness appearing exactly as Wanda walked on the stage, the band launching into "Riot in Cell Block 9."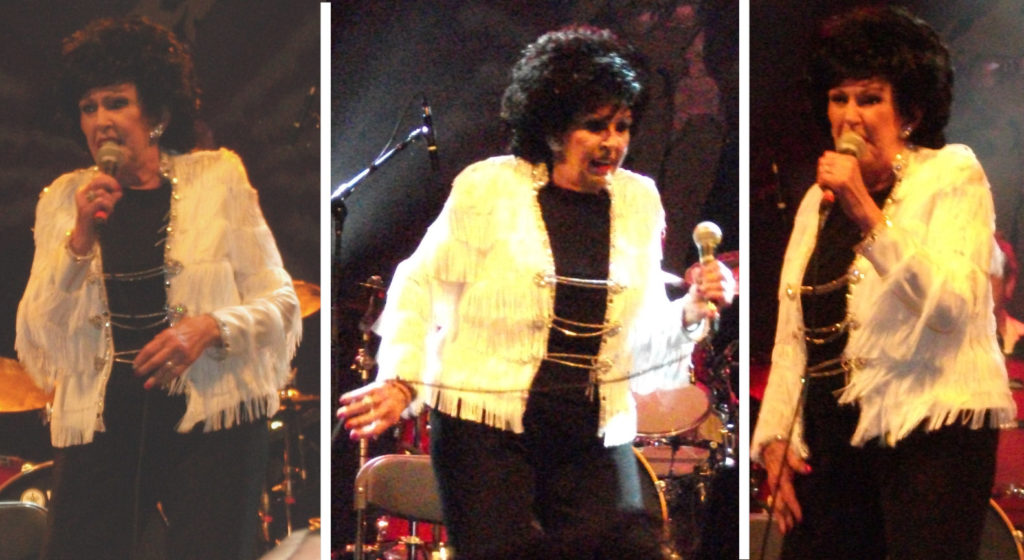 Wanda rocks out, before the flood, at Ottawa Bluesfest.
The rain came pounding in from the west, with that side of the stage largely exposed and vulnerable to the elements. It began as steady precipitation but quickly progressed to a throttling downpour, with Jackson herself momentarily startled and distracted in the middle of the song. As we looked up, the stage scaffolding began to sway slightly in the breeze. Meanwhile, I was trying to assuage my concerns, thinking about how "This stage is going to be … fine? These things don't collapse, right?
With the opener finished, it was clear that Jackson had to stop the show and leave the stage. And the two of us, without brollys or a mac, got soaked to the skin in no time flat, with all covered areas already packed with punters seeking dry refuge. We eventually found the few empty porta-potties (lucky us!) one could duck into while the mini-monsoon did its thing, but by that point it was too late: we were saturated, just like everything else on the grounds.
We hung around for a while, awaiting some sage words that never came from a Bluesfest P.A. system, letting people know if anything may or may not go ahead. Meanwhile, the rain continued to cycle up and then down in intensity. With no word in sight and stages covered in water, we assumed that the night couldn't go forward. Drenched bunnies that we were, we just wanted to get the hell home, and so we did.
While we had narrowly escaped the rain's wrath during the Jazz Festival as few weeks earlier, our luck truly ran out on this night. Little did anyone know at the time that things could have been much worse: a cryptic, safer trial run for what would go on to play out nine days later.
As it happened, both Wanda Jackson and the Black Keys did go on one hour later, about the time we were arriving back at home, playing truncated sets for the moistened faithful who had stuck around. Not only did we miss out on one of the nights I'd been most looking forward to but, based on "Riot In Cell Block 9," Wanda and her band were going to be a real treat. Similarly, the Black Keys won raves in the local press for their eventual appearance.  Sigh.
And on to Saturday …

"Bootzilla," Bootsy's Rubber Band (1978)
Next On Stage  –> Things return to sun and dryness for the first Saturday of this year's Bluesfest. Stayed tuned for more…. 
165. On & On: Erykah Badu, The Tragically Hip, Shpongle, and more, Ottawa Bluesfest 2011 (Pt. 2), LeBreton Flats, Ottawa, Ontario, Canada, Saturday July 9, 2011.
166. Lookin' Out My Back Door: John Fogerty and more, Ottawa Bluesfest 2011 (Pt. 3), LeBreton Flats, Ottawa, Ontario, Canada,Tuesday July 12, 2011, $19.17.
167. Stop!: Jane's Addiction and Death From Above 1979, Ottawa Bluesfest 2011 (Pt. 4), LeBreton Flats, Ottawa, Ontario, Canada, Saturday July 16, 2011.
… and I'll soon be returning to the past with …
014. Gimme Danger: Iggy Pop with Nash the Slash, Wonderland Gardens, London, Ontario, Canada, Wednesday, October 27, 1982 — featuring guest contributor M. Zeppelin on the topic of some spirited social interactions with Iggy and his band.
© 2011 VariousArtists