"Summer's here and the time is right for …"
178a. Magic Chords: Ottawa Bluesfest 2013 (Pt. 1) with The Black Keys, Sharon Van Etten, Femi Kuti, Neko Case, Bahamas, and more, July 4-6, LeBreton Flats, Ottawa, Ontario, Canada
The Black Keys, Femi Kuti
Thursday July 4, 2013
For over a decade now, Ottawa Bluesfest has been the musical centrepiece of my summer here in the National Capital Region — it's one of the geography's positives.
While it began as a small blues festival in the mid-90s, the organizers pretty much starting throwing out the programming rule book circa 2002 as its attendance began to balloon amid diversified offerings. Within the next few years the transition was complete, resulting in a two-week, multi-stage festival that ran the full genre gambit. "Bluesfest" as a moniker was retained simply as a brand name.
Every year I have at least one interaction with an earnest-faced concern troll — all inwardly descending eyebrows, squinty eyes, open nostrils, and wide-brimmed mouth — pontificating about how it shouldn't be called "Bluesfest" if blues is now simply one small sliver of the pie.  I routinely return with "Do you ever attend the festival?"  Every time — and I do mean every time — the response is "No, but …," at which point I shut down this waste of social intercourse (although sometimes I do proceed with "Do you go see much live music in general?" or even "Do you attend much of anything at all?" See if you can guess the standard answers …).
For many years, the event seemed to go from ambitious strength to strength, with yours various often shelling out for full festival passes and booking time off of work to maximize what I could take in without burning out.  But those strengths hit the breaks with a rather weak 2009 and a similarly less-engaging 2011. 2012, however, was a true dud: it marked the first time in eight years that I sat it out entirely as there was virtually nothing I had any burning desire to see. In my annual year-end recap, I depressingly selected Bluesfest as my biggest music-related disappointment of 2012, stating that "For years, B-fest gave Ottawa a world-class music festival — in recent years, it's become more like the kind of festival the likes of which bland Ottawa deserves.  I'm hoping this is a blip rather than a trend, but I wouldn't bet on it.  But, oh, how I'd love to be proven wrong and have to eat my words."
Well, pass me the fork and plate as I dig into some humble pie. While only the long term will reveal whether I have to eat my words completely or just nibble on the consonants, I am indeed hoping this verbal consumption will be a full meal deal as 2013 was, for me, the overall best year Bluesfest has ever rolled out.
For the lucky '13 iteration, I went out for seven of its ten nights (it would have been eight had Paul McCartney not decided to show up in Ottawa during the festival's run). Even on the two nights I decided to stay home, there were a few acts I might have gone out for during some of those other less vibrant years.
This year I was even one of the very first patrons through the gate, arriving at the LeBreton Flats on the grounds of the Canadian War Museum about ten minutes or so after the 5 PM kickoff.  It was interesting to see the event taking shape rather swiftly, starting with those first sparse moments.  Initially it was largely volunteer swarms buzzing around the Flats as I ventured out by myself on this first night, getting my bearings for this year's layout, sipping on my first Mill Street of the fortnight along with maybe a hundred or so other early birds. By the time the first act (Ottawa neo-soul outfit The Splits) kicked off at 6 PM on the Claridge stage, crowds were starting to swell, breeding tribble-like during those inaugural few hours.
150+ performers appearing over ten days was underway.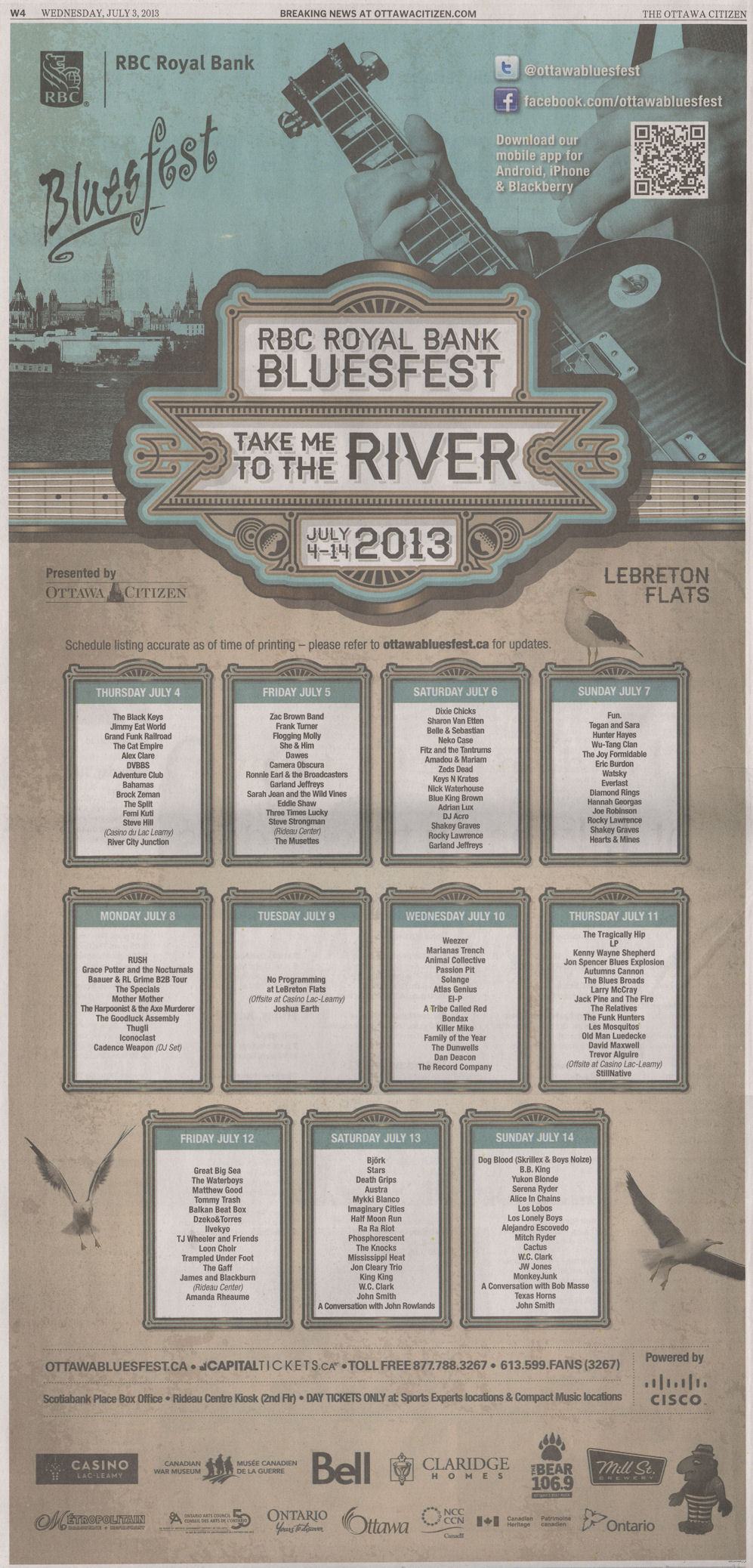 2013 line up calendar for Bluefest from the Ottawa Citizen (scans by VA).
It also helped that it was a gloriously stinkin' hot day: a joy to behold after a particularly miserable and endless colder-and-wetter-than-normal spring.  And right on the heels of the washout that was the Jazz Fest, too.  The weather seemed to change almost overnight for BF's commencement, resulting in high-spirited hordes here to get the party going asap at Chez Flats.  I even got waved at by Leadbelly, the Bluesfest mascot, although I sure as hell wouldn't want to have been in that suffocating outfit on a day like today, reaching 38 degrees with the humidex.
My first must-see fest performer was Femi Kuti, son of the legendary Fela and very much following in Dad's footsteps.  Femi and his eight-piece band + a three singer/dancer contingent inaugurated the River stage where I'd managed to stake out a spot at the very front, just prior to a crowd materializing around me at the set's start.
All seemed ominous for a moment, with the bright sunny skies disappearing behind grey clouds that morphed into ultramarine.  While hoping to avoid another soggy night out on the town, I did  take relief in a Gimlet-of-a-much-needed breeze that blew up, cooling things down a notch or two.  Small mercies.
Things began rolling amid the cautionary weather, with Femi and the team of eleven entering the stage piecemeal, each playing their part until the whole unit congealed.  Femi himself arrived —  alternating between sax and keyboards, two instruments most associated with his father — cheered on by a growing, enthusiastic crowd.  As I have written before, I'm a big Fela fan, and Femi very much carries on in his father's legacy in sound and stance (he'd started out playing in his dad's band, beginning in his teens), also carrying on his father's employment of pan-African Pidgeon English for lyrics.  If I can't see Fela, then Jr. with some of the original musicians are the next best thing.
I couldn't put my finger on why but, aside of the muddy sound, something didn't quite gel during the first two numbers.  But with the third song, "Politics Na Big Business," they had lift off and didn't look back.  It was a tight yet frenetic set with the dancers/singers in African-styled costumes and make-up, shimmying as if their life depended on it.  Meanwhile, the clouds suddenly shifted midway through the set, bathing us all in joyous early summer evening sunshine for the second half of Femi's performance.
He and the band played for an hour but to me it seemed as if only twenty minutes or so had passed when it came time for him to leave the stage.
A wonderful start to many days of incredible music.
Femi Kuti on … Nigerian Idol??
With time to kill, I spent the next hour or so wandering around, first grabbing a bite while warhorses Grand Funk Railroad played at the close-by Claridge stage. I tried to have an open mind but couldn't stomach more that a quick curry's-worth from the lumbering titans of right wing rawk.  Off I fled over to the Black Sheep stage for Bahamas.
I've seen the ex-Feist stringsman opening for Wilco and Robert Plant, enjoying him thoroughly both times. On this evening, I caught the end of his set where he and his band were wrapping up with two unexpected covers: a surprisingly faithful version of Outkast's "Hey Ya!" and his take on Eric Clapton's easy listening chestnut, "Wonderful Tonight," only changing the lyrics to be about the festival. He directed those gathered to try and verbally replicate the sound of Clapton's guitar during the solo, but instead, the audience sounded more like a massed group of meowing cats.  I also liked that he introduced each band member via their email addys.
I eventually decided to head over to the Bell stage early to stake out a space for headliners The Black Keys.  I reaped the reward of a keen-o spot about 200 yards from the stage, while a huge crowd slowly materialized around and in back of me. I've written about having missed the Ohio combo in 2011 when a freak, intense rainstorm blew up from seemingly nowhere. Drenched through, Cublet and I split, reckoning that their set would be cancelled owing to so much water on the stage.  Turned out they did indeed appear quite late into the night for a largely past-curfew performance.
However, we were hardly alone in vamooshing on that H20-infested night.  Ergo, there were many here to take in the minimalist, garagey-blues-rock duo (plus two) they'd missed last time around.
Black Keys at Bluesfest, snippet filmed by YouTuber Mike Bouchard
Upon their 9:30 arrival, they were greeted with a wildly pumped reception although there were some serious audio and volume problems to be worked out.  Dan Auerbach's mic phased badly at first but seemed to stabilize after a few numbers, although I've read other accounts that this continued to be problematic for the further-backs. Likewise, the volume — which was simply not what it should have been for a show of this size — seemed to be needlessly chaste on this first night.
Even with these hurdles, audience participation and overall exuberance was the order of the hour, with the throngs not only letting loose to celebrate the launch of the fest but also seemingly the lifting of weather miserablism that had plagued the city seemingly as of late.
The Keys responded with a high-energy show, short on between-song verbiage but long on spirit.  The set may have lagged ever-so-slightly in the middle, but began and ended strongly.  A full-attendance "Da Da Da Da" sing-along greeted opener "Howlin' For You" as they thundered through the evening, closing out the set proper with some of their best numbers: "She's Long Gone," the whistle-friendly "Tighten Up," and my personal fave, "Lonely Boy," ending this giddy opening night with an encore of "I Got Mine."
In concert with the concert, a mess of sprightly — and mighty liquored-up — young'uns took part in the "pass the human" crowdsurfing ritual, and before I knew it, I was all "arms in the air," helping to safely continue delivering feisty youths who came sailing over my head en route to the audience nether regions.
So, a beautiful kick off to this year's event, with a sprawling, enthusiastic gang of revellers out to take in one of the unlikeliest success stories of the last few years at their peak.  And this first night was a positive portent of what was to come.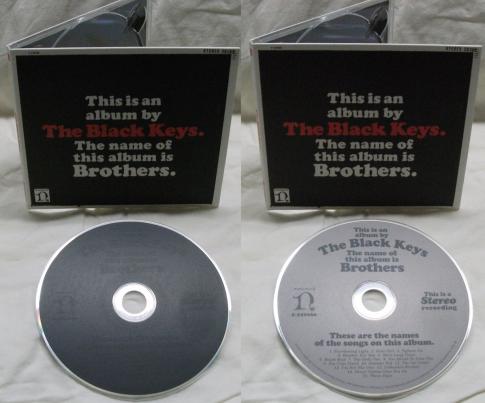 The Black Keys' Brothers CD featured ink that turns white when warmed up via being played.  I didn't know this factoid when I'd first bought this CD and thought someone was gaslighting me when the damn think kept changing colour.  (Photo by VA)
Sharon Van Etten, Neko Case, Belle & Sebastian
Saturday, July 6, 2013

After sitting out Friday night — which turned out to be the only night with rain problems — visiting nephew Fast & Bulbous and I headed down late afternoon for the first Saturday night.  I've already written about the main attraction we were there to see: for my money, this night's (and the festival's) jewel in the crown, Belle & Sebastian.  But first up, we entered the pearly gates to the overly effervescent strains of  L.A. pawp combo Fitz and the Tantrums before wandering over to the Bell stage to catch the first few numbers by Neko Case at close quarters.
Neko figured in my 20 Performances I Missed piece and can now be scratched from that list along with Leonard Cohen.  I was happy to finally get the opportunity to see this occasional New Pornographer, even if I was pretty distracted by the thought of the upcoming Glaswegians I had seriously been jonesin' to take in.
Opening with"People Got A Lotta Nerve", Ms. Case kept the revellers' party going.  Indeed, Neko herself was getting into the festival spirit … and spirits. "It shows how ripped I am, I can't even play this tambourine," she ascertained, later predicting "I'm going to pop out of this dress, Hulk-style."
While I was admittedly distracted, I still felt underwhelmed by Neko's performance, but it could have been a bad night.  Until next time ….
Following B&S's brilliant performance, we made our way through the massed throngs assembled for the Dixie Chicks and over to the River Stage for Sharon Van Etten. This Brooklyn-based singer/songwriter garnered wide attention with her third release, 2012's Tramp. (It featured in my 2013 review as best album of 2012 that I didn't hear until '13).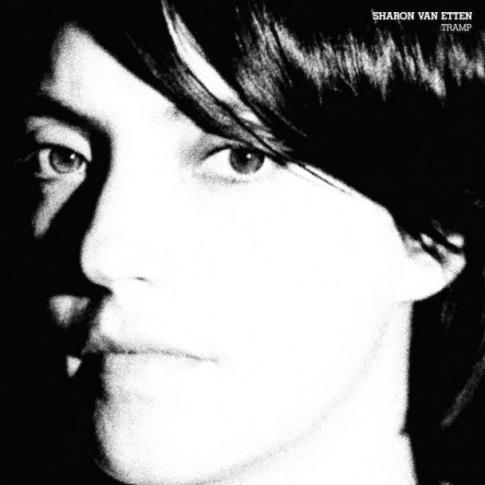 We arrived several numbers in, the start of her set overlapping with B&S's … and I was instantly as smitten with her live as I was with the disc, perhaps even more so..
Two songs into our arrival and she was donning an autoharp to deliver a shimmering version of my favourite track from Tramp, "Magic Chords."  As The Dixie Chicks played one stage over to a massive throng, Sharon pulled in her more intimate but captivated cluster of effusive devotées, a population that grew larger over the course of her time on stage.
While some were having the good fortune to stumble on to her performance and discover her live, there were also clearly plenty here familiar with Ms. Van Etten's output as song requests were routinely shouted and applause of acknowledgement greeted key numbers.
And wouldn't you know it, the love was reciprocal.
"I really like you guys," sayeth she, beamingly.  While the audience brought the love and bundles of applause, Sharon in turn raved about everyone she had interacted with and met at the festival, both in terms of festival volunteers, attendees and other performers.  She was thrilled to have met Neko Case earlier in the evening but also talked about her positive backstage experiences, noting that being treated as well as she had been by all her Ottawa Fest folk and support isn't exactly a common festival occurrence for a performer.
There was also mirthful warmth for the host country as well: "I love Canada a lot because I always saw 'thanks' and 'sorry' and you guys understand."  And for those human critters not in a Dixie Chicks frame of mind, she issued an appreciative "thanks for coming to a festival and not sitting by the river the whole time."  As for the flyin' critters, Sharon felt relieved that she hadn't "eaten any bugs yet," with infestations of winged insect varments being ubiquitous and a common problem for nighttime performers on the appropriately named River Stage.
As for those gals making a big noise one stage over, she dedicated "Peace Sign" to The Chicks who she professed respect for, but later sent out a dedication to a former nemisis. "I wrote this song about someone who said I couldn't play music," a backstory that garnered the following 1-2 response from somewhere close to me in the audience —
He: Shit happens.
She: Fuck that guy!
Sharon wrapped up a first rate set with a real treat: an extended, drony, atmospheric delivery of Tramp's "I'm Wrong," before bouncing back on for a final encore of "In Line," one final "You guys are great," and a heartfelt wish to the punters to enjoy the rest of the festival.
And with those last magic chords plucked, it was time to make our way out through the masses taking in the finishing-up D. Chicks, returning on Monday post-McCartneysaurus Rex for another act I was highly anticipating: Coventry's 2 Tone legends, The Specials.
 Sharon Van Etten's Magic Chords video.  A gorgeous, and NSFW, video … not sure what the dickens is going on here though …
Next On Stage –>   More of Ottawa Bluesfest 2013 … Stayed tuned for bottled curmudgeons, an invasion of animal costumes, three-faced singers, and Mrs. Slocombe sightings …
178c. Declare Independence: Ottawa Bluesfest 2013 (Pt. 2) with Björk, B.B. King, Phosphorescent, Austra, Stars, and more, July 13-14, LeBreton Flats, Ottawa, Ontario, Canada
© 2014 VariousArtists
Comments From The Original opensalon.com Posting