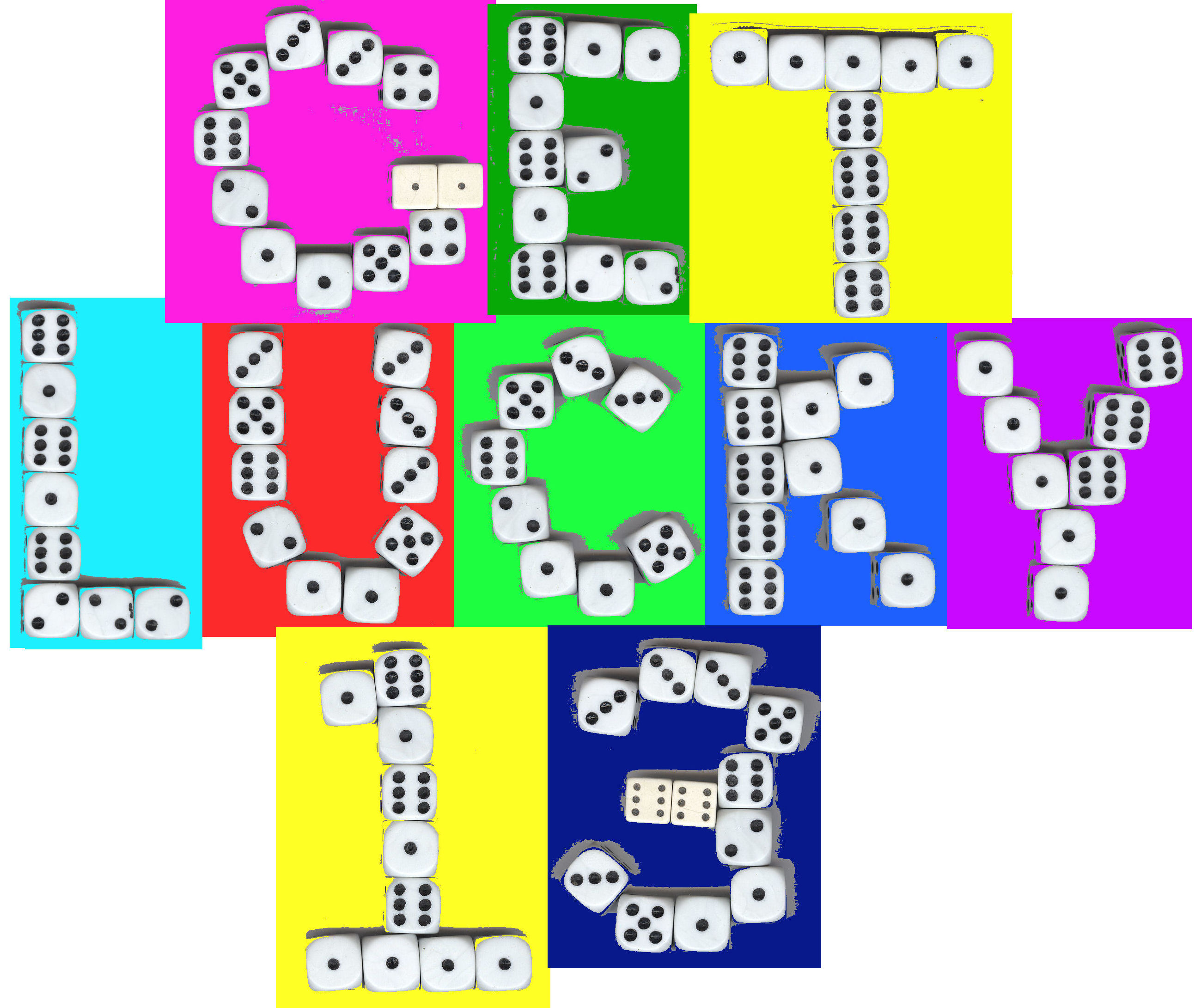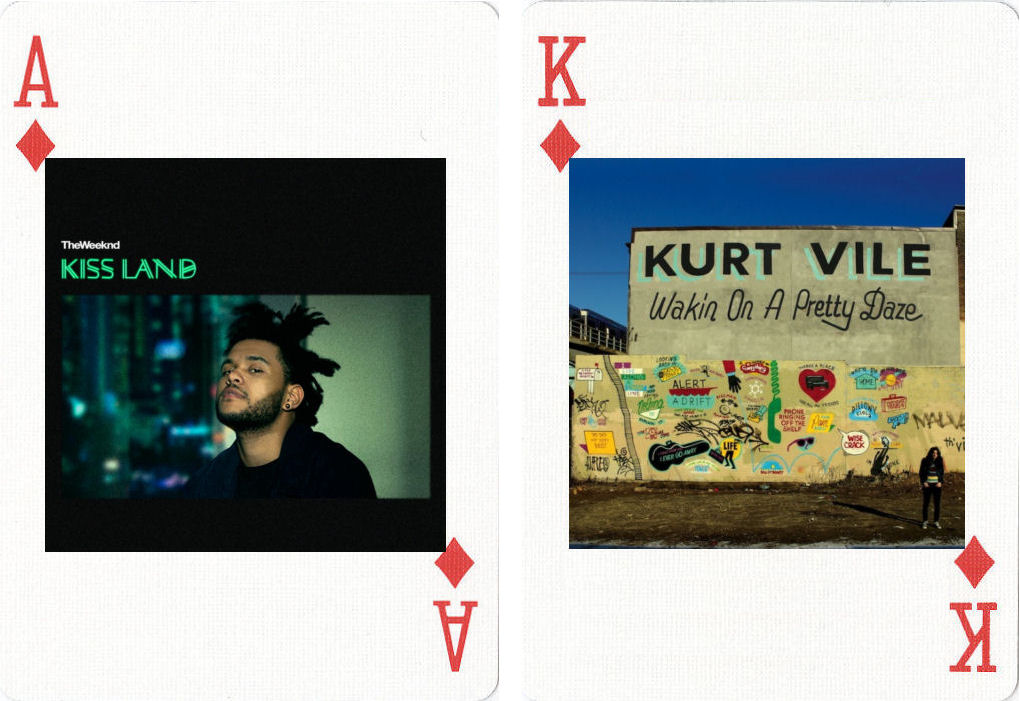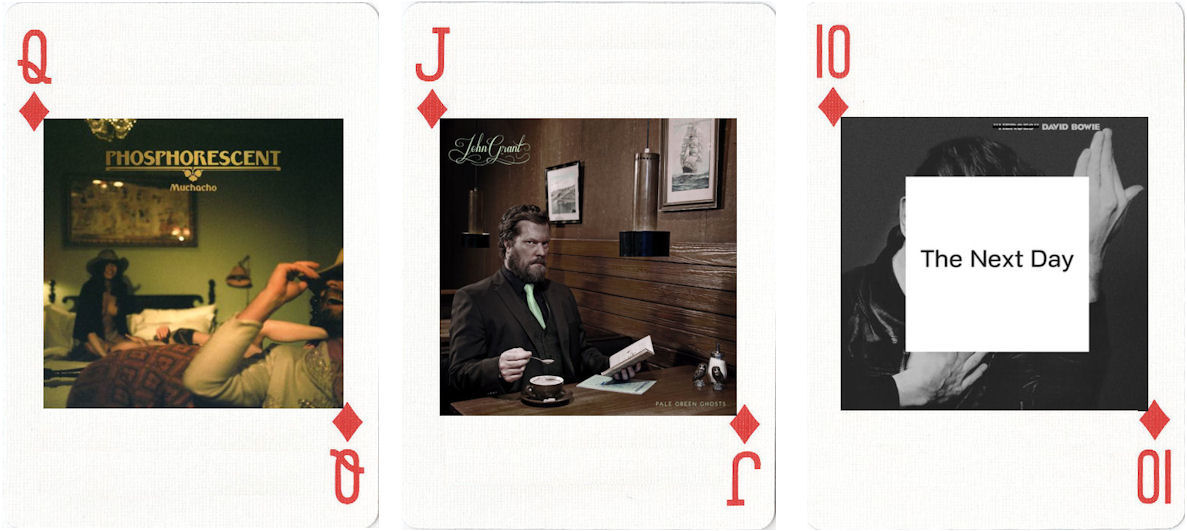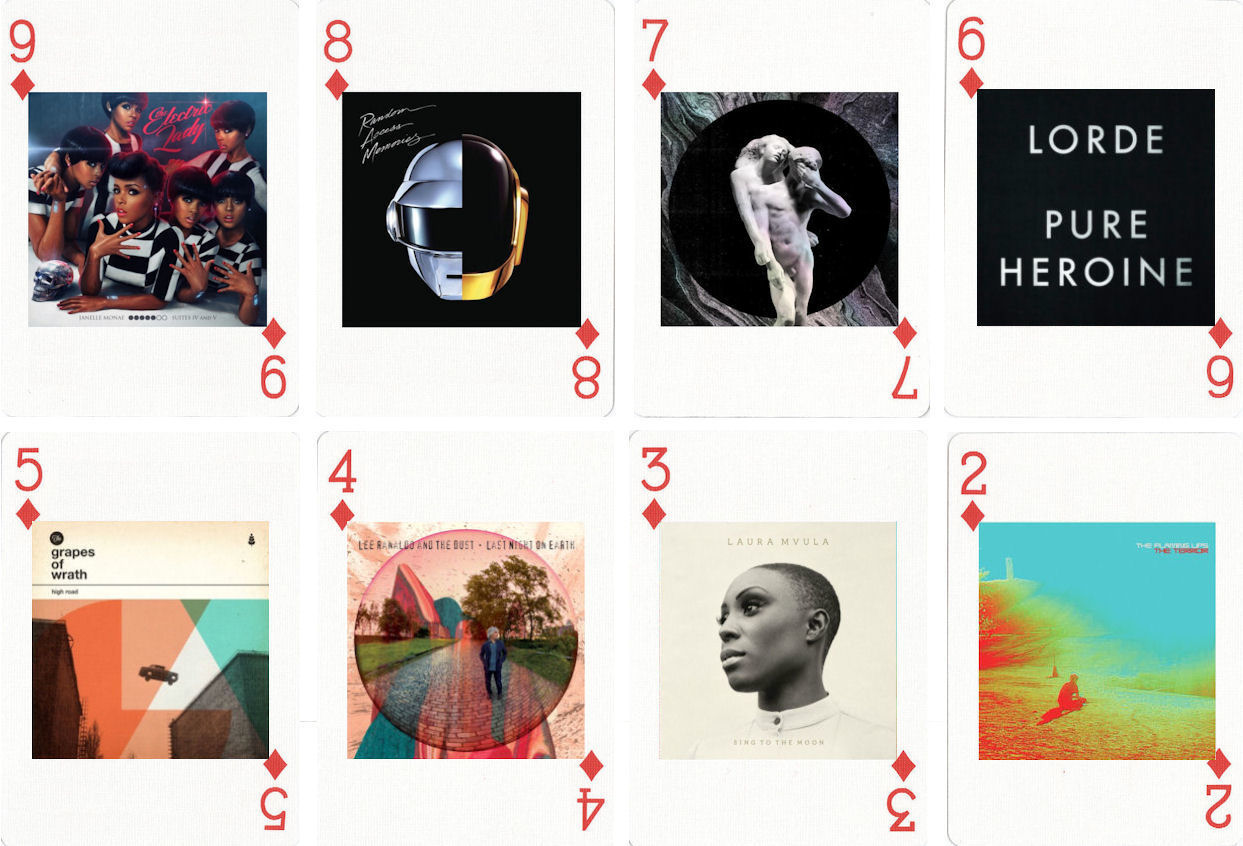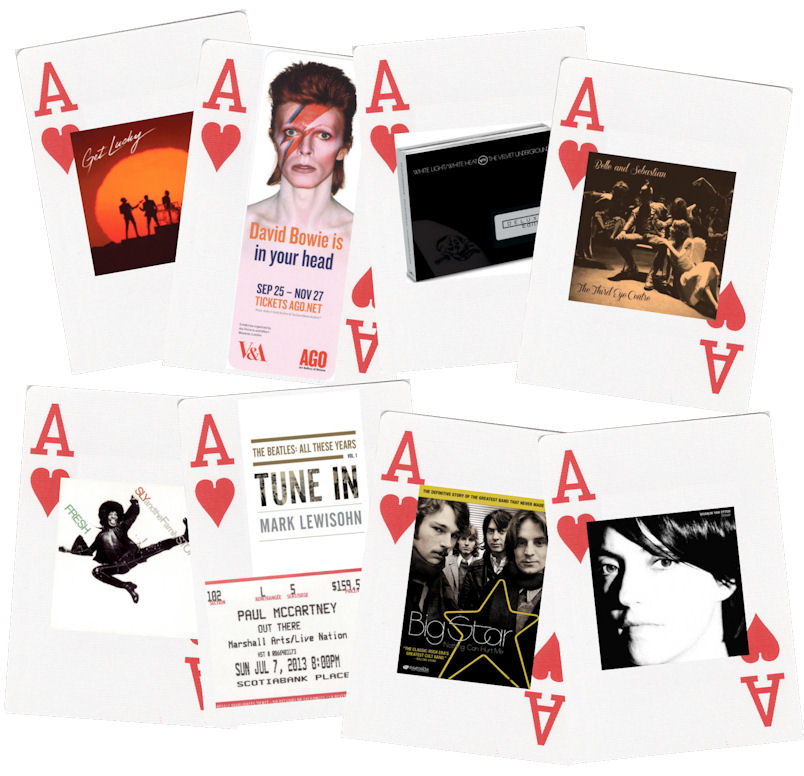 After a colossally bad 2012, it was more like Lucky '13 for me this past year. Cublet and I did have a few challenges but, hey, life's never perfect. Overall it was far more chuckles than cheerless even if the larger world outside our shell seemed crappier than ever: 2013 was truly The Year of the CREEP, with noxious newsworthy names not needing repeating.
In another reversal, while the two previous, personally challenging years were padded with a plethora of prime pop product, '13 produced far fewer standout CDs (including some sub-par follow-ups I'd been anticipating, see: Austra, Phoenix, etc.)  Still, there were a handful of knockouts and a few more near KOs.
Meanwhile, it was a full-on brilliant year for singles, with some even getting deserved widespread popularity ("good" and "widely popular" rarely intersecting over the past four decades IMO, at least on this side of the Atlantic anyway).
STANDARD WARNING: As always with my annual recaps, it's looooong, so scanning, picking and choosing is probably the way too go.  Also, since it takes forever to embed so many videos, I am instead simply linking titles to vids this year. So, here are 13 categories recapping audio-related obsessions from my '13 ….

13 BEST ALBUMS FROM 13
In descending order from ACE to 2 … with ACE & KING pretty much a tie, but since I have to decide ….
ACE. The Weeknd Kiss Land Abe Tesfaye's commercial debut proper got a meh critical response vs his much lauded mixtapes, so I guess I'm in the minority in thinking that he's actually upped his game with Kiss Land. I've been addicted to its narcotic, hypnotic blend of Michael Jackson-fronting-Massive Attack-during-their-Mezzanine-era-regency since its early fall release.  Mind you, Michael never trilled lyrics like "I just love that you're dead inside."  Perhaps he should have.
This headphones-friendly sonic landscape of paranoia and 4am crisis-of-the-soul bleakness is furnished with distorted, crunchy beats contrasting Tesfaye's plaintive falsetto, examining the teeth-grinding travails of pharmacological-and-phucking desperate living.  It also dovetails with a highly welcome, recent wave of left-field divisions in contemporary r&b (see also: Janelle Monae, Kanye West, Laura Mvula, Solange, etc) that are becoming increasingly prominent after years of way too much slick, bland homogeneity.  Although I don't know if that PBR&B moniker is really gonna fly. "Tears In the Rain" .
KING. Kurt Vile Wakin On A Pretty Daze If Kiss Land is a middle of the night bad meth come down, then Daze is a languid spliff and bottle of Corona on a breezily warm summer afternoon.  Gorgeously insouciant yet self-assured, Vile raises the bar set by 2011's Smoke Ring For My Halo with this this no-filler 69 minutes, populated by oft-lengthy tracks that incredibly don't outstay their welcome. "Girl Called Alex" .
The Other Face Cards:
QUEEN. Phosphorescent Muchacho Brooklyn-by-way-of-Alabama's Matthew Houck delivered a stunner with Muchacho, replete with engaging material from start to finish, not least of which its compulsive single "Song For Zula" (see my choices for singles of the year).  If you've ever wondered what it may have sounded like had Brian Eno produced Bob Dylan & The Band in the mid-'70s, Muchacho provides a clue. "Ride On/Right On" .
JACK. John Grant Pale Green Ghosts Songsmith Grant follows up his 2010 breakthrough, Queen of Denmark, with further word-clever meditations on the Fine Art of Self-Loathing (and hopefully moving past it), alternating the melodic '70s sound that marked Queen with an '80s electro vibe, cued from his clubbing youth. "Pale Green Ghosts" .
TEN. David Bowie The Next Day/The Next Day Extra It was shock enough that Bowie returned from presumed retirement with an unfathomably-kept-under-wraps new album — never mind how good the result actually is.  While "his best since Scary Monsters" sentiments were inevitably trundled out, this actually was his first album in 33 years that can truly sit at least somewhere at the same table as his classic 70s output (okay, this one and Heathen).
However, a year-end deluxe edition with a bonus disc soured me somewhat on the original March release: to my ears, a wide swath of the best material was left off the official album.  WTF???  Seriously, David, you really thought that "God Bless The Girl" wasn't quite up to snuff?  Glad it eventually came out anyway, and great to have him back.  I'd recommend the Extra version, though, wherein you can make your own, improved track listing.  (See more on David down the page) "The Next Day" .
The Remaining Deck:
9. Janelle Monae The Electric Lady Monae follows up the genuinely stunning ArchAndroid with The Electric Lady aka the further adventures of droid Cindi Mayweather.  While it matches its predecessor's ambitions, it sometimes does so at the expense of the actual tunes, a quandary Disc 3 will hopefully redress.  I'm betting she'll pull it off and that she's a talent for the long run. "Dance Apocalyptic" (on David Letterman) .
8. Daft Punk Random Access Memories This long-gestating pean to '70s/'80s-style grooves saw the Parisian robots switching gears, parlaying their trademarked hooks via largely organic avenues with hardly a synth in sight.  And it mostly works too, although Discovery still remains THE DP benchmark.  Complaint: What the hell is Paul bloody Williams and his Phantom of the Opera-esque dreck doing on here, clogging up eight excruciating minutes in the middle of the disc? "Giorgio by Moroder" (featuring Giorgio Moroder) .
7. Arcade Fire Reflektor This may be their Achtung Baby (my pick for U2's most cats-pyjamas outing).  With the overly earnest Suburbs as my least favourite AF release, this more electronic, left-turning follow up — with LCD Soundsytem's James Murphy's fingerprints all over it —  is their best yet. "Awful Sound (Oh Eurydice)" .
6. Lorde Pure Heroine While the "Royals" single hit me instantly, the rest of the album was a bit of a grower, but grow it has with its gothy, beat-pop minimalism.  Time will tell weather this is an early apex or Chapter One of an unfolding story for the old-before-her time New Zealand teen. "Ribs" .
5. The Grapes of Wrath High Road The reunion of the original Grapes trio turns out to be possibly the second finest overall disc in their catalogue, behind the ever-shimming perfection that was and remains their 1989 opus, Now and Again.  A welcome return and return to form. "Take On the Day" .
4. Lee Ranaldo and The Dust Last Night On Earth Very much of a piece with the melodic, introspective rock of Between the Time and the Tides, Earth features even more delicate pieces, such as the harpsichord-driven "Late Descent #2," alternating with material more representative of his killer live dynamic. (I saw Lee and the Dust play a superb show at the Horseshoe in Toronto last fall — see live gigs below — and will be writing about and posting vids from the gig once I catch up and have some technical issues dealt with respectively.) "Late Descent #2" .
3. Laura Mvula Sing To the Moon A flawed yet promising debut from UK soul songstress Mvula that's hard to pigeonhole, usually a good sign in my book.  Spare, rhythmic, and ethereal, it looks forward and backwards simultaneously. "Is There Anybody Out There?" (Live at The Tabernacle) .
2. The Flaming Lips The Terror Someone's been taking the brown acid.  The Lips' prankster carnival tumbles into the abyss with this icy chill of bad-trip exploration of ill will.  The inverse/comedown of The Soft Bulletin's/Yoshimi's happy death songs.  Wayne and the gang will not go gently into the night(mare), and bless their freaked out minds for it. "Look … The Sun Is Rising"

 13 BEST SINGLES/TRACKS OF 13
While it was a so-so year for long players, it was a superb one for short subjects: lots of great singles from often good albums.  And most of below were official singles rather than personally selected deep cuts. 
Single of the Year (Decade?):
1. Daft Punk "Get Lucky" Resistance is futile for this soul-selling-worthy synthesis of Daft Punk and Chic.  Nile Rodgers pulls out a "Good Times"-esque treat that's still very much of a piece with the Daft Punk musical lineage, with Pharrell Williams taking it home.  THE soundtrack to my spring and summer, my iPod playlist says that I've so far given this one 89 ear visits, and that doesn't include spins of the physical CD.  It'll still be filling dancefloors when I'm in my grave.  Perfect pop.  Perfect dance music.
A Trio of Runners-Up:
2. Lorde "Royals" As with "Get Lucky," this obscenely catchy piece of pop minimalism truly deserved the global success it received.
3. Phosphorescent "Song for Zula" A brooding, hypnotic opus that didn't get the ubiquitous treatment meted out for "Get Lucky" and "Royals," but it sure as hell deserved it in my book.  This frail, hallucinatory lament opens by interpolating Johnny Cash's "Ring of Fire" and ascends from there.  Sublime.
4. David Bowie "Love Is Lost (Hello Steve Reich Mix by James Murphy for the DFA)" One of The Next Day's more middling tracks here utterly transformed by LCD Soundsystem's James Murphy into a whole new league.  Without question, this is the version that should have been on the original album. .
The Rest of the Deck:
5. Kurt Vile "Wakin On A Pretty Day" Nine-plus sublime minutes of Vile's sleepy voice and slow chiming guitar.
6. David Bowie "The Stars (Are Out Tonight)" The type of catchy angular guitar pop that Bowie used to dish up effortlessly, and pulls off once again.
7. Laura Mvula "Green Garden" Cleverly recalling Nina Simone's "See-Line Woman" and a terrific showcase for Mvula's voice.
8. Arcade Fire "Refkector" This clubbier take on the AF sound had me hooked from the start — and David Bowie pops by for a line or two as well.  Of lyrics, of course.
9./10. Janelle Monae & Erykah Badu "Q.U.E.E.N." / Janelle Monae & Prince "Give Em What They Love" Can't decide which one I like better, so here are the two highlights from The Electric Lady.  The latter is the best thing Prince has been part of in a dog's age.
11. Beck "Sound and Vision" James Murphy wasn't the only one deconstructing David Bowie in 2013, as Beck started out the year with this truly audacious re-imagining of The Dame's 1977 Low nugget — with 160+ musicians chipping in.  I'm embedding the video for this one as it has to be seen as well as heard … appropriately.  If you haven't eyeballed this, trust me, it's worth it.
12.  Akron/Family "Until the Morning" Akron/Family give Phosphorescent's "Song For Zula" a run for its money in this year's Sweet Melancholy Sweepstakes with this number.
13. The Stooges "Burn" Best damn slice of Iggy Pop since I can't remember when, doing just as it says on the tin.  And welcome back James Williamson.

13 BEST LIVE SHOWS OF 13
I am well behind in my writing on live shows as I saw so many excellent ones last year.  And given that, going forward, I intend to try focusing as much on the past means that you won't be reading about some of these sets until later in the year … but I'll get there.
Best Gig of The Year:
Paul McCartney, July 7, Canadian Tire Centre, Ottawa (coming up as 179)
Macca's getting up there, and I'd seen him on TV a number of times lately missing the high notes and sporting GrandDad Voice (GDV™) during interviews.  Ergo, I went into this one with diminished expectations … only to be blindsided.  Perhaps because this first time ever in Ottawa was preceded by a break from touring, Paul had remarkable energy, was in splendid voice save a couple of exceptions for a 40-odd-song near-perfect set list, with nary a hint of GDV during the substantial between-song patter.  And we all got to sing Happy Birthday Ringo.
The Two Runners-Up: Patti Smith, September 4, Ottawa Folk Festival, Hog's Back Park (coming up as 180)
Belle and Sebastian, July 6, Ottawa Bluesfest, LeBreton Flats .
The Remaining Deck: (I found ranking the bulk of these shows too tough as they were all pretty sterling, and so, in alphabetical order ….)
Bjork, July 13, Ottawa Bluesfest, LeBreton Flats (coming up as 178c)
David Byrne & St. Vincent, June 23, Ottawa Jazz Festival, Confederation Park
Emmylou Harris & Rodney Crowell, September 6, Ottawa Folk Festival, Hog's Back Park (coming up as 180)
Phosphorescent, July 13, Ottawa Bluesfest, LeBreton Flats (coming up as 178c)
Lee Ranaldo & The Dust, October 11, The Horseshoe, Toronto (coming up down the line)
The Specials, July 8, Ottawa Bluesfest, LeBreton Flats (coming up as 178b)
Sharon Van Etten, July 6, Ottawa Bluesfest, LeBreton Flats (coming up as 178a)
The Waterboys, July 12, Ottawa Bluesfest, LeBreton Flats (coming up as 178b) .
… and perhaps just a wafer thin mint below a tremendous live deck …
The Black Keys, July 4, Ottawa Bluesfest, LeBreton Flats (coming up as 178a)
World Party, September 8, Ottawa Folk Festival, Hog's Back Park (coming up as 180)

 BEST REISSUE/BELATEDLY ISSUED OF 13
The Velvet Underground White Light/White Heat (45th Anniversary Deluxe Edition)
For those who've heard of the Velvets as abrasive proto-punk noisniks only to be confused when confronted with the largely gentle folk-rockish introspection of the self title third disc or the snappy pop rock of Loaded, White Light/White Heat is the one you were expecting to hear.
From the feedback freakout that is "I Heard Her Call My Name" to the ever-disturbing "Lady Godiva's Operation" to 17+ marauding minutes of "Sister Ray" to the amphetamine rush of the title track and beyond, no amount of studio revarnishing will ever turn this into Easy Listening, and that's part of its darling, corrosive charm.  Still, it's sounding better here than ever.
Overseeing this deluxe edition is one of the last things Lou Reed did before his death this past autumn, with John Cale chipping in his personal, pristine recording of the group's famous Gymnasium show bootleg. "I Heard Her Call My Name" .
I must also mention The Beatles' iTunes-only release The Beatles Bootleg Recordings 1963.  While it was fine to have another BBC volume this past year (I suppose it's too obvious to ask for, say, a complete BBC box), this copyright-projection initiative — sold directly online to a niche Beatles sub-market — is far more interesting to me than the majority of the perpetually simple-minded and wrong-headed projects the Beatles Brain Trust tends to trundle out.
While the group still command a mass audience, there are those of us who are far more interested in the art and process of the Beatles music rather than simply recycled no$talgia, and for that, Bootleg has plenty of revelations.  I truly don't need another damn hits compilation or pointless garbage like Love.  Even if I already had some of this stuff on bootlegs, it's nice to have it out there officially, in decidedly cleaner audio.  More please.

 BEST COMPILATION OF 13
Belle and Sebastian Third Eye Centre While not quite stunner that was the Push Barman collection of singles and EPs, Third Eye Centre holds together as better than expected considering that it's more of a hodgepodge.  A nice stopgap en route to their next album proper. . "Suicide Girl"

BEST MUSICAL SCREENS O' 13
Big Star: Nothing Can Hurt Me
Nothing Can Hurt Me is an affecting recounting of Big Star's story: one of the very best bands of the 1970s whose bad luck was every bit as staggering as their timeless music.  From their shimmering Beatlesque proto-Power Pop beginnings with #1 Record through to the emotional and psychological disintegration captured musically  on the years-ahead-of-its-time masterpiece Third/Sister Lovers (on my 15 LPs shortlist), this decidedly atypical Memphis band were hopelessly out of time and place and on the wrong label.
But the music lives on as an enduring influence that continues to snowball with the decades.  Acts from R.E.M. to Elliott Smith are unthinkable without them.  The doc also made me pull out each of the three Big Star CDs and fall in love with them all over again. Nothing Can Hurt Me Trailer .
Other celluloid tune-ish faves: I adored Good Ol'Freda — both the documentary and its subject, the fab, gear, and a heretofore tight-lipped secretary, fan club head and all-round inner circle lass for the pre- and post-fame Beatles.
Across the pond, the New York City folk scene of the 1960s was the focus of two other music-related faves from last year: the Cohen brothers' Inside Llewyn Davis, a tone poem to squandered potential which nails a variety of music world templates I've met many times in my own way, and the documentary Greenwich Village: Music That Defined A Generation.
I also watched Woodstock for the first time in a couple of decades; I'd forgotten what an outstanding time capsule it is.
Finally, I loved Behind the Candelabra even though I was never a Liberace fan, at least not in a non-ironic sense.
As for non-music highlights: the best thing I saw all years was NO, about the 1988 Chilean referendum and election that deposed Pinochet; 56 Up, the latest installment of the always fascinating Up series; Almodóvar'sI'm So Excited, the funniest thing I saw in '13;  and the Love, Marilyn doc.  Small screen howdy-dos go out to Mad Men, Downton Abbey, Portlandia, and Murdoch Mysteries.

 BEST MUSICAL PAGES O' 13
The Beatles: All These Years, Volume 1: Tune In by Mark Lewisohn
In terms of books chronicling The Beatles' pre-fame years, there's now two camps of publications: this one and every other book ever written on the subject.
For many Beatlemaniacs like myself, it's been a long decade anticipating this first part of the trilogy by the de facto Dean of Beatles-ania, Mark Lewisohn (author of the essential The Complete Beatles Recording Sessions among others), and it does not disappoint, to put it mildly.
A forensic-like exercise incorporating unprecedented information gleaned from hundreds of never before interviewed players and examined documents and personal communications, this 800+ page mass market first volume is a revelation. It launches with the arrival in Liverpool of most of the fab's ancestors in the mid-1800s (mostly escaping Ireland and the potato famine) through to December 31, 1962, with debut 45 "Love Me Do" having just bothered the UK charts and the now-settled line-up of four on the cusp of exploding in their native country and then the world.  As the book makes clear, their career was never a given, and there were a lot of stop-starts, detours, setbacks, and auxiliary members — and plenty of pure dumb luck mixing with nascent talent —  on the road to Beatlemania.
There is also the matter of the 1,700-page expanded version released only in the UK, quickly selling out and not looking likely to appear anywhere else in the world soon to the frustration of many, not least of which author Lewisohn himself.  It'll show up again sometime down the road, I'm sure.  Sigh. Regardless of version and for a variety of timing and access reasons, this book will go down as probably the last word on the subject as it's doubtful that anyone at any point in time will ever be able to tell this tale this meticulously ever again.
The countdown starts for Volume 2, due in several years time.
Mention also goes to Morrissey's Autobiography.  As a Smiths fanatic back in the day, and still now, I've long seen Moz as a talented wordsmith with a razor sharp wit … who is probably insufferable and deeply difficult to work with (something he even cops to in the book on several occasions).  The first chunk dealing with his almost Dickensian life in Manchester during the' 60s and '70s is engrossing reading, gorgeously told.  However, once The Smiths enter the picture, things go from This Charming Man to Heaven Knows I'm Miserable Now.
The book's subtitle could well be Morrissey's 1001 Unforgotten, Unforgiven Slights!  I think it's also beyond safe to say that The Smiths will never, ever reunite.
I also have to send out a shout out to for Graphic Underground: London 1977-1990, a visual collection of promotional posters and visual ephemera from the punk and indie scenes in my hometown of London, Ontario.  Curated by Brian Lambert, it's a beautifully laid out trip down memory lane for me, full of flashbacks to handbills formerly plastered all over downtown back in the day.  (I've already written a bit about this scene in London and will be doing so again soon — look out for #29 in the My Life — In Concert! series).

 BEST 2012 ALBUM THAT I DIDN'T DISCOVER UNTIL 2013
Sharon Van Etten Tramp
Finally got round to picking this up last February after reading a steady stream of press raves for the Brooklyn-based songstress.  And the raves were not in vain.  "Magic Chords" would also have rated as one of the very best singles of said year as well.
"Magic Chords" (Visually stunning video … if anyone can explain what the dickens is going on, drop me a line.)
Special mention also goes to David Byrne and St. Vincent's Love This Giant.  I bought it at the time of release and it was my #21 choice, just missing last year's list.  However, after seeing the twosome's knockout performance last summer, I returned to it with a whole new appreciation and realized I'd sorely underestimated it.

ARTIST

ALBUM FROM THE PAST WHO I DISCOVERED IN 13
Sly and the Family Stone Fresh
This year I am picking an album discovery instead of an act: Sly and the Family Stone's Fresh, from 1973.  I'd only ever heard three tracks from this set, including my pick for S&TFS's penultimate track, "If You Want Me To Stay" (second only to "Family Affair") and recall it getting an otherwise tepid response at the time of release.
Last year I kept coming upon opinions ranking this set as outstanding.  So, 40 years later I picked it up and … how the hell did I miss out on this  '70s funk colossus?? It may not be the exact equal to There's A Riot Goin' On, but who cares?  Great is great, regardless.  The opening track alone, the percolating "In Time," is up there with "If You Want Me To Stay," while the reissue CD features a number of alternate takes and mixes which sometimes best the official versions.
Sadly, this was the last grasp of greatness for Mr. Stewart. I don't need to fill you in on what happened next.  But this was one sweet final chapter.  I spun it well and often last funky summer alongside mucho Parliament and Funkadelic. "In Time" .
Also of discovery note: Toronto Sunshine Pop-sters The Sugar Shoppe (with Victor Garber no less) and "Reach Out Of The Darkness" by Friend and Lover (Thanks Mad Men!).

 OLDER ALBUMS I REDISCOVERED 13
In tandem with the new, I'm always going back to the old too.  Here are some blasts from the pasts that I dusted off and rediscovered via fulsome plays in '13.

LUCKY 13: THE RETURN OF DAVID BOWIE
After an album-less and mostly silent decade following his near-fatal heart attack in 2004, the return of the presumed-to-be-in-retirement David Jones from Brixton was the music shocker of 13.  His quietly slipping out a video for brand new single "Where Are We Now?" along with an album announcement on his January 8, his 66th birthday caught everyone off guard — a rare feat in this era of oversharing and instant online leaks.
That the resulting album was a strong one was yet another surprise (this also shores up my belief that legacy artists should only release new material when truly inspired to do so — see also Bob Dylan's recent albums).  By year's end, Beyoncé was replicating Bowie's Surprise! non-marketing marketing approach to her own new disc that he'd spearheaded at the start of the year.
There was also the long-in-planning record-breaking David Bowie Is retrospective at the Victoria and Albert Museum in London which luckily made Toronto it's next stop (and which yours various thoroughly enjoyed).
Add in a cameo on the Arcade Fire's "Reflektor" single and inventive reinterpretations of Ziggy White Duke numbers by Beck and James Murphy, and voila!: instant comeback. And all done without a single interview or personal appearance. Hopefully the latter will change in '14 … Meanwhile, one of Bowie's greatest mentors and friends had a less celebratory year …

 NOT SO LUCKY 13: THE PASSING OF LOU REED
I've already written here about what Lou Reed meant to me and how sad I am at his passing following complications from a liver transplant last spring.  Still, I had to shout out his passing once more. Satellite's gone up to the sky …. "Goodnight Ladies" (1972)

BAD TUNES-Y NEWS
Three particular lowlights jump to mind:
Stones Ticket Prices: I was all fired up to see the Stones on their 50th Anniversary tour but dropped that idea faster than a fix of heroin zooming up Keith Richards' arm once I caught wind of the egregiously avaricious prices.  OK, so big shows are more expensive these days, but $500-600 for regular seats?  Fat chance, lads.  I wouldn't spend that for anyone, I don't care who you are.  I was, however, delighted to hear of how they had a hard time selling out most of the North American shows and had to redesignate a number of seats.  You can't always get what you want.
Arcade Fire's Mandatory Dress Code for Shows: AC ticket prices certainly were reasonable.  Less so was the demand that everyone had to show up in formal wear or a costume.  Fat chance, lads (and lassies). I am not dressing in a costume unless its Halloween nor am I wearing my expensive business suits to a hot sweaty concert.  I had every intention of trying to get tix, but to make those sorts of demands soured me completely.  Amazingly, they later claimed that it wasn't a mandatory thing, honest (um, yes it was kidlets).  Your new album's great, gang … the imperious attitude, less so.
Joni Mitchell's CBC Interview: One wonders at the energy involved in being this consistently sour and contrarian … or perhaps she was cosmically unnerved by now disgraced Jian Ghomeshi. While the interview had its moments … Joni: If you hate this media game so much and find most of your musical output so crappy, you can simply stay home and silent … just sayin'.
Music-related deaths from 13 that resonance for me: The Doors' Ray Manzarek, Producer Shadow Morton, Patti Page, Stompin' Tom Connors, Kevin Ayers, Donald Byrd, JJ Cale, and Devo's Alan Myers.
All Graphics (minus covers) by VA.
ALL ANNUAL RECAPS:
                                              
. . . . .
.
Next On Stage —> I will be making a conscious effort to write more about past shows in my blog for greater parity re: writing about new ones. I've got a backlog of recent gigs to cover and given the time it takes to research, write and create graphics for each entry, it means that the chronicling of days of yore — the main focus of me starting this project — is getting lost.
So because of this (and also some video-related tech problems at my end which should be soon solved), the much-delayed Bluesfest 2013 pieces (and Macca etc.) will arrive here in early spring.
Next Up is my look at a loopy four-day trip to NYC in 1983. While I will be discussing the performances by hardcore titans The Circle Jerks and post-Throbbing Gristle offshoot Psychic TV that I took in while there, these two entries will more broadly detail the madcap trip to Manhattan as a whole, recounting the hijinks that M.Zeppelin, Miss Bennies, myself, and others got up to (if you've read my piece on the Flipper show, then you'll have some idea of what to expect).
Stay tuned for mosh pit whoopsy-daisys, gang confusion in Washington Square Park, Mr. Brooke Shields aka Broadway Bob, hallucinatory pulsing orange dots of light in the Danceteria bathroom, and the connection between "peace, love and groove" and (almost) flying hams on Madison Avenue.
023. Back Against The Wall: The Circle Jerks, The Reggae Lounge, New York City, New York, USA, November 1983
024.Discopravity: Psychic TV, Danceteria, New York City, New York, USA, November 1983 …
also following soon …
025. Here I Am: UB40, Centennial Hall, London, Ontario, March 7, 1984; Alumni Hall, UWO, London, Ontario, March 14, 1985 
Text, Cards and Dice© 2014 VariousArtists