Ten years on from my hearing "Space Oddity," I finally get to see and hear Bowie live during the Serious Moonlight tour.
Ticket Price = $22.50 (2023 Price = $59 Canadian)
ORIGINAL 2013 BLOG ENTRY FROM OPENSALON.COM FOLLOWS BELOW
This is the big one! THE ultimate! The single most anticipated show I ever attended, when I—along with my co-hort Miss B—and 60,000 other fans, all of whom who were going Absolutely Freakin' Bananas, moseyed on down to a packed CNE Exhibition Stadium during a sweltering Labour Day weekend in 1983 for David Bowie.
He was on his global Serious Moonlight tour for his worldwide smash hit album, Let's Dance, with the great Rough Trade opening the show and warming up the troops.
On the exact same weekend a year earlier, I had seen The Clash at this same venue (EP 18).  Now I was back and seeing an even more hotly anticipated show.  And he surpassed my expectations.
In Part One, Episode

29A, Changes: Bowie, The '70s, and Me

—a prelude to this episode—I look back on first hearing David Bowie on the cusp of 1973 as well as take an in-depth journey through his recording career, from 1964's "Liza Jane" through 1983's Let's Dance, but also examine his impact on me and the larger culture throughout the rest of that decade. (Listen to the episode below following this introduction, and click through and visit the original blog entry.)
Join me in returning back to this CNE show on that gorgeous Labour Day weekend in 1983—ending one of the most memorable summers of my young life with an unforgettable climax.
Tune in for being caught up in the rush of crushing crowds, Hamlet references, bamboo steamers among the Bowie masses, and the most exciting show of my life. 
Next On Stage –> My final 1983 gig-going-entry recaps a couple of shows I took in during a crazy/nuts four-day trip to NYC. 
While I will be discussing the performances by hardcore titans The Circle Jerks and post-Throbbing Gristle offshoot Psychic TV, I'll also be looking at the madcap trip to Manhattan as a whole, recounting the hijinks that MZ, Miss B, myself, and others got up to. 
If you've heard or read EP 25 on the Flipper show at Fryfogle's, then you'll have somewhat of an idea of what to expect.
Tune in for destroyed hotel rooms, terrified cousins, "Peace, Love and Groove," Danceteria bathroom hallucinations, Brooke Shields' husband: Broadway Bob, and Pterodactyls and Manifestations in Episode 30, Back Against the Wall and Discopravity: The

Circle Jerks at the Reggae Lounge on Wednesday November 16th

, and

Psychic TV at Danceteria on Thursday November 17th

, both in New York City in 1983.
Click on the links above to read the original blog entries for The Circle Jerks and Psychic TV shows.
ORIGINAL 2013 BLOG ENTRY FROM OPENSALON.COM
022b. Let's Dance: David Bowie with Rough Trade, CNE Stadium, Toronto, Ontario, Canada, Saturday September 3, 1983, $22.50
In Part One, I wrote about what Bowie and glam rock meant to me, my impressions on how his emergence had a broader impact on the 1970s, and his musical shape-shifting.
In this second segment, I focus on his 1983 comeback via the glossy commercial juggernaut, Let's Dance, and my thrill at taking in a brilliant set at CNE Stadium — with openers Rough Trade — along with my pal Miss Beach and 60,000 others over the Labour Day weekend.
.
Interest ran high for this new Bowie album in my corner of the world. What bold new step forward would this upcoming release portend? What adventurous new direction would his sound take?
In my mind, I had the idea that it would be some kind of merge between synthpop and noisy, angular post-punk experimentation, something like The Human League meets The Birthday Party. I knew that Chic's Nile Rogers had supplanted Tony Visconti in the producer's chair, which was potentially interesting.  Perhaps it was going to be an avant-funk kind of thing, I reckoned, like perhaps the Gang of Four's Solid Gold, campadrés the Talking Heads' Remain In Light or maybe 1982's Thermonuclear Sweat by Defunkt, lead by that other Bowie, Joseph.
I was also stoked to learn that the album would include a cover of possibly my favourite song that he'd co-composed with Iggy Pop, "China Girl" from The Idiot. That album being on his mind was further proof to me that Our David was tapping into the right vein, and something bold and special was about to be unleashed after years of anticipation.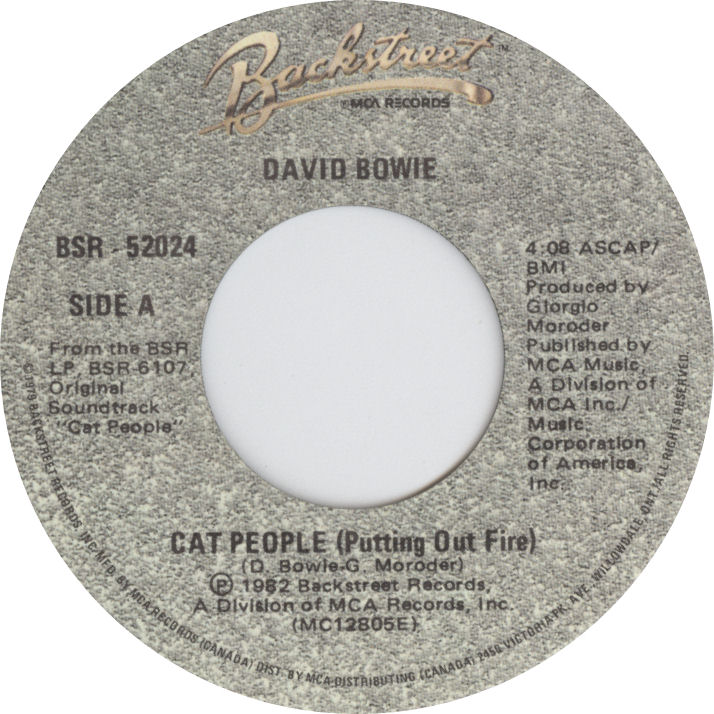 (All label and program scans by VA)
On the morning of Let's Dance's release in April, I was outside the front doors of Records On Wheels on Dundas St. in London, Ontario, ready to purchase the very first copy they had. I was probably back home by 10 am, with the warm fresh vinyl spinning on my turntable as I cued up Side One with immense anticipation. And it turns out this brand new album was ….
…..
…..
… uh … um … ok, I guess. Er … hmmm.
Once again, Bowie had thrown his audience a curveball, except this time it resulted in a David Bowie album that was something his output had never been before: bland. It wasn't awful, it was just missing that element that had made his 1969-80 work something special.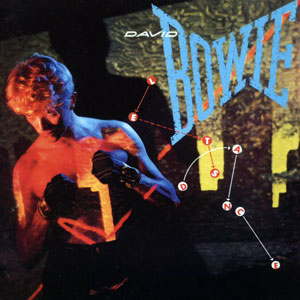 Let's Dance (1983)
I did like the album, and it grew on me in the weeks and months ahead to the point where I liked it very much. The meshing of then-emerging Stevie Ray Vaughan's bluesy guitar playing with the dancey grooves was interesting and worked. It sounded great in the dance clubs too, and most of the people I knew purchased and were playing it, so it was overall hard to avoid and in the air.
Indeed, well outside of my circle, Let's Dance turned into a full-on, multi-hit, multi-million-selling blockbuster, elevating him from Biggest Cult Act to an unqualified, across-the-board Superstar.  It's certainly one of the keynote albums that immediately comes to mind for me when I remember the summer of 1983.  But I never loved it as I had with his previous work.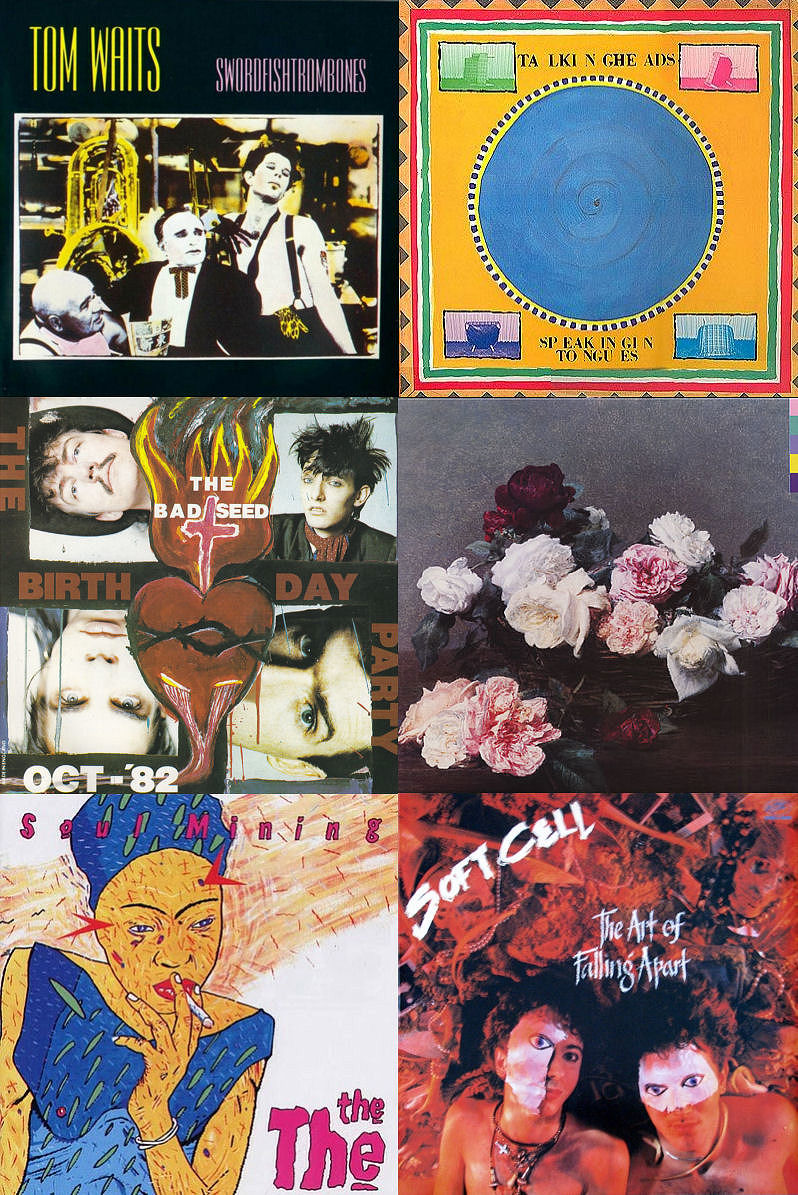 It's 1983! In Pt. 1, I clustered together six albums that were glam favourites for me during 1973 through early '74.  Ten years later, here are six albums that were favourites of mine during 1983-early '84: Swordfishtrombones Tom Waits;  Speaking In Tongues Talking Heads; The Bad Seed EP The Birthday Party; Power, Corruption & Lies New Order; Soul Mining The The; and The Art of Falling Apart Soft Cell.  Click on each title to hear a track from the album.
I'm not one to feel jealous or threatened by a preferred artist's widespread success.  I'm not precious about that sort of thing as others I have known. Ergo, it wasn't Bowie's sudden cultural wallpapering that partially soured me. It was down to the tunes and production: the latter a tad too glossy and smooth, the former a little too slight and obvious.
As for that "China Girl" cover I'd been looking forward to, while I believe he did it for the right reasons (to generate songwriting income for his pal Iggy who was going through a career rough patch at the time) and I do enjoy it whenever I hear it wafting out of radio speakers somewhere, it isn't even a patch on the original.
For my 5th episode in my initial run of kick-off EPs looking at one concert from each decade starting with the '70s, my choice was Concert no. 104. (EP5) Never Get Old: David Bowie with The Polyphonic Spree, Corel Centre, Ottawa, Ontario, Canada, April 2, 2004.  Here is the promo commercial I made for the podcast with all of Bowie's solo album covers from David Bowie (1967) through A Reality (2003) in a morphing series!
Still, Bowie had ditched the cone of silence and I was happy he was back and doing well.  His return was a multi-pronged attack, complete with three new movies.  There was the fun, campy The Hunger, alongside Catherine Deneuve, Susan Sarandon, and Bauhuas, filled with new-wavey vampirism and Playboy lesbianism; a cinema release for Ziggy Stardust: The Motion Picture, chronicling his final gig with the Spiders in 1973; and Nagisa Oshima's sombre WWII film, Merry Christmas, Mr. Lawrence.
But the truly big news was the official announcement of the Serious Moonlight world tour, with a stop at Toronto's massive, outdoor CNE Stadium.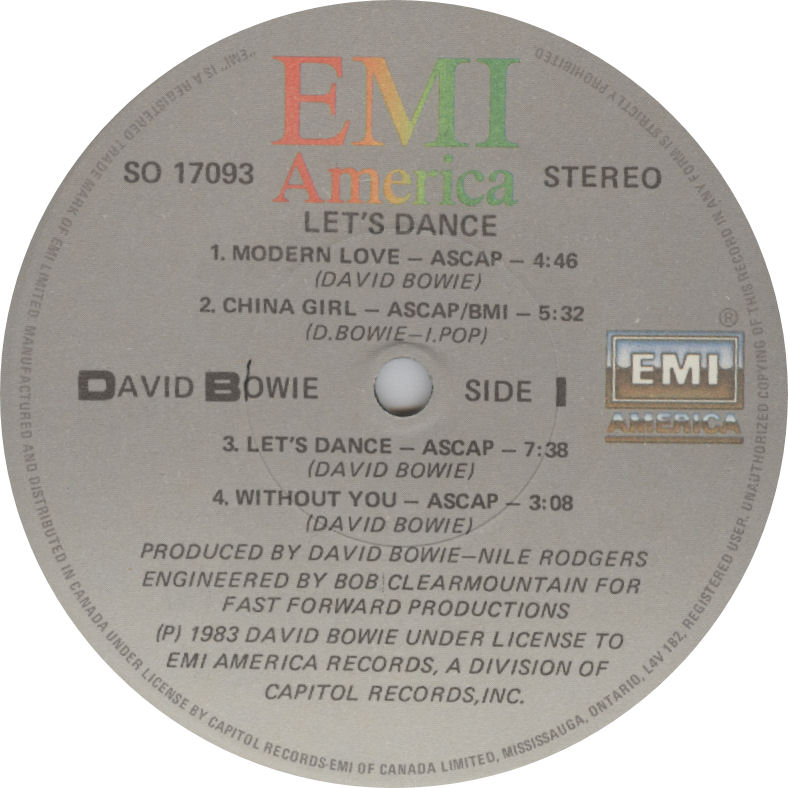 Even though I had unsteady and low-paying-when-I-got-it employment during that recession-ravaged time and was frequently cash-strapped, I had socked away $$ in anticipation of this gig.  I was suitably verklempt to get general floor tix for the event, taking place on Labour Day weekend, Saturday September 3rd.  In fact, ticket demand was so strong that a second night was later added (Toronto's always had a big love for Bowie).
My partner in crime for this outing was Miss Beach.  I have no idea why my pals and fellow Bowie-fans Lady Bump or Special Guests didn't attend this one.  Amazingly, Count Mara, who almost never went to ticketed events, splashed out and took in the Sunday night show. My sister and brother-in-law also went but wanted seats, whereas I had no intention of parking my ass up in the bleachers.  I wanted to force my way to as close to the front of the stage as I could get to bask in the Bowie-ness of it all.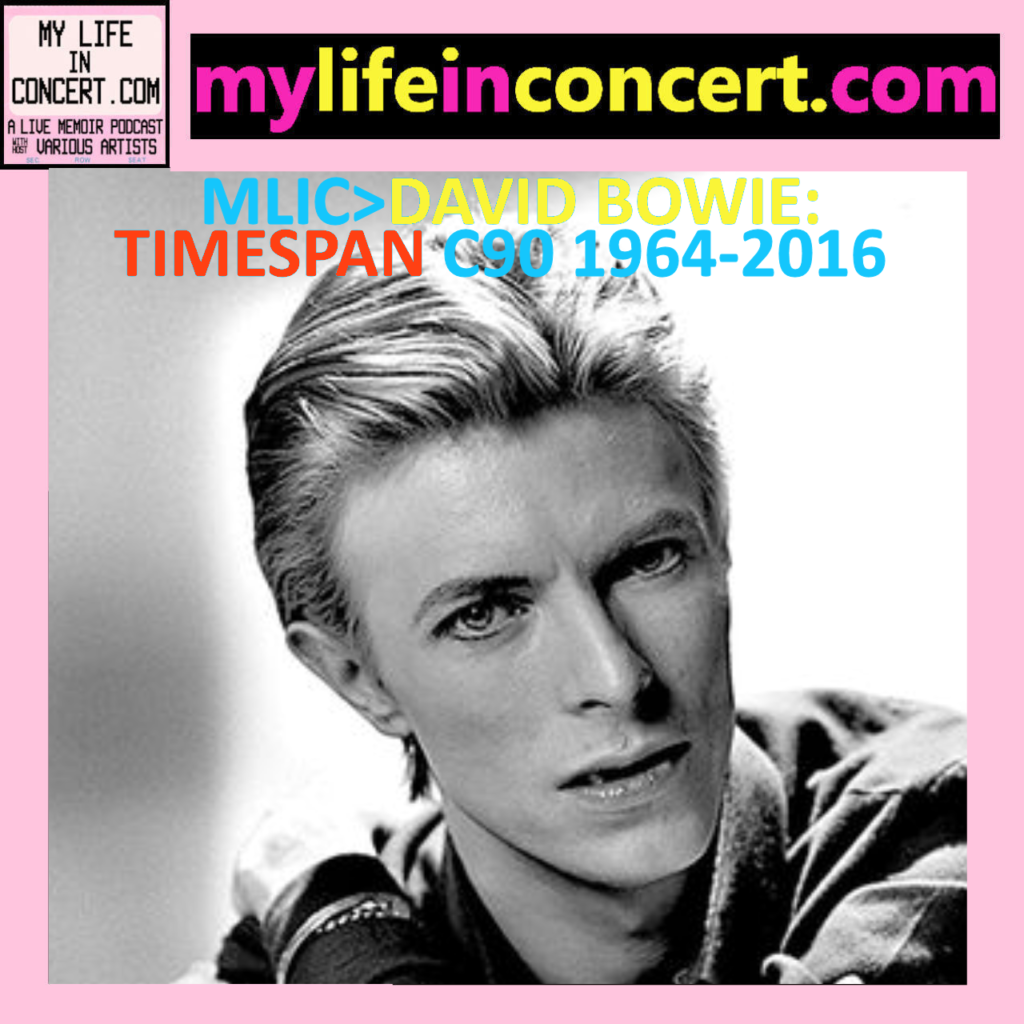 MLIC>DAVID BOWIE: TIMESPAN C90 1964-2016 is my cassette-length overview of Bowie's whole career, cherry-picking the Best of Each LP or Era from 1964 to 2016—It's another in this series of these career-spanning Timespan playlists I have been putting up, with Timespan C90 playlists also for Marianne Faithfull and John Cale.
Fortuitously, Missy B had a brother who lived in Toronto, not far from the CNE, who would also be out of town that weekend.  This meant that we had a close-by crash pad and could walk to and from the gig. Sweet, and a real life saver for me given how tight my funds were at that time.
This was my fourth time at the stadium in little over a year, having endured the bad-drugs nightmare that was the second Police Picnic in 1982, while the wowie-narcotic-fiesta that was the third and final Police Picnic had taken place just one month previous. I was actually on a bit of a roll that month, with that terrific Marianne Faithfull club gig sandwiched in between the two huge Bowie and Police shindigs.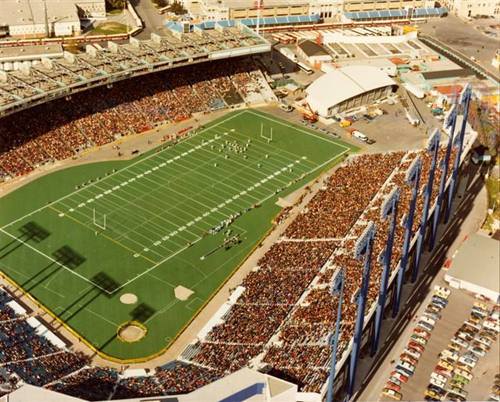 The late, great CNE Stadium, date unknown, from Football.Ballparks.com.
I had also been here exactly a year ago, on the Sunday night of the 1982 Labour Day weekend for one of the best gigs — and double bills — I've ever seen: The Clash and Black Uhuru (for that night, the stadium was partitioned into a one-third-size grandstand configuration of about 20,000).
Miss Beach and I arrived in Toronto early afternoon, and after dropping off our stuff at her brother's, we spent the day hanging out at the Exhibition.  One key memory I always attach to this day is of Miss B buying a bamboo steamer that she had to hang on to throughout the gig.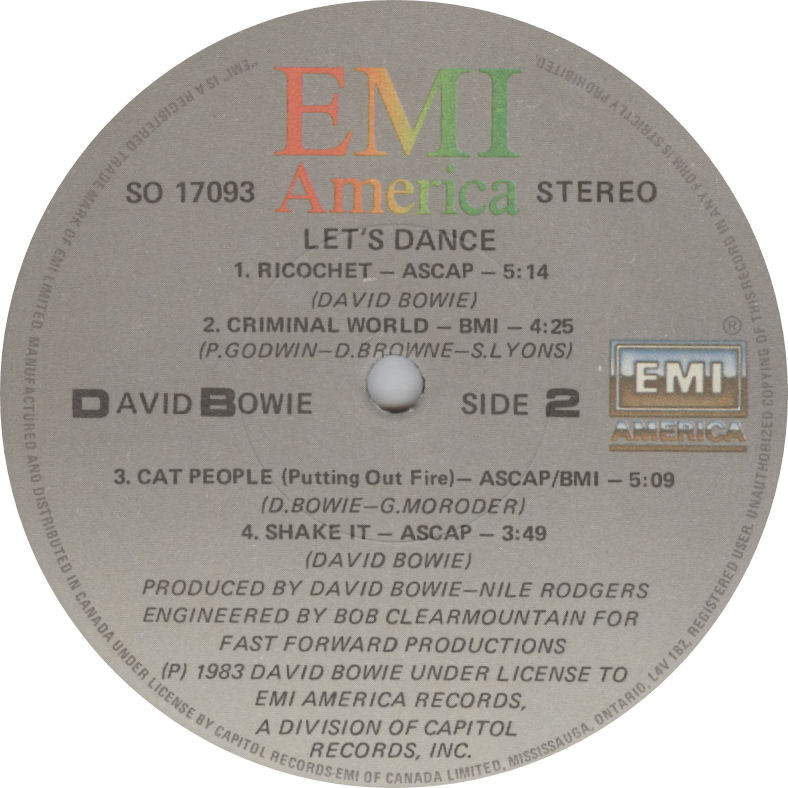 As the evening hours arrived, B and I decided to head in and try to stake out a place on the floor: we were pleased to find ourselves about one-third of the way back from the stage. I was also pleased that one of my favourite Canadian bands, Rough Trade featuring the great Carole Pope, were opening.
The sexually provocative, funky-cum-new wave band were a perfect choice, being children of the glam revolution that Bowie had lead after picking up the Baton from instigator Marc Bolan.
Rough Trade were a hard-to-pigeonhole proposition from the start.  They arose in the last days of glam, presaged elements of punk, but weren't really exactly part of either. They always sort of existed in a realm of their own. The group's line-up changed frequently, with songwriters and creative cores, singer Carole Pope and guitarist Kevan Staples, as its only consistent members. Pope and Staples had met during the late 1960s in Toronto, putting Rough Trade together after several years of previous band permutations. Their sound was initially r&b-based, married to then-shocking, satirical subject matter steeped in gay and SM subcultures and iconography, right down to the group's name.
Early Rough Trade on Peter Gzowski's
Gzowski Live
, recorded in Toronto for the CBC, 1976, performing two tracks from their debut,
Live!
: "Take Me" and their classic "Birds of a Feather."  Listen out for Carole Pope throwing in a "
Mary Hartman, Marty Hartman
" along with the piano flourish at the beginning of "Birds."
.
The band itself went through several iterations during the later '70s, attracting media attention and a tribe of devoted fans in the staid, old-school Toronto and region of yore.  I had first heard about them through a 1975 issue of Rock Scene magazine that also introduced me to Blondie and John Waters, making this perhaps the most important magazine purchase of my life.  Meanwhile, my siblings and their gang would go see them at Fryfogle's in London and rave about them afterwards.
They eventually began making frequent sojourns down to NYC where they cultivated a following.  Lou Reed became a fan, later poaching a few members for his own backing group from one of the earlier iterations.
Following their limited edition, live-in-the-studio, direct-to-disc debut at the end of 1976, Live!, the group were eventually signed to the CBS-distributed True North records in 1980. Their major label debut from later that year, Avoid Freud, sported a more new wave-esque sound and a cover designed by the legendary art collective General Idea.  It was a platinum-selling hit here in Canada, launching them into the national consciousness.  Its Top 20 single, "High School Confidential," was one of the first overtly lesbian-themed hits anywhere in the world.  The song is still a radio staple in Canada, with Carole Pope trilling about "it makes me cream my jeans when she comes my way" wafting out of banks and dentists' offices everywhere.
Above: RoughTrade "interviewed" on SCTV's Pre-Teen World (1980).  Below: The "High School Confidential" video.
I've played Rough Trade Live! and Avoid Freud consistently for 30+ years and never tire of hearing either, although their follow-up albums are terrific too, as the band regularly hit the album and singles charts north of the border during the first half of the decade (I've already written about Carole Pope and will write more about Rough Trade way down the line, via a 2001 reunion tour gig, as no. 099).
At the time of this opening set for Bowie, they were promoting their soon-to-be-released fifth album, Weapons.  In Pope's best-selling autobiography from 2000, Anti Diva, she devotes four pages to Rough Trade's opening shows for Bowie in Toronto and other dates on the Canadian leg of the tour.  Carole is such a talented, witty writer that the whole four entertaining pages are worth a read regarding these gigs (indeed, the entire memoir is a page-turner, filled with wry observations and recollections both sad and funny, with a particularly poignant chapter on her year-long relationship with the deeply troubled Dusty Springfield).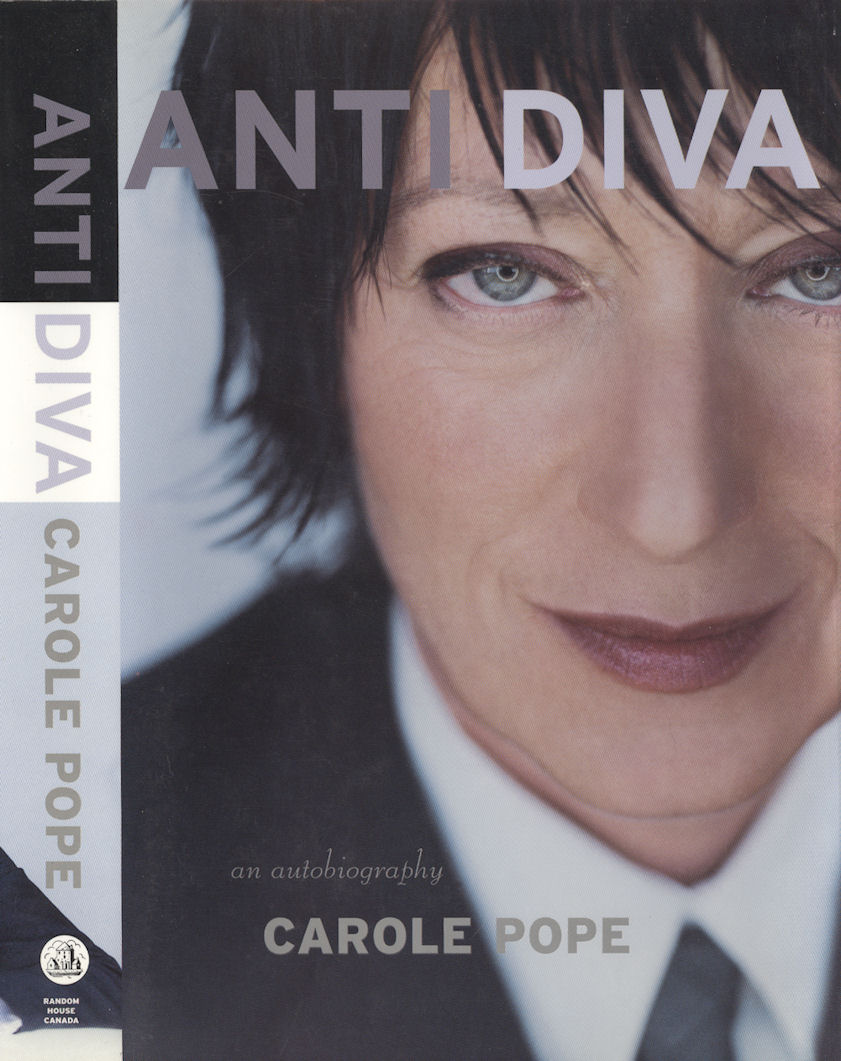 As major Bowie fans, Pope, Staples and the band were pretty stoked about landing this prestigious gig.  In recalling the Saturday night concert in Toronto, she writes "Backstage before the show, 'We had a vision.' to quote Mariah Carey.  Bowie was coming down the hallway, the image of an untouchable rock god.  He was impeccably dressed in a sea-foam-coloured suit that complemented his eyes, one green, one blue.  His hair was quite possibly spun from gold …"
"Our retinas still burning from the splendor that was Bowie, we checked out our dressing rooms.  Then we went to get free food.  There were none of the usual cheese trays with food that you could mould into Play-Doh-like shapes, and luncheon meat you could hurl at the wall and it would stick.  There were sushi chefs, a fully stocked bar and all manner of perks and obsequiousness.  We were loving the alien."
"When it was time for us to play, we gazed out on the sweating masses melting in the humid Toronto weather … Halfway through our set, I noticed Bowie standing at the side of the stage.  I could have thrown up from fear, but opted for the more positive and narcissistic, 'Oh, my gawd, David is looking at me.  I'm being watched by David Bowie.'  We piled off the stage after our set.  We were so high we actually committed a band hug."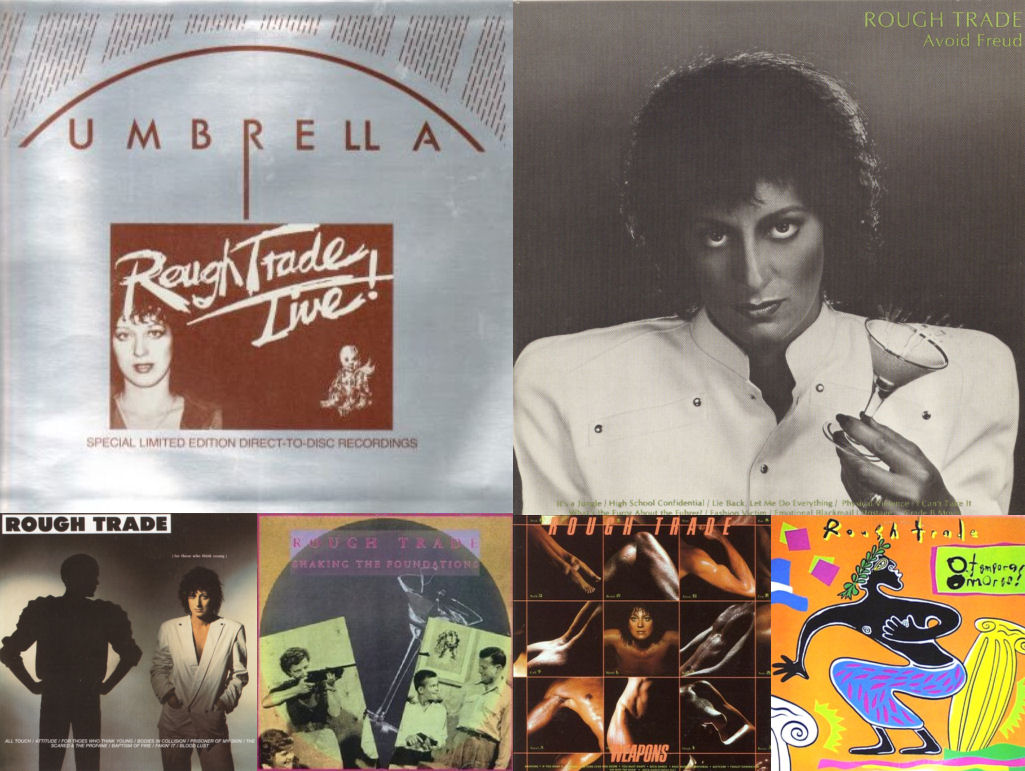 The Rough Trade catalogue: Live! (1976), Avoid Freud (1980), For Those Who Think Young (1981), Shaking the Foundations (1982), Weapons (1983), and O Tempora! O Mores! (1984)
Rough Trade pulled out a terrific opening set that was well received by the partying masses.  Once they had left the stage, the countdown was truly on.  The anticipation was physically palpable — you could literally touch the electricity in the air.  I'd been waiting ten years for this, and when you're twenty, that accounts for a massive chunk of your remembered life.
Plenty of terrific tunes blared through the PA system between the sets, helping quell the seemingly interminable wait time for Dukey's live appointment.  The song I distinctly remember coming on shortly before his arrival was the Talking Heads' "Burning Down the House."  The Heads' Speaking In Tongues was probably THE album of that summer (and New Order's "Blue Monday" the defining single), with Let's Dance and Tongues permanently intertwined in the grey-matter hard drive between my ears.  Not only were Bowie and the Talking Heads mutual admiration societies who had both produced each of their finest work with Brian Eno in tow, chances are if you were a fan of one you were a fan of the other as the stadium-wide sing along with the tune demonstrated.
Shortly thereafter, the houselights dimmed, the intro music pumped out through the system and the packed house exploded in demonstrative euphoria.  If one had been able to tap into the energy in the frenzied  moments framing either side of Bowie's stepping onto stage, it would have been enough to fuel a rocket launch into space.  There was an instant c/rush to the front, with Me, Miss B and her bamboo steamer running along with the mad crowd, crammed shoulder-to-shoulder, perhaps a hundred feet from the front of the stage.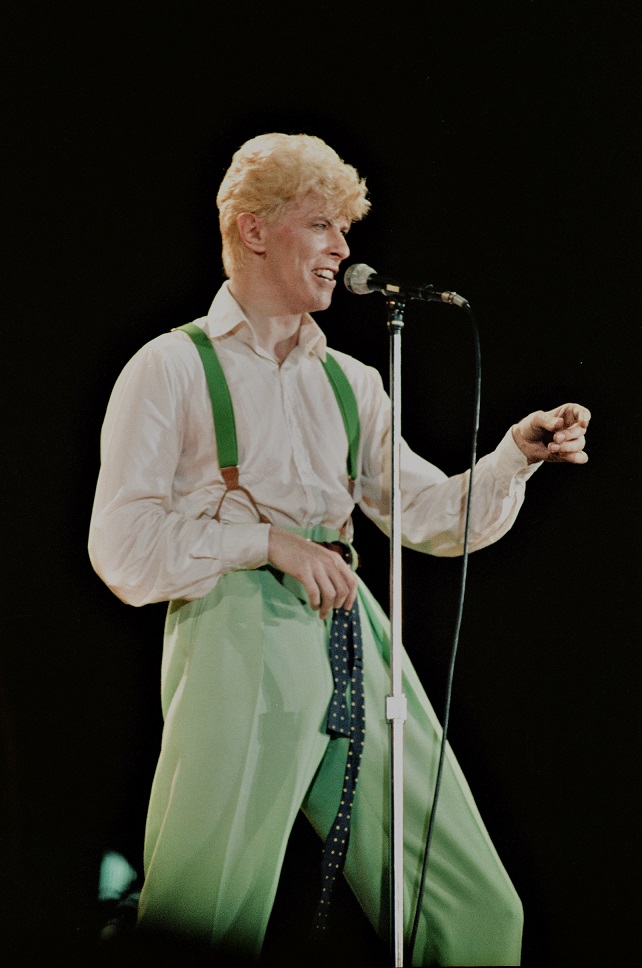 David Bowie hits the stage at the CNE.  (Photo by Jeff Blake)
VA presents … 14 Interesting David Bowie Vinyl Releases for His 75th Birthday To mark what would have been David Bowie's 75th birthday on January 8, 2022, I select and discuss 14 interesting pieces of Bowie vinyl from my collection.
His band featured two key previous sidemen, guitarist Carlos Alomar and Earl Slick.  Additionally, Chic's Tony Thompson was on drums and along with a killer horn section in tow.  The whole backing band of ten were outfitted in a variety of multi-national garb representing a diverse set of geographic regions, sort of a United Colors of Bowieton.  But when David himself stepped into sight, with his high-'80s pastel suit, the massed congregation felt strung out heaven's high.
I was particularly impressed that he opened with the propulsive "Look Back In Anger," one of Lodger's finest moments ("…. Waiting so long / I've been waiting so long …" indeed!).  It let fans such as myself know right off the bat that there would be some surprises in store, with chunks of red meat in the form of some less obvious numbers thrown to the obsessives.
Bowie initially kept his back turned to the audience while singing the opening verses, but spun around upon hitting the chorus, gleaming in the focused spotlight as the hordes went positively batty.  He clearly knew how to make an entrance, play a crowd, create drama, and pace a show so that it was consistently ratcheting up in some form, step-by-step.
Above: CFTO's coverage of the Toronto Bowie concert .  Below: Opening number "Look Back In Anger" from the professionally shot video for the Serious Moonlight tour, filmed at the PNE in Vancouver.
So, what were the highlights? Well, the set featured a number of tunes that I've since gone on to see him do often that work perfectly as live numbers every time, such as "Golden Years," "Rebel Rebel," "Fame," "Jean Genie," and "Fashion."  Furthermore, while the material from Let's Dance may have been a little too slight on record, all of the featured tracks from the LP came off powerfully as live gems.
Alternately, there were a few numbers I was glad to see show up but turned out to be slightly flat in concert.  In particular, "Heroes" and "Ashes to Ashes," decidedly studio creations, didn't have quite the same impact in an adrenalized stadium environment (although he finally found great ways of presenting them on his Reality tour).
Then there were the wonderful surprises, of which there were many: "Station to Station," "TVC15," and "Stay" (meaning that two-thirds of the Station to Station album was performed); Low's "Breaking Glass" and the Stage arrangement of "What in the World," the one with two run-throughs where the second iteration is at double acceleration; and one of his consistent, career-long cover staples, the Velvet's speed paean "White Light/White Heat," certainly relevant for Miss Beach et moi.
The assorted moments of theatricality were essential to a show on this scale and overall worked well.  Most memorably, he nicked the Hamlet/skull routine for "Cracked Actor."  As with the Let's Dance album, the Serious Moonlight tour showcased Bowie the singer, although he did play acoustic guitar on "Young Americans" and "Space Oddity," the performance of the latter taking me back to that ten-years-ago moment that launched my Bowie fandom.
10 years affter my discovery of Bowie via "Space Oddity," I got to see him play it live in Toronto (the video is from the PNE in Vancouver, about a week after my seeing him in Toronto). Below: Some shots from my concert program.
Alas, there were several wish-list tunes that I thought I might hear but didn't: "The Man Who Sold the World," "Ziggy Stardust," "Suffragette City," "Sound and Vision," "Changes," "Boys Keep Swinging," and a few others .  Still, given what he did perform including so many surprises, I wasn't about to grouse.
He ended the main set with the only Ziggy tune of the night, "Star," and finished the encores fittingly with "Modern Love," with its waving of bye-byes while a big blue globe bounced among the fans in the stadium.
The show won rave reviews from the Toronto press, with the Toronto Star's Peter Goddard calling it "the biggest cabaret in history" and "larger than life in every way."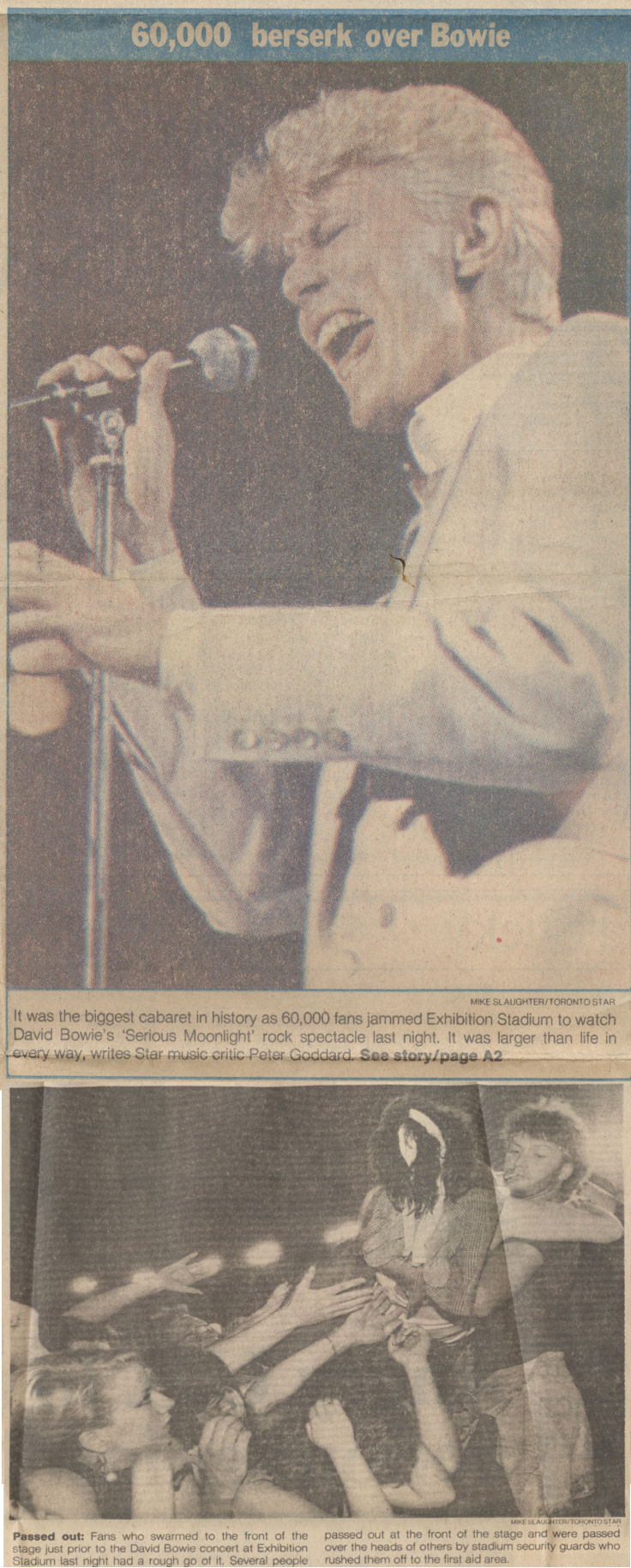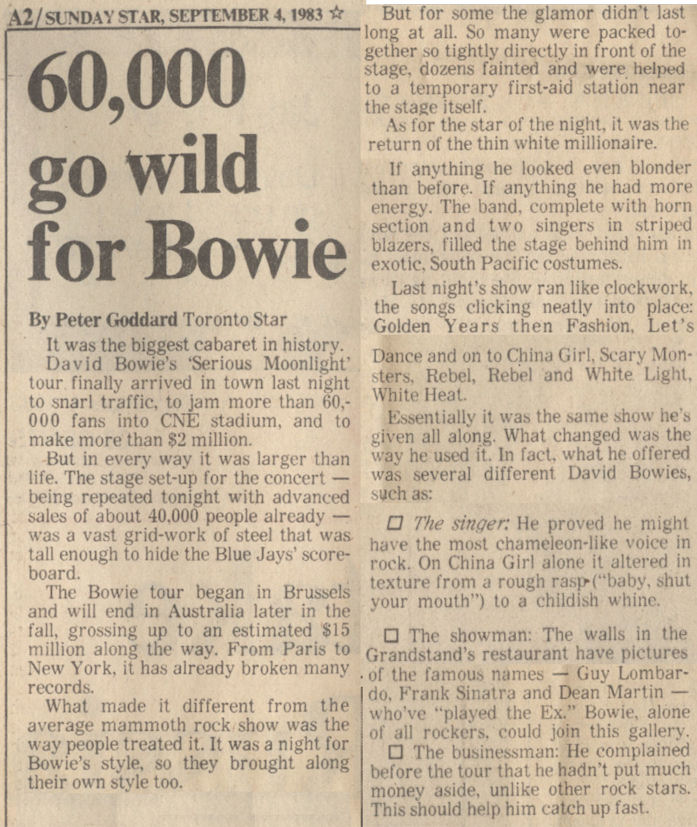 Peter Goddard's review in the Sunday Star which I picked up on my way out of the city the next day.
.
As for Carole Pope's take on the show, she writes in Anti Diva that "When Bowie hit the stage, I stood riveted in the wings.  He is a master of re-inventing himself.  I had seen him work before.  The performance that stands out for me was the 1977 (sic) Station to Station tour, in which he was the thin white duke crooning like Sinatra, lit by blinding white spotlights shooting up to the sky in columns, the kind Albert Speer designed for Hitler at the Nuremberg Rally.  The incarnation I was watching now was a more accessible Bowie … David stood at the lip of the stage singing 'Modern Love' shaking one leg like Elvis.  The show was an amalgamation of music and theatre.  While performing 'Cracked Actor,' Bowie was seated in a director's chair, wearing dark glasses; like a new wave Hamlet, he sang a soliloquy to a skull.  'Hey David, what dyke through yonder window break? 'Tis me.'"
She also reminisces that "During a break halfway through the show, David came up to me and we started to talk.  He was sweet and wanted to dish.  He knew I'd been with Dusty Springfield, but he had me confused with one of her other girls.  He told me he really liked Rough Trade, which meant we could do more dates with him.  He put his arms around me and we hugged.  He was so slight, I could have picked him up and carried him. Bowie grossed $2.3 million from that show."
It took me days to come down from this one.  I had huge expectations regarding seeing Bowie in concert but he totally surpassed them.  After being knocked out by four of the five shows I've seen by him through the years, I can safely say that Bowie is truly one of the great performers, with gobs of charisma to spare.
There was, however, one significant thing missing from this performance, namely what the Sunday night show had that Saturday night didn't: a surprise appearance by Mick Ronson!  Ronno happened to be in Toronto that night and so, for the first time since dissolving the Spiders on stage at the Hammersmith Odeon ten years and two months previous, Bowie and Ronson played on a stage together again.  "The Jean Genie" to be exact.  My surprisingly-in-attendance pal Count Mara said that the place went ballistic when Ronson was unexpectedly announced and walked out to the join the band.  He rated it as one of the highlights.  Damn. Still, I got to be there on that first night which has a specialness to it all its own.
Ronson himself recalled the event, specifically his getting aggressive with Earl Slick's guitar: "I had heard Slick play solos all night so I decided not to play solos and I just went out and thrashed the guitar. I really thrashed the guitar, I was waving the guitar above my head and all sorts of things. It was funny afterwards because David said, 'You should have seen [Earl Slick's] face…' meaning he looked petrified. I had his prize guitar and I was swinging it around my head and Slick's going 'Waaaa… watch my guitar', you know. I was banging into it and it was going round my head. Poor Slick. I mean, I didn't know it was his special guitar, I just thought it was a guitar, a lump of wood with six strings."
By the Saturday night's end, an exhausted Miss Beach and I were spent, thanking our lucky starman that we didn't have far to travel in order to get back to her brother's place and promptly collapse.  Alas, I'm pleased to let you all know that, yes, the bamboo steamer arrived back safe and sound despite the crowd crush.
The summer of 1983 had been a particularly memorable one for me, having now found the like-minded tribe of pals and drinking buddies I'd been searching for, and I can't possibly think of a better way for it to have ended.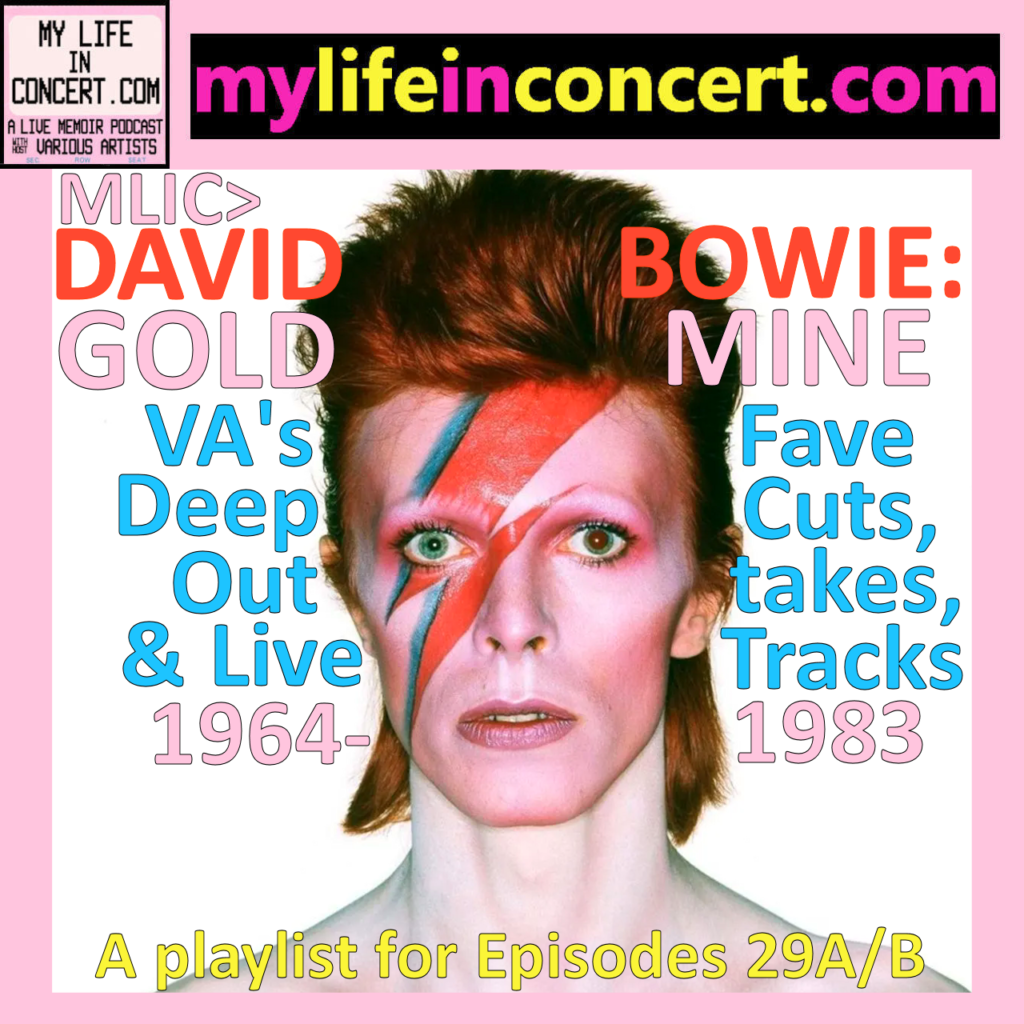 MLIC>DAVID BOWIE: GOLDMINE—VA's Fave Deep Cuts, Outtakes, & Live Tracks 1964-83 is 5 hours plus of Bowie rarities, obscurities, and lesser-heard cuts from his first 20 years as a recording artist.  Great for a long drive, walk or run, or while working on a long project, or simply to throw on shuffle.
As mentioned, I've gone on to see him several times in the years to come, and even if I saw him play sets that even bettered this one (those would have been the two shows from the 2003-04 Reality tour, coming up way down the line as nos. 103 and 104), to this day I don't think I've ever been more excited about seeing a performer than seeing Bowie this first time around.
In less wonderful news, Let's Dance turned out not to be a commercial blip on the radar but in fact a transitional album, and not in the artistically significant sense that Hunky Dory, Diamond Dogs, or Station to Station were.  Instead, Let's Dance can retrospectively been seen as bridging his truly innovate, game-changing work in the 1970s — a decade he helped shape and define — with his less consistent, uneven-to-sometimes-dreadful work that surfaced post-1980.
Bowie himself has addressed the long-term negative impact that the album had on him and his career, noting that Let's Dance "put me in a real corner in that it fucked with my integrity … I remember looking out over these waves of people [who were coming to hear this record played live] and thinking, 'I wonder how many Velvet Underground albums these people have in their record collections?' I suddenly felt very apart from my audience. And it was depressing, because I didn't know what they wanted."
While he has released some very good albums in the intervening years — particularly Heathen (2002) but also Black Tie/White Noise (1993) — and all of his releases have contained a least a few cuts to recommend, he's never issued something that could truly follow Scary Monsters, although he may have finally just done so last week with The Next Day.  It sure sounds like it on the first few listens, even if I would love to trim of three or four of the seventeen cuts to make it solid from start to finish.  Ask me how I feel after I've had a few more months to live with it and explore it. [2023 Update: I would now rank Heathen and Blackstar as among his best, and would throw in The Next Day if it had my tracklist from the sessions.]
The other big news is of his wife Iman accidently, indirectly leaking that Bowie may be gearing up to tour again after it was initially reported that there would be no shows to promote the new album.  If Bowie tours, I'll be there to see him once again.  Let's Dance!
 "Let's Dance" from the Serious Moonlight tour.
Next On Stage –> It's back to the future to look at two concerts from last fall encompassing three legends.  I'll then zoom back and finish my look at my 1983 gig-going by recapping a couple of shows I took in during a loopy four-day trip to NYC.  While I will be discussing the performances by hardcore titans The Circle Jerks and post-Throbbing Gristle offshoot Psychic TV, these two entries will look at the madcap trip to Manhattan as a whole, recounting the hijinks that M.Zeppelin, Miss Beach, myself, and others got up to (if you've read my piece on the Flipper show, then you'll have some idea of what to expect).
174. Walk Like A Giant: Neil Young and Crazy Horse with Patti Smith, Saturday November 24, 2012,  Scotiabank Place, Ottawa, Ontario, Canada
175. I'm Your Man: Leonard Cohen, Friday December 7, 2012, Scotiabank Place, Ottawa, Ontario, Canada
.
023. Back Against The Wall: The Circle Jerks, The Reggae Lounge, New York City, New York, USA, November 1983
024. Discopravity: Psychic TV, Danceteria, New York City, New York, USA, November 1983
Comments From The Original opensalon.com Posting