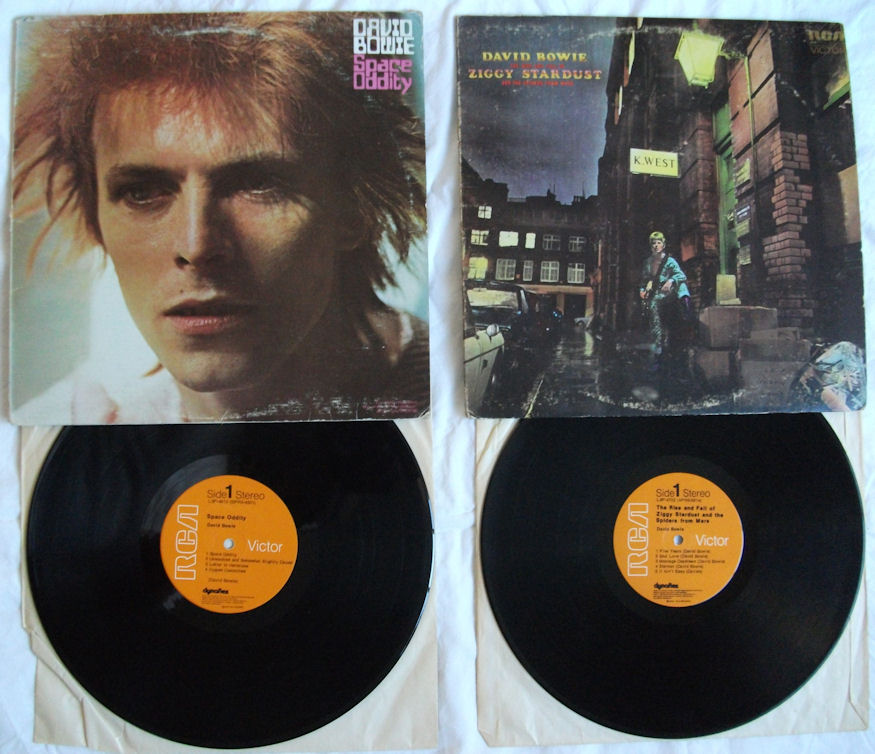 My beloved late sister's original copies of David Bowie's
Space Oddity
and
Ziggy Stardust.
  I have many fond memories of listening to these albums with her.
M
y return to the
My Life — In Concert!
series, this time looking back on seeing David Bowie for the first time, 30 years ago, fortuitously dovetails with last week's delightful shock that is the release of Bowie's first album of new material in a decade,
The Next Day
. 
He first came into my orbit 40 years ago in his Ziggy Stardust days, at the dawn of 1973.  His ongoing body of work has been a constant presence in my life ever since, in particular, the ground-breaking succession of albums that he released between 1969 and 1980.
Before turning my focus to the show at Toronto's CNE Stadium, I'll first write about what Bowie and glam rock meant to me, and my impressions on how his emergence had a broader impact on the 1970s.
Lightning struck twice for me shortly after I turned 10.  1972 was bleeding into 1973, and I was thrilled to now be part of the double-digit-age clique, with that majestic 1 planted firmly in front of the stalwart 0 in all its binary glory.  The yellow brick road to Teenageville, and then onto Adultia, stretched out before me like gleaming candy.  I was excited to be starting my journey, one with a down-the-line jackpot of any manner of enticing Pandora's Boxes filled with mature delights — mature as envisioned by my still-naive-yet-overactive Grade Five imagination, anyway.
Achieving this 10-years-on-planet milestone will forever be twinned for me with the discovery of two new songs — and artists — that would have an instant and enduring influence on my musical tastes, and beyond.
Now here's where the amazement of that double lightning comes in, namely that I made these discoveries via a most unusual avenue for me: the radio.
"Why should that be an oddity?," you say.  Isn't that a natural turn of events for most young'uns, particularly back in the day of double-knit leisure suits, Linda Lovelace, oil shortages, and Paul Henderson's winning goal for Canada against the Russians?
For many, probably, but that's not my story or experience.  While music obsessiveness tends to hit folks in their teens — often locking in with a succession of coming-of-age experiences during those teen and young adult years — I by all accounts arrived into this world a fully formed tunehead.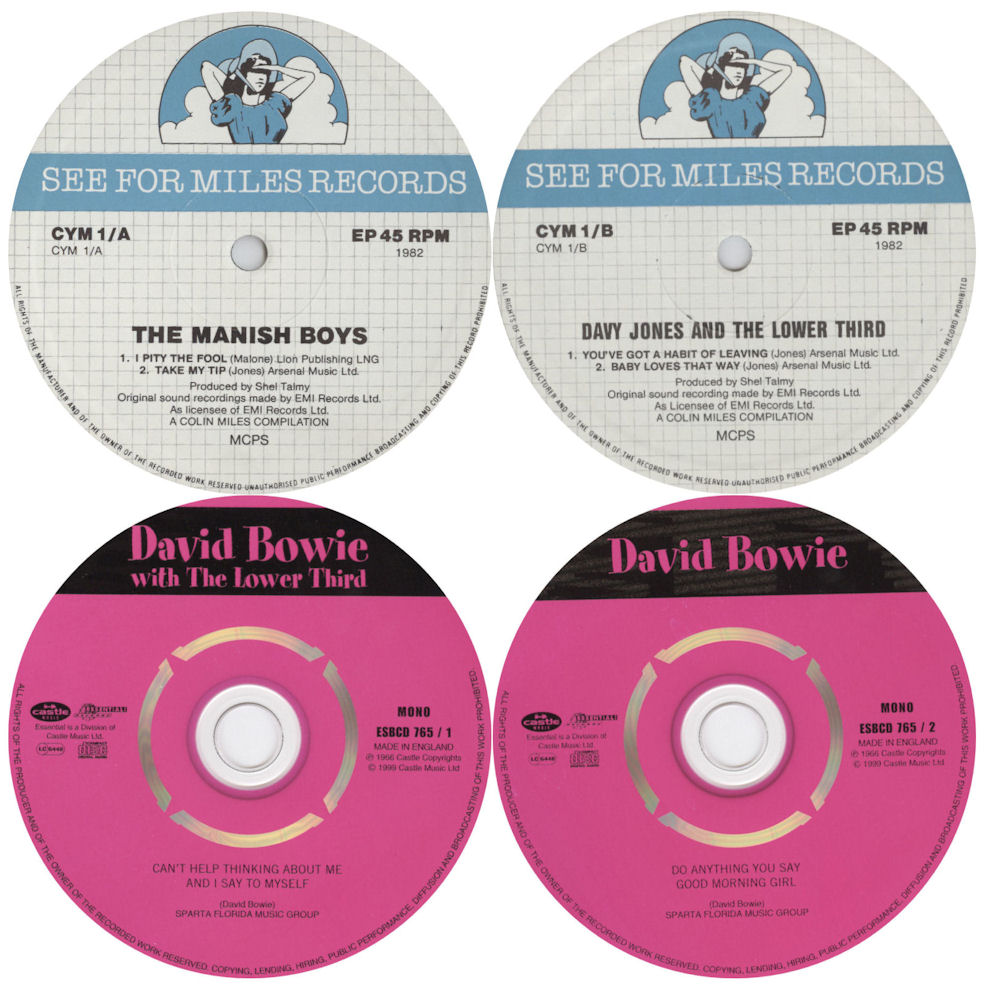 (All label scans by VA, from my collection)
I grew up in a music-mad household via decade-older siblings who, luckily for me, had great taste.  Many of the records that arrived and accumulated in our home tended toward rock's slipstream of the day, with a particularly keen interest in what was coming out of the home country of everyone in my household save yours truly, the UK.  I've been told endless stories by my parents, aunts, uncles, cousins, sibs and family friends about how I was a magnet for records and music from the start, with my folks recalling how I could correctly identify 45s when asked to fetch a requested selection even prior to my being able to read — even when the labels were the same.
I start having fragments of music-related memories beginning circa 1967 and onwards, and having a love affair with the radio isn't overly part of them.  Instead, I had a love affair with the turntable and all those gleaming pieces of seven and twelve inch flat black vinyl orbs that found their way into my home and onto it.  Once my memory banks become overall much clearer with the dawn of the '70s, my radio recollections are primarily of a lot of AM fluff and, later, FM plod.
It would certainly be an  overstatement to say I hated everything streaming in via the AM of FM dials.  In particular, I loved a lot of r&b/soul/funk beaming across the airwaves, being a genre that didn't receive a lot of airing in my more rock-based home (even then, that could be more down to faithful weekly viewings of Soul Train throughout the early-to-mid 1970s).  There were also many songs here and there that I enjoyed from that time too, with plenty of catchy throwaway pop.  But, overall, the preponderance of stuff that I liked coming in via both signals tended to parrot the more popular artists of the day who were already staples at Chez Various, such as Elton John, Rod Stewart, The Rolling Stones, and the like.  Meanwhile, AM favourites such as John Denver, Olivia Newton John, and Chicago, or their FM cousins such as Yes, Black Sabbath and The Doobie Brothers just weren't my cup of tea.
If I were to sit here and count off the number of artists (a) who I discovered via commercial radio, (b) who I had no prior knowledge of, and (c) whose careers I followed and took significant interest in over time rather than simply liking one or two particular tunes, I could number them on the fingers of two hands.  I'm not sure I would even need the second hand.
That's why it's so lottery-odds unbelievable that this double (en)lightning bolt of discovering these two aforementioned recordings happened within a two week period, on the cusp of 1973.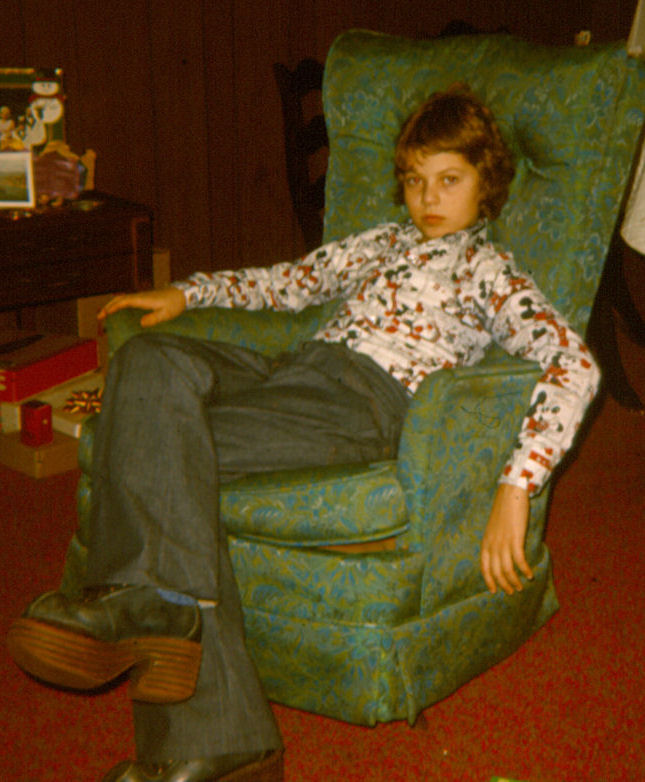 VariousArtists, Christmas 1973, age 11, with platform shoes.   All the (very) young dudes.  And boy did I ever love that Pop Art Mickey Mouse comic strip shirt.
The first was a dramatic story-song about an astronaut who, once launched into space, decides to bid farewell to one and all, unplug, and leave everything behind, heading off alone into the uncharted, infinite unknown.  Its dramatic presentation and production caught my ear.  I liked the clever nod to Stanley Kubrick's film, 2001: A Space Odyssey, which I had recently seen, and how the song was arranged into distinct sections.  I was also fascinated by the story itself, not least of which, its chilling denouement, and also fell in love with the sound of the singer's voice and the record's melodic appeal.
The second song was a jazzy number featuring a to-die-for, looping, loping bass line and a vocalist who spoke more than sang, cooly delivering observational vignettes about a series of fringe characters heading to New York City to get their freak on.  The vocalist didn't have a sweet voice like the singer in the first song — or like any other vocalist on the radio for that matter — but there was something about his nuanced, stylized recitation and the vague sense of exciting forbiddenness that permeated the recording, sucking me in with gravitational pull.
Both were unlike anything else on the radio at that time or anything I had heard.  Furthermore, while sonically different, both songs were about misfits opting out of the game and into their own chosen reality.
Both songs will be instantly familiar to just about everyone of a certain age or those invested in music history knowledge as "Space Oddity" by David Bowie and "Walk on the Wild Side" by Lou Reed, respectively.
Hearing them a mere few days apart is where and when "The Seventies" truly start for me.
 David Bowie's "Space Oddity" (above) and Lou Reed's "Walk on the Wild Side" (below).  Let The Seventies begin!
These records shone like dark stars, slicing in amid their tepid neighbours, bathing me in their alluringly sinister, incandescent light, making almost everything else on the radio seem tired.  They threw a bit of magic into my young life.  And this was before I'd even had a chance to see what either of them looked like or learn of Bowie's contemporaneous undertakings.
I had yet to learn that "Space Oddity" was actually a re-issue of a three-and-a-half year old British hit that was not at all representative of what he was currently up to.  Indeed, there were many things I didn't yet know about these Lou Reed and David Bowie characters.  I soon found out that the latter had released an album called The Rise and Fall of Ziggy Stardust and the Spiders From Mars six months earlier, and that it had been a sensation in the UK, with Bowie's life merging into that of its central character: a pansexual rock star from outer space, arriving here on earth.
Many young Britons had their own Bowie epiphany on July 6, 1972, via his historic, career-making performance on Top of The Pops, with David-as-Ziggy then-shockingly camping it up with guitarist Mick Ronson and the Spiders From Mars, performing the album's soon-to-be-UK-hit, "Starman."  As narrator Jarvis Cocker notes at the beginning of last year's BBC special, David Bowie and the Story of Ziggy Stardust: "In millions of living rooms across the British Isles, a strange alien creature was beamed onto our television screens.  With bright red hair and a multicoloured space suit, his unearthly appearance shocked the nation.  But for many teenagers who experienced this televisual visitation, it would change their lives forever."
 After being a one-hit-wonder in the UK in 1969 with "Space Oddity," Bowie's sensational July 1972 performance of "Starman" on Top of the Pops made him an overnight star there, cementing his success which continues 40 years on.
As for this Lou Reed fellow, I didn't know that he had been in a band called The Velvet Underground which was one of Bowie's biggest influences (and that Bowie was regularly playing the VU's "White Light/White Heat" and "I'm Waiting for the Man" as part of his current live set).  Nor did I know that Bowie had co-produced "Walk on the Wild Side" and its parent album, Transformer, in tandem with Ronson, although many accounts attribute the predominance of production duties to Ronson rather than Bowie (Lou Reed is coming up several times down the road in this series, so more on him then).
The more I found out, the more I dove in.  It all made innate sense to me and was enormously appealing.  These artists and their music were modern, transgressive,  confrontational, and unusual, not only there to shock the staid pre-rock generation but also what much of the hippie culture had transitioned into by that time: a surfeit of mellow passivity that laid the seeds for the eventual morph into '80s yuppiedom.  (The 1960s explosion in the civil rights movement, on the other hand, continued to snowball in power and energy into the new decade.) All the great things about hippie culture (the protests; the unshackling of repressive mores; the reordering of ideas and priorities — intrinsically interwoven with experimental and challenging music and fashion) had plateaued and retreated within that originating community into a middle-of-the-road, pulse-bear-yet-organic-feeling patchouli suburbanism as the children of the 1960s began having actual kids and families of their own.
In its wake came an obsequiousness to various cultural signifiers that carried a reassuring whiff of a more radical time (see, for example: smiley faces, long(er) hair as a norm, flared jeans as de rigueur, and — most horrifyingly of all — macramé crafts).  So, while some of those signifiers remained predominant on the cultural radar, they'd been subsumed into the mainstream, now twinned with very different "signifieds," resulting in some decidedly castrated cultural signs.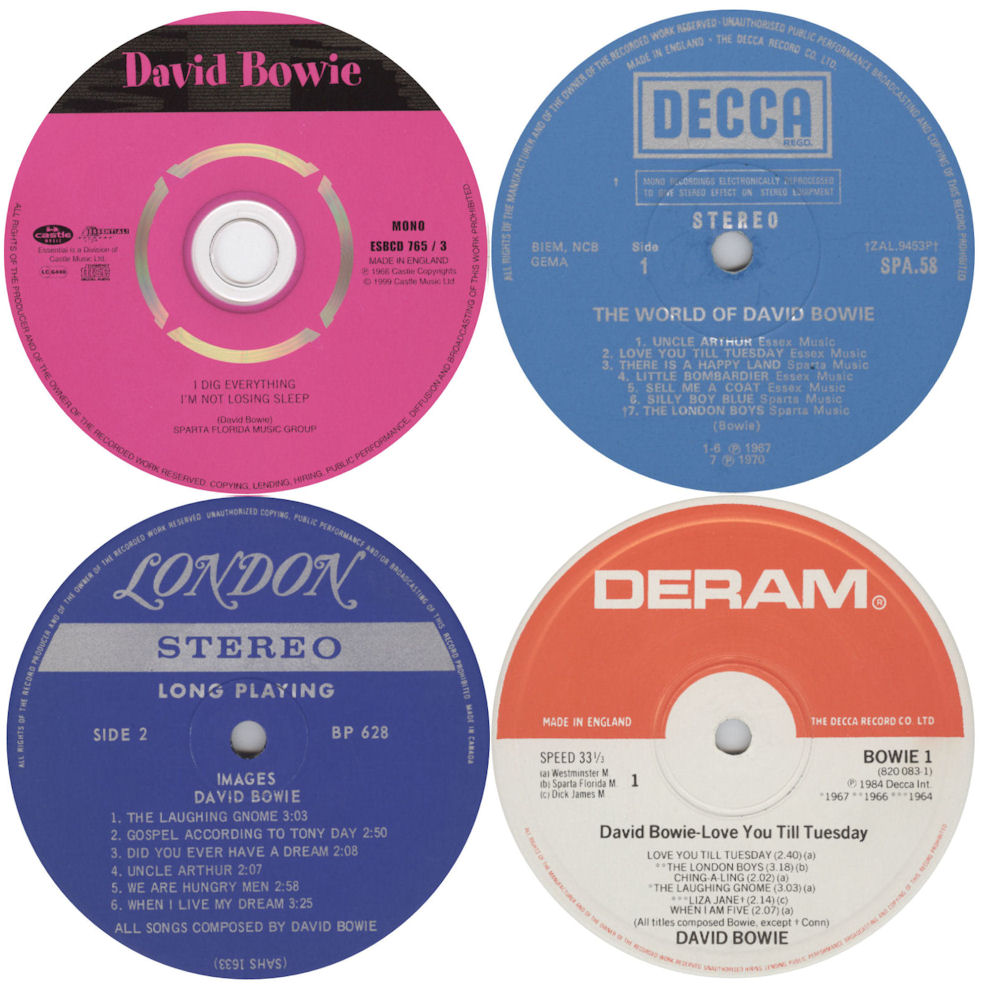 Meanwhile, the 1960s counterculture protest mantle was usurped by others.  While the hippie culture unquestionably provided liberation for some, it was largely straight white males of a certain social class who truly cashed in on the benefits of these new, more permissive freedoms and options.  In I'm With the Band: Confessions of a Groupie, Pamela Des Barres recalls the entrenched gender politics bubbling below the peace, love and liberation surface, writing about an early trip she made to a then-burgeoning Haight-Ashbury in the 1960s with her friend Linda who "moved into the first commune we entered and became 'housemother,' which means she did all the cooking and cleaning.  Very communal."
The 1970s was truly the era when many of the disenfranchised who had been left out of the 1960s elite rebellion seized those options for themselves.  As writer Pagan Kennedy notes in her incisive survey of the '70s, Platforms, "While the seventies certainly produced its share of dopey Top 40 hits, the decade was also a period of rapid, bewildering upheaval in social values.  Many of the political ideas proposed in the sixties did not have repercussions for mainstream America until the early seventies—however, these changes tended to happen in homes and offices rather than in the streets.  For instance, while feminism grew out of the sixties' civil rights movement, it was in the seventies that women demanded equality in the workplace.  The first Earth Day was held in 1970.  Civil rights came to mean more than the enfranchisement of blacks as a kaleidoscope of ethnic groups demanded power.  Gay liberation, inaugurated with the Stonewall rebellion in 1969, grew to be such a powerful social force that the seventies are now synonymous with the gay-influenced disco."
Amid noting the democratized expansion of the '60s protest model in the '70s, Kennedy can't help but throw in the qualifying dig about the "share of dopey Top 40 hits."  Indeed, outside of most major North American cities, widely popular music seemed to be the one creative outlet that failed to keep pace with the groundbreaking societal changes taking place.  In an era marked by the incendiary output of the critically acclaimed and commercially popular "New Hollywood" films of Scorsese, Coppola, Altman, etc., social realism or socially aware sitcoms such as All in the Family, Good Times or Maude — or mid-decade satirical fare such as Mary Hartman, Mary Hartman or Saturday Night Live — or the continued march forward of the traditionally ahead-of-the-curve mediums of literature and theatre, AM radio was largely the domain of flaccid, wholesome pop and earnest-yet-bland post-hippie warblers.  Rock music was barely on the radar.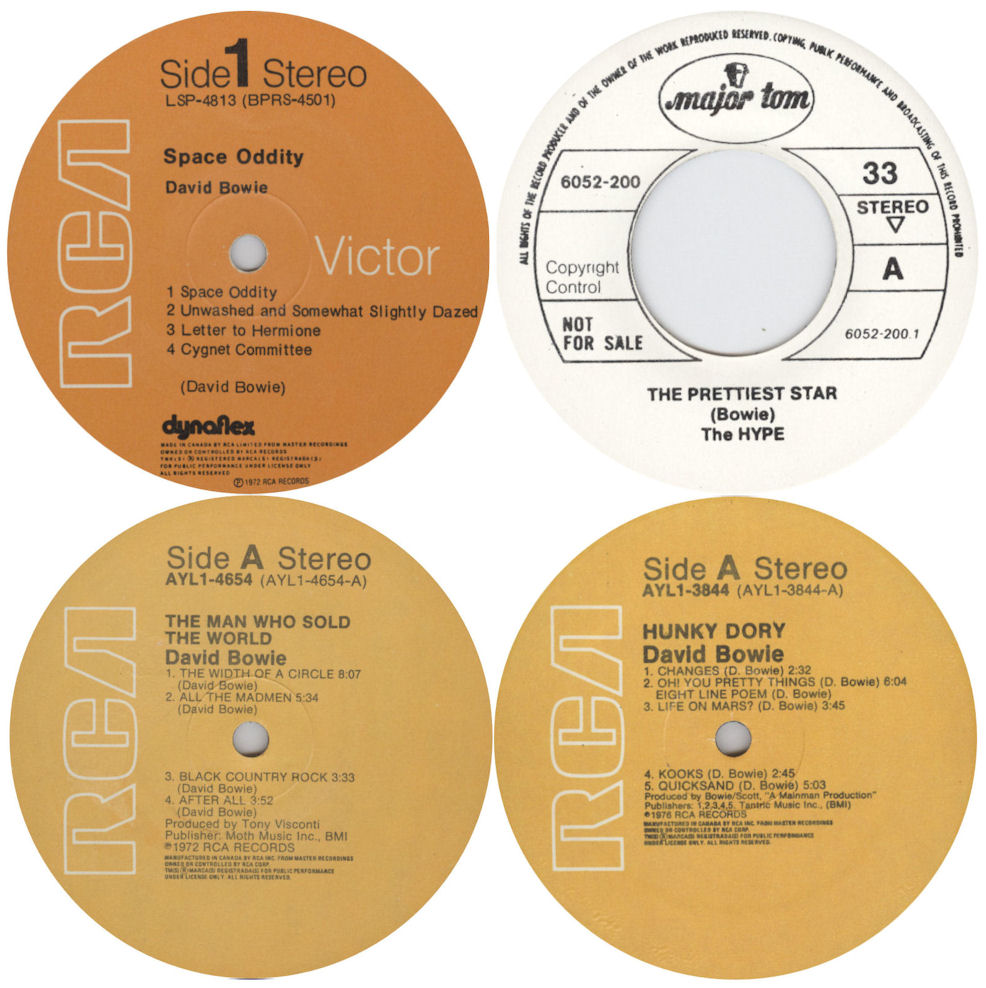 Meanwhile, over on the FM dial, rock was now a truly financially lucrative commodity in Woodstock's fiscal afterglow, with FM radio functioning as a branding regulator for a cash-bloated and less spontaneous industry.  The adventurousness of the 60s FM rock stations had been chastened, homogenized and corporatized into something more easily digestible and unthreatening.  Rock's edge and risk were gone, at least within the larger marketplace.
While I tend to find labels more of a limitation and hindrance than a useful designator, my feeling is that if there are going to be labels like "rock and roll" or "rock," then I want a sense of adventure, abrasiveness, and sometimes a bit of chaos, or at least visceral unpredictability, to be seated prominently around that particular genre table.  Wasn't the term "rock and roll" meant as a euphemism for sex?  Well, as with sex, I find much of the best rock and roll is adrenaline-fuelled and on the rough side.  What was largely being proffered up as mass-market "rock" at that time was more about perceptions and symbols denoting a rebellious sheen or image, with an oft musically and socially conservative agenda underneath: a sheep in wolf's clothing.
That's of course when the industry even bothered to pander, as a demographic aged and demanded a more subdued permutation of the past as a sonic balm to keep the wolves at bay in a society in turmoil.  While I love, for example, Carole King's Tapestry, those early CSN/Y albums, and mid-70s Fleetwood Mac, seeing them as sterling examples of post-rock pop and meticulous tunesmithing in a good sense, when that stuff is being held up as the epitome of what "rock and roll" is all about, good heavens, it's over.
Neither lean nor mean were anywhere on offer within either of the radio options, each in its own way working diligently to de-fang rock music.  And part of the de-fanging included the expunging of those pesky outsiders, weirdos and eccentrics of many stripes who didn't want to play nice with the tame ducks.
And I am one of those outsiders the R&R Corporation Inc. sought to deep-six in the MOR-ization of rock culture.  I was the quarry.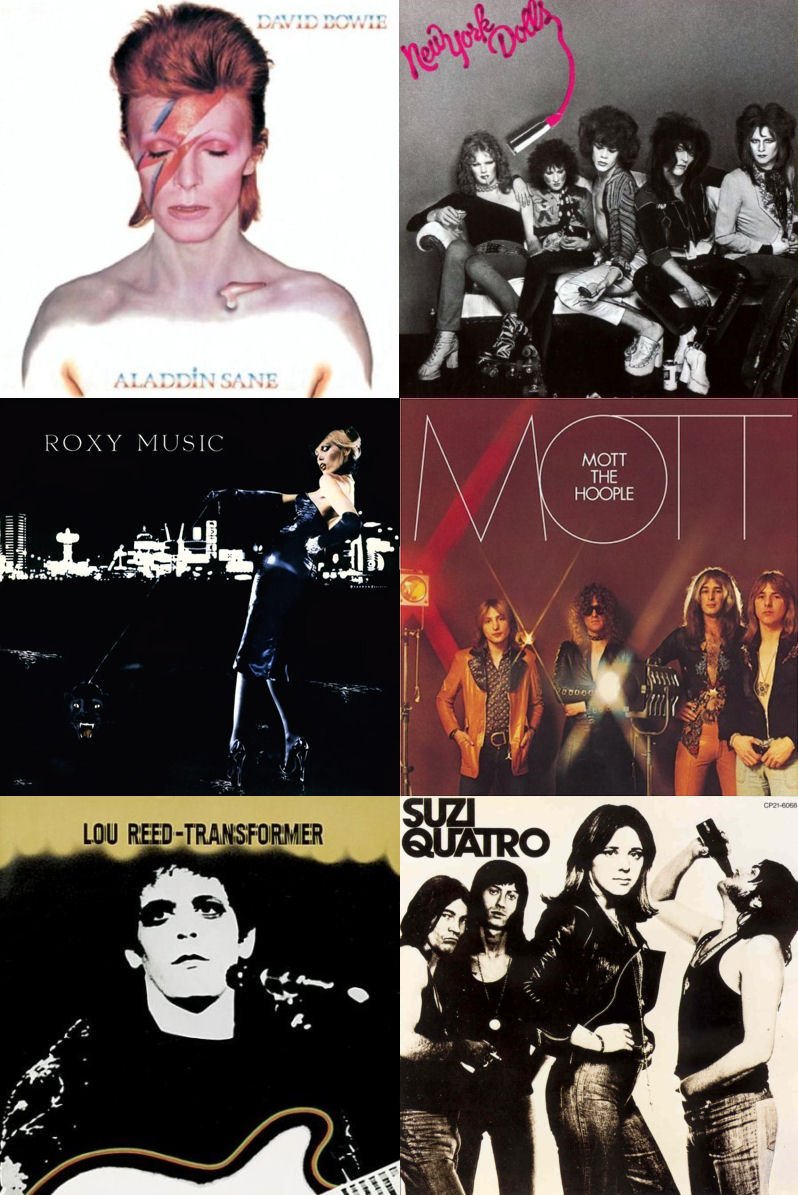 Wham Bam, Thank You Glam!  It's 1973: Some of my glittering favourites that I was listening to during'73-early '74: Aladdin Sane, David Bowie; New York Dolls; For Your Pleasure, Roxy Music; Mott Mott the Hoople; Transformer, Lou Reed; Suzi Quatro (click on each title to hear a track from the album).  Each one of these still gets regular airings 'round my place.
Throughout my life, I've never seen myself as neatly fitting into a host of popularly available moulds — aesthetic, sexual, philosophical, or lifestyle.  If you've spent your life colouring within — and toeing — the lines, then I'll likely be instinctively wary of you.  It's not about smugness; it's about the empathy and understanding that can sometimes only come with being shut out of the big picture.  I guess I find it hard to trust someone who doesn't have some kind of outsider experiences and perspectives to drawn on and learn from. I have an well-earned distrust of unfettered, unquestioned enfranchisement even as I sometimes navigate worlds that are just that and inherently alien to me.  My natural propensity is to bond with others coming from marginal capacities, experiences or perspectives.   As they say, birds of a feather flock together.
It also adds a little bit of intrigue into the picture.  As Neil Young wrote in reference to "Heart of Gold" in the liner notes to his Decade compilation, regarding the well-intended, but ultimately circumspect and uncomfortable warm mainstream embrace he got with his post-Harvest commercial watershed, "This song put me in the middle of the road.  Travelling there soon became a bore so I headed for the ditch.  A rougher ride but I saw more interesting people there." (Young himself paid homage to glam and Bowie via original copies of Tonight's the Night having small amounts of glitter inserted inside the sleeve, a "Hello" from one iconoclast to another.)
Even today, as a middle-aged man with a professional career who can rock a crisp Calvin Klein suit and high-end footwear (that's my other side: the one that loves sleek elegance and aesthetically sharp design), I'm always aware of my "otherness."  I feel quite comfortable in my own skin thank you very much, but remain aware of where and when I'm simply a tourist in another's land.  At my core, I will always be one of the outsiders, one of the freaks.  And I say that with nothing but pride and honour.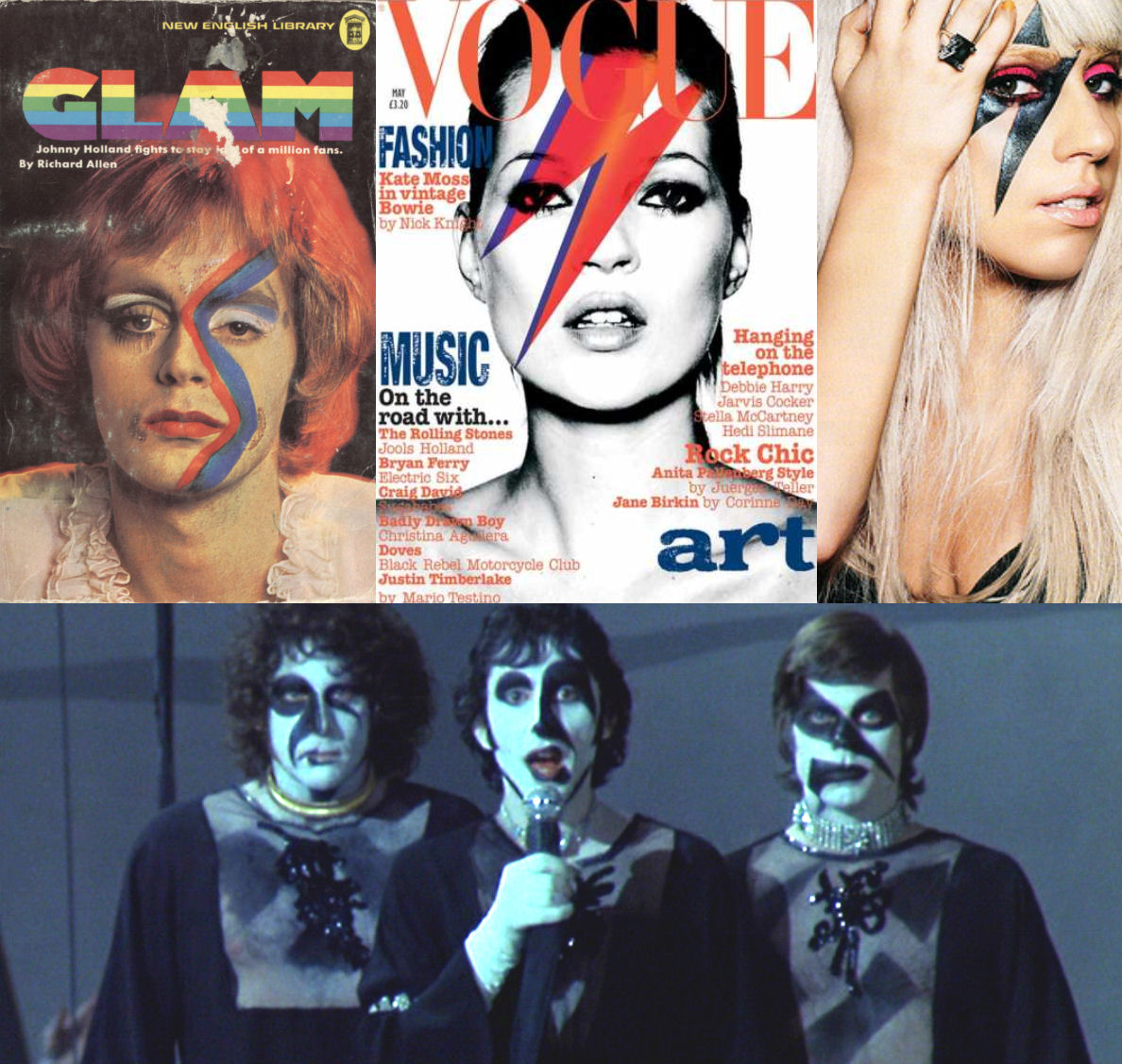 "Who'll love Aladdin Sane?"  Four who would: Exploitation writer Richard Allen; Kate Moss; Lady Gaga; and The Undeads, from the delightfully silly Phantom of the Paradise (1974).
While I perhaps didn't understand all this about myself intellectually at that time, I did so intuitively, and glam rock was a significant cornerstone that allowed me to let out my inner-freak more overtly and confidently.  That's why all the mainstream rock culture missives launched at glam — "It's fag music!" and "It's all artifice!" — made me love it all the more, as it truly advanced Hendrix's rally cry from the previous generation of flying one's freak flag high.  Well, Jimi got to do so anyway, as did a select group of others, although it became apparent that "freakishness" within the pervasive rock culture came with limitations and "buckle under"s.  Certain "freaks" were able to wave their flags high, while others were relegated to flying at half-mast, if at all.
One of glam's big taboo-breakers and liberating factions was that it was the first rock movement to defy normative assumptions of gender and sexuality that, ironically, went beyond mere clothes and hairstyles, in a way that was disquieting to much of the rock audience.  If The Barbarians' "Are You A Boy or Are You A Girl?" inherently quelled the anxiety around that question via hetero-normative assurances that its audience would implicitly understand, the likes of the gay/bisexual "John, I'm Only Dancing" and "Walk On the Wild Side" levelled the sexual identity playing field, eschewing socially comfy heterosexist assurances even it was more optics than reality.
The long-overdue opening up of this particular can of worms impacted not just the performers but its audience and the presumptions that went with it.  Remembering the aftermath of Bowie's 1972 Top of the Pops appearance, Soft Cell's Marc Almond remembers sides being immediately taken the day after the "Starman" performance aired: 'Bowie was a queer, and if you liked him then you must be a queer too.'"
No small wonder, then, that a whole new rainbow coalition of the previously disempowered reciprocally embraced Bowie and glam as the first rock movement to say a genuine "WELCOME!" to swaths of the audience who may have liked the music but had never truly felt invited to the party.
 Ziggy Falls to Earth: Ziggy's sound and style gets one of its first airings during a performance of Hunky Dory's proto-Ziggy, Velvet Underground-inspired "Queen Bitch," on The Old Grey Whistle Test, early 1972.  The Ziggy Stardust album was in the can by this point but would not be released for another four months.
As for the "it's all a put on!"-style grousing: good grief!  It was the era of "earthy authenticity" as the standard bearer for "respect" and "legitimacy," a benchmark I've always been weary of as a badge of honour; sincerity can be a damn easy thing to fake.  Ask any actor. Whether one wants to believe so or not, we are still talking about a performance: artifice, illusion and image have always been part of the rock package.  Even "anti-image" is often an image.
Let's face it — the stories are all true, right? The Beatles were always perfect sweethearts and gentlemen who treated everyone around them with the best manners; CCR grew up in the Louisiana backwoods; Joe Strummer of The Clash triumphed over a deeply disadvantaged life; the surly, street-wise Rolling Stones all came from the school of hard knocks, on the banks of the Mississippi Delta …. or was it the south side of Chicago? …. oh, wait a minute, maybe not.
This isn't a swipe at any of these great artists who I love, it's just to point out that rock music is as much about presentation and presumptions as any other type of performance.  Rock culture has always been quite aware of the John Ford maxim: "When the legend becomes fact, print the legend."  I'm in no way saying that many artists aren't truly emotionally invested in what they are doing but rather that it's naive to think that, once an artist steps out into a public, money-spinning venture and forum, replete with managers, PR reps, records companies, etc, image positioning within the marketplace and career strategizing isn't a big part of the picture.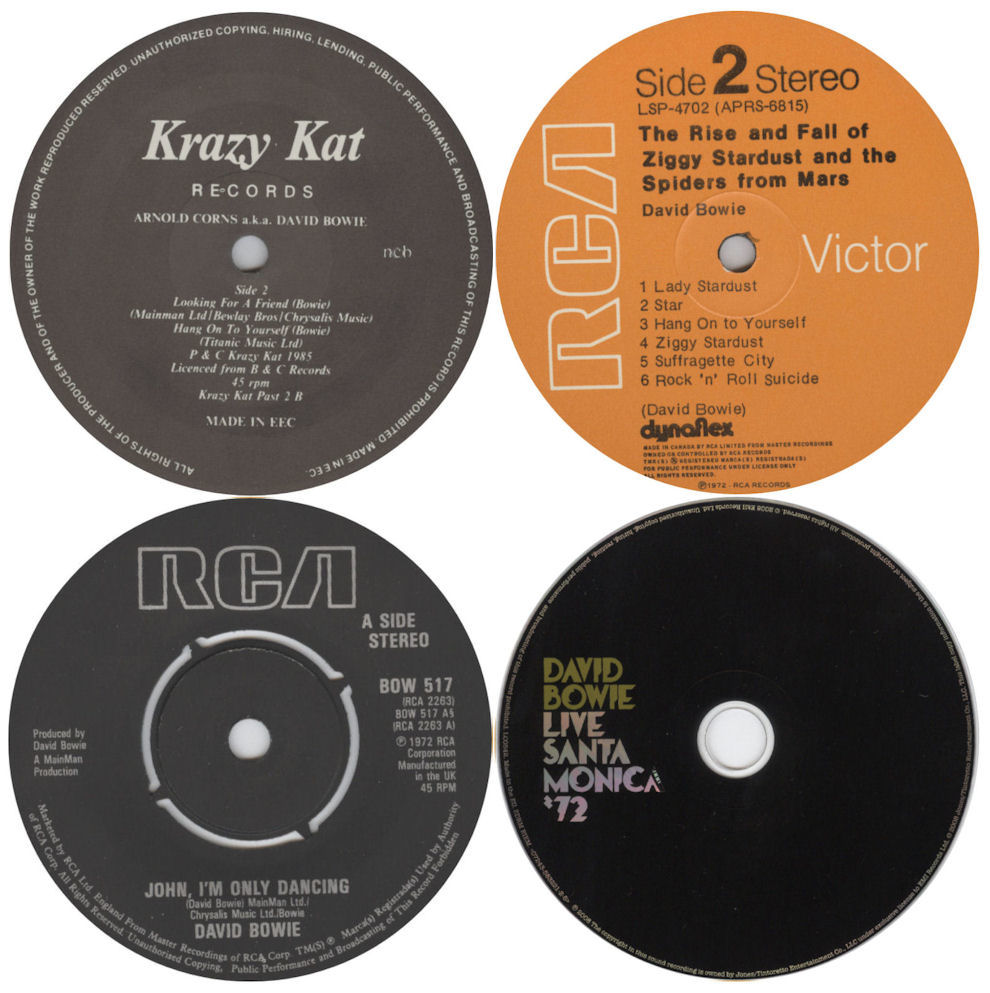 Glam threw gleaming glitter on the fact that being a public musician and artist involves being packaged and delivered through a mass medium. Indeed, whole swaths of each of our own days as we go about our business are about image and roleplaying in the theatre of our daily lives, and the various guises and characters we selectively play and present to each particular "audience."  All this gets amplified once a spotlight of any kind gets turned on.  Glam was simply the latest in a still-ongoing series of visual re-inventions that go hand-in-hand with the performing arts of all stripes.  As Roxy Music's Phil Manzanera explained to Simon Reynolds for The Observer last September, regarding the new look they forged to accompany a new sound and attitude, "A lot of musicians were getting strung out on heavy drugs (in the early 70s, and) they were out of it, so they weren't even bothering to wear kaftans or other hippie stuff, which had been stylish in their own way."
All that I really understood at the time was that I found the music, messages, and controversial presentation captivating, responding on a gut level.  It was all such fun!
 A recently discovered copy of Bowie's January 3, 1973, Top of the Pops performance of his then-new hit, "The Jean Genie."  This performance was thought lost for good until a retired BBC cameraman revealed that he'd kept a copy for himself.  It was re-aired for the first time in 40 years on the BBC last Christmas.  Right about the time this was being recorded and aired, I was just discovering Bowie for myself on the other side of the Atlantic.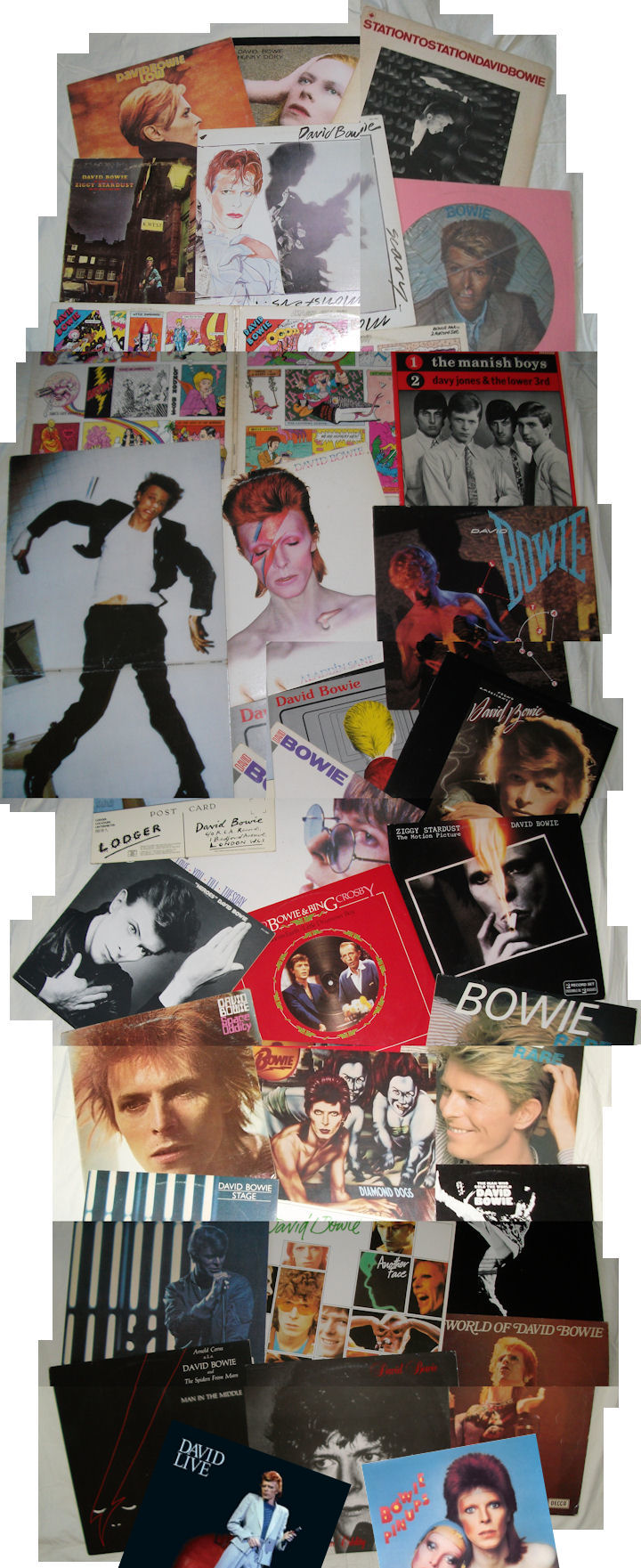 (Bowie album collage photo montage by VA)
As a newly minted teen, I had a lot of catching up to do when it came to learning about these glittering creatures who were now my fave raves.  But while Bowie may have been a new star in the music marketplace, this stardom was years in the making.  Something I once read regarding his longtime friend, rival, and glam predecessor, Marc Bolan of T. Rex, applies to Bowie: he'd had enough false starts to make a realist out of Mary Poppins.  His first 45, "Liza Jane," released under his birth name of Davie Jones with his backing band the King Bees, is a fiery if indistinct brand of raw R&B that was all the rage in London at the time via The Rolling Stones, Yardbirds, Pretty Things etc.  It was also his first of many flops.  (He didn't become "Bowie"until 1966, so as not to be confused with that year's overnight superstar, Davy Jones of The Monkees.)
David Debuts: "Liza Jane" by Davie Jones and The King Bees (1964).
In between "Liza Jane" and Ziggy, he assumed a variety of guises: mid-'60s popster; Anthony Newley-style oddball cabaret crooner; folk-rock hippie; and a proto-Ziggy androgynous hard-rocker via his short-lived project The Hype and 1970's The Man Who Sold The World, which arranged several of the Spiders-to-be in the studio for the first time.  While he'd had a major UK hit with "Space Oddity" in 1969, he/it was seen more as a flash-in-the-pan novelty, with follow-up success initially hard to replicate.
By 1971, armed with a new RCA Records contract and cigar-chomping manager Tony De Fries, he inched one step closer to his goal via Hunky Dory: his first masterpiece and one of my very favourite David Bowie albums.  While only a modest hit at the time in the UK (it was later a major commercial success there, post-Ziggy), its fey, skewed melodic pop laid out many of his topical obsessions for the years to come (new youth cultures; Nietzschean philosophy and power; stardom; pansexuality; occultism; madness, etc), contained explicit tributes to several inspirations (Warhol, Dylan, the Velvet Underground, his institutionalized half-brother Terry, and overall theatricality), and contained a dry run for the sound and stance that would arrive fully-blown on the following year's The Rise and Fall of Ziggy Stardust and the Spiders From Mars with the VU-inspired, gay-themed rocker, "Queen Bitch."
 Art Decade: Bowie's written two of my favourite songs about artists, namely "Andy Warhol" from Hunky Dory (1971, above) and "Joe The Lion," about a Chris Burden-esque character, from "Heroes" (1977, below).
Unlike the "Space Oddity" experience in 1969, this time when the fame he craved touched down on his doorstep via Ziggy and "Starman," Bowie was ready and prepared to confidently dig in, solidify, and move forward.  Part of his game plan was to be cultural curator as well as a unique performer in his own right, as he adamantly brought his corner of the universe to the fore with him.  He had written that other new song I was into, "All the Young Dudes," for one of his favourite, recently disbanded London groups, Mott the Hoople (also produced by Ronson and Bowie, like Lou Reed's Transformer), the band re-assembling for the project, belatedly reaping the success they had missed out on first time around.
Bowie also oversaw post-production on one of the seminal rock albums of the era from one of his idols and influences, Iggy and the Stooges' gleefully nasty, euphoric, proto-punk masterpiece, Raw Power.  Meanwhile, Lulu hit #3 in Britain with her version of "The Man Who Sold the World" complete with Bowie on backing vocals, while he played piano on Peter Noone's UK Top 20 cover of "Oh! You Pretty Things."
As for glam rock in general, the revelations and strangeness kept coming, particularly with the New York Dolls — who I could scarcely believe existed — and Roxy Music, who took the honour of being the first band I ever saw live.  Meanwhile, lots of pre-glitter acts from the time tapped into aspects of glam's sound or style (see: Elton John, The Rolling Stones, Alice Cooper, etc.).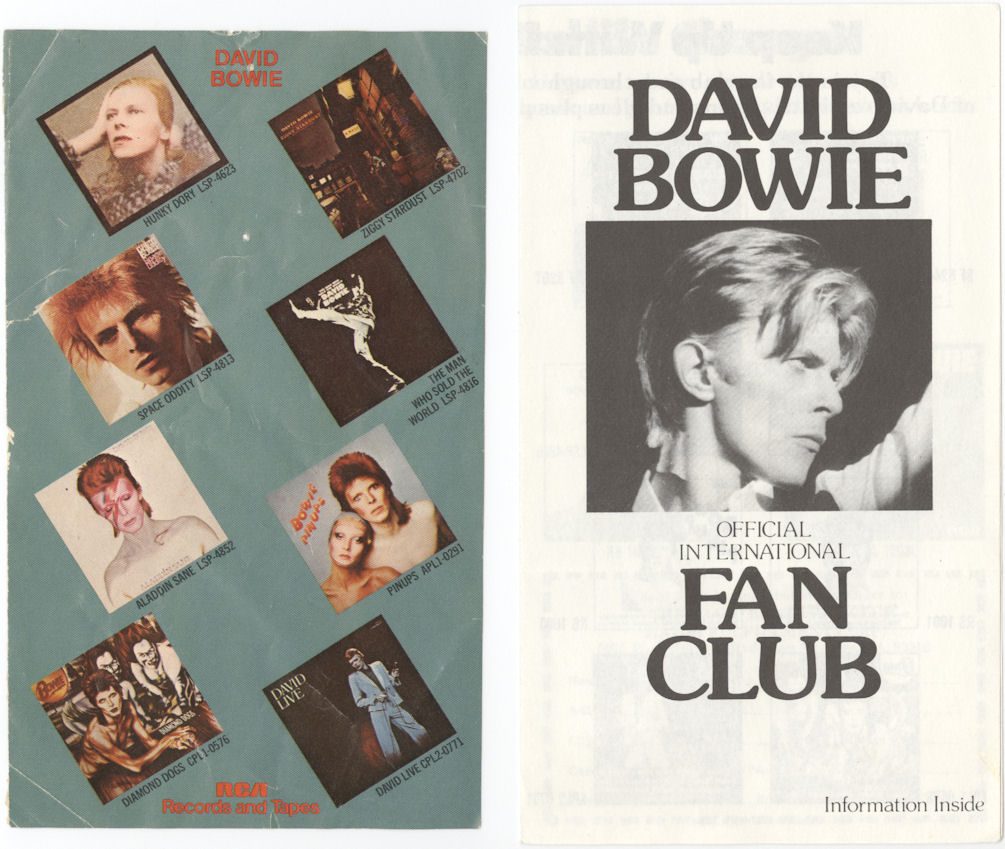 Promo inserts that came with the original copies of Young Americans (colour) and Low (b&w Fan Club info) (scans by VA).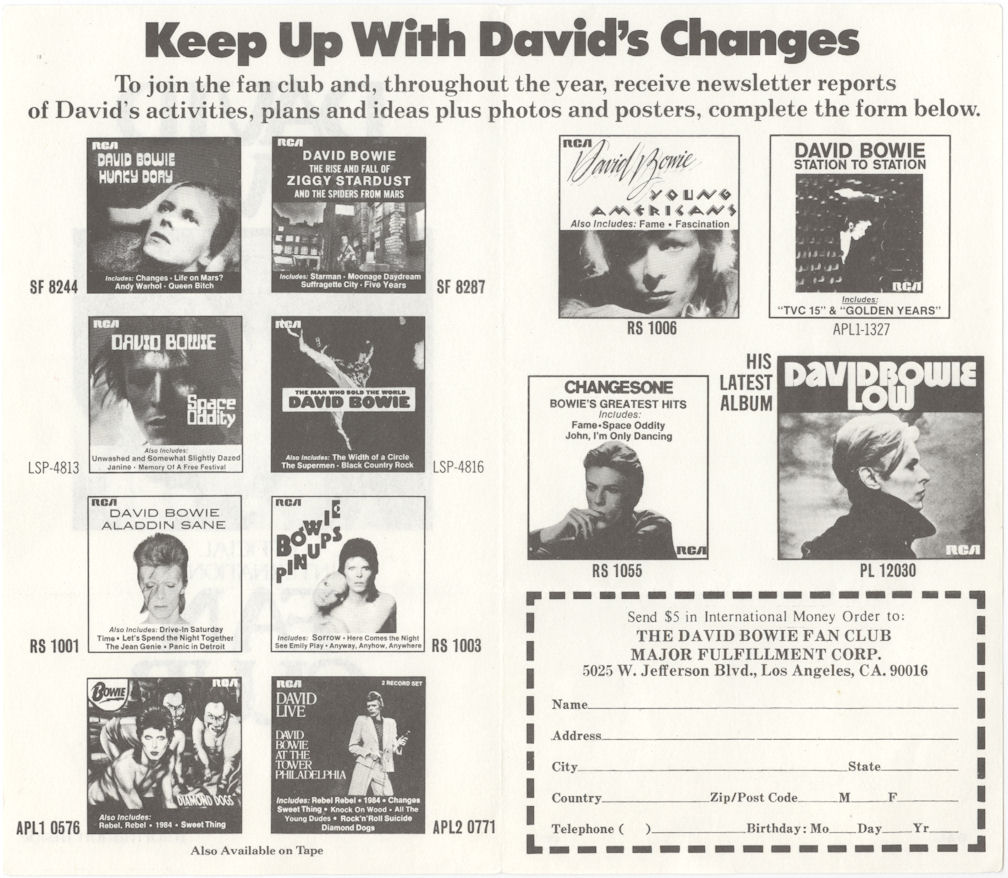 While my usually more dialed-in my sibs may have initially missed the Bowie memo, they too were right on board the S.S. Ziggy in a snap.   Almost overnight among them and their pals, checked or striped flared slacks, Pucci-esque textile designs, and chokers were out; satin, velvet, glitter, and towering platform shoes were in.  And don't forget that shag haircut, sometimes creatively coloured. (In Liz Worth's Treat Me Like Dirt: An Oral History of Punk in Toronto and Beyond, scenester Margaret Barnes-DelColle recalls how during the city's glam era "there was that hair salon on Yonge Street called House of Lords.  On a Saturday — nowadays you can't even imagine it — but imagine a hair salon having a lineup outside of people wanting to get a shag haircut.  I lived thirty minutes outside of the city and yet I took a bus into town to go stand in line at Houses of Lords to get a shag haircut.")
The wider, mainstream rock audience, however, weren't exactly accepting, particularly in the less-urban areas of North America.  The push-back created, for the first time, a widely visible, popular intra-rock underground.  Some of it was simply down to a good ol' generation gap — something that Bowie had lyrically anticipated on Hunky Dory's "Changes" ("Look out you rock and rollers / Pretty soon now you're gonna get older") and "Oh! You Pretty Things" ("Don't you know you know you're driving your Mamas and Papas insane").
  "Oh! You Pretty Things," on The Old Grey Whistle Test, early 1972.
While glam was a certified public (out)rage in the UK and chunks of Europe, it was more of a cult-ier thing here in Canada, and even more so to our south.  This gave glitter rock an accentuated us/them, in/out patina which made it all the more alluring to the marginalized audience revelling in its playful decadence.
Bowie in the 1970s was essentially the biggest cult act on earth; he was never truly part of the US corporate FM rock machine.  Just as certain "coded" language or sartorial choices — from London Palare to Los Angeles zoot suiters and beyond — have helped members of minority tribes identify each other throughout time, glam's outlandish, sometimes confrontational clothes let you know who was and wasn't down with what you were about.  I distinctly remember being impressed with my elementary school's new art teacher who arrived in 1974.  On the first day of class, he correctly identified me as having "a David Bowie haircut" (an Aladdin Sane-ish knock off, minus the red dye) even if he did pronounce Bowie "Booo-weee."   (He was also into cutting edge art, kept a bottle of bourbon in one of his desk drawers, drove a motorcycle to school, and looked like a '70s porn star right down to the 'stache: my kind of art teacher.)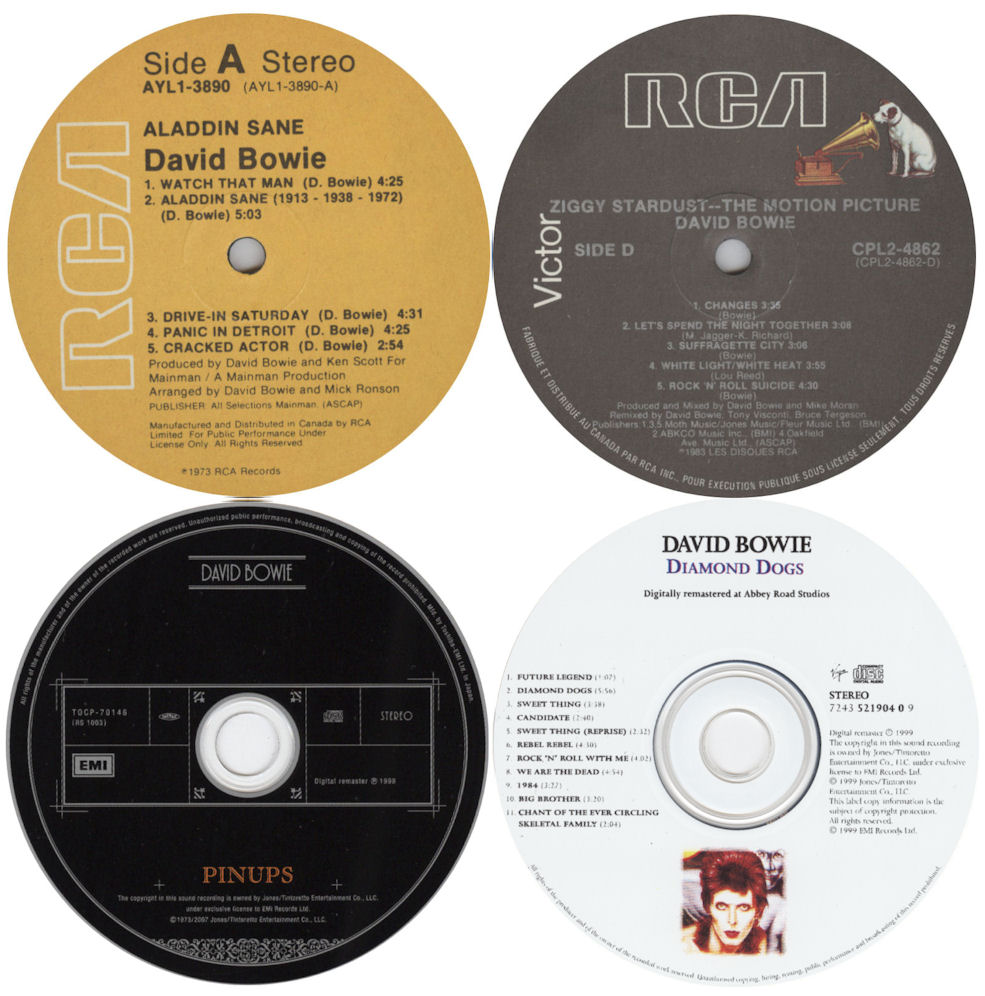 (All label scans by VA from my personal collection)
The era's daring, garish-but-fun fashions gave me validation to be more comfortable with, and overtly let out, my inner freak.  Glitter rock was life-changing for me.Or was it?  Or did it simply help me to discover my truer self?  I've been pondering this: how much do aesthetic/artistic epiphanies truly "change" us as opposed to existing as keys that aid us in unlocking that which was already there but which we'd yet to fully grasp?  It brings to mind that scene in Battlestar Gallactica Reimagined when the Final Five Cylons, upon hearing "All Along the Watchtower," are instinctually drawn together into a room where each confronts the shocking revelation about themselves: beneath their lifelong illusions of being "normal" humans, they are in fact the very alien beings they'd spent a lifetime hating and fighting against.
Meanwhile, if the Ziggy visual concept was an eye-opening shocker, so was the actual music.  In an age of rock-suite prog extravaganzas and double/triple albums with increasingly lush, laboured productions, where bigger, grander and technically complex were always better, the slashing immediacy of
Ziggy
's music and the relative brevity of the tunes really threw me.  I remember looking at the back of the album sleeve and noting that Side Two featured six tracks in an era when a lot of rock albums tended to have four or five a side.  Three of them were even under three minutes, with the side's longest, "Suffragette City," topping out at a whopping 3:25.  Another track, "
Hang On To Yourself
," a sort of proto-
Ramones
number, was about the fastest thing I'd heard until that time.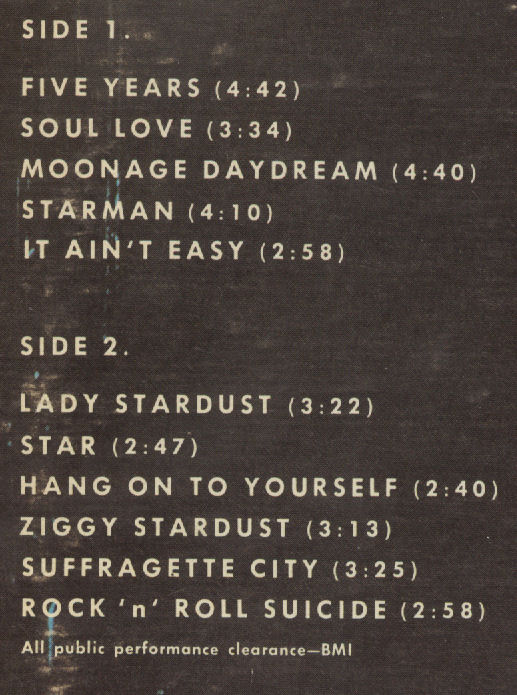 (Scan by VA)
As for Bowie himself, around the time I was discovering "Space Oddity" and then shortly thereafter the Ziggy album, he was putting the finishing touches on his much-anticipated follow-up, the harder-rocking, Ziggy-in-America Aladdin Sane, sporting the iconic lightning bolt album cover shot and the androgynous semi-nude image inside the gatefold.  But, just as a global audience was tuning in, Bowie famously killed his alter-ego with a shocking on-stage announcement during the tour's closing date at London's Hammersmith Odeon.
 Bowie "kills" off Ziggy Stardust at London's Hammersmith Odeon, July 3, 1973, before closing out with "Rock'n'Roll Suicide."  "Not only is it the last show of the tour, but it's the last show that we'll ever do."  Somewhere in that hysterical crowd at his feet is a weeping Kate Bush.  It was also shocking news to half of his backing band.
In what was the first of many left turns he'd throw his audience, Bowie disbanded the Spiders from Mars and decamped to Paris to record PinUps, a spirited, quickie homage to many of his favourite artists and songs of the 1960s, before re-settling in Los Angeles for the next few years.
While the primal energy of Ziggy and Aladdin shook off the stupor of coasting early '70s rock, infusing it with an jolt borrowed from earlier rock eras, and with PinUps as a reminder of an adrenalized pre-pyschedelic '60s, his truly radical-forwardness had been more down to his look, themes and stances.  He had essentially been tapping into a recently buried past to fuel his energetically revamped take on primal music.  At the end of the day, it was still good 'ol rock and roll only with Kansai Yamamoto designing the wares and a good haberdasher or two thrown in.  Starting with 1974's Diamond Dogs, with its more assured nods towards r&b and the avant-garde, Bowie's music became as restless and exploratory as his subjects and presentation.  Diamond Dogs planted the seeds for some of the music that would mark his output for the rest of the decade.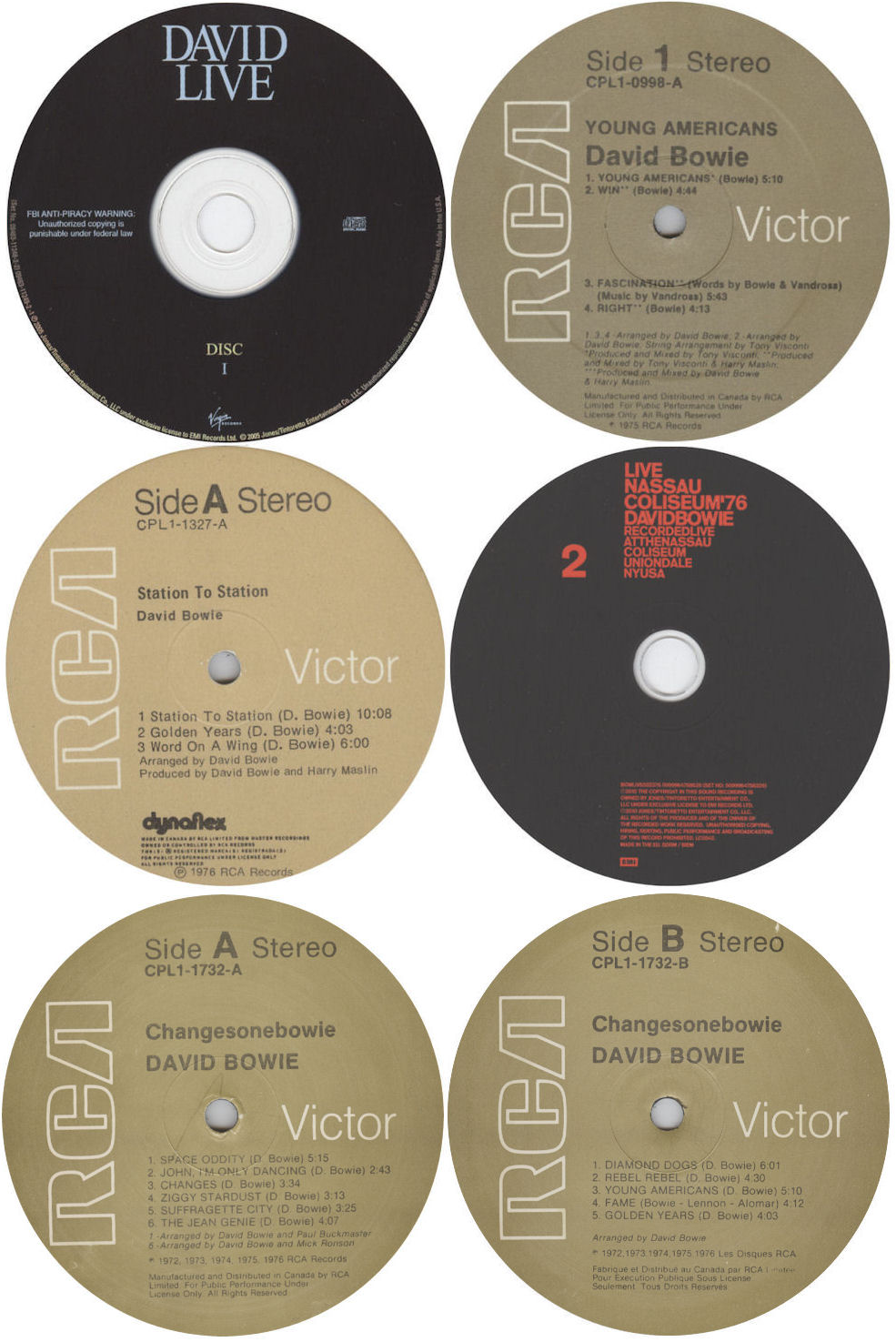 The heavily theatrical first leg of the Diamond Dogs tour gave way to its second, the Philly Dogs tour, sporting new soul/funk arrangements of old material, presaging where he was heading next.
A late 1974 appearance on the Dick Cavett show — which I remember watching alongside my sister and dad like it was yesterday — premiered this new Bowie, backing band, and sound via an ace new song, "Young Americans."  When the eponymously titled album appeared in late winter of 1975, it divided his audience sharply, enraging the rawknrlll4evah!! set.  Of course, when one looks at Bowie's earliest listening tastes and the panorama of genres he'd explored since 1964, his r&b leap should have been no surprise as it had long been one of his biggest musical passions, but most of his following knew little about his pre-Ziggy touchstones and influences.
Bowie premiering his new sound and song, "Young Americans," on the Dick Cavett Show, late 1974.
The album strongly incorporated elements of then-emerging disco, and if the old school rockers were irritated by glam, then a full-scale hatred of disco united the splintered rock camps including some of the glam kids, the biggest irony being that disco was itself hugely liberating for all sorts of racial, gender, and sexual minorities.  The sometimes violent reaction against disco from the rock community was largely about hatred of "otherness," speaking as it did to outsiders in its own way, perfectly illuminating rock's uncomfortably little-discussed sometimes fascistic and xenophobic impulses.
While even I regrettably fell prey to some of this dopey thinking in the later seventies, Bowie's reinvention was far less of a heresy for me.  Even then, when rock music was admittedly my primary food group, it wasn't truly my be-all, end-all.  I loved the Young Americans album and his new direction, and was especially thrilled when two of my favourite things from the first half of the decade — Bowie and r&b — dovetailed, cumulating with his appearance on Soul Train, performing his Lennon-collaboration hit "Fame" and his then-new 45, "Golden Years," one of the very best singles he ever released.  Or anyone else for that matter. It was also a fitting title, as this single kicked off what are truly Bowie's golden years as an artist: 1976-1980.
Above: David Bowie on Soul Train, late 1975, another broadcast I remember watching.  The Q&A is sadly hilarious as he was essentially existing on a diet of milk, Herculean amounts of cocaine, and little else.  Below: Part One of his infamous, totally whacked out interview with Russel Harty for UK TV around the same time.  Oh dear … oh my.
Its parent album, Station To Station, was another jaw dropping leap forward. Written and recorded shortly after Bowie had finished his acting work for his acclaimed feature film debut in Nicholas Roeg's The Man Who Fell to Earth, and amid deep cocaine-fuelled, sleep depravation paranoia, Station To Station borrowed the funk template of Young Americans but darkened the mood and sense of dread substantially.  A rock edge was tossed back into the mix, interweaving the extended, groove-based excursions with angular, left-field guitar workouts, and adding all manner of aural and lyrical cues that pointed towards where his music and aesthetic were journeying to.
The album bridged the gap between his mid-decade r&b excursions and his ascending interest in European-focussed, experimental and electronic-heavy music, particularly being influenced by German groups such as Kraftwerk, Can, and Neu!.  The accompanying tour found the gaunt, near out-of-his mind Bowie enacting his new, unsettling Thin White Duke persona in concert with a stunning, minimalistic approach to performance that was in sharp contrast to the opulent gestures of the
Ziggy
-era and
Diamond Dogs
tours.  Each set was preceded by a screening of the 1929 Buñuel/Dalí surrealist film
Un Chien Andalou
, with the show itself devoid of any colour: nothing but pure white lighting and high-contrast b&w clothing, taking its cues from German expressionism.  It was merely a warm up for what was to come.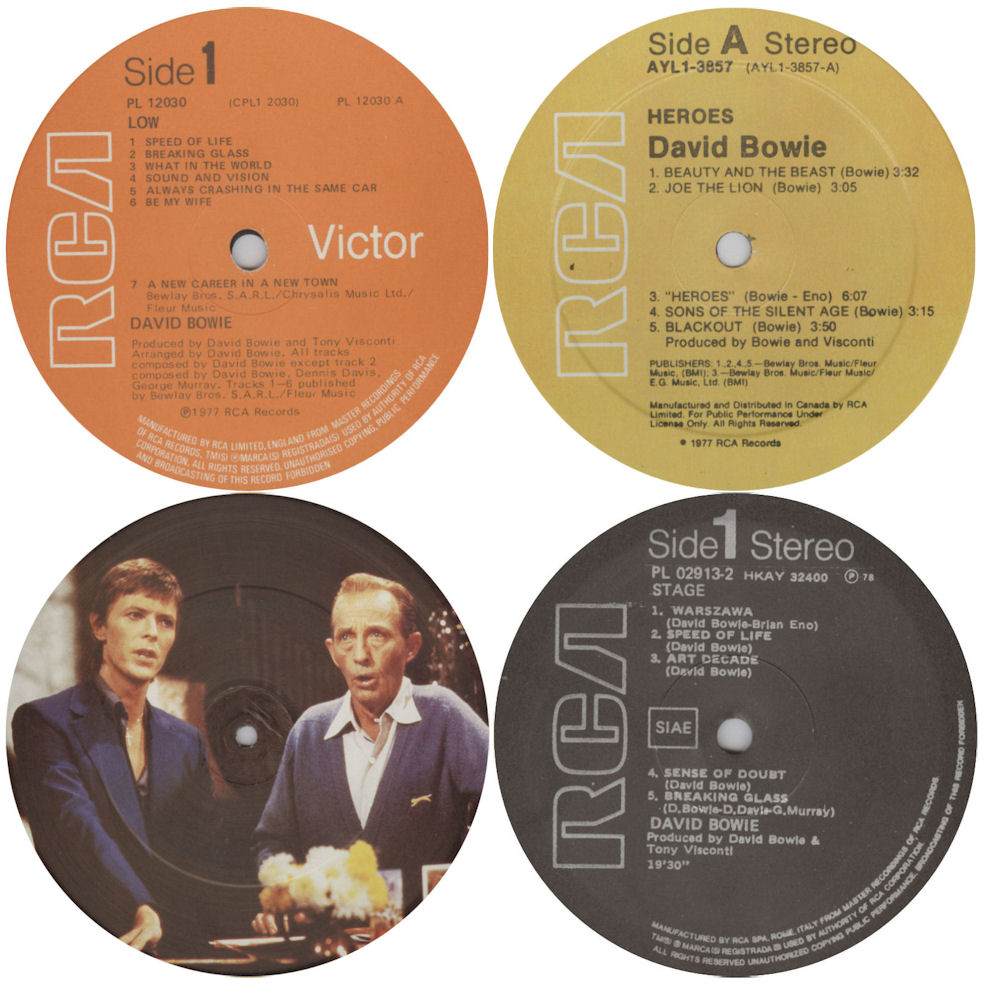 If there had been derisive cries among the rock base in his audience with the release of Young Americans, it paled in comparison to the polarizing opinions that greeted Low's arrival in January of 1977.   Ditching most of the rock and the funk, Low marked the start of what has since become known as the "Berlin Trilogy" or "Berlin Period."  Produced by Tony Visconti but with defining input by Brian Eno, Low was in fact recorded in Paris at the Château d'Hérouville and consists of fragmentary avant-pop on Side One and several largely instrumental mood pieces on Side Two.
Whereas Ziggy had anticipated aspects of punk rock which was exploding at the time of Low's release, Low itself anticipated early-'80s post-punk on one hand and some of the darker synthpop to come on the other.  Its decidedly uncommercial and experimental nature alienated many, with the title rumoured to be a reference to the reaction by RCA executives upon hearing it (or that its title, coupled with the Bowie still from The Man Who Fell To Earth, created the pun "Low Profile").
For me,
Low
is his all-time masterwork and
one of my desert island discs
.  Thirty-six years on, it still sounds fresh and fascinating.  It's one I've never stopped playing.  In terms of its larger impact, the seeds it planted have continued to sprout in the works of others year after year, and it is regularly name-dropped by a range of various artists as a key influence.
One of the biggest criticisms initially levelled at Low was that it was cold, a charge that I simply don't get.  It's not exactly a knees up, but instead features some of his most moving, emotional music.  He was trying to piece his drug-fractured psyche and life back together, and the absence of vocals on many tracks are down to him wanting to express himself through music that projected feelings that were ineffable for him at that time.  If some of the spiritual numbness he was undergoing came through in the album, it was twinned with a combo platter of the accompanying pain, confusion, and raw nerves.
A sombre tone is certainly self-evident on something like the hypnotic, mournful "
Warszawa
," but it's not the only mood and colour that is part of the album.  For instance,  I can't think of anything that captures the anxiety, adventure, trepidation and liberation of making a complete break in your life and starting over somewhere else better than the wordless two minutes and fifty-three seconds of "
A New Career In A New Town
."  Meanwhile, those tracks with lyrics feature them sparingly, cryptically, such as the album's single and another of his finest tunes, "Sound and Vision."
(Above) Low's single, "Sound and Vision," a meditation on the mystery that is creative inspiration — and the fear of losing it — was an unexpected UK hit.  It has since becomes one of his signature songs.  I've always loved that the vocals don't start until halfway through it.  That's Mary Hopkin on the "do do do"s, by the way.  Meanwhile, Side Two showcased sombre mood pieces such as my favourite track on the album, "Art Decade" (Below).

Other aspects of Low turned out to be more obvious than they had seemed.  I'd long thought of "Breaking Glass" as a lyrically abstract depiction of a fragmenting psyche.  However, according to a 2012 MOJO article by Paul Trynka, author of acclaimed Bowie biography Starman, the song is a near literal account of a big row that went down in the studio during an unwelcomed visit from his estranged wife Angie.
Not only does the
Station To Station
and
Low
double whammy constitute one of my all-time favourite 1-2 album release punches, the latter was also recorded in tandem with another seminal LP, the Bowie-produced and co-written post-Stooges
Iggy Pop
solo debut,
The Idiot
.  After springing Iggy from an LA asylum, Pop accompanied Bowie on the
Station to Station
tour before the two famously relocated to Berlin in a communal attempt to clean themselves up.  Seriously, who goes to Berlin to get off of drugs?!
Bowie ended up playing piano in a low-key capacity on Pop's tour for the album, resulting in an infamous, unfathomable appearance by the two of them on the weekday afternoon Dinah Shore Show, mortifying North American housewives everywhere. Both host Shore and that day's guest Rosemary Clooney conversed with Pop, part-horrified, part-fascinated, while seemingly also wanting to take him home and give him a bowl of hot chicken soup, as a bemused Bowie looked on and chimed in.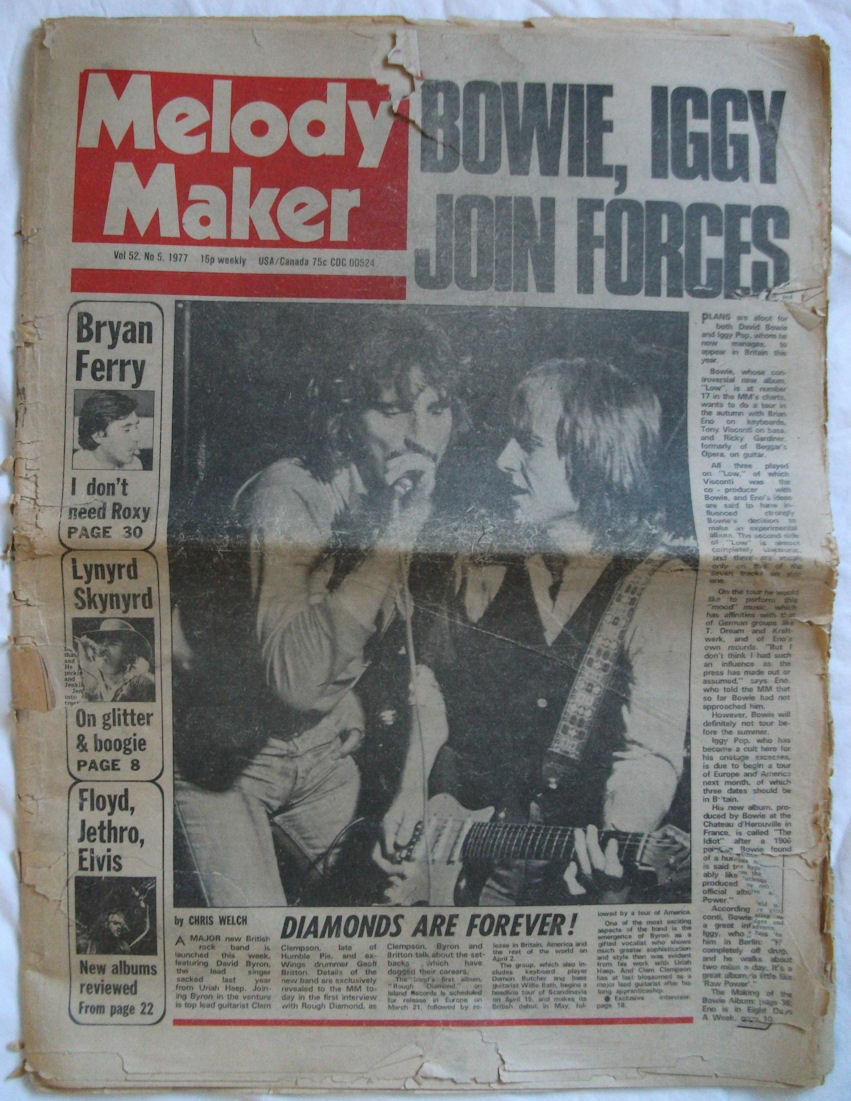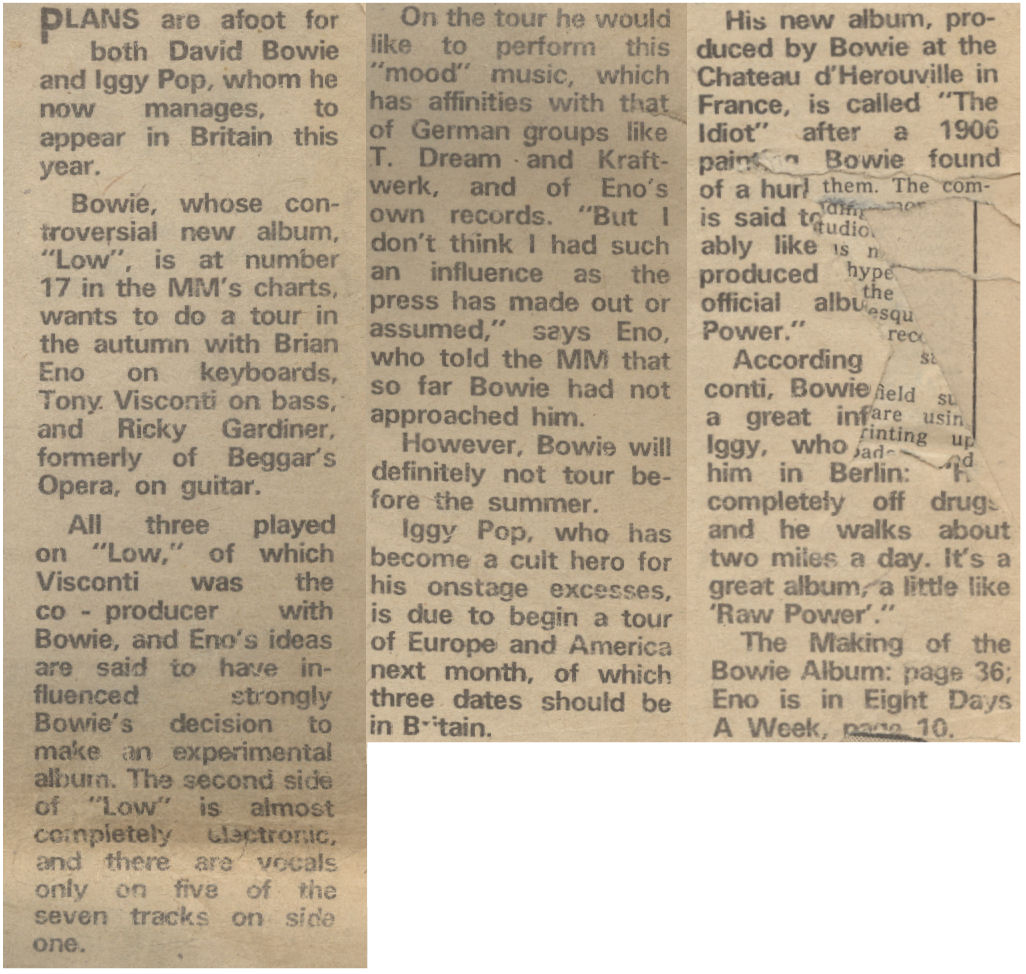 My copy of the January 29, 1977 issue of
Melody Maker
announcing the forthcoming Iggy Pop album
The Idiot
, a collaboration with Bowie.  The two famously moved to Berlin in 1976-77 during an artistically fertile period for them both.  A movie is underway about their time living there.  Bowie also played keyboards in Iggy Pop's band for the tour, resulting in a bizarre appearance on the
Dinah Shore Show
.  Someone has kindly posted the near-complete interview on YouTube (below).  (Magazine photos and scans on this page by VA).
Shortly after the Iggy Pop tour wrapped, Bowie went to work on the only record of the "Berlin Trilogy" actually recorded there: his second (!) release of 1977, "Heroes".  With Eno playing a key role once again, and with Robert Fripp this time contributing guitar, it largely followed the skewed rock/mood pieces side split of Low, only even darker than its predecessor (Bowie also helped Pop knock out his last truly great album, Lust for Life, simultaneously with the "Heroes" sessions.)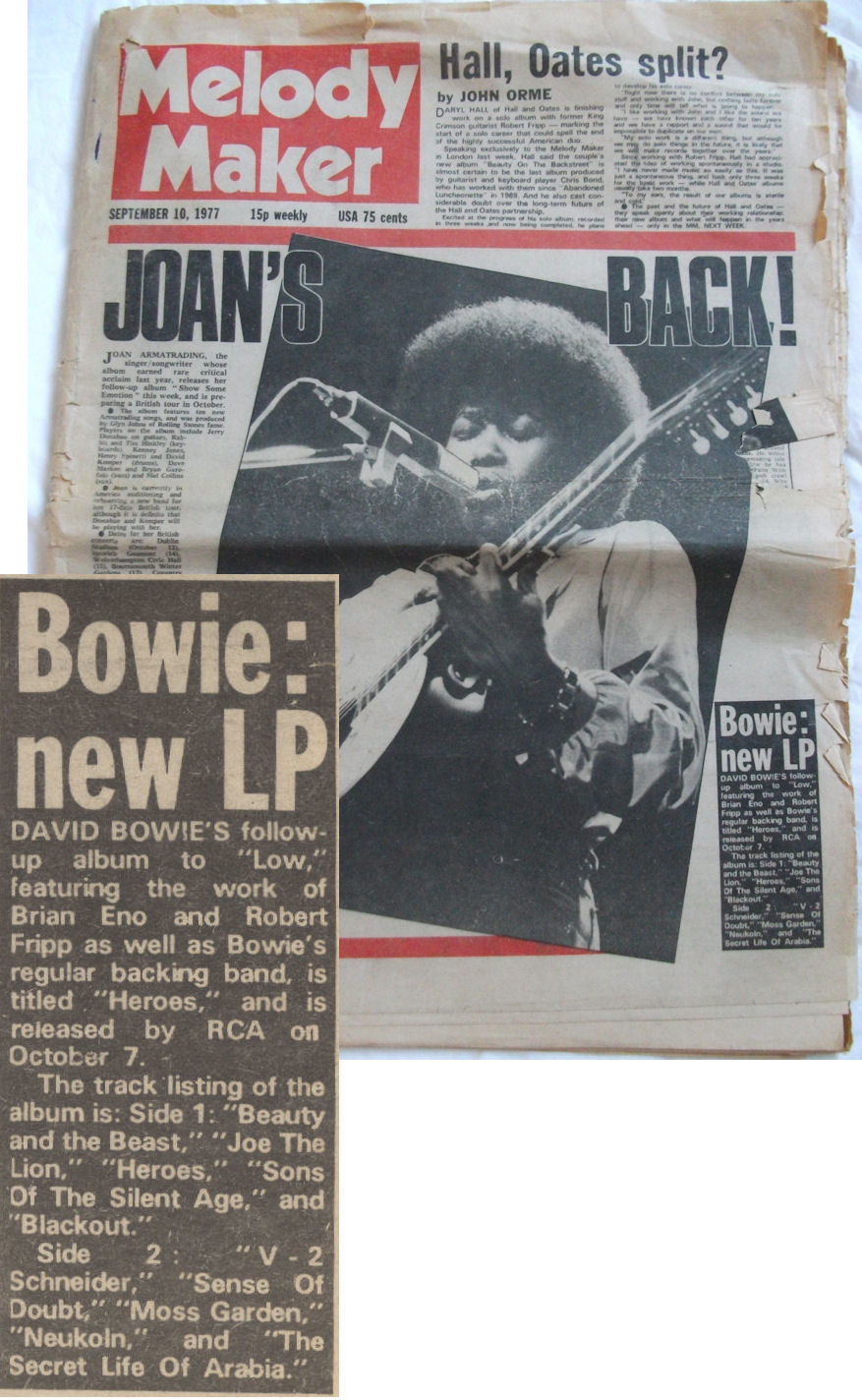 "Heroes" announced in the September 10, 1977 edition of Melody Maker.
My favourite Bowie track?  The epic, paranoid "Station To Station." The European canon is here.
Bowie returned to touring the following year, a jaunt documented via Stage, a live disc I've always been fond of, before completing the "trilogy" with Lodger in 1979. This time around, the side splits were more about East (Side 1) vs West (Side 2), and picked up from the avant-rock cues from "Heroes" first side, along with many nods to world music, especially in "African Night Flight" and the Turkish-influenced "Yassassin."
He greeted the 1980s with another one of his finest albums, Scary Monsters (And Super Creeps), a brilliantly executed, accessible synthesis of pretty much everything he'd done since 1969.  It yielded major international hits in "Ashes To Ashes" and "Fashion," both accompanied by innovative videoes, the former cannily incorporating figures and visual elements from the emerging Blitz/Synthpop scene emerging in London at that time, one in which he'd been a huge influence.
And then …. silence.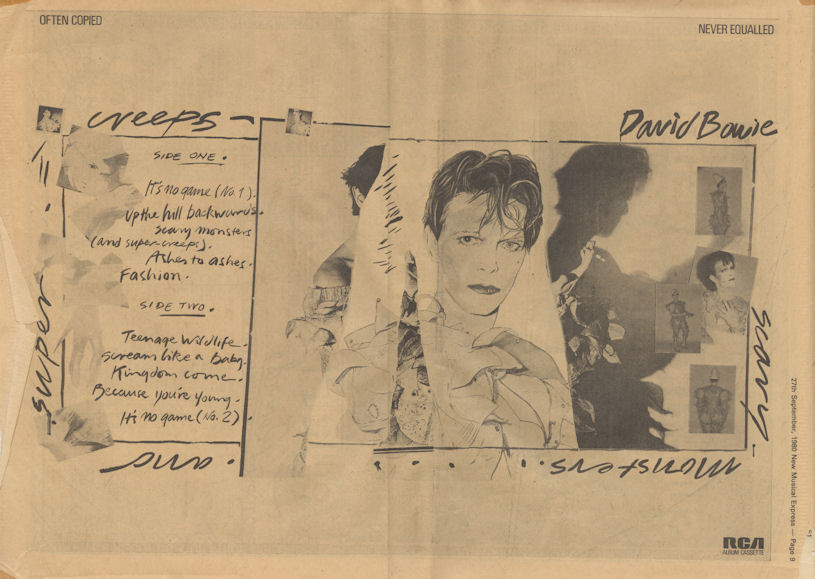 An ad for Scary Monsters (and Super Creeps) from the September 27, 1980 issue of NME (the top corners read "Often Copied/Never Equalled"), and the stunning video for its lead single, "Ashes To Ashes" video (below).
After a decade plus of non-stop work and music-issuing, the lights were temporarily dimmed at Chez Bowie for well over two years: highly unusual during a time when a record a year from most artists was the norm, with two in a year not wildly unusual. He engaged in some theatre-based projects (The Elephant Man on Broadway; Bertolt Brecht's BAAL for UK television), a surprisingly weak, formulaic theme song for the Cat People movie, and a guest spot on Queen's "Under Pressure" hit.
Otherwise, Bowie retreated in a way he'd never dreamed of doing since Ziggy Stardust made him a bona fide star. Some of it was reportedly down to his shock at the assassination of his pal and former collaborator, John Lennon (Bowie had been looking forward to seeing Lennon as he and Yoko were due to take in Bowie in a performance of Elephant Man, planned for a few nights after his eventual murder).  He also simply needed a break.
In his absence, Bowie's fan base had to look back on and assess his creative vapour trail. A K-Tel Best Of was a major hit in the UK in early 1981, while wide swaths of the music pouring out from the Isles at that time owed some form of debt to him. For myself, this was a period wherein I began to slowly reinvestigate music from the overall past after having spent most of the last few years focused near wholly on the present.  Examining Bowie's output retrospectively merely deepened my obsessiveness during this time, as it did with a number of pals in my music-mad social circle, creating an even bigger hunger for something new.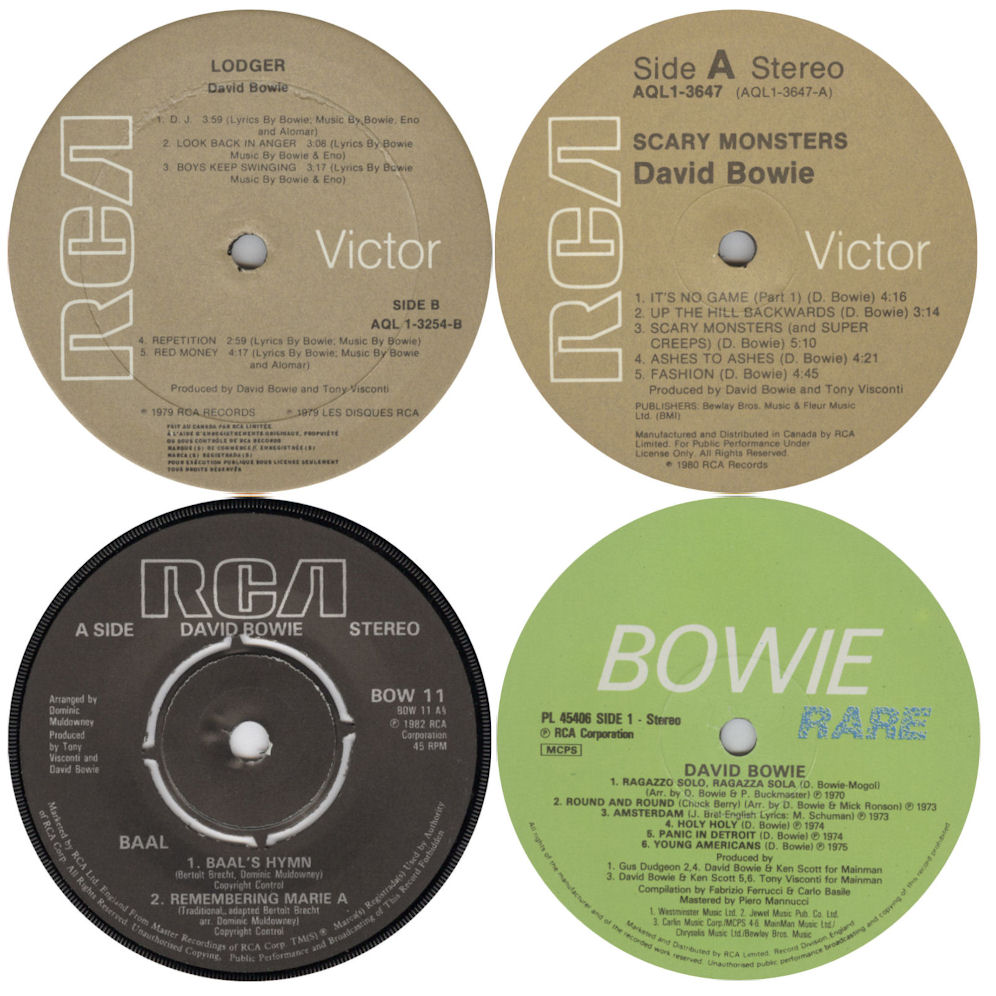 Owing to his ongoing influence, he was everywhere yet nowhere.  And absence makes the heart grow fonder, as they say. So, it was with jubilant surprise and delight that I opened the Christmas 1982 edition of the NME and was greeted with the announcement that Bowie would be coming out with a new album in 1983 and undertaking a major international tour.  I was over thee moon, on the phone ringing up friends instantly with the news. Not only hadn't he issued an album in three years but he hadn't toured in five — and this time there was no way I was missing out seeing him in concert. Exactly ten years on from my first hearing "Space Oddity" orbit across the airwaves, Bowie was back and this time I'd be seeing him live.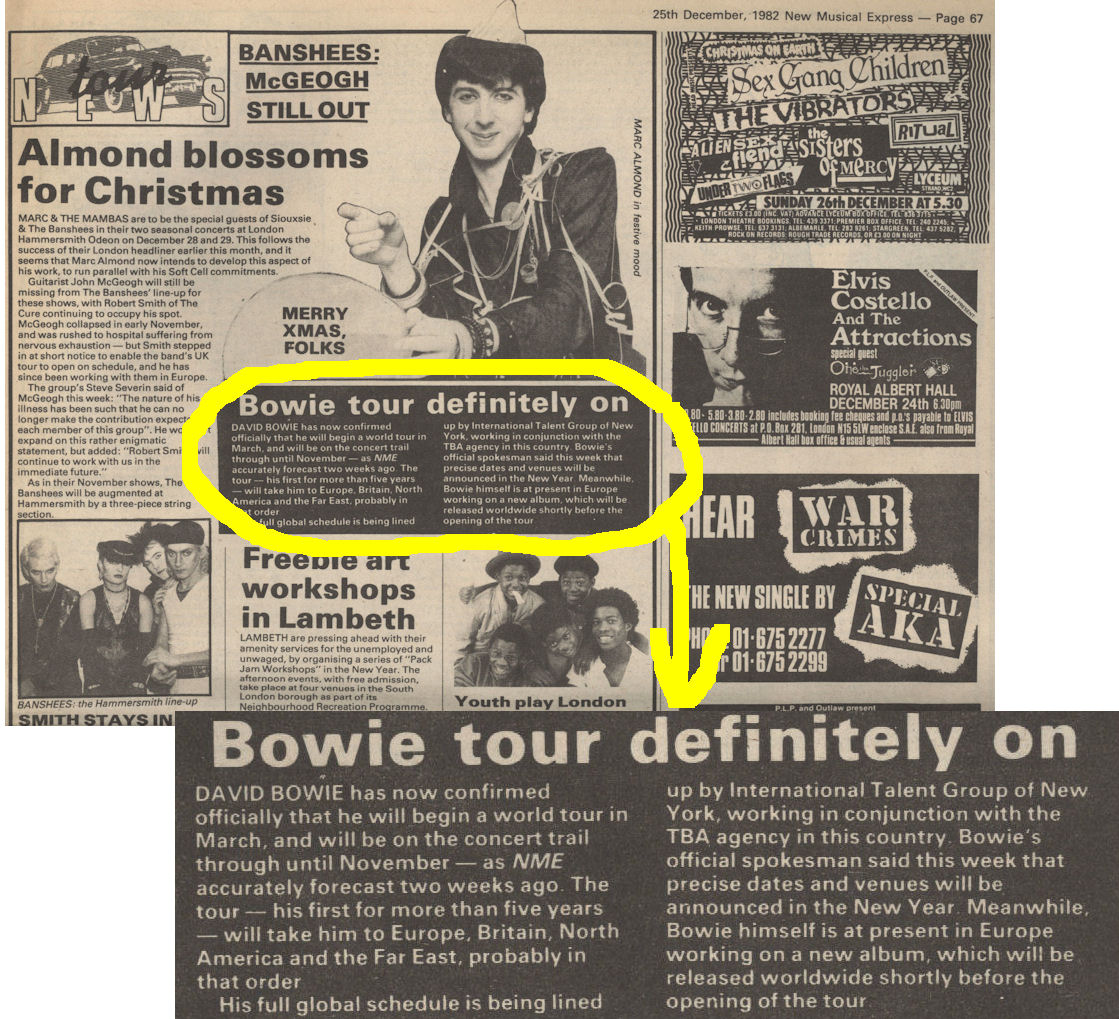 Merry Christmas Indeed: The Christmas 1982 issue of
NME
announces a new album and tour for Bowie in 1983 after several uncharacteristically quiet years.  In other news, Marc Almond is opening gigs for Siouxsie and The Banshees who will have The Cure's Robert Smith on guitar subbing for John McGeogh, Elvis Costello plays the Royal Albert Hall, the Special AKA re-emerge, Musical Youth play some dates … and, of course, let's not forget to mention Sex Gang Children … pwhoa!
"Changes," from Hunky Dory (1971).
Part Two, coming on Monday, focusses on his 1983 comeback via the glossy commercial juggernaut, Let's Dance, and my thrill at taking in a brilliant set at CNE Stadium — with openers Rough Trade — along with my pal Miss Bennies and 60,000 others over the Labour Day weekend.
Comments From Each of The Original Two-Part opensalon.com Posting
Comments for the original Part One:
Comments for the original Part Two: