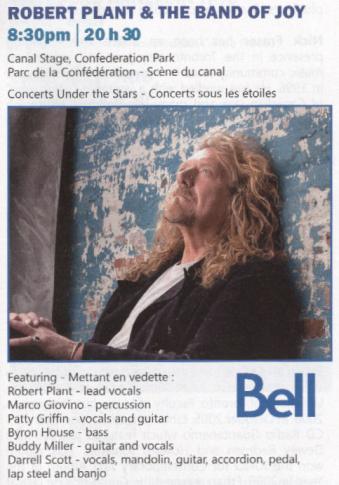 2011's Ottawa Jazz Festival, sporting its oft un-jazzy high profile headliners, is kicked off under dark skies with Robert Plant to a full house in Confederation Park. (Photo of the wristband passes by VA; the image is from the festival booklet).
160. The Rain Song: Robert Plant & the Band of Joy with Bahamas, Ottawa Jazz Festival, Confederation Park, Ottawa, Ontario, Canada, Thursday June 23, 2011, $40.
"Upon us all a little rain must fall" 
… from "The Rain Song" by Led Zeppelin from Houses of the Holy (1973)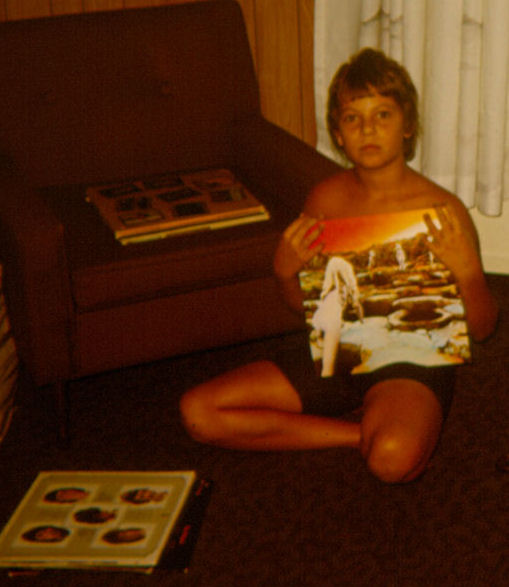 VariousArtists, aged 10 in 1973, holding up my newly purchased copy of Led Zeppelin's then-latest release, Houses of the Holy, in a Halifax hotel room while on an east coast vacation with my family. (Photo by VA Snr.)
After a shaky start, spring sprung around these parts in 2011 with a welcome excess of gorgeous warmth and sunshine. Late May through spring's conclusion was pure meteorological sweetness. And so it was all the more frustrating when this year's highly anticipated Ottawa Jazz Festival began amid the temperature suddenly dipping and the skies turning from sunny to dark and grumpy for several days of wet sogginess. Jesus Murphy!
The 2011 edition of the Ottawa Jazz Festival has been controversial in its booking of several decidedly non-Jazz headliners over the Fest's first few days. Unlike Ottawa's Bluesfest, which has retained its name but ceased being a "blues" festival a good decade ago, the Jazz festival has remained fairly focussed on its namesakes' genre (also, unlike Bluesfest this year, the Jazz Festival had an impressive line up). I love Jazz but am not fussy about festival labels and don't like to turn down opportunities to see artists I'm into — so I was chuffed, with a set of four opening days featuring Elvis Costello, k.d. lang, and Pink Martini.
Kicking off the Fest-ivities, though, is the old poodle-haired hammer of the gods himself, Robert Plant. OK, I know that for a lot of people, Led Zeppelin are the shit and all but, for me, while I do love them, am a fan, and have most of their catalogue (but find many of their albums patchy, truth be told), they've never been one of my very favourites. Tops of my B List, how's that? Still, I listen to them plenty and had cash put aside a few years ago when it appeared they were going to tour following the The O2 Arena concert in 2007. Yep, I had the delusional notion that, along with a zillion other tuneheads, I would be able to see one of the North American gigs but, alas, the tour never came to be.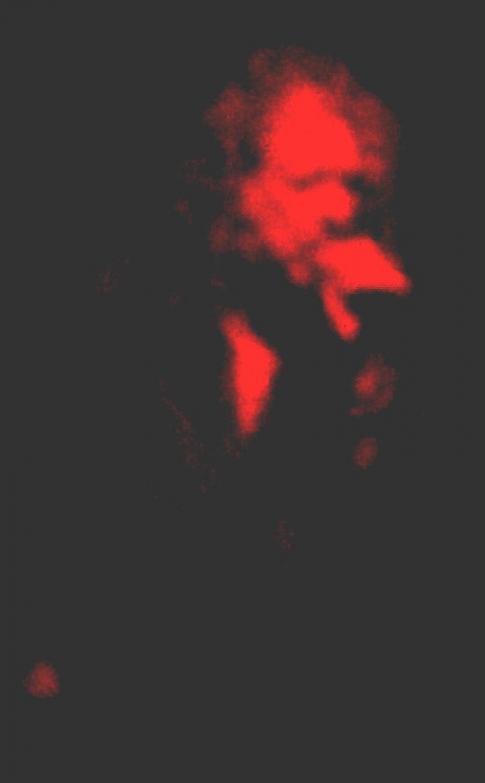 Robert Plant, June 23, 2011, Ottawa Jazz Festival. Photo and effects by VA.
And so it is on this occasion that I finally get to see Mr. Lemon Song himself, Percy (as he's known in some corners), for the first time. I have to admit that I've never been keen on his solo output — until recently. For me, the turn came with 2005's Mighty ReArranger. A number of songs from it caught my ear as they sported a more adventurous sound that was a little different for Plant. That change in direction was left in the dust with another more austere, rootsier one that debuted on Raising Sand, his 2007 collaboration with Alison Krauss. That album I full-on love, playing the dickens out of it over the past few years, it featuring many particular favourites of mine such as "Please Read the Letter," "Gone Gone Gone," and "Rich Woman."
Plant's latest is Band of Joy, the title recalling his pre-Zep hippy band from the '60s even though Robert is the only Band of Joy-er this time around. While not as distinctive as Raising Sand, it's still a terrific outing, mixing that album's understated rustic flourishes with some of the more left field touches from ReArranger.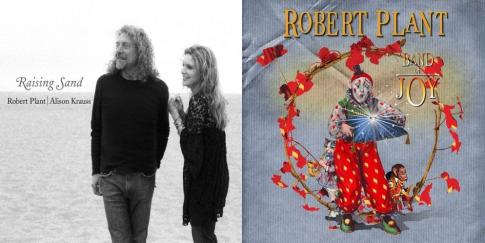 Raising Sand with Alison Krauss (2007) and Band of Joy (2010). Below, click through for the former's "Please Read the Letter" video.
[youtube=http://www.youtube.com/watch?v=L3Xi5gvZ7Kk&w=485&h=295]
With all that in mind, I would have been more than pleased if the set had been nothing more than recent solo Plant stuff with some Zeppelin tunes thrown in. Well, as it turned out, that's damn near exactly what I got. Serendipity!
Cublet decided to sit out M. Golden God and so our friend Sebado Hepburn came along. Lightly spitting slate black skies, accompanied by thunder and flashes of lightning, hovered above as I met Sebado at the front gates, with all attending anticipating a momentary cloudburst. While I was glad to still be dry at that time, a storm threat does eat away at your enjoyment to some degree as you're distracted, anxious, waiting for the other shoe to drop.
"Maybe he'll do 'The Rain Song,'" I pondered.
To hell with the darkening skies, declared Sebado and I. We were committed to having a fun time and so we did, setting up our chairs in about the middle of what turned out to be a full park of 11,000. During some settling-in beers, we watched someone on stage who turned out to be Bahamas — Feist sideman Afie Jurvanen — who I saw open for Wilco last year. I was again similarly impressed.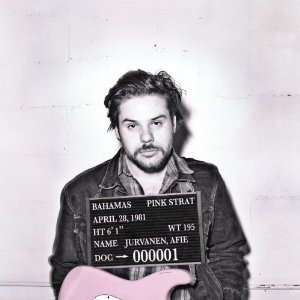 Pink Strat by Bahamas (2009).  Click through on the cover image for the video to "Hockey Teeth."
Plant was a half hour late getting on but delighted one and all immediately by launching into a funky take on "Black Dog." Backed by a group of Nashville-based players along with singer Patty Griffin, Plant and the group ditched most of the classic rock clichés that have marred much of his previous solo stuff for me, going for something earthier, moodier, layered, impressionistic. This Band of Joy focussed on grooves, nuance, and breathing space. While I have a greater love of Zeppelin, I'm more drawn by nature to what Plant is doing these days, the results having their own stand-alone delights that couldn't happen in LZ. For example, if a violin bow appeared in this ensemble, it would be well put to use I'm sure, whereas whenever I watch live footage of Zeppelin and see Jimmy Page reach for one, I always want to tap him on the shoulder and say "put it down, luv."
Mr. Honeydripper was in agile voice in for "Angel Dance" followed by a countrified take on "What Is and What Should Never Be," tonight notable for some great slide playing from Darrell Scott. Further LZ numbers showed up during the night including "Black Country Woman" and a nicely skewed "Misty Mountain Hop."
[youtube=http://www.youtube.com/watch?v=9plUik6j7P0&w=485&h=295]
Plant & the Band of Joy deliver a slightly funky take on Led Zep's "Black Dog," on the opening night of the 2011 Ottawa Jazz Festival.
In my neck of the audience woods, though, Seb and I had a whole other second spectacle raging on just down from us. Arriving just as the concert started, a particular twosome waded through the crowd, finally planting themselves about 10 feet away from us in a small open spot surrounded by boomers in chairs.
She was a very short blonde woman who appeared almost as Mason Reese in drag, sporting a Dolly Parton-cum-Johnny Thunders-style wig (or really brittle hair if it actually was hers), out on a date with Daddy Warbucks in a Hawaiian shirt. Throughout the show, she "performed" a non-stop expressionistic, interpretive dance, such was her orgiastic joy of Percy, flailing her head and body in every direction, regularly high-kicking her pointed-toe foot up to the heavens while constantly shaking one fist in the air. Amid the insistent pose-striking were erupting gyrations, as if she was giving birth to a never-ending succession of kittens.
Think Merce Cunningham meets Girls Gone Wild. "It's like a stripper without the pole," observed a massively bemused Sebado.
Meanwhile, Daddy Warbucks sat crouching down so as not to obscure anyone's view. It also aided in giving Isadora Duncan some balance to her physical convulsions as he chained smoked, smirking constantly with a lurid grin, as she got up to all sorts in the proximity his person.
Folks, stuff like this is half the reason I go to live shows.
Then there were the yuppies perched next to us, silent, as hubby knitted a yet-to-be-identifiable garment.
I dare say that things have rather retreated from the Salò-level of debauchery of those old Zep tours and audiences. I mean, whatever happened to good old fashioned audience ODs and passing out amidst cheering and barfing? Back then, you knew you'd had an evening out and a time of it when you could barely remember a damn thing after copious mugs of Purple Jesus.
Plant was decidedly chirpy. On several occasions, he talked about his love and appreciation for the rich history of music that exists for him to draw upon and renew him, particularly the legacy of British music in the 40 or so years he's been an active participant, mentioning this in advance of performing a song by one of his favourites, Richard Thompson's "House of Cards." Later on he talked about pulling inspiration from a variety of musics from throughout the 19th and earlier 20th centuries and how much he was looking forward to travelling through some of the older European regions such as Russia and Lithuania, bringing some of it back to the source as it were.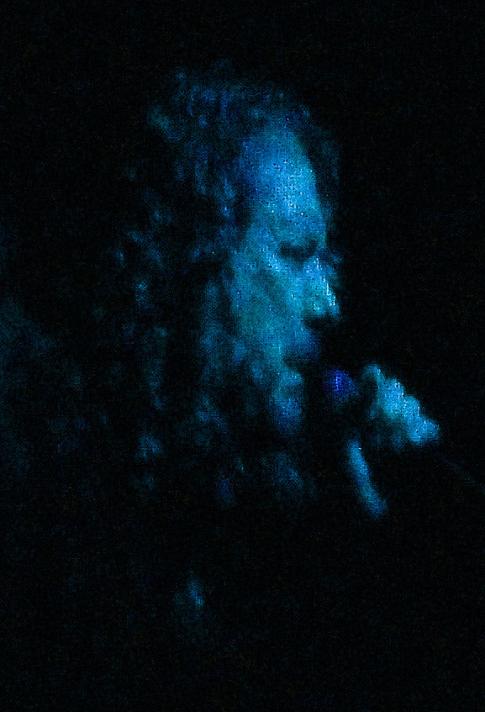 (VA)
During the show, Plant handed off a few songs to other band members. Three days earlier, I had seen Brian Wilson do the same thing, creating a real buzz kill. It might be that Brian needs little breaks in the evening to make it feasible or perhaps simply as a voice rest. Whatever the reason, it was heavily distracting, often "breaking" the mood. It didn't come off that way during Robert's set. Guitarist Buddy Miller sang while Plant wailed on the harmonica, later switching vocal posts with Patty Griffin on a number, and providing backing vocals on Darrell Scott's cover of "Satisfied Mind."
Plant was simply seeing the evening as partly a band experience, showing his respect and enthusiasm for his fellow musicians by spotlighting their talents and also giving himself something different to do during the set, keeping it fresh and interesting for himself. My take is that Plant and his musical comrades were having a ball up there. It was anything but phoned in. And while Plant remained the night's star, his whole meshing with and highlighting his band meant that he's more interested in making good music while enjoying himself than stroking his star ego (not much, anyway).
Unsurprisingly, the Band of Joy album dominated the show, delivered via rich interpretations by a group of musicians truly in sync, in all senses. Plant obviously relished sinking into "Satan Your Kingdom Must Come Down" and the dark, droney "Monkey." The one kicker for me? They never played my personal fave from the disc, "You Can't Buy My Love."
[youtube=http://www.youtube.com/watch?v=TGK3Y_1-HJQ&w=485&h=295]
Moody Plant with Patty Griffin, on Band of Joy's "Monkey" at Ottawa's Confederation Park.
As the show veered into the final stretch, he pulled out Raising Sand's "Please Read the Letter" — and the rain came down. First, moderately, just enough to be irritating, yet not enough to send anyone packing. Followed by an in-a-drizzly-mist "Misty Mountain Hop," he winkingly hoped that everyone would "enjoy the rest of the festival and look forward to Elvis Costello, k.d. lang, and all those others jazzers — hey! keep in touch." (Note to Robert: Don't get so cheeky lad, at least k.d. and Elvis have cut some jazz sides, Perce.)
After a brief pause, he and the band returned for an encore of "Gallows Pole." There had been a guy in the audience screaming for it all night, and when Plant launched into it, I thought the guy was going to tear his own head off. Meanwhile, Isadora Duncan continued to pirou-flail around Warbucks' parameter. Sebado and I, being the smutty minded letches that we are, made untold number of jokes about her swinging on his gallows pole later, but I'll leave them out for OS readers' delicate constitutions.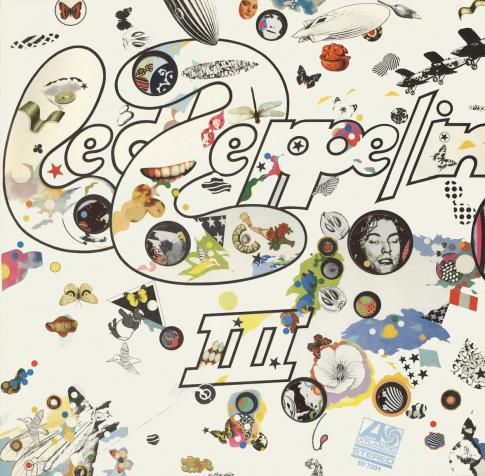 Percy peeking out from my copy of Led Zeppelin 3's die cut holes. (Scan by VA)
Plant wailed through the Led Zeppelin 3nugget as the rain truly, finally began to throttle down. And with another ta ra, he and the band exited amid the downpour as we all filed out to Eddie Cochran's "Sittin' in the Balcony" playing through the loudspeakers.
While he didn't play the "Rain Song," "Gallows Pole" became a rain song. In fact, there would be many in the weeks to come. While my luck through the years with good weather at open air gigs has been remarkably stellar, with about four rain-interrupted shows in over 30 years of outdoor gig-going, my luck ran out to some degree this year with the Jazz Festival and Bluesfest. Rain appeared, or threatened to, on three of the four nights I ventured out for the Jazzfest. During its second week, wherein my schedule was too busy to accommodate any gigs, there were an additional several nights of the wet stuff for the Fest. This must have greatly peeved the new brass at the Jazz Festival, having come up with such an ambitious line-up and then to be frustrated by the rain. Le pleut also became an occasional Bluesfest issue this year too, ending with a full on disaster on the final night that you have no doubt read about.
"Gallows Pole," a traditional number adapted for Led Zeppelin III (1970).
In an exiting crowd that was a moving mushroom garden of umbrellas, Sebado and I kept dry on the way out by sharing his brolly when I said to him "Well, the rain held off until the last couple of numbers, so I really can't complain."
A woman in front of me turned around and quipped "That's right, you can't complain."
VariousArtists: Not even just a little bit?
Woman in Front of Me: No, not even a bit.
VA: How about me complaining that if Plant had come on stage on time, then we would have missed the rain …
WiFoM: … and we probably would have gotten a second encore song as well. OK, you can complain about that.
VA: You see!
[youtube=http://www.youtube.com/watch?v=HpLe-qUUGIE&w=485&h=295]
"The Rain Song" from Houses of the Holy. It'smy favourite LZ song (well that and "In My Time of Dying") here performed live at Earl's Court in London, 1975.
Next On Stage –> PLEASE NOTE: I have a deeper backlog of posts over on my Open Salon blog.  I will now be simultaneously cross-posting here on WordPress in tandem with my OS blog, beginning with this series on the 2011 Ottawa Jazz Festival.  Meanwhile, I will also continue the process of republishing my previous OS pieces here as well, alternating between the past and the present.  Up next is …
161. The Other Side of Summer: Elvis Costello & the Imposters, Ottawa Jazz Festival, Confederation Park, Ottawa, Ontario, Canada, Friday June 24, 2011.
… and I will soon be going back in time with …
 014. Gimme Danger: Iggy Pop with Nash the Slash, Wonderland Gardens, London, Ontario, Canada, Wednesday, October 27, 1982 — featuring guest contributor M. Zeppelin on the topic of some spirited social interactions with Iggy and his band.
© 2011 VariousArtists