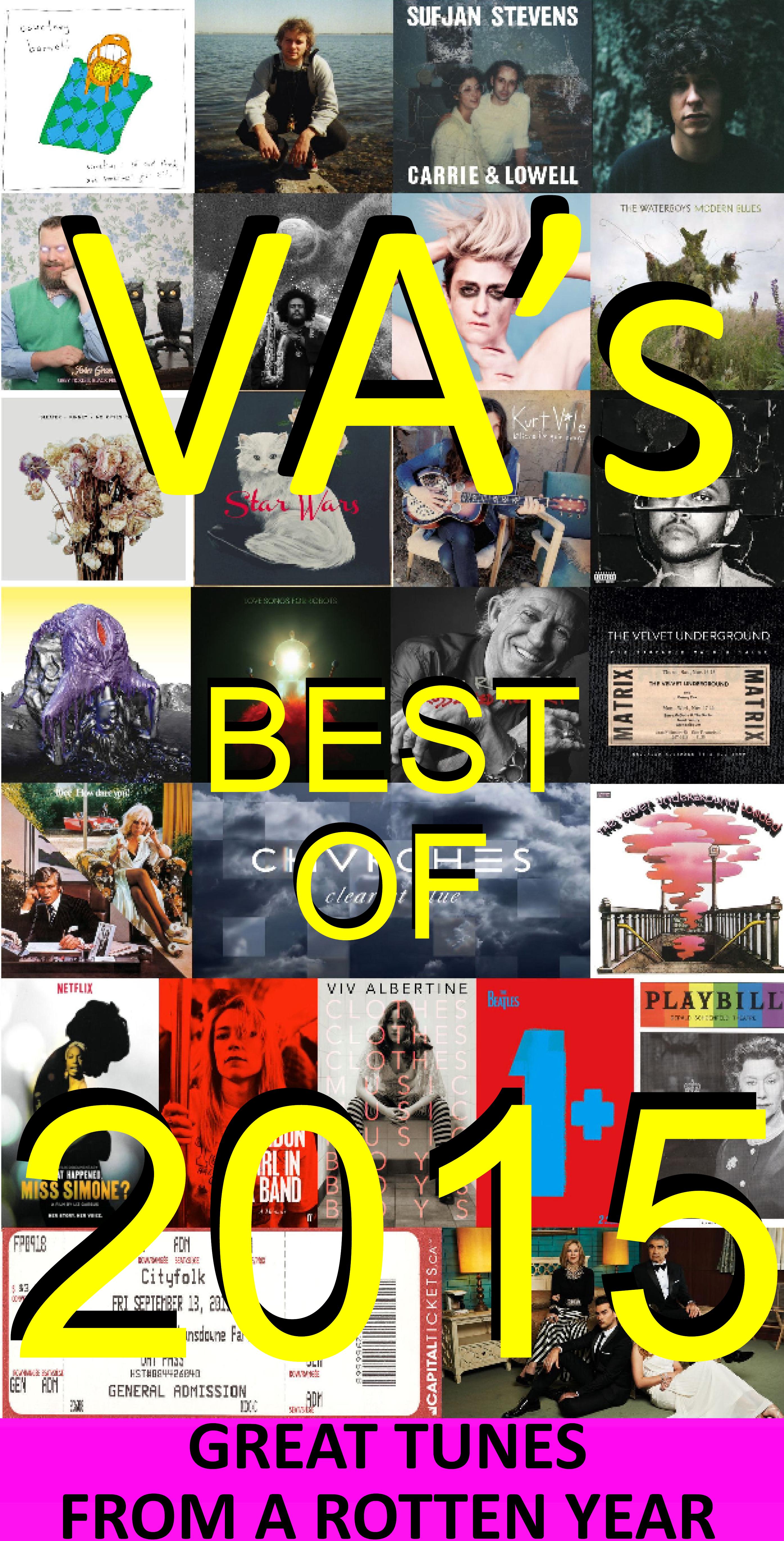 (Graphic by VA)
My year-end recap is appearing late, just as it usually did back on Open Salon.  But I see this as a victory that I am even getting this up online as my blogging has largely been in deep freeze since the shuttering of Open Salon—which housed the former flagship (and much more widely read) version of this blog—in March 2015.
OS shutting down is but just one fabaroony event of many that helped make 2015 a particularly rotten, rotten year for me (and I had thought 2012 was a bad one…).  Mind you, last year seemed like a less than fine one around the world as well as for a high proportion of people I know, for seemingly a variety of reasons.  That's the nature of life, sometimes, so I guess I'm not an outlier in that regard.  Misery and company, etc. etc.
Enough of the Deborah Downer … On the plus side, there was lots of terrific tuneage and related media to lift the spirits.  And so, without further adieu, here are 15 foci from 15: the soundtrack highlights to one crappadoodles set of twelve months, starting with …
.
1. TOP 15 ALBUMS OF 2015
Album of the Year:
Courtney Barnett Sometimes I Sit and Think, and Sometimes I Just Sit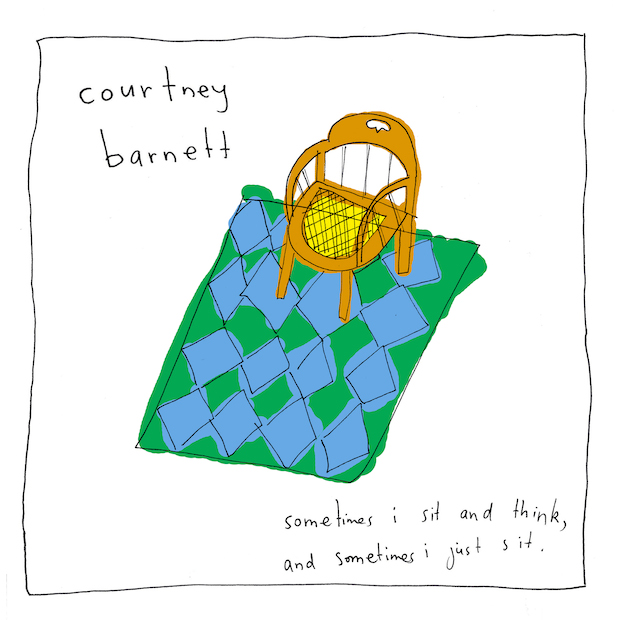 TKO full-length debut from Aussie wundergal has been on permanent spin at House of Various since I picked it up last spring.  It's a bit reminiscent of the vibe of Liz Phair's Exile In Guyville meets Pretenders along with some Pavement, Nirvana, and a seasoning of, say, Sheryl Crow … yet ultimately it's wholly her own thing.  Barnett's sharp, observational songwriting speaks to human oddities with perception and wit married to one killer, catchy tune after another. Not just a perfect album but also a rare, original, addictive contemporary full out rock album.
Inspirational lyric: "Put me on a pedestal and I'll only disappoint you / Tell me I'm exceptional and I promise to exploit you."
"Elevator Operator" is a great example of Barnett's tight, sharply observational songwriting that by the song's end subverts where you initially thought it was all going.  I can listen to the lyrics and have a clear mental picture of every moment.

And 14 clustered more  …
Top Shelf: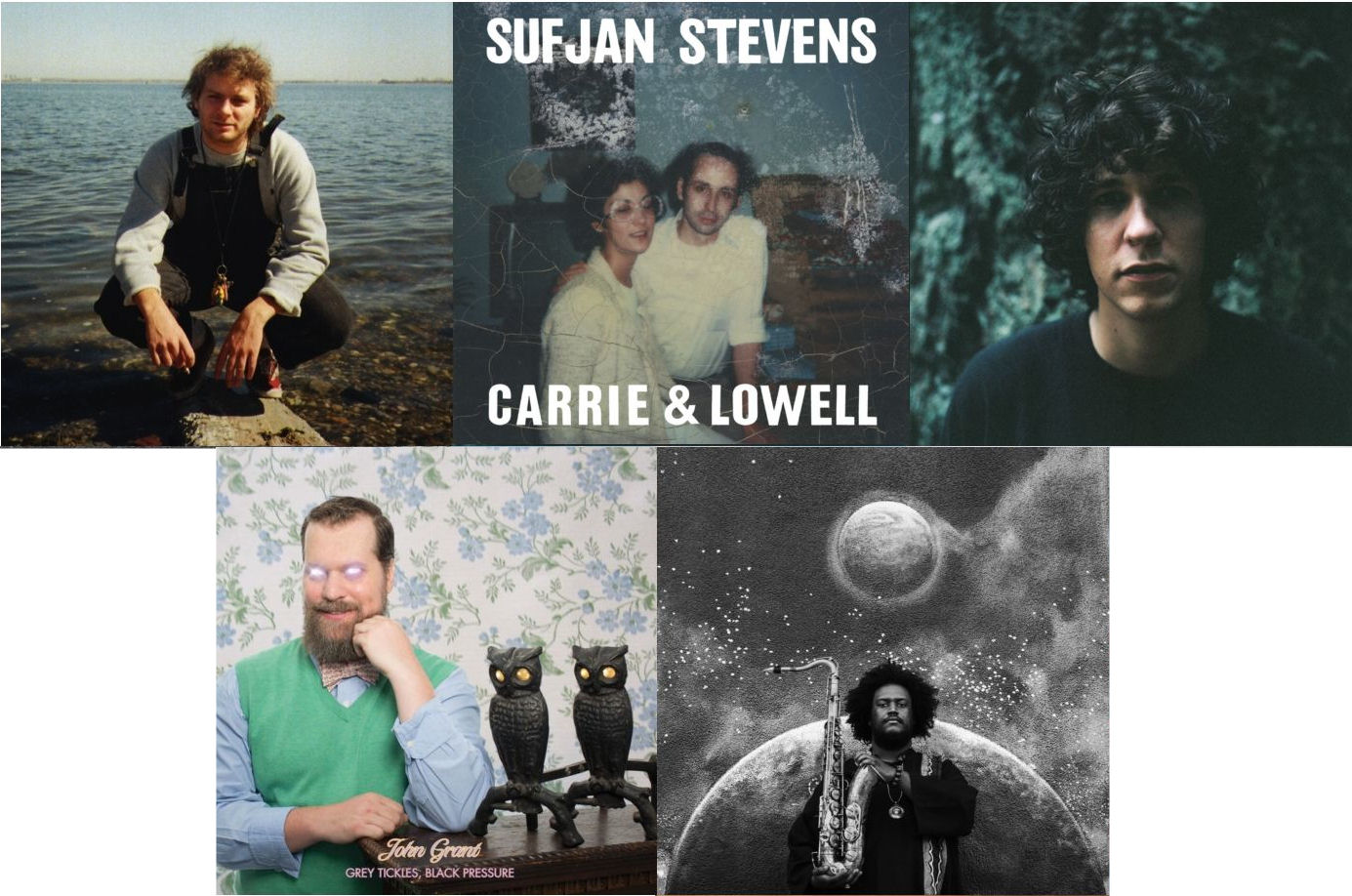 2. Mac DeMarco Another One
3. Sufjan Stevens Carrie & Lowell
4. Tobias Jesso Jr. Goon
5. John Grant Grey Tickles, Black Pressure
6. Kamasi Washington The Epic
Rather Excellent:

7. Peaches Rub
8. The Waterboys Modern Blues
9. Sleater-Kinney No Cities To Love
10. Wilco Star Wars
Pretty Damn Fine: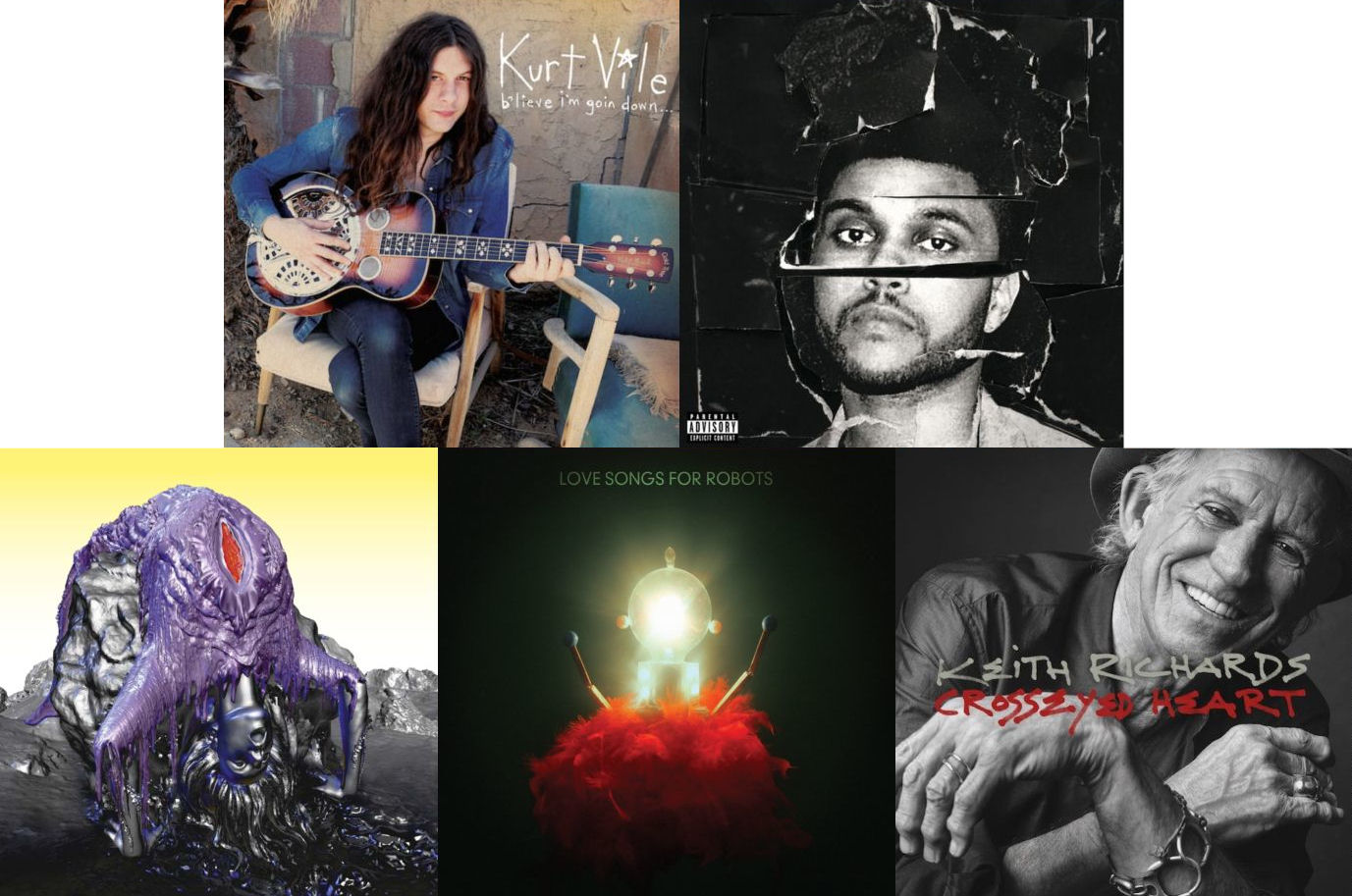 11. Kurt Vile b'lieve i'm goin down…
12. The Weeknd Beauty Behind The Madness
13. Bjork Vulnicura
14. Patrick Watson Love Songs For Robots
15. Keith Richards Crosseyed Heart
.
2. TOP 15 SINGLES/TRACKS OF 2015
Single Of The Year:
Peaches "Light In Places"
Peaches' much welcome return following six years of recording silence was prefaced by this addictive electrothrobber saluting laser-butt-plugged alt cabaret star Empress Stah, featuring the couplet we've all been waiting for: "All humans free at last / So much beauty coming out of my ass."
I swear Peaches is channeling Jambi from Pee-Wee's Playhouse in the accompanying NSFW vid.  Meka Leka Hiney Ho indeed.
Runners-Up:
The Weeknd "I Can't Feel My Face"
Chvrches "Clearest Blue"
Additional Delightful Dozen (in alphabetical order):
Courtney Barnett "Elevator Operator"
David Bowie "Lazarus"
Lana Del Rey "Terrence Loves You"
Mac DeMarco "A Heart Like Hers"
Drake "Hotline Bling"
John Grant "Disappointed"
Tobias Jesso Jr. "How Could You Babe"
Shelby Lynne "Down Here"
Jill Scott "You Don't Know"
Tame Impala "'Cause I'm A Man"
The Waterboys "The Girl Who Slept For Scotland"
Wilco "Random Name Generator"
.
3. BEST LIVE SHOWS OF 2015
Live Set of the Year:
Van Morrison Friday September 18th, City Folk, Lansdowne Park, Ottawa, Ontario, Canada (coming up eventually as no. 190)

I've seen Morrison deliver a fine set once before (coming up as no.121) but this second time around he truly knocked it out of the park, far exceeding my expectations.  Lots of extended, jazzy takes on both the anticipated classics as well as some far less expected personal faves on a packed, warm September night.   Quite a cherry-topping for the first, newly re-christened and re-located City Folk festival.
Runners-Up:
Wilco Sunday September 20, City Folk, Lansdowne Park, Ottawa, Ontario, Canada (coming up eventually as no. 190)
The Waterboys Sunday May 3, Bronson Centre, Ottawa, Ontario, Canada (coming up eventually as no. 188)
Lucinda Williams Sunday September 20, City Folk, Lansdowne Park, Ottawa, Ontario, Canada (coming up eventually as no. 190)
Chvrches Wednesday July 15, Ottawa Bluesfest, LeBreton Flats, Ottawa, Ontario, Canada (coming up eventually as no. 189)
Run the Jewels Wednesday July 15, Ottawa Bluesfest, LeBreton Flats, Ottawa, Ontario, Canada (coming up eventually as no. 189)
Also of Note:
Alvvays Saturday July 11, Ottawa Bluesfest, LeBreton Flats, Ottawa, Ontario, Canada (coming up eventually as no. 189)
Kanye West Friday July 10, Ottawa Bluesfest, LeBreton Flats, Ottawa, Ontario, Canada (coming up eventually as no. 189)
Shakey Graves Saturday July 11, Ottawa Bluesfest, LeBreton Flats, Ottawa, Ontario, Canada (coming up eventually as no. 189)
.
4. BEST COMPILATION
The Beatles 1+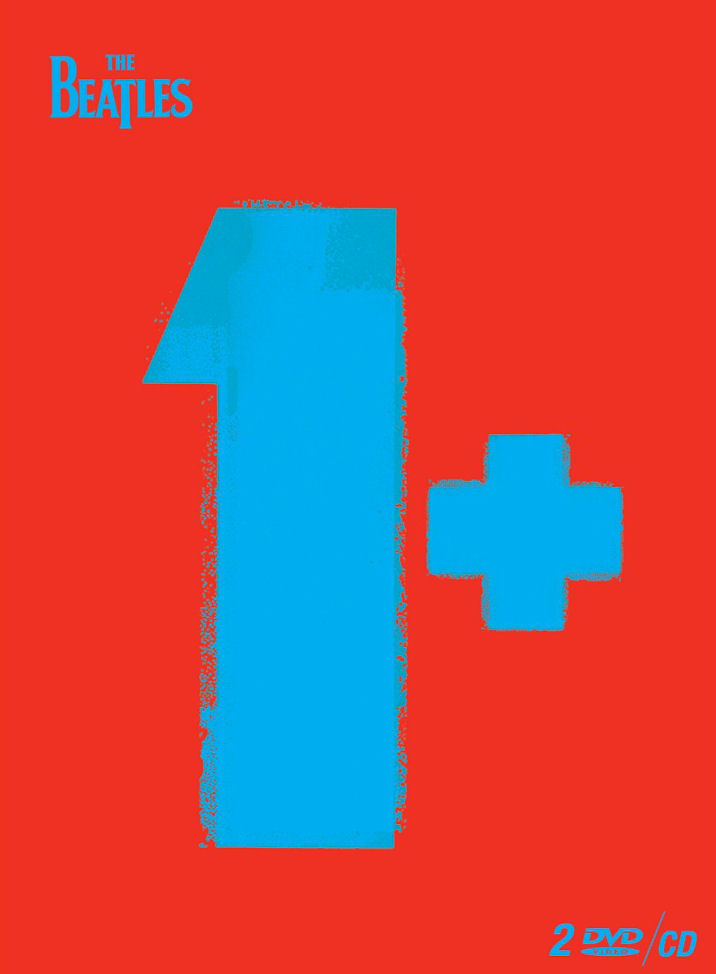 I'm going with this 2-disc blu-ray comp covering almost all of the fabs videos.  I've been pining for a video set just like this to exist for a few decades.  Here it is at last, beautifully rendered and packaged.
.
5. BEST REISSUE
The Velvet Underground Loaded: Re-Loaded 45th Anniversary Edition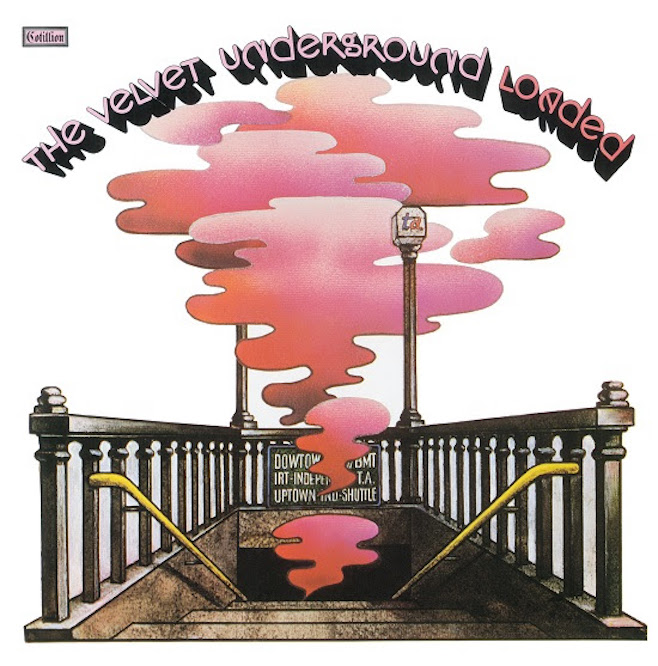 6. BEST ARCHIVAL RELEASE
The Velvet Underground The Complete Matrix Tapes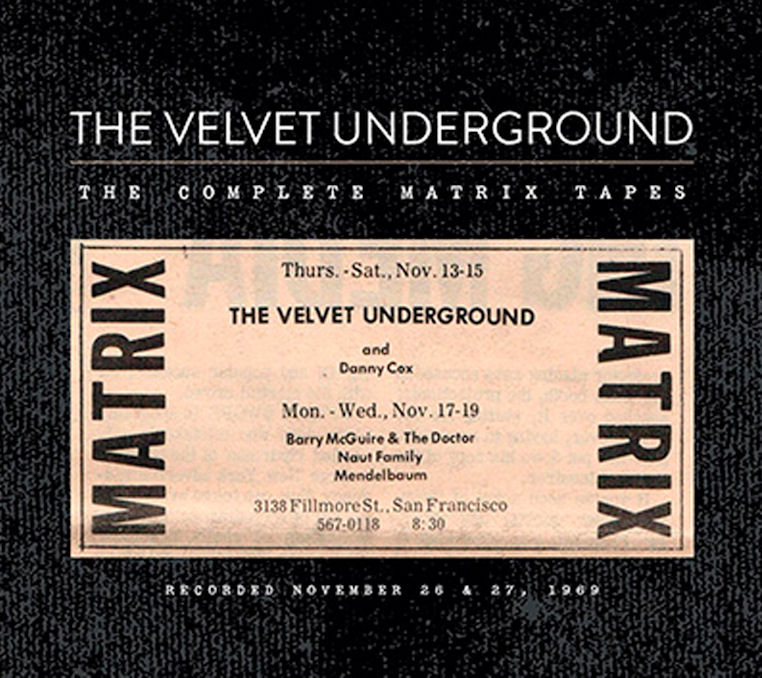 The super-deluxe edition of Loaded, the Velvet's 1970 pop-rock confection and swan song, completes the wonderful 45th anniversary reissue series of the band's catalogue in tandem with the issuance of The Complete Matrix Tapes from the '69 dates at the SF club.  Will the Lou Reed and John Cale catalogues be next for a (deserved) deluxe re-issue program?
.
7. BEST 2014 ALBUM BOOK I DID NOT HEAR READ UNTIL 2015
Viv Albertine Clothes, Clothes, Clothes, Music, Music, Music, Boys, Boys, Boys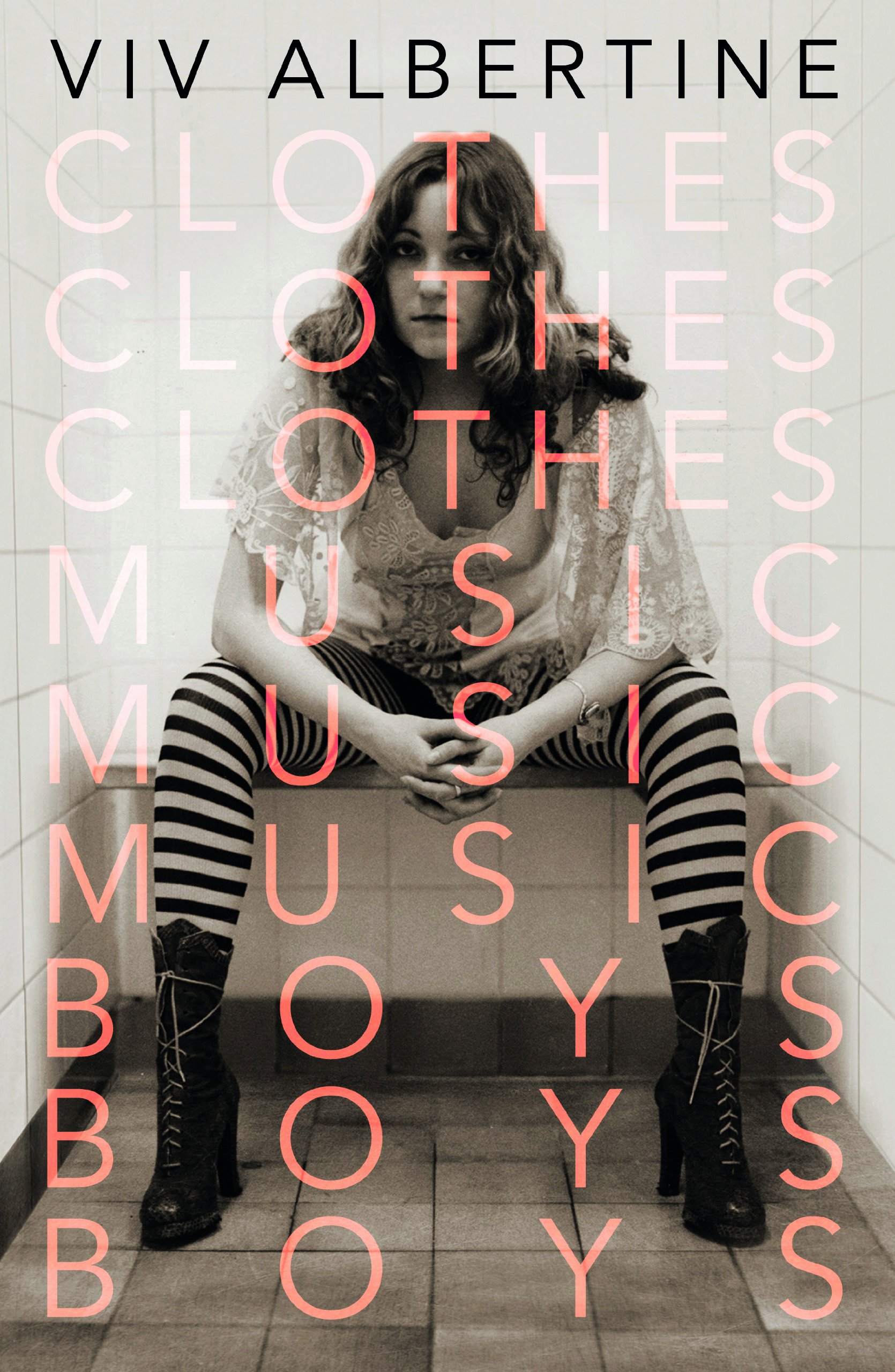 Former Slits guitarist Albertine and subject of The Clash's "Train In Vain" joins in on the rock and roll memoir party but comes up with something truly head-of-the-class unique.  For those of us who were part of the '70s punk world, wherever that may have been around the globe, Albertine's book is a treat, offering up an insider's tell-tale and often mirthful first hand account of the London punk scene from its most embryonic stages onward.
However, this is a book that resonates beyond that audience as her experiences during that era are simply one part of the story.  Albertine nakedly lays bare her insecurities, fears, and fearlessness, the latter of which was needed in large dollops for she and her fellow Slits to even exist.  As a result of not only being an all-female group but also a confrontational one that over time developed an experimental, distinct sound and identity in the post-punk era, they endued the double whammy of being hated outside and within the British punk/post-punk scene.
Eventually The Slits triumph by recording the evergreen, far-ahead-of-its time Cut, casting a wide influential shadow that only continues to further its reach as the years pass.  It was as if it came from Mars when I first purchased it in the fall of 1979 but it's aged wonderfully, sounding remarkably contemporary.
Side Two of the book explores what happens when the party ends, leaving her emotionally shattered and adrift while still only in her early 20s when The Slits fall apart.  The second half follows Albertine as she imperfectly navigates the following decades, filled with adult dilemmas and no easy answers.
Plenty of artists have written books that cover the "after the glory days" periods, but I can't offhand think of any other where the latter part of such a book is as gripping as the first.  This is a very human memoir written by someone struggling to hold on to her identity in worlds that aren't always a great fit, but determined to do it and do it her way.  It's inspiring stuff.
While very different from Patti Smith's classic Just Kids, Albertine's book is on the same level of quality and poignancy.
Pants-peeingly funny passage: skip straight to Albertine's interminable night spent hanging out with Chatty Cathy psychopath Nancy Spungen as a favour to then-US-touring, predating-punk-pal Sid Vicious, including missing the last bus home thus horrifyingly stranding her at chez Vicious-Spungen until the arrival of a morning that takes forever to come.
.
8. BEST TUNES-Y PAGES
Kim Gordon Girl In A Band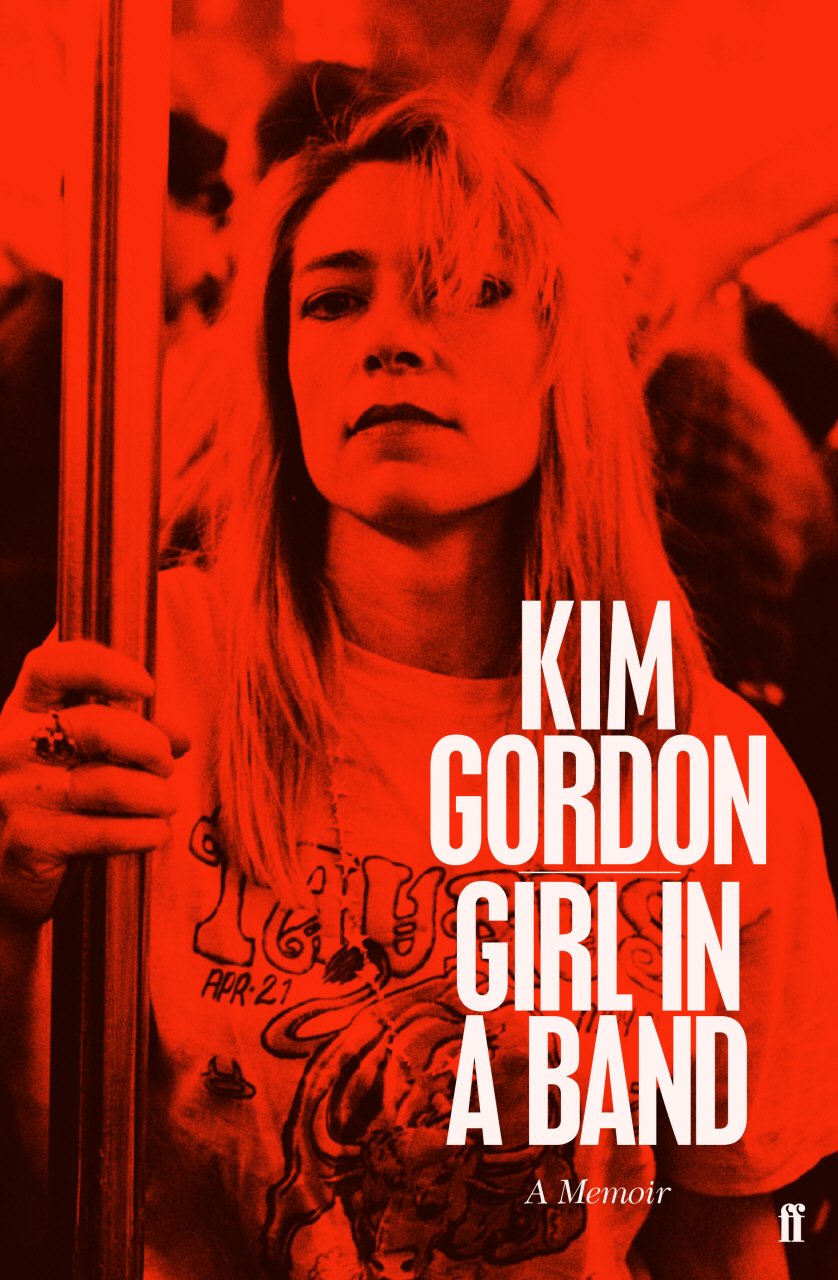 As mentioned above, this is truly a golden age for rock memoirs with an embarrassment of riches to choose from.  However, as a Sonic Youth nut of three decades, I was particularly looking forward to Gordon's tome and it didn't disappoint.  Gordon and Albertine were only born a couple of years apart, with Gordon's Girl In A Band being somewhat of an American counterpart to Clothes, with both books looking at what happens when the presumed and obvious just doesn't pan out as expected, in Gordon's case via the implosion of her marriage to Thurston Moore and Sonic Youth's corresponding end.
Meanwhile, Gordon's always had at least one foot in the art world and she comes off as a bit of a self-aware Zelig of alternative art and music scenes through the decades.
There was plenty of music-centric ink spilled in 2015 including Patti Smith's hypnotic M Train (although not really much about music per se).  Meanwhile, I am about to dive into Elvis Costello's Unfaithful Music & Disappearing Ink, scribe Robert Christgau's Going Into the City: Portrait of a Critic as a Young Man, and Grace Jones' I'll Never Write My Memoirs.
While not a music book per se, I must also mention the highly entertaining time capsule that is Flashbacks of Little Miss Flash Cadilac by my former Open Salon blogger pal Linda Seccaspina.  She looks back at the opening, closing, and life in between of her former Ottawa store, Flash Cadilac, a magnet for colourful outsiders which sent-ripples through the carrot-up-ass citizens of Ottawa.  An interesting and often hilarious story in the National Capital that ended just as I was initially arriving here two decades ago and read just as I am about to depart.
.
9. BEST TUNES-Y (AND OTHERWISE) SCREENS OF 2015
What Happened, Miss Simone?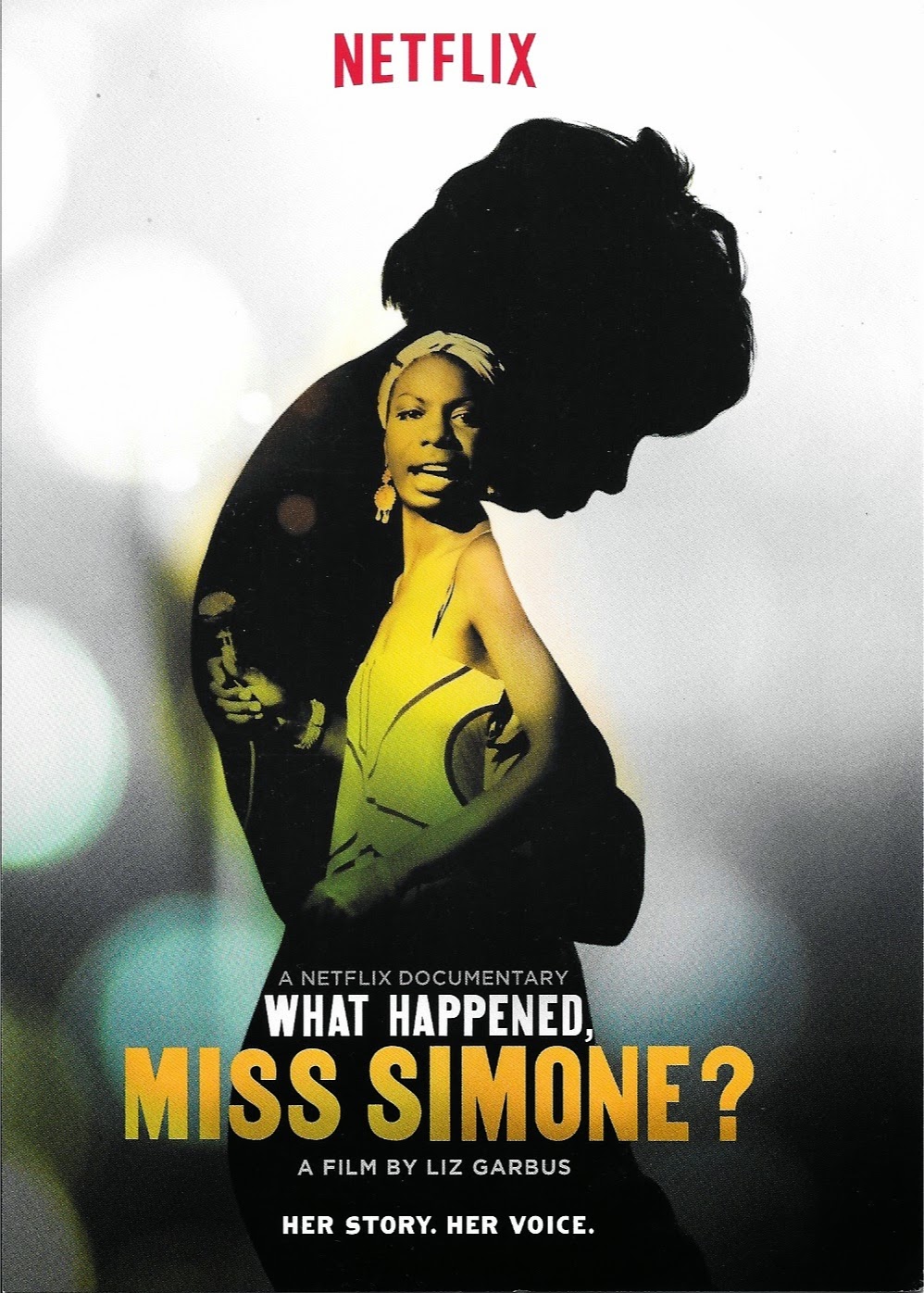 10. ARTIST FROM THE PAST THAT I (MORE FULLY/RE-)DISCOVERED IN 2015
Nina Simone
As with memoirs, 2015 was also a notable year for music docs, but this look back at the brilliant, fearless, intimidating, and difficult Nina Simone is A+ first class.  While I have long been a fan of a selection of Simone's music, I truthfully didn't know much about her until I read a MOJO piece on her in 2014 while the doc was in production. It left me salivating in anticipation.
For instance, while "Mississippi Goddamn" has always been my favourite Nina song, I had no idea of her extensive involvement in the civil right movement in the 60s.  That fervent involvement essentially lead to a media blacklisting by the end of the decade which is probably why I didn't really hear or even hear about Simone until the '80s whereas I had long been versed in pretty much all her musical peers from that time.
The finished film is a revelation into her genre-free artistry, single-mindedness, and often troubled life played out against systemic racism and mental health issues.
WHMS is packed with riveting performances and interviews from throughout the decades.  I was so knocked out by this film (currently on Netflix and directed by celebrated documentarian Liz Garbus) that I've watched it seven times.  So far.
I also have to give particular mention to the Live at Montreux 1976 DVD which I picked up after watching the doc and have similarly repeat-watched.  An alternately mesmerizing and uncomfortable viewing experience, this gig marked a return to performing just as her mental health demons were turning acute.  If I were to re-do my 20 Acts I Wish I'd Seen entry, Nina and this gig would absolutely be on that list.
What Happened also made me realize that, while I've had a few Simone titles in my music collection since the '80s, I had barely scratched the surface of her vast catalogue.  That's been rectified with a decided swelling on my CD shelves in the "S" area as I plunged headfirst into exploring her extraordinary body of work (similar to my Nilsson experience last year).
In any other year, the sad-but-gripping Amy or Montage of Heck could have easily been my top choice.  Each charts the similar rises and inevitable falls of two gifted but fatally flawed artists (Amy Winehouse and Kurt Cobain) with real poignancy.
On the biopic front, the excellent Love & Mercy traces the bullying Brian Wilson endured as he too fell prey to mental health demons, leaving him vulnerable to some around him while creating pop masterpieces Pet Sounds and Smile and beyond.  This story thankfully ends on a far happier note with Brian finally finding some peace and support.
On the non-music doc front, do not miss Alex Gibney's chilling Going Clear: Scientology and the Prison Of Belief, a long overdue expose of the lunacy cult while Hitchcock/Truffaut celebrates both directors and the canonical film tome that inspired it.  And I'll sit an watch any historical doc featuring Lucy Worsley.
Meanwhile, Todd Haynes' Carol gets the VA seal of my fave flick o' 15.
On the non-muso small screen I'm mourning the loss of Mad Men (one of the best finales ever, though) and Downton Abbey while celebrating the arrival of Schitt's Creek, my new favourite TV comedy (Go Stevie!  And anything with Catherine O'Hara is a treat, but especially when she's playing a character that's like her old Lola Heatherton only now on Xanax).  Shout outs also to Murdoch Mysteries, Portlandia, Louie, and Orange Is The New Black.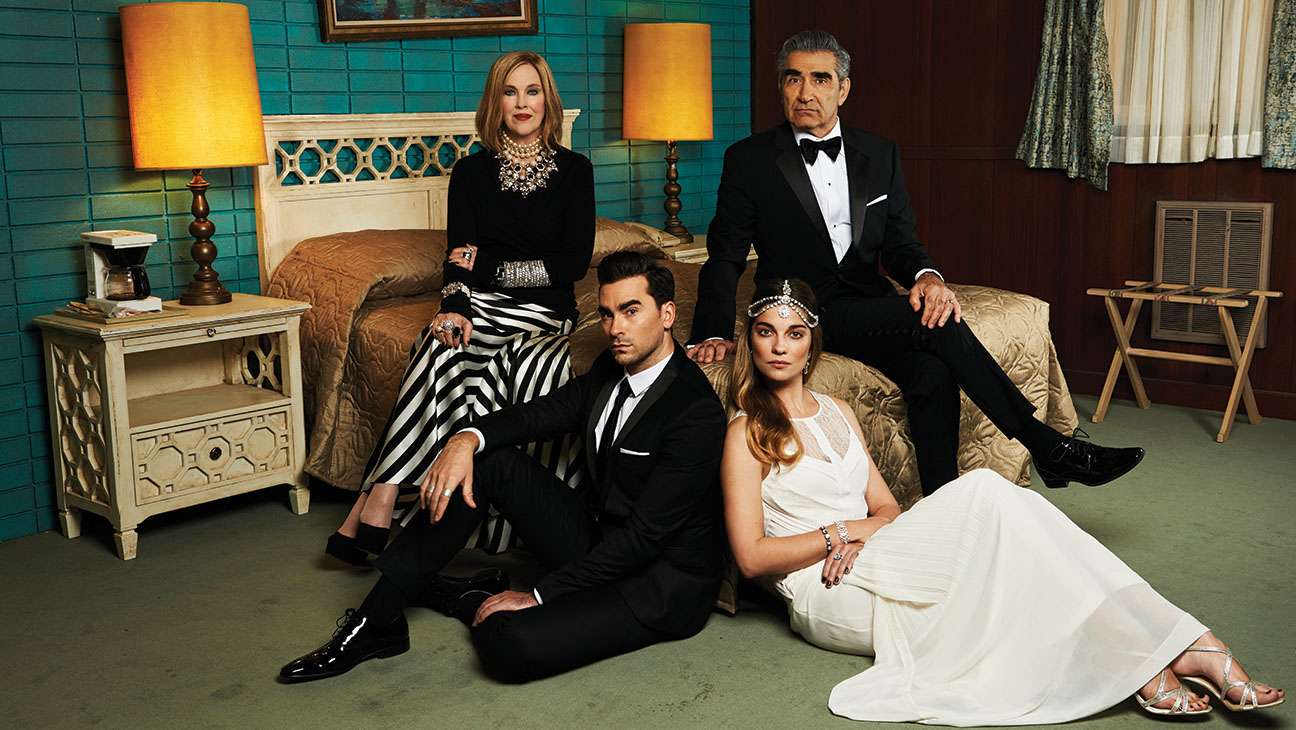 Schitt's Creek gave me the biggest larfs of 2015.  Catherine O'Hara—Yes!!
11. BEST NON-MUSICAL LIVE HIGHLIGHT OF 2015
Getting to see the great Helen Mirren on Broadway in the splendid The Audience.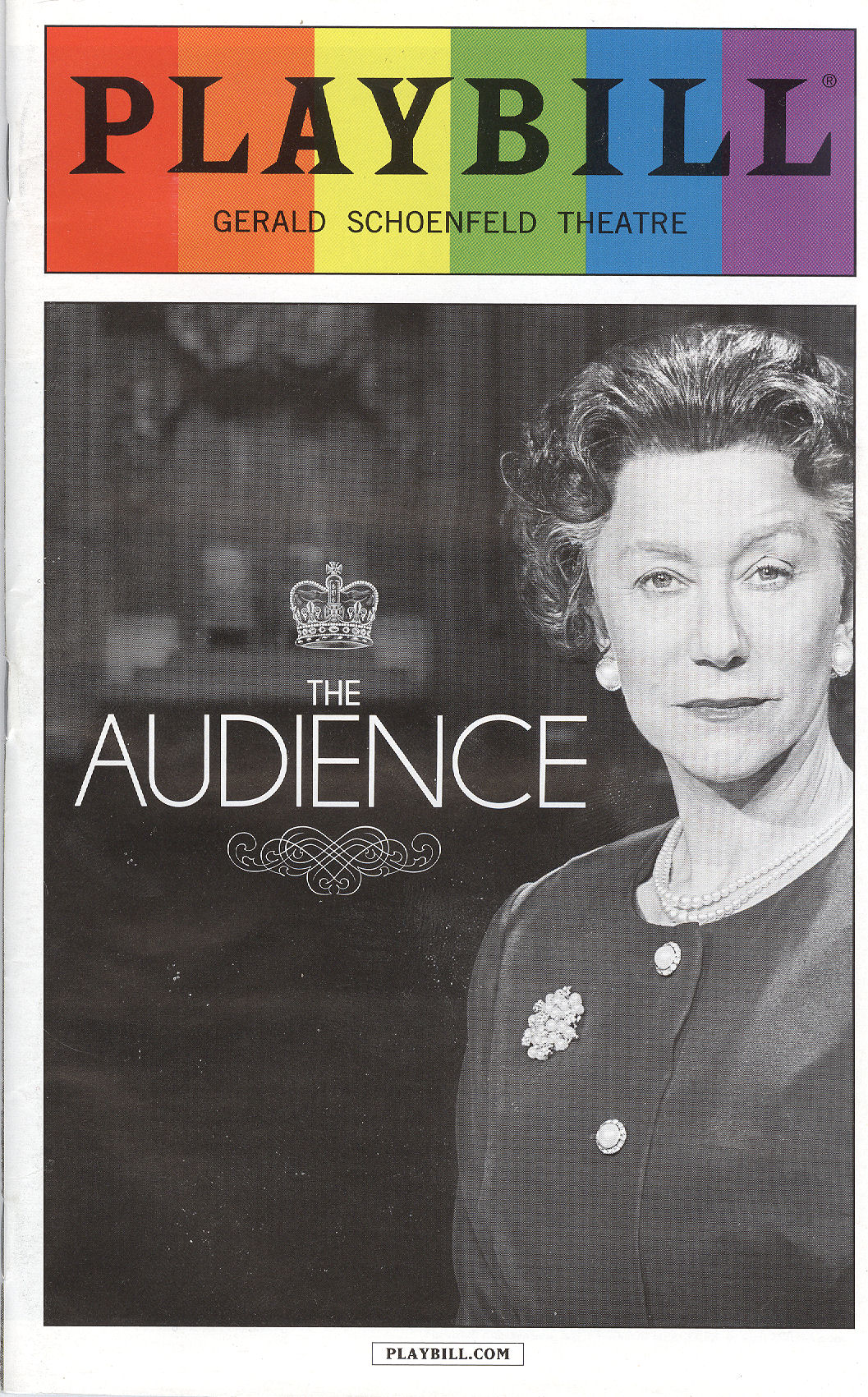 .
12. REDISCOVERIES FROM MY MUSIC COLLECTION
My annual salute to vinyl or CD titles in my collection that had fallen out of listening circulation for some time that became repeat plays at some point last year, re-soundtracking my life once again.  Welcome back, starring …
10cc How Dare You! (1976)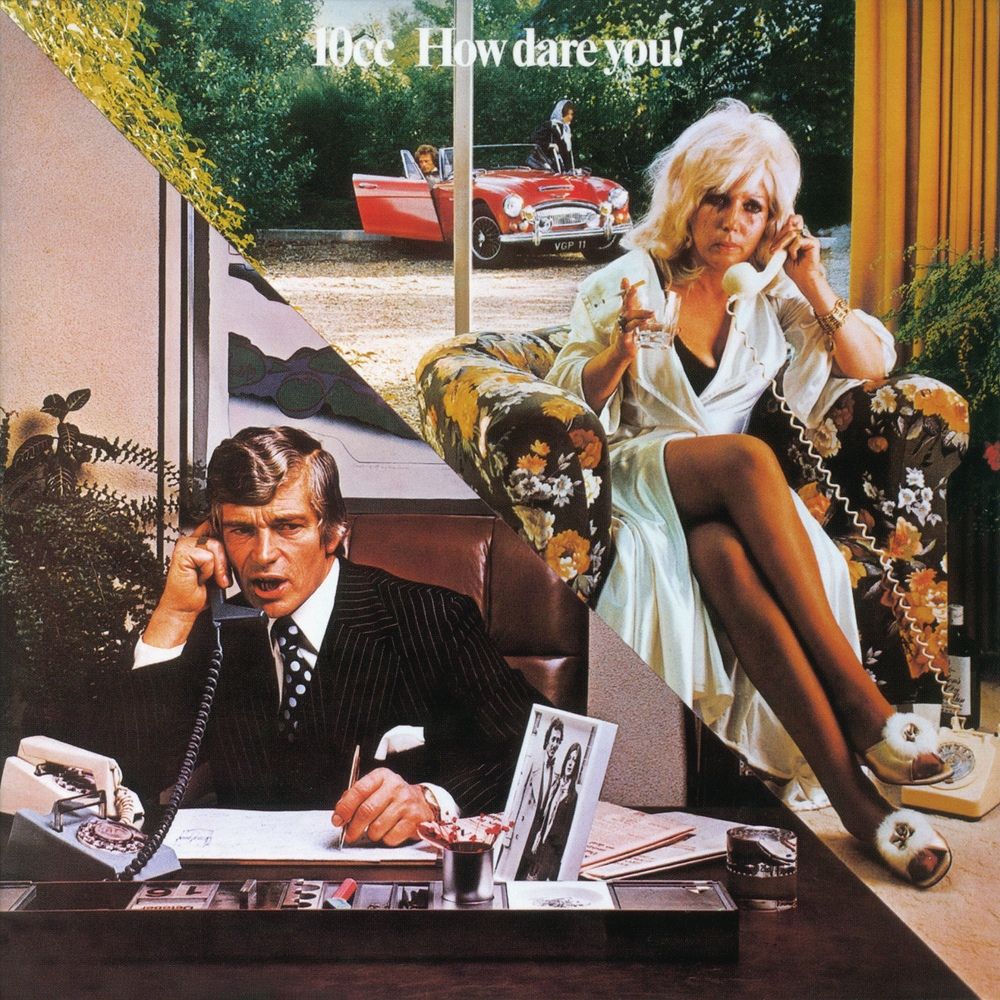 … joined by (in alphabetical order) …
The B-52s Bouncing Off the Satellites (1986)
Deaf School English Boys/Working Girls (1978)
Elton John Don't Shoot Me (I'm Only the Piano Player) (1973)
Kid Creole & The Coconuts Tropical Gangsters (1982)
Funkadelic Maggot Brain (1971)
Jimi Hendrix The Cry of Love (1971)
Hüsker Dü New Day Rising (1985)
Jane's Addiction Ritual de lo Habitual (1990)
The Replacements Let It Be (1984)
Roxy Music Avalon (1982)
Simon & Garfunkel Sounds of Silence (1966), Parsley, Sage, Rosemary & Thyme (1966), and Bookends (1968)
Siouxsie & the Banshees Kaleidoscope (1980)
The Waterboys A Pagan Place (1984)
X-Ray Spex Germ-Free Adolescence (1978)
.
13. BAD TUNES-Y NEWS
Well, not so much bad as discs that creatively underperformed as per my expectations: Blur's The Magic Whip, Introducing Darlene Love, and Belle & Sebastian's Girls in Peacetime Want to Dance.
.
14. SONIC MEMORIAM
My annual list marking the passing of musicfolk who have meant something to me is sadly, clearly only going to get longer and longer with the passing years to come as so many of my favourites from the past shuffle off because … well, it's that time.  Take a moment to remember …
Ornette Coleman (will be coming up as no.140)
Lemmy (Motörhead will be coming up as no.44)
Lesley Gore
B.B. King (will be coming up as no.178c)
Don Covay
Percy Sledge
Ben E. King
Cynthia Robinson of Sly & the Family Stone
Ronnie Gilbert of The Weavers
Steve Mackay of The Stooges
Allen Toussaint
Cilla Black
Producer Bob Johnston
John Bradbury of The Specials
Errol Brown of Hot Chocolate
Louis Johnson of The Johnson Brothers
… and I'll throw in:
Holly Woodlawn (name-checked in Lou Reed's "Walk On The Wild Side" and will remain forever fabulous in Trash)
Leonard Nimoy (Hey, he recorded the camp classic "The Ballad of Bilbo Baggins")
Christopher Lee (recorded a heavy metal album shortly before death and will remain forever fabulous as Sgt. Howie)
.
15. AND ON TO 2016…
I am hoping that this year will be a better one not only for Cublet and I but also for those dear to me or far away … but it sure as hell is starting ominously with the shock death of David Bowie, an artist whose music and innovation has been a constant throughout my life.
However, he sure went out on top, with the daring and different self-requiem Blackstar as good as anything he's ever done, invoking the experimental spirit of the Berlin trilogy.  I was playing it heavily in the three days preceding his death, marveling at how he had now completely hit a plane of excellent he had been heading back toward with The Next Day and Heathen.  I'm glad I had that time to process it independently of the news that followed.  I've written a small piece on Bowie here also linking back to my entries on Bowie's impact on my life in the 1970s and the thrill of finally getting to see him live in 1983.
But it's not just Bowie as a death procession has clearly begun and will only ramp up.  2016 has already seen the passing of Jefferson Airplane's Paul Kantner, Blowfly, and Mott the Hoople's Dale "Buffin" Griffin.  And while not much of an Eagles fan, I can appreciate their impact and that Glenn Frey wrote a few of their tracks that I liked.  And that's just January.  Oh my.
On the brighter side, there are discs I am looking forward to hearing in '16  from PJ Harvey, Lucinda Williams, Esperanza Spalding and the Iggy Pop-Josh Homme collaboration.  That's a good start.
Let's all hope that next year is a less dark one than 15 was.  Peace to all.
ALL ANNUAL RECAPS:
. . . .
Next On Stage –> After years of devoted fandom, I finally get to see the one and only Siouxsie Sioux and her plucky Banshees in a cavernous (but wonderfully air conditioned) venue on Toronto's outskirts.  Stay tuned for leg casts, rumours of a gig, smoking fuses, the little Honda that couldn't … and cities in dust …
026. Cities In Dust: Siouxsie & the Banshees with Images In Vogue, International Centre, Toronto, Ontario, July 10, 1984
© 2016 VariousArtists