I kept a close watch on Cale this evening.
Ticket Price: n/a
ORIGINAL BLOG ENTRY FROM 2011 FOLLOWS BELOW
The Velvet Underground's John Cale comes to Fryfogle's and plays an intense, riveting solo set in June 1983.
It was particularly extraordinary for me that I finally got to see him at this point in time, not only because I was way deep in Velvets-mania in the early 80s — with all the original Velvets albums finally being widely and easily available, arriving alongside "Edie: An American Biography" — but also because I ended up sitting cross-legged on the stage about two feet in front of Cale as he performed.  Indeed, this was the best seat I have ever had at a live show!
And I thought I'd had it good during the previous fall when I got to park my elbows on centre stage during

a Joe Jackson show (EP 19).
Tune in for a disciplined bladder, a set list of my dreams, and being able to see the pores on John Cale's face. 
Next on Stage –> It's the third and final Police Picnic on August 5, 1983, once again at CNE stadium as well as the 4th and final consecutive summer of attending a huge, open air festival.
As also was the case with 1982, this 1983 excursion came complete with a drug misadventure …. wait, scratch that last bit. What's the opposite of "misadventure"?
For this episode, not only will Special Guests aka Phil Robinson be re-joining me to look back on the day, his pal from back in the day, Noelle, also joins us in this episode. The two of them went to festival along with a group of people and reconnect live for the first time since the 80s, and help each other piece together their experiences from that day.
So, it's a first for the podcast, with a 3-way interview and reminiscence.
Please return next time dear listeners for a euphoric day of great music, accidently taking narcotics, being trapped in a revolving door, smashed porcelain smokers on Queen Street West, and a goodbye to the tea-drinking Police, who were in Synchronicity with the world at that moment. 
ORIGINAL BLOG ENTRY FROM 2011
018. I Keep A Close Watch: John Cale with Sheep Look Up, Fryfogle's, London, Ontario, Canada, Monday June 13, 1983
Given my life-long obsession with music of many genres, it's difficult for me to pair it down to a singular favourite artist.
That said, if pushed, there are probably two bands who could split that mantle between them. In my world, they are equal twin peaks and share a number of similar traits: both were creatures of the '60s, essentially breaking up in 1970; both released a series of albums that showed constant change and progress while retaining instantly identifiable sonic and songwriting trademarks throughout; and both were virtually unprecedented entities and are still recognized for their considerable innovations and the influence each still exerts.
Then there are the substantial differences.
One is probably the single-best globally known musical entity and have remained a best-selling commercial force long after their demise. The other barely made a commercial dent within the time of their actual existence, even though their core catalogue has produced enduring, consistent sellers.
One is still known by all, be they lovers, detractors or indifferent to the group. The other has long been known by a variety of core latter-day rock fans yet still remain largely obscure to casual music listeners at large.
One was probably the singular musical influence of their generation, connecting with every subsequent generation to follow. The other only started to really impact music after their demise, and are probably the single most recurring influence on every successive alterna/left field rock movement starting with early '70s glam onward.
One band's catalogue has never gone out of print. The other's is now easily accessible in a way that it wasn't during the band's history nor in the years immediately following their demise.
One has been overtly in my consciousness since my earliest memories, while I didn't even know the other had existed until 1974 and didn't get to actually hear them until early 1979.
The first one is The Beatles. The other is The Velvet Underground.
John Cale and with guitarist extraordinaire Chris Spedding, live in 1974 with Fear's "Buffalo Ballet." An incredible performance.
And, finally, both featured members who went on to have interesting if uneven solo careers. And it was on this night that I got to see my first Velvet.
While John Lennon and Paul McCartney were The Beatles Head of Creative, it was Lou Reed and John Cale in The Velvet Underground.
True, Cale left mid-way through the picture, not appearing on their stunning final albums: their delicate, folk-rockish, self-title third effort nor their unapologetically straightforward and catchy pop-rock offering, Loaded.  Still, it is Cale who is largely attributed as being the one responsible for the group's most radical and avant-garde elements. He may have arrived in New York City in the early 1960s as a student of classical music but was soon part of the experimental, droning noise environs of La Monte Yonge and the Dream Syndicate. Cale's imprint is stamped all over the VU's more outré numbers on their much-heralded debut and its gleefully abrasive noise-fest summit of a followup, White Light/White Heat.
John Cale, then an aspiring avant-garde classical pianist, on I've Got A Secret in 1963. Surreal (YouTube).
Isn't it ironic, then, that out of the dizzying array of styles and genres that Cale has dabbled in throughout his still-ongoing solo career, that I tend to be particularly drawn to his most gorgeously lush and melodic pop-wise impulses.
As with the Velvets in their heyday, Cale's solo career was never a large unit-shifting proposition. He never had The Big Hit like his former creative partner, Lou Reed, did with the "Walk on the Wild Side" single or New York album (Lou is coming up several times in this series so I'll talk about him much more then). It's a crime, in my opinion, as Cale has had a solo career that easily rivals Reed on the creative front, and possibly surpasses it.
Certainly Lou didn't branch out into the producer's role as Cale did, going on to birth at least four highly influential left-field rock classics in Patti Smith's Horses, the proto-punk, self-titled debuts by The Stooges and The Modern Lovers, and Nico's game-changing and goth-doom gold standard that is The Marble Index. He also originated an arrangement of Leonard Cohen's "Hallelujah" that has been the template for most of the best-known versions of the song covered during the last 20 years.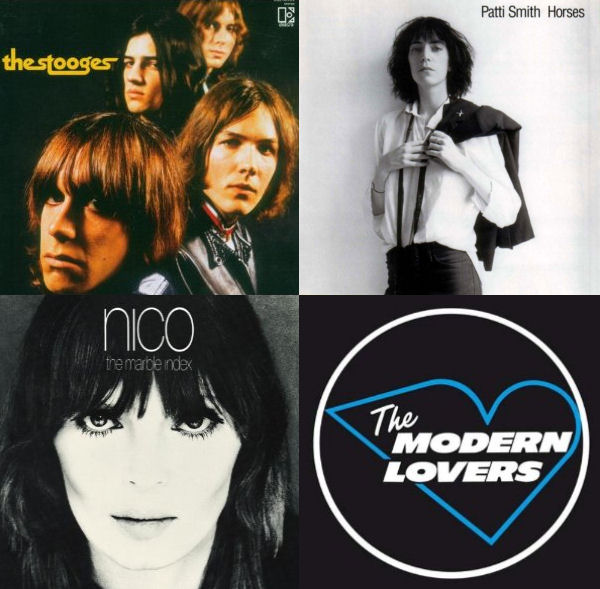 John Cale: Visionary Producer. Clockwise from top left: The Stooges (1969), Horses Patti Smith (1975), The Modern Lovers (1976 — the Cale segments recorded in 1972), and The Marble Index Nico (1969).
Genre-wise, Cale's been an aesthetic fidget. Consider his first five albums. He kicked off his career on Columbia with the skewed pop of 1970's Vintage Violence which he followed with Church of Anthrax, a collaborative effort with avant-garde musician Terry Riley, largely composed of lengthy, repetitive, minimalist instrumental pieces.
Jumping to Reprise, he released The Academy in Peril in 1972, strongly informed by his classical music background and recorded in part with The Royal Philharmonic Orchestra.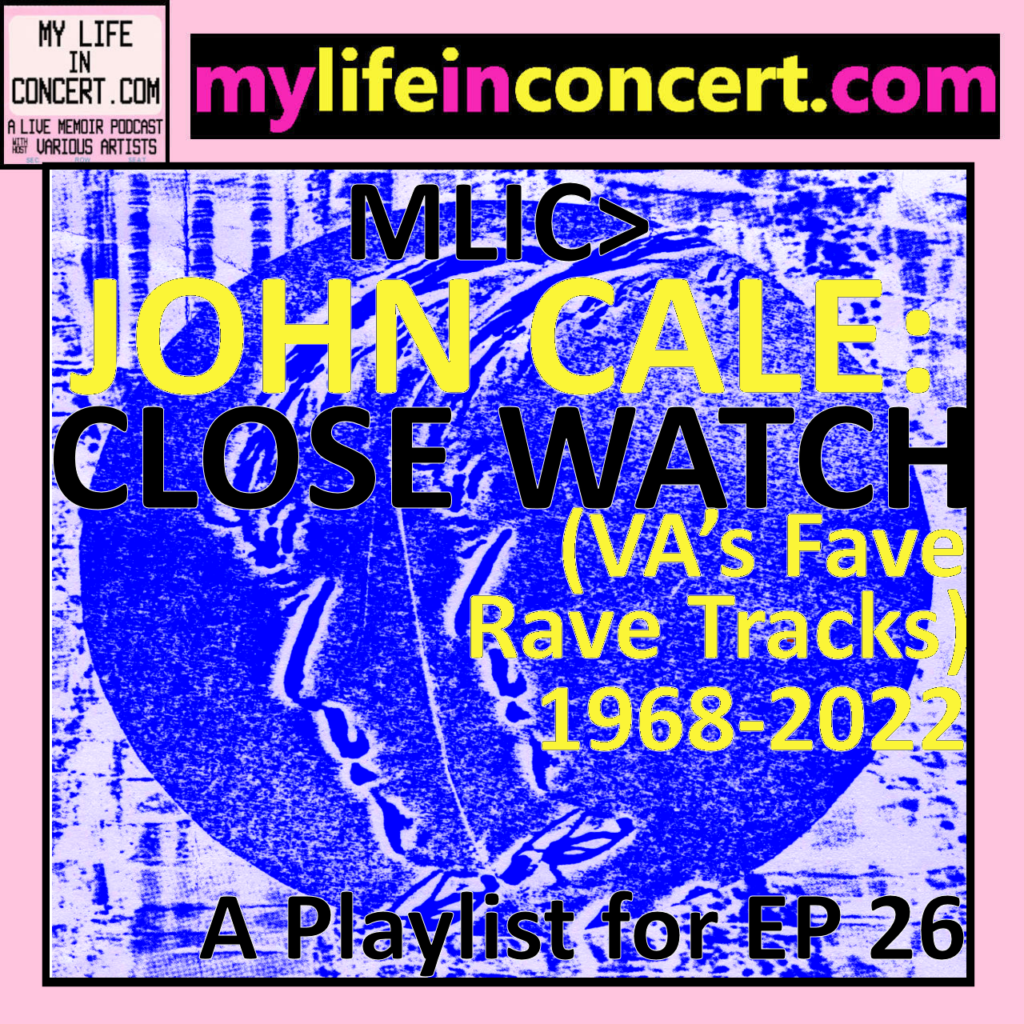 MLIC>JOHN CALE: CLOSE WATCH (VA's Fave Rave Tracks)

is 3.5 hours of Cale's finest from 1968 to 2022 (even if some of his key releases are missing from Spotify).  For a tighter Cale playlist, see

MLIC>JOHN CALE: TIMESPAN C90 1968-2022

, a cassette-length overview of Cale's whole career, further down the page.
Paris 1919, his gorgeous, winsome magnum opus, appeared in 1973 and synthesized what had come before, alternating a laid back, melodic, Southern California sound as backed largely by members of Little Feat with symphonic drama via the U.C.L.A. Orchestra.
Decamping to London and Island Records in 1974, he issued Fear, featuring Roxy Music's Phil Manzanera and Eno, which in feel, tone, and subject matter strongly anticipated aspects of punk rock.
One thing's for sure, no one ever said that Cale ever made it easy for his audience.
Cale ponders the era of the Versailles Treaty with "Paris 1919," live at the Paradiso in Amsterdam with a full orchestra, recreating the studio track. A lucky, lucky audience (YouTube).
Yet there is always a darkness that tinges even Cale's sweetest moments, coupled with a warm, slightly off Welsh baritone that's welcoming to me but unsettling for some. Meanwhile, most of his more adventurous or harsh recordings are often aligned with a sense of discipline or melody that render them as perhaps too reigned in for the experimentalists and noiseniks. All of the above has colluded to often leave Cale in a bit of a no-man's-land, rendering him firmly in the margins even when creating accessible music that truly deserved a larger audience.
I had known of Cale and seen his albums around but didn't get to actually hear him until early '79, when the same group of people simultaneously played me The Velvet Underground along with Cale's Fear and Slow Dazzle. It was love for both band and solo artist at first listen.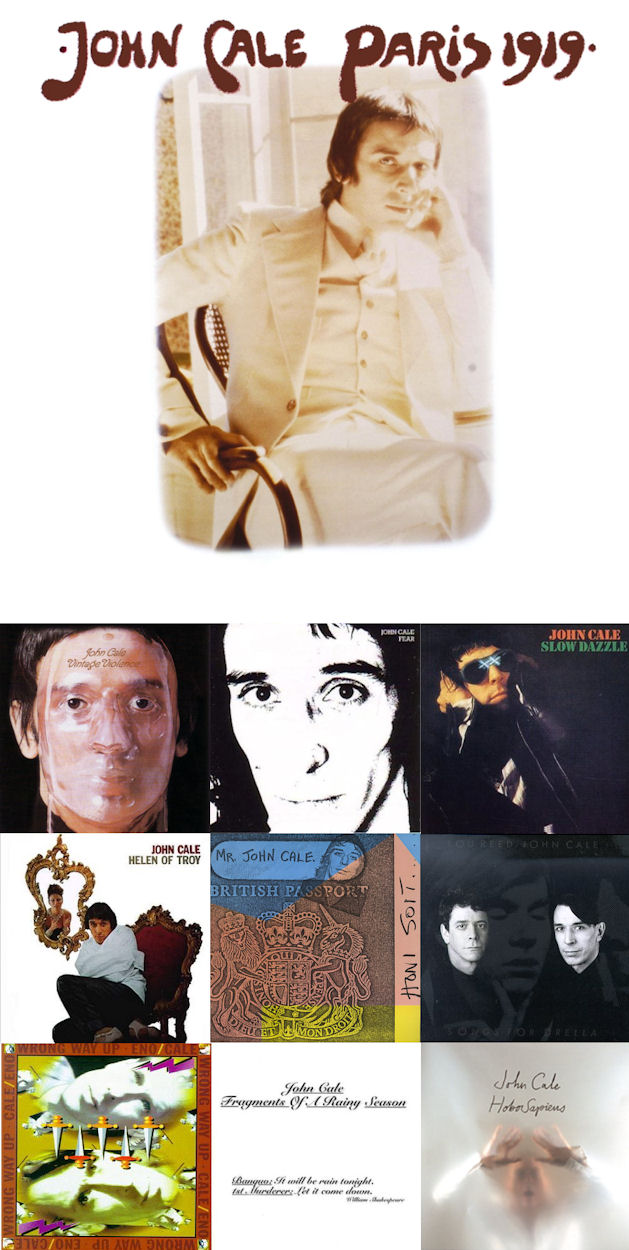 Ten Terrific Cales: His magnum opus, Paris 1919 (1973); Vintage Violence (1970); Fear (1974); Slow Dazzle (1975); Helen of Troy (1975); Honi Soit (1981); Songs for Drella (with Lou Reed) (1990); Wrong Way Up (with Eno) (1990); Fragments of A Rainy Season (Live) (1992); and HoboSapiens (2003).
In the following years, I began exploring Cale and the Velvets (as well as Nico) more deeply while ratcheting up my already long-in-process love of Lou Reed. 1982 was a key year, with the Velvet's Verve albums finally starting to get re-issued in conjunction with the release of Edie: An American Biography by Jean Stein and George Plimpton: an oral history of the Warhol Superstar and the surrounding 1960s Factory scene. Me, Bump, Count Mara, my brother-in-law aka Sparky and others I haven't yet mentioned all went into Warhol/VU overdrive at this time, so getting to see Cale in the midst of all this obsession was a big deal for me in 1983.
However, despite all this Warhol-and-Velvets mania in my corner of the world, I couldn't find anyone who wanted to or could go to this gig. As for why, I haven't the foggiest recollection, but there you go.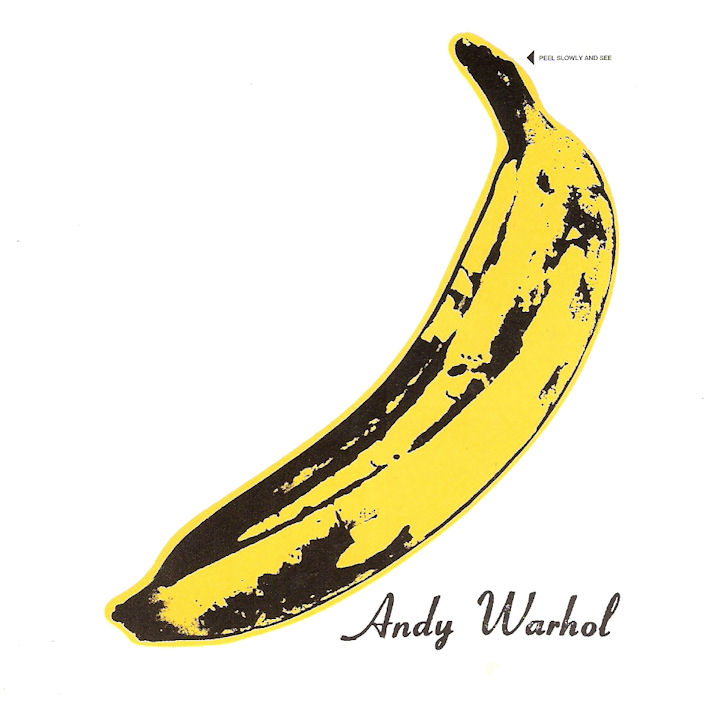 1982: A fascination with the whole Warhol factory era and its 1960's denizens ran high at that time in and around my circle with the publication of Edie: An American Biography, and the long overdue reissues of the Velvet Underground's catalogue, starting with their landmark debut (both above). Below is an Edie Sedgwick silkscreen print created for me at some point in the 1980s by my friend, WBN Rigs (Photo and book sleeve scan by VA).
If you're an Edie fan, be sure to check out my interviews with Ciao! Manhattan producer (and Stevie Wonder producer) Robert Margouleff as well filmmaker Kinga Syrek, director of the Edie Sedgwick-focused animated short, Too Late.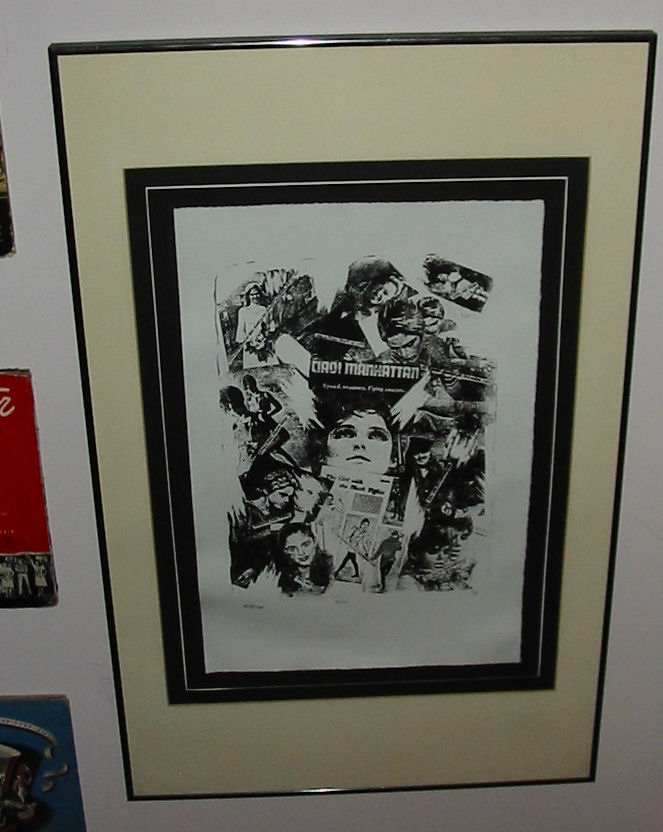 I ended up talking my friend M. Zeppelin into coming out for the show. She wasn't overly familiar with Cale's stuff but certainly knew who he was and decided to check him out. He was playing at Fryfogle's, a downtown bar where we had both seen Flipper during a much wilder evening a few weeks earlier.
Frys, as it was colloquially known, had long been the club to play in London. It opened under this name at some point in the early '70s, hosting a diverse array of acts through the years. It only flirted with punk and new wave acts later that decade but, with the Cedar Lounge's demise in the early '80s, Frys became the key performance venue for the indie/alterna/punk bands coming through town as well as the best of the local scene.
I spent a substantial amount of my time within its walls during 1983. There probably wasn't a week that whole year when I wasn't there for at least one night, usually more.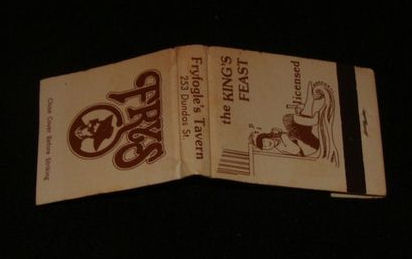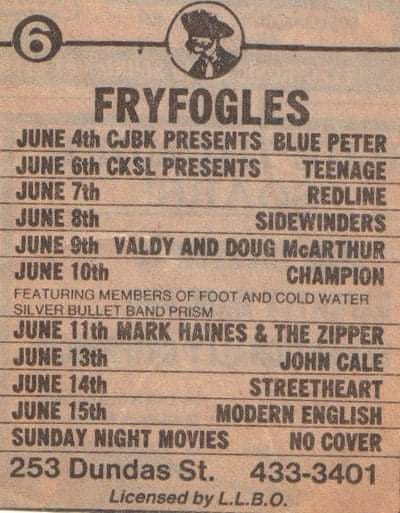 (Top) I found this picture of a matchbook from Fryfogle's up for sale on Ebay. It was almost a second home for me and my crew in 1983. (Bottom) Frys' two-week schedule from June 1983, with Cale appearing on the 13th.  Two days later, I was back at Frys for a packed, sweaty night with Modern English.  I'll be discussing that gig down the road as part of a compilation episode/concert no. 029, Rock This Town: Etc./Round Up # 1 1977-1984. (Image courtesy of Pete Feend whose band, Redline, played at Frys a week before Cale).
The poster you see at the top of this entry says that Sheep Look Up, then the hottest band in the city, were the warm-up act but I have absolutely no recollection of anyone opening.  The thing I most recall is MZ and I sitting down on the edge of centre stage at some point pre-Cale and deciding to stay there, staking it out and waiting for the star's arrival.
What I was expecting that evening was something along the lines of a partially incoherent and bad humoured Cale backed by a moderately junked-out group of musicians running through occasionally shambling takes of his most recent material, as standard hostile bromides were thrown about between act and audience in between numbers. I had thought this owing to having seen some recent interviews with Cale where he was looking rough and also because there was a strong anti-nostalgia vibe in those days, precluding the performance of older and less aggressive material from artists who had been around for a while.
Well, when I get something wrong, I don't do it by half. My expectations weren't even close, thankfully. I was already having a re-think about how the set might play out when I noticed that the stage was empty except for a chair, an electric piano, some amps, and a mic. Sure enough, Cale walked onstage alone, sat down with his acoustic guitar, and to my astonishment and thrill began the night with a faithfully performed version of "Amsterdam," possibly my favourite Cale song ever, from Vintage Violence.
"Amsterdam," my favourite John Cale song and one that he performed during this 1983 show, from Vintage Violence (1970).
Frys was packed, and the informal, low-key vibe carried on throughout the night. Everyone pushed forward when Cale appeared, with a fence of human bodies wrapped around the front of the stage, MZ and I in perched in the centre sitting askew on its edge. At some point during "Amsterdam," I decided to pivot on my ass, swinging my whole self right onto the stage, until I was sitting cross-legged directly upon it, about two feet away from Cale (five feet when he switched to keyboards). He didn't seem bothered, so there I ended up staying for the rest of the show. MZ followed suit right next to me, with others then crawling on too, hanging out in the surrounding region.
I recognized in that very moment how this was a once-in-a-lifetime opportunity and I wasn't about to budge. Fuck beer, fuck drugs, fuck my bladder: this was John fucking Cale! I figured if I could hold off taking a leak for an entire day while feeling like death under brutal circumstances during the previous year's Police Picnic, I could make it through 90 pee-free minutes with His Velvetness.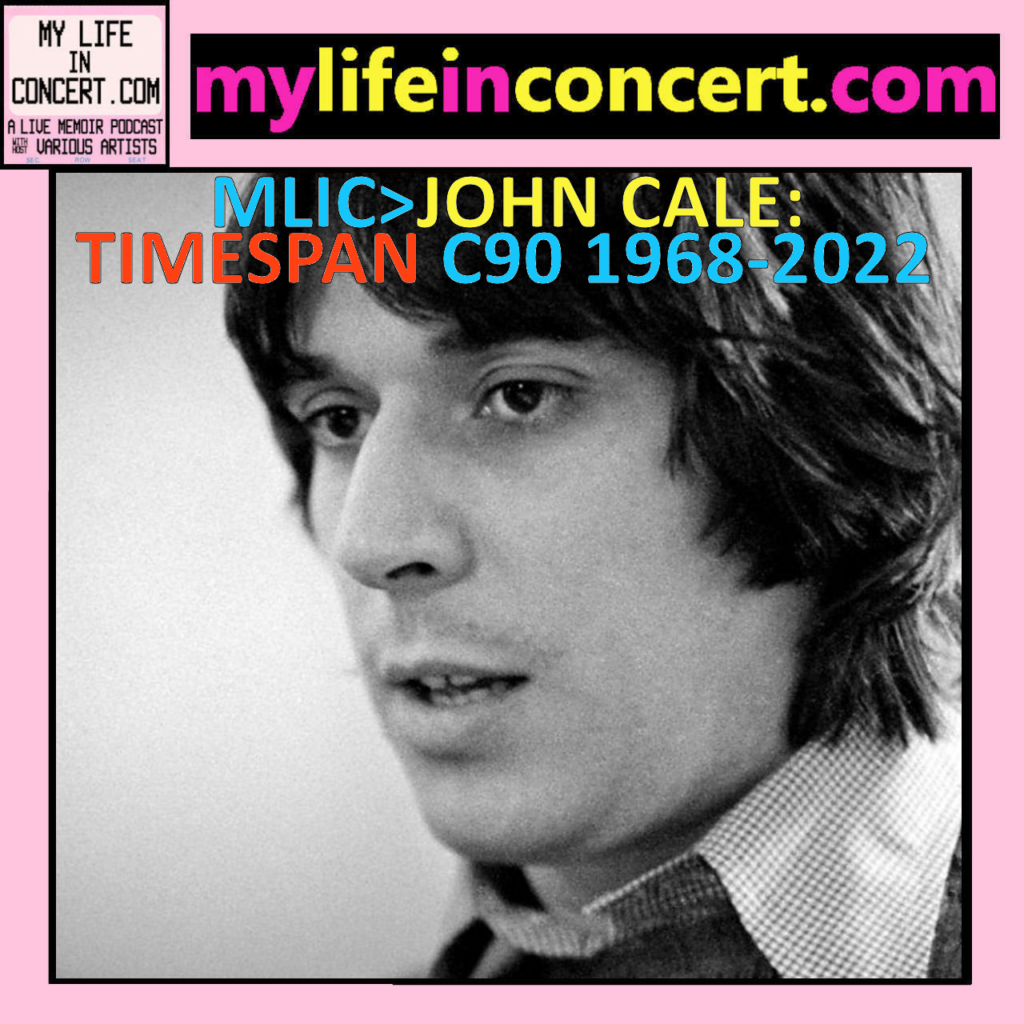 MLIC>JOHN CALE: TIMESPAN C90 1968-2022

is a cassette-length overview of Cale's whole career. The Best of Each LP or Era from 1968-2022 (even if some of his key releases are missing from Spotify).
This was undoubtedly one of the most engaging, intimate shows I've seen. Of course I had the supreme advantage of being close enough to be able to see his pores. This gig was the closest experience I've had in a club where it felt just like I was sitting in someone's living room as they entertained friends. In an era where I attended a lot of frenetic gigs, this was one of the most warm and affable.
I had assumed that the show might be in a similar vein to his 1979 live album of new material, Sabotage, recorded at CBGBs. Instead, this show was strikingly similar in feel and set selection to what turned up on his 1992 live disc, Fragments of A Rainy Season. In retrospect, I shouldn't have been massively surprised as he was touring behind his Music For A New Society album. While that album is dark in subject matter, the music itself is quite muted.
As for Cale, while he has spoken about taking plenty of drugs from the 1960s through mid '80s, he appeared sharp as a tack, decidedly lucid and focused at this gig, playing and singing wonderfully.
 From Germany's Rockpalast: John Cale in March 1983, three months before the show here in London, with "Guts," originally from Slow Dazzle, and Music For A New Society's "Chinese Envoy."
It was a delicious surprise to hear him haul out a set rife with many of the songs I most wanted to hear, spanning the entirety of his career (I also knew what was coming as the set list was taped to floor right next to me). Alternating between acoustic guitar and electric piano, he tended more towards his melodic and rollicking material, such as "Darling, I Need You," "Buffalo Ballet," or "I Keep A Close Watch," but also pounded the ivories and became sufficiently unhinged during passionate takes on "Fear," "Guts," and "Leaving It Up To You."
I went on to see Cale a second time in 1986 (coming up as No. 37) but I must say that, when it comes to live performance, be it in the flesh or with live albums, I prefer the stand-alone Cale to Cale-with-band. There's just something richer, magical about him when he's up there on his lonesome.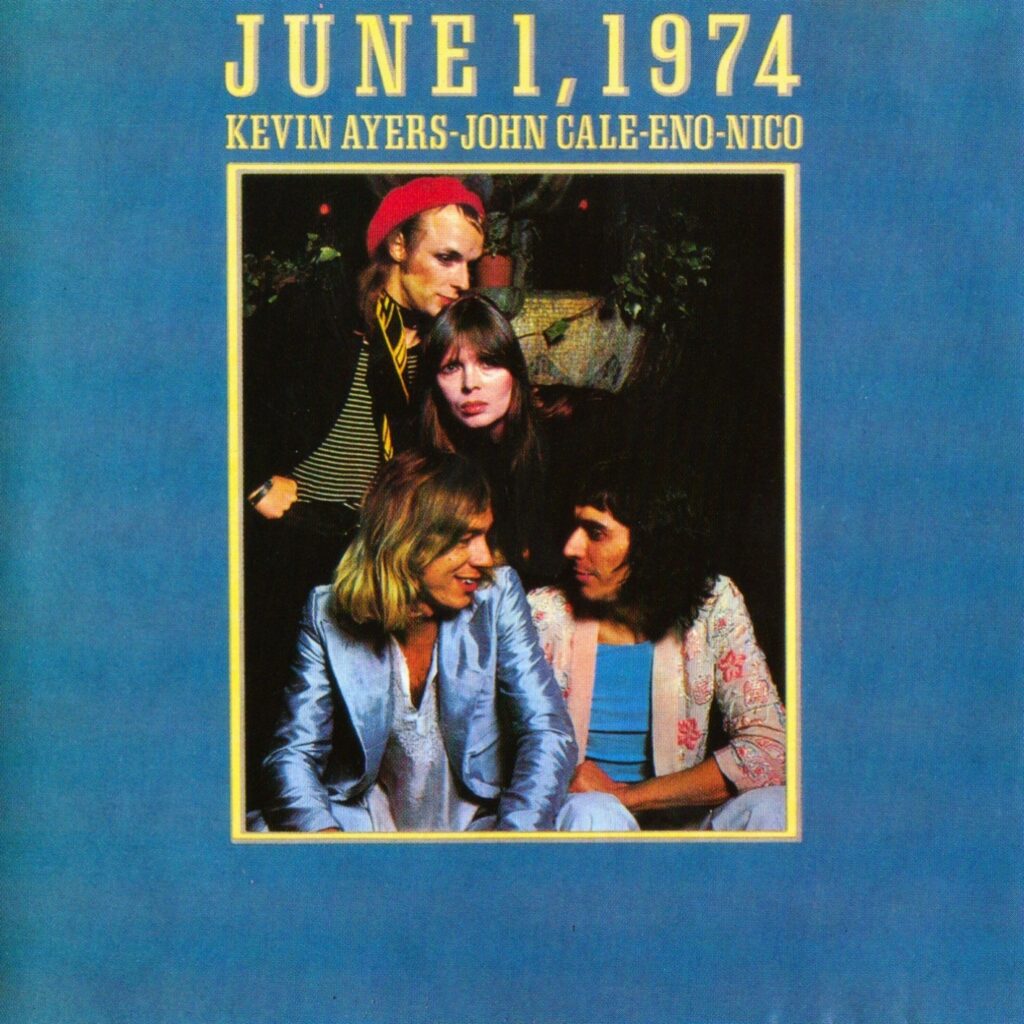 Cale appears on June 1, 1974: one of my all-time fave live LPs.  The album documents the ACNE concert on said date at London's Rainbow Theatre, ACNE standing for Kevin Ayers, John Cale, Nico, and Eno, the last of whom had recently left Roxy Music and gone solo.  The cover photo for the album has a story. In it, Cale and Ayers are trading inscrutable stares.  Turns out that Cale had walked in on Ayers having sex with his wife, former GTO Miss Cynderella, the night before.  Cale later turned this incident into the song "Guts" for his 1975 release, Slow Dazzle ("The bugger in the short sleeves fucked my wife / Did it quick and split").
Click here to read my tribute to the album on its 40th Anniversary.
MZ did indeed love the show and was glad she came out, both of us leaving as very satisfied and particularly chuffed customers given that rare proximity we'd lucked into. We also left Frys in a rare state of relative sobriety, owing to our inability to get to the bar during the set.
Two months later, another legend and '60s survivor would be putting on one hell of a show at this same venue … but first, came a return to CNE Stadium.
"I Keep A Close Watch," live, 1983, three months before I myself got to keep a close watch on John Cale's sublime performance.
Next On Stage –> It's the third and final Police Picnic. As with the 1982 edition, Le Château and I make our way to CNE Stadium in Toronto for a day of music starring the three bottle blondes, even running into one of them on a Toronto backstreet earlier in the day. As also was the case with 1982, the excursion came complete with a drug misadventure …. wait, scratch that last bit. What's the opposite of "misadventure"?
019. Walking On the Moon: Police Picnic III with The Police, Peter Tosh, James Brown, King Sunny Adé, Blue Peter, and The Fixx, CNE Stadium, Toronto, Ontario, Canada, Friday August 5, 1983.
© 2011 VariousArtists
Comments From The Original opensalon.com Posting