While I'm a fan of both recorded music and live performances, I'm not frequently overly enamored with the results of their intersection: the live album.   More often than not, they are merely contract fillers, between-project marketplace bookmarks or low cost quickie $$$ generators.  They are rarely creative high points in an artist's output.
Just because a particular artist can consistently wow 'em live doesn't necessarily mean that the live document will have the same effect.  Concerts are not just heard, but experienced, in person and in real time, and that in-the-moment vibe rarely translates fully to the recorded medium.
Admittedly, some genres fare better than others when it comes to live discs.  Jazz, folk and old-school pop singers — three that tend to be recorded live even when studio-recorded — are certainly exceptions, with many classic live releases in each style's canon.  But when it comes to various forms of rock, r&b, post-rock pop, reggae, dance or electronic music, etc., the vast majority of live releases fall somewhere along a line running from perfunctory-with-highlights to meh/bleccch.
Of course not all live recordings are unmerited "product" decorated with massed clapping and a few "Hello Cleveland!"s thrown in.  As examples of live discs functioning as catalogue essentials for particular artists, I can cheer loudly for James Brown Live At the Apollo, Neil Young Live at Massey Hall 1971, Nirvana Unplugged, Bob Dylan Live 1966 (Manchester Free Trade Hall), Talking Heads Stop Making Sense, Bob Marley Live!, Magazine Play, The Who Live At Leeds, Laura Nyro Season of Lights, and David Bowie Live Santa Monica '72 among others pop into my head as I write.  But these tend to be the exceptions that prove the rule.
Even trickier are mixed artists live albums, with Woodstock coming to mind as a positive example, although I'm also fond of Urgh! A Music War from a decade later.  There's also The Band and Friends' Last Waltz soundtrack from their 1976 final gig.
Two years prior came another "collaborating friends" concert and album, but of a very different stripe: June 1, 1974.  It's easily one of my favourite live albums.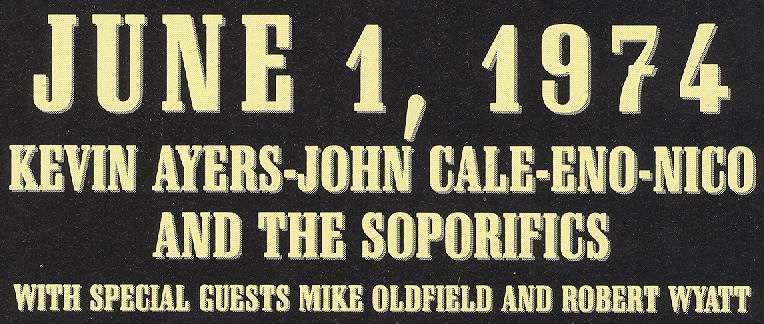 (Scan by VA) 
Recorded on the titular date at London's Rainbow Theatre, it was a sold-out affair starring four featured performers who each had their moment under the spotlights: Brian Eno, John Cale, Nico, and Kevin Ayers.
While the concert highlighted each member of the quartet as equals, it was Ayers who provided the initial impetus for the show and was ultimately the headliner.  As the album's liner notes state explain:
(Scan by VA)
It was also a showcase for Island Records UK to bulk-promote its premier cult acts of the day, each gaining some audience traction by inter-association.  It was a kumbaya-free yet join-hands collaboration of decidedly difficult, outré personalities played out in the shiny satin and towering platform shoes of the day.
While there was cross-pollination between the gang of four, each key performer made the scene as each's own entity although most of the acts made use of the top flight  backing band which included Tubular Bells whiz kid Mike Oldfield on guitar and Soft Machine drummer Robert Wyatt (this concert took place one year to the day following Wyatt's fall from a fourth story window, leaving him a paraplegic).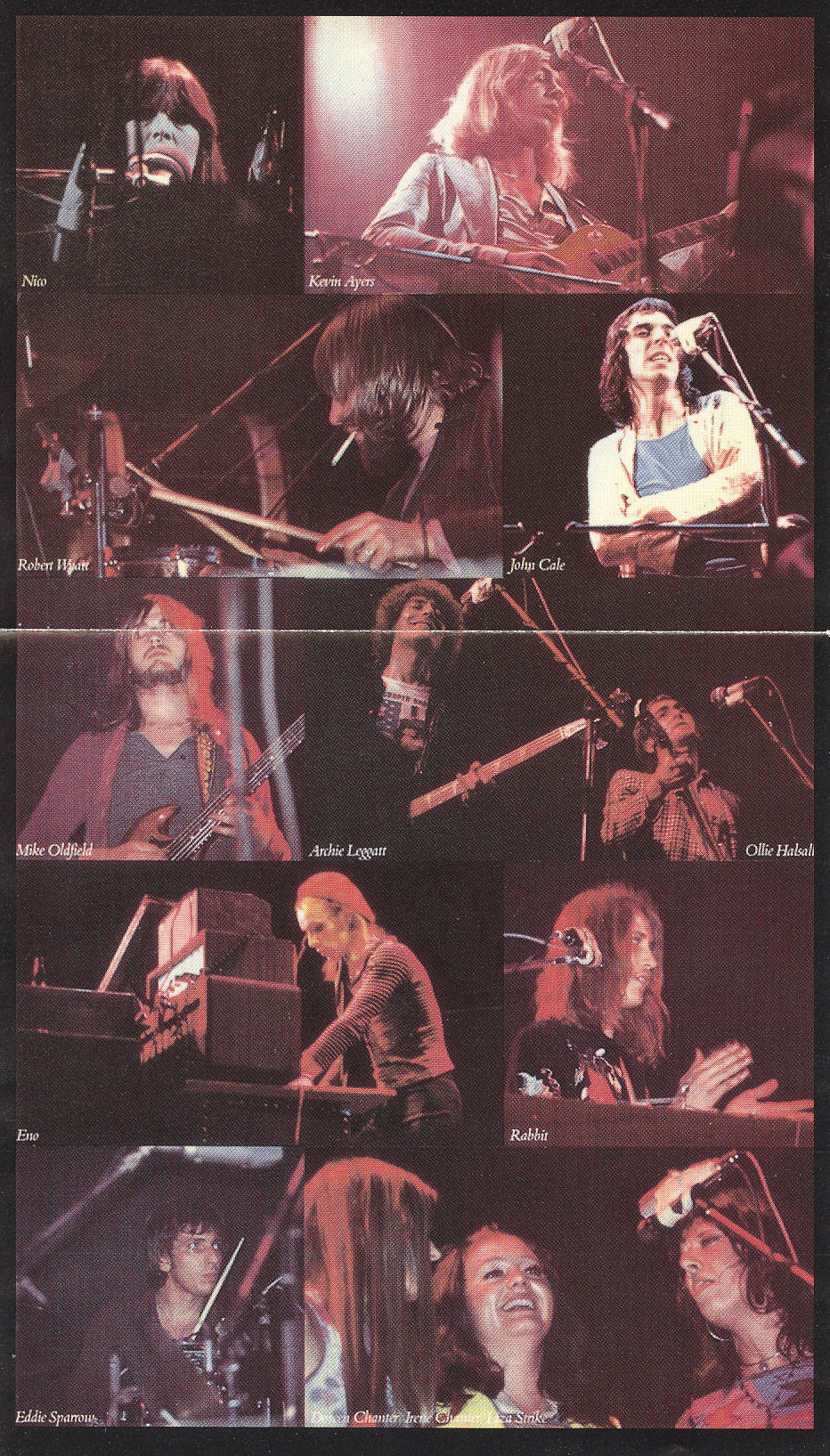 Back Cover Photos (Scan by VA)
.
Eno was the boy ascendent, having auf wiedersehen'd his Roxy Music gig the previous year, launching his own solo career with the stunning Here Come the Warm Jets.  The future ambient godhead (and future producer of some of my favourite albums by David Bowie, Talking Heads, and U2 among others) kicks it all off with a fine "Driving Me Backwards" before launching into a blistering "Baby's On Fire."  The album release proper — which appeared in record shops within a month of the concert — unfortunately cherry picks highlights, meaning several performances from all acts are absent, among them (as I understand) a performance of one Eno's finest early tracks, "Third Uncle." (Check out the pounding live version from 801 Live, an Eno/Phil Manzanera side project two years hence.)
Eno "Baby's On Fire" from June 1, 1974
Both early Roxy as well as Eno's inaugural albums Jets and Taking Tiger Mountain (By Strategy) owe huge, acknowledged debts to the influence of The Velvet Underground (who were finally getting belated recognition by this point via then-contemporary glammed-up champions, Lou Reed's successful solo career, and the release of another live disc that appeared in the summer of '74, VU's superb, posthumously released 1969).  This concert gave Eno the opportunity to make that debt explicit via getting to play with two of its previous members: John Cale and Nico.
Cale had just released his Island debut: the classic, incendiary Fear.  That wonderfully paranoiac LP featured contributions from Eno as musician and executive producer, so Cale getting a measly single track — his unhinged cover of Elvis Presley's "Heartbreak Hotel" — on the June 1, 1974 album has always been disappointing for me.  While an inspired cover, I would have much preferred to have heard this band tackle his own meaty material such as imposing fare like "Fear Is A Man's Best Friend" or "Gun," or the gorgeous "Buffalo Ballet."
John Cale "Heartbreak Hotel" from June 1, 1974
As a hilarious Cale/Ayers side-note to the occasion …. the album cover features a shot snapped by legendary photographer Mick Rock, taken backstage on the afternoon before the gig.  In it, Cale and Ayers are trading inscrutable stares.  Turns out that Cale had walked in on Ayers having sex with his wife, former GTO Miss Cynderella, the night before.  Cale later turned this incident into the song "Guts" for his 1975 release, Slow Dazzle ("The bugger in the short sleeves fucked my wife / Did it quick and split").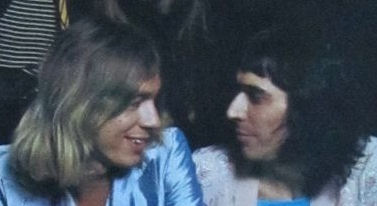 Cale: I'll throttle you one for bonking my wife!      Ayers: Fancy singing backup on "I've Got A Hard-On For You Baby"?
Meanwhile, Cale was at this time in the process of producing High-Angst Mistress Nico's sole Island outing which similarly featured contributions from Eno.  Nico falls into a personal canon of acts who, for me, I love unironically yet also find some aspect about them incredibly hilarious.  In the case of our swaddling femme fatale, it's the almost comical Wagnerian doom I've long been obsessed with, and oh lordydoodles does she turn on the icy gloom via her cover of The Doors' "The End."
Nico had a famously tempestuous relationship with the Lizard King at one point, post-Velvets (Jerry Hopkins and Danny Sugarman noted in No One Here Gets Out Alive "no mater how weird [Morrison] got, she bested him … To Jim she was irresistible") and her cover of his Oedipal head-trip epic was her wrist-slashing-friendly tribute to her former lover and friend.  (The resulting album, likewise titled The End…, features "You Forgot To Answer," a non-toe-tapper about phoning Morrison in Paris only to find out that he'd just died.)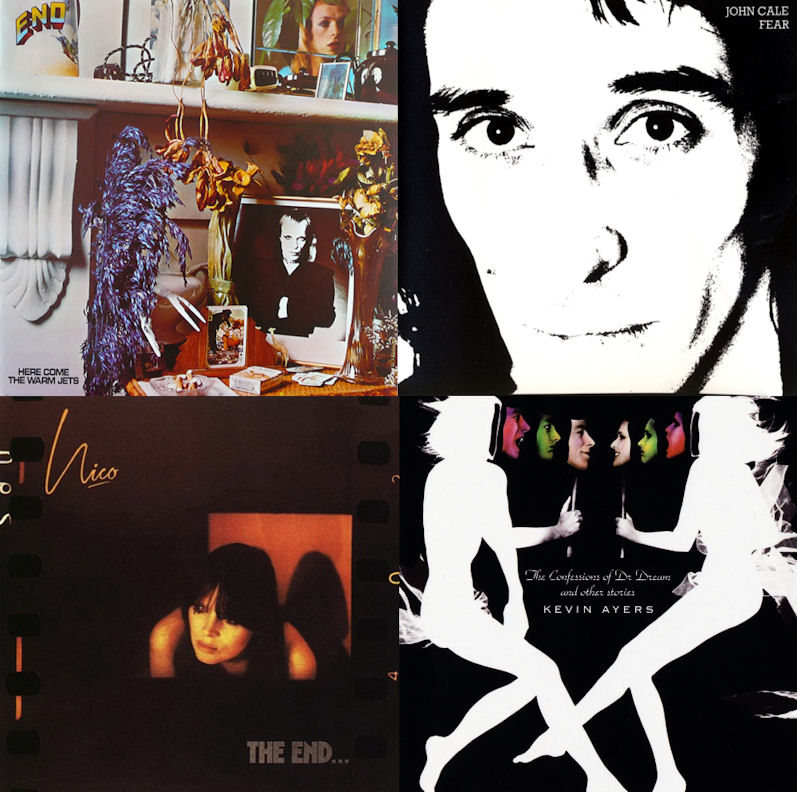 Each artists' contemporaneous release at the time of the concert: Eno Here Come the Warm Jets; John Cale Fear; Nico The End …; Kevin Ayers The Confessions of Dr. Dream and Other Stories
.
I always have this fantasy vision of Nico in the mid-70s: locked away in a gothic castle — all mossy covered turrets and chalk-drawn pentagrams lurking on cavernous inner walls — laying supine on a veiled, four-posted bed surrounded by candles and black roses, in a room with dark, drawn crushed velvet curtains, reading slim volumes of French verse in between unimpressed grimaces and tidal waves of heroin.  Well, were that to be true, it turns out she clearly left the stone(d) chamber here for a while to approximate being in the land of the living on stage.
"Ze end / Beeooteevul friend."  Yeah, yeah, yeah, go all Teutonic on me, Frau Nico!
While I tend to be critical when it comes to recorded covers of songs I like, Nico's rendition of "The End" that appears here is a particular favourite, even if I admittedly have to be in just the right mood to enjoy its alluring bleakness.  She really turns on the whole smile-averse, Nibelungenlied-vibe thingy via her ultra-minimalist, harmonium-highlighting interpretation.  Just listen to the fanged menace as she spits out "The killa awoke before dahn / He poot his büütz on," shortly before issuing a psyche-troubling, cracked-voice wail at the song's climax.
(The Nico story I like best comes courtesy of John Waters.  In his book, Shock Value, he names her as his "favorite singer, who was so out of it when I met her that she asked, 'Have I ever been here before?' I had to tell her I really had no idea.")


Nico "The End" (Studio Version) (The sparser live version from the June 1, 1974 concert can be heard in the full-album video at the bottom of the page)
Following Nico frightening the dickens out of everyone, it was time for Kevin Ayers to play his extended, concluding set.  While a big fan of the other artists on the bill, I'm significantly less familiar with Ayers' overall output.  A founding member of Soft Machine, one of Britain's pioneering psychedelic groups, he went solo in the late '60s and was just starting his tenure with Island Records at the time of this live album.  I keep wanting to get around to better check out his catalogue because I've always been fond of his more laid-back material which forms the second side of the LP, particularly the wistful "May I?" and the determined "Shouting In A Bucket Blues."
Kevin Ayers "Shouting In A Bucket Blues" from June 1, 1974
In a great irony, given the bed-hopping circumstances of the previous evening, one of Ayers' tracks to not make the disc is "I've Got A Hard-On For You Baby," featuring John Cale on backing vocals.
Indeed, the album's nine cuts are but a sample of what was performed during the evening.  I've long hoped that a complete version of the evening's performances would eventually be released (there are certainly boots floating around), but no luck yet.  Maybe one day.
The album was well received just as the show itself had triggered warm huzzahs, the vinyl album becoming a cult classic of the era.  It can be listened to not only as a terrific collection of music but also a sound document defining what one strain of what could be retrospectively be termed as "alternative rock" sounded like at this particular bookmark in time: one where the glitter was starting to fade from glam and the final vestiges of 60s experimentalism were receding while, across the pond in New York City, a new kind of slipstream was quietly starting to take shape with Television, the Ramones, the Patti Smith Group, Blondie, and The Artistics (soon-to-be rechristened Talking Heads) all playing their inaugural shows to a small clutch of an in-the-know audience.
The tides of the underground were turning.
June 1, 1974 captures not just a concert, but the sensibility of a singular moment.  40 years on, it's still a perverse treat.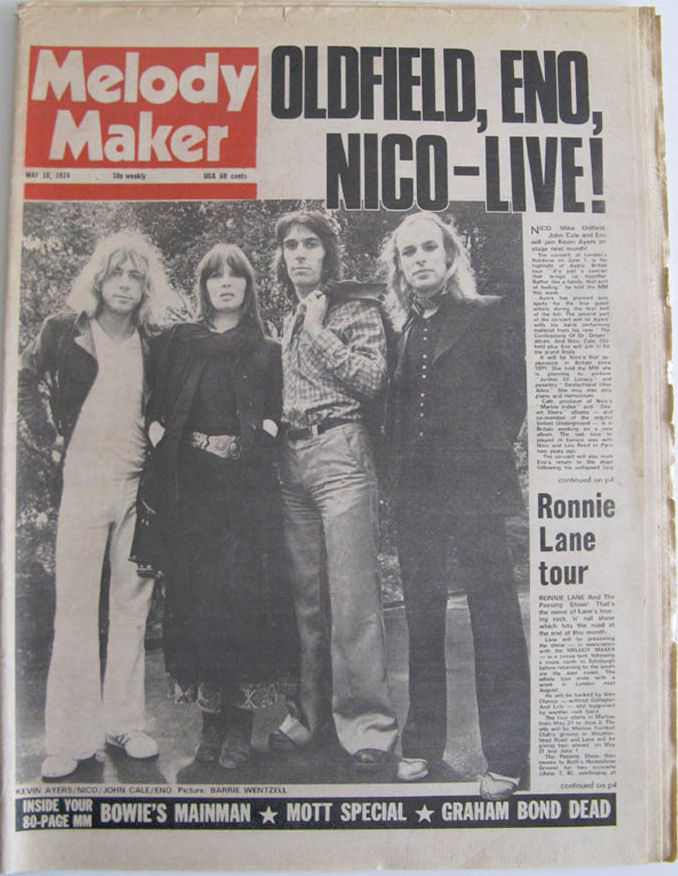 The upcoming June 1, 1974 concert as Melody Maker's cover story May 18, 1974 (I grabbed this off the net some time back and can't recall the image source).
June 1, 1974 (Complete Album)
Next On Stage –>
   My pieces on
Ottawa Bluesfest 2013
continue (just as the actual 2014 event is about to start) … Stayed tuned for bottled curmudgeons, an invasion of animal costumes, three-faced singers, and Mrs. Slocombe sightings …
178c. Declare Independence: Ottawa Bluesfest 2013 (Pt. 2) with Björk, B.B. King, Phosphorescent, Austra, Stars, and more, July 13-14, LeBreton Flats, Ottawa, Ontario, Canada
© 2014 VariousArtists
Comments From The Original opensalon.com Posting