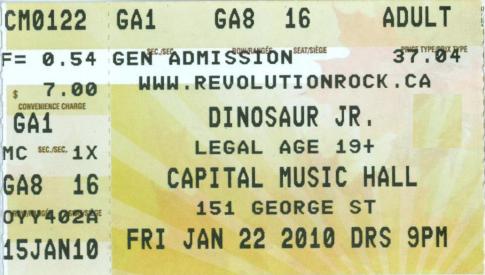 I kicked off my fifth decade of concert going with a bang via this show by Dinosaur Jr.
146. Sludgefeast: Dinosaur Jr. with MV & EE and Lou Barlow, the Capital Music Hall, Ottawa, Ontario, Canada, Friday January 22, 2010, $37.04.
In a recent issue of Uncut, The Who's Roger Daltry addresses Pete Townshend's worsening hearing problems, stating that "if carrying on is going to mean Pete going deaf, let's stop now. Entering old age in a silent world – nothing is worth that."
As a life-long music listener and concertgoer who has a bad tendency to crank it up to 11 way too often, I have become increasingly volume conscious over the last decade or so. Considering that a life without music would be unthinkable for me and that it's clear I have at least some hearing loss from years of headphones, live shows, and pounding dance club soundsystems, I have been making some conscious choices to turn it down as much as I can.
Living in a townhouse with neighbours on the other side of each wall helps steer me into keeping the volume in check, even if one of our nabes tends to absolutely blast it on occasion (we have nicknamed him Father Zeppelin aka Père Floyd.  His absolute favourites are live versions of "Since I've Been Loving You" and "Achilles Last Stand," sometimes blared so loud that I can sit in our living room and play air drums along with John Bonham on the latter. Cublet is impressed that I get the fills right. Father Zep has a wife who we've dubbed Scrunchy owing to her over-fondness for said hair accessory, and we're positive it's she who plays Chris de Burgh but at less fulsome levels, thankfully).
My iPod is often plugged into my computer and playing in my office at work, but at a cube-friendly, non-intrusive volume.  I never put my headphones on when there and wouldn't be able to concentrate that way anyway. Still, there is the transit ride in and back every day when I do tend to overdo it. If I'm driving alone in the car, you can bet it will be the Vibramobile, as I zoom along. And working out or weight lifting just isn't the same without something like Funhouse by The Stooges or † by Justice pounding at full tilt, propelling me onwards.
But what happens when you're in a band and volumosity is part of your stock-in-trade? Dinosaur Jr. guitarist and kingpin J Mascis is just a few years younger than me – does he have these same tinnitus-phobia concerns? Because I think that this gig wins the trophy for The Loudest Show I've Ever Seen™, swiping the crown from previous personal honourees, the Buzzcocks and Flipper.
A toned-down Dino Jr. just wouldn't be cricket. Copious volume has gone hand in hand with them right back to their first rush of notoriety as part of the AmerIndie scene, as it was referred to at the time. From the mid-80s to mid-90s, it was one of the major food groups of my listening diet. This post-hardcore musical landscape splintered off in a variety of more personal avenues when the Nothing But Loud/Fast/Brief ethos wore out its limiting welcome pretty quickly, resulting in bastard children that were ultimately more nuanced and individualistic than a hardcore framework could ever contain. But the loud part, however, usually stayed on intact.
My particular favourites throughout this roughly decade-long period include the twin peaks of the Minneapolis scene, Hüsker Dü (pop hooks wrapped in shrapnel) and The Replacements (introspective garage rock drunkeness), along with the Pixies (harsh Lynchian power pop), Soundgarden (metalesque indie), Hole (toe-tappin' tantrums in a pair of Mary Janes), Nirvana (corrosive killer hooks), and especially my favourite band of the '90s, Pavement (off-kilter indie jangle pop) and my favourite group of the past 25 years, Sonic Youth (pure godhead).
And, of course, Dinosaur Jr. They resurrected several of the hoariest rock clichés that punk initially sought to bury – guitar solos, the power trio, long hair – via their taciturn commander-in-chief J Mascis. Second-in-command, Lou Barlow, left acrimoniously in 1989 to helm the celebrated lo-fi projects, Sebadoh and Folk Implosion, replaced for the duration of D Jr. mk. 1 by Mike Johnson. Drummer Murph decamped in late '93.
Dinosaur Jr. attracted notice with their sophomore release, 1987's You're Living All Over Me , issued on the quintessential 80s indie label, SST. For me, each of the next 3 successive releases crystallised their sound and approach, starting with late 80s alt-rock watershed, Bug .
Vinyl label for the classic 1988 release, Bug, on SST.
I know it's heresy to say this in Dinosaur Jr. fandomland but my favourites are actually the first two Warners albums sans Barlow, Green Mind and, in particular, the guitar frenzy workout, 1993's Where You Been.
After that, the story nosedives with weak releases, their dissolution, and a low-key solo career for J Mascis. The original line-up buried the hatchet and re-united in 2005, releasing two surprisingly potent new discs (so far), Beyond and 2009's Farm, picking right up from where their glory days left off. Both are models of what reunion albums should be, in particular the latter, which netted them their first Top 30 placing in the U.S. charts.
Harsh sludgey rock is not necessarily Cublet's musical forté but after 12 years with yours truly, he's at the very least gotten used to it. He was a trooper and came along to the show, looking forward to it even as a bit of a different experience.
It took place in late January. The winter of 2010 could very well have been the mildest that I can remember in my lifetime. However, the night of this show was undoubtedly one of the coldest of the season. Not only were we a little unprepared for the shock of the very sub-zero evening, I wasn't exactly whistlin' Dixie at having to stand in line for some time to get in, my extremities going numb, one body part at a time.
Once inside, I needed to make a quick trip to the little boys' room following that -500C experience. Having only been to this new iteration of the Capital Music Hall once before, I had to do some wandering around before I could find the bathrooms. At one point in my search, I went around a corner and almost walked smack into a just-arriving J Mascis, sensibly attired in an oversized parka and fuzzy ear muffs, toting a knapsack. Luckily there was no literal headbutting and J moseyed right along.
The Capital Music Hall and the parking entrance, June 2010. J Mascis and fuzzy earmuffs not pictured.
Knowing only a bit about Dinosaur Jr. via what I've played at home and in the car, Cublet knew that it was probably going to be a tad loud. As we walked up the hallway from the box office to the performance space, he was inquiring as to just how loud I thought the show might be.
It was at that point that we entered the main area wherein I observed stacks of amps piled high like a wall against the back stage. "I think that this one might be a little loud," I understated.
This stage also sported a large backdrop of those er, thingys on Farm's cover that look uncomfortably like a Herbal Essence ad circa 1975 meets Sigmund's sea monster.
So this is what the 1970s-era Herbal Essence graphics designer is doing today.
Lou Barlow was up on stage just finishing a solo set, literally taking requests from the audience. Shortly after his departure, MV & EE came on. I knew absolutely nothing about them, apart from the fact that Mascis was hidden away at the back playing drums for them.  But I enjoyed their set, as did Cublet.
I'd best describe them as being like Sonic Youth in their more ambient, contemplative moments. It was sort of dreamy and distorted, in a chilled, hypnotic kind of way. Hmmm … must investigate further.
As we waited for D Jr. to come on, the sound check indicated that their set might blow the roof off the CMH, and so Cublet decided to head back to the front desk and grab a pair of earplugs from a bowl that had been filled with them, only to find that they had all been snapped up. Instead, he improvised with small pieces of wet paper towel. Me, I'm a veteran of these things and decided to tough it out. Whether that was a smart idea or not is another thing.
Dinosaur Jr. came on at about 11 PM or so, with Mascis resplendent in a Rolling Stones' lips logo t-shirt. From the opening notes of Green Mind's "Thumb," it was abundantly clear that they had a sound system that was probably powerful enough for the O2 arena.
The crowd was with them right from the get-go, even if I did miss the absence of a mellotron in "Thumb." I had expected the sold out audience to simply be other aging punks and alterna-folks like myself and was pleasantly surprised to see that a good half of the audience were in their 20s. I always like seeing a new generation picking up on great bands from back in the day. Mind you, their comeback discs stand toe-to-toe with not only their back catalogue but with anything else around. Farm easily has to be one of my favourite straight up rock albums of the past few years.
[youtube=http://www.youtube.com/watch?v=M1m8fNFs60o&w=425&h=344]
Dinosaur Jr. performing "Pieces" live at Central Park's Summer Stage, NYC, August 16, 2009, 5 months before the gig at Ottawa's Capital Music Hall.
Murph was unfortunately not able to make the gig, getting stopped at the border for unspecified reasons (Lou Barlow: "Write your M.P. and complain!") but the drummer who was with them did a fine job. Barlow even got his spotlight moment with Farm's "Imagination Blind."
One of the pleasant surprises of both D Jr. performances that I've seen is how fan friendly the set lists are. I figure that since Mascis comes off as curmudgeonly, he'd want to be contrarian about things in that respect, but not at all as it turns out. Particularly after the first few numbers, it was one hoped-for tune after another and, generously, something from almost every album.  My personal highlights were the wailing, killer versions of "Get Me," "Feel the Pain," "Out There," "Little Fury Things," and "The Wagon"; two of their best new numbers in "Pieces" and the wah-wah giddiness of "Over It"; and, of course, their finest moment, "Freak Scene," one of the best rock songs ever for my money.
[youtube=http://www.youtube.com/watch?v=TgTJtdn6VjM]
Video for "Over It," a smokin' tune from Dinosaur Jr.'s most recent album, Farm.
I had a splendiferous time at this show and it was so great to see them in an intimate environment with such an enthusiastic and receptive crowd.
J's mane may now be all grey but he and Barlow rocked out as just as convincingly as 20 years ago.
Cublet ended up having a great time as well, enjoying the show more than he had expected.
Now, about that volume … OK, so I know it's not such a good thing in terms of my hearing, but sometimes I like that physical feeling of almost being able to reach out and touch the sound (perhaps moulding it into a craft — pantyhose mug warmers, anyone?). I wasn't quite so thrilled when my ears were still ringing a full 3 days later, but, oh well. How the band does it night after night, I don't know. Let's just hope that J and Lou's auditory thresholds continue to hold out for more great music.
Dinosaur Jr. returned for a killer encore of their classic cover of The Cure's "Just Like Heaven," merging into Living All Over Me 's "Sludgefeast" – a fiting note to end on, as that title perfectly captures what a kick it is to take in a D Jr. set.
[youtube=http://www.youtube.com/watch?v=yi1LrNtVltg&w=485&h=295]
"Sludgefeast" from You're Living All Over Me (1987)
Next On Stage –> Wilco and the art of the perfect concert …
147: Outtasite: Wilco with Bahamas, Southam Hall, National Arts Centre, Ottawa, Ontario, Monday March 1, 2010.
NOTE: I simultaneously cross-post over on my Open Salon blog, where I also have a deeper backlog of entries. 
© 2011 VariousArtists