This concert took place on Brian's 69th birthday and the eve of this summer's arrival.
159. Wouldn't It Be Nice: Brian Wilson, Southam Hall, National Arts Centre, Ottawa, Ontario, Canada, Monday June 20, 2011, $92.94.
When I think of the Beach Boys, I make an instant association with the summer of 1976. It was not only their 15th anniversary but also the year I really started exploring their music. It began with my sister returning from an early summer UK vacation clutching a copy of the 20 Golden Greats compilation which was a huge success over there at that time, hitting No. 1, and becoming the second-biggest seller in the UK for that year.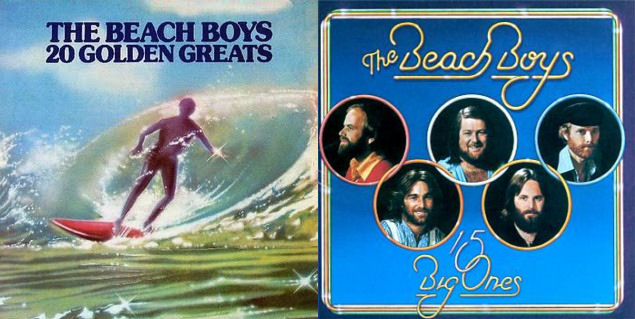 1976: The Beach Boys' 20 Golden Greats compilation — a UK No. 1 and the second-biggest selling album in that country for that year — and Brian's "comeback" album, 15 Big Ones, tied in with the band's 15th year.
It was the first time a Beach Boys album was in my home and the first time I had paid close attention to a lot of these songs. I certainly loved and knew most of them from years of radio play, while over at my brother's place I'd listened to the albums Holland and, even better, Surf's Up, an LP I still have a considerable fondness for. But I hadn't sat and listened seriously to many of these classic '60s tracks. While the loud/noisy/strange stuff is one of my food groups, at the other end of the spectrum — and sometimes in conjunction with it — there is that I love harmonies. So, obviously, I was drawn to the gorgeous voices delivering tunes that were like musical snapshots of an older world innocence, sometimes delivered with small or large brushstrokes of sadness and melancholy.
A variety of musical subtleties starting coming into focus for me upon deeper examination, such as the modulations and shape-shifting melodies of "I Get Around" or that dramatic intro into "California Girls." There were two songs in particular, though, that I hadn't recalled ever hearing before that really got me. One was this complex, suite-styled curio called "Heroes and Villains" which still radiated plenty of sheer avant loopy-ness in 1976 — and still does — but even more importantly was "God Only Knows." I thought it was stunning in its glorious, muted longing. I became mesmerized with everything about its sound, feel, and aural components, not least of which are Carl's plaintive lead vocal and the  masterstroke of curiously opening a love song with "I may not always love you." Not only is it my favourite Beach Boys song, but I would have to rate it as one of my favourite songs/records of all time, bar none.
[youtube=https://www.youtube.com/watch?v=EkPy18xW1j8]
"God Only Knows," one of The Beach Boys' singles from 1966's landmark Pet Sounds. One of my all-time favourite songs.
Around the same time, the BB issued 15 Big Ones in conjunction with their anniversary. Prematurely heralded as Brian's big return, 15B1s was a hit over here, my sister scooping up that one too in our BB frenzy that  the oldies compiliation had kick-started. I played both of these albums repeatedly throughout that summer. I now see 15B1s as pretty damn poor but admit I enjoyed it at the time.  It's ok (smirk).
In conjunction with all this was an NBC television special, Henry Gross' BB-inspired hit "Shannon" featuring Carl Wilson, a shaky, later-in-the-year solo appearance for Brian on Saturday Night Live, and, in  '77, Dennis Wilson's exceptional Pacific Ocean Blue. There was also the Beach Boys' 1977 album Love You which is highly regarded by some, but it's never really worked for me except for that one about the solar system.
Aside from some of Brian's later projects, notably his first solo album in 1988, that mid-'70s burst of activity was pretty much the end of the line for the Beach Boys in the creative sense.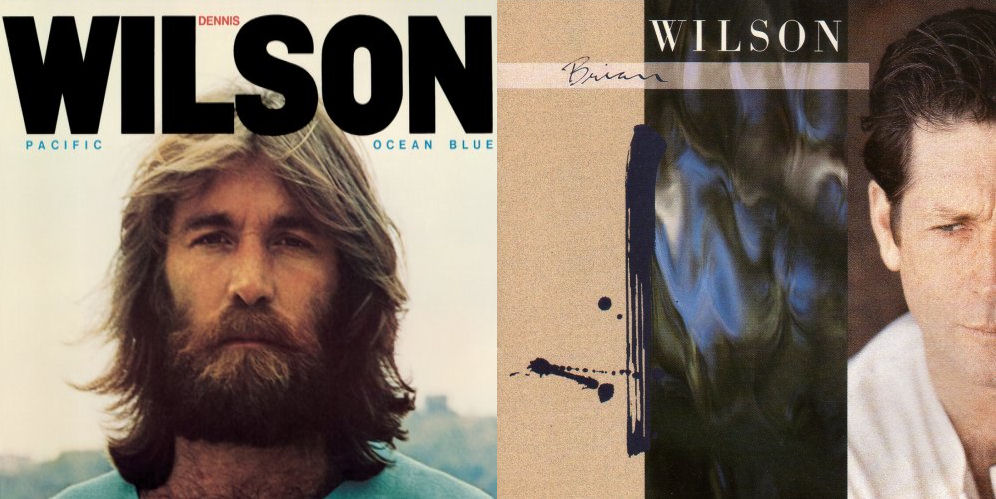 "Kokomo"-free experiences: Solo Wilsons at their best with Dennis' 1977 classic Pacific Ocean Blue and Brian's eponymous solo debut from 1988 (great songs if a wee too 80s-ized in the production department).
Fast forward a decade and I found myself among some serious BB fanatics, particularly Bagman, who I ended up being roommates with for a time, and The Sloth. Each had pretty much every note the BB had ever issued along with Bag's several Smile bootlegs which were always fun to listen to in their variety and deviations. (I should interject here for those concered about such things … 2011 is THE year when the original Smile recordings finally get released, this fall. Sounds s'wonderful to me. After years of acclimatising myself to those fragments, is the finished project now going to sound strange?)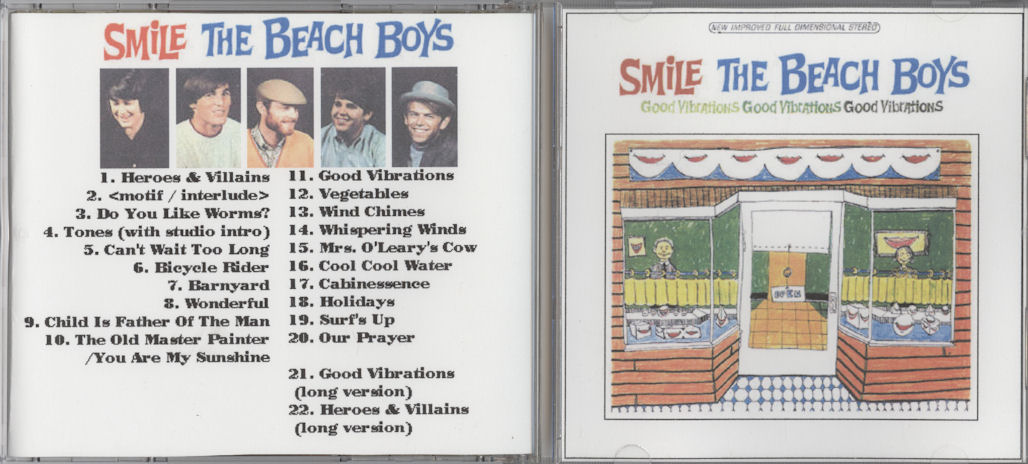 My own version that I put together of the legendary Smile, originally intended for a 1967 release and now finally appearing on November 1 in North America. My bootleg is assembled from various sources along with some of the selections that have been previously released through the years.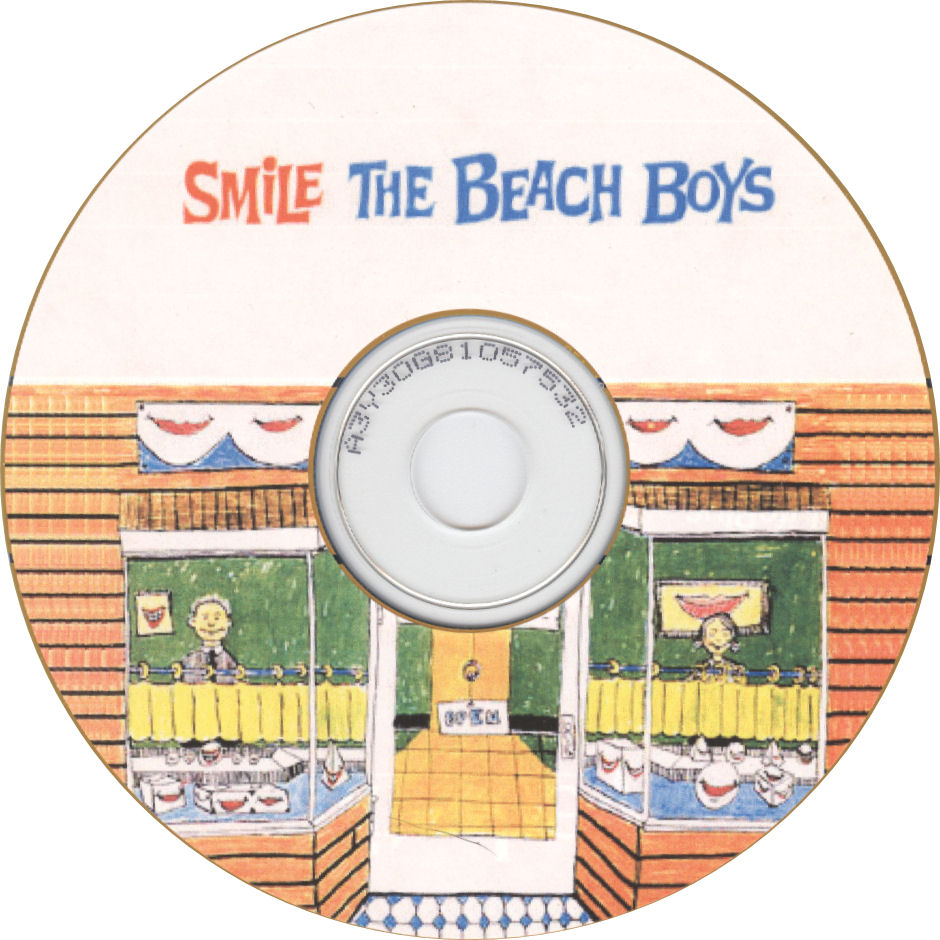 Living with Bag and hanging with Sloth meant that I was now intimately acquainted with the minutiae of the Beach Boys' catalogue right down to "Our Favorite Recording Sessions," "Bull Session with the 'Big Daddy'," "Car Crazy Cutie," and the David Marks-era achievement, "Stoked."
In the meantime, Brian went through his well-publicized personal and creative difficulties, Dennis and Carl died, and Mike Love continued to be Mike Love, leading carny fair-bound mock-ups bearing both the Beach Boys name as well as Al Jardine, culminating in the execrable "Kokomo."
Eventually, with the right people stepping in personally and professionally, Brian began to re-form a life and career, with his live tour of the great Pet Sounds giving him the necessarily affirmation that led to his finally recording a new version of Smile in 2004 to great acclaim and sales.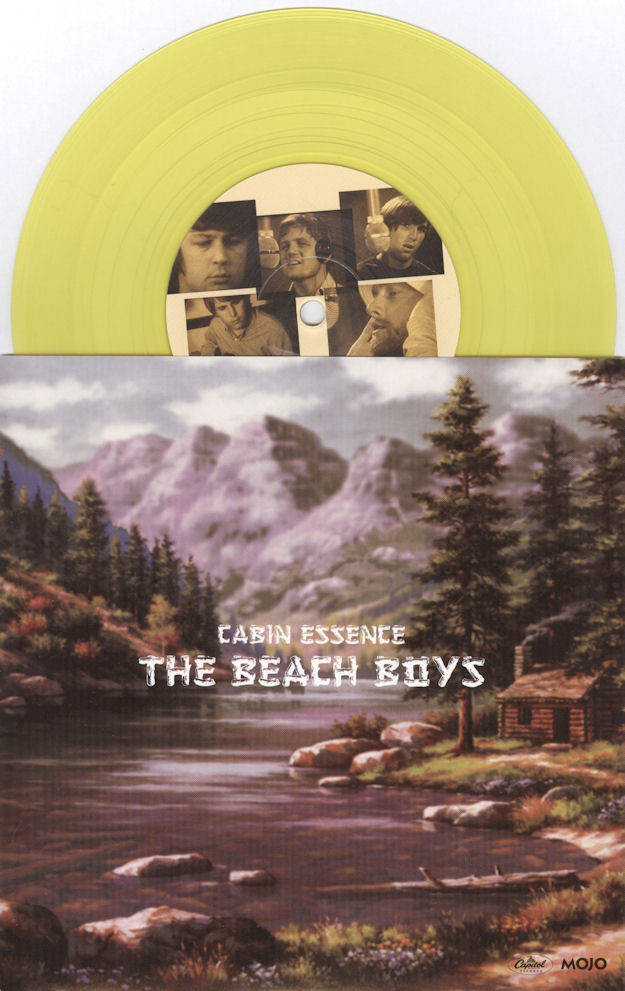 MOJO magazine has released a special issue this summer featuring a collectible 7″ vinyl taster for Smile of "Cabin Essence" b/w "Wonderful," on transparent yellow vinyl. 
I finally got to see Brian in 2008 during a fun yet bizarre-on-many-levels headlining set at Bluesfest (coming up down the road as no. 131). It was trashed by the local press but I loved it, even if I could see some of the guy's points and concerns, largely dealing with Brian being there, but not there. And everyone seemingly oblivious of that in their nostalgia moment.
The reality is that, when seeing Brian, one has to approach the concert ritual a bit differently. It's reasonable to accept that some auto-piloting and scripted recurring rituals are in place in order for Brian to be able to get out there and do this. Lest we forget, the kinds of shows that he is now delivering and the kind of schedule he's maintaining would have been unthinkable 15-20 years ago. Let's be happy that he seems to find things in his life and art that work for him, keeping him forward-moving.
But while he's been a survivor, there are scars — and voices — that aren't going to just go away, meaning that seeing Brian as a live performer is always going to be a somewhat odd experience. Wouldn't it be nice if Brian could be freed from all of his demons and their damage, returning him to that realm of the confident, creative wunderkind artist that he was in the mid-60s, decently unencumbered by the dark stuff. Yeah, wouldn't it be nice.
[youtube=http://www.youtube.com/watch?v=s9hKx7GKAYs&w=485&h=295]
Brian and his band joined by Ottawa's Global Village Strings for "California Girls" at Ottawa's National Arts Centre, June 20, 2011, as filmed by an audience member.
From the moment that Wilson and his tremendous nine-piece backing band took to the stage, the performance/placebo-rituals were evident, with the Head Beach Boy walking out onto the stage and perching himself in front of keyboards that he rarely touched all evening. Greeting his entrance was a small but wildly enthusiastic audience that Brian seemed near oblivious to as he sat down, aiming his focus onto a laptop screen in front of him, ostensibly giving him his necessary cues. As for the attendees, the NAC looked half/two-thirds full to me, a low turn out that was probably impacted by the bad timing of competing with two other high profile, well-priced Ottawa festivals, further contrasted by Wilson's high ticket price.
This June 20th also marked Brian 69th birthday: he really was born with the summer! A fiery candle-lit cake was presented to him amid a band and audience "Happy Birthday" singalong. Seeming a bit thrown, Brian quickly blew out the candles before charging into "Do It Again," and away we went.
Seated in the fifth row at stage left, we had a great view of him and his backing crew that included long-time sidemen and collaborators such as Darian Sahanaja and falsetto-voiced Jeffrey Foskett. Over the course of the evening, though, it started to occur to me: why do several members of Brian's band kinda-sorta resemble someone who might be in the Rubinoos … or the Monkees?
The first set, containing a whopping 22 numbers, was a mixed bag, veering from tentative to frustrating to wonderful. Some of the songs were delivered too dispassionately, but an even larger frustration came with other band members taking vocal leads. While Brian only sang some of 'em back in the day, we are ultimately here to hear Brian doing the singing.
In the case of Beach Boys songs spotlighting multiple leads, Brian sings Mike Love's parts, that now being his natural range having lost the high register years ago. But while he does belt out songs he wrote but didn't originally sing lead on, such as "God Only Knows" or "I Get Around," he hands off gems such as "Darlin'" or "Wouldn't It Be Nice?" to other band members. Nothing is more of a buzzkill than hearing the opening notes to "Don't Worry Baby," greeted by wild cheers as Brian's voice kicks in …. to say that this will be sung by Jeffrey.
Whenever these guest vocal turns happened, it largely became like watching a really impressive covers band. Hmmm.
Interestingly, I will see this handing-off practice repeated over the next couple of weeks during sets by fellow veterans Robert Plant and Bootsy Collins but done in very different, engaging ways.
On the plus side, he threw in a number of obscure selections making it more than just a "familiar hits" run through. Of them, highlights included two personal favourites, "Please Let Me Wonder" and "Girl Don't Tell Me," as well as "Salt Lake City" and "The Little Girl I Once Knew" ("I didn't chart but it was one of the best songs I ever did"). "Pet Sounds" — introduced as a rejected James Bond theme — was also a treat and a much better way of giving Brian's vocal chords a rest. Later in the first set, with the advent of "California Girls," all were joined onstage by the impressive local Global Village Strings Ottawa for the remainder of the evening.
[youtube=http://www.youtube.com/watch?v=LbTGYxi13CY&w=485&h=295]
"Please Let Me Wonder," two nights earlier at Toronto's Massey Hall. According to this video, Brian appeared on stage as a beam of light.
The peak of the set occurred with an inspired run of four Pet Sounds/Smile songs that closed it out: "Sloop John B.," "God Only Knows," "Heroes and Villains," and "Good Vibrations." Prior to "Sloop John B.," Brian had the audience sing "Row, Row, Row Your Boat" in a round, roping in some rather confused looking patrons. As for me, all I could think about was the famous story of Brian making Iggy Pop, Alice Cooper, and Three Dog Night's Danny Hutton sing "Shortnin' Bread" in a round for 15 minutes until the whole thing seriously started freaking out Iggy Pop and Alice Cooper. Just ponder that for a moment.
[youtube=https://www.youtube.com/watch?v=4v5rsEa9vUI]
"Shortnin' Bread" via a great 1948 animated version. You too can try to envision the Brian/Iggy Pop/Alice Cooper magic (Iggy Pop: It was "too much for us. Too damn weird.").  What I wouldn't have given to have witnessed that. The song kicks in at 3:28 — there's even a bouncing ball.  The dancing bread is brilliant.
After an intermission, Wilson returned with the "promotional" set plugging his latest release, Brian Wilson Reimagines Gershwin. Admittedly, I was skeptical. There have been jokes through the years in the rock world of inauthentic interlopers trying their hand at rock & roll and getting it all wrong a la everyone from Pat Boone's anodyne takes on Little Richard through to Celine Dion tackling AC/DC (not that I can stand AC/DC either). The truth is that it works both ways, and a more interpretive-based singing style requires a different set of cues, tricks, and talents.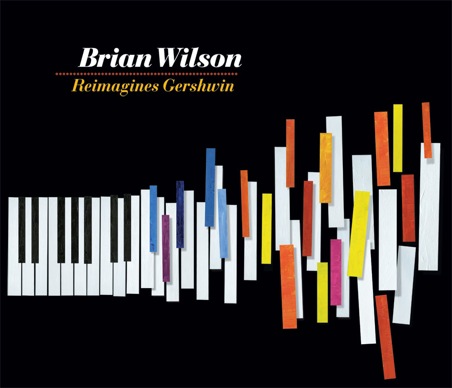 I love Gershwin along with all those standards of the early/mid-20th Century, and once you're used to hearing them performed by the very best jazz and old-school pop singers such as Dinah Washington, Frank Sinatra, Blossom Dearie, Peggy Lee, Judy Garland, Billie Holiday, Anita O'Day, Mel Tormé, Jo Stafford, and many more, stuff like those Rod Steward Songbooks are pure torture for me. Brian makes for a great Brian Wilson; a Tony Bennett, not so much.
So I was pleasantly surprised by how much I enjoyed his interpretations. Following a flourish of "Rhapsody in Blue," Brian and the gang jumped into a impassioned take on "Summertime." Freed of singing his usual fare, Brian seemed more invested in performing these songs, melding the classic Wilson sound, along with more than just a pinch of Bacharach, to Gershwin compositions. "S'wonderful" and "Can't Take That Away From Me" worked particularly well in this context while a "new" number appeared in the form of "Nothing But Love," a Gershwin song fragment that was completed by Wilson and band member Scott Bennett.
[youtube=http://www.youtube.com/watch?v=a6P_FNQyDSY&w=485&h=295]
"The Like In I Love You," a Gershwin fragment finished by Wilson and Scott Bennett for Brian Wilson Reimagines Gershwin (2010).
The inevitable encores followed, extending things out to two-and-a-half hours. With everyone up on their feet dancing, these final moments were truly the zenith of the night, as the gang stormed through "Johnny B. Goode," "Help Me Rhonda," "Barbara-Ann," "Surfin' USA," and "Fun, Fun, Fun." Brian strapped on a bass for "Help Me Rhonda" but I can't say for sure if it was plugged in.
[youtube=http://www.youtube.com/watch?v=8KiptyKbTUY&w=485&h=295]
"Fun, Fun, Fun" at Massey.
After another pause, Brian and the kinda-Rubinoos returned for one final number, wishing everyone a good summer and sending us off with "All Summer Long," followed by our exit to the sounds of a florid '60s muzak take on "I Get Around." The 101 Strings, perhaps?
Word is that Wilson is preparing to retire from touring next year so it was a treat to be able to see him a second time, even if you know this can't all be easy for him and with sometimes uneven results. It's bittersweet but still glad for it.
Happy Birthday Brian. Many happy returns.
[youtube=https://www.youtube.com/watch?v=T0spkrwl9Qk]
"Wouldn't It Be Nice," The Beach Boys from Pet Sounds.
Next On Stage –> My series of dispatches from this summer's Ottawa Bluesfest begins with two great sonic freak-outs in one night, culminating in Bootsy Collins headbutting me …
164. Bootzilla: Bootsy Collins, The Flaming Lips, and a sprinkle o' Soundgarden and Wanda Jackson (but, sadly, no Black Keys), Ottawa Bluesfest 2011 (Pt. 1), LeBreton Flats, Ottawa, Ontario, Canada, Tuesday July 5/Friday July 8, 2011
and I'll soon be returning to the past with …
014. Gimme Danger: Iggy Pop with Nash the Slash, Wonderland Gardens, London, Ontario, Canada, Wednesday, October 27, 1982 — featuring guest contributor M. Zeppelin on the topic of some spirited social interactions with Iggy and his band.
© 2011 VariousArtists
Comments From Original OpenSalon.com Posting