This size of ticket is similar to common contemporary standards. Canadian readers of a certain vintage will recognize the logo for the Dominion grocery chain—a capital D inset with a maple leaf—watermarked into the background.
*Original Blog Entry from 2010 Follows Below*
This was a seriously thrilling gig from UK Mod-Punks The Jam, six months after the Elvis Costello show in November 1978 (EP8/no.003: This Year's Model). 
It also coincided with a fresh tray of live concert firsts (A gig outside of London!  In Toronto!  At a tiny theatre!  With an authentic ***punk*** audience!). 
The Jam's debut LP "In The City" was the first punk rock album I purchased, on a visit to the UK in 1977, and I became an instant fan. Between 1978-82, Weller & Co. shared the "My Favourite Band" mantle along with The Clash (Joy Division made it threesome by 1980), and so I was almost verklempt at getting to see my fave raves in Toronto.  The trio were still fairly obscure over here while they were full-blown stars in the UK. 
And boy did they deliver! 
Tune in for winklepickers, opening act confusion, and … the magic returns.
NEXT PODCAST:  My last live show of the 1970s was an even smaller and more intimate gig than The Jam, featuring a trio of the city's then most-prominent punk bands: NFG, The Regulators, and Sinners.
I'll be discussing how important our local scene—but also local music scenes in general—were and are, especially to and for marginalized people and communities.
1979 was the year I started seeing local live music in bars such as The Cedar Lounge and The York, something that would become akin to "breathing" in my life during the 80s and early 90s.  These nights out and this show pointed to where things in my life were going to be going on a more personal level.
Stay tuned for underage drinking, musical lifelines, and escaping before the police turned up.
EP 13 (no.005) What's In The City: NFG's Second Annual Halloween Bash with The Regulators and Sinners, The Polish Hall, London, Ontario, Canada, Friday November 2, 1979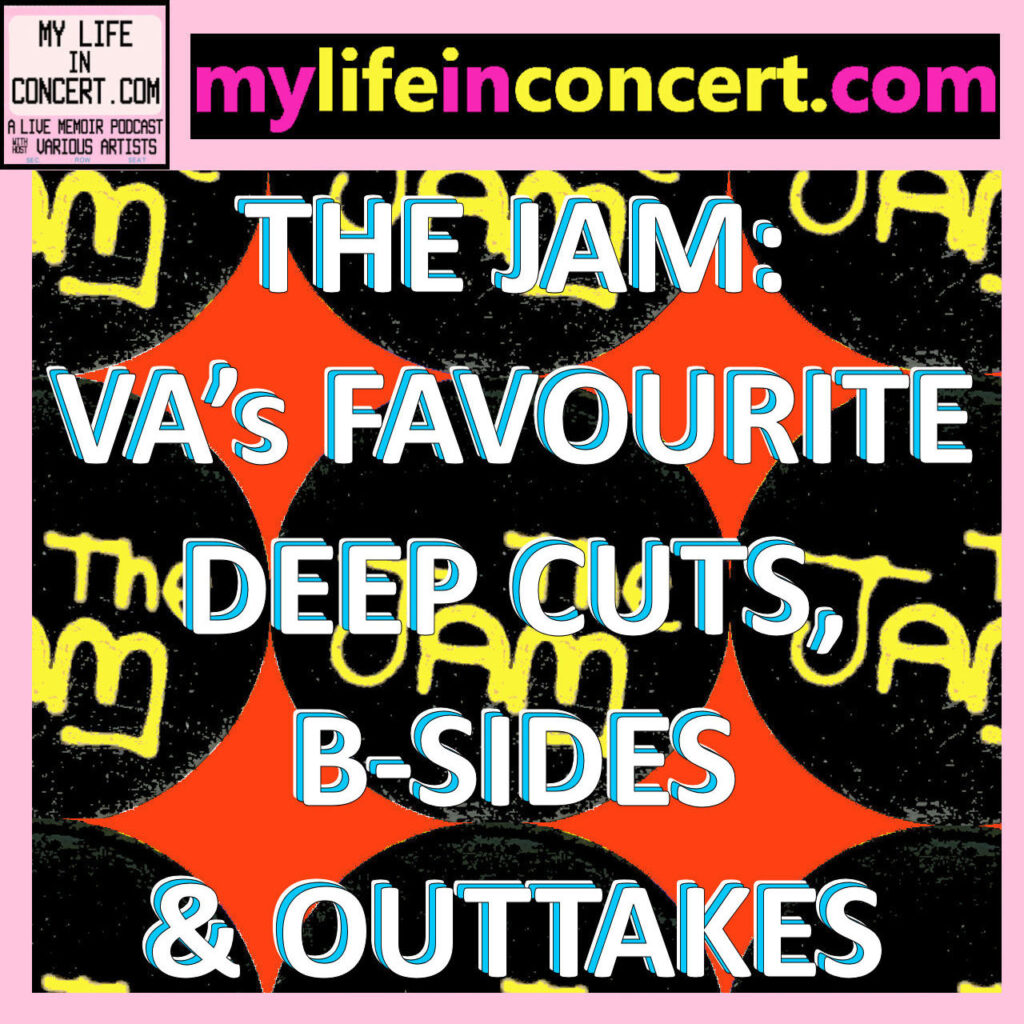 A MLIC/Various Artists playlist of some of my favourite Jam deep cuts, b-sides, and outtakes.
Original Blog Entry from 2010
004. This Is the Modern World: The Jam, Rex Danforth Theatre, Toronto, Ontario, Canada, Tuesday April 10, 1979,
Ticket Price: $7.50
That feeling, that something I had hoped to find at the Elvis Costello concert—well, I found it here. This was a killer show. The Jam were burning with passion and, with sharp rapidity, they delivered one of the tightest sets I've seen. I think Paul Weller hit one bum note the whole night—and boy did he look pissed when he did it! He, Bruce Foxton, and Rick Buckler seemed to be energy incarnate, never flagging for a moment.
As previously mentioned in my Bob Seger entry, The Jam's In the City was the first punk rock album that I bought, and did so during a trip to the UK in the late summer of 1977. Only a few of the British punk bands had released their debut albums at that point, with an onslaught arriving that autumn including the classic Never the Mind Bollocks, Here's the Sex Pistols in November.
Given the choices available that August, I selected In the City based on the great press it had gotten but probably also because it had an old school element as well, "old school" in this instance meaning mid-'60s UK Britpop, especially The Who & The Kinks. Both were and are big touchstones for me. That period not only influenced this trio's sound but their style as well as they adopted a '60s UK Mod look.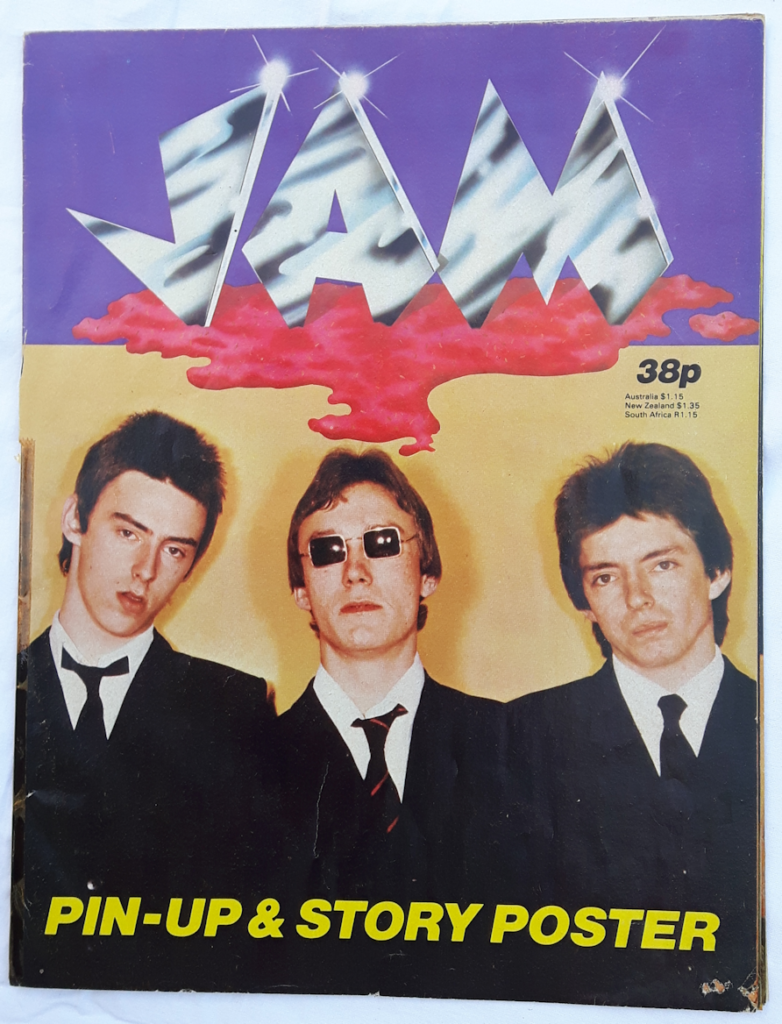 A cheap fanzine that I picked up while in the UK, 1977. A spread of Jam under the name: how original! Paul Weller (left) looks about 15. This press release magazine opened out into a poster and contained essential information such as "They wear suits made by a high street tailoring chain, along with white shirts, ties and smart shoes." All this for just 38p!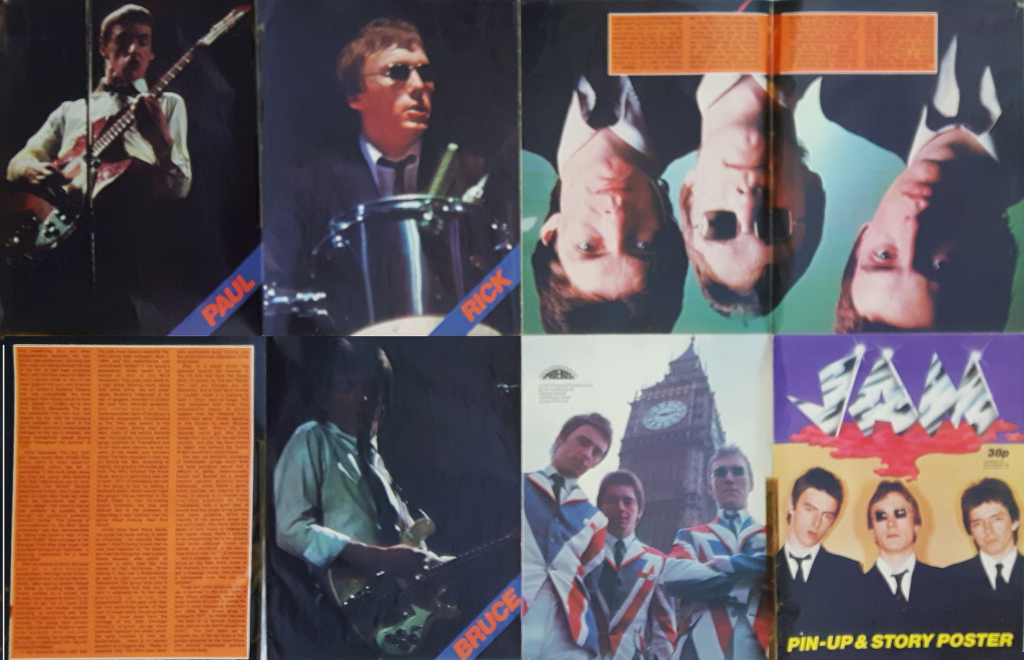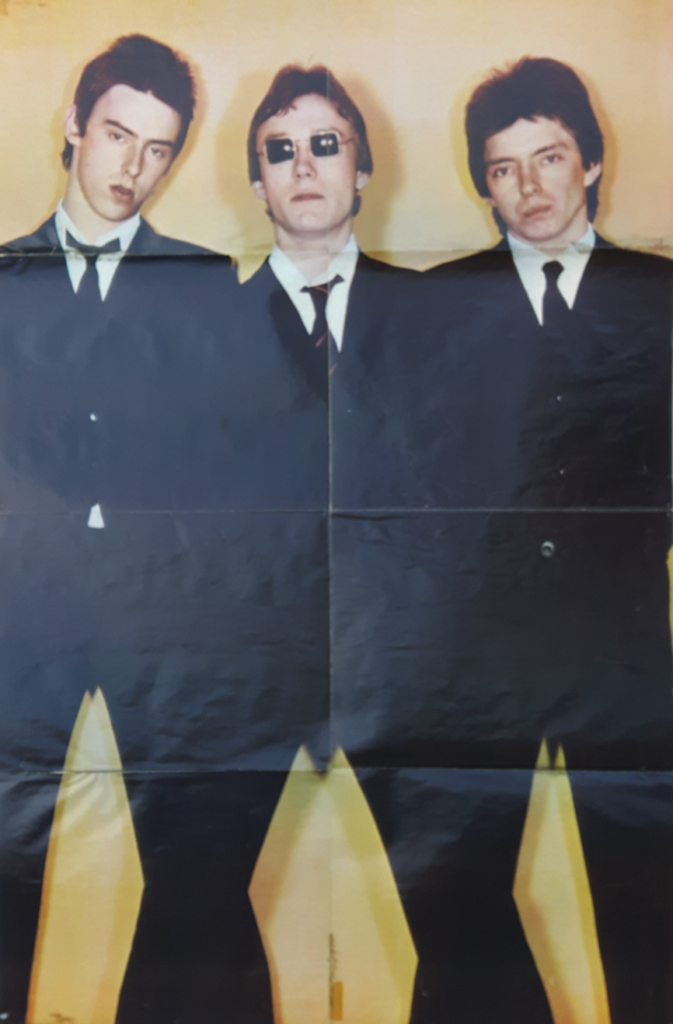 I immediately liked the short and speedy, yet catchy and tuneful retro-ish, songs that made up the album. I instigated repeat-playing it at home, often alternating it with my other very different obsession du jour, David Bowie's Low. The Jam's LP was joined in my library in quick succession with albums by The Stranglers, The Sex Pistols, Elvis Costello, The Vibrators, the Ramones, The Boomtown Rats, Patti Smith, The Clash, the Buzzcocks, Nick Lowe, etc.
Shortly after I had left the UK, The Jam issued a quickie follow-up, This Is the Modern World : a clever title with one foot in each of their key reference camps, alluding to both the "it's happening NOW" ethos of punk as well as a play on "Mod." Unfortunately, it was a typical case of the second record being a rush job and suffering for it. Having said that, it did show spurts of stylistic growth but still felt a bit anti-climactic. But, hey, they were still churning them out at least annually in those days. It's incredible to think that it was not only normal for artists to release albums every year but sometimes twice a year. And 1977 had a run of superb-to-good double dippers such as Bowie, Iggy Pop, the Ramones, The Stranglers, and The Jam.
(Above) The Jam performing "All Around the World" on Marc Bolan's Marc TV program, 1977.  Marc was an instant smash in the UK that heavily supported a number of the new punk groups.  Its success set the stage for a big Bolan comeback that never happened, as he was killed in a car accident a few weeks after this was taped.
(Below) The Jam onstage at the Rex Danforth Theatre, Toronto, April 10, 1979.  Photo by Rob Gliddon—Thank You Rob!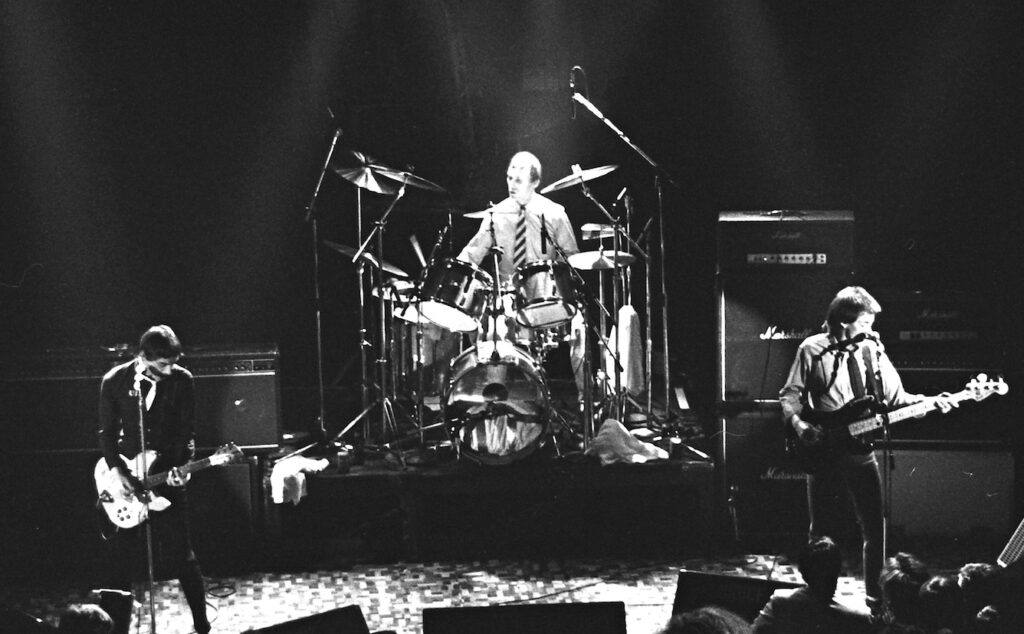 They'd had minor UK success with their first discs but needed to come up with something special to take it all to the next level. And they delivered with their autumn 1978 LP, All Mod Cons. Weller's songwriting and the band's scope developed substantially with this third disc, refining what they had started with their previous releases while veering off in a variety of new directions that would diversify their sound and subject matter. The Kinks' and The Who's influences were made explicit via the album's two hit singles: a cover of the former's "David Watts" while the "Down In Tube Station At Midnight" 45 boasted a cover of the latter's "So Sad About Us" as one of the b-side tracks (with a youthful picture of  the then-recently deceased Keith Moon on the back to match).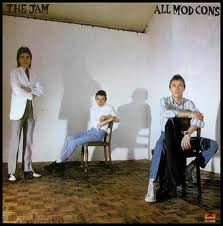 The Jam, All Mod Cons (1978)
All Mod Cons and "Tube Station," a topical, anti-racist UK Top 20 hit, made The Jam full blown stars in their native Great Britain. As for my own personal Top of the Pops, from this point until their dissolution at the end of 1982, they arm wrestled with The Clash for the title of My Favourite Band (with Joy Division making it a 3-way at some point in the middle of that period).
They may have been a big deal in their native land but over here in North America they never really made much of an inroad, particularly in the US. In Canada, they finally broke through near the end of their career, with The Gift going Top 30 as well as having a bona fide Top 20 single with the Motown-ish "A Town Called Malice"—but that was all several years in the future.
When I saw them in April of '79, they were touring All Mod Cons on this side of the Atlantic and had just released a brand new single, "Strange Town," back in the UK. Once again, a sibling had returned from England brandishing a copy of Weller & Co.'s latest release, only this time it was my brother (my sister had brought the "Tube Station" 45 back from the UK in October '78 … I guess I started a family tradition of bring Jam records back from there).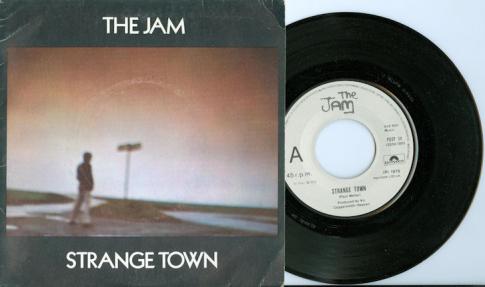 A French pressing of their then-current single, "Strange Town."
The Jam lip-synching "Strange Town" on Top of the Pops, March 15,1979, a few weeks before I saw them live in Toronto.
My ramped-up obsession with The Jam meant that this was going to be a particularly exciting show for me—not to mention that this was my first concert in Toronto. Growing up just two hours away, I have pretty much been in and out of that city regularly throughout my life. I always loved the city and would live there in a moment if not for my work being anchored somewhere else.
Toronto had hosted many of the new punk groups from both New York and England and, then as now, there are a lot of acts that tour who will play the Ontario capital but nowhere else in the region. This was simply the first of many, many shows I would go on to see at a variety of T.O. venues.
A bunch of us went down in a couple of cars on a grey, early spring day. It was held at the Rex Danforth Theatre, an old converted movie house. This was the first show that I had attended at a smaller venue (it held just over a thousand, I think) and I loved the intimacy and immediacy of the Rex. It was great to be comparatively much closer to the stage and the heat of the activity than I had been at previous shows.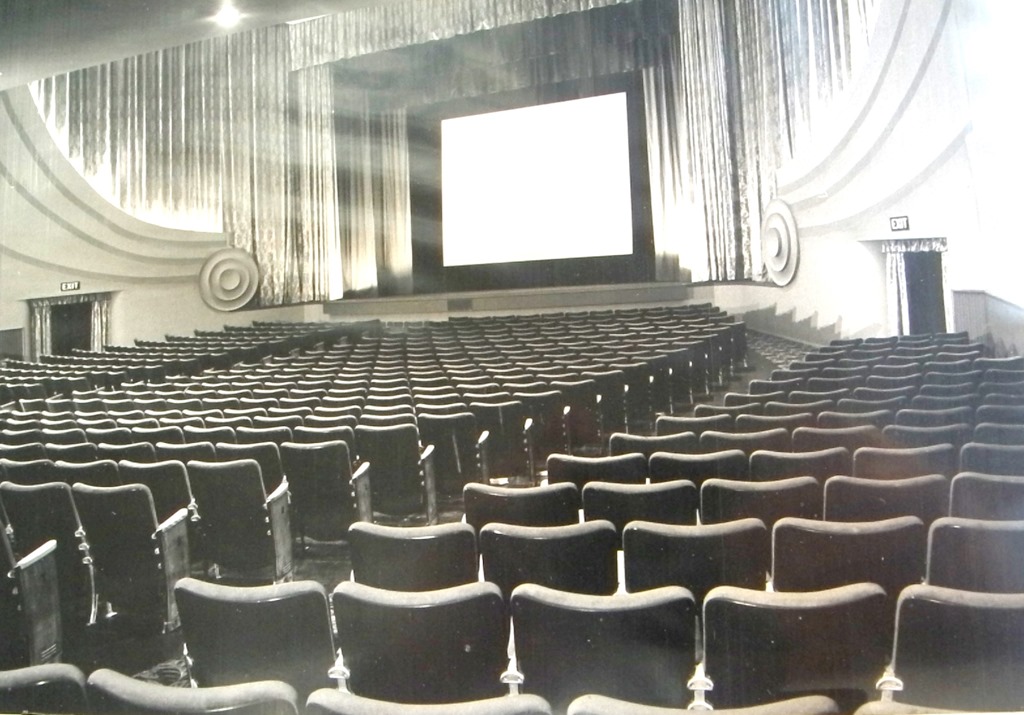 The Rex in its previous life as the Odeon Danforth in the 1940s (Photo: Ontario Archives)
There was a thrill in being there that was reminiscent of going to see Roxy Music four years earlier in that it was a new experience of sorts—a different city with a different vibe and crowd. And, unlike with the Costello show, it didn't have the Biff-n'Buffy rent-a-cops nor many "tourists" (the name given to those who would show up at punk gigs and clubs more to gawk or to say they had been there, rather than genuinely going for the music). It was the real deal fans, and this gig by one of the reigning acts from the UK who had just released an acclaimed album had a genuine sense of occasion.
The retro-mod look was oft-reflected in the crowd. I stylishly made the scene in my black leather winkle pickers and leather jacket with a growing collection of badges announcing my preferred punk and new wave bands of the day.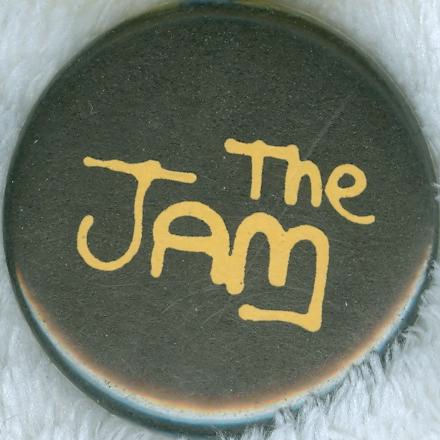 The Jam badge that I purchased at the show.
I could have sworn that The Mods from Toronto opened this gig.  I originally wrote:
"Opening act The Mods were from Toronto and had released a pretty good debut 45, "Step Out Tonight." They aped the same mid-60s look and sound as The Jam — well, actually, they just plain ol' aped The Jam, doing it not half-badly in the process (even if the lead singer sounded more like Bruce Springsteen than Paul Weller). They had a sizeable local following and buzz in Toronto at that time so they were well received."
However, my memory has failed me on this one.  Guitarist Scott Marks contacted me to point out my grey-matter gaffe, noting that "We never opened for The Jam for a number of reasons, one being that most of our bigger shows were booked by the two Gary's who had nothing to do with The Jam coming into Toronto … I believe we all attended, but as spectators, not participants."
Whoopsy daisy!  Thanks for setting the record straight on that one, Scott.  I think what happened is that I remember a few of us talking to some of The Mods who were in attendance on this night, and in my mind I transposed them to the stage.  This begs the question: who did open?  I've scanned the internet a bit and can't seem to find the answer.  Anyone out there who can fill in that blank? [2020 Update:  It was the Dwight Twilley Band. Thank you, Ricardo!]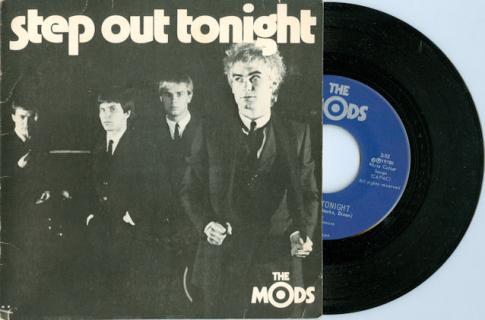 My copy of The Mods' debut (and I believe only) 45, "Step Out Tonight."  Click on the image to hear the song or here for more Mods music.

As for the main attraction, The Jam did not let the sense of occasion go unheeded as they raced onto the stage, launched into their opening number, and delivered a high-energy show that never lost its intensity, even when playing some of the slower numbers such as "The Butterfly Collector."
They spat out taut renditions of "In the City," "All Around the World," "Away From the Numbers" and more, frequently leaping into the air and playing like they meant it. The highlight for me was the performance of "Strange Town" and "Down In the Tube Station at Midnight," the latter particularly receiving thunderous applause.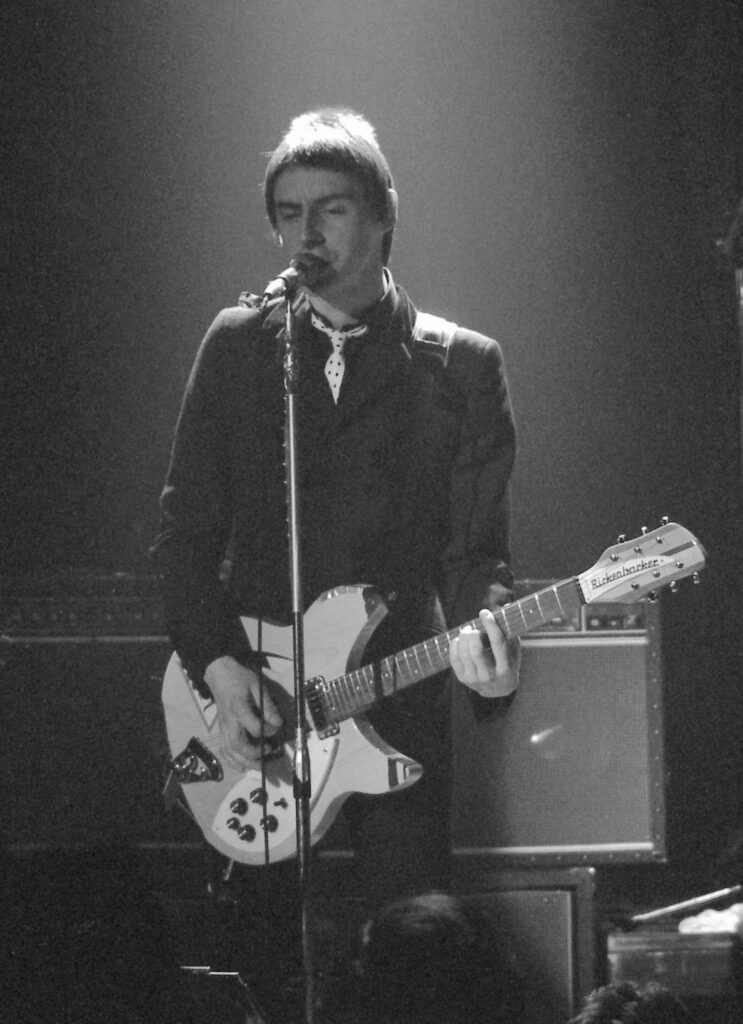 Paul Weller onstage at the Rex Danforth Theatre, Toronto, April 10, 1979, during The Jam's set.  (Photos by Rob Gliddon)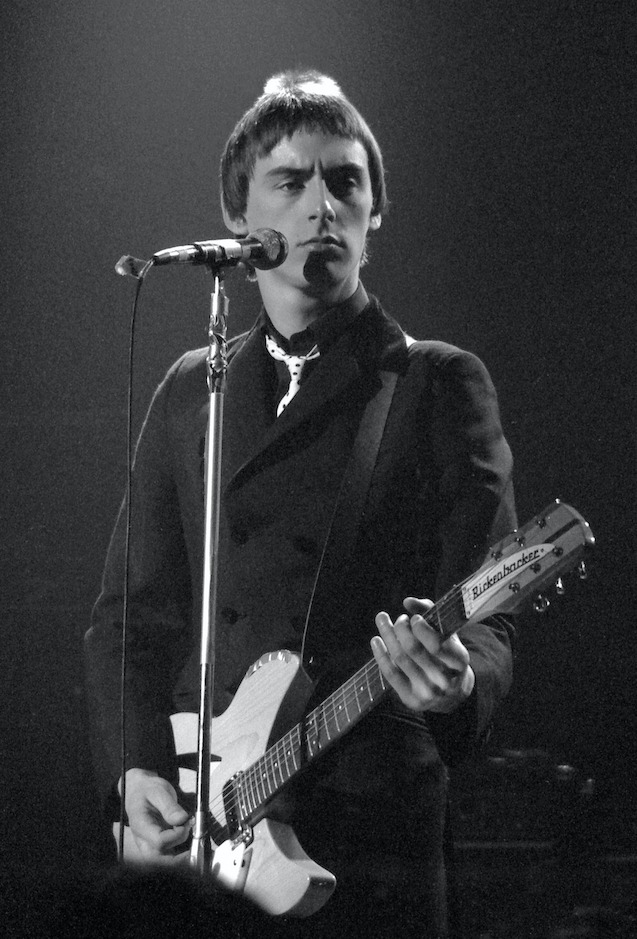 The Jam on Tony Wilson's legendary So It Goes TV program, performing "In the City" in 1977. This performance is similar to how I remember them as a live band. The Jam are still revered as iconic in the UK. Following their demise at the end of '82, Jam kingpin Paul Weller formed the Style Council before going onto an esteemed solo career that continues until today. 
Following encores, the house lights came up on a drained and exhilarated audience. As with the Roxy show, I knew I'd seen something special this time. It really did feel like this was the modern world I'd been waiting for, happening for us in this little venue, while the shag-haired universe plundered on around us.
This show was also an end of an era of sorts for me. Starting that upcoming summer, I would begin going to the punk bars and seeing bands playing in tiny venues, making live music-going a continuing activity in my life: much less precious, but more varied in terms of venues, genres, and overall experiences. And certainly no less engaging and celebratory.
Bring it on.
The Jam, "The Modern World" (1977)
Next On Stage –> 005. What's In the City: NFG's Second Annual Halloween Bash with The Regulators and The Sinners, The Polish Hall, London, Ontario, Canada, Friday November 2, 1979.
© 2010-2011 VariousArtists