(Top 20 Colour Cube by VA)
Original Blog Entry Follows Below
Hindsight is 20/20, or so the saying goes.  So, for my Concert no.020 entry in the original blog series, I published a two-part tribute looking back and honouring what DIDN'T happen: one entry (Episodes 9A & 9B; concert no. 020B) remembering 20 specific performances/concerts I was slated to or wanted to see—but didn't or couldn't—from 1980 onward, and this entry listing the 20 Acts I Wish I'd Seen, which I discuss in this new Episode 11.
Join me as I time travel back to the 1920s and then take a chronological journey through decades and genres (jazz, pop, r&b, rock, reggae, psychedelia, afrobeat, glam, punk, and post-punk), revealing the artists I'd most like to have seen perform live, such as Billie Holiday, The Sex Pistols, Fela Kuti, The Beatles, Frank Sinatra, and more.
I also talk about why I am picking each of my choices and what their music has meant to me along with where and when I would most liked to have seen them.  For some of the artists, I have selected specific concert dates.
Get your party favours in order and come with me on a musical ride, revisiting some of the most interesting and iconoclastic live performers and performances of the mid-20th Century.
So, who would you most like to have seen?
NEXT PODCAST: I'll pick where I left off after the Elvis Costello show in November 1978 (EP8: This Year's Model), with this thrilling gig from UK Mod-Punks The Jam.  It also coincided with a fresh tray of live concert firsts (A gig outside of London!  In Toronto!  At a tiny theatre!  With an authentic ***punk*** audience!).
Between 1978-82, Weller & Co. shared the "My Favourite Band" mantle along with The Clash (Joy Division made it threesome by 1980), and so I was almost verklempt at getting to see my fave raves, who were so obscure over here while they were stars in the UK, in Toronto.
And boy did they deliver!
Tune in for winklepickers, opening act confusion, and … the magic returns.
EP 12 (no.004) This Is the Modern World: The Jam with The Dwight Twilley Band, Rex Danforth Theatre, Toronto, Ontario, Canada, Tuesday April 10, 1979
Original Blog Entry From 2012
For those of you who go out to see live music, you know that part of going to shows is not going to shows. Concerts are cancelled, plans change, unforseen events present themselves, and sometimes people plain up and die (luckily, Johnny Thunders made a full recovery from his early-evening overdose on the night I went to see him, living to play the show, albeit barely).
As I work my way through my series, I wanted to have an entry that honoured those concerts and performers who I did not get to see … and here it is, also doubling as a celebration of working my way up to No. 020 (they say that hindsight is 20/20, so I felt this was a fitting number for the piece).
Part One focuses on acts I would most like to have seen — and never will (NOTE: I am including an honorary mention which makes the list  21 … so what of it?). That "never" is largely owing to death, but in other cases it's owing to irreconcilable differences between key members. In one instance, it's simply down to the artist long ago deciding not to tour or be a live performer.
That I won't be seeing any of these acts is a crucial criteria, as there are a number of performers out there who I've yet to see (including Tom Waits, U2, Stevie Wonder, Tony Bennett, and more) who still perform live and, therefore, I may yet get a chance to do so. I have disqualified any such act from my list of 20, although I note that there are three names included where there remains the faintest hope … but I'd bet against it. Additionally, if the band is out there performing today, even if doing so minus one or two key members, they too are disqualified (that means you, The Stooges, Television, and Blondie, among others).
If I have seen an act once, even if it was at a less-than-peak point in their career (hello James Brown and The Who) or under bad circumstances (hiya, Prince), they too are ineligible for the list. Having said that, I am including bands where I've seen some of the unit's performers during their solo careers.
Since this is my own unreasonable and unfulfillable fantasy, I've not only selected the artists but also the particular period wherein I would most like to have seen them, and why. In a few instances, I have selected specific gigs. I am also focusing on stand-alone performers/performances, and so festivals are out of the running (that could be a whole other "Top 20" list in and of itself) although one of my selections may blur that line somewhat.
My list starts in the 1920s and ends at the start of the 1980s. That stop point makes sense as that is when I began regularly attending gigs. In the interim, I've since seen almost everyone I've wanted to among those who have been performing from that point onwards.
In Part Two, I will be looking back at shows I had tickets for and was ready to attend, but didn't … and why.
So, tell me: who would you most like to have seen (and know that you won't)?
For now, climb into the time machine with me, have your preferred concert-going party favours all lined up, and away we go, Lindy Hopping our way — all Zelig-like — to my first pit-stop, back in the days of Flappers and Speakeasys ….
.
HONORARY MENTION: Louis Armstrong with his Hot Five or Hot Seven, Mid-1920s, New York City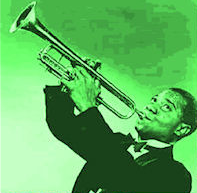 Yeah, yeah, yeah, I know, I know: Armstrong's Hot Five and Hot Seven were studio-only creations, responsible for some unquestionably innovative, landmark jazz recordings from the '20s including "West End Blues," one of my favourite jazz sides of all time, and did not play live. However, in doing a bit of research for this entry, I came upon the following in Wikipedia:
"While the musicians in the Hot 5 played together in other contexts, as the Hot 5 they were a recording studio band that performed live only for two parties organized by Okeh Records."
Since this is my completely unattainable fantasy, I'm just going to go for it, placing myself present at one of those two Okeh parties. If "parties" don't classify as actual gigs, then I'll take seeing Louis in New York City during the mid-20s, as part of the Fletcher Henderson Orchestra when he was outplaying everyone on the scene.
Still, the band weren't a live unit but had to mention them anyway.
One of my all-time fave recordings, jazz or otherwise: Louis Armstrong and the Hot Five's "West End Blues" (1928).
.
1. Le Quintette du Hot Club de France featuring Django Reinhardt and Stéphane Grappelli, 1930s, Paris, France
Gypsy jazz at its finest and probably the most uniquely European of jazz styles, the Quintet not only sported a highly unusual all-stringed lineup consisting of three guitars, violin and bass, but most notably featured guitarist extraordinaire Django Reinhardt on lead along with celebrated violinist Stéphane Grappelli. The synergy between these two musicians created an instantly identifiable sound that has been re-cast and re-honoured in all succeeding decades. WWII tore the initial group apart, even if various post-war iterations appeared.
I'd most like to have seen them in a club in Paris in the mid-30s, at the height of their powers and when they made their timeless recordings (Note: I almost got to see Grappelli, much later on. He's coming up next time around in Part Two).
I've never seen this before. An incredible film clip of le Quintette du Hot Club de France performing "J'attendrai Swing" from 1939. What a treat to find this while researching this piece.
.
2. Billie Holiday, January 1939, Café Society, New York City, on the night she debuted "Strange Fruit"
If I am going to select a single Holiday performance, it has to be the night of her first public reading of "Strange Fruit," one of the most important songs of the 20th Century. Holiday introduced this poem set to music about racism and lynching at one of NYC's first truly multi-racial clubs, Café Society (the club was eventually harassed out of business by authorities because of their "everybody's welcome" policy). Club owner Barney Josephson wanted the song to have maximum impact upon club patrons, so Holiday always saved it for the conclusion of her set. As she sang, with her spotlit face as the only visible entity in an otherwise dark room, waiters would cease serving for its duration. There would be no encore.
The powerful, controversial song was so hot at the time that her label, Columbia, refused to release it.  "Strange Fruit" wound up having to be issued on a smaller label. Indeed, it's regular performance at the Café Society provoked strong reactions from the clientele. As Tony Palmer relates in All You Need Is Love: The Story of Popular Music, "One night, as the applause died away, a woman rushed backstage and punched Billie, tore her costume, and told her never to sing that song again. She was a Southerner, and as a child of twelve had watched a black man being hanged from a tree. She had never forgotten and did not wish to be reminded. According to Josephson, Billie first swore at the woman, then the two women burst into sobbing."
Holiday had 20 further personally troubled, artistically brilliant years ahead of her, yet her rendition of "Strange Fruit" and the notoriety of its first performances remain recognized as essential high points of her unparalleled career.
Billie, near the end of her life in the 1950s, performing "Strange Fruit."
.
3. Frank Sinatra, Mid-to-Late 1950s, preferably with the Nelson Riddle Orchestra, Anywhere
THE voice of the 20th Century, it's a given that I would love to have heard Sinatra's velvet tone in person, at its strongest and most sublime. Therefore, I am going with the mid-to-late '50s time frame of his big comeback, wherein Sinatra released some of his finest work including classic mood piece concept albums such as In the Wee Small Hours and Frank Sinatra Sings for Only the Lonely, not to mention a string of perfect old school pop hits. Frank had a pretty great 1960s too, but it's those Capitol recordings and his oeuvre from that period that has become his trademark, and a something I never tire of hearing (I'll spare you my singing along).
Frank Sinatra singing Cole Porter's "I Get A Kick Out of You" on TV in the 1950s. Note that the magic of television changes the reference to cocaine to "perfume from Spain" — I love his knowing reaction when he has to deliver that line. This clip also demonstrates how he was a master with phrasing.
I also want that "Music for Smokers Only" backdrop.
.
4. Miles Davis Sextet, 1958-1960, with John Coltrane, preferably in a NYC club
Yeah, yeah, yeah, I know, I know: the mid-'60s quintet is the shit and all, and I love my E.S.P., but I would most like to have seen Miles at the end of the 1950s when his live sextet had Coltrane back in the fold. Davis had been boosting Coltrane to a confused many for years when he was still an in-the-works proposition. Indeed, I am choosing his later tenure with Davis' band which occurred after having left to play with Thelonius Monk for a while. The general opinion on record from many was that, once he returned post-Monk, Coltrane was now "Coltrane," proving Davis' oft-questioned patronage correct.
So, sure, I'd love to see that Davis/Carter/Shorter/Hancock/Williams quintet too, but would give even more to have been able to see Davis and Trane standing and playing — indeed along with all the great musicians Miles was playing with at this time — on a stage together.
Brilliant clip of the sextet performing Kind of Blue's classic opening track, "So What," in 1959.
.
5. Judy Garland, April 23, 1961, Carnegie Hall, New York City
Without question, I would not want to have missed seeing the consummate entertainer of the 20th Century. As for "when?," let's face it, this isn't a tough pick.
Sometimes referred to as "the greatest night in show business history," Garland's Carnegie Hall show(s) found Judy at her apex as an artist and live music performer: a soul-baring journey through joy, despair, humour, sadness, strength, power, tragedy, and vulnerability, by way of sprightly, spirited renditions of some of the greatest songs of the 20th Century. Some of those songwriters were even among the celebrity-studded audience attending the concert, such as "Over the Rainbow"'s Harold Arlen.
By all accounts, Judy was on fire on this night, and her energy still leaps out of the recording of the show, itself going on to become a #1 Best Seller in its time. But her copious stage patter is an essential part of the experience for me too, whether she's rambling on about hair and fashion disasters or reassuring the audience that she'll be but a moment in fetching her water. It also goes a long way in translating her personality from one medium to another and adding colour to the overall performance.
I shortlisted Judy! At Carnegie Hall as one of my favourite albums.
After Carnegie Hall, Judy sadly started a long slow slide into an irreversibly troubled life, ending with her tragic overdose on June 22, 1969. And while I admit to finding myself increasingly interested in the later Garland as time goes on, Carnegie Hall remains a Master Class for a particular vein of earlier, interpretive singing, as well as answering the question, "What is charisma?"
My vote for the single greatest recording of Judy's career: "The Man That Got Away," from Judy! At Carnegie Hall. The album cover looks suspiciously like my fourth anniversary post.
One of my favourite and most poignant Garland performances: her last US TV appearance (or one of the very last) in December 1968 on Carson, singing "After the Holidays." Quite possibly the most depressing Christmas song ever.
.
6. The Beatles, at a "particular" point in 1963, somewhere in the UK
It's a given that they would be on here, it's down to that question: when? My vote goes to the year 1963: the one where Beatlemania gradually steamrolled in intensity in the UK as the year played out, hitting full-on wet-knickers hysteria before the 12 months waved goodbye. And the world was never the same (ah, bless).
As for the "particular" point in 1963 I'm selecting, it would occur at the intersection between (a) that very last moment when one could see them live in one of the small theatres and ballrooms that dotted the UK and actually hear them to some reasonable degree, and (b) when Beatlemania was really starting to take hold, becoming a simmering-then-boiling explosion of national concern and excitement. Read: I want maximum buzz balanced with audible tunes.
When/where would constitute that exact moment? That answer is lost to history. But, whenever and wherever it was, that where I'd like to have been. 
 Here is a mini-set from Swedish TV, October 1963. Sweden was the first country outside of the UK to embrace The Beatles. This is what I had in mind: there's palpable electricity and the band are sharp and spirited, but you can also hear them, an element that would soon become an audio non-entity at a Beatles gig. Note to Paul: that "shh" tactic is going to cease working shortly.
7. Dusty Springfield, 1965-67, somewhere in the UK
Don't even get me started about Dusty. One of the great voices and personalities, all powerhouse vocals and breathy elocution, she would have been sheer dynamite to see live, as her videos from her UK TV series and live appearances bear out.
I am picking this period because Dusty had her own backing band, The Echoes, and singers who both recorded and toured with her. At that time, it would be more common for a "girl singer" to have been backed by a shifting pool of musicians who would play with her live but not in the studio (not to mention the singer being directed to within an inch of her life, a game that the strong-minded and artistically resolute Dusty refused to play).
Meanwhile, Dusty was fronting a cohesive, hand-picked unit that played and lived closely together, a bit like a family, allowing them to develop a strong inter-musician intuition and who also spoke Dusty's particular musical language. And when the anxious Dusty felt most at ease, she was able to give finest performances.
I am specifically picking the UK as a region because Dusty's band only played with her when she toured in Britain. Out of country, she used pick-up musicians.
"In the Middle of Nowhere," at a mid-60s NME Poll Winners Contest Concert, at Wembley I believe.  The Echoes, Dusty's backing band, are behind her, as are a trio of great backing singers: (l to r) Madeline Bell, Lesley Duncan, and Kiki Dee.
 .
8. Otis Redding, 1965-67, Anywhere
I'm selecting this time frame because by '65 he'd completed Otis Blue and already had "These Arms of Mine," "Mr. Pitiful" and "That's How Strong My Love Is." It was pure gravy from there on in until his tragic, way-too-young death in December 1967. No preference for city or venue sticks out for me — I'd simply loved to have seen Otis and his band in their prime. His filmed performances and live releases capture that x factor spark of his natural magic. I'm sure he walked off that stage every night leaving the audience blindsided by his mesmerizing energy.
Otis tears it up with "I Can't Turn You Loose" over in the UK on Ready! Steady! Go! (1966).
.
9. The Velvet Underground and Nico, April 1966, during their residency at The Dom as part of Andy Warhol's Exploding Plastic Inevitable, New York City
As with my other favourite group, The Beatles, it too is a given that The Velvet Underground would show up here. As for the "when," it has to be during their appearance as part of Andy Warhol's Exploding Plastic Inevitable multi-media presentation in New York City. More of a "happening" than live music concert, the EPI meshed the Velvets playing live with one of the first ever light shows in addition to dancing, performing Warhol stars of the day such as poet Gerard Malanga and actress Mary Waranov, with Warhol's own images projected on to all. That Nico would have part of it is a big boon, as is John Cale being present along with head Velvet Lou Reed.
Part of me would also simply liked to have seen the Velvets live in a forum that provided a greater song emphasis, and for that, I would pick seeing them on their 1969 tour or one of their shows from their Max's Kansas City engagement during the summer of 1970. But my first choice would have to be to have seen them as the sonic element in Warhol's sensory overload experience. These shows at the Dom throughout April 1966 are where the whole multimedia EPI concept solidified before being taken out on the road for a largely bewildered population.
On a related note, Cublet and I saw the brilliantly executed Warhol Live exhibition at the Musèe des beaux-arts in Montréal in November 2008. Featuring both his art and personal artefacts with links to live music performance of all stripes, one of the show's highlights was an entire space devoted to a recreation what the Dom shows with the EPI might have been like. An enormous circular mattress, strewn with pillows, monopolized the centre of a cavernous room, allowing patrons to lay back and stare up at the projections (utilizing copies of the original slides) while they blasted various Velvet Underground songs through a huge sound system, mixed in with audience chatter. It was a well executed appropriation.
The re-united Velvet Underground in Paris, 1993, performing "Heroin."
.
10. The Doors, Summer 1966, Whisky a Go Go, Los Angeles
I've been a fan of Ye Olde Lizard King and the gang since I was a kid. I still remember watching them perform "Touch Me" on The Smothers Brothers Show on my fifth birthday in 1968, with that song becoming one of the first 45s I ever owned (and I still have it).
Despite mixed reviews from the handful of people I've met who saw them, I'd still like to have seen The Doors for myself to make up my own mind. If I were to see them, I'd most like to have done so in their ol' stompin' grounds of the Whisky a Go Go in LA, where they were the house band during a period in 1966. At this point, they were a local sensation on the verge of breaking wide with their upcoming, eponymous debut in early '67. It would have been great to have taken them in at a smaller club as the buzz band most likely to, when they were still a secret to the larger world.
Penis-exposure, optional, of course.
The Doors in 1967, up here in Canada performing "The End" for the TV show The Rock Scene: Like It Is. Filmed at CBC Studios in Toronto. It appears they lost the Oedipus thang for the sensitive viewing public.  I've read that this was one of the band's favourite TV appearances.
.
11. Syd Barrett's Pink Floyd, late 1966/early 1967, at the UFO, London
For me, "Pink Floyd" first and foremost are a British psychedelic group lead by Syd Barrett, who in 1967 released a stunning string of 45s and one of the all-time great rock debuts, followed by a damn good sophomore effort in '68. After that, Barrett was out of the band, and the other guys went on to make a bunch of other albums, chunks of which I like up until 1975 (during which time there was the also-brilliant The Madcap Laughs and Barrett … and, ok, I am partial to Wish You Were Here).
As you can surmise, I'm more about Barrett and his vision, and it is during his time as head-Pink, delivering his unhinged nursery crime lyrics amid sensory-bewildering live shows. It's during this period of later '66 or  early '67, before Barrett became irreversibly damaged after steadily ingesting a battalion's worth of vitamin A for some time, wherein I would most liked to have seen the band deliver one of their famed live cosmic freak-outs.  The venue of preference would be London's premiere psychedelic club, the UFO, where the early Floyd were favourites.
I can't believe I finally got to see this: "The Pink Floyd" on American Bandstand in 1967, miming to my favourite PF song, "Apples and Oranges." Can there be a weirder combo than Barrett and Dick Clark?
During the performance, the cameramen seem to be shooting as little as they can of Syd, who at this point was becoming seriously undone. He often makes an effort to lipsync.
.
12. T. Rex, March 19, 1972, Empire Pool, Wembley, London
Glam rock reigned in my world during the early-ish '70s, with Bowie, Roxy, the Dolls, Mott and more providing the soundtrack to my early teen years. Yet, for whatever reason, I didn't become a full-on T. Rex junkie until the start of the '80s, a few years after head Rex-er Marc Bolan's shocking death in a London car crash in September 1977, just shy of his 30th birthday. At the time, his career was re-ascending in the UK owing to the success of his Marc variety TV program and a successful tour featuring the Damned as opening act.
The music of Marc Bolan and T. Rex during his/their 1971-3 prime is pretty much a staple sound 'round my place. I would most loved to have seen Bolan during the peak of "T. Rextasy," as it was dubbed in the UK press, culminating with these two shows at the Wembley Empire Pool on March 19, 1972. According to Wikipedia, during this period, sales of T. Rex recordings accounted for about six percent of total British domestic record sales.
Occurring shortly before the release of The Slider and after a period of being away from Britain, these shows were instant sell-outs and filmed by Ringo Starr, eventually released as part of the Born To Boogie film later that year. If you want to view a sea of screaming, glittered up, pink cheeked British youths going stark raving mad during a performance, I'd recommend taking in Born To Boogie. Starr intentionally accentuated the going-bonkers audience, rightfully concluding that the audience is always part of the concert.
Rock on, Marc, rock on.
It's 1972!!! A segment from Born to Boogie featuring Marc & Co. delivering a killer version of "Cadillac" to pink-cheeked Brits kids absolutely losing their shit.
I'm in a Marc mood today, so he's getting an encore. I just watched this again the other night and have to include it: a killer version of "Children of the Revolution" from Born to Boogie, featuring Elton John (with a full head of hair and massive platform shoes) and Ringo Starr (in clown make-up and costume).
13. Led Zeppelin, Earls Court shows, London, UK, May 1975
How simply splendid it would have been to have seen them back in their '70s prime. However, Led Zep are the first of three names on this list where there remains a sliver of hope that I may get to see them yet. The three remaining members famously reunited with late drummer John Bonham's son in 2007 for their famed O2 concert, but the anticipated follow-up world tour never materialized, owing to a reluctant Robert Plant. If they pulled it off the once, there remains a teeny-tiny speck of a hope that they may do it again … yet the passing of each year makes it increasingly unlikely that the aging Zeppelins are ever going to go back out and tread the boards.
Without question, if I had to pick a Zep show to see, it would have been one of their Earls Court shows from May 1975.  I think the band were at their peak, having just released their best-ever album, the mighty Physical Graffiti, resulting in performances like these killer renditions of two of my favourite Zeppelin tracks, their complete reworking of "In My Time of Dying" and "Trampled Underfoot."
If anyone were to ask me why Led Zeppelin were such a great live act, I would play them the two performances from the self-titled live DVD which I have re-watched copiously: "In My Time of Dying" (a different version here) and "Trampled Underfoot," from the Earl's Court shows of May 1975 
.
14. Bob Marley and the Wailers, July 18, 1975, Lyceum Theatre, London
Marley is coming up in Part Two as one of the performers I was slated to see, but didn't. I'll talk more about Marley next time around, so for this entry I will say that if I had my druthers, I would most like to have seen Marley at his July 18, 1975 gig at London's Lyceum Theatre in the UK. While Peter Tosh and Bunny Wailer were out of the line-up by this point, I'm opting for the post-Tosh/Bunny Wailers because Natty Dread remains my favourite Bob Marley album, and this was the release they were promoting at that time.
This performance — recorded as that album and reggae in general were making a decisive impact upon the UK, followed by Europe and the rest of the world — resulted in Live!, a rare essential on-stage disc. I think there would have been an incredible vibe at this concert, it being like a coronation of sorts. The ebullience certainly spills over from the grooves and the fevered crowd.
Bob Marley & the Wailers stop by The Old Grey Whistle Test in 1973 in UK for a smokin' version of "Stir It Up."
.
15. Nina Simone, Montreux Jazz Festival, Switzerland, July 3, 1976
My Nina Simone fanaticism has grown and leapt through the years as I keep making my way back through her large and extraordinary catalogue.  But where Nina was the most powerful was always on a stage in front of an audience, probably why she released so many live recordings in the 60s.  And her live appearances from through the years are riveting and mesmerizing.
To say that Simone was an "intense" performer doesn't even begin to cut it.  And there is no better example of that than this concert, thankfully filmed and largely in dramatic close-ups that make you feel like you are sitting beside her for this show.
Her first performance after years of chaotic self-imposed exile in Liberia, this show caught her clearly in the throes of mental collapse.  Long, unsettling, and angry ramblings contrast sharply with deeply haunting and mesmerizing performances.  You can't take your eyes off of either.
There are really only 5 tunes performed (she more or less just dances around to "African Mailman"), but most are dramatically elongated versions mixed with her stream-of-consciousness commentary.
I have sat and watched this concert in its entirety many times and both the musical power and overall strangeness never gets any less compelling.  I recently had a friend over who is a Nina fan and I put it on for us to watch, and while we were chatting a bit while watching at the start, we eventually just sat there watching, glued and silent.  Truly powerful.
If I had to see Nina, this is definitely the show I would have picked.  As long as I didn't have to go the bathroom (you will have to watch the video to understand).
A sampling of the Montreux show.  Nina starts with a car-crash ramble before sinking her teeth into the definitive version of Janis Ian's "Stars" and then inexplicably moving into a genuinely compelling take on the schlock-du-jour that was Morris Albert's "Feelings."
16. Fela Kuti and Africa '70, 1972-1978, Anywhere
I first heard — and was knocked out by — Fela back in the '80s, when he was still very much of this world. While I'd loved what I heard back then, it's only been in the last few years that I really explored his music. I mean, where do you start with an artist who has a revered catalogue spanning over 50 albums, largely composed of side-long jams? Eventually, I dove in with fervor.  Once you start, it turns addictive pretty quickly.
While a word like "astonishing" may be casually thrown around, it's more than deserved when it comes to Kuti's jaw-dropping tunes and polyrhythmic grooves: Africa's Bob Marley, James Brown, and John Coltrane rolled into one. It's also incredible that he turned out so many lengthy 10, 15, 20 minute-and-more tracks that never seem to overstay their hypnotic welcome. It just takes him that long to work out all the ideas.
While the music is routinely inventive, innovative and compulsive, Fela used his chosen language of pan-African Pidgin English to bravely highlight and taunt prominent corruption in his native Nigeria and elsewhere on the continent. 1976's scathing anti-military "Zombie" was a major hit that was so controversial, his Kalakuta compound was burned down by soldiers. Fela himself was nearly killed in this attack of 1,000 soldiers (his mother was fatally injured in the invasion). I've written before about how politics and music don't always mix well — I can't think of anyone who's done it better.  Yeah, he was a world-class homophobe and misogynist, but then so are plenty of standard-issue rock stars with one-tenth of Fela's cojones or musical brilliance, not to mention his socio-political insights.
If I had to choose a period to see him in, I'm going with the mid-'70s. It was a time when he and his large backing band, Africa '70, were unstoppable, delivering many of my favourite Fela recordings, such as "Shuffering and Shmiling," "Roforofo Fight," and "He Miss Road," before the group imploded in 1978. He later returned with a new group of musicians and new name, Egypt '80. Fela died of AIDS-related complications in 1997.
Fela and his last appearance with Africa '70, at the Berlin Jazz Festival in 1978. The musicians finally split when they found out that the European shows were essentially happening to finance his political aspirations. The song, "Pansa Pansa," deals with the brutal raid and attack on his Kalakuta compound by the Nigerian military the previous year. 
.
17. The Band, "The Last Waltz," November 25, 1976, Winterland Ballroom, San Francisco
Levon Helm's recent passing further erases a link to a time when he was part of a particular fivesome who created enduring magic. Sticking The Band in here isn't a respectful, nostalgic nod to Helm's death (I had this list drawn up some time ago and recently penned a negative review of a 2010 show) — that's mere coincidence. The Band are here because they were probably the greatest ensemble rock unit, and I'm certain they would have been stunning to see live.
As for the "when?" … As with Judy Garland, this is a no-brainer for me: the night of The Last Waltz, their final show that also became the basis for a celebrated Martin Scorsese film. Jammed tight with a once-in-a-lifetime arsenal of high-wattage music collaborations, the night featured contributions from fellow Canucks Neil Young and Joni Mitchell, their old boss, Bob Dylan, plus Eric Clapton, Van Morrison and many more. I know I made a "No Festivals" rule for this list, but this really was a Band + Friends gig, rather than a multi-act festival … so here it is.
It's such a downer to consider The Band's sad coda: all the enmity, bad ends, and Robertson's later solo career of anonymous elevator rock (although that solo debut album remains a stunner). But their great recordings — and their unforgettable exit — shall prevail.
The exquisite "It Makes No Difference," sung by the late, great Rick Danko, from the Scorsese-directed The Last Waltz, chronicling The Band's star-studded final show in San Francisco in 1976.
.
18. The Sex Pistols, Autumn 1976 pre-Bill Grundy Show, somewhere in the UK
This is the one I really had to think about including. Not because there's any question about me wanting to have seen them — that's a given. It's as to whether they still exist as a band and, therefore, should be disqualified from this list. They have reformed a few times through the years, seem to get along better than ever, and there's no saying they won't have a kick at the (financially lucrative) can again. But there's no saying they will, either.
Ergo, I'm assuming that they won't be getting back together and/or I won't be seeing them. That being the case, I am setting the concert time machine to somewhere in the fall of 1976, wherein Glenn Matlock was still the bass player, it seems the band had coalesced, most of their key songs had been written, they were gaining a following, were getting ready to cut "Anarchy in the UK" as their debut single for EMI — and most of the outside world didn't yet know.  The media circus had yet to begin.
Once they appeared on Today with Bill Grundy on December 1, they leapt overnight from a private affair to national notoriety in Britain.
I'm thinking that to have seen them that fall would have been fun incarnate.
The Sex Pistols TV debut on "So It Goes" performing "Anarchy in the UK," August 1976.  That's Tony Wilson hosting (future Factory Records/Joy Division Head Honcho).
.
19. Kate Bush, "The Tour of Life," April-May 1979, Europe/UK
Along with Zep and the Pistols, Kate is my third choice where the case may not be closed. After all, Kate is alive and very well and healthy, thank you very much. It's just that little thing about how, after a single jaunt throughout the UK and Europe, 1979's Tour of Life, the theatrical Ms. Bush flatly refused to tour or even play a full one-off live show.
There were optimistic mumblings last year about her re-thinking her "no touring" policy once her son Bertie was ensconced in post-secondary education, but she shot those rumours down faster than James and his cold gun.
As for the one tour she did do, it was uniformly OTT at times as well, but that's part of Kate's charm (it's also become a Xmas custom for me to watch her 1979 "Christmas Special" every year at St. Nick time, even if it really has scant to do with the holiday).
Kate Bush's Tour of Life at London's Hammersmith Odeon, May 1979. Over The Top? You bet, but that's part of the charm.
2020 UPDATE: Since writing this original blog entry in 2012, Kate of course shocked the world with a series of live shows at the Hammersmith Apollo between August and October 2014.  Unfortunately I missed these too.  Still let's hope there's more live shows from Kate someday.  If I had to choose between seeing her on the Tour of Life in 1979 or the 2014 Before the Dawn shows, I'd actually like to update my answer and pick seeing a show in the Before the Dawn series.
"The Morning Fog" from the Before the Dawn series at Hammersmith Apollo, London, UK, 2014
.
20. Joy Division, Late 1979/Early 1980, Anywhere in the UK
Hearing Joy Division for the first time is one of those moments a music lover remembers. It was during January 1980, when the host of an alternative, weekly local radio show on an otherwise standard rock station played JD's "Transmission" 45 on a night when I happened to be taping it. That ominous wash of sound, the morse-code bass, the whole menacing-yet-exhilarating feeling of the music: I was an instant convert, just about wearing that portion of the tape out until I could locate my own vinyl copy. Meanwhile, I read in the British press about an upcoming North American tour. Hmmm … Toronto, perhaps?
So what a bummer it was to pick up a new copy of the NME during the summertime (they usually arrived here several weeks after their issue in the UK) only to discover that Ian Curtis, the voice I'd recently become so obsessed with, had silenced himself in May via hanging. Shortly thereafter, I got one of the very first import copies of Closer, luxuriating in its sombre elegance through the rest of the year, and beyond.
Had I been able to see them, I'd go for the few months on either side of the transition from 1979 into 1980. They would have had a clear idea on what they were doing, and would have also been playing some of the songs that would show up on Closer in addition to the Unknown Pleasures material.
Joy Division with Unknown Pleasures' "She's Lost Control" on UK TV, 1979. Sadly, it was Ian Curtis who lost control in a whole other sense a few months later.
.
Those I Also Shortlisted: Bessie Smith, Libby Holman, Peggy Lee, Blossom Dearie, Elvis Presley, The Impressions/Curtis Mayfield, Serge Gainsbourg, The Kinks, The Byrds, The Grateful Dead, The Jimi Hendrix Experience, Sly and the Family Stone, The Faces, Mott the Hoople, Big Star, Throbbing Gristle, and Hüsker Dü.
And The Shaggs.
The Beatles, "You Won't See Me" (1965). No. I won't.
.
Next On Stage –>  You've got the ticket in your hot little hands … but, for whatever reason, you don't make it. Well, that's part of the concert-going experience too. In Part Two, I'll be recalling the various gigs that didn't happen or that I couldn't make it to.
Join me next time as I don't go and see Bob Marley and the Wailers, XTC, Simon and Garfunkel, the Grateful Dead, and a host of others.
020b. Waiting In Vain: 20 Performances I Missed, 1980-2011
© 2012/2020 VariousArtists
Comments From Original OpenSalon.com Posting