The fifth and final time I got to see David Bowie was probably the most musically interesting, with a setlist packed with personal deep-cut favourites.
Ticket Price: $92.55
David Bowie comes to Ottawa on his A Reality Tour with the culty, psychedelic choir stylings of The Polyphonic Spree.  This last of the five times I got to see him may have been the best of them all musically, as Bowie delivered a long show with some obscure and particularly wonderful song treats.
Tune in to the Podcast for lucky accidents, set list surprises, and being relatively up-close-n-personal.
Cublet also drops by to share his memories of the show.
You can also read my past blogs about how I discovered Bowie and his continuing impact on my life (Bowie, The 70s, & Me) as well as my review for the first time I saw him live, in Toronto at CNE Stadium on September 3, 1983, with the late, great Rough Trade opening.  It remains the most exciting show I've ever been to.
I also posted a short piece, David Bowie 1947-2016: Often Copied, Never Equalled, at the time of his passing.
Also: See all of Bowie's solo album covers from David Bowie (1967) thru A Reality (2003) in a morphing series in the commercial for this podcast below!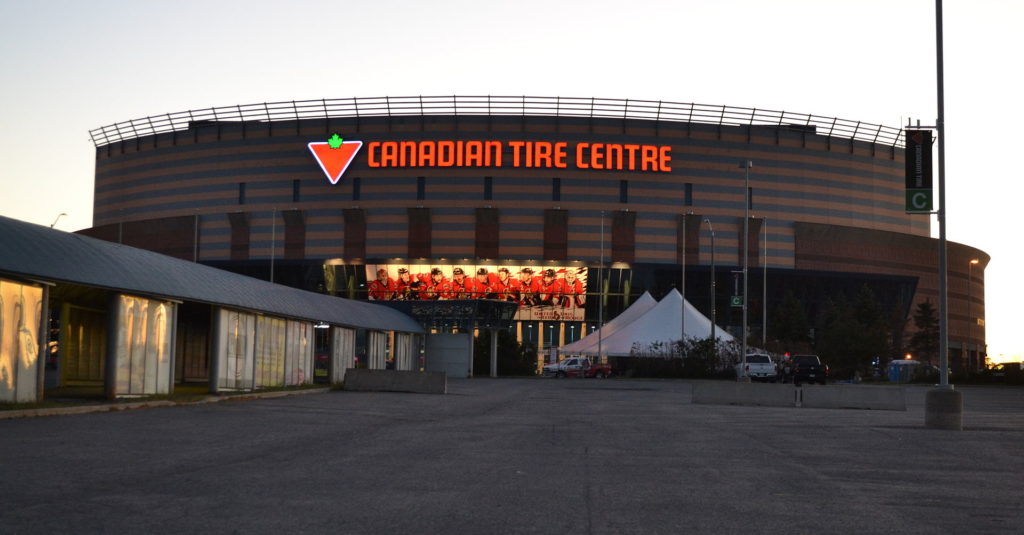 The Palladium, The Corel Centre, Scotiabank Place, Canad … whatever, that big place way out in Kanata (Courtesy of Ontario Images)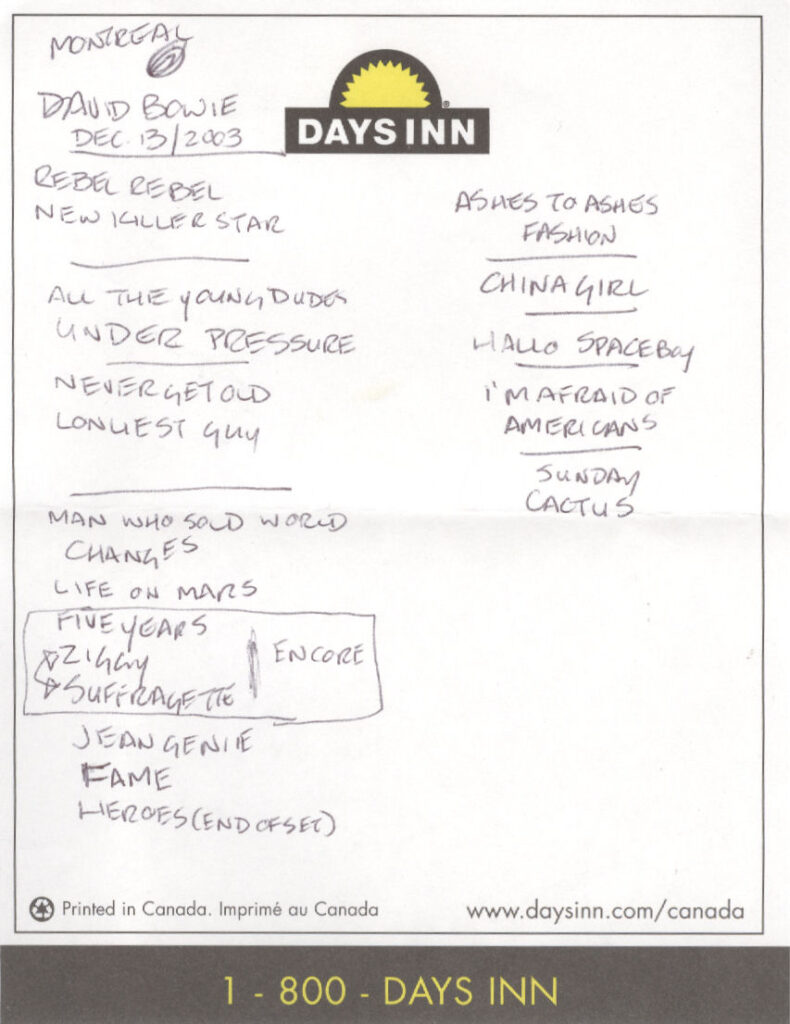 My attempt to remember the set at the Montreal show from four months earlier, later on that night.  And I did pretty damn well at recall: I correctly named 21 of the 23 songs, missing "Reality" and "Afraid."  However, he didn't do "Jean Genie" except in my imagined version.  This show will be coming up in the series as Concert no. 103, with Macy Gray opening.
Here are some YouTube live videos from various locations of some of the tunes that were highlights for me during the Ottawa show:
Bowie talks about watching Uncle Floyd in the 70s with John Lennon and Iggy Pop before delivering a superlative version of "Slip Away" (Heathen Tour, Berlin 2002)
A Reality's killer lead track and single, "New Killer Star" (A Reality Tour, Dublin 2003)
"A New Career In A New Town" from Low (Montreux Jazz Festival 2002)
Another big and welcome surprise was the performance of Hunky Dory's "Quicksand" (A Reality Tour, Japan 2004)
"Never Get Old" (A Reality Tour, Dublin 2003)
Next on Stage –> My introductory podcast series of highlighting one concert from each decade reaches its conclusion with the next episode, jumping 8 years into the future. 
After giving up hope that I would ever get to see him live, Leonard Cohen goes back out on the road for a final North American leg of a multi-year comeback tour that brings him back to Ottawa for one last time.  One of the best shows I have ever seen.
Tune in for knee-slidin' dexterity, elbowing patrons, and compelling intensity.
Read the original blog post from 2012 here.
Next on Stage –> I'm Your Man: Leonard Cohen, Scotiabank Place, Ottawa, Ontario, Canada, December 7, 2012 (Episode 6, Concert no. 104)
Text © 2013 VariousArtists