I feel like I grabbed the brass ring on this night.
Ticket Price = $20.00 US = $28.40 in 2022 US$
THE BLOG ENTRY ON THE SHOW FOLLOWS BELOW 
Welcome to my first podcast anniversary episode! 
February 7, 2022 marked the second anniversary of the mylifeinconcert.com podcast (the blog itself was launched June 3, 2010, over on what was then OpenSalon.com).  While I have marked each year of the blog's anniversary by doing my own mock-up of an album/cover that I like, I will be marking each podcast anniversary by jumping into the future of my series and selecting and highlighting a gig that is significant and meaningful to me. 
As I did not mark the occasion in 2021, I will be doing two anniversary podcasts this year: one now and a second to coincide with the June blog anniversary (for the second one, I'll be looking at Laura Nyro's July 15, 1989 Toronto show). 
For my first anniversary, I am jumping into 1988 and Concert no. 51: an incredible solo show from Keith Richards and the X-Penisive Winos in Detroit.
Owing to incredible circumstances, I found myself standing directly across from Keith for the encore. And had a revelation. 
I will also be using notes from journal from that time in this blog entry and podcast to help tell the story.
Next on Stage:

The next concert crystalizes a moment in time, representing a changing of the guards in the alternative music world, when The Beat—or The English Beat as they were called on this side of the pond—come to Alumni Hall in London, Ontario with a new, unknown American band called R.E.M. in tow as the opening act. 
The show took place as The Beat were in the last throes of their career but also peaking in popularity in North America.  Meanwhile, R.E.M. released their classic debut LP, Murmur, during that same week.
Retrospectively, it marks the sundown of one era and the sunrise of the next.
Returning Special Guest Phil Robinson has a lot of great memories from the night which he shares. 
Tune in for stage invasions, a cultural shift, and wondering what the hell I was thinking.
 Read the original 2011 blog entry here … 
AND ON TO THE BLOG ENTRY …
It all happened in a matter of seconds.
And when it came to the really crucial moments and decisions, it was more like split seconds.
The kinds of decisions you make in the moment because everything is happening at warp speed and there is no time for reasoned logic.
It's about acting on raw instinct.
All I know is that location, opportunity, happenstance, synchronicity, and who knows, possibly kismet, all conspired into a quickly wound ball of circumstances that put me in a once-in-a-lifetime situation, both physically and epiphanically.
However, the culmination of these events were set in motion two-plus decades earlier with, well, my being born.  And being a born tunehead.
In my entry on seeing Mick Jagger's ex-partner, part of the Rolling Stones early inner circle, and long-time Keith bestie Marianne Faithfull in 1983, I wrote that I "grew up in a household where the music of the Rolling Stones was ever-present via my older sibs.  Also, "Dandelion" was one of the first singles I ever owned; Out of Our Heads, my first album, gifted to my four-year-old self from a visiting aunt and uncle from the UK. I was always following the Stones-related headlines and hijinks … (which) always got a profusion of ink."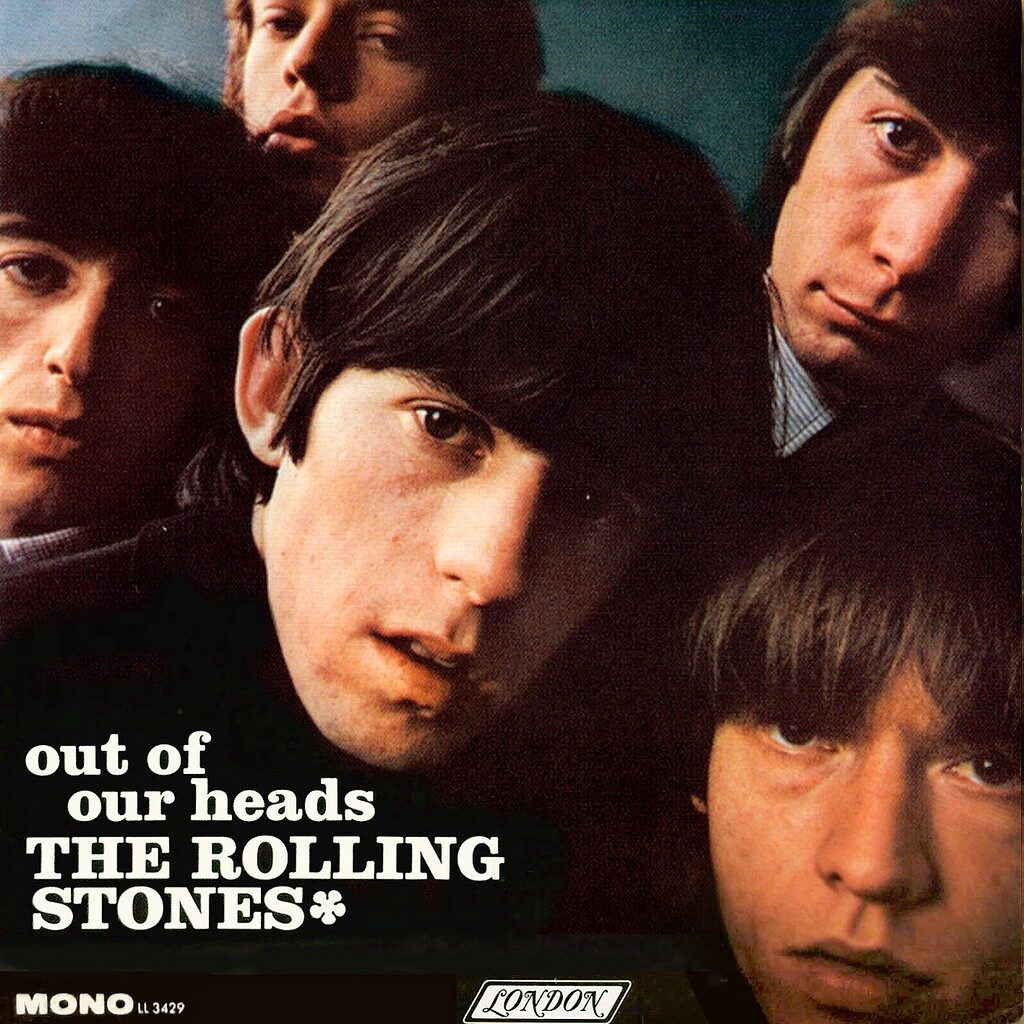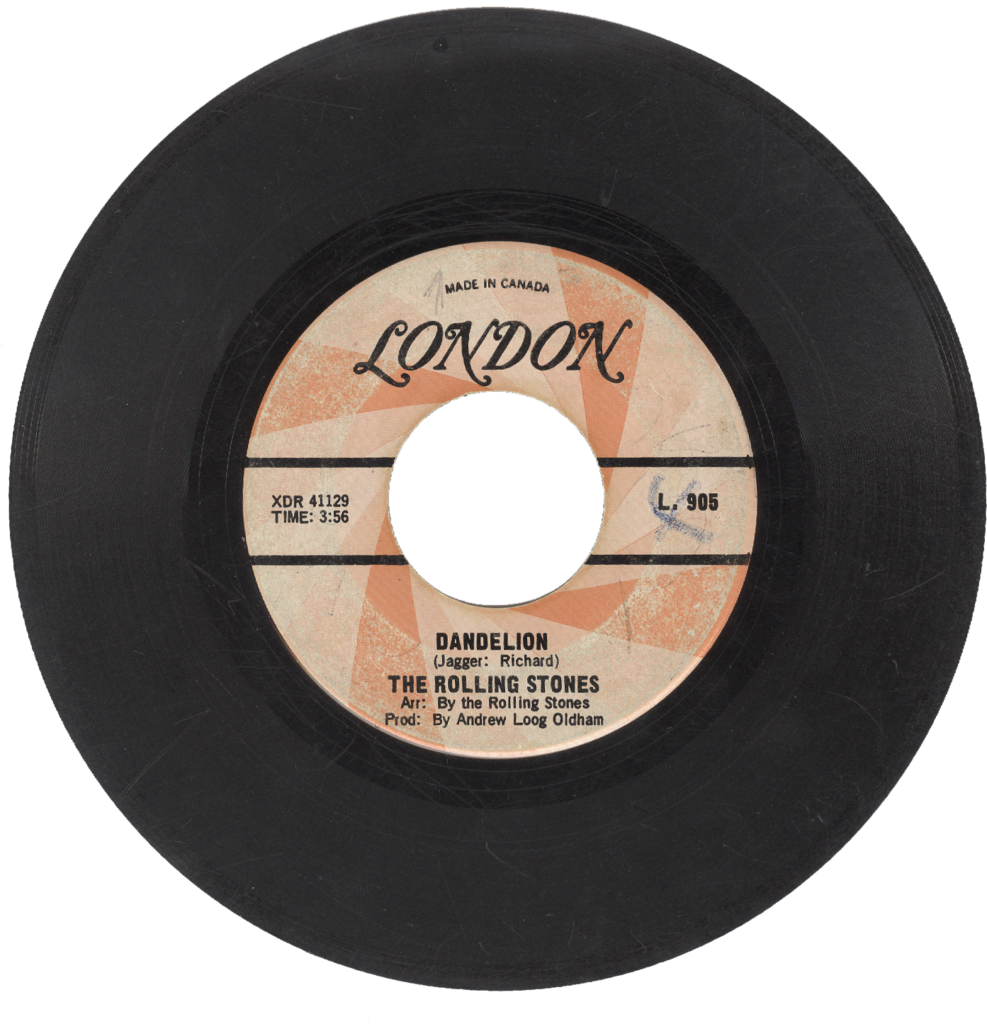 VA's early Rolling Stones acquisitions: the North American version of "Out of Our Heads" and my original 45 copy of "Dandelion" b/w "We Love You."  I got them both at age 4 in 1967.  Note: He was still Keith Richard in those days.
Indeed, the music of the Most Influential Four from the mid-60's British Invasion (The Beatles, The Rolling Stones, The Who, and The Kinks) is permanently burned into my brain.  And it's not just that this music was passively playing in the background because I was actively interested and absorbing it like a sponge.  And I did so because that is who and how I am.  I would have been drawn to music, no matter what.
Therefore, I didn't so much as "discover" any of those four artists because my introduction and initial love of them dates back to my pre-memory times.  They were already melded to my consciousness by the time my first fixed, long-term memories started congealing.
Every new Stones release found its way into the house until I was regularly buying them myself.  So, while their post-'81 releases are much spottier, this is one band I have followed all the way through their career.
As The Rolling Stones themselves are coming up down the road in this series with a jubilant show on the opening night of the Steel Wheels tour at CNE Stadium in Toronto on Sept. 3, 1989 (Concert no. 61), I will leave it until then to go into much more detail about the Stones' career and recorded output.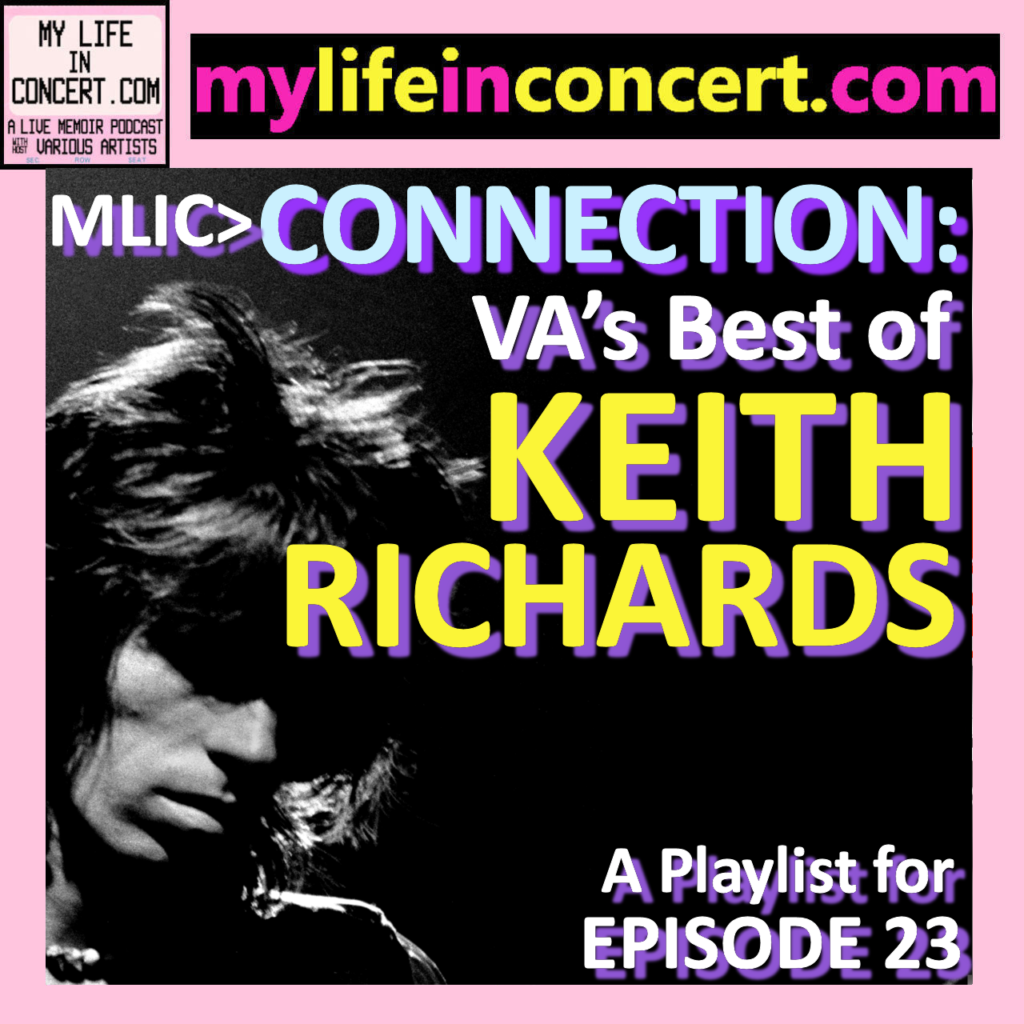 MLIC>CONNECTION: VA's Best of KEITH RICHARDS is a companion playlist for this episode featuring my fave Keef tracks.
As for Keith's role in the group, he is not only one half of the group's creative core, The Glimmer Twins, he's always been seen as the heart and soul of the Stones and the ongoing, living proponent of their outlaw image.
Musically, he is the band's human riff, with his style of playing so imitated it's ubiquitous yet no one does it quite like Keef.  His riffs and playing are an immediate sonic signature for the band.
As for being a vocalist, he has been an occasional but recurring singer for the band.  He made his first foray into leads vocals (or at least sharing the lead) with two cuts on the woefully underrated Between the Buttons from 1967 ("Connection" and the Kinks-y "Something Happened to Me Yesterday") and the rightly-heralded Beggar's Banquet ("Salt of the Earth"'s opening verse).
He didn't get a full star vocal turn until "You Got the Silver" from 1969's Let It Bleed, with his high, quavery voice as a warm, lets-give-it-a-go counterpoint to Jagger's extrovert delivery.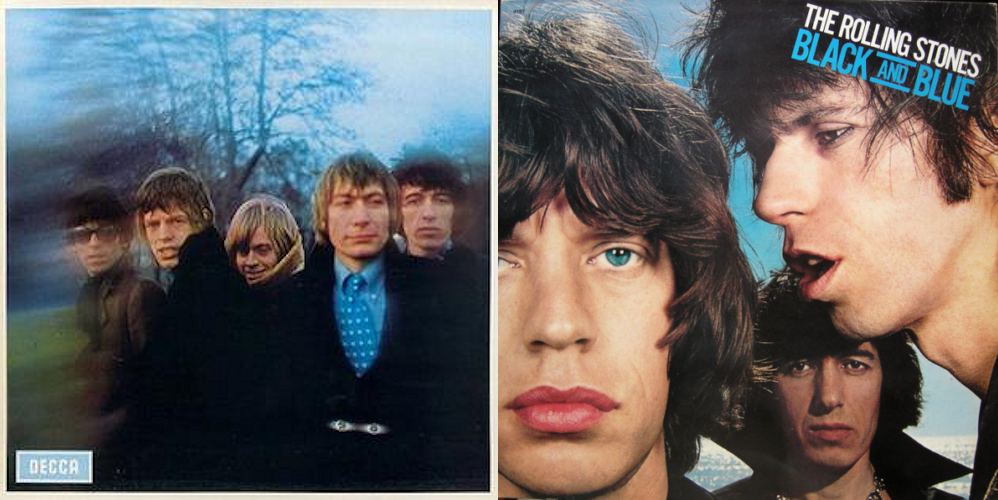 (Above) Two personal VA fave and underrated Stones albums: Between the Buttons (1967, UK Version) and Black and Blue (1976). (Below) A lead singer is born: Keith Richards' first foray into a full lead vocal with "You Got the Silver," from Let It Bleed (1969).
In the 1970s, he aced a trio of classic lead vocals for the group that, for me, are absolute highlights of their parent albums: "Happy," "Coming Down Again," and "Before They Make Me Run" (let's also throw in his effective cameo on the Huge Personal Favourite, "Memory Motel," from the also-underrated Black and Blue.)
With Keith-starring tracks a solid highlight with fans and critics, it was inevitable that a solo release would happen at some point.  That point finally came in December 1978 with the release of an all-covers 45: Chuck Berry's "Run, Rudolph, Run" backed with Jimmy Cliff's "The Harder They Come" as well as Toots and the Maytals' "Pressure Drop" on the 12".
(It must be stated that Keith's solo outing was creatively much more stimulating than fellow-Stone Bill Wyman's 1981 UK hit, "(Si Si) Je Suis un Rock Star."  Although I admit I still find the latter amusing.)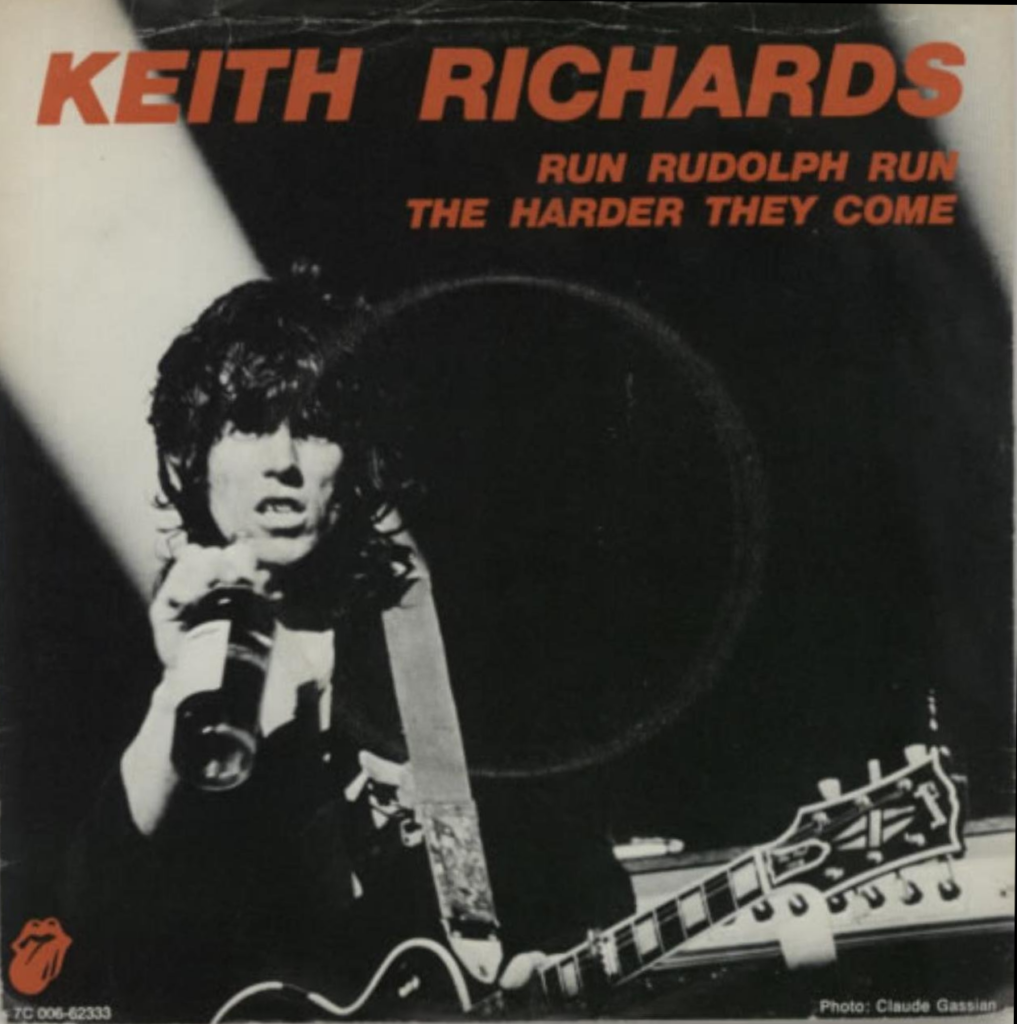 Keith's debut solo single: a cover of Chuck Berry's "Run Rudolph Run," December 1978.
From the '80s onwards, Keith began appearing as guest lead singer much more frequently than in the past on Stones' recordings.  However, it wasn't until 1988, amid a very public and well-known falling out among the Glimmers, that Richards finally released a full-length solo album.
Jagger had made it known in the press that he was bored with the Stones and started releasing solo albums, starting with She's the Boss in 1985. While that first outing produced a hit in "Just Another Night," overall the enterprise was so-so at best, while his follow-up, Primitive Cool, was neither and downright poor, sporting one of the very worst album covers on the decade.
Meanwhile, Keith was fuming about the defection. He writes in his autobiography, Life (one of the best and most compulsively readable music autobiographies ever printed), that
"Anybody can get bigheaded once in a while and think, I can do this with any old band.  But obviously he proved it's not true.  I can understand somebody wanting to kick the traces.  I like to play with other people and do something else, but in his case he had nothing really in mind except being Mick Jagger without the Rolling Stones."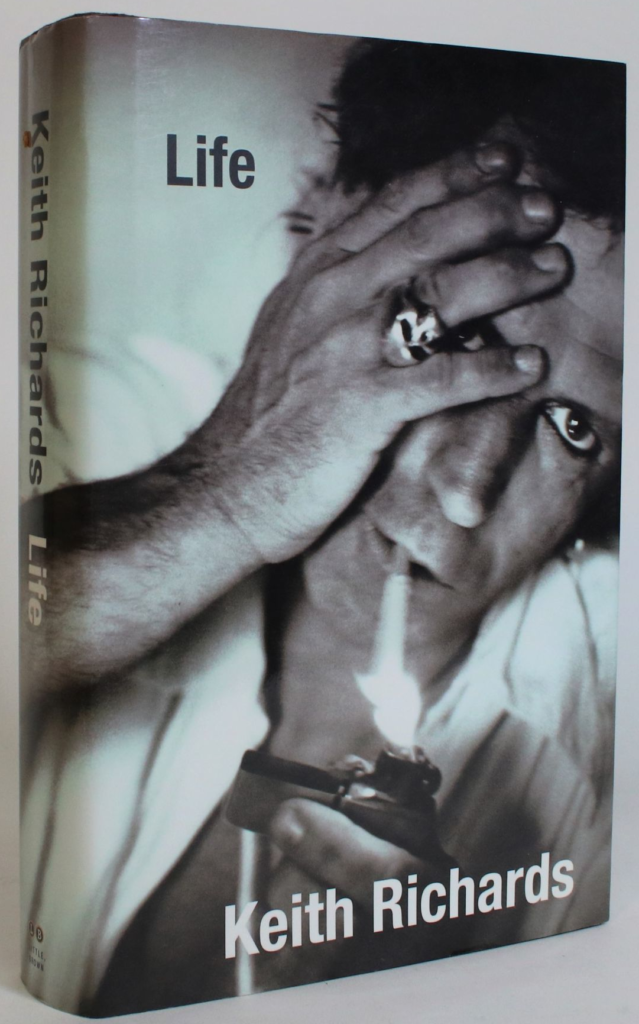 LIFE, Keith's highly engaging 2010 wry romp through his life was a critically acclaimed best seller and a page-turning, often laugh-out-loud hilarious read.  The only thing I didn't like was the homophobic language, particularly as he certainly doesn't come across as otherwise homophobic.  Otherwise, the word "entertaining" was invented for books like this.
Keith finally put together his own band and signed a solo deal with Virgin Records.  Issued in October 1988, with the album's title, Talk Is Cheap, an obvious reference to the Jagger-Richards handbags-at-thirty-paces bitchery that had been playing out in the press between the two of them.
As for the music itself, it ran the gamut of his musical passions from riffy-rock, soul, funk, reggae, ballads, and r&b via a clutch of top-shelf tunes.
Then as now, I rate Talk Is Cheap as the best post-Tattoo You release by either the band or any members of The Rolling Stones (although I am also rather fond of A Bigger Bang and Steel Wheels.)

(Above) Keith In a Can: my limited edition 3-CD version of Talk Is Cheap in a can with a 3D skull (Photos by Cublet). (Below) The Keith Richards catalogue: Talk Is Cheap (1988), Main Offender (1992), and Crosseyed Heart (2015).

I had also gotten to know a fellow university student around this time who I will call Keith Garcia-Westerberg.  As you can deduce from my assigned pen name, he was absolutely fanatical about The Stones as well as The Replacements, while the Garcia/Grateful Dead aspect came a bit later on after I had loaned him some of their albums and tapes.  He became and instant Deadhead. (see also: Waiting In Vain: 22 Performances I Missed 1980-2020, Episodes 9 A&B, Concert no. 20B).
While I had been a life-long Stones nut, Keith far surpassed me in obsessiveness. He collected lots of Stones boots, allowing me to hear all manner of unreleased takes and tracks, some of which still remain unleased to this day.
Best of all, he tracked down two bootleg copies of the Robert Frank's infamous Cocksucker Blues documentary graphically detailing the debauchery and drug use that marked the bands non-stop party tour of North American in 1972.  In fact, these up-close-n-personal depictions is what caused the band to ban it permanently, fearing the impacts of future work visas and those around them.


…. and here it is:  Cocksucker Blues can now be seen online.
Keith G-W had grown up in remote, isolated Northern Ontario, was in his early 20s, and now wanted to see all the live acts he had missed out on.  But The Stones were who he wanted to see most of all.
That did happen the following year with the Steel Wheels tour, but for now seeing Keith give a solo show promoting his debut solo album was pretty damn exciting.
Unfortunately, and probably due to Richards' previous battle with Canadian authorities following his 1977 heroin bust, the tour did not feature a Toronto date but did book a night in the equally-distant Detroit on December 8.
KGW immediately scored tickets, leaving him to figure out later who he could offer the ticket to.  As we had met during my part-time hours at Sam the Record Man in downtown London and shared many of the same musical interests, he offered it to me for purchase and the gig was on: we were heading to the Motor City to see Keef.


Then came the matter of how we would get there.  My car had died at the end of summer, and I was a broke student who was between-vehicles until the next spring.
I can't even remember if KGW could drive, and regardless he did not have wheels.  And as we were both in university with very limited cash, we wanted to keep things as econo as we could.  Luckily, a couple I knew from the London music scene, H&D, she being a guitarist with one of the local bands, were going with a small cavalcade of vehicles and we could catch a lift with them.
(In a bizarre and wonderful turn of events … as I was finishing the writing for this piece and getting ready to record the podcast, I ran into H&D for the first time in about 30 years while out at The Richmond seeing my first live show of 2022: The Wabi Sabis [delivering a killer debut set].  That cosmic synchronicity breaks my brain, but in a good way.  Great to see them again.)
At the time, I was an English Lit student at what was then the University of Western Ontario (now simply Western University) and this was early December.  Unlike many other avenues of study on campus, Literature did not have mid-terms but they did have large essays due for each class at roughly in and around the same time as this concert.
Meanwhile, as I was not a silver-spoon student and had to work and borrow my way through university, I was also working part-time at London's biggest downtown record store, Sam the Record Man.
On top of that, I did a weekly Friday morning radio show on the campus' station, CHRW, which took prepping + I had a pretty busy social life, seeing a lot of live music, both local and otherwise (within three or so months on either side of this gig, I also saw Sonic Youth, Lou Reed, k.d. lang, Crowded House, Richard Thompson, Johnny Clegg and Savuka, and The Stray Cats … what a time, and all coming up in the series.)  I was out and about when I wasn't working, and with that, plenty of liquid and herbal partying.
In something I have done more than a few times in my life, I completely ran myself into the ground, keeping the candle burning at both ends and in the middle as well.  I came down with what was diagnosed post-show as Strep Throat, something that has recurred throughout my life when I speed the car along when it's on E and the brakes are shot.
The result of this is one of the most painful things I have ever experienced in my life.  People will say, "isn't it just a really bad sore throat?"  I wish.  What it feels like is this: every time I go to even swallow saliva, it feels like I am trying to swallow a full-sized orange with a rash of protruding razor blades.
And as I have learned the hard way via this condition, one swallows one's saliva a lot in the course of a day.
Several years later and after several agonizing bouts, it was determined that this recurring thing isn't strep.  However, docs have never been able to discover exactly what this is.
Keith and the X-Pensive Winos on SNL around the time of this concert with "Struggle": my favourite track from Talk Is Cheap and an appropriate word for my day of the gig.
Today, and especially since about 6-7 years ago, I am a significantly more balanced person and am much kinder to myself.  I place a high importance on looking after and balancing my physical, mental, emotional, and spiritual health, have removed a lot toxicity from my life, and treat myself well.  Lots of sleep, exercise, healthy eating, etc.  You know the drill.
But back then, for a bunch of reasons including a lot of necessity, the only stop button I seemed to have is when my body told me to physically STOP! and take a break.
I actually remember the guitarist in the couple, D, telling me out of concern to take time for my health.  She was a very rock'n'roll kind of gal and we all partied and worked hard, so I figured if she was telling Me to take things down a notch or two then I should perhaps take note.
And on the day of the gig, my health nosedived.
But being young and unreasonable, I was determined to not miss this gig.
Feeling like crap-on-toast and then some, I met up with KGW and the two of us wandered over to H&D's place for the two-hour ride to the border.
However, they all decided to stay in Detroit overnight whereas KGW and I needed to get back for the next day and didn't want to splash out on a hotel room.  Ergo, it was decided that we would be dropped off in Windsor, Detroit's across-the-Ambassador-Bridge Canadian sister city, so that we could purchase a return bus ticket.
We figured that it would be cheaper to cab it across the border and over to the Fox Theatre in downtown Detroit, which was not far away, and then cab back across and take the train home to London from the Canadian side.
That last-minute decision to get the bus ticket would prove to be a crucial one in short order.
I'll let my journal do the talking for how things went …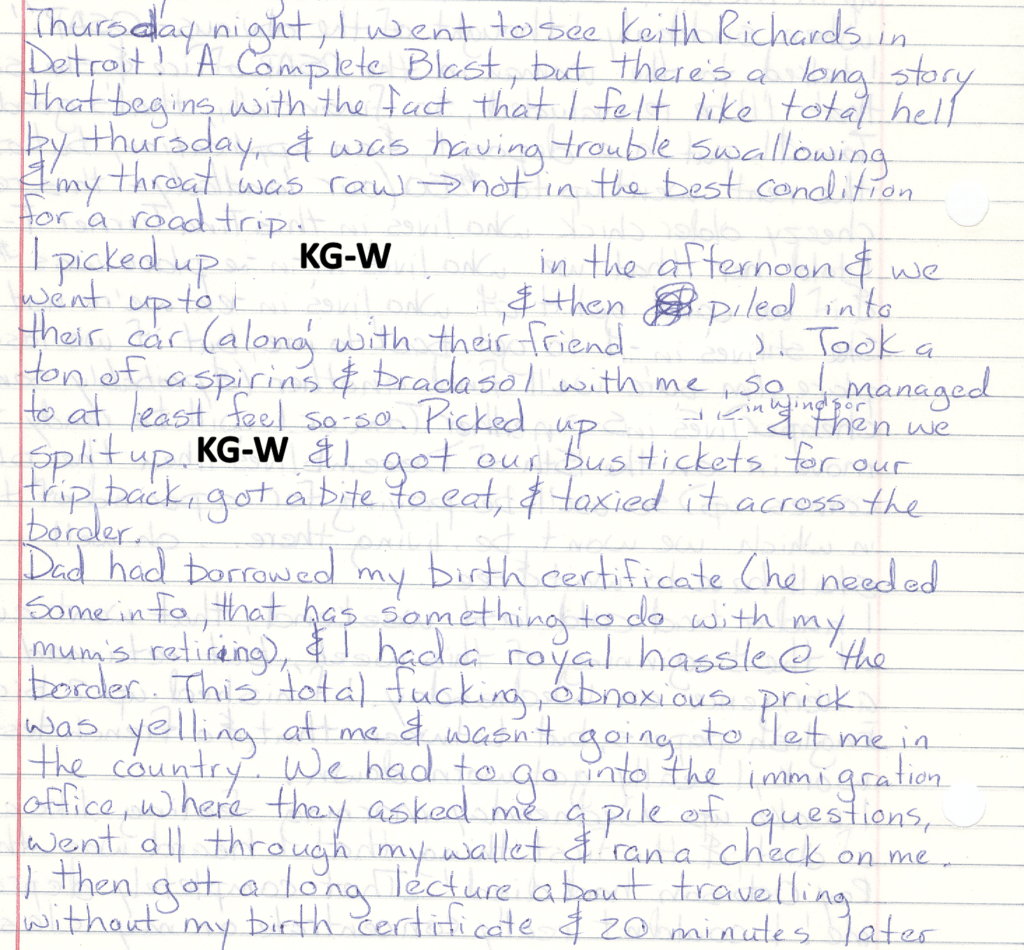 Suffice it to say, since then I have since always made sure I've had all appropriate documentation with me when crossing the border.  I'd probably be jailed or something is this accident happened today.
Once across and inside, we settled into our seats.  I have zero recollection of any opening act.  Either we did not get there in time or there was an opener but it's been wiped from my memory.
One thing I definitely do remember and with fond amusement is a particular interaction I had with my seat neighbour.
We sat next to a couple in their late 30s.  At the time, they would have been an "older couple" to me.  Now I would see them as "kids," lol.
The lady of the couple was sitting directly next to me.  We got talking and she told me a great story.  She had seen the Stones in the Detroit area in 1981 at a large outdoor venue on the Tattoo You world tour.  She was a teacher, and the concert took place on her 30th birthday.  As she was supposed to be teaching the day of the show—and because it was an important birthday—she told me that she lied about being sick for this one and only time to take the day off and see the band.
At one point during their set, she was up on her husband's shoulders with her arms in the air, joyfully enjoying the show.  The next day, a picture of her doing just that was on the front cover of the Detroit Free Press, greeting her and all her fellow teachers along with the morning sun.
She was mortified but everyone at the school took it in good stead.  What a way to be outed as a liar!  Too funny.
She then asked me what my favourite Rolling Stone's song was.  I told her, then as now, that it's hard to pick just one but if I am going to, it's got to be "Gimme Shelter."  Now while I am often out of step with most people on these kinds of things, admittedly "Gimme Shelter" is a long-time huge fan favourite.  When MOJO magazine polled its readers in 2007 as to their fave Stones tracks, "Gimme Shelter" was voted No. 1.  Keith Richards, who was interviewed by the mag about the poll, was surprised and delighted that it took top placing as as he told MOJO that it was his favourite as well.
I uttered my choice and she scrunched up her face and looked at me as though I'd just farted.  So when I asked her, "What's yours?," she looked me dead on and said "Fool To Cry," as if it was the most common, de facto answer to the question.
Then and now, that confused the fuck outta me.  I do love "Fool To Cry" and have already mentioned my love for the Black and Blue album, but have yet to ever meet anyone else who thought "Fool To Cry" was the K2-peak of their songs.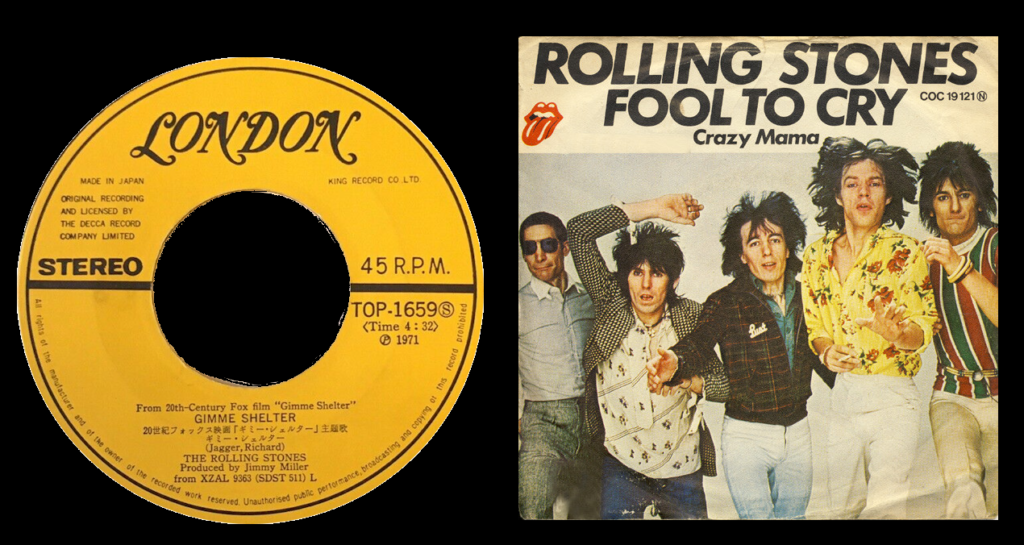 It's the Battle of the Rolling Stones' Fans' Favourites, with "Gimme Shelter" battling … um … "Fool to Cry"….
Eventually, the show got rolling.  In a manner of speaking.
The houselights dimmed, the stage was black, and the audience went nuts.
And then …. nothing.
While the venue was pitch black, you could make out some small blinking lights from switched-on equipment.  It was clear that there were now people on the stage as the lights would temporarily go black as someone walked by a string of equipment illumination.
This went on for several minutes, with the excited but confused crowd's whooping slowly abating as we all sat several minutes in perplexing darkness.
WTF?
Keith later revealed in Life what the delay was as it involved a concert ritual that he and the band partook in every night at the start of each show.
"…with the X-Pensive Winos … we'd black out the stage and the whole band would sit in a circle, smoking a joint and having a drink. And people didn't know we were there.  And the lights go up and we break."
Once the lights switched on and the band took off, the night started to fly.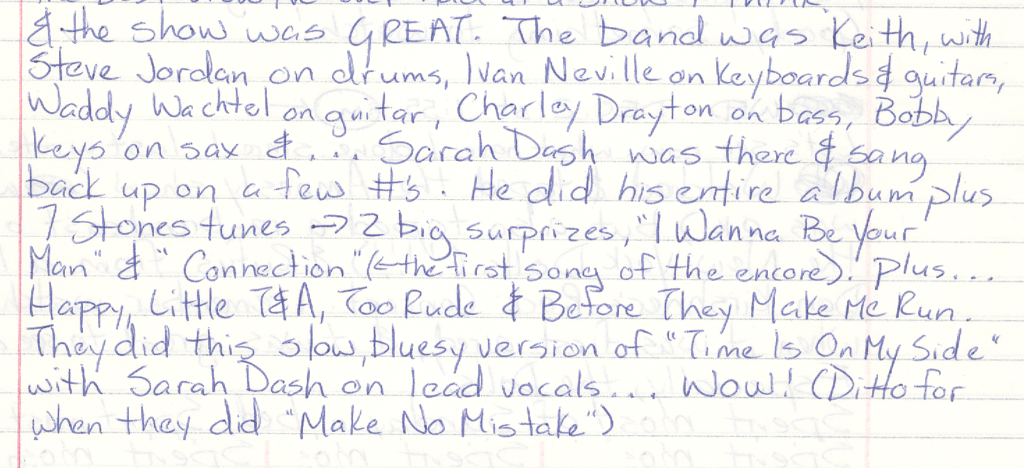 As the show went on, our seating got better and better …

What happened was this: some people had been trying to get closer to the stage, were leaving their seats, and trying to congregate down front.  Security were letting it happen to a degree but corralled them off to the sides.
Once Keith and co. exited at the conclusion of the main set, hordes of people rushed to the stage in anticipation of the encore.  As with many concert halls, security let it happen for the encore.
By this point we had wormed our way up, poaching increasingly closer empty seats vacated by those wanting to get near the stage.
When the set proper ended, we jumped up and made a mad dash for the front, as did so many others.  As the orchestra pit had been filled with assigned seats—but, this being the orchestra pit—it had no permanent chairs.  That meant most of these unfixed chairs got knocked and turned over in the scramble for centre stage proximity.
We got down there a few seconds in, which meant that there was already a sea of standing people, about 2 yards deep from the stage, in front of me.  Meanwhile, as people were rushing in behind us, I made the split-second decision to turn one of the chairs over and stand on it.
"Take It So Hard," the single from Talk Is Cheap (1988)
Because the crowd in front of us was thick and tight—and the incoming crowd behind us were still arriving—it transpired that everyone parallel to me, and then behind me, got the same idea to turn a chair over and stand on it.  But, no one in front of me had the room to do so.
The result was that I had a completely unobstructed view of the stage, with most of the crowd's heads in front of me at about my knees, as I noted in my journal.
This fact, coupled with being just the right amount of feet away from the stage + the upward curvature of the pit floor + the additional feet from the chair meant that I was now at a completely level height with the stage.  You could have put a plank from my chair right to the stage.
Then I had a second realization: I was also standing DIRECTLY across from Keith's microphone.
Once I was up on that chair and realized how I was now positioned, three huge epiphanies struck me in succession:
The first thought that struck me was (and if this was a movie, I would be thinking this with the background sound as a blur and my voice-over on top … )
(Said in a delighted tone) Wow!! I can't believe this happened and I now have this incredible and unobstructed view of the stage, just a couple of yards from the stage. Sweetness!
(Said in an excited and enthusiastic tone) I am standing precisely and specifically directly across from Keith's microphone! He is going to be back on this stage in a few minutes and I will be looking at him playing the encore dead on.  Holy Fuck! It's going to be amazing!
(Said in a shocked tone) I am standing precisely and specifically directly across from Keith's microphone! He is going to be back on this stage in a few minutes and I will be looking at him playing the encore dead on.  Holy Fuck! It's going to be seriously fucking weird!  Fuck!
I spent the next five minutes or so trying to process what was going to happen as the crowd around me cheered wildly in anticipation of an encore.
And then there he was, dead in front of me just as I had expected.
Of course, you hope to be seen in the crowd by the performer you've come to gawk at.  Everyone at a concert wants that connection.  And, being dead centre in front of him, I could have sworn he looked at me while surveying the crowd in front of him, but he was probably just staring out and focusing on the music.  Who knows?  But it's a cool experience and something to wonder about.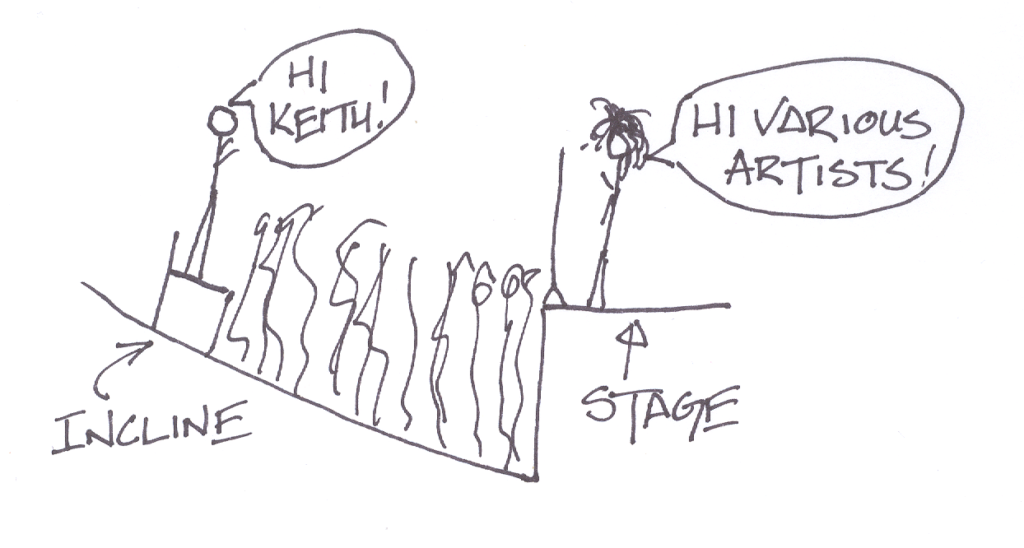 (Various) Artists' rendition depicting me and Keith during the encore.  Don't try this at home!
And indeed, the first encore was the Stones' "Connection," but to be honest, I have little to no memory about the music that was playing.  It all seemed a bit out-of-body for me.  Instead of focusing on the tunes, my focus was more on taking in the sight of Keith Richards performing feet in front of me.
I was in the middle of this scenario where you had this adoring, frenzied crowd down in the pit who were having kittens on the spot from being in his proximity.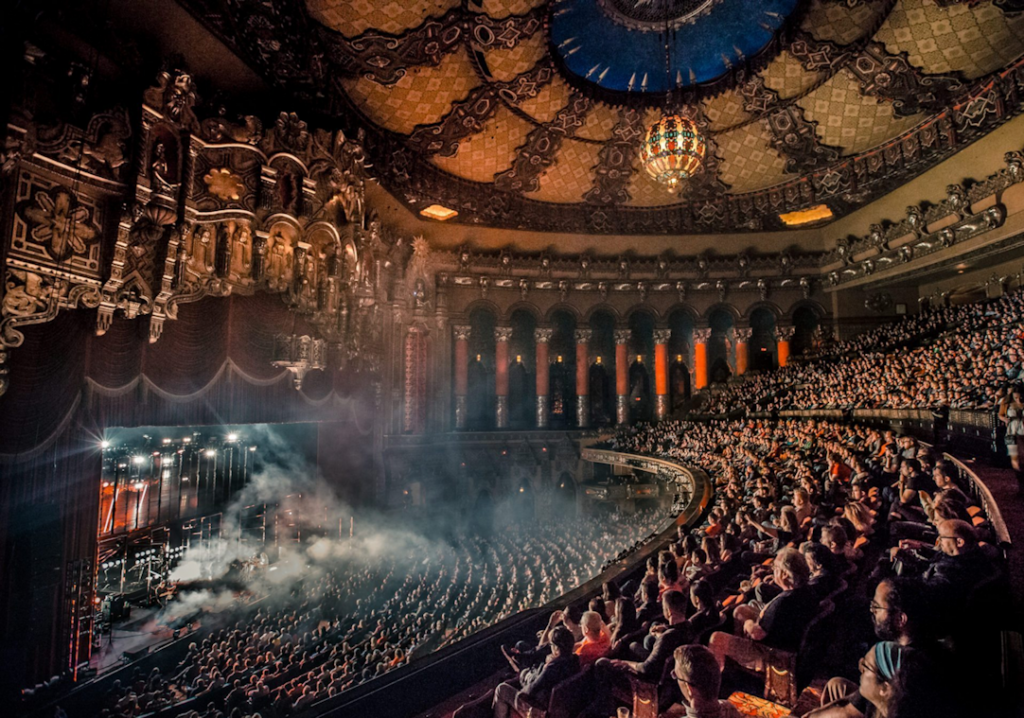 The beautiful Fox Theatre in Detroit, Michigan, USA. (Photo from the net)
And then there were the musicians on the stage, all in the zone, joyful and playing away, while Keith was the magnet at the centre of it all: a light beam and energy field so intense that everything and everyone was in an ecstatic orbit around him.
It was certainly exciting to be there in the midst of it all. But as I watched Keith onstage working hard, I had a realization.  I saw something I wasn't expecting to see from this close vantage point.
I saw his humanity.
Now when I say that, I don't mean anything like "Cor blimey! Keith's the rock'n'roll Mother Theresa!" or anything Kumbaya-related.  No, no, no.  That's not it.
I became aware of Keith: The Image vs Keith: The Person.
This is someone whose face I'd seen a thousand times: on album covers or in magazines, tv, or movies such as Gimme Shelter and Cocksucker Blues.
But these are all 2D images.  Remote. Flat. Capturing a depiction of a life but with a lot of information missing.
Also, these curated images are not only disconnected from a larger life, they intermingle with people officially playing characters in  movies, TV, or theatre.  Person and persona, the factual and the fictional can become blurred.  In many ways, we consume celebrities as if they were fictional characters: they are as equally remote from most of our lives as any created character.  From The Beatles to The Spice Girls, many celebrities are presented as personas with parameters for easy public digestion.
But what can be forgotten is that they aren't fictional, and behind those images are often messy, imperfect and real lives.  Just like the rest of us.
It struck me while watching Keith that, on one hand, you could describe what was happening in front of me as a world-famous rock star on fire and basking in the glory on centre-stage, flanked by his adoring audience and back-up band. That would be correct.
But I also realized it was equally correct to describe it as "a guy at work doing his job."  Or "a person doing their job."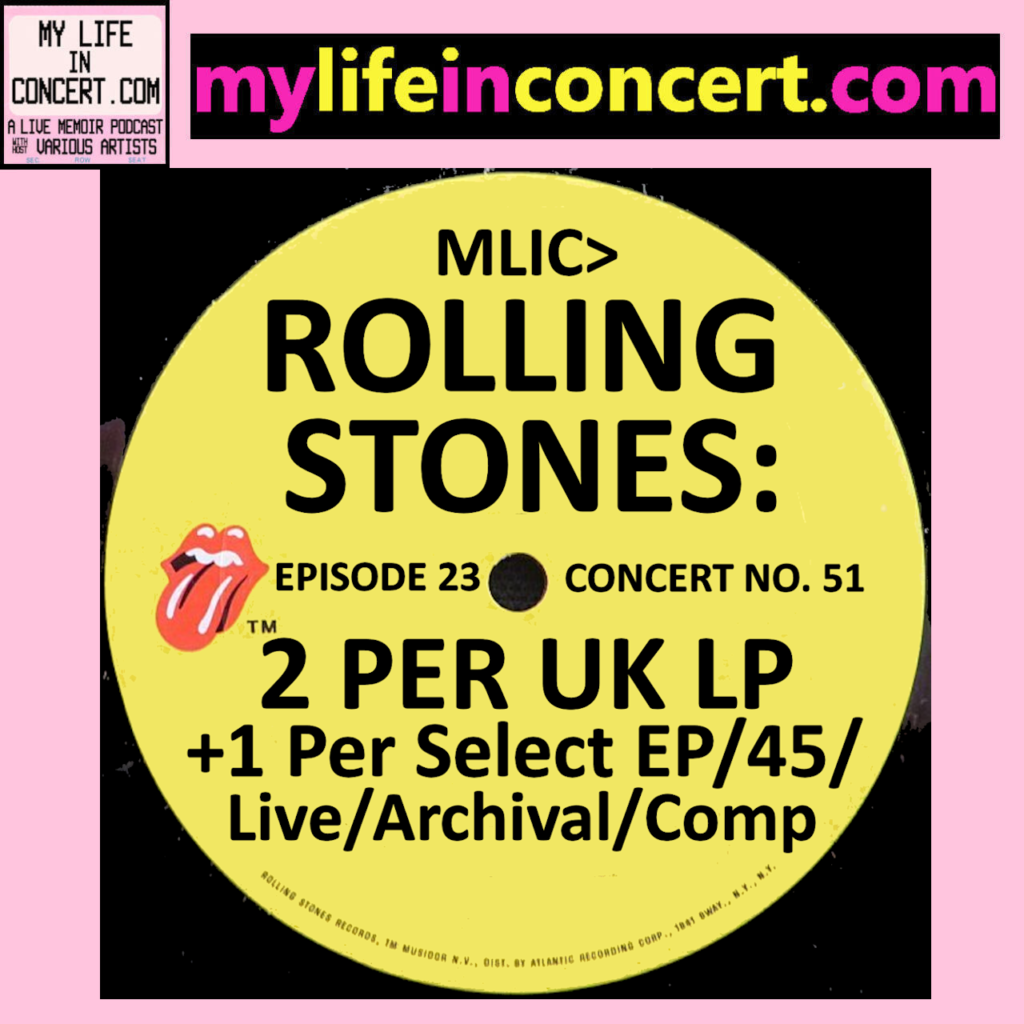 MLIC>ROLLING STONES: 2 PER UK LP + 1 Per Select EP/45/Live/Archival/Comp

is my Spotify playlist where I pick 2 of my favourite (mostly deep cut) tracks from every Rolling Stones UK studio LP + 1 track from Select EPs, 45s, Live Albums, and Archival/Box Set/Compilation/Special Releases from 1963 until now. 
At the time. I was a university student and a part-time record store worker.  Those were my jobs.  In the audience were probably a mix of people from many walks of life ranging from lawyers to factory workers to civil servants to, as we know for sure, at least one teacher.
Everyone has a job to do.  And just because one is much more glamorous than most doesn't mean that it's still not someone's job, and what they do for a living.
Yes, Keith is an artist, but art is work.  Lots of it.  And being a traveling musician means having a constantly upended life, a lifestyle not made for everyone.
Then there has been Keith's tumultuous life.  Most easily see all the perks and fun that come from being a rock star but he's also just a human being with a life of family and friends and all the joys and sorrows that come with that.  He's had all these amazing experiences but he's also lost a child, had serious drug problems, battles with main collaborator, and more.  Then there's the endless life on the road.
All of these harder, darker, and plain boring parts tend to be air-brushed out of magazine pieces and public fandom.  But it doesn't mean it's not there.
And while I always knew that "Rock Stars Are People Too!," there is a big difference between knowing something and truly understanding something.  And that hit home for me during the show.  One can forget there is a real person behind whatever images you have of Keith in your mind.  And like most of us, any glories we have in life often come with a lot of sacrifice and challenges.
So, on this night, all up close and personal, I saw the working person rather than the global star.
All good things must come to an end, though, and so it was that the encore eventually concluded amid much celebration.
After the show …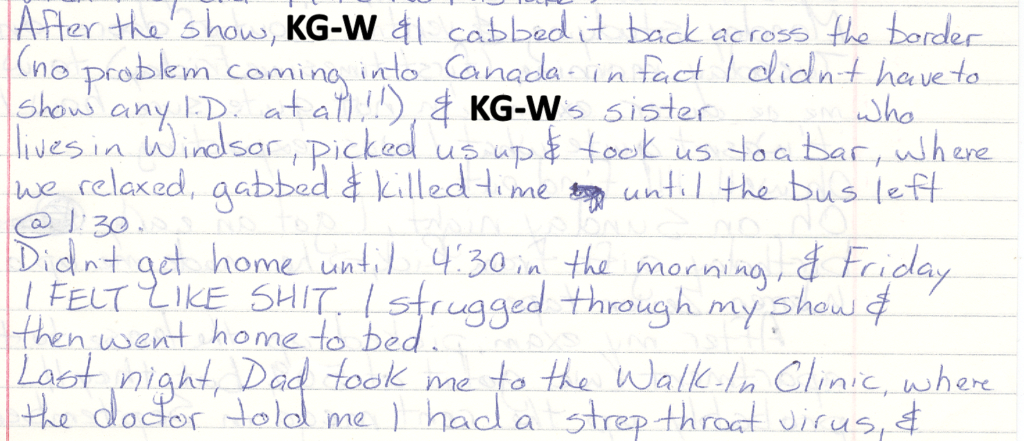 Wow, I totally forgot that I got up and did my radio show the next morning on CHRW Radio Western.
Luckily, my dad persuaded me to go to a clinic and drove me to one.  Although there is something I have to note, and it's about the healing power of music.  While going through all this excruciating pain, for the entire duration of the set, I wasn't feeling any of it.  Being transfixed and excited by the music meant that I momentarily overcame it on the Thursday night.
As for Keith, I would see him again nine months later in a one-for-the-ages gig, 7th row centre at CNE Stadium as The Rolling Stones rose from the dead, kicking off their Steel Wheels world tour on this night, but also the next phase of their career as warhorse lords of the global road.
I don't really need to fill anyone in on Keith's life and capers since.  Musically, as a solo artist, he went on to make a so-so solo follow-up (Main Offender in 1992) and a much better delayed third album in (Crosseyed Heart in 2015).  He even wrote a second book—for children!—about his grandfather: Gus & Me.
The Stones themselves keep rolling on, delighting millions, even with the loss of the irreplaceable Charlie Watts in 2021.  Mick even went on to make a killer solo album himself, with 1993's Wandering Spirit.
One of the most memorable gigs of my life, and while the music was so, so good, what lingers longest in my mind is that it was a night of connection.
"Connection," Keith Richards's encore.
Next on Stage –> The next concert crystalizes a moment in time, representing a changing of the guards in the alternative music world, when The Beat—or The English Beat as they were called on this side of the pond—come to Alumni Hall in London, Ontario with a new, unknown American band called R.E.M. in tow as the opening act. 
The show took place as The Beat were in the last throes of their career but also peaking in popularity in North America.  Meanwhile, R.E.M. released their classic debut LP, Murmur, during that same week.
Retrospectively, it marks the sundown of one era and the sunrise of the next.
Returning Special Guest Phil Robinson has a lot of great memories from the night which he shares. 
Tune in next time for stage invasions, a cultural shift, and wondering what the hell I was thinking.
 Read the original 2011 blog entry here … 
(EP 22, no. 16) The (English) Beat with R.E.M.: End of the Party, Alumni Hall, UWO, London, Ontario, Canada, Tuesday April 12, 1983
 © 2022 Various Artists