I plan on the podcast sticking around for a while yet. (Photo by Cublet, Effects by VA)
Today marks 11 years since I first hit the "Publish" button over on the now defunct OpenSalon.com back on June 3, 2010, launching my new identity as Various Artists along with what was then called the My Life — In Concert! blog.
I opened this stand-alone mylifeinconcert.com blogsite about a year or so later and published on both platforms until OS closed in spring 2015.  As that was where the bulk of my audience was, I largely put the blog on ice until I revived it in its current podcast form in February 2020.
For this year's tradition of celebrating my anniversaries by creating a graphic based on an album cover where I love both the cover and the record, I am choosing The Rolling Stones' Sticky Fingers, one of the many classic albums from 1971 celebrating a 50th anniversary in 2021.
Boy, do I remember this one coming out, with both the music and the working-zipper cover making a big cultural splash at the time.
You can read or listen to my Introduction for an overview of what I am doing here and with the mylifeinconcert.com podcast.
Thank you for listening!
Here are all of the anniversary covers and their original inspiration: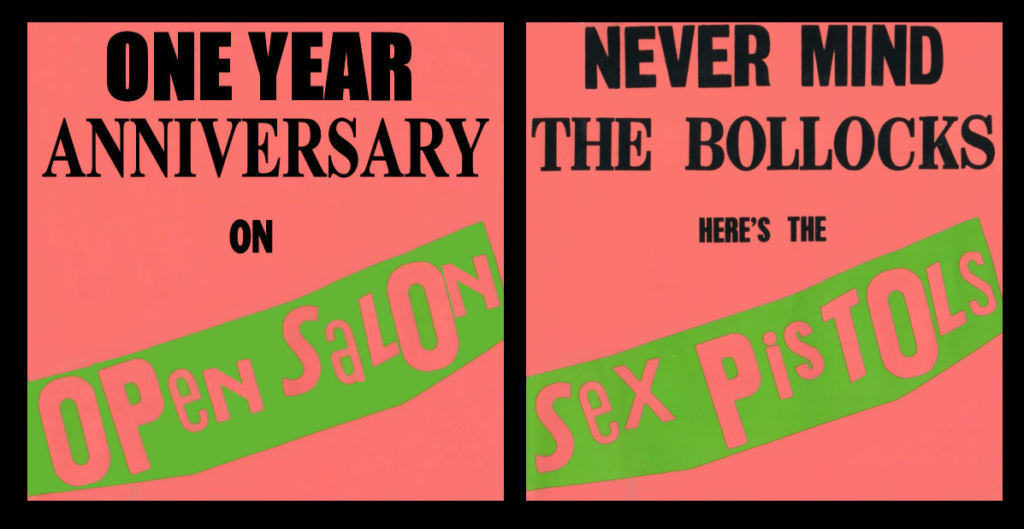 One Year Anniversary … Crivens!
Original Album: Never Mind the Bollocks Here's the Sex Pistols (1977)
I went with the North American version of the cover as that is the one I own and played a 1,000 times. I had yet to start up the stand-alone blog so it was a strictly OpenSalon.com-based anniversary. Never Mind the Bollocks also appears on my Top 15 LPs list.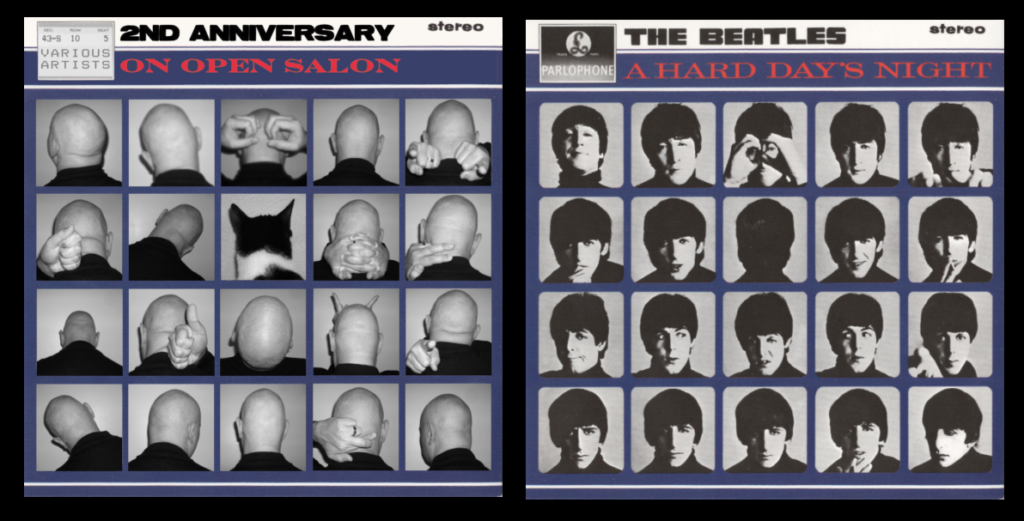 It Takes Two: My Second Anniversary
Original Album: The Beatles' A Hard Days Night (1964)
I added my pen name to this one. Nice to see the back of the head of our much-missed cat, Thurston.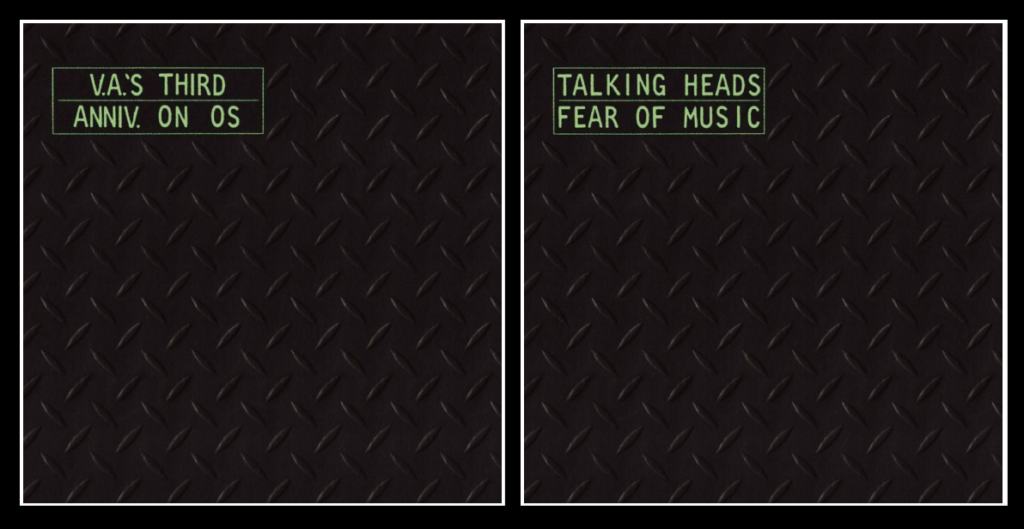 Three Is A Magic Number: My Third Anniversary
Original Album: Talking Heads' Fear of Music (1979)
I also wrote about the Heads playing possibly the best set I have ever seen at Heatwave in 1980, and reflected back on the whole day/weekend in a 40th Anniversary podcast..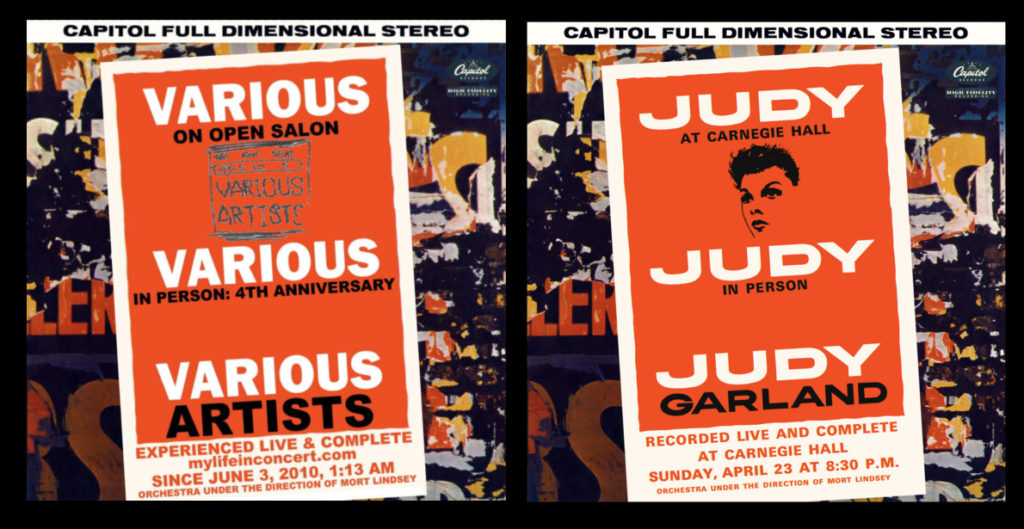 Four & (Hopefully) More: My Fourth Blogiversary
Original Album: Judy Garland's Judy at Carnegie Hall (1961)
I was trying to remain upbeat about OpenSalon's then-perilous future at the time of this post. Sadly, hope wasn't enough and this turned out to be the last anniversary cover ever posted on the site as it went belly-up in late winter, 2015.
As for Judy, she is among the list of 20 (ok, 21) artists I wish I'd seen and never will.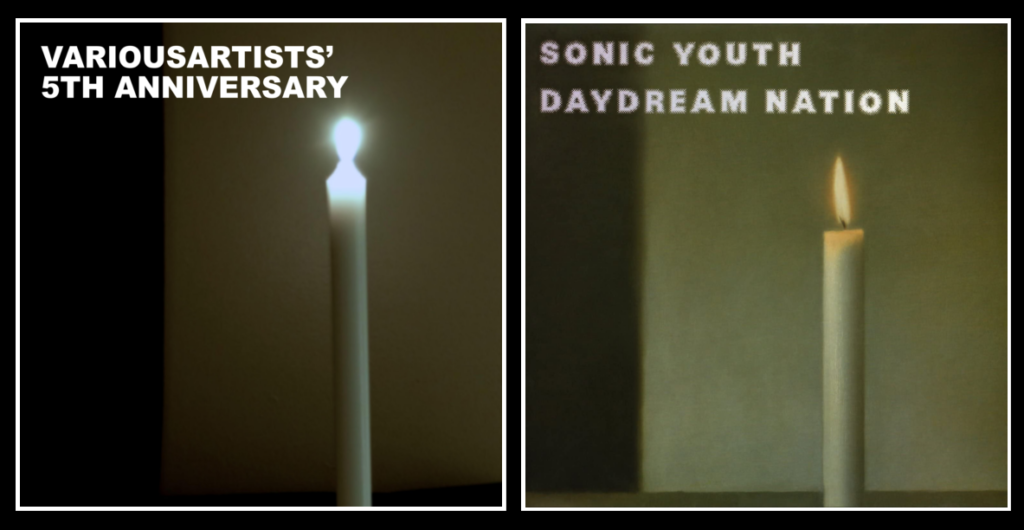 Take Five: My 5th Anniversary
Original Album: Sonic Youth's Daydream Nation (1988)
OS is gone and no longer mentioned. I posted this one entry and then it was largely siesta time for this project until this year (2020). As for Sonic Youth, this album is another one in my Top 15.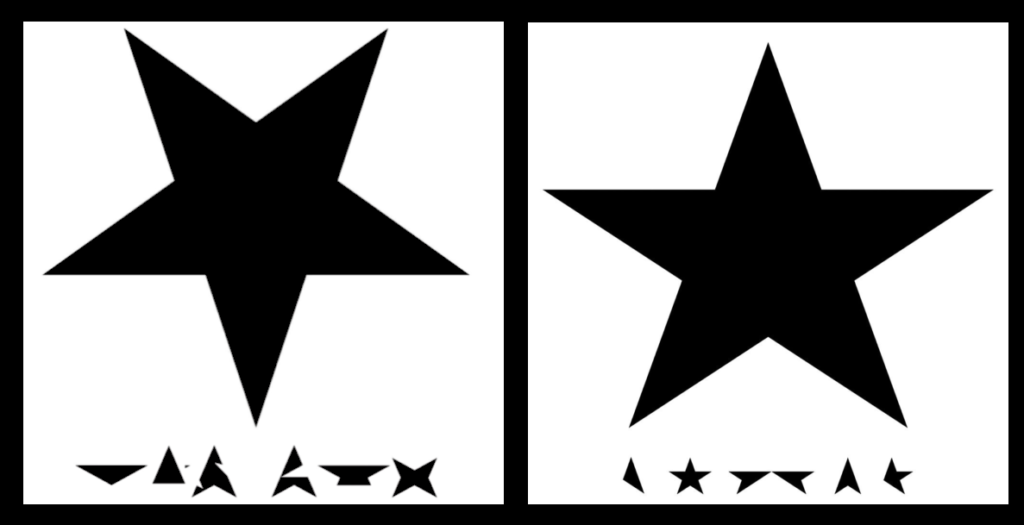 Blackstar: MLIC's 6th Anniversary (Belated from 2016)
Original Album: David Bowie's Blackstar (2016)
This graphic was created at the time but it never got published as I had too many fires to put out.  And just like my life at the time, the graphic is fittingly upside down.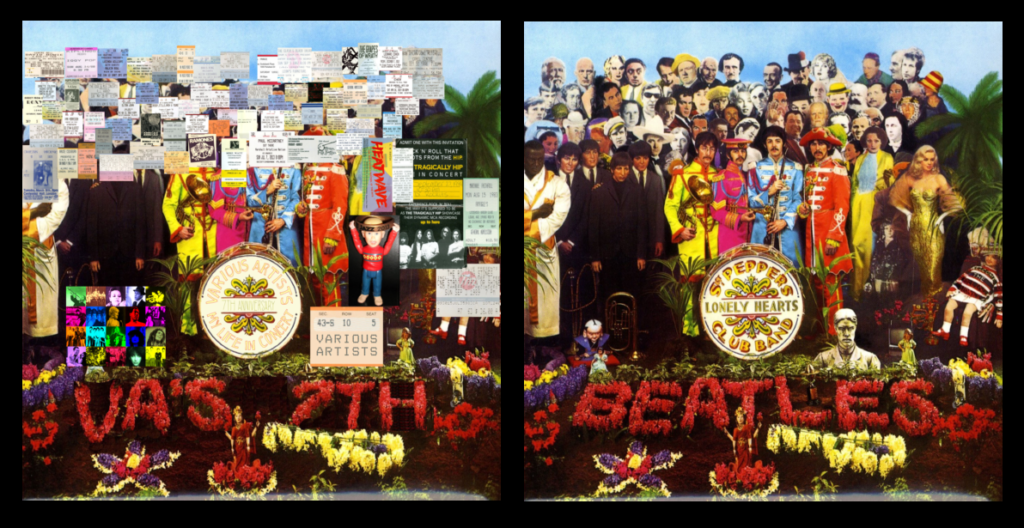 Getting Better: MLIC's 7th Anniversary
Original Album: The Beatles's Sgt. Pepper's Lonely Hearts Club Band (1967)
I admit, it's getting better. While the larger world was in its early dumpster-fire stages, my personal life took a massive swing in the opposite direction, something long overdue. I did manage to work on and publish this anniversary image at the time, also marking Pepper's 50th.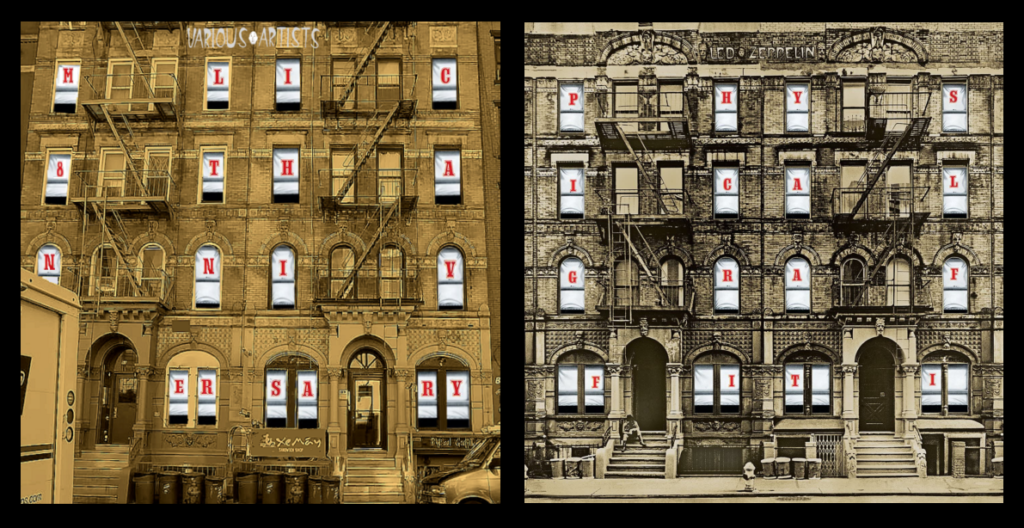 In The Light: mylifeinconcert.com's 8th Anniversary (Belated from 2018)
Original Album: Led Zeppelin's Physical Graffiti (1975)
While this was the time of a very sad event, the passing of my father, the rest of my life continued to throb sunshine, basking me in the positive light.  Ah, balance!  I thought I'd pick this cover as I went through a period during this year of replaying Physical Graffiti repeatedly.  For months.  I kind of haven't stopped.
And with this title for the entry, I now celebrate the actual series rather than my anniversary as an blogger/podcaster, as that was OS-based to begin with.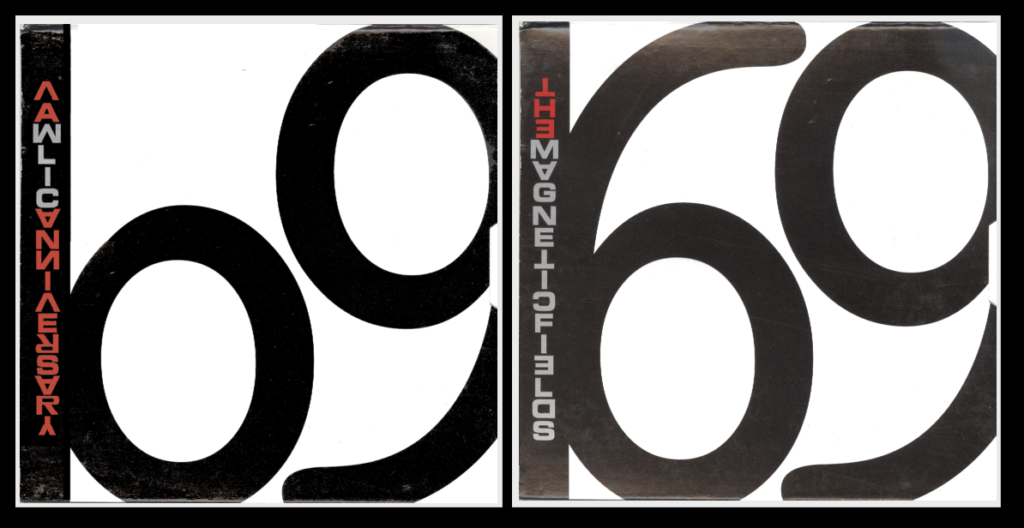 The Things We Did & Didn't Do: mylifeinconcert.com's 9th Anniversary (Belated from 2019)
Original Album: The Magnetic Fields' 69 Love Songs (1999)
I did try to restart the podcast in early 2019 but didn't go ahead with it as I wasn't satisfied with my initial results, and then got super-busy with school.  It would take a second kick at the can a year later to get it right.  And here we are.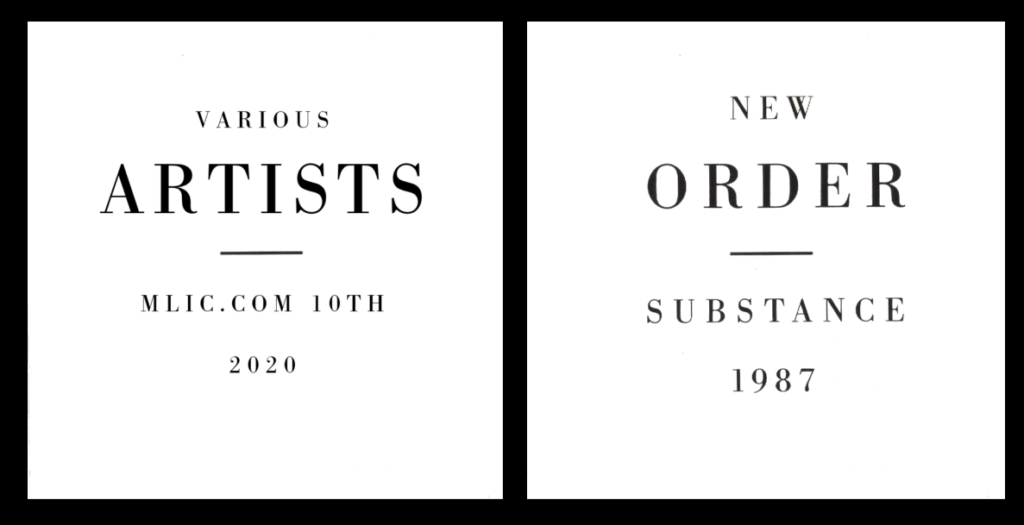 Ceremony: mylifeinconcert.com's 10th Anniversary (2020)
Original Album: New Order's Substance (1987)
For my 10th, I thought the elegant austerity of New Order's classic 1987 compilation would make a perfect ceremonial visual.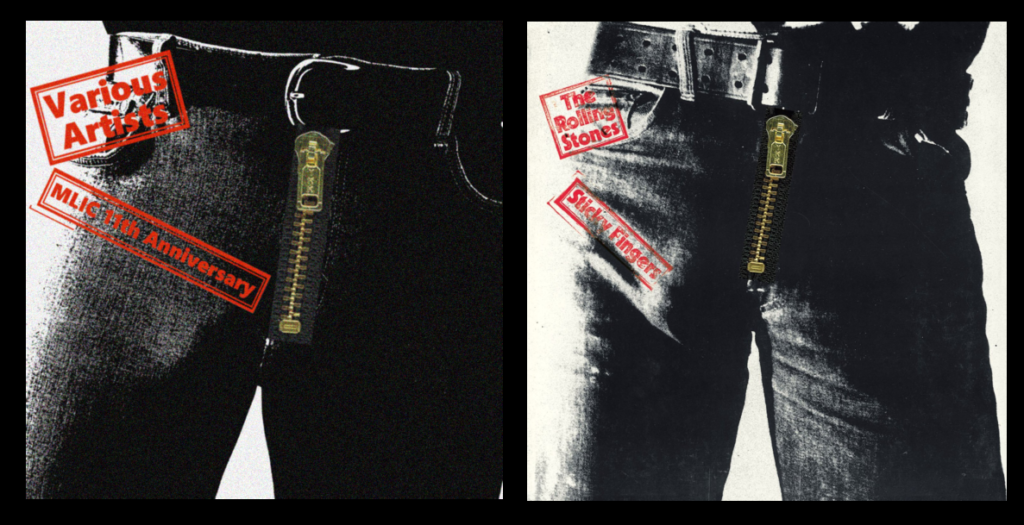 Rolling Right Along: mylifeinconcert.com's 11th Anniversary (2021)
Original Album: The Rolling Stones Sticky Fingers (1971)
(see above)
NEXT ON STAGE: It was Friday the 13th in more ways than one.
Dear Listeners and Readers: Welcome to THE WORST CONCERT EXPERIENCE OF MY ENTIRE LIFE!
One poster for the show read "…make this your lucky night." Yeah, right.
While Police Picnic '81 was a fairly sober and orderly experience for me and my compadres, the '82 edition felt like a sadistic joke that wouldn't stop.  It was a day of being trolled by the concert gods.
The Talking Heads once again completely blew me away and The Police were radically improved from the '81 edition, but even those silver linings couldn't make the metaphoric dark clouds pass.  Even the day's one miraculous positive came with a big negative.
It was also my first of many visits to the now long gone CNE Stadium: the 60,000-capcity-for-concerts mega-venue in the heart of Toronto. (I made many visits there between 1982 and 1989, and shows by The Clash, David Bowie, Bob Dylan, and The Rolling Stones are all coming up in this series.)
Special Guests returns once again, sharing his more cheerful experiences from the day that include hotel stalking, Sting/Boris/pizza confusion, and sleeping in a Henry Moore sculpture.
Join me in this delightful descent into festival misery and stay tuned for bad drugs, bad sound, obnoxious neighbours, pointless preparations, naive assumptions, swollen bladders, and a nightmare bus ride.
Read the original 2010 blog entry here:
011. (EP17) What A Day That Was: Police Picnic '82 with The Police, Talking Heads, The (English) Beat, Joan Jett & The Blackhearts, A Flock of Seagulls, & The Spoons, CNE Stadium, Toronto, Ontario, Canada, Friday August 13, 1982
© 2021 Various Artists