Ticket Price: $20
The original blog entry posted in August 2010 follows below.
The legendary Heatwave Festival happened 40 years ago this weekend: August 23 1980. 100,000 people turned up for the Talking Heads, Elvis Costello, The Pretenders, The B-52s, Rockpile, Teenage Head & more (but not the no-show headliners, The Clash).
It was not only my first fest and one of the best single-day bills I would ever see, it was the centerpiece of an insane long weekend adventure that saw me stranded and broke in the middle of nowhere on Sunday morning after two days of partying and mass-imbibing.
For Podcast Episode 10 and on the occasion of the festival's 40th anniversary, I not only discuss the series of brilliant, energetic, & breathtaking sets performed by some of the key artists of the day at their peak, including the Talking Heads' first-ever performance as an expanded unit and the public debut of the material released two months later as "Remain In Light," but also relate how I eventually made it back to my home three hours away.  There is also the ramp-up parking lot party the night before and the morning's beer-for-breakfast cotillion of debauchery before noon even hits or the music starts.
Sit back, listen, and join me on one of the best and wildest concert/festival weekends I ever had.
And when are we ever going to get to hear the original master tapes?  A Heatwave box set, please.
NEXT PODCASTS (Coming in September):
Episodes 11 A&B will look back at the 20 Acts from the Past I Wish I'd Seen 
Episode 12 (no.004) This Is the Modern World: The Jam with The Dwight Twilley Band, Rex Danforth Theatre, Toronto, Ontario, Canada, Tuesday April 10, 1979 (Get a sneak preview by reading the original 2011 blog entry here.)
The original blog entry:
In Part Two, I covered the daytime sets by the Pretenders, The B-52s, Rockpile with Nick Lowe and Dave Edmunds, Teenage Head, The Rumour, and Holly and the Italians, as well as what happened once I made it through the main gate with Doofus and That Guy. Part Three focuses on the evening sets by the Talking Heads and Elvis Costello and the Attractions (and The Kings, sort of). 
The fourth and final installment, concerns being left stranded in the middle of nowhere with only a few dollars in my pocket and the variety of adventures that ensued over the next day or so as I tried to make my long way back home.  What a day!!
Following the top flight sets from the Pretenders and The B-52s came the Talking Heads for what I hoped would be a performance on par with these two preceding acts.  I had been following the NYC foursome to varying to degrees for a few years, beginning by seeing a small piece on them in Rock Scene magazine in the mid-'70s.
I thought their first album, Talking Heads: 77, was one of that year's finest debuts; no small feat in one of the best years ever for debut LPs.  However, I hadn't been as sold on their much acclaimed, transitional, Eno-produced sophomore effort, More Songs About Buildings and Food.  While I love it now, at the time it seemed stilted to me, with the newly written numbers undoubtedly brilliant but the leftover older tunes seeming weak.  Sort of their own Beatles For Sale.
I picked up the Heads' third album, Fear of Music, on a whim shortly after it was issued in late summer of 1979, lured by a low, "new release" sale price and the great sleeve art: an embossed replication of black diamond industrial metal flooring stamped with the utilitarian dayglo green lettering.  For me, this album was the epitome of a "grower."  On the first few spins through, I rather liked it, but that was it.  However, as fall stretched into winter, I found myself returning to it with greater frequency as, track by track, it began falling into place for me.  The feel was stranger, darker, paranoid, and nicely contrasted by the taut rhythmic pull.
By the turn of the year, I'd become obsessed with it.  So, when they were announced as part of the Heatwave line-up, I was pretty stoked that I'd be getting to see them.
And here they were, arriving on stage at sunset … as a five piece?  Hmmm.  A new member, perhaps?  Or just an additional touring guitarist?
Opening with their signature tune from 77, "Psycho Killer," things got off to a fine start with a run of "Warning Sign," "Stay Hungry," and Fear of Music's "Cities" and "I Zimbra."  However, with each song, the stage swelled further with additional musicians, eventually resulting in a nonet version of the Talking Heads.  The song renditions became increasingly extended, funky, jammy, and experimental.  I don't think it was until "Cities" that the audience truly cottoned on to what they were being served that night, and I can assure you that I was far from the only one there who realized they were being treated to one of the finest audio banquets they'd ever taste.
It was clear that this wasn't simply the Heads plus guests but instead the logical next step toward where they'd been heading.  It was a whole new proposition and everyone was trying to figure it all out while giving it up and dancing their asses off.
"We're not the same as we used to be," Byrne extolled as a dual understatement referring to both their size and sound before leading off a band roll call preceding "I Zimbra."  Among the five additional musicians, I recognized the name Adrian Belew via his work with David Bowie but was not familiar with Bernie Worrell, Dolette McDonald, Steve Scales, and Busta Jones.  That would change as they continued to work with the Heads and other artists after this period (and didn't yet realize that Worrell had been part of Parliament-Funkadelic.)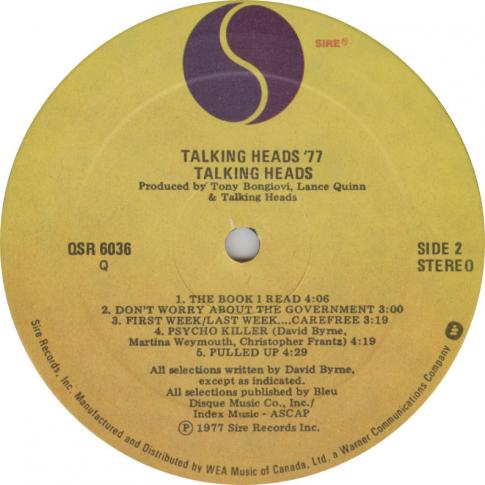 Byrne announced that they would be doing some new songs from an upcoming album that would go on to be released two months later as Remain In Light, receiving international acclaim for its birthing of an arty polyrhythmic/funk/punk/dance hybrid that would be incalculably influential.  For now, this was not only the first time that the Heads performed live as an expanded unit, but was also the first time that any material from Remain In Light and this expansive re-think of their sound received a public airing. No one had seen this coming.
A locked, propulsive groove kicked in. I have a crystal clear memory of standing in that field, listening to David Byrne query "You may find yourself in a shotgun shack / You may find yourself in another part of the world … And you may ask yourself/ 'Well, how did I get here?'," and thinking that they had now taken their game to a whole other level.  I later learned that this song was called "Once In A Lifetime," and as it progressed, I thought that this mixture of Afro-centric funk, avant-gardism, and existential lyrics pared to some killer hooks was not only unlike anything else I had heard before but was the best thing I'd ever heard.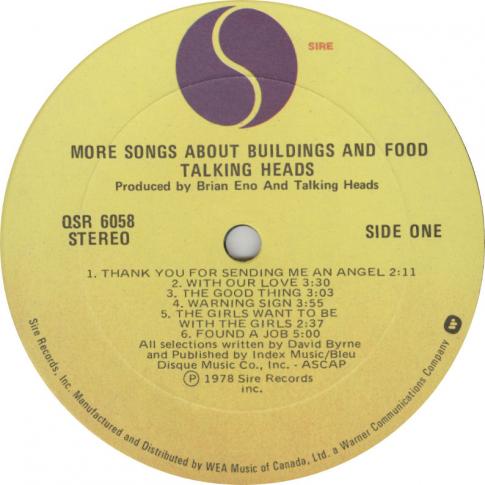 "Lifetime" was followed by RIL's "Houses In Motion," "Born Under Punches" (delivered as a now rather odd sounding slow, minimalist, clip-clop funk) and "Crosseyed and Painless," each receiving an ebullient reception from the audience.  There was an unguarded euphoria from the crowd, estimated  to be somewhere between 50-100,000 people (actual numbers at the festival have varied, not least of which because purportedly ticket stubs were not kept, and there were many late-in-the-day gatecrashers owing to a radio solicitation instigated by Dan Aykroyd, who was backstage).  Everyone was dancing in celebration, and everything in the outside world temporarily ceased to exist.
What's even more impressive is that this was almost 30 minutes — half the set! — of all new songs, routinely the toughest sell for an audience.  Instead, the new material got some of the best responses of the night.  By the time the Heads returned to familiar territory with "Life During Wartime," the revellers were in ecstasy, chanting along with its "This ain't no party …" refrain en masse.
Oh David, I beg to differ.  This was the party.
Finally!! Some extended performance footage of Heatwave emerges!!  Talking Heads performing "I Zimbra" & "Life During Wartime" (view more of the set further down the page) + Elvis Costello with "The Beat" & "(I Don't Want To Go To) Chelsea."  MEGA THANKS to The Original Being for posting this on YouTube.  This means a lot to me to be able to see some of the performances from this day once again, 40 Years later.
They concluded with "Wartime" and the gospelish encore cover of Al Green's "Take Me To the River," both versions of which blew their LP counterparts out of the water.
And with that, a life-changing hour of music came to an end, leaving me dazed, drained, and flying (and, no, it wasn't just because of the big brown chunk I'd been making my way through during the day).  Amazingly, I recently found an online bootleg of this show that has long been very special to me.  The recording is actually pretty good, and it is a truly strange delight to be able to re-hear this set that has been so legendary in my mind, 30 years later.  And, yes, it still sounds fucking incredible.
Above: The beginning and end of The Talking Heads' Heatwave set (posted by jeroen); Below: the audio version of the full set (YT post by whoaduderighteous)
The Talking Heads' Heatwave set (YT post by whoaduderighteous)
There are some small things I now notice though when I listen to it, such as certain versions being comparatively tentative when measured against several subsequent, well-known live versions.  This might dull some of the listening impact, but not by much.  Also, a tape cannot fully capture the feeling of being a witness in that crowd because, no matter how hard one tries, you can never fully replicate the in-the-moment ambience as well as a surprise.  And that's why live music and public performances are so great.  You truly never really know what's about to happen.
What you can hear is the band slowly taking shape and transforming, song by song, matched by the crowd's increasing enthusiasm and Byrne's "Thank You"s growing with confidence over the course of the hour.  How incredible it must have been for these musicians to be presenting this revolutionary music for the first time and receiving such intense affirmation.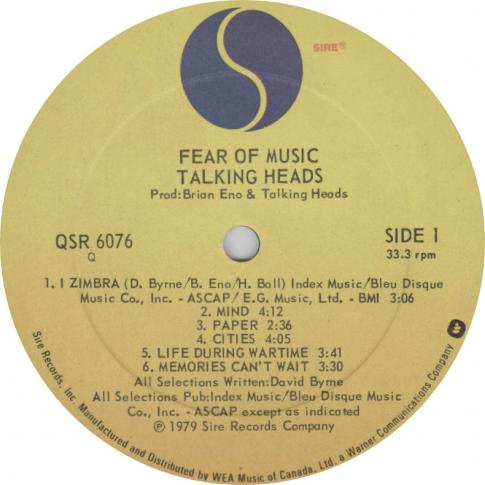 People have often asked, what is the best gig I've ever seen? It's a normal but often a pointless question as there are so many potential candidates for that crown, not to mention the futility of splitting hairs.  However, when pressed to come up with a single choice, I usually anoint this set as The Best, not only because it was a revelation while it was being delivered but also because of the enduring impact it, along with the Remain In Light album, had on me on a larger scale.  Looking back, I can see that this gig started a full recalibration of the entire way I listened to music.
After spending several years focusing almost exclusively on punk and 4/4 beat-based guitar rock and pop, this gig completely re-opened the floodgates for my interest in funkier, groove-based music which had largely been out of the picture since '77.  As someone who grew up loving r&b and funk via the radio along with weekly doses of Soul Train, I fell into the stupid Disco Sucks hegemonic rawk-ideology that permeated both punk and more mainstream rock as the mid-decade turned.
However, much of my then-current listening in 1980 was saturated in the post-punk realm, with many of those groups (in particular, Public Image Ltd, the Gang of Four, the Pop Group, and even Joy Division's then-newly released Closer to some extent) edging towards what the Heads were doing here to some degree in mixing sonically adventurous experimentation but grounding the songs with beats and grooves pinched from funk and disco rather than the Ramones.  What the Heads were now doing was levelling the background and foreground, spotlighting the grooves in the forefront, and with a strong accent of Afrobeat, not simply western funk.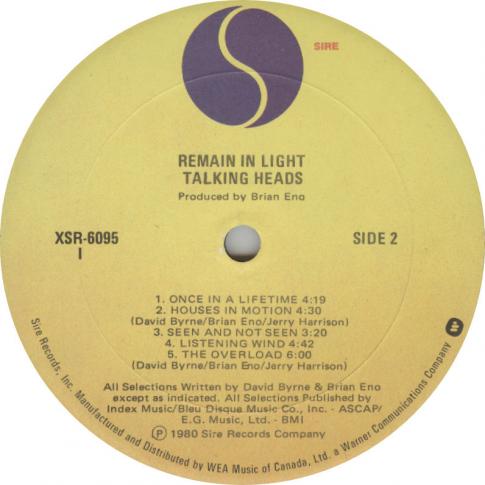 If punk had blown open the doors of my mind several years earlier, the rama-lama had itself now become an orthodoxy that needed to be broken too. I think that this hour of music set off a detonation that had been quietly ticking for many months.
Within short order, I was heeding George Clinton's astute theory, but in reverse; for me, it was free your ass and your mind will follow, as I began the process of warming up to the dance and disco music I had disdained, particularly in the case of Chic (I had to quietly admit during that summer that Diana Ross' then-new, Chic-produced single, "Upside Down," was too irresistible a confection to ignore or resist), Grace Jones' early '80s records and, a bit later, Prince.
Meanwhile, what the Heads began on Fear of Music and took to the apotheosis on Remain In Light was wallpapered across punk-funk hybrids that were ubiquitous during the early '80s, both in terms of the underground bands as well as pop, not to mention two key emerging genres of the time that I listened to heavily during the next few years: hip-hop and electropop/electrodance.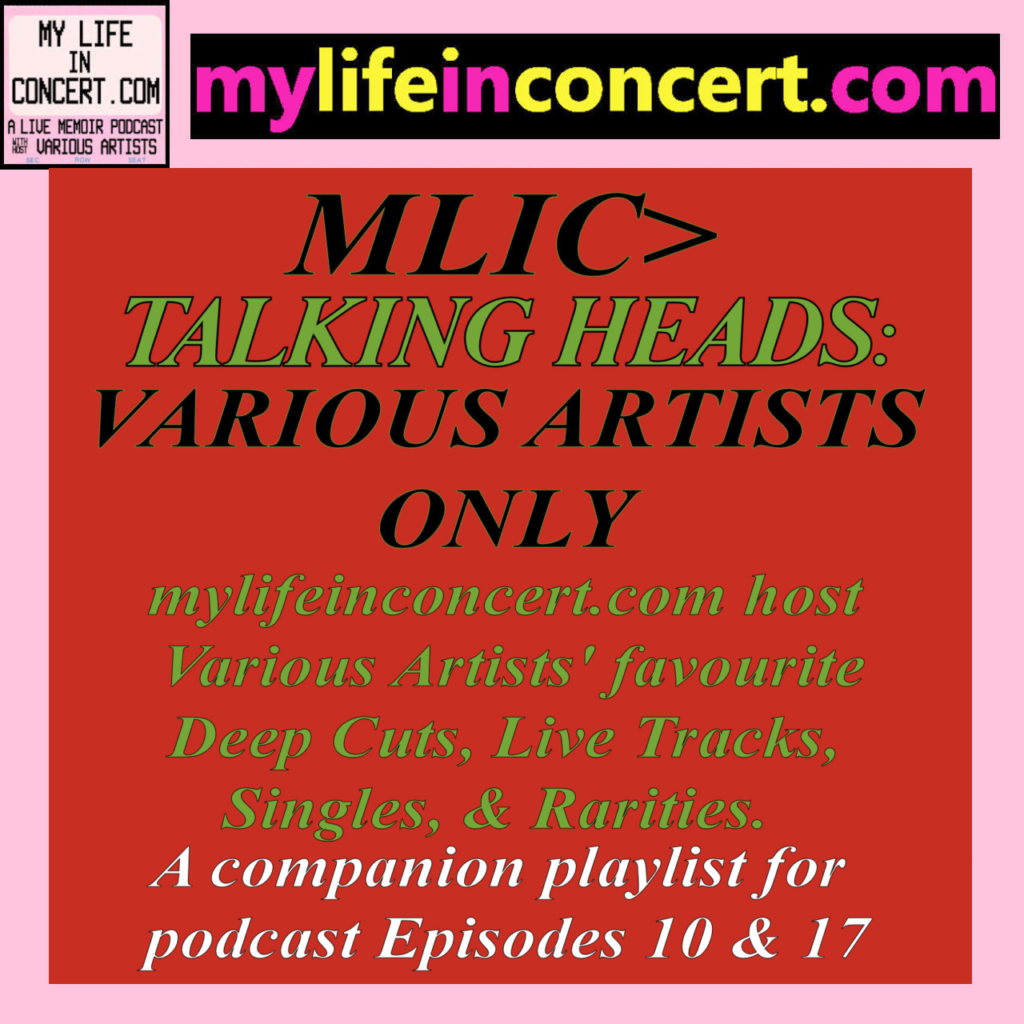 MLIC>Talking Heads: Various Artists Only My favourite Talking Heads Deep Cuts, Live Tracks, Singles, & Rarities. 
I came back from Heatwave raving about what I had seen and heard, telling people that if the forthcoming coming album sounded similar to what was sampled at the festival, well then, get ready because it was going to be something else. Released in October 1980, Remain In Light completely lived up to all expectations, indeed blowing the minds of those I had promised, becoming a Top 10 LP here in Canada, with "Once In a Lifetime" a Top 30 radio hit.
Light still routinely shows up on "Best Albums" lists.  And while I like each of the Talking Heads' albums to some degree (less so with the weaker True Stories), Fear of Music and Remain In Light remain my undisputed favourites (I shortlisted both as part of my OS Top 15 Albums Open Call).  I've spent 30 years loving them and will do so until I croak.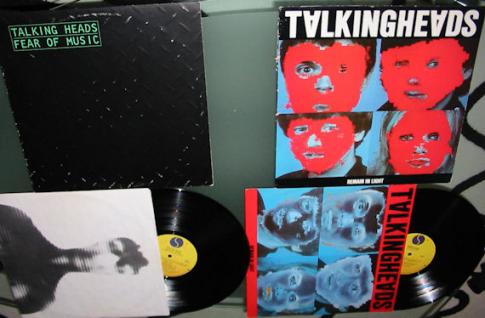 The Talking Heads' two masterworks: Fear of Music from 1979 and 1980's Remain In Light. (Photos by VariousArtists)
So, how does one follow something like that?  You don't, really, and I didn't envy anyone who had to.  And while Elvis Costello and the Attractions didn't perhaps make quite as intense an impact as the Heads, it's ultimately a rather pointless comparison because not only was Costello doing something very different, he also did it exceptionally well.
I wrote about my disappointment with his November 1978 show in London, Ontario, and of my becoming somewhat disillusioned with EC for a time afterwards.  It was with this second time around that I got the impassioned, definitive performance I had wanted that first time.
Perhaps it was because this was his one and only live North American performance of 1980 and he could therefore give it a singular focus.  Or maybe it was because he was sharing the day's stage with so many of his close peers.  And probably also because the Talking Heads gave him one hell of a benchmark to try and attain.  Whatever the reason, he came out swinging, putting on an unquestionably A1 show.
Two months after the 1978 gig, he released Armed Forces, a disc that I was initially somewhat indifferent to.  But, as with Fear of Music, it became a grower.  I recall putting it on the turntable one day in and around the cusp of 79/80 and it hit me in a whole new way.  It suddenly worked for me and, one year later, I became enamoured with it.  Around this same time, he issued his fourth disc, Get Happy!!, which I was just getting familiar with, having only picked up the 45 cover of Sam & Dave's "I Can't Stand Up for Falling Down."
This final set that I would see at Heatwave minted my renewed Costello fandom.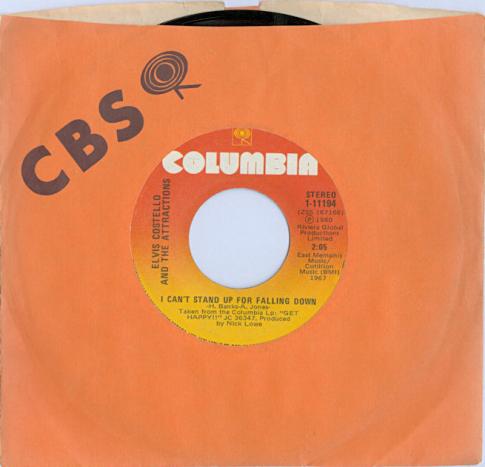 "I Can't Stand Up For Falling Down," his 1980 cover of a Sam & Dave tune and the 45 pulled from that year's Get Happy!!.  Elvis performed the song that night: a highly appropriate number for the gleefully intoxicated crowd.
It started off strangely, with just Elvis and Attractions keyboardist Steve Nieve onstage, performing a somewhat lengthy, dark piano number that seemed to be called "Shot With His Own Gun" (it turned up on next year's Trust, along with others songs performed later in the set including "You'll Never Be A Man" and  "Clubland") before the band as a whole kicked things off proper with "Accidents Will Happen."
"Hello, we're The Clash," joked a completely on-form Costello, in reference to the no show of the day's intended headliners.  The foursome then ripped through an incendiary set of highlights from the previous 4 LPs and the aforementioned nods to the next release.  They were passionate and totally on their game.
Full of good humour, I remember there being lots of stage patter in marked contrast to the reticent 1978 gig.  Songs that jump out in my mind are "Oliver's Army," "Lipstick Vogue," and Nick Lowe's "(What's So Funny 'Bout) Peace, Love, and Understanding," that I recall him dedicating to the hippies in the audience.
Elvis Costello & The Attractions' Heatwave set, or at least a good portion of it (YT post by Mick Wellings)
Costello continued his breakneck, breathtaking run of albums through 1983, peaking artistically with what is my personal favourite EC release, 1982's Imperial Bedroom.  Afterwards, his output has been inconsistent but also fascinating in that he's taken all sorts of chances exploring a variety of genres — not to mention being a terrific host and interviewer for the Spectacle TV series.
This set was also Instalment #2 for what has unintentionally become a tradition wherein I see Elvis Costello precisely once per decade.  This fulfilled my '80s quota.
Elvis Costello and the Attractions: "I Can't Stand Up For Falling Down" on the Kenny Everett Video Show, 1980.
Following Costello were The Kings, an emerging, poppy Canadian new wave band with their anodyne hit, "Switching to Glide."  They somehow managed to finagle their way on as late night headliners — I've even heard rumours that they paid for the slot — but it backfired badly on them as everyone now just wanted to head back, not to mention that the last several hours of music would have been damn tough to follow.  I was already well on my return journey to the parking lot when I heard them start their set, faintly off in the distance.
I was beat yet over the moon with joy following my very first festival experience.  I was similarly beatific that I had managed to spend the day sans Doofus and did have a feeling of dread about now making my way back the parking lot to resume up-close'n'personal quality time with Idioticum Rexus.
Unfortunately, things were not quite so simple, as I found myself in quite a predicament—with all sorts of unexpected results.
The Talking Heads performing Remain In Light's "Crosseyed and Painless" in Germany on the Rockpalast TV show, shortly after I had seen them at Heatwave — probably the best live performance I've ever experienced.  This clip gives you an idea of the remarkable, innovative music that the Talking Heads treated the responsive crowd to during the evening.
"Once In A Lifetime" video, the Talking Heads, from Remain In Light (1980)
Next On Stage–> 008d. I'm Not Angry: The Heatwave Festival (Pt. 4) and How I Made My Way Back After Being Broke & Stranded in the Middle of Nowhere. Mosport Park, Bowmanville, Ontario, Canada, Saturday August 23, 1980, $20.
The fourth and final installment concerning being left stranded in the middle of nowhere with only a few dollars in my pocket and the variety of adventures that ensued over the next day or so, will be published this weekend.
© 2010/2020 VariousArtists