I do not have my ticket stub for this show.  In its place, here is a handbill for the concert, forwarded to me by a friend, gleaned from somewhere on the internet.  These handbills were plastered all over downtown London for weeks prior to this much-anticipated gig.
MY ORIGINAL 2010 BLOG ENTRY FROM OPENSALON.COM FOLLOWS BELOW
After kickstarting punk rock in NYC in the mid-70s, the Ramones finally made it to London, Ontario, along with London's own local-punk-scene launchers: The Demics.
The gig marked a moment when the Ramones were to ascend to North American commercial success with the Phil Spector-produced "End of the Century" while London's Demics were on the verge of breaking nationally.
And then?
Join me and former London, Ontario resident "Special Guests" from Leeds, UK, on a journey back to one of the most exciting shows I ever saw in my hometown, as well as looking at the Ramones' history and how each of us learned about them.  
From Forest Hills to the Forest City: Here Today, Gone Tomorrow.
NEXT PODCAST EPISODE: My introductory podcast series of highlighting one concert from each decade continues, jumping 12 years into the future for Flower: Lollapalooza '92 featuring the Red Hot Chili Peppers, Ministry, Soundgarden, Pearl Jam, & Lush at Molson Park in Barrie, Ontario, Canada, August 5, 1992.
This podcast looks back on the first post-Nirvana-explosion Lollapalooza hitting the Toronto region with your host Various Artists attending in the middle of a thrilling cultural and personal upheaval.
Aided by notes I wrote in real time as the day unfolded, I look back at the festival, the era, and the music and how it intersected with my life at the time.
Listen to the podcast for scaffold climbing, levitation, and a "magic" day.
MY ORIGINAL 2010 BLOG ENTRY FROM OPENSALON.COM
007. Here Today, Gone Tomorrow: The Ramones with The Demics, Centennial Hall, London, Ontario, Canada, Tuesday May 20, 1980
Ticket Price: $7 ($21 in 2021 Canadian money adjusted for inflation)
In my previous piece on The Boomtown Rats' gig from March 1980, I discussed how time and hindsight afford one a contextual luxury that is impossible to posses during any particular era's here and now.  This 1980 Ramones concert, with returning locals the Demics as opening act, is a perfect case in point.  At the time, I simply enjoyed this night out as one pretty thrilling concert, but in retrospect I see it as being part of each artists' aspirational home stretch.  It felt like a new beginning in a season of anticipated triumph, but it was really one of the last moments of a closing door.
The Ramones were touring behind their fifth release, End of the Century, produced by the legendary Phil Spector, with all expectations riding on this being their long-overdue breakout LP.  Opening act the Demics — the band that jumpstarted the London, Ontario punk rock scene in 1977 — were promoting their first full length album amid much buzz for national success.
The gig was held at Centennial Hall, a 2,000-or-so seater venue that opened, appropriately, during 1967: Canada's centennial year.  I had been there before in tandem with school events, but this was the first rock show I saw at the hall.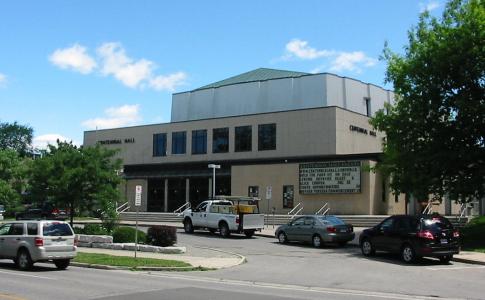 Centennial Hall, London, Ontario, Canada, June 2010 (Photos by VariousArtists)
The Ramones' stop in my hometown was a big deal for me and for the London punk community.   Being only two hours away from Toronto meant that Londoners routinely shuttled to TO for club and small hall gigs by the key names from the UK and NYC scenes, in a city that had the audience large enough to make those shows feasible.  London had a population of close to 200,000 at that time, and in terms of places for bands to play, the choices were limited to either very small clubs, like the Cedar Lounge, or larger, proper concert venues such as Centennial or Alumni Hall, without much in between.  For bands like the Ramones — not exactly obscure but not a big commercial success either — most venues were either too large or too small.  Ergo, not many of the bands I was listening to at that time made it to London.  For this show, I recall Centennial as being about 60% full.  Not bad.
I attended this gig primarily with my sister and her boyfriend who went on to be her husband and my brother-in-law.  We initially sat up in the balcony directly at Stage Left, with a perfect vantage point overlooking the proceedings.  Count Mara and Lady Bump both attended this gig, along with another friend of ours from high school — a young lady who I will refer to as Dandelion — who was just discovering a lot of the punk and new wave bands.  Although I saw them a bit later on in the evening, I went to the show separately from those three as I'd already made plans to first have dinner with my sis and future BiL, and also to get appropriately liquefied and herbalized before heading into the concert.
I mentioned opening act the Demics in my piece on the London, Ontario punk rock scene.  At this point in the spring of 1980, they were returning hometown heroes.  They had shifted their base from London to Toronto a year earlier, lost original guitarist Rob Brent (replaced by Steve Koch), and were in the process of promoting their self-titled debut long player following their great five-track EP, 1979's Talk's Cheap.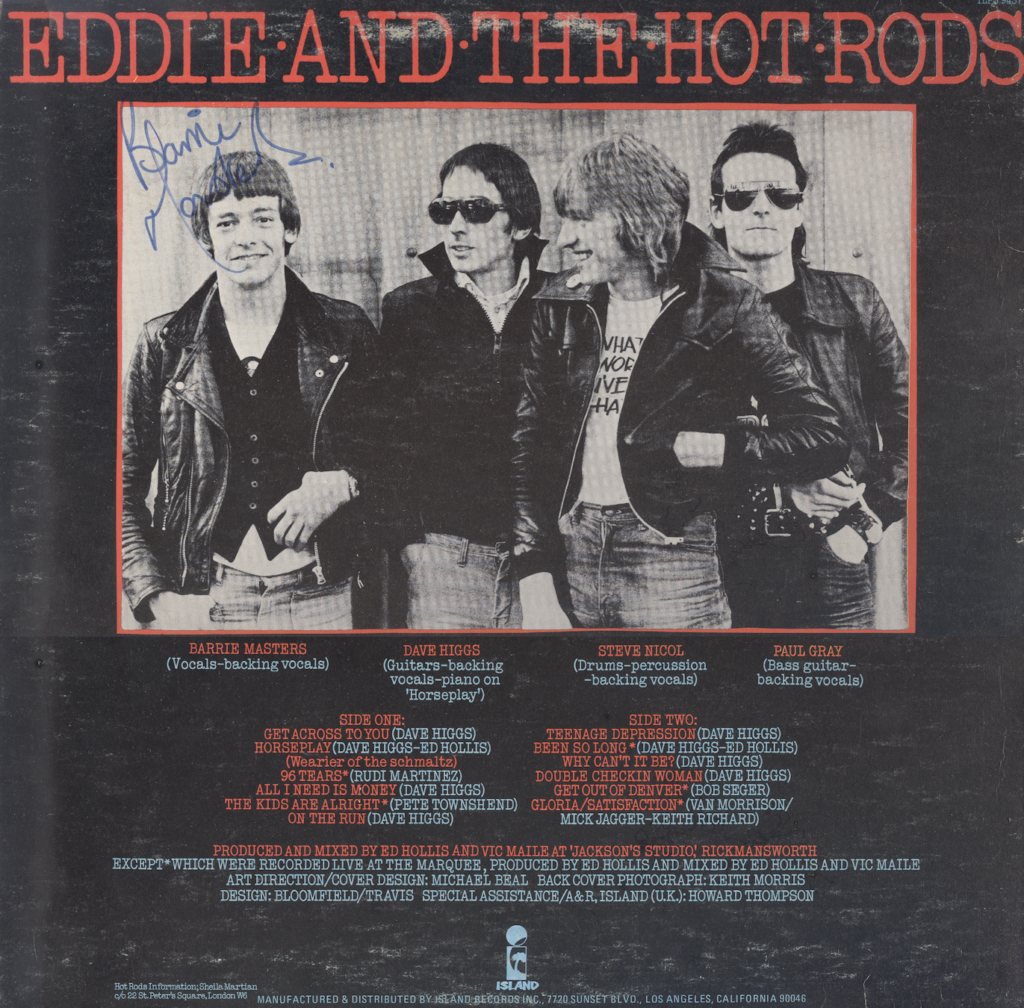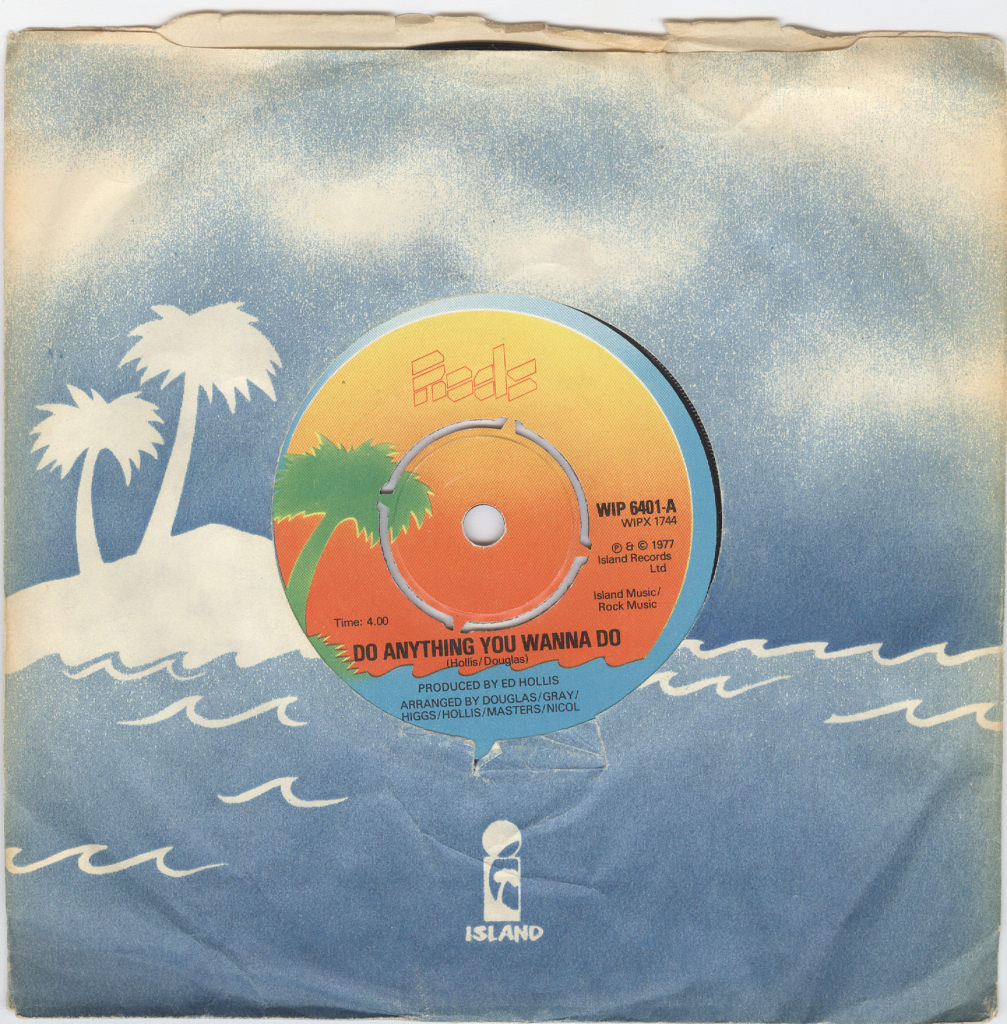 The first real punk event in London, Ontario was Eddie and the Hot Rods  visit to Fryfogle's in the fall of 1977.  The Demics debuted shortly thereafter.  Vocalist Barrie Masters signed my copy of their debut, Teenage Depression.  I'd brought their terrific new single, "Do Anyting You Wanna Do" back from the UK with me.
I've also written about how this period was a transitional time in the local community, with the first wave morphing into the second.  Many of that first wave were at this show but were fairly unenthused (read: jealous) about the Demics, taking an "I've seen them a zillion times at the Cedar Lounge and know them personally as well" approach, while the recent, younger converts who had never seen them brought an energy to the audience.  I had justmissed the time frame of being able to attend the Demics' London club gigs, so this turned out to be the one and only instance when I saw them live.  And they were good.
They played a well-received set highlighting tracks from the not-so-well-received debut disc.  Many found Demics to be overly slick, neutering what made the band special, stacked with a clutch of tunes that were overall less distinctive than the five that had made Talk's Cheap so engaging.  As for this show, I'm glad I got to see them live at least once at this high profile gig.
The Demics one stone classic, "New York City" from the 1979 Talk's Cheap EP (see cover and label below).   In Bob Mersereau's 2010 book surveying a large cross section of Canadian musicians and industry folk for The Top 100 Canadian Singles, "New York City" came in at No. 62.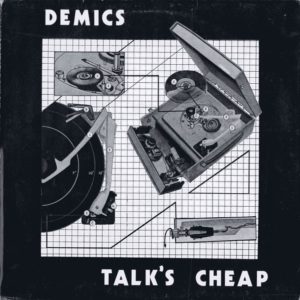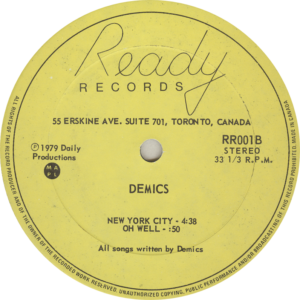 With the Demics' exit, the countdown for the Forest Hills' foursome began in earnest.
I'll state the following before going any further: I fucking LOVE the Ramones.  For a particular type of person of a certain vintage, coming of age at a specific juncture in time, the Ramones were a huge deal, with their appearance as a big touchstone for us as well as something that made a seismic alteration in what had been the course of our lives.
The word "punk" or phrase "punk rock" houses so many potential approaches to and applications of musical styles and ideas, ranging from the elegant but off-kilter musicality of Television to the primal minimalist hardcore of Minor Threat to the more pop-wise whirr of the Buzzcocks to the feedback-enriched experimentalism of Sonic Youth through — as much as I am loathe to admit it — the accessible ramalama of Green Day.  However, in general, say that word or phrase and a very particular sound — loud, fast, short, harsh — tends to come to mind for most people, be they lovers or detractors of the genre and its myriad offshoots.
The Velvet Underground, The Stooges, the New York Dolls, and The MC5 all contributed heavily as key forerunners of the punk aesthetic, but that very specific sound that most would immediately identify as "punk rock" was de-facto invented by the Ramones in 1974 and templated for eternal posterity on their incendiary, eponymous debut released in the spring of 1976.
Very few albums draw a genuine line in the sand the way that the Ramones first record does.  There isn't any LP pre-dating Ramones that is like it.  They certainly took many cues from the aforementioned predecessors as well as '50s/early '60s rock and pop along with mid-'60s British Invasion acts (its stark left-right channel separation of bass and guitar was an homage to The Beatles' early stereo mixes, while Joey's Brit-affected singing style was influenced by Peter Noone of Herman's Hermits, as was the pinching of "second verse, same as the first" for "Judy Is A Punk").  There was also all the garage rock bands from sixties, plus one can certainly hear many proto-Ramones moments in glam rock-era tunes such as David Bowie's "Hang On To Yourself" or T. Rex's "Solid Gold, Easy Action."
But, just as Brian Wilson had invented surf music (another huge influence on the Ramones) by pulling from some very obvious sources yet creating something that was definitively his own baby, so did Johnny, Joey, Dee Dee, and Tommy.  The speed, brevity, baseness, and dark humour simply had not be done in this way before and, decades later, after countless bands have raided their blueprint, the Ramones' recordings still house their instantly recognizable sound.
"Blitzkreig Bop" from Ramones performed live at the Rainbow in the UK, NYE 1977 (well, it's actually a chunk of the set).
I remember hearing them for the first time and being shocked.  Besides the corrosive rawness, the tempo was so accelerated that it felt as if "Judy Is A Punk" was going to hurtle right off the rails, or at least the turntable.  Along with something like "New Rose" by The Damned, this was speed and energy the likes of which I couldn't believe existed.
The model that they began delivering on the Bowery in '74 at CBGB's, committed to tape for that first disc, and then cross-pollinated to eager UK audiences during their landmark shows there in the summer of 1976, began exploding in enclaves everywhere.
Meet the Ramones!  Rare early footage of one of their first gigs at CBGB's, New York City, 1974, playing "Judy Is A Punk" which turned up on their debut album two years later.  "Ramone" was the surname adopted by all members, based on the pseudonym that Paul McCartney used to employ, Paul Ramon, during the early days of The Beatles.
By 1980, they were five studio albums along.  Despite a certain degree of commercial success in the UK and a fervent fan base in key major cities, they were still very much a cult entity.  Considering the restrictions of the Ramones stylistic palette, it's incredible how well they made it work for themselves on those first four LPs: Ramones, Leave Home, Rocket To Russia (my personal favourite), and Road To Ruin.  While each showed growth from its predecessor in some capacity and each contained at least one cover from rock's early era (Chris Montez's "Let's Dance," The Riviera's "California Sun," The Trashmen's "Surfin' Bird," Bobby Freeman's "Do You Wanna Dance?," and The Searchers' "Needles and Pins"), all four operated solely within the parameters of their trademark sound.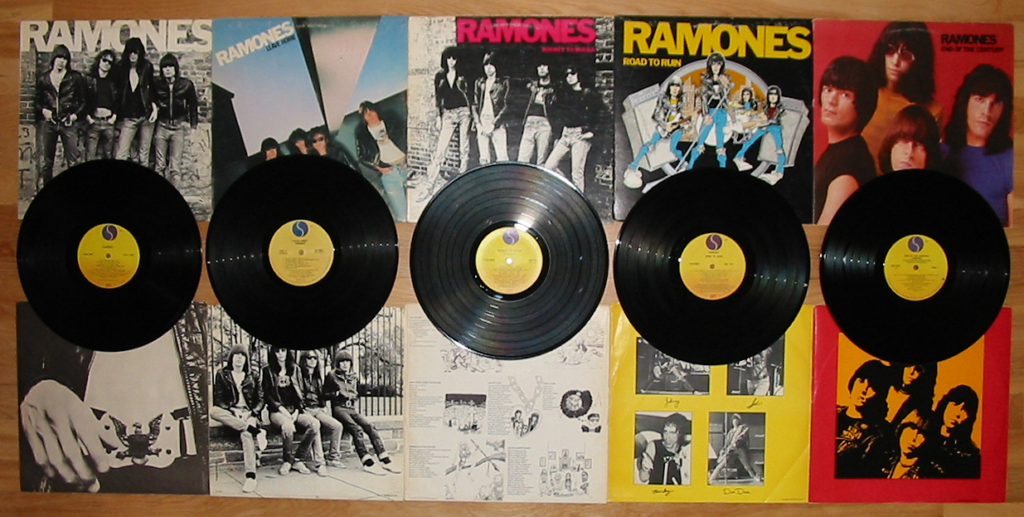 The Ramones' (near) Royal Flush—their first five albums: Ramones (1976), Leave Home (1977), Rocket To Russia (1977), Road To Ruin (1978), and End of the Century (1980).
For their fifth album, there was a concerted effort to make them into a more commercial proposition in the somewhat bizarre choice of producer Phil Spector.  While making sense on one level as his Wall of Sound classics were clearly a major influence on the Ramones' tastes, in particular vocalist Joey's, Spector was pretty much a has-been by this point, his flakiness and notorious, violent reputation no longer tolerated in the biz now that the hits had long since dried up.
Regardless, Spector's attachment to the project got a lot of ink in the press and created considerable anticipation for Century's spring 1980 release.  The protracted sessions have long since been well-documented as a disaster and a frustrating, deeply unsatisfying experience for the band, Joey being the sole member having had anything positive to say about them.
Century was released to disappointing reviews, with most critics noting that the Ramones-meets-Spector summit resulted in an impenetrable Wall of Headache that showed neither artist nor producer in a beneficial light.  Despite a big UK hit with the string-laden (heresy in Ramones fanland) cover of The Ronettes' "Baby, I Love You," and some fairly decent Top 50 chart placings for Century in key markets, including the US (here in Canada, it just missed the Top 40, stalling at 41), it was far from the expected big hit, was routinely disliked by their fans, and seemed to undo the band internally in a way from which they never truly recovered.
However, at the time of this Centennial Hall gig, the album had just hit the shelves a mere few weeks earlier and expectations of ascent were still high.  Mixed with this first visit from the Daddys of punk, there was a genuine euphoria for those who attended this gig.  And the Ramones honoured that spirit and how.
They hit the stage and assumed their positions, with Johnny the patriot ironically on the left, Dee Dee on the right, both planted with legs astride, their respective guitar and bass both slung low.  Spindly Joey lurched back and forth with the mikestand, with his long hair and sunglasses all but obscuring his visage.  Meanwhile, drummer Marky, who had replaced now-producer-Tommy on Road To Ruin, kept the beats thundering throughout.
The drill usually started with Dee Dee spitting out "wun-chew-free-faw," followed by the band attacking each tune with diamond precision at wall-waffling volume.  They'd bang out a number in two minutes, come to a full stop, Dee Dee would do another call out, and right on cue they'd punch into the next number, doing about six or so right in a row before taking a brief break, with the crowd fleeing their seats to bop wildly in front of stage.  It rolled out like a military manoeuvre.  It was exhausting just to see them going at it.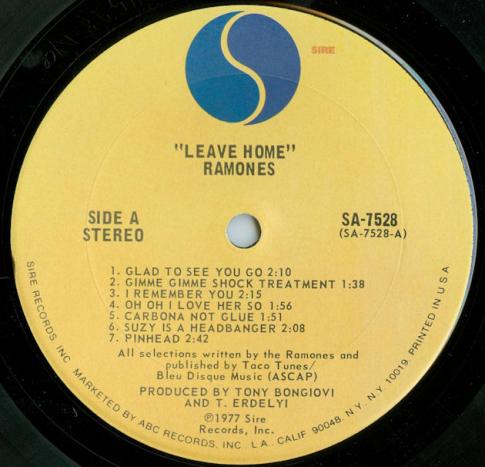 My collectable original edition of their sophomore effort, Leave Home, released in January 1977.  "Carbona Not Glue," an extension of the black-humoured theme initiated with Ramones' "Now I Wanna Sniff Some Glue," was eventually pulled and replaced owing to possible legal concerns over Carbona being a trademark, making these early pressings rare.
The concert was better than I was expecting: a blast of levitating adrenaline.  My sister and BiL decided to stay put, watching from the balcony, but I wanted to be closer to the pulse so I eventually wandered down and joined the pit.  I got to see the latter part of the gig with Johnny and Joey just a few feet away and the amps so loud you could feel the volume in your gut.
I don't really recall any of the specific songs being performed save "Pinhead" from Leave Home.  It closed either the main set or the encore — I can't remember which—and I have a distinct memory of Joey carrying a large "Gabba Gabba Hey" sign.  The Ramones and the audience chanted along to the song's repeating slogan until the tune came to a full stop, Joey muttered "Howyadoon?" and they exited.  Fan-fucking-tastic.  An evening of joyous noise and relentless exhilaration.
The Ramones performing "Pinhead" in pretty much exactly the same manner with which they ended the show with in London, Ontario. 
I caught up with Bump, Mara, and Dandelion afterwards who had stayed back in their seats but were similarly in a post-show glow.
In retrospect, the pairing of these two bands at this gig was perfect, but in a bittersweet way.  Both were the originators in their respective punk rock communities.  The Ramones were from New York City; the Demics' best and best-known song was about "New York City."  Each had by this point replaced one of its founding members.  Both were touring behind albums that were supposedly destined to take each to a whole new level of commercial viability.  And both albums, while modest successes, fell well short of anticipated targets, signaling the end — figuratively or literally — of each group.
And half of the people on stage that night are now dead: Joey, Johnny, and the Demics's Keith Whittaker from cancer, Dee Dee from a heroin overdose.
It was a celebration all right, we just didn't know that it was a wake.
Within a few months, the Demics had disbanded, never to reunite.  As for the Ramones, I always felt as if a certain spark had left the building post-1980, as if they had been chastened.  In the highly recommended 2005 documentary, End of the Century: The Story of the Ramones, Johnny confirmed what I had always suspected, stating that "we did an album with Phil Spector.  It was our big chance, and again we didn't sell any records.  So at that point … I finally accepted (it) … that's it.  Just try to maintain our career, keep making money, (it's) just a job.  Let's do the best we can do, try to keep our fans happy, don't let them down, and don't worry about it.  Accept it.  This is (our) spot in life."
Or as Dee Dee says in the same doc, "(End of the Century) started the break-up and the separation of the band."
With the exception of one more P.S. of a good album in the form of 1984's Too Tough To Die, and a smattering of decent tunes strewn across eight other discs, their days as an inspired, driven, creative unit were over, although they continued on as a strong touring draw for another 16 years.
On End of the Century's excellent opening track, "Do You Remember Rock'n'Roll Radio?," Joey sang "It's the end, the end of the Seventies / It's the end, the end of the century."  The Demics sang "It's all gone wrong" on their eponymous debut.  While not the intent, these lyrics could work as elegies for these bands of a certain era that was now about to pass.
"Do You Remember Rock'n'Roll Radio?" from End of the Century (1980).
The Ramones now seem more ubiquitous than ever, with "Blitzkrieg Bop" popping up in commercials and at sporting events, "I Wanna Be Sedated" has somehow become a staple of oldies and classic rock stations (at least up here … and let me tell ya, kids, you never heard the Ramones on mainstream radio back in the day … but better late than never, I say), and their Arturo Vega-designed band logo beams out from T-shirts throughout the world.  The Demics even got some posthumous huzzahs when Canadian alt-radio-affiliated magazine Chart voted "New York City" as the best Canadian single of all time in a 1996 poll.  In even more prestigious publication, The Top 100 Canadian Singles, Bob Mersereau's 2010 book surveying a large cross section of Canadian musicians and industry folk, "New York City" came in at No. 62.
Still, it would have been nice for these bands to have enjoyed the exposure and accolades within their lifetimes.  At least all but Joey were still alive when the Ramones were inducted into the Rock and Roll Hall of Fame in 2002.  Sadly, Joey is the one who would have wanted to be there most of all.
As he name checks predecessors who were key to him in "Rock'n'Roll Radio," Joey ponders "Will you remember Jerry Lee / John Lennon, T. Rex, and Ol' Moulty?"  Lennon had observed exactly 10 years earlier, regarding the dissolution of the community that had engulfed his own life for over a decade, that "the dream is over."  With Lennon's assassination just a few months later, a naïveté within rock music — a quality that in many ways had its good, sweet points — vanished forever.  For better or worse, this particular dream, birthed in the mid-70s, had now run its course, with its multi-tangents of children taking over the playground.
"It's over/It's true, it's true/And I think of times we were together/As time went on it seemed forever/But times have changed …"
"Here Today, Gone Tomorrow" from the Ramones' Rocket To Russia, 1977
Next On Stage –> This first of a four-part look at the Heatwave festival focusses on the impediments I faced getting there in the first place and the "colourful" pre-festival party on-site during the night before and morning of.
008a. I Can't Stand Up For Falling Down: The Heatwave Festival (Pt. 1) with the Talking Heads, Elvis Costello & the Attractions, the Pretenders, The B-52s, Rockpile featuring Nick Lowe and Dave Edmunds, Teenage Head, and more, Mosport Park, Bowmanville, Ontario, Saturday August 23, 1980. 
© 2010 VariousArtists
Comments From The Original opensalon.com Posting