As with the Gang of Four concert, I came away only with the end stub.  Luckily, that practice was quickly scrapped. 
Ticket Price: $10 = $25.85 ($CAN 2022)
THE ORIGINAL BLOG ENTRY FROM 2011 FOLLOWS BELOW 
This concert crystalizes a moment in time, representing a changing of the guards in the alternative music world, when The Beat—or The English Beat as they were called on this side of the pond—come to Alumni Hall in London, Ontario with a new, unknown American band called R.E.M. in tow as the opening act. 
The show took place as The Beat were in the last throes of their career but also peaking in popularity in North America.  Meanwhile, R.E.M. released their classic debut LP, "Murmur," during the week of this concert.
This was also R.E.M.'s first Canadian show.
Retrospectively, it marks the sundown of one era and the sunrise of the next.
Returning Special Guest Phil Robinson has a lot of great memories from the night which he shares. 
Tune in for stage invasions, a cultural shift, and wondering what the hell I was thinking.
We also discuss R.E.M. at Glastonbury and in Ottawa, why the Buzzcocks were the nicest guys in punk rock, hanging out with INXS, standing next to Jerry Dammers at the Blackheath festival, and seeing Pauline Black at Manchester Mardi Gras.
Next on Stage:

Tune in next time for what was quite an, er, interesting evening, when San Francisco's sludge rock contrarian refuseniks Flipper come to town to decimate Fryfogle's and its audience, about 6 weeks after the Beat/R.E.M. show.
An evening of debauchery and indulgence ensues for myself and crew of people on that night, one that involves missing persons, dangerous fire escapes, and a foggily-remembered aftershow party comprised of massed stimulant consumption and much silliness, with Flipper — both as persons and performers — interweaving with us at various points of our night (and lining up to see Return of the Jedi, too). 
THE ORIGINAL BLOG ENTRY FROM 2011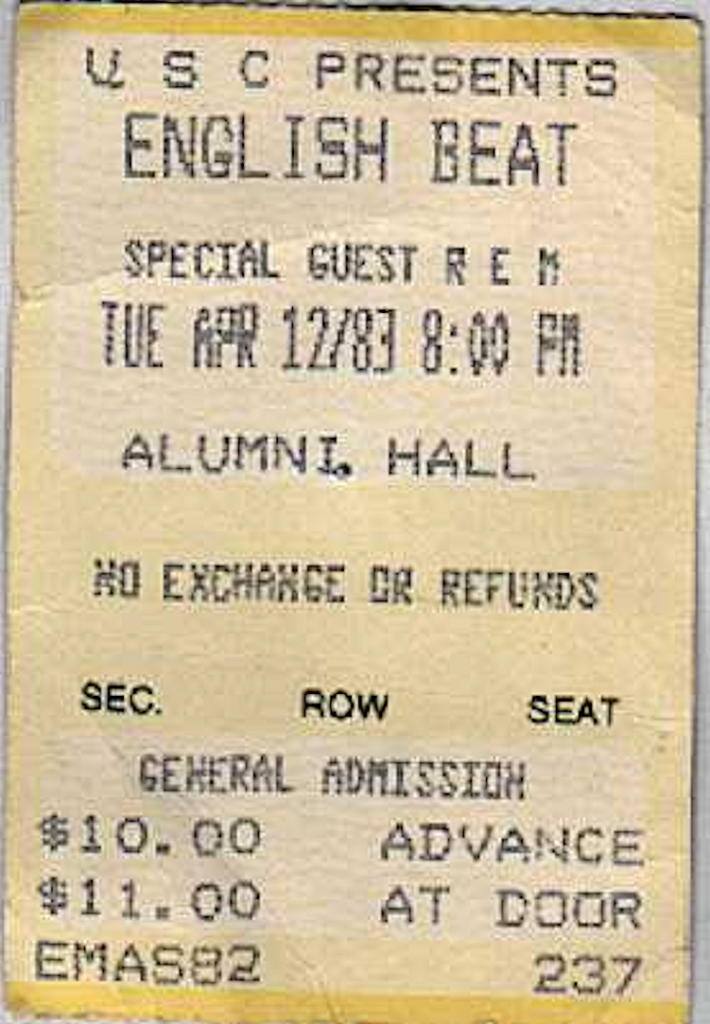 A full ticket from the show. This was R.E.M.'s first Canadian show.  (Ticket courtesy of Jerome McIntyre)
In my memory-themed piece for the Boomtown Rats show, I pondered "In terms of the more review-centric pieces I am writing on contemporary shows, what am I leaving out now that I'd highlight later? What context and foreshadowing — invisible to me now — will become essential and evident as time passes?" This Beat/R.E.M. gig is a perfect specimen to examine through that lens.
To 2011 eyes, it is of course opening act R.E.M. that jumps out as significant whereas headliners The Beat — or The English Beat as they were known over here — are more selectively remembered, at least on this side of the pond. At the time, R.E.M.  barely registered around these parts. I prided myself on being in-the-know about many upcoming groups but I had heard their name muttered slightly, at best. When I attended this gig in 1983 with my pal Miss Beach, it was a case of a top indie-pop/ska group who had gravitated heavily toward the "pop" element, here entertaining a near sold out crowd of not-too-jaded older alterna-folk and the more adventurous younger suburban pop pickers.
"I Confess," one of the singles from The (English) Beat's third and final album, Special Beat Service (1982).
Alumni Hall had come a long way from the anal retentiveness of that Elvis Costello concert back in '78. I'd seen Joe Jackson put on an outstanding show here the previous fall, during which the more clued-in burghers of Alumni allowed people to actually accumulate in front of the stage.  In a bout of delayed progressive thinking, the Hall completely opened up its floor space for both this gig and a Stray Cats concert I had been at two weeks previous. (NOTE: That SC show along with a few others will get encapsulated reviews in no. 29, the first of several omnibus entries coming down the line. For the period starting at this point and henceforth — particularly 1983-92 — I will be selective in the shows I will be writing full entries for. I simply saw too many to chronicle them all with stand-alone pieces and, frankly, there's not too much to say about some of them.)
The open floor was a win-win situation all round as it allowed us to wander and mingle freely, just like we were used to doing in the bars and clubs, while the more raucous acts to play Alumni were now able to feed off of the energy of the unrestrained crowd, making for a more synergistic artist/audience experience.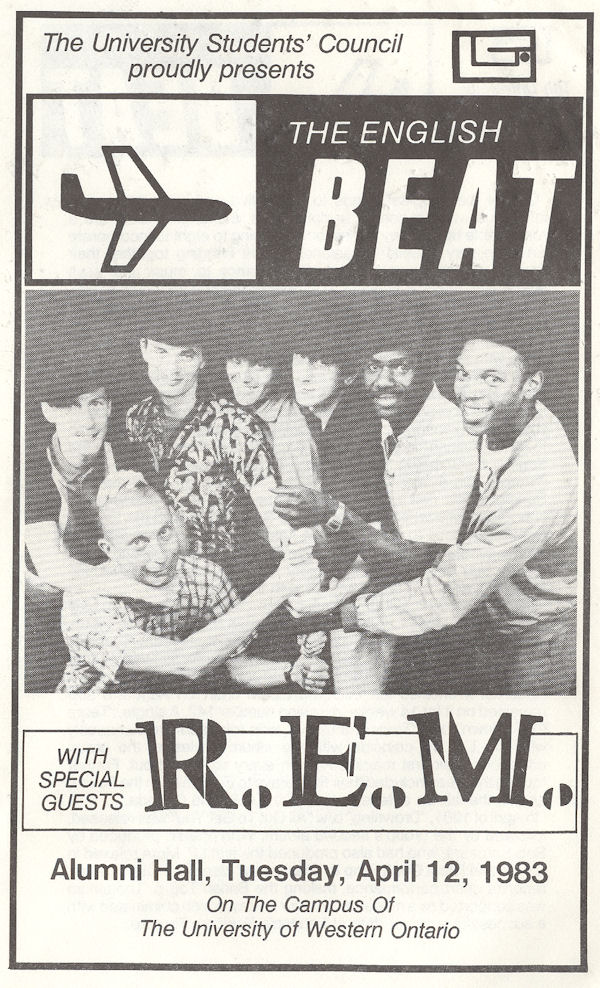 Cover of the program for the concert (program scans by VA).
Opening act, and The Beat's I.R.S. Records labelmates, R.E.M. played on what turned out to be an historic week for them, with this show occurring on the day before the release of Murmur, their stone-classic full-length debut LP which had been completed just a few weeks earlier. Oh, how I wish I could regale you with tales of wandering in, seeing this unknown entity and being transformed into a believer on the spot. Oh, what prestige I could engender, what cool points I could acquire as I textually flaunted that for you all now.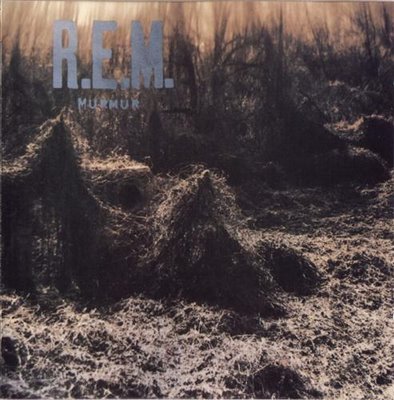 R.E.M. Murmur (1983)
Except that it would be a total lie. My response to R.E.M. was a big neutral shrug. If I could think of any word to describe my reaction to them it wouldn't be "good" or "bad" but "indifferent." They came off to me like one of many on a conveyer belt of ok-but-nothing-special college rock bands. I've long wondered why, because that sure as hell wasn't my reaction when I heard their studio recordings, launching an obsession with this group that continues to this day, albeit in a muted form. These days, I hope for something terrific like Accelerate but more often than not deal with duds like Collapse Into Now and Around the World.
Shortly after this concert, wherein Miss Beach and I judged R.E.M. to be unremarkable, I was listening to our local university station, CHRW, and this great tune with Byrds-y guitars came on in the middle of a set of songs. It stood out, grabbing my attention.  When the DJ came back to announce what he'd just played, it turned out to be that meh band I'd just seen, R.E.M. ("Moral Kiosk" to be exact).
R.E.M. performing "Radio Free Europe" on David Letterman, a half-year on from when I saw them opening for The Beat.
Huh? This didn't gel with what I'd heard at Alumni. "It must be the one good cut on the album," I reasoned. But then, in short order, I heard another from Murmur, then another, and another, each one instantly grabbing me without my knowing who it was until after.
????!
Why such a gulf separating how I reacted to what I'd heard live vs their recorded material? I have a few probable theories. It could have been that there was a major disconnect between their live and studio sound at that time. I have read interviews with several band members discussing that when they went in to make Murmur in North Carolina, producers Mitch Easter and Don Dixon really pushed them into re-thinking themselves sonically and to not make the record a live document but, instead, a meticulous, nuanced studio creation. Band members felt that what resulted bore little resemblance to what they actually sounded like live.
When I read that, it logically accounted for my disconnect. That is until Murmur was reissued in 2008 with a live bonus disc, recorded at Larry's Hideaway in Toronto, three months after the Alumni show. While I haven't heard the live recording in its entirety, I have sampled chunks of it and, frankly, it really doesn't sound significantly different to the finished album. Could their live sound have changed that much in just three months? Perhaps, but I somehow doubt it, particularly when considering Chronic Town, their debut EP, which sounds like a more off-the-cuff cousin to Murmur but, again, not a massive departure.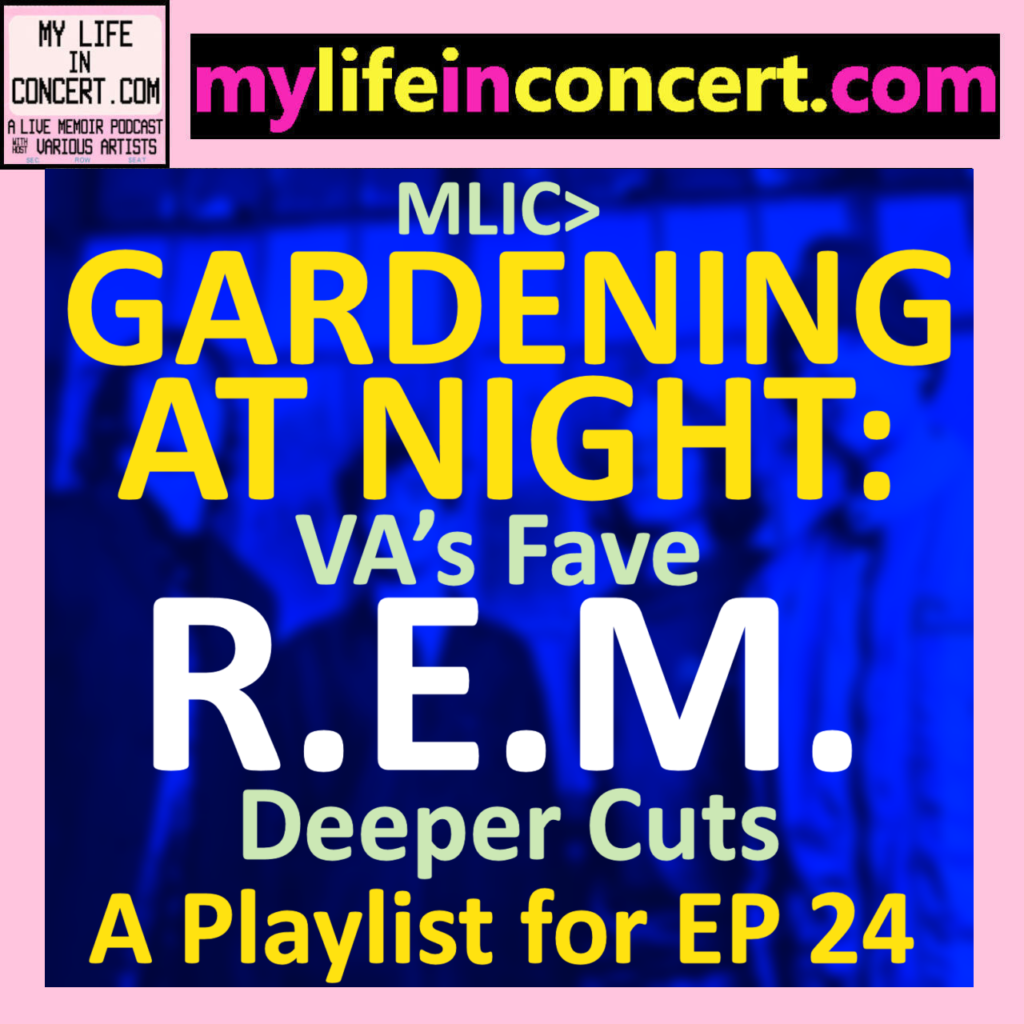 MLIC>GARDENING AT NIGHT: VA's Fave R.E.M. Deeper Cuts is my companion playlist for this episode featuring my favourite R.E.M. (mostly) deep cuts from 1981-2011.
Could it be that my ears were not yet attuned to what they were doing? The retro '60s jangly thing was about to become a college rock cliché but at this moment in time it was a fresh sound. That newness aspect is possible. I could rattle off a list of artists who I didn't immediately take to on first listen, or sub/genres I was resistant to at first but later came around to. But that too doesn't really work either as I loved bands such as Orange Juice from Scotland who had already starting exploring that McGuinn/Harrison chiming electric 12-string fetish.
Maybe it was down to their not being used to playing larger venues and stages, with the attendant insecurity coming out in the performance. But from what I have read, they were bursting with confidence and ambition so I doubt that a larger venue would have daunted them much.
Were they simply having an off-night? That makes for the most plausible reason. After all, it was the album's release date and there could very well have been some extra-celebrating going down, resulting in some comparatively shambling shows. Anyway, I'll never fully have the answer as I can't go back there and re-live it. All I know is that I was decidedly underwhelmed by my introduction to Buck, Berry, Mills & Stipe (I always thought that sounded like a law firm). Oh well, I guess I get to name-drop seeing an early performance, even if I didn't think much at the time.
Headliners The Beat were on the road promoting their third and final album, the rather wan Special Beat Service. Decidedly sleeker and less ska-focused than 1980's I Just Can't Stop It or 1981's Wha'ppen?, it was released in mid-1982, clearly aimed at their growing American audience just as their UK one was rapidly starting to shrink.

  (Above) The Beat's I Just Can't Stop It (1980), Wha'ppen? (1981), and Special Beat Service (1982): an exercise in diminishing creative returns with each release.
(Below) MLIC>END OF THE PARTY: VA's Fave BEAT Tracks is my companion playlist for this episode featuring my favourite (English) Beat tracks 1979-1982.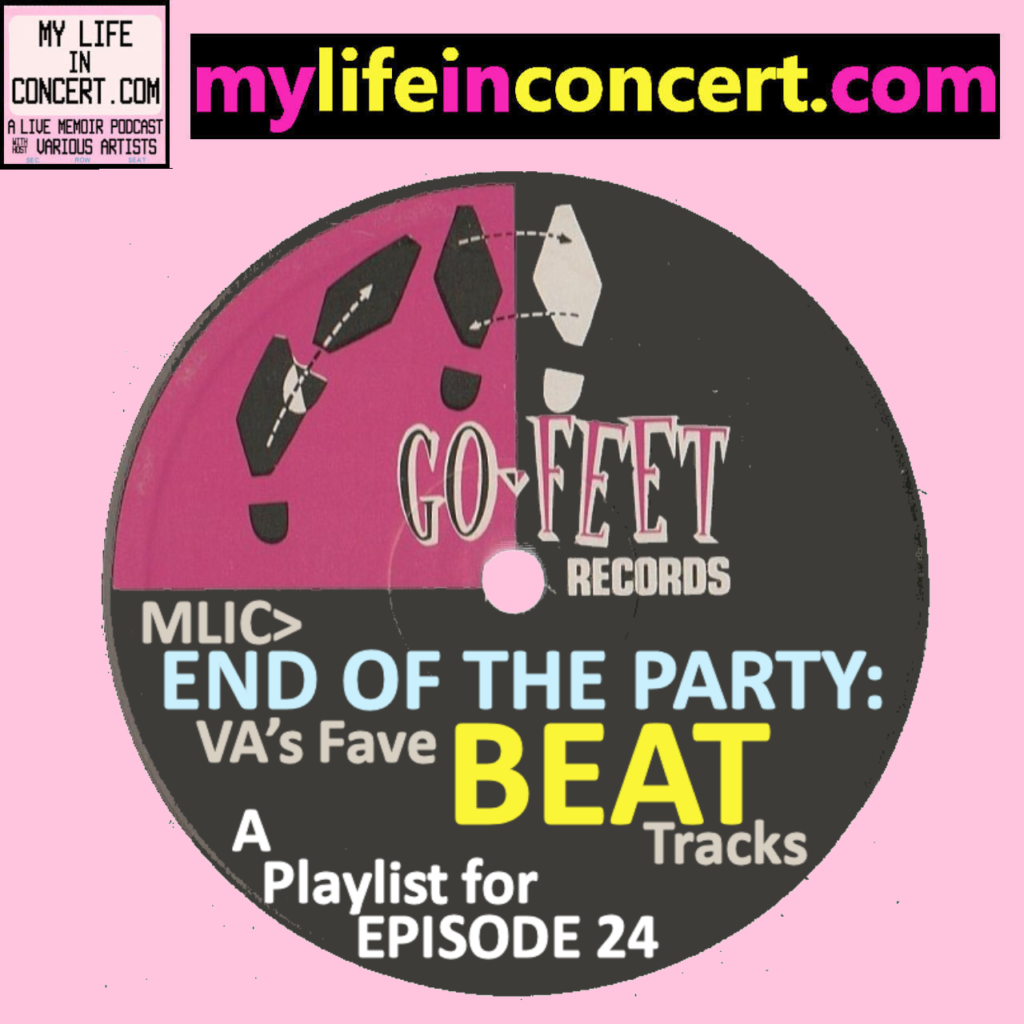 If I register a neutral-to-negative reaction about R.E.M., I can't remember anything specific at all about The Beat other than recalling that I rather enjoyed the show. C'est tout! My friend Special Guests does have memories of The Beat's set, notably "jumping on the stage and then jumping back into the crowd when the bouncers started to come over. At the end of the gig, I helped a girl from school up onto the stage and then followed her. We were dancing in the middle of it and then noticed loads of people coming on, the stage becoming being full of people. I stood behind Dave Wakeling, looked down and saw (SG's friend) Sammy the Goose strumming Wakeling's guitar."
I do remember feeling that this show was substantially more satisfying than when I had seen them eight months earlier at the debacle that was my trip to Police Picnic '82 at CNE Stadium. And the sound was great too, Alumni being well-built for excellent acoustics. But nothing of note jumps out at me about the boys from Birmingham that night other than it was fun.
To look at the line-up retrospectively, though, reveals something clear: this show exemplifies a music community in transition.
Special Beat Service's "Save It For Later" at the 1983 US Festival.
The shift from the early '80s to the mid-and-later '80s had begun, with the headliners in the last throes of their pop life as a significant new aesthetic was beginning its ascent. While both acts were offspring of what punk had birthed in the mid-'70s, The Beat's ska-revivial-to-pop-group arc had peaked upon its US chart hit destination. The end was nigh.
British music had strongly pre-dominated over the previous few years in the alterna-world, over the years inching towards a lighter, glossier sound. Meanwhile, this gig's openers exemplified what was happening predominantly on this side of the Atlantic, with a return toward a more guitar/rock-based aesthetic. R.E.M., as with their UK counterparts The Smiths, put a tuneful, accessible and wholly irresistible spin on a re-engagement with guitar rock, Athens finest anticipating and synthesizing the catchiest qualities of two then-subliminal but soon-to-explode college rock streams of the time: harsh, rising Amerindie groups on one hand, such as Hüsker Dü and The Replacements, and then later Sonic Youth, Dinosaur Jr. and the Pixies, and the alt-country/roots acts such as Rank and File, Lone Justice and Steve Earle on the other.  Let's throw in the Meat Puppets too.
R.E.M., "South Central Rain," which later appeared on 1984's Reckoning. Here, they perform live in 1983 on Letterman.
This gig is emblematic of an oceanic crossing of the slipstream's geographic centre. When I think of the '80s, most of what I listened to in the first half was largely British while most of what I listened to in the latter half was largely American (and, as the decade went along, increasingly Canadian). This evening's line-up, occurring at the very moment of The Beat's commencing twilight and R.E.M.'s inching ascent, captures a moment when one party was ending as another was beginning.

Inside (above) and back (below) of the concert program.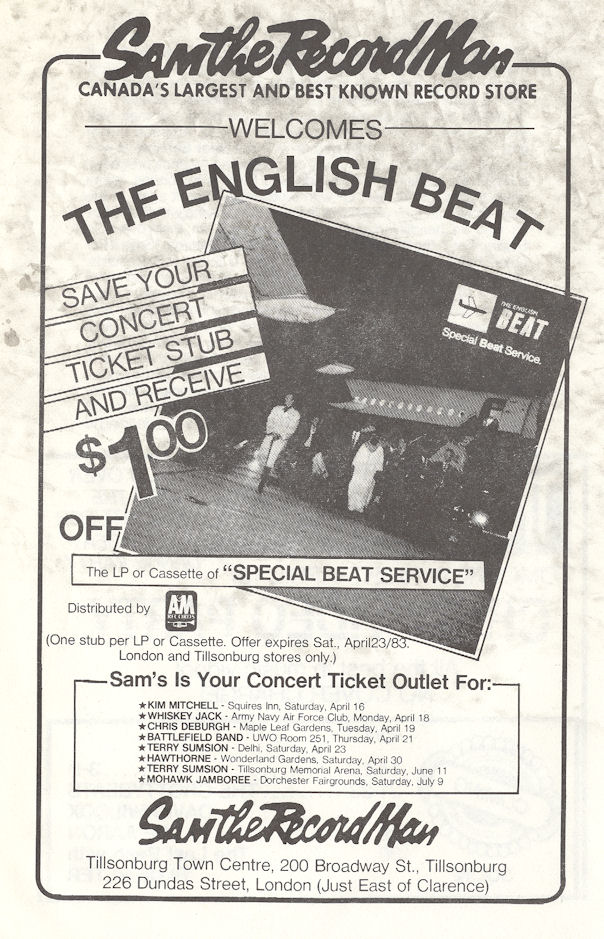 A few months later, following their playing to a massive audience at the US Festival in California, The Beat were history, with the group's two front men, Wakeling and Ranking Roger, enjoying brief success with follow-up offshoot General Public.
Meanwhile, behind the scene Beat-sters David Steele and Andy Cox bid their time, eventually discovered vocalist Roland Gift, formed the Fine Young Cannibals, and began working towards the huge, delayed payoff that was the massive commercial and critical success of their sophomore release, 1989's The Raw and The Cooked. They never followed it, but their dissolution was their own choice.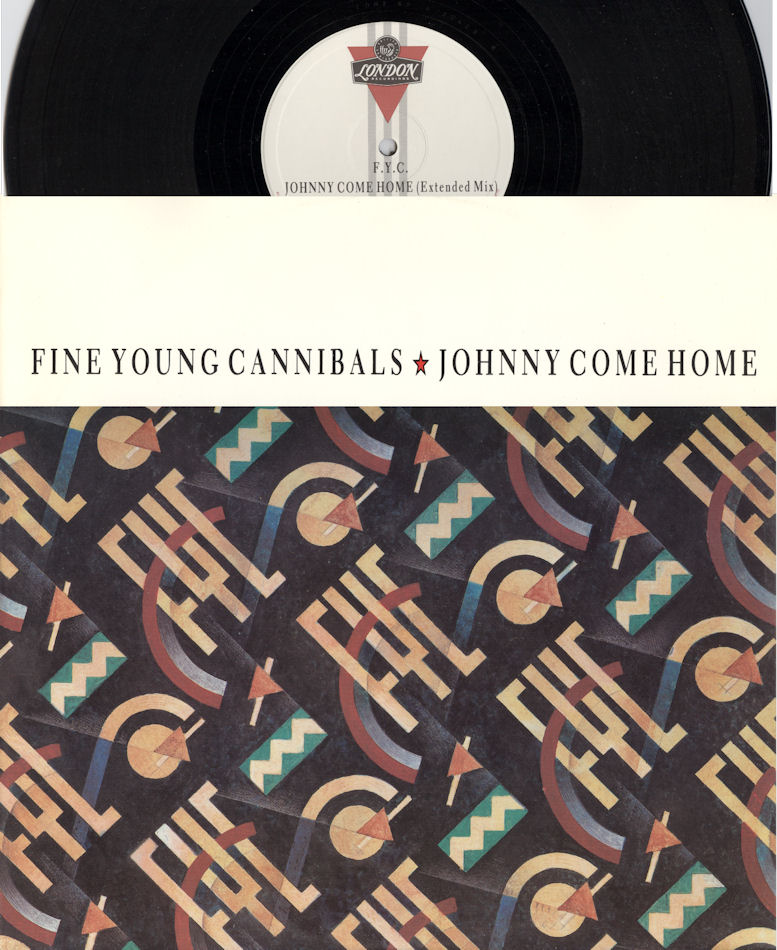 Fine Young Cannibals' stunning debut 45 12″, "Johnny Come Home" (1985) with its video below.
As for R.E.M., I really don't need to tell you how things worked out for them (and they're coming up again in my series, down the line as concert no.107). By the time their sophomore effort Reckoning — one of my favourite albums by the group — appeared, I was addicted, following them through all their changes that, in my opinion, peaked artistically with the double whammy of Out of Time and Automatic For the People in 1991 and 1992 respectively. Even if they've been a patchy studio proposition since then, R.E.M. remain a great live band who still have their recorded moments. I'm glad they're still with us.
That said, it's depressing to admit that I wouldn't care if they never made another album — unless they came up with something special. The recent Collapse Into Now is particularly rote and uninspired. But if the Stones can release A Bigger Bang and Paul McCartney (as The Fireman) can come up with something like Electric Arguments, than truly anything is truly possible.  R.E.M.'s party may not be over yet.
[Nov. 2011 Update: Well, as we now all know, their party is now officially over.  Damn.  No more great live sets from the pride of Athens.  On the plus side, no more albums like "Collapse Into Now."]
"End of the Party," The English Beat from Special Beat Service.
Next On Stage –> Flipper, San Francisco's sludge rock contrarian refuseniks, come to town one month after that  Beat/R.E.M. show. An evening of debauchery and indulgence ensues for myself and crew of people on that night, involving missing persons, dangerous fire escapes, van rides with hostile groupies, problematic interviews, and massed stimulant consumption, with Flipper — both as persons and performers — interweaving with us at various points of our night (and lining up to see Return of the Jedi, too).
017. Fucked Up Once Again: Flipper, Fryfogle's, London, Ontario, Canada, Monday May 30, 1983.
© 2011 VariousArtists
Comments From The Original opensalon.com Posting