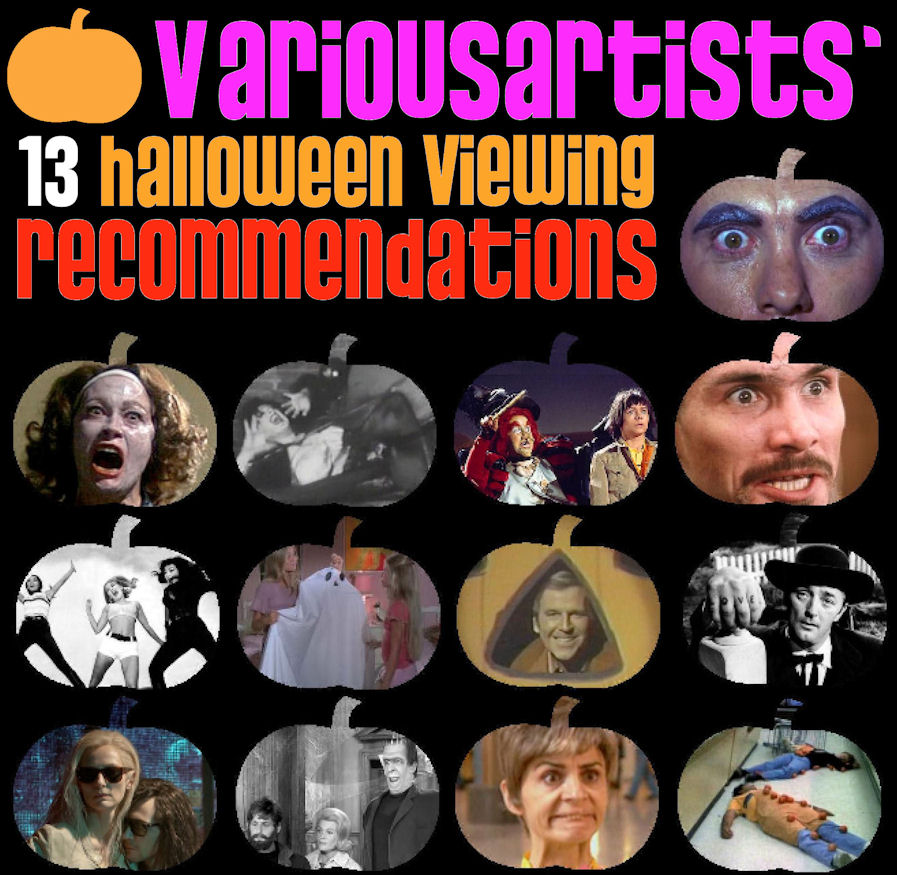 (Graphic and pumpkins by VA.  Stills grabbed from web and videos from YouTube)
VA's 13 Viewing Possibilities for the Halloween Season
Here is another VA seasonal viewing guide for you, dear readers, following my Easter and Xmas recommendations.  And, as with those previous lists, I am taking my own idiosyncratic liberties as to what could be seen as relevant to the festival of candy'n'costumes.  For instance, there is only one horror film on the list (although I have previously written about my favourite horror flick, Night of the Living Dead.)  Besides, ChillerPop is doing a supremo job with the genre in his regular October series over on OpenSalon which I encourage you to follow, so I'll let him take his skilled lead on that one.
To be honest, if I were to include the Most Truly Horrifying film I've ever seen, it would be Pasolini's Salò, or the 120 Days of Sodom based on the de Sade book … so disturbing and horrifying that I can't recommend your watching it. Instead, my choices in some way relate to key Halloween themes and signifiers: ghosts, witches, spirits, monsters, and costumes, or to "horror" in some non-genre fashion.  (Take Note: A list of 13 Halloween listening suggestions will follow next week.)
So, nestle up next to your favourite goblin in front of the screen of your choice with a bowl of black-and-orange-wrapped Halloween candy in your lap and settle in for a visual celebration with a seasonal-appropriate list of 13, starting with a witchy delight …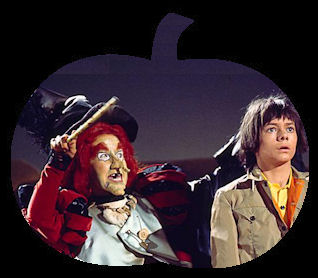 1. PUFNSTUF (1970)
What would Halloween be without witches?  But which witch to venerate? Certainly Bewitched's Samantha, Endora, dotty Aunt Clara and especially far out Cousin Serena immediately come to mind.  Yet as I write this my mind is drawn to a witch of a different broom: the wonderfully manic/neurotic Witchiepoo (played by Billie Hayes) from the Technicolor LSD-hangover that is H.R. Pufnstuf.
The TV series is the most visual-magic-mushrooms-for-the-post-toddler/pre-teen set show ever produced this side of Pee-Wee's Playhouse,  and Hayes makes the most of her closeup via this eponymous 1970 large screen vehicle for the show, hallucinated from the febrile imaginations of Sid & Marty Kroft.
With the Pufnstuf movie, you get three (3) primo witches for the price of one with self professed "big mouth" Martha Raye as Boss Witch.  Even better, the great Mama Cass Elliot makes the scene as Witch Hazel. Highlights include Elliot as Witch Hazel lolling around in a psychedelic tub dishing au courant witch gossip over the blower with Witchypoo. Add in some fun songs, the empowerment message about being proud of being different, blah blah blah, not to mention the usual surreal weirdness of this show, and you'll have a firm go-to of which kitsch witch to watch.
Trailer for Pufnstuf
Continuing on with the theme of other famed witches …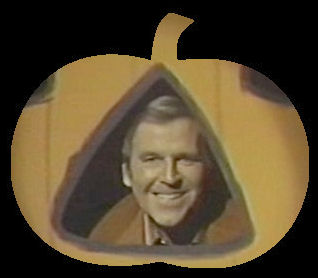 2. PAUL LYNDE HALLOWEEN SPECIAL (1976)
Famed Wizard of Oz alumni Margaret Hamilton — she being Witch Godhead aka The Wicked Witch of the West — got her iconic green makeup on and black costume out of mothballs for the first time since 1939 to aid in some tart fingernail waving on bitchy witch Paul Lynde's camp overload 1976 TV Special.
And in one of the all-time-great witch fiestas, Billie Hayes' Witchiepoo bloody well shows up here too!
Zeitgeist-of-the-Zinger Lynde raced to the bottom in the best way in this car-crash wonder of OTT '70s homo-wholesome entertainment via kitschen-sinkism. Fascinatingly ludicrous moments include Brady matriarch Florence Henderson trilling a disco version of "That Old Black Magic" and the greasily-costumed KISS delivering their turgid mid-'70s weeper, "Beth." (I remember it once being hilariously described somewhere as "a sensitive ballad sung by a man dressed as a cat.")
Frankly, KISS should only have ever appeared on Paul Lynde Halloween specials, bantering with Margaret Hamilton because they're fun in this context. (I wonder if Gene Simmons tried to bonk her?)
Add in Paul as a flamboyant rhinestone trucker (this was the height of the CB craze) as well as appearances by Donny & Marie Osmond, Tim Conway, Betty White, and a Lynde/Pinky-Tuscadero-from-Happy-Days disco exhibitionism duet on "Disco Lady" (here as "Disco Baby") and you've got 1970s Craptasticness that will put you in a sugar coma before you've so much as even nibbled on a Skittle.
And here it is!  If you watch just one selection in its entirety from this list, make it The Paul Lynde Halloween Special.
And speaking of Mrs. Brady …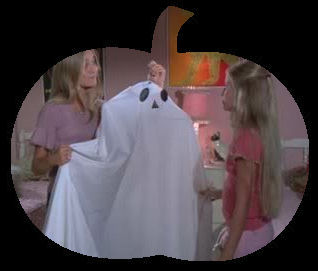 3. THE BRADY BUNCH: "FRIGHT NIGHT" Episode (1972)
What a night for the Bradys!: Greg's back on the mescaline; a cameltoed Marcia is mortifying Davy Jones with  close-range gymnastics; Jan's in a lesbian relationship with one of the Manson girls; Mike's being given a stern talking to by Carol after his glory-hole bust; Bobby and Cindy have hypnotized themselves into believing they're Hansel and Gretel, but with ponies; Sam the Butcher is revealed as Leatherface; Peter's gettin' off on pumpkins; and Tiger remains missing.  Whoops, wrong episode …
Poor Jan and Cindy wake up scared out of their not-substantial wits by a noisy apparition appearing outside their window.  Marcia, who didn't see the ghost, more or less passive-aggressively labels them as tools but then gets an inkling that their repressed brudders are behind all this psychological chicanery.
Eventually, they with hair of gold execute their emasculating revenge on the Brady Lads, who had it coming all along.
Meanwhile, Carol Brady is working on her bust.  Of Mike's head.  The one on his shoulders.  For her art class.  That sculptural masterwork eventually ties in with all the zany, Brady Halloween antics, along with a too-smug-for-her-sensible-shoes Alice.
I couldn't find a version of the episode which would play up here.  Instead, here's a humorously doctored YT clip that shows how it all starts.
And from Mother Brady to the baddest Mother of them all …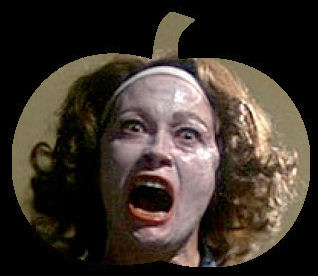 4. MOMMIE DEAREST (1981)
What could possibly be scarier than Faye Dunaway's Joan Crawford on a tear, her bathroom-cleanser-encased Kabuki-esque face unhingedly screeching "No more wire hangers!!"?
Dunaway's career famously tanked after the much-maligned release of this biopic based on daughter Christina's infamous bestseller, documenting mama Joan's alleged parenting style which mixed sadism with cut-throat competitiveness.
A phrase like "chewing scenery" was invented for flicks like this, but the reality is that Joan was Over The Top, onscreen as well as off, by all accounts.  I think Dunaway gives a sensational performance that's trapped inside a film that's deeply silly … … and über-entertaining for the wrong reasons.
While director Frank Perry possibly had the intention of making a serious film — and there are moments of physical and emotional abuse in it that are so nasty I momentarily can't laugh — the resulting, relentlessly overheated flick is largely comic horror gold. As with some of John Waters' more extreme flicks, everything and everyone in it are such cartoons that I can only see the violence and nasty behaviour as really funny.
The humour highlight for me? The Joan/Christina mano a mano fisticuffs in front of a mortified Redbook scribe.   Although, Mara Hobel's exasperated "Jesus Christ!" has had me weeping … with laughter.
Indeed, Chez Various is a place where it is not at all uncommon for either Cublet or I to randomly exclaim "Christina! — Bring me the axe!"
Mommie Dearest trailer.
The DVD is also notable for John Waters' insightful and witty commentary track.  And speaking of Waters …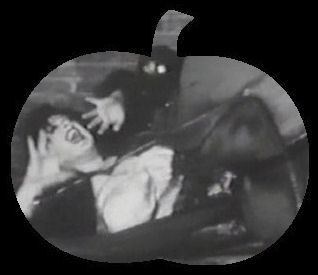 5. MULTIPLE MANIACS (1970)
Viewing for the whole family — the Manson Family, that is.
John Waters' first feature-length, synched talkie and his final b&w feature arrived in late 1970. This heartwarming tale starts with Miss Divine murdering her unwilling Cavalcade of Perversion spectators after getting bored with merely robbing them.  Meanwhile, boyfriend Mr. David becomes concerned with an increasingly out-of-control Divine, eventually falling into the arms of a new lover obsessed with "performing acts" with Mr. D.
There's also a "rosary job" filmed in a real church; a vision of the Infant of Prague; Divine's hooker daughter (played by Cookie Mueller) and her Weather Underground boyfriend; and Edith Massey's screen debut.
But the film's horror apex occurs when a completely unhinged, post-homicidal Divine is raped by Lobstora: a massive paper maché lobster.  She wildly screeches "Oh, Lobstora!!" while being sexually assaulted by the sociopathic crustacean.
I've always loved that Divine inexplicably knows Lobstora's name. A previous one night stand, perhaps?
Divine's big scene with Lobstora, a massive paper maché lobster.
And speaking of Manson (again) …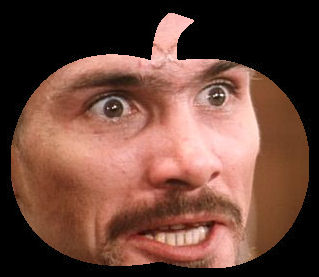 6. HELTER SKELTER (1976)
I've long had an interest in Manson and the whole story that goes along with him — don't worry, not in any positive, approving sense.  It's about the whole story's incomphrensibility.
It's all still so totally insane even if Manson himself is more master manipulator who knows when and how to turn on the crazy.
This 1976 TV biopic, based on prosecutor Vincent Bugliosi's landmark true crime bestseller of the same name, while frequently stiff and stilted is remarkably factually accurate. "Playing" with history while telling a real-life story is one of my bugaboos that grates. Not here, which is surprising for a TV movie, even more so when considering the content of the story and the large audience it was being beamed out to.
Steve Railsback also does a fine job as the X'ed-out one himself. It was a broadcast sensation in its day and worth a watch, even if a wee creaky when seen today. This is true horror — the kind we can all do without.
Here's the trailer.
And from one cult to another …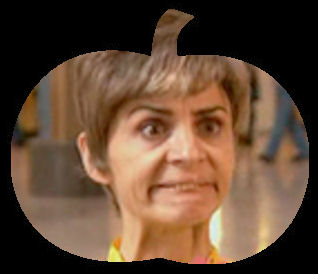 7. STRANGERS WITH CANDY: "BLANK STARE" Episodes Pts. 1 & 2 (2000)
Isn't Halloween all about strangers with candy?  Therefore, at least some of this satiric series is required Oct. 31st viewing.
But with the "Blank Stare" episodes from season two, you also get to confront those candy-offering strangers who are mind-warping entities on behalf of Cults.  Yeppers, them there cults are scary stuff, kidnapping the vulnerable, rewiring their reality, and trapping them in a prison of delusion.  And in this two-parter from my All-Time Favourite comedy series, beloved ex-junkie/con/hooker Jerri Blank (played by the "We Are Not Worthy" Amy Sedaris) and her non-existent self esteem sadly fall prey to the manipulative ways of an even-more-clearly-fake-than-most cult leader.
Before you can say "I stole the TV!," our Jerri winds up behind locked doors at the cult's Safe Trap House. With Jerri transformed, singing the Safe Trap group favourite "I'm Gonna Sit At The Welcome Table" day and night, her family are more than glad to be rid of her (although her step-mother roleplays as a heartbroken parent, all the while intentionally hanging up on Jerri's attempts to contact home), while her new "family" soon tire of her.
Father, our Father, the faux-deity cult leader, is faced with an unprecedented situation: how to actually ditch a  recruit, namely Jerri with her freshly washed brain?
Will the self-identified former "boozer, user and loser" stand her ground and demand to be taken deeper into free-will-free manipulation or will the exasperated cult leader succeed in losing Jerri to the outside world?  Tune in to find out.
Here's a 7-second clip from the episode featuring Jerri with her freshly-washed brain.
And from controlled minds to hypnotizing eyebrows …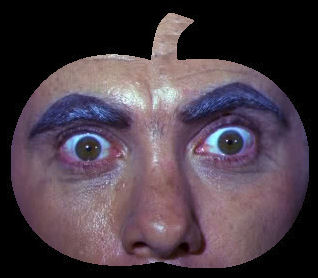 8. BLOOD FEAST (1963)
Blood Feast is generally seen as being the first "Gore" film.  Director Herschell Gordon Lewis insisted it be filmed in (wildly saturated) colour — in fact, one of the taglines for this movie was "More grisly than ever in Blood Color!"
Indeed, blood spills early and often in this flick.
Blood Feast features our resident creepy caterer Fuad Ramses, he with the crazy eyebrows, who kills and dismembers women as blood sacrifices to Egyptian goddess, Ishtar.  The secret ritual ceremonies to Ishtar are ludicrous incarnate.
Despite, and sometimes because of, the literal blood feast, it mostly ends up within the realm of unintentional camp (Multiple Maniacs — see above — was made as a satiric tribute to Blood Feast's successor, Two Thousand Maniacs!).  It's hard to know what to love more: the garish, Miami colour palette; laughable dialogue; soap opera organ; pancake-flat acting from June 1963 Playboy Playmate Connie Mason … actually, make that the whole cast.
And then there are Fuad Ramses' eyebrows: they are almost a character in and of themselves.
In checking out the film, be sure to also lend an ear to its wonderful soundtrack: "Tongue Torn Out" and "Poolside Frolic/Trudy Sanders Is Missing" in particular are toe-tappers extraordinaire.
And here it is!
And from one set of ancient beings to another …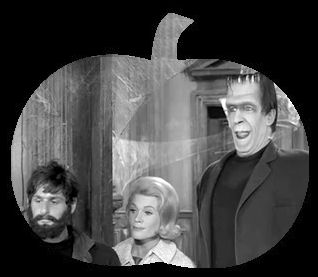 9. THE MUNSTERS "FAR OUT MUNSTERS" Episode featuring The Standells (1965)
Yeah, yeah, I know, I know that the Munsters are the downmarket Adams Family but there's an ironic ridiculousness above them that I prefer.  I also love that the show is repeatedly stacked with real life pop culture references, something that is near unique to most other '60s TV shows which seem to exist in a hermetic (groan) yet parallel universe.
If I am going to pick one episode to watch with my fave family of ghouls, I'm going for the one with the real life pre-"Dirty Water" Standells who rent Herman and Lily's gothic pad on Mockingbird Lane to throw a party for local hipsters du jour.  The Munsters return home early only to find a rock'n'roll-beatnik shindig shimmying down in their very own abode.
Turns out that our Munsters are simply charmed by the cool cats and join in the fun, with Herman delivering some ersatz beat poetry accompanied by bongos.  It's Herman's very own Allen Ginsberg moment. Meanwhile, vampire Lily puts a warm stake through the hipsters' heart with her beautiful harp number.
The following day Herman and Lily feel positive about the future being in the hands of such wonderful rockers and beats.  I couldn't agree more.
Herman delivers his groovy beat poetry.
And from one set of vampires and hipsters to a mash-up of said groups …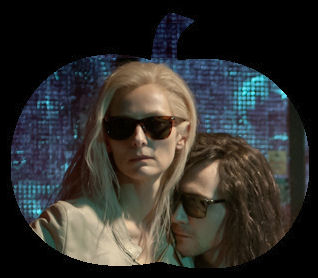 10. ONLY LOVERS LEFT ALIVE (2014)
Jim Jarmusch presents for you the most beguiling vampires you've ever met. Tilda Swinton and Tom Hiddleston are hundreds-year old vinyl collecting coolio vampires, spending their middle-of-night-daytimes cruising around contemporary burned out Detroit — even pit-stopping by Jack White's boyhood home.
That's when they're not globetrotting or getting married again under a new identity in a new location.
We discover that Christopher Marlowe's (played by John Hurt) suspicious death resulted in vampire-hood AND that he actually wrote all of Shakespeare's stuff.  Hiddleston is also a reclusive indie musician whose forte is recording drony impressionistic numbers on vintage equipment and bemoaning "the rock and roll kids" who hang out around the front of his dilapidated house, hoping to catch a glimpse of the elusive ghoul.
Meanwhile, a vampire has got to eat, and in Only Lovers blood transactions take place with the discreet, careful exactness of a China White deal.
It's all gothilly chill, with Motown vs Stax debates, until free-spirited younger vampire played by Mia Wasikowska shows up and banjaxes their idyllic solitude.  Events occur.
It's a film Cublet and I both found hypnotic, meditative.  And it was interesting to me how it explores notions of "passion" in many senses.
Along with Love Is Strange, Only Lovers Left Alive is my fave flick of the year so far. And it's just been released to Blu-ray/DVD.
 Only Lovers Left Alive trailer.  Hey, I saw Keith Richards and the X-Pensive Winos at the Fox in Detroit (coming up later as n0. 51 in the My Life — In Concert! series).
And from one set who had the killer instinct to another of a very different stripe …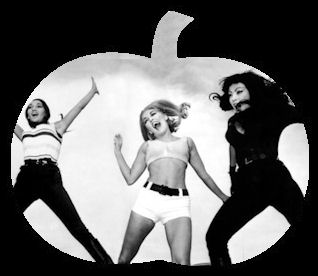 11. FASTER, PUSSYCAT! KILL! KILL! (1965)
If Faye Dunaway as Joan Crawford isn't the most intimidating thing on film, then Tura Satana as the ass-kickin', karate-choppin' Varla is, in the always welcome Faster, Pussycat! Kill! Kill!:  This high-octane-with-snark feature would be a candidate for a "VA's 15 Favourite Movies" list without question.
Exploitation deity Russ Meyer's early-to-mid '60s output is curious and bizarre enough, but this 83 minute celluloid "ode to the violence in women" kicks ass and turns up the wha…? in a way all its own.
While still very much in keeping with his "(Enormous) Breast Is Best" dictum, Faster, Pussycat! heats up the violence via three homicidal go-go dancers on the run, looking for kicks and blood with anyone who crosses their path — just cuz.  In fact, this movie was not a success for Meyer at the time of release because most audiences couldn't handle such aggression and violence from a group of women.
While sidekicks Rosie (Haji) and Billie (Lori Williams) are more than handy on their own, it is the imposing, high kicking Satana who is the trio's undisputed leader.  She barks out dialogue with a sharp menacing authority, delivered like a flung knife slicing a wall in two.
And what dialogue there is!  Faster, Pussycat! has one hee-larious innuendo-packed line after another.  I've probably seen this flick 15 times or so and there remains buckets of chucklebusters with each viewing.
But it is Satana/Varla, physically capable with a razor sharp mind and just a little crazy, who brings the fear, horror and victory.  Be afraid, be very afraid.
Here's a compilation of 10 quotes from an eminently quotable film.  However, I think it misses some of the best lines.
And on to more hunters…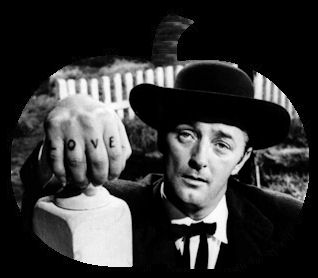 12. THE NIGHT OF THE HUNTER (1955)
The brilliant Charles Laughton directed just one film in his career, but boy what a doozy.  It was Mr. Hobson's choice to make this dark, psychological horrorshow, a proto-'70s "New Hollywood" flick.  For me, this is the always charismatic Robert Mitchum's greatest role: he's got all the unhinged terror of Faye Dunaway as Joan Crawford, minus any of the humour.
Mitchum plays a homicidal sociopath who learns of a hidden fortune while behind bars from his cellmate.  Once said man is executed for his crimes and Mitchum is out of prison, he turns himself into a preacher — with LOVE and HATE tattooed across his knuckles —  determined to finagle the greenbacks from the late man's wife and kids.
He gives looney sermons and fools the naive wife played by Shelley Winters; her on-the-ball junior not so much.
The Night of the Hunter is riveting, edge-of-seat stuff with a rightfully celebrated night time chase scene, the bloodhungry preacher frantically chasing the kids down a dark river, running for their lives. And Lillian Goddamn Gish!
The Night of the Hunter trailer.
And from one seemingly innocent entity to another …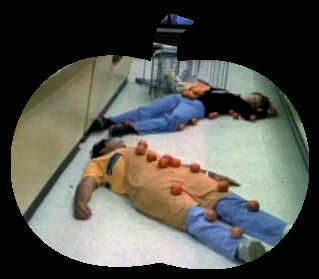 13. ATTACK OF THE KILLER TOMATOES (1978)
Vegetables can be vicious.  Potatoes can be perturbed. Nuts can be nasty.  But there's nowt so cross as a tomato scorned.
In this wonderfully ridiculous disaster film satire, oversized angry tomatoes have risen from their vines, seeking revenge upon the world for … well, we don't know why.  They are a gleaming Red Menace like no other.
And such devious little buggers too. Seriously, how can one ever trust a fruit that spends its life masquerading as a vegetable?
And don't let their permablush fool you: at the first bloody chance they get, they're up to all sorts!  The Mighty 'Toes decimate all in their path while, as the theme song says, "they'll finish you off for dinner and lunch."
As a built-in bonus, there's an authentic, unplanned helicopter accident on film.
There's plenty to wince about, but its oft-groanability is why I love it.  Head's Up: be warned that you may end up having Donny Desmond's grating "Puberty Love" stuck in your head for days.
Killer Tomatoes: The real Demon Seed.
Here's the trailer!
Next On Stage –> A Second Seasonal Halloween Post follows, this time with 13 Possible Halloween Listening Suggestions before I get back to my series …
The Cramps, Fela Kuti, Siouxsie & the Banshees, The Shaggs, Count Floyd, the Ramones, The Smiths and many scaaarier tunes.
…. then on to finish off my Bluesfest entries from last year …
178c. Declare Independence: Ottawa Bluesfest 2013 (Pt. 2) with Björk, B.B. King, Phosphorescent, Austra, Stars, and more, July 13-14, LeBreton Flats, Ottawa, Ontario, Canada
.
… and then it's back to the past where I'll largely be staying with my series …
.
.

026. Cities In Dust: Siouxsie & the Banshees with Images In Vogue, International Centre, Toronto, Ontario, July 10, 1984