Unfortunately, my ticket for this show is long lost.  Someone sent me this picture from somewhere on the net but I'm not sure from where.  Let me know if it's yours.  I remember that I did have a stub exactly like this in an old wallet for years.  Damn.
Appropriately, the tear leaves the ticket reading "No. 1".
My original blog entry from June 2010 on OpenSalon.com follows below …
45 years ago from the day of this podcast, on Saturday February the 8th, 1975, Roxy Music glamorously touched down in London, Ontario, Canada (they were from that other London…) to deliver a killer show to their glammed-up fans at the decidedly non-glittering old London Arena, at Bathurst and Ridout.   
And a 12-year-old Various Artists was among them, enjoying a life-changing first concert that's lead to a lifetime live-show addiction. 
Join me, your host Various Artists, on the My Life In Concert.com podcast as I remember the band, the concert and its time. 
Tune in for set list revelations, dead mics, back kicks, and The Towering Inferno.
NEXT PODCAST: I am kicking off the re-launch of mylifeinconcert.com as a podcast with a series of episodes highlighting one concert from each decade of my concert-going.  In the next episode, I jump into the first year of the 1980s when The Ramones played a blistering show at London's Centennial Hall along with local heroes The Demics.
Was anyone else at this killer live concert?
Podcast No. 3 looks back on this thrilling, high energy gig from one of the key mid-70s NYC punk rock instigators, landing here in London at a time when The Ramones were expected to finally ascend to North American commercial success via the Phil Spector-produced "End of the Century" while London's Demics were on the verge of breaking nationally.
And then?
Join me and former London, Ontario resident "Special Guests" from Leeds, UK, on a journey back to one of the most exciting shows I ever saw in my hometown, as well as looking at the Ramones' history and how each of us learned about them.  
Stay tuned for the end of an era, reticent Ramones at an autograph signing, and Gabba Gabba Hey signs.
Click the link to read and listen:
My original blog entry from June 2010 on OpenSalon.com
001. The Thrill of It All: Roxy Music, London Arena, London, Ontario, Canada, February 8, 1975, approximate price $6
My concert-going life started shortly after I turned 12 with this Roxy Music gig.  I had been a huge Roxy fan for just over a year.   And let us remember: a year is long time when you're that age (the equivalent of about five of my current early middle-aged years).
I had heard and liked the track "Virginia Plain," but wasn't familiar with the whole first album until later.  It was with their second LP, 1973's For Your Pleasure, that I fell for the band hook, line, and sinker.  FYP is still my favourite album of theirs and one of my favourites of the '70s.
As with many forwarding-looking records that I would encounter and come to love in the years ahead, FYP at the time seemed to have been beamed down from Mars.  The first time I heard it, at the start of 1974, it was shocking as it sounded so bizarre and menacing, ranging from the proto-punk of "Do the Strand" and "Editions of You," through to extendo-oddities like "The Bogus Man" and the title track.  Eno was still on board for this second and last time, and his presence and aesthetic are prominent throughout.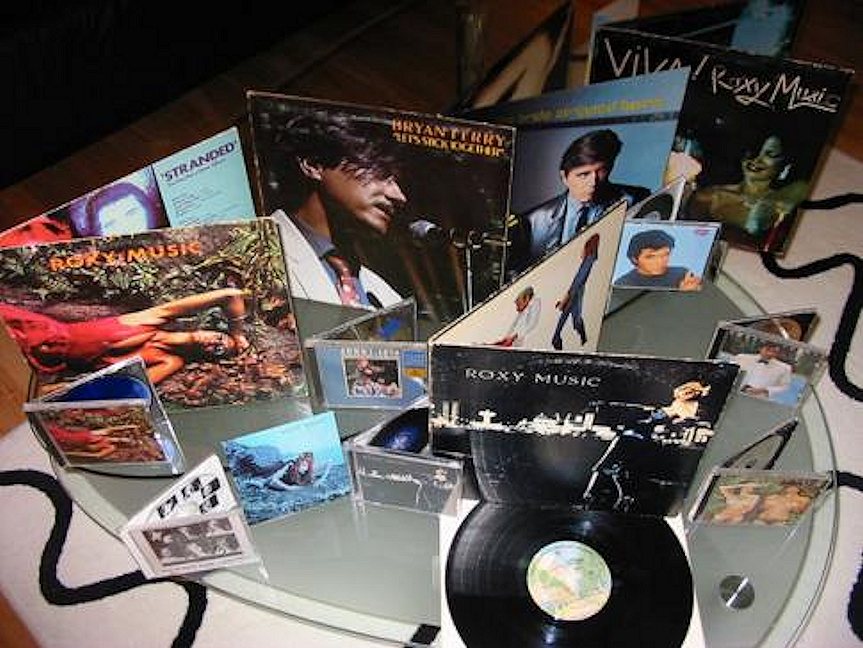 Some of my 1970s Roxy Music (and related) LPs and CDs, including my original copy of For Your Pleasure in the foreground.
Even the cover, with the black-on-black image of Ferry's then-girlfriend Amanda Lear walking her panther on the outer sleeve, the band in all their retro-glam finery on the inside (Hair by Smile!), seemed like they came from another world.  Since I always felt disconnected to my bland suburban neighbourhood, "other worlds" was precisely what I was up for.
Lyrically, as with a lot of stuff I was listening to (and watching) during those years, I didn't really understand all the subject matter, which was just as well.  Ergo, a love song to a blow-up doll ("In Every Dream Home A Heartache") went a little over my head.  I just thought it was a terrific track with a great phased ending, and lyrics that sounded darkly intriguing but that I didn't quite "get."
I was able to hear FYP when my sister briefly brought home a borrowed copy.  First time round, I wasn't sure what to make of it but knew I needed to hear it again.  By the third or fourth listen it was all starting to make sense to me, and thus I felt compelled to use my saved pocket money to rush out and buy my own copy.
It was also the latest in an ongoing sea of tunes that drove my parents bonkers.  Little did they know that early Roxy would be downright quaint and melodic compared to the stuff that lay on my latter-teenage horizon in just a few years time, such as PiL's Metal Box.  Bryan Ferry's affected, quavering croon of a voice irritated my Dad no end, and he thought that their stuff sounded like music that people would commit suicide to.  My mother could never get his name right, referring to him as Bryan Ferris, as she often mispronounced the names of many artists us young'uns listened to (Suzi Quattral, as opposed to Suzi Quatro, was another one of my mum's malapropisms of the day).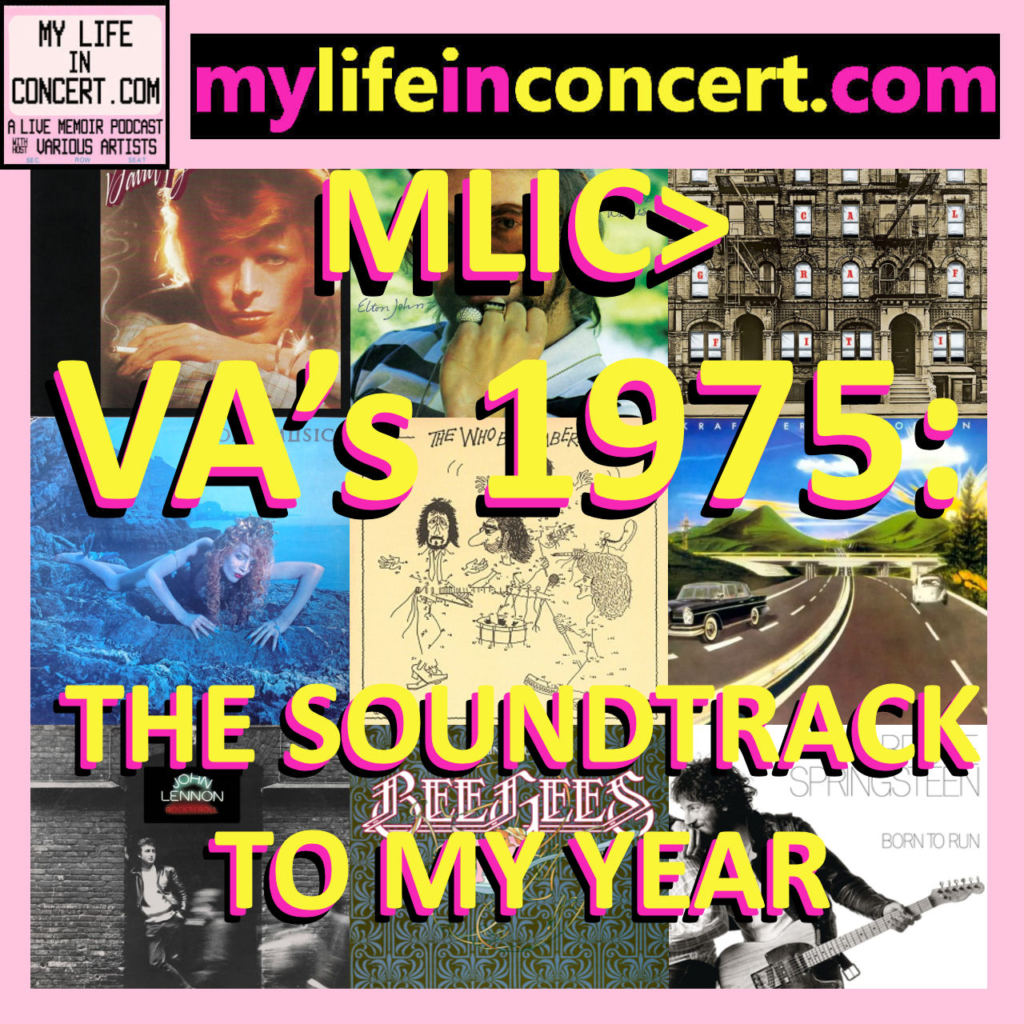 MLIC>VA's 1975: The Soundtrack to My Year is a chronological Spotify playlist of what was rocking my world during 1975, from both then-new releases as well as older music & artists I was re/discovering.
FYP was followed first by the mellower but also excellent, post-Eno Stranded, and then by the most rocked-out title in their catalogue, Country Life, issued here in Canada in early '75 (Ferry had also inaugurated a concurrent solo career, starting with the superb covers album, These Foolish Things). Country Life was the album they were touring behind when I saw them, and I had been playing it repeatedly at home.
My older siblings asked if I wanted to come along to the concert with them and their friends and I was beyond thrilled.  Not only was I finally getting to see a live show, but also one of my very favourite bands of that time.
So, why did an 12-year-old Canadian boy have an obsession with a gang of British fop pop avant-gardists?  A bit of explanatory context for you …. I am from a Brit family who relocated—along with the whole paternal clan—to Ontario, Canada in the mid-'50s as part of the great post-WW2 emigration here from the UK.  Eventually, the family put down roots in London, Ontario, at the start of the '60s.
I came along a few years after they had settled, had a decade-older brother and sister, and was the first person from the larger family to be born outside of Britain.  It seemed like almost all of my parents' friends were British ex-pats and what was going on over'ome was always in the picture.  Ergo, I've always had a strong anglo streak in my tastes and often followed what was going on across the pond (I am long time an avid reader of the UK music press: the NME and Melody Maker back in the day; MOJO, Q, and Uncut these days).
We siblings were all heavily into the glam rock of the early '70s, particularly David Bowie, the New York Dolls, Roxy Music, and Mott the Hoople among others.  It was the alternative rock of the day.  No Olivia Newton-John or John Denver crap for me!
If the Dolls were the loudest and most outrageous of the bunch, then Roxy were the most musically experimental.  And now I was going to get to see them in person.
Roxy Music peforming "All I Want Is You," Country Life's lead single in the UK in the fall of 1974 on Top of the Pops.
The gig took place at the London Arena, a cavernous performing venue that was also a roller rink by day.  I had gone roller skating there a couple of times, but going to see a live rock concert there on a Saturday night was something else all together.
Sadly, as with many structures from my childhood, the Arena has long been torn down.
It was a pretty exciting and somewhat intimidating place to be as I was clearly the youngest person there.  It was such an "adult" world to be in, filled to the brim with glittering people in their early 20s, during the fading moments of the whole glam trip.
Considering that I now see anyone in their mid-30s and under as "pups" and "kids," this thought about the "adult" audience is now mirth-inducing for me.
I'm also sure that all sorts of substance imbibing was going on around me, but I was utterly oblivious to it.  A few years later, it would be me doing the imbibing—but we'll get there soon enough.
Roxy Music were major stars over in Britain, and while they had a much higher profile here in Canada than in the States—as has been the case with a lot of UK bands through the years—they were still very much a cult act in this country at that time.  Consequently, the place was about half full.  It was also a very cold winter's night and I remember the Arena being not overly-insulated and fairly nippers inside.
It was a long, narrow, rectangular edifice.  The stage occupied the south end of the interior space, with the open roller rink area in front of it.  Rows of benches rose back and upwards from the east and west side of the rink.  Many audience members had congregated in the central area up front, but my siblings wanted to sit.  Therefore, we found a place about midway up in the west row of bleachers, about a hundred feet from the stage (no reserved seating in those days!).  I sat waiting for the show to start, taking it all in, not quite believing I was actually there.
There was an opening act but I can't for the life of me remember their name.  They were a Genesis-y kinda prog-rock bore with a lead singer in a flowing robe who looked like a slimmed down Demis Roussos, caterwauling his way through a turgid, never-ending Vanilla Fudge-esque cover of "Eleanor Rigby."  Good grief.
The openers were over soon enough and I waited intently for the main attraction.  After a period, the music on the P.A. went quiet, the houselights dimmed, and the crowd broke into waves of celebratory cheers.  The band was coming on.  This is it.
Roxy entered the stage, minus Bryan Ferry, and launched into the closing track on their current album,  "Prairie Rose," a song written for Ferry's  latest girlfriend, Jerry Hall.  She went on to grace the cover of their next album, Siren, before dumping our Bryan for a long-term, famous relationship with Mick Jagger.
I remember being confused, not only because Ferry wasn't on the stage, but also because I had thought—for some unknown reason—that since acts were touring to promote a particular album, they would simply be performing the whole album in sequence.  That not being the case was a surprise to me.  Now I could expect to hear tracks from their back catalogue and was delighted when they did indeed play many songs I had hoped they would.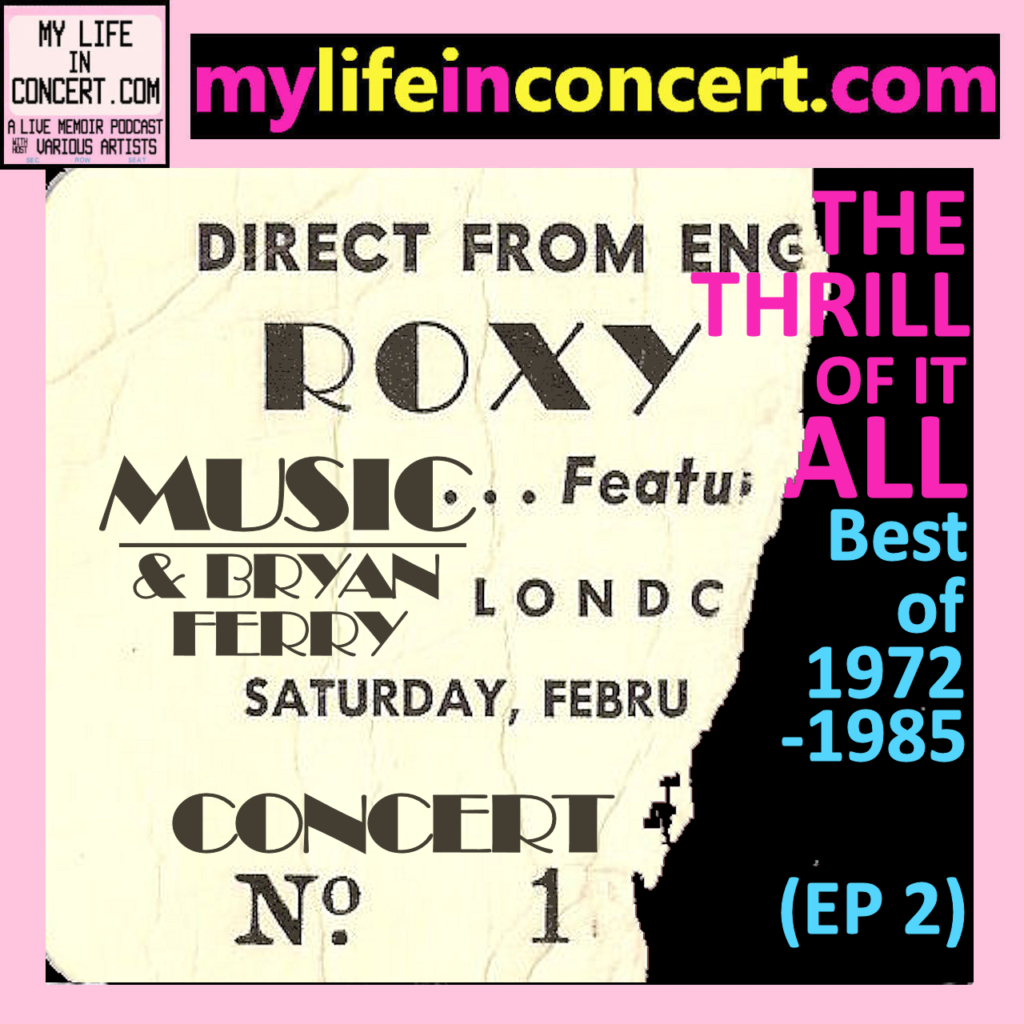 MLIC>ROXY MUSIC & BRYAN FERRY: The Thrill of It All, Best of 1972-85 (EP2; no.1) is my Spotify companion playlist for the episode, featuring my favourite Roxy and Bryan Ferry solo tracks.
About a minute into the opening number's extended intro, Ferry sauntered out slowly from stage left, elegantly attired (of course), snapping his fingers in time with the music with measured insouciance.  My then-sister-in-law later said, "The look on your face when he walked out on that stage …."
The crowd lost it when he appeared.  He moseyed his way over the mic, opened his mouth to sing and ….. nothing.
His mic was dead.  And it remained that way throughout most of the first two numbers (the second being "The Thrill Of It All," I believe).  Damn!  My first lesson in the exciting world of onstage technical malfunctions.
Once the mic problems were fixed, Ferry's voice came through clearly.  He chatted between numbers on a few occasions, ironically remarking how good it was to be in "London"—har har.  He pretty much was in "cool, lounge lizard" mode throughout the night, with a backwards leg kick during "Do the Strand" as his only real physicality.  But he sounded great and had a palpable onstage presence.
They played for about 2 hours and the set list was superb, pulling from all their LPs.  I also recall the odd feeling that came with actually seeing these people up there on the stage, not too far away: the physical transference of the 2D faces I had seen on album covers and in magazines and heard through our home stereo—and here they were, live and in the flesh.  Larger than life yet also simply human.  Very strange.
It was an incredible "debut concert" experience, with my older siblings and their friends all remarking about how I'd lucked into this show as my introduction to seeing a live band.  I couldn't agree more.
And there you have it.  My first hit of performance crack.  Roxy Music returned to London during their next tour for Siren, the album that contained their North American breakthrough hit, "Love is the Drug."  Unfortunately, I was not asked to come along that time and from all accounts, it was an even better show.  Oh well, I'm not complaining.
It was three more years before I went to my next concert.  However, starting with 1978, not a single year has gone by when I have not seen at least one live performance.
As a side note, I remember the day being an exciting one as a whole because, during the afternoon, my dad took me to see the latest disaster film sensation, The Towering Inferno.  Despite my overall pretty good taste in movies, especially for my young age, I was admittedly a disaster movie junkie (who remembers seeing Earthquake in Sensurround!? …. not to mention the classic, craptastic The Poseidon Adventure), not yet realizing that it was essentially high-camp death porn.  February 8, 1975 truly was a red letter date in my young life!
In sorting through boxes of stuff to scan in for this series, I lucked into stumbling upon a diary I was keeping that year, and found my entry for the show.

Among the grammar questions that I have for my 12-year-old self is "Super-fantastic: why a hyphenate and not a compound?"
"Super-fantastic."  Says it all, really.  Although I'll have to ask my dad why he had such a hate on for The Towering Inferno.
Years later, I'm still a big Roxy Music fan.  I had been looking forward to hearing a reunion album that they were working on for some time, but I hear that project has been shelved.
As for The Towering Inferno, it's still also highly recommended—if you're looking to laugh your ass off.
"The Thrill of It All," from Country Life, 1975.

Next On Stage –>   002. Still the Same: Bob Seger & The Silver Bullet Band with Toby Beau, London Gardens, London, Ontario, Canada, Friday May 19, 1978 
© 2010, 2020 VariousArtists