NOTE TO READERS: Owing to the March 2015 closure of opensalon.com — which was my primary publishing platform, where I initiated this blog and concert series project, and was where most of my pieces were accessed — I need to plug up a few blog-holes (i.e., post up here a clutch of early Open Salon blog entries that I never transferred over to this WordPress version). 
 .
Also note that the OS closing also affected some of the cross-linked images here across entries which I will also be fixing piecemeal.  Finally, I am also going to try and transport all OS user comments over here to be amalgamated for posterity.
Join me over the next few months on a journey into the Ghost of Blogging Past as those missing posts, covering a variety of topics and years, re-debut over here.  Meanwhile, new entries of past gigs are on their way as well.
  .
This month marks my 5th blogging anniversary.  I am going to be republishing my previous anniversary posts which never made it over here, one per day, with this year's (delayed) celebratory post appearing on Friday.
It was two years ago today when I first hit that "Publish" button on Open Salon. It not only marked the start of many hours spent happily devoted to working on the My Life — In Concert! series, but also the initiation of online interaction with a group of some terrific writers and all-round interesting folks. Much here makes each of us sigh, groan, and roll our eyes at one time or another, but I believe that's massively overruled by the positive creations and input on OS, participating in what is essentially a virtual writing and arts group. It's all about the collective sum.
For a period, it seemed as if OS was going to disappear, so it's great to see it thriving instead and — wonder of wonders — actually accessible rather than timing out more often than not. Thanks to the behind-the-scenes team for making good on your promise of a more reliable platform.
These past 12 months were personally challenging ones for yours truly, and I'm not out of the woods yet. That's the reason why I'm tending to publish on OS about half as often as I was. It's not out of interest lost, but rather that I've got some big fish frying in my pan right now. I also need to be putting some time back into another, prior creative project that was largely backburnered once the I began contributing to OS, and I keep wanting to do more with my VATV YouTube and Facebook spinoffs, and bringing my stand-along WordPress blog fully into line with my OS space, but I never seem to have the time to get to them as I'd like. We all do what we can, when we can, and I haven't been able to create a reliable Cylon version of myself to aid in divvy up my work … yet.
Writing my series as well as the off-topic pieces brings me great pleasure, and I feel honoured and lucky to have those who I truly feel are the Best of OS taking the time to read and comment. So a big Thank You to Abrawang, Algis Kemezys, Boanerges1, catch-22, ChillerPop, designanator, dirndl skirt, Erica K, Keka, Kevin Army, Linda Seccaspina, littlewillie, lschmoopie, Margaret Feike, Myriad, and Scarlett Sumac (apologies if I've forgotten someone pertinent — the noggin is nowt as robust as it once was), not only for support but also for your great writing and contributions. Maybe an OS meet-up will happen in this part of the world in the upcoming year.
The biggest disappointment on Open Salon for me during the past year has been the disappearance of Rosycheeks. Here's hoping you're not gone from here forever.
I'd also like to send a big Thank You to those who are reading and linking to me from outside of OS, especially rockcritics.com for putting my piece about vintage issues of Sing Out! on your cover as well as all the great support the Laura Nyro Facebook group gave to my piece about Laura Nyro Toronto 1989.
While it's been great to get to cyber-know many of you through a variety of channels, the biggest and warmest shout out of all goes to Cublet, the light of my life. Thanks for being there and for being your wonderful self, with all the attendant patience, love, understanding and humour. Finally, I'm raising a pint of Guinness to my friends and family both past and present for your contributions to this series and to my life. Cheers! Let's go for another round.
I've decided that for as long as I'm on OS, I'll mark each anniversary with a satire of a famous album cover. Last year it was the Sex Pistols' Never Mind the Bollocks, and this year I'm selecting The Beatles' A Hard Day's Night: an all too appropriate title for my last dozen months.
On with year three ….
[youtube=http://www.youtube.com/watch?v=URU-gWAOlDM]
"It Takes Two," Marvin Gaye and Kim Weston (1965).
PREVIOUS ANNIVERSARY COVER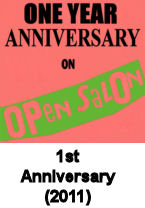 © 2012 VariousArtists
Comments From The Original opensalon.com Posting