This is a reposting of a blog entry that was originally published on OpenSalon.com on December 13, 2013. This is the seventh in a series of Christmas-themed posts.
Turn on, tune in, and drop … onto the sofa in front of that TV: the annual Clausfest is upon us on a midnight clear, meaning that it's time once again to celebrate the season via reconnecting with the annual viewing of beloved Christmas TV specials or movies.
There are statistically more of these video-critters out there than reindeer road apples. And while plenty of them are staggeringly crap (I would rather gouge my eyes out with serrated forks than have to see National Lampoon's Christmas Vacation ever again, and let's not even talk about Jack Frost or any festive special with the likes of someone such as Josh Groban), that doesn't mean that they all stink like a rotting piece of fruitcake in July that had fallen down the back of the fridge.
While there are many deserved seasonal classics that I regularly enjoy — from A Charlie Brown Christmas to How the Grinch Stole Christmas (the animated version, of course) to It's A Wonderful Life and more — I am instead highlighting some rather more offbeat personal favourites from the season of egg nog and overspending. As I did with my feature on Easter Movie Recommendations, here are some alternative xmas-y eyeball suggestions that you may wish to consider, even if a few of them take liberties with the concept of being Christmas-related (and two look forward to New Year's Eve). I've come up with a dozen so that, starting tomorrow, you could watch one a day as a way of counting down to the 25th's celebration of acute Santa-ness, like a video advent calendar.
So, to get started … On the First Day of Christmas Viewing, My True Love Clicked on "Play" …
.
1. The Judy Garland Christmas Special (1963)
The Judy Garland Christmas Special from 1963 is Old School Showbiz at its most campy and appealing.  Judy and the kids — Liza, Lorna, and Joey — joyously hoof and holler around the mistletoe, while Mel Tormé, Jack Jones, Tracy Everitt, an unnamed vocal group, and a line of high-kicking Santas drop by, all plying their trades.
It's a perfect time capsule, with Judy pouring her heart into her seasonal stagecraft, with a good time had by all.  Or so it appears.  By some accounts, La Garland was getting deep into the Christmas spirits the night before filming and was rather worse for wear on this day with a schnocker of a hangover, making the professionally minded Tormé livid — doubly so when she unexpectedly upstaged him during the performance of his "Christmas Song."  Still, Mel was a trooper and never lets his anger show on screen.
Watching this has become an annual Christmas tradition in our home.  And, owing to the year-to-year familiarity, numerous moments of it are always highly anticipated — none more so than the special's most undisputed moment over OTT patheticism: L'il Joey Luft trilling a wildly off-key rendition of "Where is Love?" from Oliver!
Every year, we watch this segment with mesmerized stupefaction.  Joey looks and sounds terrified, while a wide-eyed Judy stands by his side, willing him through it as if she's holding his hand while he undergoes a tracheotomy.
Joey Luft demonstrates the meaning of schadenfreude.
Then there was the time when we had some friends over to watch this, only to have one of them misinterpret one of the performances, hilariously so.  There is a segment where Liza and Tracy Everitt dance their hearts out to an interpretation of the old classic, "Steam Heat." Our younger friend was unfamiliar with the tune and, as he watched Liza and Tracy thrusting their crotches wide open while making a pssss-ing sound, he could have swore that they were singing "I got — pisssss! — Stink Pee!"
As he began to laugh to the point of almost stink-peeing himself, we asked him what the dickens was up. Needless to say, the explanation had us all in hysterics and has sort of stuck for us with every subsequent viewing.
"Steam Heat" — or "Stink Pee"?  You be the judge.
.
2. SCTV Christmas Special (1981)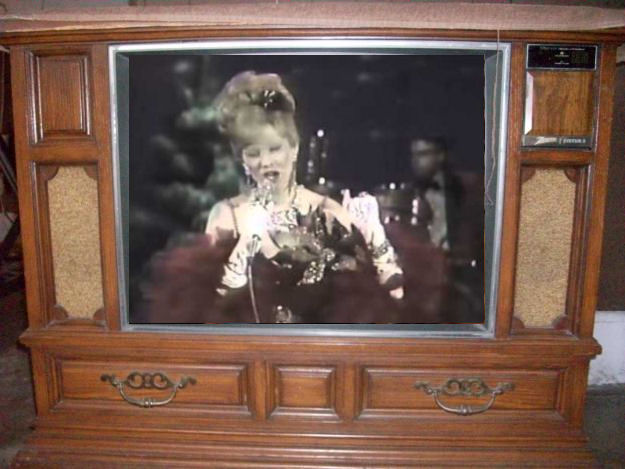 I was, and remain, a major fan of my home country's pop culture satirists, SCTV, going back to their salad days up here on Global in the 1970s. Revisiting the 1981 Xmas episode has also become a tradition for Cublet and I since finally being made available on DVD.
The context of the episode is that it's the SCTV staff Xmas party, which acts a fun vehicle to roll out many of the show's best regular characters and have them interact.  Additionally, there's a glittery piano showdown between Dave Thomas as Liberace and Rick Moranis as Elton John; Bob and Doug McKenzie contemplating the topic of beer nog; a festive Sammy Maudlin show; a Neil Simon spoof ("The Nutcracker Suite"); a commercial for Frank (Sinatra) Incense; and Rob Ford's, er, Johnny LaRue's reluctant yuletide edition of Street Beef, sans his beloved Gerbils.
The unquestioned highlight, however, is Dusty Towne's Sexy Holiday Special, with the great Catherine O'Hara as the Rusty Warren-esque, innuendo-laden nightclub performer. Dusty's risqué guests include John Candy's note perfect impression of Divine (more on him later down the page), performing Elvis' "Santa Bring My Baby Back To Me" with the Juul Hallmayer dancers — all on skates! — and Solid Gold dancer Marcie Odette's (Andrea Martin) sexually charged "performance."  All that's missing is a Candy Cane stripper pole.
Dusty caps it all off with a naughty reading of "What A Night Before Christmas!" (samples: "So I slipped on my housecoat and stockings with care / But except for those items, my body was bare" or "His eyes how they twinkled / His dimples how merry / His legs were like fur trees / His chest was so hairy").
There are two more SCTV Christmas Specials from 1982 and 1983 as well.  All three are hilarious and recommended.
The Dusty Towne Sexy Holiday Special.
.
3. Black Christmas (1974)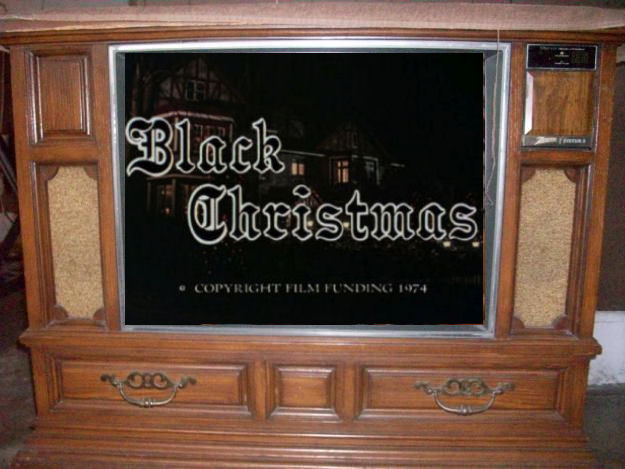 If you're Canadian and of a particular vintage, say, in your late 40s or 50s, you probably saw Black Christmas sometime back in the '70s. For my fellow countrypersons from this era, taking in Black Christmas on a regular basis is as Canadian an experience as a box of Timbits and getting misty-eyed over Paul Henderson's 1972 goal over Russia.
Purportedly the first-ever "slasher" flick, this 1974 horror confection concerns a never-seen-onscreen nusto stalking and gruesomely murdering sorority sisters avant Noël. While it's got the skills to bring the chills, it's also frankly hilarious in many parts, with a young Margot Kidder stealing the show as Barb, a foul-mouthed alcoholic lass who's sole purpose seems to be to deflate anyone's attempt at over-sweetness.  As with Bette Davis, her character has little time for cheap sentiment. And while Kidder and character heavily check out the mirth scene, the similarly-hooch-infested den mother Mrs. Mac, played by Marian Waldman, gives Kidder a run for her money in the yucks department.  For a time, anyway.
In general, the cast of this film is fascinating as it features two former stars in career descent (2001's Keir Dullea, and Olivia Hussey from Franco Zeffirelli's 1968 hit version of Romeo and Juliet) and two stars-to-be on the rise (Kidder, and Andrea Martin, later of SCTV — it's them again — and a recent Tony winner for her performance in the Broadway revival of Fiddler on the Roof, here doing a fine job playing against type as an earnest, rightfully concerned student).
The film is supposed to be set in not-sure-where America as it was intended for an international audience, although numerous buildings clearly give away that this is indeed early 1970s Toronto.
Black Christmas is the route to go if you're looking for a few screams to go with your Christmas wrapping.  As the film's initial tag line boasted, "If this movie doesn't make your skin crawl, it's on too tight!"
True story: In 1980, an intruder tried to break into a house I was in while I was not only watching this movie, but at the very moment when the killer first starts trying to break into the sorority to commit the first murder. Unsettling to put it mildly.
And here it is!
.
4. A Colbert Christmas: The Greatest Gift of All (2008)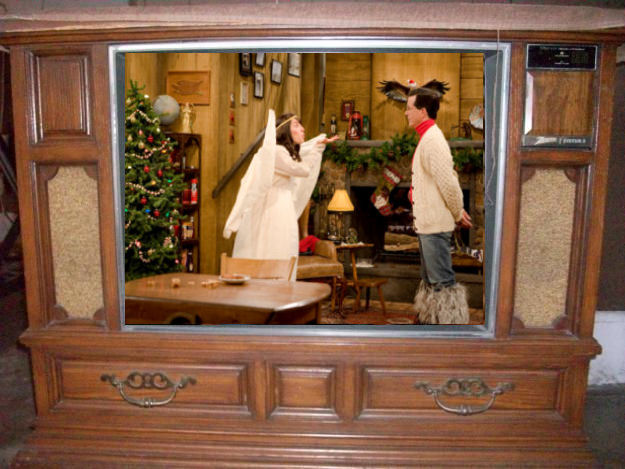 Stephen Colbert has a Christmas special to film with Elvis Costello in a New York City studio but is trapped in his cabin, way up in the woods.  A bear is prowling around outside.  What is Stephen to do?  Will he risk life and limb to get back to the city?
As he waits inside his cabin trying to solve that riddle, guests drop by, themselves risking attack, while various internal seasonal ephemera come alive, making for a garland of hilarious, original seasonal songs, from Willie Nelson's weed-centric "Little Dealer Boy" to Jon Stewart's "Can I Interest You in Hannukah?"
Best of all though is Feist as the Christmas tree angel who works in a prayer call centre.  "Please be patient / An authorized prayer technician will be with you shortly," she distractedly trills into her headset while focussing on the emery board she's using for her nails.
Eventually, all is solved, the special is shot, and our Stephen is able to deliver The Greatest Gift of All.  A modern seasonal classic in the making.
 The audio for Feist's "Please Be Patient" ("An authorized prayer technician will be with you shortly").
.
5. Kate Bush Christmas Special (1979)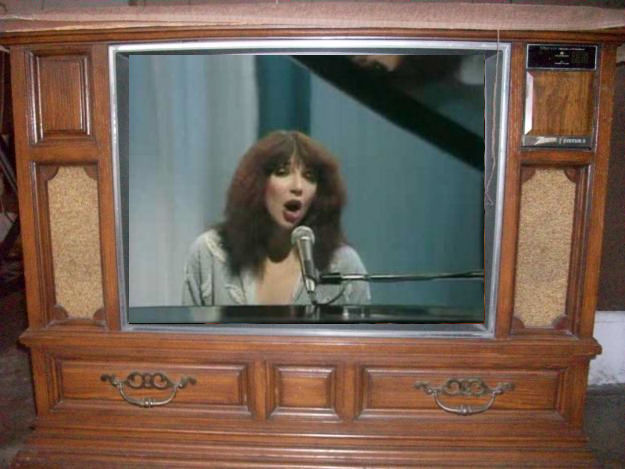 Our beloved wide-eyed cosmic cherub of Bexleyheath high-kicks and flails across song and dance numbers in this unitard-friendly special. Often referred to as The Kate Bush Christmas Special among her fanbase, it actually has few direct Christmas connections aside from it being a vehicle to promote her 1979 festive single, "December Will Be Magic Again," and that it aired on UK TV during that month.
Kate dons a variety of oft-silly yet endearing costumes alongside two dancers, giving out a "young lass getting into the dress up box" kind of vibe, while band/family members play along with Kate in a series of theatrical presentations of numbers from her first two LPs, The Kick Inside and Lionheart.  The special also served up a generous introduction to her third disc-to-come, Never For Ever, which was almost a year away from release. "Violin," "The Wedding List," and "Egypt" all get their first public airings here.
The highlight is probably several numbers that Kate performs live, such as "Symphony In Blue" and a solo rendition of "December." Given that there is so little live Kate Bush footage, these performances are the real gem moments from this outing. Meanwhile, Peter (the angel)  Gabriel also shows up for the celebrations, delivering a goosebump-inducing solo version of "Here Comes the Flood," while he and Kate duet on beautiful rendition of Roy Harper's melancholy "Another Day."  Not exactly "Mele Kalikimaka."
As with several of my choices on this list, it's now become an annual viewing tradition for me (also thanks to its finally being available via YouTube).  In fact, I just re-watched it a few weeks ago.
 Solo version of her then-new "December Will Be Magic Again" from her 1979 special.
.
6. The Trailer Park Boys Christmas Special (2004)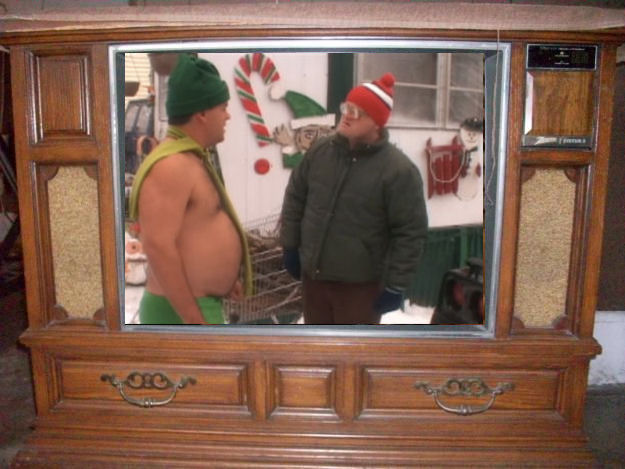 This prequel to the East Coast mockumentary series takes us back to 1997 at the Sunnyville Trailer Park.
It's Christmastime, and long-orphaned Bubbles is feeling backburnered as his bestus pals focus on their pressing business concerns and challenges. Ricky is working hard to sell as much dope as possible in order to be able to buy enough gifts that will allow him to reunite with his wife and daughter. As for Julian, he has little time for seasonal socializing as he has a demanding umbrella of time-sensitive business ventures to run, such as overseeing having his lackeys steal gifts from car trunks in mall parking lots for resell profits.
Meanwhile, Randy is a shirtless bisexual hooker elf, turning tricks for cheeserburgers until an empathetic Barb Lahey decides to be a model of seasonal charity and brings him back home to her trailer, only for burger boy to find it's also inhabited by her mortified cop husband — who just so happens to be one of Randy's regular tricks.
It all concludes with Ricky's stirring Linus-esque sermon at Christmas Eve mass, after seeing the light and finding the true meaning of Christmas.  "You should be getting drunk and stoned with your friends and family, the people that you love," he says with a heart that grew ten sizes that day.  "And if you don't smoke dope and drink, then just spend time with your families," he reasons before dispensing free weed to gathered parishioners.  Ah, bless.
 "You should be getting drunk and stoned with your friends and family, the people that you love."  Randy delivers his stirring Xmas Eve message during midnight mass.
.
7. Pee-Wee's Playhouse Christmas Special (1988)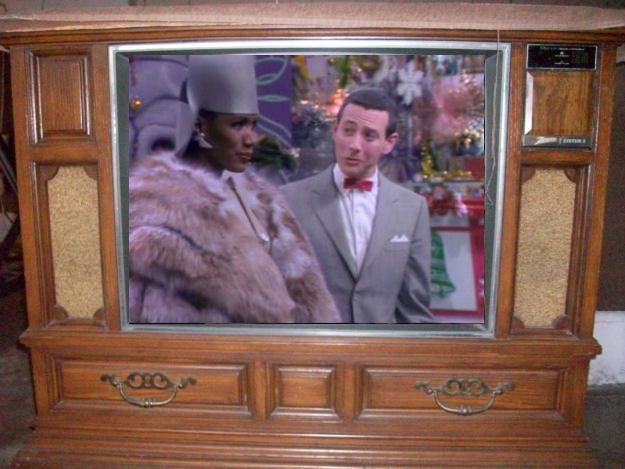 Poor Pee-Wee: his career felled by Onan the Barbarian during a prudier time.  But for those of us who were fans — as almost everyone in my circle was back in the day, having been following him since seeing the video of his cheeky stage act — Pee-Wee never lost a stroke of his gleaming lustre.  He remained the master of ironic kitsch, beating all other retro-minded kids' comedians — not that there was much stiff competition coming out at the time.
His 1988 Pee-Wee's Playhouse Christmas Special was shot when his fame was still standing tall, his large fanbase firmly swelling.  This hour-long Playhouse party is stacked with an orgy of the right kind of ludicrous silliness, flaunting a perversely versatile stable of willing participants that spanned the decades.  Certain guests just flash on-screen for a quickie appearance while others do their thing in front of the camera during a longer performance.
But, be it for short or long, the special relentlessly whips out a glorious cast, each taking their turn, assuming their position.  Everyone has a role to play, and each handles their part with great alacrity.  This one-time encounter stars Annette Funicello, Frankie Avalon, Grace Jones, Dinah Shore, Magic Johnson, k.d. lang, Oprah Winfrey, Joan Rivers, Charo, Dinah Shore, Zsa Zsa Gabor, Whoopi Goldberg, Little Richard, and the Del Rubio Triplets — and as for what those comely blonde triplets get up to on screen, well, you'll have to take a peep for yourself.
The regular Playhouse gang are good, giving, and game as well, including campy Jambi, Miss Yvonne, the King of Cartoons, and Cowboy Curtis, played by star-to-be Laurence Fishburn.  And while everyone involved clearly loved participating in this affair, you yourself can simply lay back and watch.
Sit around in a circle with your friends, or view it in private all on your own, but be sure to watch it all the way through until it's explosive climax and happy ending!
Make the trip to Pee-Wee's Playhouse during the holidays — you'll be glad you came.
 A snippet from Pee-Wee's Playhouse Christmas Special including Grace Jones' take on "The Little Drummer Boy."
.
8. Mad Men "Christmas Waltz" (2012)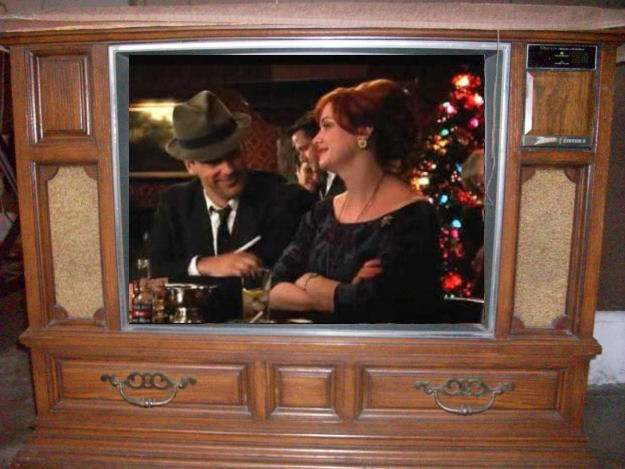 For those of you who want an engrossing side order of doom and seasonal angst served up alongside the stuffing and candied yams, this appropriately dark Xmas episode of Mad Men may be just what Herbie the Elf's evil twin ordered. Actually, there have surprisingly been several MM eps with Christmas connections, but the tenth episode of the fifth season, titled "Christmas Waltz," is the mostly rotting-mistletoe'n'bourbon soaked of the bunch.
It's December 7, 1966, and this festival of lightness begins on the anniversary of Pearl Harbour. From there we further see how Lane Pryce's trying-to-save-his-ass-from-a-UK-jail deceptions are clearly going to come back to bite him on said ass, putting him firmly on the road to his eventual suicide; discover that old SC reject and office boho, Paul Kinsey, is now a delusional Hare Krishna and a budding Trekkie with a psychotic girlfriend who screws with Harry Crane, literally and figuratively; an understandably angry Megan throwing a plate of spaghetti when a drunk Don eventually decides to show up at home; and Joan throwing a wobbly — and a toy-airplane — at the receptionist who let in the lawyer for her rapey, all-round-jerk-of-an-ex who is now suing *her* for divorce. Merry Christmas to one and all!
But the centrepiece is what transpires after Joan's tantrum, with Don whisking her away to charmingly roleplay as husband and wife at a dealership showroom for much-needed new client, Jaguar. What follows is one of the most delicious sequences in the entire series, as Don and Joan — two of the key characters and personalities in the show with shed-loads of mutual admiration but who rarely have extended interactions — decamp to a bar festooned with low-rent decorations and have a lengthy conversation while downing a few, delighting fans everywhere and giving the intense MADness a pause to breath. It also serves to humanize these often cold-yet-high-functioning characters while also showing off the subtly dazzling acting skills of both Christina Hendricks and Jon Hamm.
Mix me an Old Fashioned, pass me a brick of Marlboros, and let's sit back and enjoy.
Part of Don and Joan's big scene from the "Christmas Waltz" episode.
.
9. Female Trouble (1974)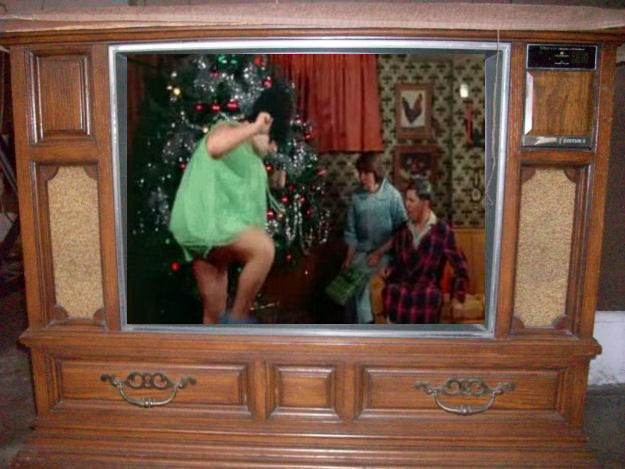 If there was to be a "15 Favourite Movies" Open Call over on Open Salon like there was with albums, John Waters' Female Trouble from 1974 would be on my list. One of his low-budget "jeuvenile deliquents" from the seventies, and part of his "Trash Trilogy" along with Pink Flamingos and Desperate Living as brackets, Female Trouble is my favourite Waters film, with Waters himself often publicly selecting it as his as well.
The film's Christmas connection is brief and within the flick's first quarter, but what a connection it is. Teenage career-criminal-to-be, Dawn Davenport (played by Divine), begrudgingly rises from slumber on December 25th and reluctantly endures a truncated singalong of "Silent Night."  Immediately thereafter, she goes into an unhinged rage upon discovering that her parents have bought her a pair of sensible shoes instead of the anticipated Cha Cha Heels.
In short order, our Dawn has thrown her mother under the Christmas tree while unleashing an expletive-filled torrent before running away from home to promptly get knocked up by a leering degenerate (also played by Divine). He impregnates Dawn on a fetid mattress in a garbage dump while Dawn picks his pocket as he orgasms.
From there, it's a life of thievery, stripping, assault and battery and dead-end jobs before Dawn is facially disfigured by her jealous, acid-tossing aunt-in-law (Edith Massey) prior to becoming a muse for some crime-fixated fascist beauticians who run the Lipstick Beauty Salon. Truly, this is my kind of movie.
As for its explicitly seasonal scene … here it is:
.
10. Extras "Les Dennis" (2005)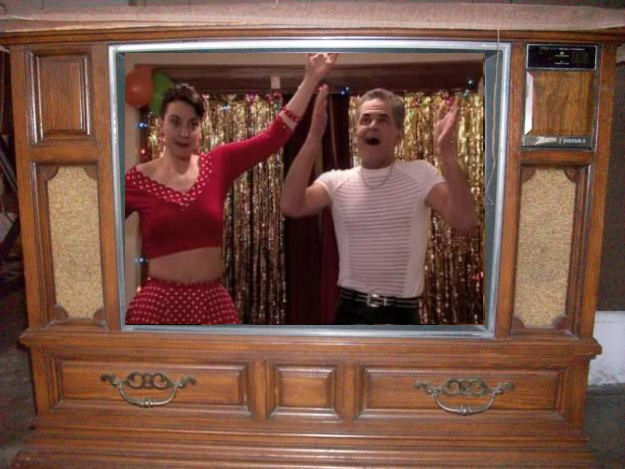 While Ricky Gervais' Extras series has an actual Christmas episode, it's pretty awful.  Much better is this one from the first season, and probably the series' best.  As Gervais' character, Andy Millman, gets a part as a campy Aladdin in a Christmas pantomime, it fits with my seasonal theme.
Famed UK TV presenter Les Dennis is the episode's guest star, here playing a version of his real self.  While the subplot of his fiancée cuckolding him was a storyline invention, the main theme of a down-on-his-luck, career-in-toilet Dennis was real, and he won acclaim for a brave, naked (sometimes literally so) performance.
However what makes this my favourite episode is the ep's other main story concerning Andy's pal Maggie running into an old acting chum, Lizzie.  Turns out the loopy lass has been suffocated by her controlling, overbearing, closet case of a small time director father, leaving her friendless and emotionally stunted.  Her 29th birthday party is a seniors-only affair, save Maggie and the birthday girl, culminating in a hilariously cringe-worthy and deeply inappropriate song and dance routine between Papa and his daughter, with a climax that will leave you concurrently laughing and wincing.
[youtube=http://www.youtube.com/watch?v=JjrPNIblVfg&w=420&h=315]
Bunny and Lizzie are introduced on Extras during rehearsals for the pantomime.
.
11. The Poseidon Adventure (1972)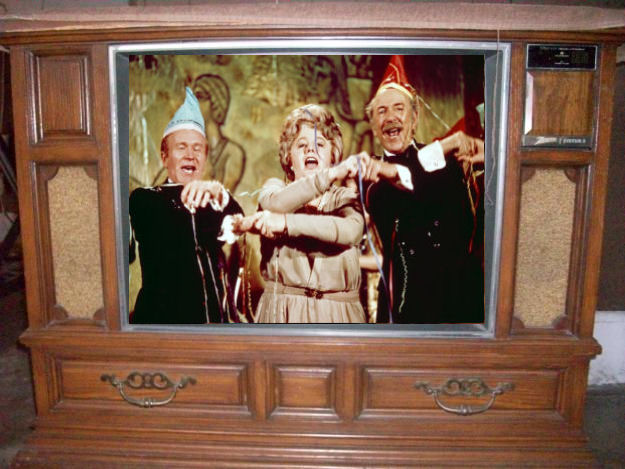 What are you doing New Year's Eve?  Well, if it was 1972 and you were about to take a trip on the S.S. Poseidon, you'd be ringing in the new year turned upside down with the rest of the vessel after midnight, following a massive tidal wave.  And that's before having to make your way towards a metaphoric heaven, a trip lead by a sexy, fallen faux Jesus figure (Gene Hackman), in the Citizen Kane of craptastically cheesy 70s disaster film death porn.
Histrionic, silly, heavy handed, Velveeta-cheesy, and yet eminently watchable, The Poseidon Adventure features the best use ever of a monster, steel Christmas tree in any movie ever made when many of the gang have to scale to get to the next level (a bit like Amway, or Scientology).
Then there's the heavy-handed symbolism and moralizing, such as that the panty-flashing, foul-mouthed ex-hooker played by Stella Stevens has to die, as does the he's probably nellie barman played by Roddy McDowell, and Hackman too as the fallen preacher, partially redeemed after leading the fallen to the light.  The film's martyr is of course Shelley Winters in her Academy Award-nominated — and widely parodied — role as the overweight but yowza-that-lady-can-hold-her-breath former swimming star and all round aqua meshuggeneh.
Personally, I've always been deeply curious about trying to precisely identify just what comprised the cocktail that ship singer Carol Lynley clearly dosed herself with prior to the tidal wave (my guess: a fistful of Quaaludes with perhaps a Seconal or two along with a Brandy Alexanders chaser, in tandem with a few joints).  I'd also like to do a study sometime to specifically quantify the exact percentage of on-screen time that is given over to Ernest Borgnine and Stella Stevens screaming at each other.
It is also still my goal to one day throw a Poseidon Adventure NYE party, timing it right so that NYE syncs with midnight in the film.  And then of course everyone would start screaming and throwing themselves over the furniture …
Trailer for The Poseidon Adventure.
12. Maude "Nostalgia Party" (1974)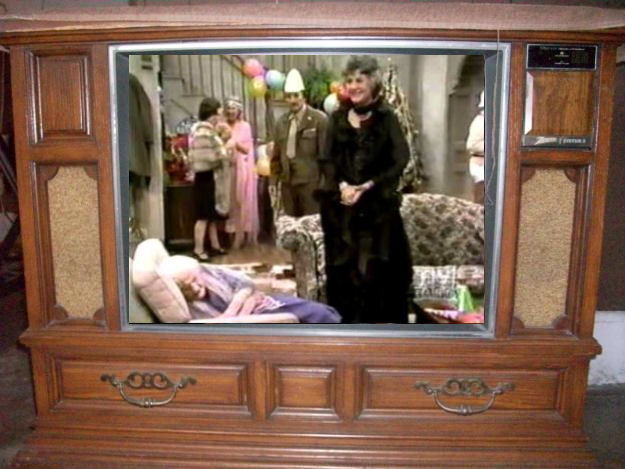 As an admitted Maude fanatic, I can attest to there being several Christmas-themed episodes that ran as part of the series.  My favourite seasonal entry, though, and one of the show's very best episodes, takes place on New Year's Eve 1974.
It's not a happy place in the realm of the Findlays: there's a recession going on, Walter's business is tanking, the oil crisis is ablaze, and there's general chaos and despair in society — not to mention platform wedgies.  No one is in the mood to celebrate 1975 to come.  And then there's Maude, who gets a brilliant NYE party-theme idea: since no one wants to celebrate current years, everyone will come dressed as their favourite year from their past.
It of course eventually turns into a "it was never as good as you remember"/"enjoy the here and now" sort of lesson, but there's a lot of fun along the way, especially via an unexpected elderly guest who wakes up just in time to lay down the hard line.  Even if things didn't work out so well for those at the Findlay's party, I still think it's a brilliant idea for a real NYE party.  Right after The Poseidon Adventure-themed one.

The episode is no longer online, so here is the Maude theme song.
Merry Christmas to all who celebrate it, and a wonderful (fill in the blank) to those who don't.  See ya next year!
Other Christmas-Themed Entries:
Xmas #1: December 1986: My 3 Xmas Weekends From Hell Snuggle in for a heartwarming seasonal tale of being a store manager and having to endure armed robberies, flouncing Christian employees, slap-happy Santa helpers, and looting mall rats. Merry Christmas to one and all!
Xmas #2: Twisted Seasonal Sounds: A John Waters Christmas The Pope of Filth curates what is probably the most "unique" collection of seasonal tunes on the market, filled with redneck children singing Happy Birthday to Jesus, ornery'n'tourette-inflected C&W, Theremin-driven toe tappers, and other joyfully questionable sonic Christmas delights.
Xmas #3: Ludicrous Seasonal TV: Star Wars Holiday Special George Lucas once said of this special "If I had the time and a sledgehammer, I would track down every copy of that show and smash it." Read here and find out why.
Xmas #4: KA-CHING-A-LING: Xmas Advertising Highlights 1949-2011 A collection of seasonal ads from my magazine archives, taken from a variety of international publications spanning 60 years. Which items were singled out as worthy Christmas lucre from then until now, and how were these retail treasures flogged and positioned? And what do you need and need to know about seasonal entertaining: the booze, the turkey and fixins, the cards, the decorations, and so on, as well as how to capture it all for posterity.
Xmas #5: Christmas Advertising: LIFE Magazine, November 30, 1959 This entry zeros in on the Christmas-related ads featured in a single issue of LIFE from November 30, 1959. What was being proffered up as gifts and seasonal accoutrements during those final weeks of the 1950s, and how were they being depicted and sold? These specimens bark out the rigidity and restrictions of the day as the epoch of the 1960s was about to commence.
Xmas #6: I Believe In Father Christmas, or: Brown Shoes Don't Make It We all find out the truth about Santa Claus at some point.  Here is my story of crestfallen discovery and it involves … my dad's shoes.
Xmas #7:  VariousArtists' 12 Days of Christmas Viewing A dozen alternative xmas-y eyeball suggestions that you may wish to consider, even if a few of them take liberties with the concept of being Christmas-related (and two look forward to New Year's Eve).
Xmas #8:  VA-Tel presents 20 OUTTASIGHT XMAS SENSATIONS! Here's some fun'n'hip shakin' musical accompaniment for the annual Santafest.  This splendiferous list mostly avoids the obvious or overly solemn, and should get the gang groovin' at your seasonal shindig while helping to mask the sound of partygoers vomiting in the bathroom after too many Baileys … or drive everyone swiftly out the door, depending on the circles you run in.  (A playlist of this terrific 20 can be found over on my YouTube channel, VATV).  Featuring the Ramones, Jingle Cats, Judy Garland, Wild Man Fischer, Sharon Jones, RuPaul and many more.
Xmas #9: KA-CHING-A-LING II: More Christmas Advertising Highlights 1956-2003 Another instalment of Christmas-themed ads from throughout the decades featuring entries from LIFE, People, Playboy, The Advocate, Esquire, Canadian Magazine, New York Rocker, Macleans, and more.
Next On Stage –>  I will return in the new year with my music recap of 2013 and resume my concert series.  I am also pledging to better alternate between writing about shows from days of yore and more recent outings …
My Bluesfest recaps hit a snag when a close-to-finished iteration almost went walkies with a laptop crash.  But, just like the Rob Ford video, it has recently been retrieved from the hard drive (merci, Cublet).  So, it's on its way soon, although as a three-part-er … wanted to compact it down to two, but just too long.
And so …  After a dismal 2012, Ottawa Bluesfest came roaring back with possibly the best overall lineup in its history.  I will be recapping the many acts I took in with a three-parter.  Stay tuned for a bevy of animal costumes, mutli-faced vocalists, the massed sound of meowing cats, inflatable alligators, Coventry curmudgeons, potential Mrs. Naugatuck sightings — or was it Mrs. Slocombe or Elsa Lanchester? — and more.
178a. Magic Chords: Ottawa Bluesfest 2013 (Pt. 1) with The Black Keys, Sharon Van Etten, Femi Kuti, Neko Case, Bahamas, and more, July 4-6, LeBreton Flats, Ottawa, Ontario, Canada
178b. Enjoy Yourself: Ottawa Bluesfest 2013 (Pt. 1) with The Specials, The Waterboys, Animal Collective, Solange, Balkan Beat Box, and more, July 8-12, LeBreton Flats, Ottawa, Ontario, Canada
178c. Declare Independence: Ottawa Bluesfest 2013 (Pt. 2) with Björk, B.B. King, Phosphorescent, Austra, Stars, and more, July 13-14, LeBreton Flats, Ottawa, Ontario, Canada
I'll then zoom back and finish my look at my 1983 gig-going by recapping a couple of shows I took in during a loopy four-day trip to NYC.  While I will be discussing the performances by hardcore titans The Circle Jerks and post-Throbbing Gristle offshoot Psychic TV, these two entries will look at the madcap trip to Manhattan as a whole, recounting the hijinks that M.Zeppelin, Miss Bennies, myself, and others got up to (if you've read my piece on the Flipper show, then you'll have some idea of what to expect).
023. Back Up Against The Wall: The Circle Jerks, The Reggae Lounge, New York City, New York, USA, November 1983
024. Discopravity: Psychic TV, Danceteria, New York City, New York, USA, November 1983
Text © 2013 VariousArtists
All graphics configured by VA from images picked off the Net. 
Original Comments from the OpenSalon.com Posting